Several newspapers today covered the important remarks by Seyyed Abbas Araqchi, the Iranian deputy foreign minister and former nuclear negotiator, in his address to Moscow Non-Proliferation Conference. Araqchi said if the nuclear deal fails, the NPT will also fail. This seems to imply that Iran will stop implementing NPT if the other side violates the JCPOA.
Another top story was President Hassan Rouhani's picks for ministries of energy and science, who were proposed to the Parliament and will be vetted within the coming week. Reformists in recent days expressed great dissatisfaction with Rouhani's decision to propose Mansour Gholami as the science minister, describing him as a politician close to conservatives. This is while Gholami claims to be a reformist, and conservatives believe that he is close to reformists, while being a logical option for the post.
A number of papers also highlighted the remarks made by First Vice-President Es'haq Jahangiri about the presence of American companies in Iran. Jahangiri stressed that there is no limit for their presence in Iranian economy, and it is the US administration that deprives their commercial firms from doing business with the Islamic Republic.
The above issues, as well as many more, are highlighted in the following headlines and top stories:
19 Dey:
1- Capital Intelligence: Iran to Have Stable Economy in Future
2- Deputy FM: Iran Nuclear Deal Not Renegotiable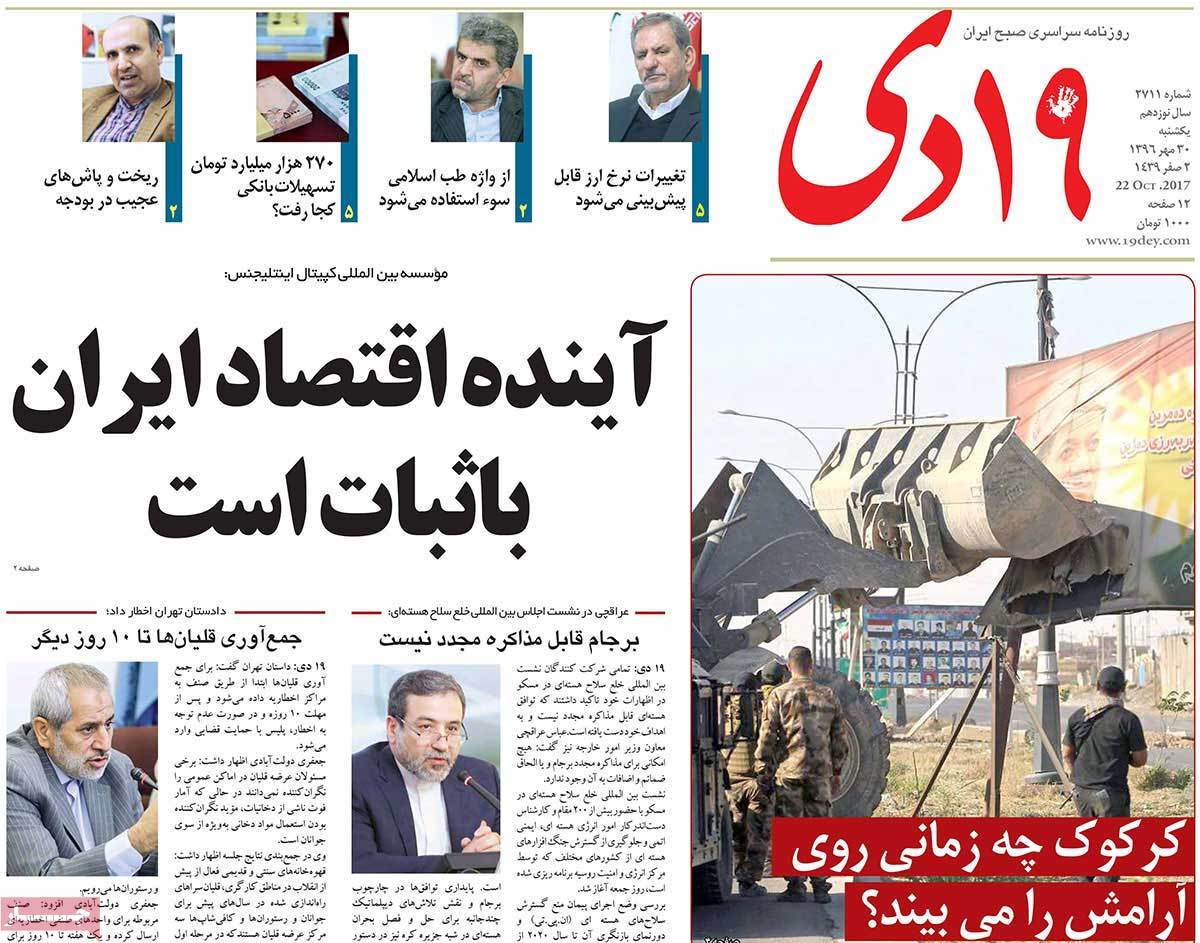 ---
Abrar:
1- Macron: We've Made Deal with US on Maintaining JCPOA
2- Iran Armed Forces: No Int'l Deal Restricts Missile Programs
3- Pentagon: We'll Try to Stop Iran's Destabilizing Activities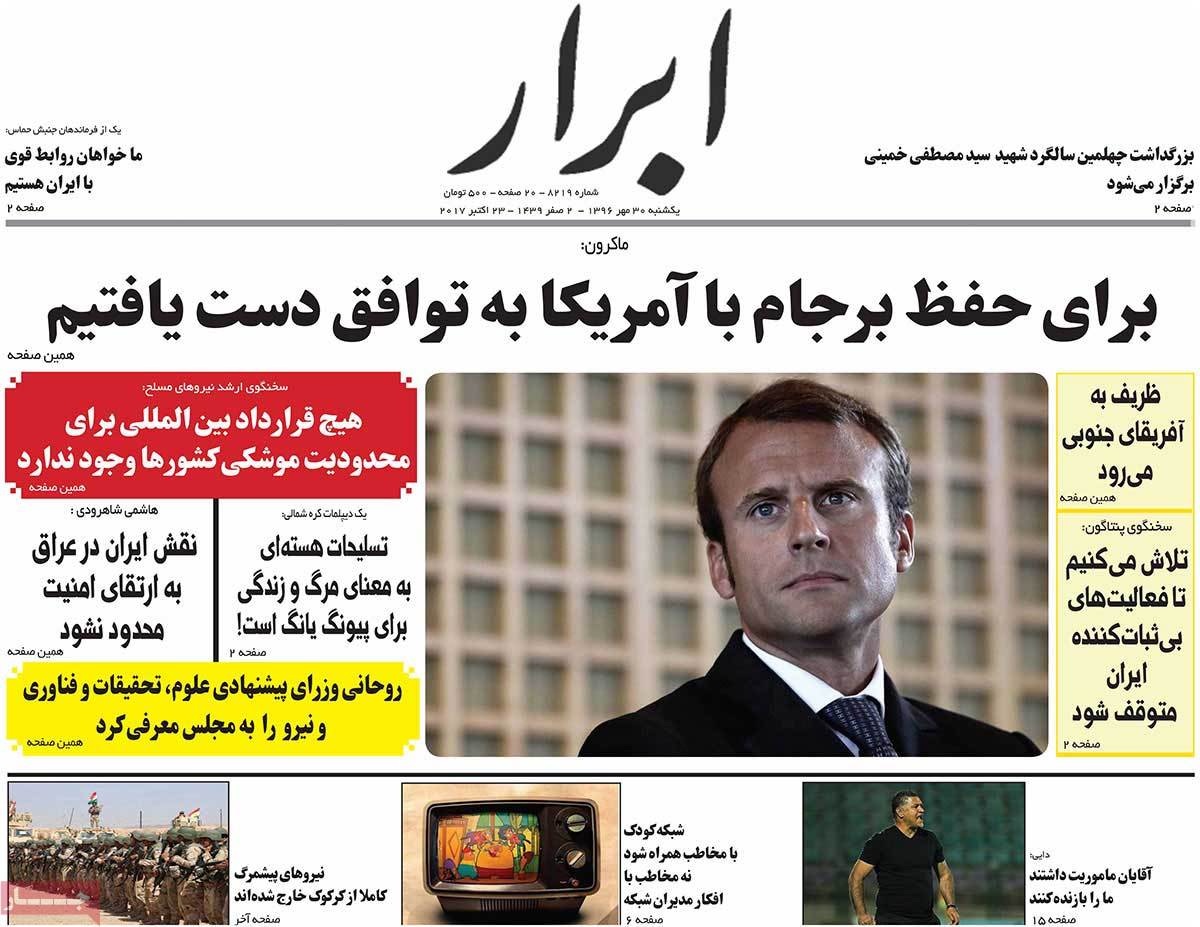 ---
Arman-e Emrooz:
1- MP: Parliament Highly Dissatisfied with Gov't
2- Combatant Clergy Association Settles Differences with Rouhani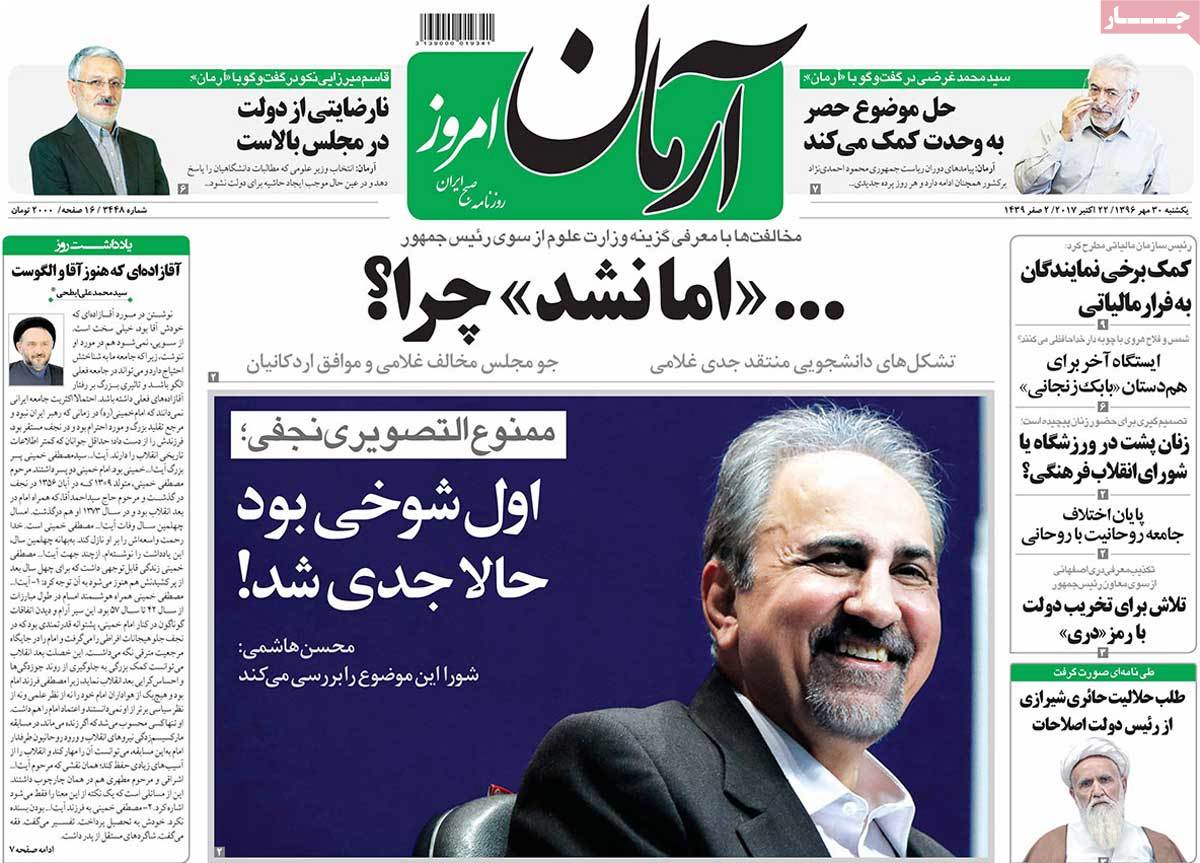 ---
Asrar:
1- First VP: Americans Have Deprived Themselves of Working with Iran Economy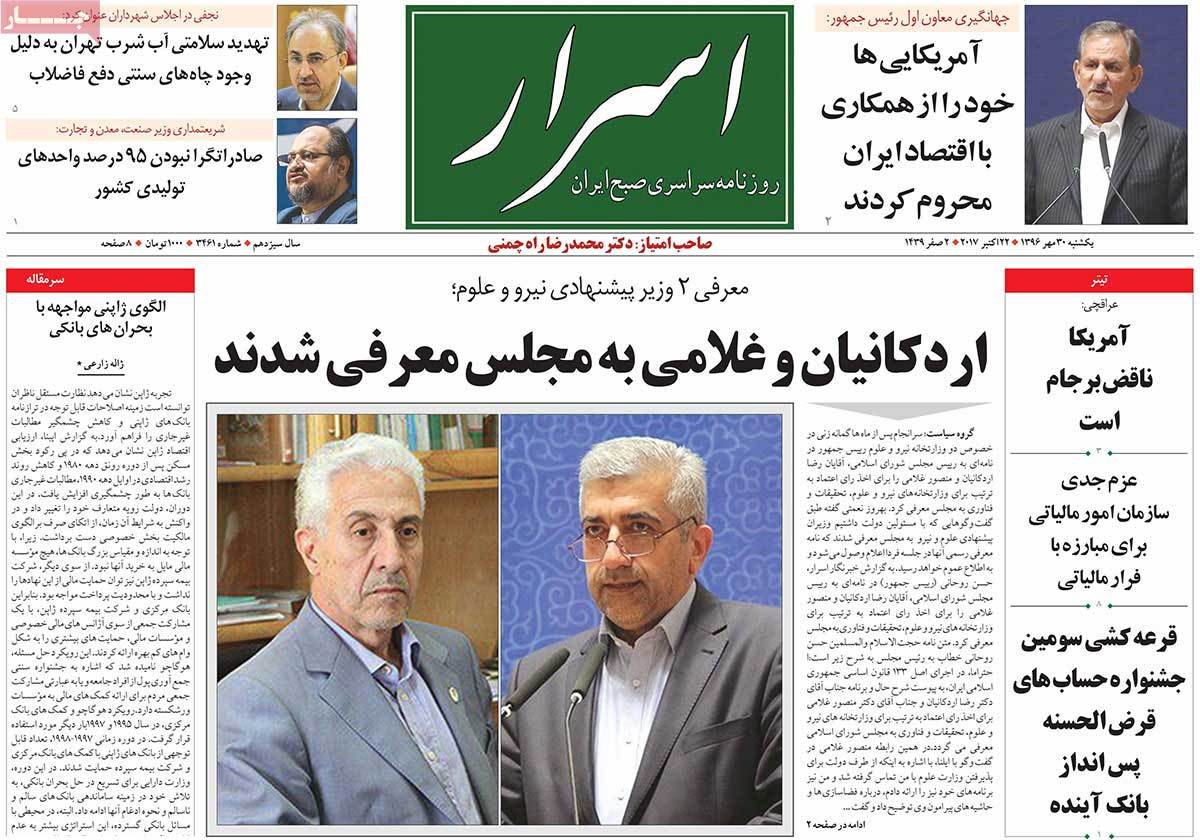 ---
Ebtekar:
1- Multi-Million-Dollar Black Box on Death Row: A Report on Babak Zanjani's Case
2- After 20 Years, Will 40 Seats Be Added to Iran Parliament?
3- Middle East and Post-ISIS Era [Editorial]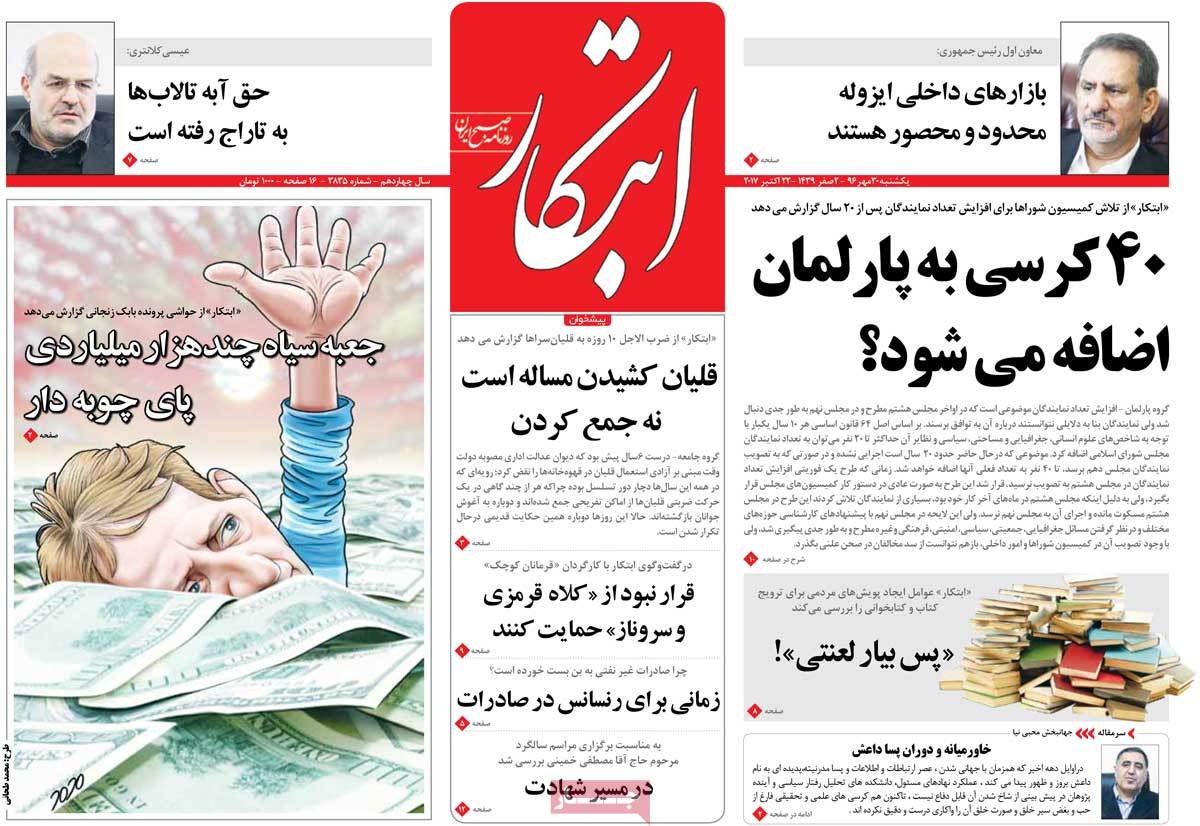 ---
Etemad:
1- Tillerson in Middle East with Two Objectives
Getting Riyadh Close to Baghdad, Countering Iran in Region
2- Saudi Arabia, Palestine, UAE, Qatar to Host US Secretary of Treasury
3- Iran's Council of Cultural Revolution to Decide about Women Going to Stadiums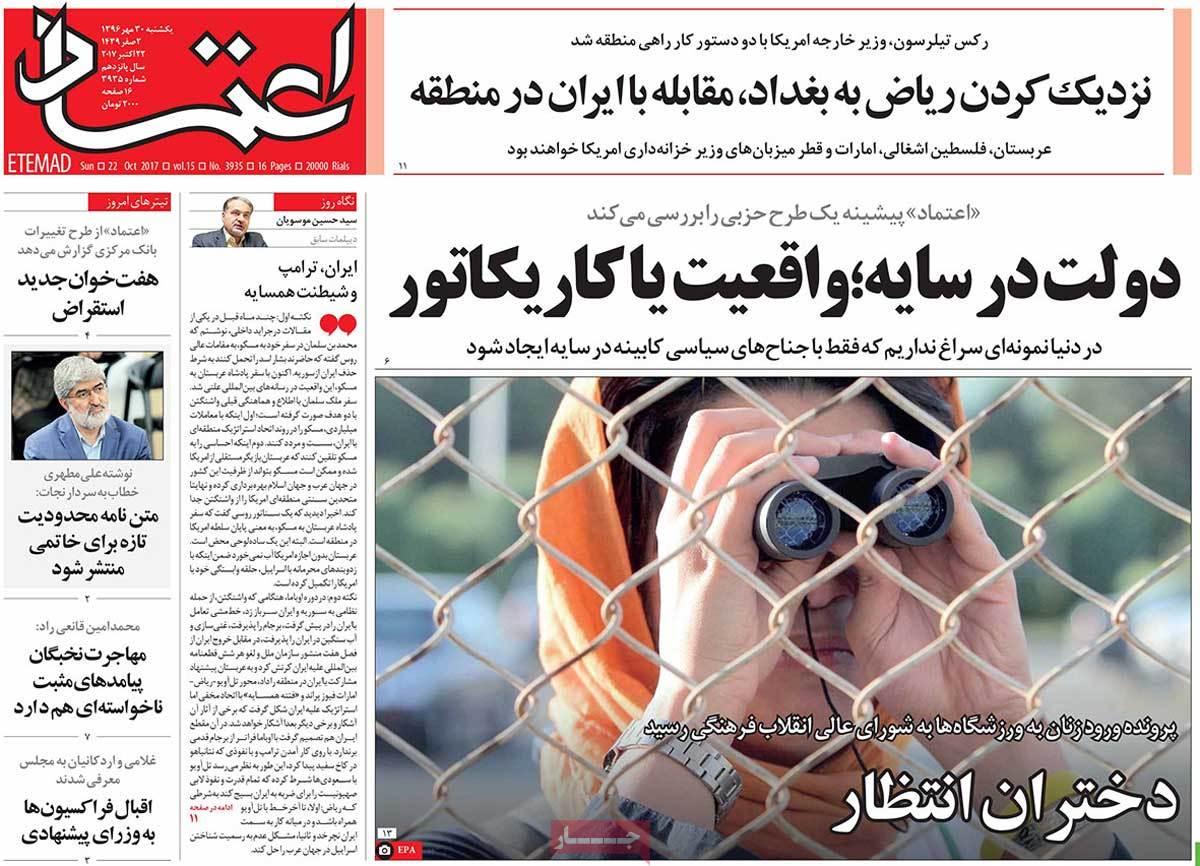 ---
Ettela'at:
1- Deputy FM: Nothing Be Annexed to Iran Nuclear Deal
2- Syrian Army Warns Zionist Regime of Consequences of Aggression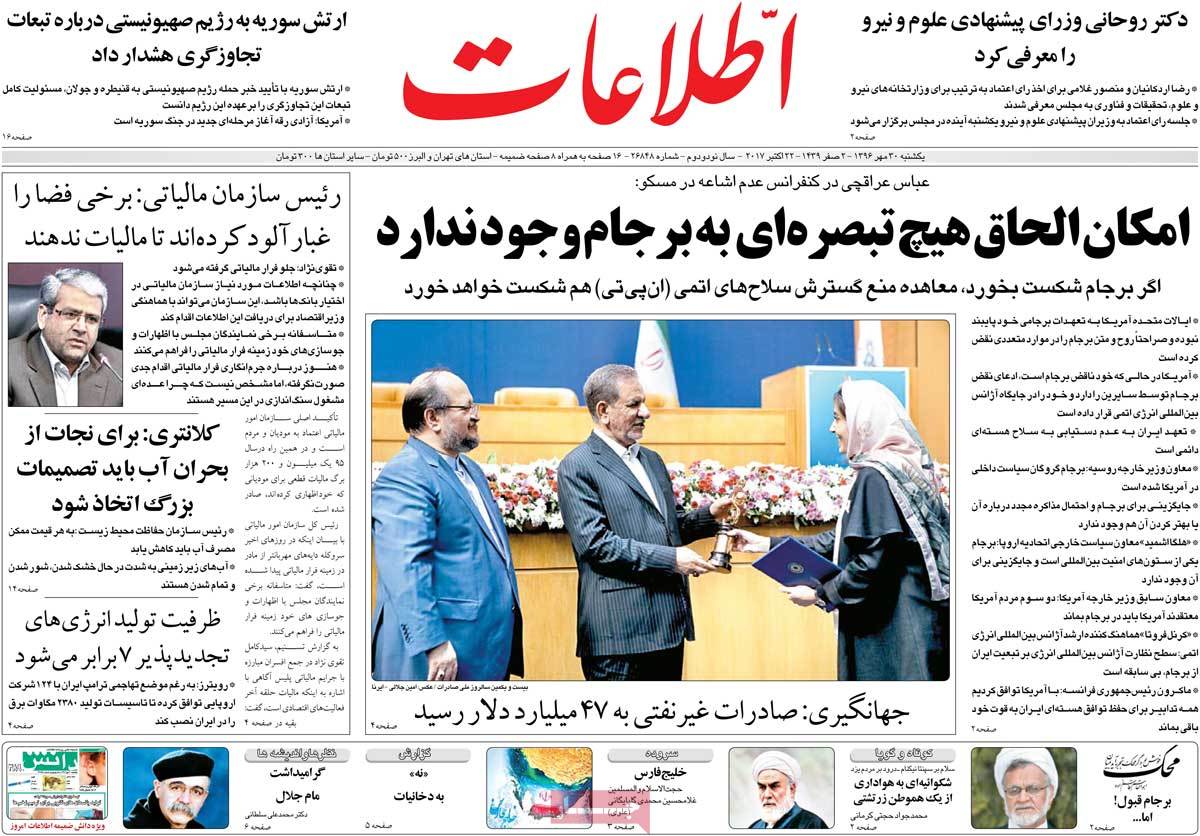 ---
Iran:
1- European Commission Report: 144% Increase in Europe's Import from Iran
2- Richard Murphey: Trump Has No Comprehensive Strategy for Post-ISIS Era
3- Spanish Government's Harsh Reaction to Catalonia: Referendum Annulled, Autonomy Suspended
---
Javan:
1- Bin Salman's Secret Visit to Tel Aviv Disclosed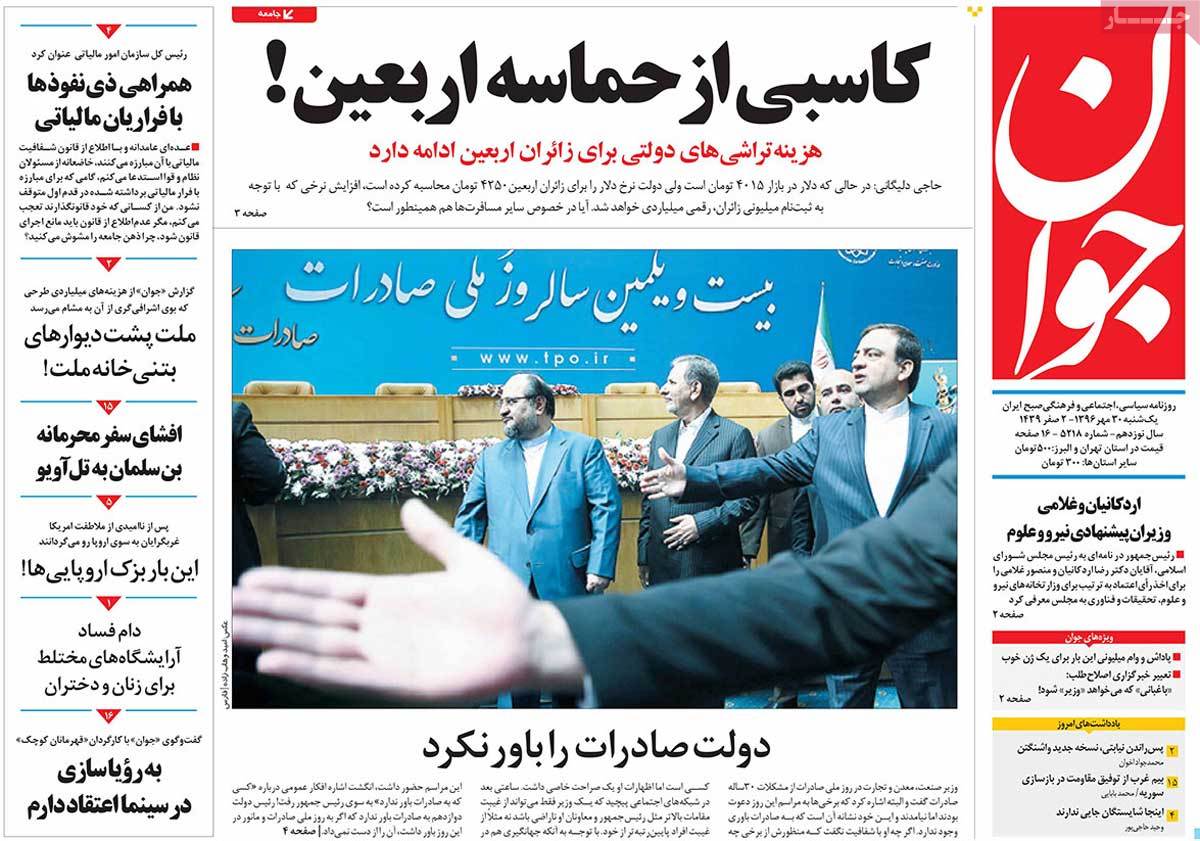 ---
Jomhouri Eslami:
1- 40 Countries Back Iran Nuclear Deal in Non-Proliferation Conference
2- Wendy Sherman: Two-Third of Americans Support Iran Nuclear Deal
3- Talabani's Son: Iraqi Kurdistan's Independence Referendum Very Big Mistake
---
Kayhan:
1- Europe, US Cooperating against Iran: Europe Same as US, Don't Let Iran Fall in Its Trap
2- Syria: We'll Soon Retake Raqqa
---
Resalat:
1- Ayatollah Hashemi Shahroudi Praises Role of IRGC, General Soleimani in Iraq Security
---
Rooyesh-e Mellat:
1- Velayati: Europeans Not Allowed to Interfere in Iran's Defensive Affairs
2- Ryabkov: US Domestic Policy Taking JCPOA as Hostage
3- North Korean Diplomat: Nuke Possession Matter of Life and Death to Pyongyang
---
Setareh Sobh:
1- Environment Chief: Water Disaster to Come
Iran to Suffer Severe Water Shortage without Decisive Decision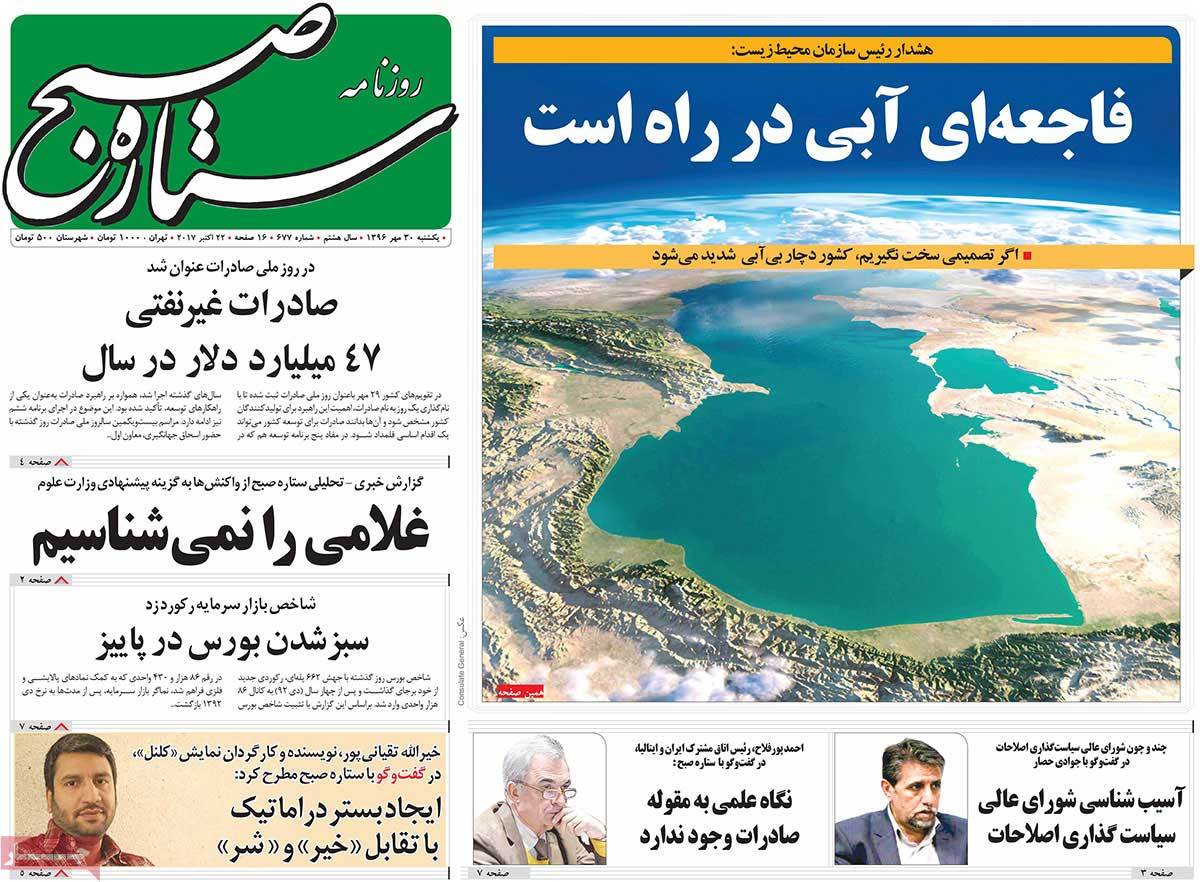 ---
Shargh:
1- PUK Official after Referendum: We Made a Mistaje
2- Iraq Full of Those Who Fan Flames of Conflict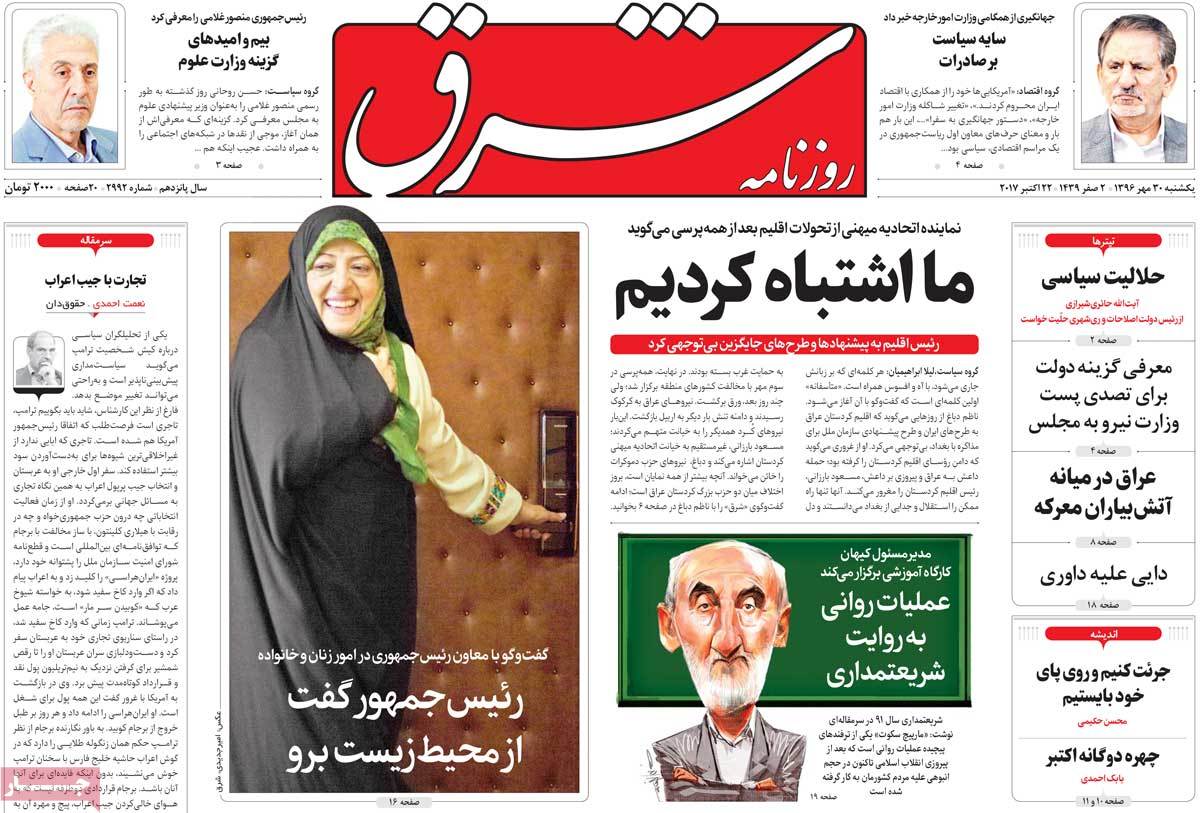 ---
Vatan-e Emrooz:
1- Congress Backing Trump: US Congress to Endorse Trump's Anti-Iran Plans
2- Barzani Summoned to Iraqi Court