Chief of Staff of the Iranian Armed Forces Major General Mohammad Baqeri's visit to Syria and First Vice-President Es'haq Jahangiri's trip to Turkey grabbed the headlines on Saturday.
General Baqeri in his visit to Syria visited the front lines of Aleppo and reviewed the latest situation of fight against terrorists. He also met with Syrian President Bashar al-Assad and delivered the letter of Iran's Leader to him.
In his visit to Istanbul, Jahangiri attended the Developing-8 Summit and warned of plots to disintegrate the region in his meetings with Turkish officials. A deal between Tehran and Ankara to use national currencies, instead of US dollar, in bilateral trade was among other results of the trip covered by Iranian newspapers.
The nuclear deal between Tehran and world powers (known as JCPOA) also remained a top story in today's papers. Pro-government media once again highlighted the EU's support for the nuclear deal, and stressed that the deal is sustainable and operational even without the US.
On the other hand, conservative papers and critics of Rouhani's government, particularly Kayhan, reflected the remarks made by British, French, and German officials who called for negotiations over Iran's missile program and regional presence, and concluded that Europe is following the same path of US, looking for re-negotiation of JCPOA and receiving further concessions from Tehran.
The UAE's appointment of an Iranian Baloch woman as the minister of science also hit the headlines.
The above issues, as well as many more, are highlighted in the following headlines and top stories:
19 Dey:
1- Imam Khomeini's Grandson Ali: Trump Made Iranians United
2- Judiciary Spokesman: We Have No Red Line in Countering Economic Corruption
3- Iran, Turkey to Expand Economic Cooperation, Use National Currencies in Bilateral Trade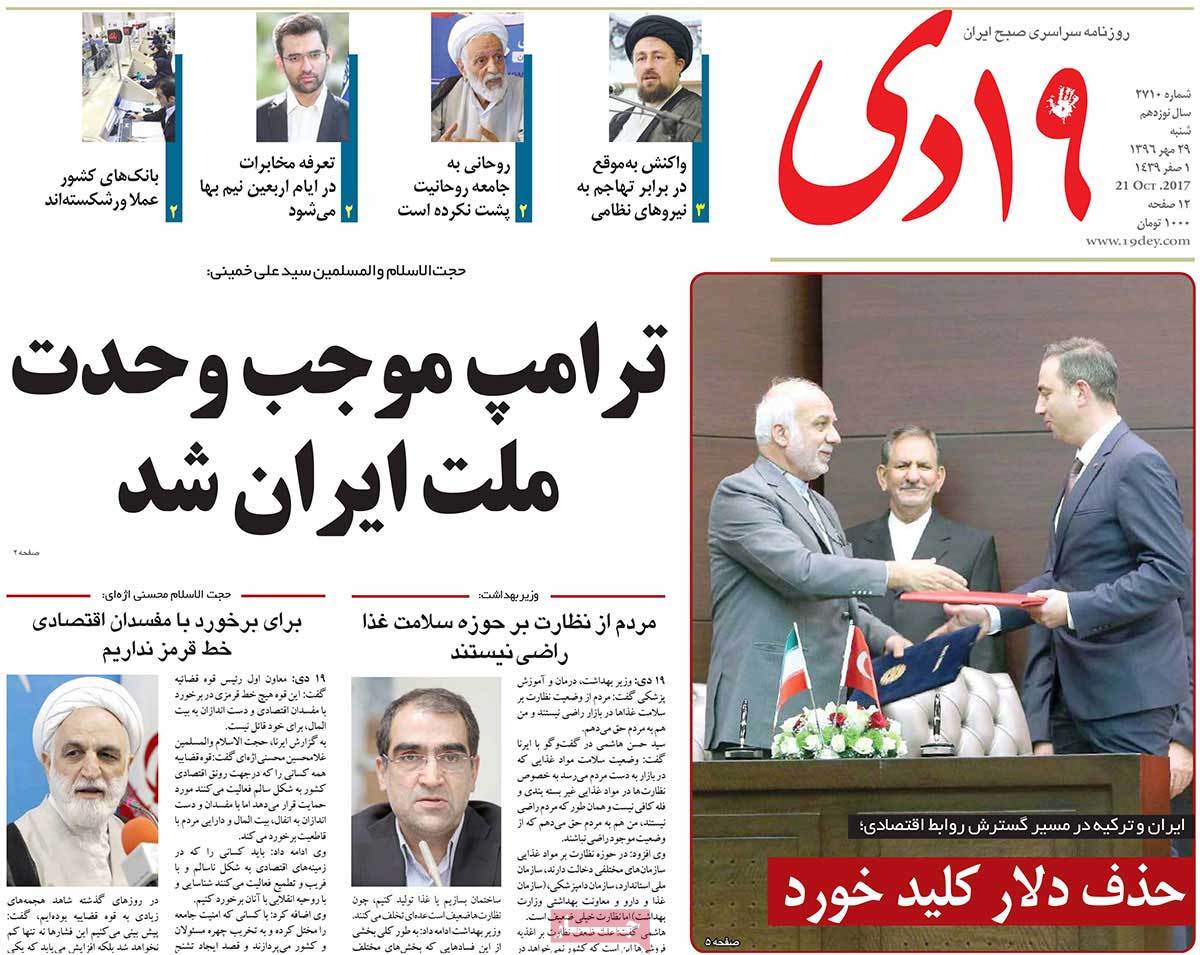 ---
Abrar:
1- Iranian, Russian Deputy FMs Agree on Fight against Terrorism
2- Raisi in Meeting with FM Zarif: National Solidarity to Ensure Iran's Interests, Security
3- Amano: We'll Continue Monitoring JCPOA Implementation without Any Problem
4- Iran's Top General While Visiting Syria Front Line: End of Terror Groups Close
---
Aftab-e Yazd:
1- Iran FM: World Standing behind Nuclear Deal
2- US Secretary of State: Trump Not after Interfering at Iran-Europe Trade Ties
3- Mohsen Hashemi Rafsanjani: Citizens of Tehran Spend Half of Their Lives in Traffic Jam
---
Ebtekar:
1- Zarif to CBS News: I'm Not Going to Lobby US Congress
2- Imam Khomeini's Grandson: Trump Only Screaming Out of Desperation
3- Iran's Top General Submits Ayatollah Khamenei's Letter to Assad
---
Emtiaz:
1- Tehran Mayor at Seoul Climate Change Conference
Tehran Vulnerable for Its Traditional Waste Management System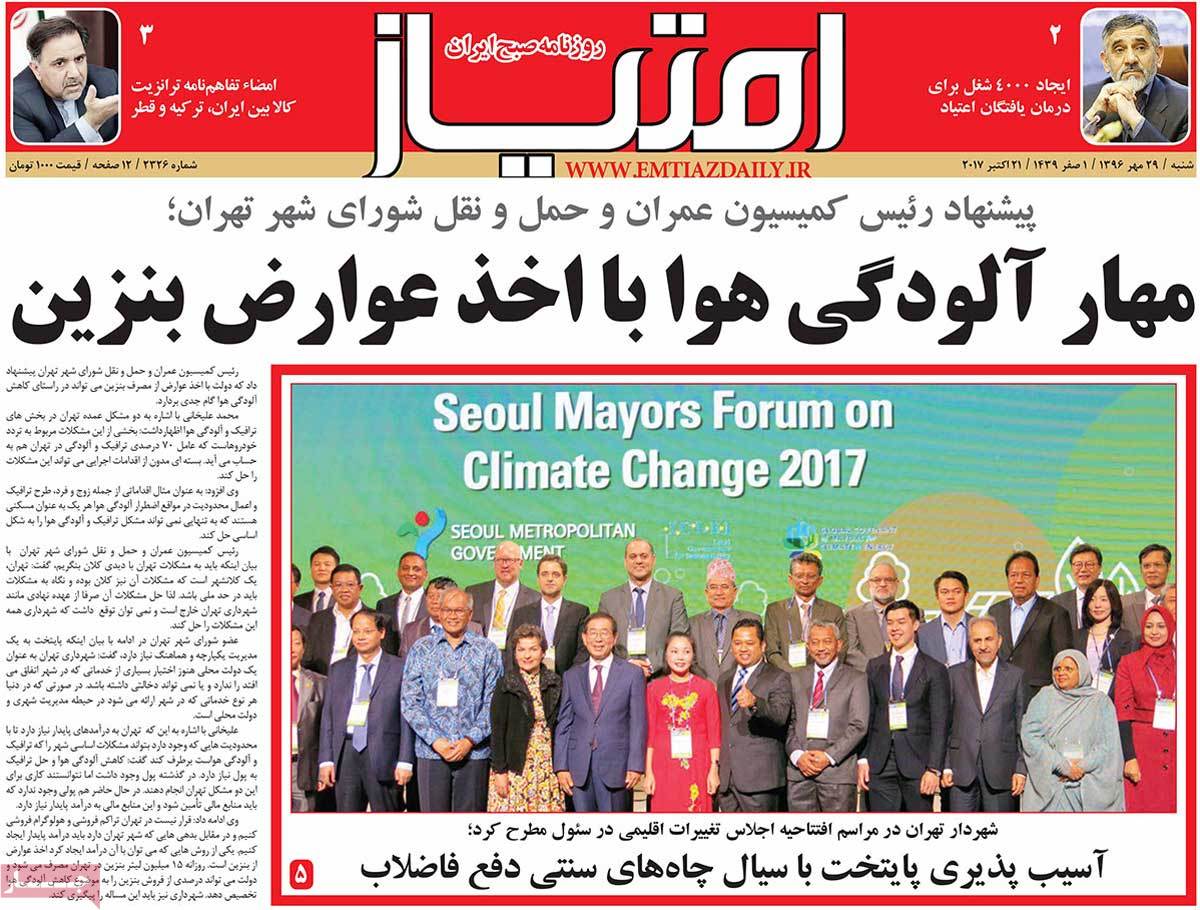 ---
Etemad:
1- Iran First VP: Bigger Disintegration Plots to Come
2- Iran, Turkey Want a Calm Syria Where People Live Happily: Jahangiri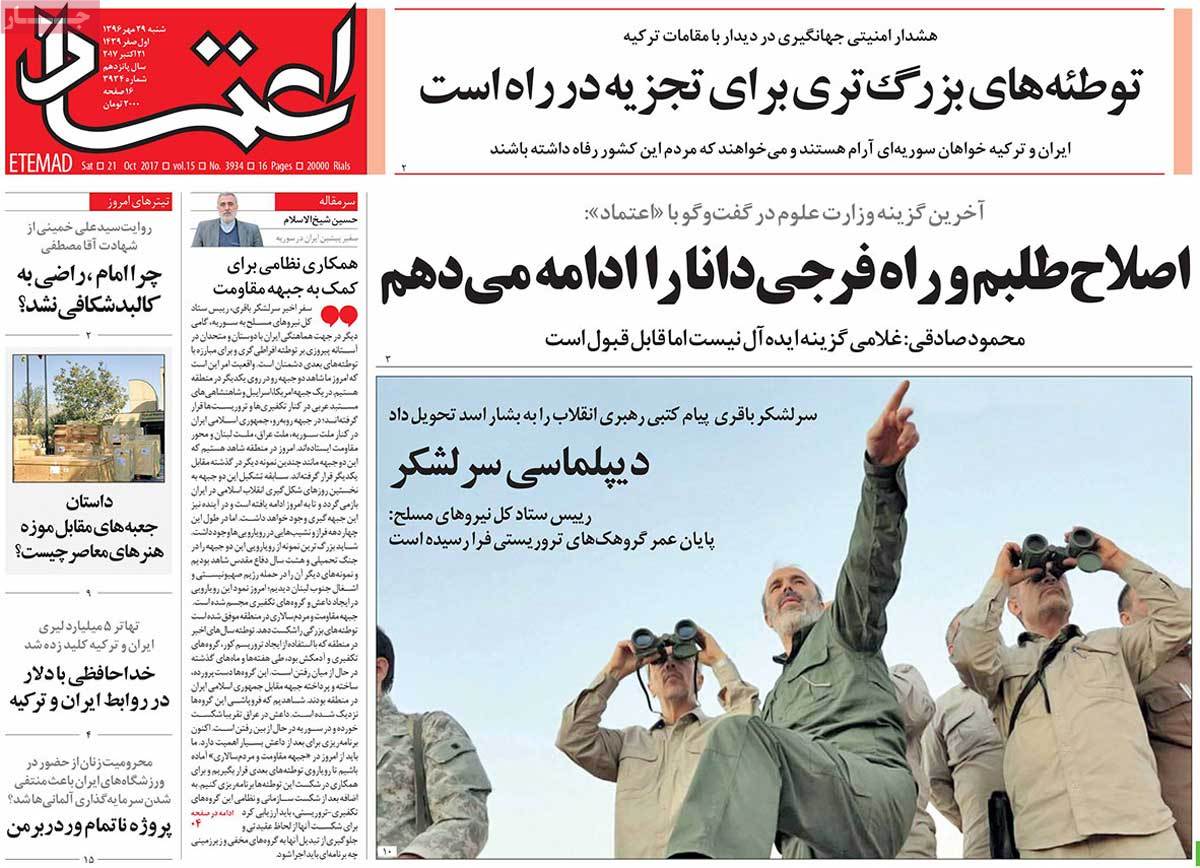 ---
Ettela'at:
1- Iran First VP at D-8 Summit: World Today Needs Multilateralism, Regional Cooperation
2- 28 EU Member States Back Iran Nuclear Deal
3- Ayatollah Sistani Call on KRG Officials to Cooperate with Iraqi Central Gov't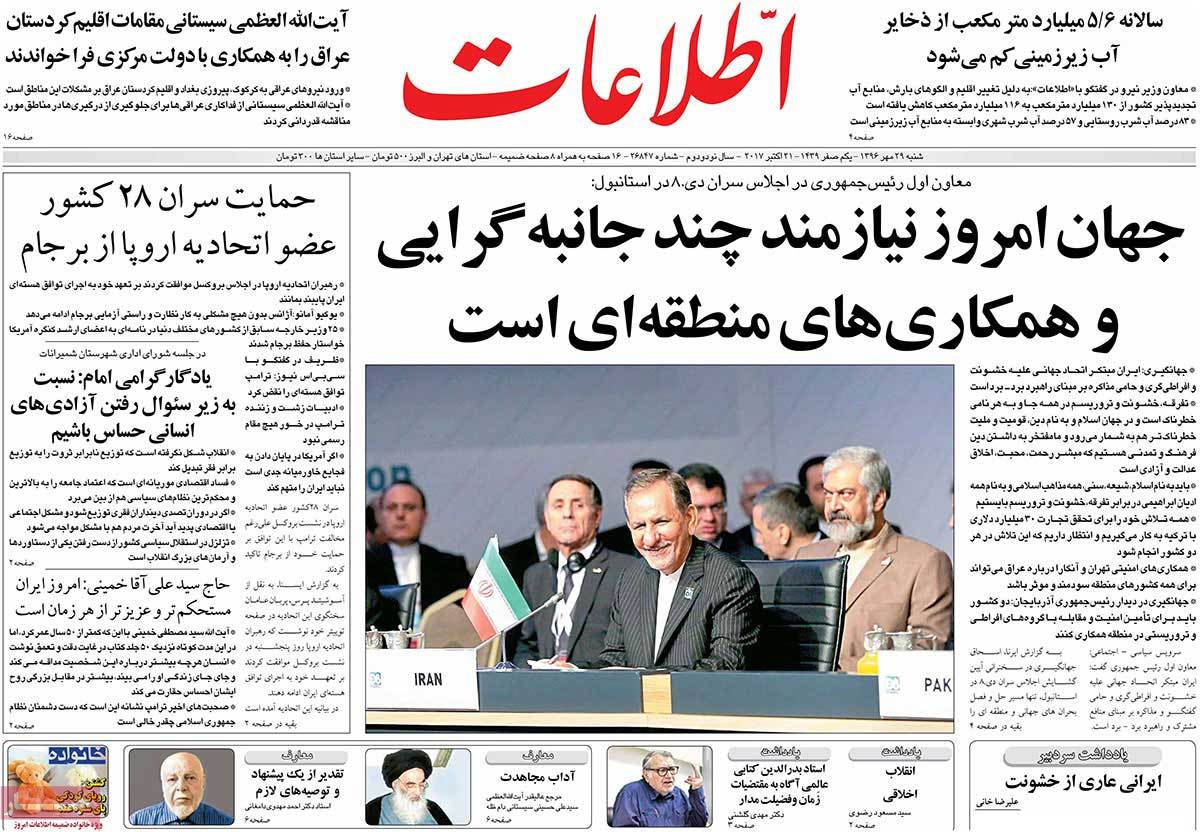 ---
Iran:
1- Leaders of 28 European Countries Warn Trump about JCPOA
2- Rouhani: We Consider Health as One of Our Three Priorities More Resolved than Ever
3- WHO: Iran Pioneer in Countering Infectious Diseases
4- Negotiation Only Key to Resolution of Global Crises: Iran First VP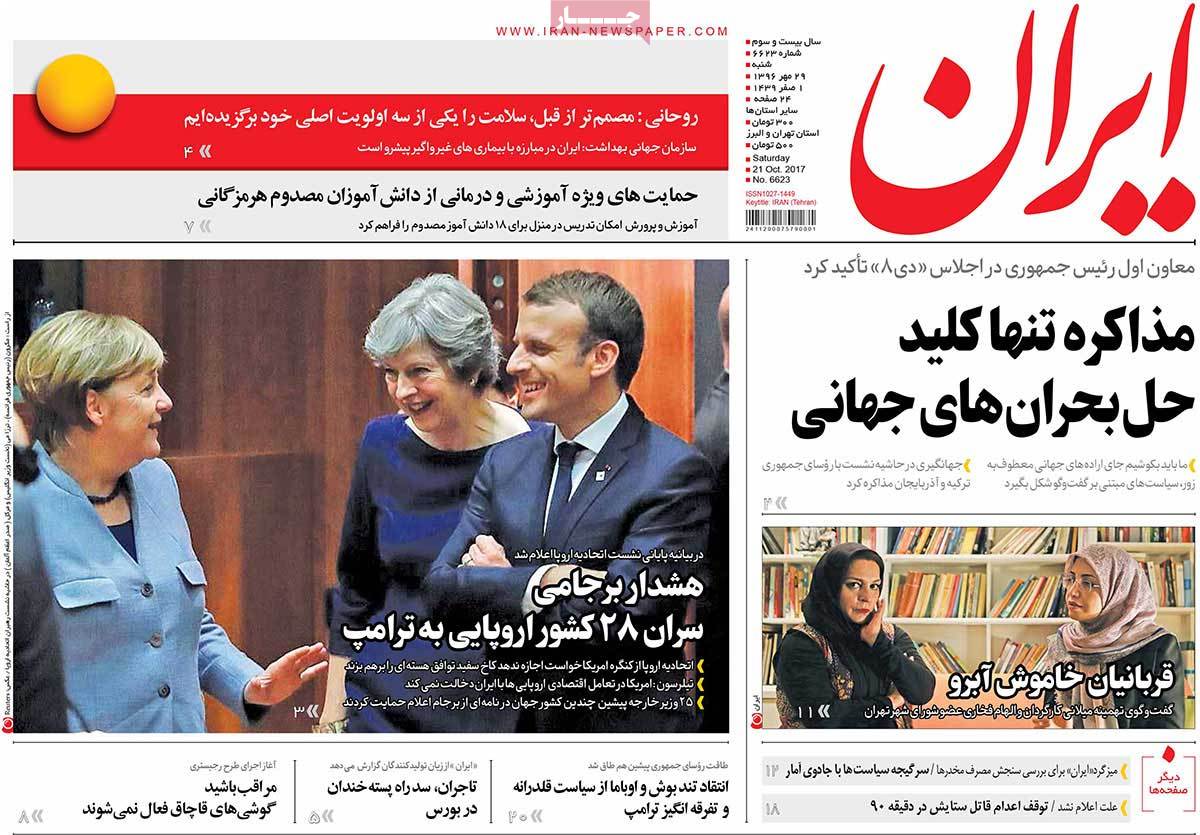 ---
Javan:
1- Total: We Will Follow US Congress' Decision
2- Cigarette, Hookah Killing 60,000 Iranians Each Year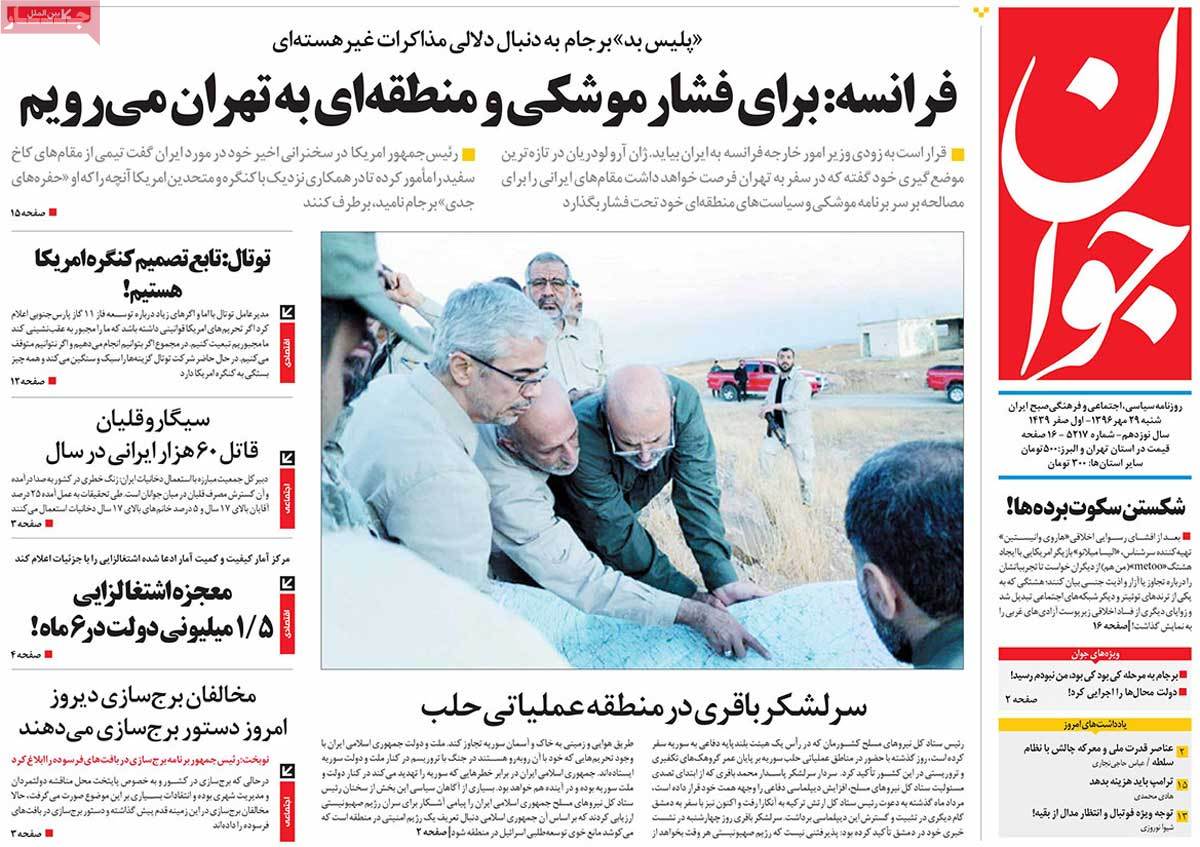 ---
Jomhouri Eslami:
1- French President: We've Made a Deal with US on Maintaining JCPOA
2- Karzai: US Has Been Defeated in Afghanistan
---
Khorasan:
1- Do European Officials Hold Different Stances on Iran's Missile Program?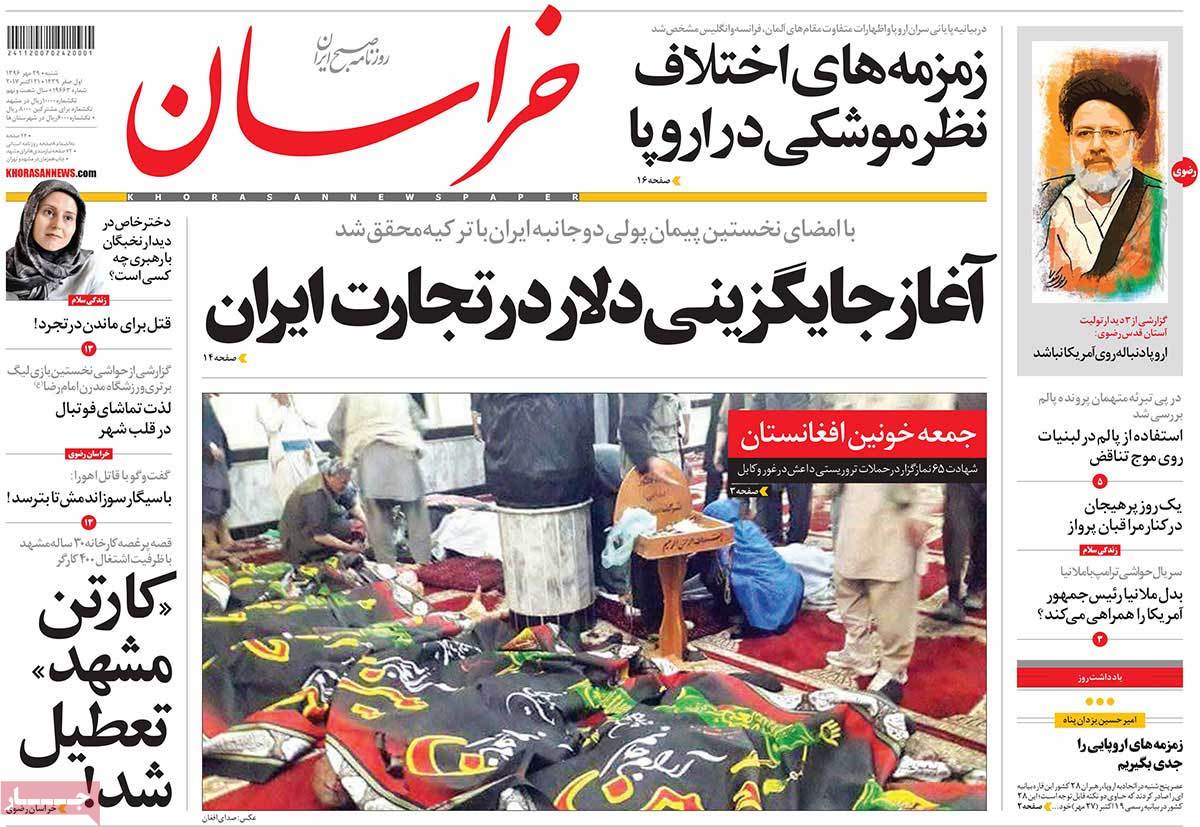 ---
Resalat:
1- Imam Khomeini's Grandson: Death to America Should Be Chanted in All Countries
2- Mirsalim: Why All Contracts Are to Benefit of Foreign Sides?
3- Putin Admits Trusting West Was Russia's Biggest Mistake