Newspapers today covered the remarks made by the Leader of the Islamic Revolution Ayatollah Seyyed Ali Khamenei in a meeting with Iranian top university students and elites.
They also highlighted the decision made by President Rouhani to accept the resignations of three of his ministers as part of his cabinet reshuffle.
The International Monetary Fund (IMF)'s latest report and its promising statistics about Iran's economy also received great coverage.
The above issues, as well as many more, are highlighted in the following headlines:
Abrar:
1- Ahmadinejad's $3.3bn Legal Case
2- US Elections Will Have No Impact on JCPOA: Iran's Deputy FM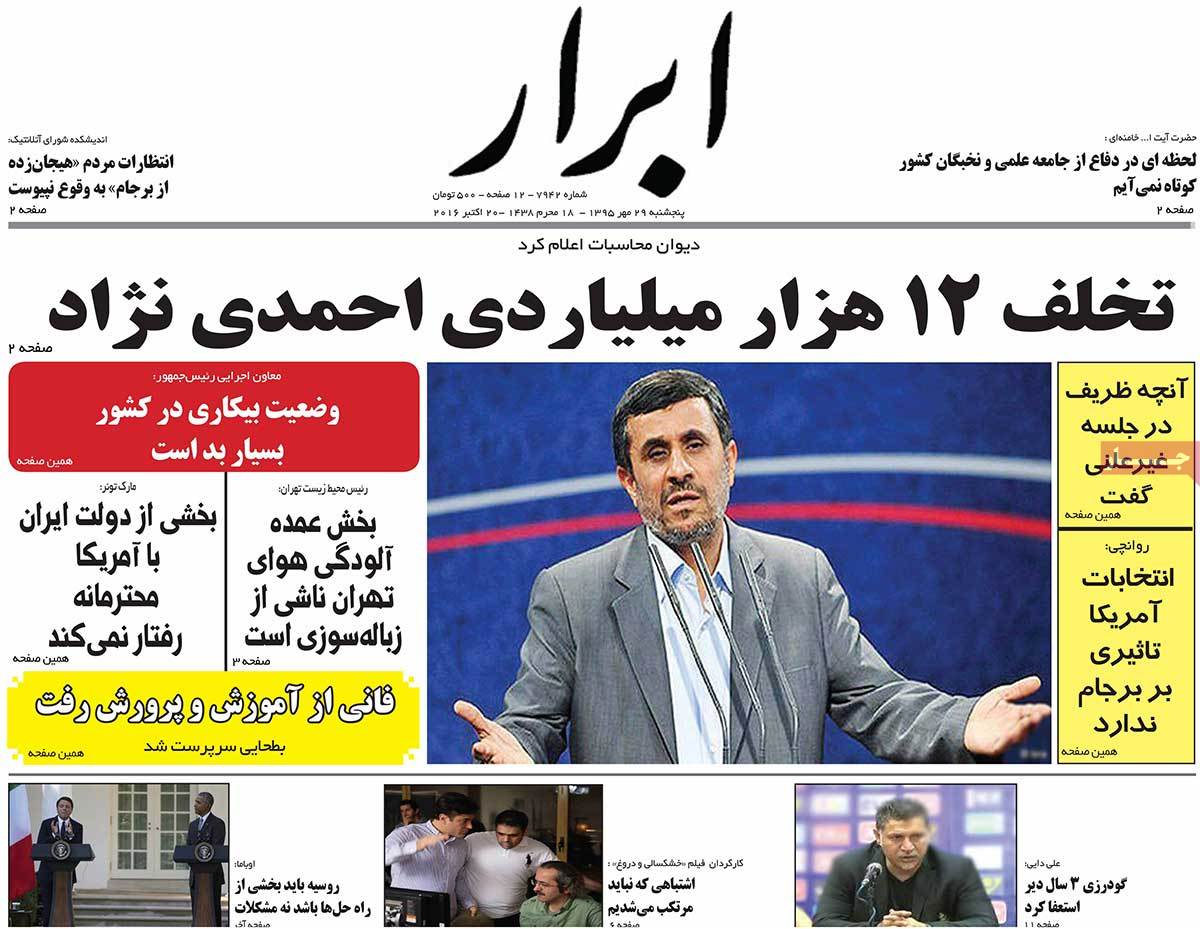 ---
Afkar:
1- Leader: US Looks for Removal of Religious Criteria in Ruling System
2- Mosul to Be Liberated before Arbaeen [40th day after martyrdom anniversary of Imam Hussein]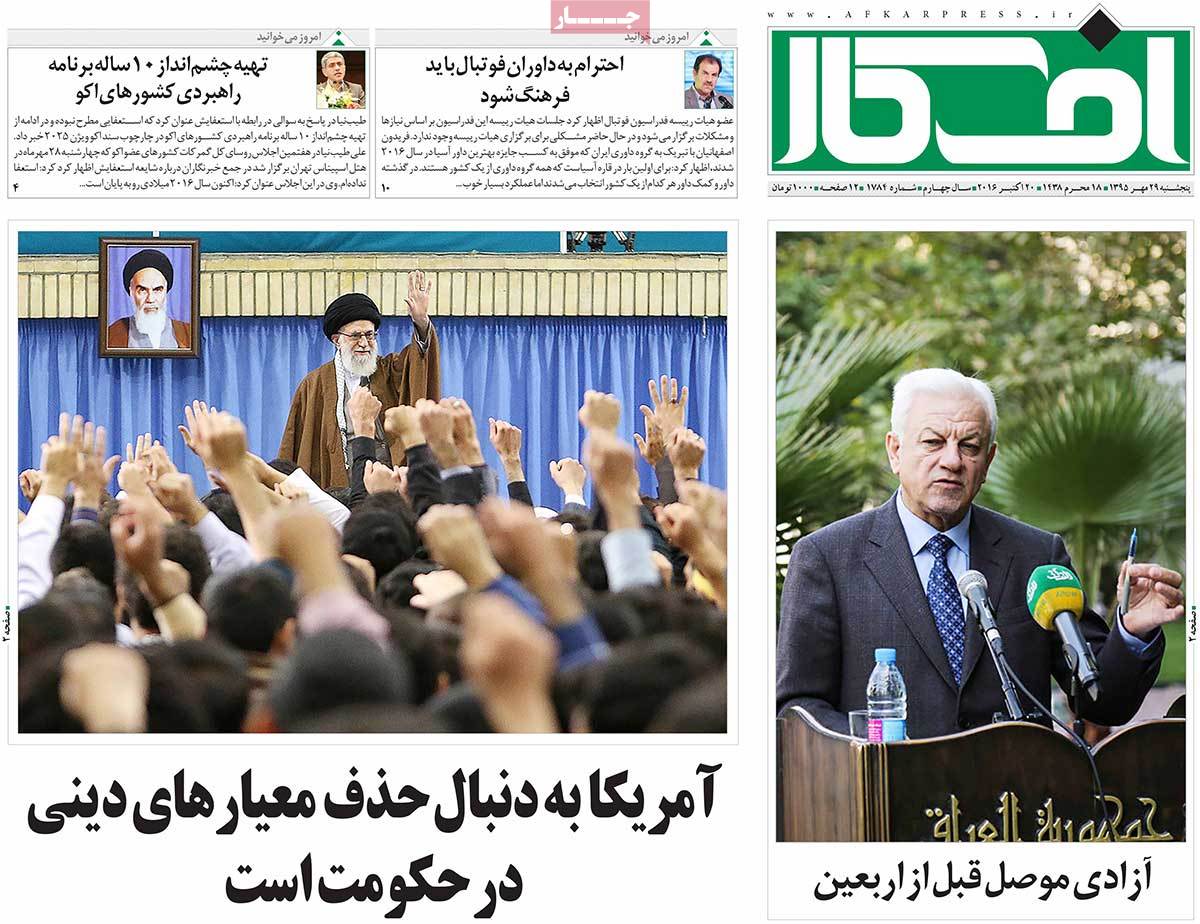 ---
Aftab-e Yazd:
1- End of the Stubborn Minister: Education Minister Finally Resigns after 24 Hours of Resistance
2- Does Rouhani Government's Economic Team Need Any Improvement?
3- Trump's Style of Revealing Opponent's Secrets: GOP Candidate Says Obama's Brother Is More Intelligent than the US President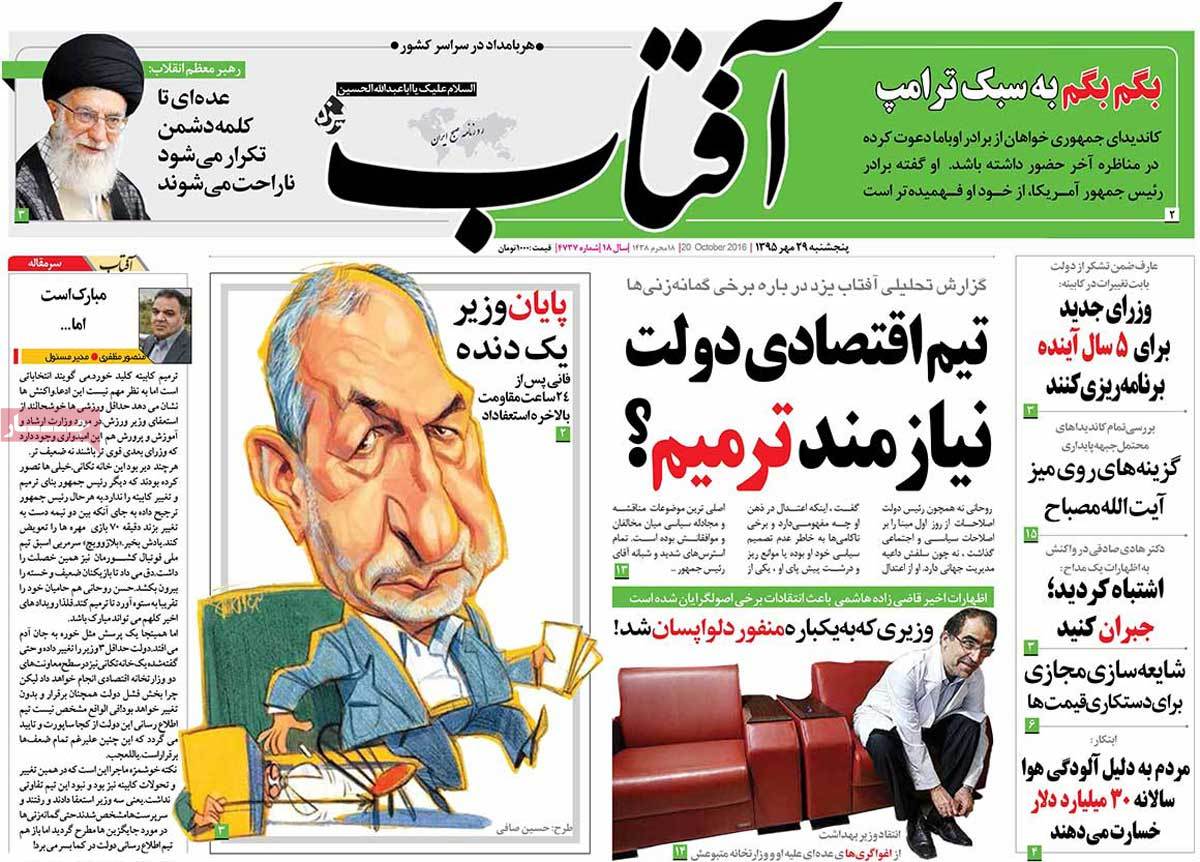 ---
Arman-e Emrooz:
1- Leader: Repetition of the Word Enemy Is 'Awareness of Conspiracy', Not 'Illusion of Conspiracy'
2- Rouhani's Moves to Improve His Cabinet: New Ministers to Be Introduced Next Week
3- People Have Lost $30bn Because of Air Pollution: Environment Chief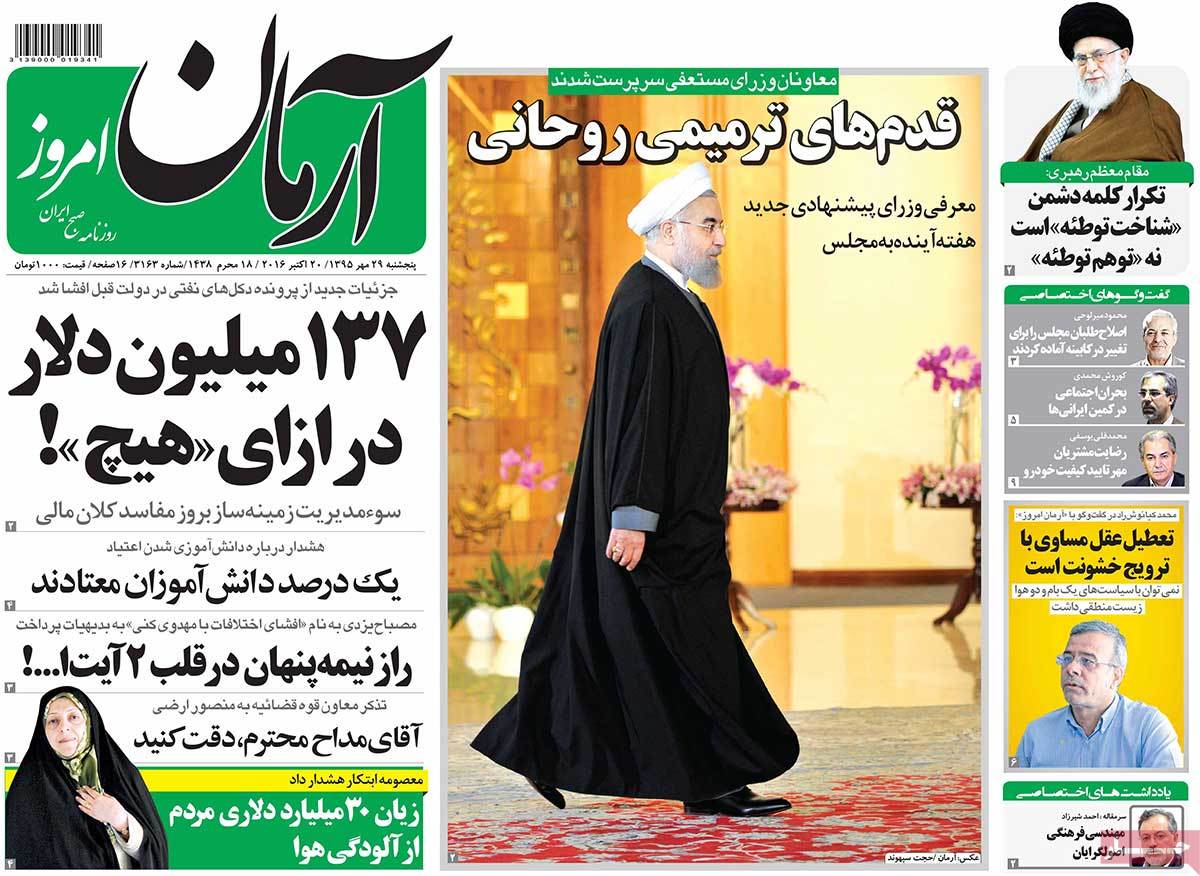 ---
Ebtekar:
1- Leader: I Won't Stop Defending Iran's Scientific Community and Elites Even for a Second
2- Iranian Lawmakers Consider Rouhani's Cabinet Reshuffle as a Move in Line with People's Demands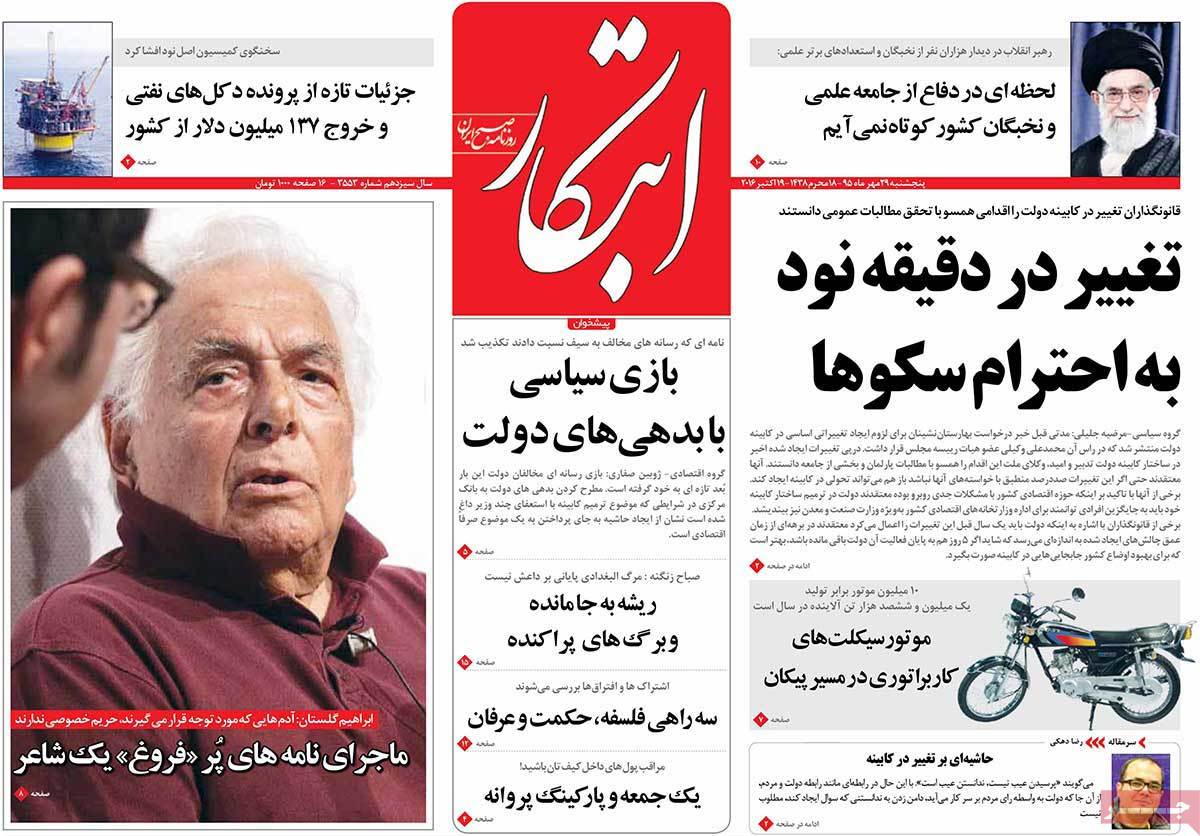 ---
Emtiaz:
1- 10th Train of Foreign Tourists to Arrive in Iran Tomorrow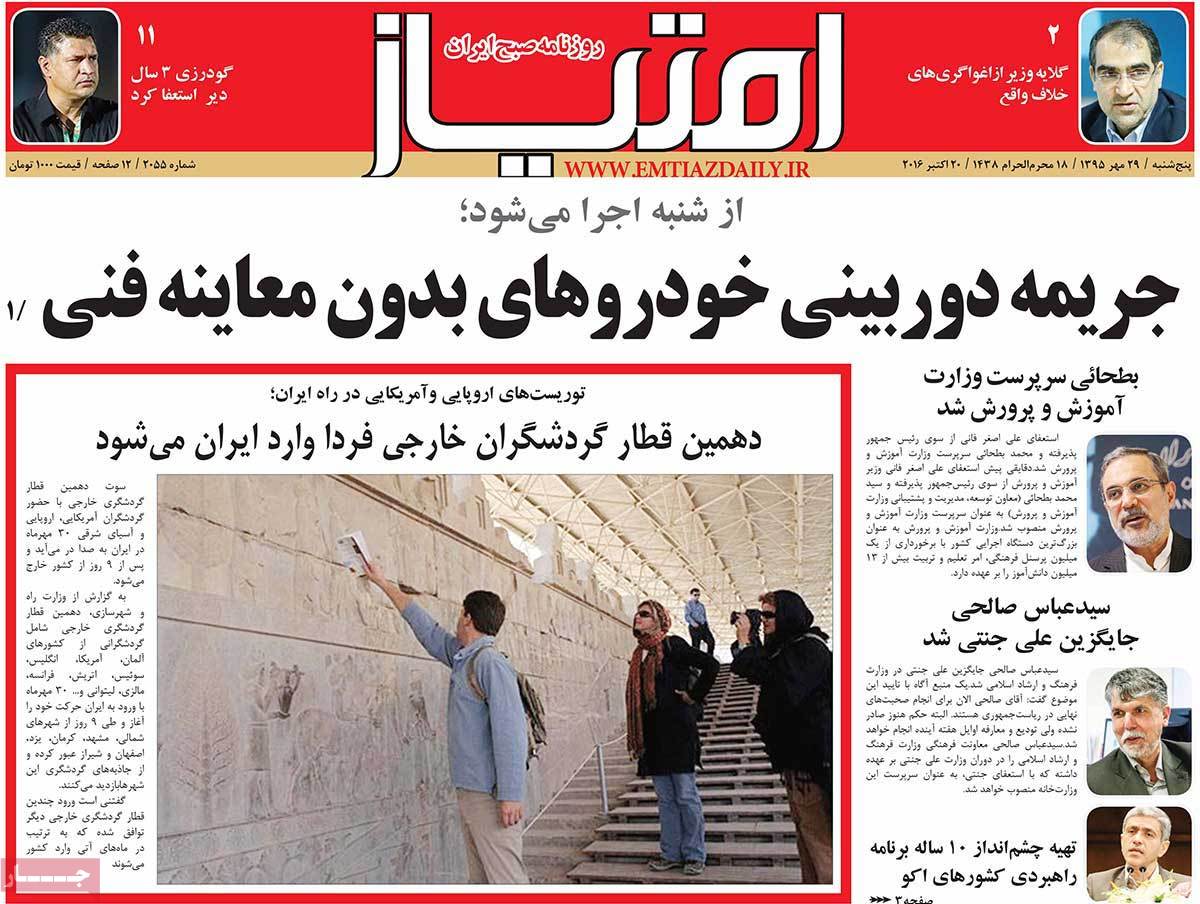 ---
Ettela'at:
1- Leader Underlines the Need for Paying Special Attention to Elites
2- 350sqm of ISIS-Held Territories Liberated in Mosul Operation
3- Environment Chief: Energy Consumption in Iran Is 9 Times More than Industrial Countries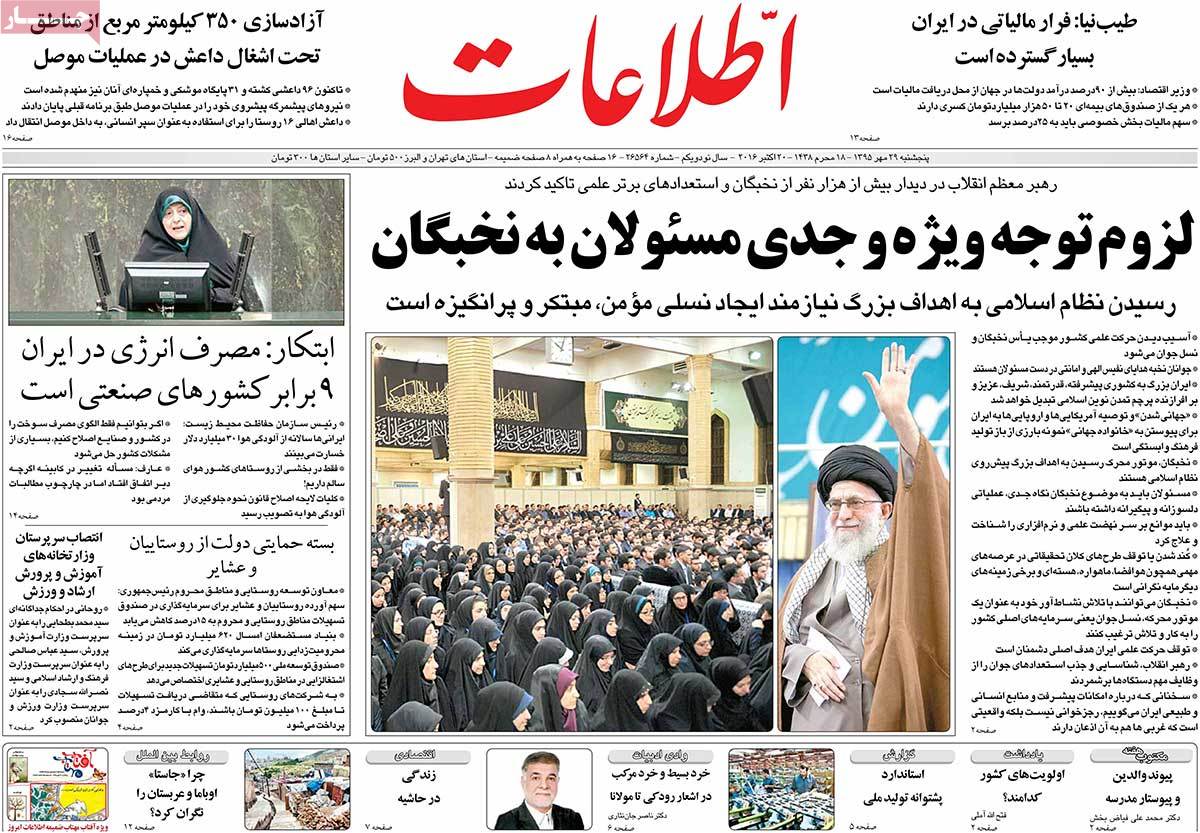 ---
Haft-e Sobh:
1- Germany's Siemens Will Make Investment in Iran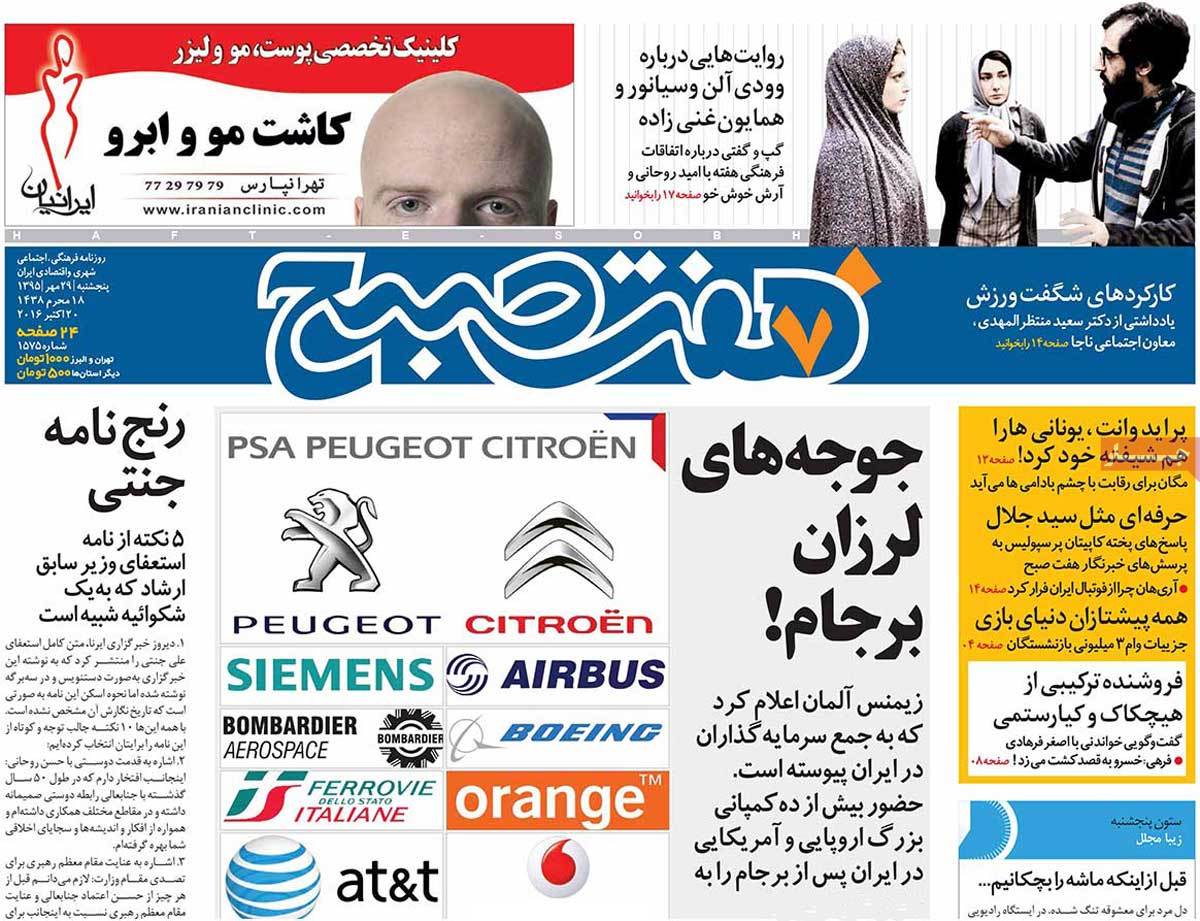 ---
Iran:
1- Iran's Economic Performance Has Been Way beyond Expectations: Latest Report by IMF Shows
2- Iranian People Has Had World's Greatest Participation in Online Census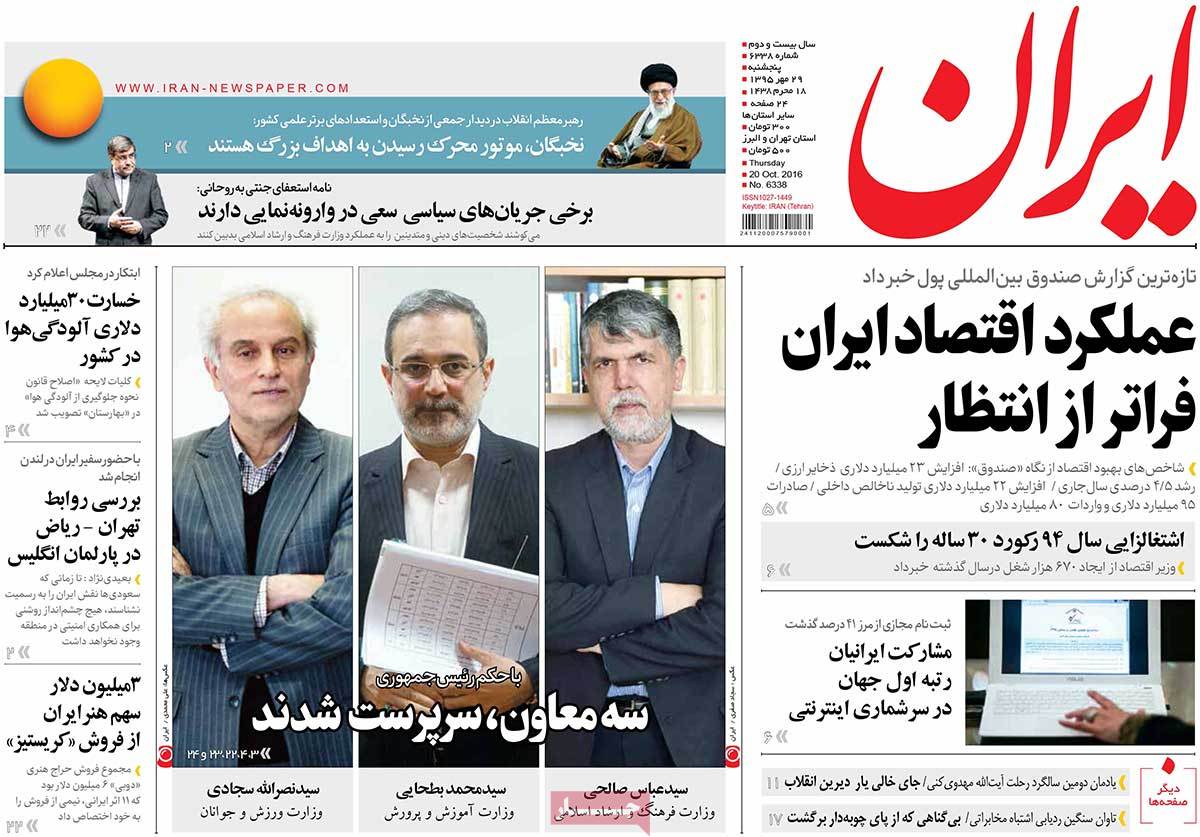 ---
Jame Jam:
1- Leader: Current Generation Is a Revolutionary One
2- A Law for a Clean Sky: Parliament Passes General Principles of Clean Air Bill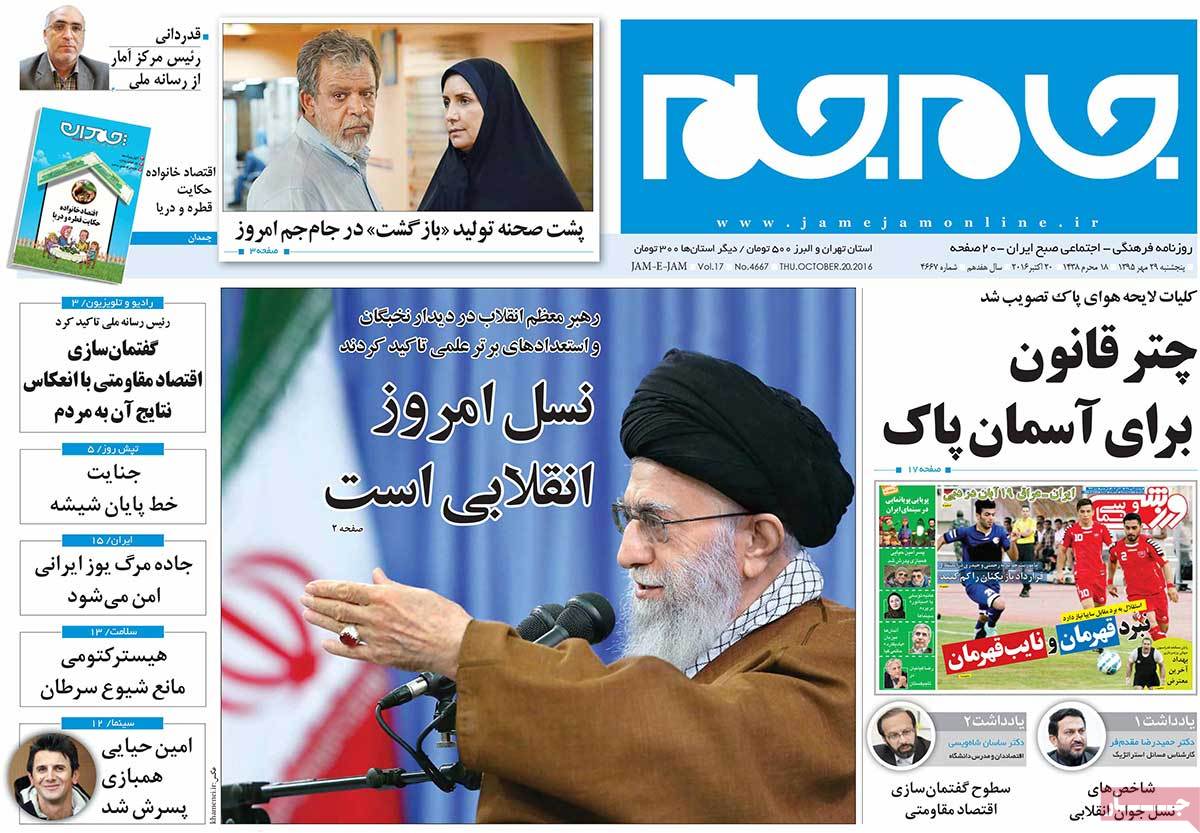 ---
Javan:
1- Leader: I Had Warned Officials of the Consequences of Nuclear Withdrawal
2- Moscow: Washington Should Be Waiting for a Painful Reaction
3- Removal of Minister without Resignation and Impeachment
4- Escaping the Yemen War with $17.5bn Gamble: Saudi Arabia Starts Selling Bonds amid Ceasefire
---
Kayhan:
1- Leader: Enemies Want Iran's Scientific Growth Be Stopped
2- Hundreds of Terrorists Give Up Their Guns and Flee From Damascus
3- Education Minister: I'm Ready to Continue My Job; President: I Accept Your Resignation!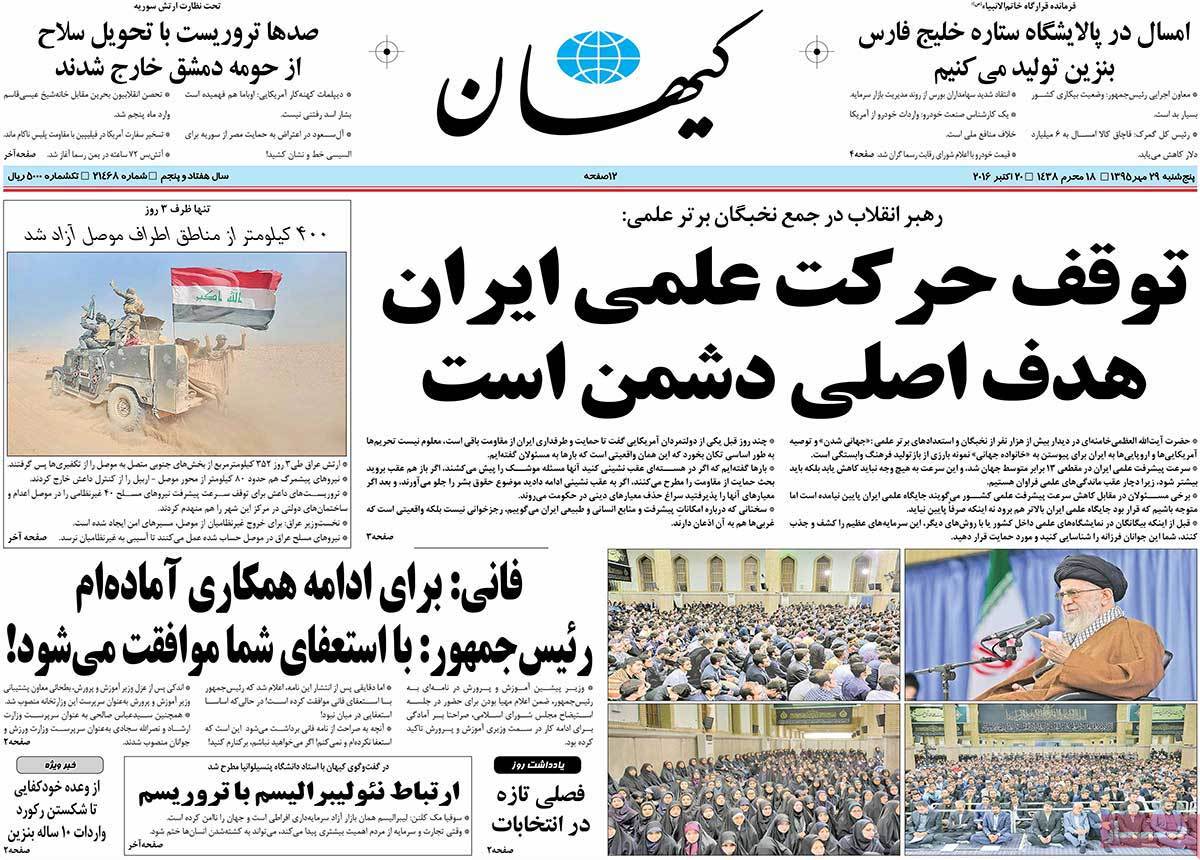 ---
Khorasan:
1- Elites Are Precious Divine Gifts Officials Should Protect: Leader
2- Iran's Foreign Exchange Reserves Increase to $132bn: IMF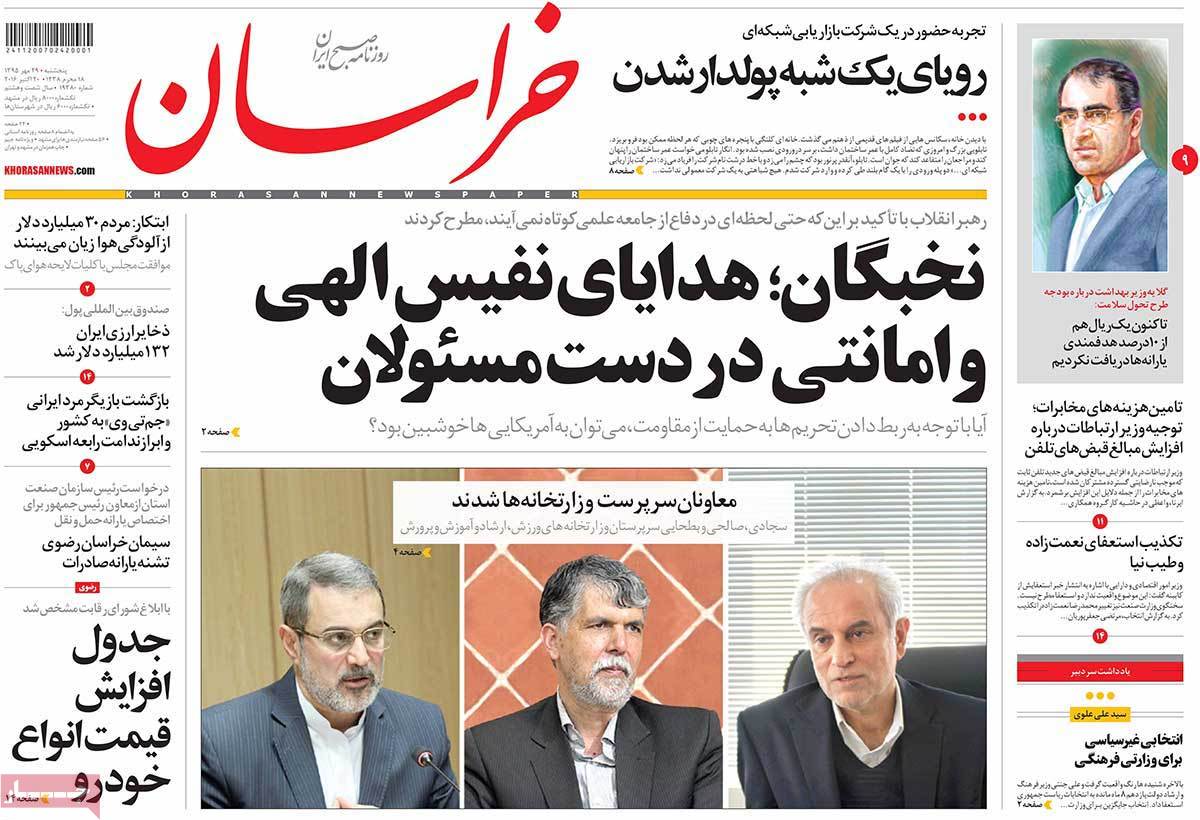 ---
Sayeh:
1- Those Who Are Not Hungry Don't Know Anything about the Starving People: Impact of Food Waste on Spread of Poverty in the World