The majority of newspapers on Sunday covered the upcoming visit of German Economy Minister Siegmar Gabriel and his alleged pre-condition – Iran's recognition of Israel – for expansion of Tehran-Berlin ties.
Another top story was the unveiling of Iran's newly-developed drones and the American UAVs hunted by Iranian forces.
Newspapers also covered the US Secretary of State John Kerry's remarks about Syrian President Bashar al-Assad's presence in Syrian elections.
The above issues, as well as many more, are highlighted in the following headlines:
Abrar:
1- IRGC Aerospace Force Commander: US Trying to Draw Level with Iran in Making Stealth and Bomber Drones
2- Deputy Minister: No Report of ISIS' Operation in Tehran Friday Prayers
3- Reuters: German Economy Minister Visiting Iran in Spite of Continued Restrictions in Trade Ties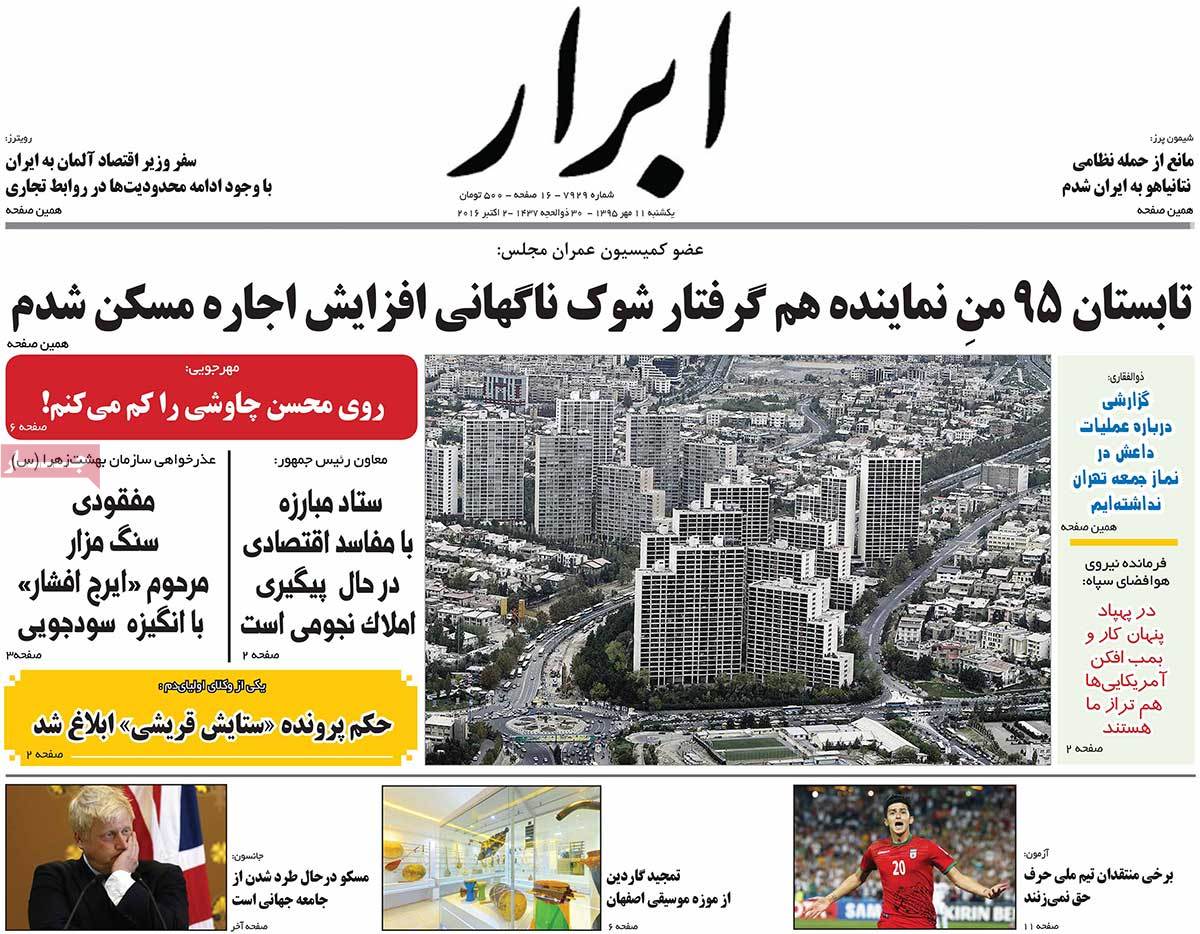 ---
Abrar-e Eqtesadi:
1- Lukoil Looking for Oil Deal with Iran
2- Re-Export of Iran's Saffron from Afghanistan!
3- Russians Begin Water Explorations in Iran: Moscow Opens $5bn LC for Tehran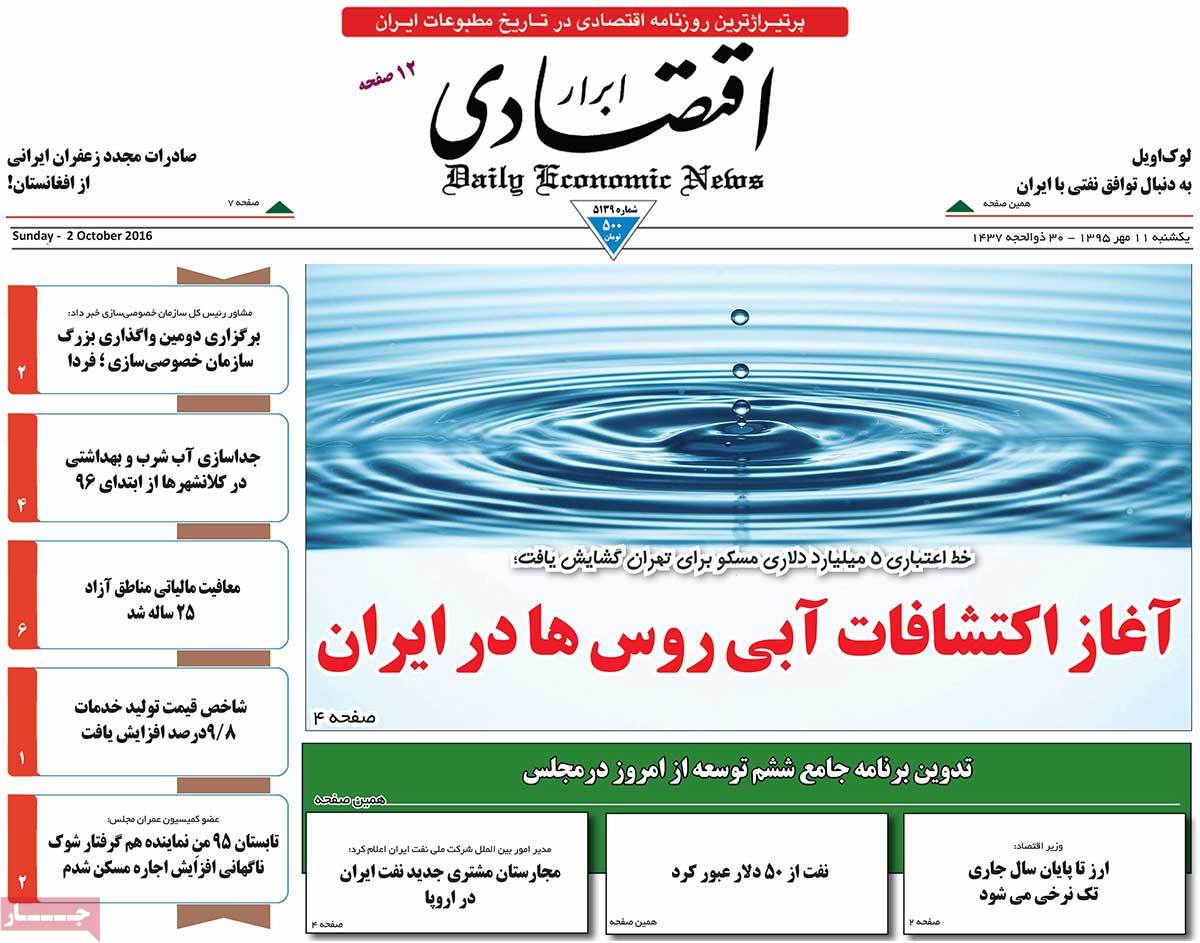 ---
Afarinesh:
1- Shamkhani: We See No Limit in Defending Ourselves and Our Borders
2- Intelligence Minister: Iran's Sustainable Security Achieved Thanks to Islamic Revolution and Its Values
3- Defence Minister: Submission Has No Meaning in Islamic Republic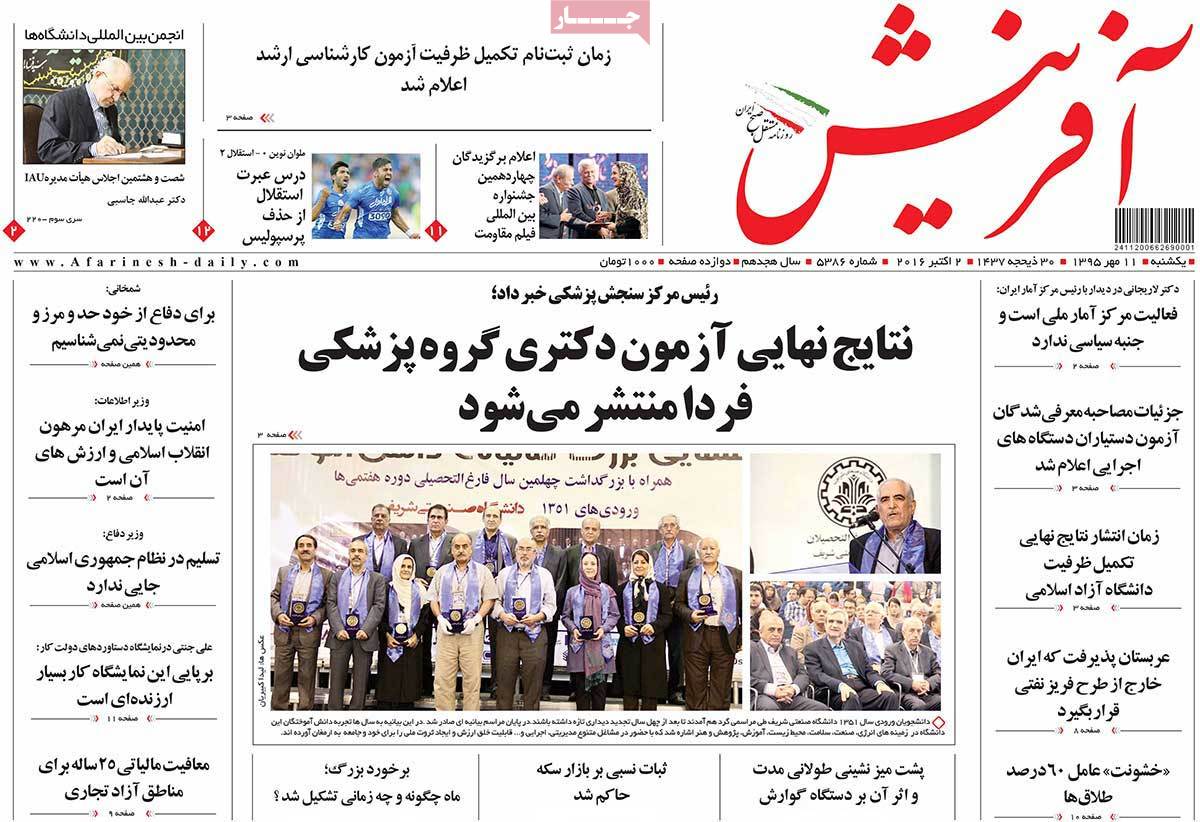 ---
Afkar:
1- Kerry: US Has No Legal Justification for Intervention in Syria
2- Iran and South Africa Explore Avenues for Expansion of Ties
3- Iranian Spokesman: Iran Accepts No Pre-Condition for Expansion of Ties with Germany
---
Aftab-e Yazd:
1- Renewed Speculations: Zarif Once Again Named as Noble Peace Prize Candidate
2- 50% of Iranians Deprived of Travelling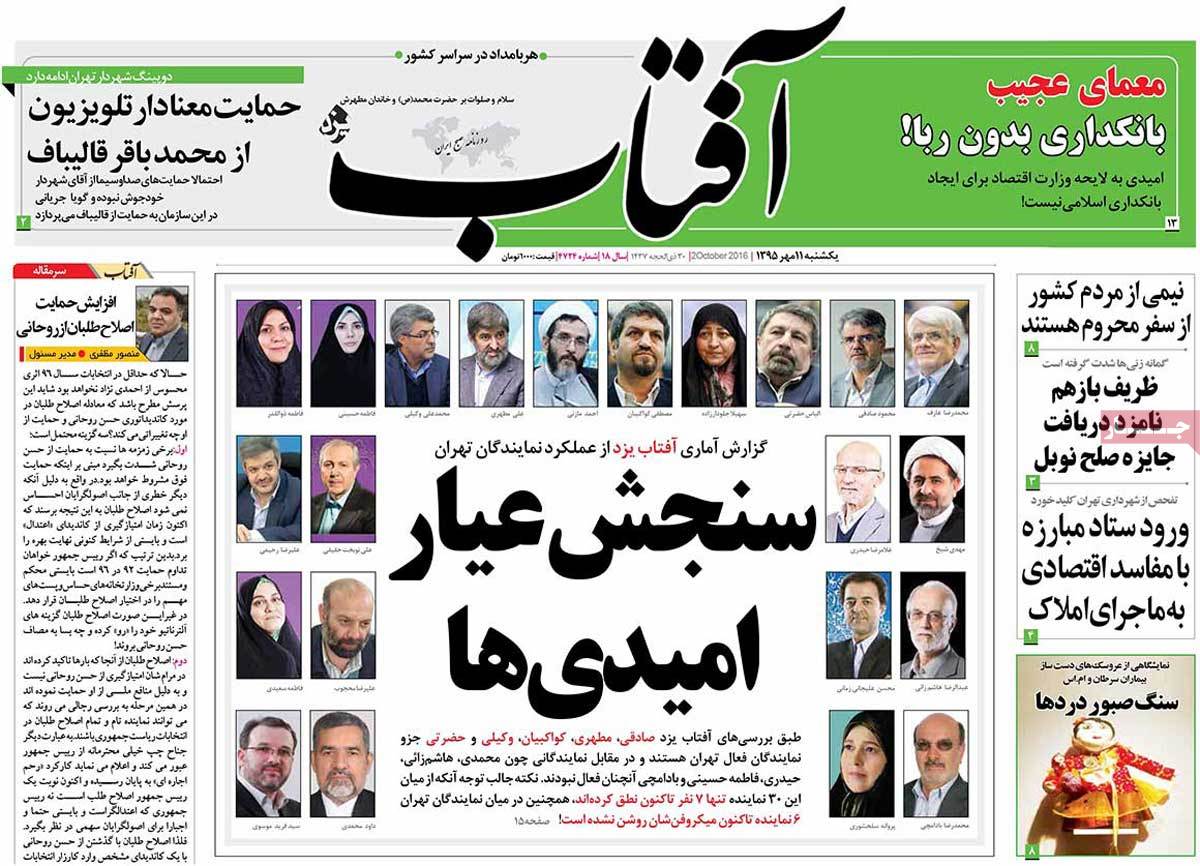 ---
Arman-e Emrooz:
1- Iran Futsal Team Makes History: 3rd Place in World Cup, First Medal in Iran's Futsal History
2- Western and Southern Iran Hit by Dust Pollution of Autumn: Schools and Administrations Shut Down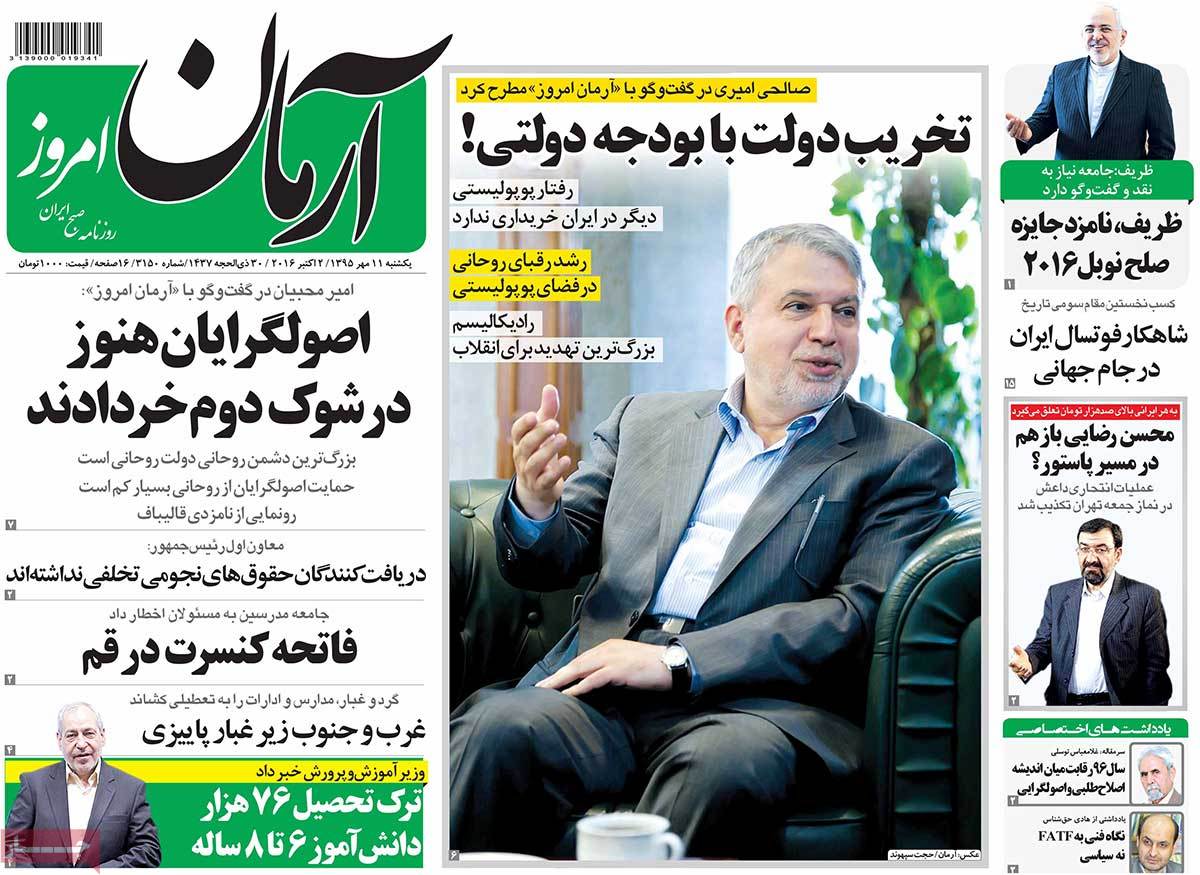 ---
Asr-e Iranian:
1- Hungary Joins Iran's Oil Customers
---
Donya-ye Eqtesad:
1- First Nationwide and Comprehensive Poll after US Presidential Debates Indicates: Hillary Is 5% ahead of Trump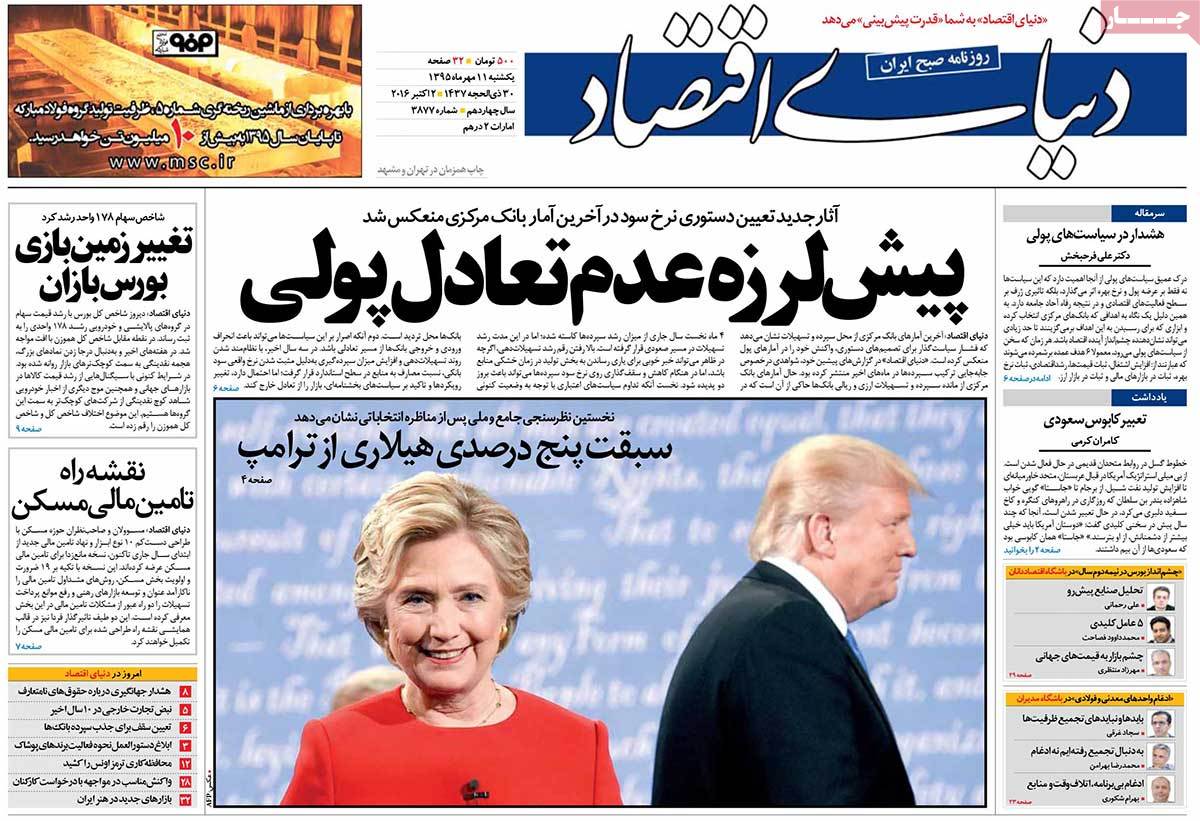 ---
Emtiaz:
1- Power Minister: Serious Sanctions Can Be Imposed If Iran Fails to Implement Its Commitments as per Paris Deal on Greenhouse Gases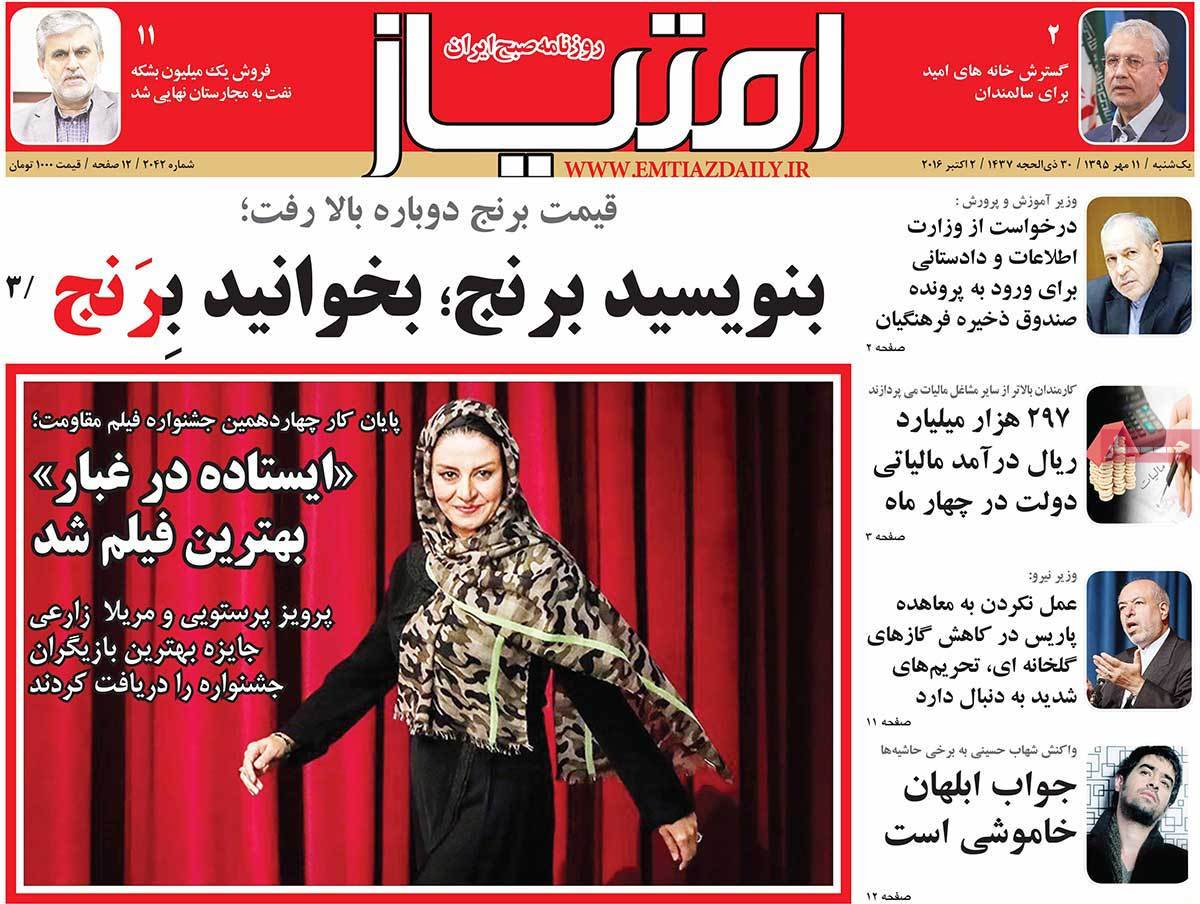 ---
Etemad:
1- Iran Unveils Latest Fighter Drone 'Sa'eqeh'
2- You Have to Accept Assad's Presence in Syrian Elections: Kerry's Conversation with Some Syrian Opposition Figures Leaked
3- German Economy Minister's Visit to Tehran with €3bn Business Deals: Gabriel to Visit Iran for Second Time Since Nuclear Deal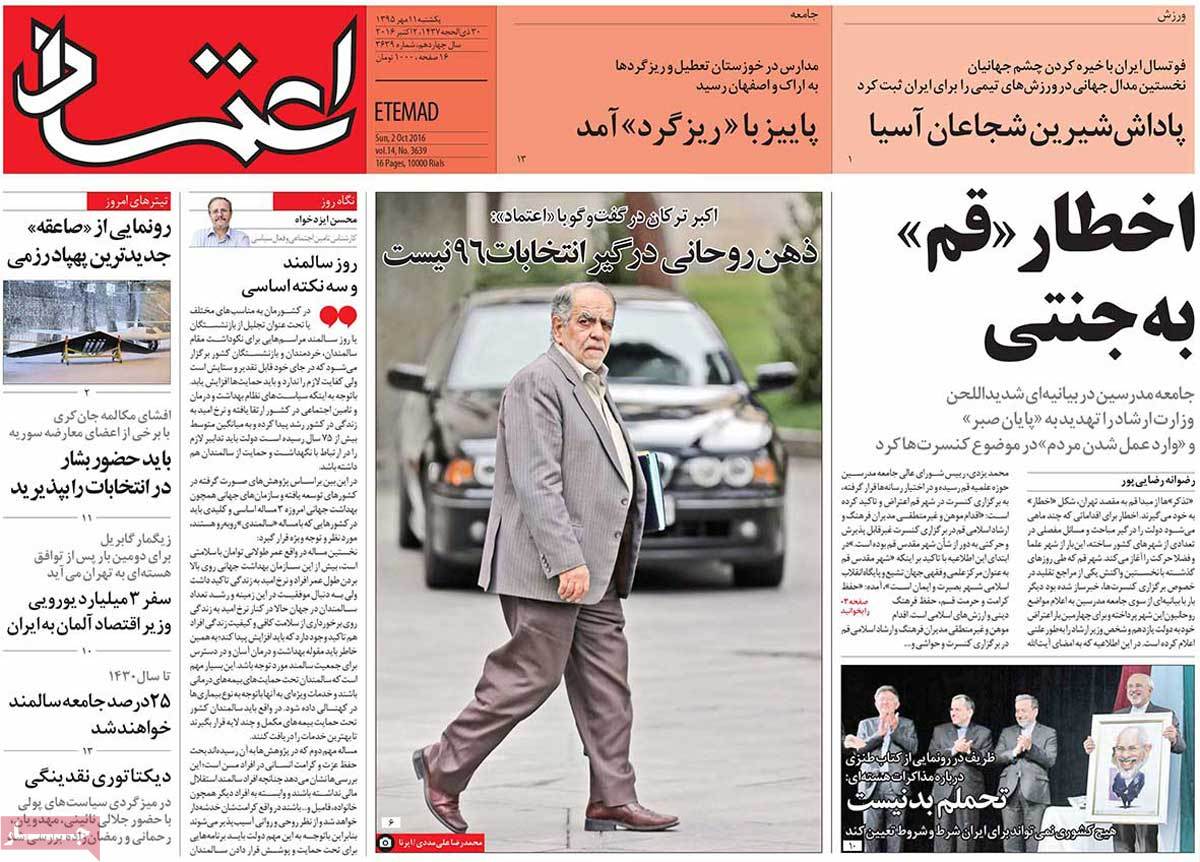 ---
Ettela'at:
1- US Accedes to Assad's Presence in Syrian Presidential Elections
2- Government Resolved to Promote Position of Iranian Women in World's Sports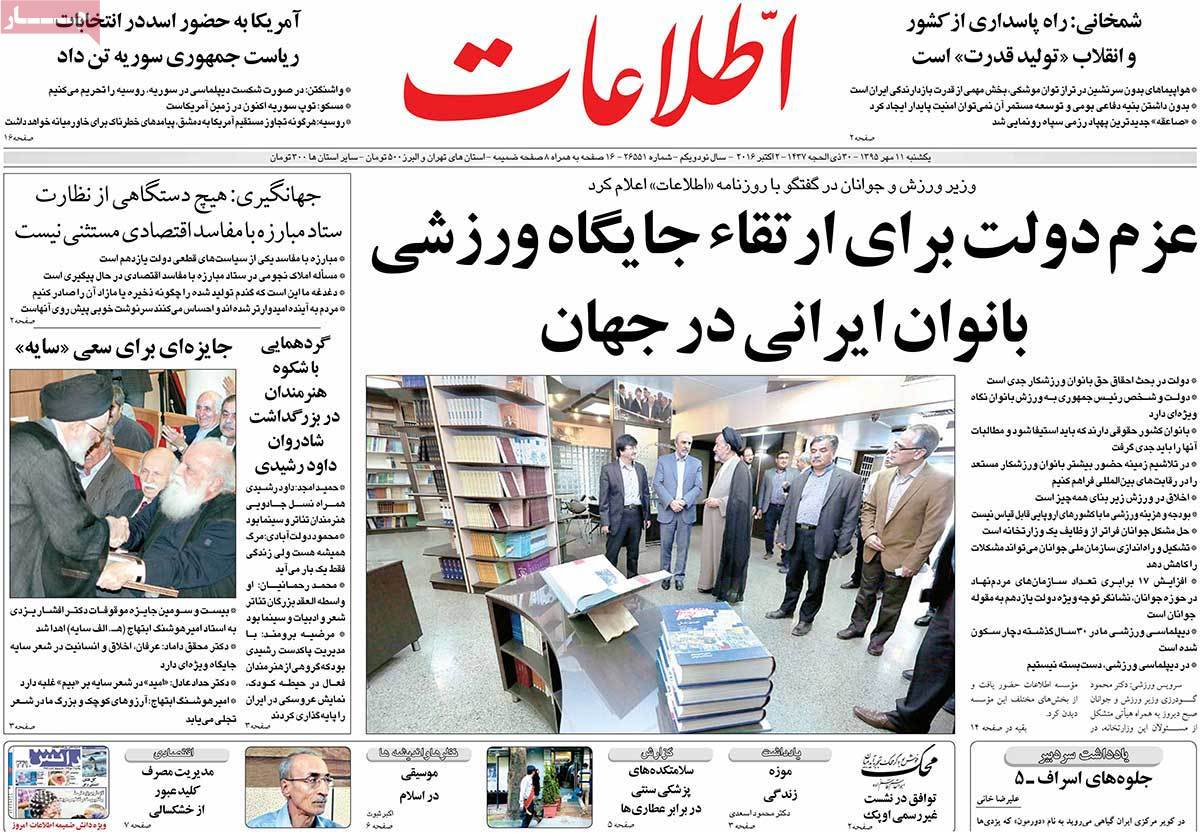 ---
Hemayat:
1- Foreign Ministry Spokesman Warns EU against Interference in Iran's Judicial Affairs: It's Not Possible to Promote Human Rights through Politically-Motivated Statements
---
Iran:
1- US Backs Off and Accepts Assad's Presence in Syrian Elections
2- Iran, 16th Country in the World in Air Pollution Fatalities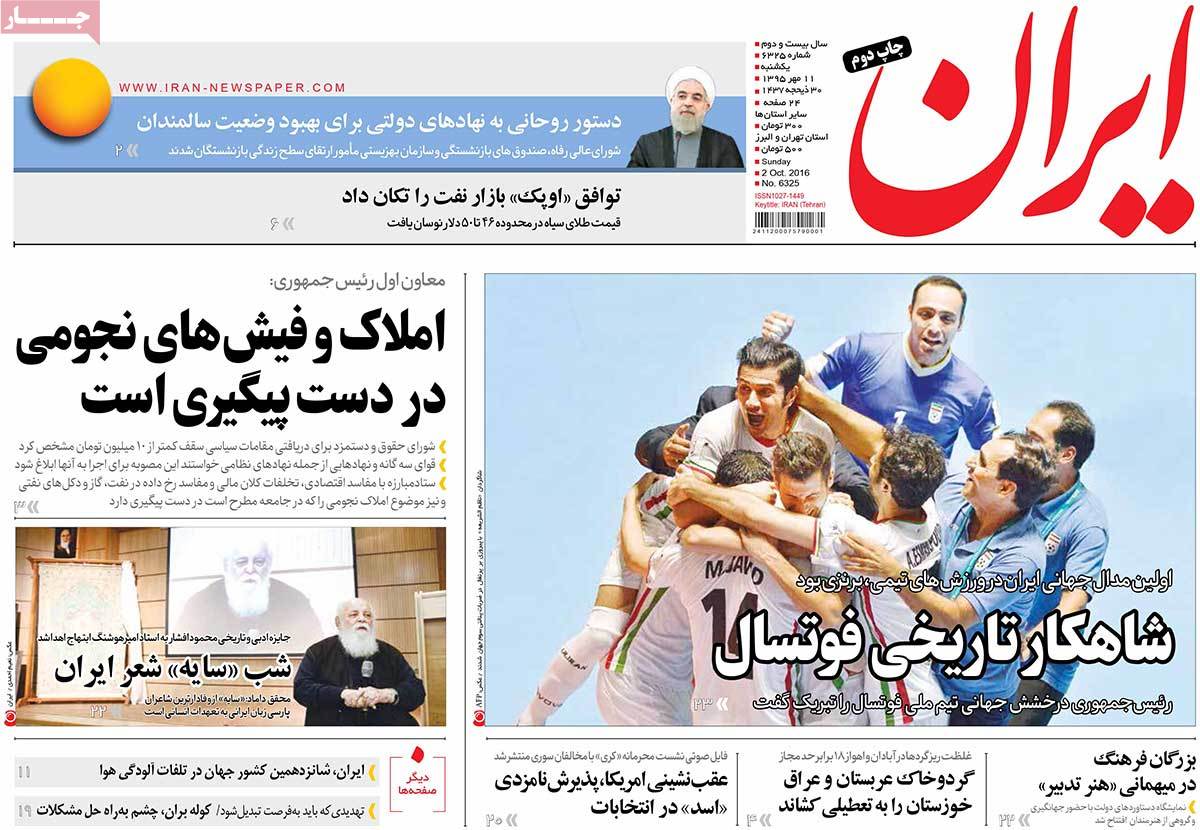 ---
Javan:
1- Don't Let This 'Friend of Zionists' Enter Iran: German Economy Minister Is Going to Visit Iran for Talks with Government over Recognition of Israel
2- Beginning of the Domino of Lawsuits Filed against Saudi Arabia over 9/11
---
Jomhouri Eslami:
1- Russia's Unprecedented Warning to US: Moscow Says US Attack on Syria Would Set Fire on Entire Region
2- Export of South Pars Gas Field's Gas Condensates Exceeds 70m bpd
3- Russia: ISIS after Occupying Central Asia and Caucasia
4- First Lawsuit Filed by a 9/11 Survivor against Saudi Arabia in a US Court
---
Kayhan:
1- Development of Auto Industry by Assembling Renault Products Dating Back to 17 Years Ago!
2- Yemen Army Destroys UAE's Warship in Ta'iz Coasts
3- On Verge of Islamic Month of Muharram, Al Khalifa Regime Becomes More Brutal in Oppressing Bahraini People
4- First VP: Executives Who Received Astronomical Salaries Didn't Violate the Law!
---
Khorasan:
1- Trump's Sexual Scandal: Trump's Presence in a 2,000 Pornographic Video Leaked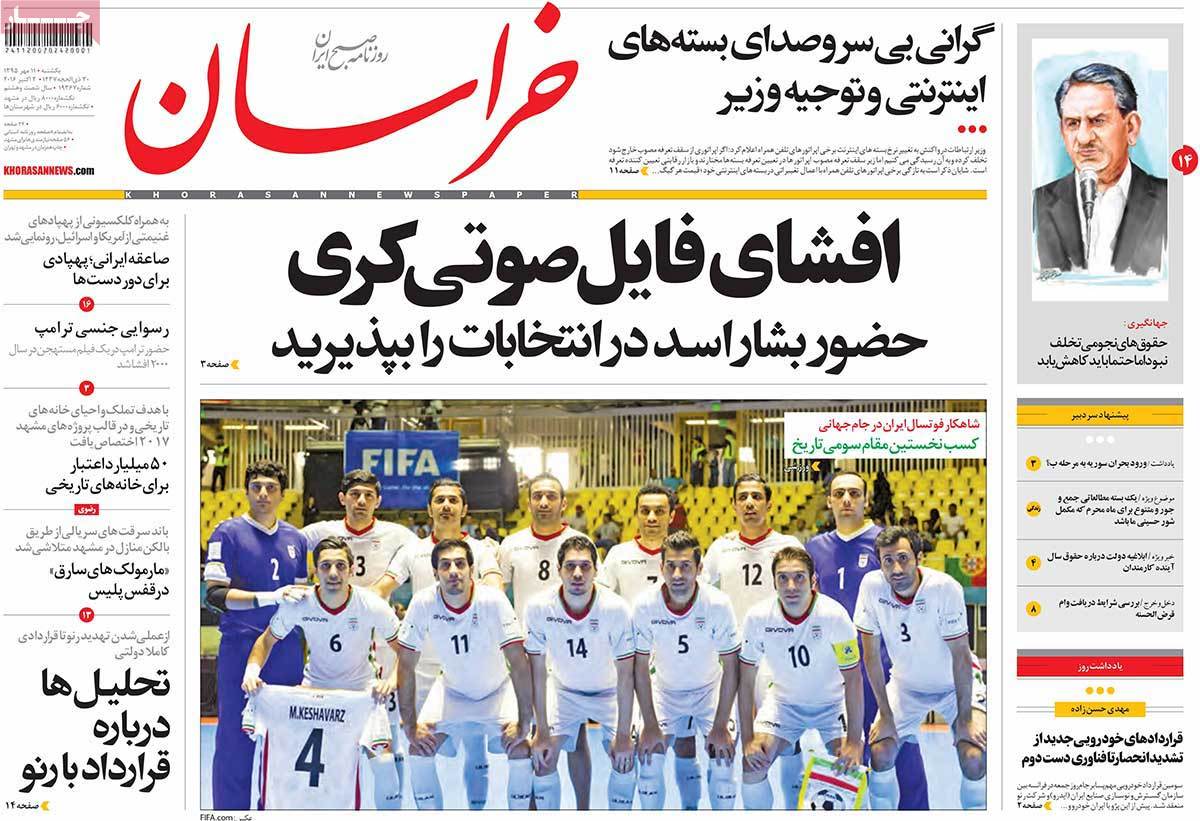 ---
Resalat:
1- Trump: If Clinton Wins, I May Refuse to Accept Election Results
2- Amir Abdollahian: US Interference Is Main Cause of Middle East's Problems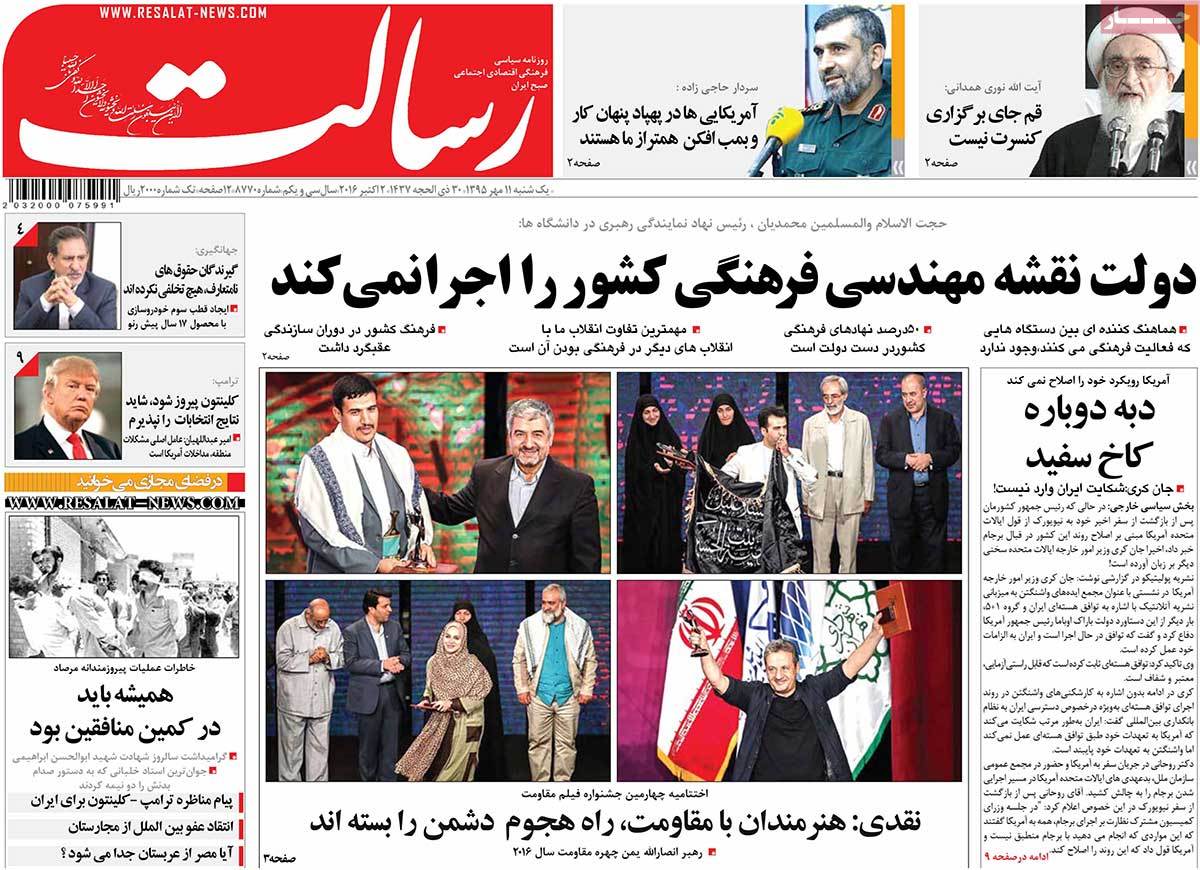 ---
Roozan:
1- Conservatives' New Challenge ahead of Elections: Neither Ahmadinejad, Nor Rouhani
2- Berlin Once Again Says Hello to Tehran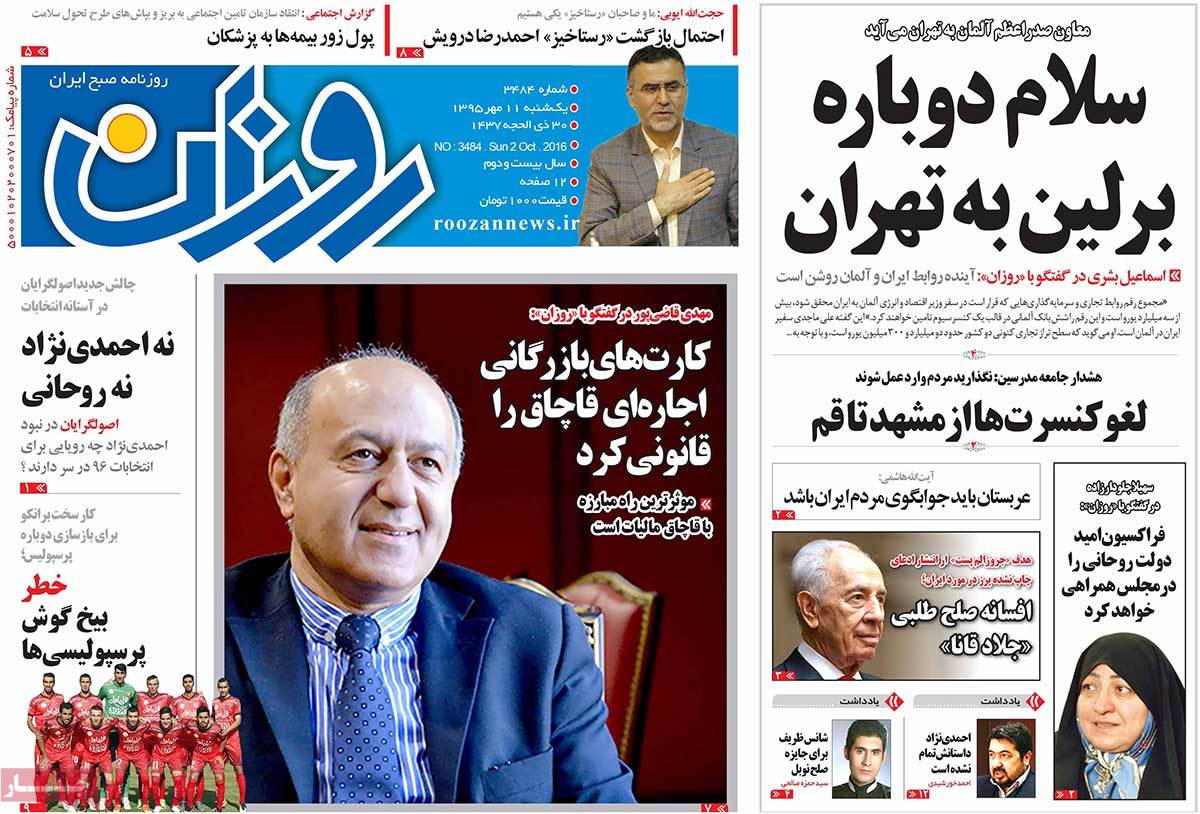 ---
Shargh:
1- Merkel's Deputy Once Again in Tehran
2- SNSC Secretary: Iran Knows No Limit for Developing Its Defensive Capabilities
---
Vaghaye Ettefaghieh:
1- Life in a Big Prison without a Ceiling: Guardian's Account of What's Going on in Aleppo
2- Liberal Frustration in Russian Elections: The Polls that Strengthened Putin's Power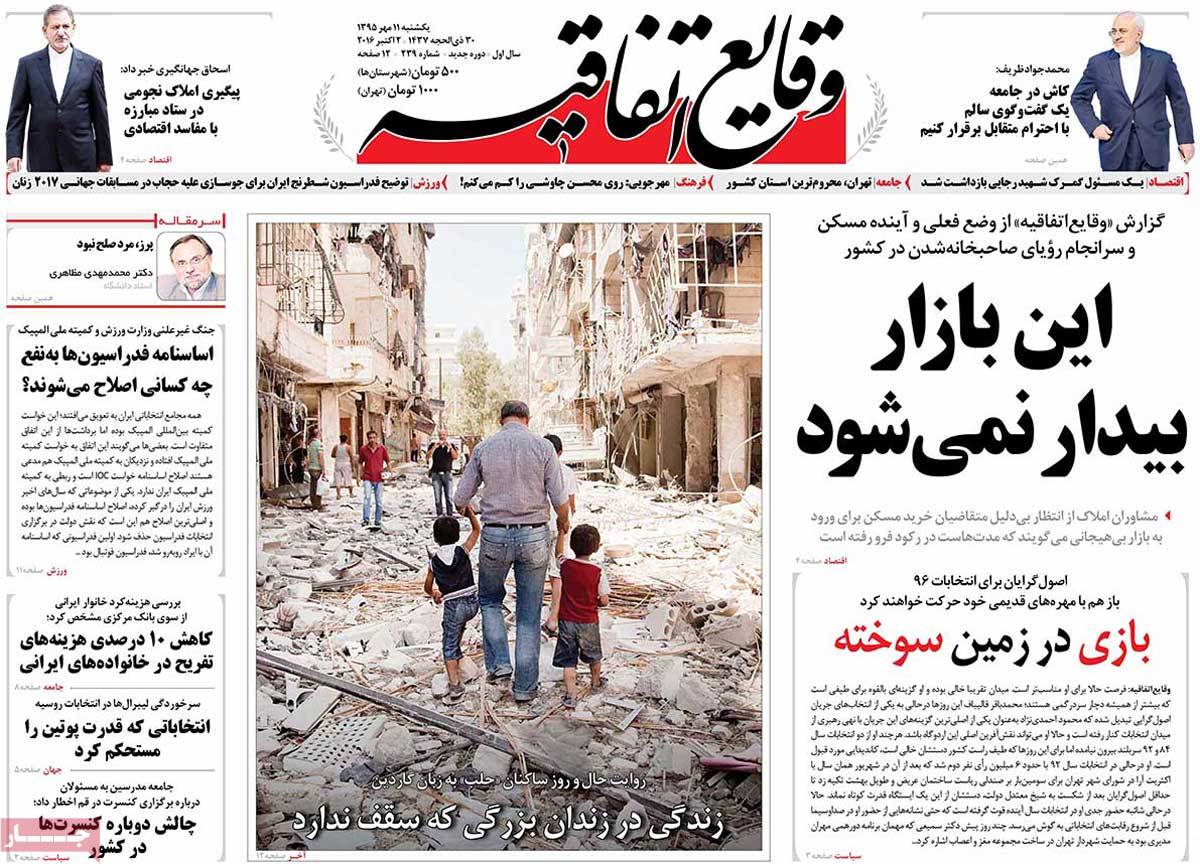 ---
Vatan-e Emrooz:
1- Iran Has Hunted 2 Other American Drones after RQ-170
2- American Widow, the First to Sue Saudi Arabia