The major issue reported by many newspapers today was the resignation of two or three ministers in President Hassan Rouhani's cabinet. Culture Minister Ali Jannati and Sports Minister Mahmoud Goudarzi have already resigned, but Education Minister Ali Asghar Fani has dismissed the reports about his resignation; though, he is going to be impeached by members of Iran's Parliament.
The ongoing operation by the Iraqi army, the US-led coalition, and the popular forces also received great coverage today. The great progress made by the anti-ISIS forces was the headline in many newspapers.
The US presidential elections and their upcoming debate were also a top story today. Donald Trump's scandal and Hillary Clinton's remarks about Iran were discussed in today's papers.
The above issues, as well as many more, are highlighted in the following headlines:
Abrar:
1- Enhancement of Bilateral Ties, the Key Point Discussed in Erdogan's Meeting with UAE FM
2- UNICEF: Almost 3,000 Yemeni Children Have Been Killed and Wounded in the War
3- AFC: Iran's Faghani Is the Best Asian Referee of the Year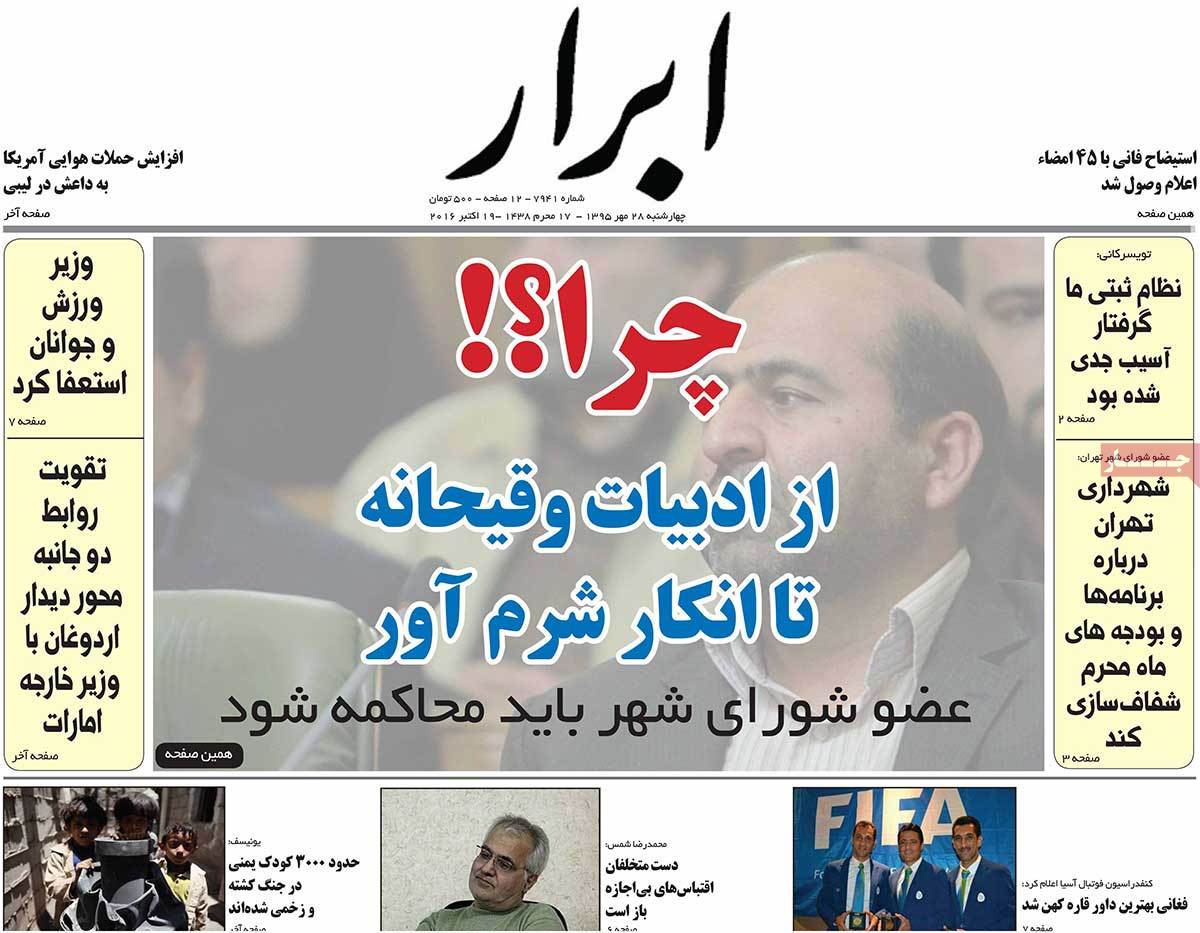 ---
Abrar-e Eqtesadi:
1- Conditions Announced for Foreigners Who Want to Construct Power Plants in Iran
2- Iran's 38% Share of Middle East's Petchem Production
3- Reuters: No Change in Amount of Iran's October Crude and Condensate Exports
4- Luxembourg Ready to Finance Iran's Industrial Projects
---
Afarinesh:
1- Airbus and Boeing Give Iran the Right to Overhaul and Develop Plane Parts
2- Iran's Nuclear Chief: Export of 25 Iranian Nuclear Medicine
3- Russia and Syria Cease Airstrikes on Aleppo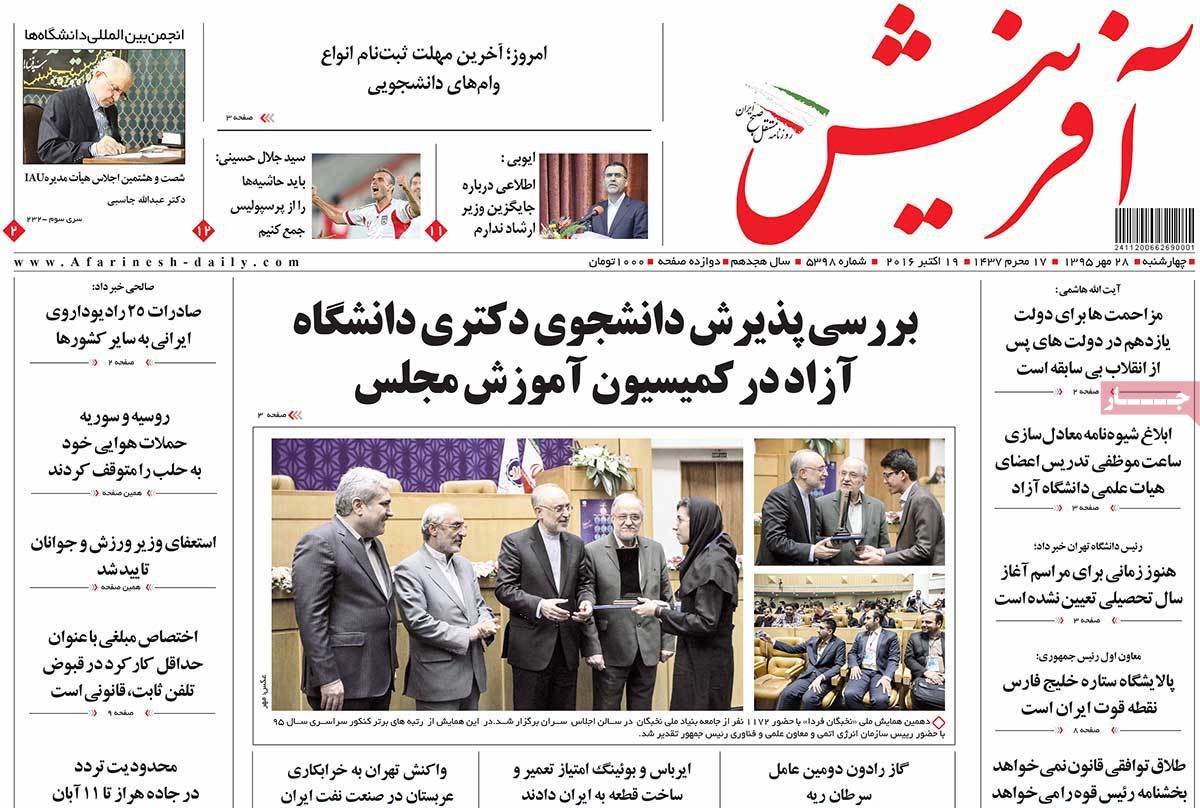 ---
Afkar:
1- Government Spokesman: US Cannot Violate JCPOA
2- Imminent Establishment of Direct Flight from Britain to Tehran
3- Russian Navy Fleet Docks at Iran's Bandar Anzali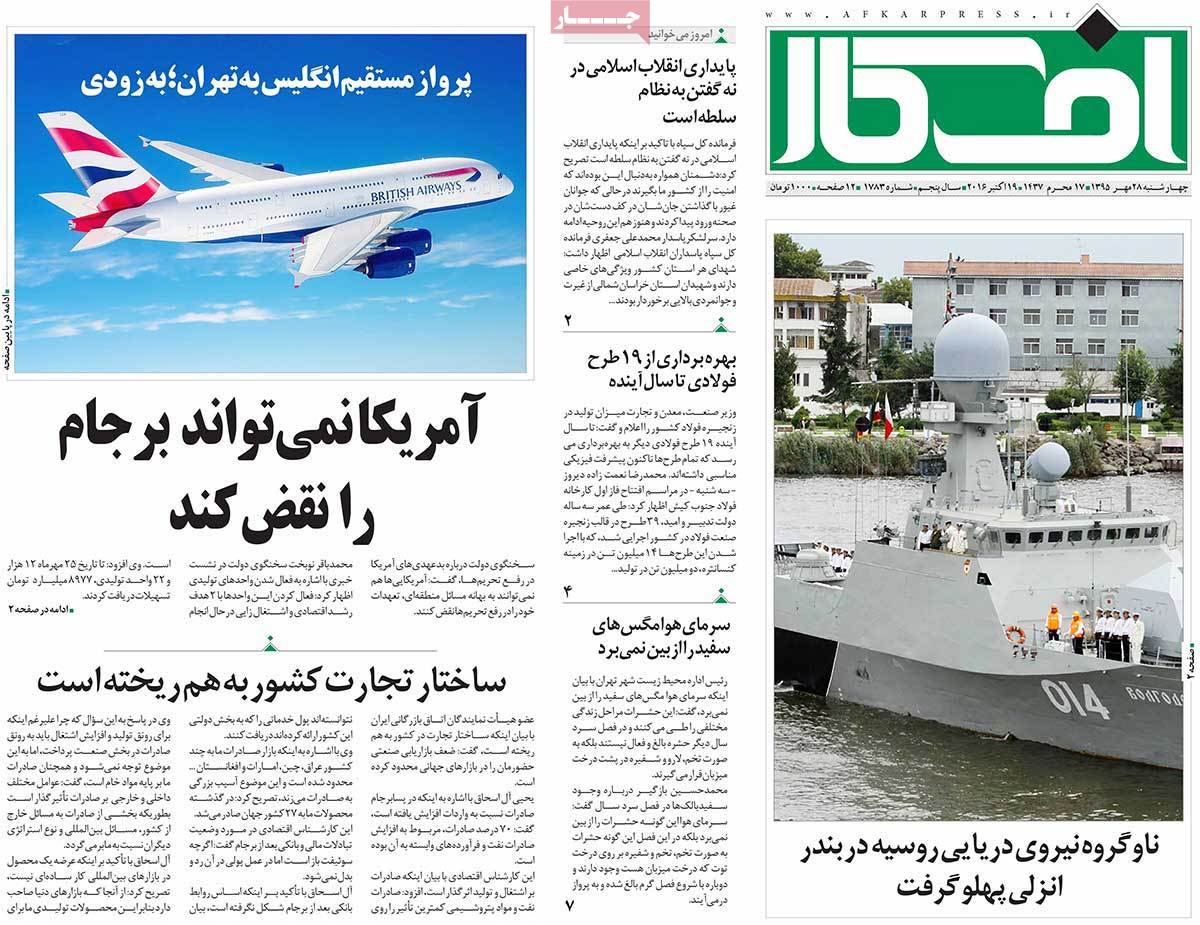 ---
Aftab-e Yazd:
1- Cabinet Improvement Started by Simultaneous Resignations of Iranian Ministers of Sports, Education, and Culture
2- How Much Is Cheating Possible in US Elections?
3- Venezuelan Economy Leads to Cannibalism! Odd Reports Released from Caracas Indicate a Prisoner Has Been Eaten Due to Extreme Hunger
4- Health Minister: Those Who Have a Tribune Should Not Get on People's Nerves
---
Amin:
1- Erdogan: One Step Left to Dream of Changing the Ruling System
2- Population Movement in Iran: 7% in Every 10 Years
---
Arman-e Emrooz:
1- One City Is Evacuated Each Year: Annually, 150,000 Young and Educated Iranians Immigrate
2- Clinton's Private Remarks about Rouhani
3- Politician: Saudi Arabia Is Harming Itself to Harm Iran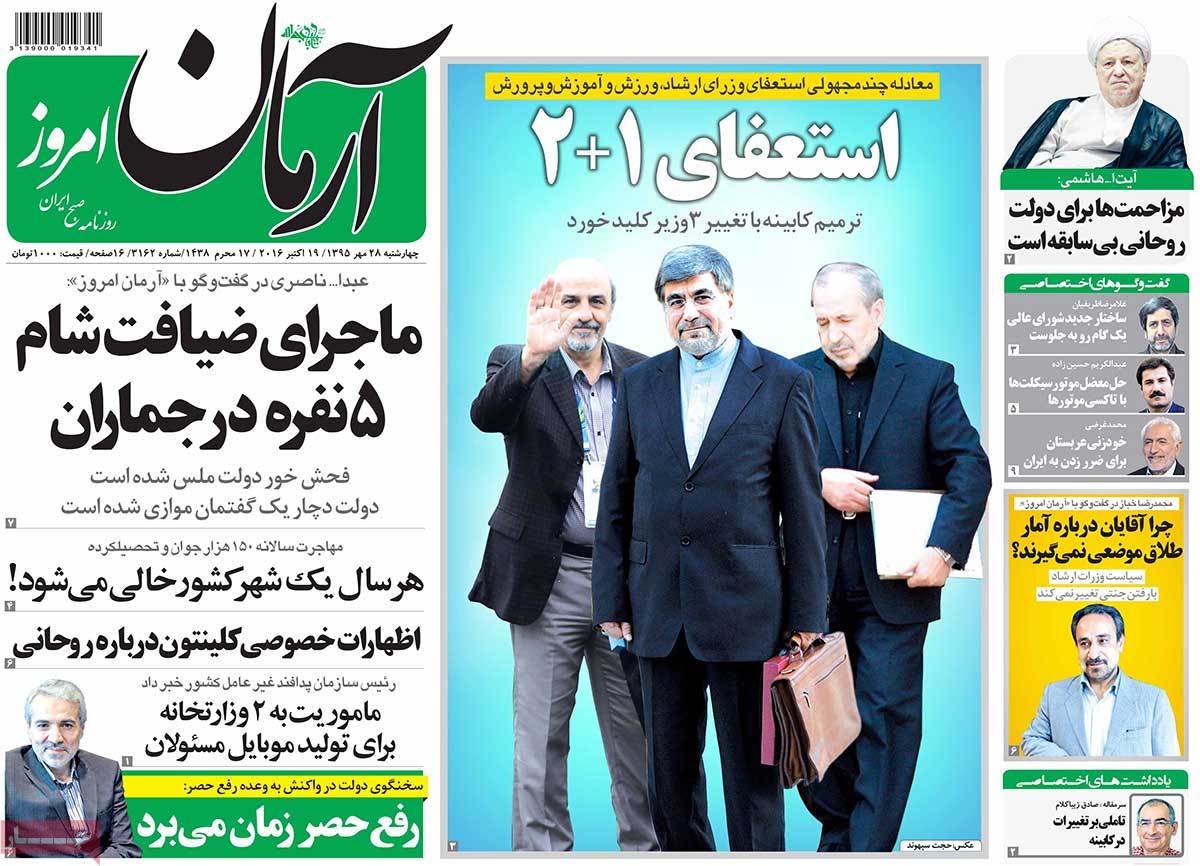 ---
Asrar:
1- Iran Remained Immune from Economic Shock to Middle East
2- Shamkhani: Iranian Officials' Demands from the Foreign Sides Should Not Be Interpreted as Failure
3- IRGC Commander: Al Saud and Zionist Regime's Conspiracy against Iran
4- Deputy Nuclear Chief: Arak Nuclear Reactor Is Being Redesigned with China's Help
---
Donya-ye Eqtesad:
1- Improvement in Quality of Iranian Life: Controlled Inflation Rate Improved Iran's Position in World Life Quality Index Ranking from 80 to 49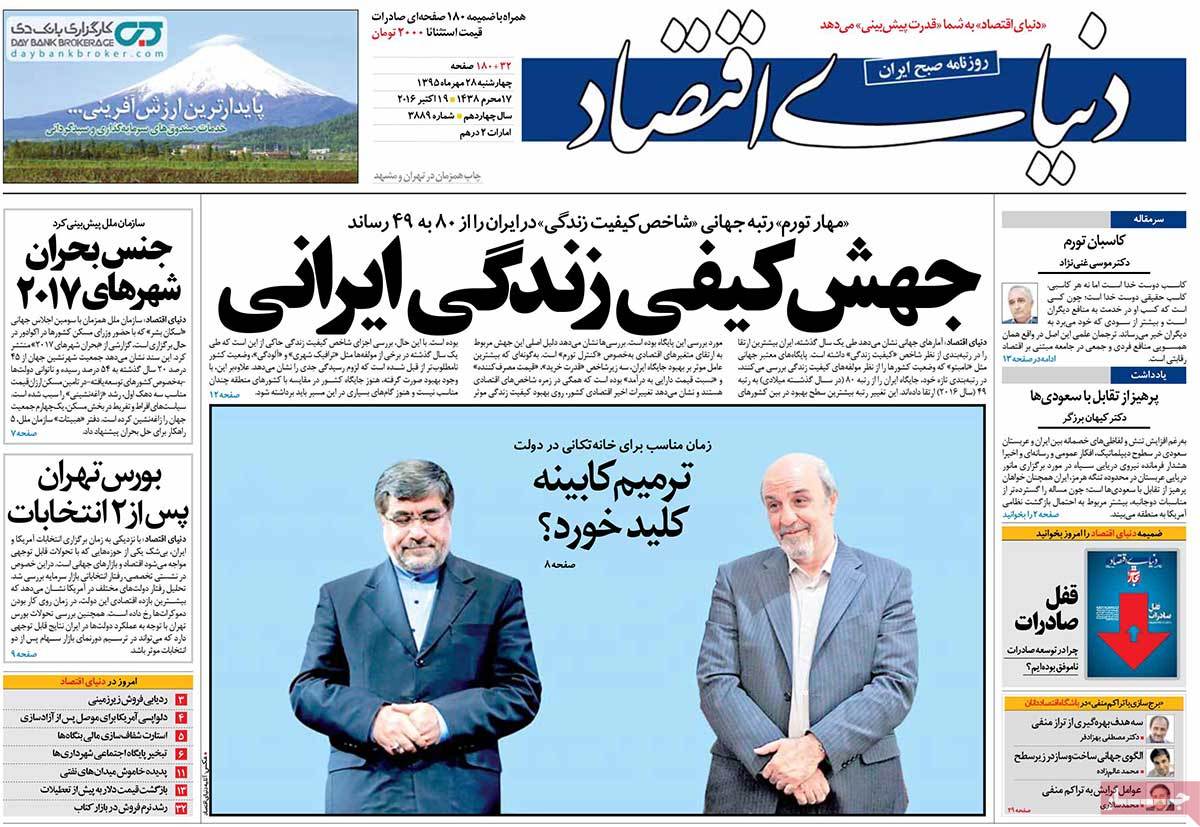 ---
Etemad:
1- Once Again Ceasefire over the Ruins of Saudi Crimes: UN Announces 72-Hour Cessation of Fire
2- Developers of Suez Canal to Visit Iran to Resolve Water Crisis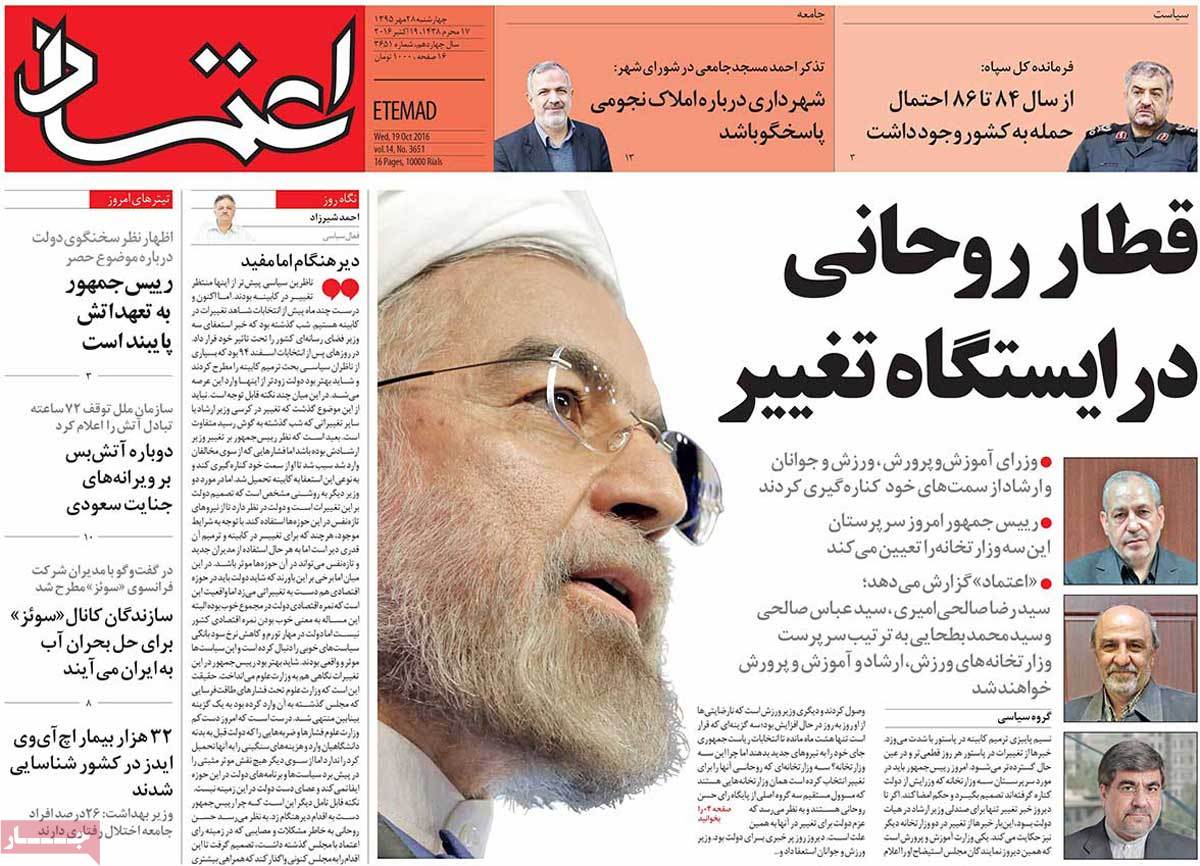 ---
Ettela'at:
1- Iraqi Army and Popular Forces Make Rapid Progress in Mosul Operation
2- First VP: Future of Iran's Economy Is Very Bright
3- Health Minister: Stressful Rumours Have Caused Behavioural Disorders in Iranian Society; People Are Exposed to Stressful Rumours Everyday through Officials, IRIB, or Those Who Have Tribunes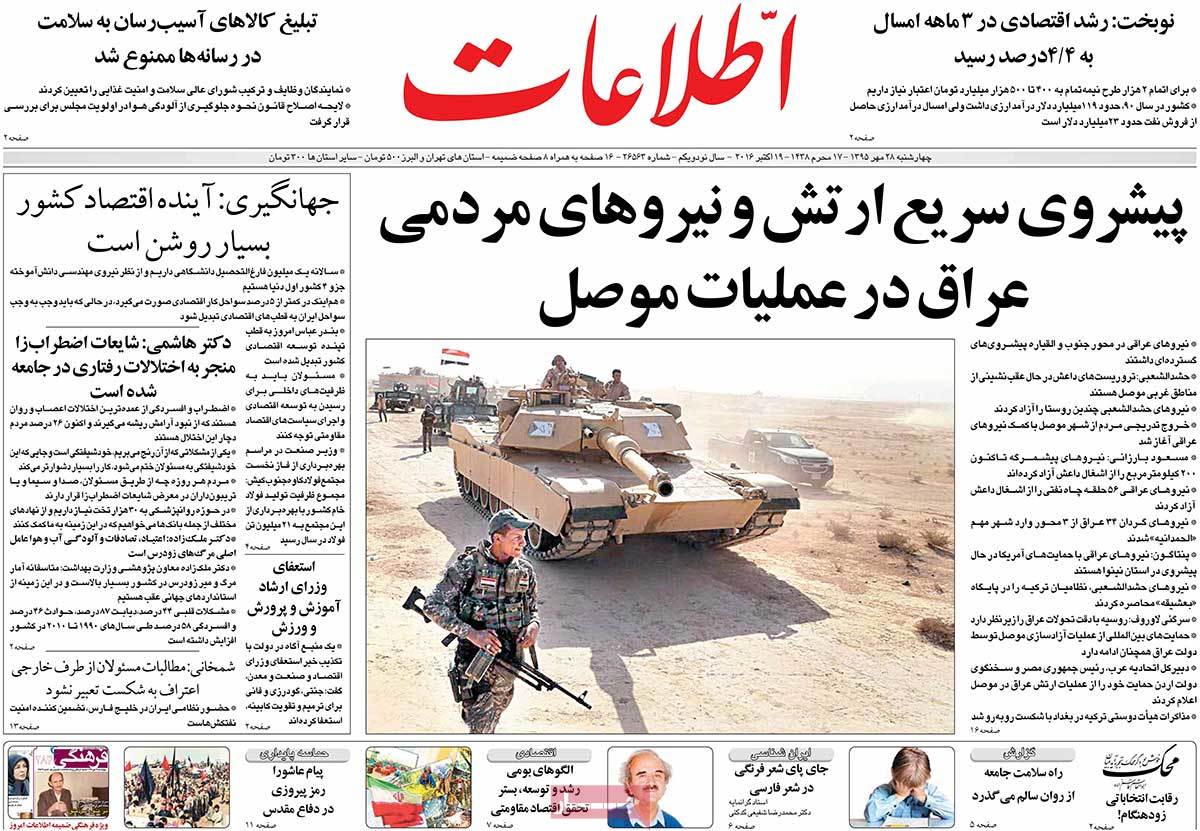 ---
Hemayat:
1- Civil Defence Chief: JCPOA Didn't Remove the Economic Threat
2- SNSC Secretary: Post-JCPOA Era Should Be Passed Skilfully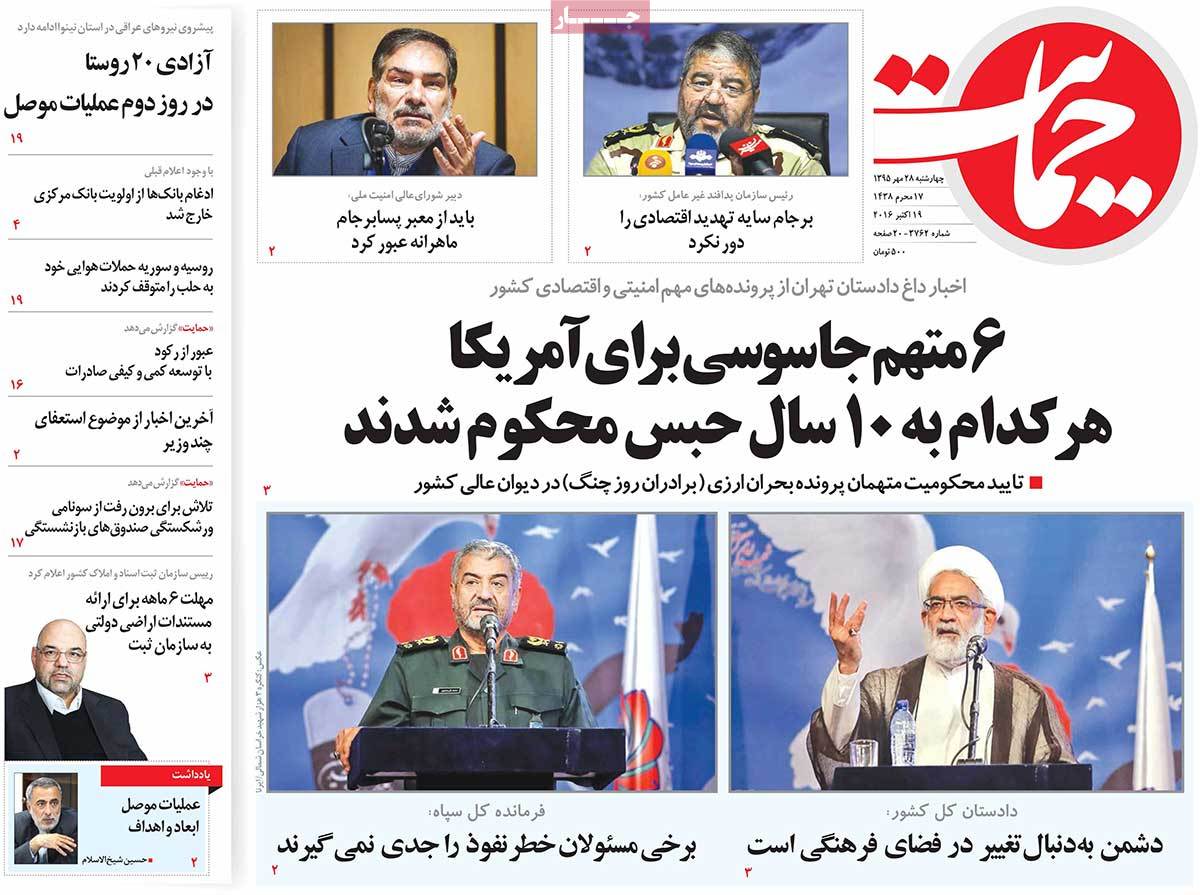 ---
Iran:
1- Ayatollah Rafsanjani: Troubles Made for Rouhani's Government Have Been Unprecedented in Post-Revolution Era
2- Concerns about Migration of ISIS Elements to Other Countries amid Continued Progress of Iraqi Forces in Mosul Operation
---
Javan:
1- Tehran Prosecutor-General: 60 Years in Prison for 6 Who Spied for US; Each of the Spies Received a 10-Year Term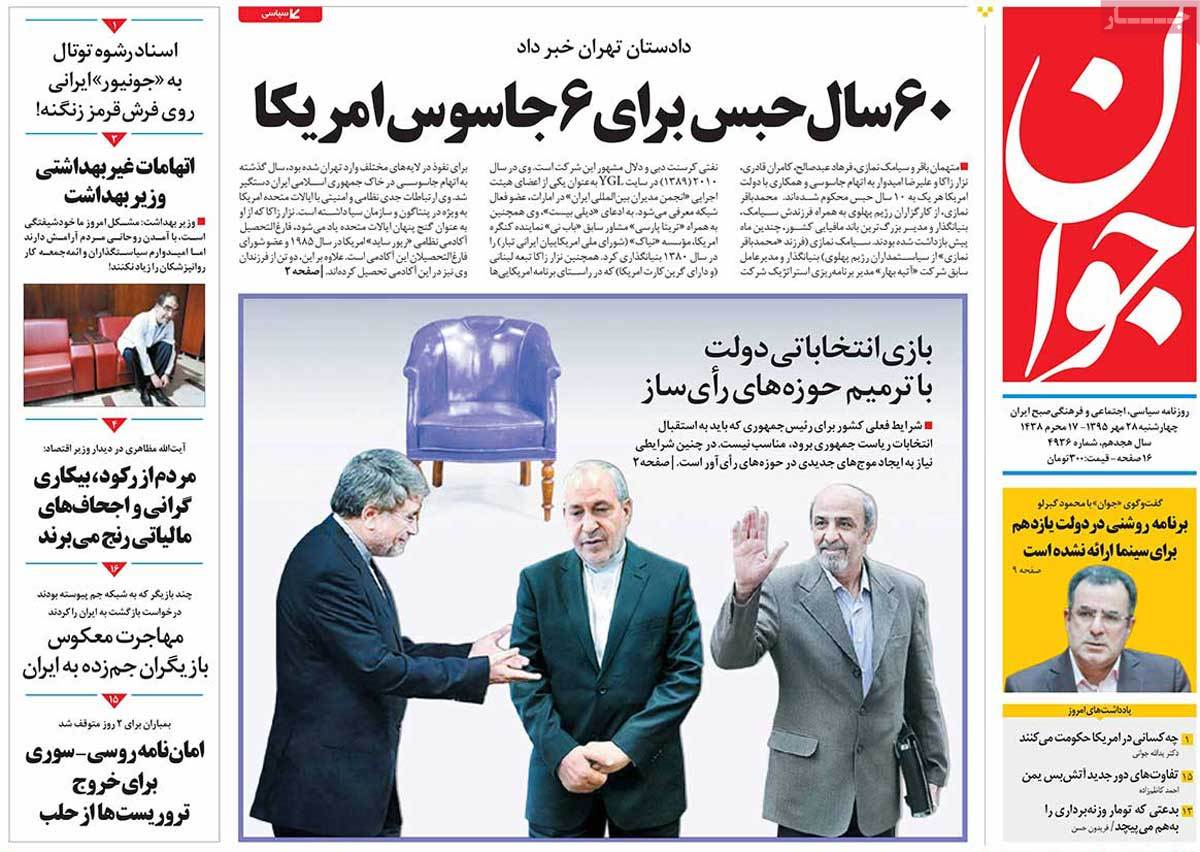 ---
Jomhouri Eslami:
1- Al Saud's All-Out Scandal at Global Level: US Senator Says Saudi Arabia Had Helped Israel Assassinate Rafic Hariri
2- Saudi Arabia's Religious Schools Spread Terrorism in the World: US Foreign Relations Council Member
3- Europe Worried about Consequences of ISIS' Defeat in Mosul
4- Minister of Industry: Iran's Steel Production Capacity Increased to 31m Tons per Year
---
Ka'enat:
1- Rouhani's Cabinet to Become Fresh! Three Non-Economic Ministers to Be Replaced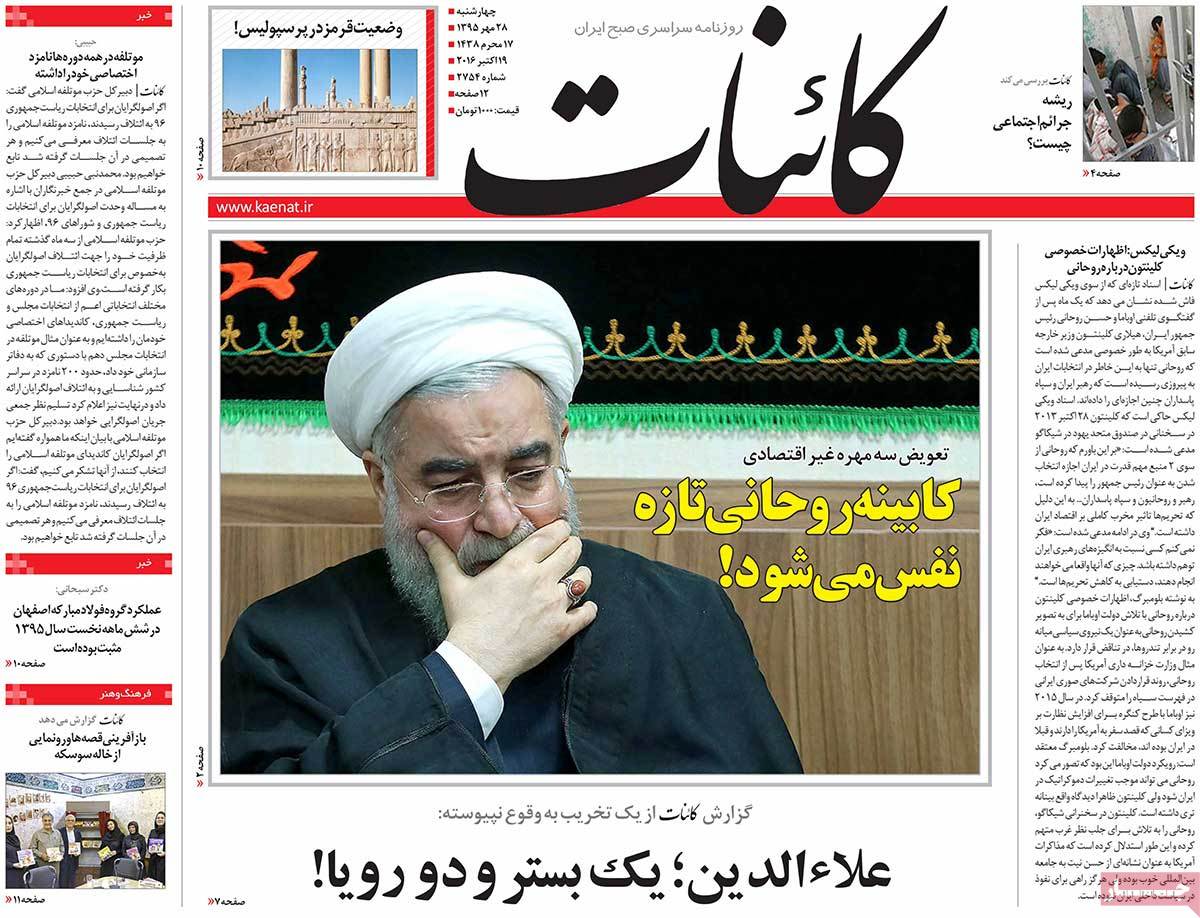 ---
Kayhan:
1- SWIFT Is Open, But No Money Is Exchanged: Iran Chamber of Commerce
2- Iraqi Popular Forces Commander: We Are Sons of John [John bin Huwai] and Wahab [Abdullah ibn Omayr Abu Wahab al Kalbi]. We'll Bury ISIS in Mosul [These two were Christian companions of Imam Hussein who were martyred in Battle of Karbala]
3- Amazing Progress: Iraqi Army ahead of Its Plans in Mosul Operation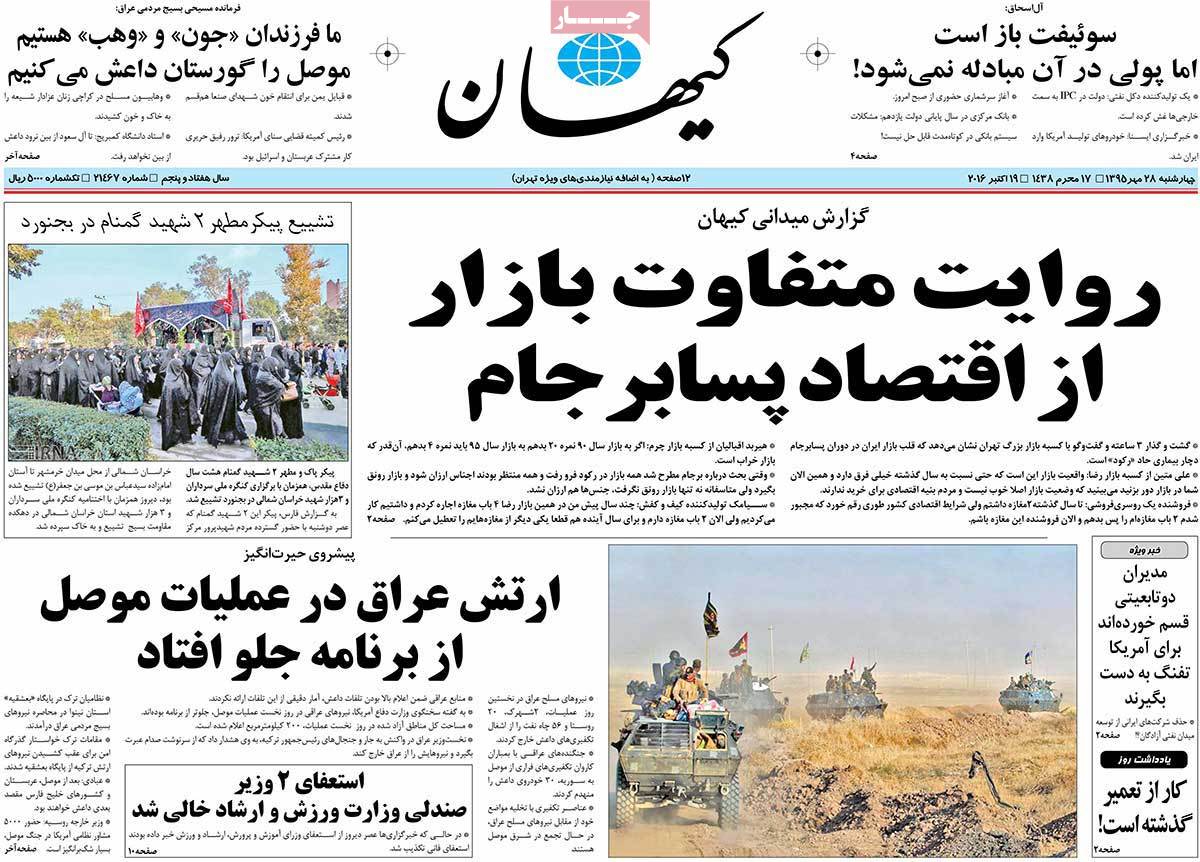 ---
Khorasan:
1- Trump's Wife: It's Women Who Come for My Husband!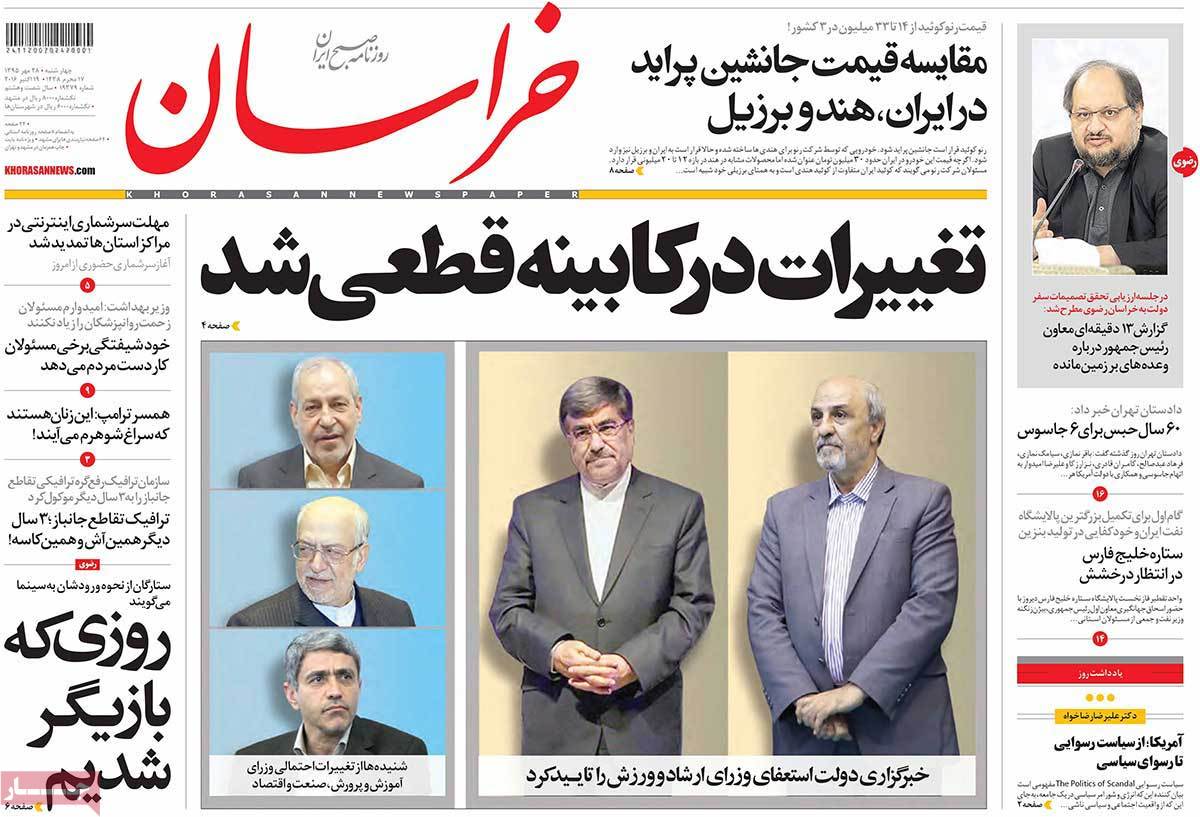 ---
Shargh:
1- IRGC Commander: Iran Was Likely to Be Attacked from 2005 to 2007
2- Shamkhani: Safe Passage of Oil Tankers Thanks to Iran's Military Presence in Persian Gulf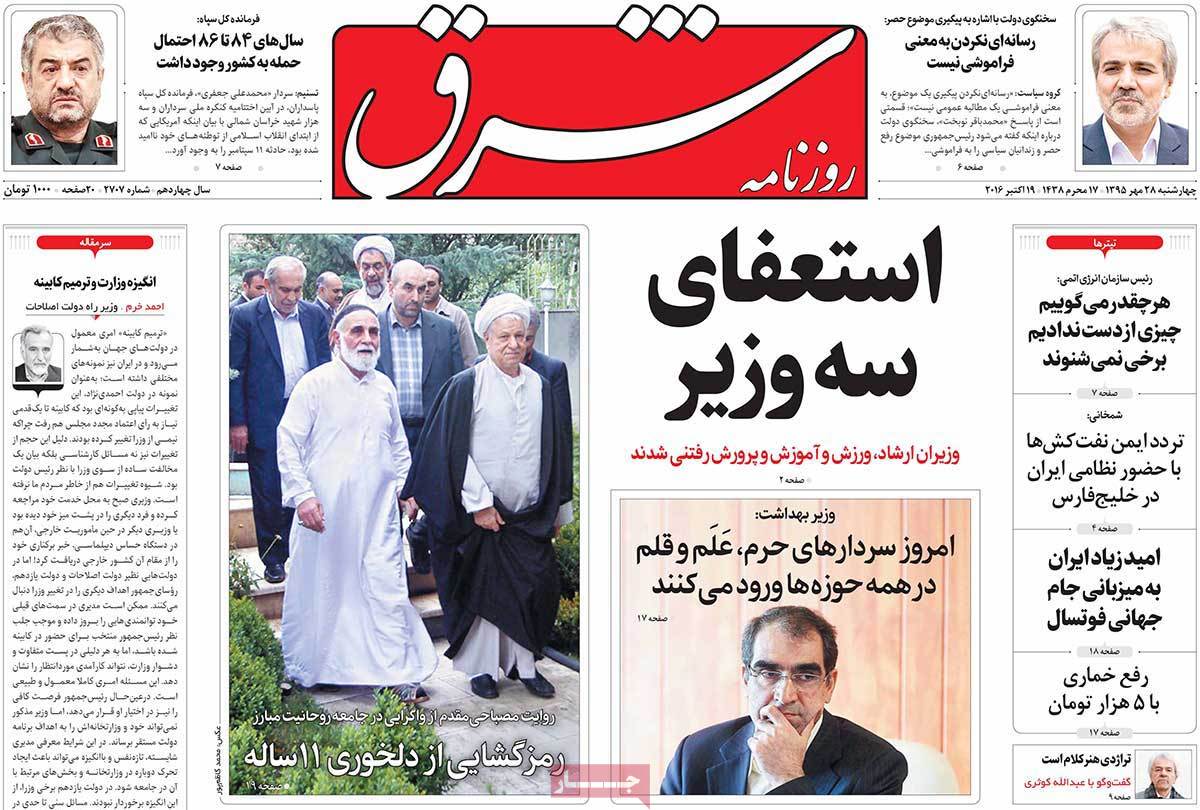 ---
Vatan-e Emrooz:
1- Third Scandal: In Last US Presidential Debate, Will Hillary and Clinton Disgrace Each Other Once Again?