The top story today was the remarks made by Iranian officials about the European Union's call for negotiation with Tehran on its missile program. They particularly covered the warning by Ali Akbar Velayati, an international aide to Iran's Leader, who said the EU is not allowed to raise the issue of talks on Iran's regional presence and missile program.
Newspapers also covered the defeat of secessionist Kurds led by Masoud Barzani from the Iraqi central government in Kirkuk, and rumours of their independence referendum being suspended after mediation of Iranian General Qassemi Soleimani.
The Shahrvand newspaper dedicated its front page photo to the dire situation of displaced Rohingya Muslims and Iran's dispatch of medical and food aid to the minority group.
Some reformist papers also highlighted domestic issues including the 2021 presidential election and criticism of conservatives.
The above issues, as well as many more, are highlighted in the following headlines and top stories:
19 Dey:
1- Maintaining Unity Duty of All Iranians: Senior Moderate Cleric
2- Larijani: We'll Make US Regret
3- President: US Allies Stood by JCPOA, Iran; US Will End up in Isolation
---
Abrar:
1- UN: Number of Displaced Rohingya Muslims Increased to 582,000
2- Saudi King Voices Opposition to Iraqi Kurdistan's Independence
3- Qatar Still on Iran's Side: Bahrain FM
4- Larijani: IPU Members Admit US Improper Behaviour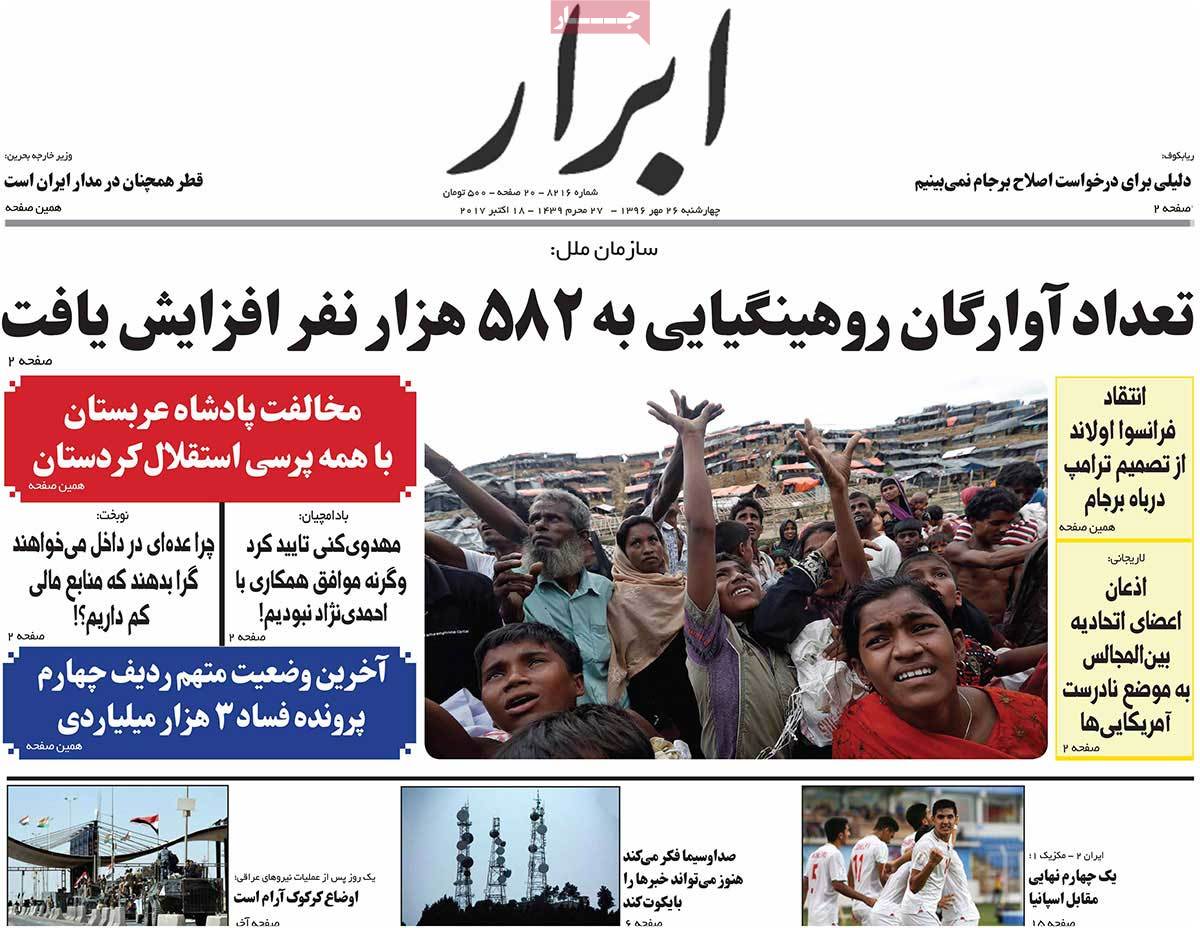 ---
Aftab-e Yazd:
1- Rafsanjani's Son: We Should Attract Moderate Conservatives
---
Asrar:
1- Iran Leader Donates Nearly $300,000 to Rohingya Muslims in Myanmar
2- Culture Minister: Iran Ready to Expand Persian Language in Armenian Universities
3- Oil Minister: Iran Ready to Negotiate with All Oil Companies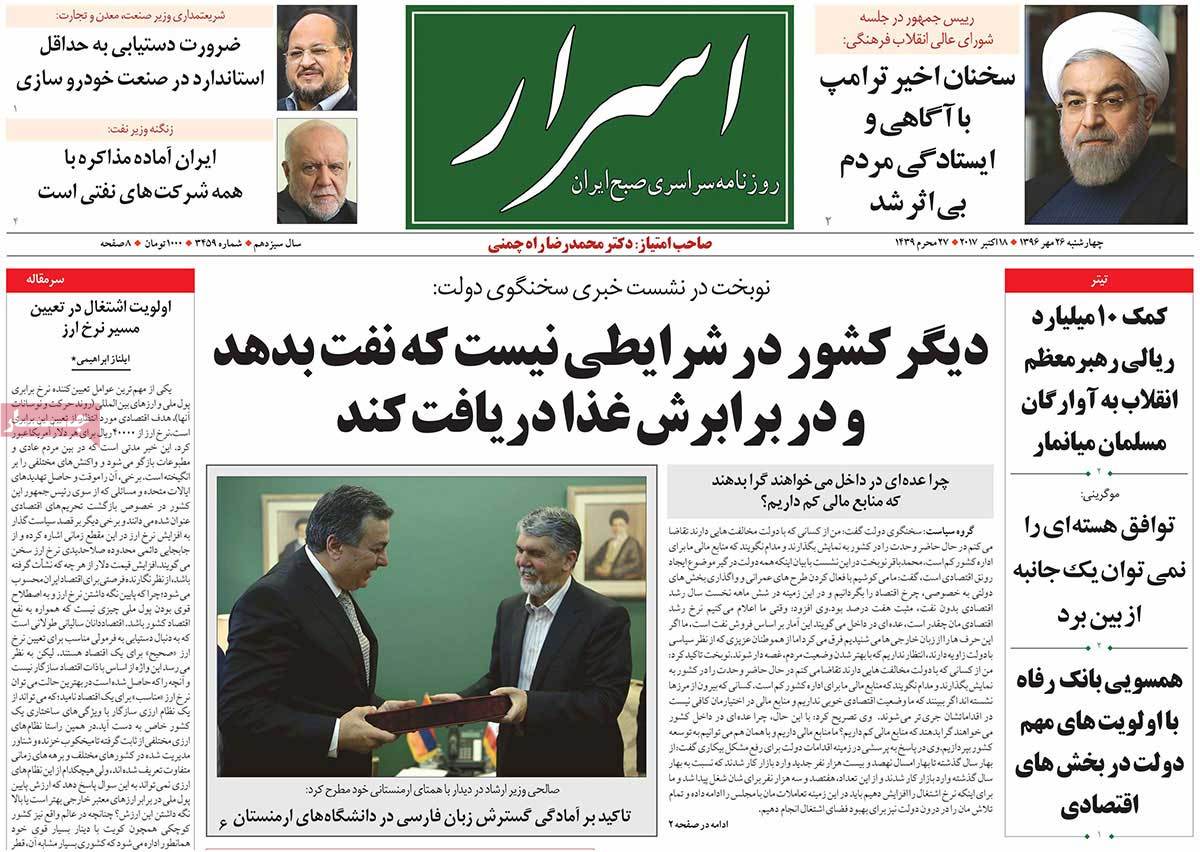 ---
Ebtekar:
1- Rouhani: Trump's Recent Remarks Neutralized by People's Awareness
2- Moderate Cleric: Investment Should Be Made on Isolating Trump
---
Emtiaz:
1- Tehran Prosecutor Declares Ban on Smoking Hookah in Public Places
2- Iran Defeats Mexico to Advance to FIFA World Cup Quarter Finals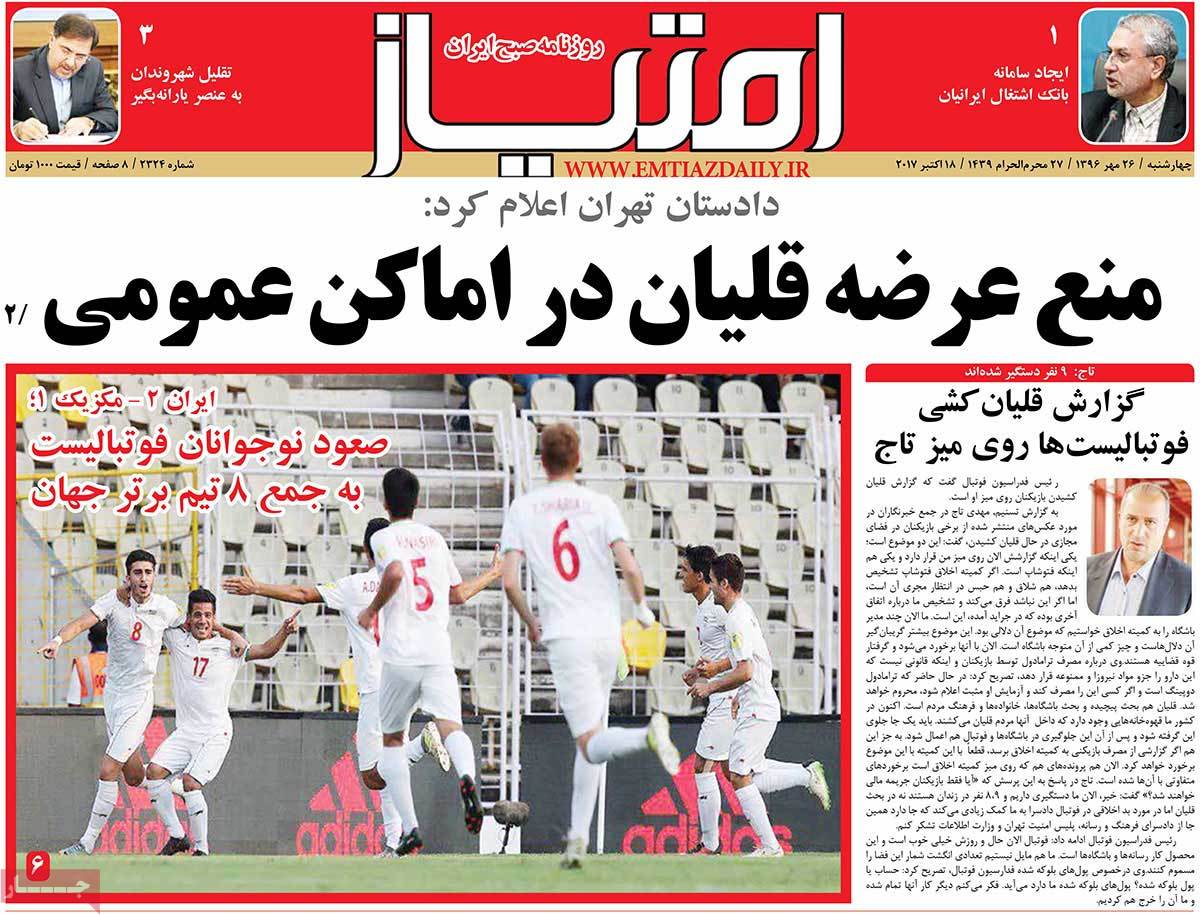 ---
Etemad:
1- PUK Senior Member: General Soleimani's Advice for Ending Kirkuk Clash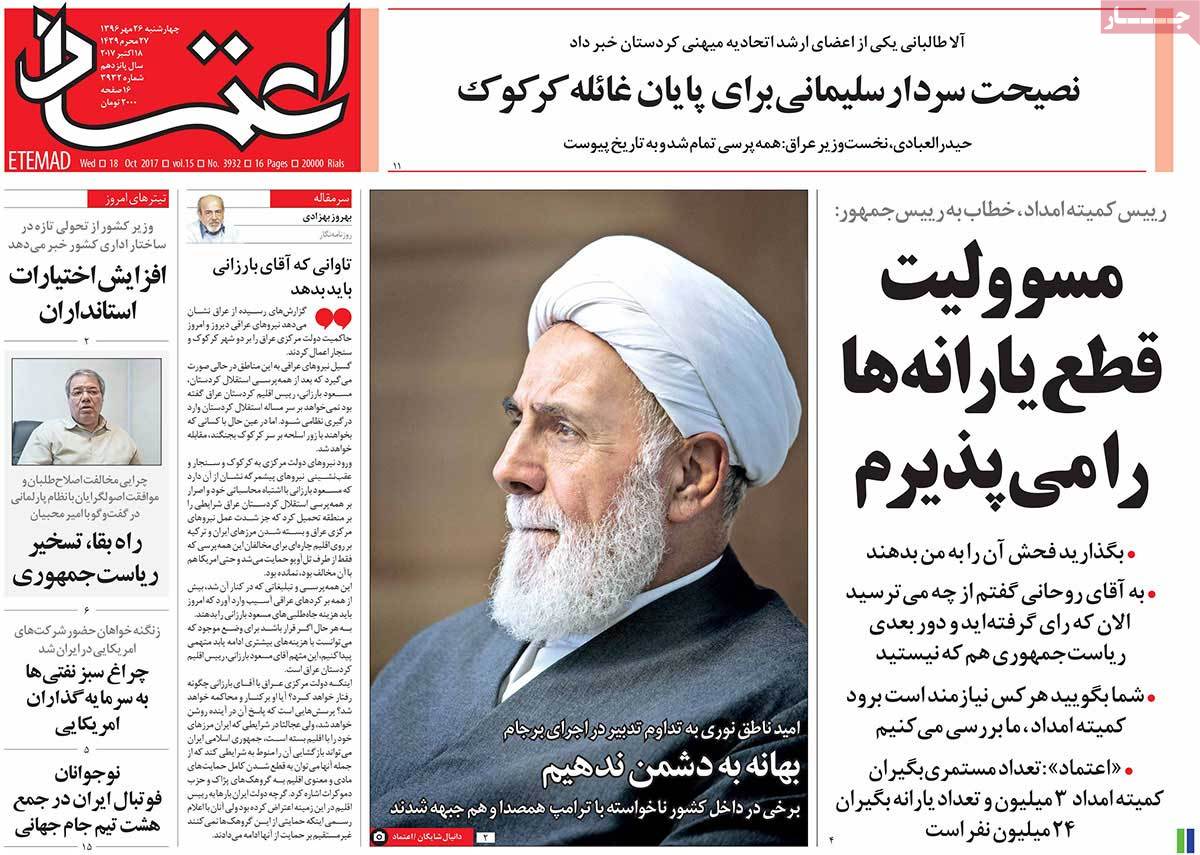 ---
Ettela'at:
1- PM: Iraqi Flag to Be Hoisted across the Country
2- Russia: No Need for Revision of JCPOA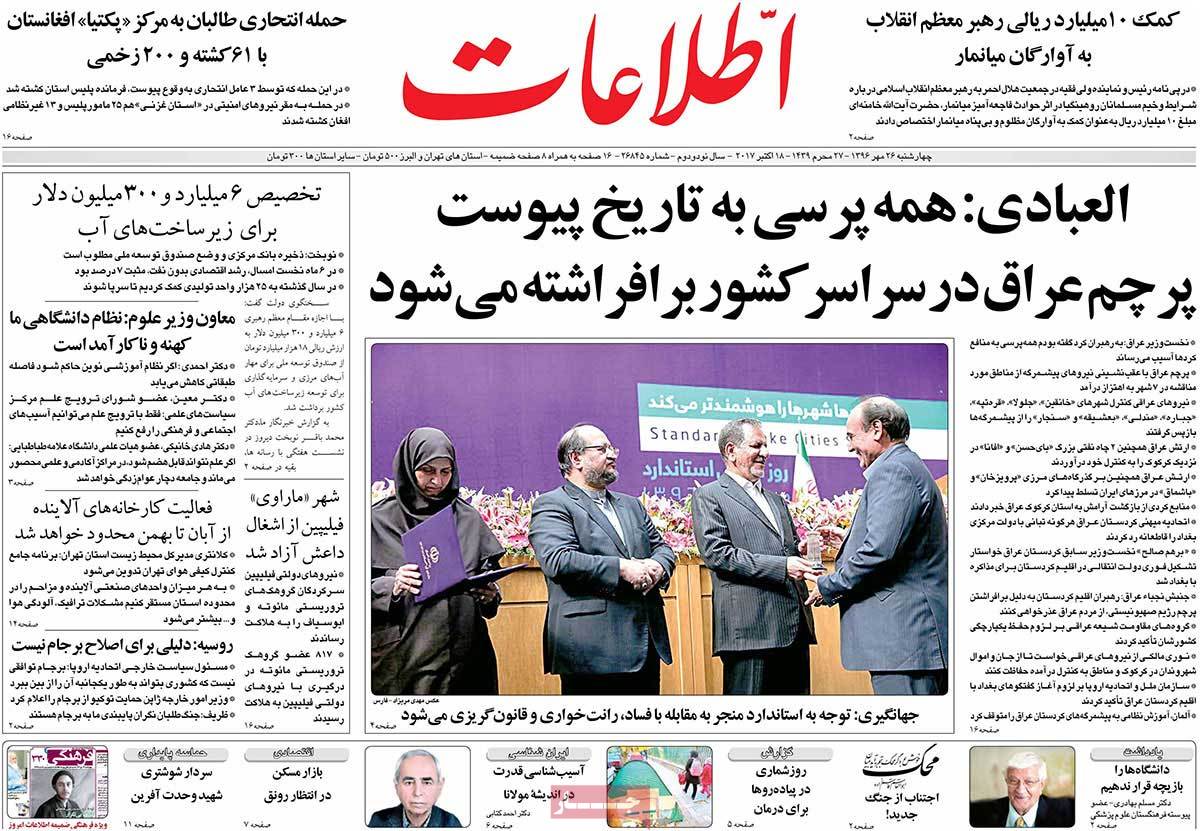 ---
Iran:
1- Some Repeating Trump's Allegations inside Iran: Moderate Cleric
2- Spokesman Urges Opponents of Gov't to Display Unity in Iran
---
Javan:
1- Iran First VP: 24,000 Gov't Executives Supervising 2.4 Million Civil Servants
2- Tehran Prosecutor: Nuclear Spy Took IRR 62 Billion Out of Iran
---
Jomhouri Eslami:
1- First VP: Restoration of Peace, Stability to Economy Most Important Achievement
2- Zarif: Warmongers More Worried about Iran's Compliance with JCPOA
3- UNGA's First Committee Voices Support for Iran Nuclear Deal
4- Oil Minister's Response to Trump: Iran Doors Open to US Firms, Trump Doesn't Allow Them
---
Kayhan:
1- Pouring Cement in Heart of Arab Heavy-Water Reactor Result of Nuclear Spy's Treason
2- A Report on Latest Iraq Developments
Kirkuk Retaken in 20 Hours, Rumours of Barzani's Resignation, Prosecution
3- Senior Cleric: Don't Fall in EU's Trap after 4 Years of Embellishing US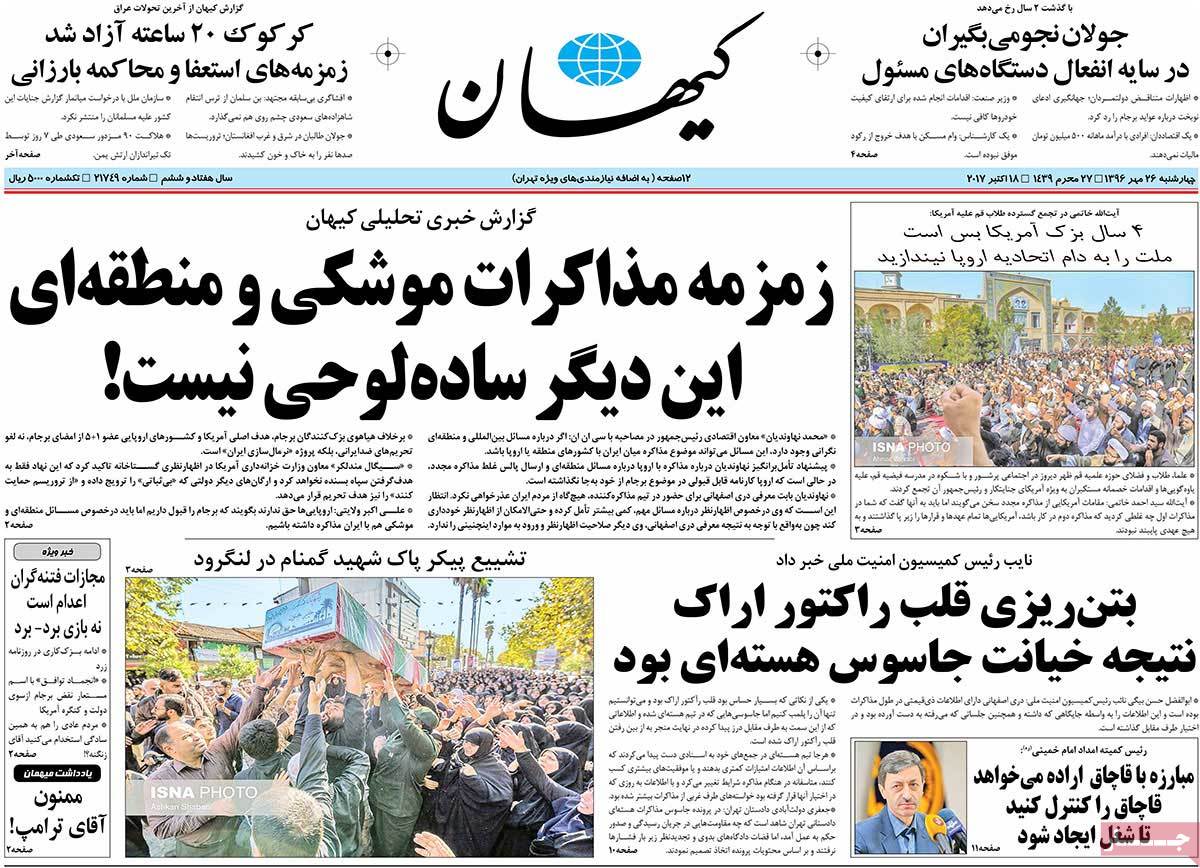 ---
Khorasan:
1- Strong Response to Europe's Call for Missile Taks
Leader's Aide: Europe Not Allowed to Raise Issue of Iran's Regional Presence, Missile Program
2- 12 Percent of Employed People in Iran Suffering from Depression
---
Resalat:
1- Rouhani: Gov't Resolved to Continue Relations with Clerics
2- Parliament Speaker: Iran Has Organized Plan for Resuming Nuclear Activities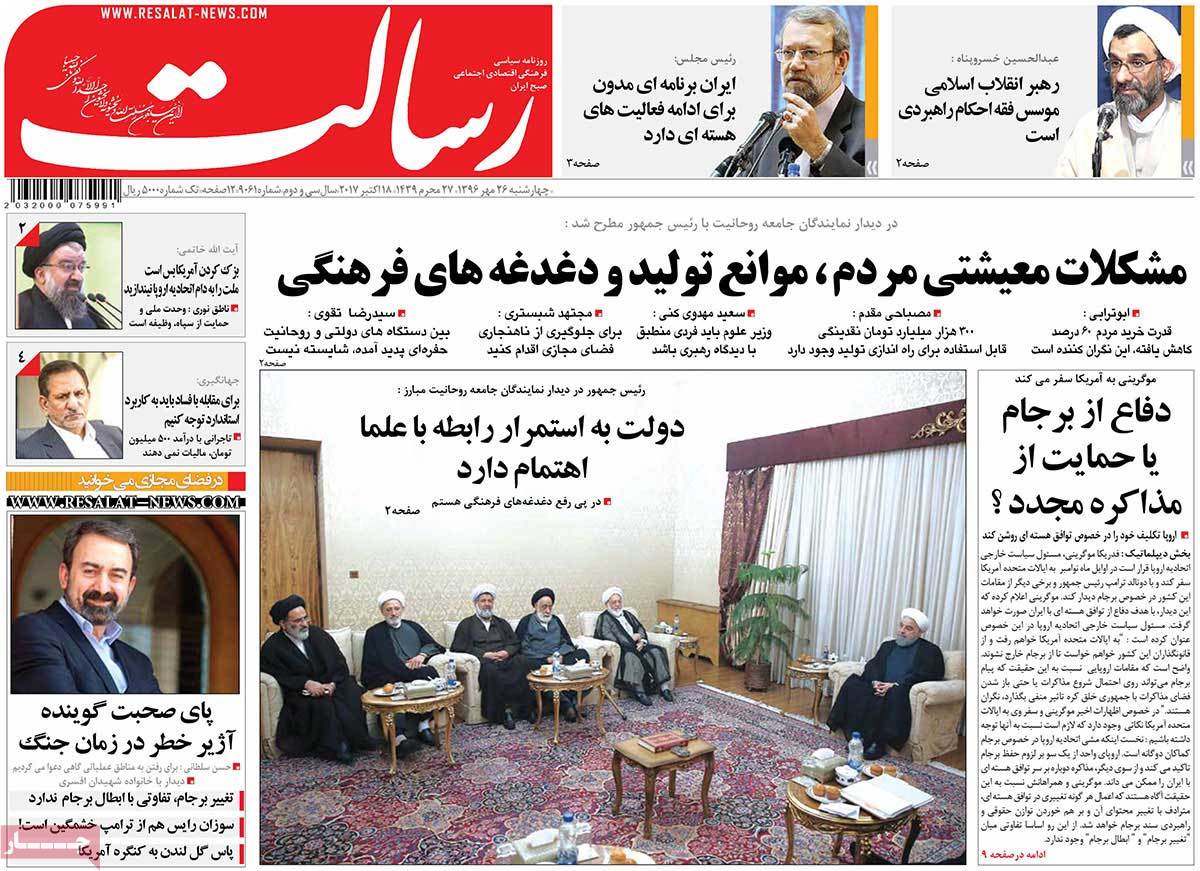 ---
Shargh:
1- Rouhani: World Remained on Side of Iran, JCPOA
2- Tehran Prosecutor: Intelligence Ministry's Opinion Not Binding for Judges
3- Iraqi Kurdistan's Independence Referendum Suspended with Gen. Soleimani's Mediation