Newspapers on Monday covered the ongoing operation by the Iraqi army and US-led coalition to retake the ISIS-held city of Mosul.
Another top story was the remarks made by the US Secretary of State John Kerry in an interview with Foreign Affairs. Kerry in this interview claimed that Iran's support for the Resistance has hindered the implementation of the nuclear deal between Tehran and world powers.
A motion by the Iranian Parliament to restrict the authority of Guardian Council also received great coverage. If passed into a law, the motion can prevent the Guardian Council from disqualifying candidates after the elections.
The above issues, as well as many more, are highlighted in the following headlines:
Abrar:
1- Iraqi PM Abadi: We'll Never Let Turkey Take Part in Liberating Mosul Operation
2- Kerry: We Have Done Much More than Our Commitments in Nuclear Deal
3- Russian Border Guard Shoots at North Korean Fishing Ship
4- Guardian Council Will No Longer Be Able to Disqualify a Candidate after the Elections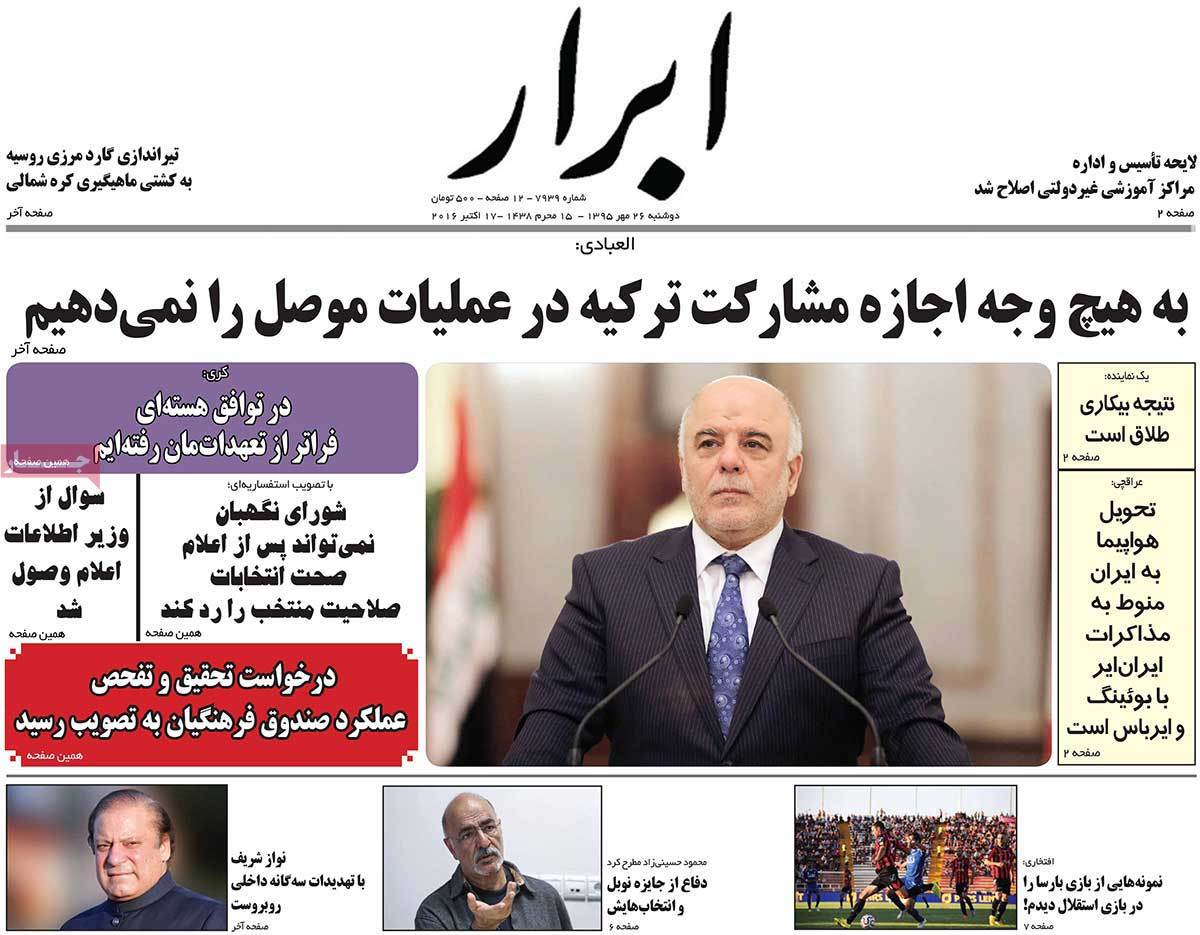 ---
Abrar-e Eqtesadi:
1- Iran and Thailand to Form Commercial Council
2- Financial Times: Iran Invites Most Reputable Int'l Investors
3- Iran and Germany Sign Railway Deal
4- Growth of Iranian Families' Expenses Decreased to One-Third Compared with Ahmadinejad's Era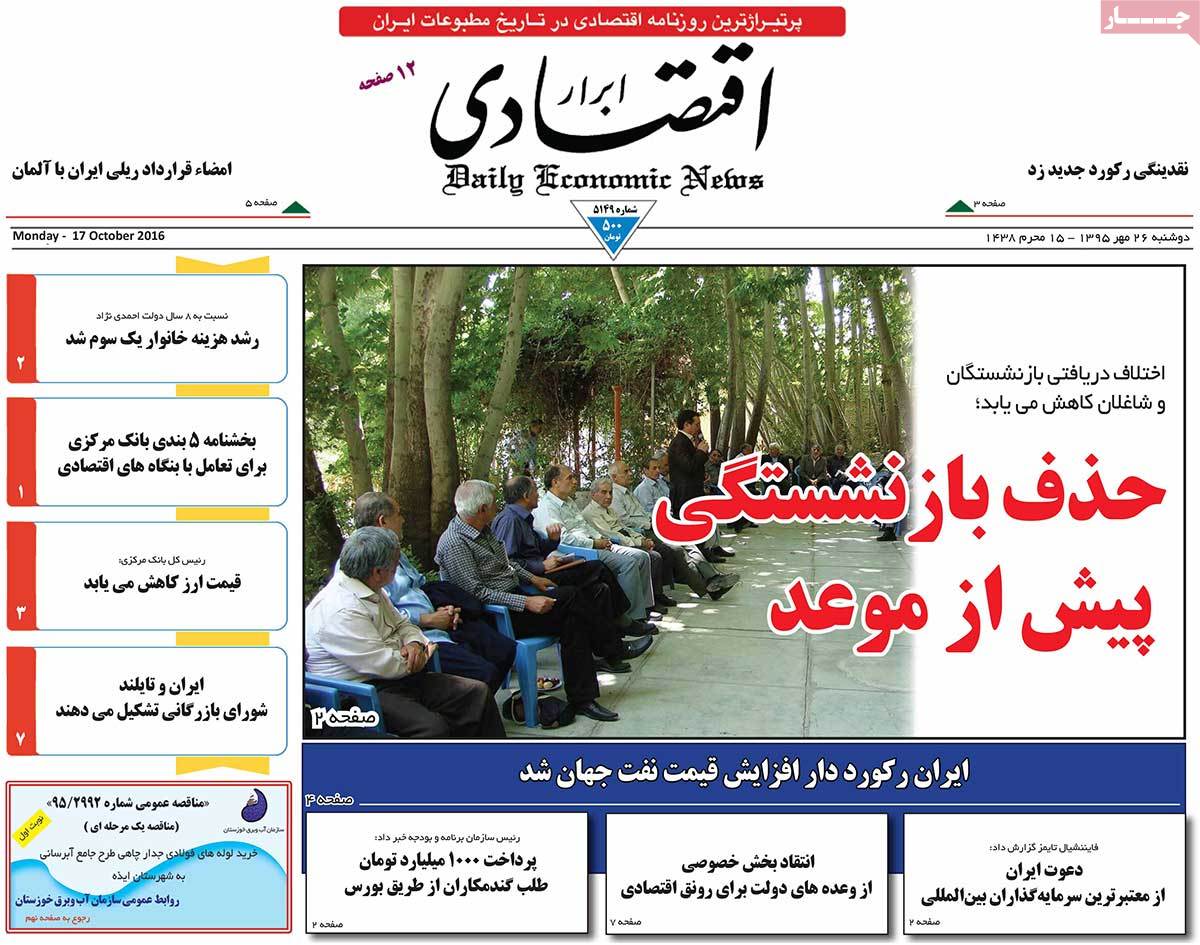 ---
Afarinesh:
1- Plane Delivery to Iran Hinges on Iran Air's Talks with Boeing and Airbus: Deputy FM
2- DM: We're Fully Prepared to Equip Iran's Railway System from A to Z
3- US-Led Coalition's Massive Airstrikes on Mosul ahead of Ground Operation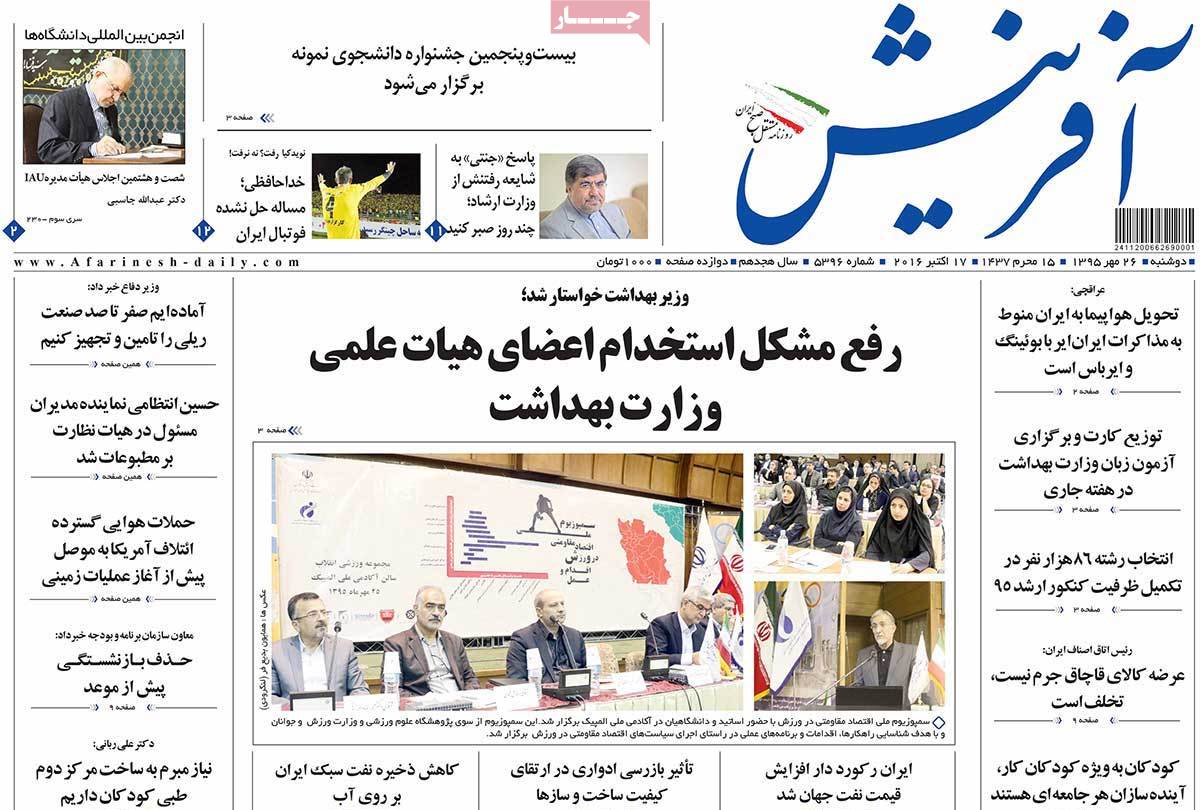 ---
Afkar:
1- Iranian Foreign Ministry Spokesman Condemns Terrorist Operation in Egypt's Sinai
2- Third Attack on US Warship near Yemen
---
Aftab-e Yazd:
1- Troubles of Zarif's Gift to Kerry: Iranian FM Once Again Criticized by Opponents
2- MP Calls for Dissolution of Culture Ministry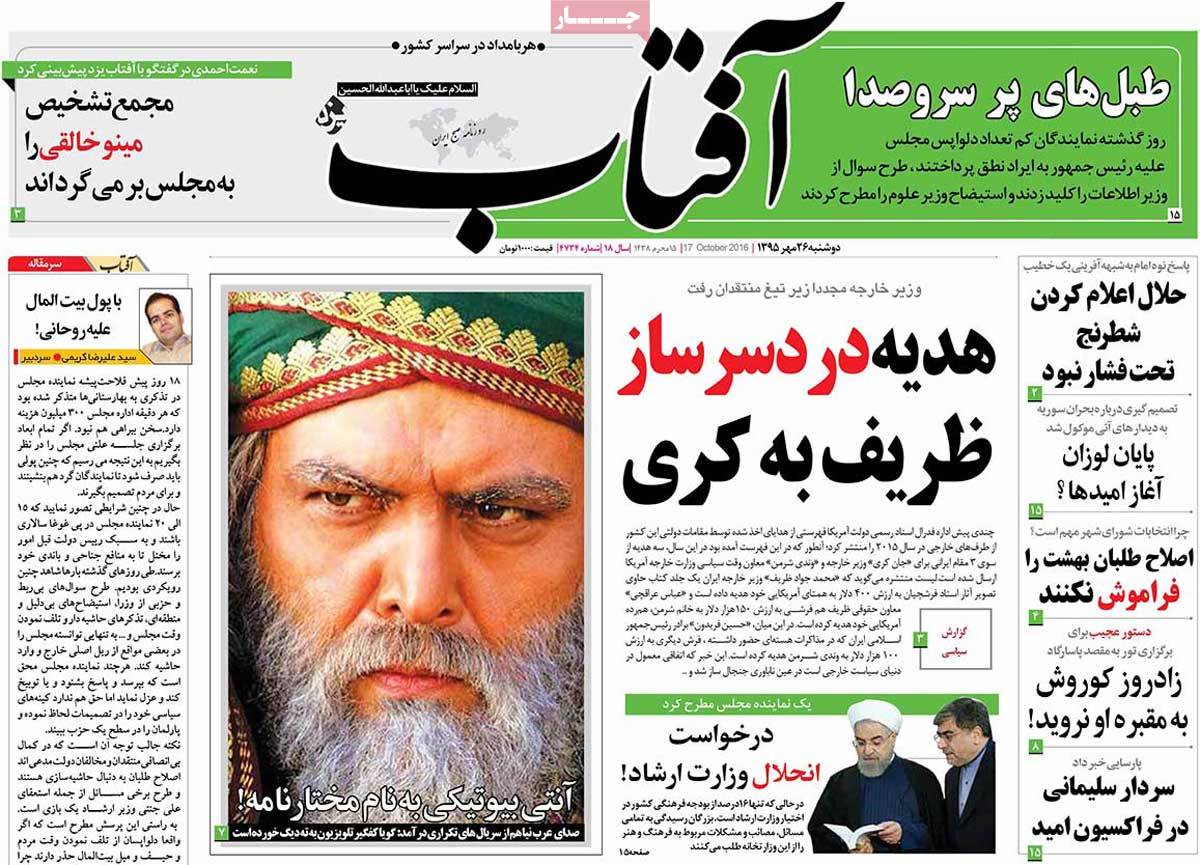 ---
Amin:
1- Central Bank Governor: Inflation Rate Was over 40%, We Decreased to Less than 10%
2- 91 Iranian Universities in the List of World's Top Universities
---
Arman-e Emrooz:
1- Culture Minister Breaks His Silence; Resign or Dismissal? Minister: Wait for a Few Days!
2- Third World War Will Be the Conflict between Russia and US: Analyst
---
Asrar:
1- Number of Iranian Ageing Women on the Rise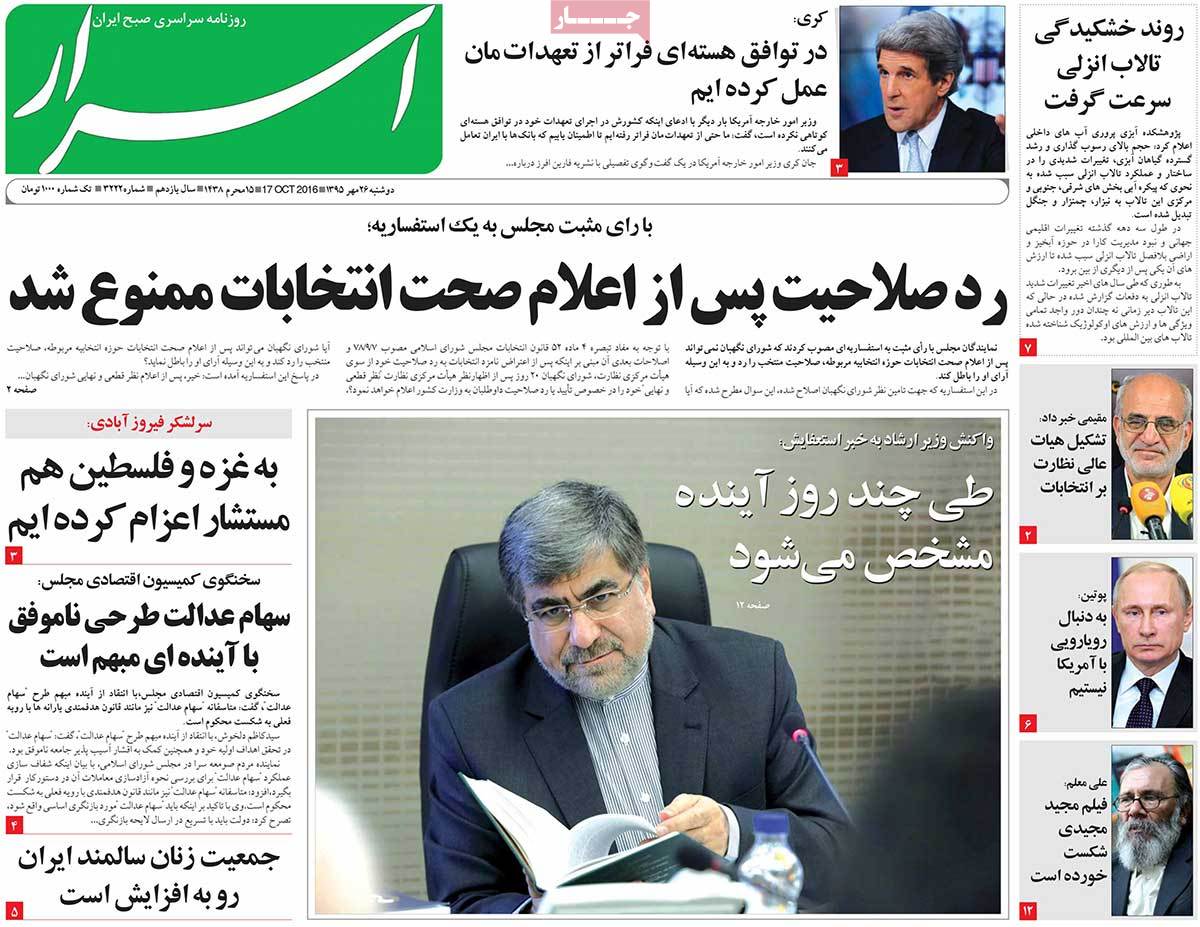 ---
Ebtekar:
1- Two Economic Achievements of President Rouhani: 5.4% Economic Growth in First 3 Months of Iranian Year; Decrease in Liquidity in July-August
2- Anzali Wetland Is Shrinking: Climate Change and Mismanagement Have Accelerated the Process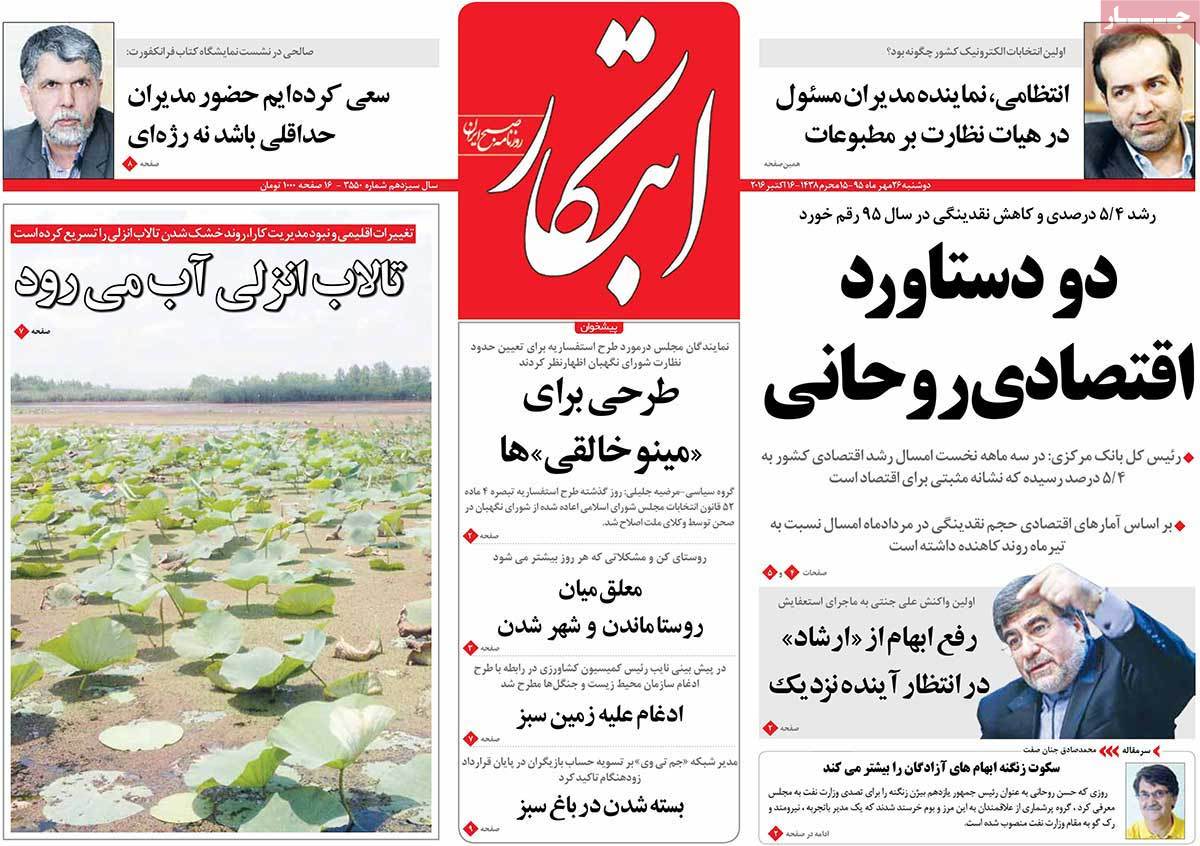 ---
Emtiaz:
1- 8,000 Child Abuse from March 2015 to March 2016
---
Etemad:
1- With New Ideas from Lausanne to London: US and Allies Threaten Syria and Russia to Imposition of Severe Economic Sanctions
2- Mosul Waiting for the Song of Freedom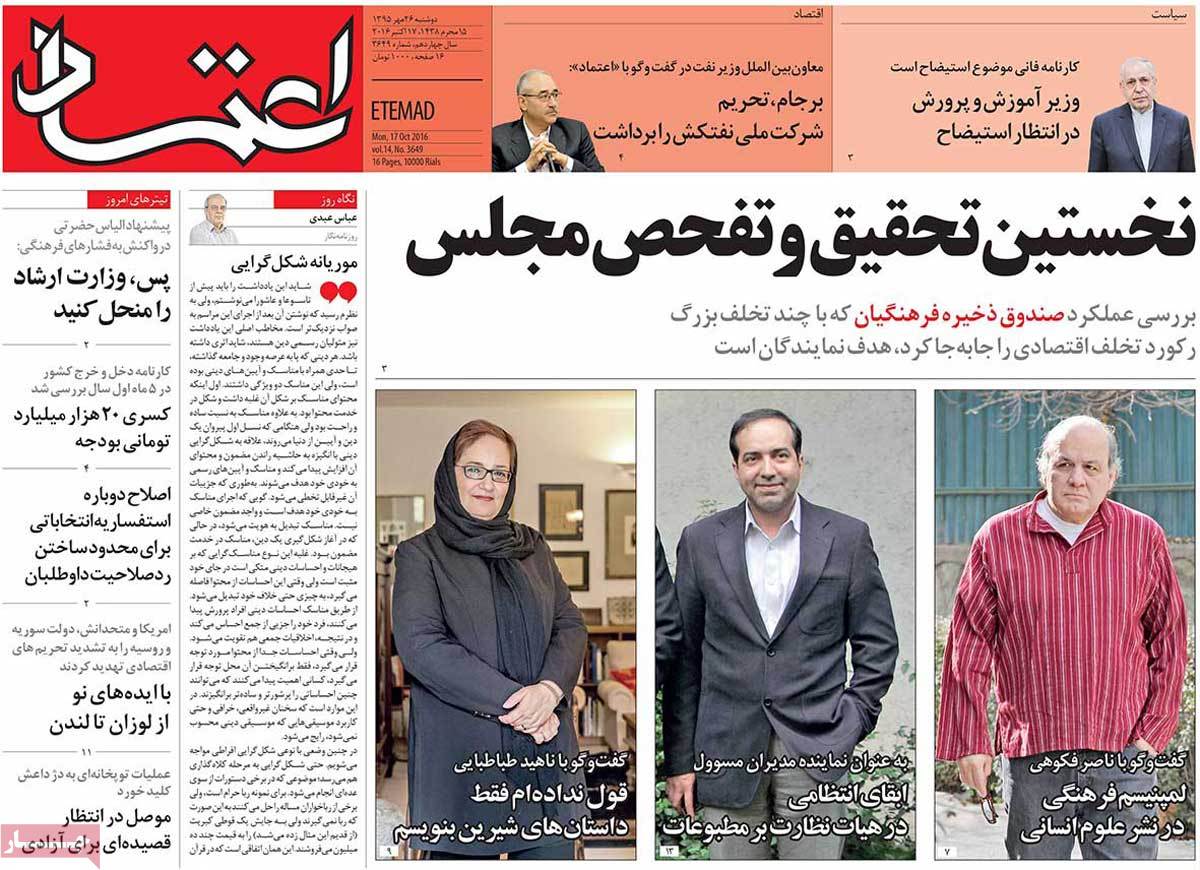 ---
Ettela'at:
1- Water Shortage Crisis Threatens Life in Central Iranian Plateau
2- ISIS' Positions in Mosul under Heavy Fire of Iraqi and US Artillery
3- Russian Aircraft Carriers Deployed to Syrian Waters
4- Sisi: Respecting Syrian's Territorial Integrity and Syrian Nation's Will Is What Egypt Believes in
---
Hemayat:
1- US Finding Excuses to Evade JCPOA Commitments: Kerry Claims Iran's Support for Resistance Complicates the Resolution of Banking Problems
2- 30,000 Iraqi Forces, 15km Away from Mosul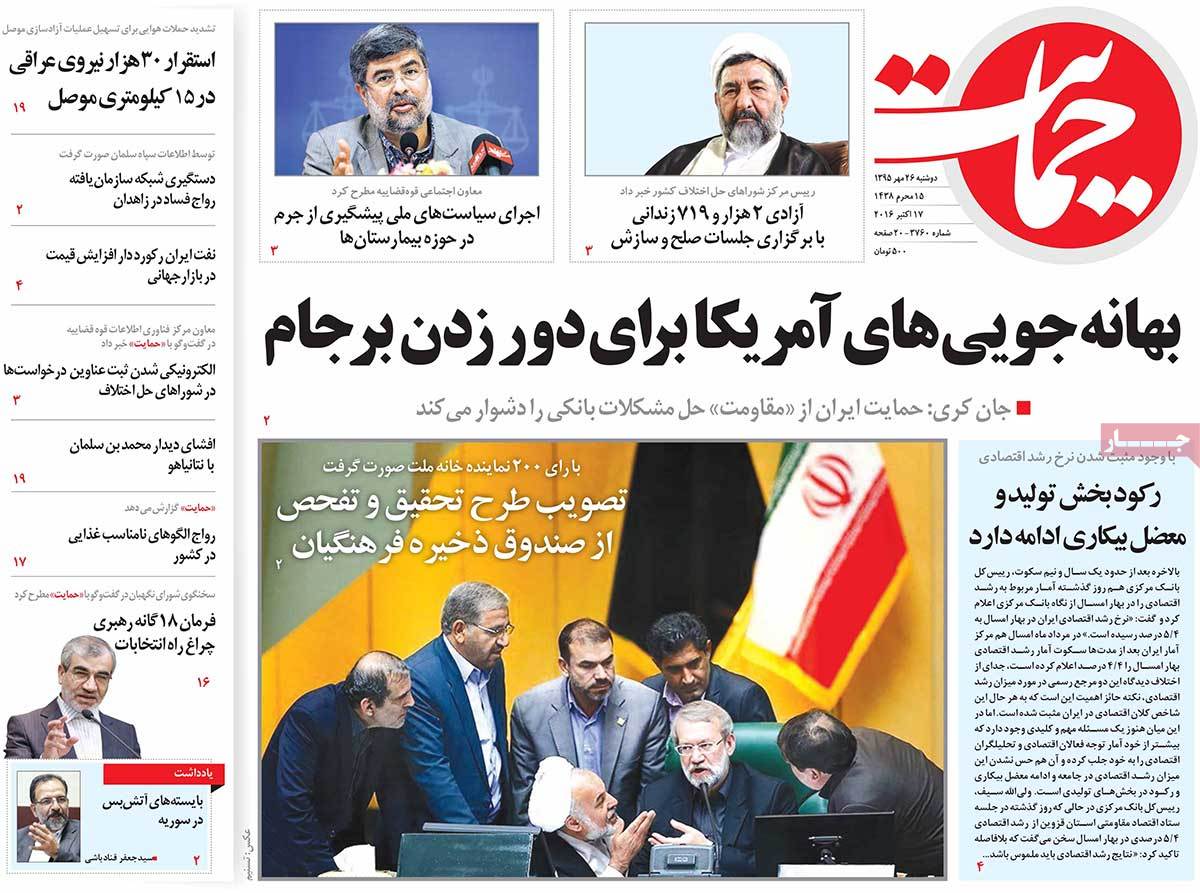 ---
Iran:
1- Central Bank's Directive to All Banks: Financial Transactions with All Countries, Except for US, Is Legal
2- Iranian Cinema Shines in Europe and US: 3 Awards Given to Two Films 'Starless Dreams' and 'Malaria'
3- Countdown Begins for Operation to Liberate Mosul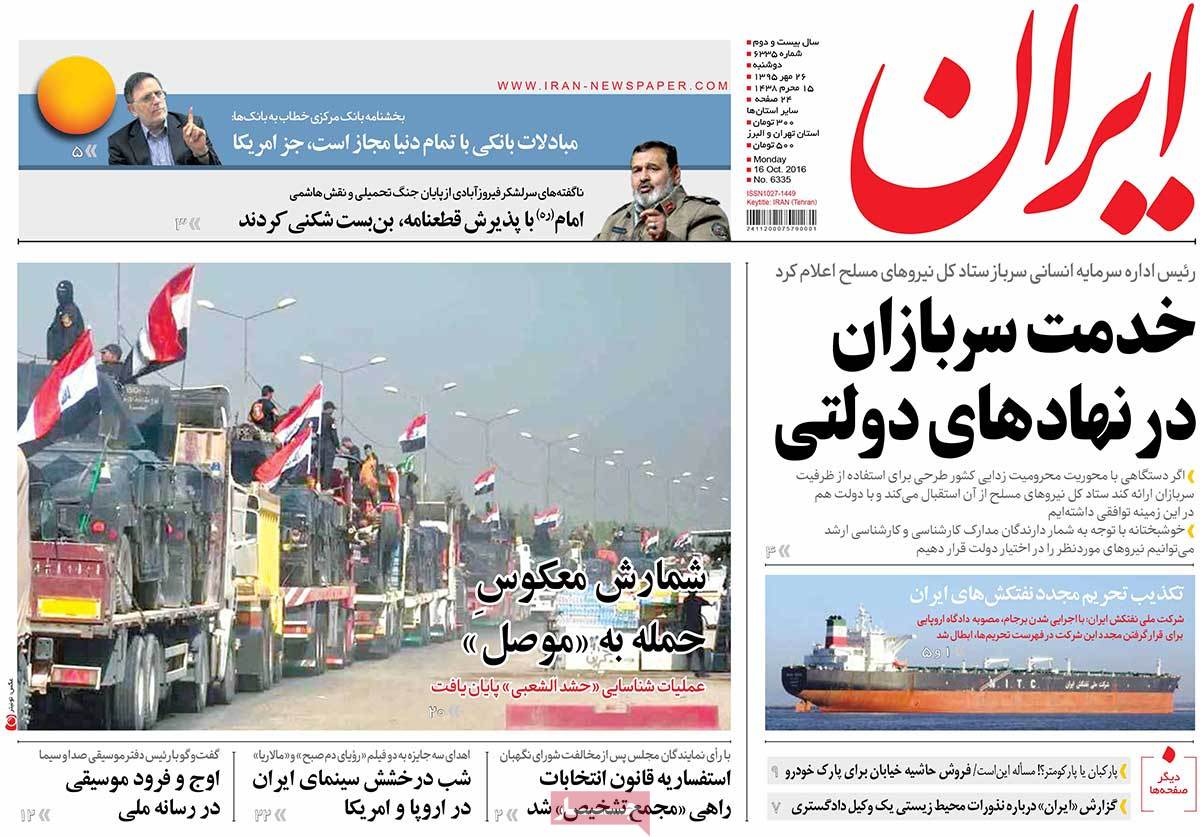 ---
Javan:
1- Kerry: Iran's "Behaviour" Impedes Moving Forward with JCPOA!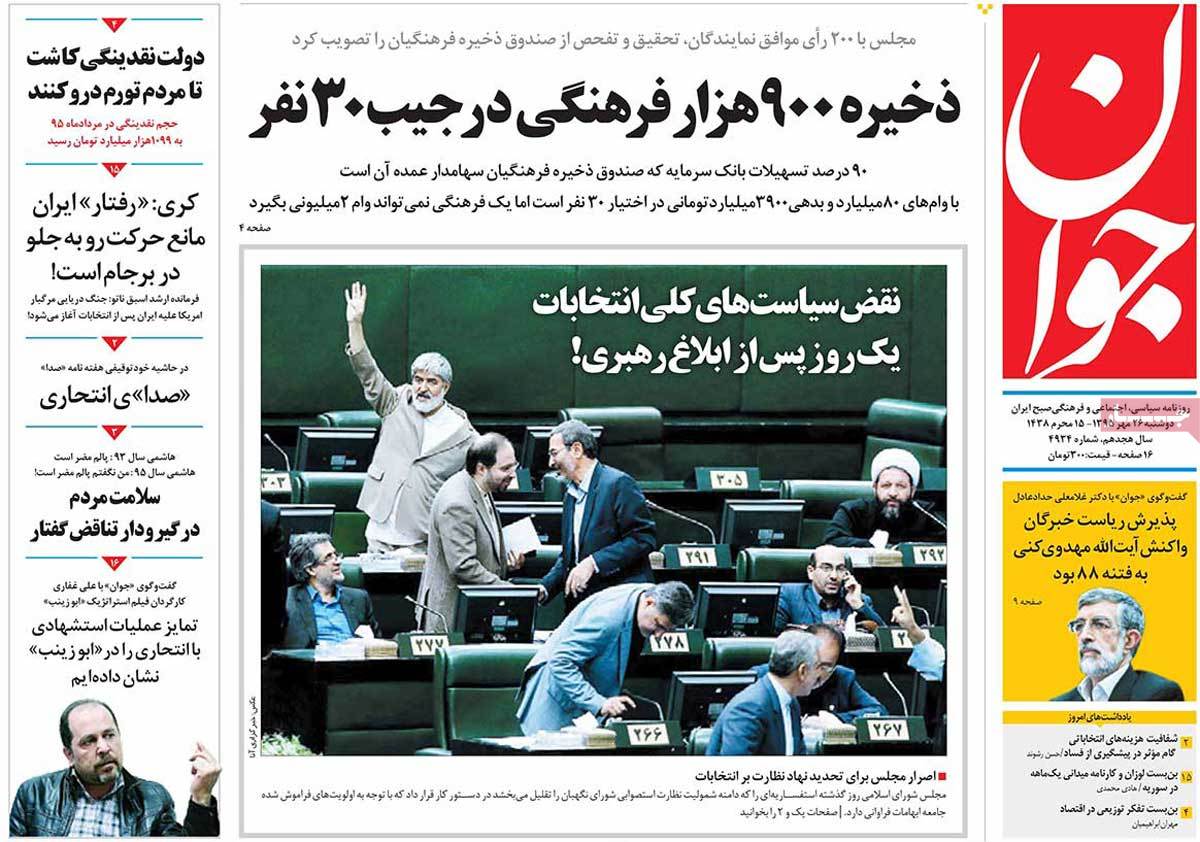 ---
Jomhouri Eslami:
1- General Policies of Elections [Outlined by the Leader] Will Allay Previous Concerns: Deputy Interior Minister
2- Increased Hostility of US towards Nigerian Shiites
3- Erdogan: We Won't Leave the People of Mosul Alone!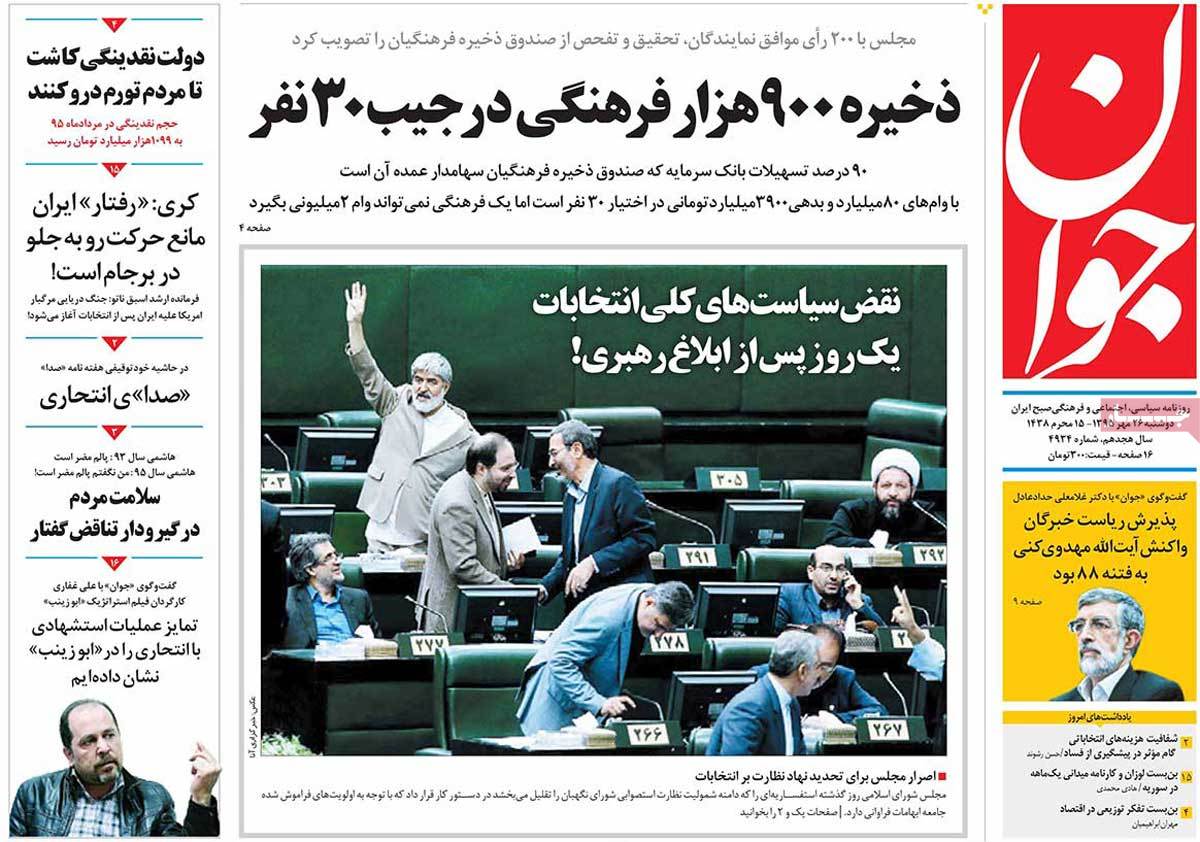 ---
Kayhan:
1- People's Pockets Laugh at Rouhani Government's Claim of 9% Inflation Rate!
2- Head of Chamber of Commerce Criticizes Rouhani Government's Unrealized Promises
3- Parliament Limits Guardian Council's Authority in a Questionable Move
4- Mosul Waiting for Heaviest Anti-ISIS Operation by Popular Forces
---
Khorasan:
1- Mosul Operation about to Begin
2- John Kerry Combines JCPOA Opening with Regional Issues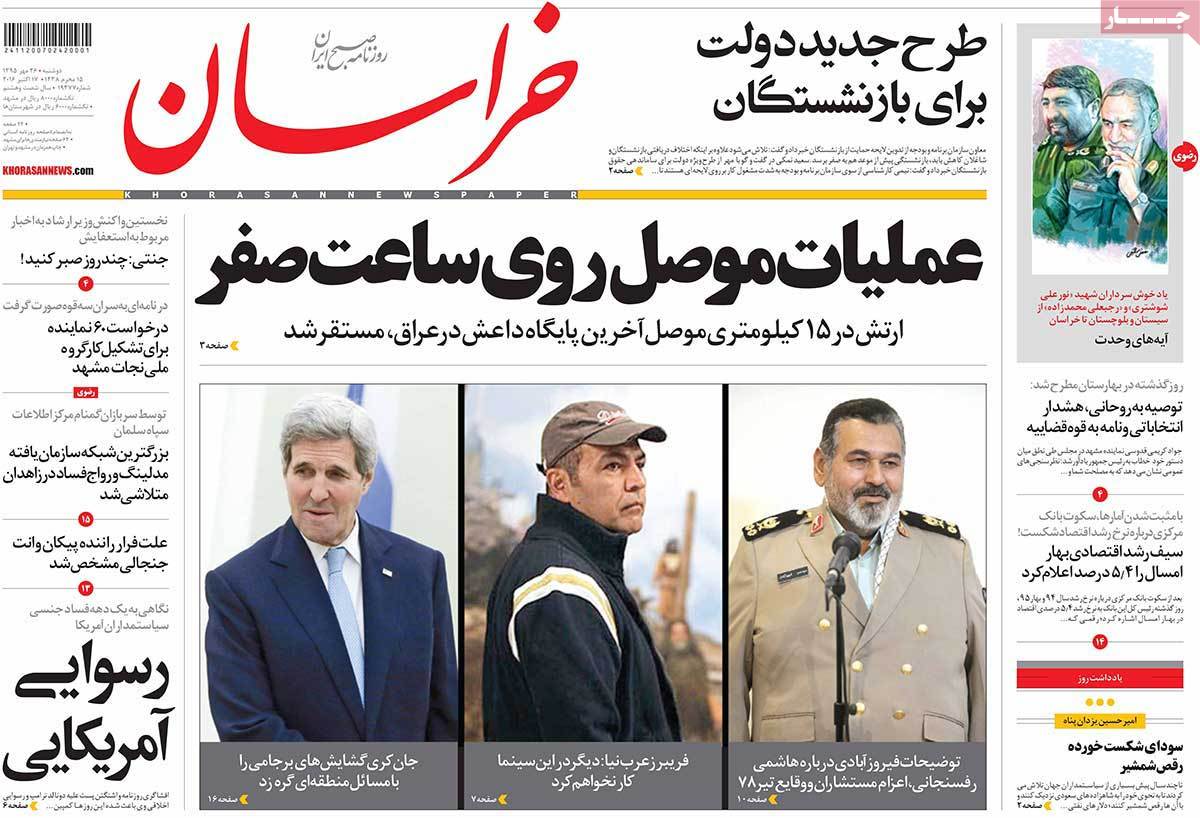 ---
Payam-e Zaman:
1- Central Bank Urges All Iranian Banks Not to Impose Any Sanction on Iranian Figures inside the Country
2- Senior MP: US Worried about Weakness of Terrorist Groups in Syria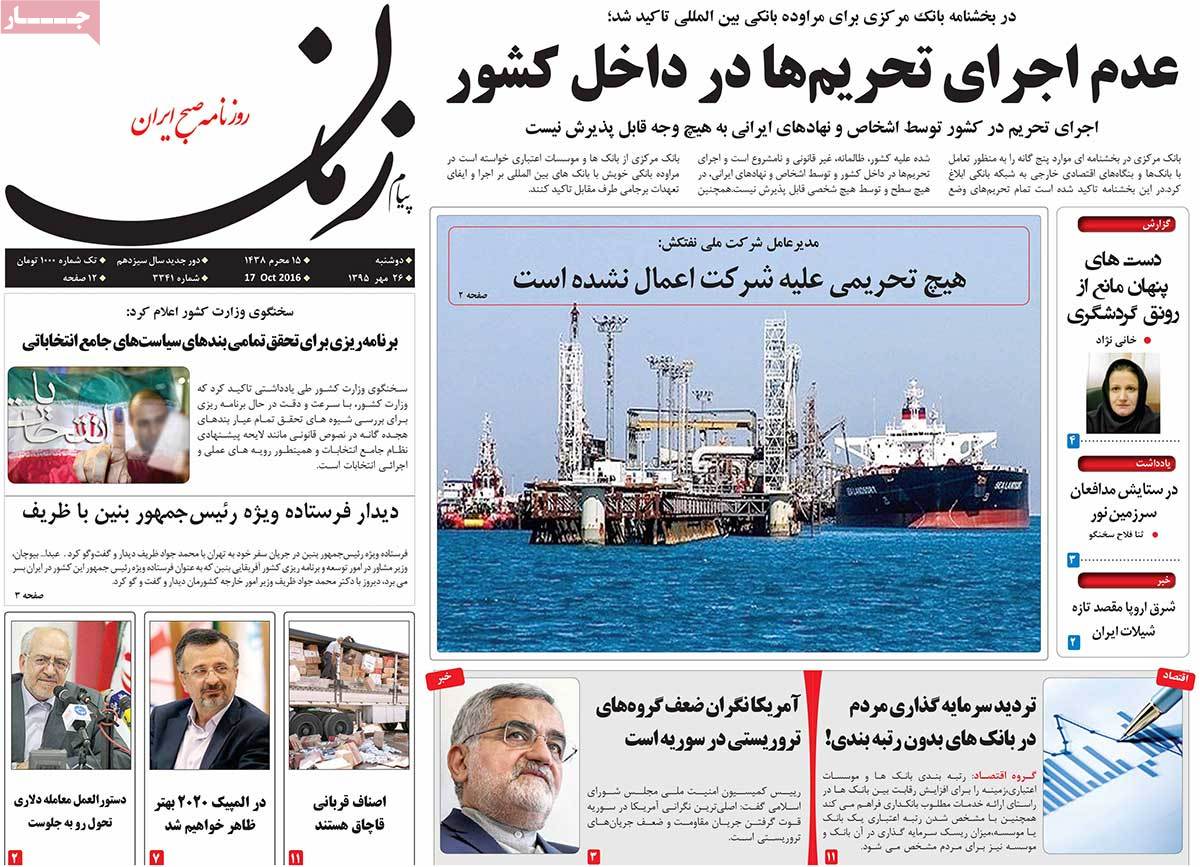 ---
Resalat:
1- EU Court: Sanction against Iran Oil Tanker Company Can't Be Lifted in Next 30 Years
2- Trump Reveals Cheating in US Elections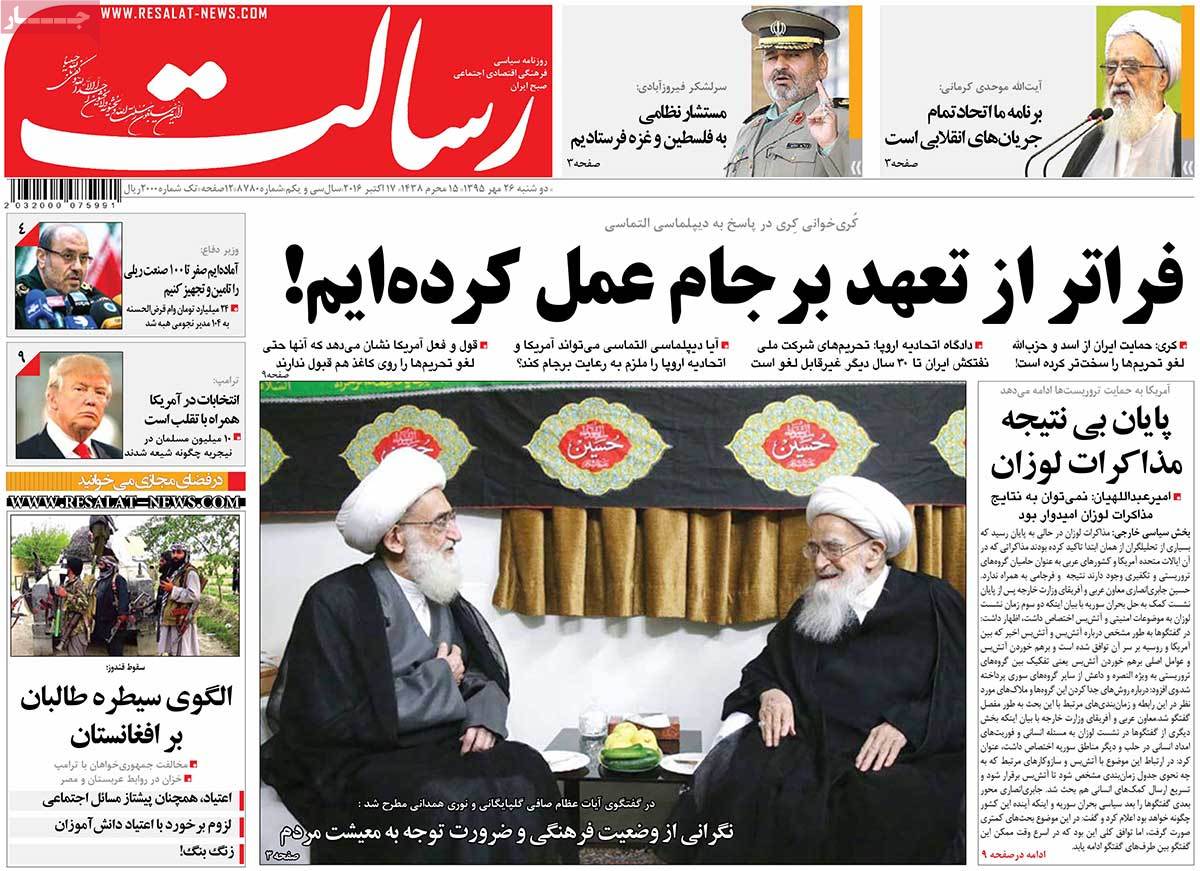 ---
Rooyesh-e Mellat:
1- Zarif: We'll Cooperate with Ivory Coast in Fight against Narcotics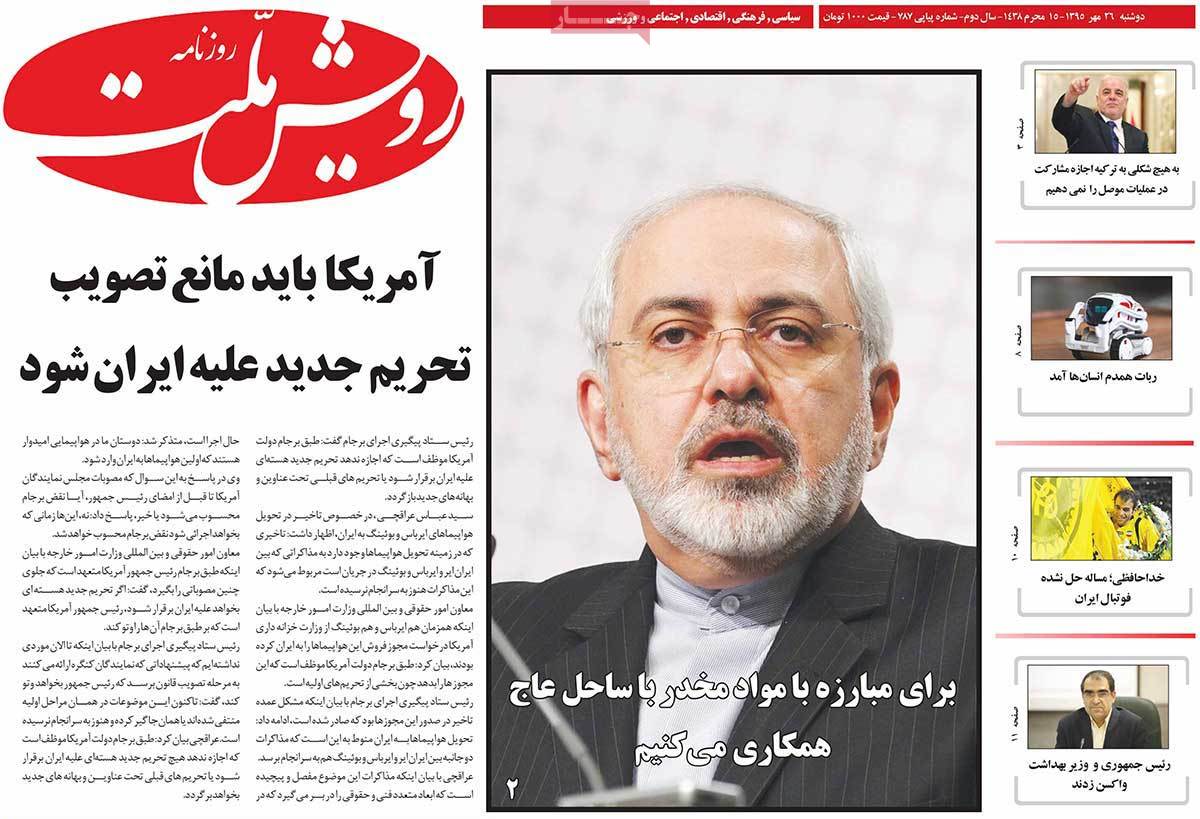 ---
Roozan:
1- Time Says Iran Election Is One of the Top 5 Most Important Elections in 2017; Iran's Presidential Votes, the Most Important Elections for Current Generation
2- Rouhani Is in Good Conditions: Analyst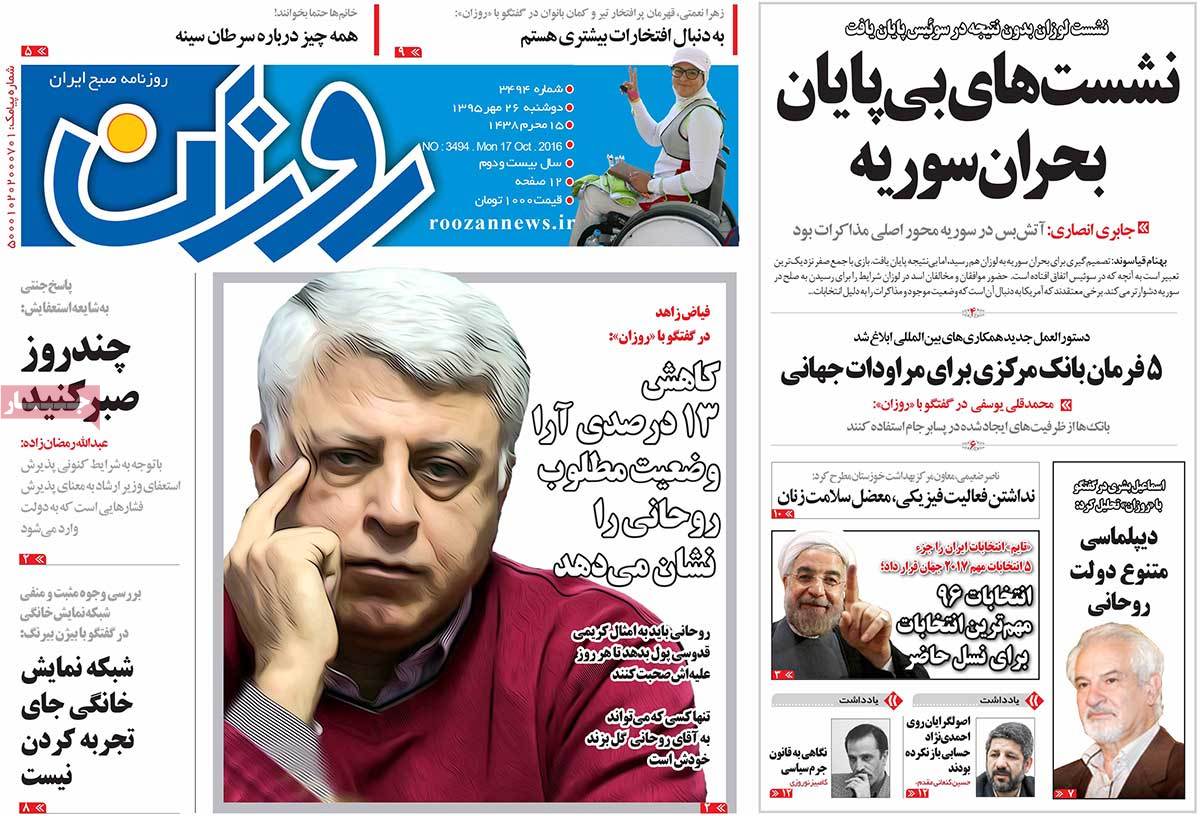 ---
Setareh Sobh:
1- 15 MPs Urges Judiciary Chief to Reconsider Narges Mohammadi's Sentence
2- Iran's Ministry of Culture Holds Electronic Polls for First Time: Hossein Entezami Elected as Representative of Iranian Media Managers
---
Shargh:
1- Deputy Oil Minister: All Sanctions against National Oil Tanker Company Are Lifted
---
Vatan-e Emrooz:
1- ISIS Bloggers Arrested: Police Chief of Iranian Southeastern City
2- Trump Targets Clinton's Achilles' Heel: Doping Test Should Be Taken by Hillary
http://www.jaaar.com/assets/images/pishkhan/1395/7/26/96da2f59.jpg