The majority of newspapers on Sunday covered the general policies of elections outlined by the Leader of the Islamic Revolution Ayatollah Seyyed Ali Khamenei.
Another top story was the recent talks in the Swiss city of Lausanne on the ongoing crisis in Syria, which were attended by foreign ministers of Iran, Russia, the US, Saudi Arabia, Turkey, and other key players. Only one newspaper, Etemad, reported the fruitless end of the negotiations; all other papers were printed before the end of the talks.
The EU court's move to reject Iran Tanker Company's sanctions relief also received great coverage today.
The above issues, as well as many more, are highlighted in the following headlines:
Abrar:
1- JCPOA Challenges Are Because of the Other Side's Procrastination: Deputy FM
2- Iranian Students May Be Expelled from Indian Universities
3- Unprecedented Deployment of Forces to Mosul: Last Battle to Begin Soon
4- El Salvador, the Most Dangerous Country in the World
---
Abrar-e Eqtesadi:
1- Deals with France and South Korea for Decrease of Water Waste
2- Pacific Countries, New Customers of Iran's Oil Products
3- Iraq Starts Oil Production from Joint Fields with Iran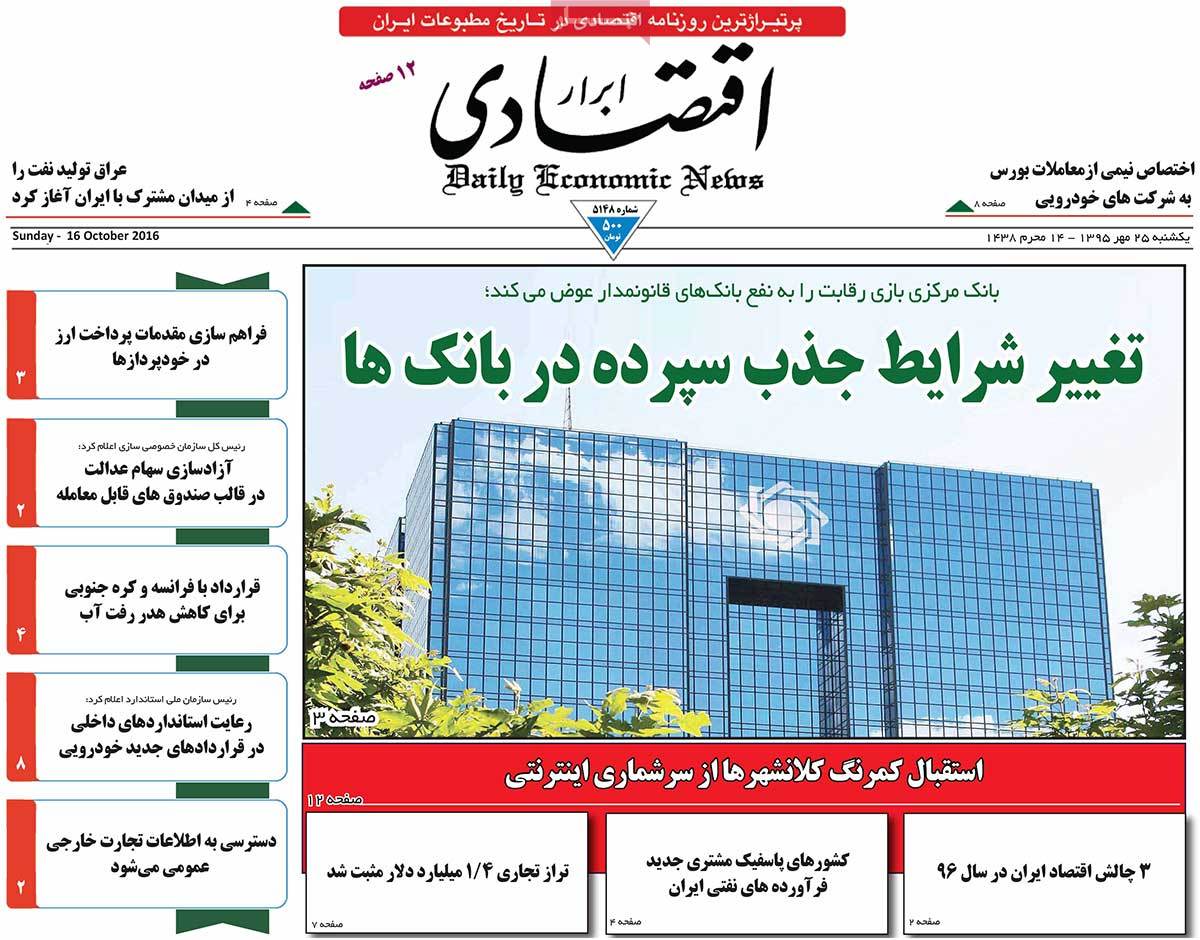 ---
Afarinesh:
1- Iranian FM Zarif and Russian Counterpart Lavrov Hold Meeting
2- Russia's Special Plan for Lifting Visa Requirement for Iranian Citizens
3- Asghar Farhadi's 'The Salesman' to Open the 7th Festival of Iranian Films in London
---
Afkar:
1- Iran's Envoy to the UN: We're Worried about the Consequences of Entry and Export of Aggressive Weapons to Saudi Arabia and Israel
2- US Issues Order for Beginning of Cyber-War against Russia
---
Aftab-e Yazd:
1- Leader Outlines General Policies of Elections: Transparency of Resources and Expenses and Full Monitoring
2- Iran's Diplomatic Victory over Saudi Arabia: In Spite of Riyadh's Opposition, Tehran Attends Lausanne Talks with Pre-Conditions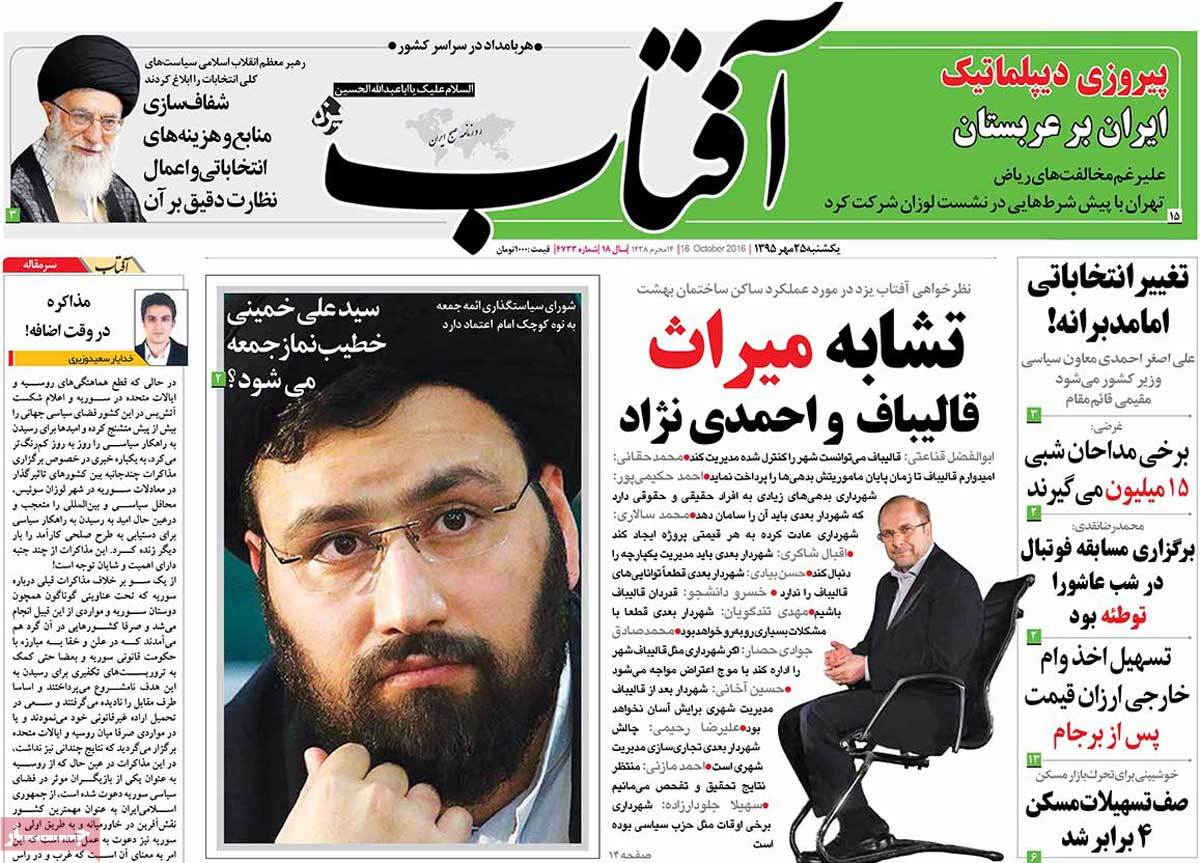 ---
Amin:
1- Possible Scenarios for Iran's Foreign Policy: Future of JCPOA Depends on 2017 Election Results
---
Arman-e Emrooz:
1- Leader Outlines General Policies of Elections: Armed Forces Banned from Joining Parties
2- Rouhani Has the Final Say in Removing or Accepting the Resignation of Culture Minister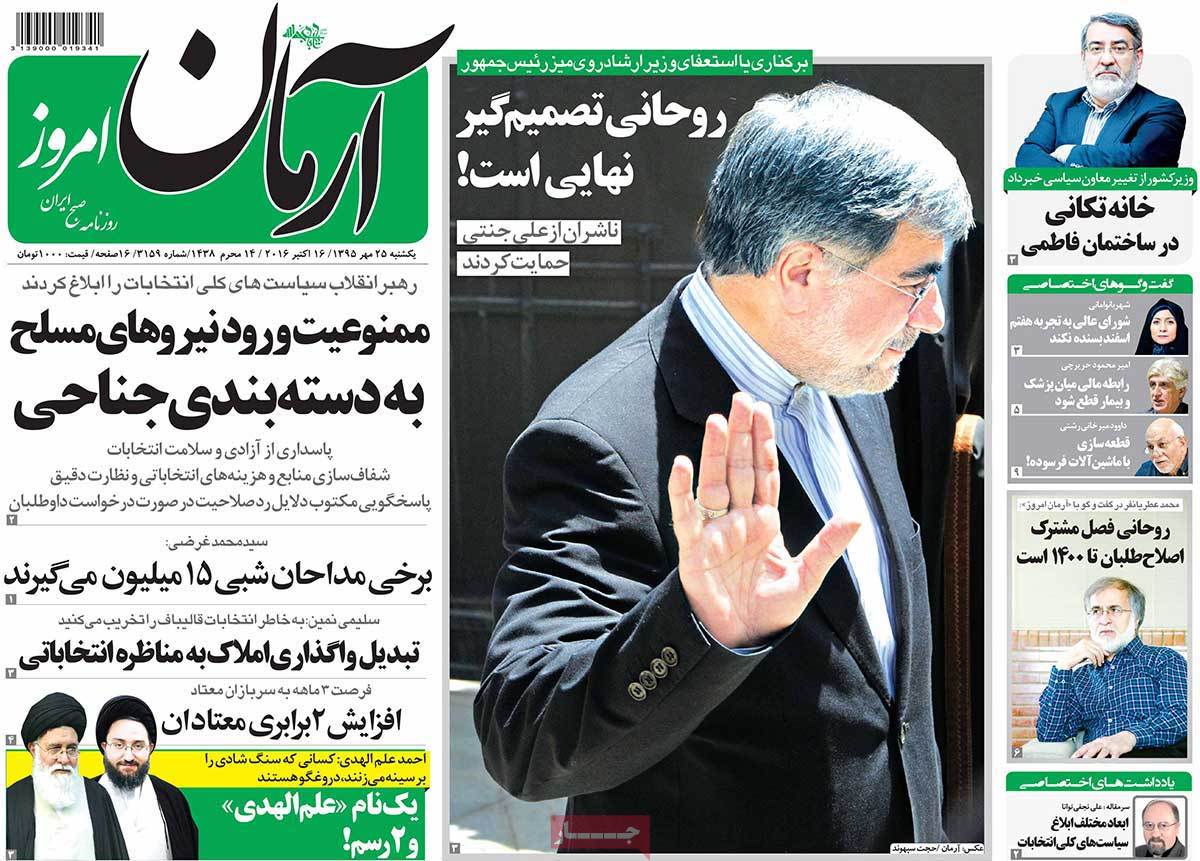 ---
Asrar:
1- Mousavian: Obama Is Looking for Removal of JCPOA Barriers before Leaving the White House
2- Former Iraqi PM: Turkey Seeks to Divide Mosul
3- Death of Hoor al-Azim: Aquatic Species Dying in a Wetland that Is Turning into a Desert
---
Ebtekar:
1- Iran Attends a Meeting to Resolve Syrian Crisis: Fate of Aleppo in Lausanne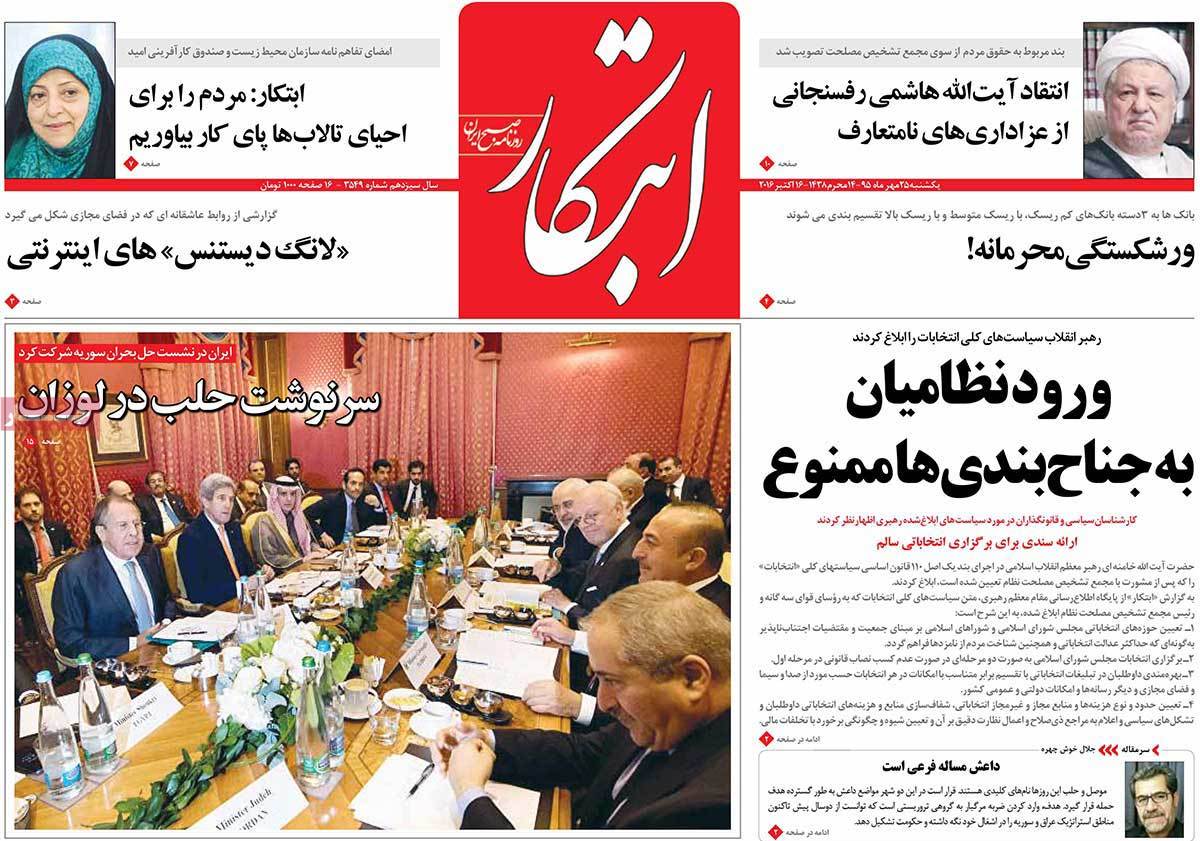 ---
Etemad:
1- Round-Trip Diplomacy: Lausanne Talks on Syrian Crisis Ends without Any Tangible Result
2- Iraq Outperforms Iran in Joint Oil Field: Azar, the Bride of Iraqis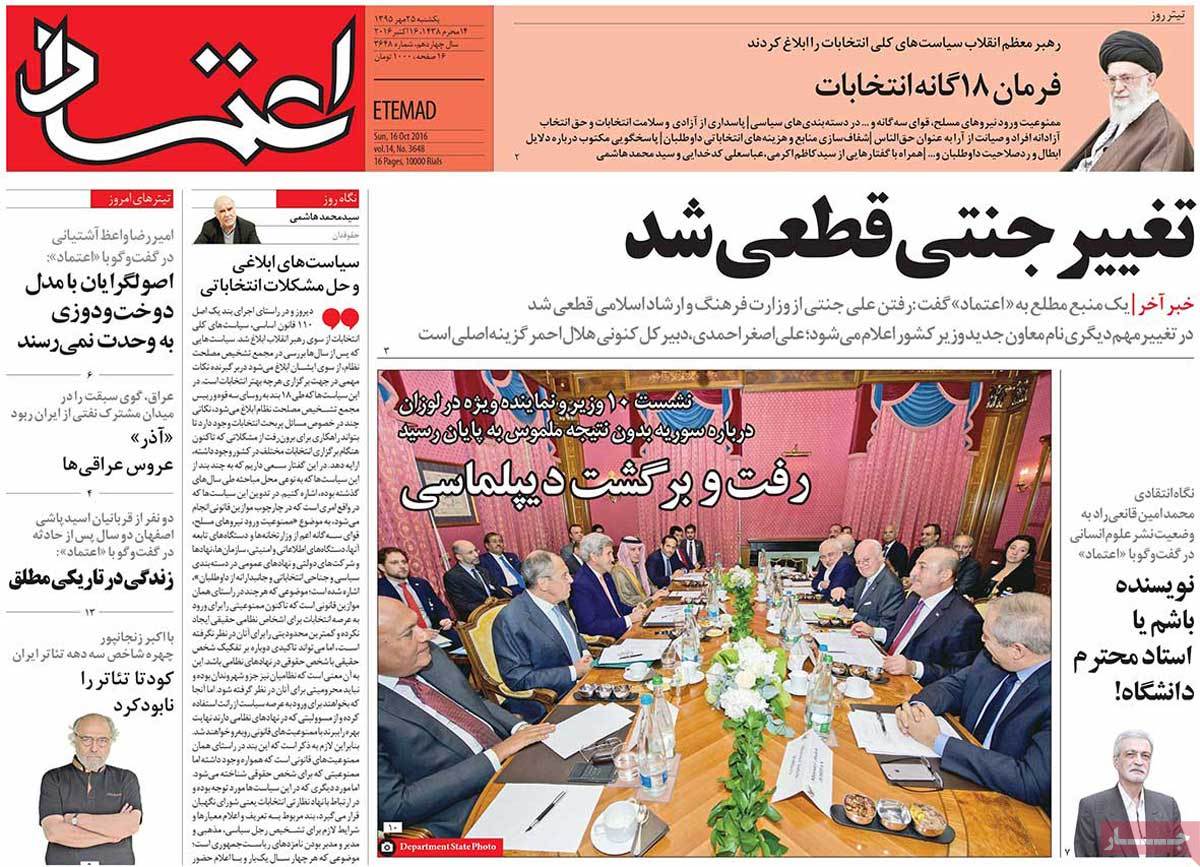 ---
Ettela'at:
1- Deputy FM: Banking and Insurance Problems Resolved after JCPOA
2- Terrorist Attack on Ashura Mourners in Baghdad Leaves 41 Dead
3- UNSC Condemns Zionist Regime [Israel]'s Settlement Constructions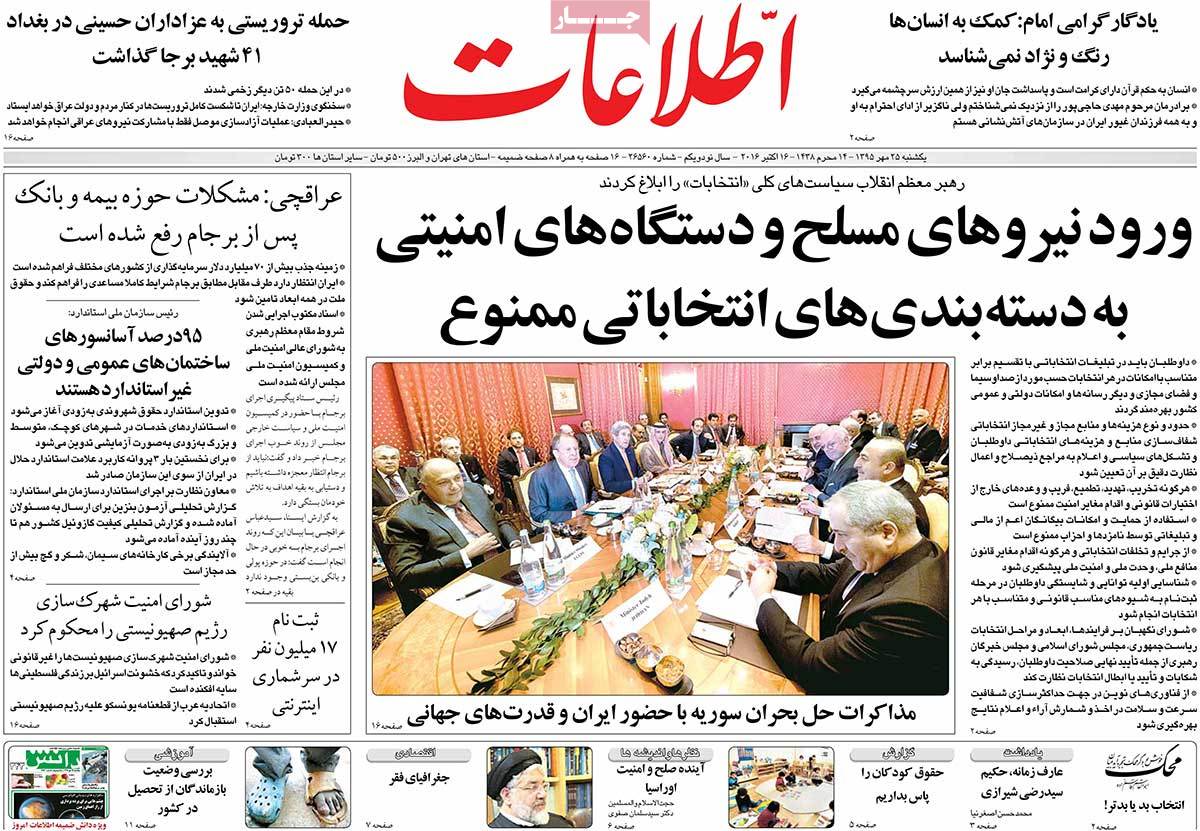 ---
Iran:
1- Iranian Trade Official: 6% Increase in Iran's Non-Oil Exports in Past Six Months
2- Women's Votes, a Nightmare for Trump: Increase in Number of Women Who Claim Trump Has Sexually Assaulted Them
3- 8-Fold Rise in Number of Iranians Who Visit HIV Counselling Centres: Health Minister
---
Javan:
1- Obama Warns of Trump's Riot after US Presidential Elections
2- Ultimatum in Lausanne: Talks between 5+4 for a Ceasefire in Syria Started without Any Hope for an Opening
3- Reformist Figure: We No Longer Support Rouhani with Closed Eyes; Reformists Doubtful about Their Support for Rouhani in 2017 Election
---
Jomhouri Eslami:
1- Shamelessness in Saudi Arabian Style: Saudi-Led Coalition Blames Mansour Hadi for Bloody Slaughter of Sana'a
2- Britain Looking for an Immediate Ceasefire in Yemen and Saving Saudis from the Deadlock There by Proposing a Draft Resolution to UNSC
3- Jerusalem Post: Israel and Saudi Arabia Are Coordinated for Countering Iran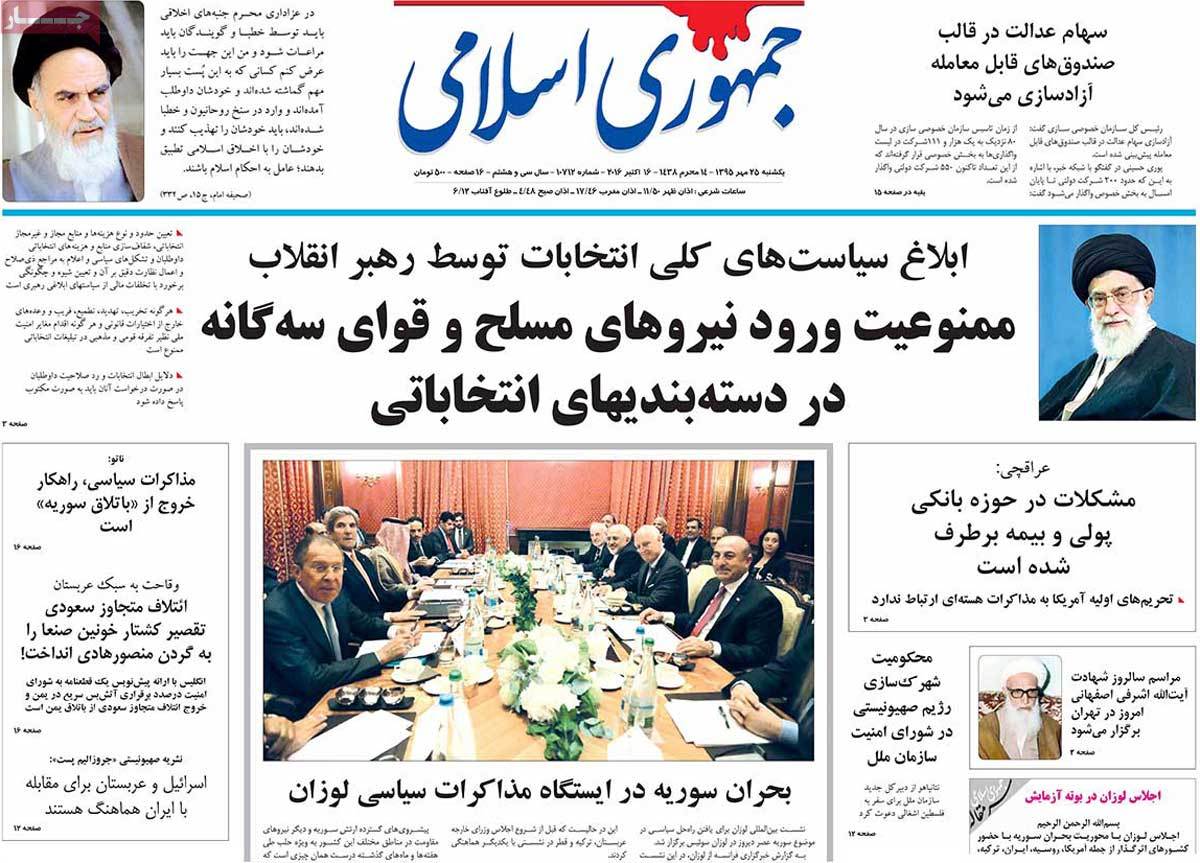 ---
Kayhan:
1- Central Bank Governor: Current Situation, Compared with Pre-JCPOA Era, Is Not at All Satisfactory
2- Iran's National Oil Tanker Company, the Latest Victim of Post-JCPOA Era: Heavy and 30-Year Sanctions, the EU's Response to 'Begging' Diplomacy
3- US Failure in Syria War, the Operation of Deceit in Lausanne
---
Khorasan:
1- Leader Calls for Maximum Transparency, Speed, and Health of Elections
2- Lausanne Talks: Negotiation for the Sake of Negotiation
---
Payam-e Zaman:
1- Leader: Protecting People's Vote Is a Must in Elections; Candidates Banned from Using Foreigners' Support and Facilities
2- Zarif Receives to African Diplomats
3- Latest Remarks by Wendy Sherman about Nuclear Deal: We Didn't Expect Nuclear Deal to Change Iran's Behaviour in Fields Other than Its Nuclear Program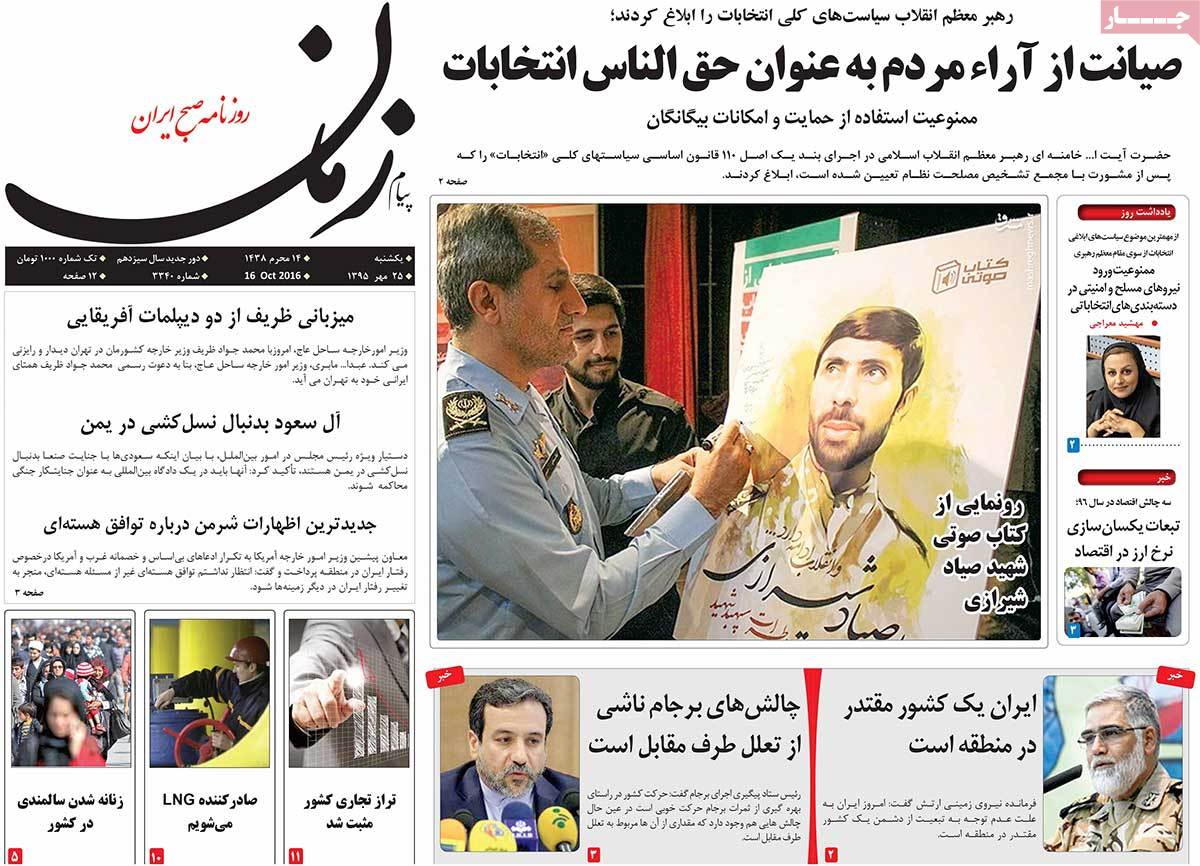 ---
Resalat:
1- EU's Heavy Sanctions against Iran's National Oil Tanker Company
2- Amir Abdollahian: Al Saud Seeks Genocide in Yemen
---
Saheb Qalam:
1- Iran Has No Plan to Replace Russia in Europe's Gas Market
2- Army Ground Force Commander: Iran Is a Powerful Country in the Middle East
---
Setareh Sobh:
1- Deputy FM Elaborates on Details of Attracting $70bn Investment; JCPOA Has Removed Barriers to Economic Activities
2- Ayatollah Rafsanjani Warns: It'd Be Difficult to Control a Possible Confrontation between US and Russia
---
Shargh:
1- Syria Is Zarif's New Project: FMs of Countries Involved in Syrian Crisis Gather in Lausanne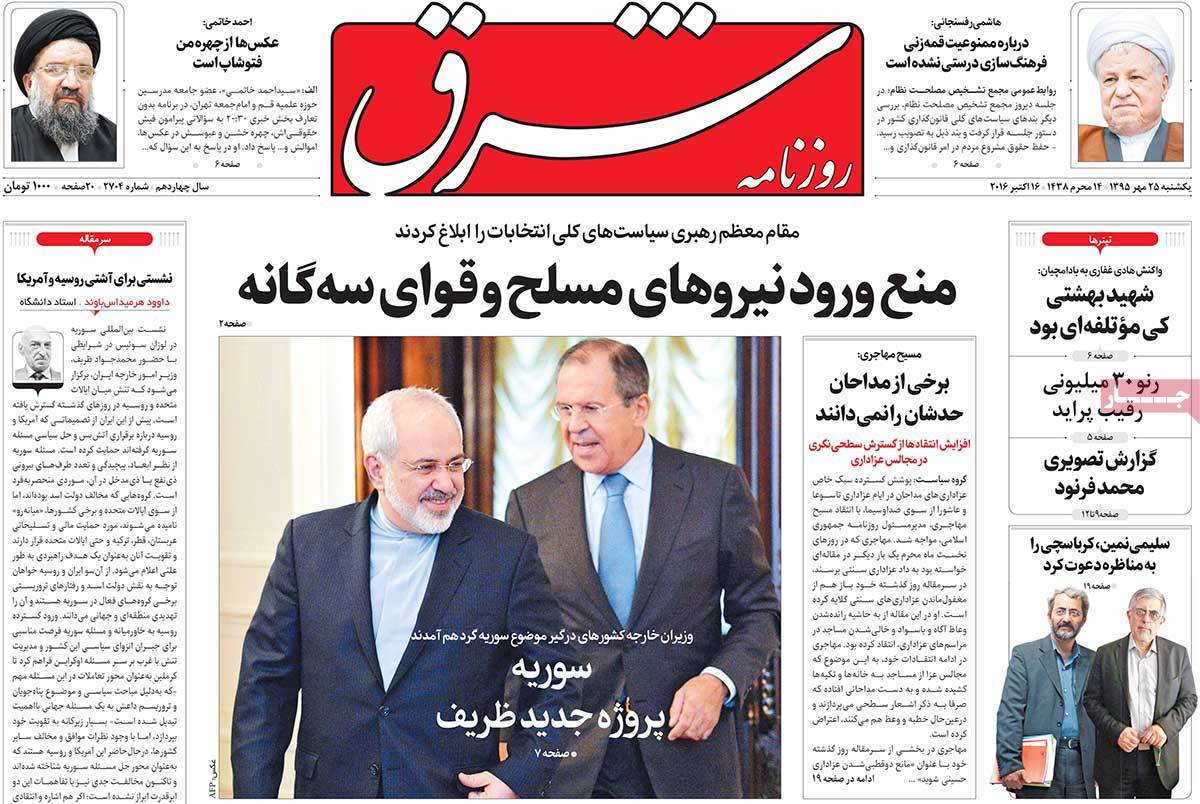 ---
Vaghaye Ettefaghieh:
1- There'll Be No Collusion: Lausanne Meeting, a Summit Aimed at Continuation of Pressure