Newspapers on Saturday mainly covered the upcoming Syria talks in the Swiss city of Lausanne between Iran, US, Russia and other major regional players. At first, Iran was not going to attend the talks; however, FM Mohammad Javad Zarif later decided to join the talks.
The Nobel Prize in Literature, which was given to the American songwriter Bob Dylan, also sparked controversy and received good coverage in Iranian media.
The speculations about Iranian Minister of Culture and Islamic Guidance Ali Jannati's resignation under the pressure of hard-line groups were also a top story today.
The above issues, as well as many more, are highlighted in the following headlines:
Abrar:
1- Russia Says Delivery of S-300 to Iran Is Finished
2- Second Yemeni Missile Attack on American Warship
3- NATO's AWACS Aircraft Join the War against ISIS
4- New Moroccan Ambassador Arrive in Iran after Eight Years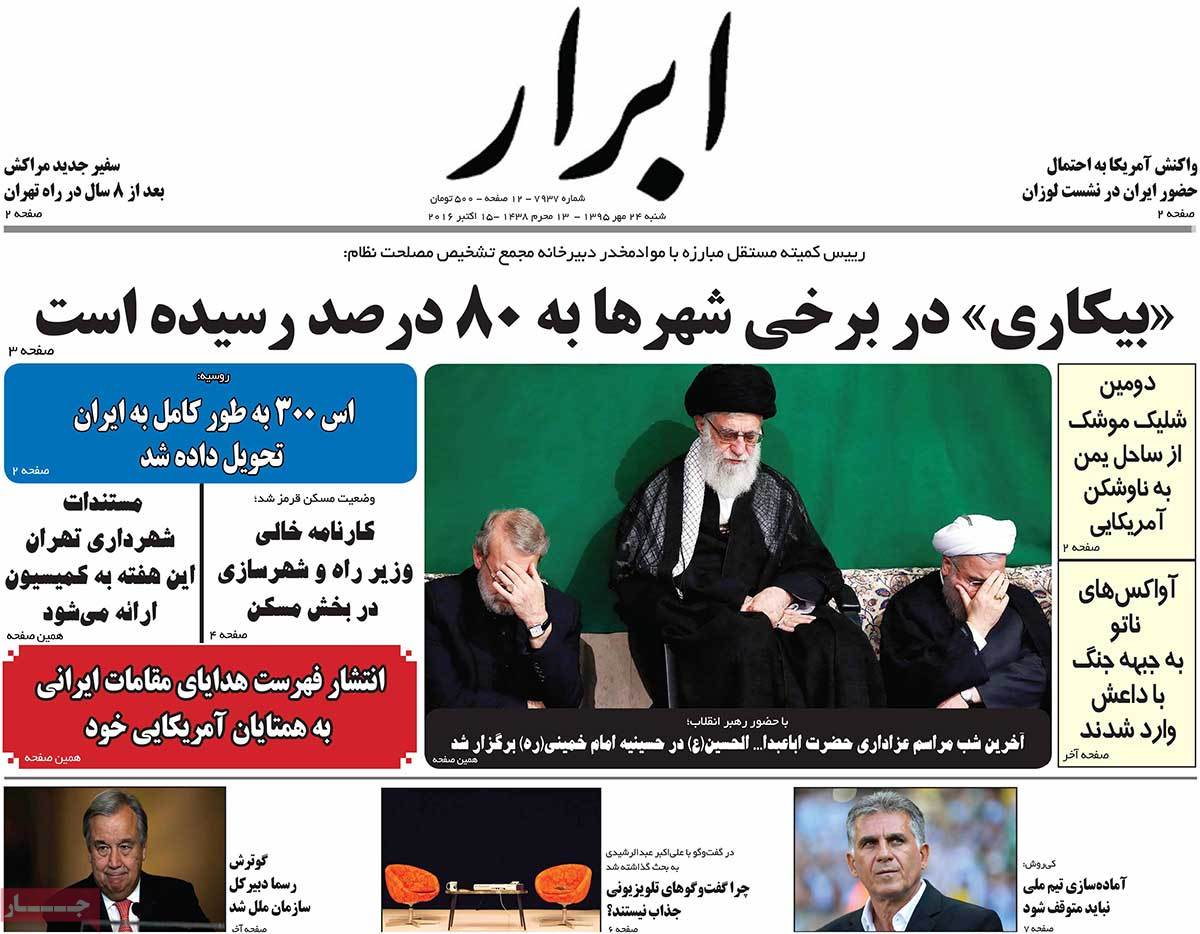 ---
Abrar-e Eqtesadi:
1- New Era of Iran-World Bank Ties Begins
2- Iran Ranks Second among ECO Member States in Terms of Trade
3- Iran and Pakistan's Initial Deal to Ditch US Dollar in Bilateral Trade
4- Iran Signs Initial Petchem MoU with Shell
5- Major European Banks' Cooperation with Iran
6- US and Japanese Banks to Fund Boeing Sales to Iran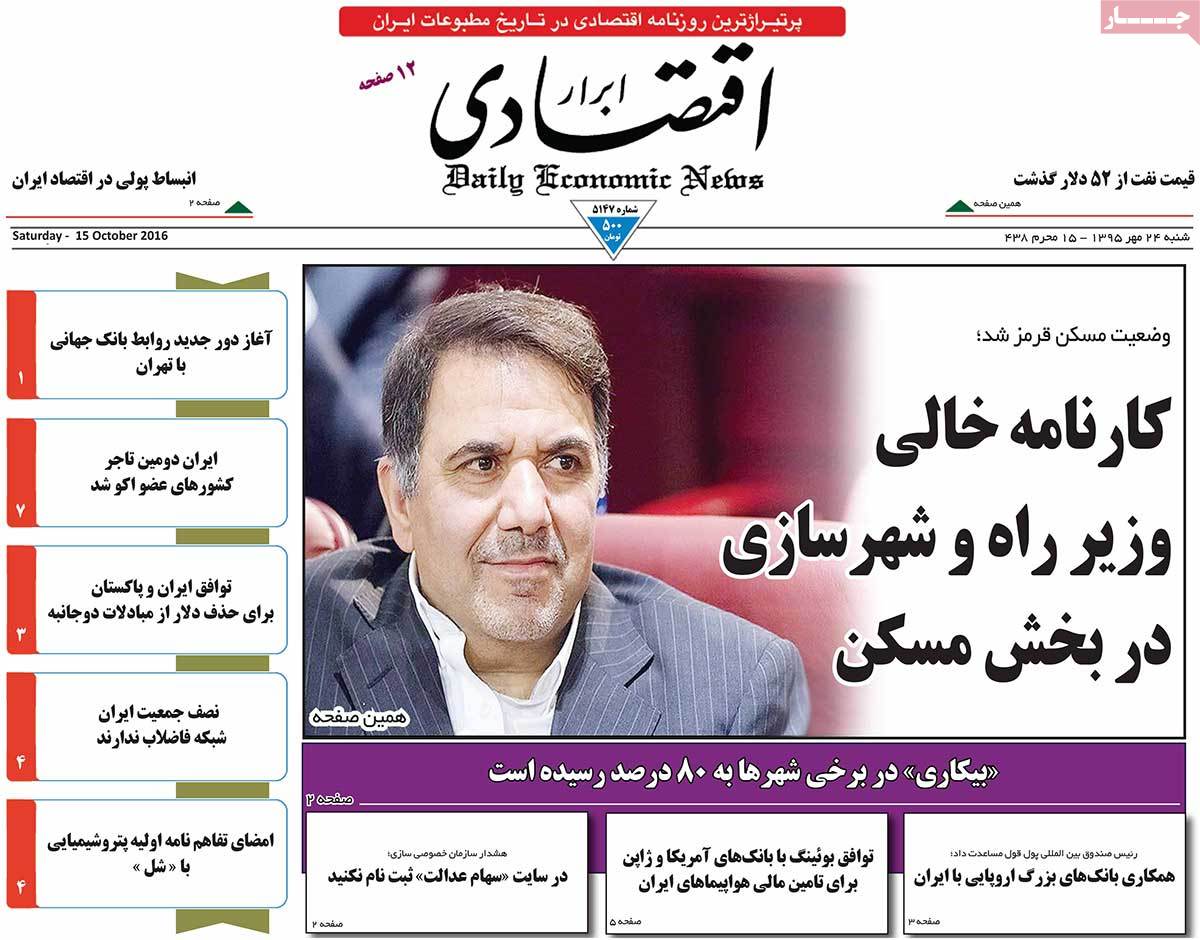 ---
Afarinesh:
1- Russian Army's Unlimited Presence in Syria with Putin's Order
2- New Instruction in US Treasury: Ban on Dollar Transactions with Iran Is Lifted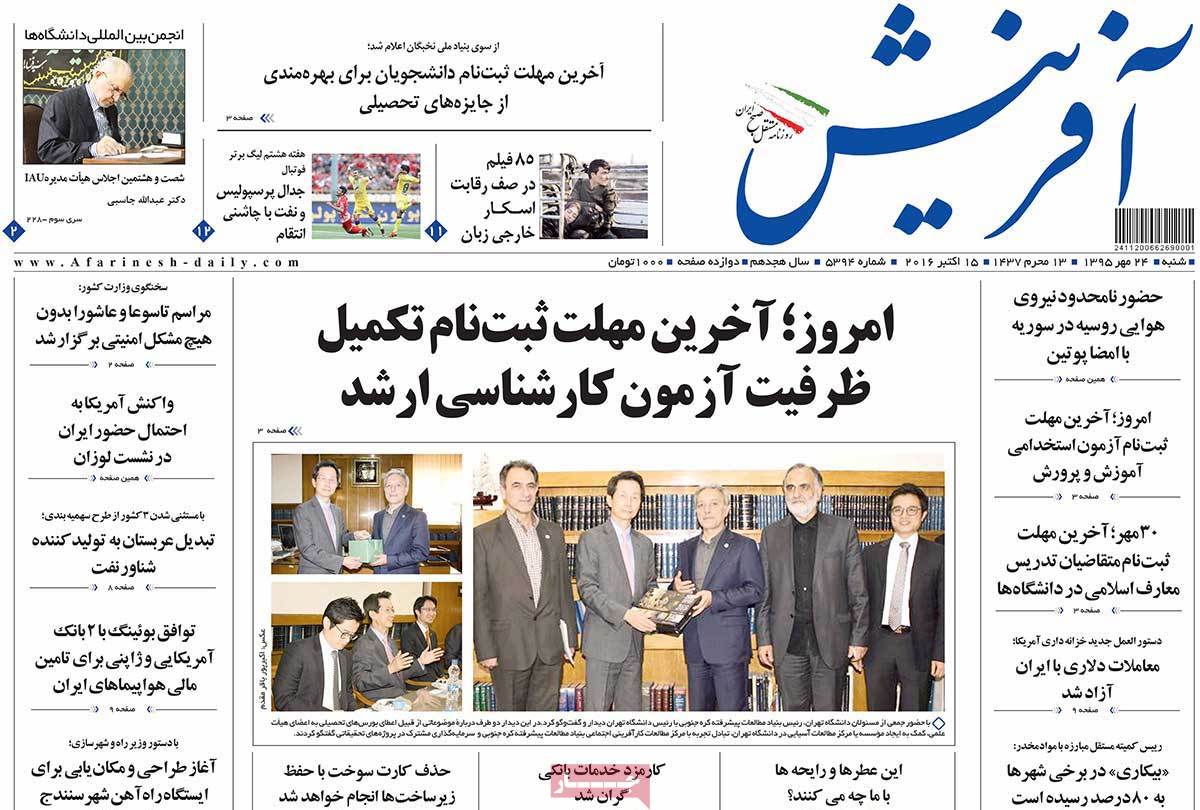 ---
Afkar:
1- US Reaction to Iran's Presence in Lausanne Talks: Iran Is an ISSG Member State, But We Can't Comment on Their Presence in Lausanne
2- Explosion in Ashura Rituals in Afghanistan's Balkh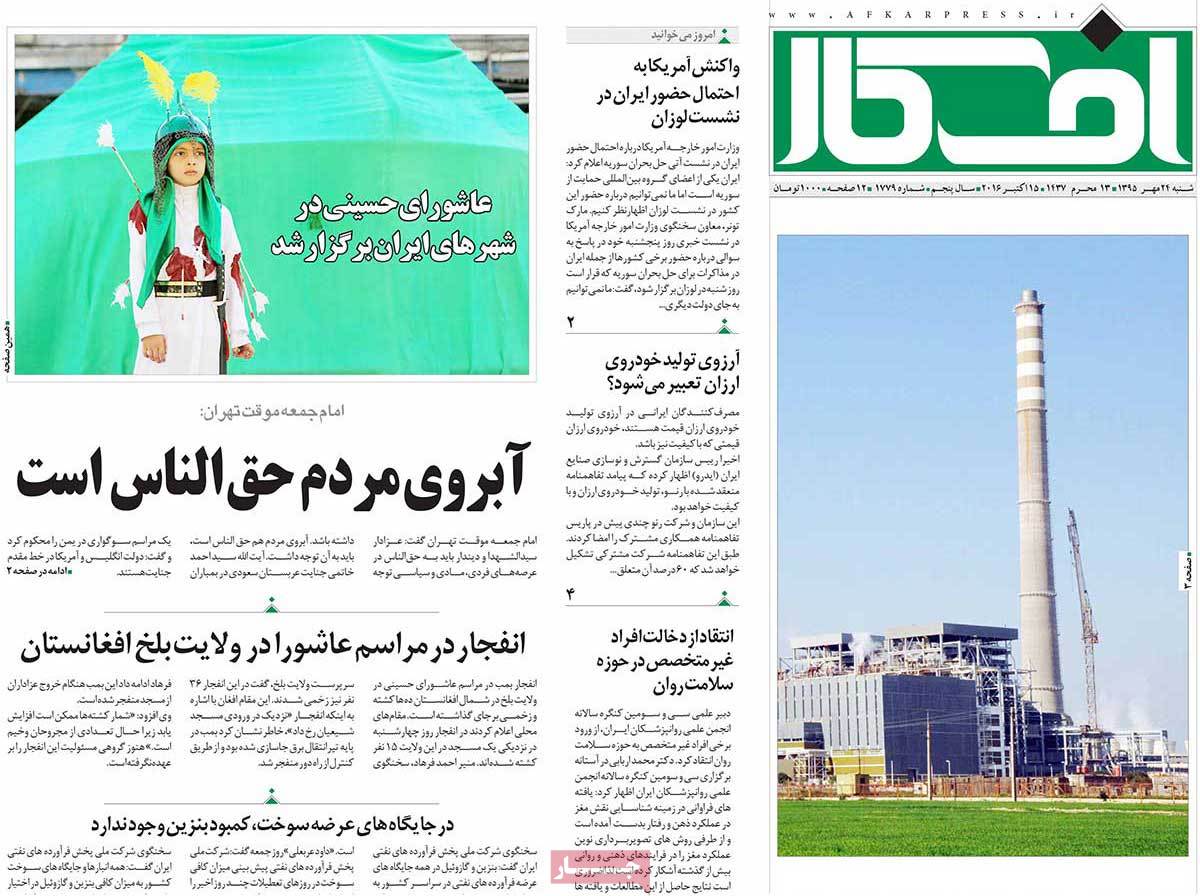 ---
Aftab-e Yazd:
1- American Bank May Give a Billion-Dollar Loan to Iran after Talks between Iranian and US Economic Officials for Plane Purchase
2- Resignation Based on Order or Protest? Speculations about End of Ali Jannati's Term as Culture Minister
3- Political Ethics Have Declined in US: Coverage of What Happened in Presidential Debate between Trump and Clinton
4- What Was Zarif's Gift to John Kerry?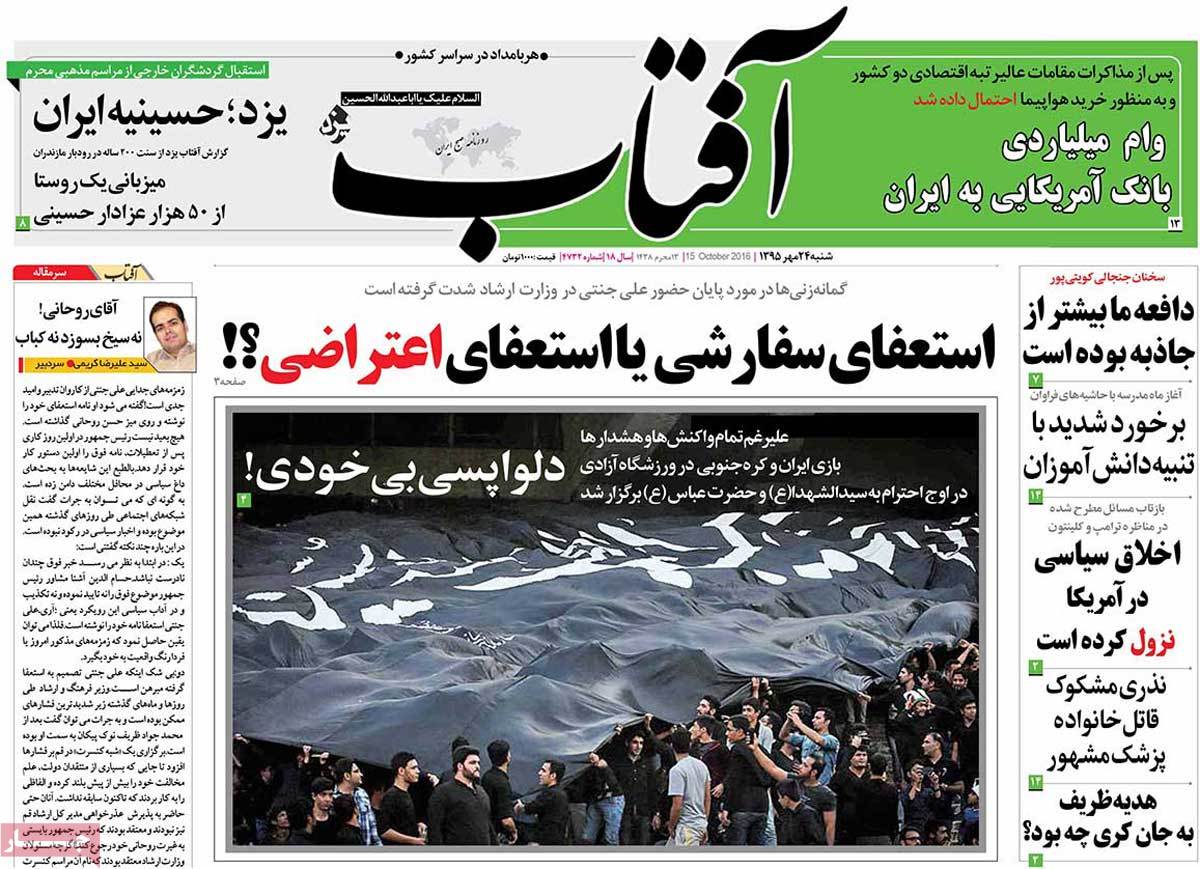 ---
Amin:
1- Foreign Takfiri [Extremist] Terrorists Arrested and Terrorist Operation Neutralized in Iran's Fars Province
2- Culture Minister Undecided about Leaving or Staying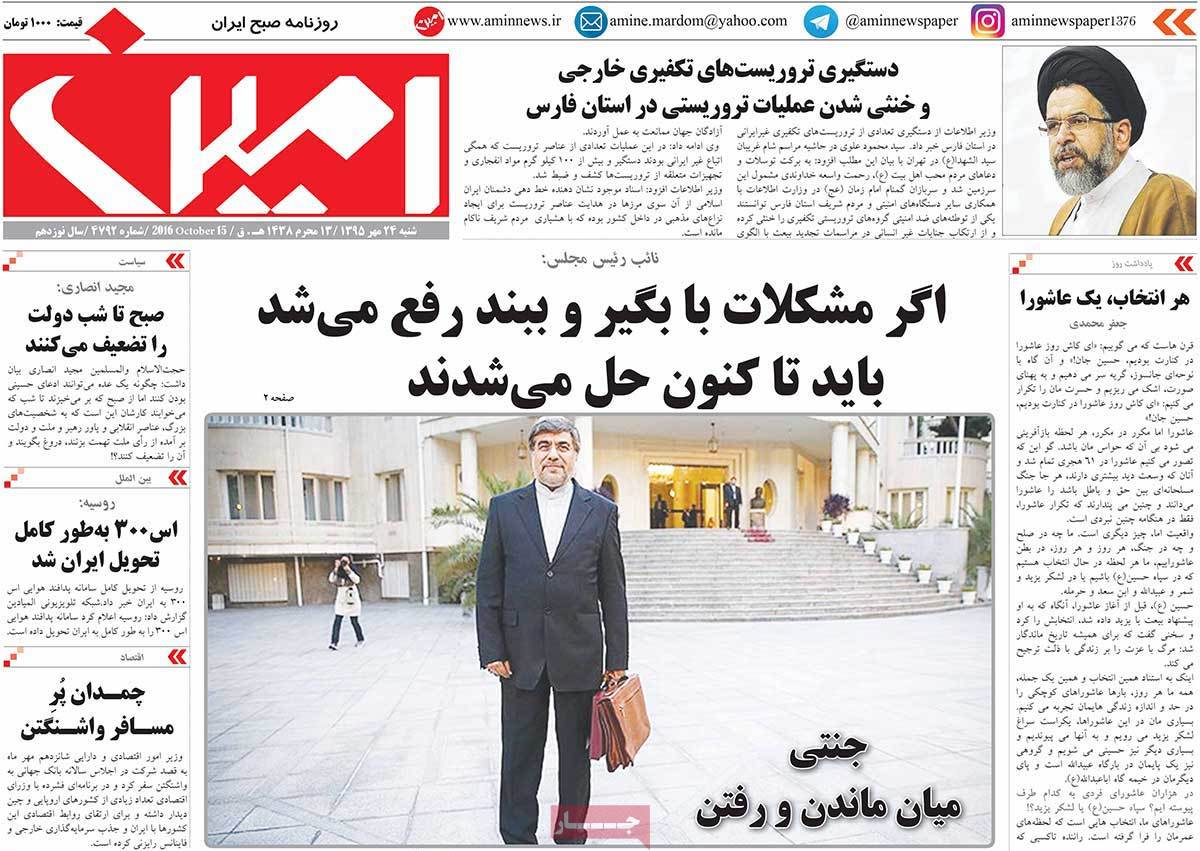 ---
Arman-e Emrooz:
1- Reformist Cleric: Conservatives Seek to Make Progress Using Rouhani
2- Rouhani's New Rival Unveiled: Conservatives' Presidential Campaigns Still in Chaos
3- Head of Education Office Resigns after Physical Punishment of a Student: Tsunami of Physical Punishment in Schools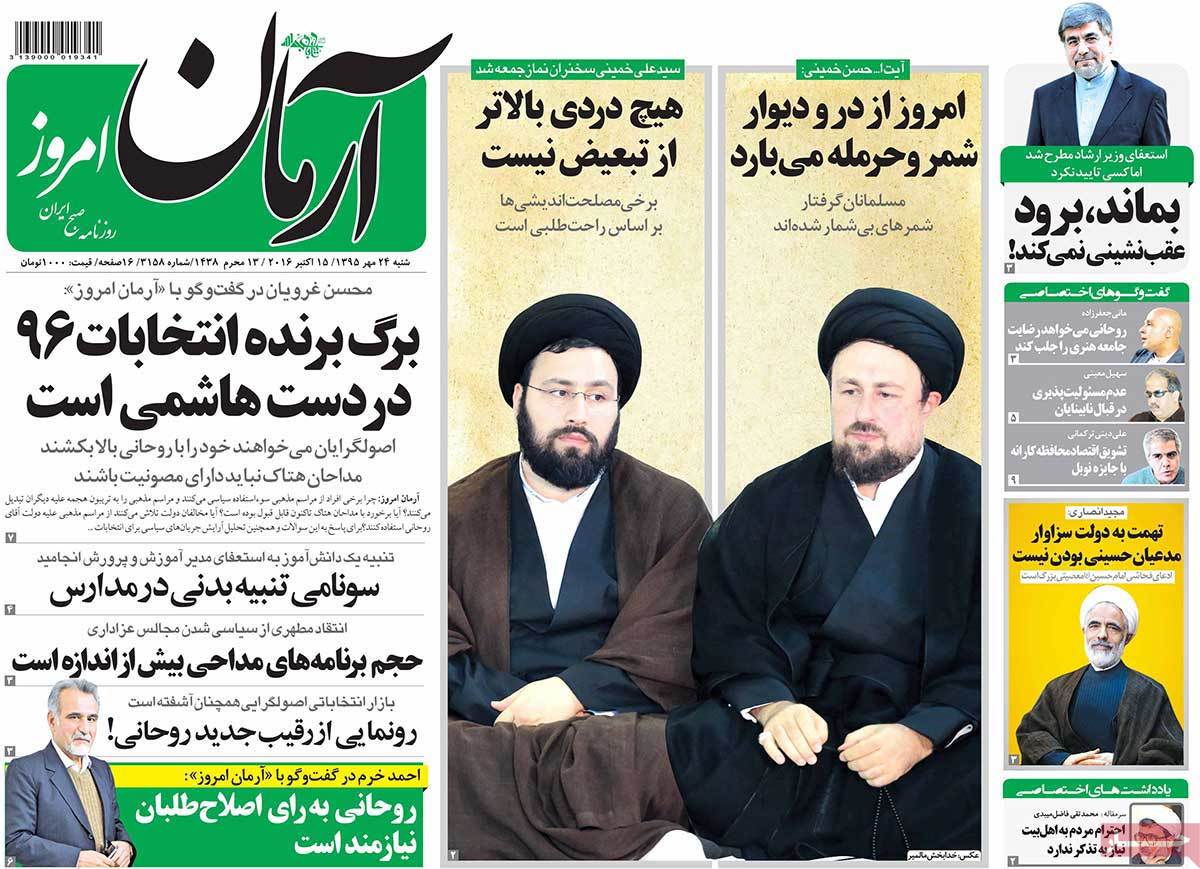 ---
Asrar:
1- IRGC Lieutenant Commander: Saudi Arabia Not Capable of Countering Iran
2- Assad: France and Saudi Arabia Asked Syria to Stay Away from Iran
3- Iran to Become Self-Sufficient in Petrol Production by March 2017: MP
4- Iranian Fugitive Banker Still in Interpol's Blacklist: He'll Remain in the List until 2022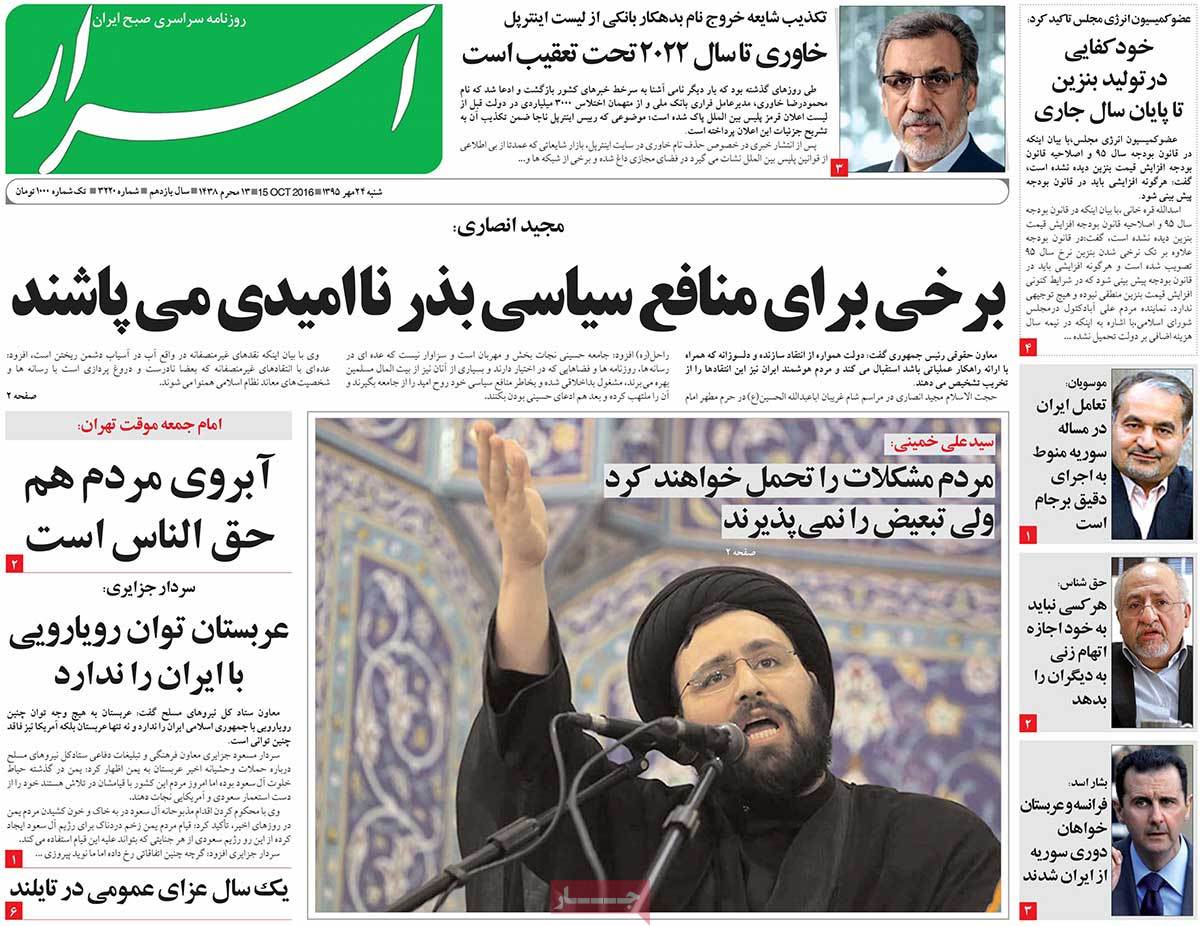 ---
Donya-ye Eqtesad:
1- New York Times Reveals What Lies beneath Al Saud's Economic Management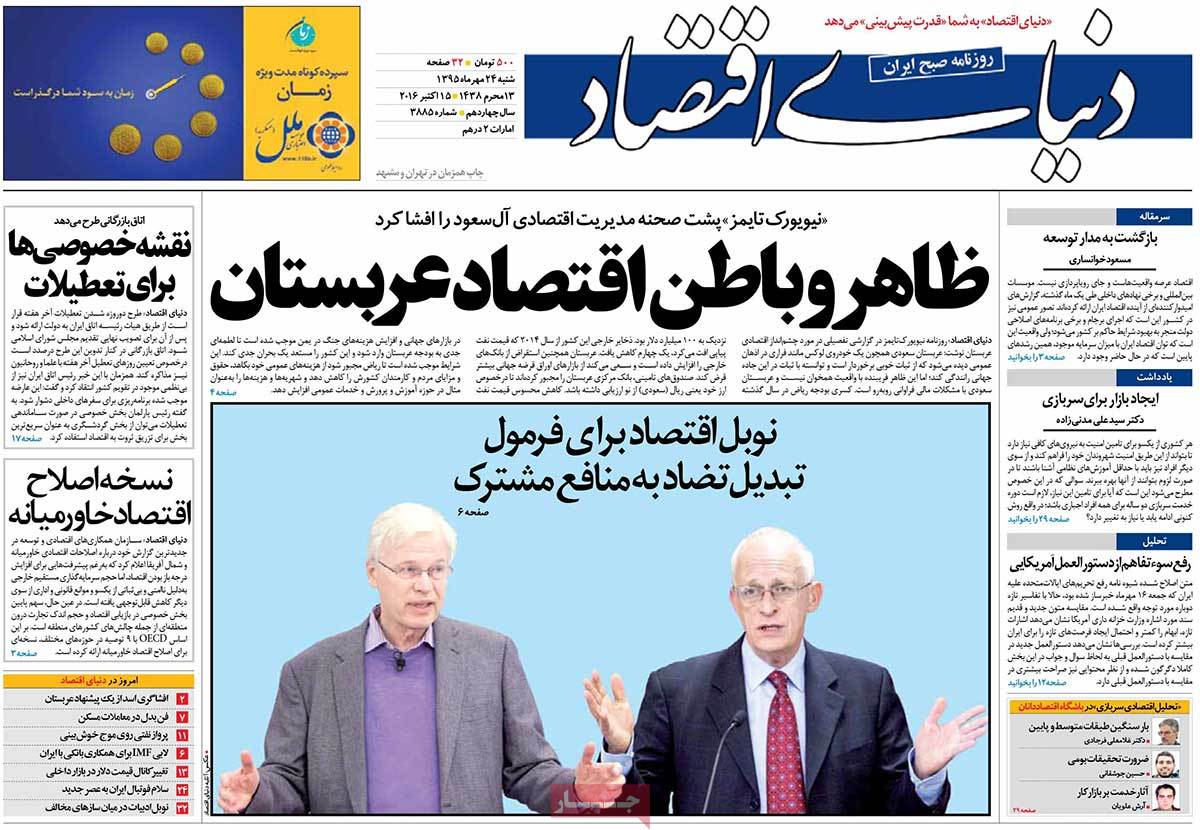 ---
Ebtekar:
1- Reconciliation and Peace instead of Expression of Concern: Guterres Replaces Ban as UN Secretary General
2- Why Nobel Prize in Literature Was Awarded to Bob Dylan?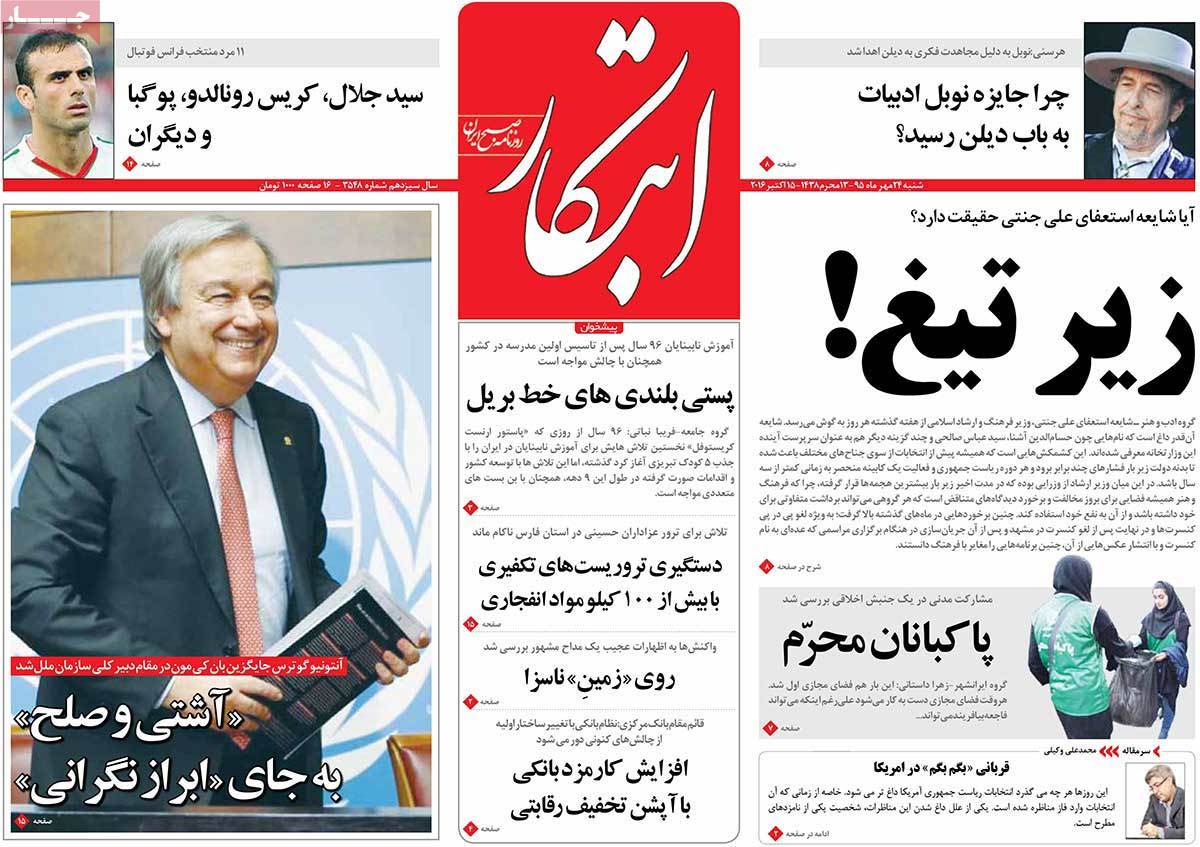 ---
Etemad:
1- Zarif En Route to Lausanne: Major Regional and Ultra-Regional Players Will Discuss Syria
2- Another Scandal: Trump Is Once Again Accused of Sexual Assault
---
Ettela'at:
1- Zarif and Lavrov Release Statement: There's No Alternative to Political Resolution of Syrian Crisis
2- UNESCO: Aqsa Mosque Belongs to Muslims Only
3- Sisi to King Salman: Egypt Won't Help Saudi Arabia in Destroying Other Countries
4- Hezbollah Secretary General: World Knows That Saudi Arabia Is the Source of Terrorism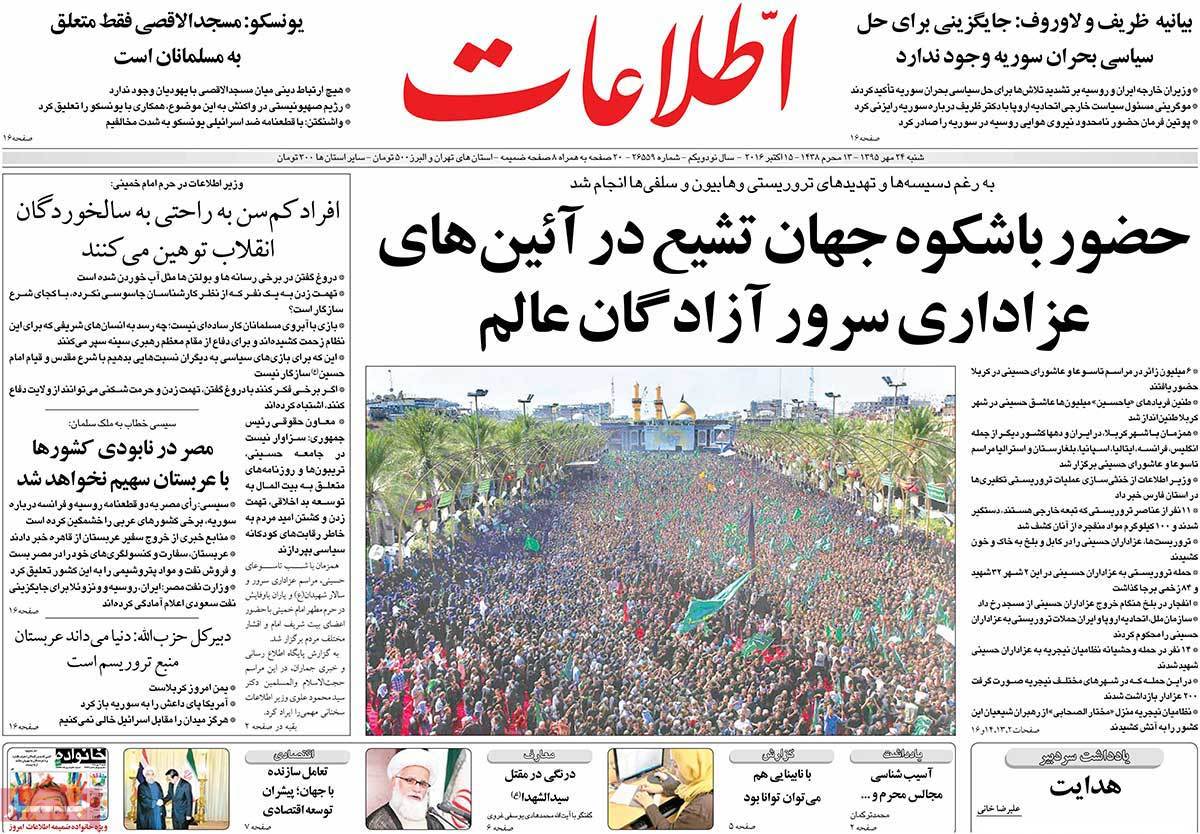 ---
Iran:
1- Rouhani among Leaders of Asian Countries: Iran Welcomes Presence of Asian Investors
2- Nobel Prize in Literature Given to American Signer: Bob Dylan's Award Sparks Controversy
---
Javan:
1- Ansarullah Base Targeted by Missile Attack: US Directly Enters Yemen War to Impose Saudi Ceasefire
2- Only Sexual Scandals! Sexual Allegations against US Presidential Candidates Have Become Dominant Feature of the Elections in a Country that Claims to Be World's Biggest Democracy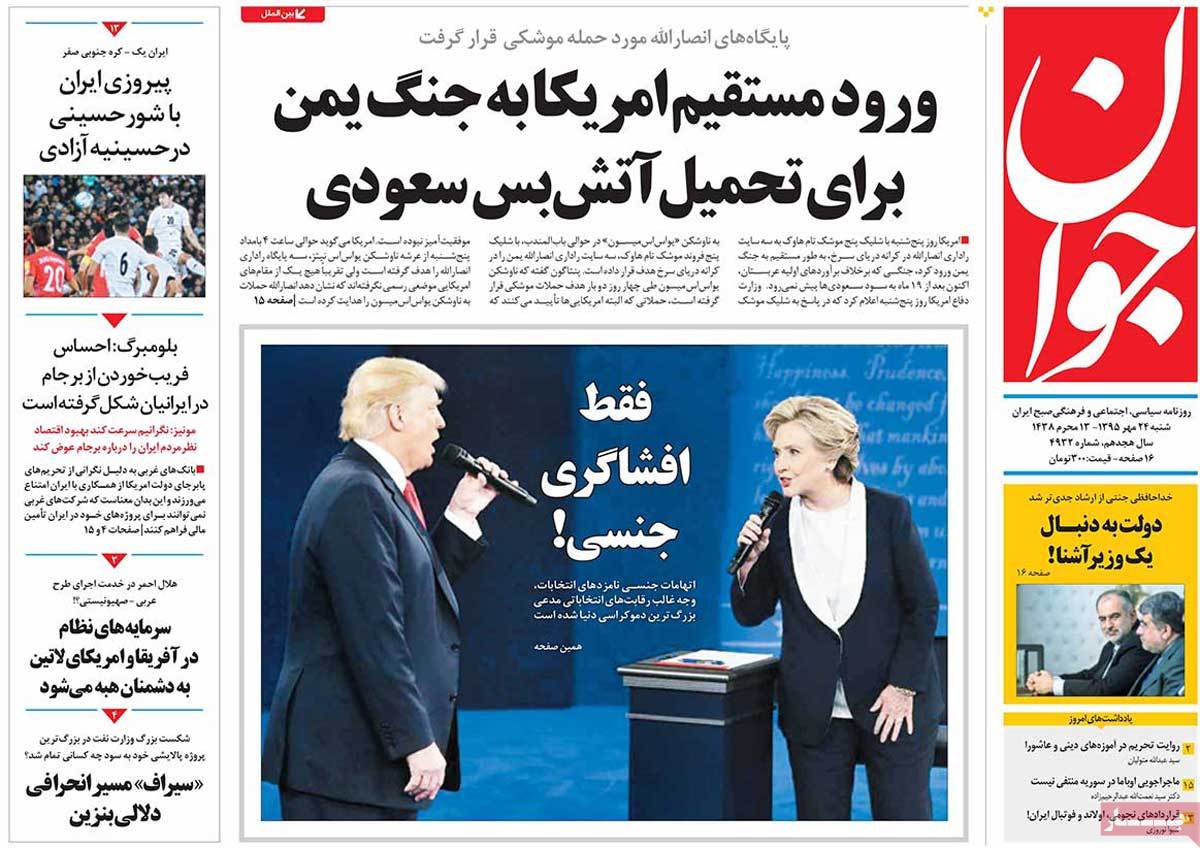 ---
Jomhouri Eslami:
1- West Takes Back the Bluff of Attacking Syria: Iran Invited to Join Lausanne Talks
2- Erdogan's Arrogant Reaction to Baghdad's Call for Withdrawal of Turkish Troops from Iraq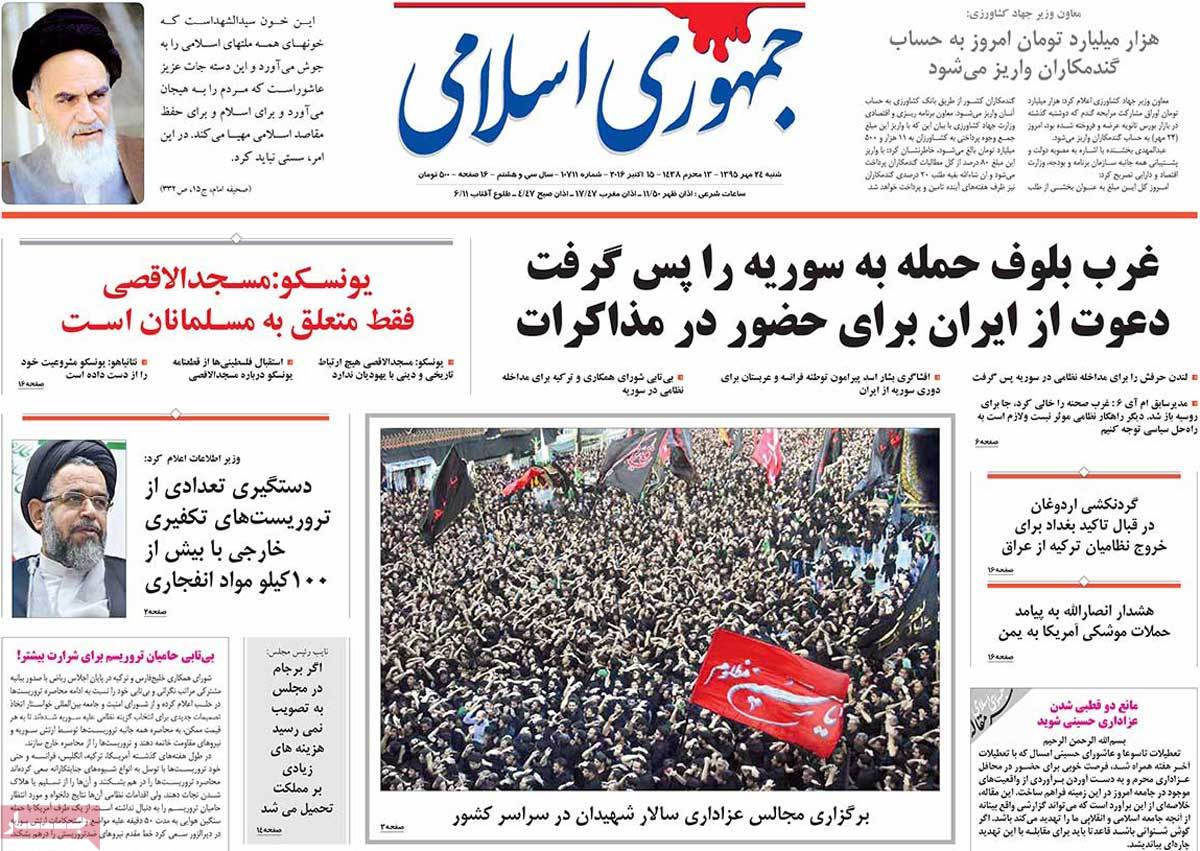 ---
Kayhan:
1- Bloomberg Says Sanctions Have Remained in Place against Iran, and Iranian People Are Increasingly Feeling Deceived by the West
2- Reuters: Ban on Iran's Use of Dollar Prevents Finalization of Major Oil Deals
3- American Enterprise: When Saudi Arabia's Oil Is Over, Wahhabism Will Be Thrown into History's Trash Bin
4- Senior Cleric: Each of Al Saud Leaders Deserve to Be Executed for a Number of Times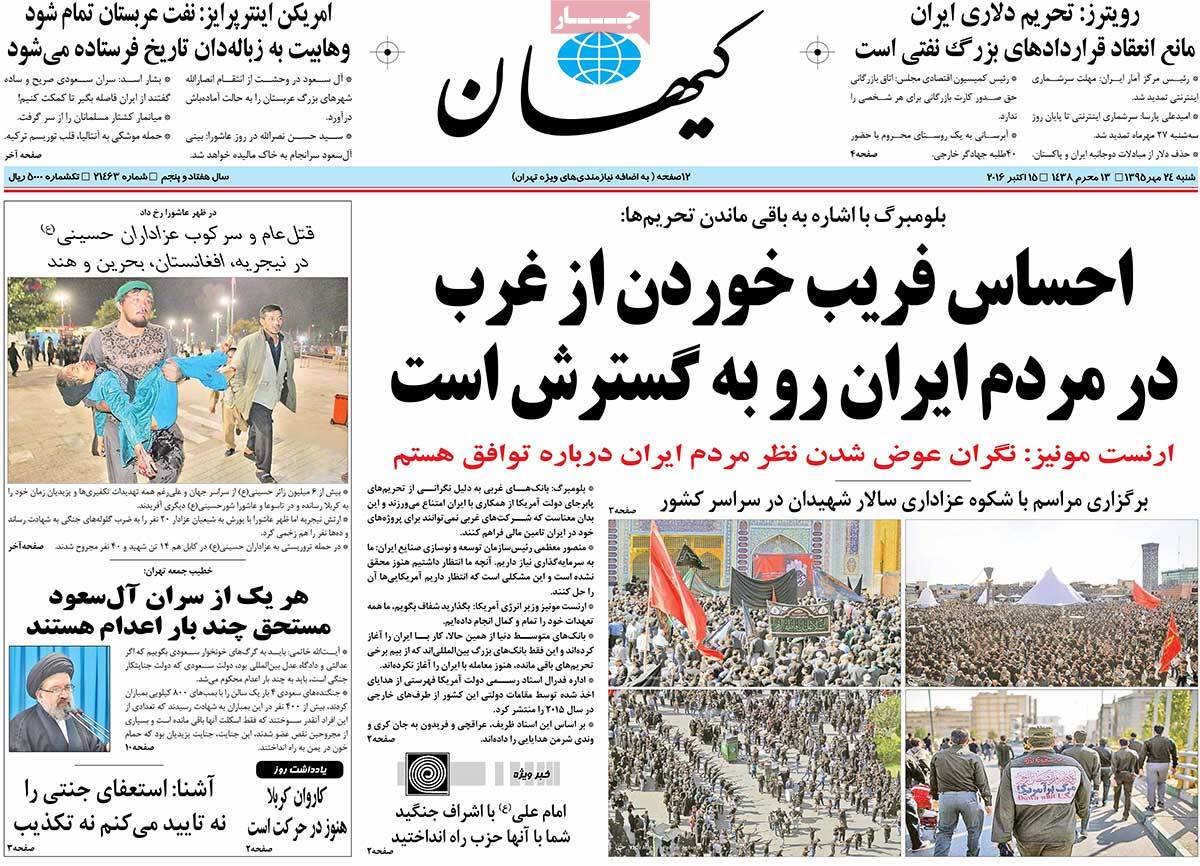 ---
Khorasan:
1- Army's Crimes in Nigeria's Ashura: Why Nigerian Government Has Started New Round of Suppression against Sheikh Zakzaky's Movement?
2- Saudi Arabia's New Accomplice: Yemen's Ansarullah Says It Reserves the Right to Respond to US Missile Aggression
---
Payam-e Zaman:
1- Iran Becomes World's 20th Car Manufacturer
2- Iran's Petrol Imports Is Halved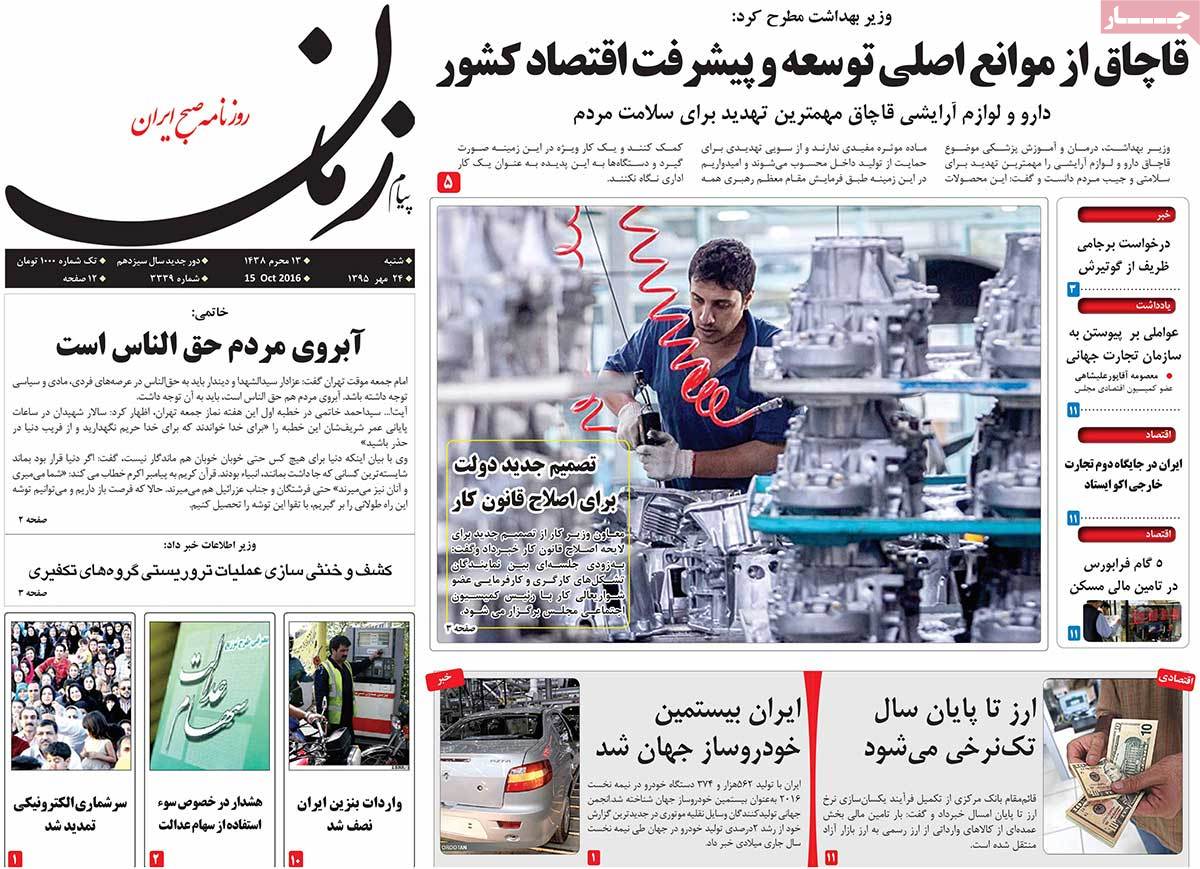 ---
Resalat:
1- Nasrallah: Israelis Should Return to the Countries Where They Came from
2- Putin: Russia Doesn't Hold Any Talks with US Government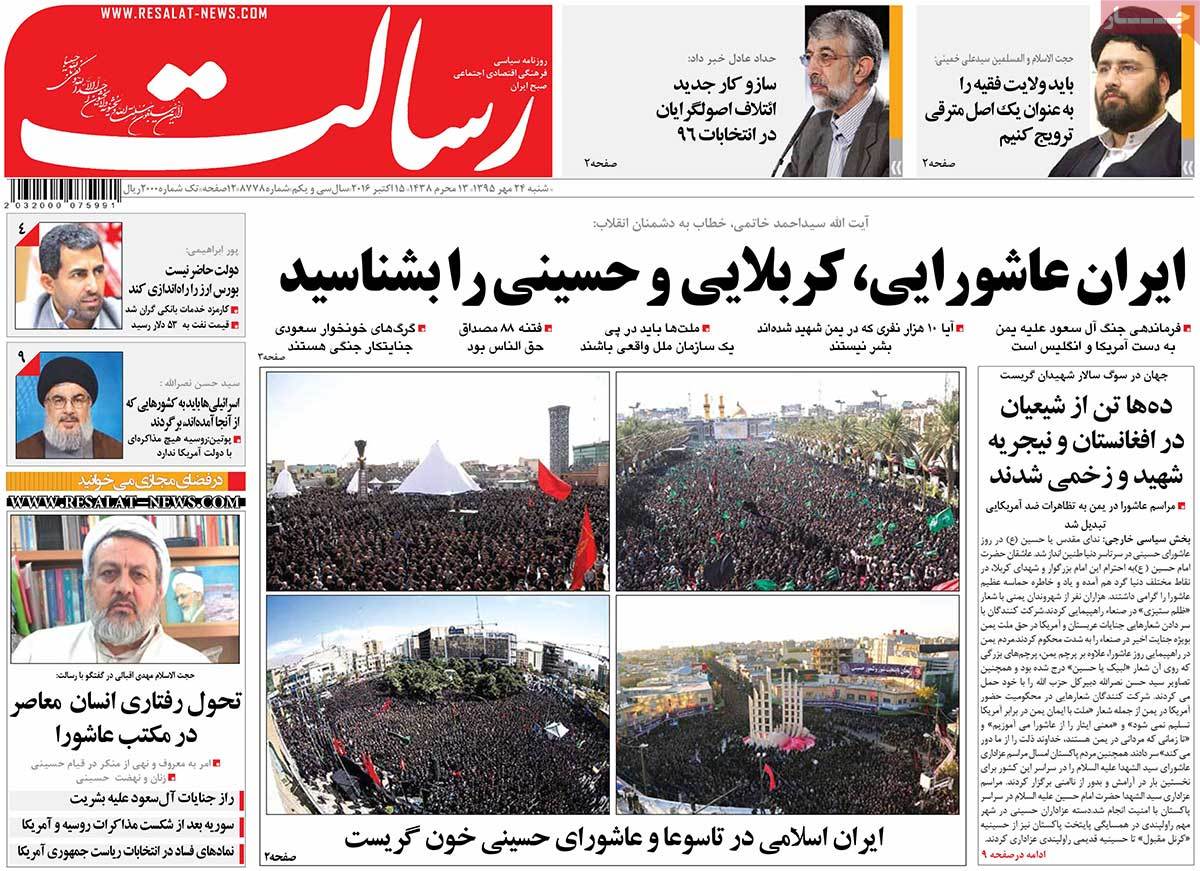 ---
Roozan:
1- Jannati's Resignation, a Test for Rouhani: Will Rouhani Accept His Resignation and Back Off in Reaction to Radicals' Pressure?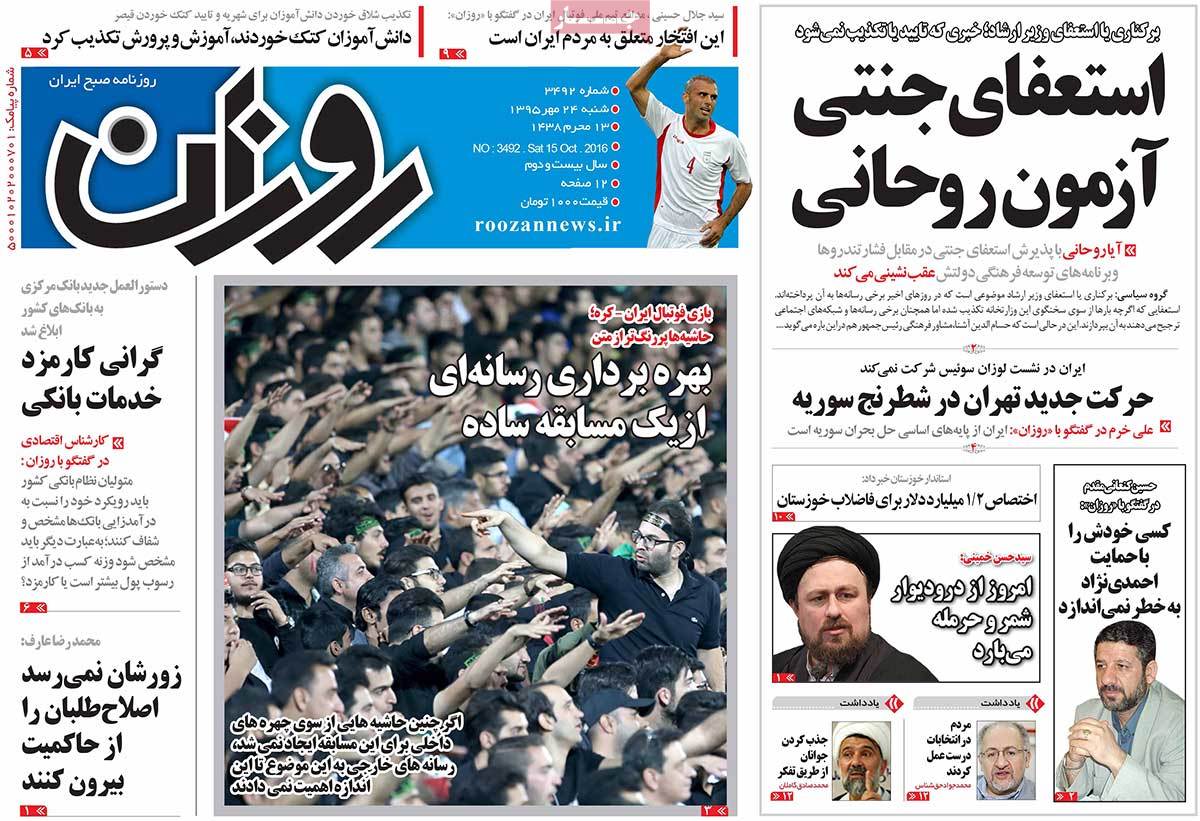 ---
Saheb Qalam:
1- Foreign Ministry Spokesman: Slaughter of Mourners in Afghanistan Shows Terrorists' Hatred of Islamic Unity
2- Iranian Photographer's War Photos Win Second Prize in Bayeux-Calvados Festival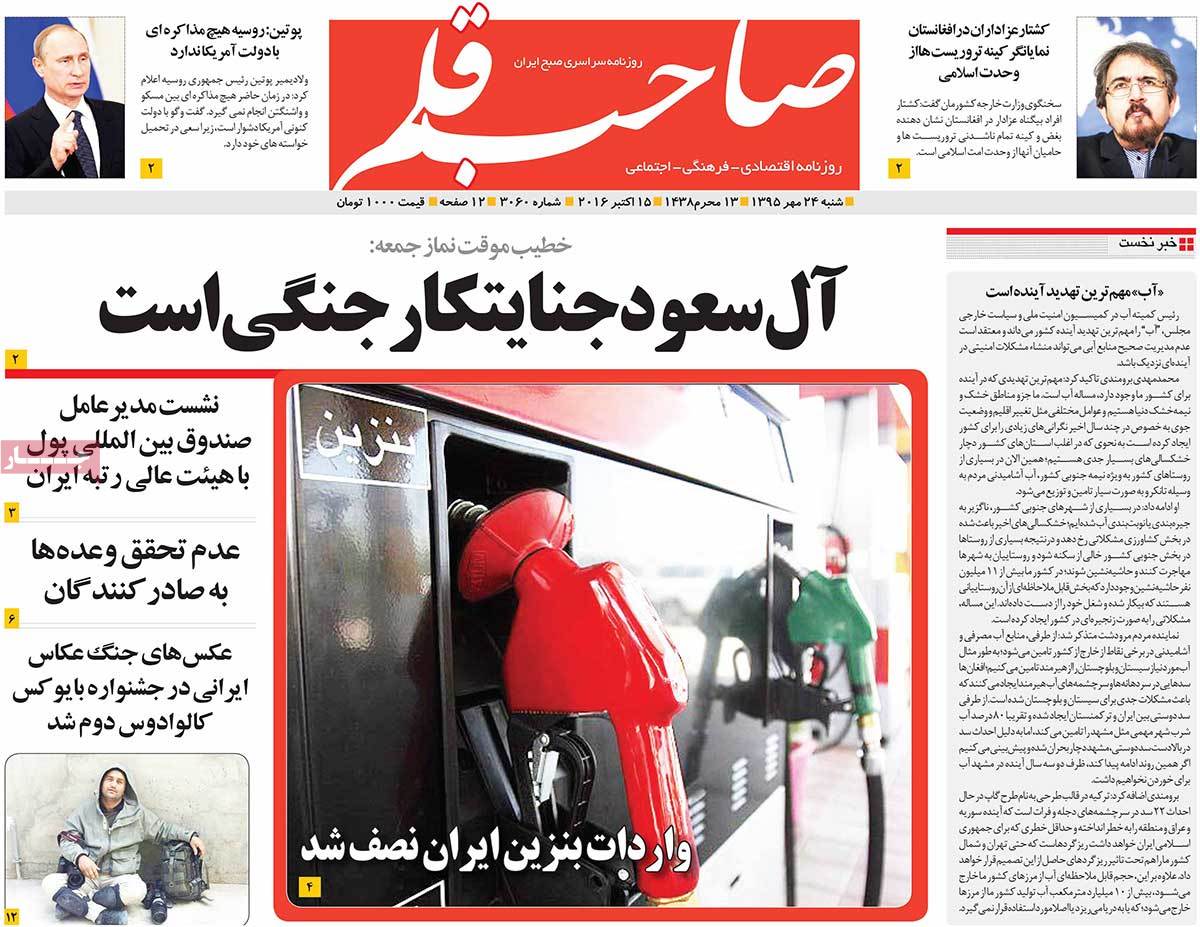 ---
Setareh Sobh:
1- Russia's Harsh Warning to US on Possible Attack on Assad and Russia's Forces: Moscow Not to Allow Any Aggression on Its Forces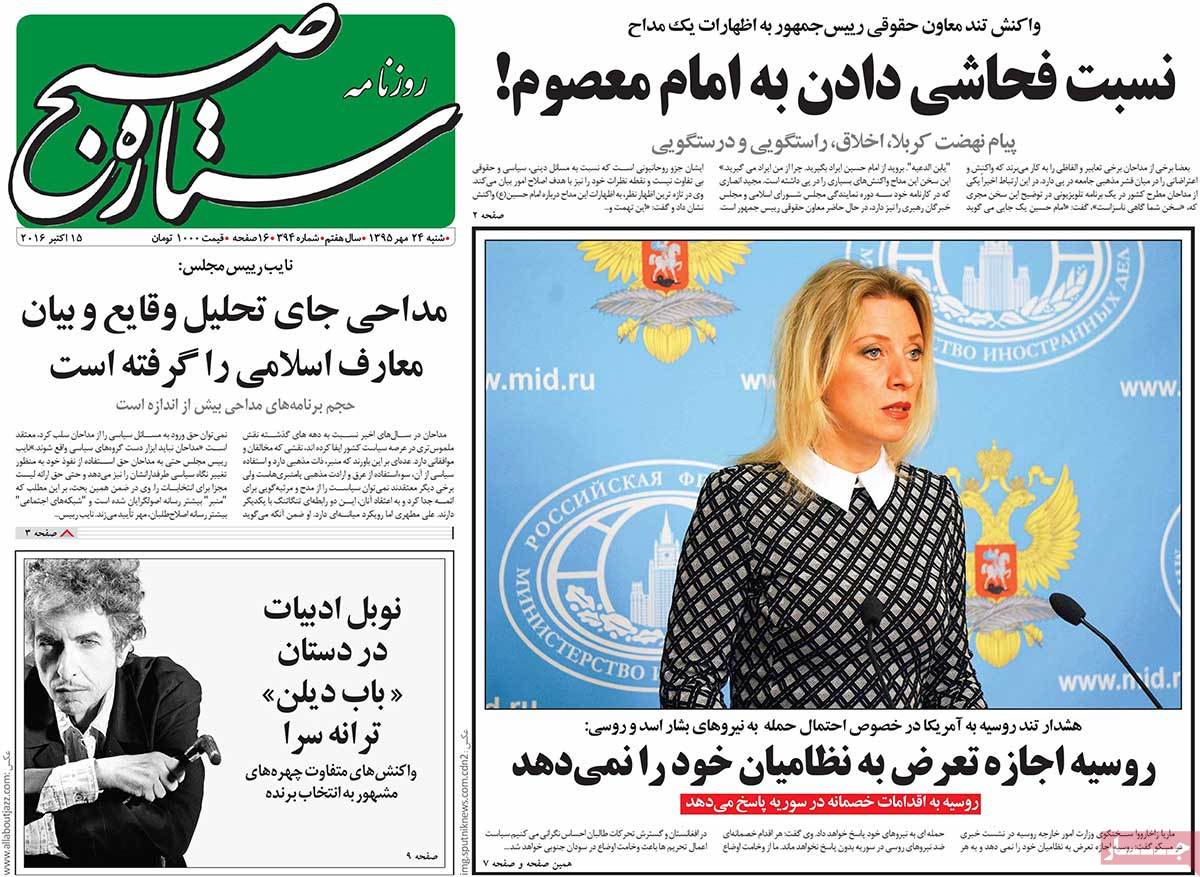 ---
Vatan-e Emrooz:
1- USS Nimitz Attacks Yemeni Army's Radar Centre in Bab el-Mandeb
2- Al Watan: Saudi King Is a Sponsor of Terrorists
3- Assad: They Said Cut Your Ties with Iran; Syrian President Reveals an Offer by Riyadh Made 5 Years Ago to End Takfiris' Sedition