Newspapers on Sunday continued highlighting the anti-Iran allegations raised by US President Donald Trump and the widespread reactions sparked by his Friday speech.
They particularly covered the reaction of Iranian markets to Trump's speech as well as the unity of Iranian people in the wake of the US president's anti-Iran allegations.
The latest developments in the Iraqi Kurdistan region, particularly the expected battle between Iraqi forces and Kurdish Peshmarga in the oil-rich city of Kirkik, also received great coverage.
The above issues, as well as many more, are highlighted in the following headlines and top stories:
19 Dey:
1- World against Trump: Int'l Figures React to US President's Remarks
2- Iranian Markets Pay No Heed to Trump Speech
---
Abrar:
1- Intelligence Minister: Trump's Remarks Made US More Prone to Isolation
2- General Soleimani Lays Wreath on Jalal Talabani's Grave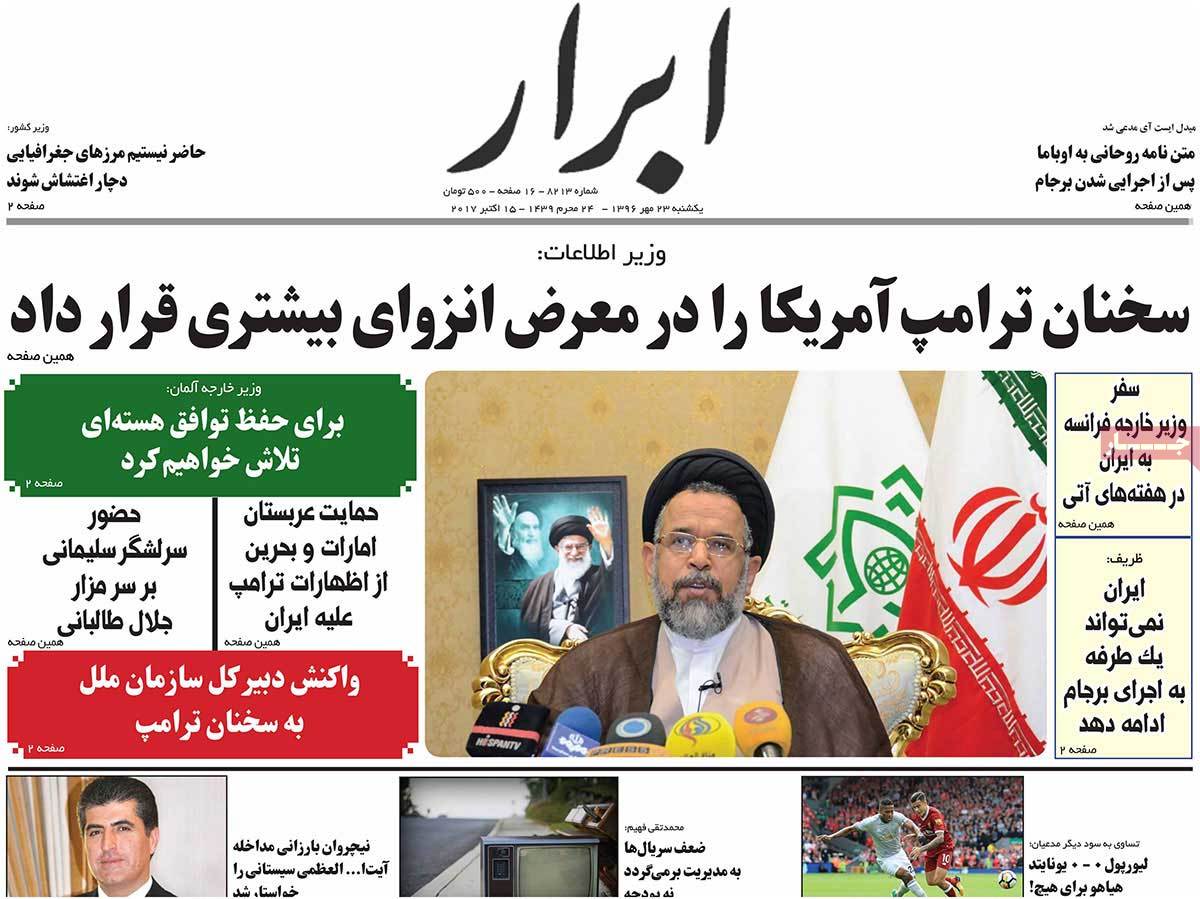 ---
Afkar:
1- Big-Mouthed Trumpet: Iran, Int'l Community Unanimous against US President
2- Ayatollah Hashemi Shahroudi: US Looking for New Concessions
---
Aftab-e Yazd:
1- Why Trump Failed to Scrap Iran Nuclear Deal?
2- Middle East Eye Releases Rouhani's Letter to Obama after JCPOA
3- French President to Visit Tehran Next Year after 46 Years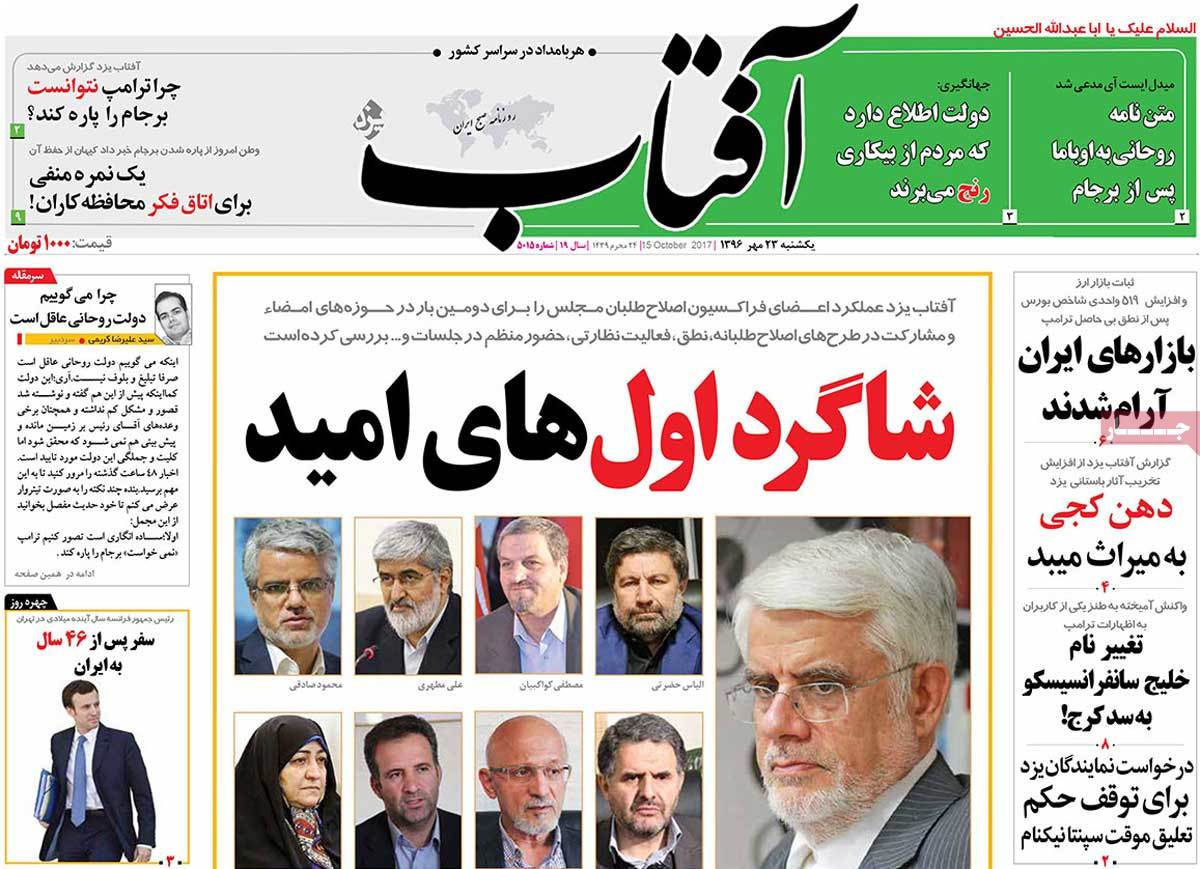 ---
Arman-e Emrooz:
1- Clinton: We Were Humiliated, Trump's Remarks Put an End to US Credibility
2- A Review of Ahmadinejad-Trump Dichotomy: Fate of Ahmadinejad's Rejected Letters
3- Trump and Global Expectations (Editorial)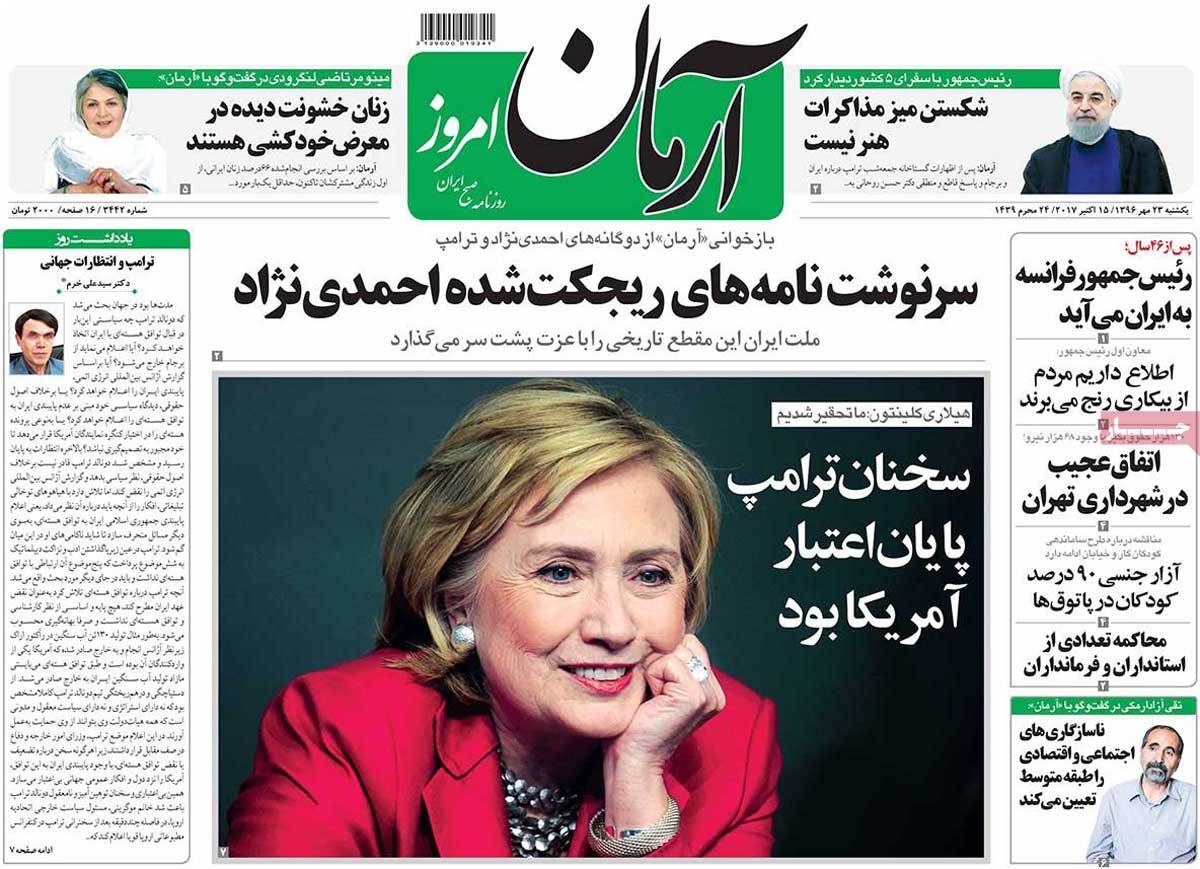 ---
Ebtekar:
1- Leftists, Rightists Support Rouhani
A Report on Political Factions' Support for Rouhani's Reaction to Trump
2- Iran First VP: Trump Has Not Made Any Logical Remark So Far
---
Etemad:
1- Iran First VP: Trump's Play Full of Bluff; Iran's Missile Power Not Open to Negotiation
2- A Report on European Powers' Financial Loss in Case New Anti-Iran Sanctions Imposed
$25 Billion Trade Exchange between Iran and Europe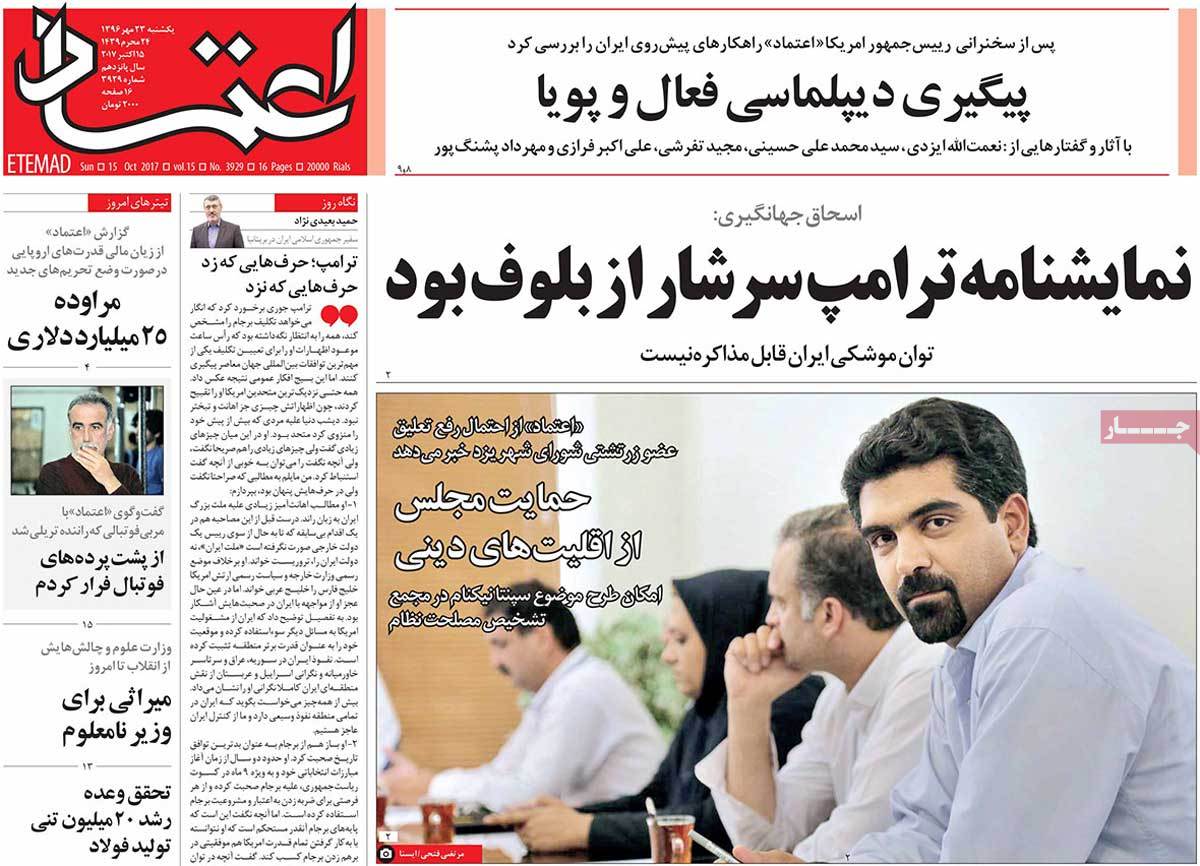 ---
Ettela'at:
1- World's Reaction to Trump's Remarks
2- Mogherini: JCPOA Not a Bilateral Agreement, No Country Can End It
3- Rouhani: Blow to Nuclear Deal Is Blow to World, Regional Security
4- Iraqi Kurdistan Region Suspends Results of Referendum
5- Syria's Strategic City of Al Mayadeen Fully Liberated from ISIS
---
Iran:
1- Iran against Trump
2- First VP: Government Does Not Ignore IRGC's Capabilities
---
Javan:
1- We Are All IRGC: Popular Storm in Social Media
2- Zarif: Iranians – Girls, Boys, Women, Men – Are All IRGC, Standing by Those Protecting Iran, Region
3- Ship of Trust in US Broken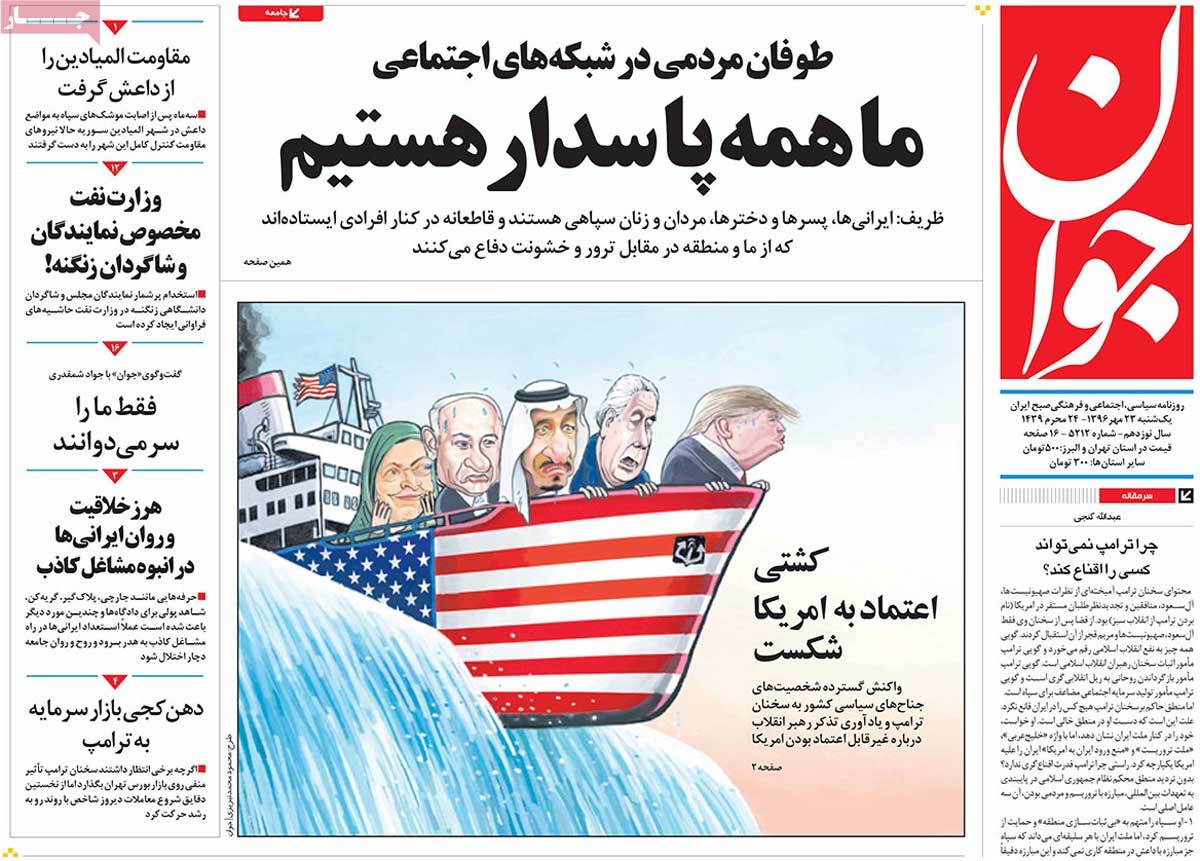 ---
Jomhouri Eslami:
1- American Forces Collude with ISIS Terrorists for Exit from Raqqa
2- Baghdad: Erbil Should Both Annul Referendum, Withdraw from Kirkuk
3- Economy Minister: Iran to Sign Agreement with Italian Banks Soon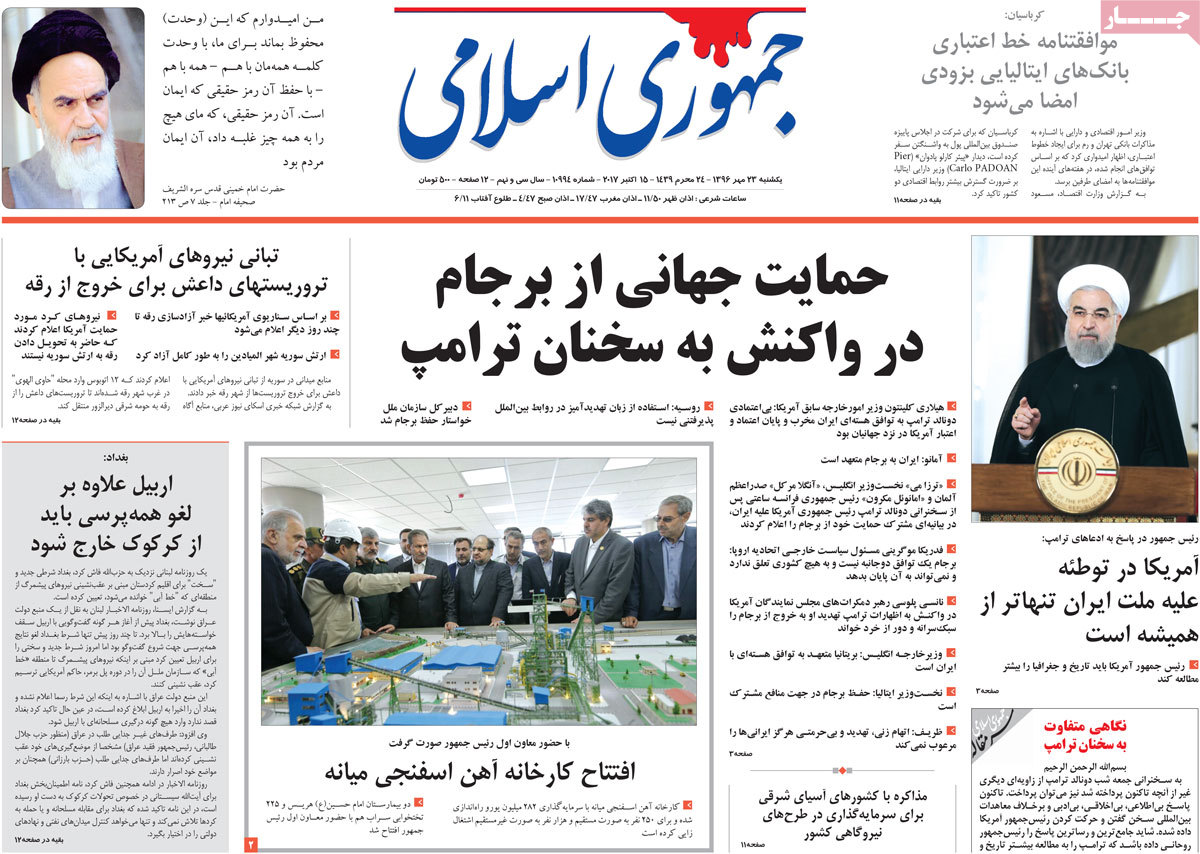 ---
Kayhan:
1- Change Your Path Now that You Know Critics of JCPOA Were Right
2- Mr Trump! If You've Forgotten Name of Persian Gulf, Look at Tombs of Your Soldiers
3- We Would Pray for Trump's Health If He Wasn't a Criminal: Kayhan Chief
4- Russian Official: ISIS Being Trained in US Barracks
---
Rooyesh-e Mellat:
1- Historic Irony
IRGC General Rezaei: Trump's Remarks Are Political, Historical Irony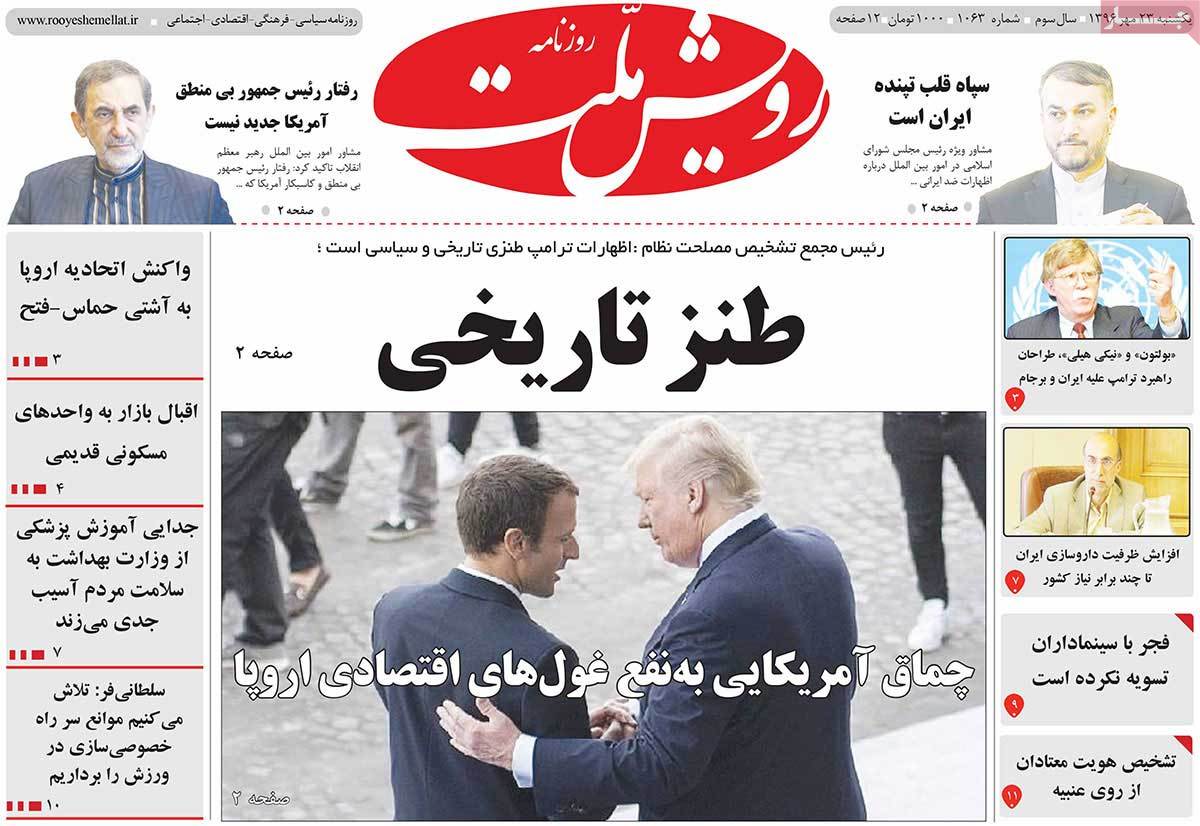 ---
Shargh:
1- Living Witnesses of Persian Gulf [Photo of Bush, Clinton, Obama]
2- Trump under Fire of Iranians: Historical Evidence Proving Trump's Claims Wrong
3- Rouhani: It's No Art to Break Negotiating Table