The top story in all Iranian newspapers was the Saudi coalition's deadly airstrike on a Yemeni funeral, which claimed the lives of more than 140 and wounded more than 500.
President Hassan Rouhani's ongoing visit to Southeast Asia and his remarks in bilateral meetings also remained a top story today.
They also dedicated special reports to Shiite people's mourning for Imam Hussein during the Islamic month of Muharram.
* Due to the mourning days of Muharram, no newspaper is going to be published in Iran within the next four days, which are holidays. The next issues will be released on Saturday.
The above issues, as well as many more, are highlighted in the following headlines:
Abrar:
1- UNSC Resolution Proposed for Aleppo Rejected
2- Jordan's King Receives German Peace Award
3- Cultural Official in Holy City of Qom Resigns after Clerics' Protest at Performance of a Concert in Qom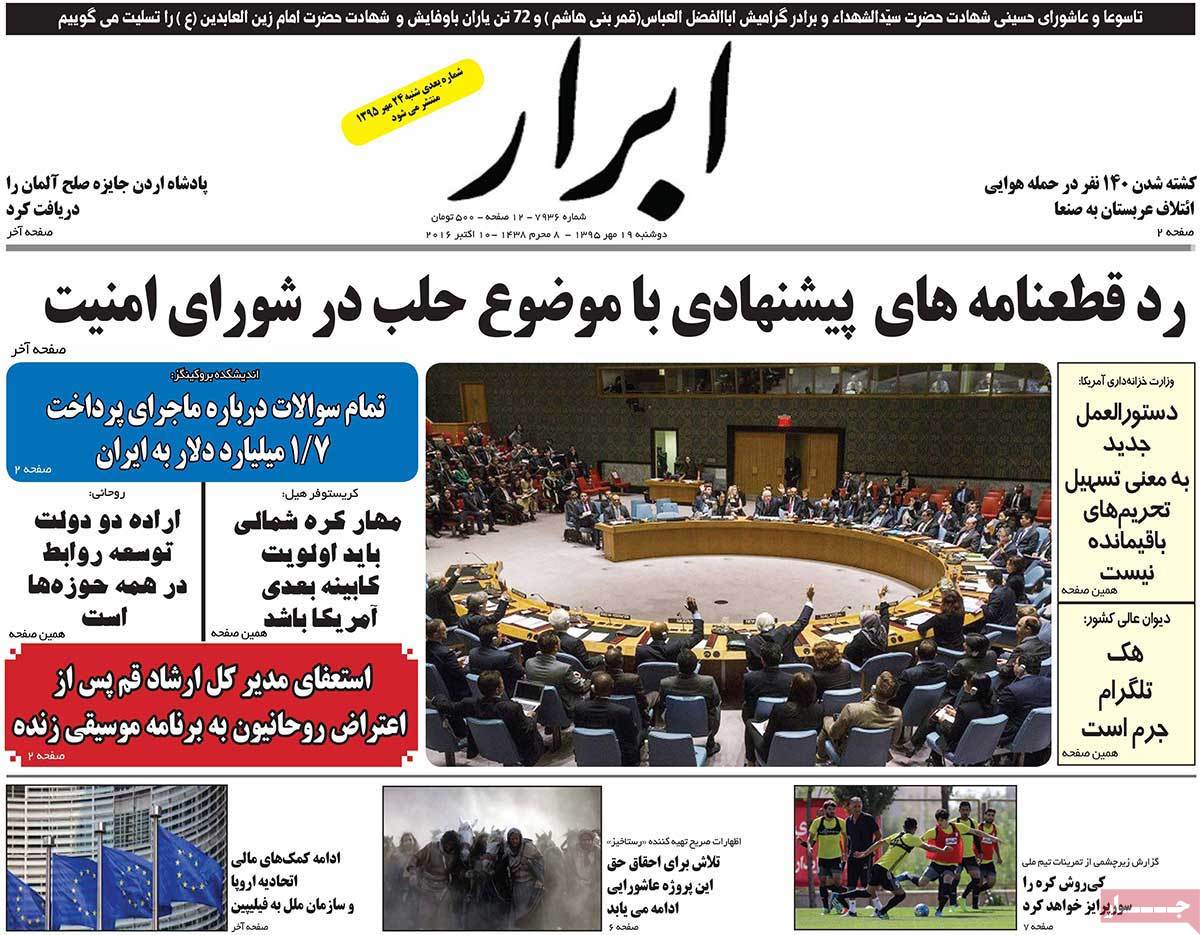 ---
Aftab-e Yazd:
1- [Fugitive Iranian Banker] Khavari Identified by Canadian Police: Is He Removed from Interpol's List?
2- A Review of Iran's Ashura Rituals
3- Increased Pressure for Trump's Withdrawal from US Election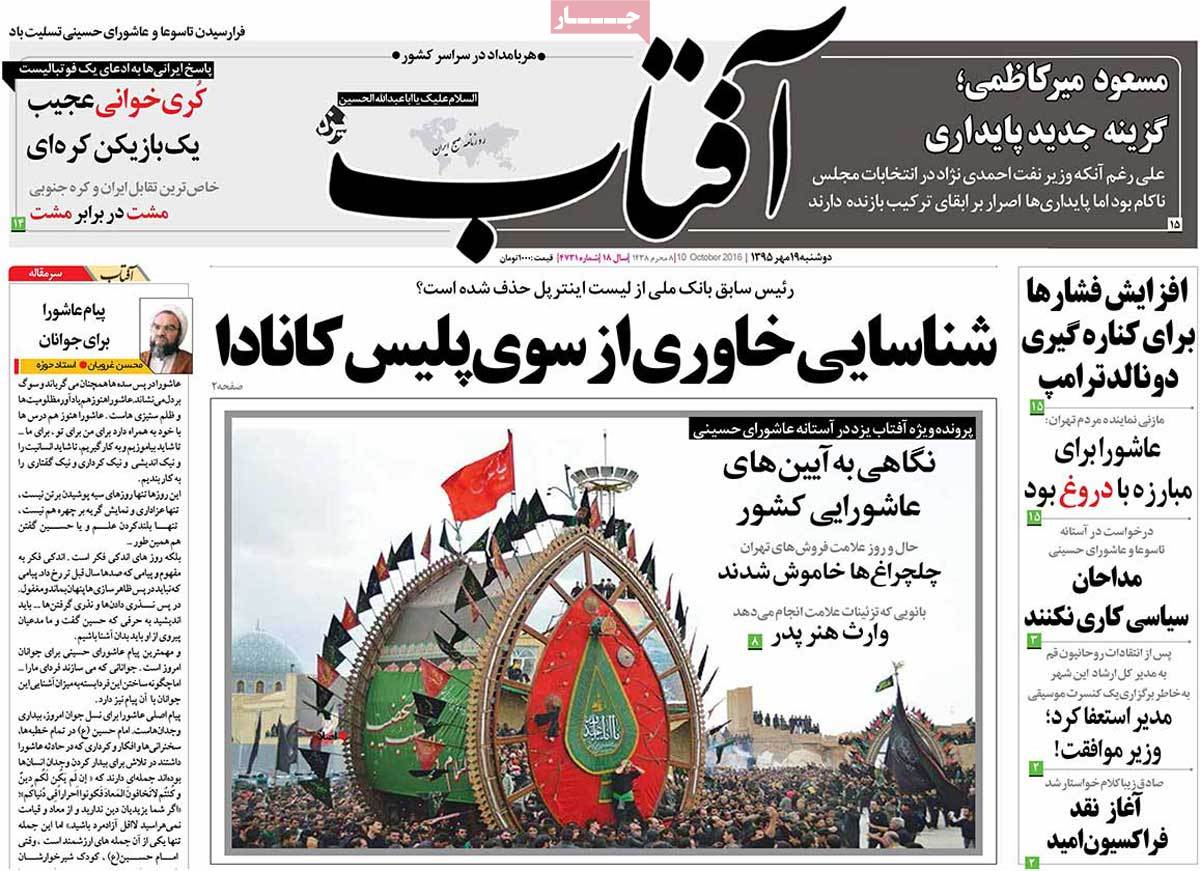 ---
Asrar:
1- DM: Saudi Rulers Are War Criminals
2- Shell Officially Returns to Iran's Oil Industry
3- Iranian MP: The Issue of Dust Pollution in Western Iran Is More Important Than the Eight-Year Iraqi Imposed War
4- West Is Afraid of Me: Putin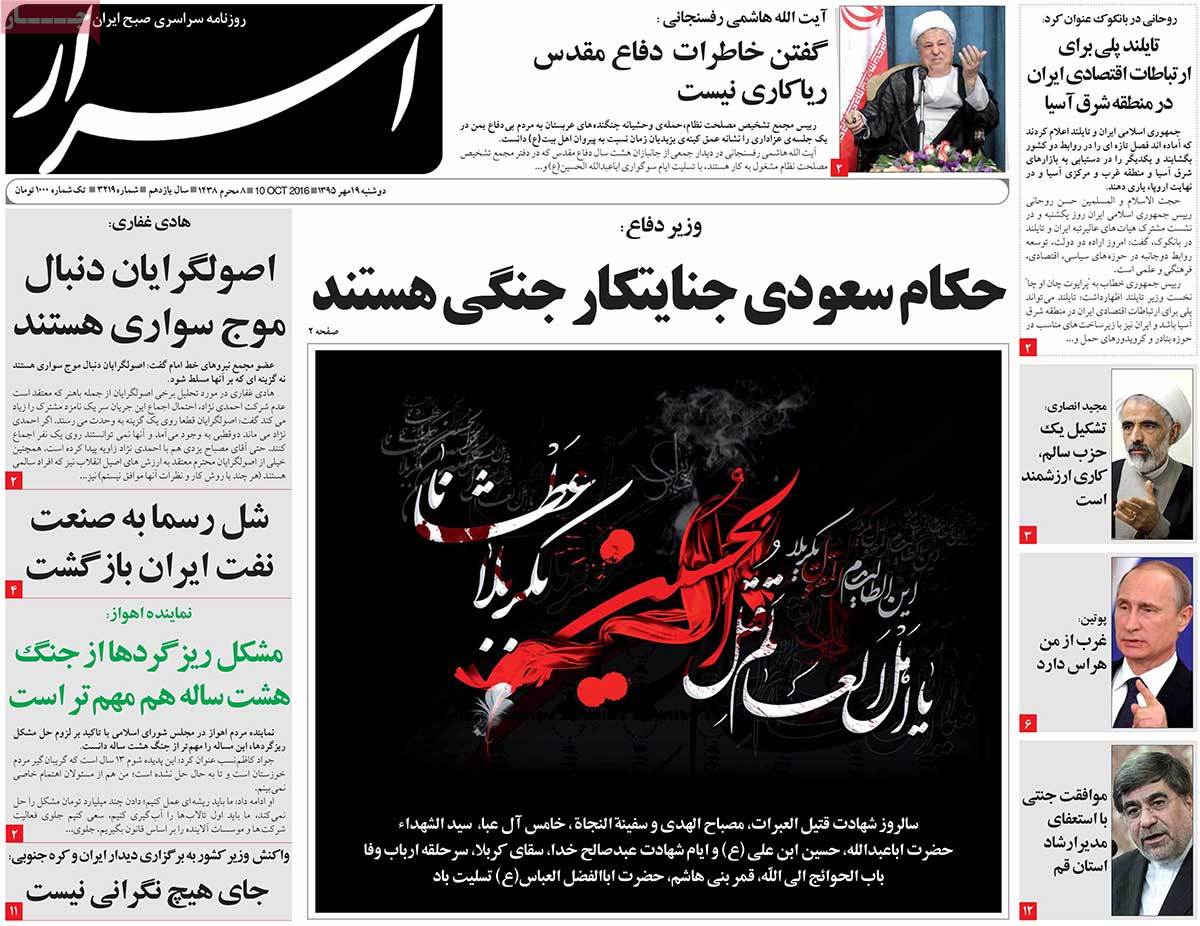 ---
Ebtekar:
1- Interior Minister: Iran's Security Is Sustainable
2- Call from San Francisco: American Cell Phone Operator's SIM Cards Will Be Working in Iran after Deal with RighTel
3- Undecided War in Syria [Editorial]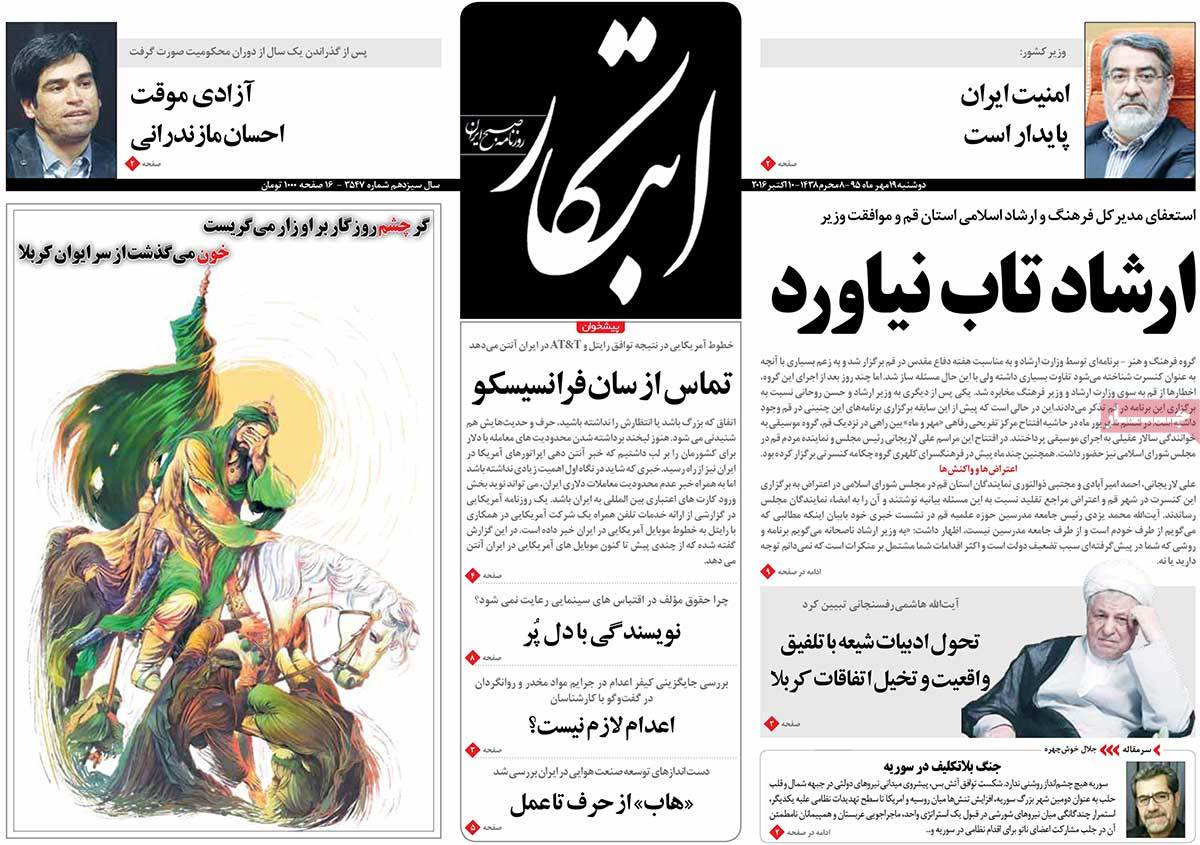 ---
Etemad:
1- Imam Hussein's Everlasting Epic: A Review of Imam Hussein's Political and Social Life before Ashura [tenth day of Muharram and the day when the third Shiite Imam was martyred.]
---
Ettela'at:
1- Iran and Thailand to Develop Mutual Cooperation in Politics, Economy, and Culture
2- Russia Vetoes Plan for Creating No-Fly Zone in Syria
3- 580,000 Cars Manufactured in 6 Months in Iran: 15.6% Increase in Car Production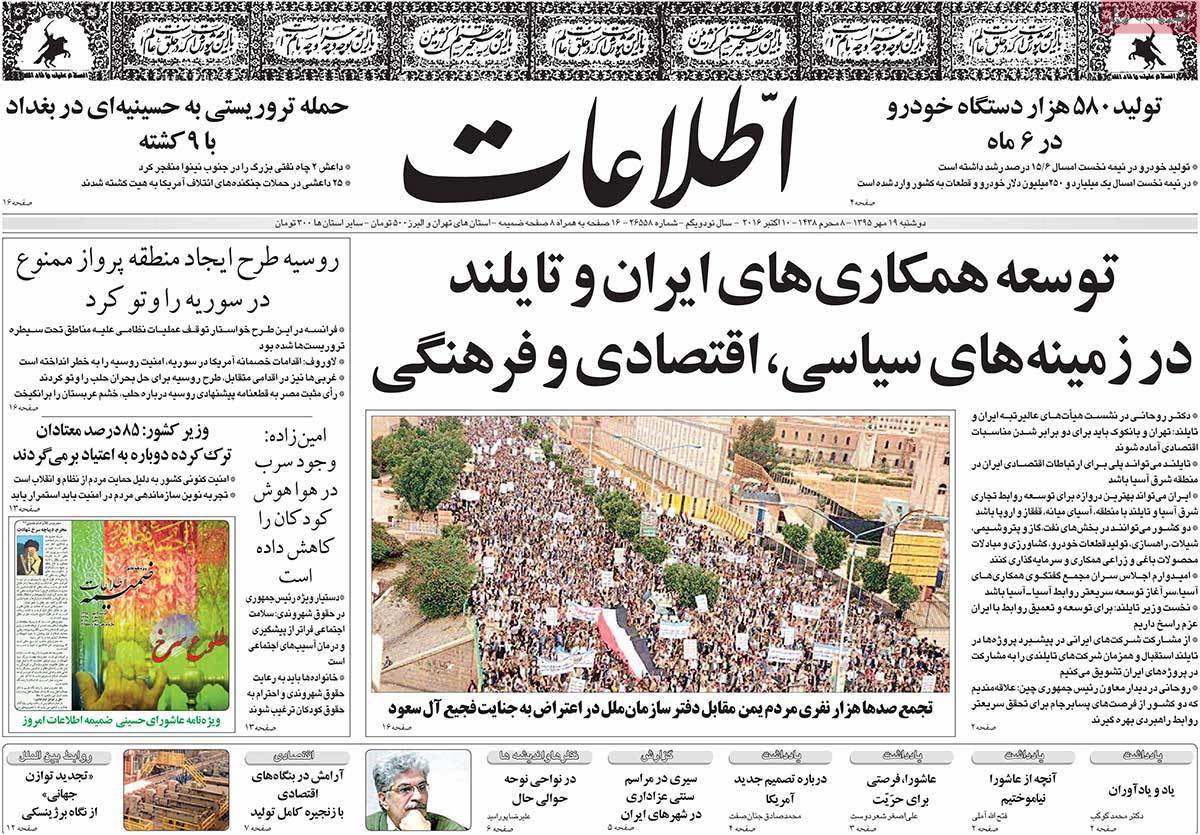 ---
Haft-e Sobh:
1- British and American Telecom and Oil Giants in Tehran for Beginning of Cooperation
2- Toyota and KIA Pride, the Pioneers of Foreign and Iranian-Made Cars in Market: 579,000 Cars Produced in Past 6 Months, 15,000 Imported to Iran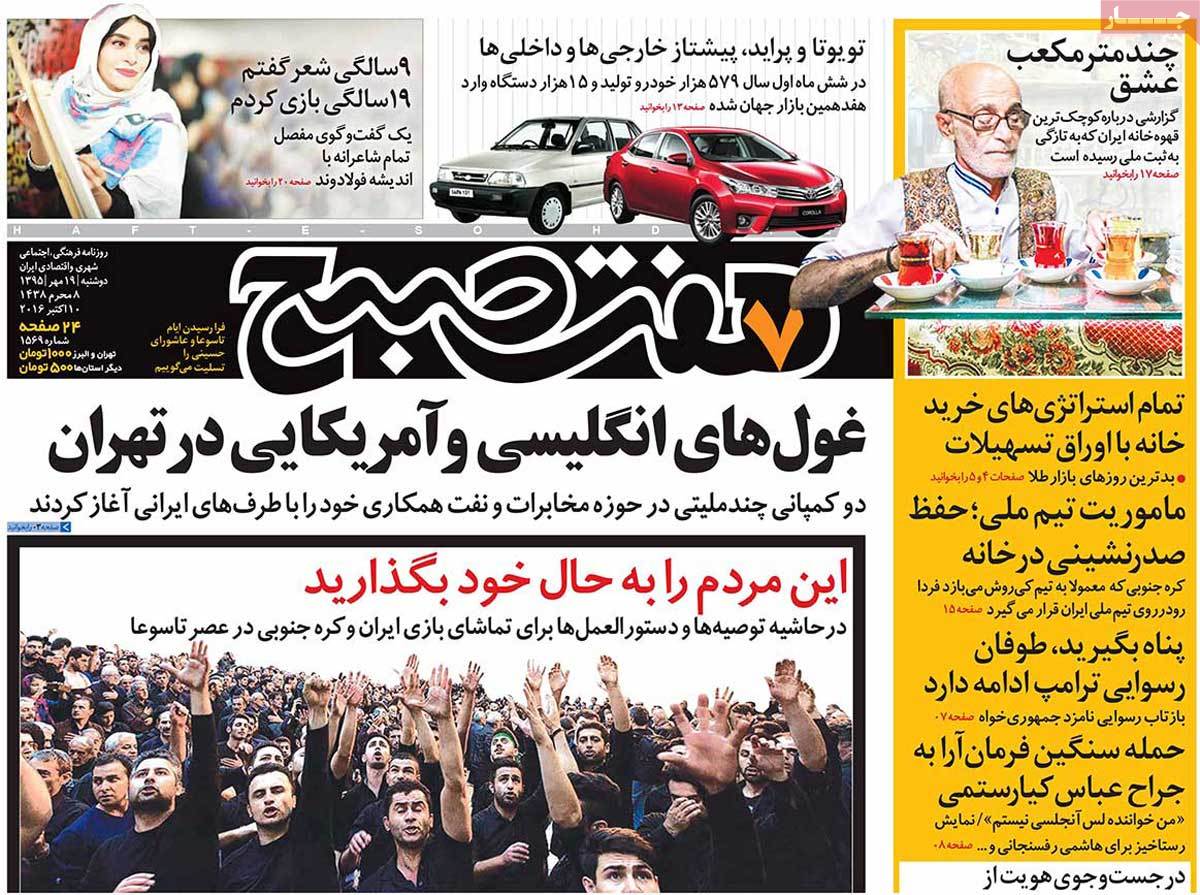 ---
Iran:
1- Beijing's Willingness to Make Investment in Iran: Chinese VP in Meeting with Rouhani
2- China Will Encourage Financial Institutions to Expand Their Cooperation with Iranians
3- Iran Welcomes China's Investment in Oil and Gas Industry, Transport, and Technology: Rouhani
4- Iran and China Can Deepen Their Scientific and Cultural Cooperation: President
---
Jame Jam:
1- Al Saud's Crime Widely Condemned in the World: Karbala of Sana'a
2- Shimr [bin Thiljoshan who martyred Imam Hussein in Battle of Karbala] of Modern Times [Photos of Saudi King and Yemen attacks]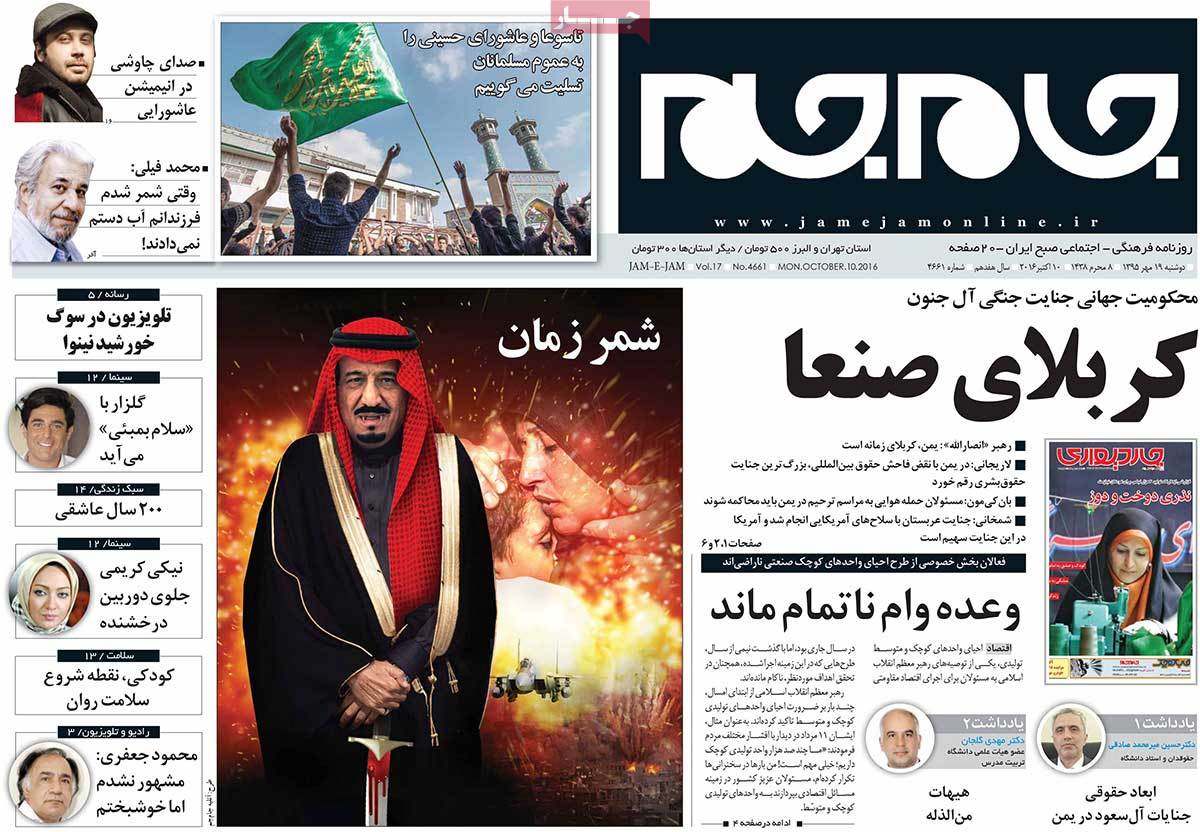 ---
Javan:
1- Washington Looking for Building a Bridge over 'Blood Lake of Yemen'
2- Shamkhani: US Is Complicit in Al Saud's Atrocities in Yemen
3- Palm Oil Suddenly Becomes Useful! President Rouhani Urges Malaysians to Visit Iran and Explain about Benefits of Palm
4- Rouhani: Thailand Can Be a Bridge to Link Iran's Economy to East Asia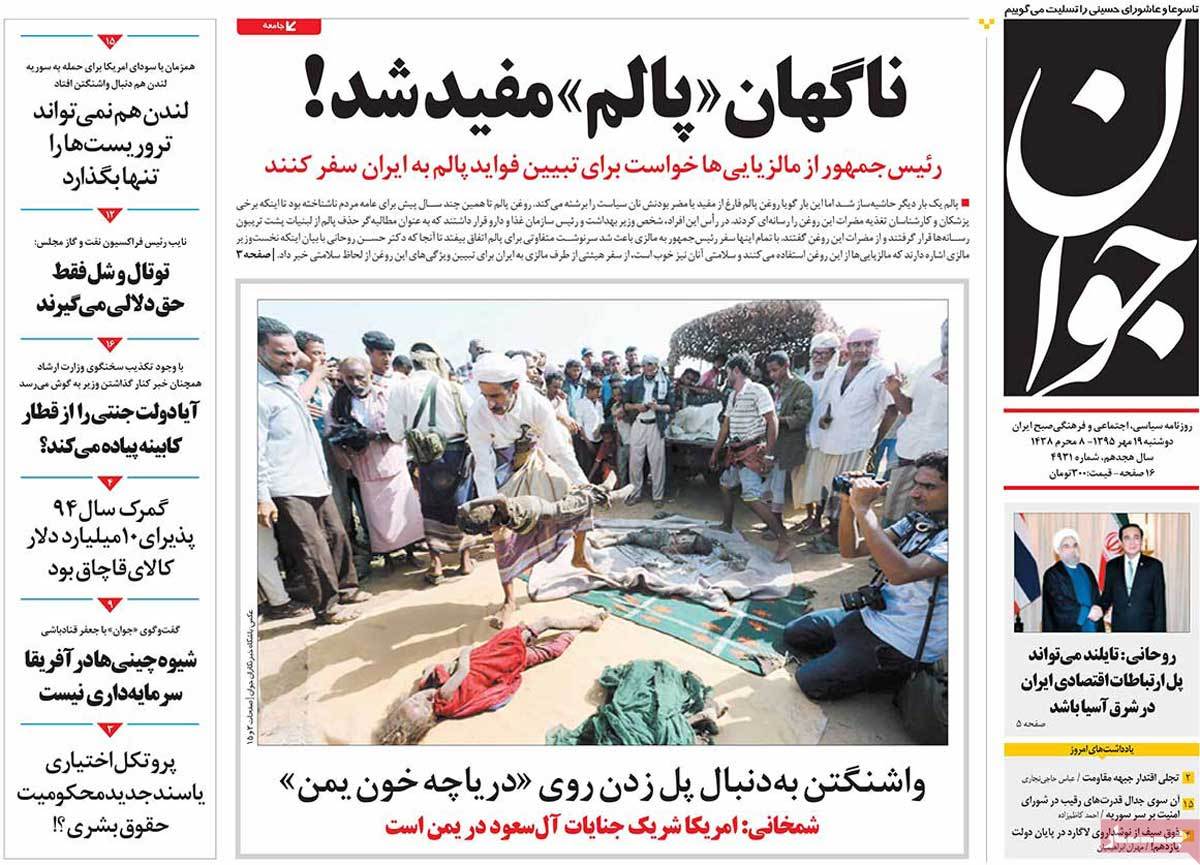 ---
Jomhouri Eslami:
1- Saudi-Led Coalition's War Crime in Yemen Widely Condemned by the Global Community
2- Iranians Mourning for Imam Hussein in All Parts of the Islamic Iran
3- $1bn LC Opened by Norway for Cooperation with Iran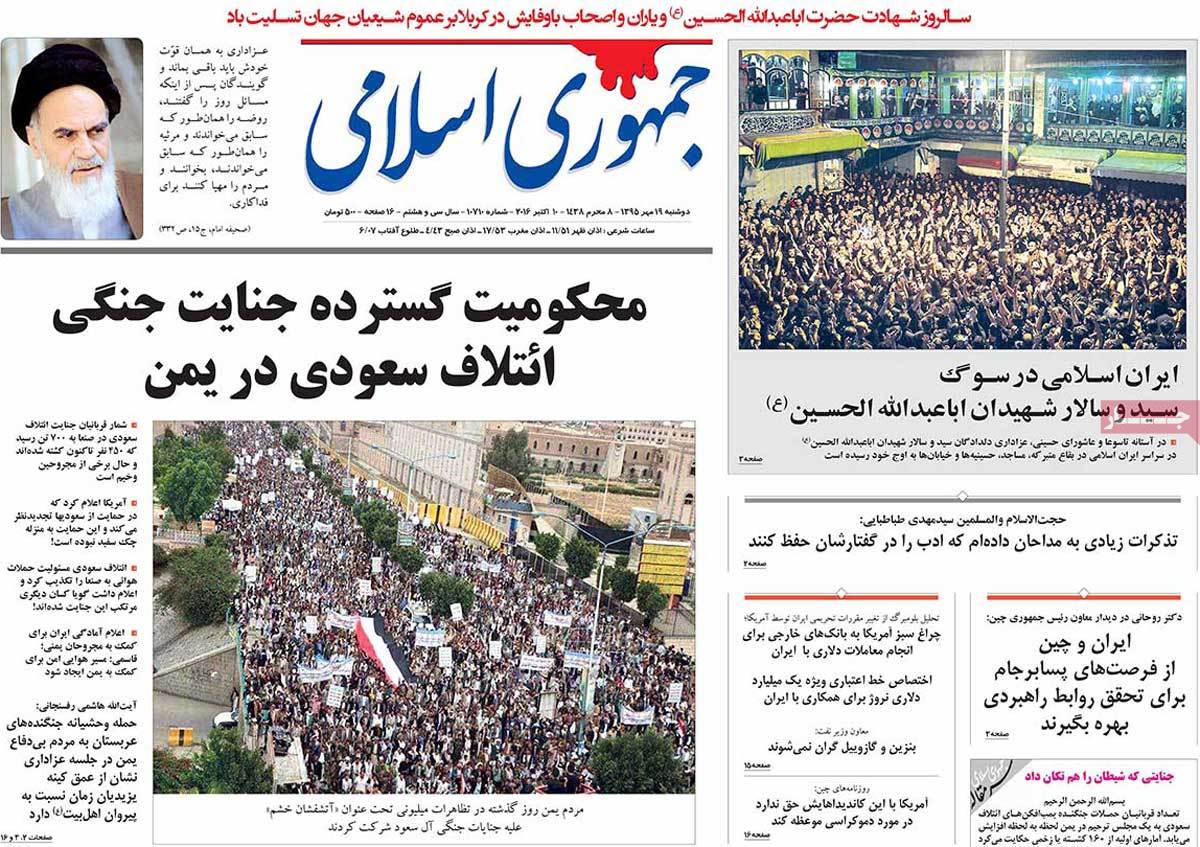 ---
Kayhan:
1- A Report on Saudis' Brutal Crimes in Yemen: Karbala of Sana'a, the Human Rights Document of US and EU
2- Whoever Wants to Know Us Should Read the Story of Karbala
---
Khorasan:
1- 15,000 Meters of Land to Be Given to Deprived People of Iran
2- Iran Outpaces Western Countries in Fast Food Consumption: Deputy Minister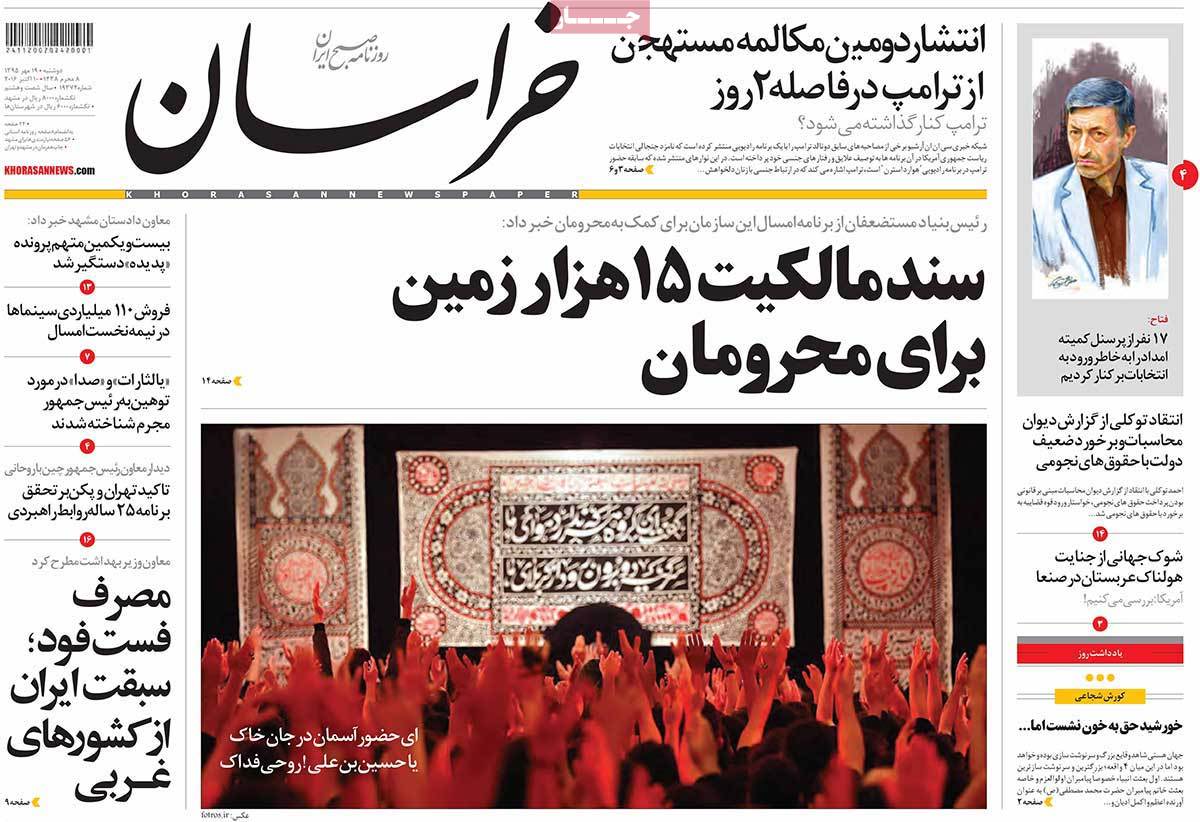 ---
Quds:
1- Yemeni Clerics Issue Fatwa of Jihad against Saudi Arabia Following Saudi-Led Coalition's Deadly Airstrikes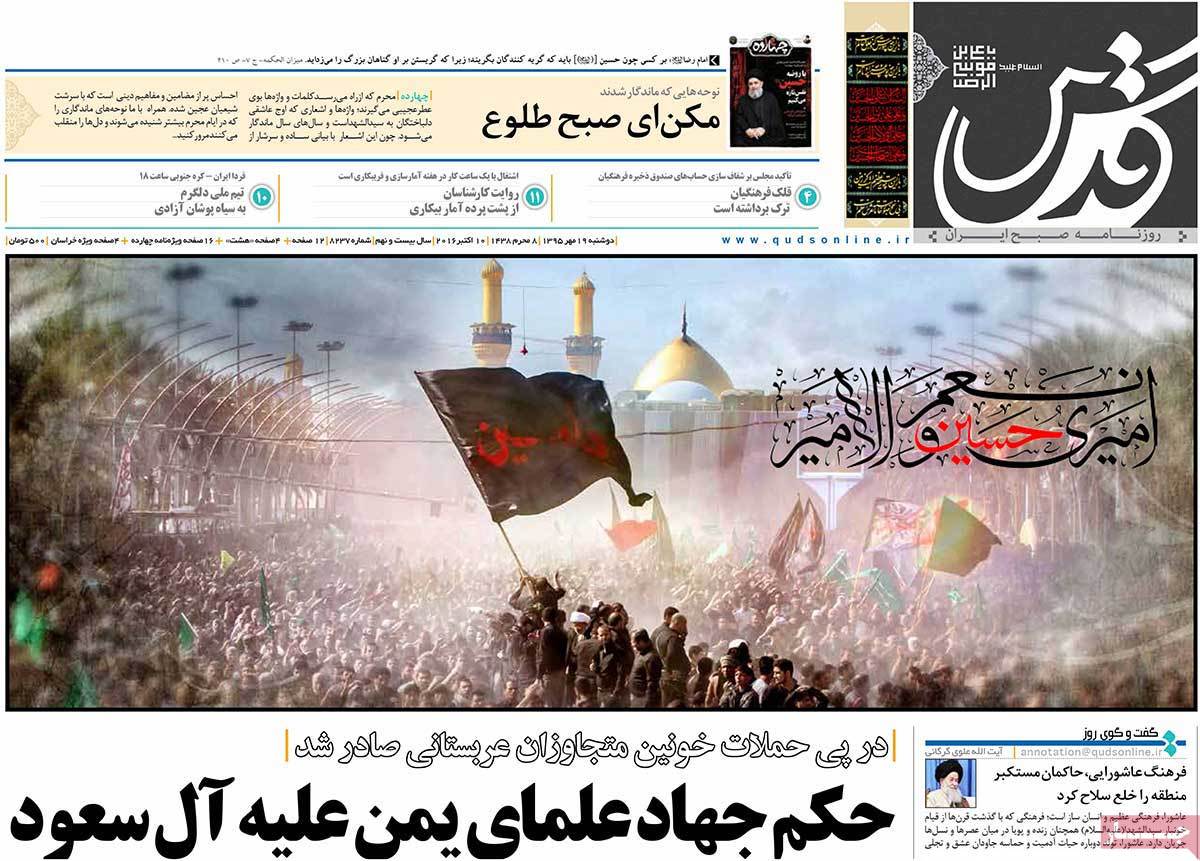 ---
Resalat:
1- Opposition to Islamic Republic Is the Concern of Democrats and Republicans: Analyst
2- British Ambassador to Tehran: I Prefer Not to Think about History of Ties with Iran
3- Hezbollah Official: US Is Preventing Syria War from Coming to an End
---
Saheb Qalam:
1- Deputy Trade Minister: Iran's Talks with Benz Getting Finalized
2- Morocco Boycotts Hajj Pilgrimage
3- Iranian People's Food Waste as Much as that of 10 European Countries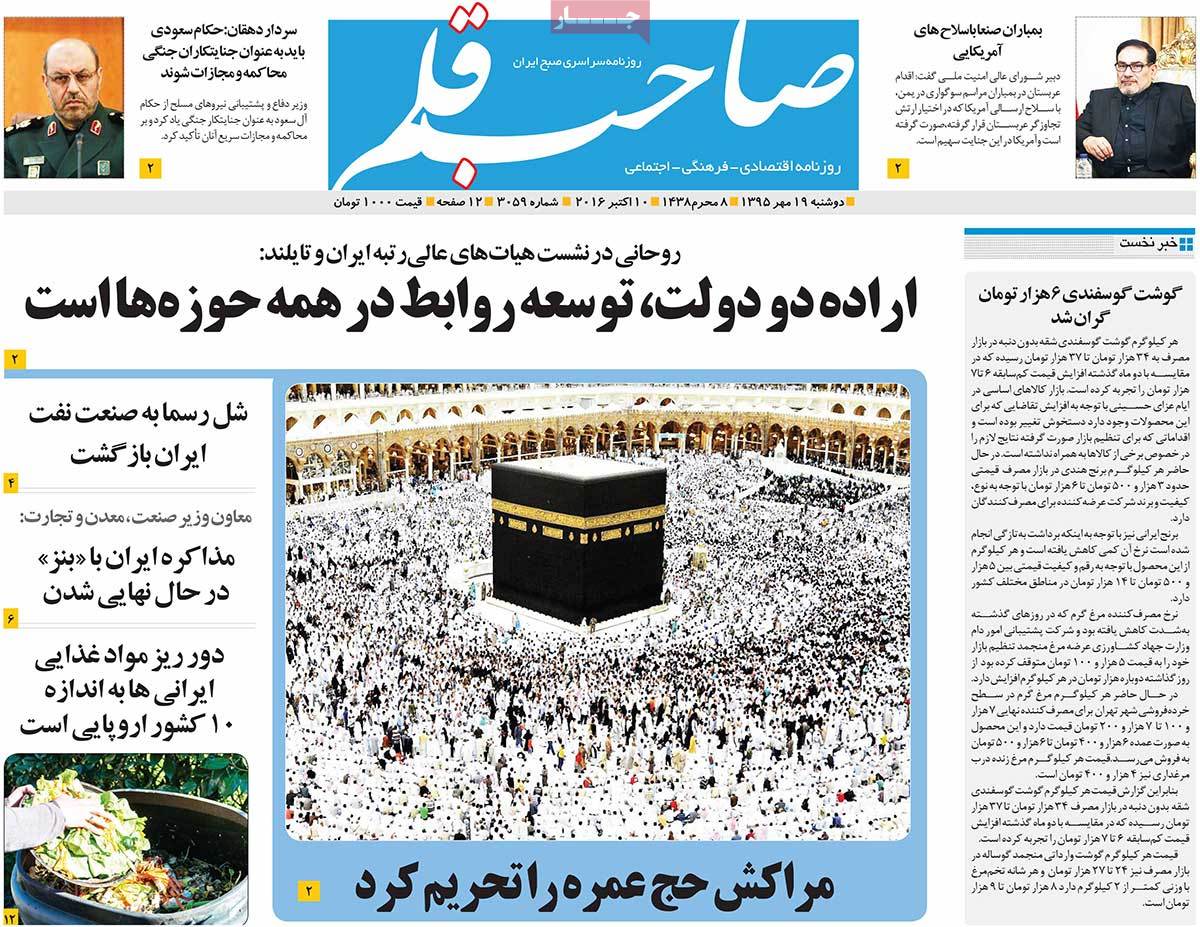 ---
Shahrvand:
1- Our Traditions in Ashura: A Report on the Market of Ostrich Feather for Use in Muharram Mourning
---
Shargh:
1- Rouhani: Imam Hussein Didn't Sacrifice His Life for Cause of a Particular Group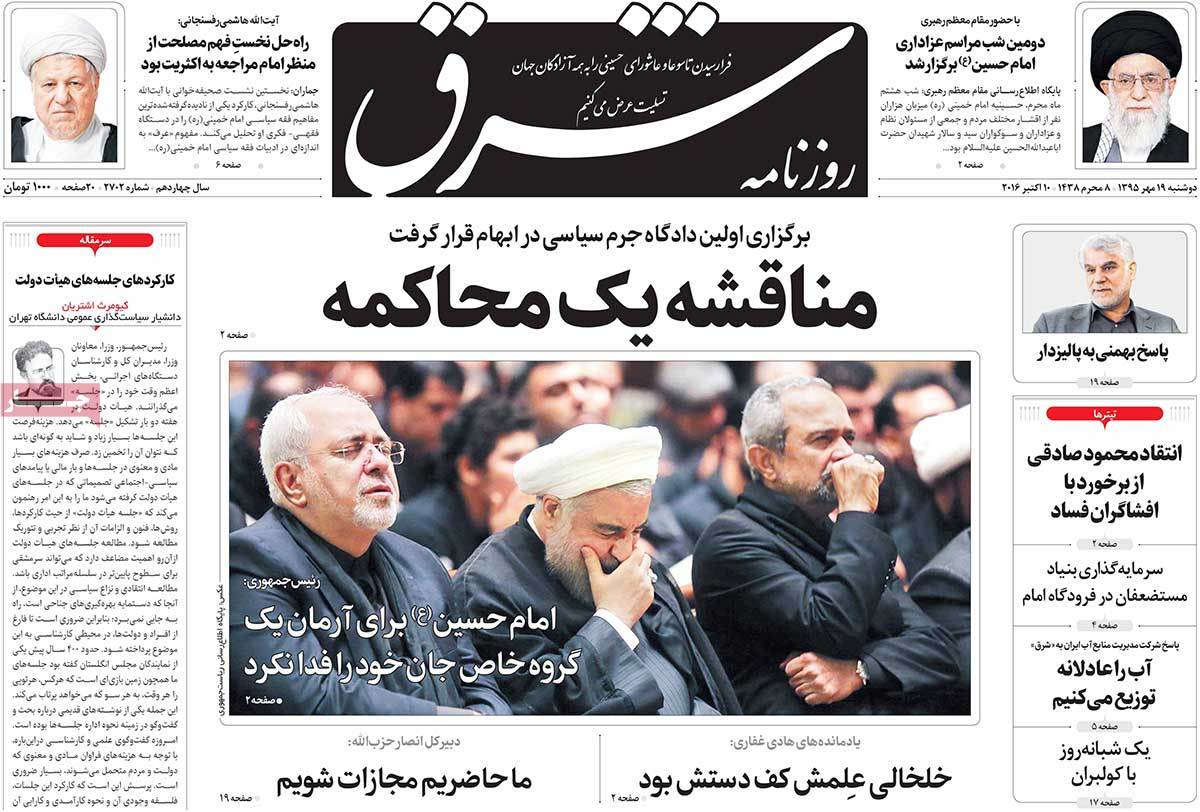 ---
Vaghaye Ettefaghieh:
1- Special Issue for Muharram Days
---
Vatan-e Emrooz:
1- Karbala of Yemen; Ansarullah: We'll Take Revenge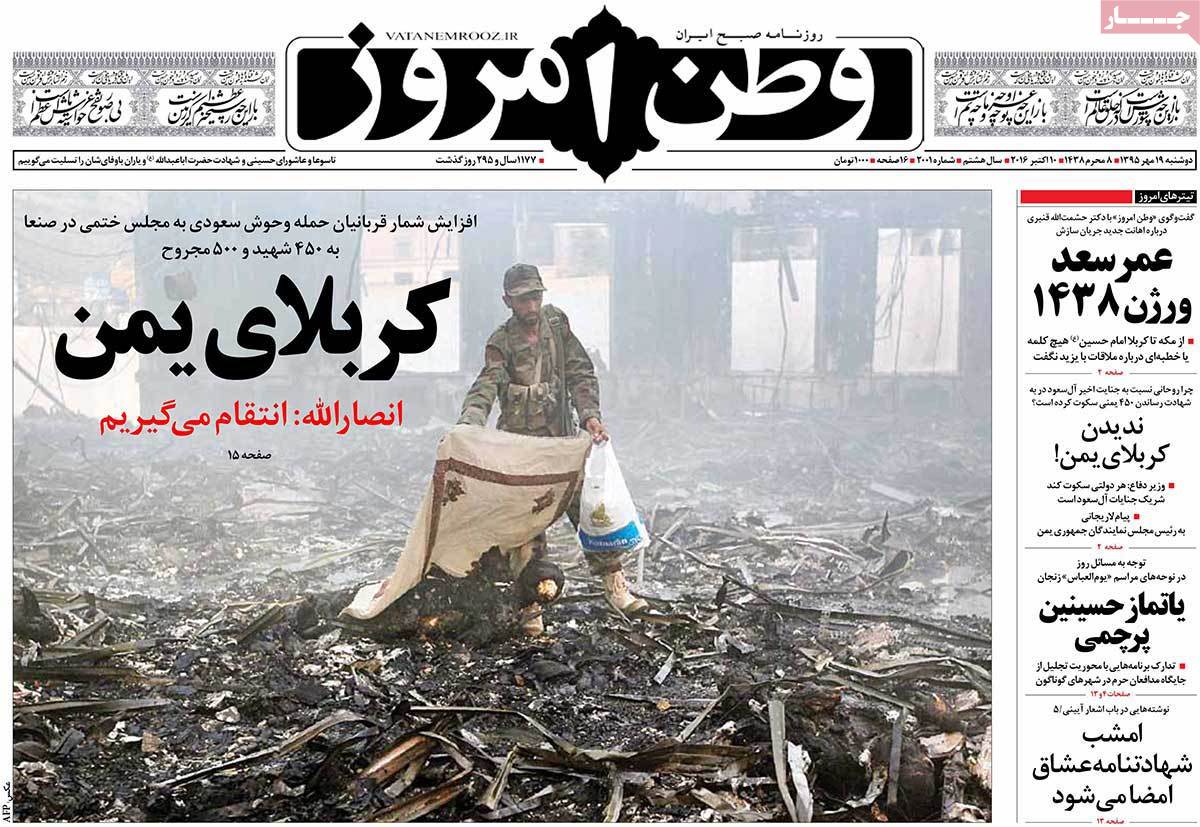 http://www.jaaar.com/assets/images/pishkhan/1395/7/19/96da2f59.jpg