The latest developments in Saudi Arabia, particularly the Crown Prince's purge of his rivals, remained a top story in all Iranian newspapers today.
The severe air pollution that has plunged various parts of Iran, particularly the capital city of Tehran, in recent days also received great coverage today.
Several papers also covered the Texas shooting where dozens of people were killed and wounded.
The above issues, as well as many more, are highlighted in the following headlines and top stories:
19 Dey:
1- Rouhani: I Won't Back Off in Fulfilling Commitments
2- Tehran Governor General Admits Capital Not Good Place to Live
---
Abrar:
1- Nechirvan Barzani: We're Ready to Hand Over Oil Revenues to Baghdad
2- Saudi-led Coalition Warns Iran
3- Bin Salman's Throne on Shoulders of Detained Princes
---
Abrar-e Eqtesadi:
1- As per FATF Deal, Iran Gov't Approves Bill to Fight against Money Laundry
---
Aftab-e Yazd:
1- Silence towards Rouhani's Turn to Conservatives
Reformists Still Throwing Entire Weight behind Rouhani
---
Arman-e Emrooz:
1- Rouhani: Zoroastrian Iranian Known for His Citizens' Rights
2- Monster of Air Pollution Roaring in Iran
---
Ebtekar:
1- The Risks Saudi Prince Taking: Fear or Audacity?
Why Saudis Adopting Aggressive Foreign Policy against Iran
2- Riyadh's Game, Tehran's Prudence [Editorial]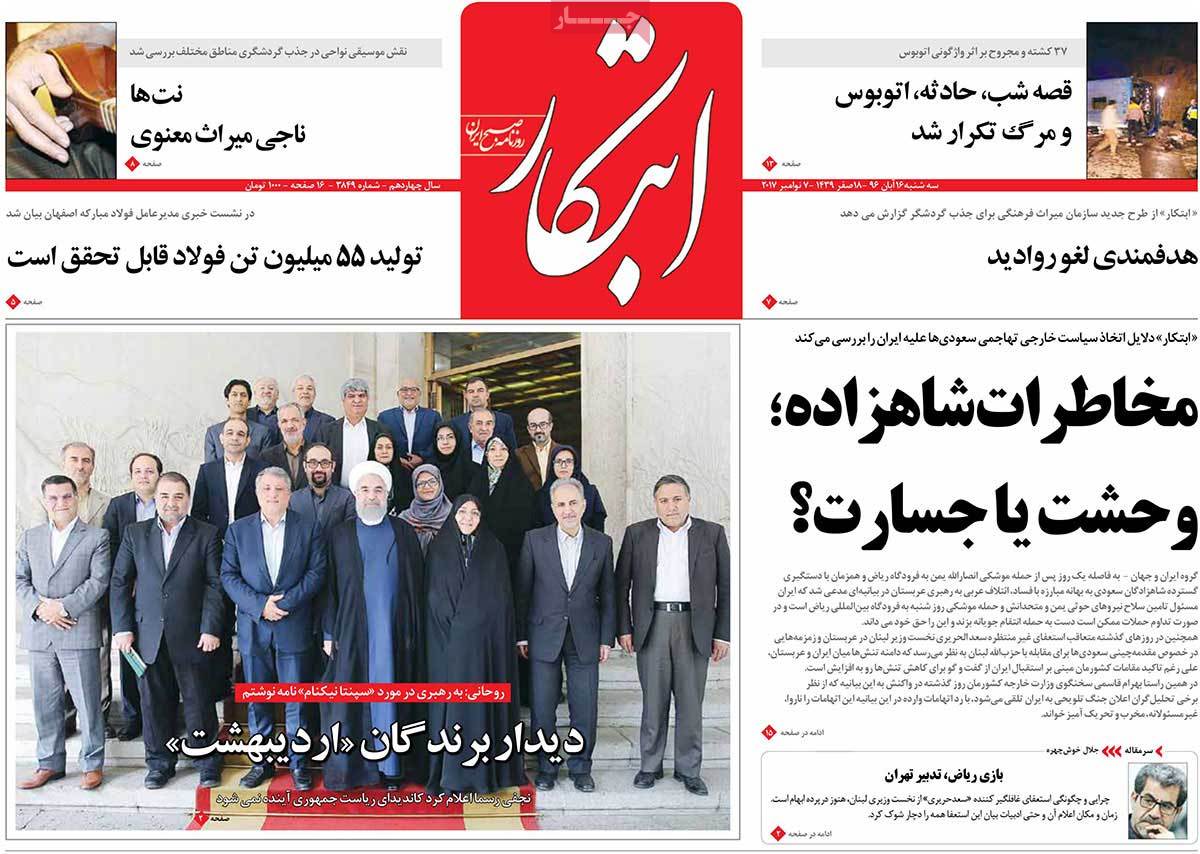 ---
Etemad:
1- Dangerous Game: What Saudi Arabia Looks for by Raising Issue of Military Confrontation
2- Larijani Poised to Run for 2021 Presidential Election
Allies of Parliament Speaker Establishing New Party
---
Ettela'at:
1- Brookings: Al Saud Spending Most Instable Days
2- Tehran Strongly Condemns Saudi-led Coalition's Anti-Iran Statement
---
Iran:
1- Kerry, Ashton Support Iran Nuclear Deal
2- Air Pollution Incurring Annual Damage of $30 Billion on Iran
---
Jame'eh Farda:
1- It's Now Time for National Dialogue
Shadow of War, Conspiracy Atmosphere Dominating Middle East
2- Gap in Hope Faction, New Party for Larijani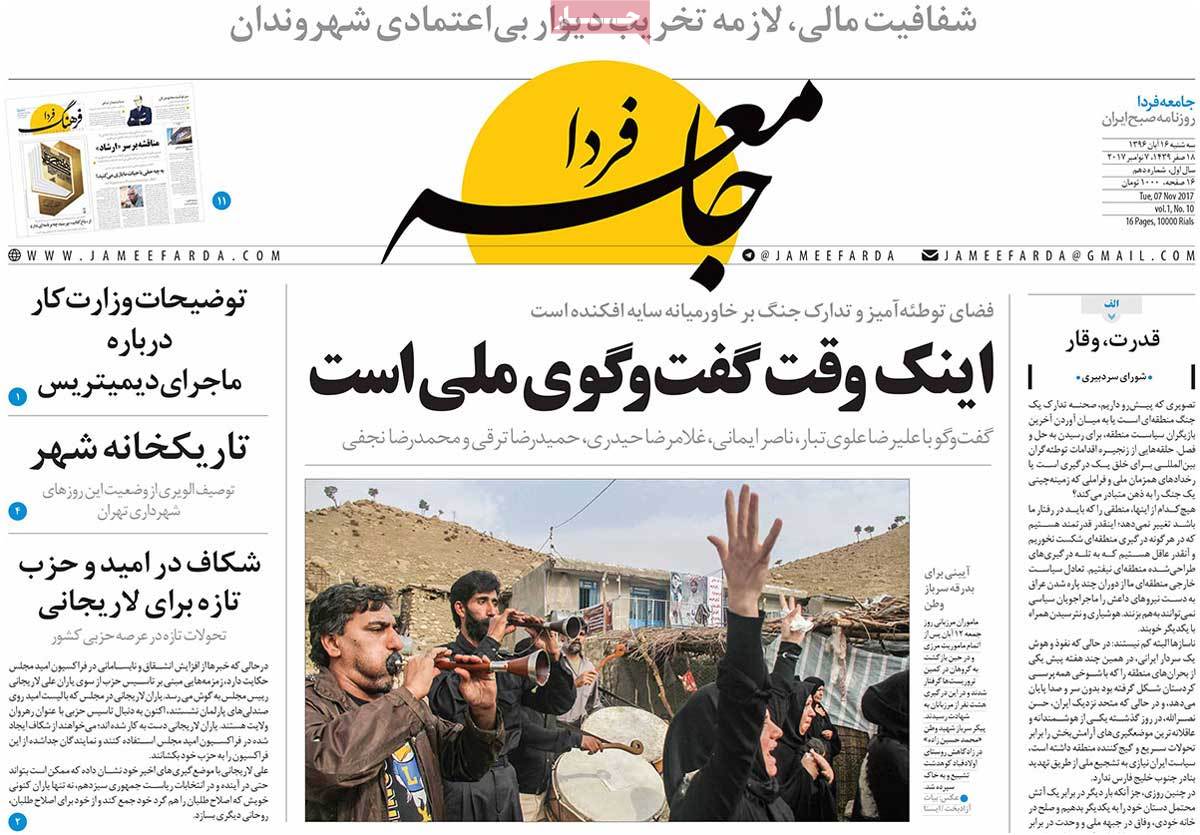 ---
Javan:
1- Village Industries to Be Revived by $1.5 Billion Budget Allocated by Leader
2- Al Saud Pinning Blames on Iran amid Its Game of Thrones
3- White Terrorism in US, from Concert to Church
White Man Kills 27, Wounds Tens of People in Church Attack
---
Jomhouri Eslami:
1- Ashton: Trump Proving US Is Untrustworthy
2- KRG Representative in Iran: Kurdish Referendum Consigned to History
---
Kayhan:
1- Bin Salman Accelerates Al Saud's Collapse: Saudi Princes Slaughtered from Inside
2- American War Veteran's Bloodbath in Texas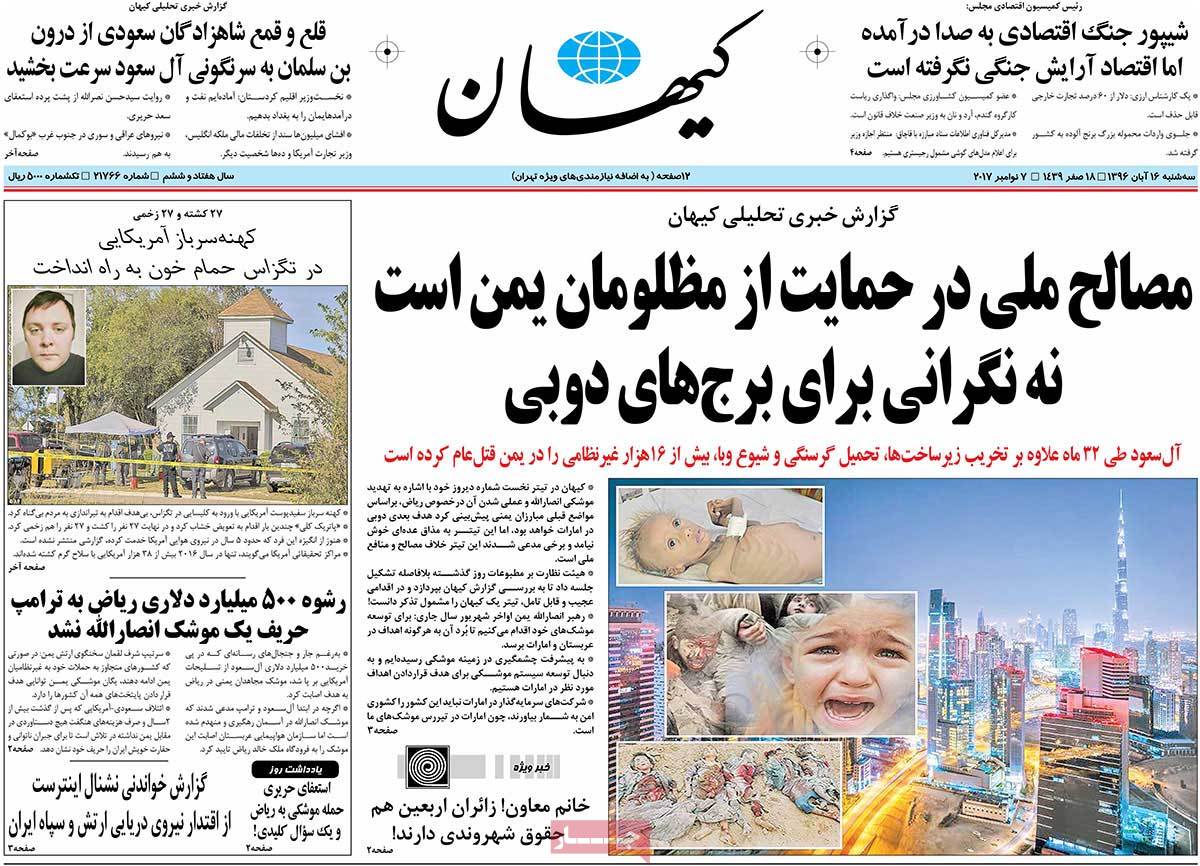 ---
Khorasan:
1- Europe's JCPOA Scenarios: Will Europe Stay with Nuclear Deal or Join US?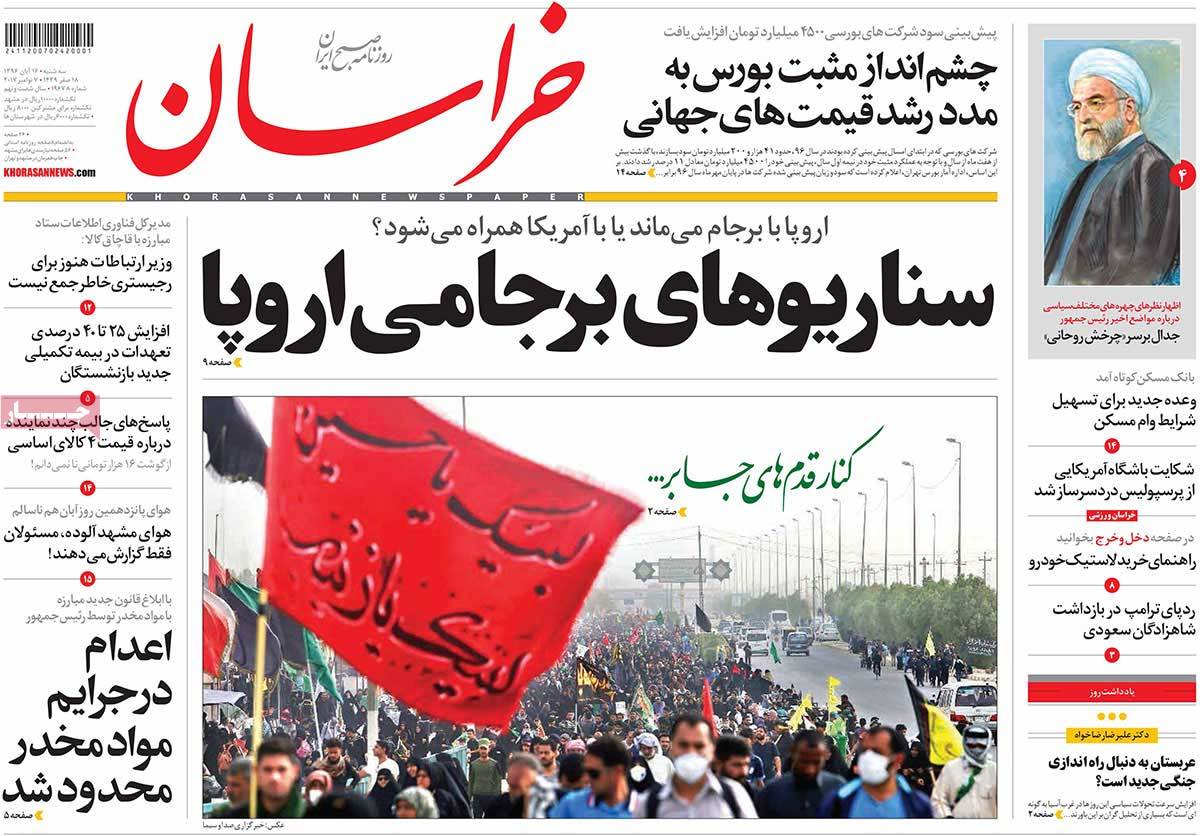 ---
Shahrvand:
1- Iran Becomes Member of Int'l Red Cross Federation's Board of Directors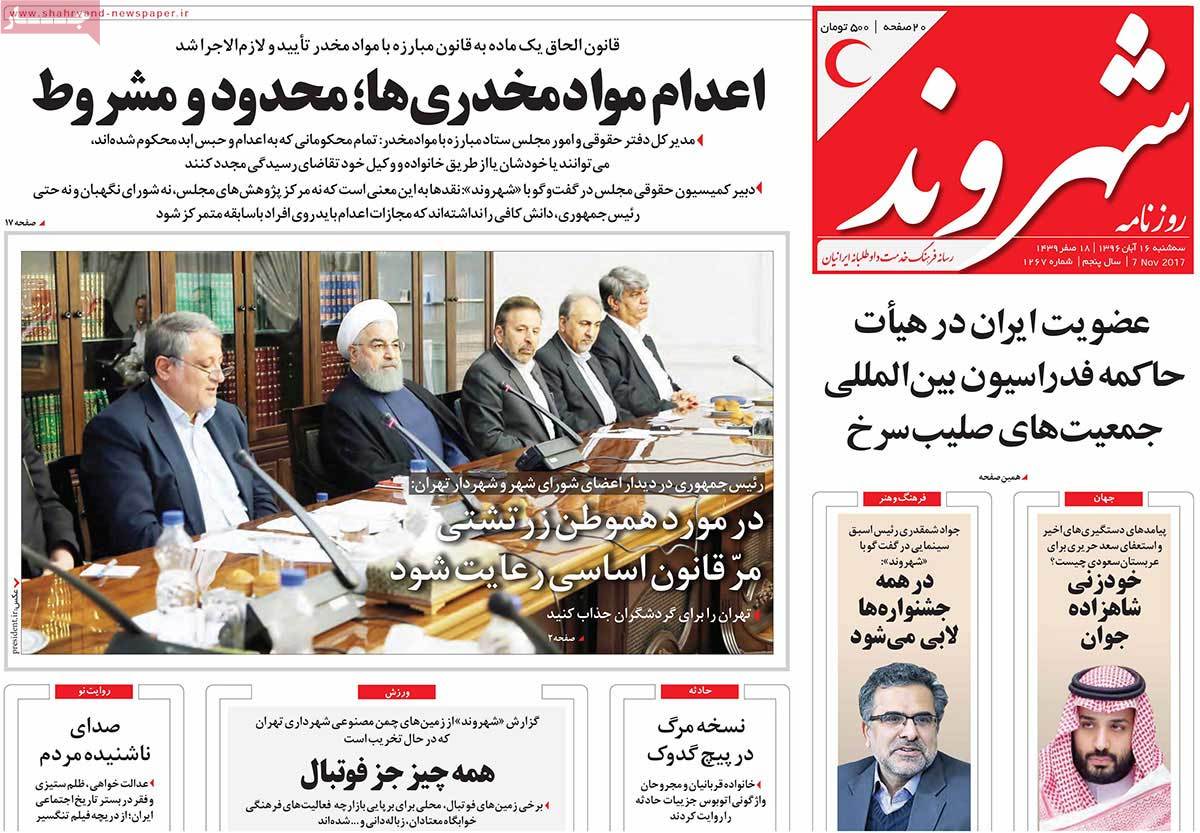 ---
Shargh:
1- Iran to Arab Leaders: Stop Massacre of Yemenis instead of Playing Blame Game
2- Triangle of Washington, Tel Aviv, Riyadh [Editorial]
---
Sobh-e Now:
1- Gunshots in Texas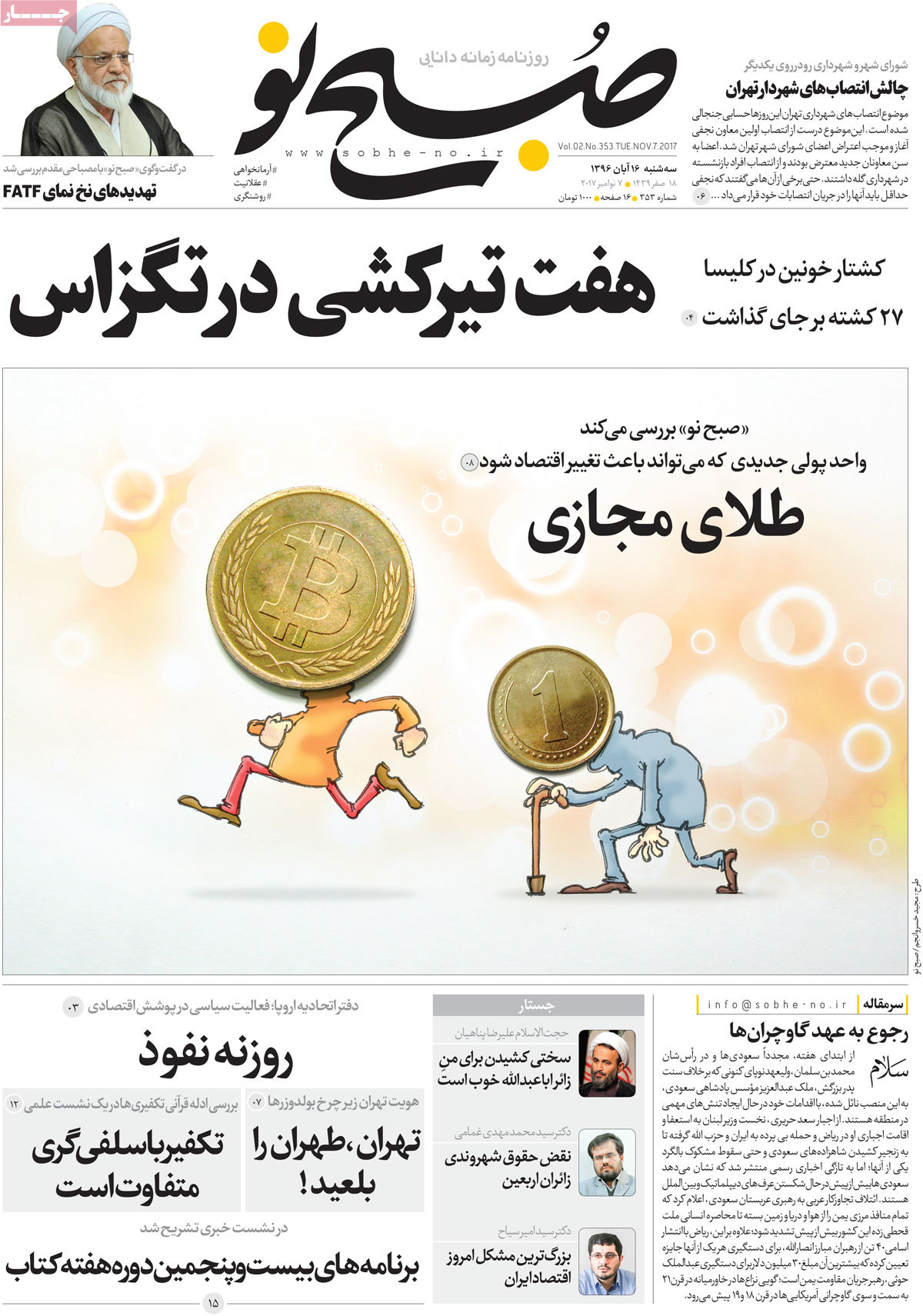 ---
Vatan-e Emrooz:
1- American Soldiers Continue to Kill Americans
2- FATF Helps Oversee CAATSA Implementation
3- We Won't Forget You
Why It Is Important to Praise Iraqi People's Hospitality during Arba'een