The top story in all Iranian newspapers today was the resignation of Lebanese Prime Minister Saad Hariri and the anti-Iran accusations he raised during his speech televised from Saudi Arabia.
Several papers also covered the anti-arrogance rallies held on Saturday across the Islamic Republic on the anniversary of the takeover of the US embassy in Tehran back in 1979.
Iranian President Hassan Rouhani's meeting with top Army commanders and the remarks he made during the visit also received great coverage.
The above issues, as well as many more, are highlighted in the following headlines and top stories:
19 Dey:
1- Rouhani: Armed Forces Should Not Have Partisan Tendencies
2- Deputy Energy Minister: Lake Urmia Not Feeling Weel
3- Shamkhani: US Enmity Has Made Iran More Powerful
---
Abrar:
1- Using Weapon of Sanctions Shows US Inability: Ayatollah Hashemi Shahroudi
2- 8 Iranian Border Guards Killed in Armed Clash in Northwest
---
Abrar-e Eqtesadi:
1- Total's Coordination with Washington for Investing in Iran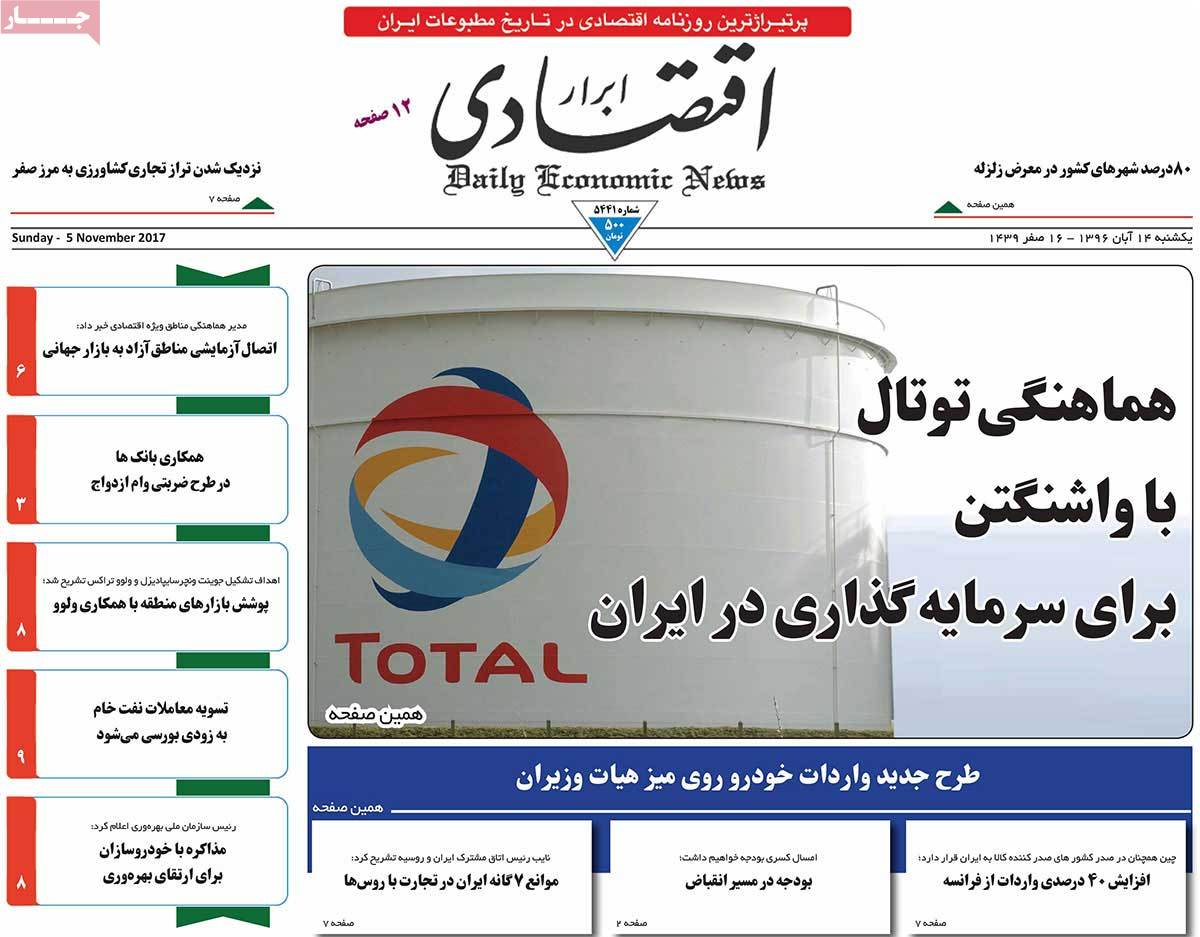 ---
Afkar:
1- China, Russia to Ditch US Dollar after Increased US Sanctions
2- Ayatollah Hashemi Shahroudi: Ditching US Dollar Very Effective in Decreasing Impact of Sanctions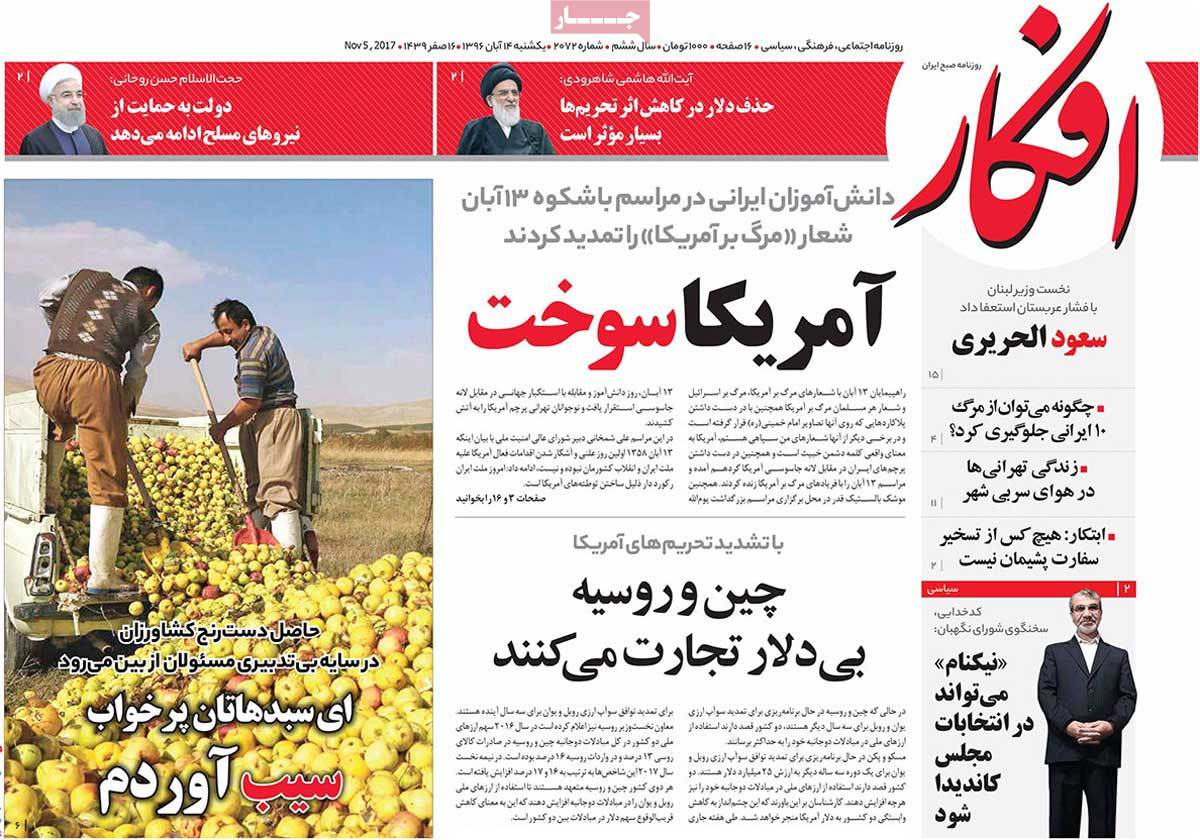 ---
Aftab-e Yazd:
1- Anti-US Demonstrations Held in Tehran: Symbolic Funeral for Trump
2- Lebanese PM Hariri Resigns While Raising Accusations against Iran!
3- Netanyahu's Ridiculous Claim: Iran after Establishing Empire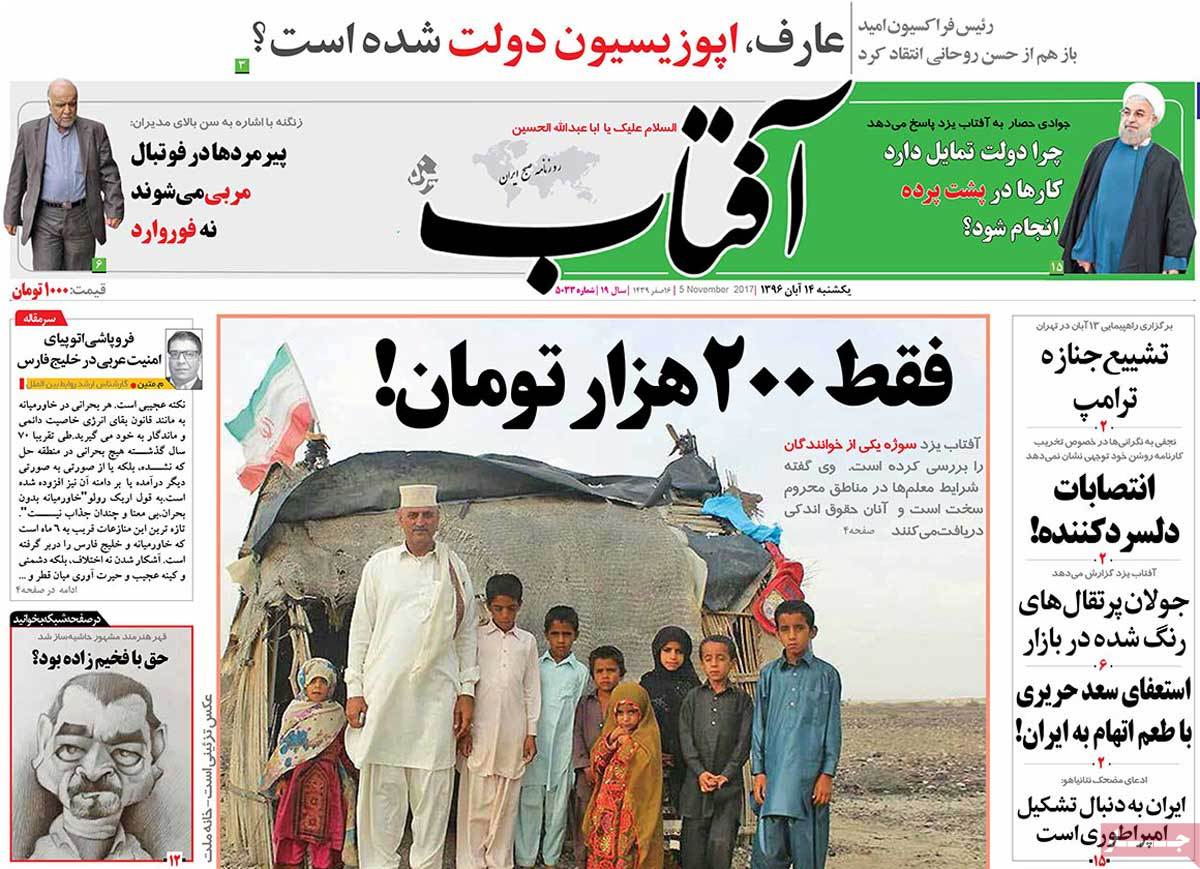 ---
Arman-e Emrooz:
1- Hariri's Suspicious Resignation in Saudi Arabia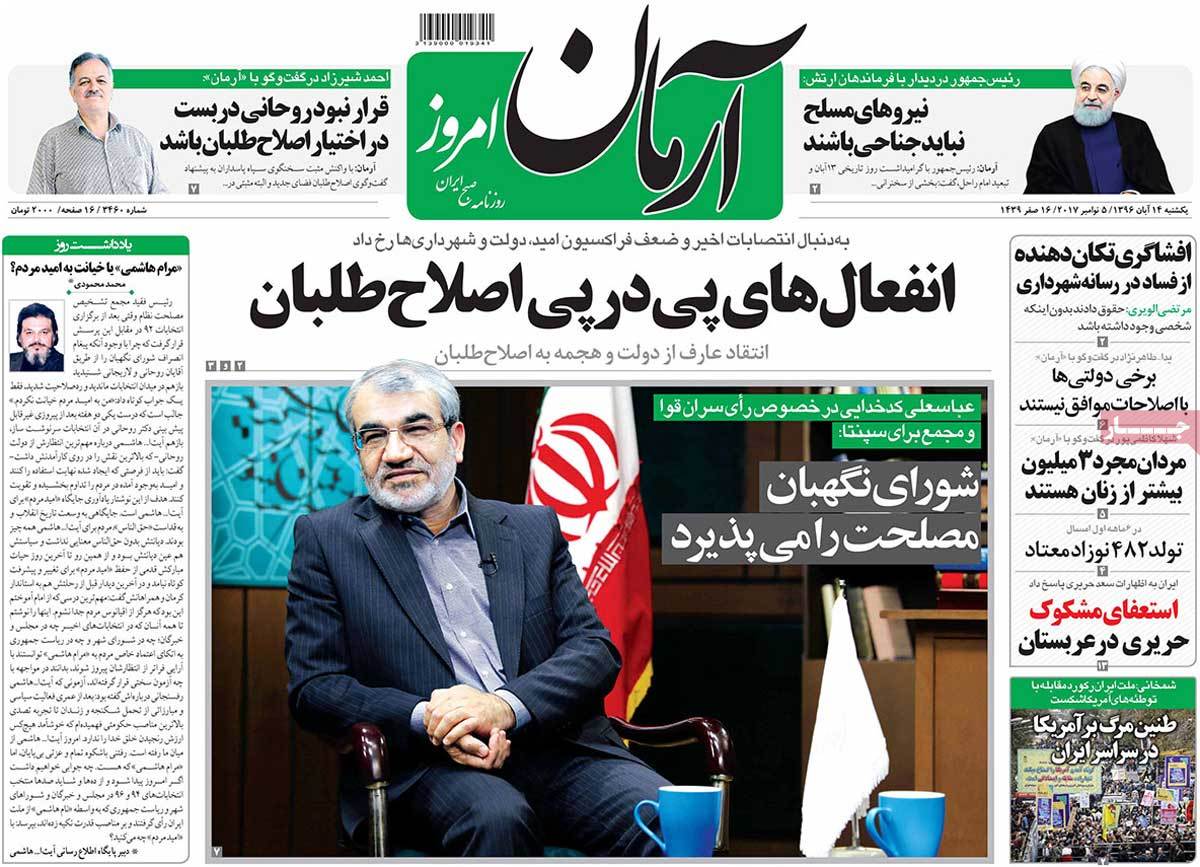 ---
Donya-ye Eqtesad:
1- CNN Predicts Leadership of Free Trade Will Be Transferred from US to China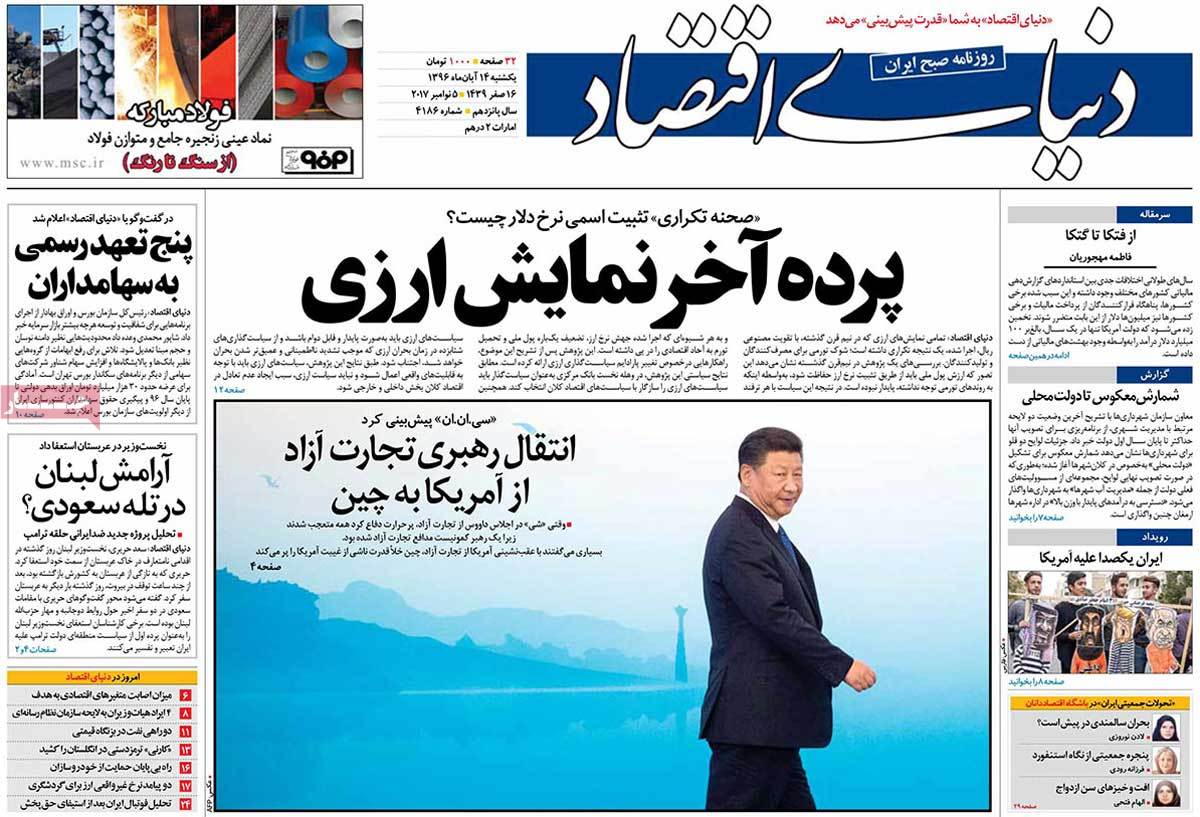 ---
Ebtekar:
1- ISIS' Last Breaths in Middle East's Cloudy Sky
---
Etemad:
1- Analysts Discuss Takeover of US Embassy in 1979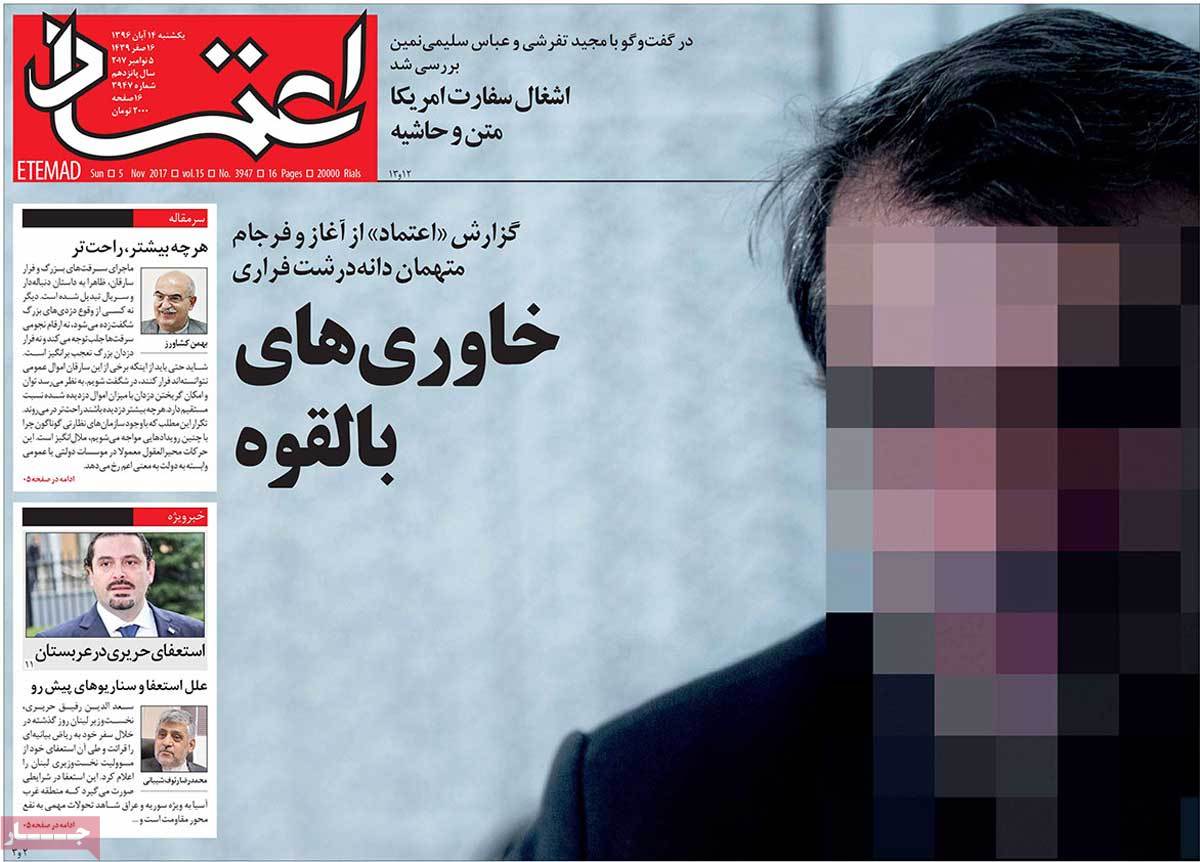 ---
Ettela'at:
1- Shamkhani: We'll Witness Continued Decline of US Role, Position in Region
2- Hariri Resigns as Lebanese Prime Minister
3- 2.23 Million Visas Issued for Arba'eeen Pilgrims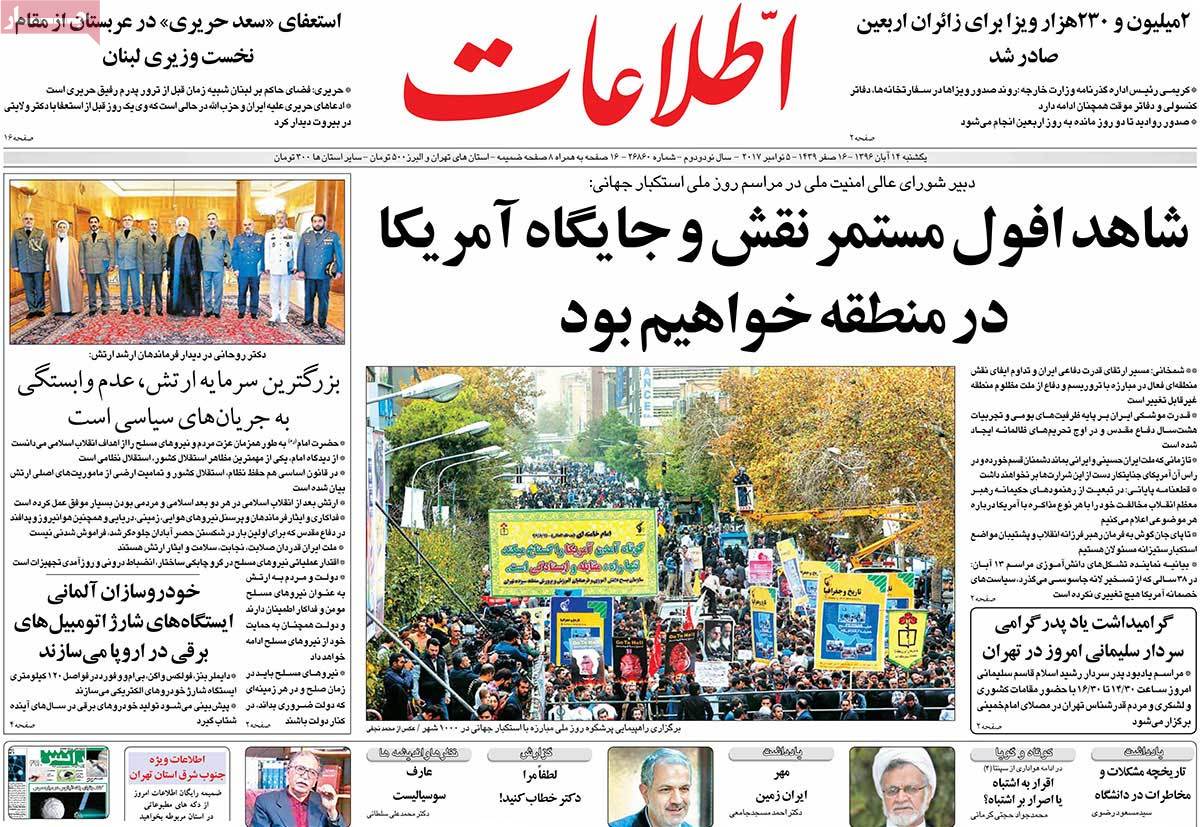 ---
Hamdeli:
1- 107 Countries Rank Higher than Iran in Happiness Index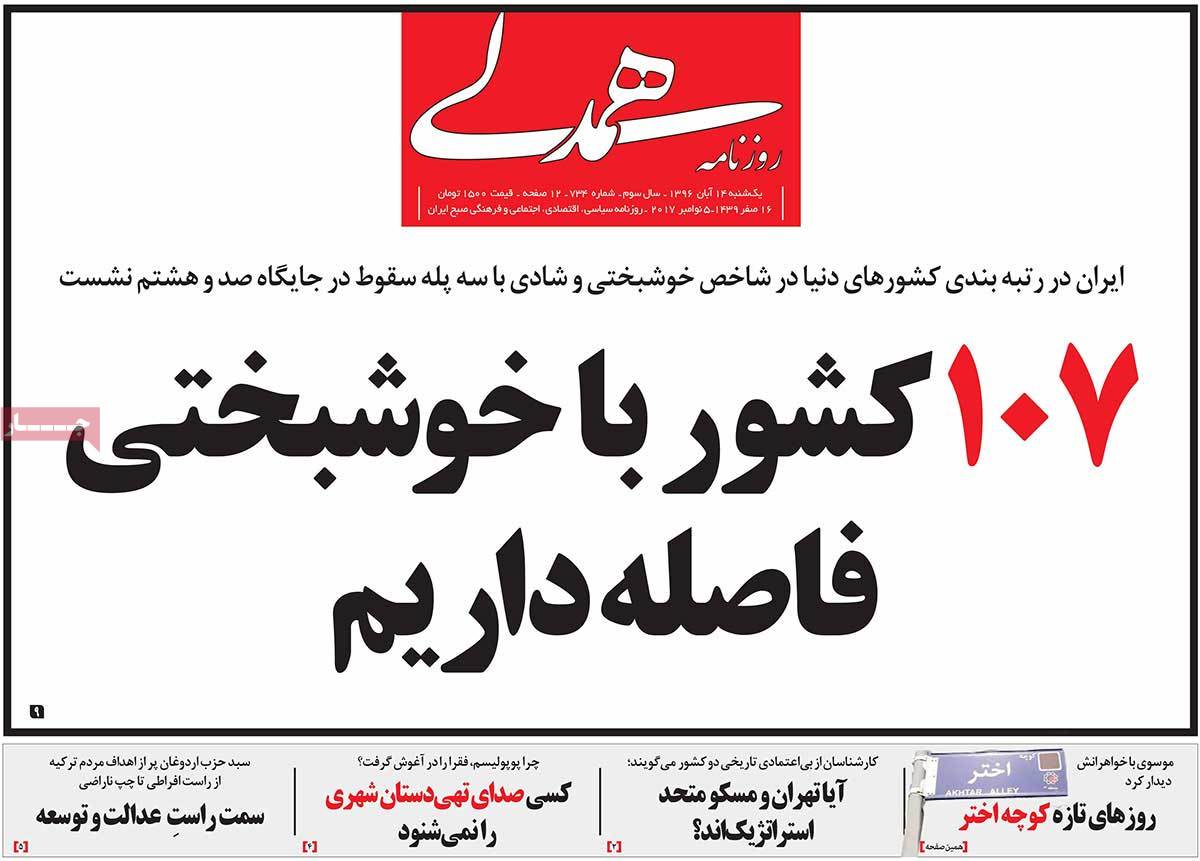 ---
Iran:
1- Shamkhani: Iranian Nation Record-Holder in Foiling US Plots
2- Rouhani: Gov't to Continue Supporting Armed Forces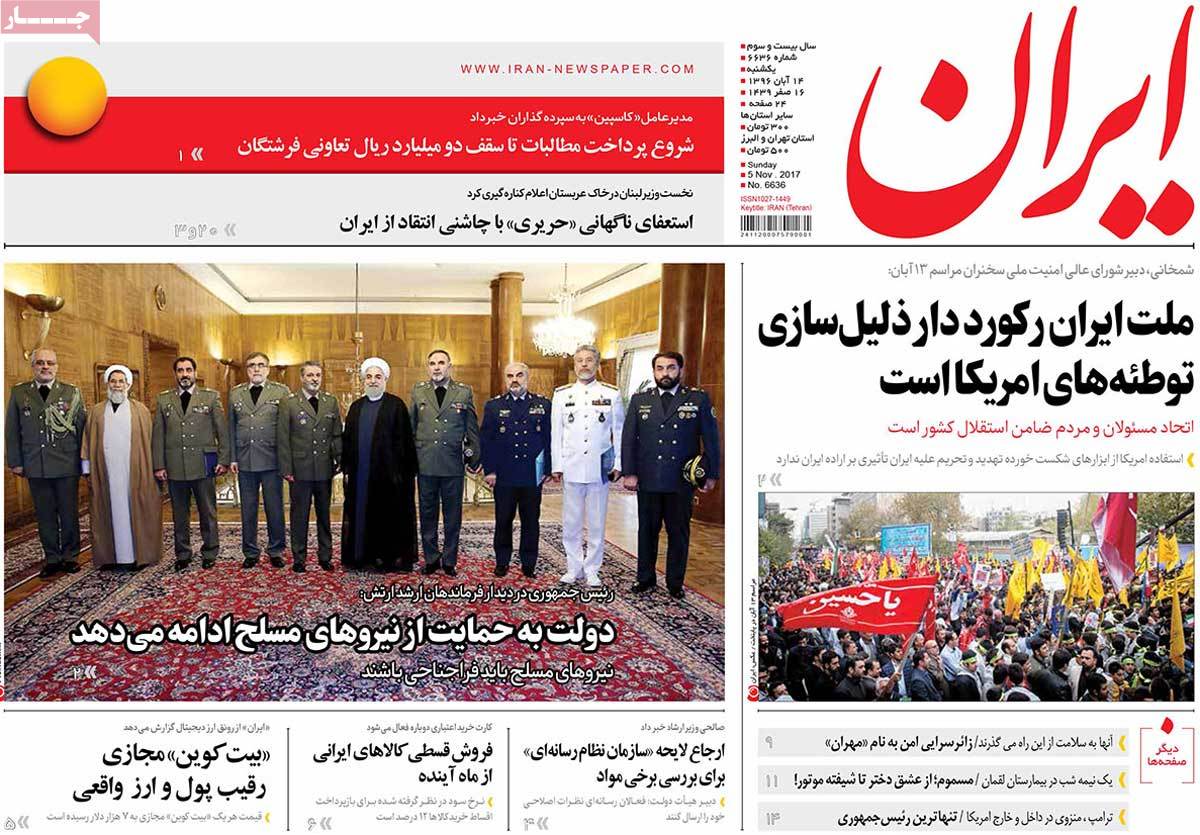 ---
Jame'eh Farda:
1- Foreign Ministry Official: Iran to Withdraw from Syria
---
Javan:
1- Sedition Moves from Kurdistan to Lebanon: PM Hariri Resigns in Riyadh, Attacks Iran
2- Dust Storm of Arba'een Pilgrimage in Eyes of BBC
---
Jomhouri Eslami:
1- Oil Minister: Total Has Started Its Work in South Pars Field
---
Kayhan:
1- Shamkhani: US Not to Stop Evil Approach as Long as Iranian Nation Remains Revolutionary
2- How ISIS' Last Stronghold in Iraq Collapsed?
3- 40% Increase in Iran's Imports from France in Past 7 Months
4- All the Fuss Was for Nothing!
Total Opens Office in US to Cooperate in Anti-Iran Sanctions
---
Seda-ye Eslahat:
1- Rouhani: Army's Biggest Asset Is Independence from Political Parties
2- Trump in a Dilemma on Keeping Campaign Promises
Israelis Take Action against Iran Air's Deal with Boeing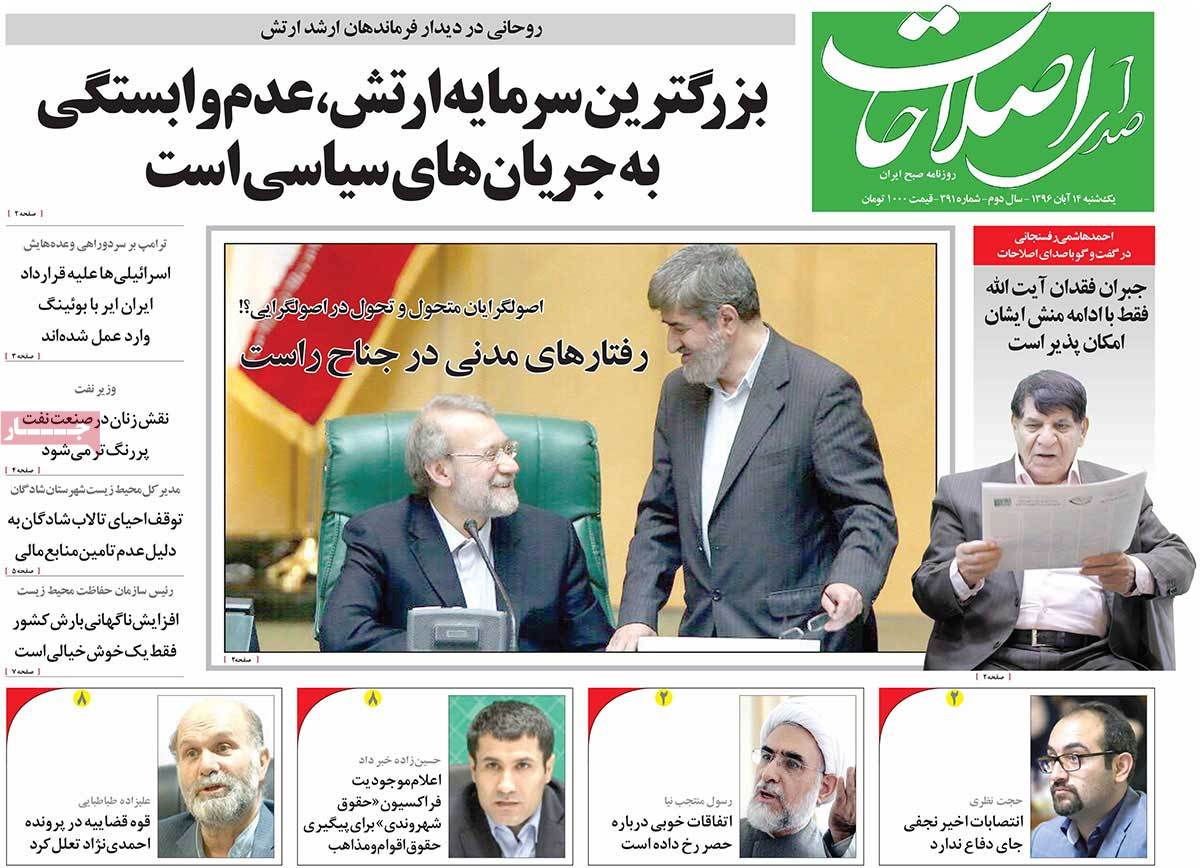 ---
Vatan-e Emrooz:
1- Missile in US Nest: Millions of Young Iranians Attend Nationwide Anti-US Rallies
2- Hariri's Suicide!