Newspapers today covered the remarks made by the Leader of the Islamic Revolution Ayatollah Seyyed Ali Khamenei in a meeting with a group of Iranian students.
They also covered the national day of fight against global arrogance and the anniversary of Iranian students' takeover of the US embassy. On Thursday, nationwide demonstrations are held to mark this day.
The continued tension between Turkey and Iraq and the remarks by Iraqi Prime Minister Haider al-Abadi about Baghdad's preparedness to fight against Ankara also received great coverage.
The above issues, as well as many more, are highlighted in the following headlines:
Abrar:
1- Army Ground Force Commander: Iran's Armed Forces Will Never Be Caught Off the Guard
2- Parliament Says Ahmadinejad's Government Definitely Broke the Law in Developing Strategic Document of Energy
3- Iraqi PM: If Turkey Wants a War, We're Ready for It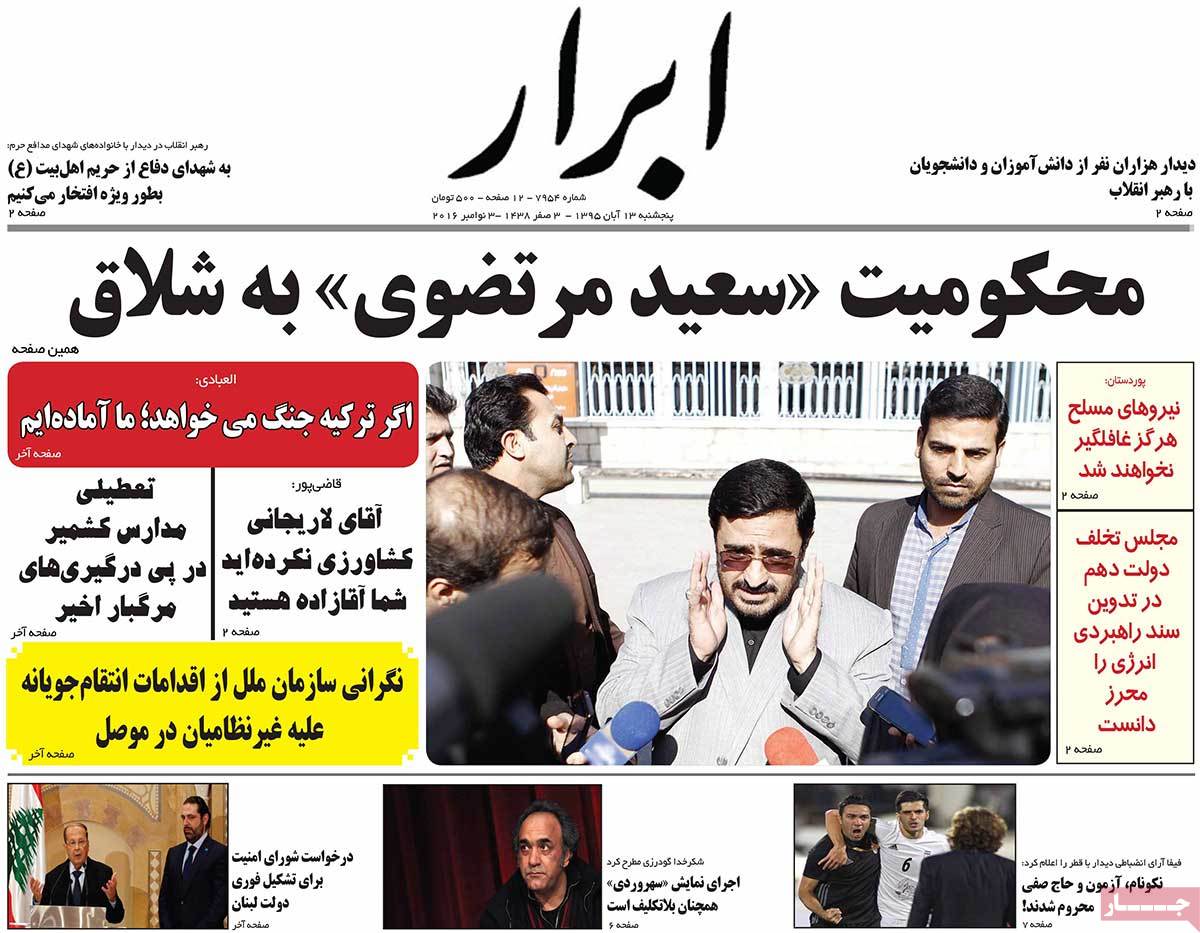 ---
Abrar-e Eqtesadi:
1- Oil Minister: Iran's Oil Sale Breaks World Record
2- Reuters: West's Trade with Iran Waiting for Results of US Elections
3- Export of 700,000 Barrels of Iran's Oil to Europe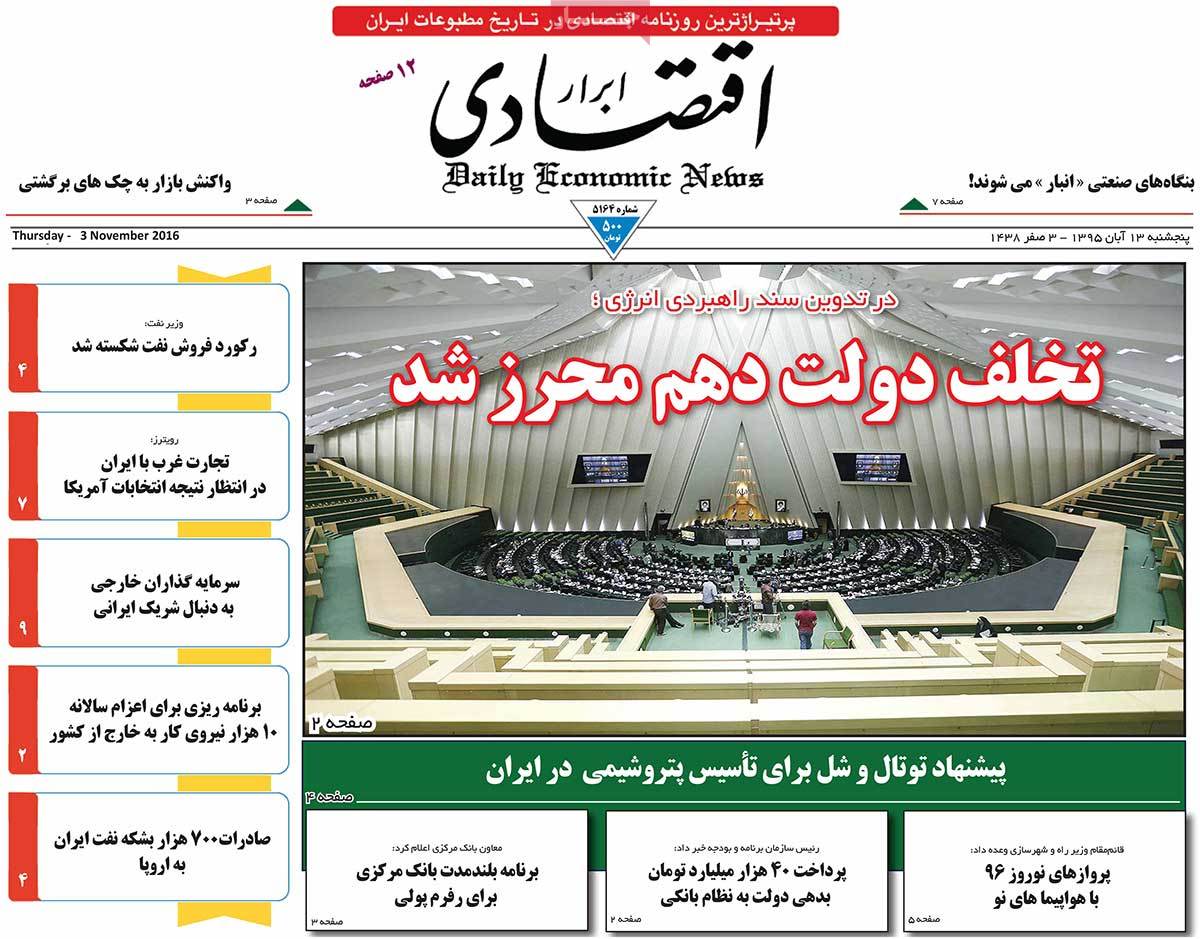 ---
Afarinesh:
1- Slovenian Embassy in Tehran to Be Reopened during Its President's Visit to Iran
2- Oil Minister: Iran's Oil Export Is 2,440 bpd
3- Assad: I'll Remain Syrian President until 2021
4- Rouhani: Internal Solidarity Is the Real Fight against Arrogance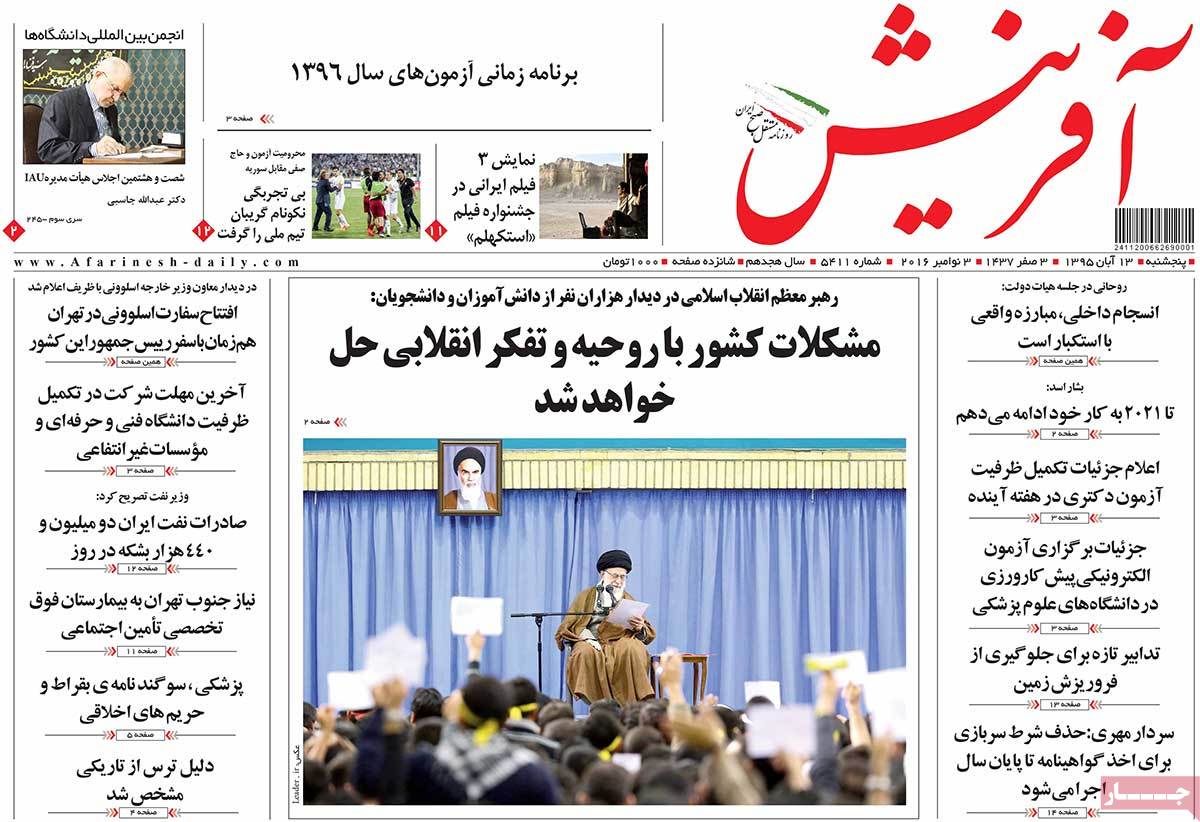 ---
Afkar:
1- Leader: Negotiation with the US Won't Resolve Iran's Problems
2- Deputy Health Minister: Nutrition Problems Is the Root Cause of 50% of Deaths in Iran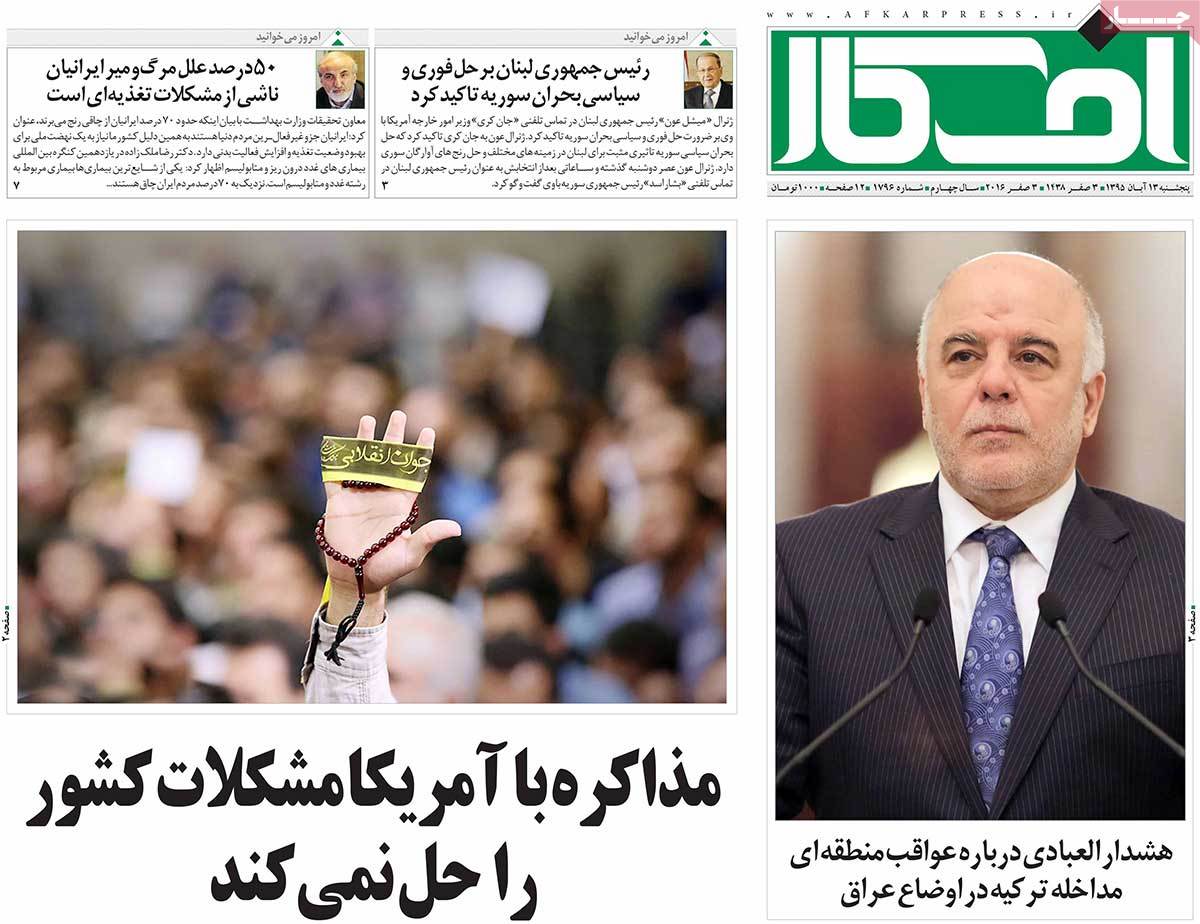 ---
 Aftab-e Yazd:
1- Solidarity among Members of Women Faction in Iranian Parliament: Women's Voice Is Heard
2- Halloween Celebrated in Some Iranian Schools; Sociologist Says It Has Nothing to Do with Iran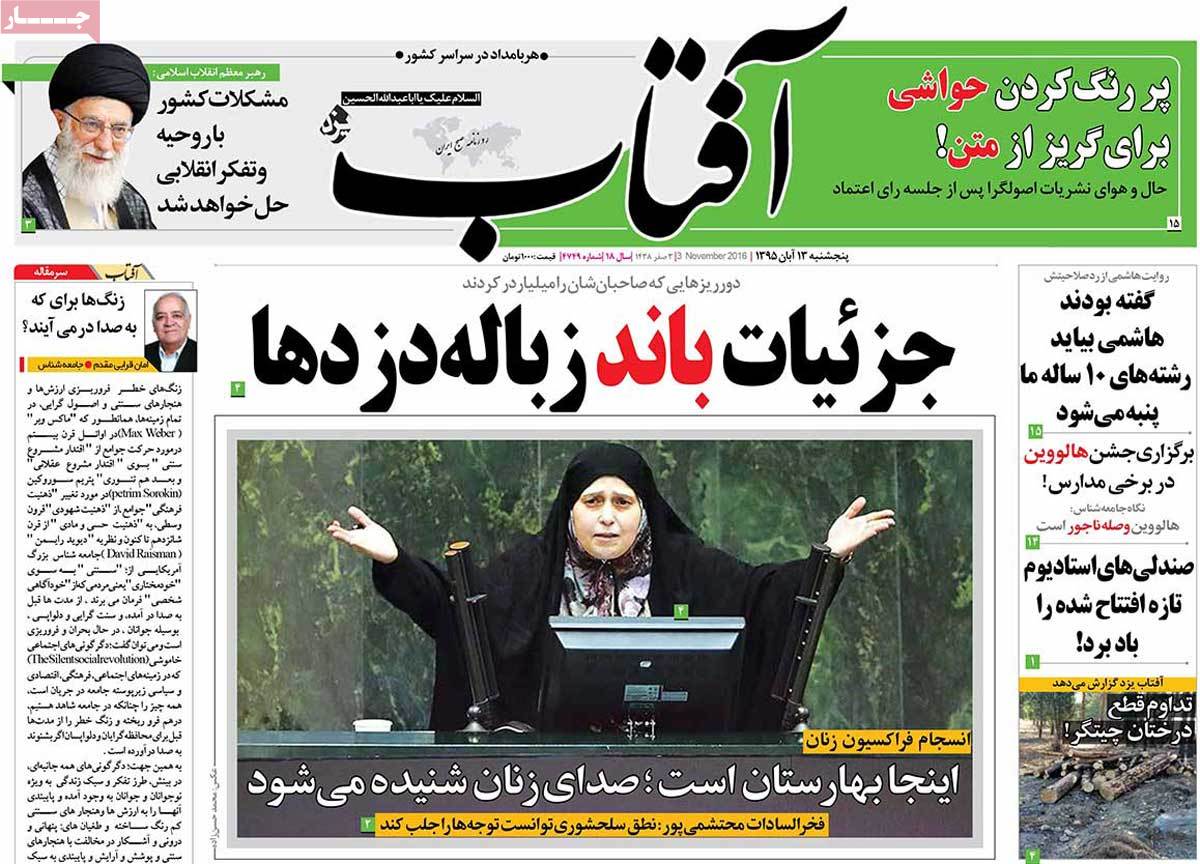 ---
Asrar:
1- Leader: Be Cautious and Don't Accept Any Words Uttered by Anyone
2- Some of Those Who Attacked Saudi Embassy in Tehran Sentenced to Six Months in Prison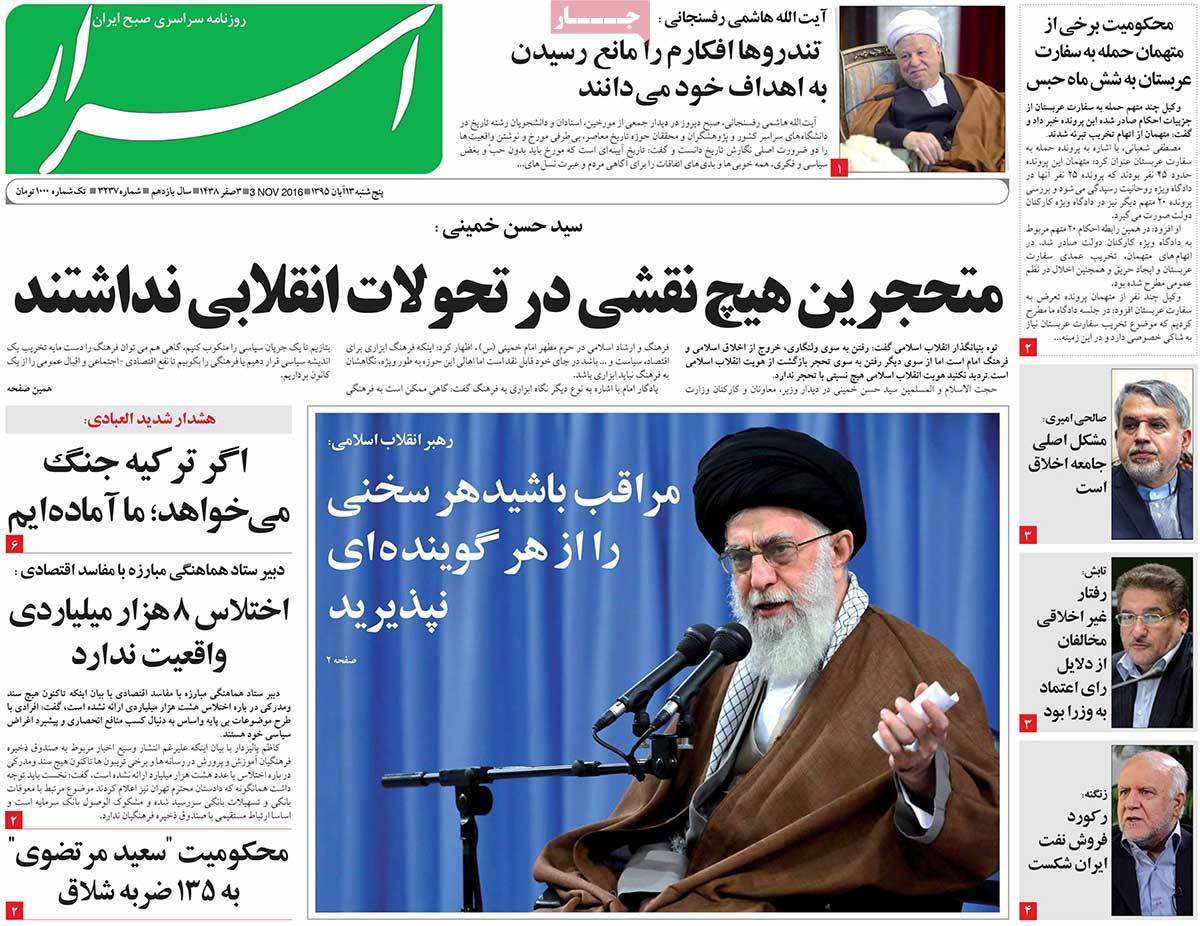 ---
Asr-e Rasaneh:
1- Iran Won't Sell Its Oil in Cheap Prices: Official
2- 40% Increase in Number of Those Who Registered for Taking Part in Arbaeen Processions
3- 9 New Planes to Be Delivered to Iran in Coming Months
4- Greece Opposes with EU's Extension of Sanctions against Iran's Bank Saderat
---
Etemad:
1- Aref: Parliament's Message Is that It's in Line with Government
2- Expert: Next US President's First Move Is to Unite EU against Russia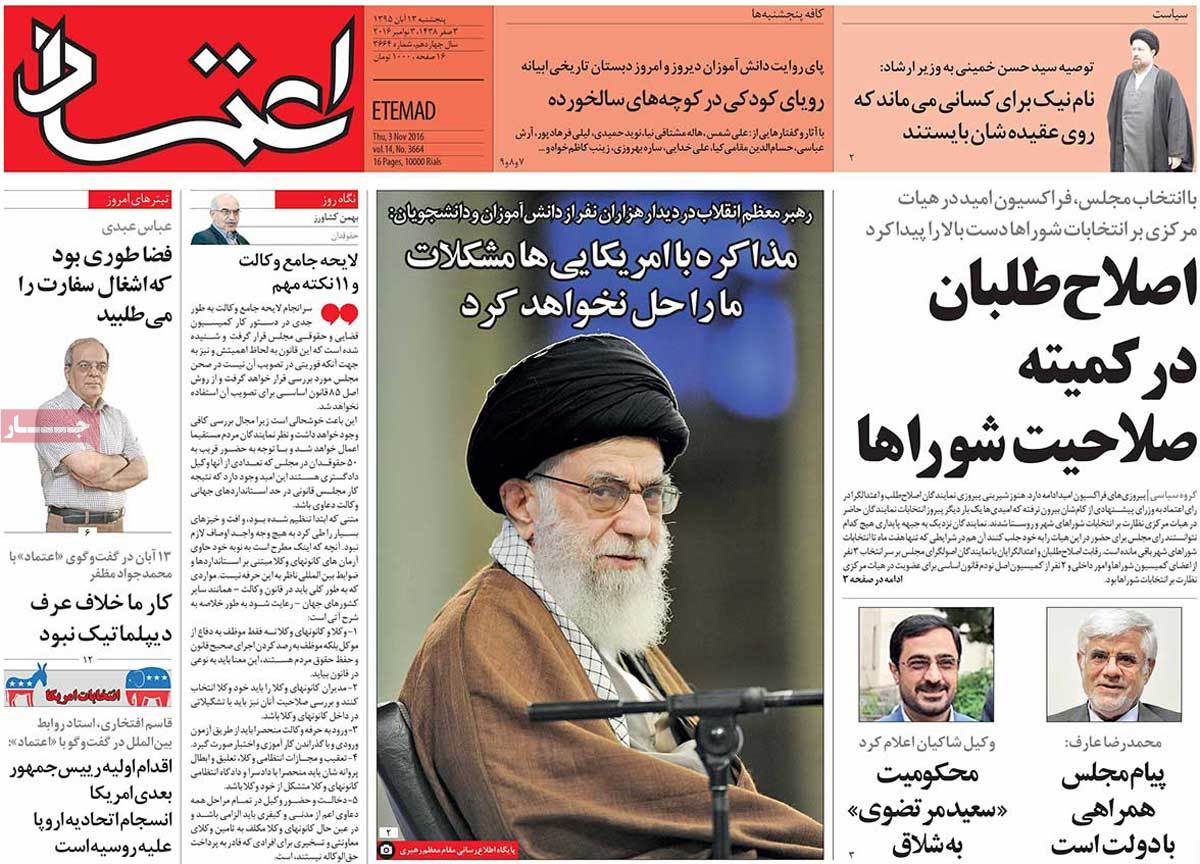 ---
Ettela'at:
1- Leader in Meeting with Iranian Students: We Should Resolve Our Problems by Relying on Our Domestic Capabilities
2- Assad: Any Political Change in Syria Is Impossible before Victory in War
3- 15% of Iranian Elites Are outside the Country
4- Health Minister: Leader Told Me Whoever Loves Iran Should Work for Social Ills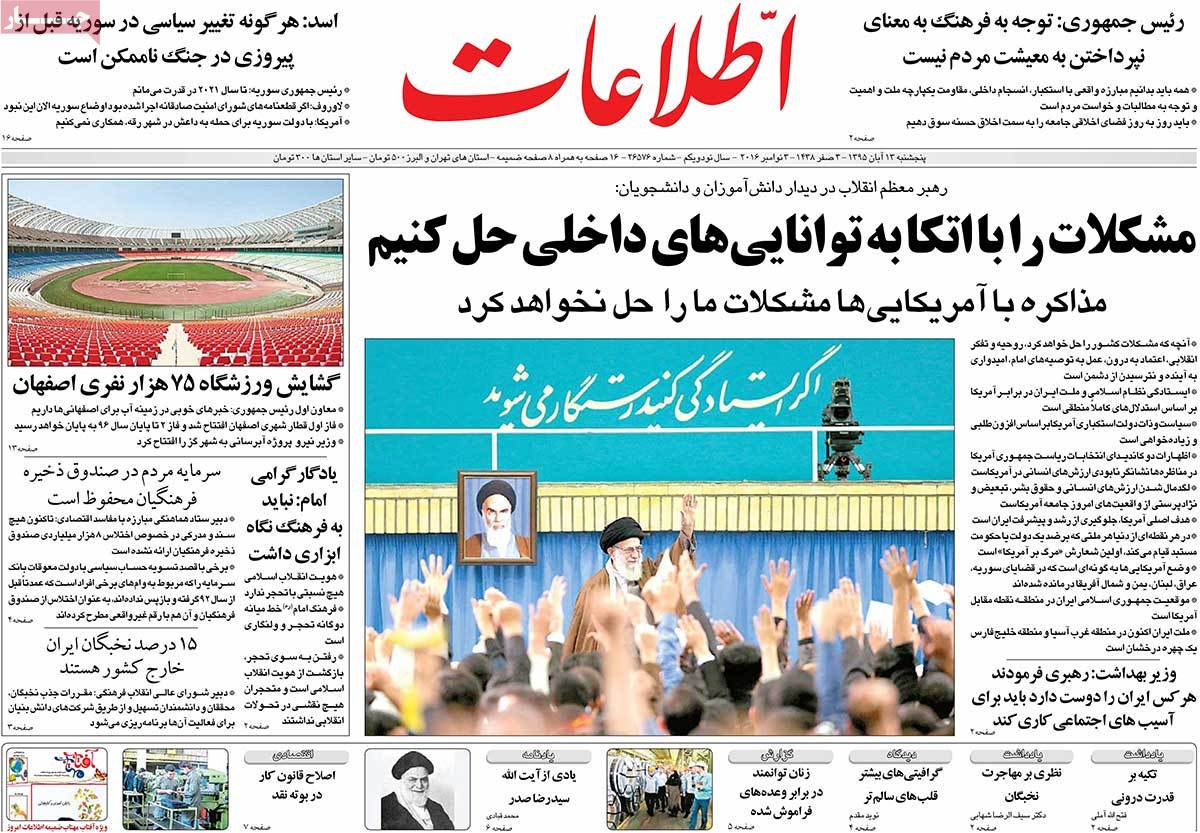 ---
Iran:
1- Leader: Iran's Problems Will Be Resolved through Revolutionary Spirit and Thought
2- Ayatollah Khamenei: US Is in Crisis Itself, How Can a Crisis-Hit Country Resolve Another Country's Problems?
3- Flood and Heavy Storm Hit 13 Iranian Provinces
---
Javan:
1- Leader: JCPOA Is the Reason that Shows Compromise with US Is Wrong
2- US Presidential Candidates' Remarks Are Enough to Disgrace Washington: Leader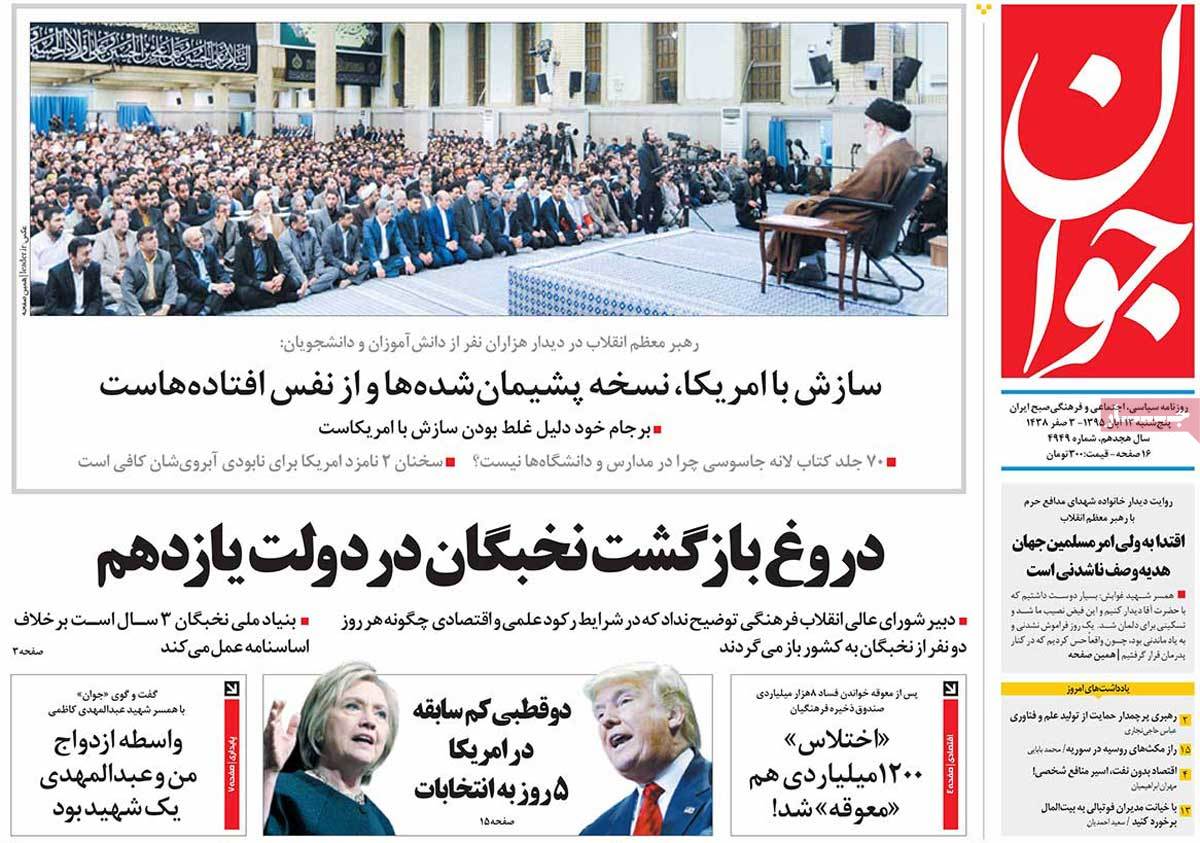 ---
Jomhouri Eslami:
1- Nationwide Demonstrations against US on Anniversary of Embassy Takeover
2- President: Anti-Arrogance National Day Is the Symbol of Fight against Foreign Colonialism and Also Domestic Tyranny
3- Yemen's Ansarullah: UN Envoy in Yemen Affairs Supports Aggressive Countries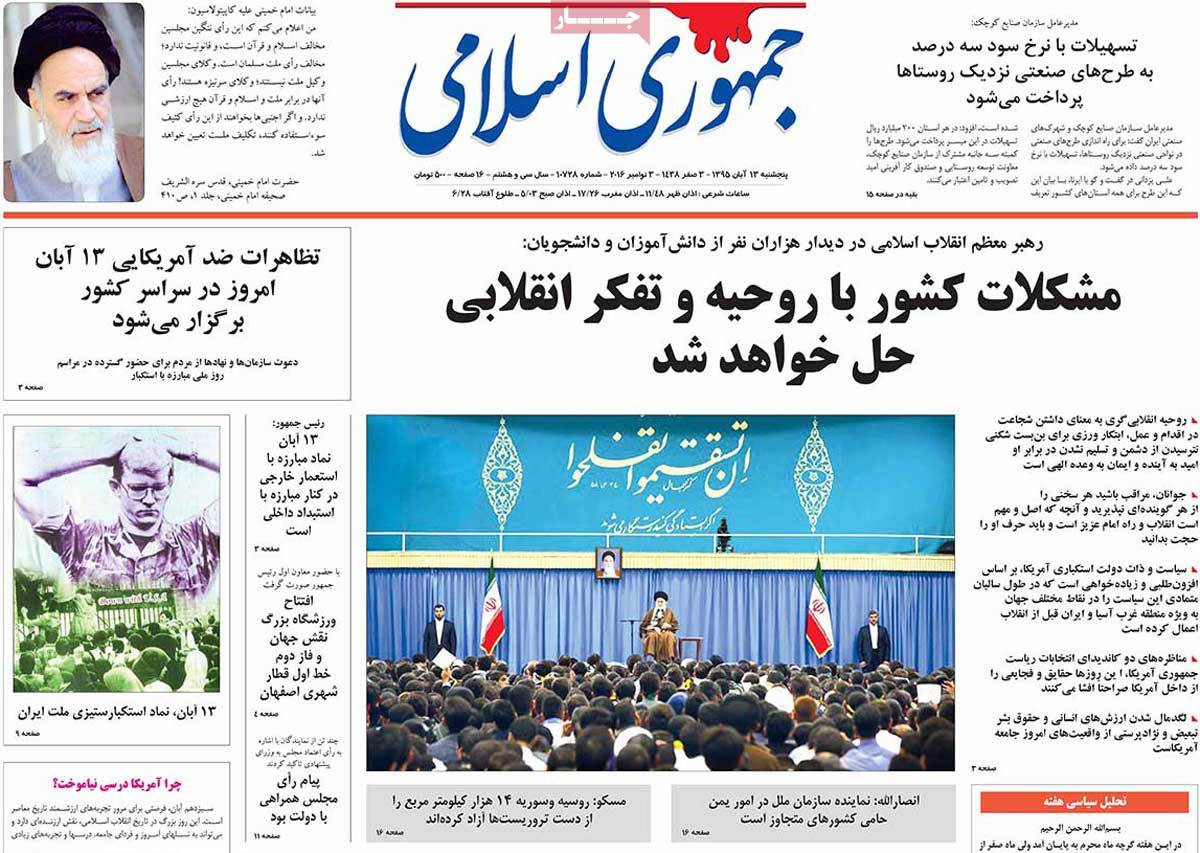 ---
Kayhan:
1- Leader: Compromise with US Will Exacerbate Iran's Problems; The Last Example Was JCPOA
2- Syrian FM: Death, Submission, or Escape Are the 3 Options Terrorists Have in Aleppo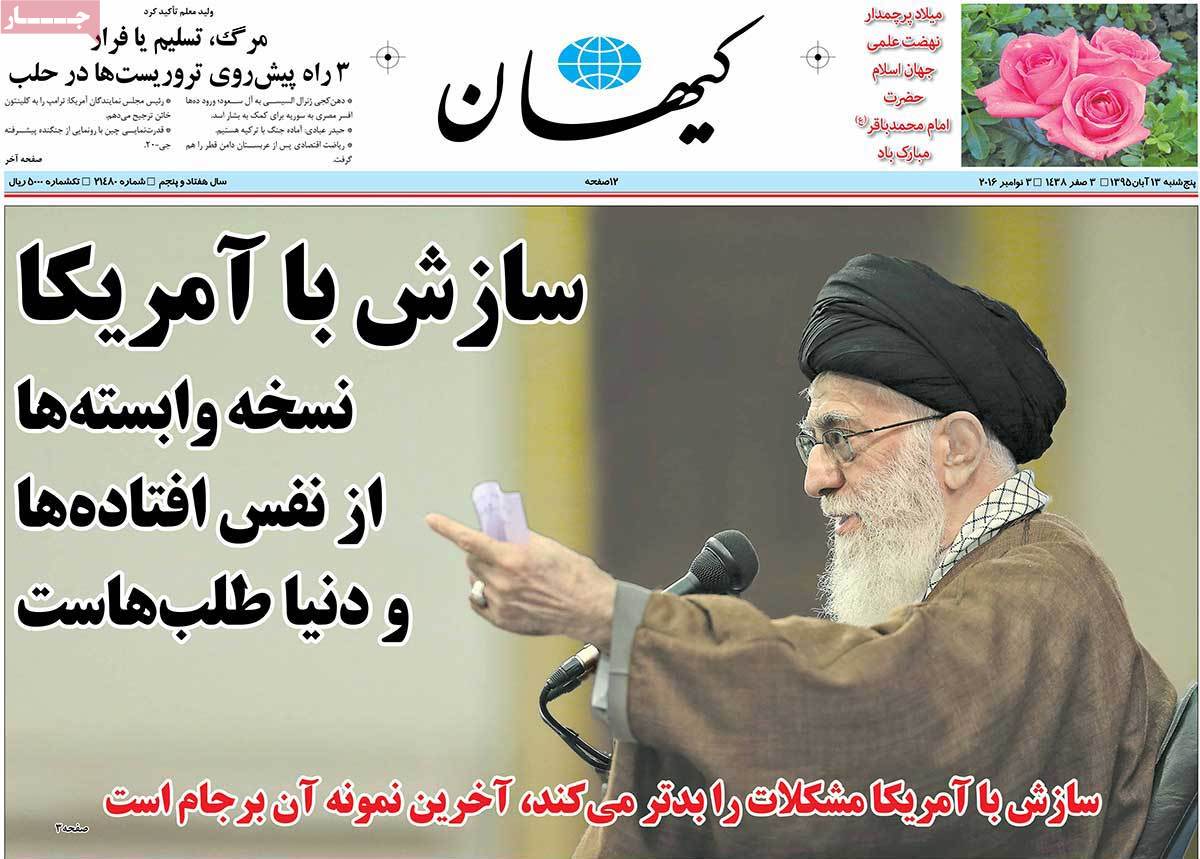 ---
Khorasan:
1- Kerry: Presidential Debates Have Made Me Embarrassed to Talk about Democracy
2- Health Minister: Leader Said the Meeting to Discuss Social Ills Is the Most Important Session of the Establishment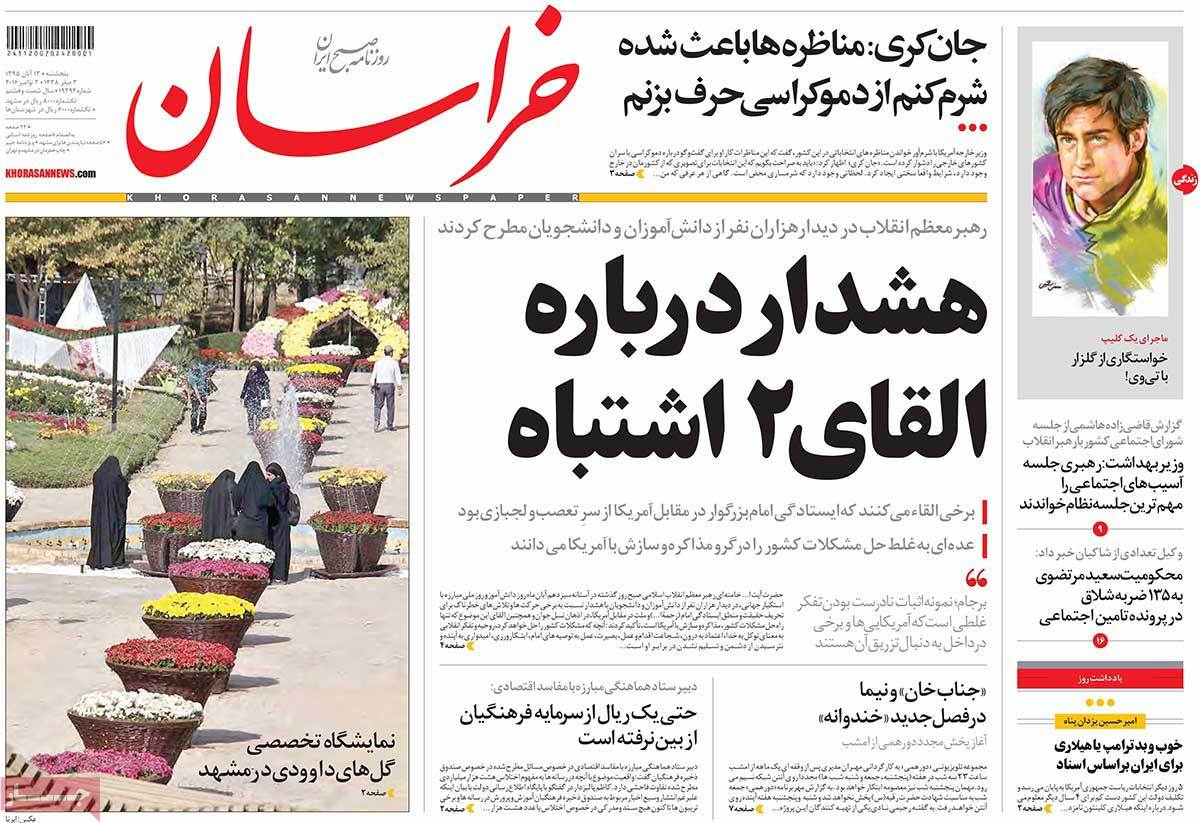 ---
Resalat:
1- Leader: Americans Are Deceitful and Stab You in the Back
2- IRGC General: US Seeks to Cause Insecurity in Eastern Iran
3- Iraqi PM: We're Ready to Fight against Turkey If They Look for a War
---
Shargh:
1- Exoneration of Those Who Were Accused of Destructing Saudi Embassy; Some Convicts Are Sentenced to 6 and 3 Months in Prison Because of Disturbing Public Order
2- Saudi Government Has Not Filed Any Lawsuit over Destruction of Saudi Embassy: Lawyer