The top story in all newspapers today was the remarks made by the Leader of Iran's Islamic Revolution Ayatollah Seyyed Ali Khamenei in a Tuesday meeting with top navy commanders.
During the meeting, Ayatollah Khamenei urged the naval forces to continue their rapid progress and expand their presence in the high seas.
The controversial allegations raised by former Iranian President Mahmoud Ahmadinejad and the Judiciary's response to the claims also received great coverage today.
Several papers also covered the comments made by Iranian President Hassan Rouhani in his televised interview on Tuesday night, in which he talked about the performance of his administration in the first 100 days of his second term in office.
The above issues, as well as many more, are highlighted in the following headlines and top stories:
19 Dey:
1- Judiciary Spokesman: Decision to Be Made about Ahmadinejad Soon
2- New York Times: Zarif, Soleimani Most Popular in Iran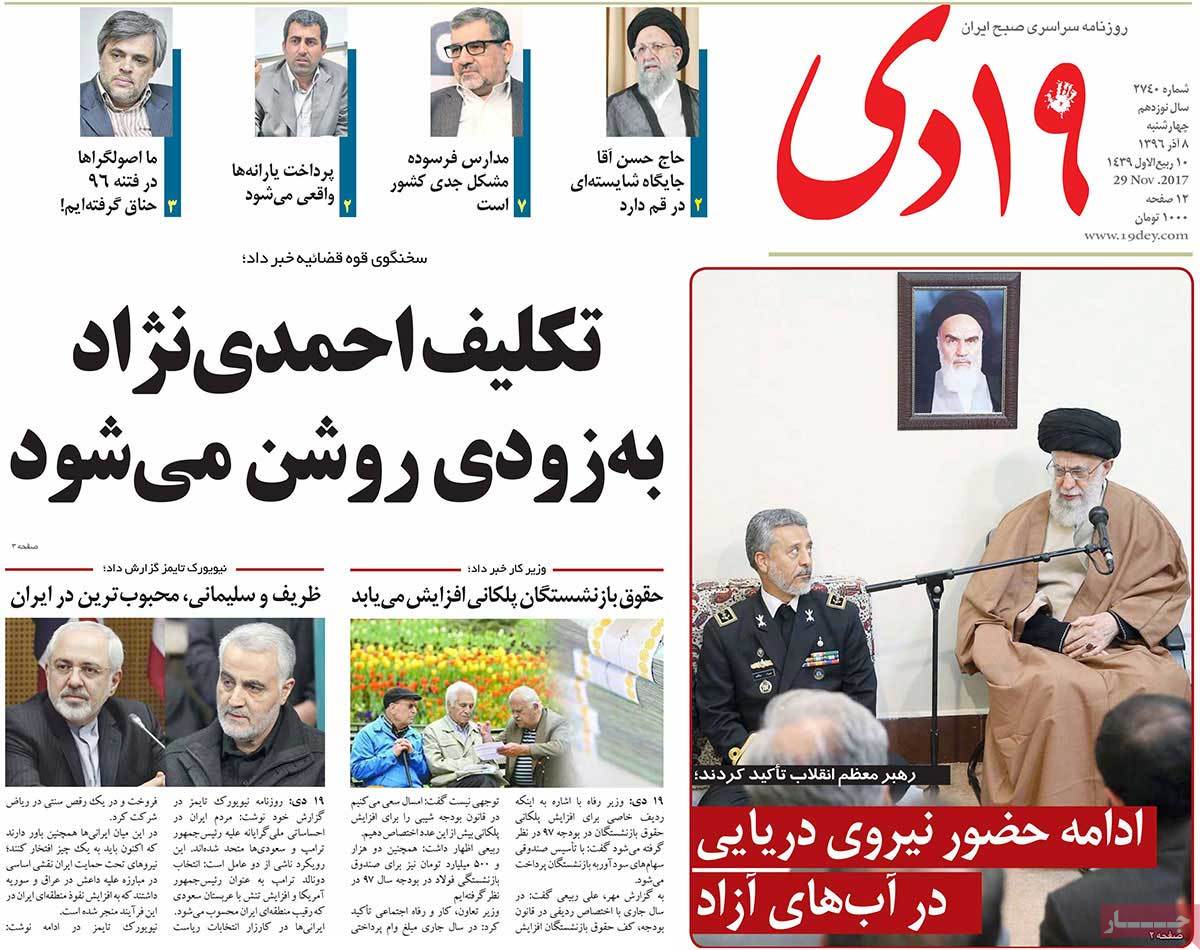 ---
Abrar:
1- Judiciary Spokesman: Ahmadinejad Has Gotten Used to Telling Lies
2- Turkish PM: We Can't Accept Assad Staying in Power
---
Afkar:
1- Bolivian President: US Worst Threat for Mankind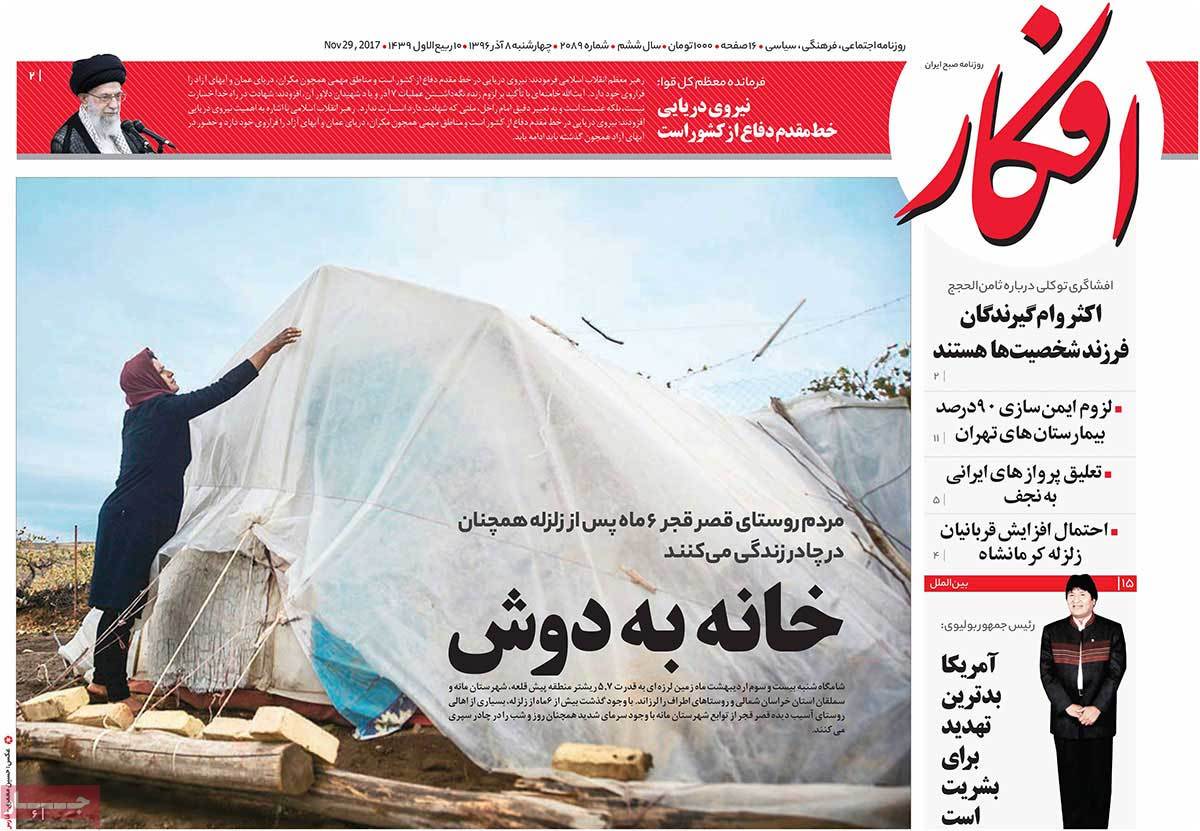 ---
Aftab-e Yazd:
1- Ayatollah Khamenei Urges Navy to Continue Its Rapid Progress
2- Rouhani: People in Earthquake Compensated for Government's Deficiencies
3- Judiciary Spokesman: Ahmadinejad Accustomed to Telling Lies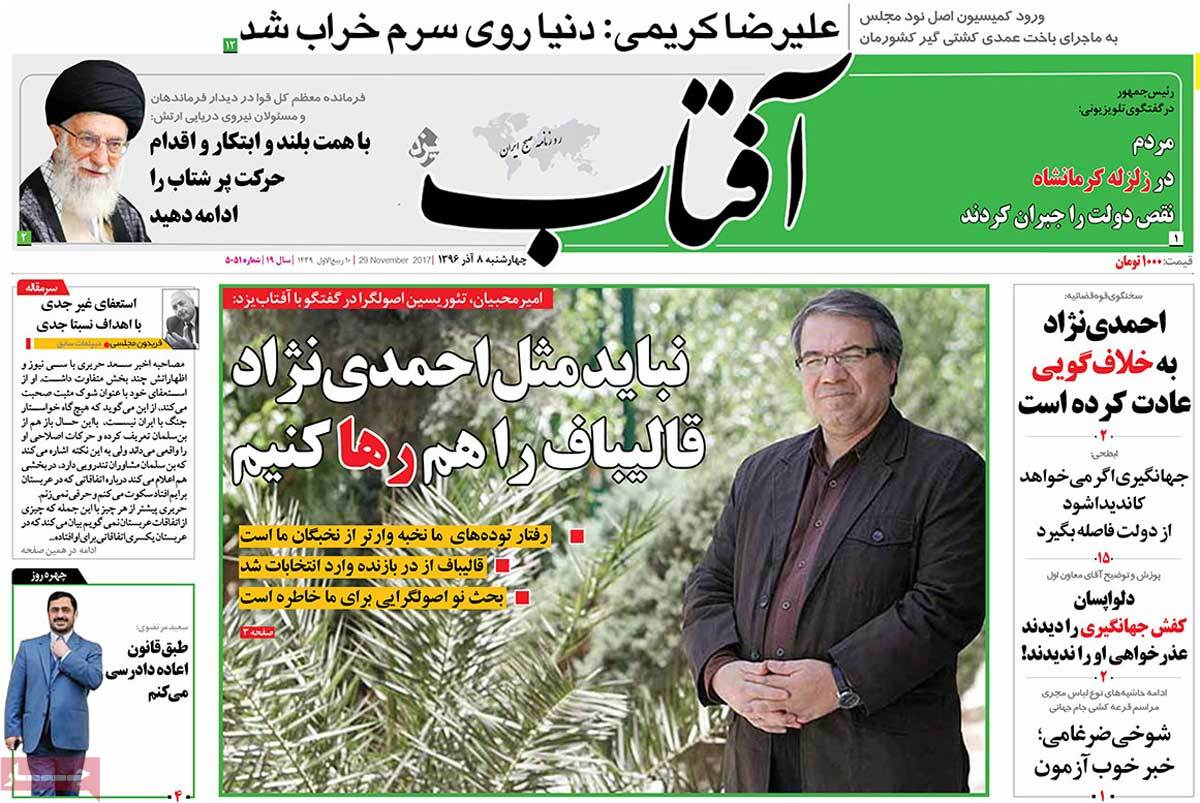 ---
Arman-e Emrooz:
1- Iran Leader: Presence in High Seas Should Be Continued like Before
2- Rouhani: I Haven't Forgotten Any of My Campaign Promises
---
Asrar:
1- Lavrov: Iran Nuclear Deal in Danger
---
Besharat-e Now:
1- Rouhani's Aide: Citizens' Rights to Be Added to School Books in Coming Weeks
---
Ettela'at:
1- Rouhani: We've Started Plan to Eradicate Absolute Poverty
2- Richard Haass: Policies of Riyadh, Washington Have Made Iranians More United
---
Hemayat:
1- AFC Officially Declares No Match Played in Neutral Venue
Saudi Teams Must Come to Iran
---
Javan:
1- Rouhani: We Won't Have Serious Fluctuation in Forex Rates
---
Jomhouri Eslami:
1- Parliament to Resolve Issue of Religious Minorities' Membership in Local Councils
---
Kayhan:
1- Rouhani: We Hope People Are Satisfied with Our Promise Fulfilment in First 100 Days!
2- Middle East Online: Iran, Allies Have Removed US from Syria Equations
3- A Report on the Fuss Made by Zionist Regime's Mercenaries on Wrestling Match
The Champion Who Refused to Be Complicit in Massacre of Palestinian Children
---
Resalat:
1- Iran Leader Urges Naval Forces to Continue Presence in High Seas
2- Navy Commander: Iran's Presence in Mediterranean Sea Has Intimidated Israel
3- Israeli Top General: Tel Aviv Should Tolerate Iran's Presence near Its Borders