The top story in all Iranian newspapers was the continued efforts to help the quake-hit people. Several papers particularly highlighted the visit of First Vice-President Es'haq Jahangiri to Kermanshah Province and his remarks after the visit.
The Prosecutor General's response to ex-president Mahmoud Ahmadinejad's claims and allegations also received great coverage.
A number of papers also covered the controversial defeat of Iranian wrestler Alireza Karimi in a match against his Russian rival. He reportedly lost the match intentionally to evade a later match against an Israeli wrestler.
The above issues, as well as many more, are highlighted in the following headlines and top stories:
19 Dey:
1- Iran First VP: Gov't to Stand by Quake-Hit People until Last Moment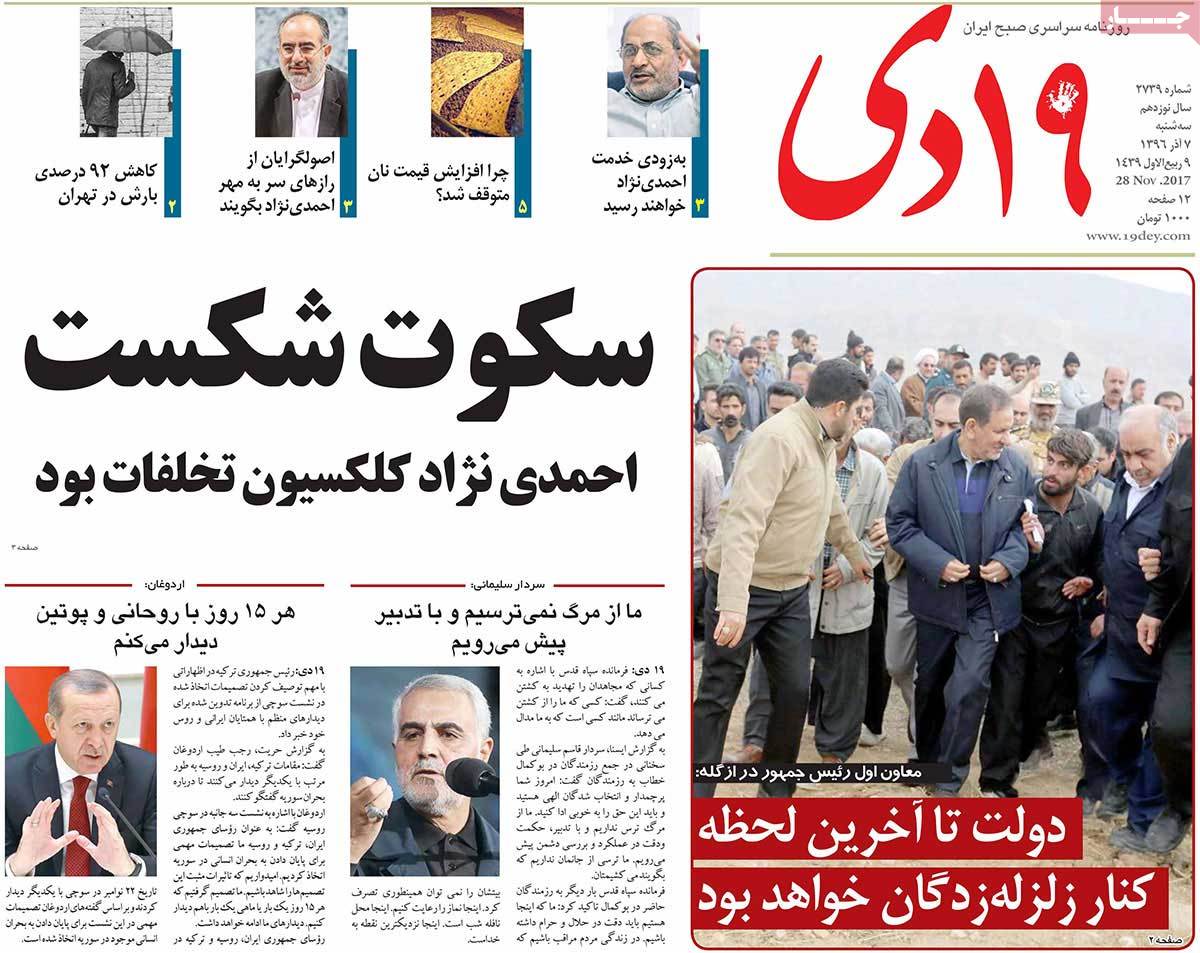 ---
Abrar:
1- Prosecutor General Responds to Ahmadinejad's Claims
2- Netanyahu in Message to Assad: We'll Interfere If Iran Builds Military Base in Syria
3- Larijani: Trump Looking for Iranophobia
---
Afkar:
1- General Soleimani: It's Honour for Us to Be Threatened to Death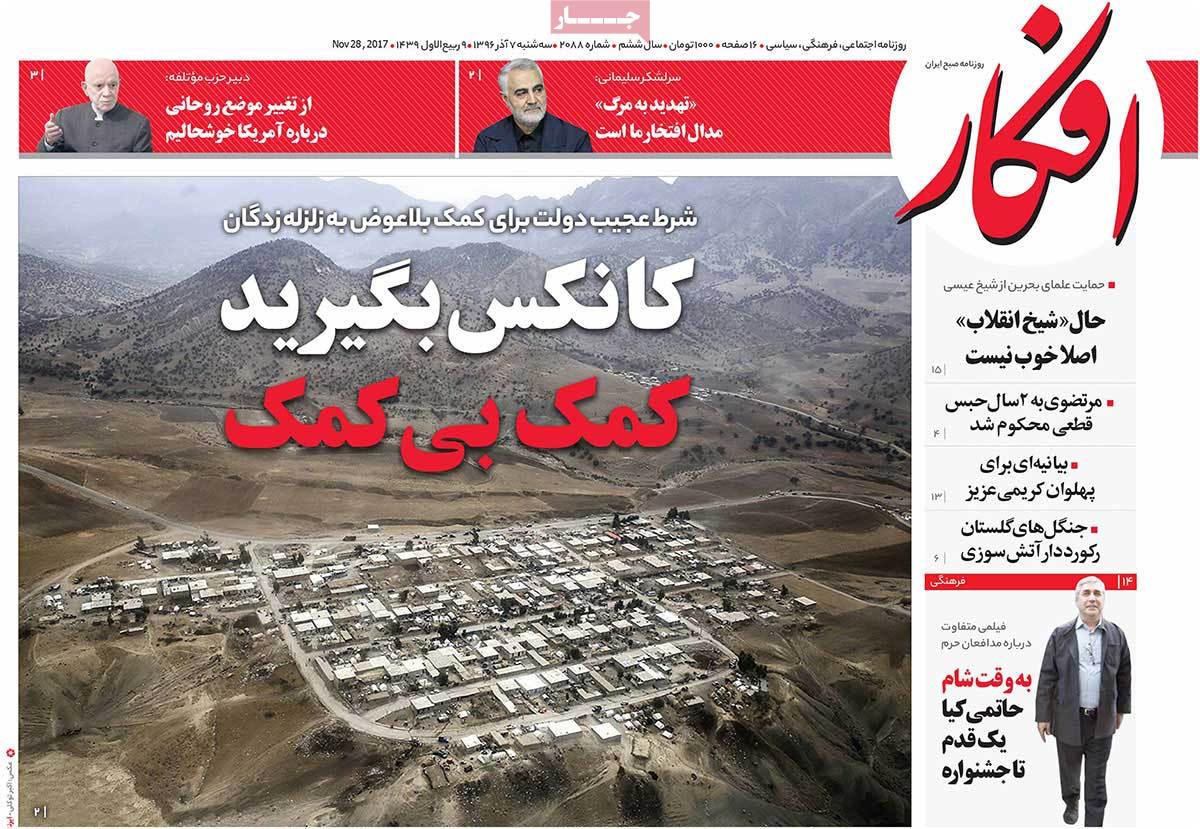 ---
Aftab-e Yazd:
1- You Are the Champion: Defeat of Iranian Wrestler Sparks Controversy
2- Veteran Conservative: Ahmadinejad Will Soon Be Punished
3- Sociologist: Crisis Management Organization Should Be Shut Down, People Put in Charge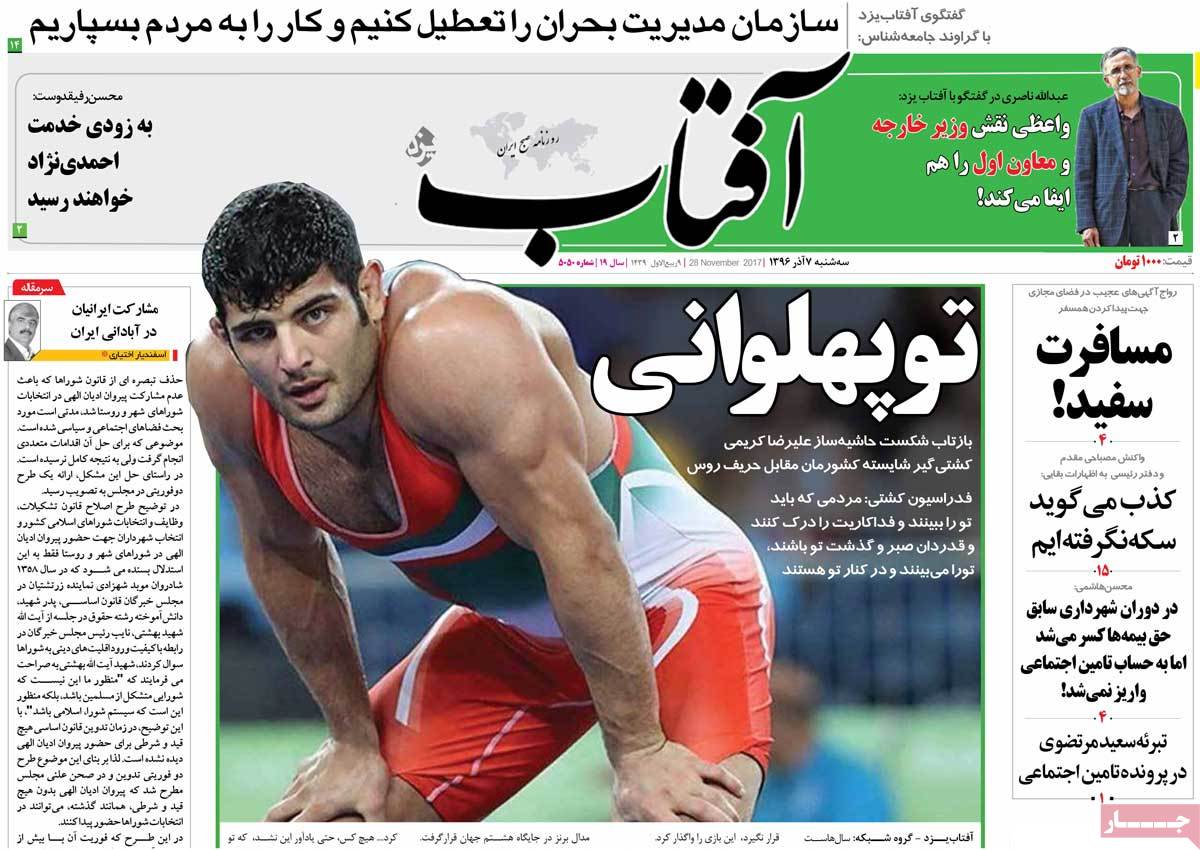 ---
Arman-e Emrooz:
1- Prosecutor General to Ahmadinejad: You're Collection of Offences!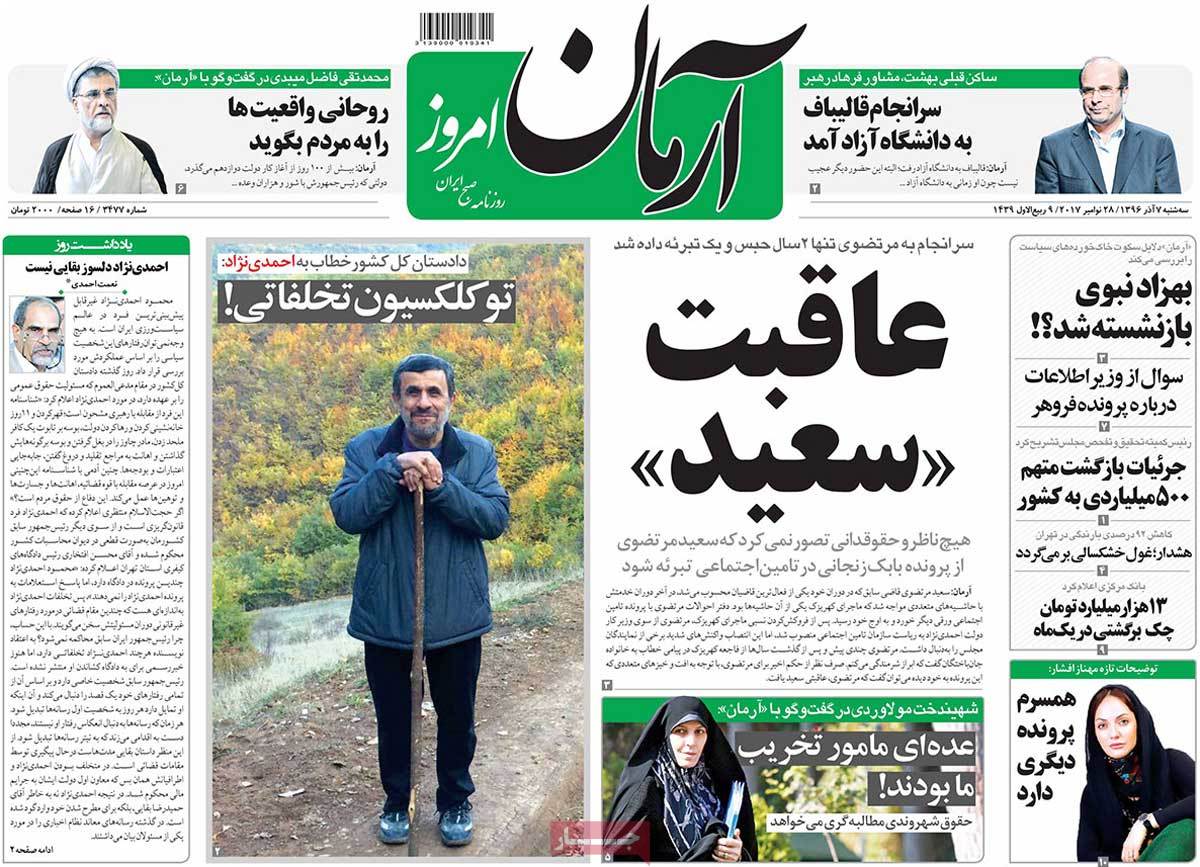 ---
Ebtekar:
1- Unity of Shiites, Sunnis in Afghanistan to Foil Enemy Plots: Iran's Hashemi Shahroudi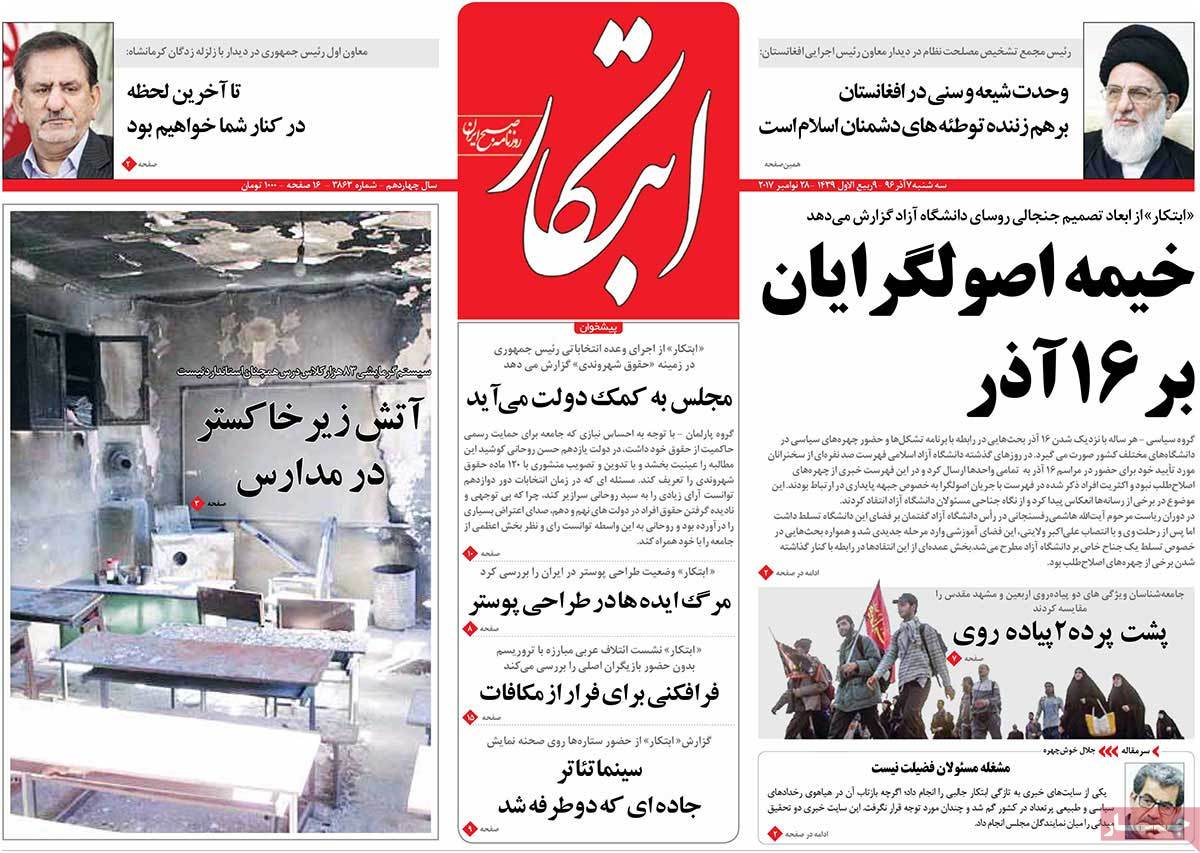 ---
Etemad:
1- Religious Minorities Hopeful about Parliament's Vote
MPs to Discuss Membership of Religious Minorities in Local Councils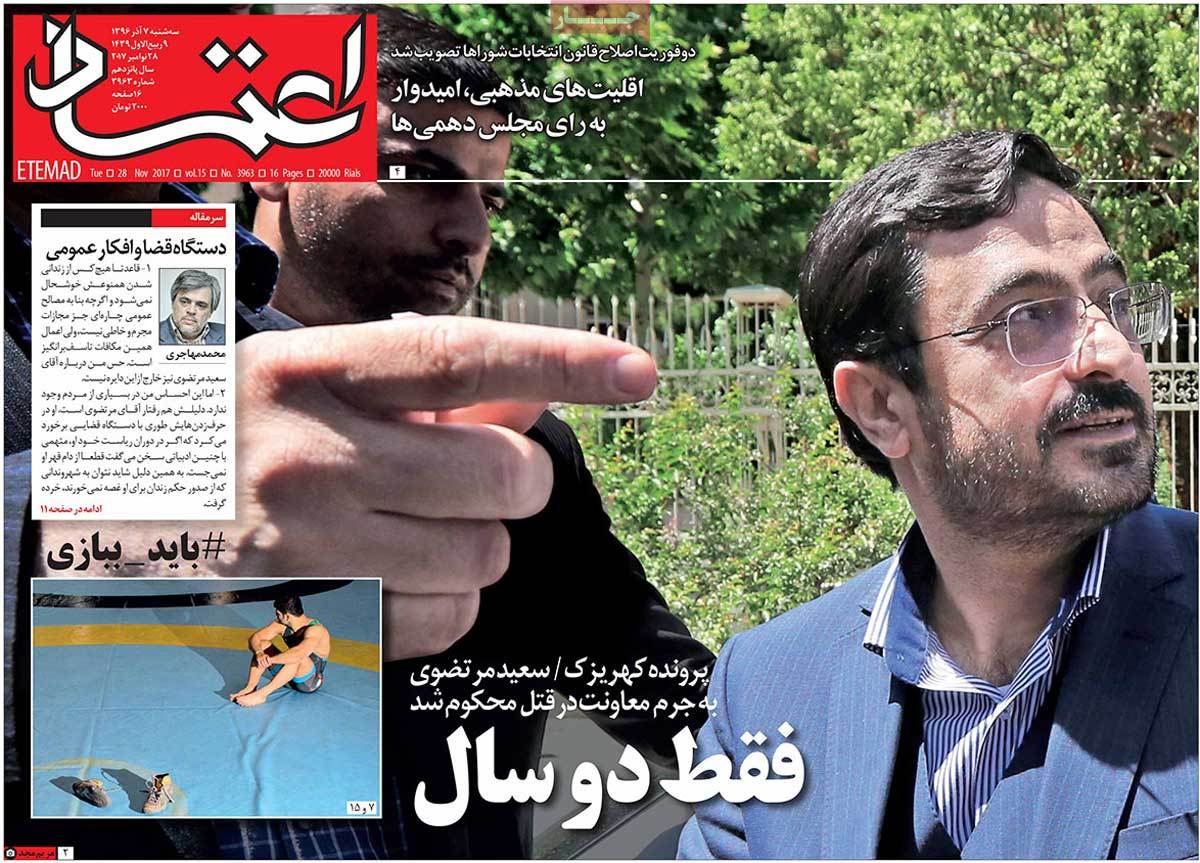 ---
Ettela'at:
1- Larijani: Iran's Diplomacy Based on Resolution of Regional Conflicts
2- Washington Post: Saudi Arabia's Game for Undermining Hezbollah Failed
3- New York Times: General Soleimani, Zarif Key to National Unity in Iran
---
Iran:
1- Eight Members of Cabinet in Quake-Hit Areas
2- Lebanon Target of Foreign Pressure: Analysts Discuss Lebanon's Complicated Situation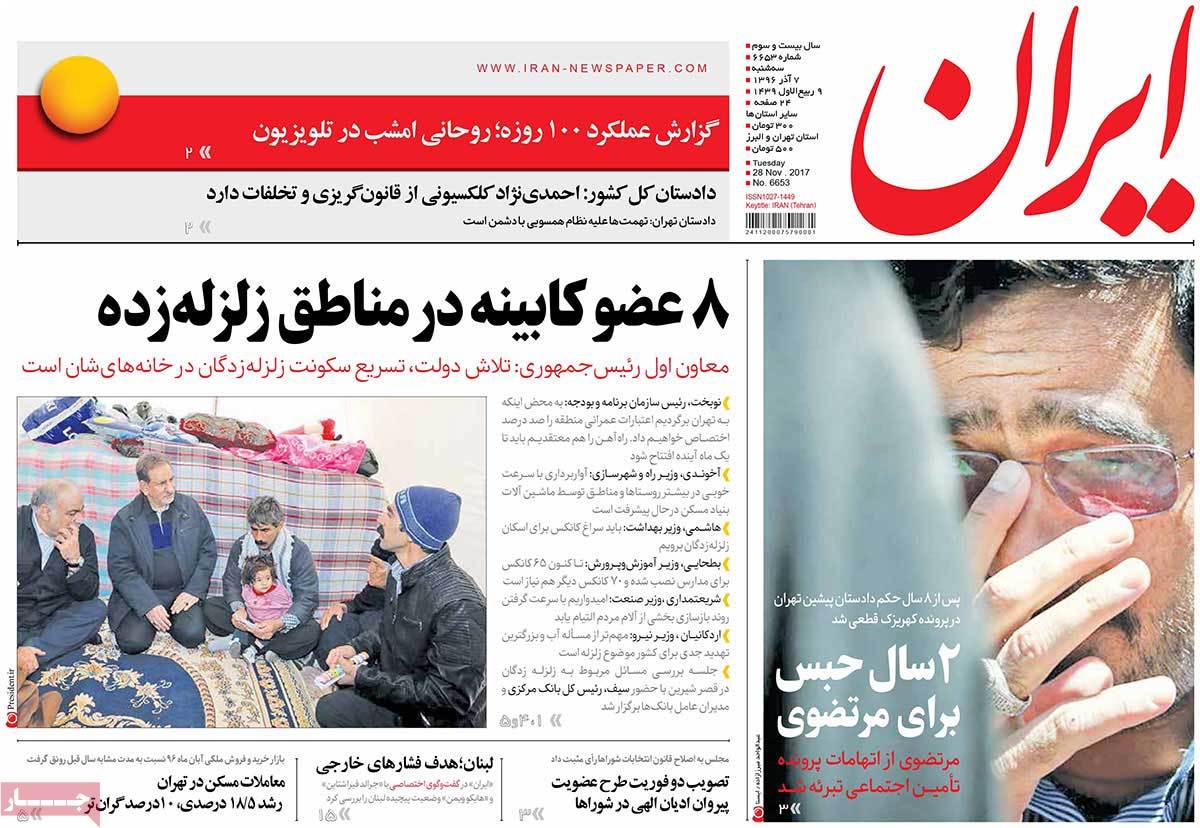 ---
Jame'eh Farda:
1- Victory over ISIS, Return of Security to Iraq, Syria Made Iran's Hands Full
Why Should Iran Negotiate over Its Missiles
---
Javan:
1- IRGC Building 400 Container Houses a Day for Quake-Hit People
2- IRGC Lieutenant Commander: Threats Determine Range of Our Missiles
3- Father of Terrorism Hosts Counter-Terrorism Coalition
Conference of Anti-Terrorism DMs Held in Riyadh
4- Al Khalifa Gradually Killing Sheikh Qassim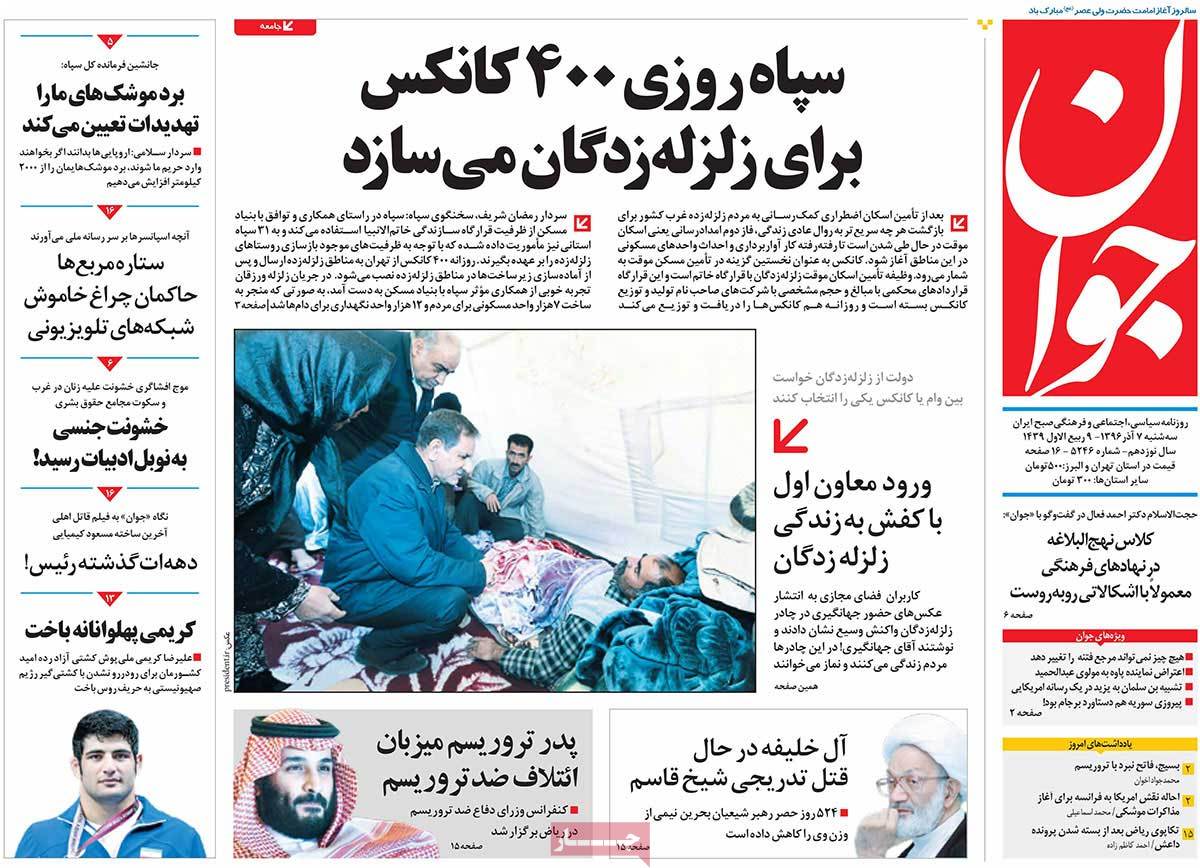 ---
Jomhouri Eslami:
1- EU to Stand by Iran on JCPOA Regardless of Trump: EP Diplomat
---
Kayhan:
1- Tonight, Rouhani Expected to Talk about How Much He Fulfilled Promises in 100 Days
2- Sheikh Qassim, Leader of Bahraini Shiites, in Dire Health Conditions
3- Petchem Firms Still Have Problems in Money Transfer
4- Ditching Dollar and Its Impacts against Sanctions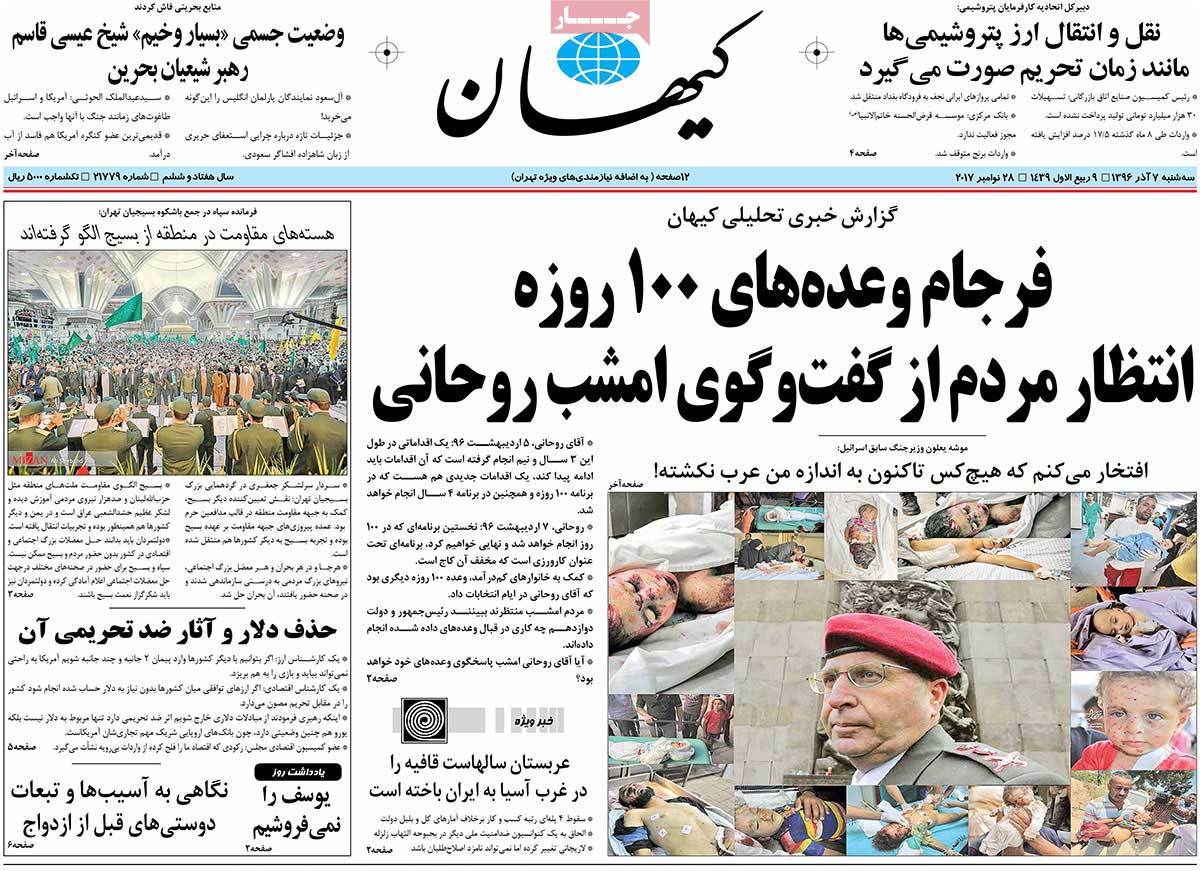 ---
Rooyesh-e Mellat:
1- Earthquake More Serious Threat than Water: Energy Minister
---
Shargh:
1- Iran First VP: Construction Companies to Be Held Accountable for Quake Damages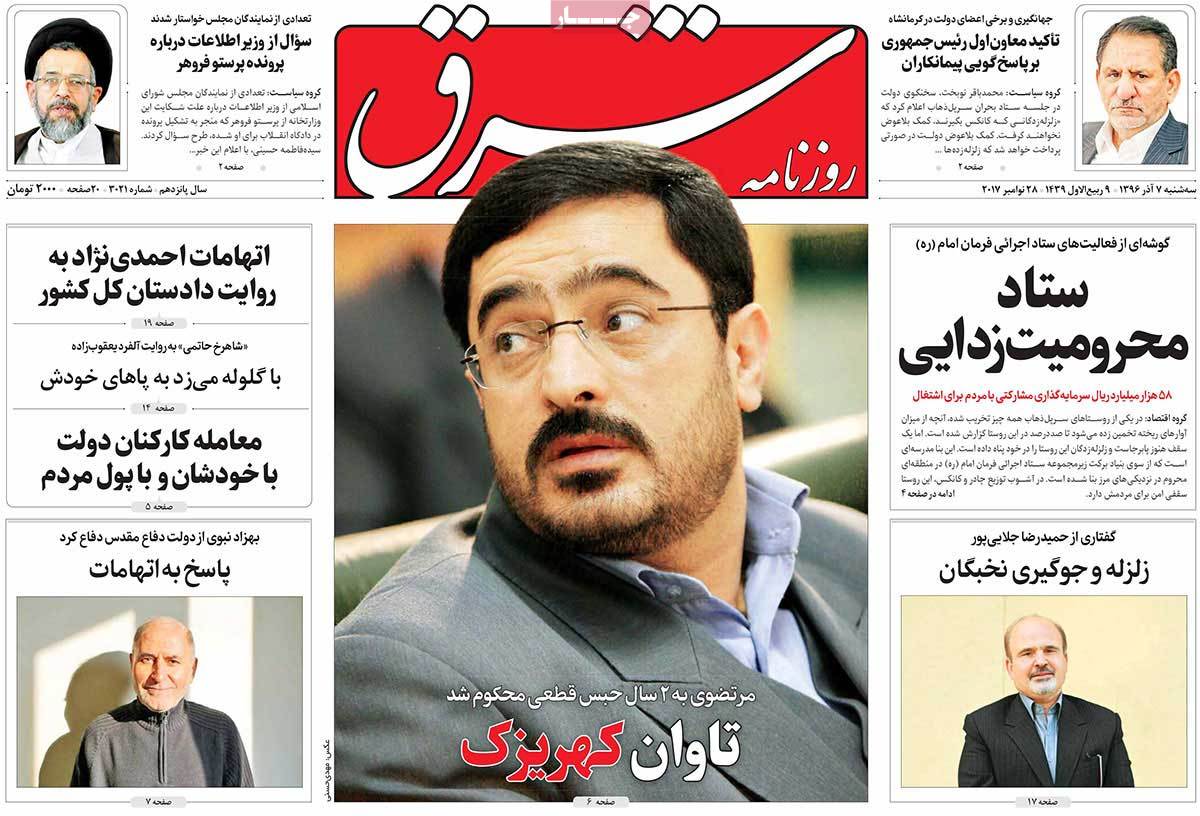 ---
Siasat-e Rooz:
1- IRGC Chief-Commander: Cores of Resistance Formed in Mideast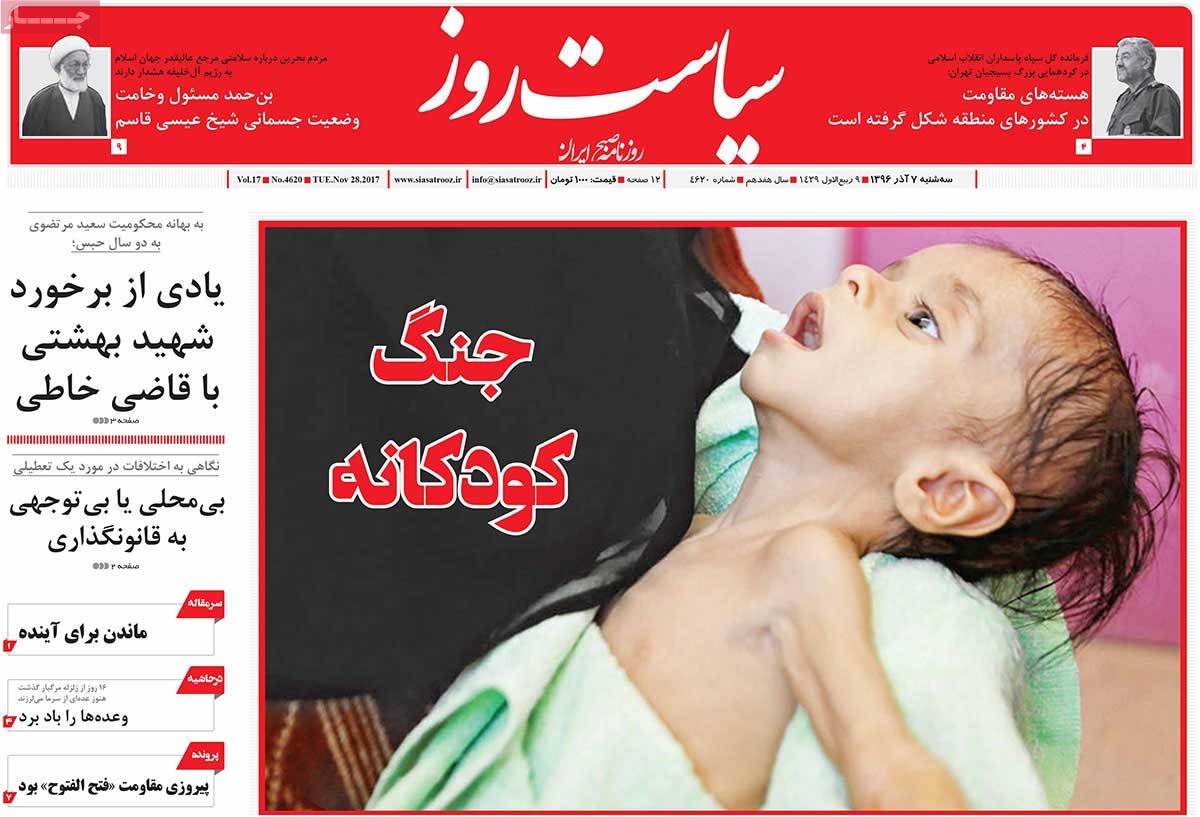 ---
Vatan-e Emrooz:
1- New Yazid of the Middle East
National Interest Compares Saudi Ambitious Crown Prince with Yazid in Hostility towards Shiites