Several papers today covered the reactions to Saudi Crown Prince Mohammed bin Salman's anti-Iran remarks, particularly those by social media users, which were covered by Afkar newspaper.
A trilateral meeting between Iranian President Hassan Rouhani, Judiciary Chief Ayatollah Sadeq Amoli Larijani, and Parliament Speaker Ali Larijani on domestic and international issues also received great coverage.
Also a top story was the efforts underway in western Iran to help the quake-hit people recover.
The above issues, as well as many more, are highlighted in the following headlines and top stories:
Abrar:
1- Terrorist Attack on Egypt's Arish Mosque Globally Condemned
2- White House: We're Committed to Supporting Saudi Arabia against Iran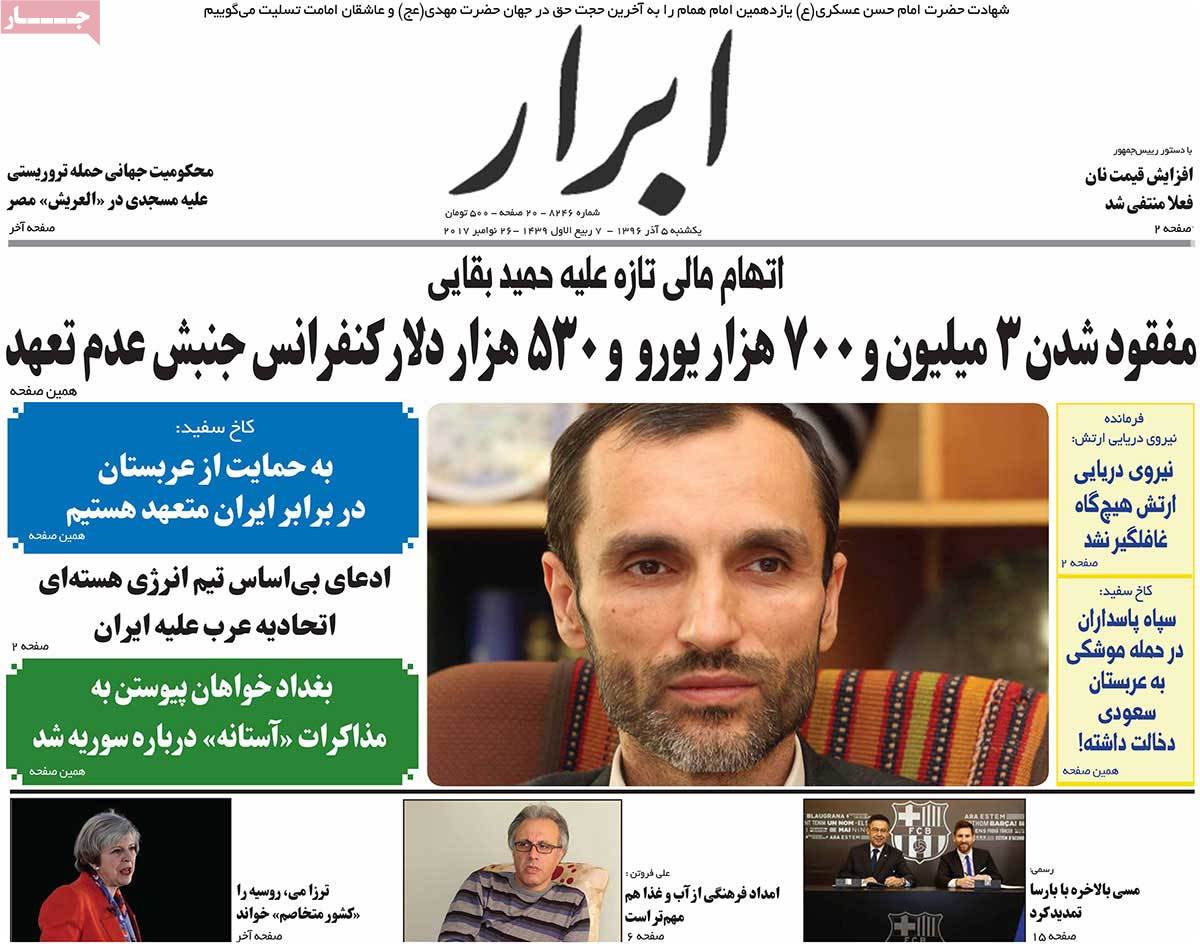 ---
Afkar:
1- #Bin_Hitler: Social Media Users Condemn Saudi Crown Prince's Nonsense Remarks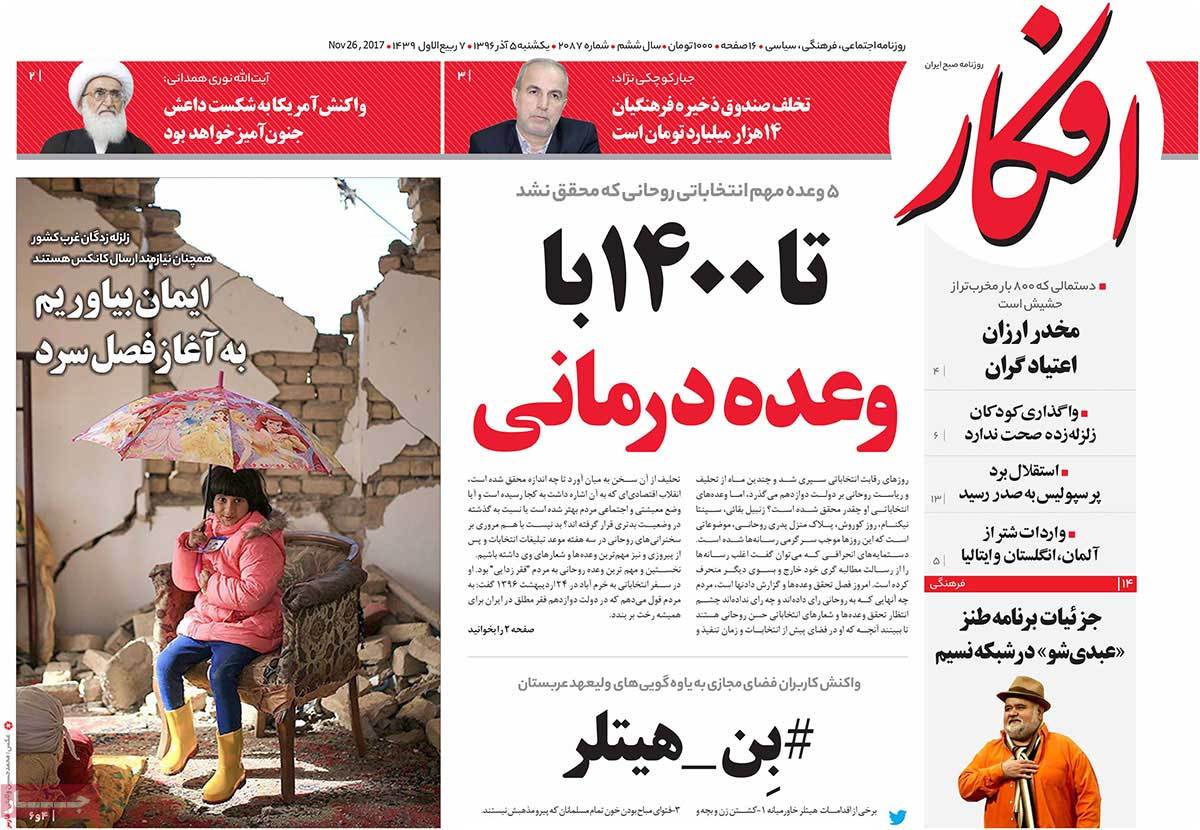 ---
Aftab-e Yazd:
1- How Will Iran Reconstruct Iraq and Syria?
MP: Iran's Budget Not to Be Used
Lawmaker: We Won't Do Anything without Receiving Money
---
Arman-e Emrooz:
1- Analyst: We Should Beware of Bin Salman
2- Ahmadinejad Asks for Shamkhani's Help
---
Asrar:
1- Rouhani to Assad: Iran to Stand by Syrian Nation in Fight against Terror
2- US Underlines Its Continued Commitment to Iran Nuclear Deal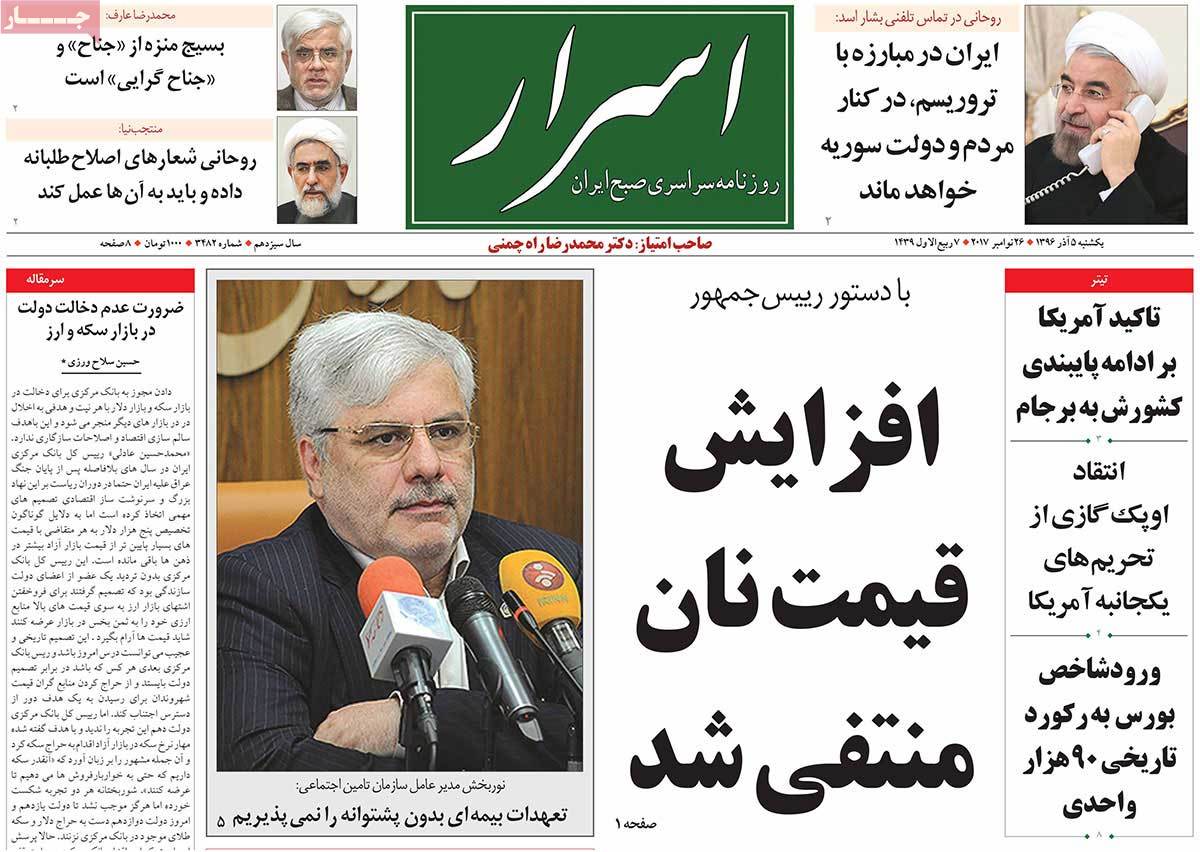 ---
Ebtekar:
1- Interior Minister: Building Temporary Houses for Quake-Hit People to Take One Month
2- Hashemi Shahroudi: Defeat of ISIS to Make Arrogance Hatch New Plots
3- End of ISIS, Survival of Daeshism: A Review of Emergence of Extremist Groups
---
Etemad:
1- Angles with Dirty Faces: Iranian Authorities Inefficient on Child Labour
2- Children's Rights [Editorial]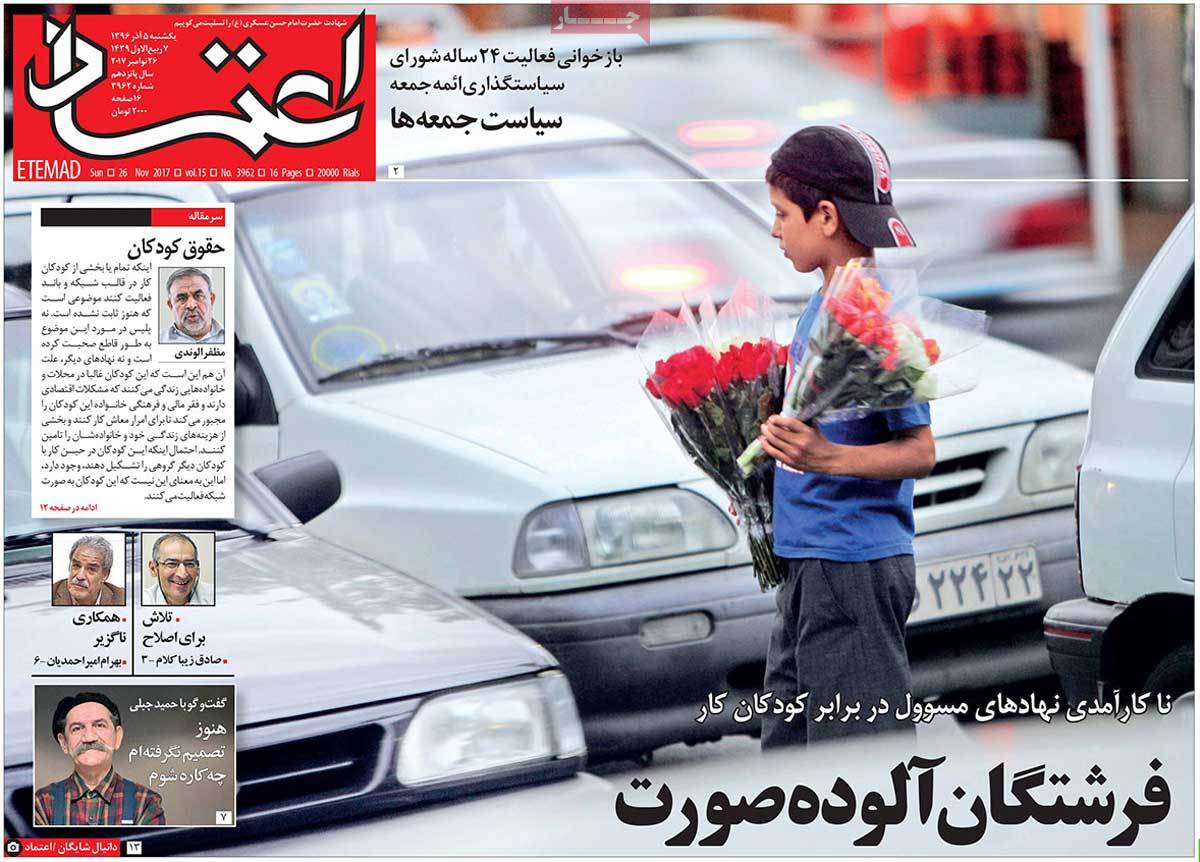 ---
Ettela'at:
1- Quake-Hit Students Go to School
2- Heads of Trio Branches of Power in Iran Discuss Domestic, Int'l Issues
3- Afghan Ex-President: Iran Leader Has Prominent Role in Fighting against ISIS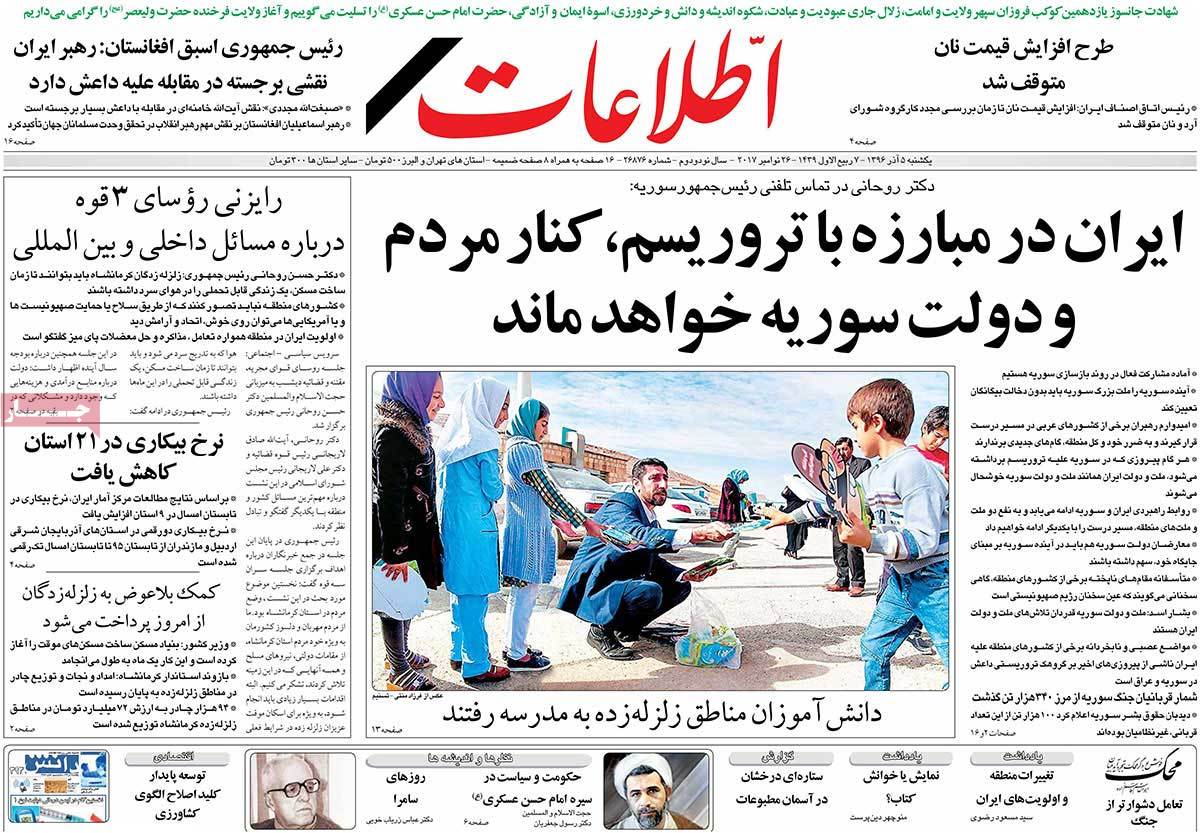 ---
Iran:
1- Rouhani: Iran's Priority Is to Resolve Regional Issues through Negotiation
---
Jame'eh Farda:
1- Ahmadinejad's Aide Threatens Judiciary to Disclose Secrets in a Video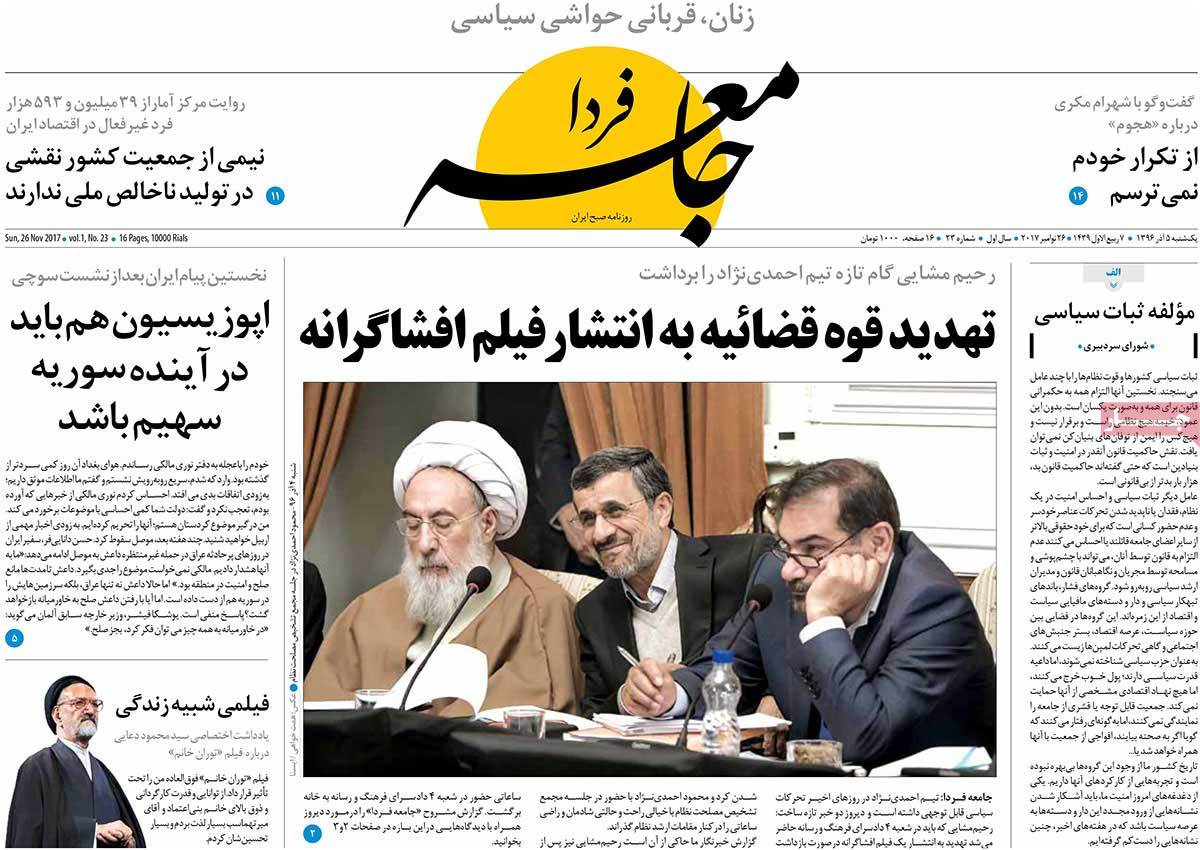 ---
Javan:
1- Foreign Camels, Fruit of Iran Nuclear Deal
Iran Imports $1.8m worth of Camels from Italy, UK, Germany, Asian States in One Month
2- Basij [Voluntary] Forces Stood by Quake-Hit People
3- Rouhani: Zionists behind All Regional Adventures
---
Jomhouri Eslami:
1- US Envoy to IAEA: Washington to Remain Committed to Iran Nuclear Deal
2- UNICEF: 23,000 Yemeni Infants Killed in Past Year as Result of Saudi Atrocities
3- Top Iranian Officials Praise People for Helping Quake-Hit Areas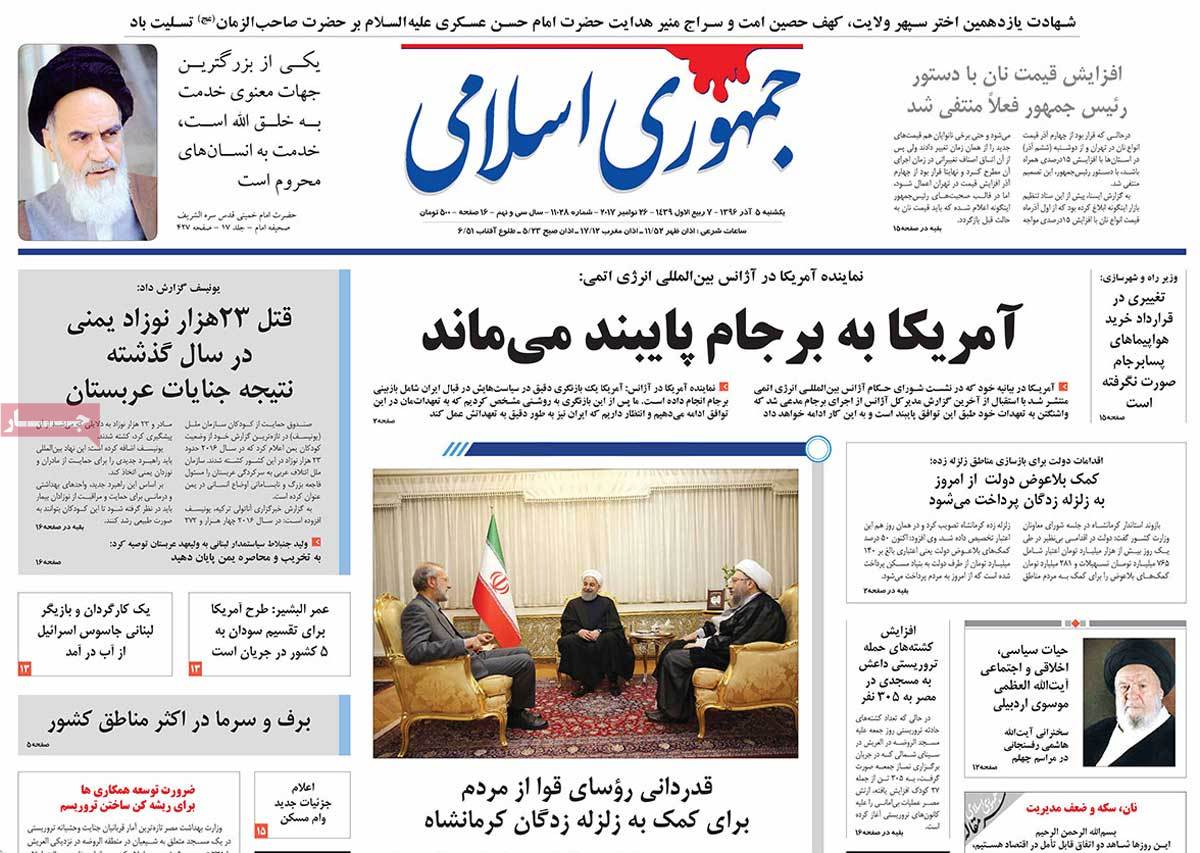 ---
Kayhan:
1- Efforts Underway to Undermine Resistance through FATF
2- Criticizing Bin Salman Deemed as Act of Terrorism Based on New Saudi Law!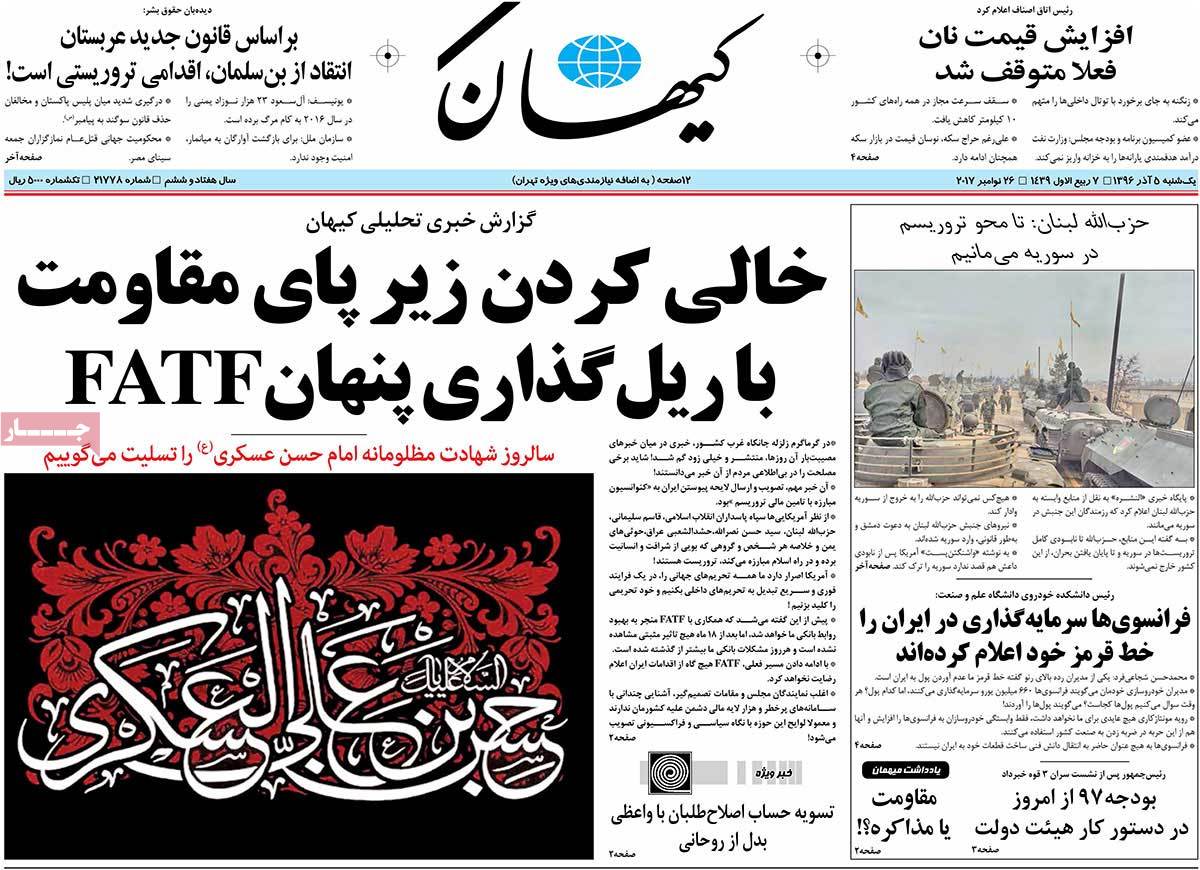 ---
Shahrvand:
1- Robust Houses of Iraq Built with Iranian Materials
Only 7 Killed in Iraq Earthquake Thanks to Strict Construction Rules in Iraq
2- Interview with 3 Families Who Gifted Their Most Valuable Assets to Quake-Hit People
---
Shargh:
1- Analyst: Change in Behaviours of Iran, Turkey Is a Tactic
2- Tehran Mayor: We'll Construct New Plasco Building
3- Hariri: We Don't Accept Hezbollah's Stances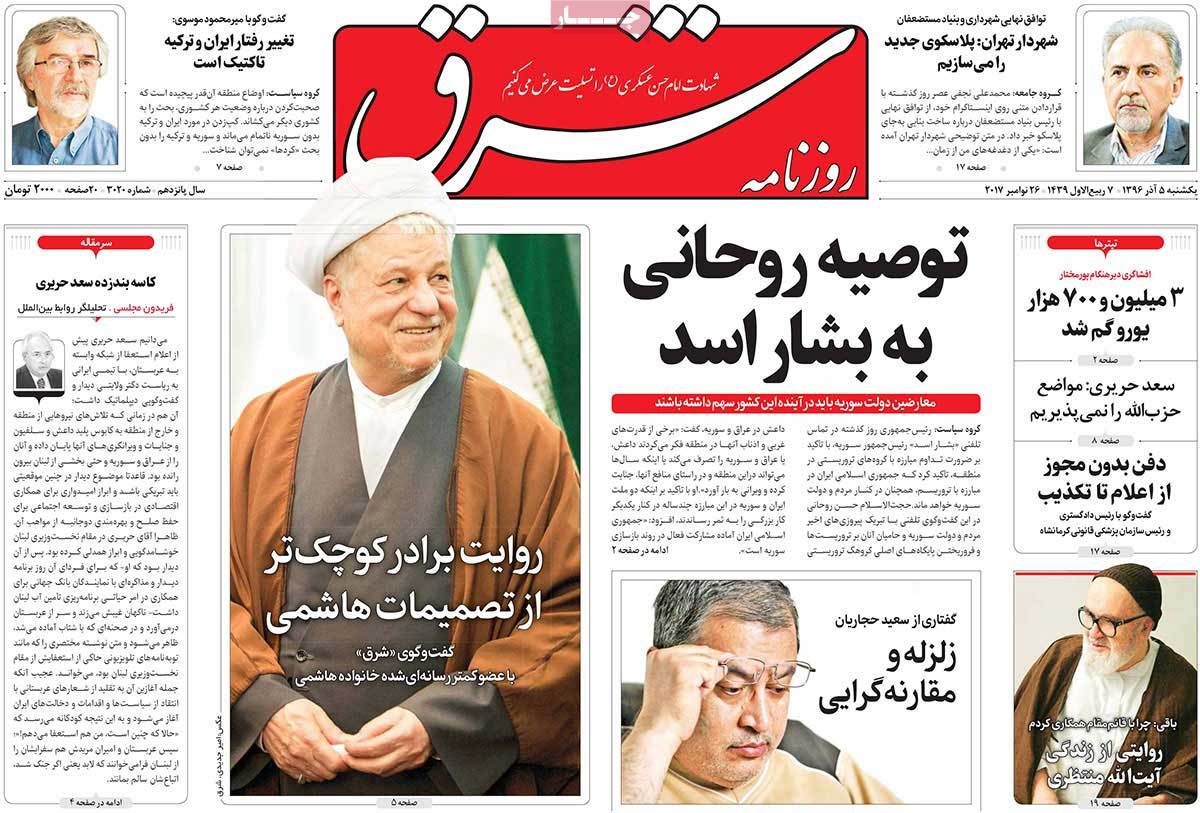 ---
Vatan-e Emrooz:
1- Burnt Twice by Same Flame
A Report on Amano's American Interpretation of JCPOA's Article T
IAEA Once Again Breaks Its Promises on Iran
2- Assad Bypasses Turkey