Several papers today covered the remarks made by the Leader of Iran's Islamic Revolution Ayatollah Seyyed Ali Khamenei in a meeting with a group of Muslims clerics from around the world. During the meeting, the Leader particularly highlighted the need for unity among Muslim countries and the removal of the 'cancerous tumour' of Israel.
A deadly terrorist attack on a mosque in Egypt's Arish also received great coverage. Iran has strongly condemned the attack, which has so far killed at least 235 people.
Also a top story was Saudi Crown Prince Mohammed bin Salman's anti-Iran comments, which were downplayed by the Iranian foreign ministry spokesman.
The above issues, as well as many more, are highlighted in the following headlines and top stories:
19 Dey:
1- Bloody Prayers in Egypt: Over 300 Killed, Wounded in Mosque Attack
2- Iran Leader: Unity of Muslim Society Very Necessary
3- Urban Development Minister: We'll Stand by Quake-Hit People until Last Reconstruction
---
Abrar:
1- Rouhani: Iran Sees Afghanistan's Peace, Stability Beneficial for Region
2- Larijani: Terrorists Migrating to Libya and Afghanistan
3- Bin Salman: With Trump's Support, We Seek to Create Anti-Iran Coalition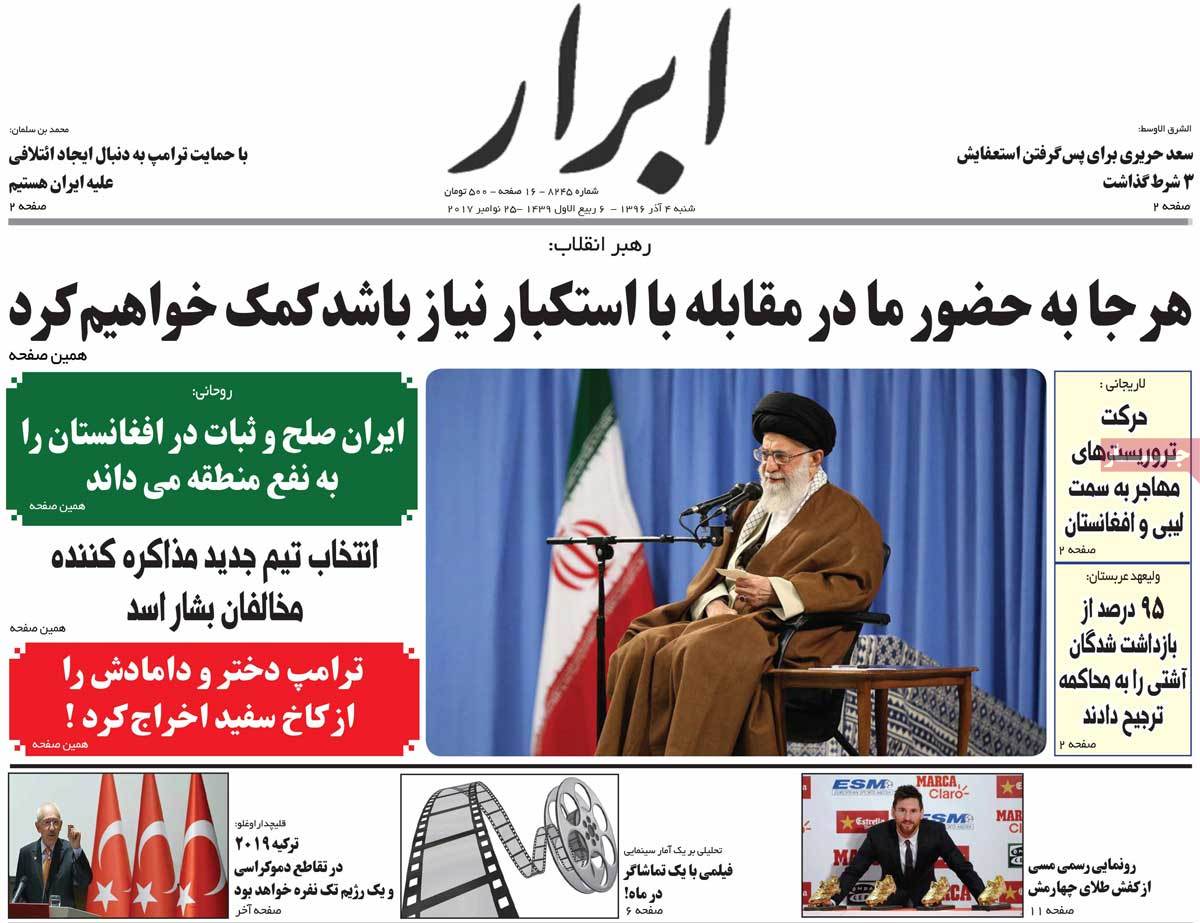 ---
Aftab-e Yazd:
1- Iran Leader: We'll Help Wherever Our Presence Needed for Countering Arrogance
2- IRGC Chief-Commander: We're Providing Yemen with Advisory Help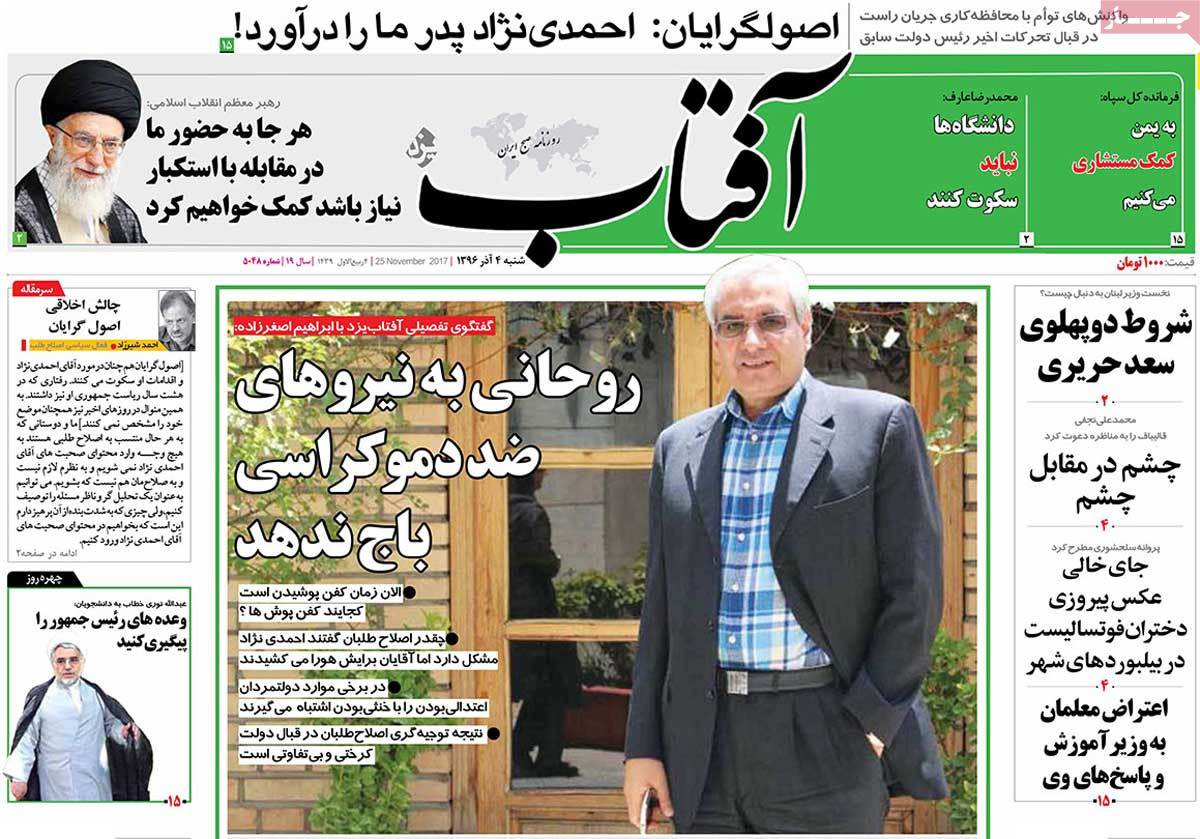 ---
Etemad:
1- Waiting for the Government: Latest Efforts to Legalize Ban on Violence against Women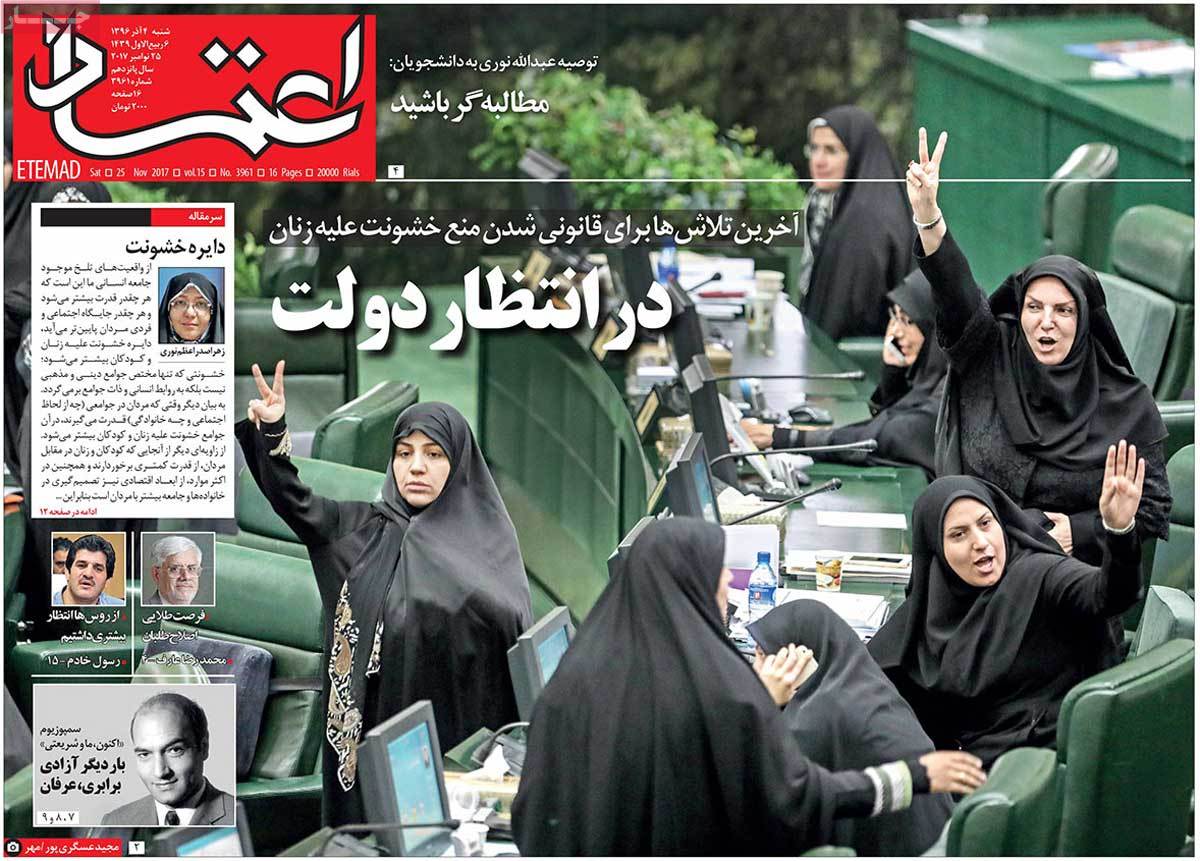 ---
Ettela'at:
1- Iran Top General: We're Ready to Prevent Seditions Similar to ISIS
2- Rouhani to Afghan President: We Should Be Vigilant against Divisive Enemy Plots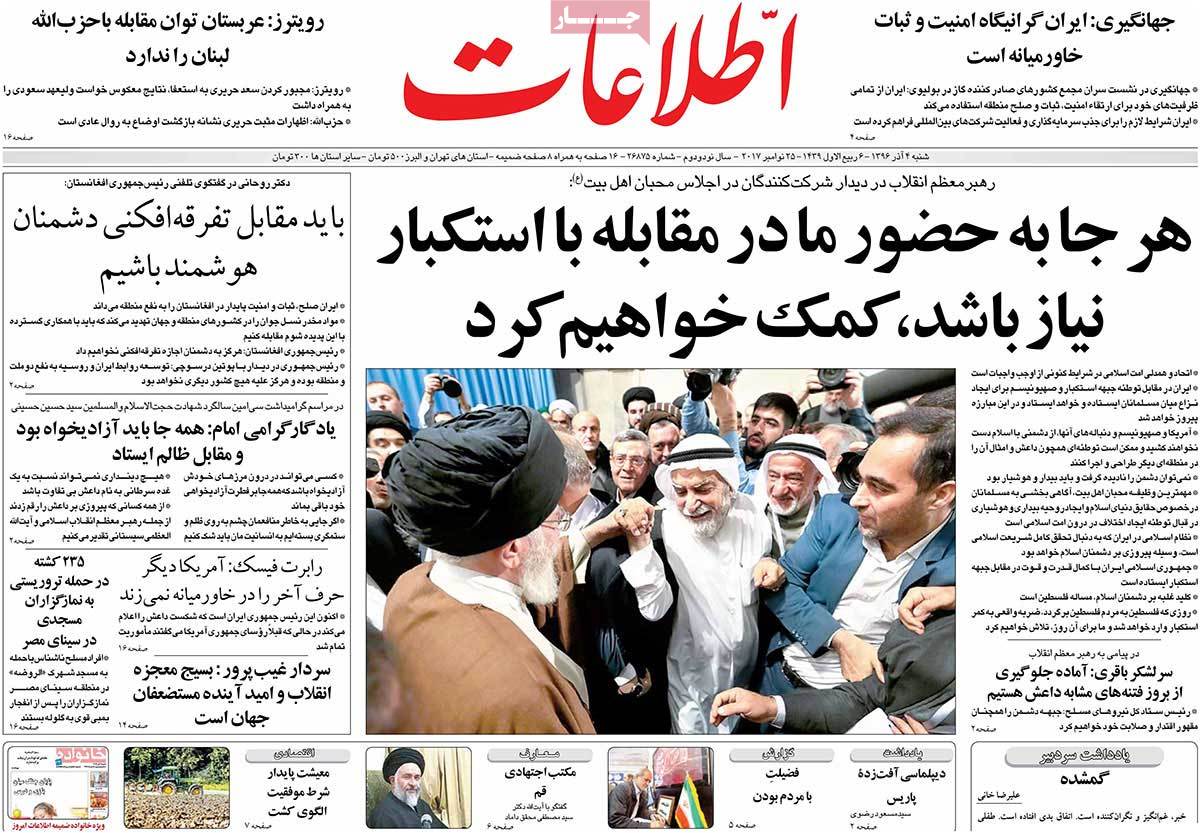 ---
Iran:
1- Reconstruction of Quake-Hit Areas Started Today
People to Live in Their Permanent Houses in Less than One Year: Minister
2- Iran First VP: No Country Benefits from Global Threats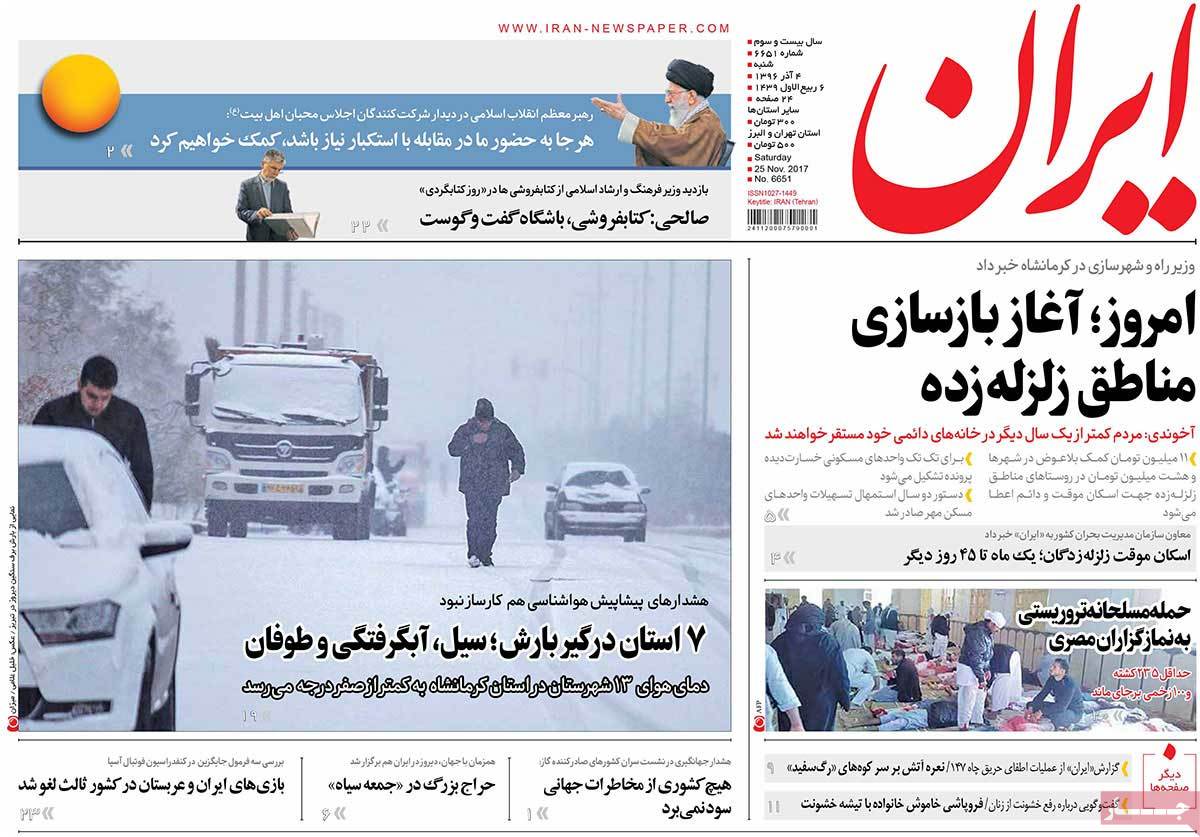 Javan:
1- IRGC Chief-Commander: For Now, We Exercise Self-Restraint towards Saudi Arabia
2- Expensive Bread for Domestic Market, Cheap Gas for Other Countries
Two Reports on Poor Supply of Bread, Waste of $135bn by Gas Dealers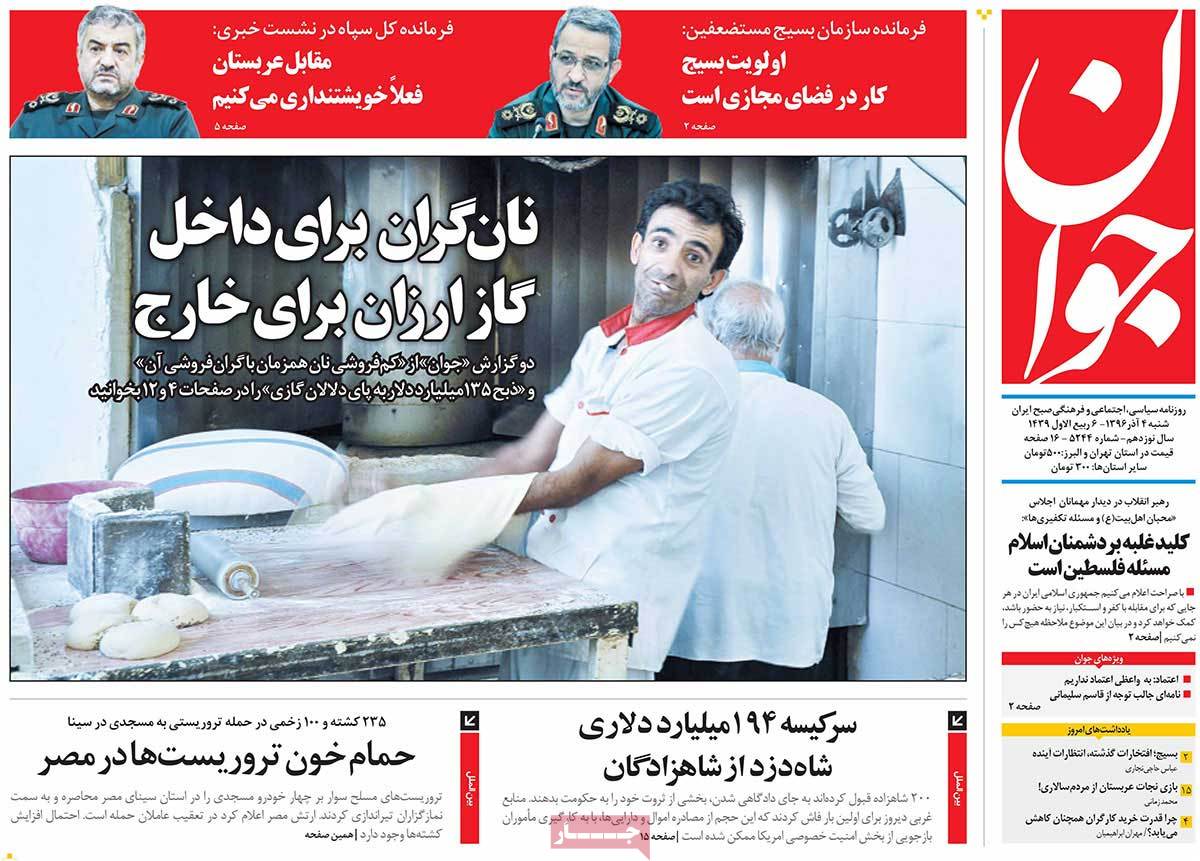 ---
Jomhouri Eslami:
1- Iran Leader: Love for Prophet Muhammad's Descendants Proper Ground for Muslim Unity
2- Iran Urges Saudi Crown Prince to Think about Regional Dictators' Fate
3- Robert Fisk: Time Has Chanted, US No Longer Has Final Say in Mideast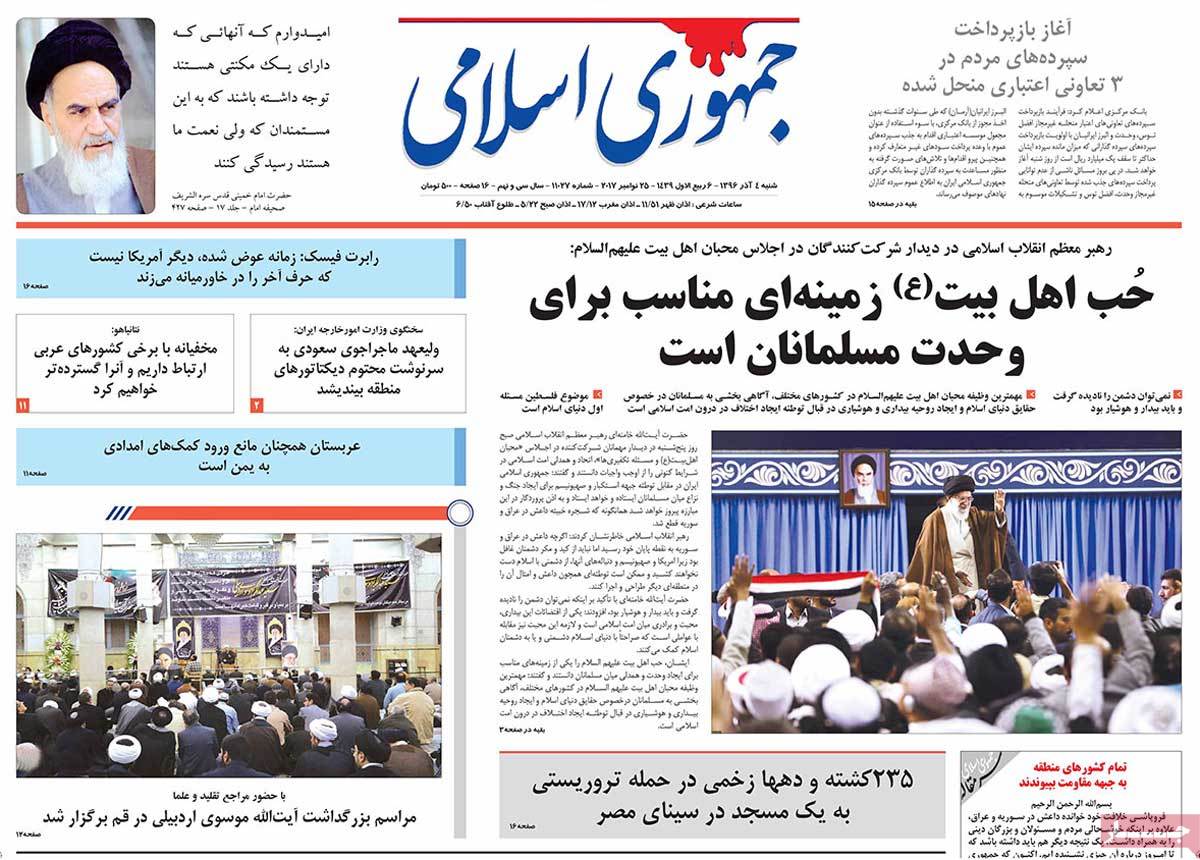 ---
Kayhan:
1- American Torturers Hanging Saudi Princes Opposed to Bin Salman Upside Down
2- Formation of ISIS Increased Preparedness of Resistance Front: IRGC Chief
---
Quds:
1- Over 500 Shiite, Sunni Clerics from 94 Countries Gather in Imam Reza Shrine
2- AFC Says Saudi Football Teams Should Come to Iran for ACL Matches
---
Resalat:
1- Iran Leader: US, Zionism Won't Stop Hostility towards Islam
2- IRGC Chief-Commander: We'll Show Restraint towards Saudi Arabia's Hostile Approach
---
Saheb Qalam:
1- First VP: Cooperation with Latin America Crucial in Iran Foreign Policy
2- Velayati: We're Proud of Iran's Regional Influence
---
Shahrvand:
1- Iran Earthquake Causes $1.4 Billion in Damage, 11 Times More than Province's Annual Budget