The top story in all Iranian newspapers today was the remarks made by the Leader of Iran's Islamic Revolution Ayatollah Seyyed Ali Khamenei in a meeting with a group of Basij (voluntary) forces in Tehran. The Leader talked about the eradication of ISIS terrorist group in Syria and Iraq, stressing that it has brought the US to its knees.
A trilateral meeting between Iranian President Hassan Rouhani, Turkish President Recep Tayyip Erdogan, and Russian President Vladimir Putin in the Black Sea resort city of Sochi also received great coverage. The three leaders discussed ways to end the conflict in Syria.
The return of Lebanese Prime Minister Saad al-Hariri to Beirut and his decision to postpone his resignation after holding talks with President Michel Aoun was another top story in today's papers.
The above issues, as well as many more, are highlighted in the following headlines and top stories:
19 Dey:
1- Iran Leader: Young Believers Brought US to Its Knees by Eradicating ISIS
2- Rouhani: Future of Syria Not to Be in Hands of Foreign Forces
3- Ayatollah Sistani Calls for UN's Increased Role in Iraq
4- Erdogan: No One Can Prevent Us from Achieving Nuclear Energy
---
Abrar:
1- Netanyahu Once Again Holds Talks with Putin about Iran
2- New York Appeals Court Votes against Iran in $1.7bn Case
3- US Isolated in Opposition to Iran Nuclear Deal: Spokesman
4- Defence Minister: We'll Strongly Respond to Threats in Due Time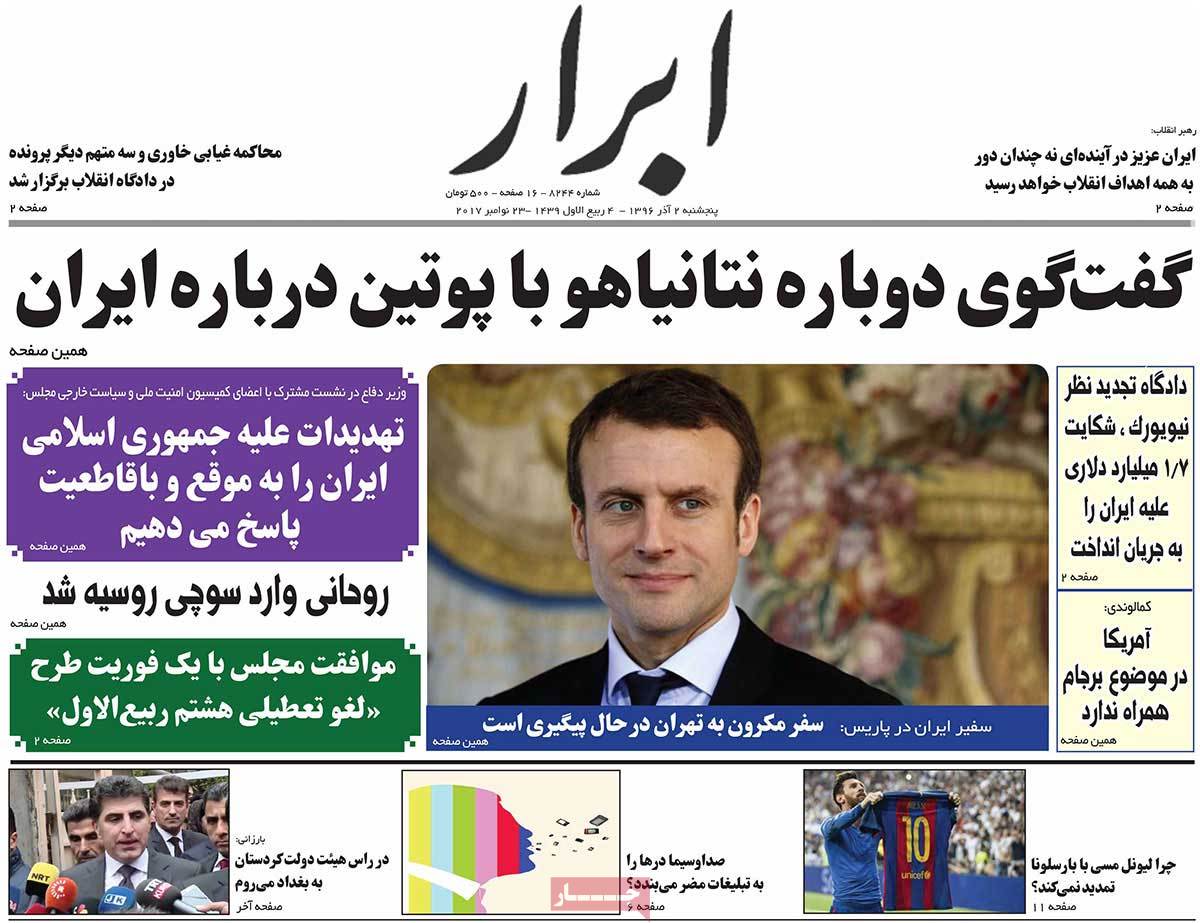 ---
Afkar:
1- Iran Leader: Defeat of US Miracle of Revolution
2- Iran to Become Place Where Enemies Are Slaughtered
3- Ayatollah Makarem Shirazi: Nobel Peace Prize Should Be Given to Gen. Soleimani
4- Rouhani: Tehran to Continue Fighting against Terrorists
---
Aftab-e Yazd:
1- Iran Leader: ISIS Defeated with Efforts of Young Believers
2- Women Who Want to Defeat the Giant: Three Women to Compete with Putin
3- Manoeuvre of Friendship in Sochi: Iran, Russia, Turkey Presidents Hold Trilateral Meeting
4- Iran First VP: We Should Take Care of Achievements of Victory over ISIS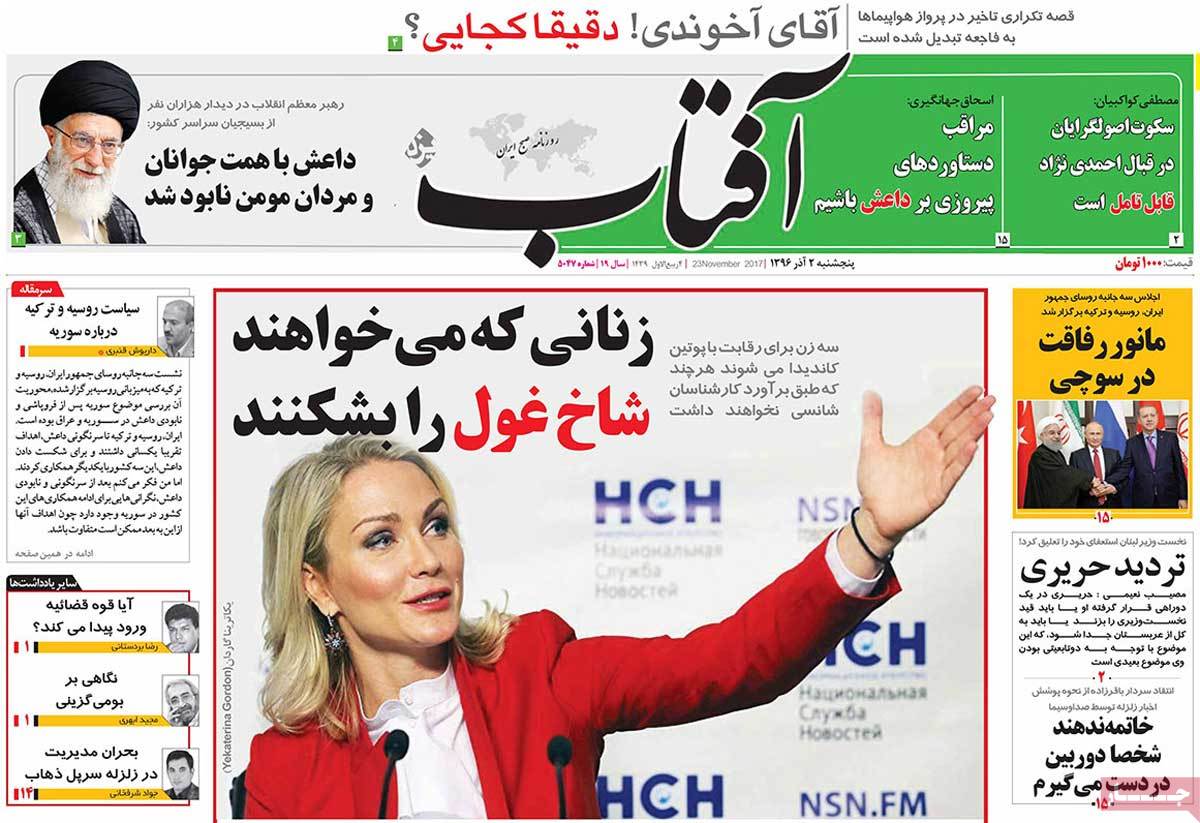 ---
Arman-e Emrooz:
1- Hariri Backs Off after Returning to Lebanon
2- Leader: Our Dear Iran Will Realize All Causes of Revolution
3- Strategic Alliance: Iran, Russia, Turkey Agree on Future of Syria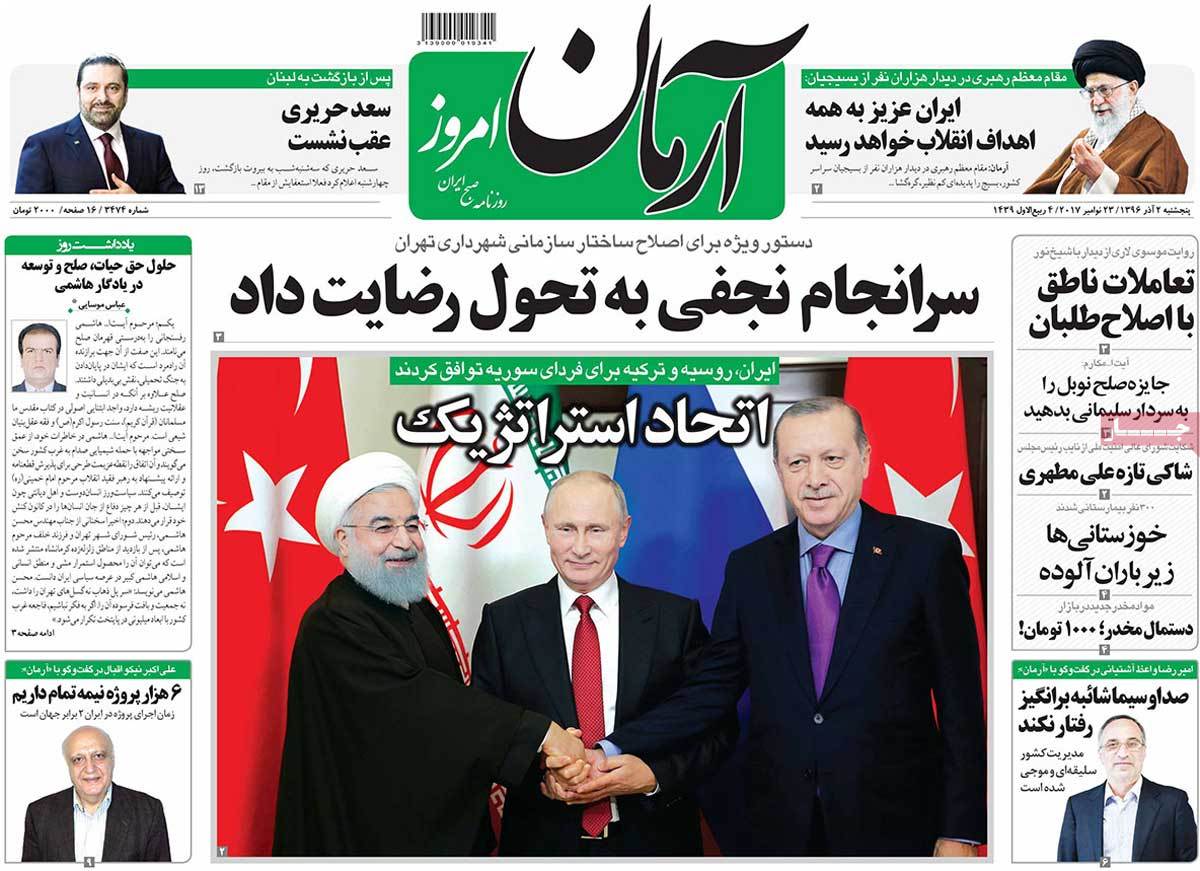 ---
Ebtekar:
1- Hariri's Resignation Postponed on Aoun's Request
2- Iran Leader: Some Turned into Foreigners' Mouthpiece, Making People Disappointed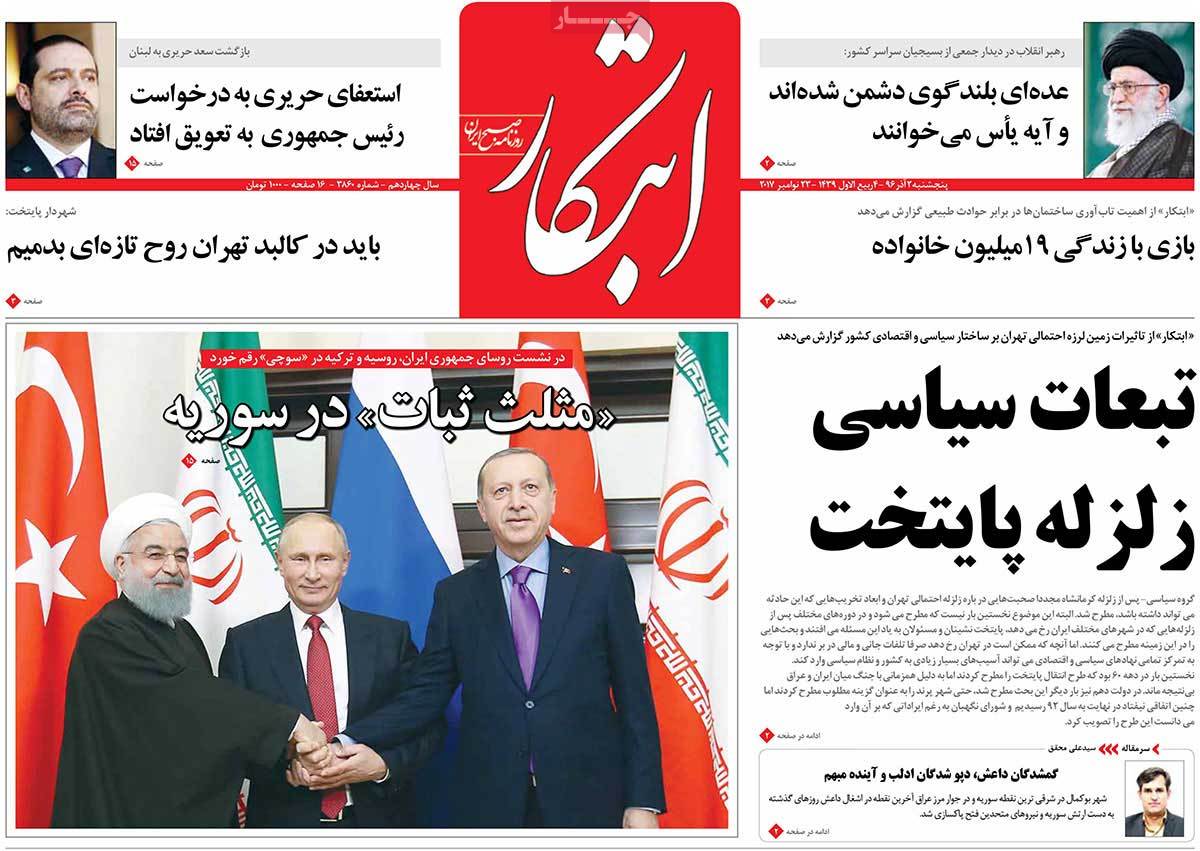 ---
Ettela'at:
1- Rouhani: Iran's Strategy Based on Cooperation Not Confrontation
2- 206 MPs Congratulate Iran Leader on Victory over ISIS
---
Iran:
1- Iran, Russia, Turkey Presidents Discuss Post-ISIS Middle East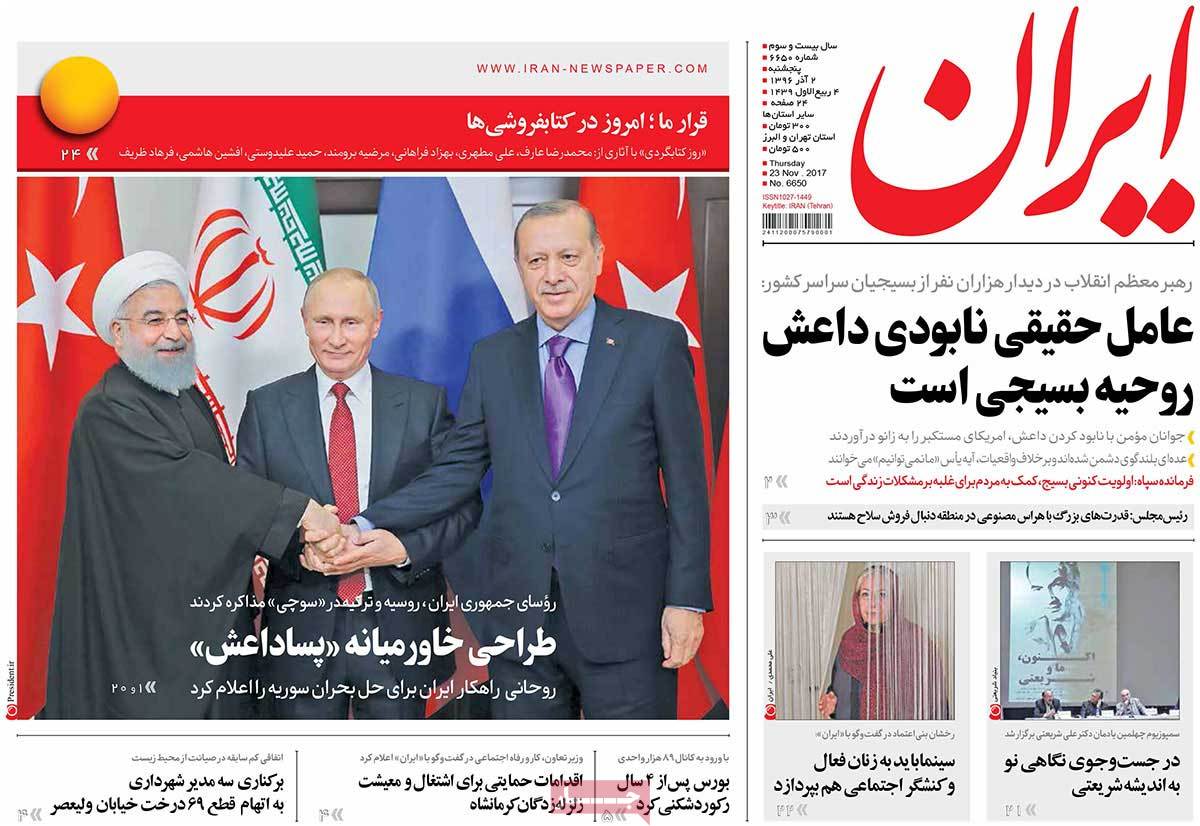 ---
Jame Jam:
1- Iran Leader: Eradication of ISIS Shows 'We Can Do It'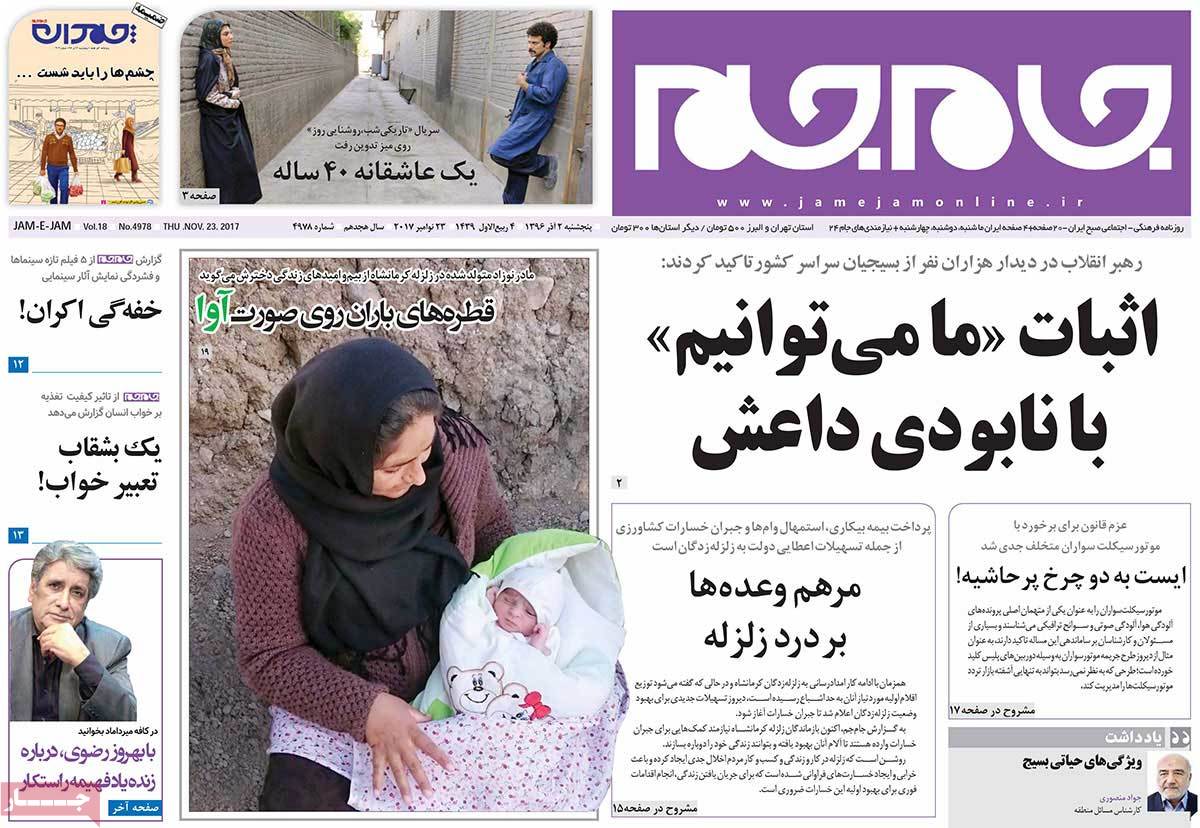 ---
Javan:
1- Iran Leader: Eradication of ISIS Sends Our Message to Other Nations
2- IRGC Chief-Commander: Any New War to Result in Eradication of Zionist Regime
3- Designing Regional Order without US: Rouhani, Putin, Erdogan Hold Trilateral
---
Jomhouri Eslami:
1- FMs of Asian, European States Express Full Support for Iran Nuclear Deal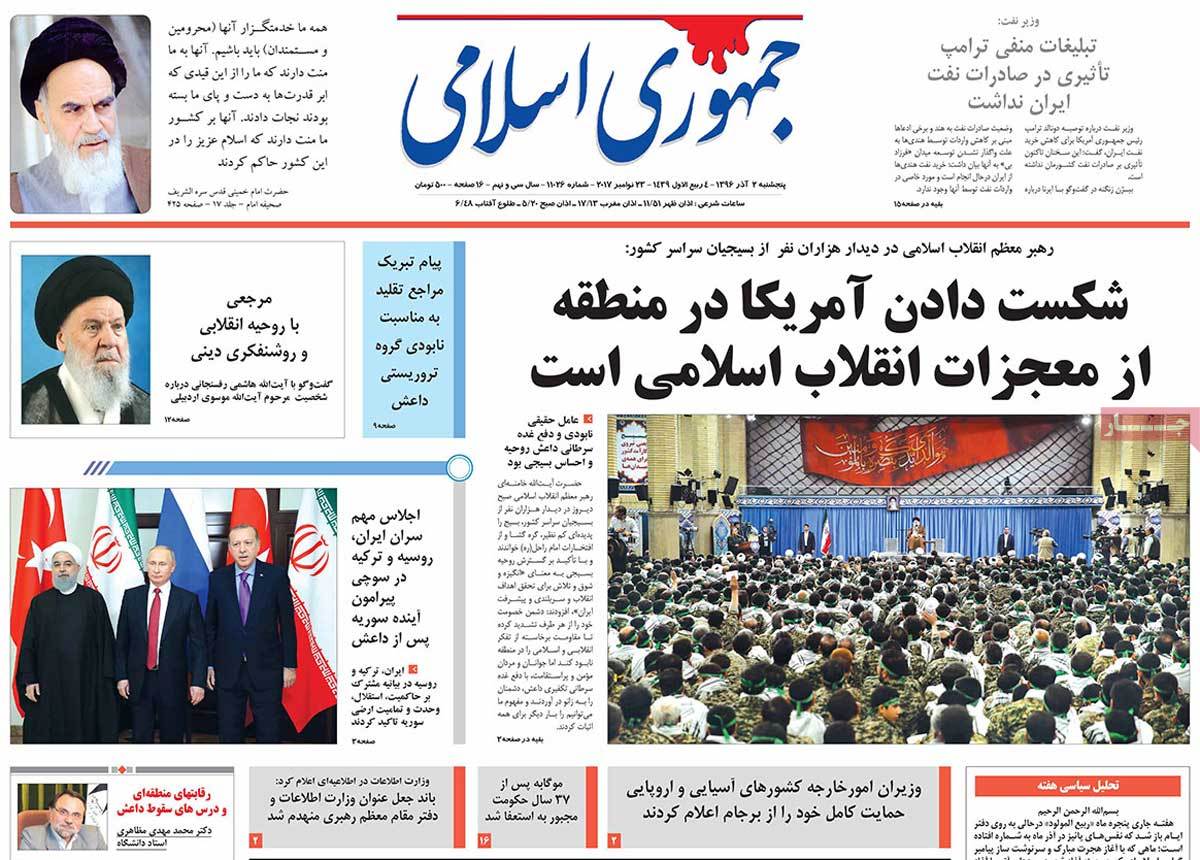 ---
Kayhan:
1- Iran Leader: Young Believers Brought US to Its Knees
2- Iran Axis of Stability in Region
3- Selling Natural Gas to Norway in Cheaper Price than Production Costs!
4- Shamkhani: Remaining in JCPOA Meaningless If Sanctions Continued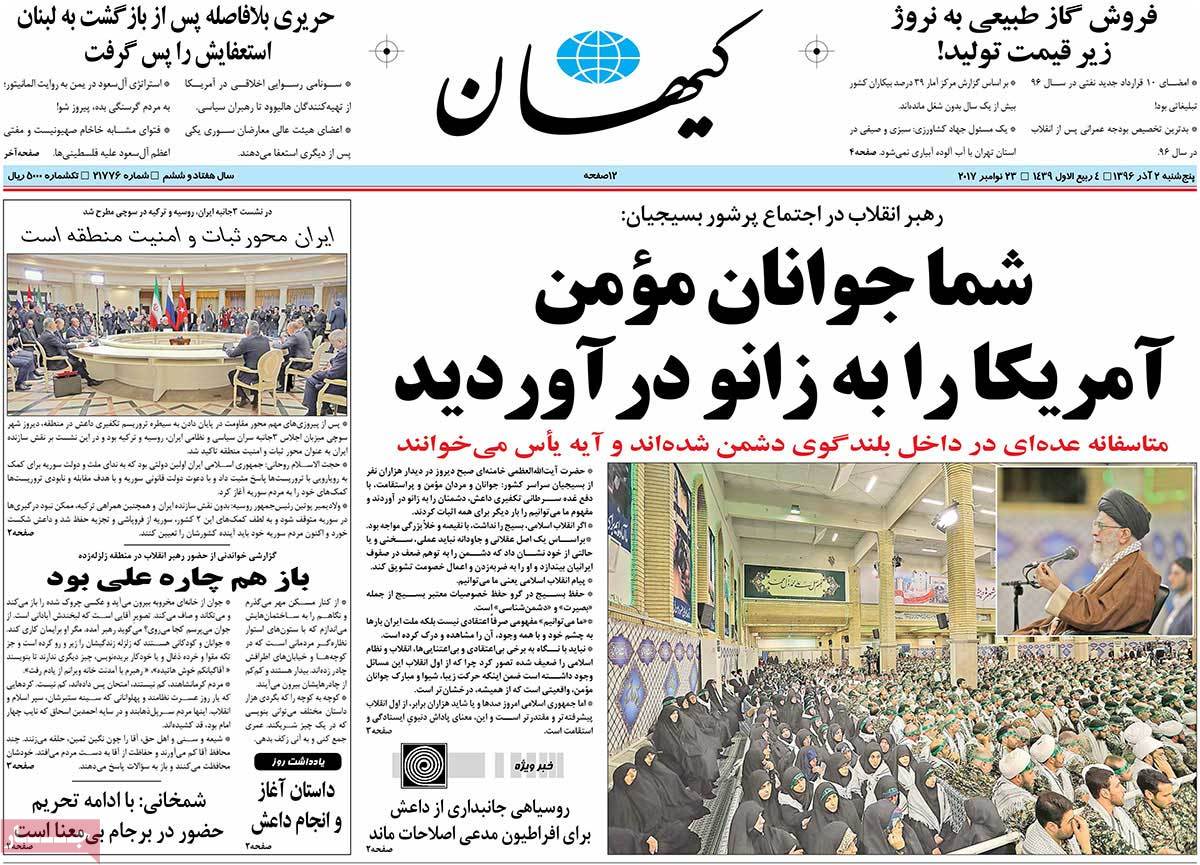 ---
Vatan-e Emrooz:
1- Macron Told Rouhani We Should Talk about Missiles
2- Saudis, ISIS Mourning for Eradication of ISIS
Future Developments of Mideast to Take in Place in Palestine, Hijaz