Newspapers today continued covering the reactions to the controversial cancellation of Parliament Vice-Speaker Ali Motahari's speech in the northeastern holy city of Mashhad. The remarks made by President Hassan Rouhani and Interior Minister Abdolreza Rahmani Fazli were highlighted in many papers.
Foreign Ministry Spokesman Bahram Qassemi's weekly press conference and his remarks about the US moves against Iran nuclear deal also received great coverage.
Another top story was the purchase of Airbus and Boeing airplanes, and the possible options Iran has in case the French and American giant plane-makers refuse to do business with Iran.
The above issues, as well as many more, are highlighted in the following headlines:
Abrar:
1- Fuad Masum: Liberation of Mosul Is Imminent
2- At Least 29 Killed and 35 Wounded in ISIS' Suicide Attack on Shiites' Mosque in Kabul
3- Obama Bids Farewell to World Politics after 8 Years
4- Sarkozy's Defeat in Republicans' Primacy Race in France
5- John Bolton: We'd Better Leave Nuclear Deal as Soon as Possible
6- We Have No Limit in Import of Technology from US: Official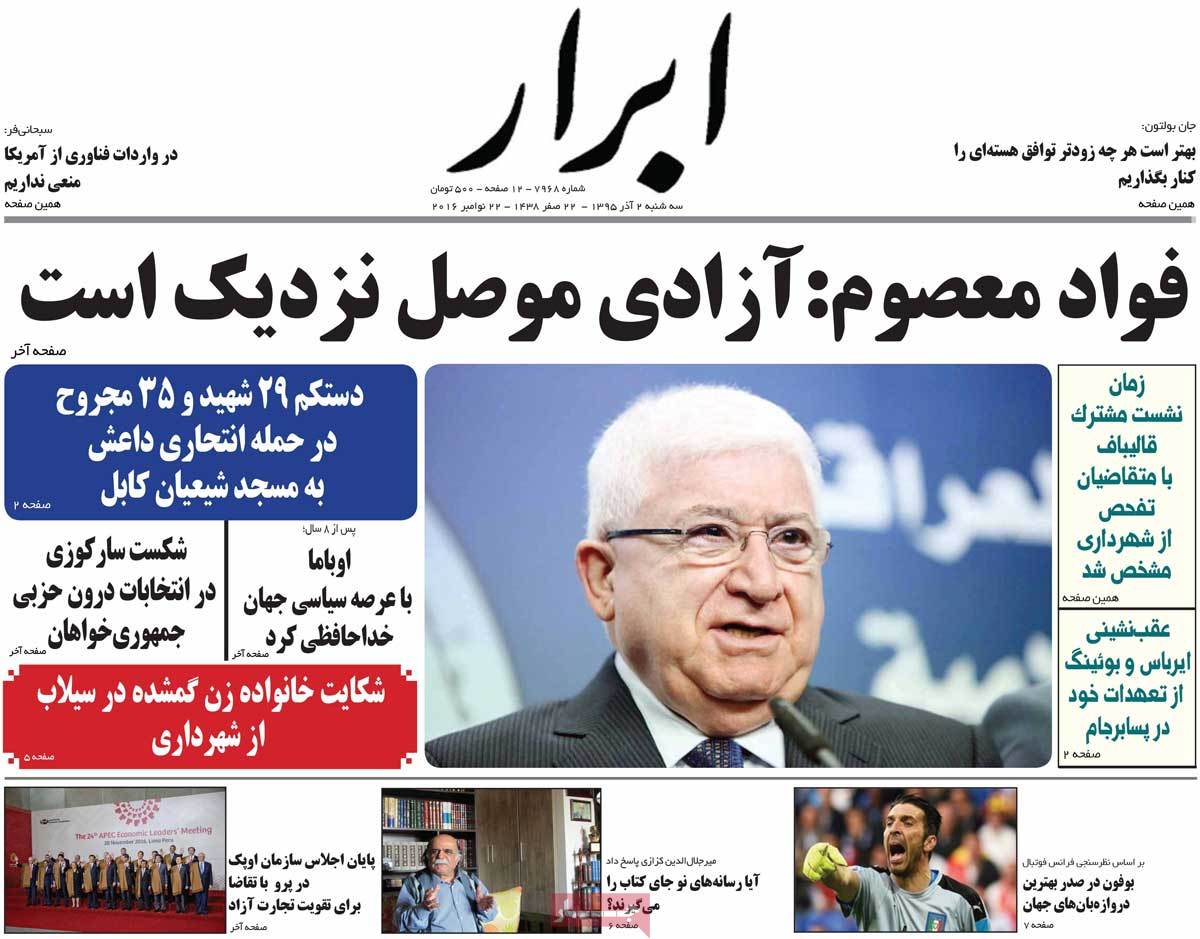 ---
Abrar-e Eqtesadi:
1- Fresh Round of Oil Talks between Iran and Afghanistan
2- Iran's Agreement with the Netherlands over Joint Use of Oil Equipment
3- India Has Yet to Pay $2.5bn of Its Oil Debts to Iran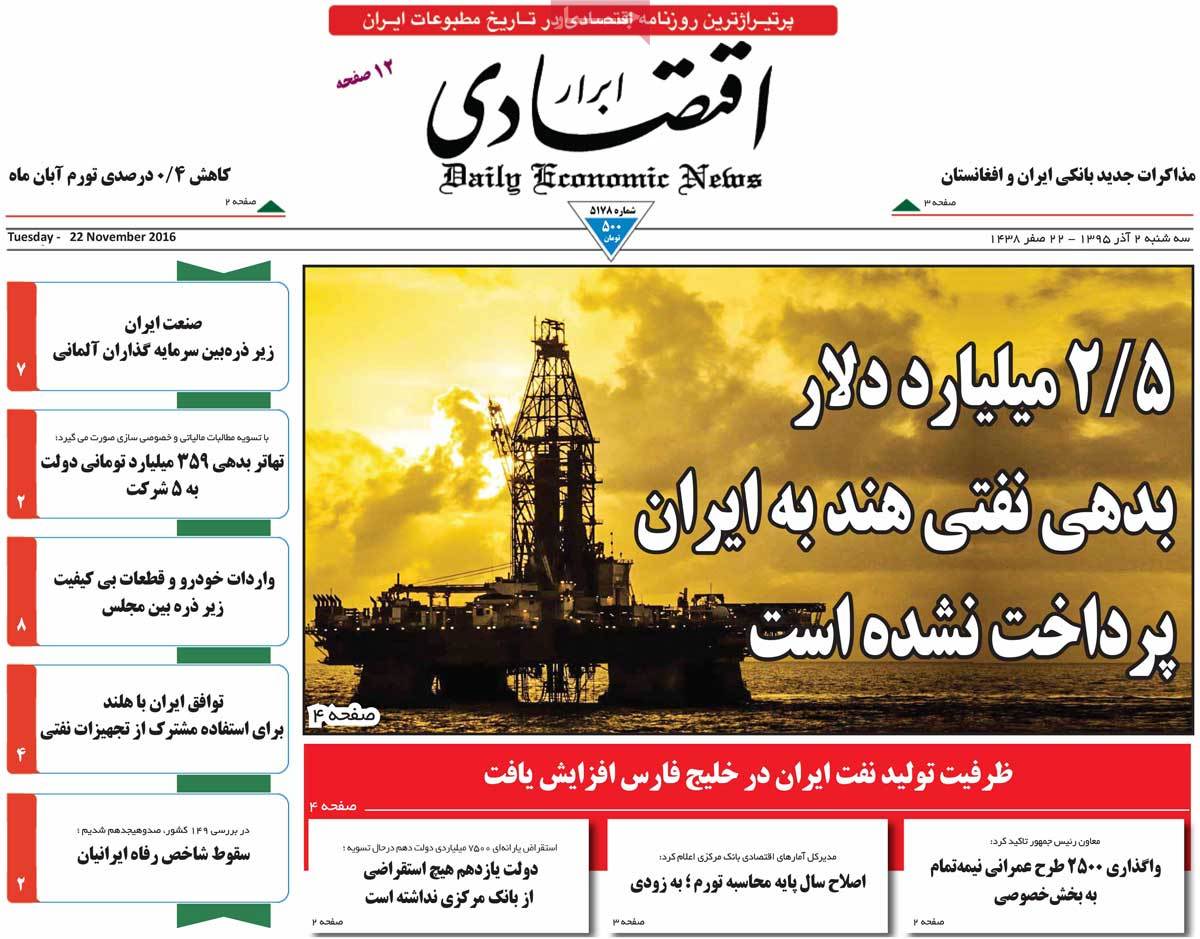 ---
Afkar:
1- 2.5 Million Iranian Pilgrims in Iraq
2- Erdogan Threatens EU, Warns NATO
3- Saudi Arabia Moving on the Path of Dictators
4- Iranian Cinema in Tallinn: 10 Iranian Cinema Professionals Are in Estonia to Attend 21st Edition of Tallinn Black Nights Film Festival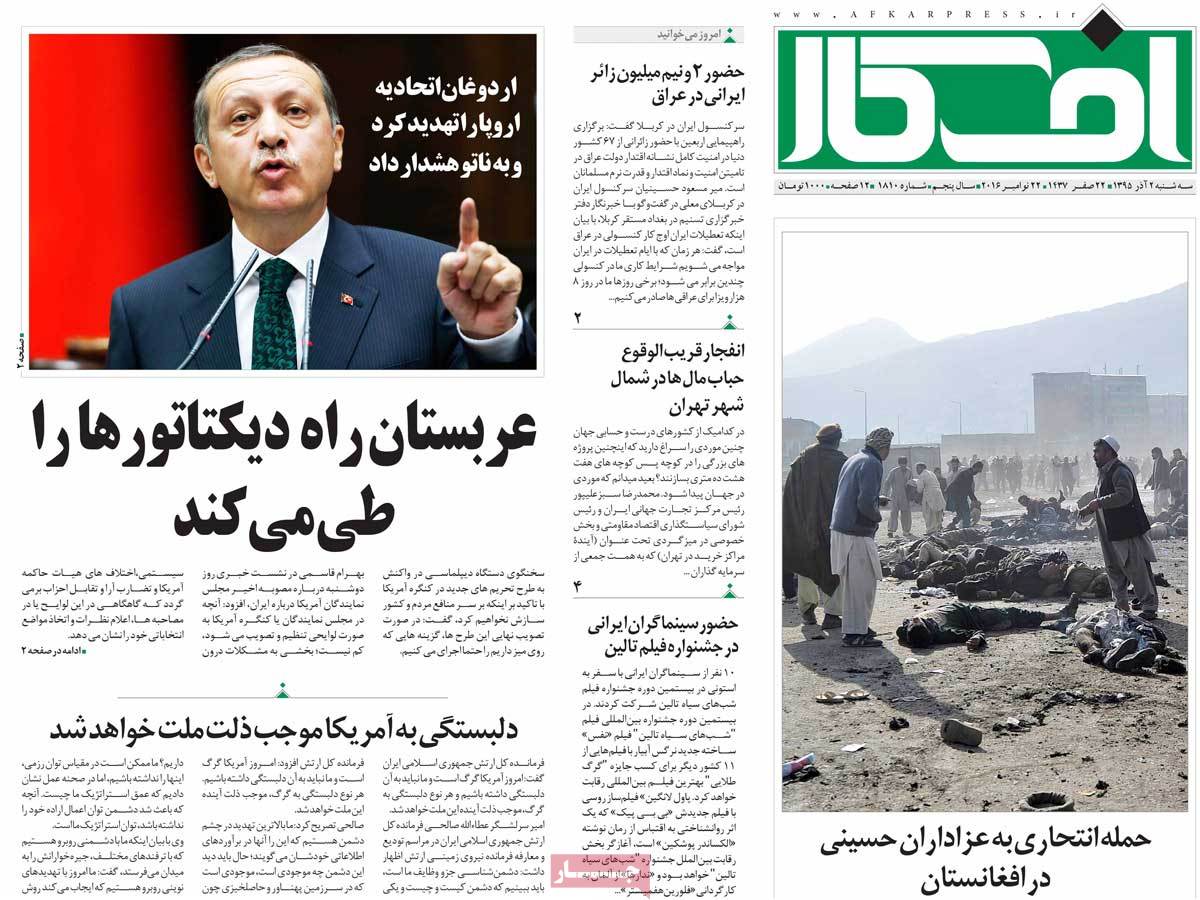 ---
Aftab-e Yazd:
1- Mitt Romney Has a Great Chance to Become US Secretary of State: He's neither John Bolton nor John Kerry
2- Conservatives Should Pay Respect to President Rouhani: Reformist Academic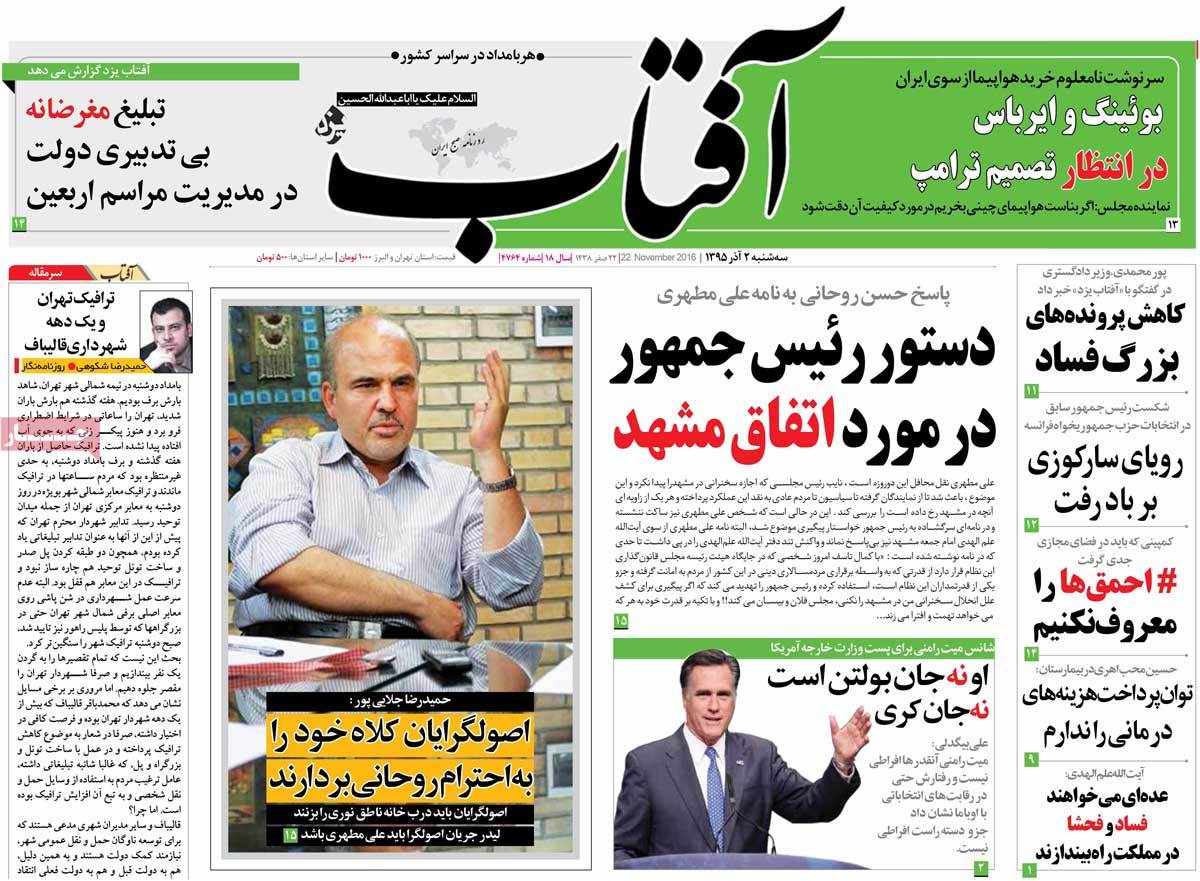 ---
Amin:
1- Last Efforts by Obama to Reinforce JCPOA: Licences Issued for Doing Business with Iran, Additional Sanctions Are Removed
2- Mitsubishi and Comac (Commercial Aircraft Corporation of China) to Replace Airbus and Boeing for Iran
3- Controversy in Turkey over Majidi's Latest Film 'Muhammad, the Messenger of God'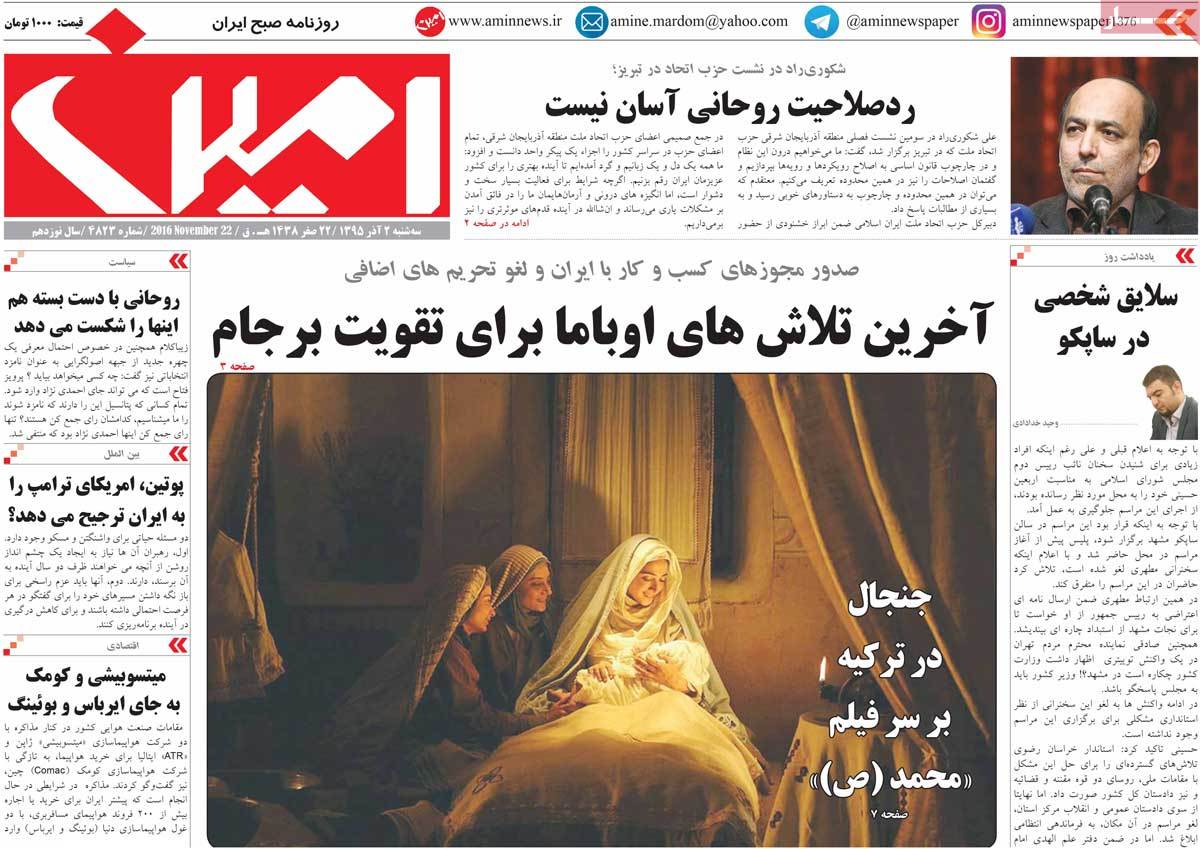 ---
Arman-e Emrooz:
1- President Rouhani's Response to Motahari's Letter: What Happened in Mashhad [cancellation of Motahari's speech] Was a Shame
2- Parliament's Vice-Speaker Motahari Sues Mashhad's Prosecutor: Interior Ministry Sends Delegation to Mashhad for Probing into the Issue
3- Tehran's Police: Women's Cases to Be Investigated by Female Detectives
---
Asrar:
1- Foreign Ministry Spokesman Outlines Iran's Option for Countering Anti-Iran Sanctions: It's Not Easy to Violate Nuclear Deal
2- Iran Has the World's 118th Rank in Terms of Prosperity
3- Qazvin's Prosecutor Cancels Zibakalam's Speech
4- Yemeni Fighters' Attack on Aggressors: 100 Saudi Hirelings Killed in Ta'iz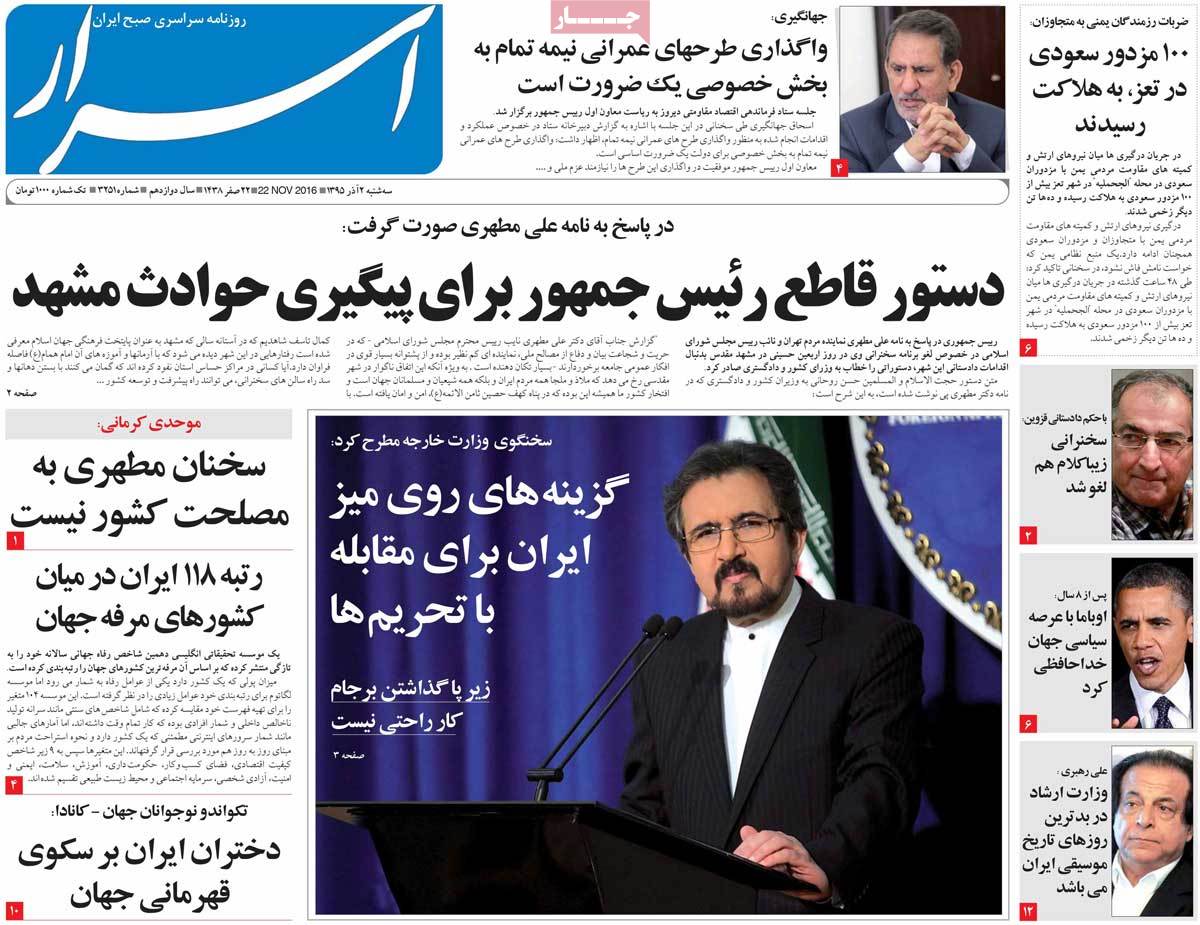 ---
Ebtekar:
1- Snow, Traffic Jam, Civil Management: Tehran Jammed Up under Heavy Snow!
2- Isfahan under the Blade of Subway Transportation: Threats of Metro for Iran's Central City of Isfahan
3- Airbus: We Don't Know What to Do; Playing with Senate's Vote for Plane Sale to Iran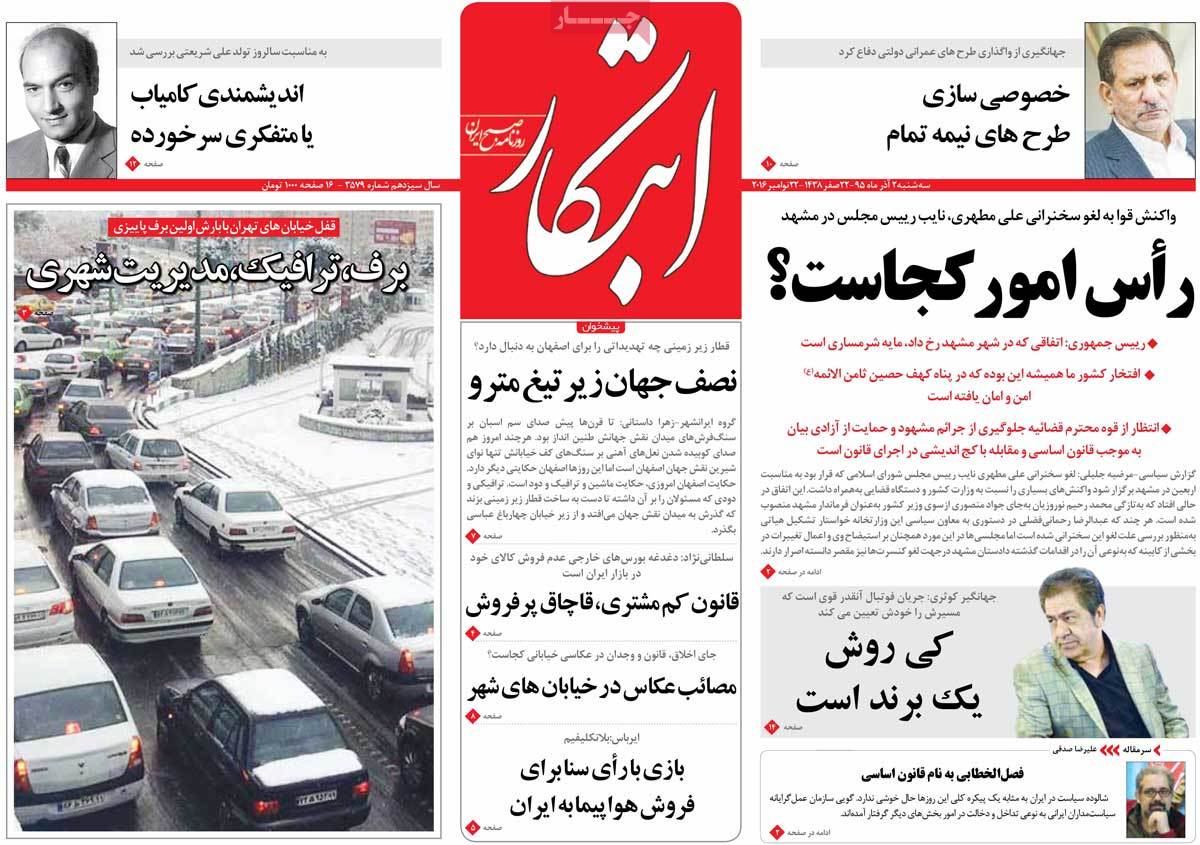 ---
Etemad:
1- End of Sarkozy
2- If Trump Halts Termination of Anti-Iran Sanctions, It'll Be Blatant Violation of Nuclear Deal: Iranian Deputy FM
---
Ettela'at:
1- Foreign Ministry Spokesman: We'll Never Compromise on Interests of Iran and Its People
2- Iran's Population Estimated at 80,500,000
3- Iran's Navy Commander: Iranian Naval Forces Have Entered Atlantic Ocean for First Time
4- Iraqi Forces Liberate 3 Regions of Mosul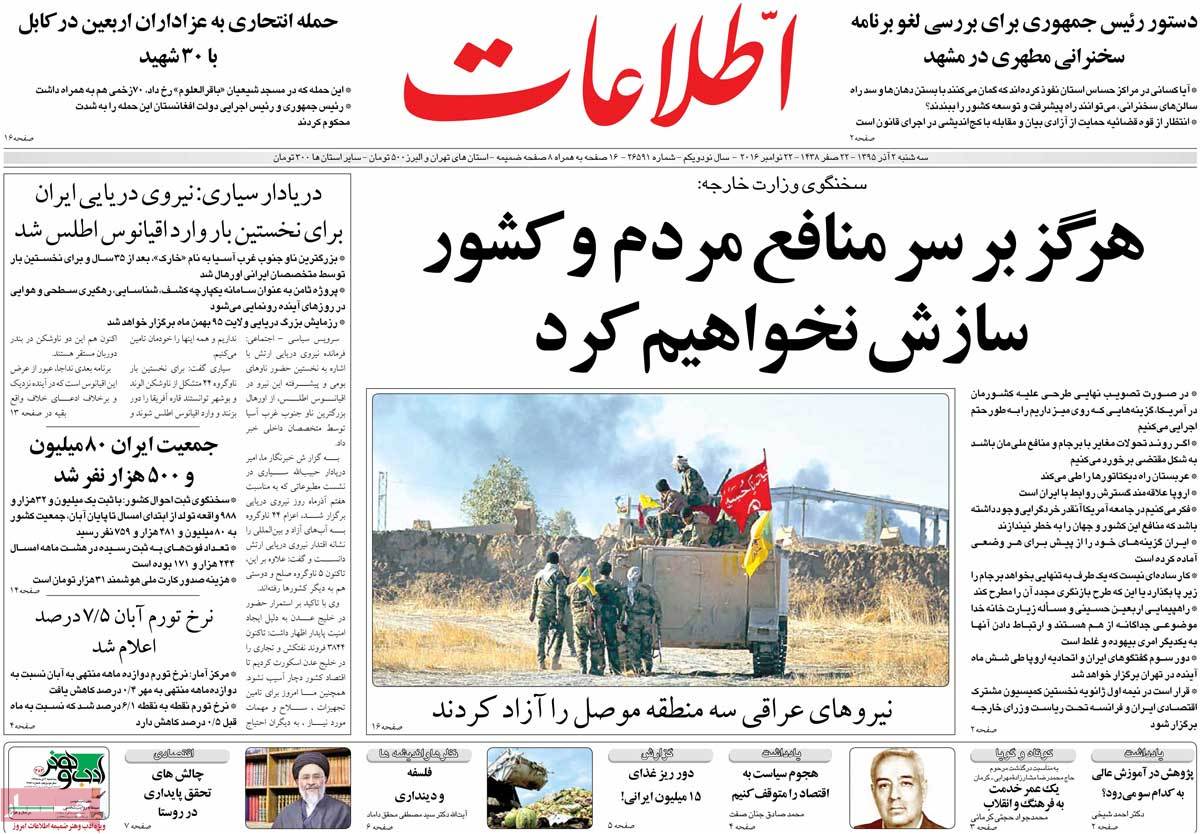 ---
Hemayat:
1- Iran's Army Commander: ISIS Will Be Eradicated in Near Future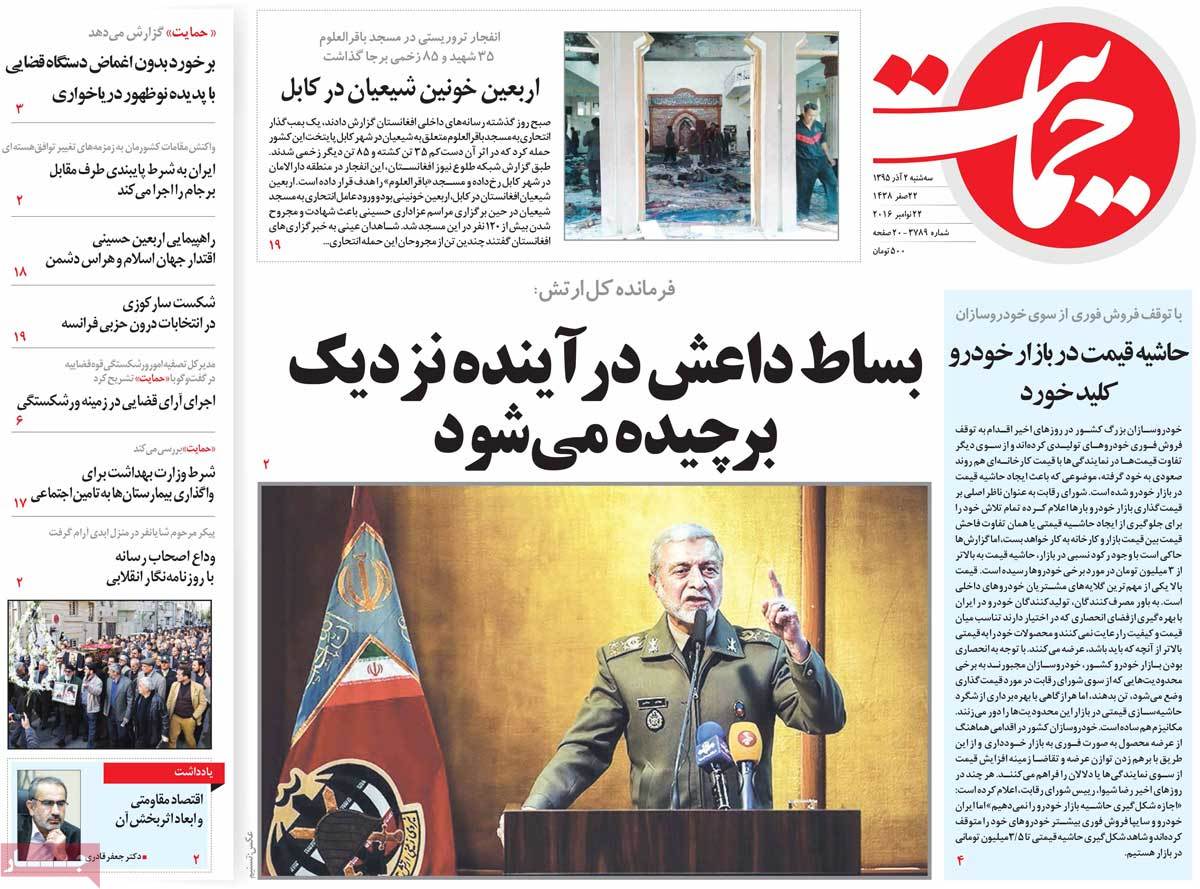 ---
Iran:
1- Tehran Jammed Up after First Autumn Snow
2- Rouhani's Reaction to Cancellation of Motahari's Speech in Mashhad: He's a Brave and Popular MP; I Urge Interior and Justice Ministries to Probe into the Issue and Identify Those Who Violated the Law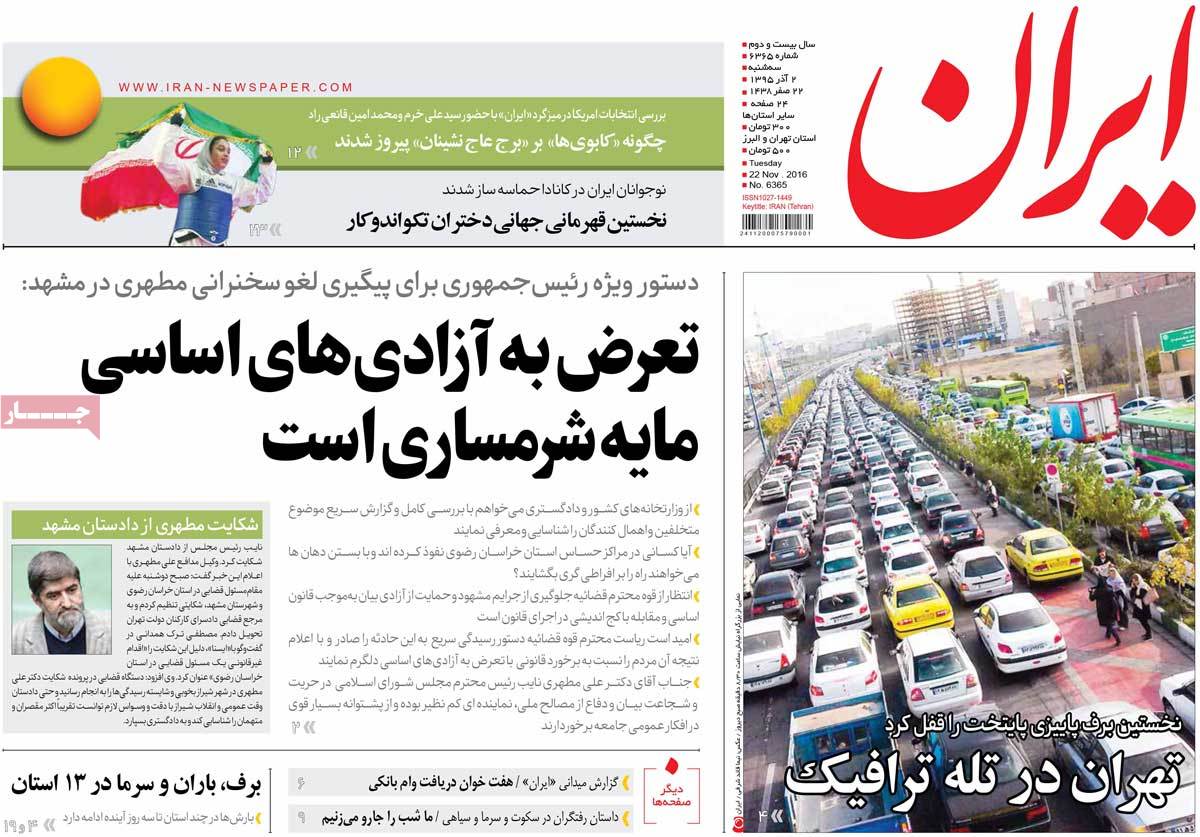 ---
Javan:
1- Iraqi Popular Forces to Enter Tal Afar: ISIS' Escape Route to Syria to Be Cut Off
2- Islamophobia Surges after Trump's Election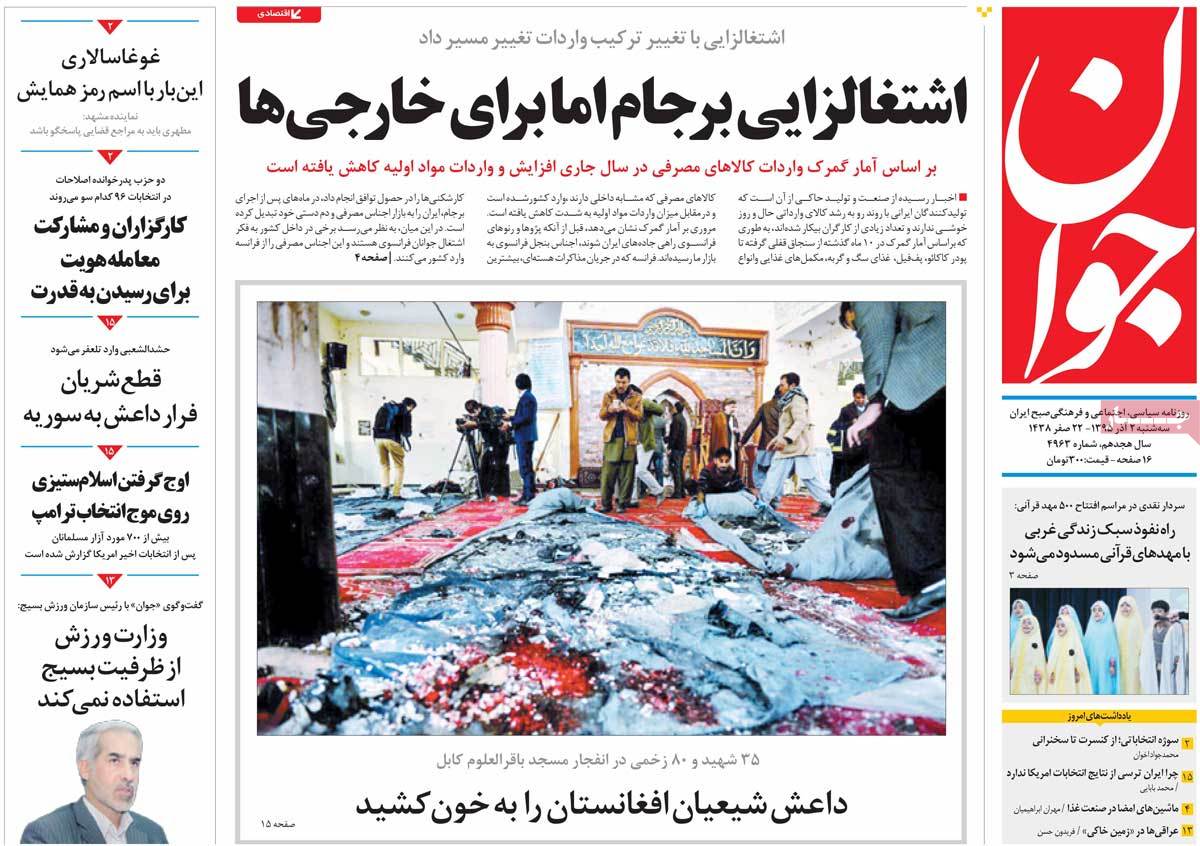 ---
Jomhouri Eslami:
1- Iran's Partnership in Marine Oil Projects in Europe and Africa
2- Egyptian Prosecutor: Saudi Terrorists Hatched Plot to Assassinate President Sisi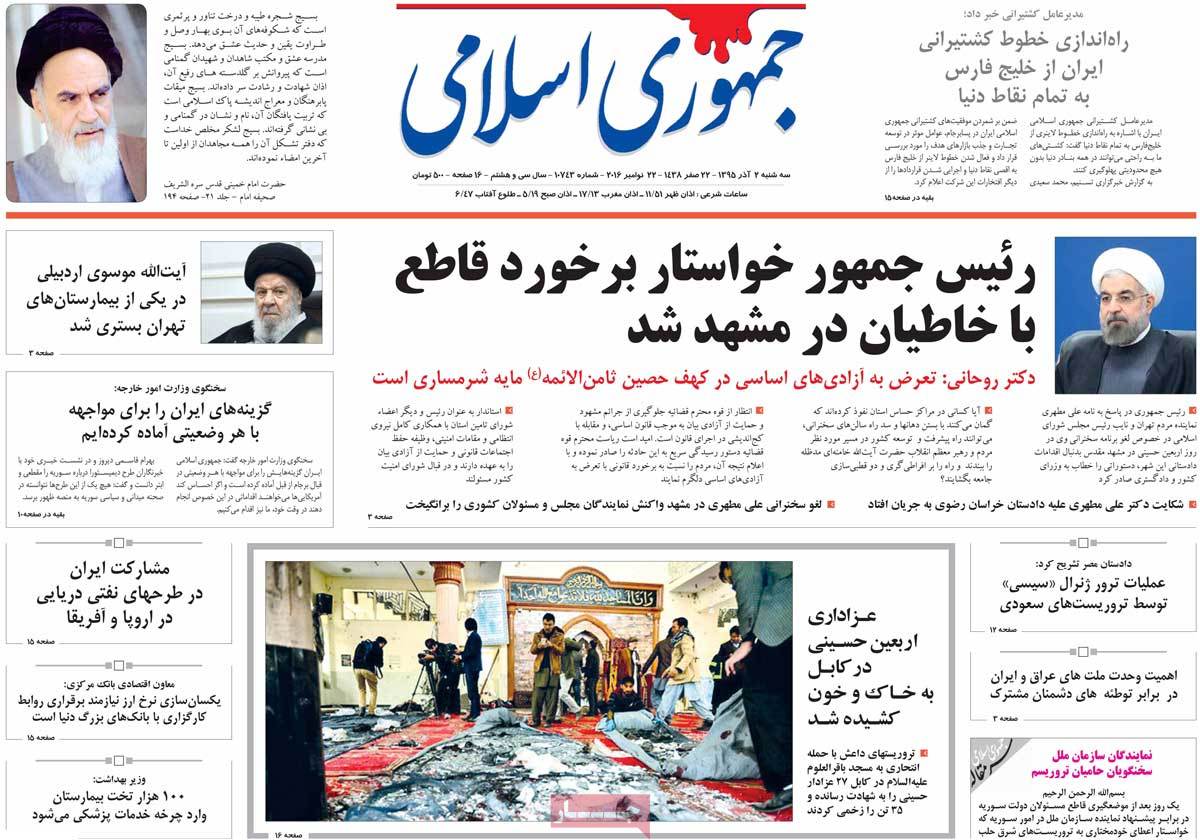 ---
Kayhan:
1- Syrian Army Kills 80 Terrorists in Khan Sheikh; 100 Terrorists Give Up Arms
2- Government's Plan to Resolve Unemployment Problem Is Part of Campaign for Next Year's Presidential Votes
3- Nuclear Deal Is Binding for Iran, Not for the US!
4- ISIS Chased in Mosul Streets: Iraqi PM Says Victory Is Imminent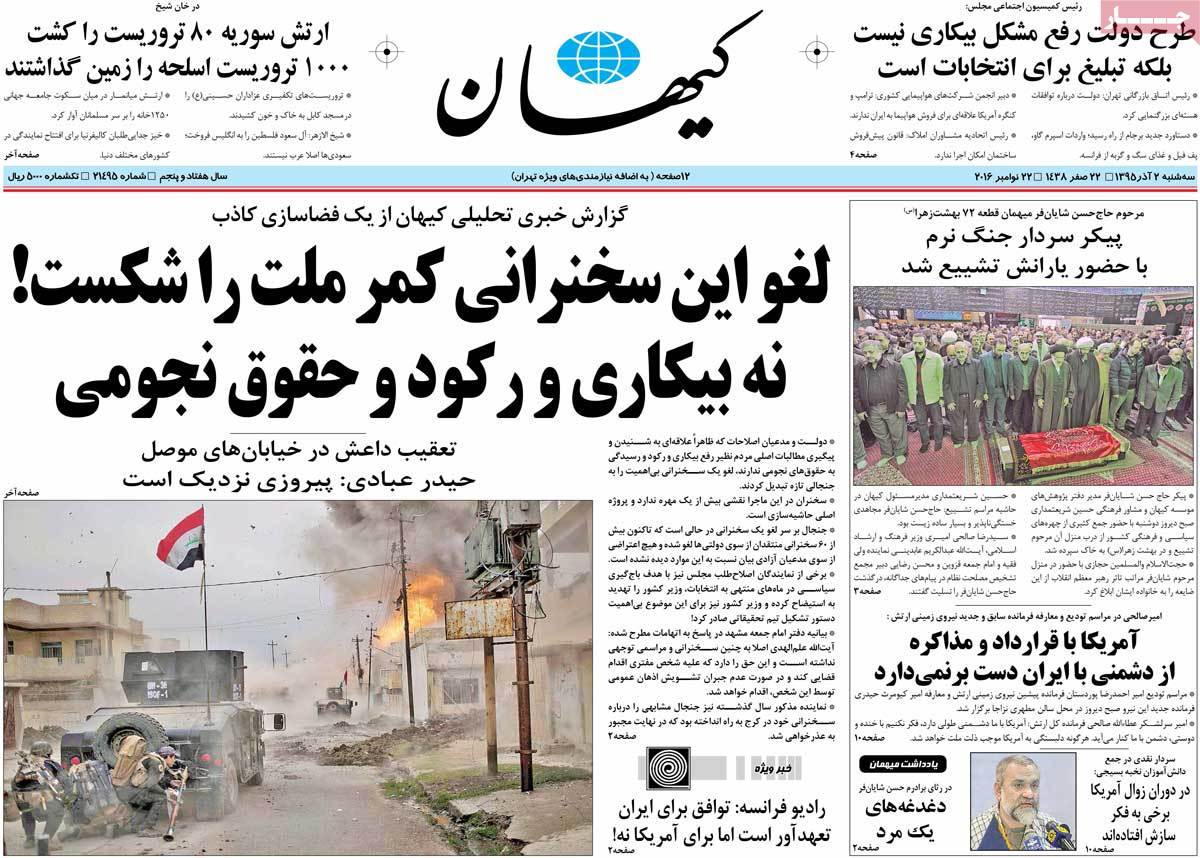 ---
Khorasan:
1- Formation of Iran-France Joint Commission after 20 Years
2- End of Sarkozy: Will Trump Be Repeated in France?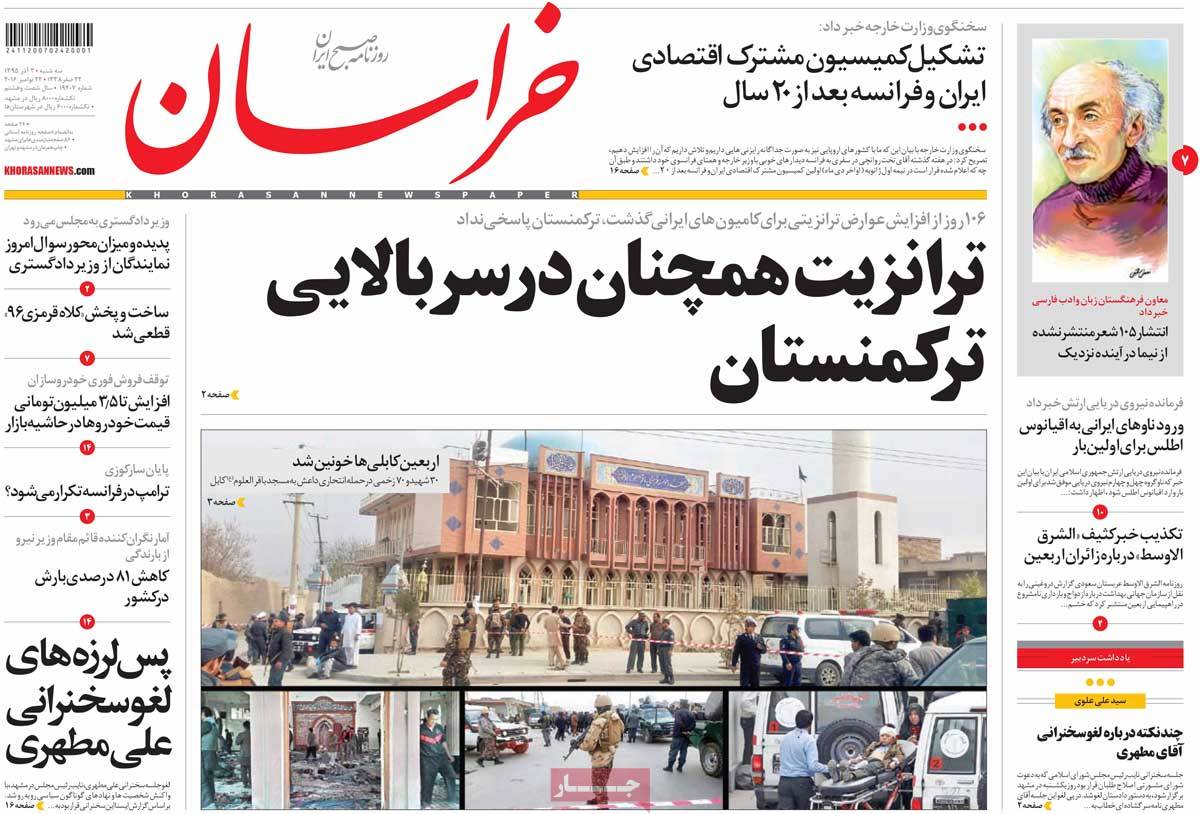 ---
Payam-e Zaman:
1- Army Commander: Attachment to US Causes Humiliation
2- Marriage in Iran Outnumbers Divorce in Past 7 Months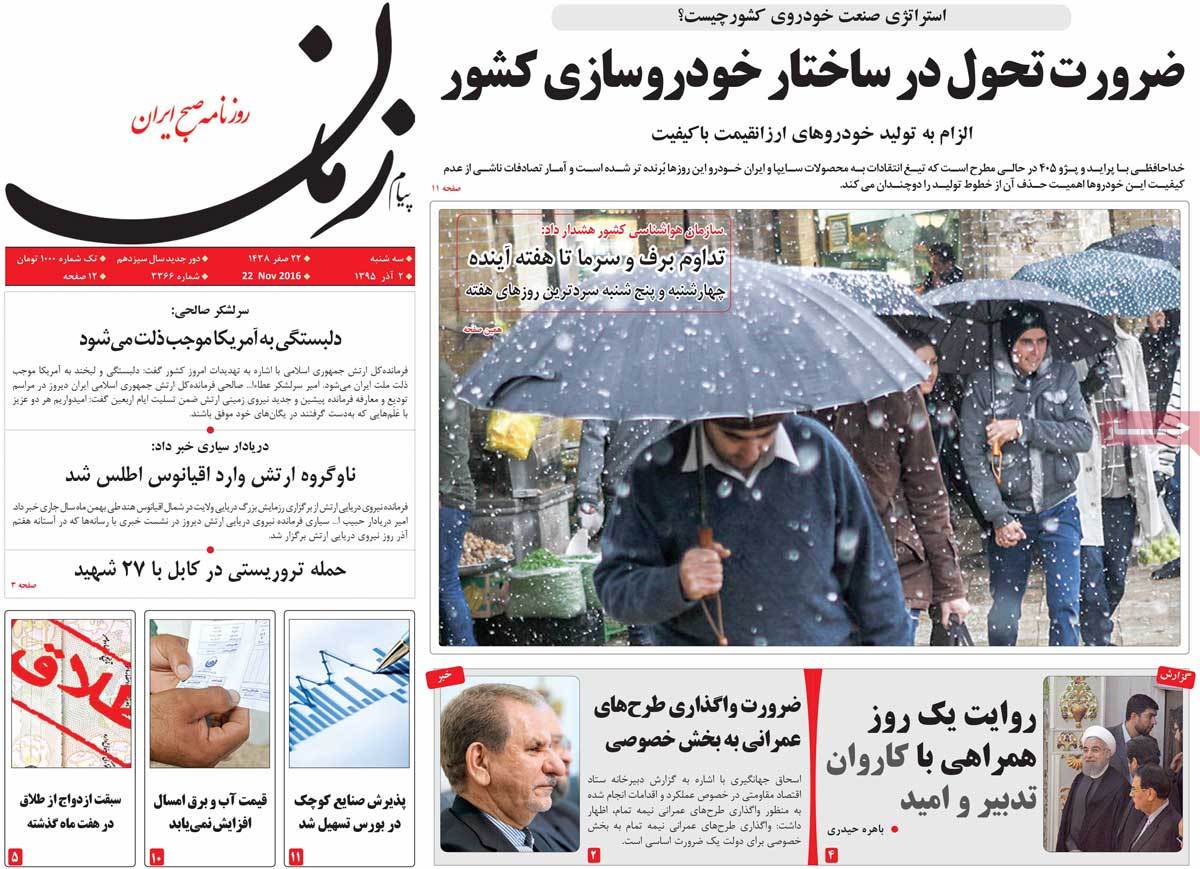 ---
Resalat:
1- Army Commander: US Hostility [towards Iran] Will Not End with Interaction
2- John Bolton: Regime Change Is the Only Solution in Iran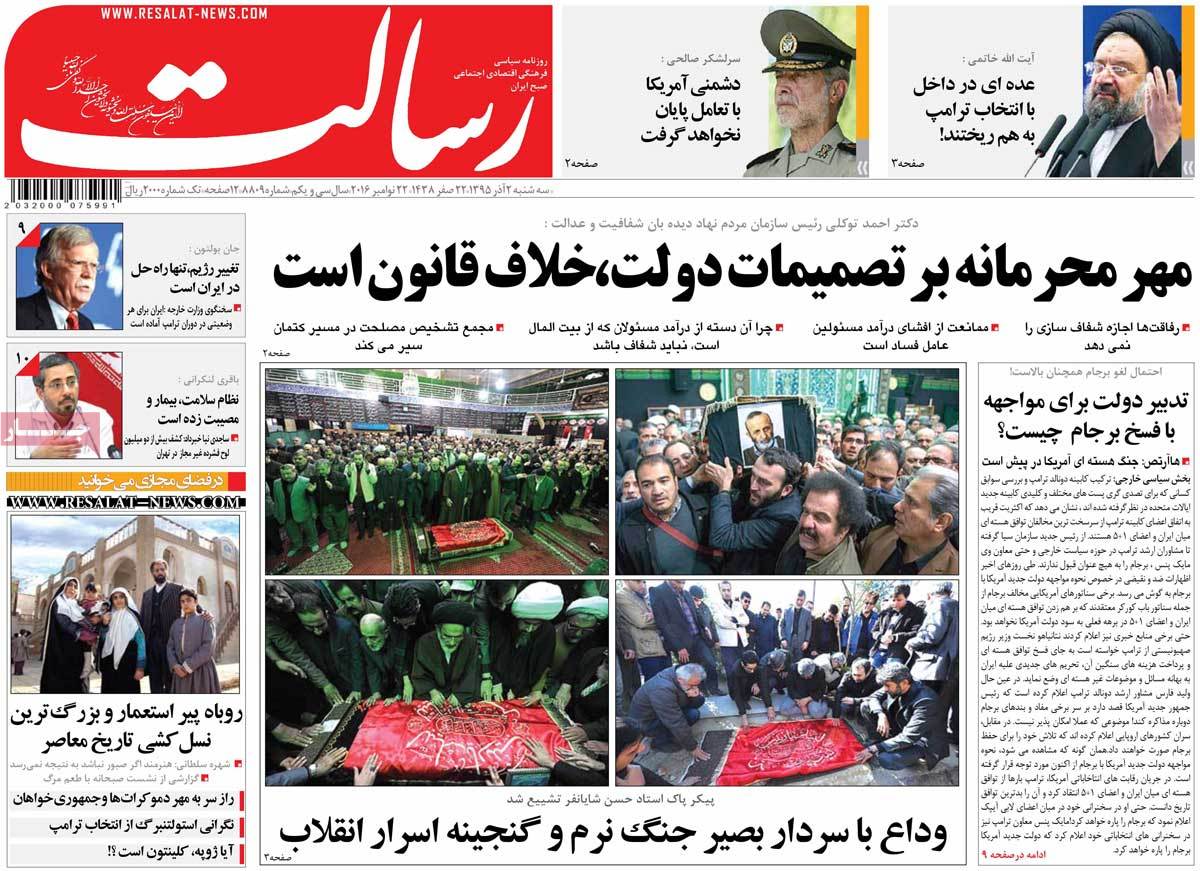 ---
Setareh Sobh:
1- Rouhani Prevented Iran from Turning to another Venezuela: Reformist Academic
2- Foreign Ministry Spokesman in Reaction to an Offer by UN Envoy and Trump's Advisors: Syria's Division Has Lots of Opponents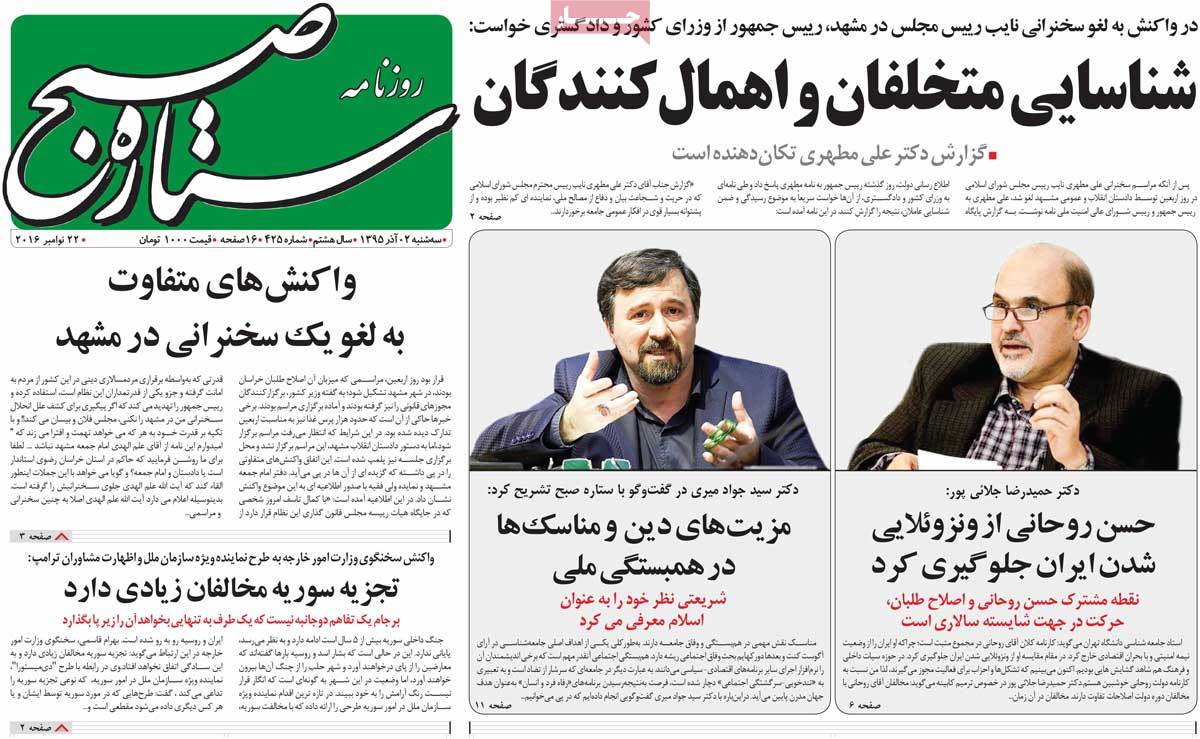 ---
Shargh:
1- Foreign Ministry Spokesman: Bills Passed by US Congress Are Not Feasible
2- Putin in Line with Iran's Oil Minister: Defeat of Saudi Arabia's Oil Leadership
3- We Should Look for Wise Men in Trump's Team with Magnifier: Expert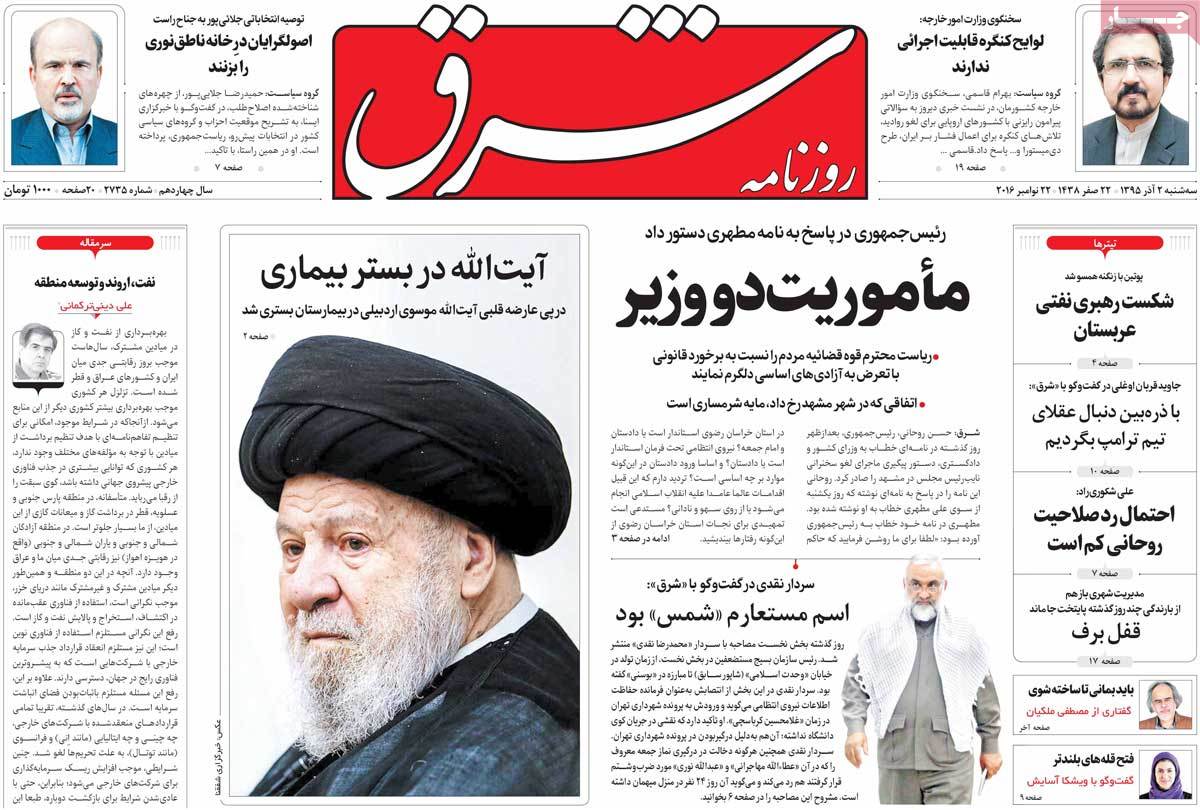 ---
Sobh-e Now:
1- Water, an Instrument in Afghanistan's Hands: Multi-Layered Diplomacy to Save Hamoun Lake
2- American Rope around Iran Economy's Neck: Will JCPOA Promises Be Realized?
---
Vaghaye Ettefaghieh:
1- Annual Movement of 400,000 Afghan Immigrants around Borders
2- Dust Pollution Paralyzes Iranian Southern Port City of Bandar Abbas
3- No One Kills People in Vicente Guerrero Anymore: Influence of a Music School on a Mexican Slum