Newspapers today covered the huge Arbaeen processions where 20 millions of pilgrims flocked to the Iraqi holy city of Karbala to mark the fortieth day after Imam Hussein's martyrdom.
They also covered the appointment of two new army commanders by the Leader of the Islamic Revolution Ayatollah Seyyed Ali Khamenei. The Leader gave Brigadier General Ahmad Reza Pourdastan the job of Army second-in-command, and also appointed Brigadier General Kiomars Heidari as commander of the Army Ground Force.
Another top story was the cancellation of Iranian Parliament Vice-Speaker Ali Motahari's scheduled speech in northeastern city of Mashhad, and the criticisms raised against Interior Minister.
The above issues, as well as many more, are highlighted in the following headlines:
Abrar:
1- MP: People's Economic and Living Conditions Influential in Next Year's Presidential Elections
2- Russian Warship Docks at Iran's Bandar Abbas
3- Senior Conservative Haddad Adel: Conservatives Have Yet to Choose a Candidate for Presidential Votes
4- Trump Starts Countering Iran
5- UNSC Ready to Impose Further Sanctions on South Sudan
---
Abrar-e Eqtesadi:
1- Iran-China Trade Value Has Decreased
2- Germany Ready to Make Investment in Iran's Biggest Petchem Complex
3- Iran Exports $100m Hand-Woven Carpets
4- Increase in Iran-Brazil Economic Ties
5- China and Europe Competing with India for Making Investment in Iranian Gas Field
6- Release of Iran's Gas Products Frozen in Europe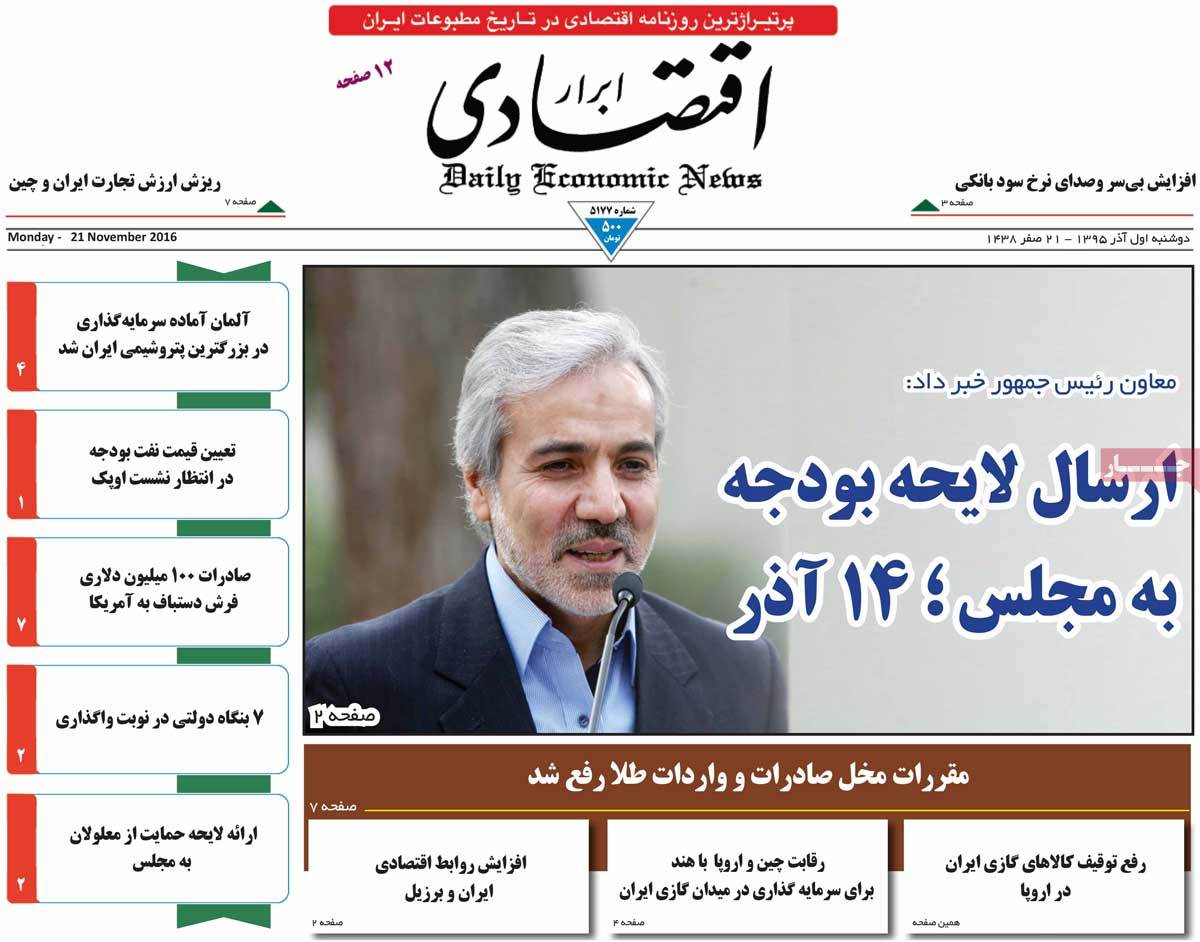 ---
Afkar:
1- Environment Chief: Cancer Is One of the Consequences of Pollution and Environmental Degradation
---
Aftab-e Yazd:
1- In Separate Decrees, Leader Appoints New Second-in-Command of Iran's Army and Commander of Army Ground Force
2- Modern Bolsheviks of White House [Editorial]
3- Meaningful Meeting between Trump and Romney
4- Government's Offer for an Alternative Punishment to Women's Imprisonment Accepted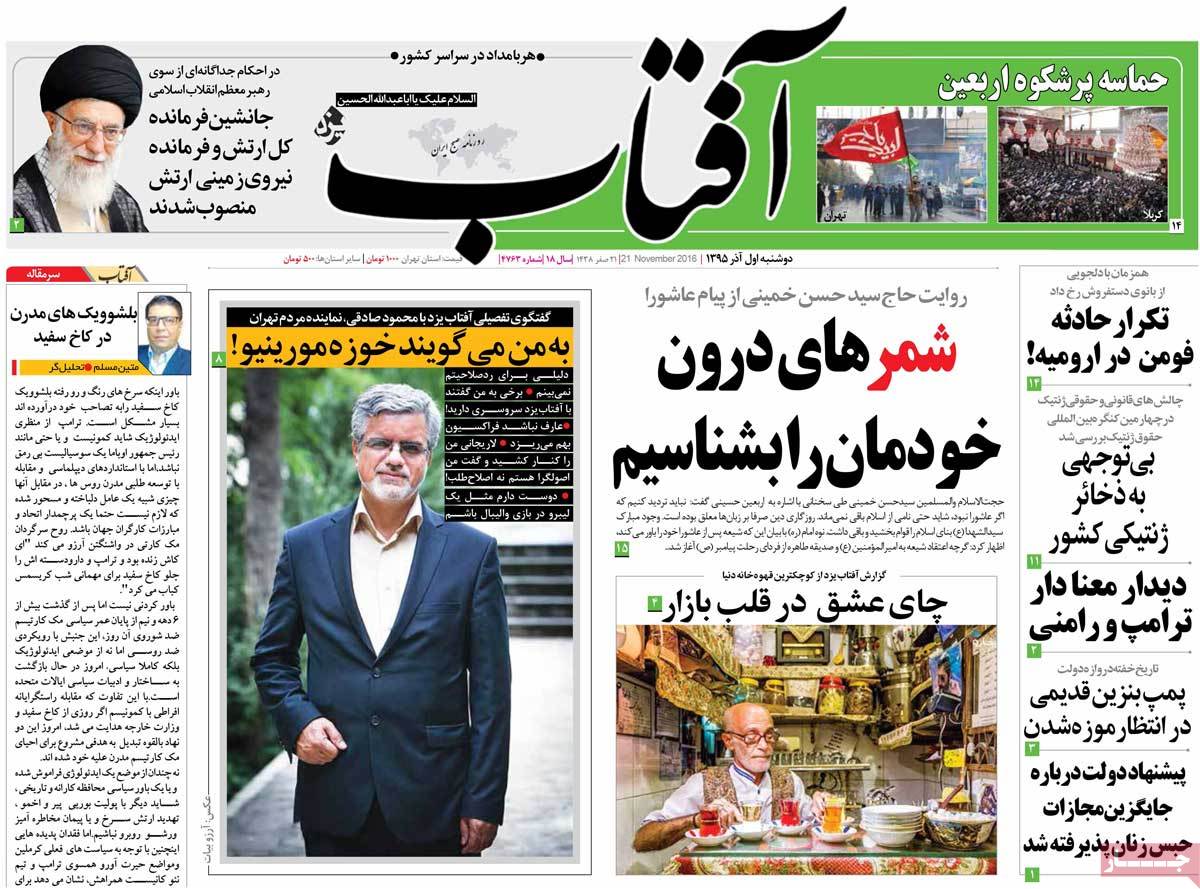 ---
Amin:
1- Don't Play in the Enemy's Side: Parliament's Vice-Speaker to Those Who Are Opposed with Formation of a Faction in the Parliament for Turkish-Majority Areas
2- Warmongers in Key US Posts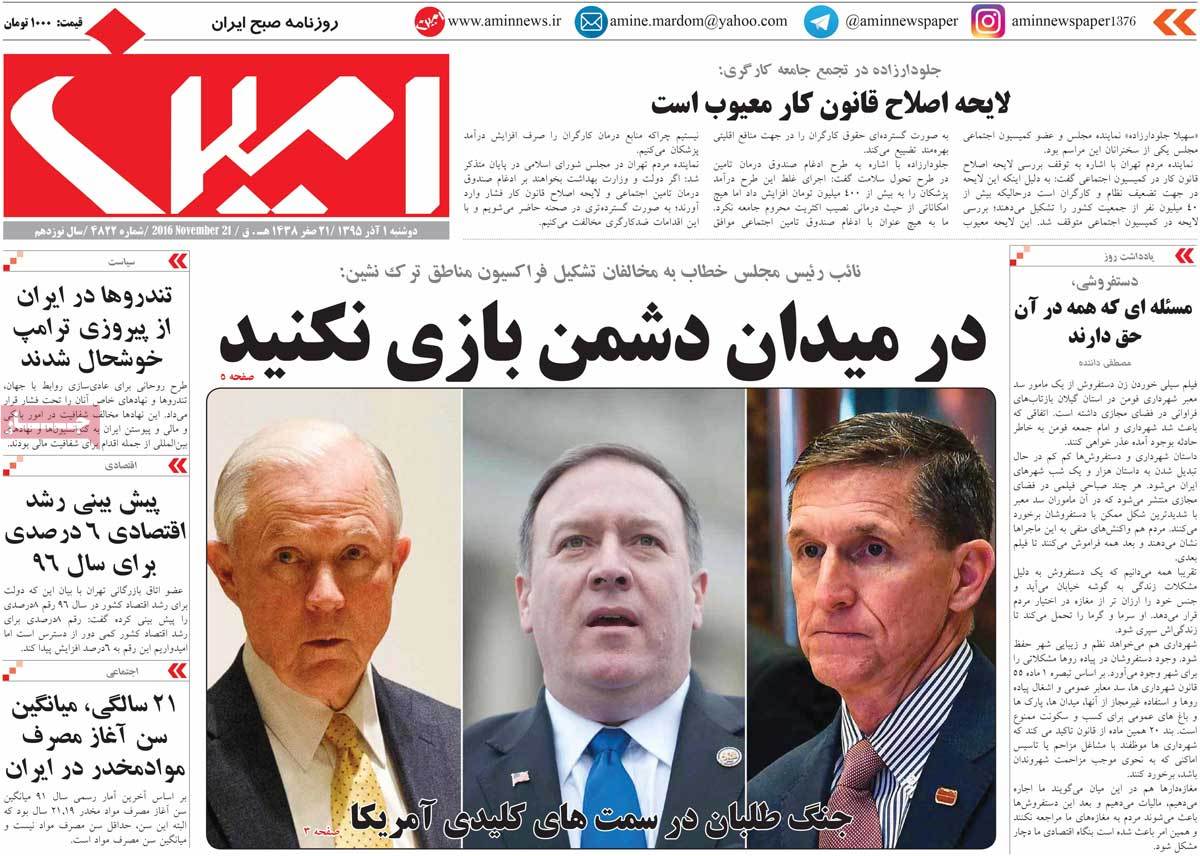 ---
Arman-e Emrooz:
1- A Lack of Alternative Is the Only Chance of Rouhani: Analyst
2- Cleric: Tortured Animals Will Take Revenge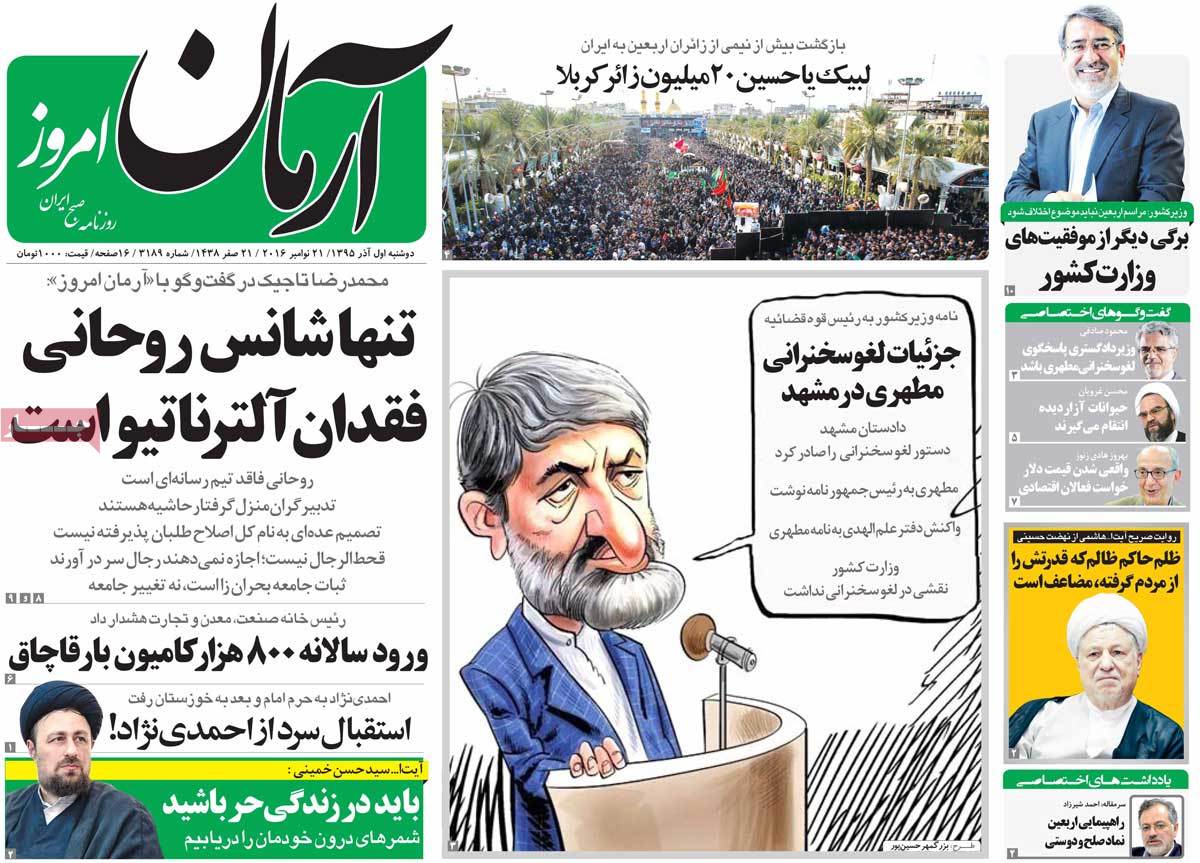 ---
Ebtekar:
1- Future of Election with a Common Candidate! Experts Discuss the Current Atmosphere in Reformists' and Conservatives' Camps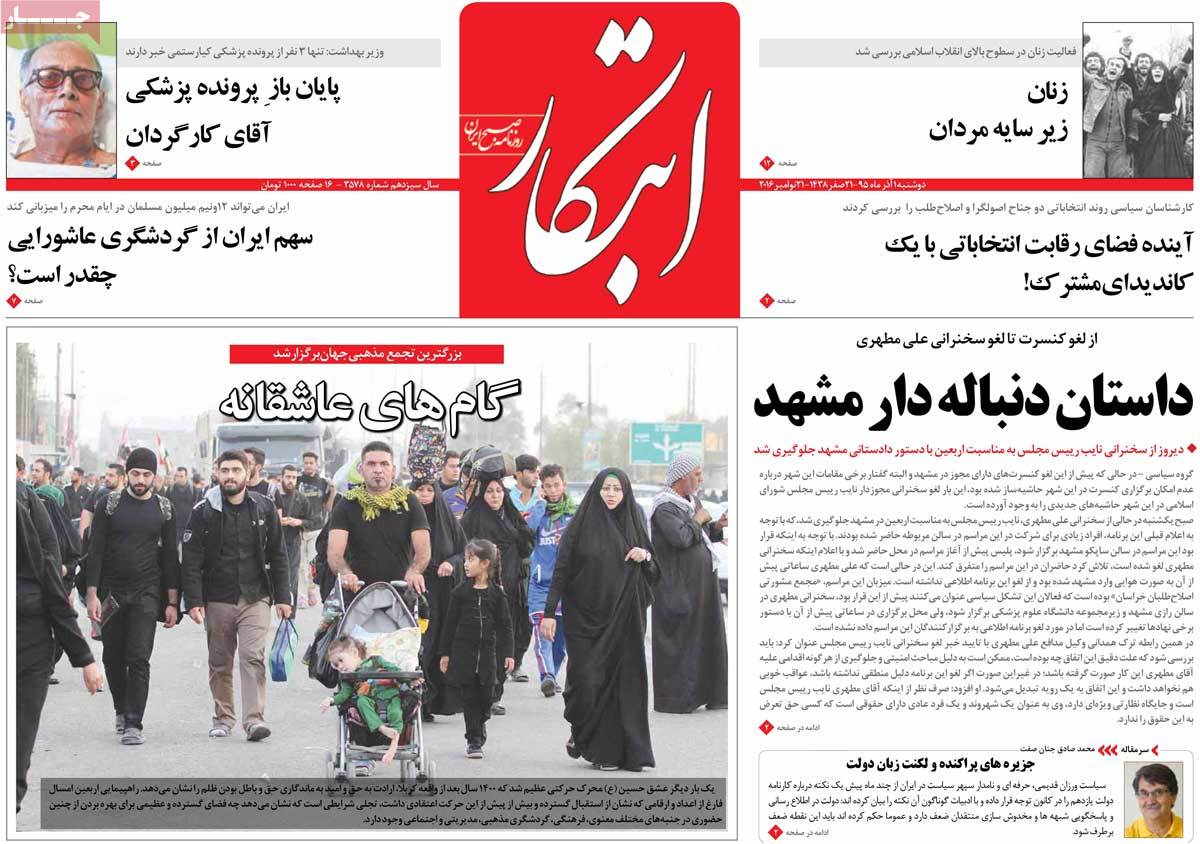 ---
Etemad:
1- Ahead of Iran's Presidential Elections: Guardian Council Looking for Clear Definition of 'Man of Politics' [whether women will be allowed to run for presidential votes or not]
2- Academic: Iran's Foreign Ministry Can Control Trump's Danger
3- Iranian Female Martial Artists: Mobina Nejad in Taekwondo and Zahra Kiani in Wushu Claim Titles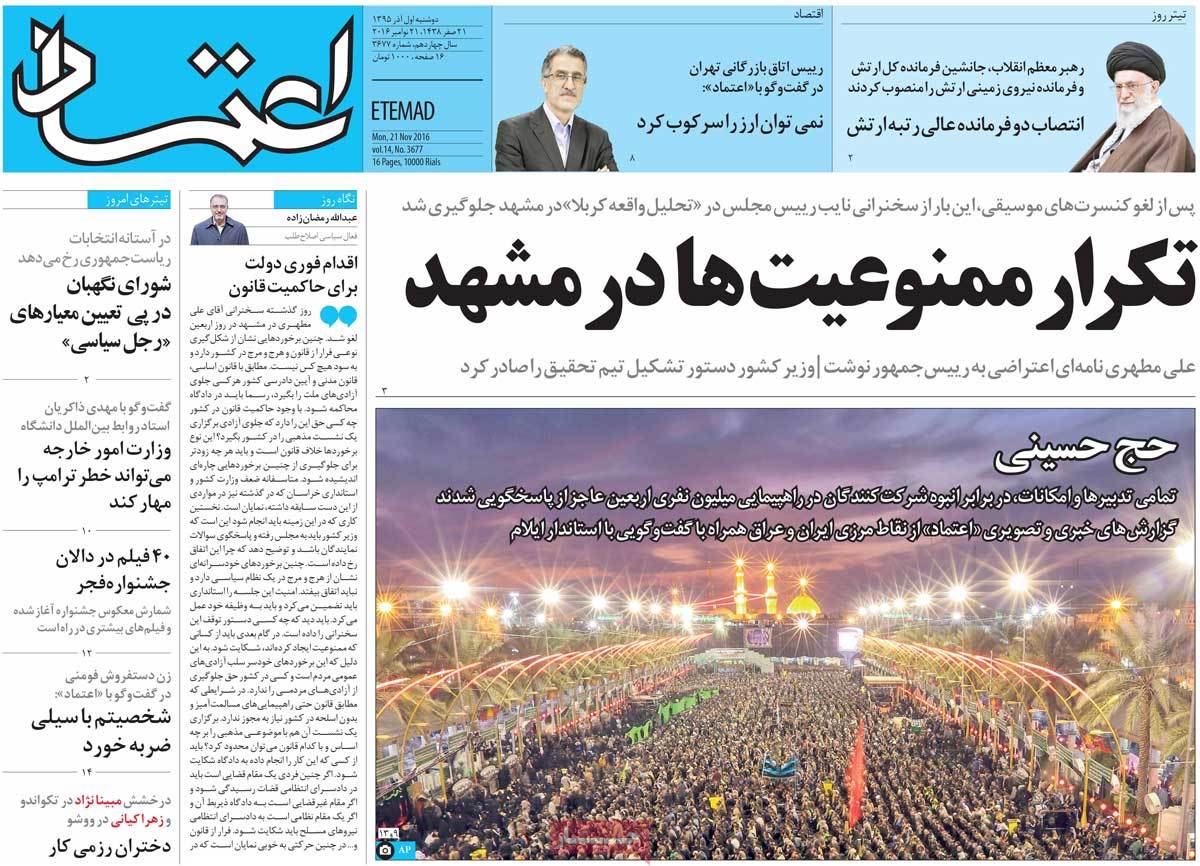 ---
Ettela'at:
1- Historic Attendance of over 20 Million Pilgrims in Karbala on Arbaeen
2- €70m Deal for Production of Nuclear Medicine in Iran's Bushehr
3- Palestinian Churches Broadcast Islamic Call for Prayers in Protest at Zionist Regime [Israel]'s Policies
---
Haft-e Sobh:
1- Death of Iranian Wingsuit Athlete in the Alps: Mahdi Habibi, the Iranian Man Whose 600-Metre Flight Had a Bitter End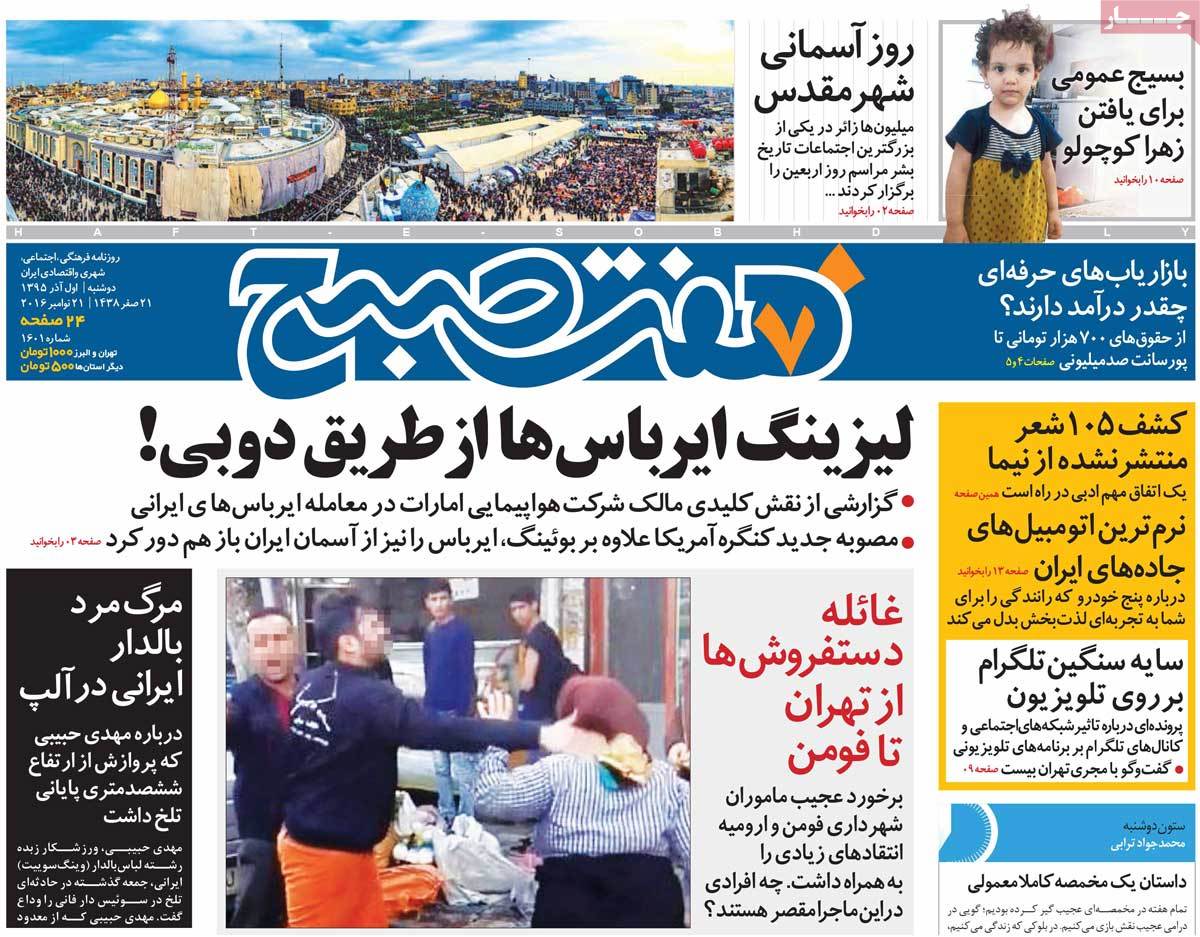 ---
Iran:
1- Massive Attendance in Arbaeen Processions: Iraqi Officials Say 20 Million Pilgrims Visited the Arab Country
2- Later This Week, First Session to Be Held for Inspection of Tehran Municipality
---
Javan:
1- Boeing: Whatever Trump Wants! Airbus: If Iran Pays in Cash, We May Give Them 1 Plane by Year-End
2- Boycott of Arbaeen Pilgrimage: Arab and Western Media Didn't See 20 Million Pilgrims
---
Jomhouri Eslami:
1- OPEC Secretary General: Iran Is New OPEC Leader; OPEC Member States' Deal in Algeria Was Not Possible without Iran's Cooperation and Leadership
2- Airbus Official: $27bn Deal for Sale of 118 Airbus Planes to Iran Not Halted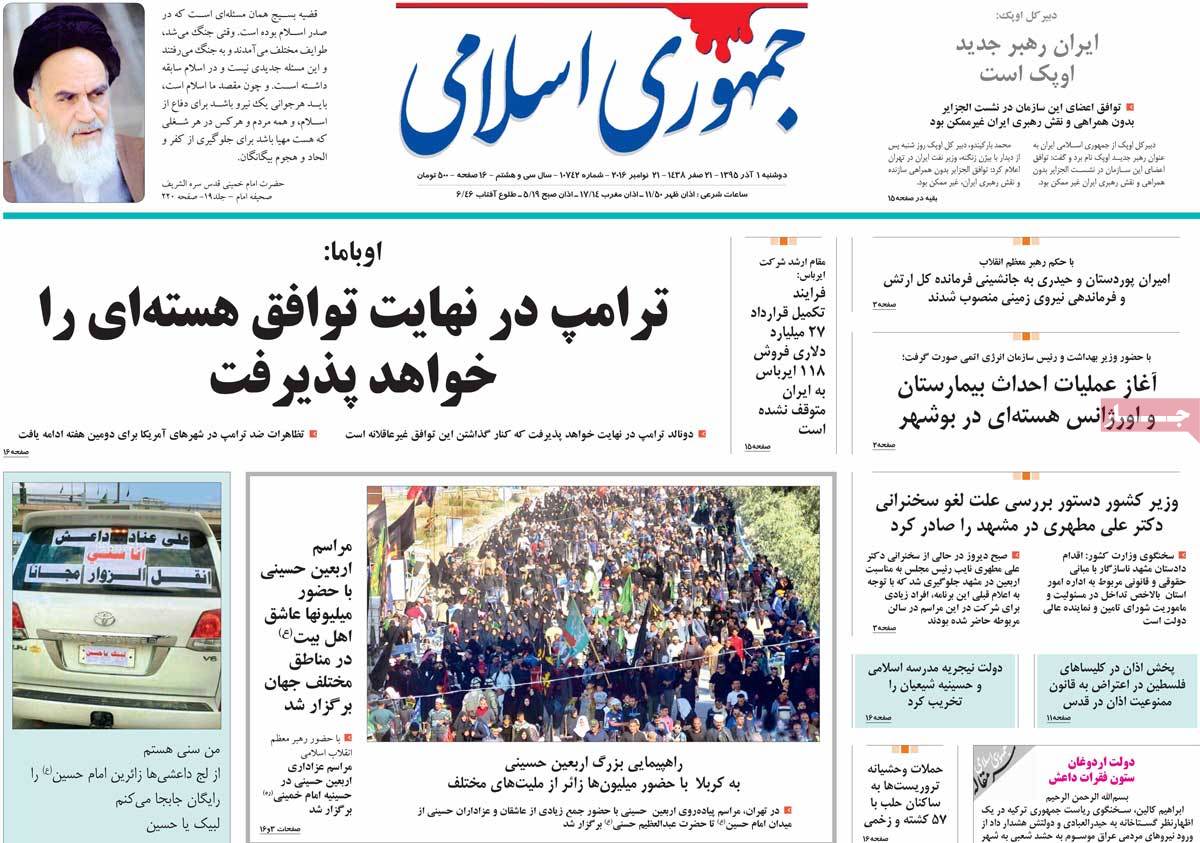 ---
Kayhan:
1- Censorship of Biggest Event in World's History in Western, Arab, and Hebrew Media
2- If Trump Doesn't Allow Us, We Won't Sell Plane to Iran: Boeing and Airbus
3- Nigerian Army Destructs Shiites' Seminaries, Schools, and Hospitals
---
Khorasan:
1- Concentration of Particles in the Air of Iranian Province Sistan and Baluchestan Is 11 Times More than Standard
2- Searching for Airplane, This Time in China: Transport Minister's Conditional OK for Purchase of Chinese Planes
3- Trump's Women in Competition with Each Other
---
Payam-e Zaman:
1- Oil Minister: $60 Is a Fair Price for Oil
2- AFC Praises Iranian Referee Faghani and His Assistants for Their Performance
---
Resalat:
1- Politician: What Does Government's Silence on JCPOA Violation Mean?
2- Biggest Human Gathering in Karbala
3- US Federal Judge: Opponents of Trump Can Leave the Country
4- Consequences of Stupidity: Will Trump Be Able to Scrap Nuclear Deal?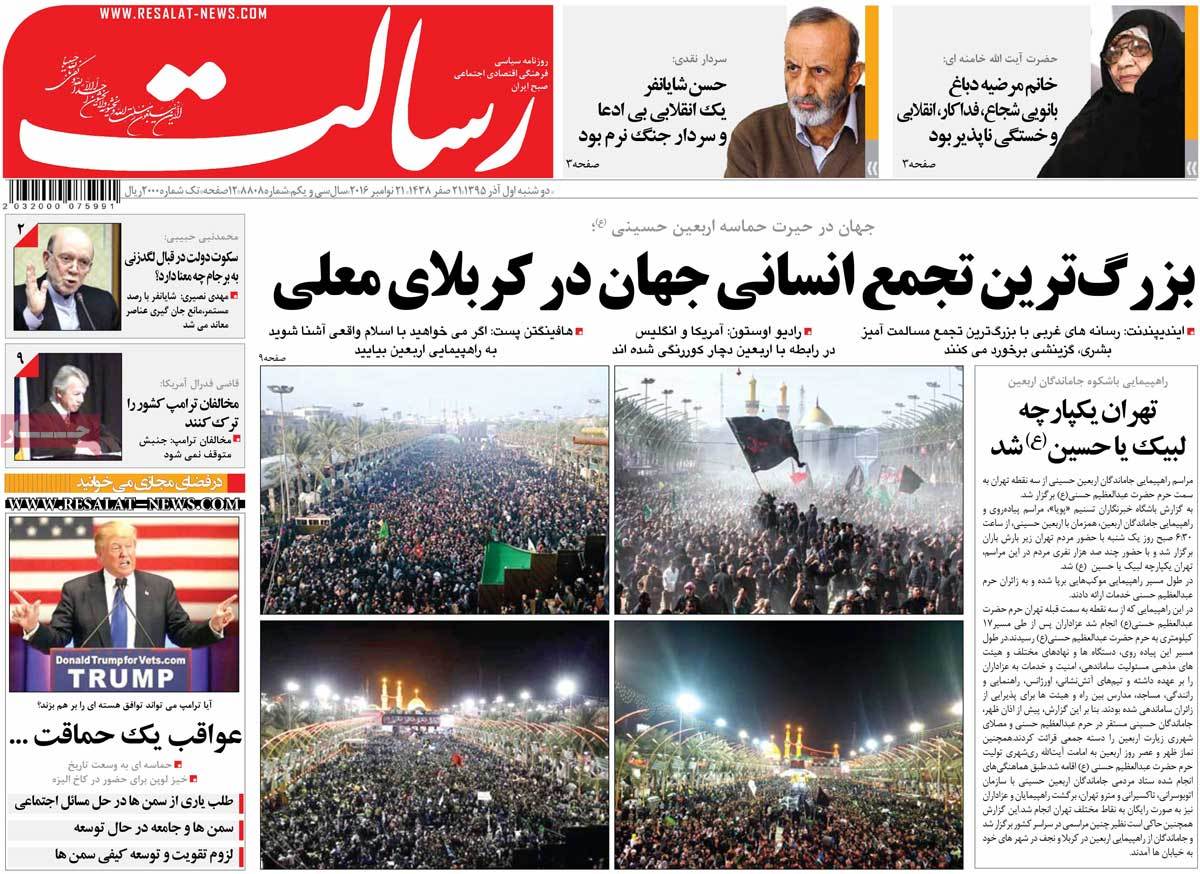 ---
Rooyesh-e Mellat:
1- Israel's Military Request from Russia against Iran
---
Setareh Sobh:
1- World's Horizon without Carbon; Iran's Environment Chief Ebtekar: We Let the World Hear Voice of Iranian People; John Kerry: Not a Long Time Left for Saving the Earth
---
Shahrvand:
1- Political Earthquake in Mashhad: Iranian Parliament Vice-Speaker Motahari's Speech Cancelled in Northeastern Holy City
2- Red Face of Street Vendors: Two Vendors in Iranian Cities of Fouman and Oroumiyeh Beaten by Municipality Forces
3- Waiting for a Surprise: Asghar Farhadi's 'The Salesman' among the Five Films Predicted to Win Oscar
---
Tejarat:
1- Danger of Return of Uncontrollable Inflation
2- 800,000 Trucks of Goods Illegally Imported to Iran
---
Vaghaye Ettefaghieh:
1- JCPOA Tension in US
2- Iran, the Forgotten Peak of World's Tourism!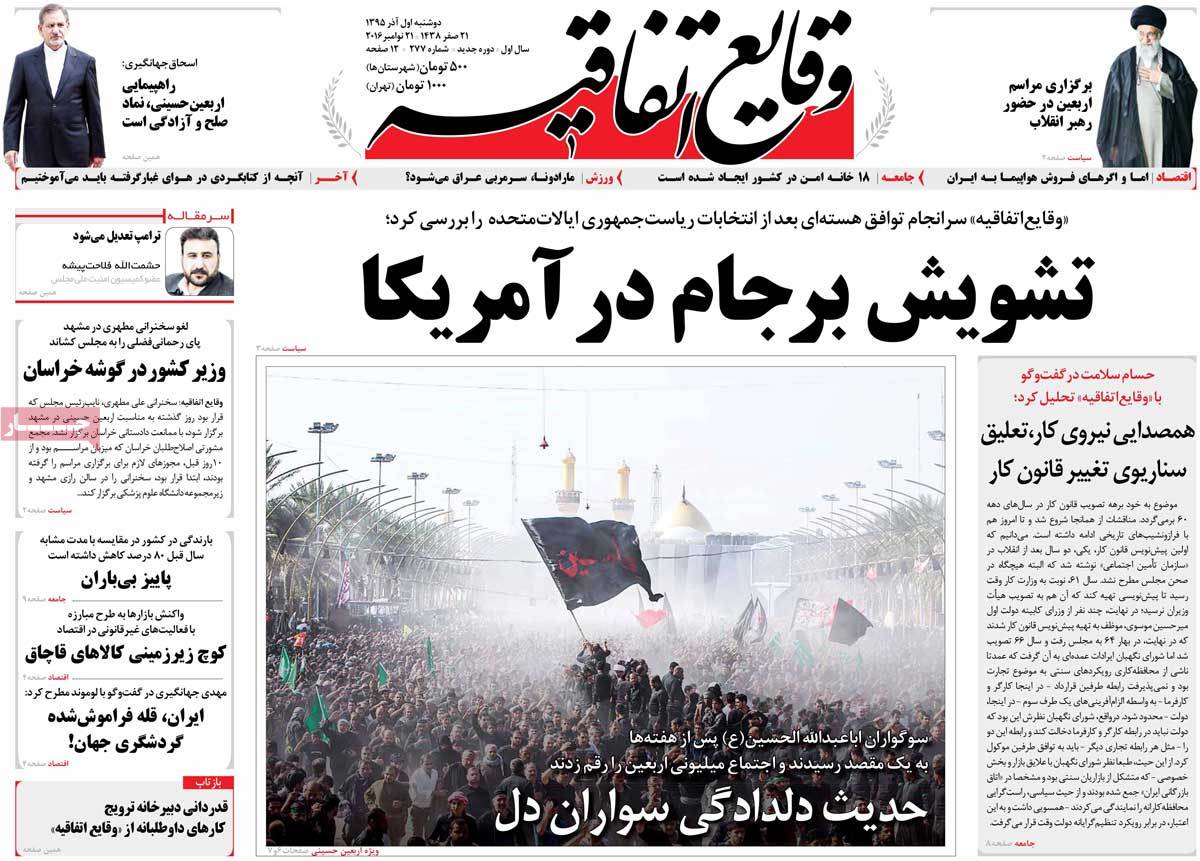 ---
Vatan-e Emrooz:
1- Hello from Iran: Arbaeen Ceremony Held in Tehran and 800 Iranian Cities with Millions of People in Attendance