Newspapers today continued to cover the ongoing efforts to help the quake-hit people in Western Iran, particularly their accommodation in the cold weather.
Media reports about the unsuccessful assassination of Saudi Crown Prince Mohammed bin Salman also received great coverage.
Another top story was a trilateral meeting between the foreign ministers of Iran, Russia, and Turkey in the Turkish city of Antalya on the Syria crisis and ways to de-escalate tension in the region.
The above issues, as well as many more, are highlighted in the following headlines and top stories:
19 Dey:
1- Ayatollah Makarem Shirazi: Government's Performance in Quake Better, Faster
---
Abrar:
1- Last Stronghold of Takfiri Terrorists in Syria Liberated
2- Iraq to Attend Anti-Iran Summit in Cairo
3- Qatar FM: Our Ties with Iran Unique
---
Aftab-e Yazd:
1- Rubble of Cold after Rubble of Earthquake
2- Conservatives Remain Undecided about Actions of Ahmadinejad and His Allies
---
Arman-e Emrooz:
1- Accommodation of Quake-Hit People Accelerated
2- Analyst: Rouhani Wants to Keep Both Parties on His Side
3- Kiarostami's Doctor Condemned to Pay Blood Money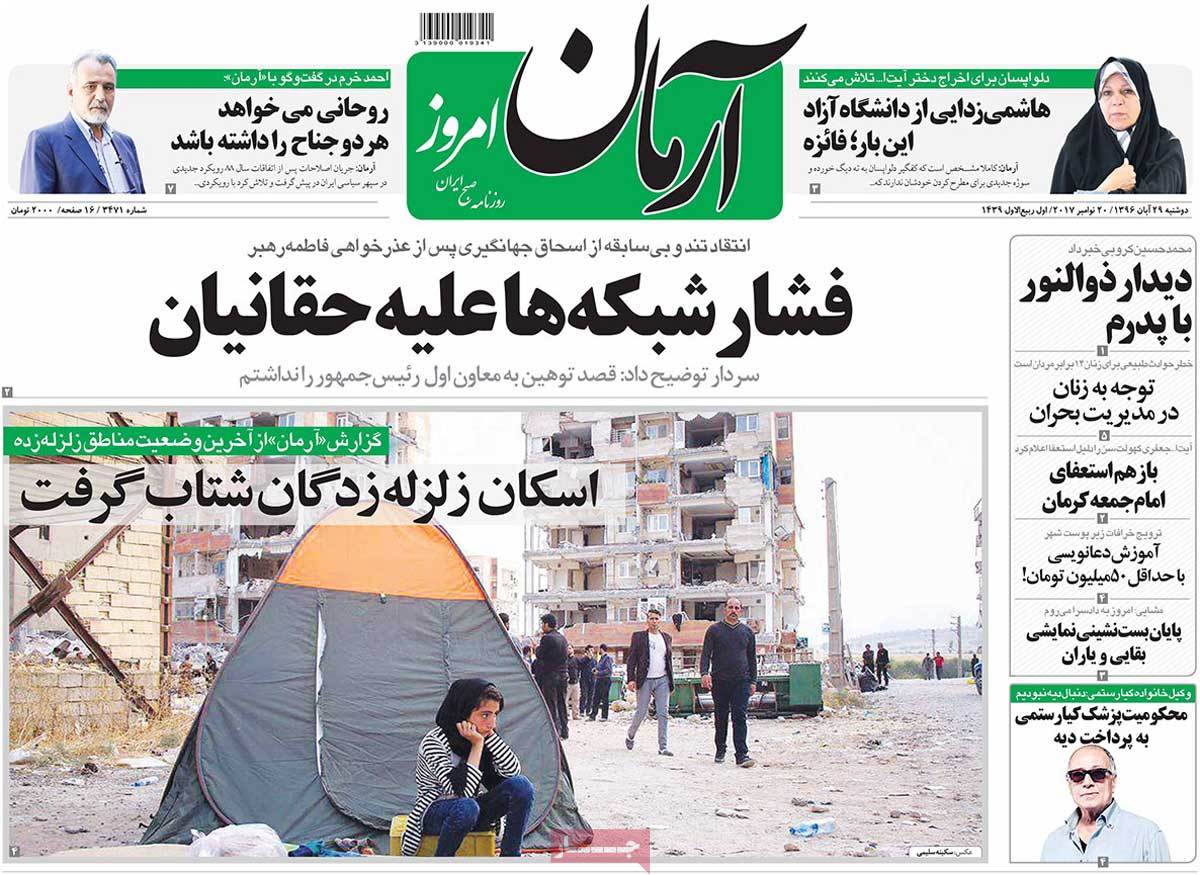 ---
Ebtekar:
1- Imam Khomeini's Grandson: Reactionary Movements Totally against Revolutionary Forces
2- Hariri in Paris; Beirut Waiting for Him; Tension in Region
3- Trilateral Meeting of Iranian, Turkish, Russian FMs Held in Antalya
Tree of Tehran-Ankara-Moscow Bears Fruit
---
Etemad:
1- FMs of Iran, Russia, Turkey Agree on All Key Issues
---
Ettela'at:
1- Second Wave of Help for Quake-Hit People Begins
All Facilities, Equipment Deployed for Temporary Accommodation
2- Leaders of Iran, Russia, Turkey to Hold Summit Wednesday
3- US Commander: We're Not Required to Implement Trump's Illegal Orders
---
Iran:
1- Riyadh's Anti-Iran Plot Fails
2- Zarif: Saudi Arabia Should Change Its Policies to Be Part of Regional Peace
3- A Week Full of Bitter, Sweet Incidents
A Review of 7th Day after Iran Earthquake
---
Jame'eh Farda:
1- Ballistic Missiles on Negotiating Table?
Message of US, France Conveyed to Iran
2- Reformist Figure's Mechanism for National Dialogue
Path of Achieving National Dialogue More Complicated than Path of Achieving JCPOA
---
Javan:
1- US Uses Oil to Set Iran Nuclear Deal on Fire
2- India, South Korea, Europe Decrease Oil Purchase from Iran
3- Axis of Resistance Eradicates ISIS Terrorists
4- Velayati: Mr. Macron! Be as Independent as Charles de Gaulle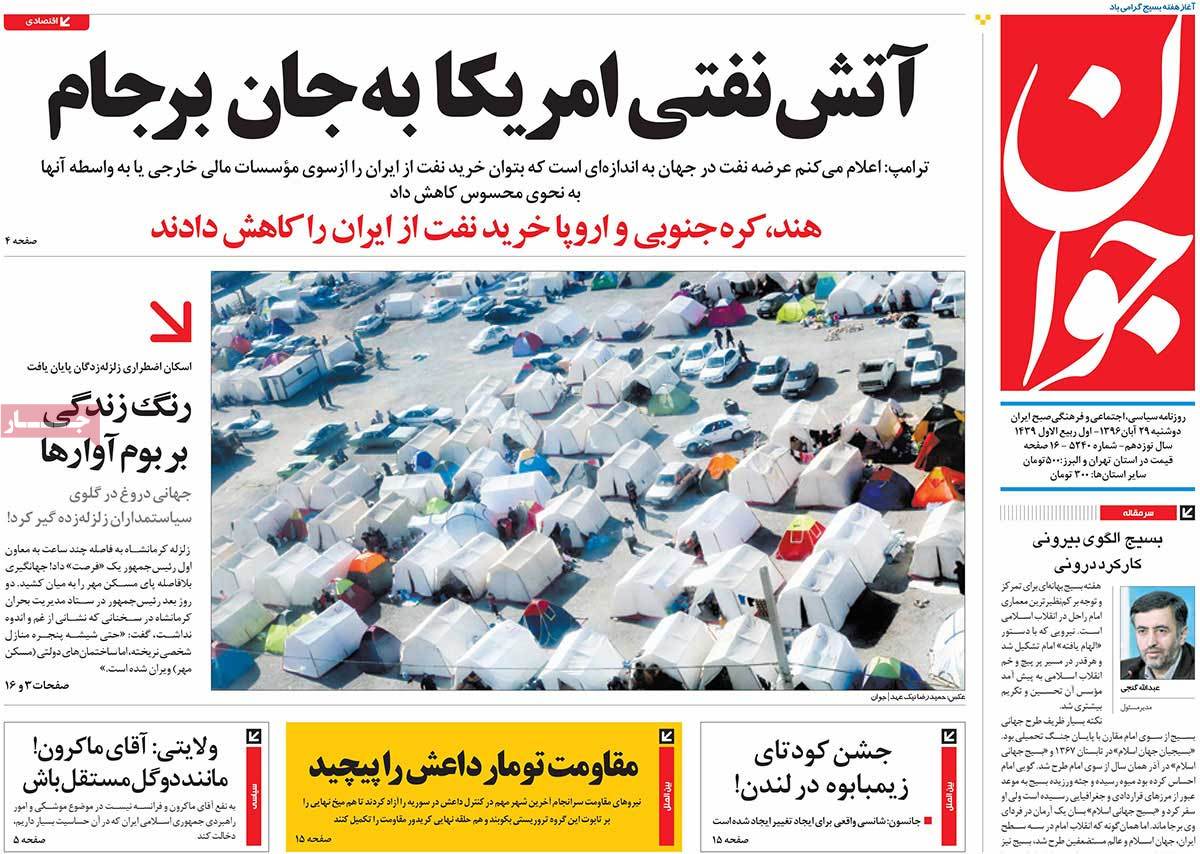 ---
Jomhouri Eslami:
1- FM Zarif: UN Should Take Immediate Action to Save Yemeni People from Drought
2- Oil Minister: Under Normal Circumstances, Total Cannot Leave Phase 11 of South Pars
3- Top Clerics Praise Services of Gov't, People, Call for Continued Help for Quake-Hit People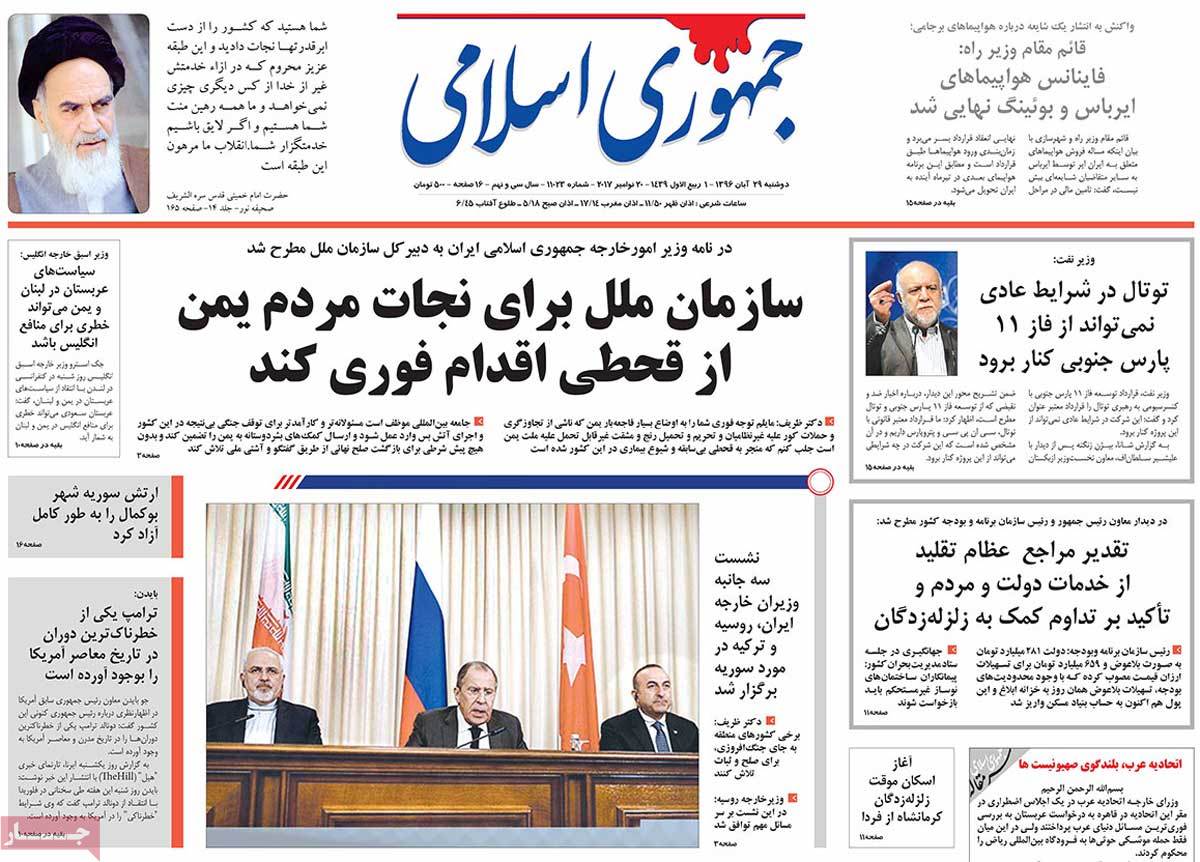 ---
Kayhan:
1- Political Labelling to Evade Accountability: From Natural Disasters to Economic Corruption
2- Mixed Reports about Attempt to Murder Bin Salman
3- Velayati Seriously Warns Macron over Interfering in Iran's Strategic Affairs
---
Resalat:
1- Ayatollah Makarem Shirazi: Connection of Religious, Military Cultures Secret behind Victory of Resistance
---
Setareh Sobh:
1- People's Trust for Athletic, Political, Art Figures: Helping People through Trusted Hands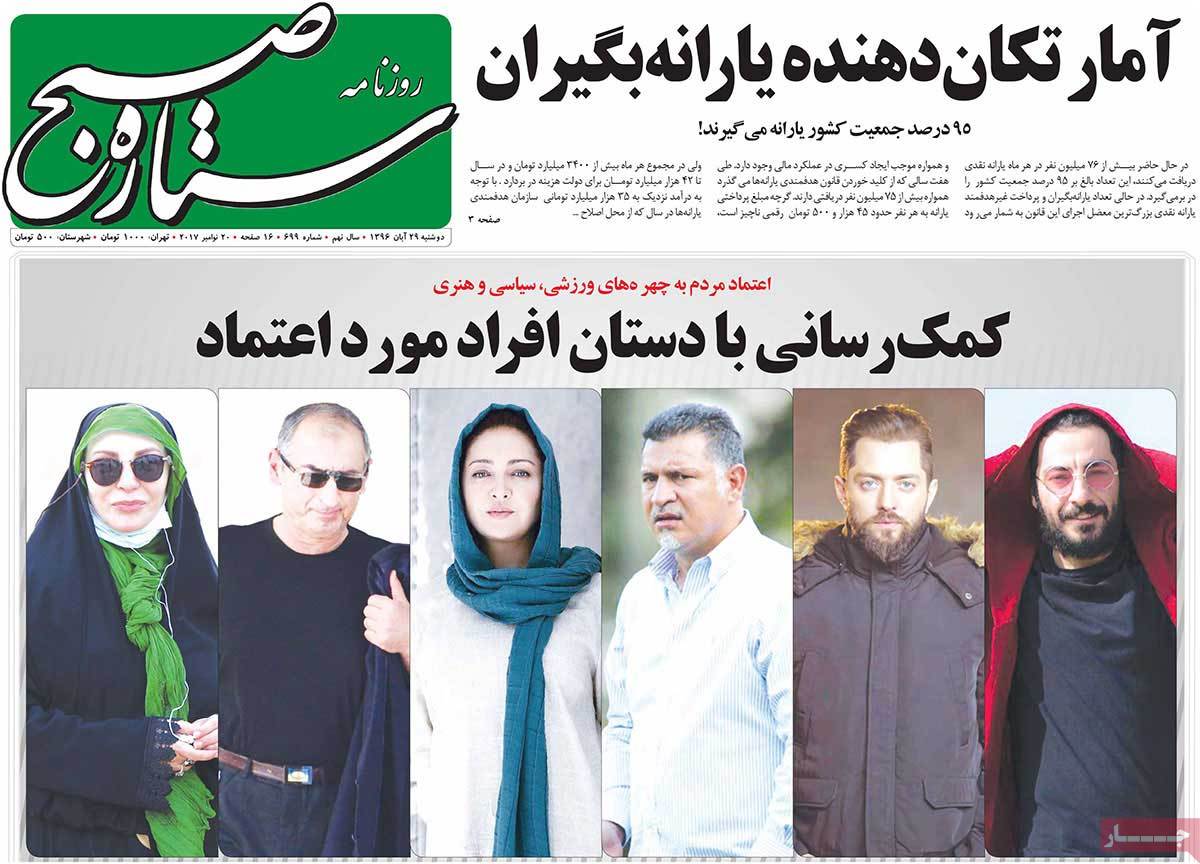 ---
Shargh:
1- Oil Minister on Total's Withdrawal from South Pars: No One Commits Suicide for Fear of Death
2- Deputy Roads Minister: Boeing to Come to Tehran Next Week; Trump Prolonged Negotiations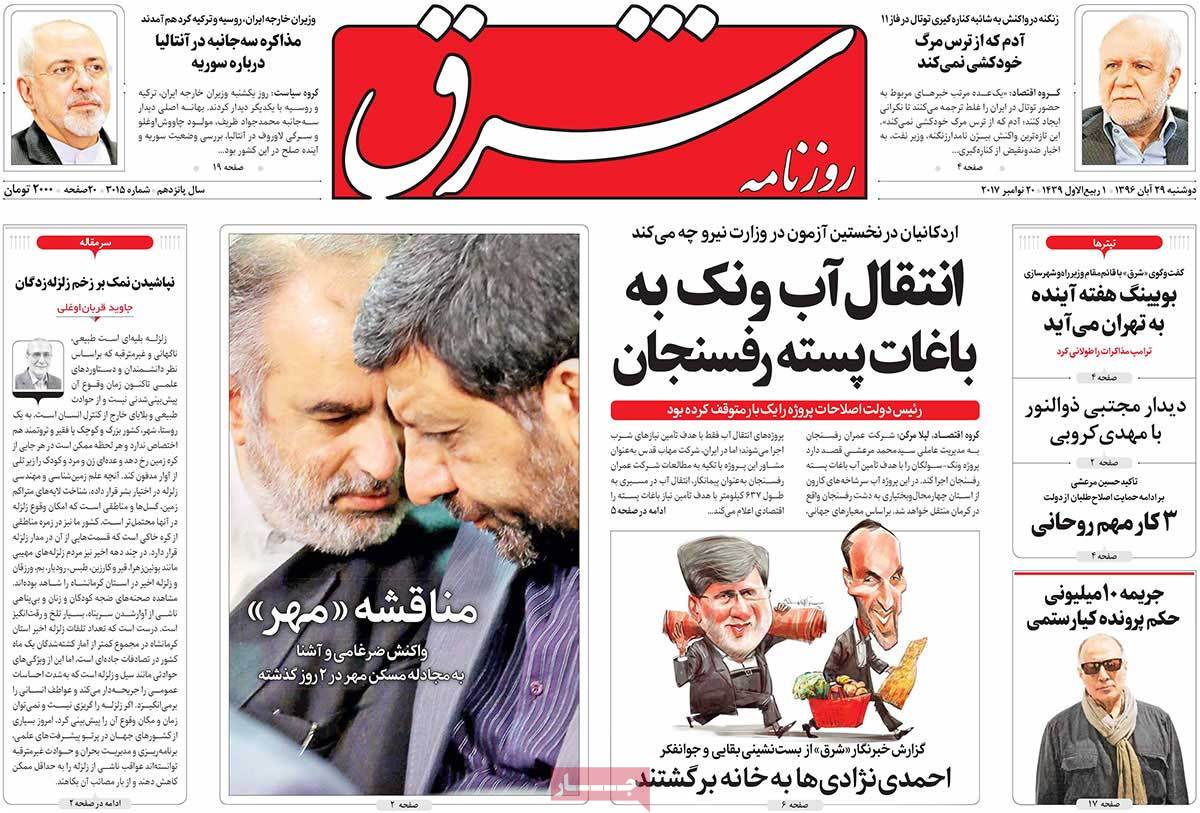 ---
Siasat-e Rooz:
1- Settlements before Kingdom: Media Reports Claim Bin Salman Assassinated
2- France Continues to Play Role of Bad Cop
White House: Trump, Macron Make Deal on Countering Iran, Hezbollah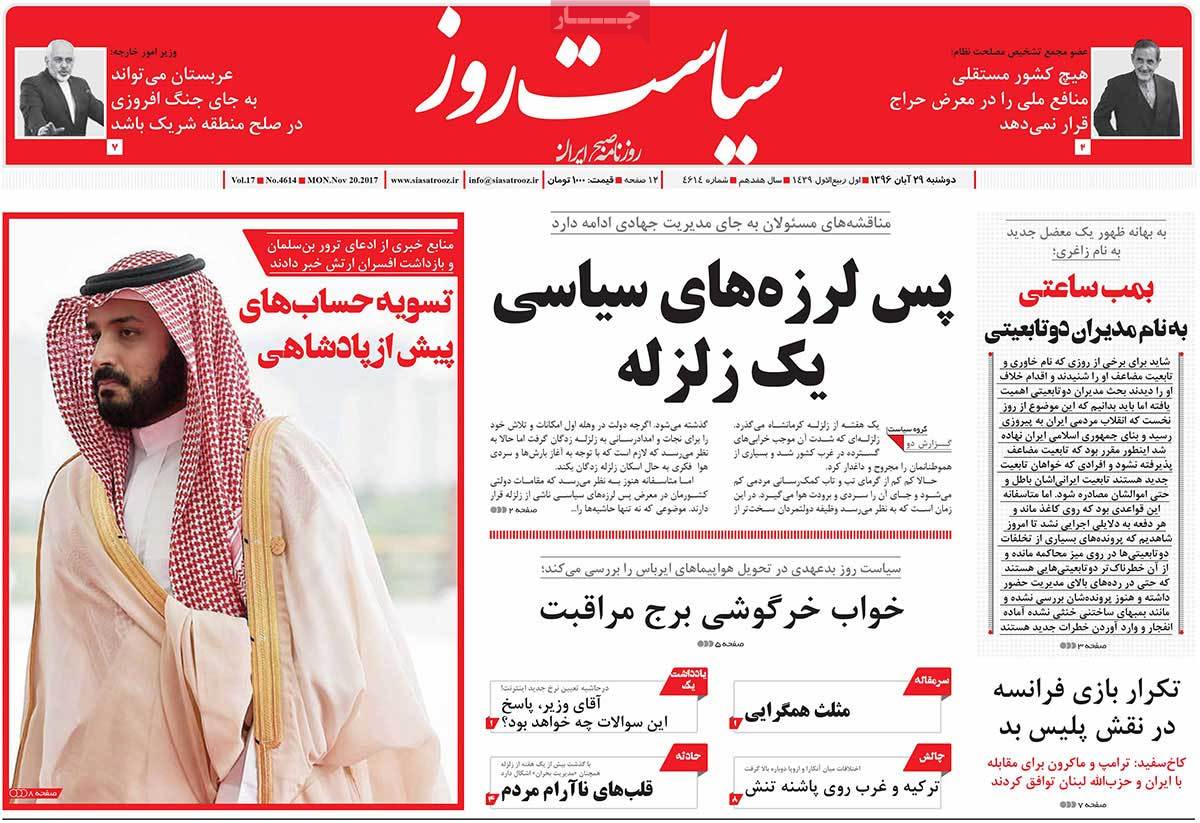 ---
Sobh-e Now:
1- Syria's Bukamal Liberated: General Soleimani Fulfils His Promise