Newspapers today covered the pilgrimage of millions of Shiites to the Iraqi holy city of Karbala to mark the fortieth day after Imam Hussein's martyrdom, known as Arbaeen.
They also covered the anti-Iran bills passed in the US White House and the US President Barack Obama's possible veto.
The nomination of radical anti-Iran figures for key posts in Donald Trump's cabinet also received great coverage today.
The above issues, as well as many more, are highlighted in the following headlines:
Arman-e Emrooz:
1- 3 Radicals Nominated for 3 Key Posts in US
2- World's Largest Gathering in Karbala
3- Trump Will Also Be Defeated by Iran's FM Zarif
4- Former Diplomat Asefi: Trump Is Like a Two-Bladed Sword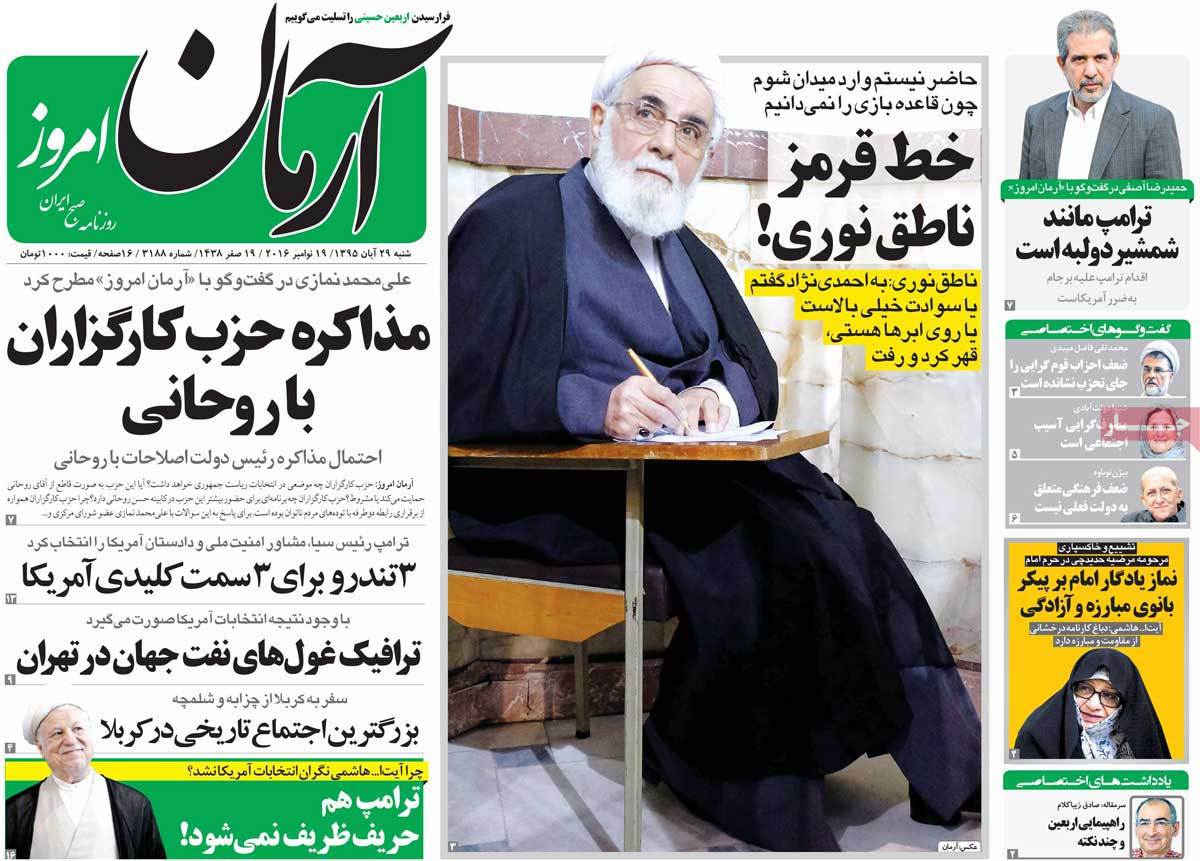 ---
Donya-ye Eqtesad:
1- Foreign Policy Expert Mousavian Highlights Cautious Plans of Iran and Europe for Trump Era
2- Economist: Danger of Nationalism Threatening the World
3- Heavy Price of Scrapping JCPOA [Editorial]
---
Ettela'at:
1- 85-Kilometre Friday Prayers in Route to Karbala
2- Rouhani: People Suffering from Unhealthy Quarrels and Competitions
3- 50 Nusra Front Terrorists Killed in Russian Airstrikes on Syria's Aleppo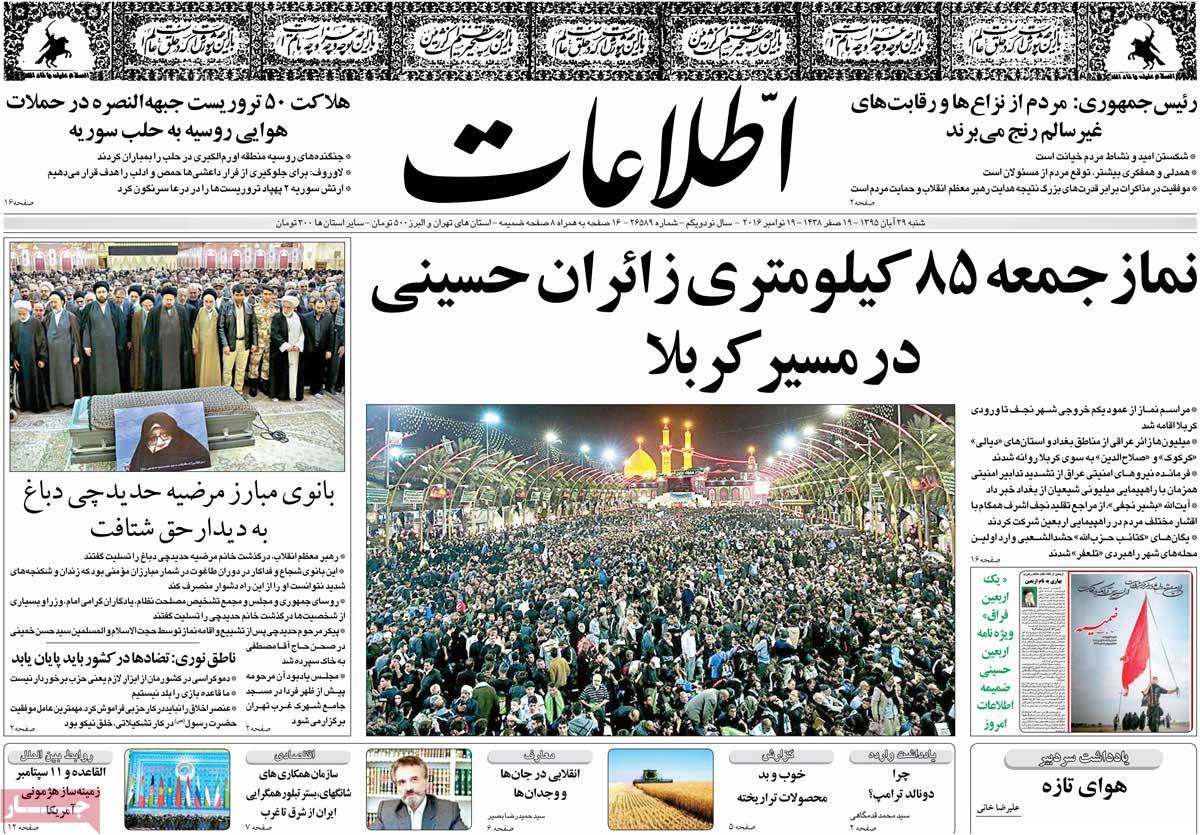 ---
Farhikhtegan:
1- Obama Will Veto US House's Effort to Disrupt JCPOA Implementation
2- Waiting for another Epic: Millions of Pilgrims en Route to Karbala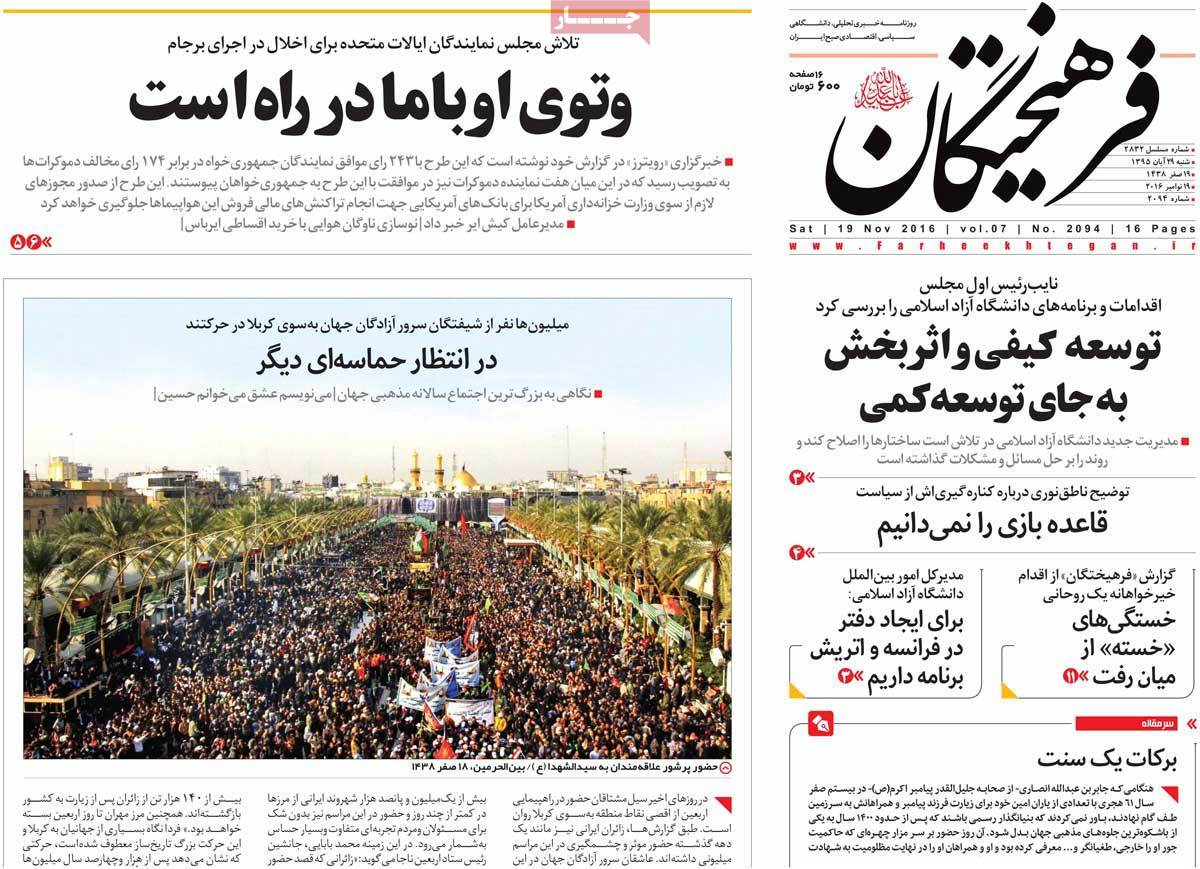 ---
Haft-e Sobh:
1- Passion in Iraq's Karbala, Turmoil in Mehran [Iran-Iraq border crossing closed by Iraqi government]
2- Gang of Evils in White House: Enemies of Iran Competing with Each Other for Being Part of Trump's Cabinet
3- Storm of Oil Contracts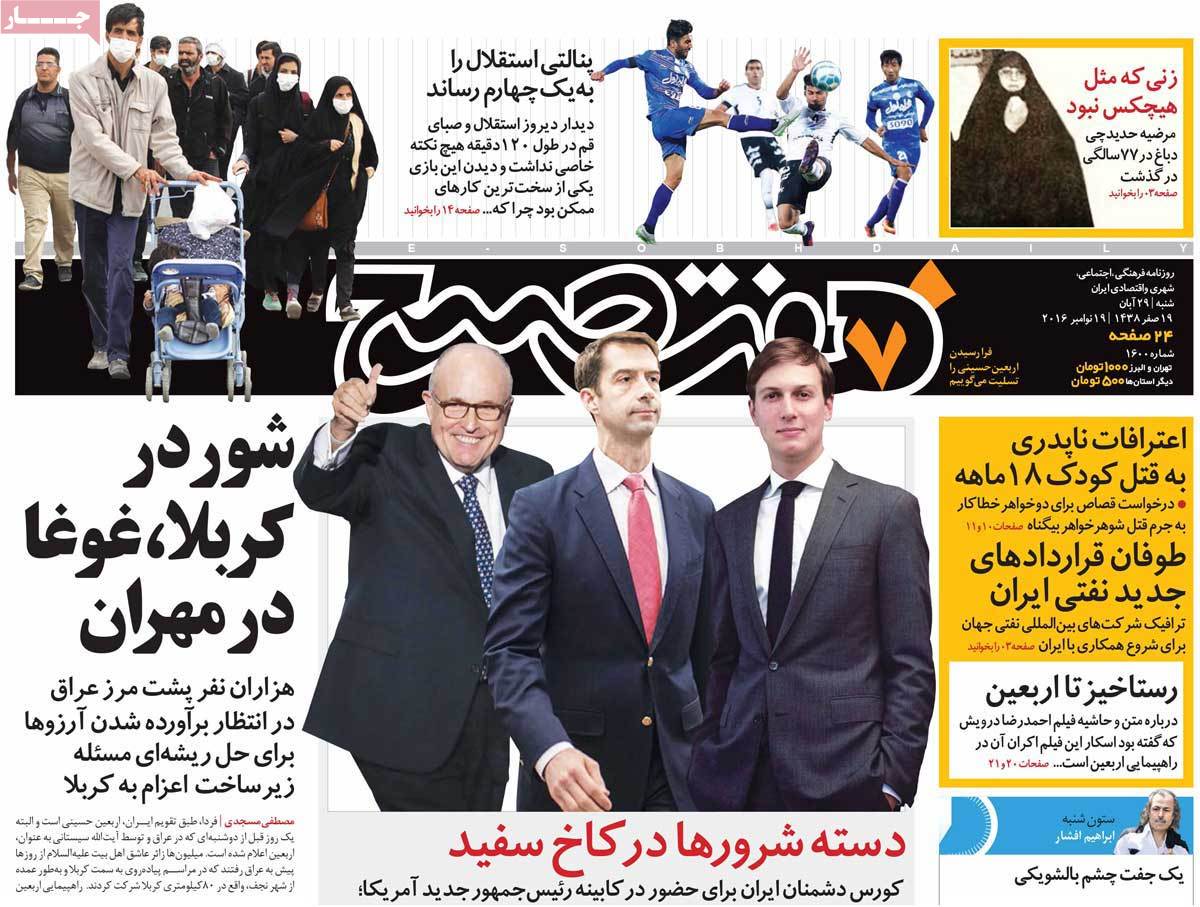 ---
Hamshahri:
1- Key to Resolution of Air Pollution Crisis Lies under the Ground
2- Iran Holds First Rank in Pace of Developing Cancer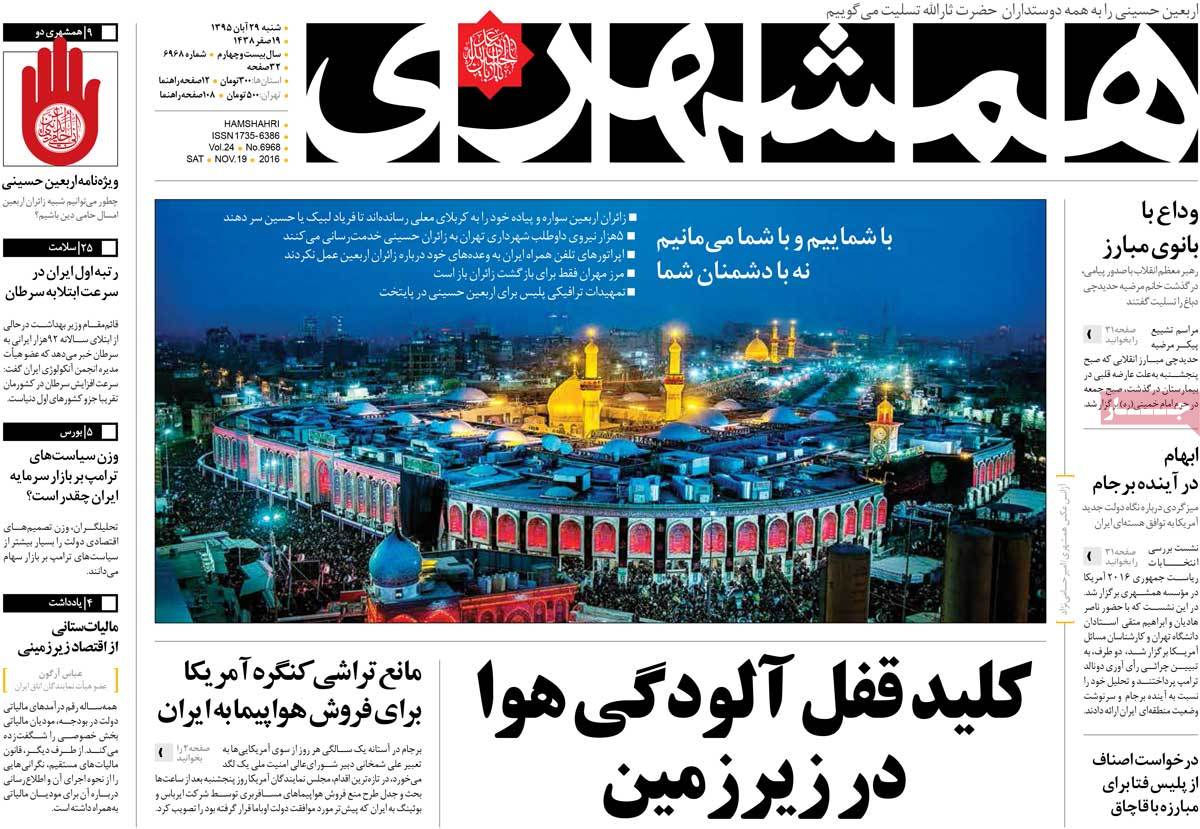 ---
Iran:
1- Increase in Number of Iran's Oil Customers in Four Continents
2- Rouhani: Foreign Investment in Iranian Provinces Multiplied in Post-JCPOA Era
3- More than 2 Million Pilgrims [from Iran] to Attend Arbaeen Pilgrimage
4- Passion of Book in Iranian Cities: Book Week in Iran Takes Culture Minister to Bookshops
---
Jomhouri Eslami:
1- Former Swedish PM: Trump Means End of the West
2- Slaughter of More than 100 Muslims in Myanmar
3- Obama in Berlin: Trump Should Stand against Russia
---
Kayhan:
1- Karbala, Home to Biggest Gathering in History of Mankind
2- French PM: European Countries in Danger of Downfall and EU in Danger of Collapse
3- Zionist [Israeli] Troopers Break Records in Draft Evasion and Desertion of Military Service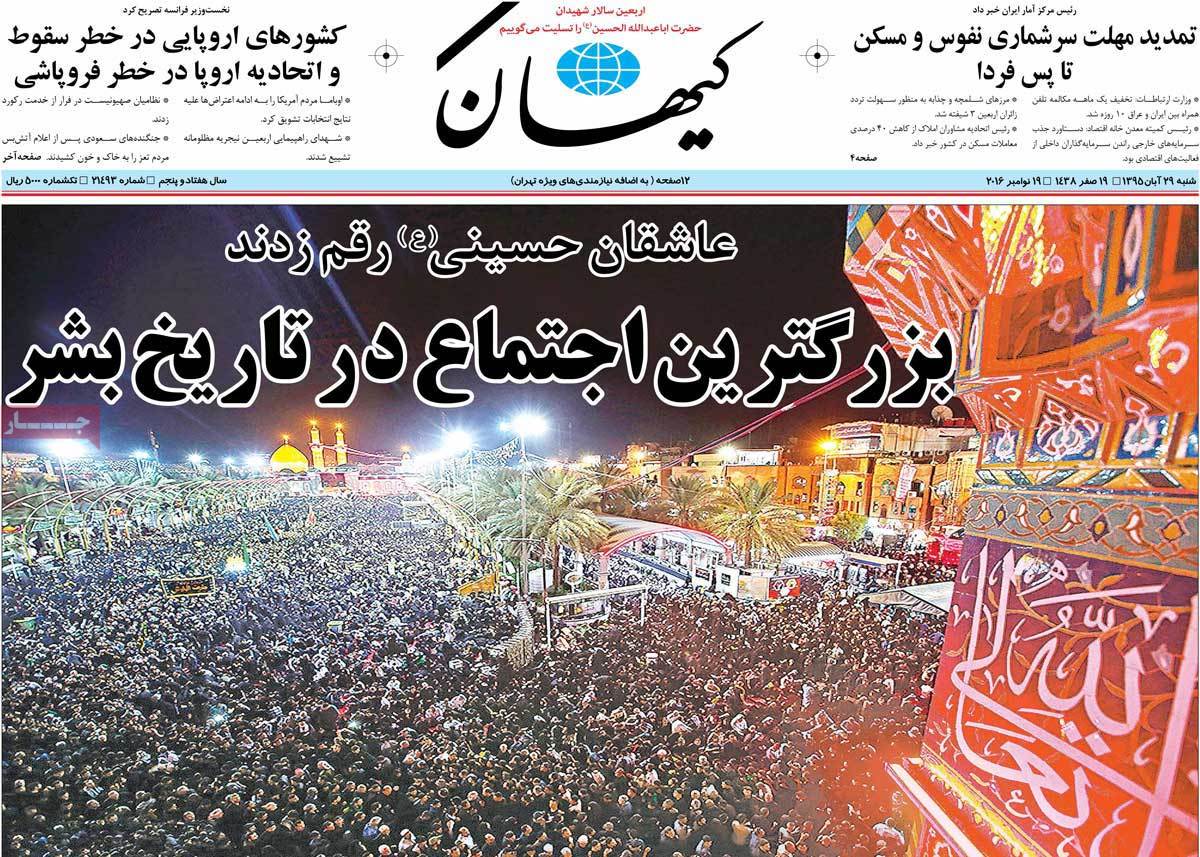 ---
Khorasan:
1- Resurrection of Arbaeen
2- A Resolution that Directly Violates JCPOA: US Ratifies Bill than Bans Plane Sale to Iran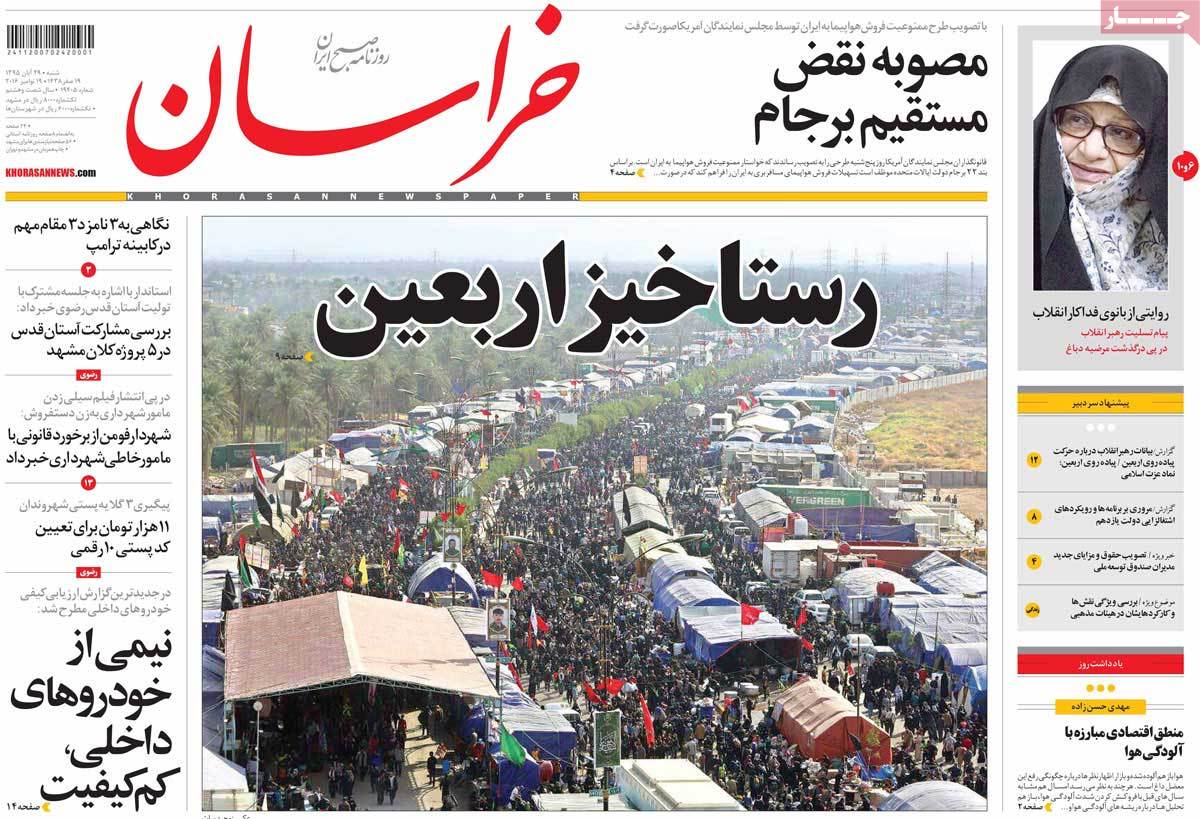 ---
Mardom Salari:
1- Iranian Films Going on Screens in World Theatres
2- 600 Days Held Captive by Somalian Pirates
3- Iran-US Hostility to Be Resolved If the Two Countries' Identities Are Changed: Expert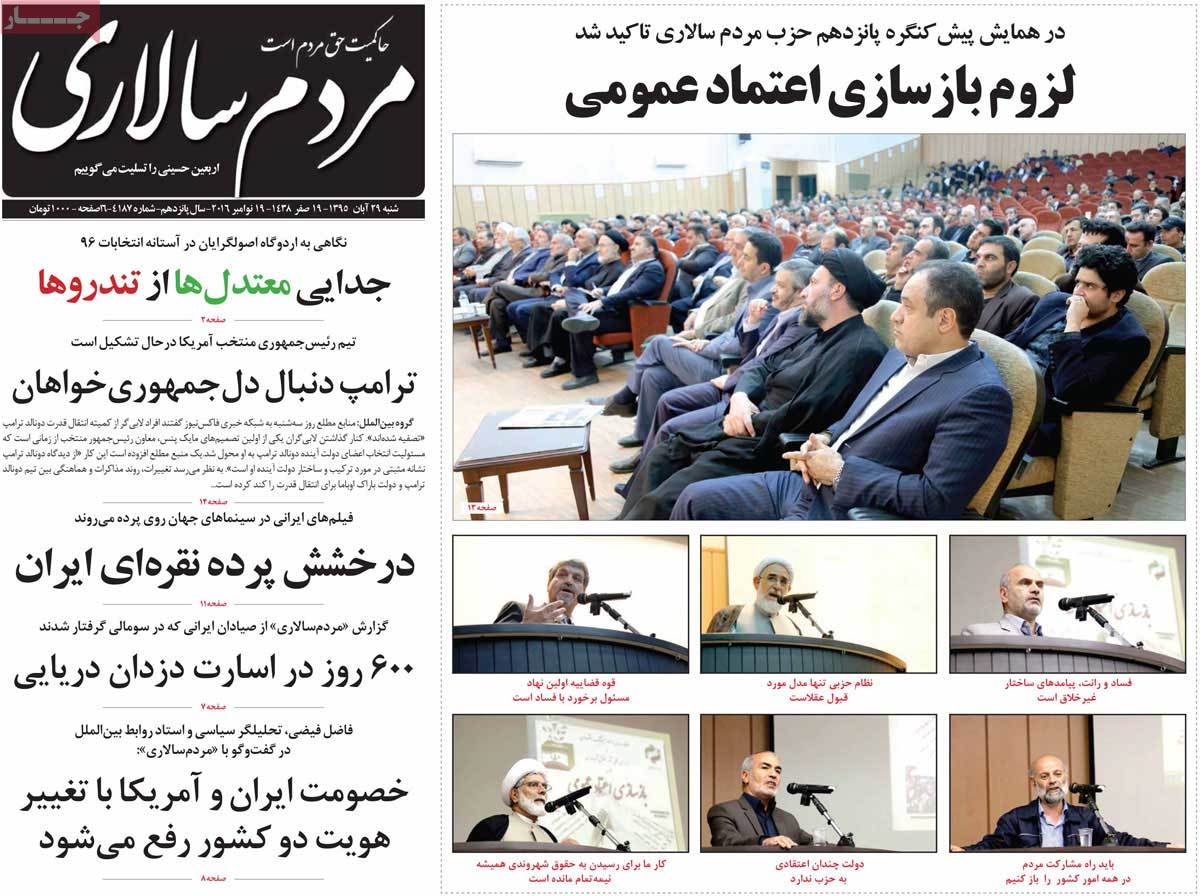 ---
Shakhe-ye Sabz:
1- Cleric: EU's Office in Tehran Is a Factory of Infiltration
2- Intelligence Minister: We Have No Security Concern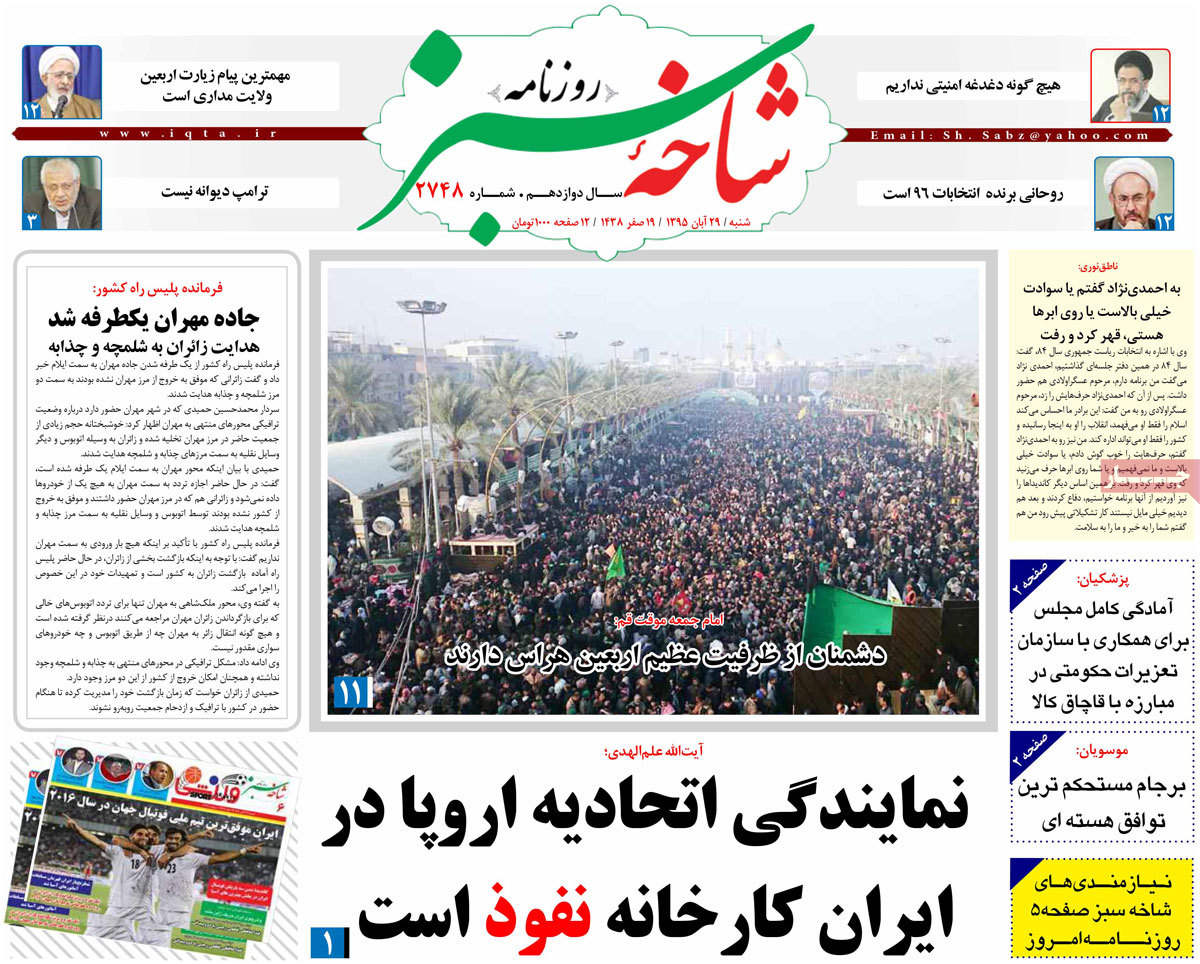 ---
Shargh:
1- Half of Those Nominated for Trump's Cabinet Are Radical Opponents of Iran
2- Turks Looking for Release of Iranian-Turkish Businessman Reza Zarrab
3- People's Rare Line for Buying Books