Newspapers today covered the remarks made by the Leader of the Islamic Revolution Ayatollah Seyyed Ali Khamenei in a meeting with a group of people from Isfahan. They mainly pointed to Ayatollah Khamenei's comments about the US elections and the election of Donald Trump as the new president.
Another top story today was the Arbaeen processions, where millions of Shiite pilgrims are heading to the Iraqi holy city of Karbala to mark the fortieth day after the martyrdom of Imam Hussein.
The US House of Representatives' move to extend the anti-Iran sanctions for 10 years and the consensus between Democrats and Republicans in this regard also received great coverage.
The above issues, as well as many more, are highlighted in the following headlines:
Abrar:
1- One-Third of Eastern Mosul under Iraqi Army's Control
2- UN Condemns Russia's Occupation of Crimea
3- Saudi FM to Visit US
4- Hollande: Trump Won't Tear Apart Nuclear Deal with Iran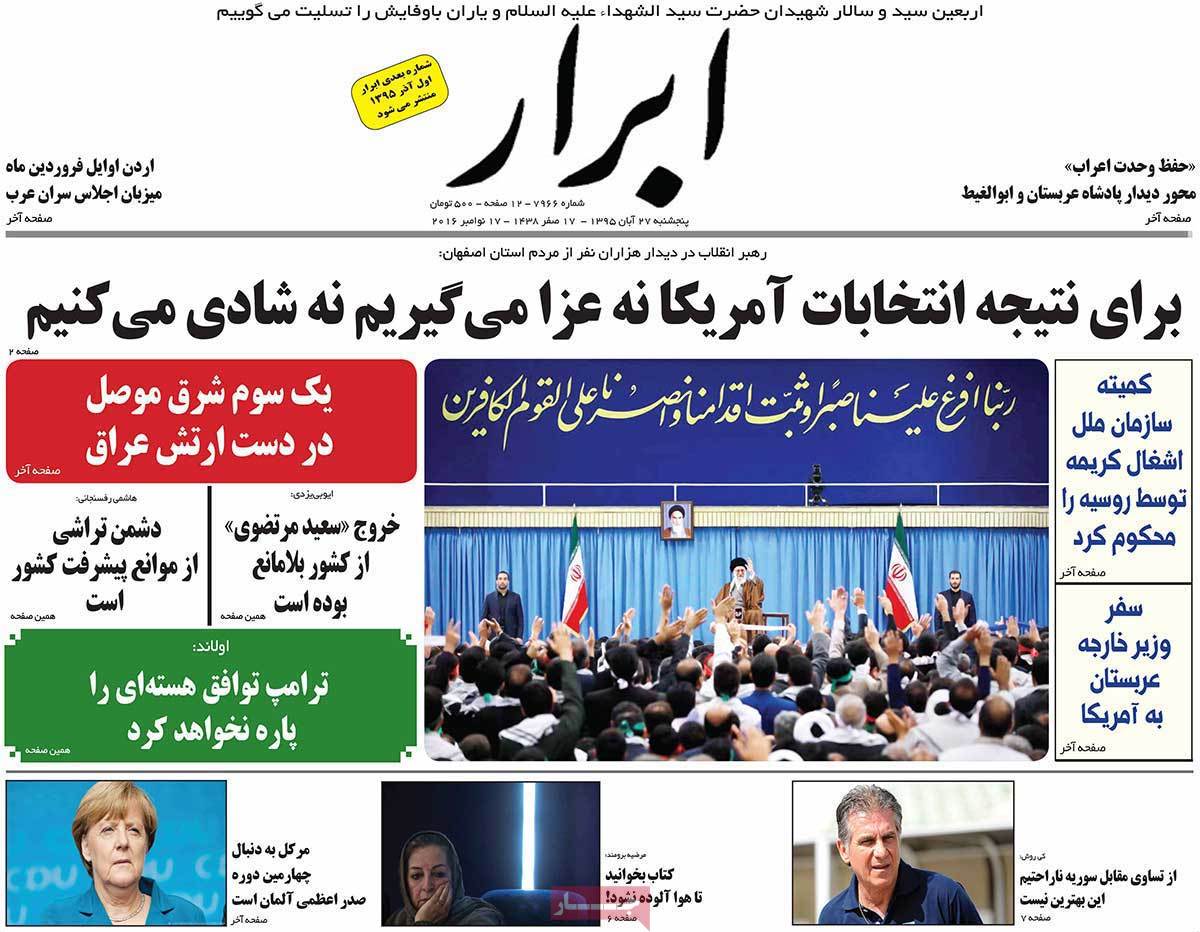 ---
Aftab-e Yazd:
1- Assad Cautiously Welcomes Trump's Election; Syrian President Says Trump Can Be Damascus' Natural Ally
2- Trump's First Wife Tells about Life of Mr. T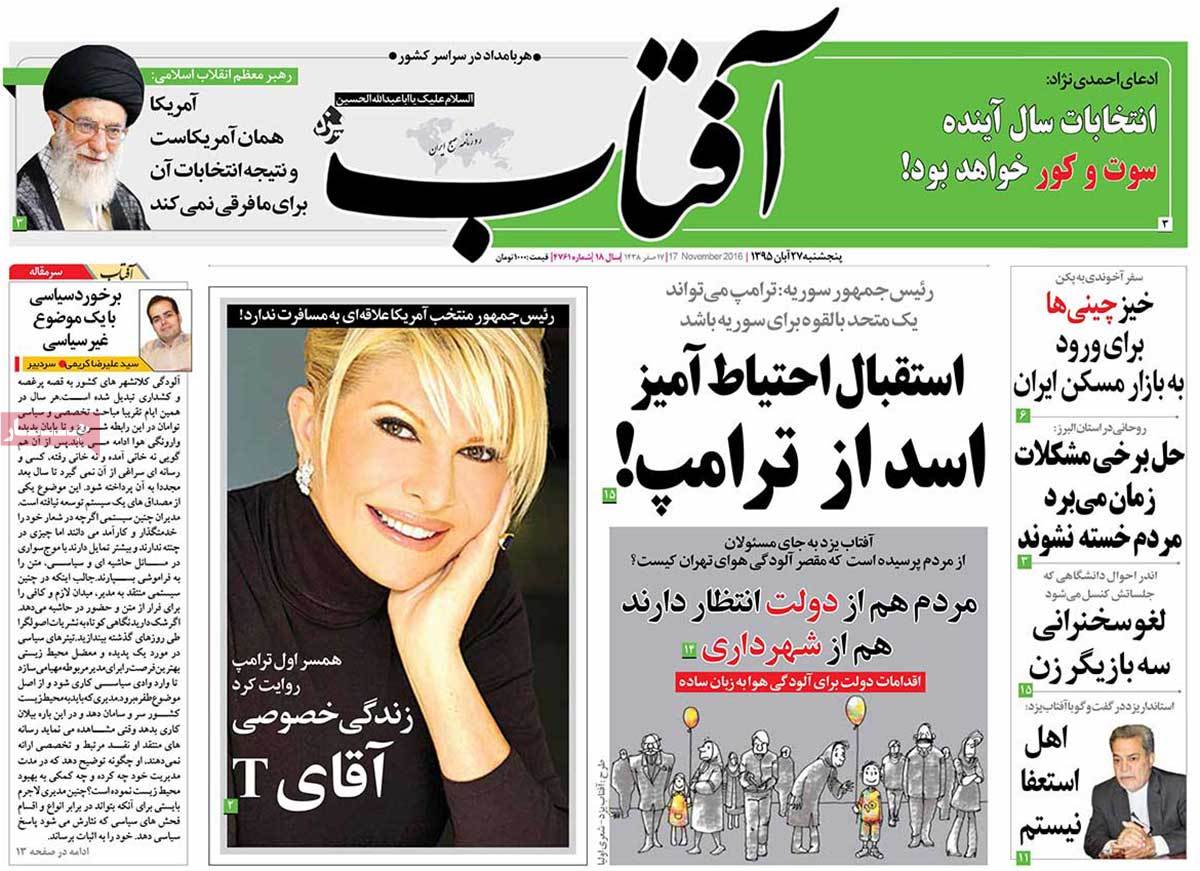 ---
Amin:
1- Millions of People in Arbaeen Pilgrimage: Symbol of Shiites' Power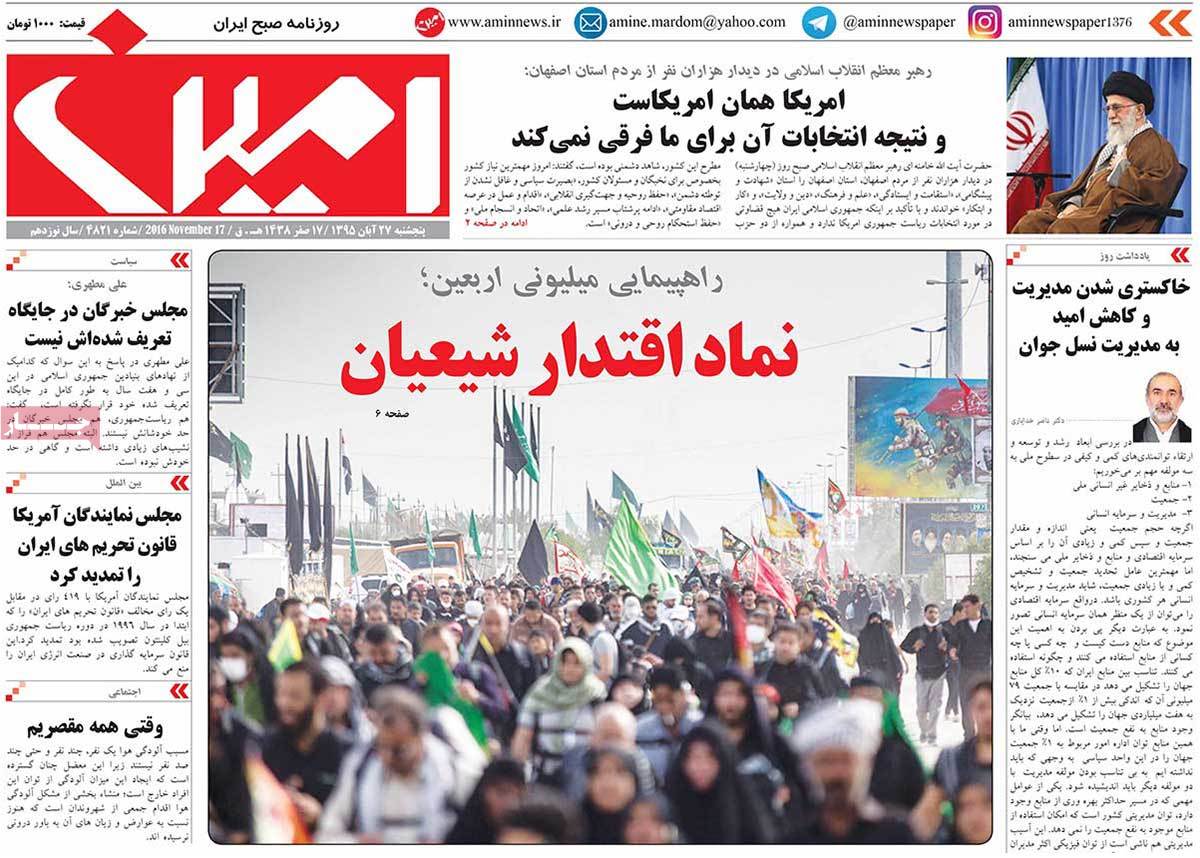 ---
Arman-e Emrooz:
1- We neither Bemoan nor Celebrate US Election Results: Leader
2- Rouhani: No One Can Scrap Iran Deal
3- Multinational Bank in Iran to Be Established by Iran, Venezuela, China, and Turkey
4- Rafsanjani Calls for an End to Censorship and Blockage of Information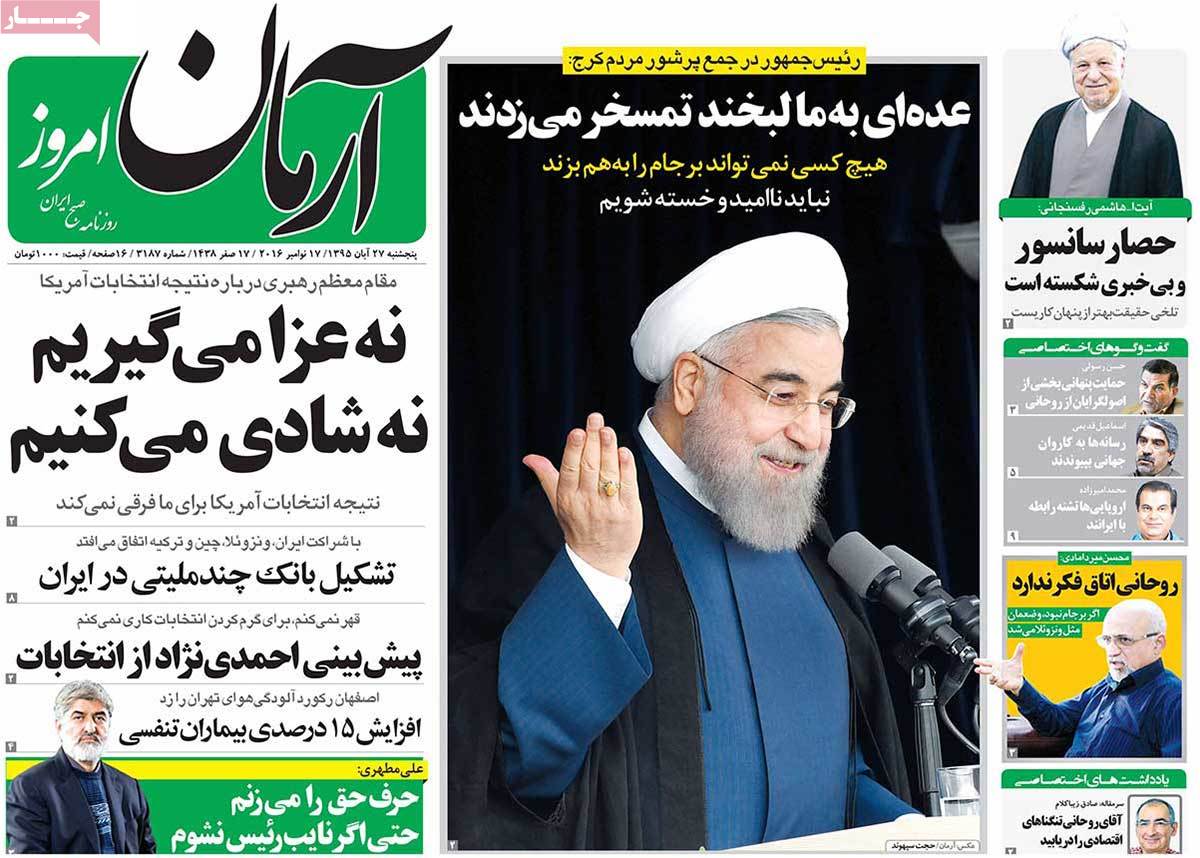 ---
Asr-e Azadi:
1- Iran's First Charity Organization Becomes 100 Years Old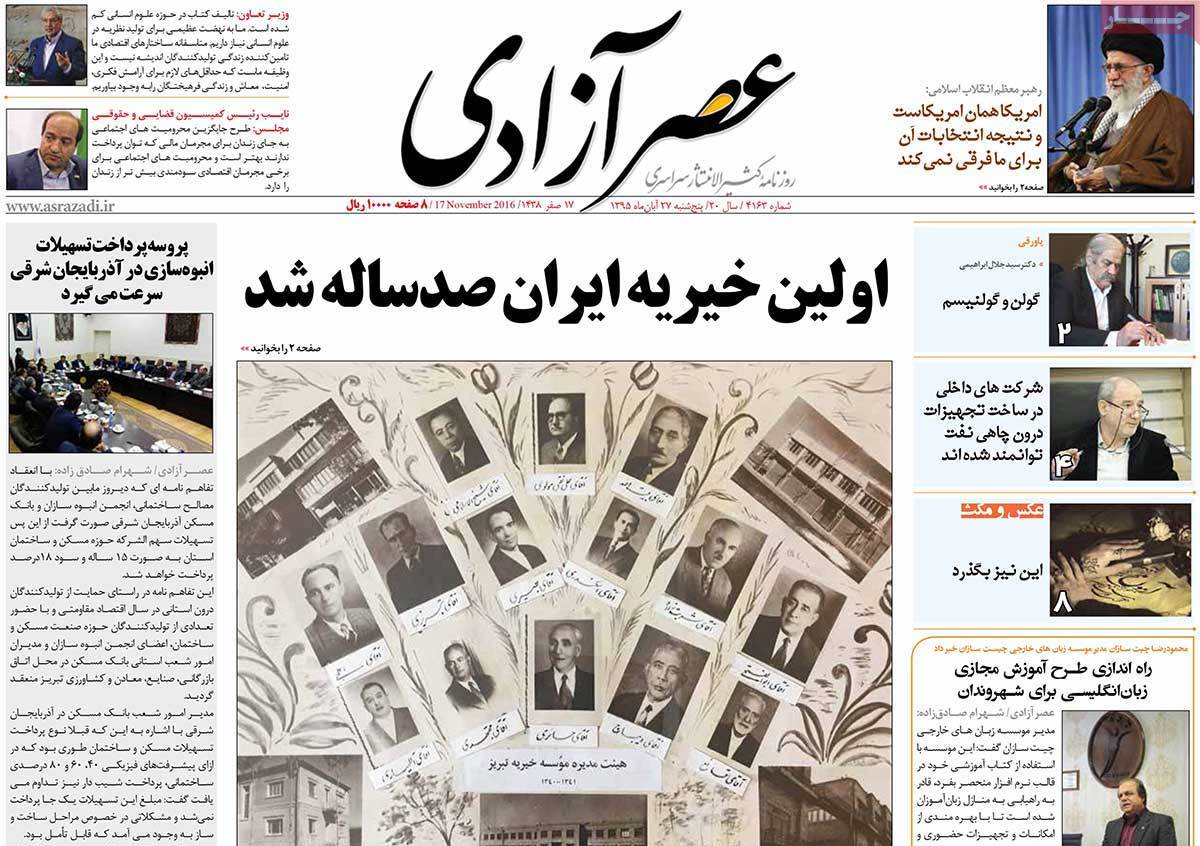 ---
Ebtekar:
1- National Resolve to Decrease Air Pollution: President
2- Air Pollution Incurs $22bn Damage on Iran: MP
---
Emtiaz:
1- Increase in Number of Respiratory Patients in Tehran
2- Arbaeen Pilgrimage Shows Unity of Muslim Society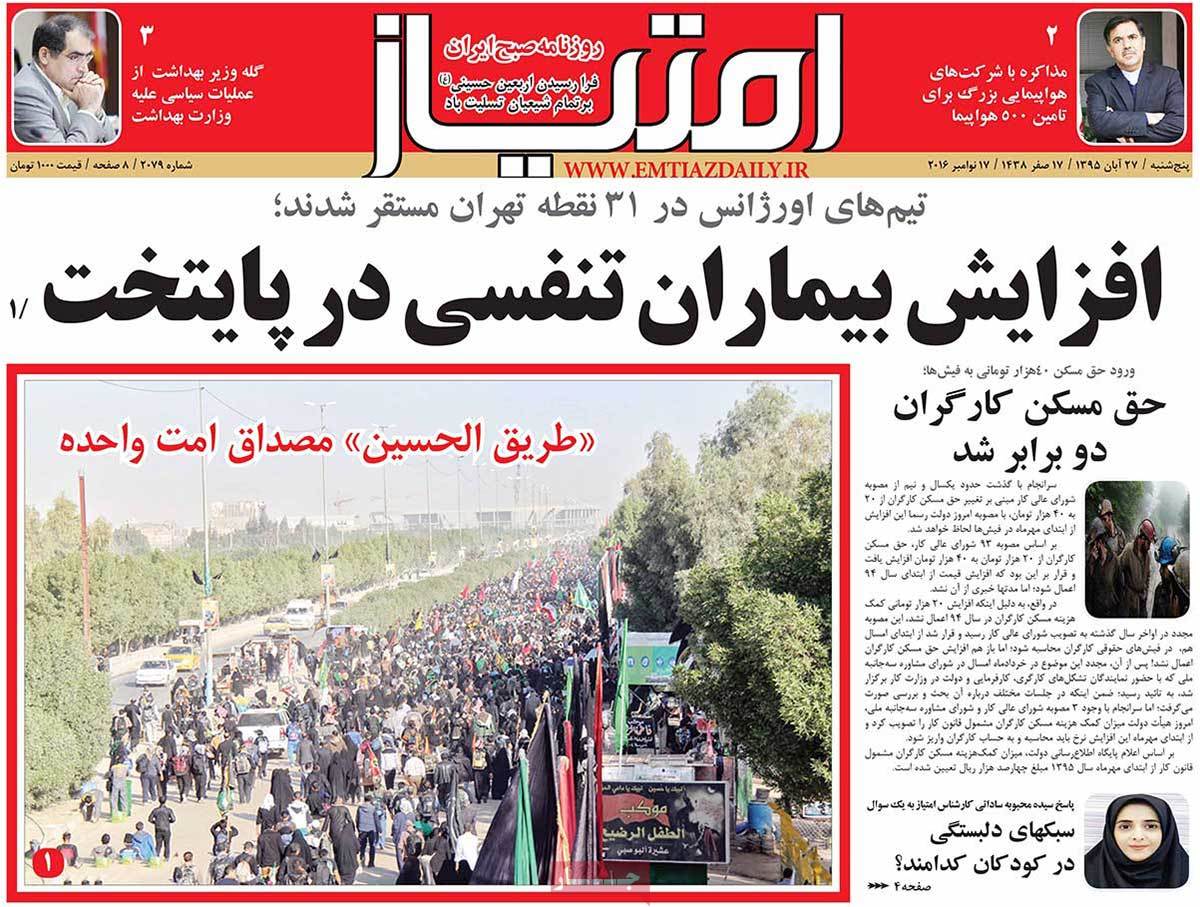 ---
Ettela'at:
1- Leader: Maintaining Internal Solidarity Is Only Way to Resolve Problems
2- US Democrat Party Proposes Bill to Cancel Electoral System in US Presidential Elections
3- Assad Urges Iraq's Popular Mobilisation Forces to Counter Syrian Terrorists
4- Rouhani: Iran Will Strongly Move towards Development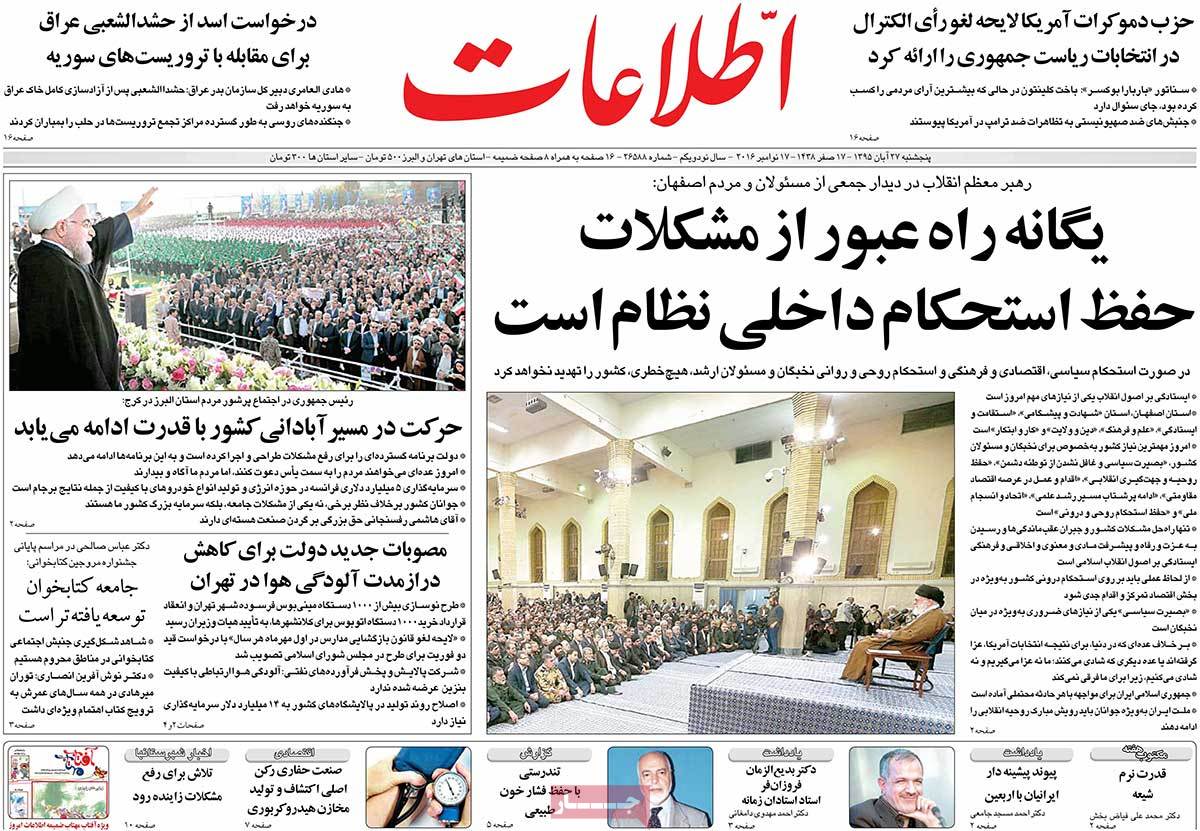 ---
Hemayat:
1- People Should Feel Effect of Resistance Economy: Leader
2- US House of Representatives Extends Anti-Iran Sanctions in Post-JCPOA Era!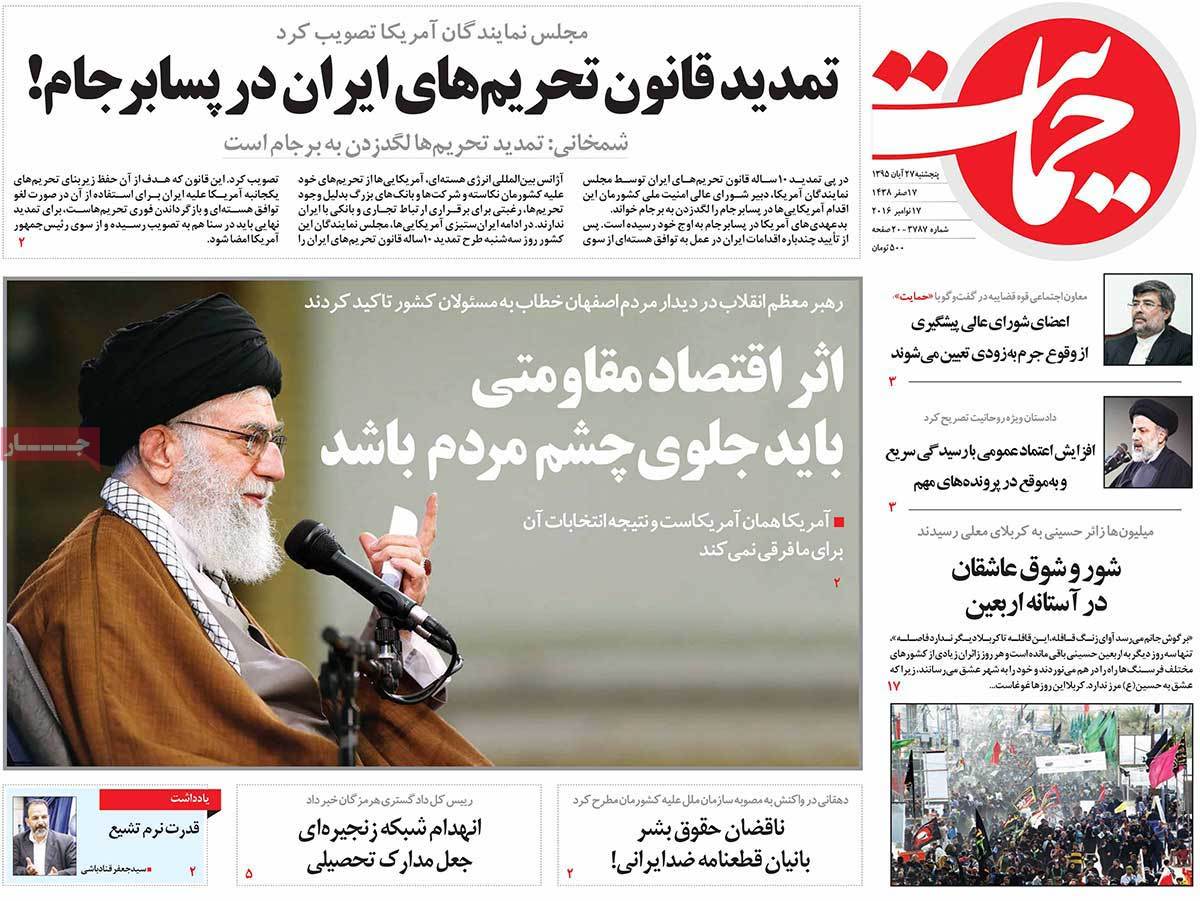 ---
Iran:
1- President: We'll Overcome Air Pollution
2- 1.5 Million Iranian Pilgrims Arrive in Iraq
3- Major Share of Women and Civil Institutions in Book Reading Campaign
4- We Should Take Earthquake in Iran Seriously: 550 Quakes Registered in Past 7 Months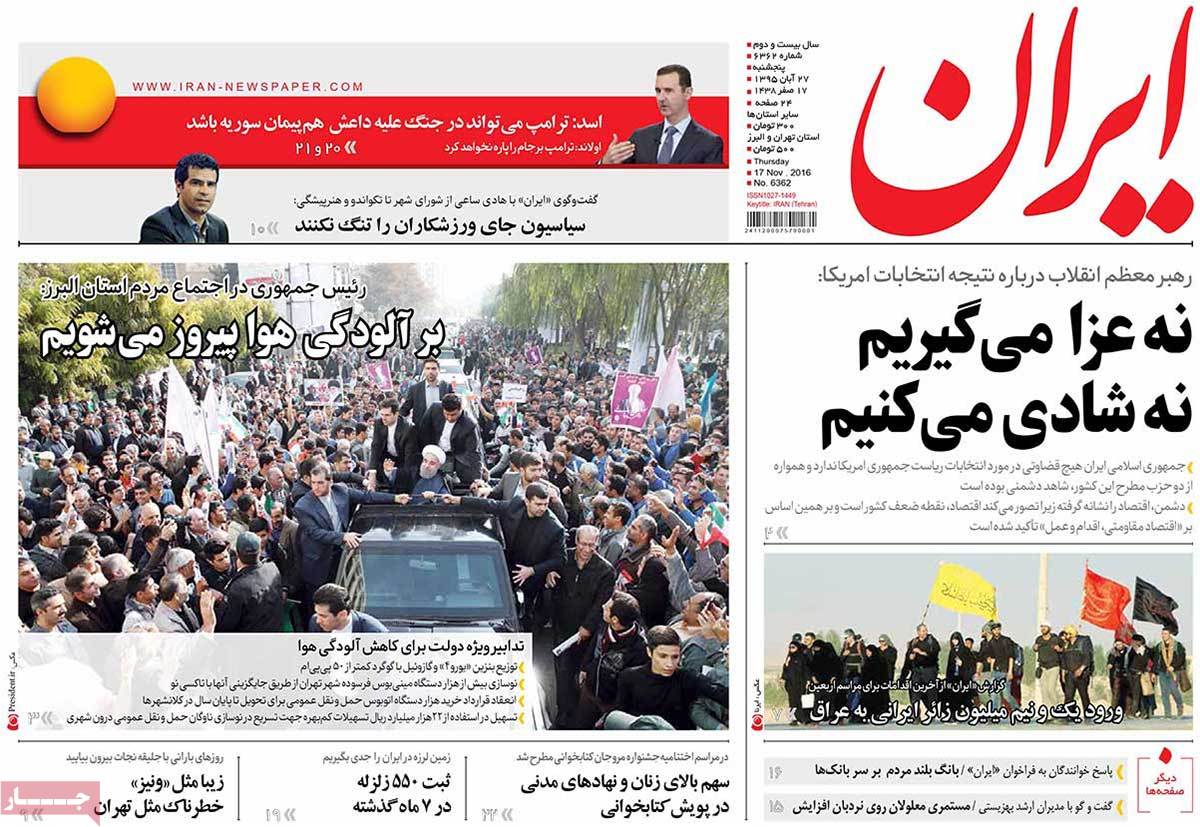 ---
Jame Jam:
1- Leader: US Is the Same Country, We Have No Judgement about US Elections
2- Walking towards Love [Arbaeen pilgrimage]
3- All Anti-Iran Measures from New York to Washington: Human Rights Resolution Passed against Iran and D'Amato Sanctions Extended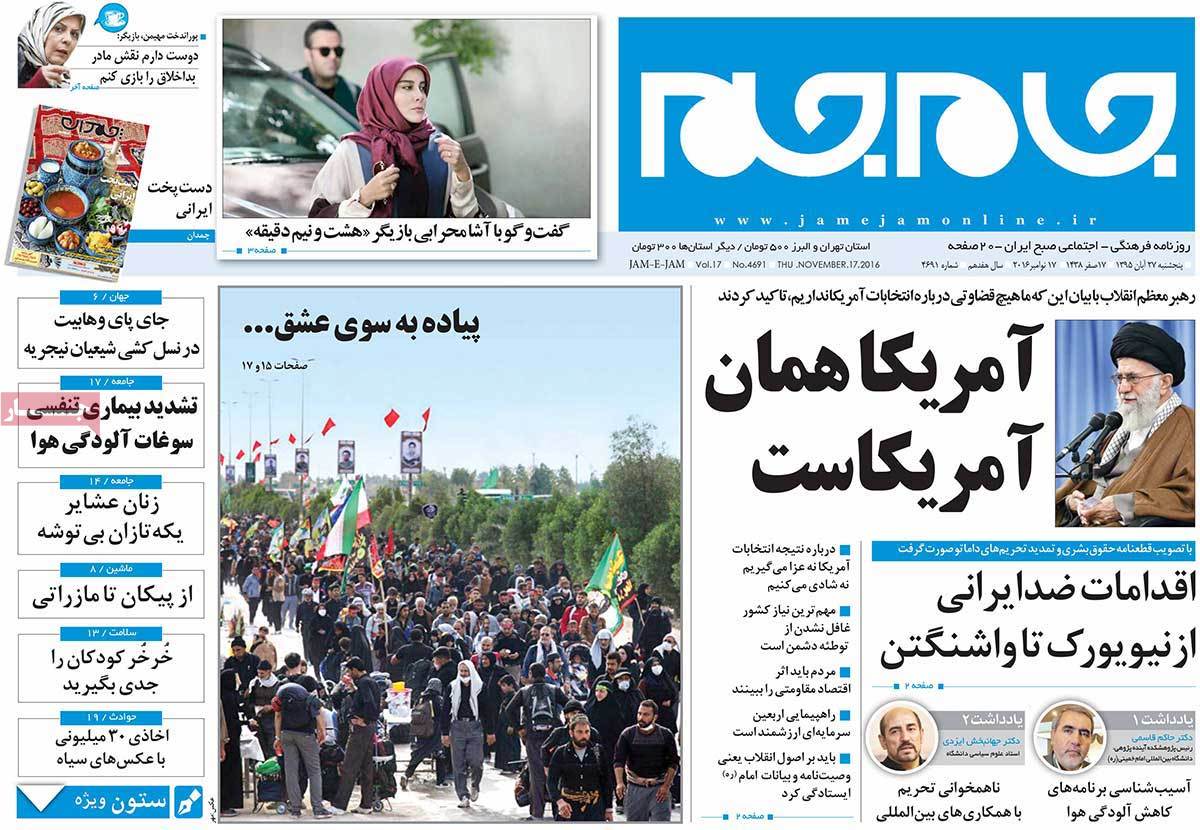 ---
Javan:
1- Leader: We Are Ready to Deal with Any Development
2- Beginning of World's Biggest Pilgrimage
3- USA's Suspicious Violation of JCPOA: US Hostility towards Iran Extended for 10 Years
4- Iran Will Show Reaction to US Violation of JCPOA: Shamkhani
5- Friend of MKO Terrorists May Become US State Secretary
---
Ka'enat:
1- Leader Refers to Arbaeen Processions as Valuable Capital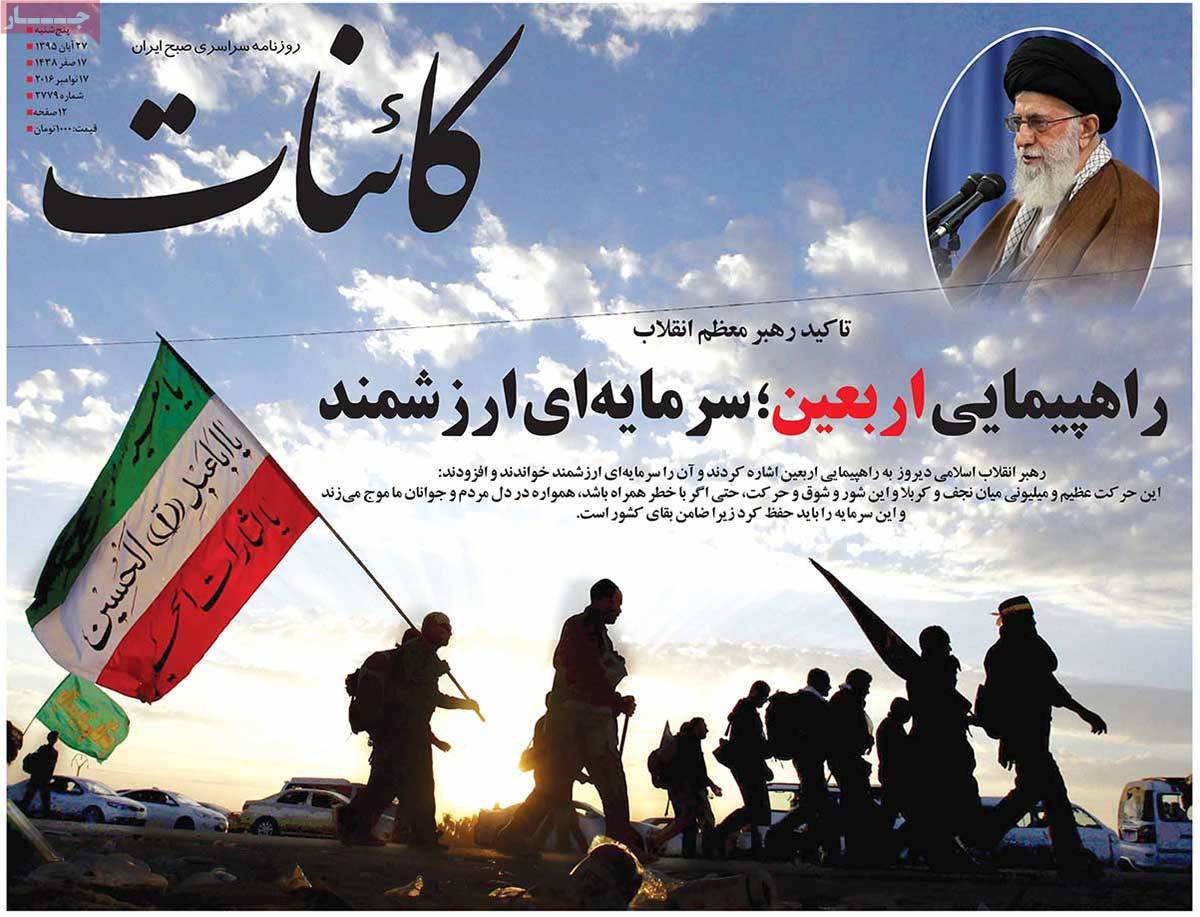 ---
Kayhan:
1- Leader Highlights Hostility of Both American Parties towards Iran
2- Athens' Integrated Rising against Obama
3- Rouhani: We're Not a Government of Slogans
4- Bad Organisation Chief: Iraqi Popular Forces Will Head to Syria to Fight Takfiris after Liberating Mosul
5- Democrat and Republicans Agree on 10-Year Extension of Anti-Iran Sanctions
6- 20 Million Shiites in Arbaeen Processions: Islamic Unity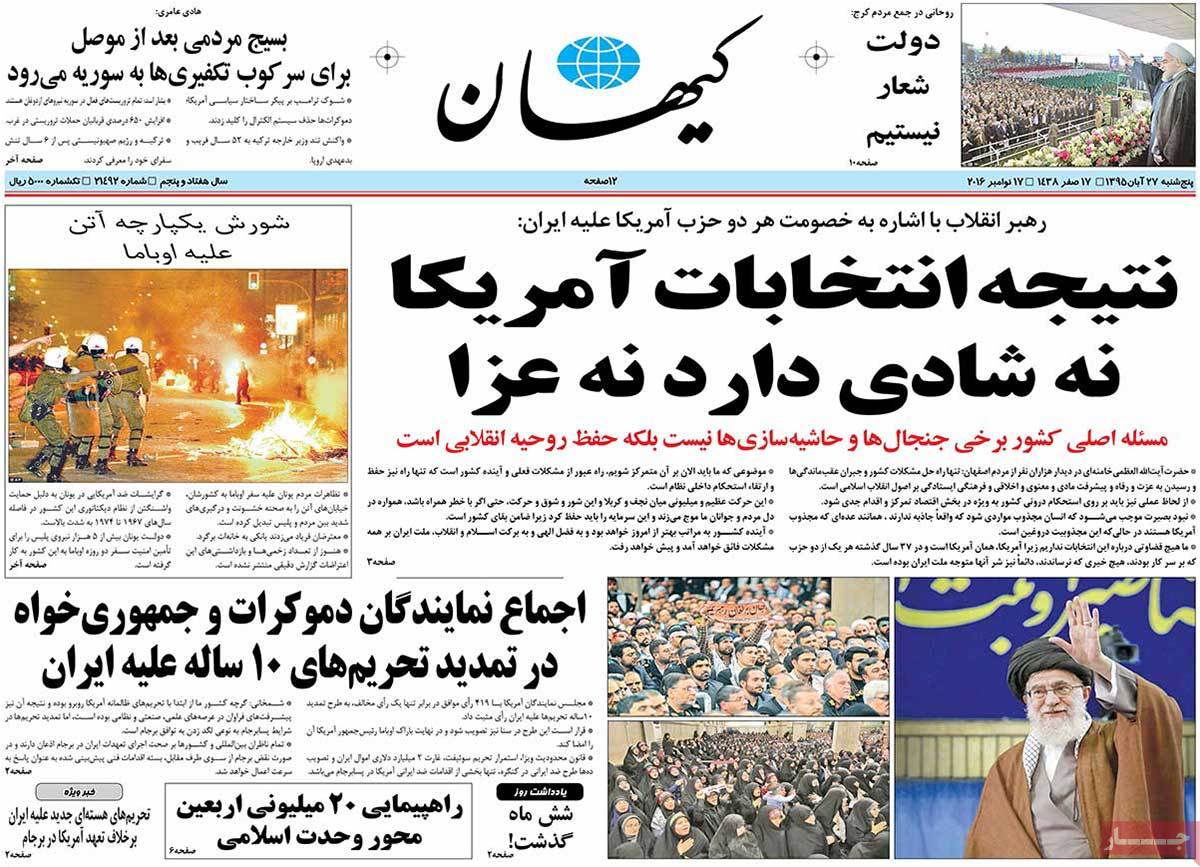 ---
Quds:
1- Arbaeen Processions Guarantee Iran's Survival: Leader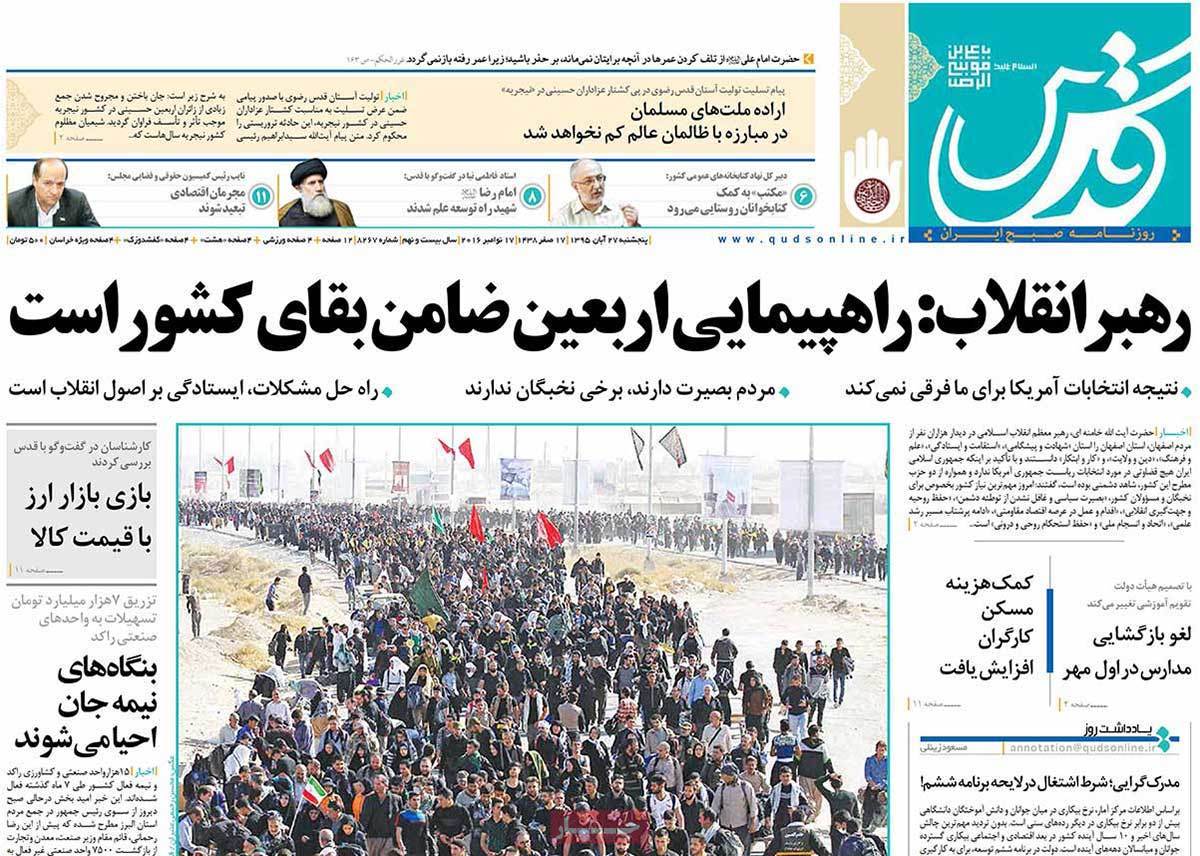 ---
Resalat:
1- President: We Appreciate People's Passion in Arbaeen
2- Democrats and Republicans Insist on Extending Iran Sanctions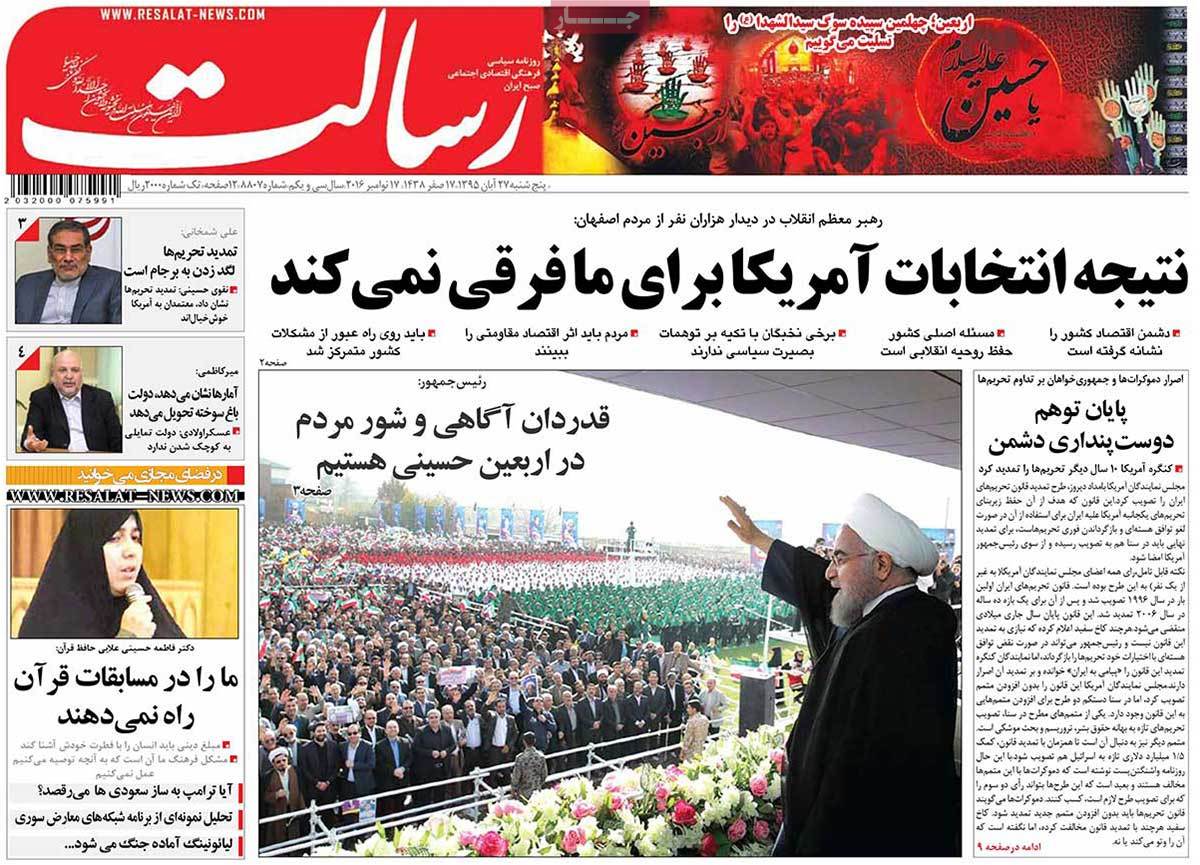 ---
Sayeh:
1- Air Pollution Threatening Entire World as Terrorism Does: Rouhani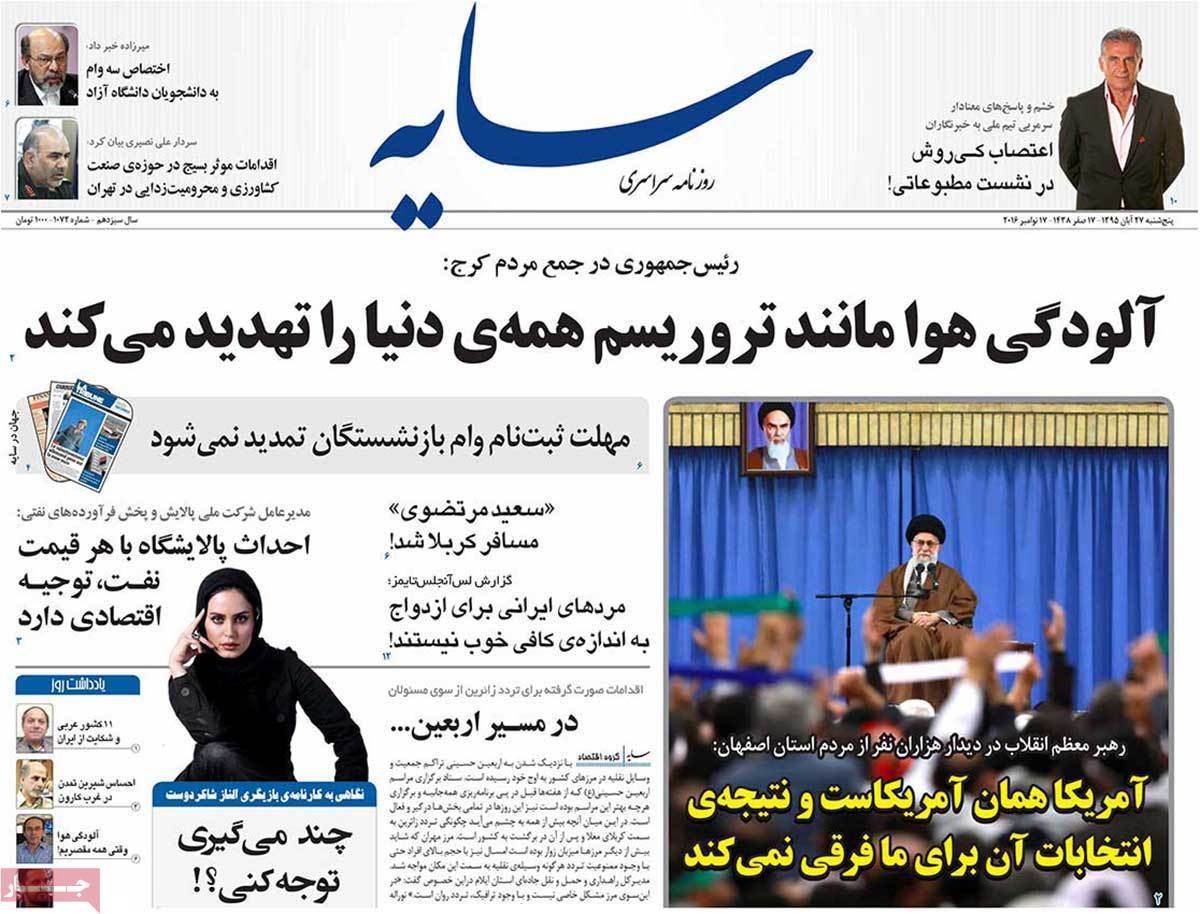 ---
Vatan-e Emrooz:
1- Leader: Both US Parties Are 'Evil'
2- Sunni Clerics of Iran's Golestan Head to Karbala on Arbaeen Pilgrimage