Newspapers today covered the ongoing air pollution in Tehran and other Iranian megacities, mainly focusing on the criticisms of President Hassan Rouhani's government over the critical situation.
They also continued to highlight the comments and reactions to the election of Donald Trump as the US president, particularly the recent statement by the European Union about Iran nuclear deal.
The ongoing pilgrimage of Shiites to the Iraqi city of Karbala to mark Arbaeen, the 40th day after Imam Hussein's martyrdom, also received great coverage.
The above issues, as well as many more, are highlighted in the following headlines:
Abrar:
1- Mogherini Wholeheartedly Defends JCPOA
2- MP: 70% of Iran's Workforce Suffering from Underemployment
3- Emirati Minister of State for Foreign Affairs: We Won't Reject the Offer for Talks with Iran
4- EU Underlines Its Stances towards Nuclear Deal
5- UN's Ban Condemns Pakistan Blast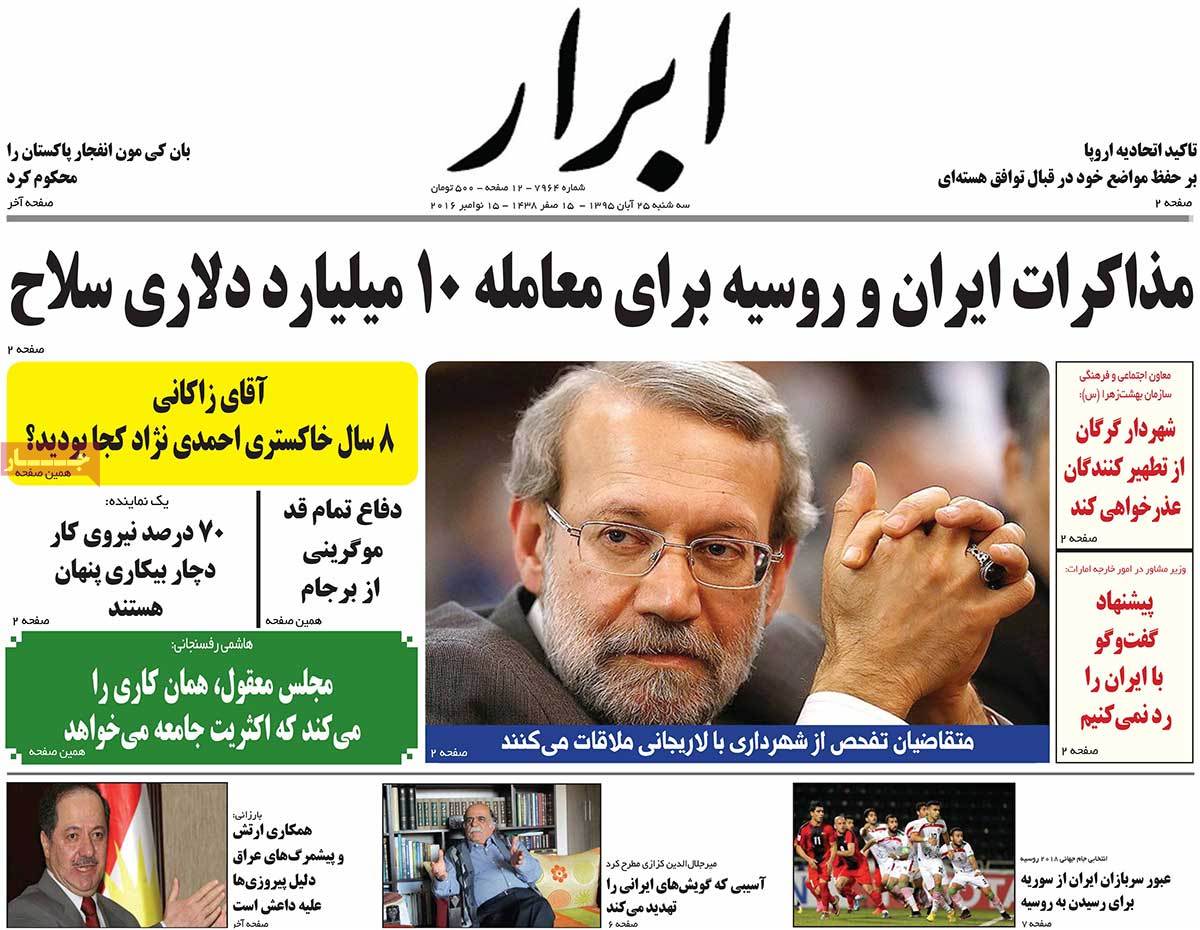 ---
Abrar-e Eqtesadi:
1- Oil Price of $40 Predicted for Next Year's Budget
2- Iran to Buy Train from Germany by Instalments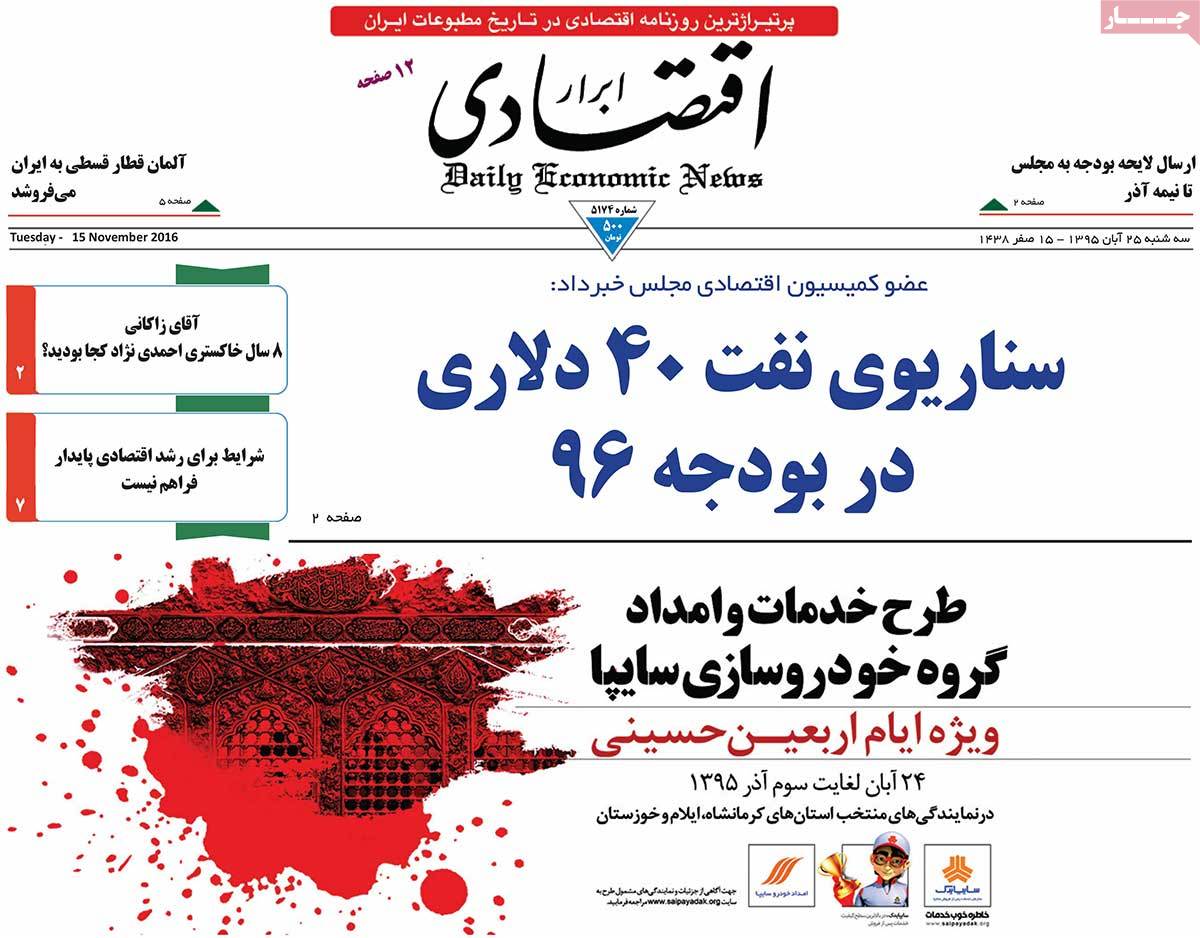 ---
Afkar:
1- Terrorist Blast in Karbala
2- Trump Has to See the Realities
3- Iran Ready to Hold Joint Military Drill with China
4- Blood Sugar Is More than 100 in 25% of Iranians
Aftab-e Yazd:
1- Tehran in Talks with Moscow for $10bn Purchase of Weapons and Military Equipment
2- Rouhani: If the Entire West Was Corrupt, They Couldn't Achieve This Much Scientific and Economic Growth
3- Trump: Don't Be Afraid of Me! President-Elect Starts Backing Off
4- Hillary Clinton to Get Divorced from Bill: Christian Newspaper
---
Amin:
1- If JCPOA Was Not There and Trump Became US President [Editorial]
2- President Rouhani: Radicals Think that Everyone, Except Them, Is Wrong
---
Arman-e Emrooz:
1- First VP's Reaction to Claims about Scrapping JCPOA: They Just Want to Scare People
2- Dinner of Fear in Brussels: EU Holds Extraordinary Meeting after Trump's Victory
---
Asrar:
1- Employment, Water, and Environment Are Most Important Problems of Iran: Rouhani
2- Trump: People Are Afraid, Because They Don't Know Me!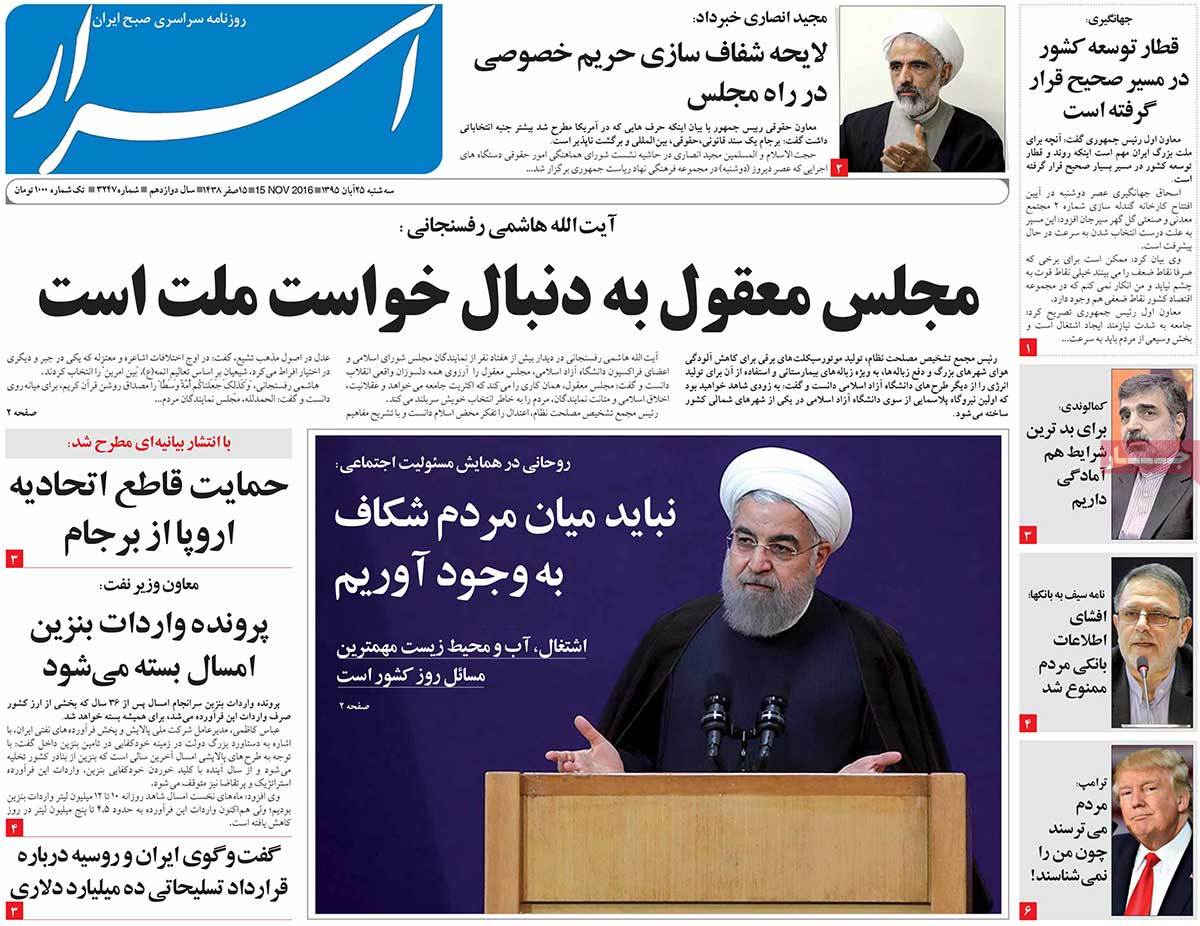 ---
Besharat-e Now:
1- It Is in Everyone's Favour that JCPOA Is Fully Implemented: Mogherini
2- Senior Reformist: Reformism Discourse Is Favoured throughout Iran
---
Ebtekar:
1- My City Is Lost: Why Iranians Don't Pay Attention to Air Pollution?
---
Etemad:
1- Mr Diplomat's Water Warnings: Deputy FM Araqchi Says Iran Will Be Declared as a Country with Shortage of Water by 2025
2- Air Pollution, a Pretext for Attacking Government [Editorial]
3- Forgive Us for the Repetitive Headline: Air Is Polluted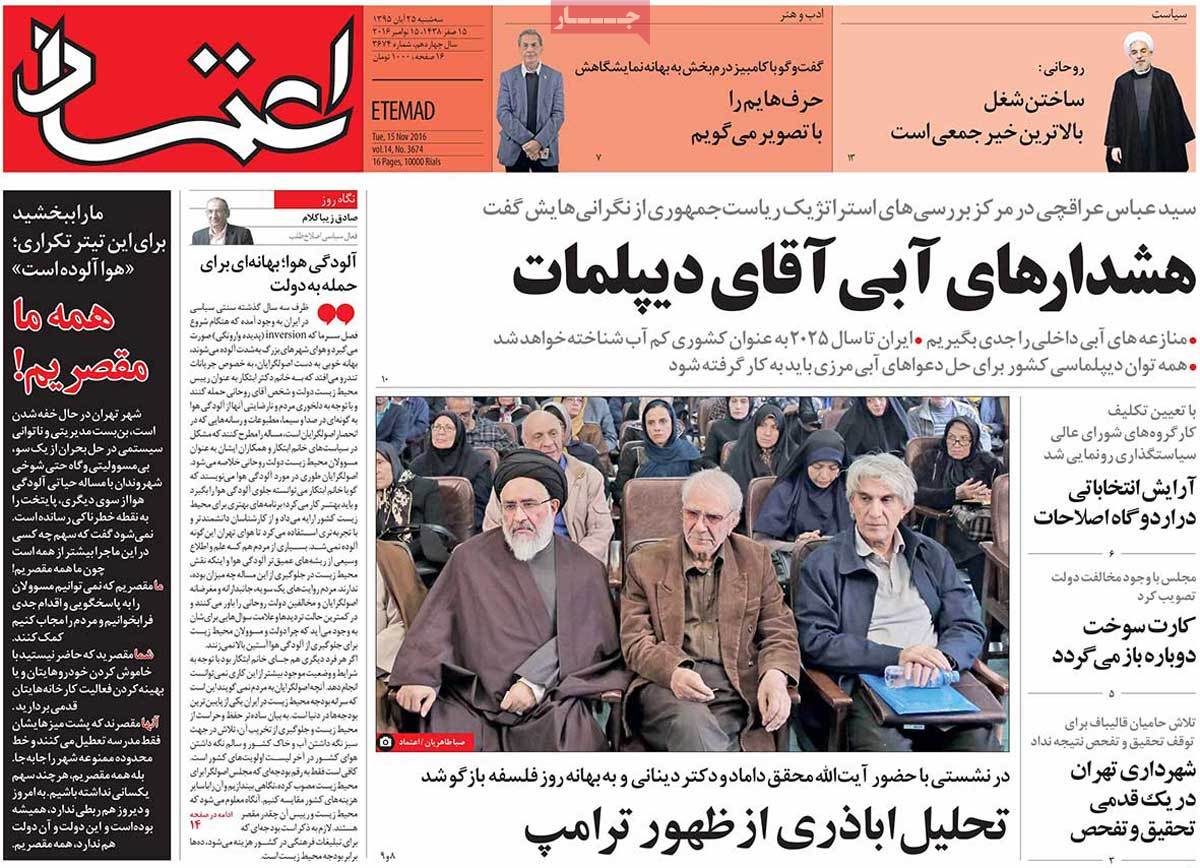 ---
Ettela'at:
1- Rouhani: We Should Prevent Creation of Gap among People through National Solidarity
2- Iran and China Sign Military MoU
3- Trump: I'll Deport 3 Million Illegal Immigrants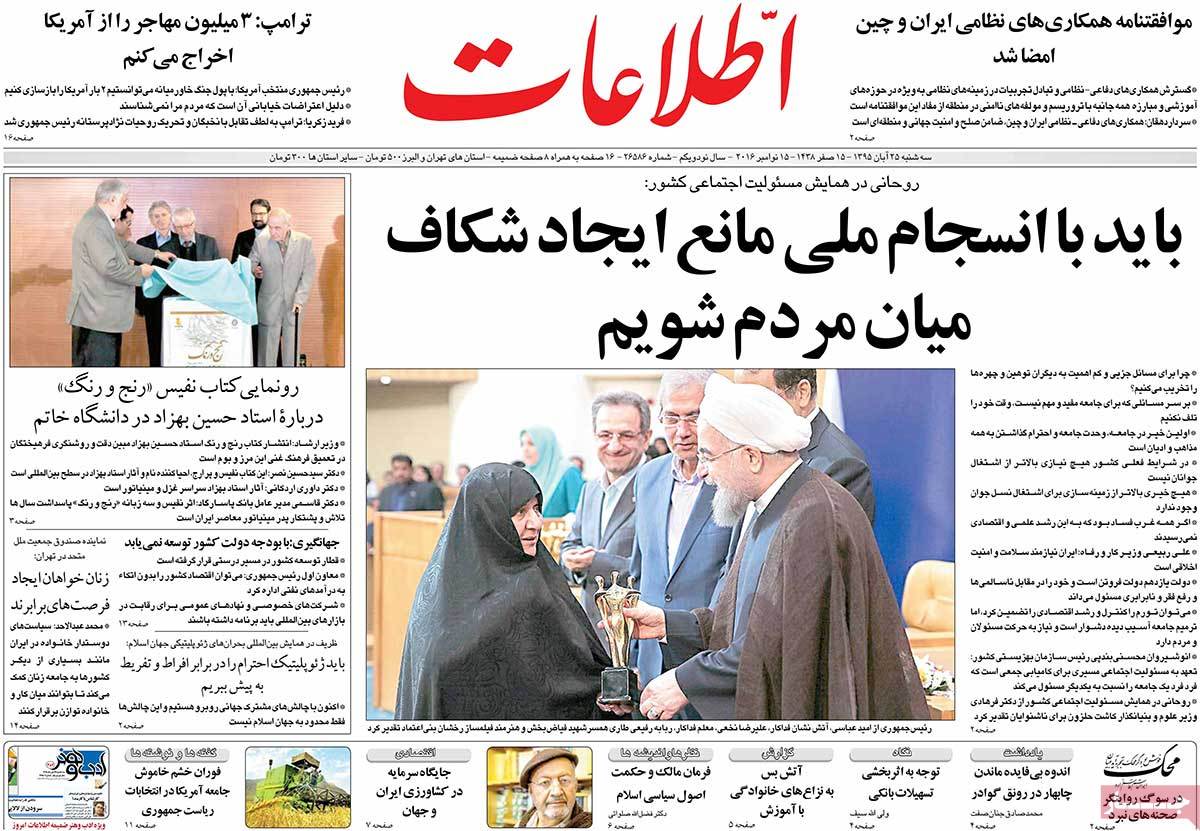 ---
Haft-e Sobh:
1- Pretending to Be Moving towards the West, but Turning to the East: Talks for Unprecedented Weapons Deal with Russia, and Signing Military MoU with China
2- Searching for the Missing Woman: Unclear Fate of a Woman Seven Days after Falling into Street Canal
3- No Iranian Woman Will Be Allowed to Attend Body Building Competitions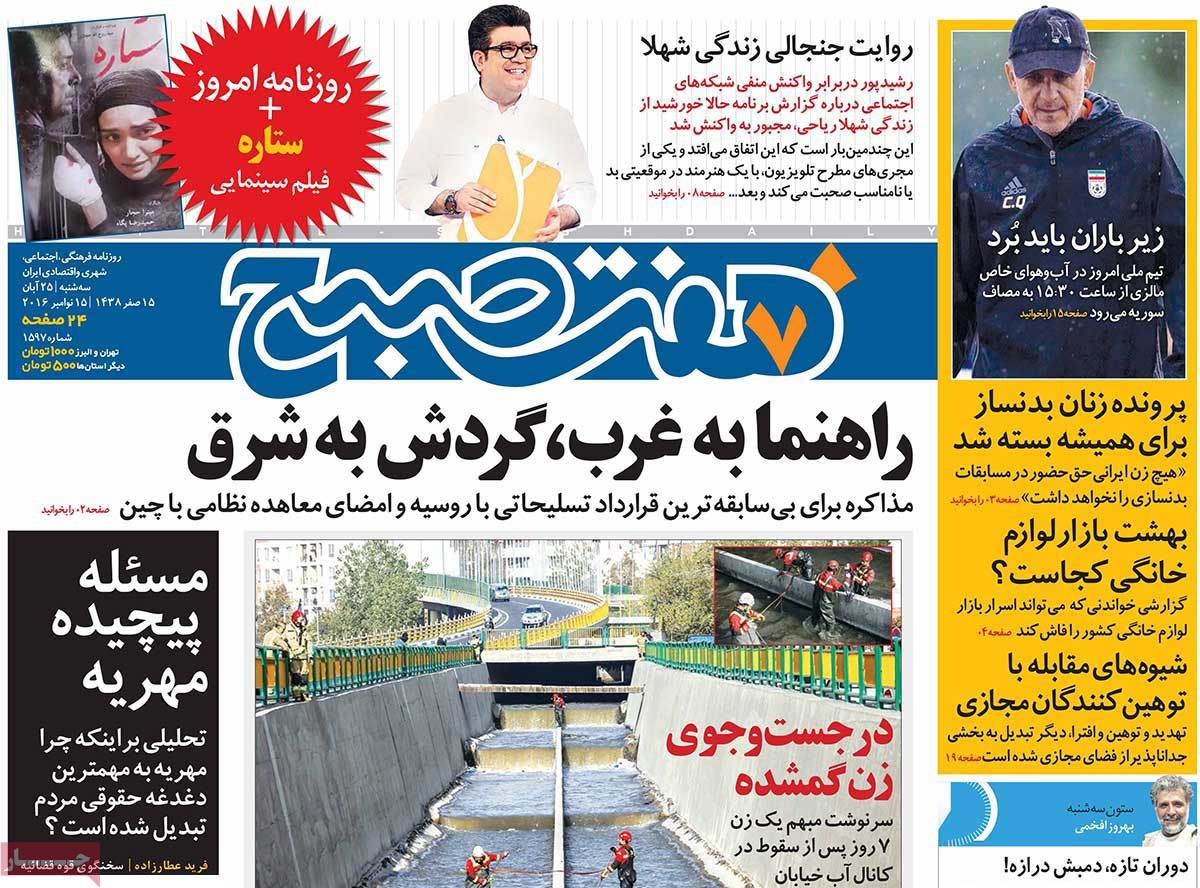 ---
Hemayat:
1- Judiciary Chief: US Political Establishment Has Reached a Deadlock
2- Europeans' Human Rights Excuses in Post-JCPOA Era: EU Releases Latest Statement
3- Iran's Atomic Energy Organisation: Major Western Banks Not Cooperating with Iran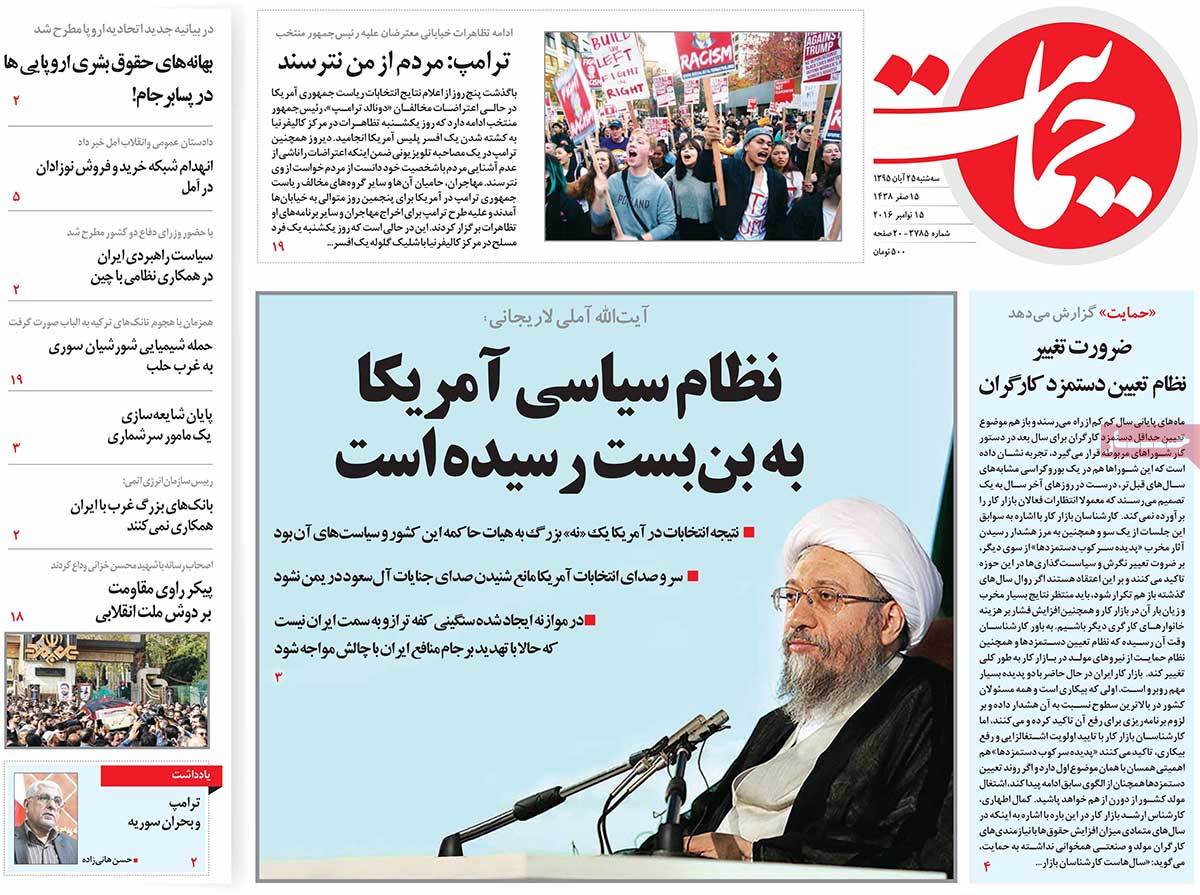 ---
Iran:
1- Europe against Trump: EU Releases Statement in Support of JCPOA
2- Different Faces of Trump as a Candidate and Trump as a President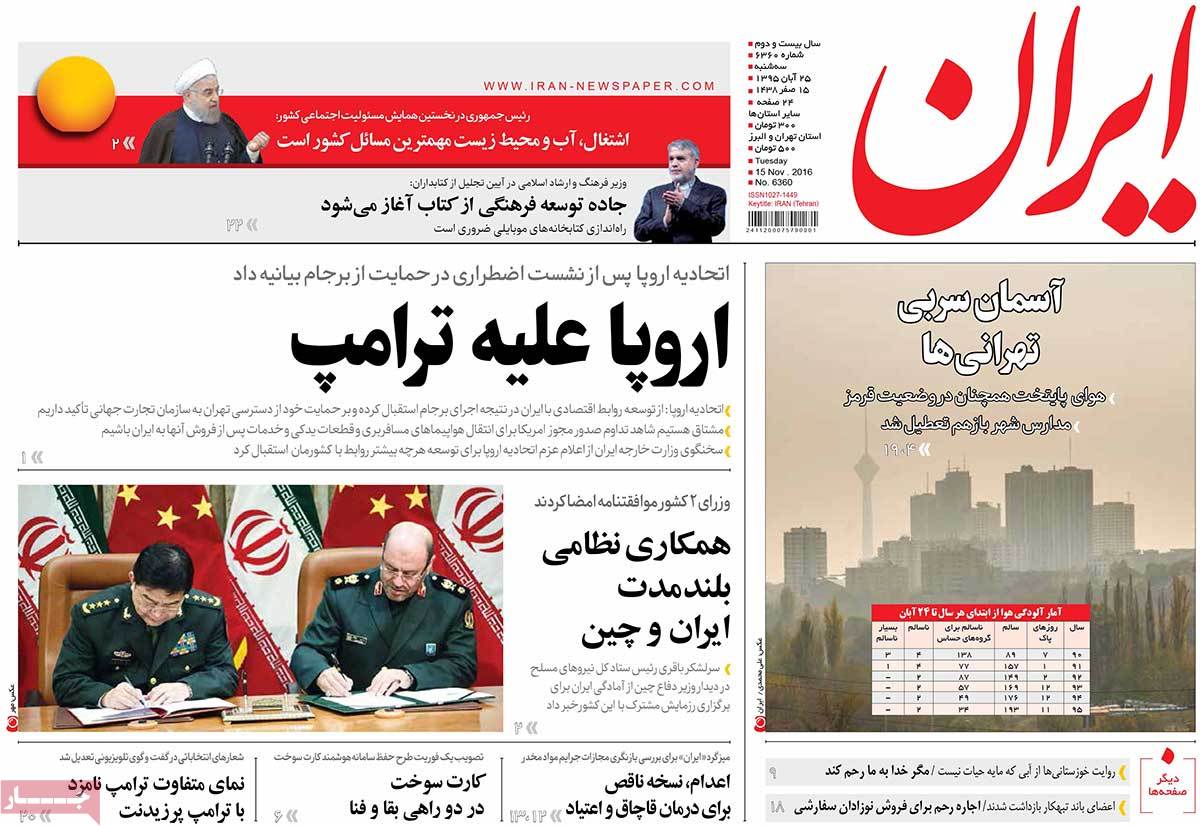 ---
Jame Jam:
1- 10,000 Killed in 600 Days of Saudi Madness in Yemen
2- Repeated Prescriptions for Chronic Air Pollution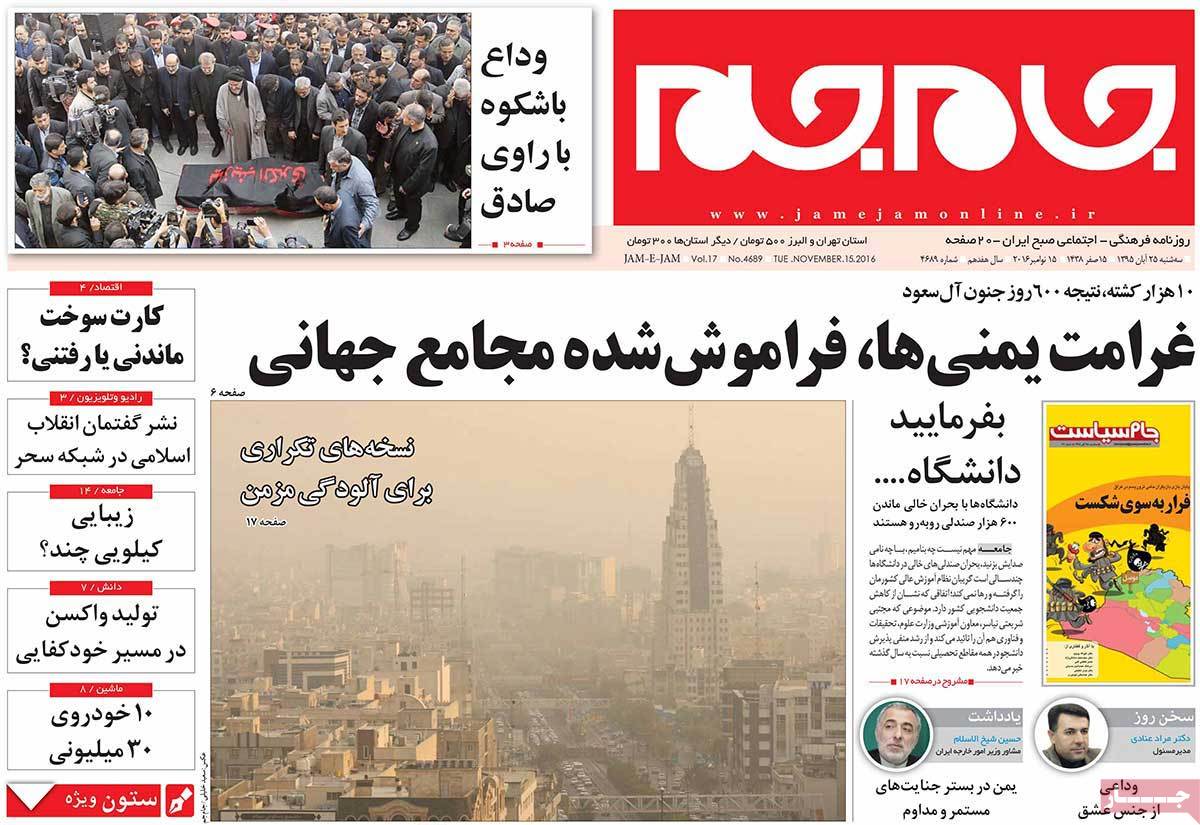 ---
Javan:
1- Early Gap between Europe and US over JCPOA
2- Six Months to Iran Presidential Election, and 3.5 Years after Rouhani Took Office: Employment Will Be the Government's Main Concern in Next 6 Months!
---
Jomhouri Eslami:
1- Iran Welcomes EU's Statement about Commitment to JCPOA
2- Zarif: Hezbollah Is a Factor that Creates Security in the World
3- US Is Still in Chaos
4- Turkey's All-Out Attacks on Syrian Kurds in al-Bab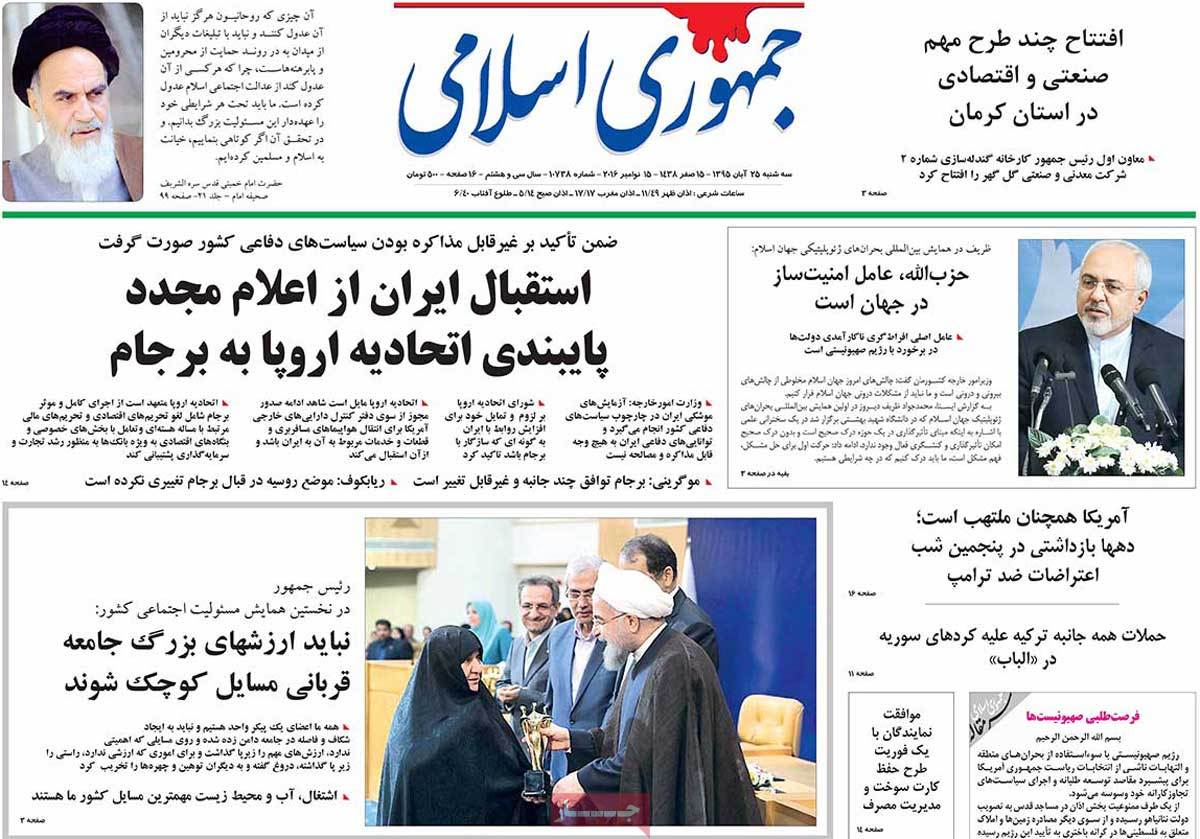 ---
Kayhan:
1- Reformist Economist: Rouhani Should Better Do Something about Economy instead of Partisan Orientations
2- Hezbollah's Parade of Might in Syria Surprises West and Zionists
3- Trump's We Could Rebuild the US with the Money Spent on Our Wars in Middle East
4- Famous American Philosopher: American Empire Faced with Deep Crisis; Trump and Clinton Both Are the Same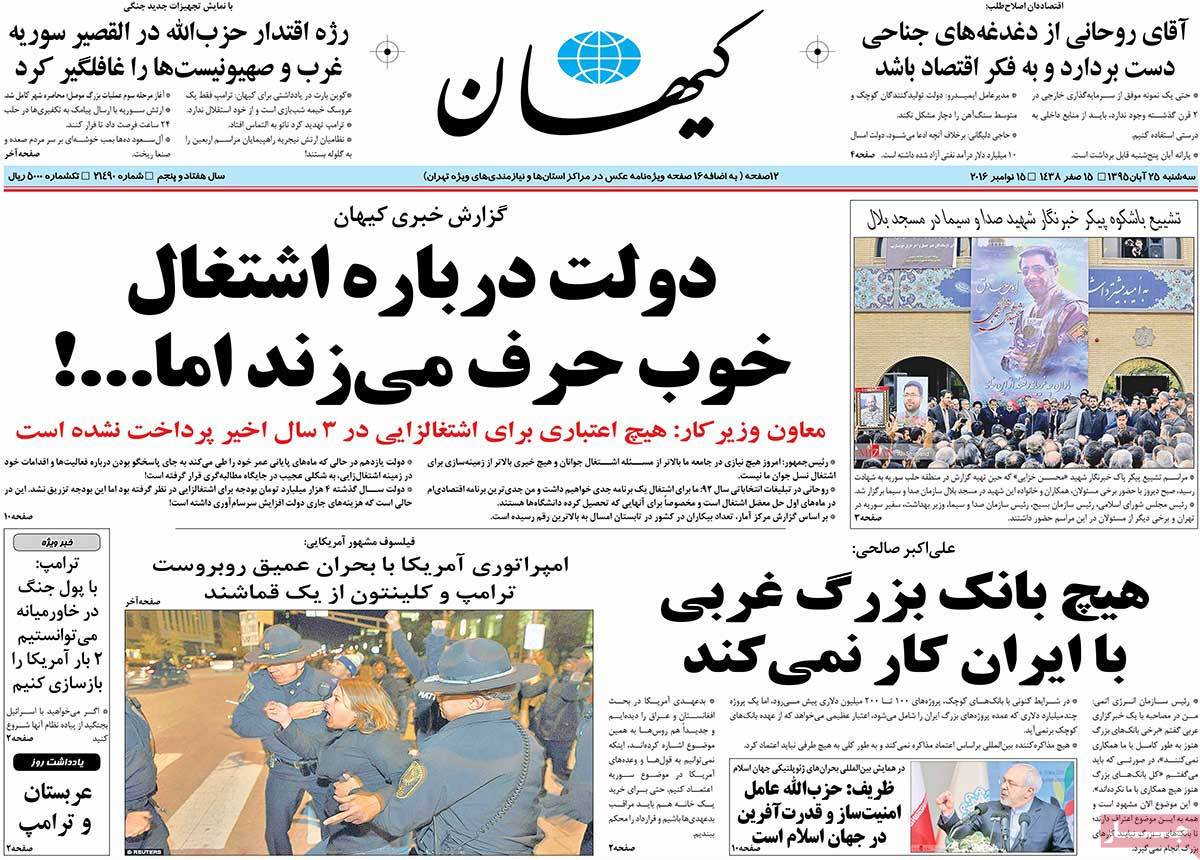 ---
Khorasan:
1- Biggest Moon in Past 70 Years Observed Last Night
2- Tens of People Killed in Nigerian Army's Attack on Arbaeen Pilgrims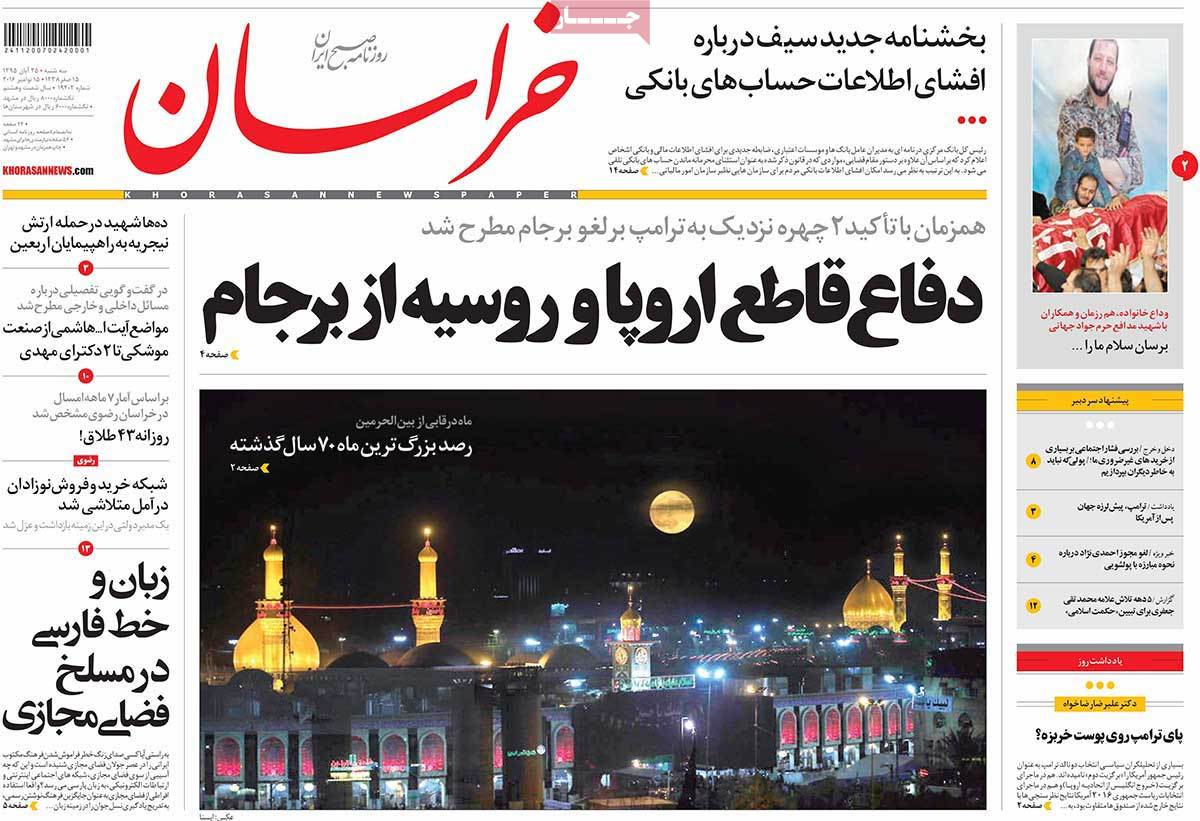 ---
Payam-e Zaman:
1- EU Welcomes JCPOA Implementation: Iran's Defence Capabilities Not Negotiable at All!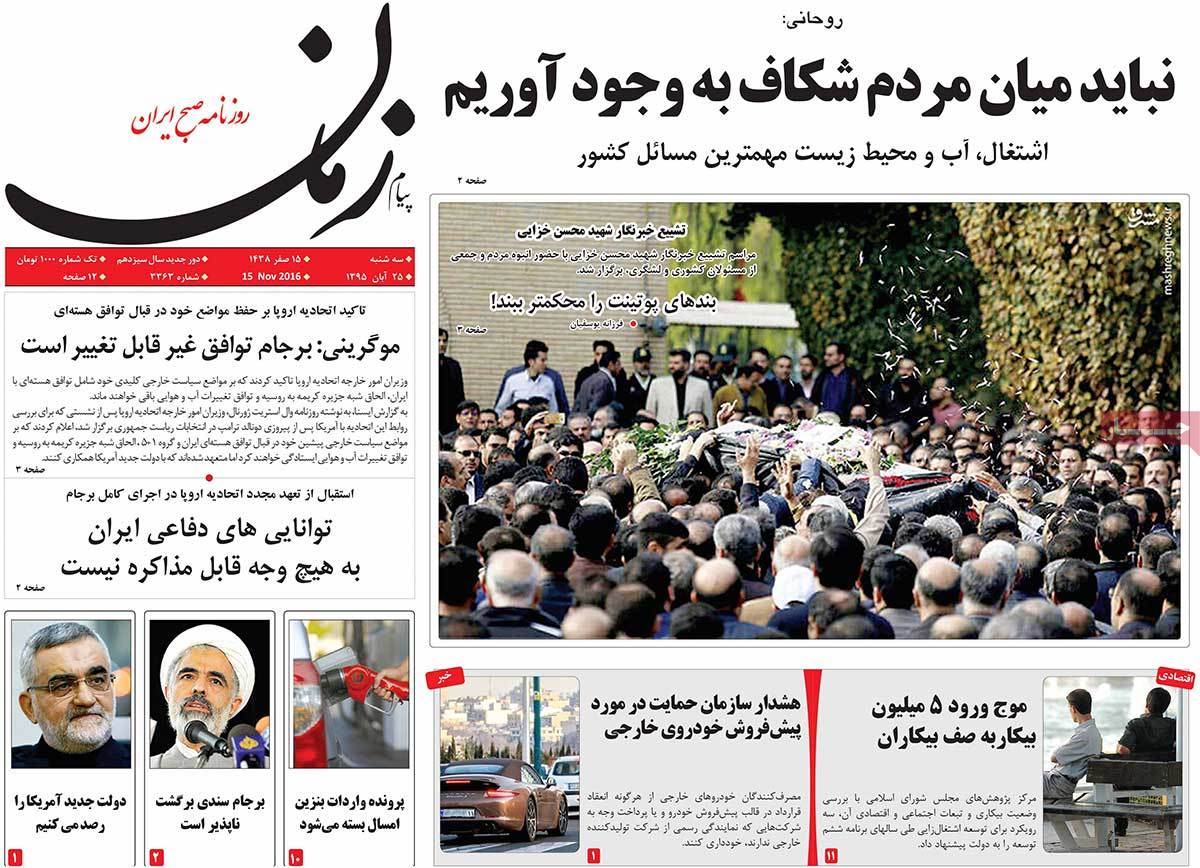 ---
Resalat:
1- Senior Conservative Haddad Adel: Conservatives Are Resolved to Compete in Presidential Elections
2- Parliament Speaker: If a Nation Fights, It Won't Be Humiliated
3- Judiciary Chief: Arbaeen Processions Manifestation of Shiites' Might in World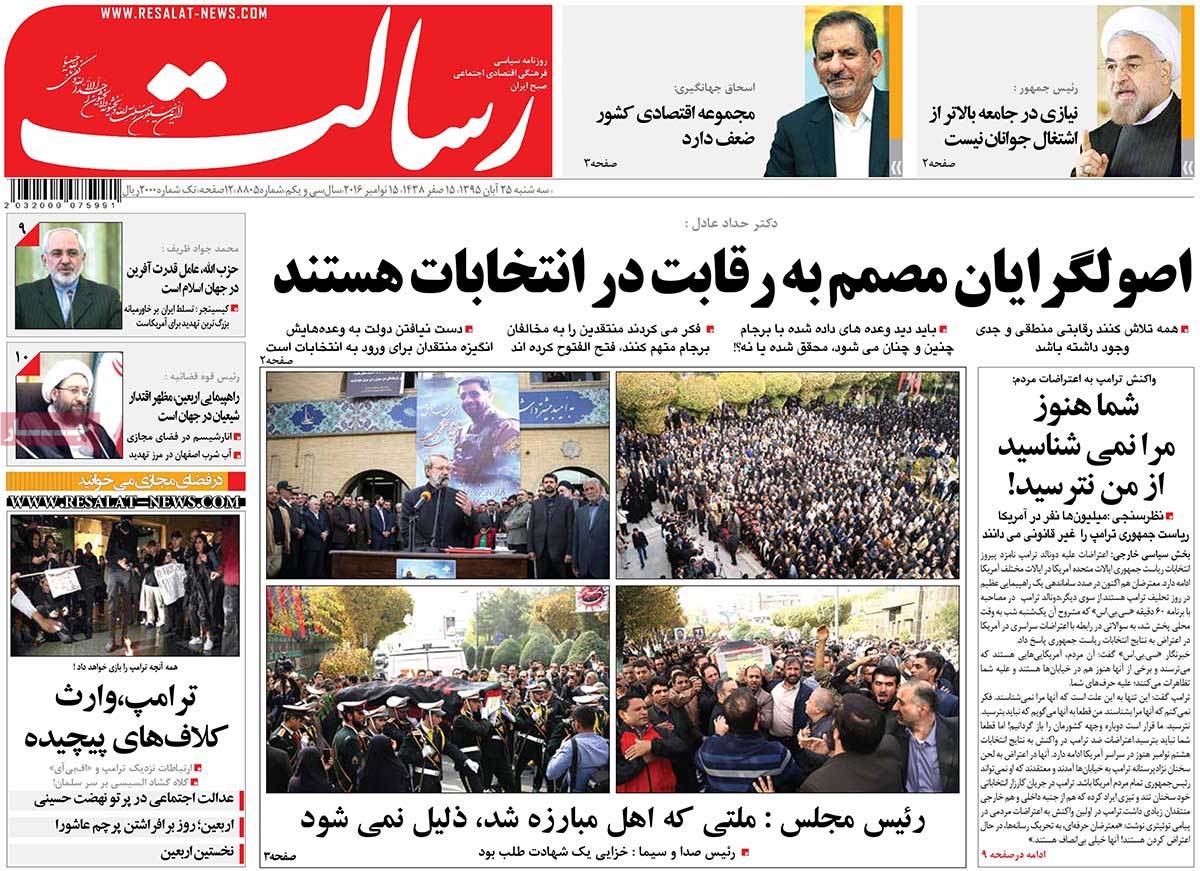 ---
Roozan:
1- Social Media Users Sharing a Message that Says Air Pollution in Tehran Has Become Worse than What Chernobyl Experienced 12 Years after the Accident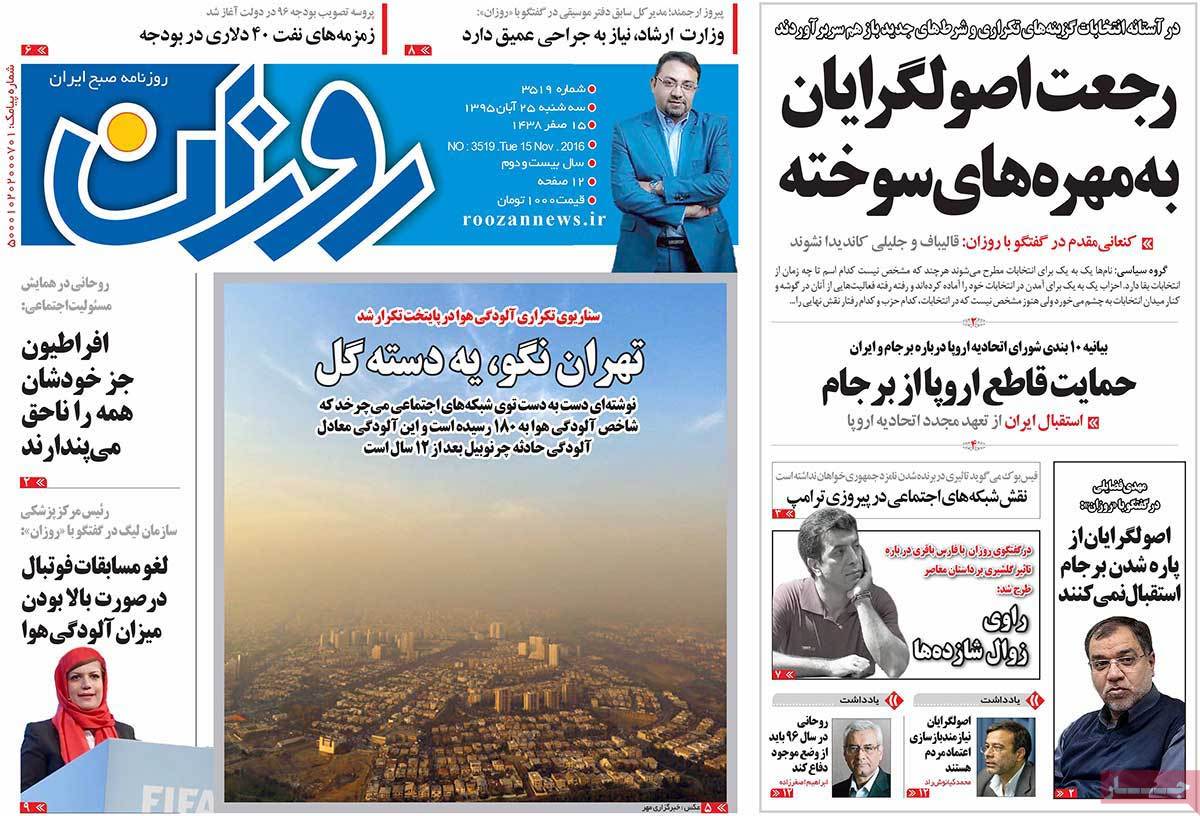 ---
Rooyesh-e Mellat:
1- Expansion of Iran-China Cooperation in Transport
---
Shahrvand:
1- Infants Sold for $4,000 to $11,000: Members of a Baby Trade Gang Arrested in Iran's Amol
---
Shargh:
1- Trump's Anti-Iran Stances Not in US Favour
2- Senior Conservative Haddad Adel: We Have Not Sworn to Oppose Rouhani's Government
3- Politics: This Damn Choice between 'Bad and Worse' [Editorial]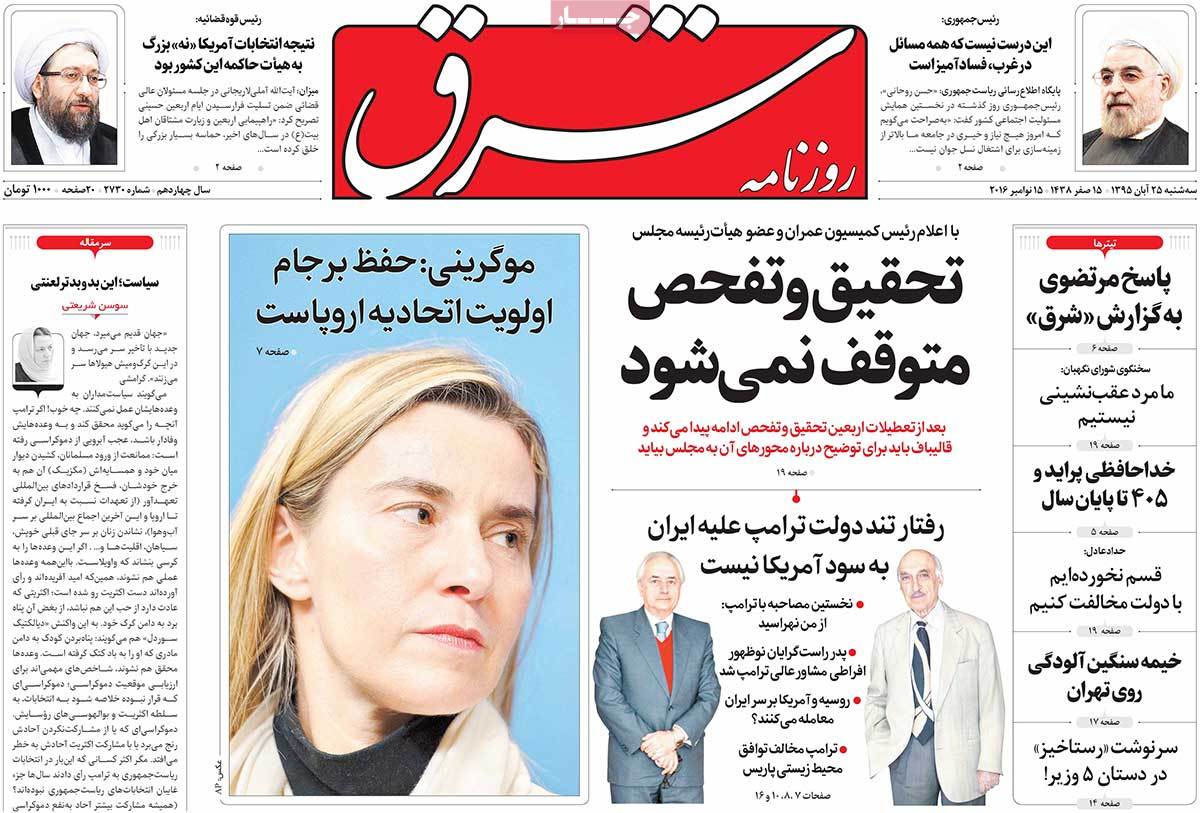 ---
Siasat-e Rooz:
1- 600-Day Holocaust: Saudi-American Coalition Continues Its Atrocities in Yemen
2- We Shouldn't Waste Our Time on Issues that Are Not Important for Iranian Society: Rouhani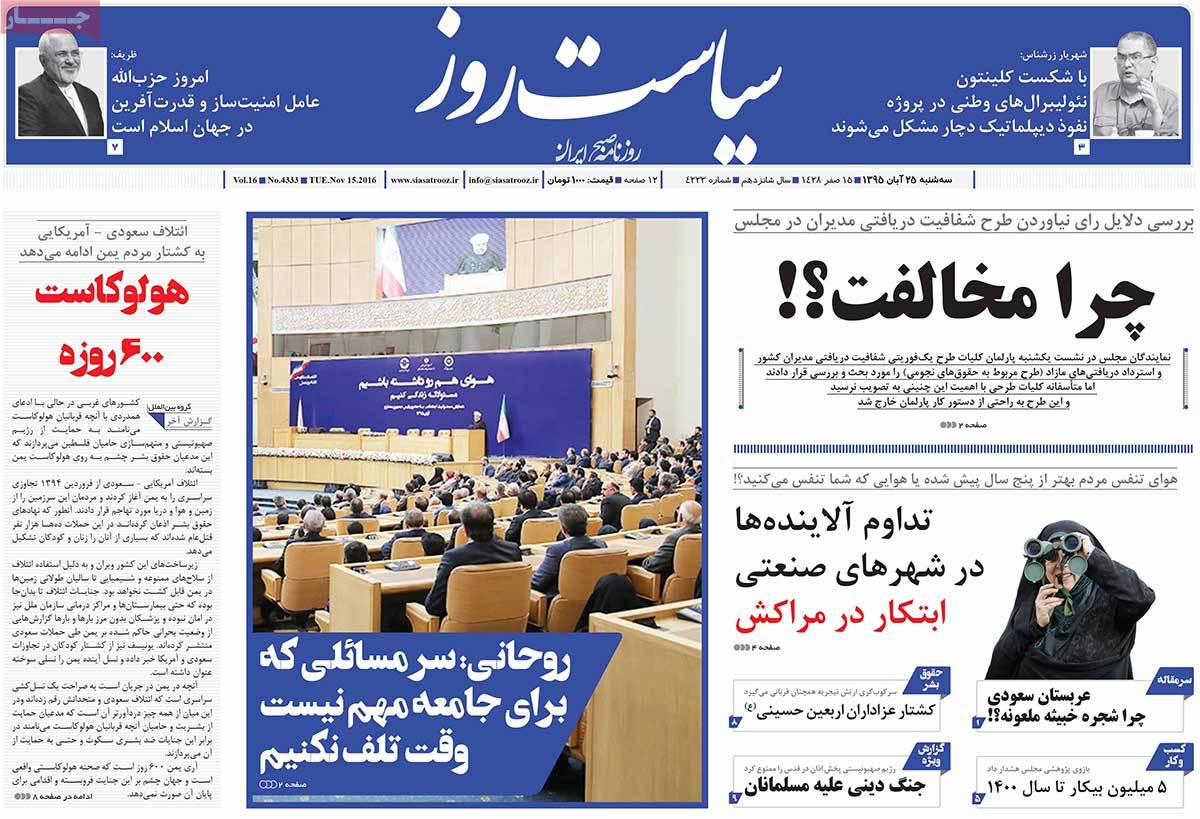 ---
Tejarat:
1- CBI Governor: People's Financial and Bank Accounts' Data Should Not Be Disclosed
2- Illegal Travel to Iraq Will Be Punished by 6 Years in Prison
---
Vaghaye Ettefaghieh:
1- Former Iranian Diplomat: Iran Won't Accept Any Change to Nuclear Deal
2- Trump's Earthquake Activates Gaps between US and Europe
3- We Are Not Seen: When Pollutants Celebrate!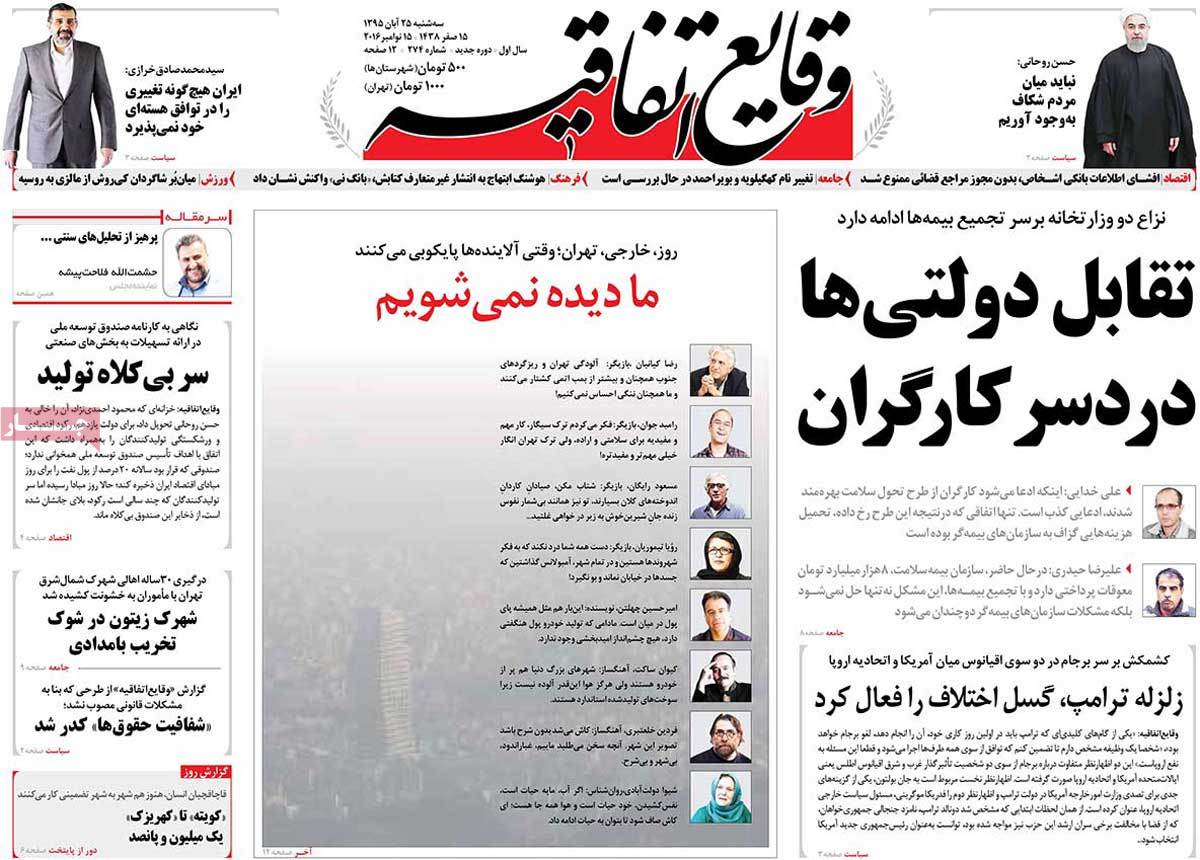 ---
Vatan-e Emrooz:
1- You Don't Think about a Solution, You Just Shut Down [schools]: Continued Emergency Situation in Iranian Megacities, and Parliament's Warning against Government's Inattention to People's Health
2- Trump: War Is Enough!