The majority of newspapers today continued to cover the election of Donald Trump as the new President of the United States and the post-election riots across the US.
They also covered the reactions by Iranian officials and experts to Trump's victory.
The remarks made by Chief of Iranian Armed Forces Major General Mohammad Hossein Baqeri about the country's military preparedness also received great coverage.
The death of prominent Canadian poet and singer Leonard Cohen was also a top story today.
The above issues, as well as many more, are highlighted in the following headlines:
Abrar:
1- First Meeting between Trump and Obama in White House
2- US Lawmakers Continue Their Efforts to Prevent Boeing's Plane Sale to Iran
3- Montenegro's President Accuses Russia of Hatching Plot against Podgorica
4- Egyptian Army Continues Operation in Sinai Desert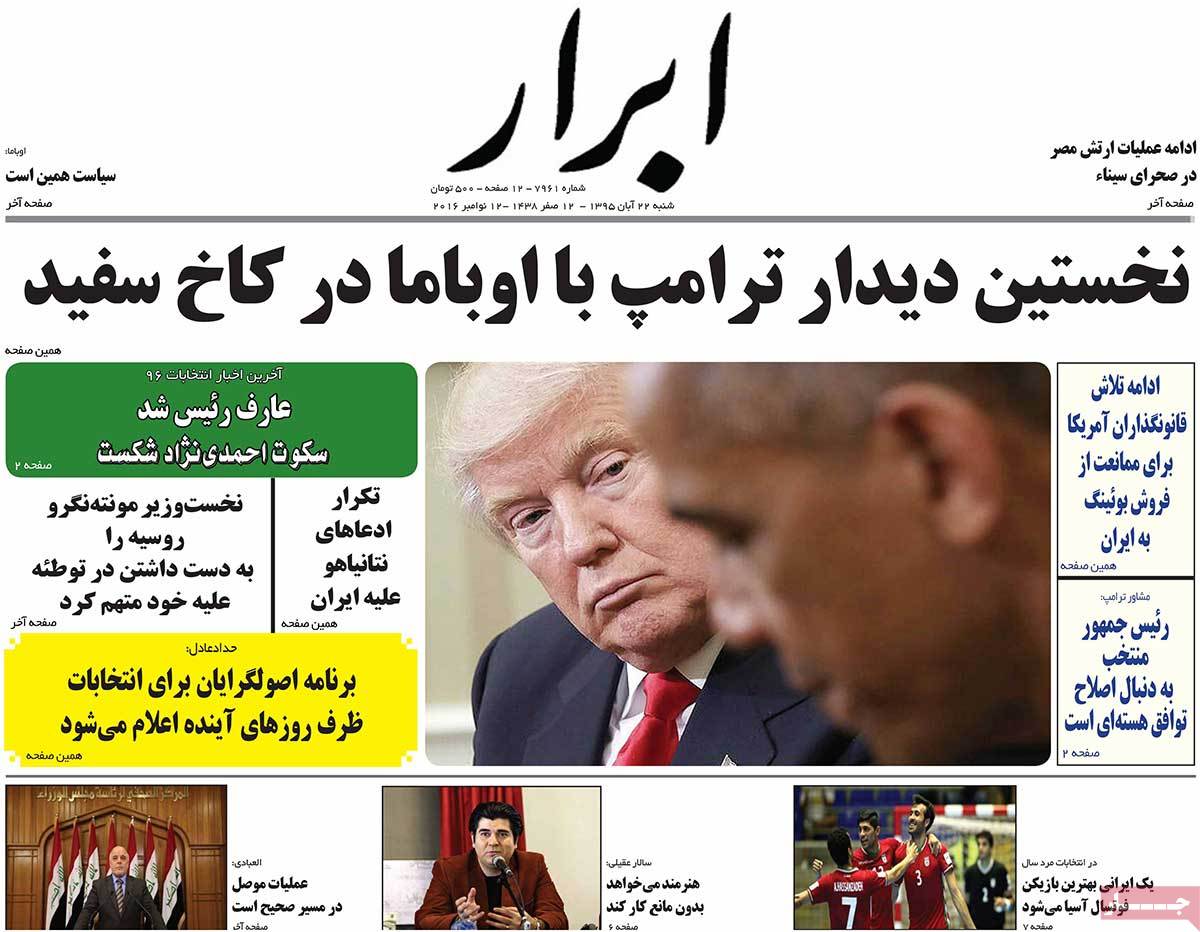 ---
Abrar-e Eqtesadi:
1- Fresh Monetary Talks between Iran and Russia
2- Iran's Capital Market Waiting for Announcement of Trump's Plans
3- Iranian Economy's Opportunity for Using the Conflict between Europe and US
4- Oil Minister Explains about Short-Term Impact of Trump's Victory on Oil Price
5- $42bn Lost Because of Trump's Victory
6- Talks with China for Development of Two Oilfields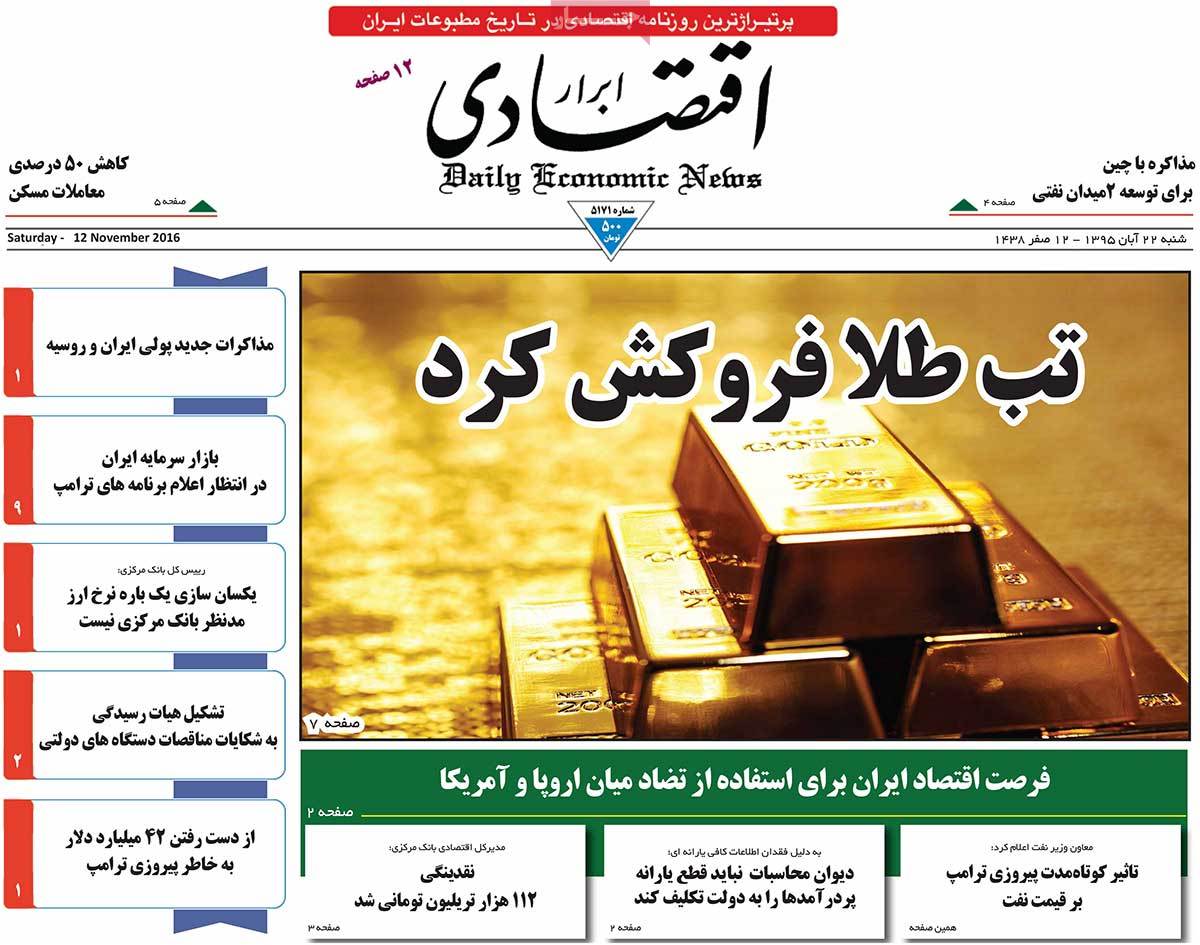 ---
Afkar:
1- Slovakia, the New Gate for Iran's Access to Europe
2- Text of IAEA's Report about Verification of Iran's JCPOA Commitments
3- Two-Third of MS Patients Using Iranian-Made Drugs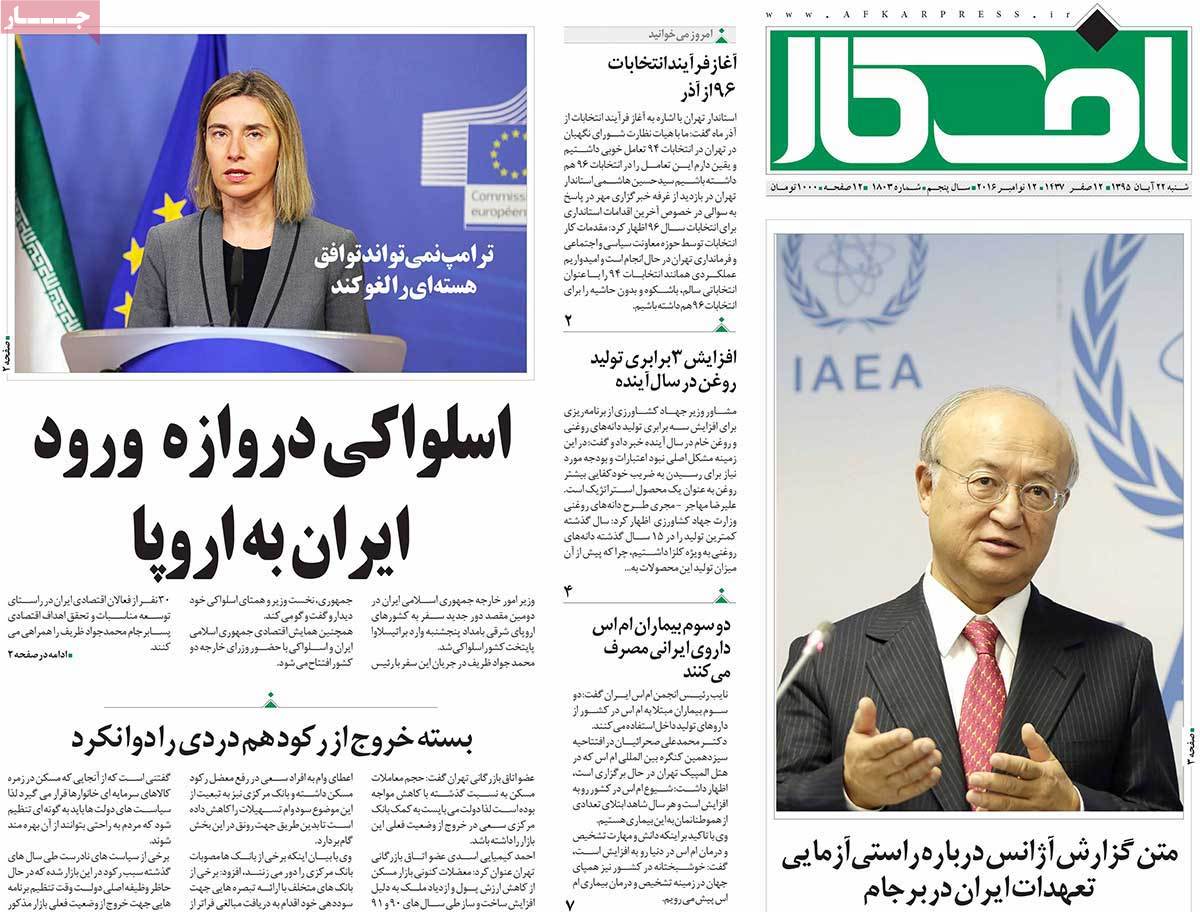 ---
Aftab-e Yazd:
1- First Move by Trump about JCPOA: US President-Elect Calls for Revision of Nuclear Deal
2- 3,000-Year-Old Skull Found in Tehran: Wastewater Digging Once Again Leads to Historical Discovery
3- Epidemic of MS Is Imminent in Iran
4- Iran's State TV Announces: American Youths Watch Press TV!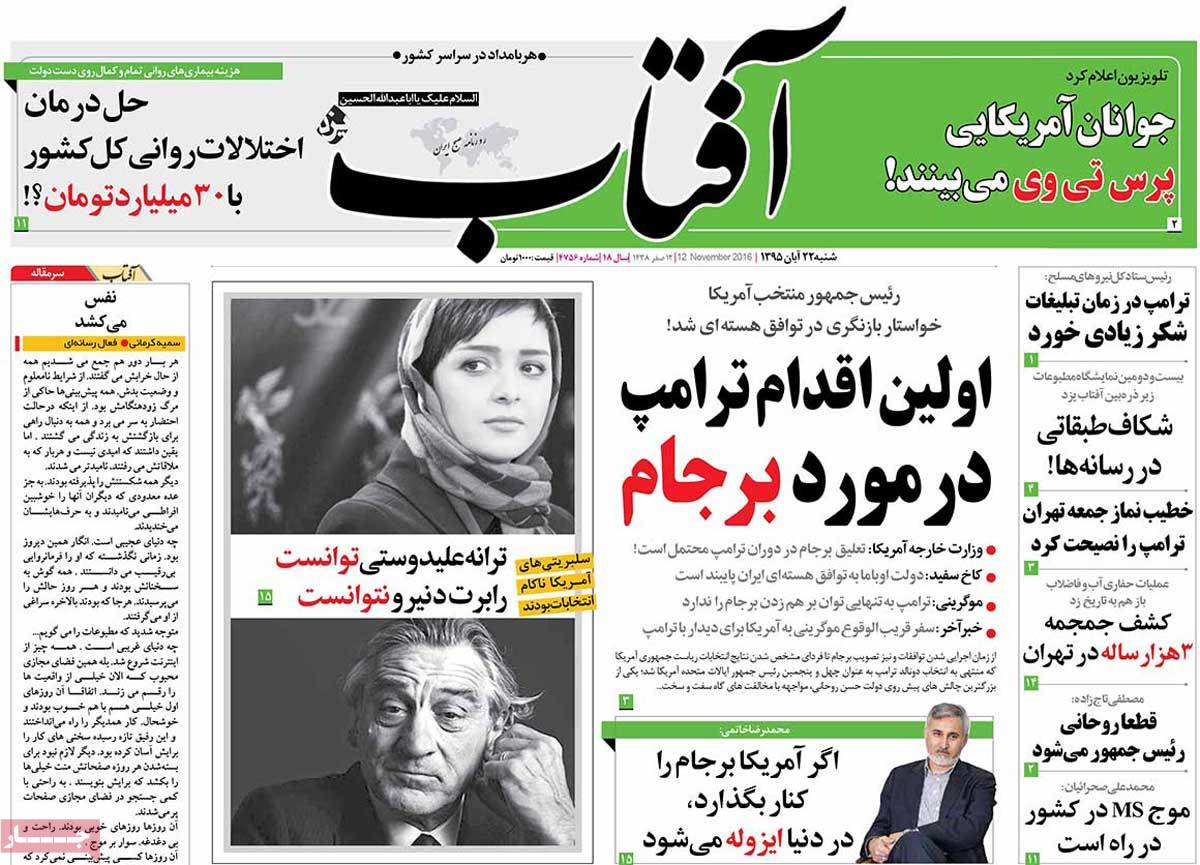 ---
Arman-e Emrooz:
1- Mogherini: Trump Cannot Cancel JCPOA
2- Deputy Minister: A Mafia Group Active in Iran's Oil Industry
3- Two Iranians to Appear in American Court over Violation of Anti-Iran Sanctions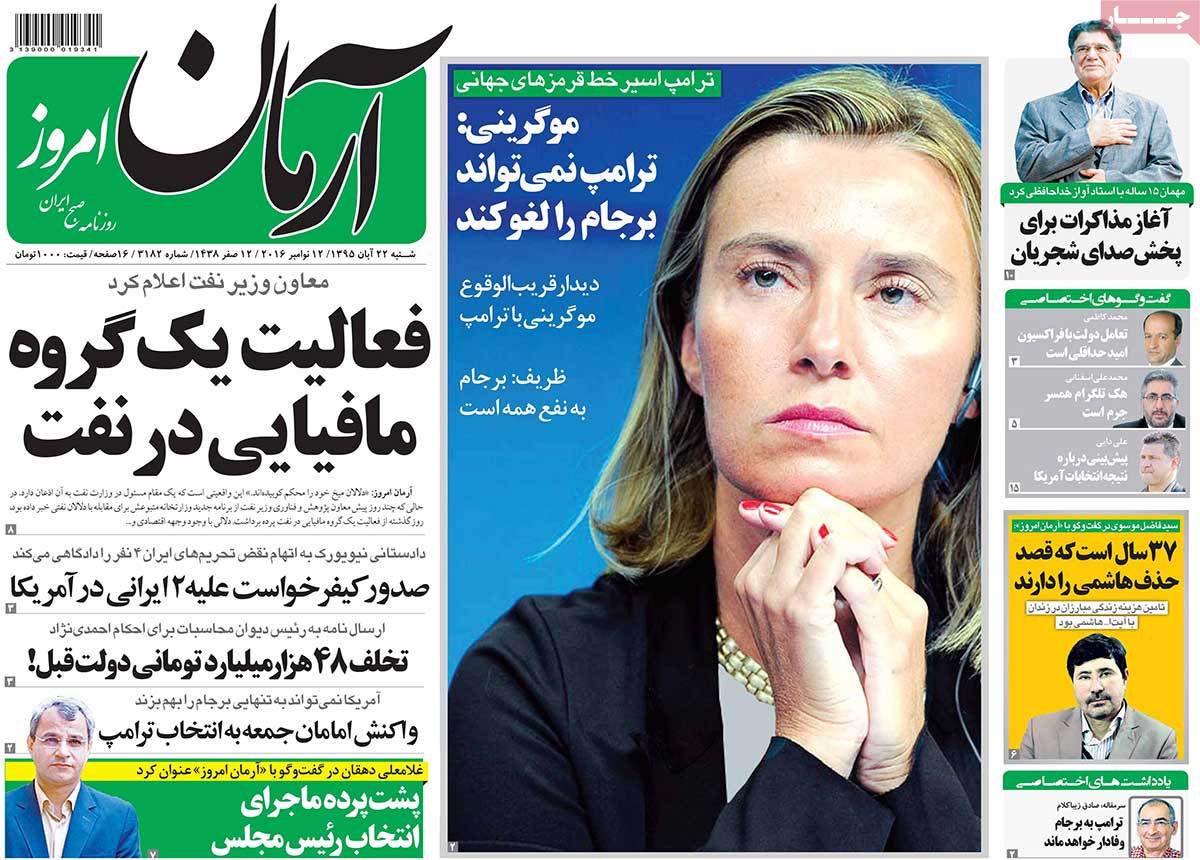 ---
Asrar:
1- Opponents of Trump Show Their Power in US Cities
2- Pentagon's Surprising Turnaround: Obama Issues Order to Destroy Leaders of Jabhat Fateh al-Sham Terrorist Group
3- Tehran Friday Prayers Imam: We Respect People's Choice in Other Countries
---
Besharat-e Now:
1- Reformists' Reaction to US Elections: Trump or Clinton Were No Different for Us
2- Iran's Environment Chief Ebtekar: Bill to Be Passed by Government against Animal Abuse
3- Age Difference, a Criterion Which Is Being Forgotten: Reason Mentioned by Young Girls and Elderly Men for Marriage
---
Donya-ye Eqtesad:
1- Analysis of Economic Roots behind Trump's Emergence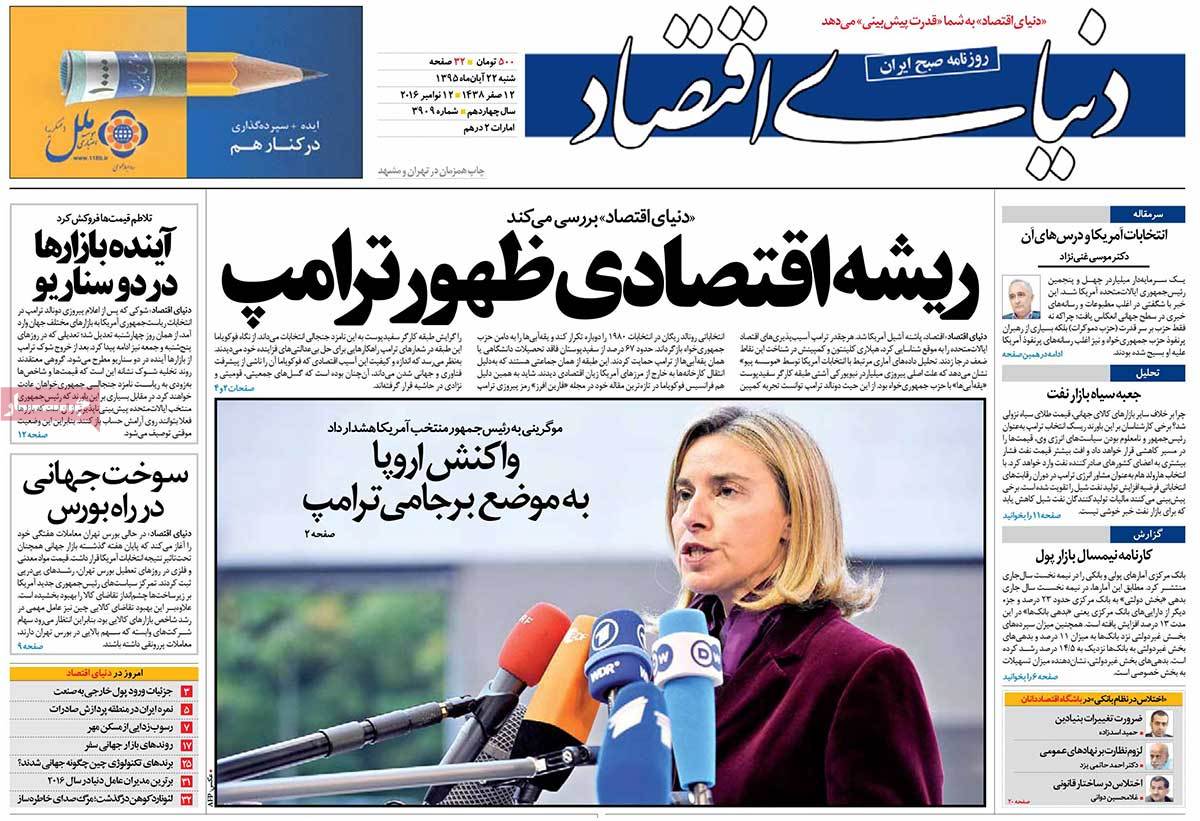 ---
Ebtekar:
1- Options on Zarif's Table: FM's Reaction to Concerns about JCPOA after Trump's Victory
2- Iranians' Are Just 9.3% Ready to Face Disasters: 'Prevention' Is the Achilles' Heel of Disasters in Iran
3- Dancing to the End of Love: Leonard Cohen Dies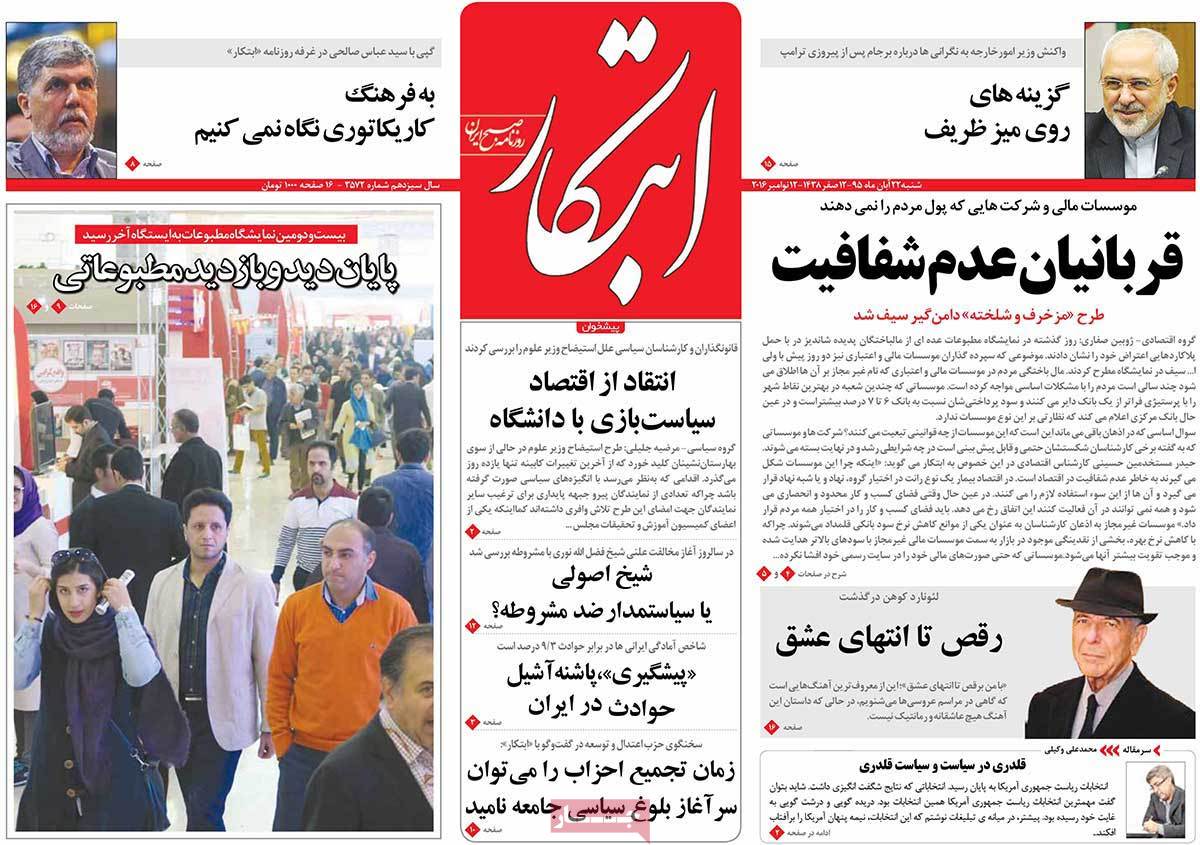 ---
Etemad:
1- Conservative Figure Haddad Adel Calls for Unity: He Asked Conservatives to Avoid Rift
2- Health Minister: I Won't Remain a Minister in Next Cabinet
3- Why Trump Managed to Become US President [Editorial]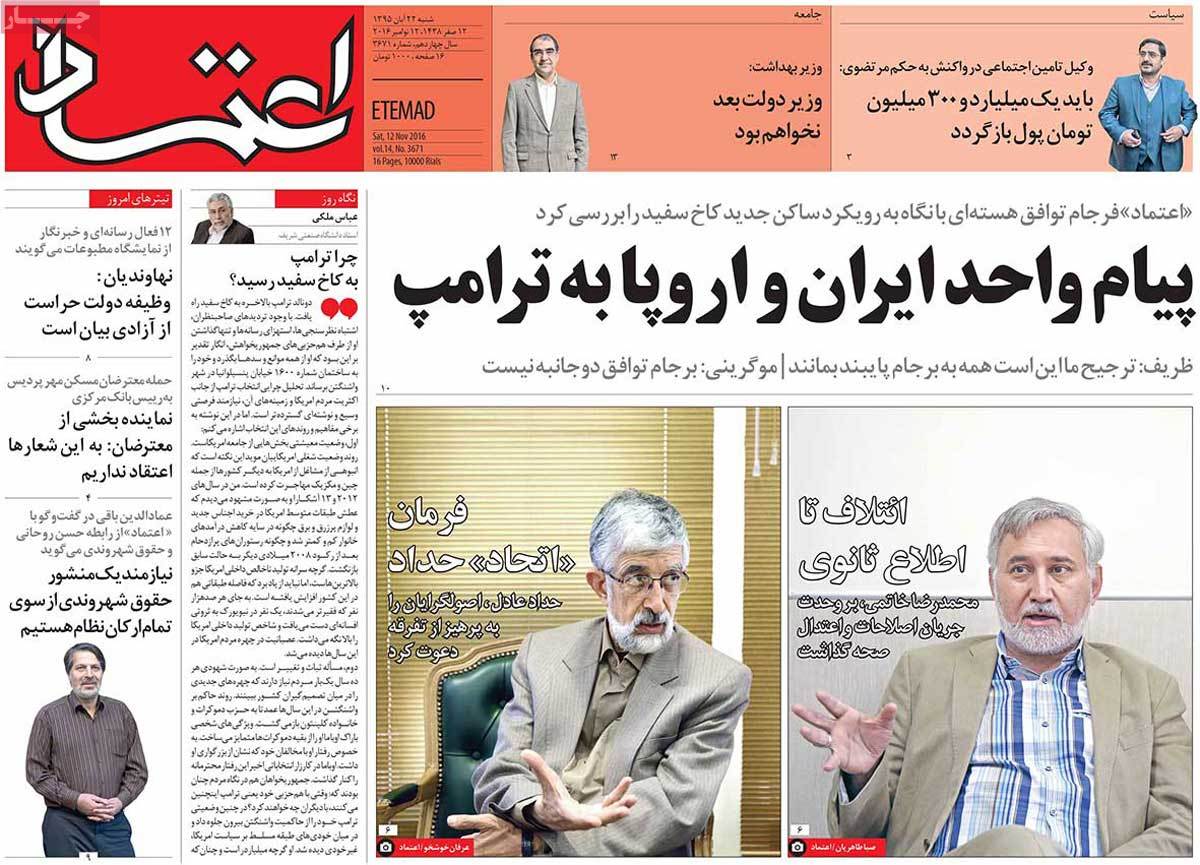 ---
Ettela'at:
1- Mogherini: JCPOA Is a Multilateral Deal within UN's Framework, and Cannot Be Torn Apart
2- Reuters: Trump Will Destroy Obama's Legacy
3- Chief of President Rouhani's Office: Government's Duty Is to Protect Freedom of Speech
4- Zarif in Meeting with Czech FM: All Parties to JCPOA Should Be Committed to It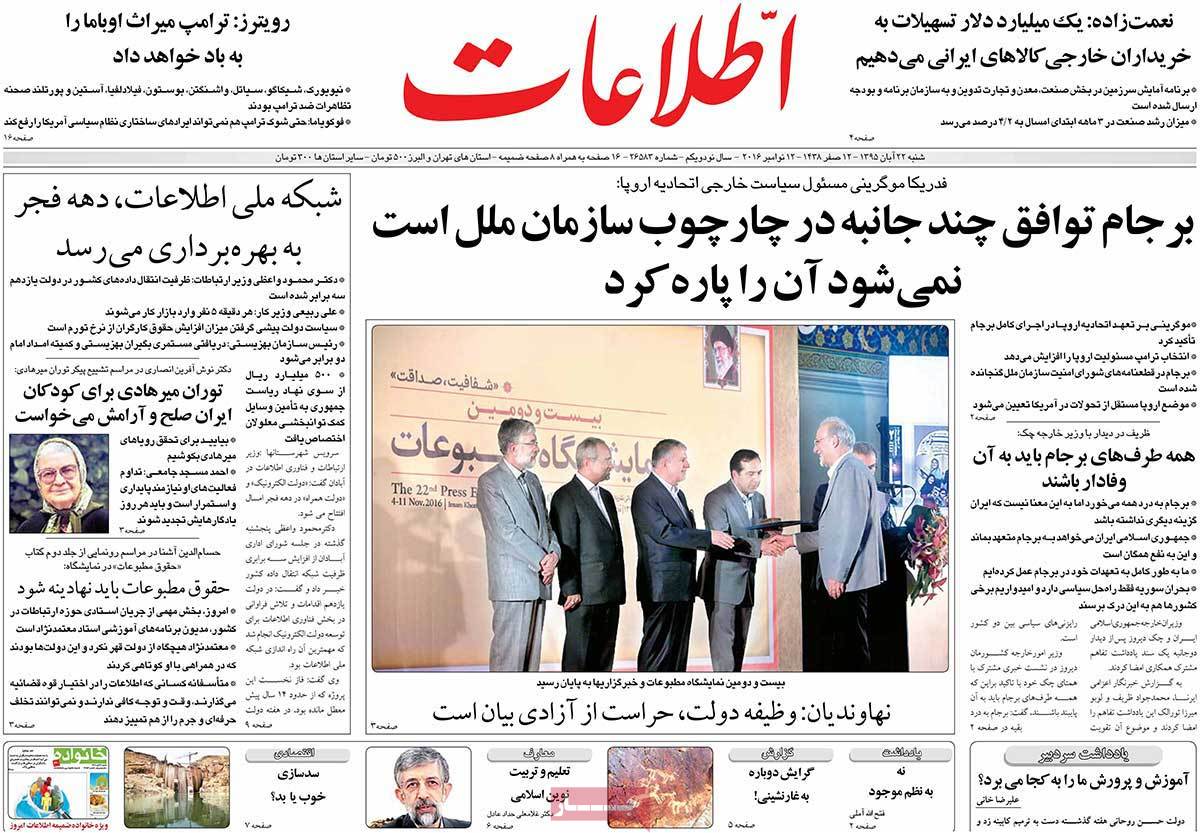 ---
Haft-e Sobh:
1- Death of the Rebel: Cohen Was One of Those Figures Who Turned Music into a High-Level Instrument for Protest
2- Trump's Shadow over Boeing and JCPOA: Last Week, the Question Was that Which Candidate Would Be More Appropriate for Iran, Now the Question Is What Will Happen?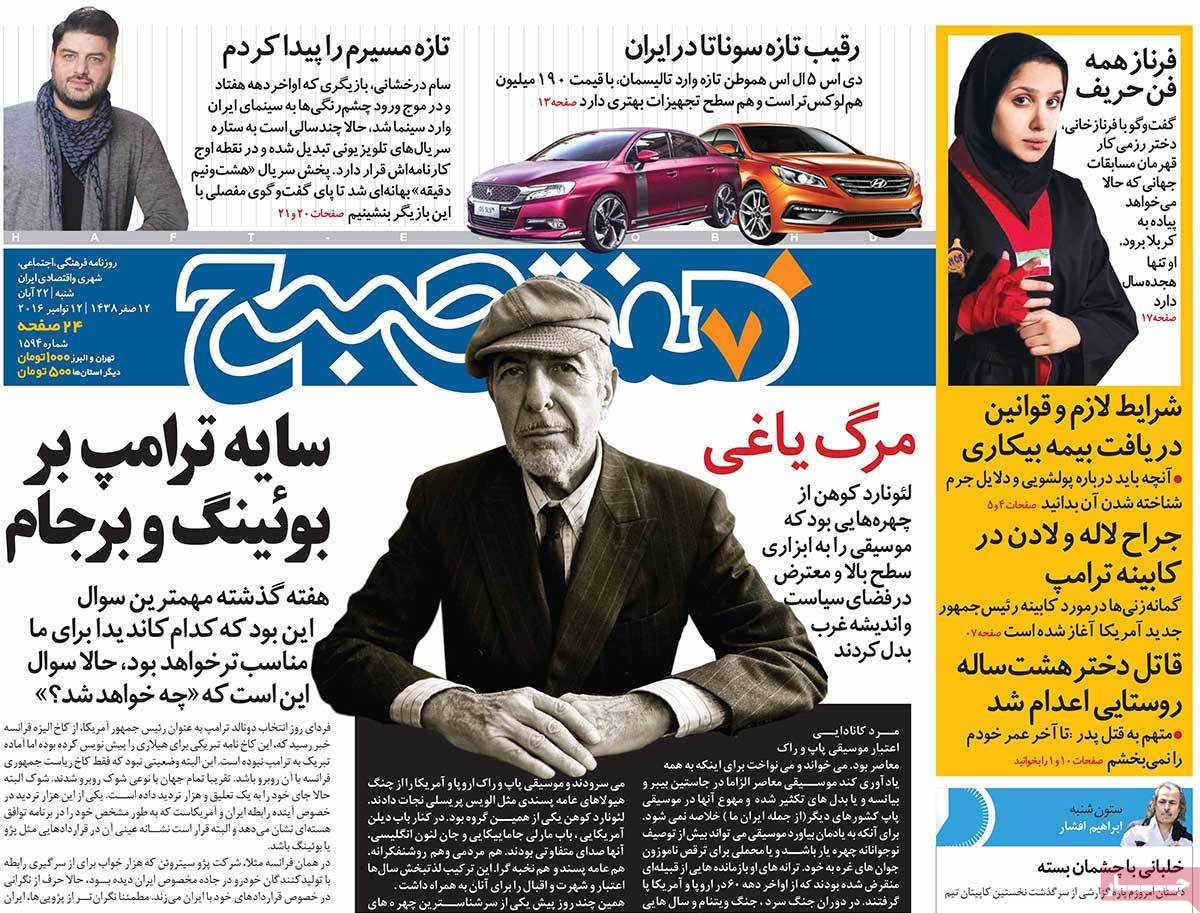 ---
Hemayat:
1- US in Fire of Division
2- Anti-JCPOA Propaganda after US Elections
3- 3 Million Visas to Be Issued for Arbaeen Pilgrims
4- Iran's Top Officer: Enemy's Defensive Shield Is Incapable When It Comes to Iranian Missiles
---
Hosban:
1- Friday Prayers Imam: Remarks by Presidential Candidates Showed that US Is a Bankrupt Country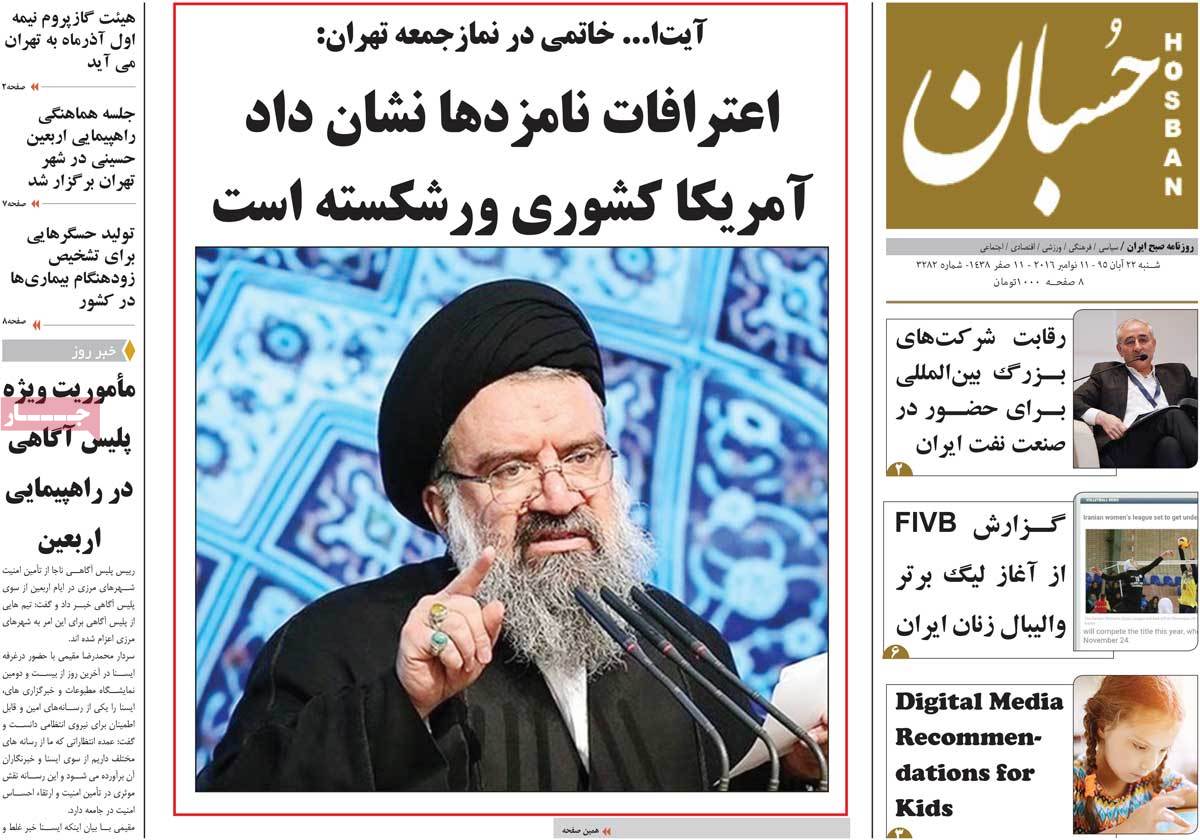 ---
Iran:
1- New Documents Show Numerous Cases of Violation of Law in the Missing Oil Rig Case
2- Industry Minister: Foreign Car-Makers Will Come to Iran; Trump's Election Will Not Be Effective
3- Riots against the President in 25 American Cities
---
Jame Jam:
1- Protest at American Democracy
2- Forgetting about Transfer of Technology in Foreign Contracts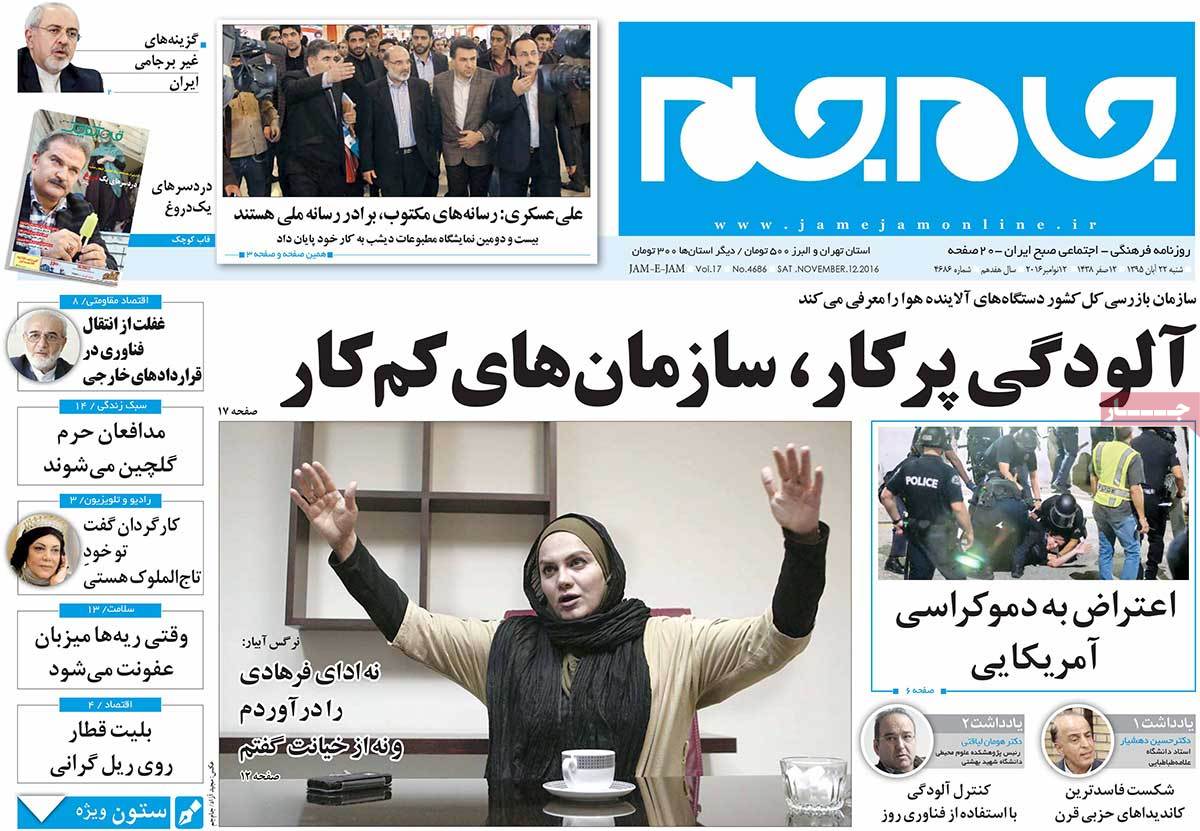 ---
Javan:
1- Young People Losing Millions of Dollars in Online Gambling Websites: Numerous Poker Websites Receive Huge Income Everyday Thanks to Iranian Youths' Losses; Why Cyber Police Doesn't Do Anything?
2- US in Mist
3- Foreign Investors Will Be Expelled from Iran with Trump
---
Jomhouri Eslami:
1- Major European Officials Ask for Trump's Guarantee to Remain Committed to JCPOA
2- Third Night of Unrest in US in Protest at Trump's Election
3- Syria and Iraq's Anti-Terrorist Campaign Makes Progress in Aleppo and Mosul
4- Amano: Iran's Nuclear Activity Continues within JCPOA
5- Yemen's Ansarullah Takes Control of 5 Saudi Arabian Villages
---
Kayhan:
1- The Fire of 2009 Sedition [post-election protests in Iran] Burns Its Plotter: Riots in Protest at Results of US Elections
2- Ansarullah Kills Tens of Saudi Troopers to Take Control of 5 Villages in Saudi Arabia
3- Senior Cleric: American People's Tax Money Is Spent on Killing People in Syria and Yemen
4- People's Livelihood Is the Main Concern of the Leader of Islamic Revolution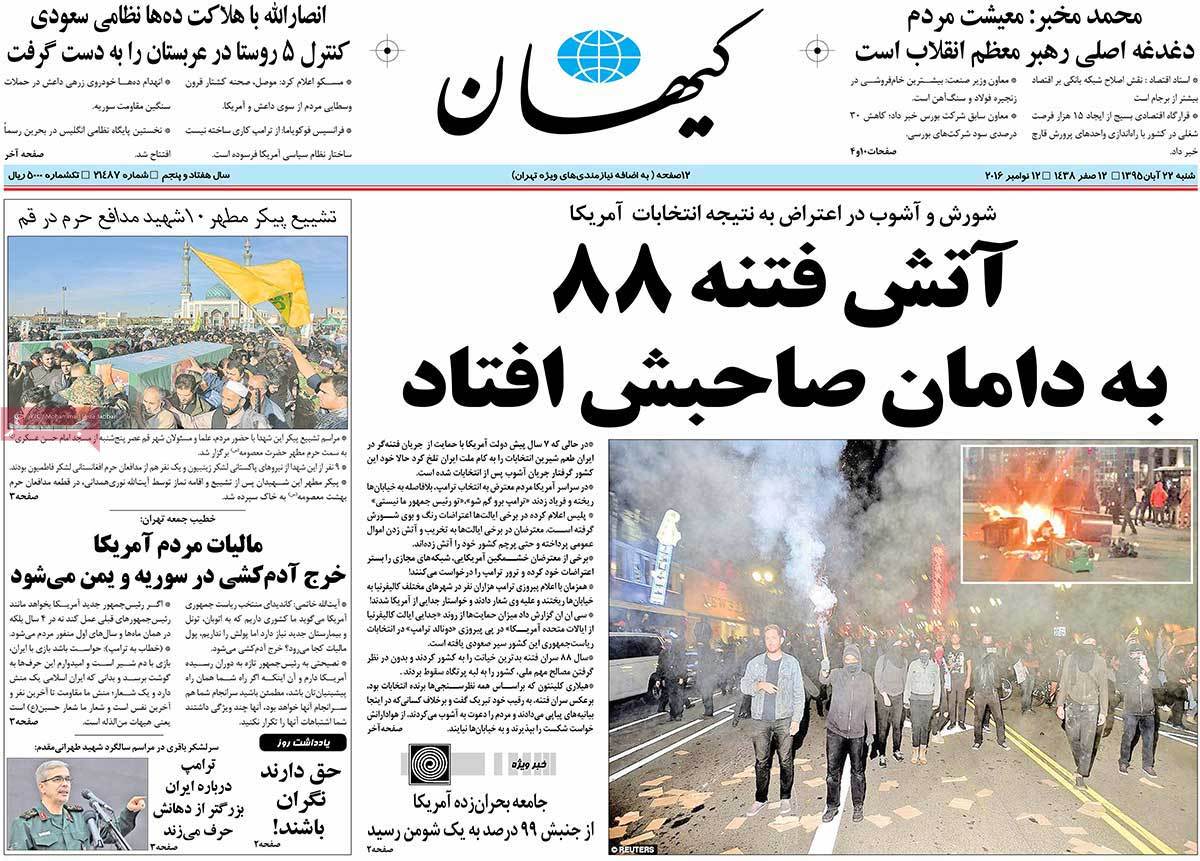 ---
Khorasan:
1- US Is Still in Chaos
2- Lost Dreams of Donald Trump in the World without 'Rulers' [Editorial]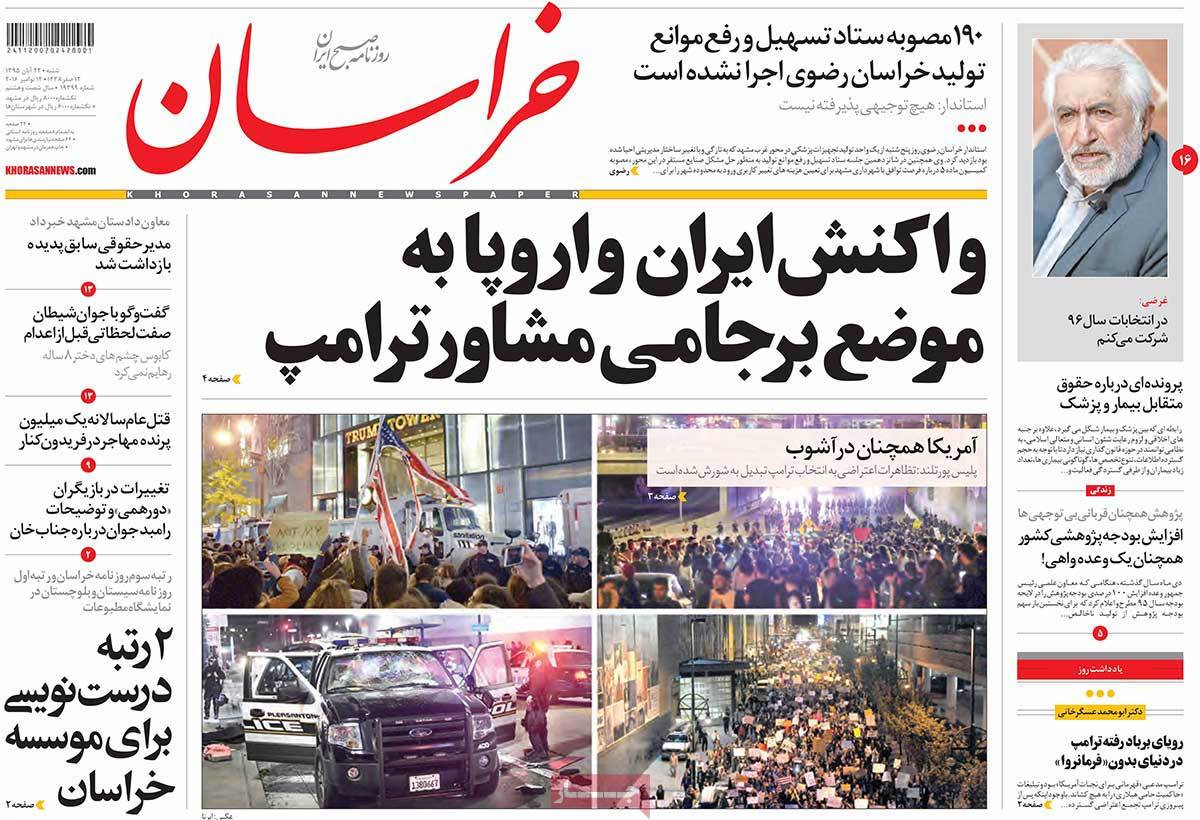 ---
Payam-e Zaman:
1- Chief of Iran's Armed Forces: It's Not a Joke to Threaten Islamic Republic
2- 90% of Iranian Villages Will Have Access to Natural Gas
---
Resalat:
1- Senior Cleric: Trump Should Apologize to Iranian People; US Is Playing with Fire
2- Chief of Armed Forces: Trump Talking Way Out of His League
3- Clinton: US Suffering from Deep Gap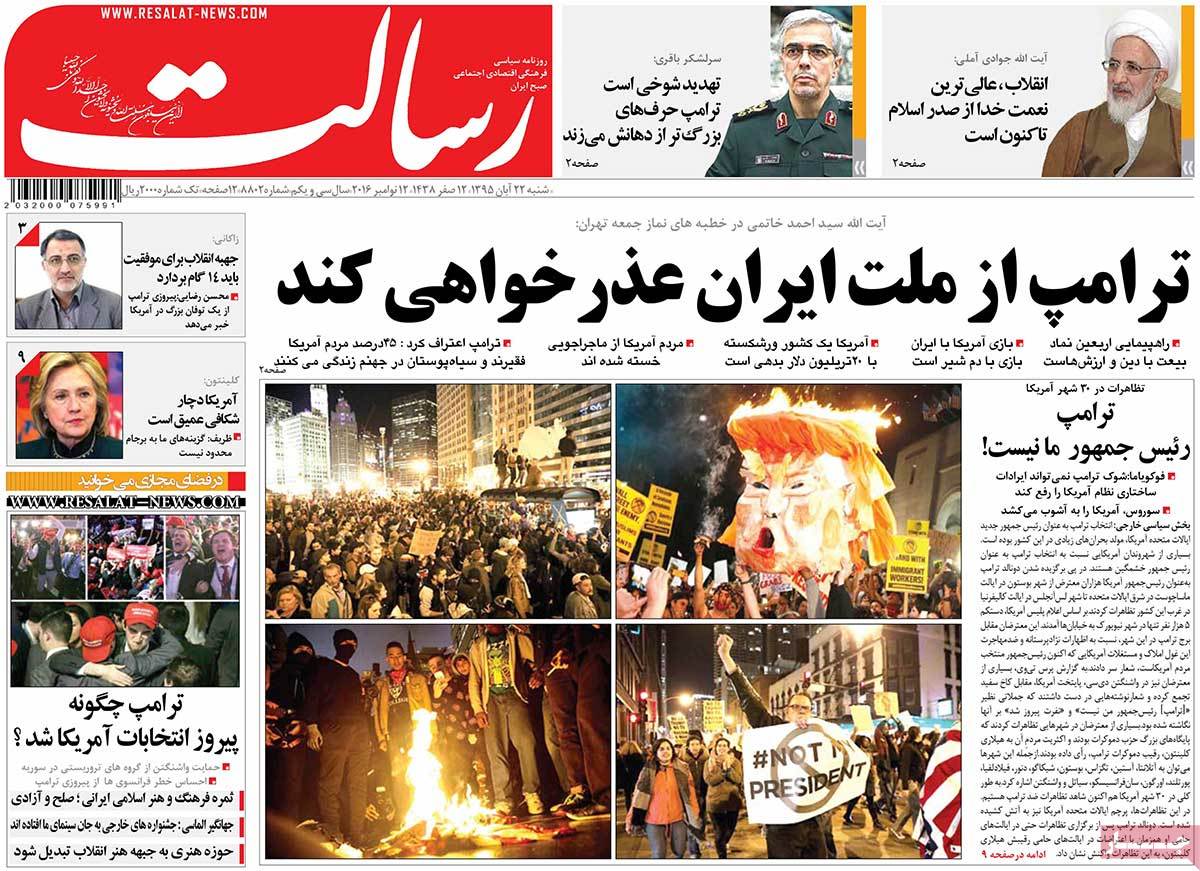 ---
Roozan:
1- New York Billionaire Surrounded by Opponents: Students Hold Protest Rally against Trump's Presidency
2- Trap of 'Trumpophobia' for Rouhani
3- Trump: From Erdogan to Ahmadinejad; Media Trying to Define the Unknown Phenomenon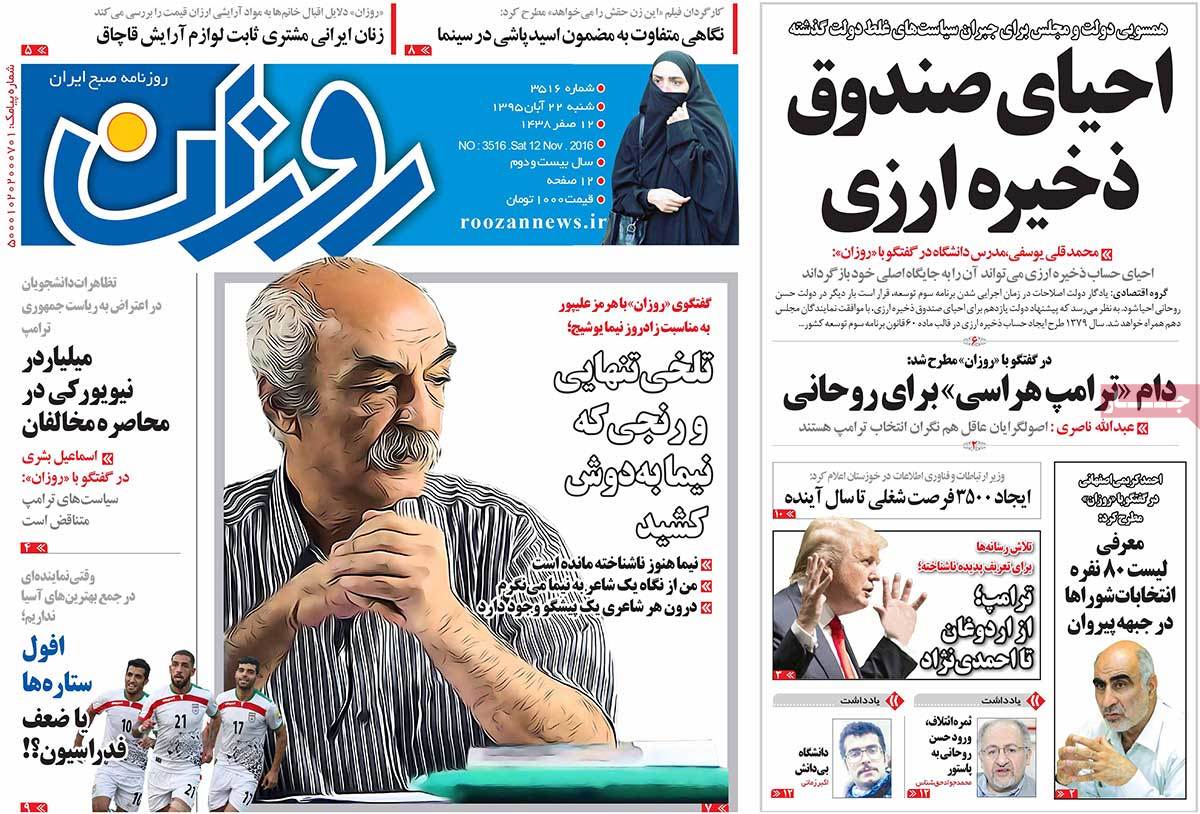 ---
Setareh Sobh:
1- American Riot
2- Iranian Armed Forces Don't Interfere in Executive Affairs: Major General Baqeri
3- Former Diplomat: World Faced with New Form of Nationalism; Trump's Victory despite Opposition by Parties Shows Health of Democratic System in US
4- Toner: It's Possible that Trump Suspends Nuclear Deal
---
Shakhe-ye Sabz:
1- Government Spokesman: We're Now Running the Country with $23bn Oil Income
2- IRGC General Rezaei: Trump's Victory Heralds a Big Storm in US
---
Shargh:
1- JCPOA Is Not Reversible: World Reacts to Remarks Made by Trump's Advisor about Revision of Nuclear Deal
2- Three Musketeers: A View of Trump's Possible Options for State Department
3- Their Trump and Our Trump [Editorial]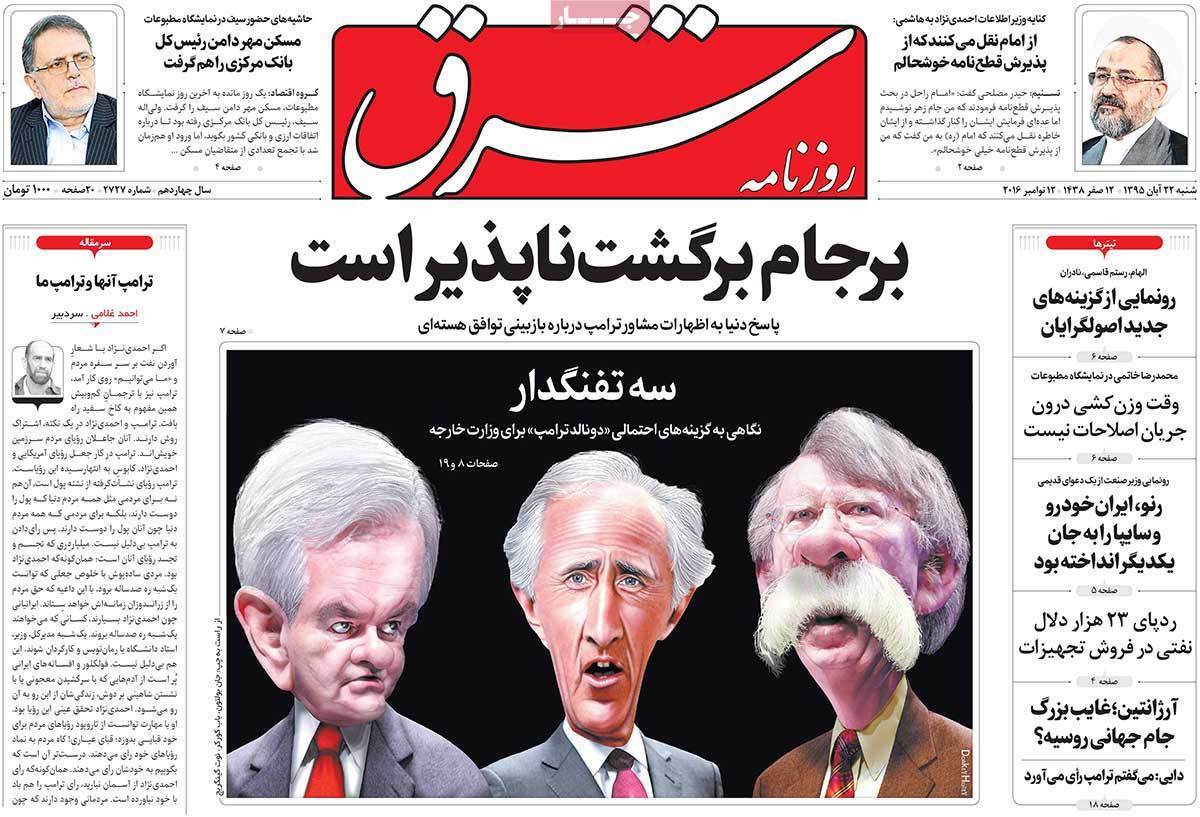 ---
Vaghaye Ettefaghieh:
1- Foreign Ministry Spokesman: US Will Not Gamble on JCPOA
2- Parliament's Vice-Speaker: I Believe Men and Women Have Equal Rights, But They're Not Similar
3- Will Lake Urmia Dry Up? No Budget Yet for Reviving the Shrinking Lake
4- End of the Mission of the Sad Loving Poet: Cohen Dies at 82
---
Vatan-e Emrooz:
1- Miscellaneous States: Americans Start Unprecedented Wave of Firing US Flag in Massive Post-Election Riots in Different Cities
2- Continued Air Pollution in Big Cities