The top story in almost all Iranian newspapers today was the visit of an EU delegation headed by its agriculture commissioner. The delegation visited Iran to examine the capacities for expansion of ties, particularly in the field of agriculture as well as the opening of an office in Tehran.
The visit was widely hailed by economic newspapers, but the conservative ones voiced their strong opposition to the opening of an EU office in Tehran.
A meeting between Iranian President Hassan Rouhani, Parliament Speaker Ali Larijani, and Judiciary Chief Ayatollah Sadeq Amoli Larijani also received great coverage. The outcome of the trilateral meeting held in the Judiciary chief's office was an agreement on changing the structure of some ministries, which was first reported by news outlets, but later denied by the government!
The above issues, as well as many more, are highlighted in the following headlines and top stories:
19 Dey:
1- Government's Structure Will Change: MP
2- Rouhani: We're Responsible for Resolving People's Problems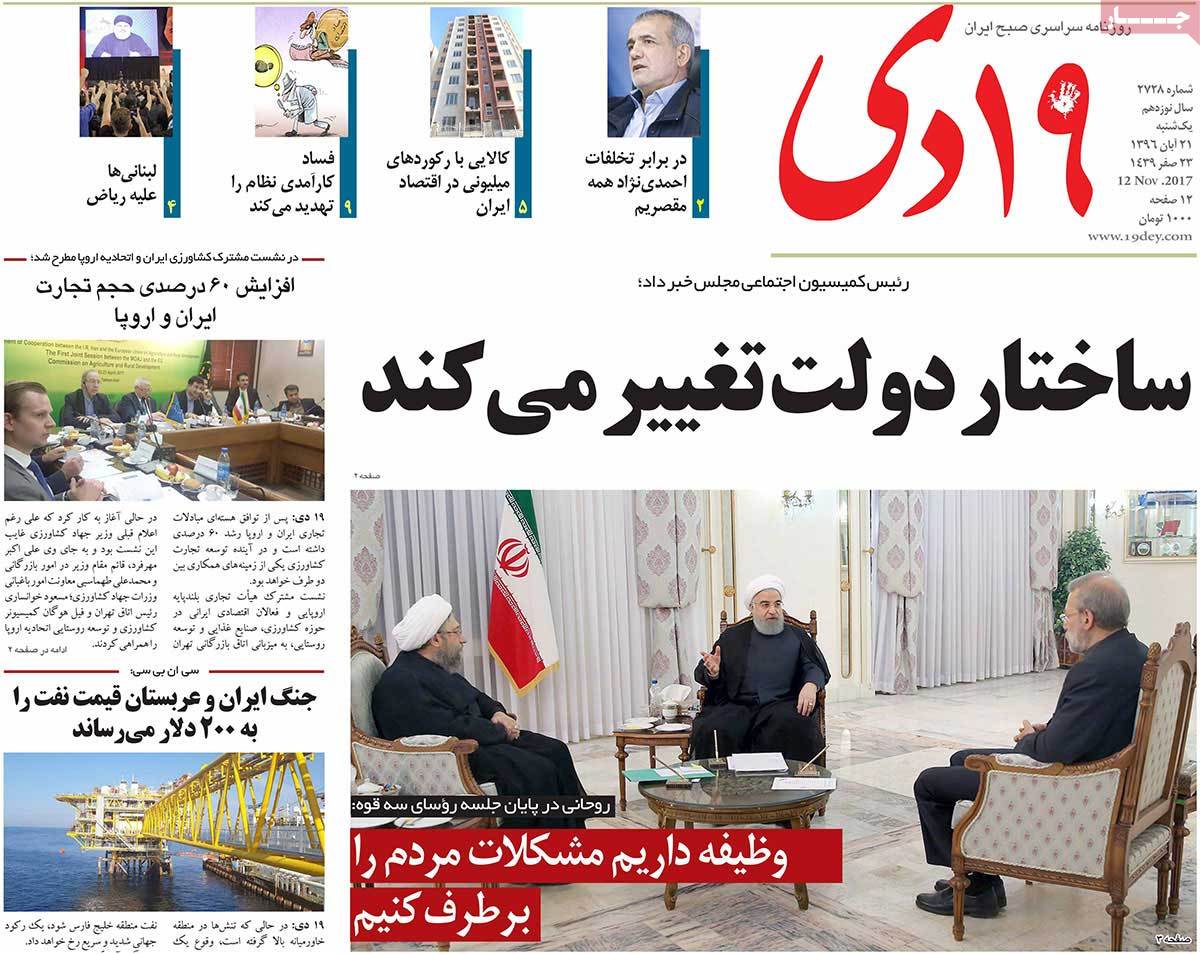 ---
Abrar:
1- Iran Foreign Ministry: Saudis' Half-Baked Policies to Have Dire Consequences for Mideast
2- UAE Minister of State Accuses Iran of Having Role in Missile Attack on Riyadh
---
Afkar:
1- Army Commander: Those Undermining IRGC-Army Unity Are Counter-Revolutionaries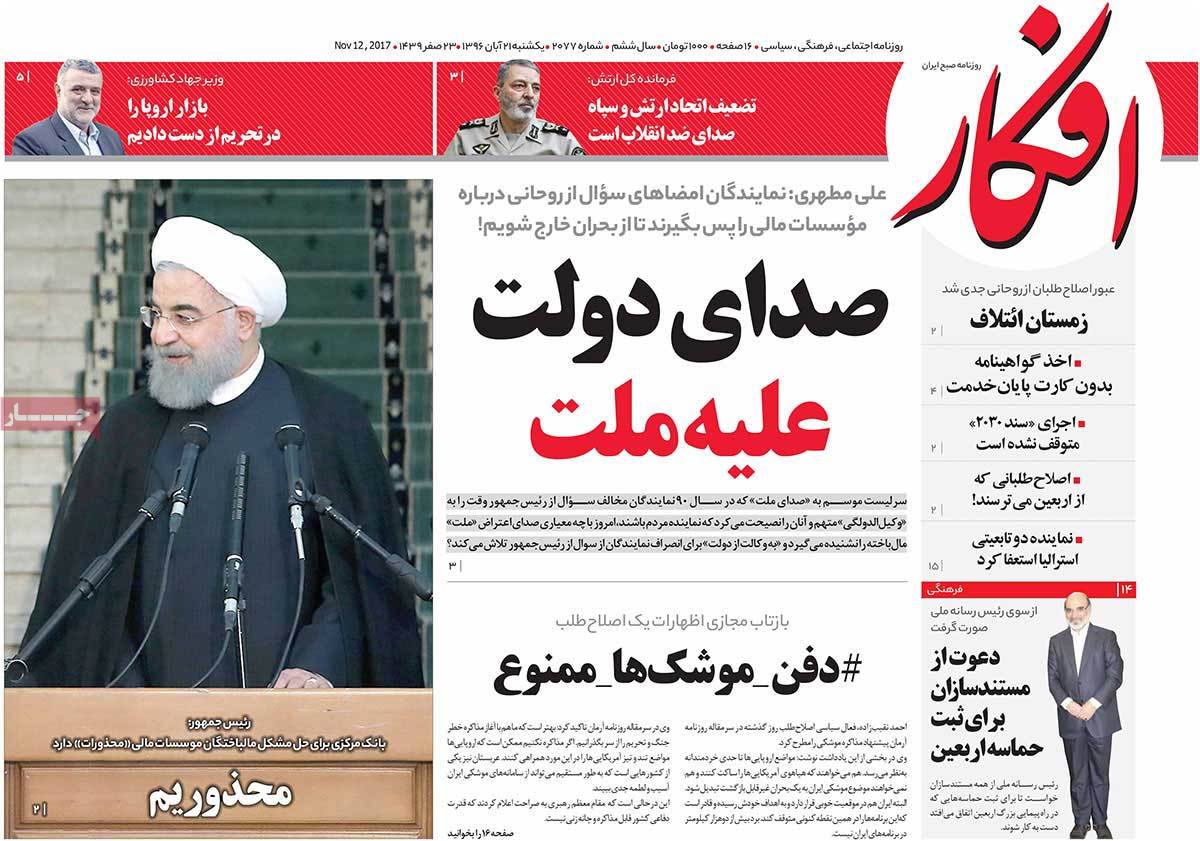 ---
Aftab-e Yazd:
1- Apple Production Destroying Lake Urmia
2- Reformist Politician: Reformists, Ali Larijani Can Get Closer to Each Other
3- Putin Warmly Welcomes Trump
Russia, US Issue Joint Statement on Syria Developments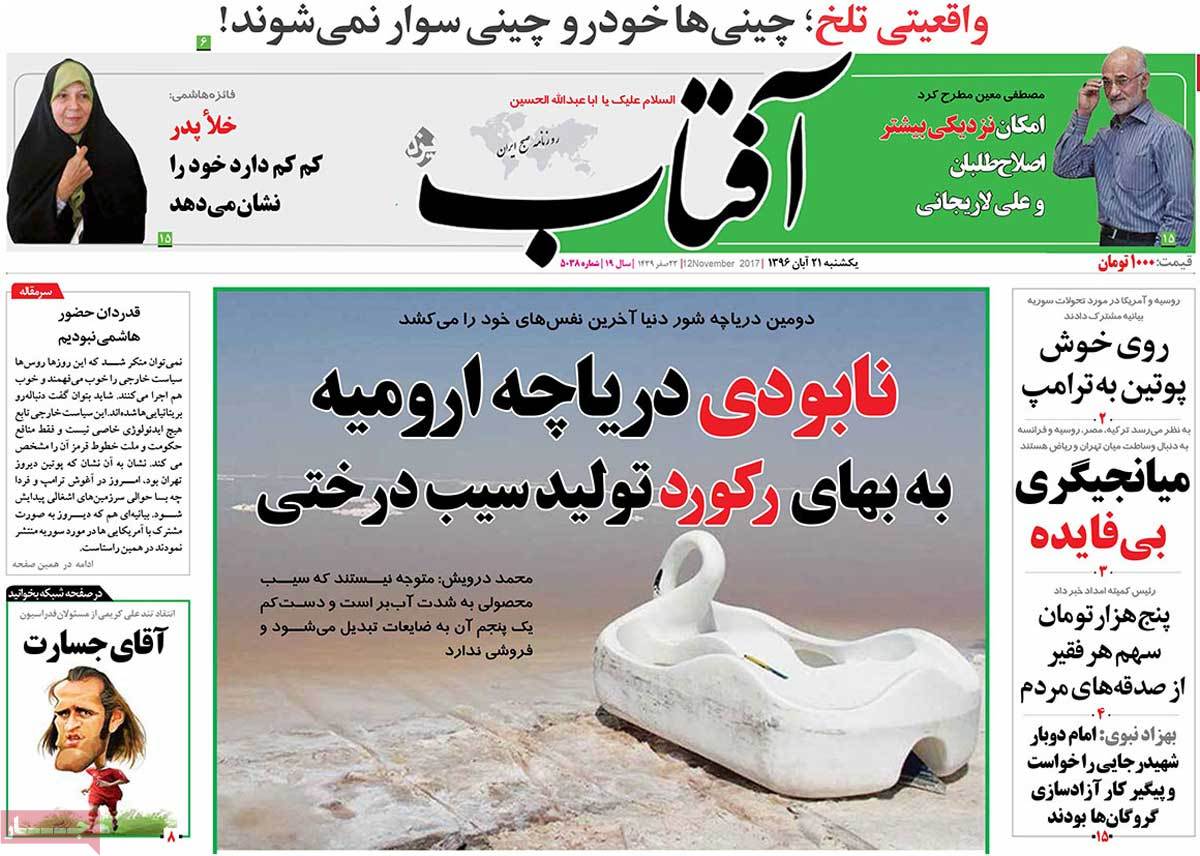 ---
Arman-e Emrooz:
1- Israel May Attack Lebanon
Possibility Increased after Withdrawal of Saudi, Kuwaiti Nationals
2- Tehran-London Ties on Verge of Evolution: British Foreign Secretary to Visit Tehran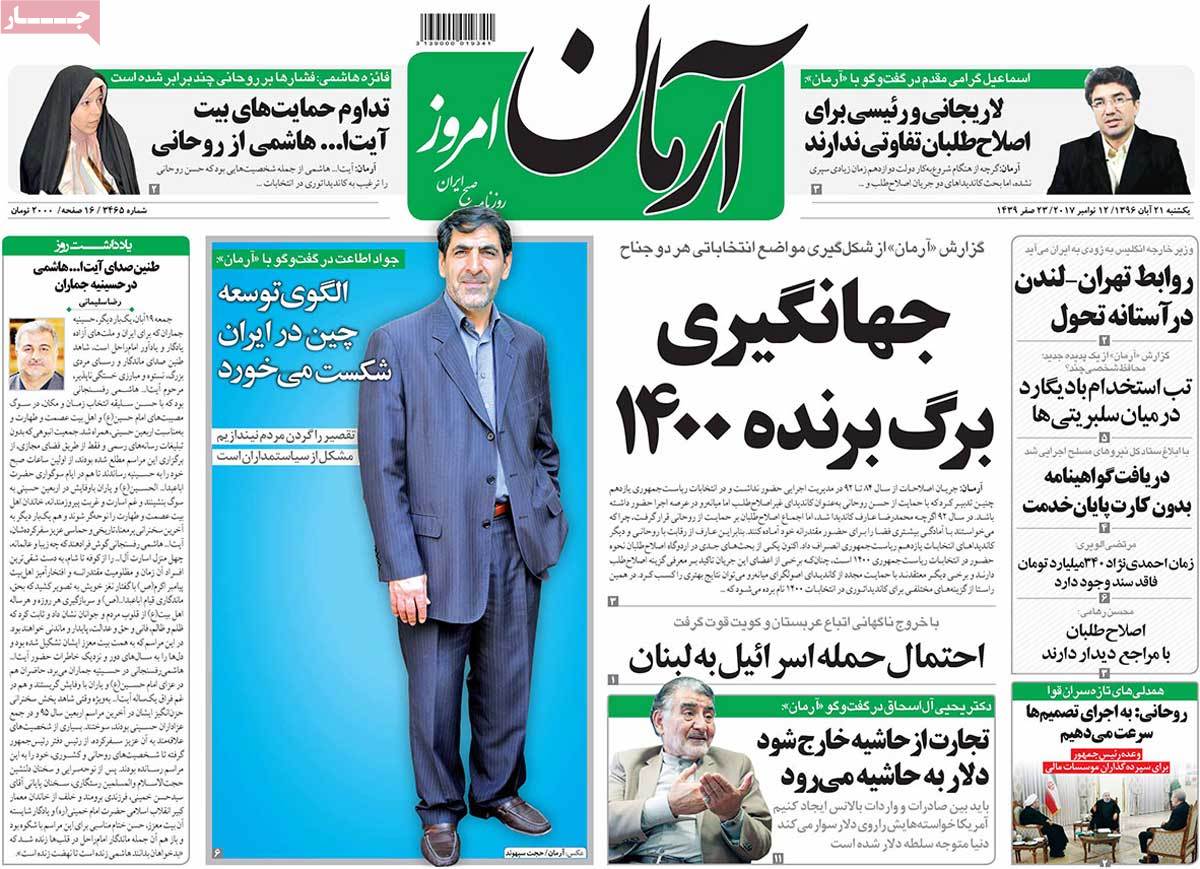 ---
Ebtekar:
1- Women in Rouhani's Cabinet Trying to Remove Gender Inequality
2- Iran and Lost Opportunity in Central Asia
A Review of Zarif's Visit to Tajikistan, Uzbekistan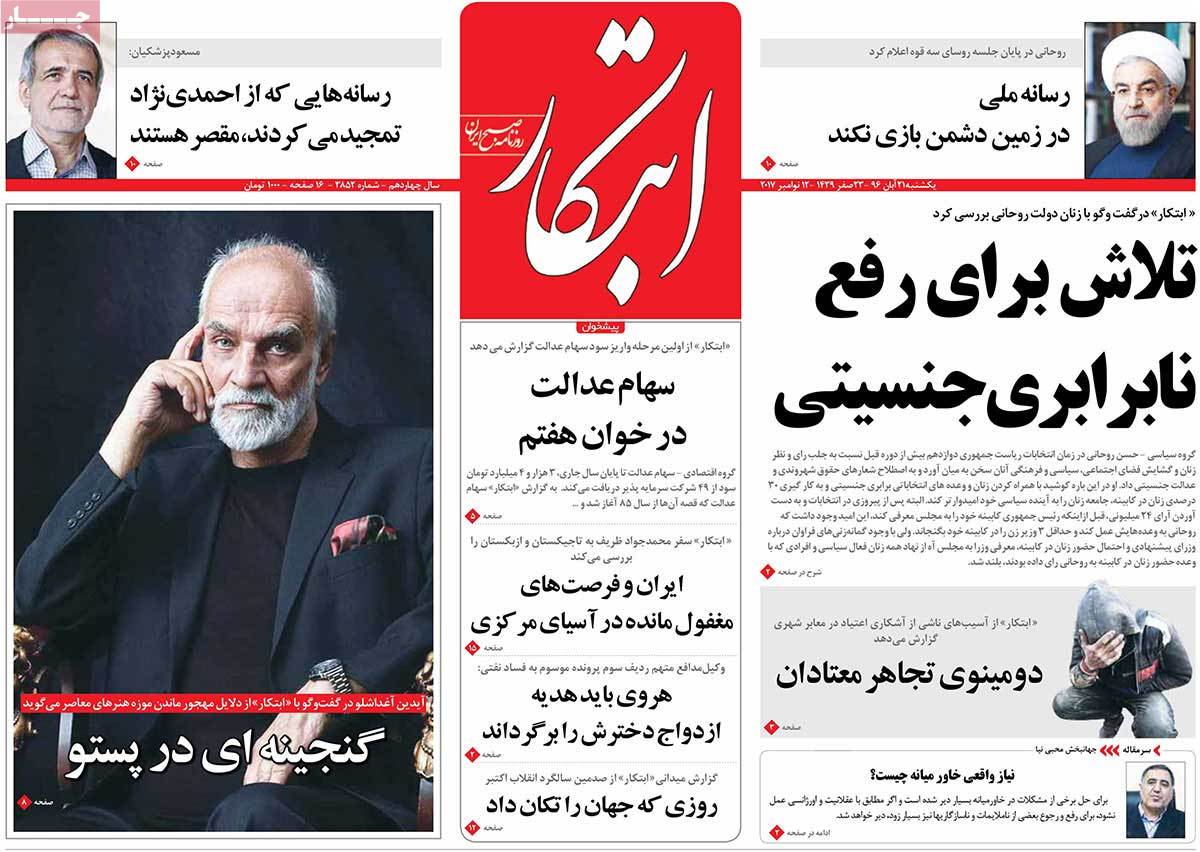 ---
Etemad:
1- Erdogan to Saudi Crown Prince: You're Undermining Islam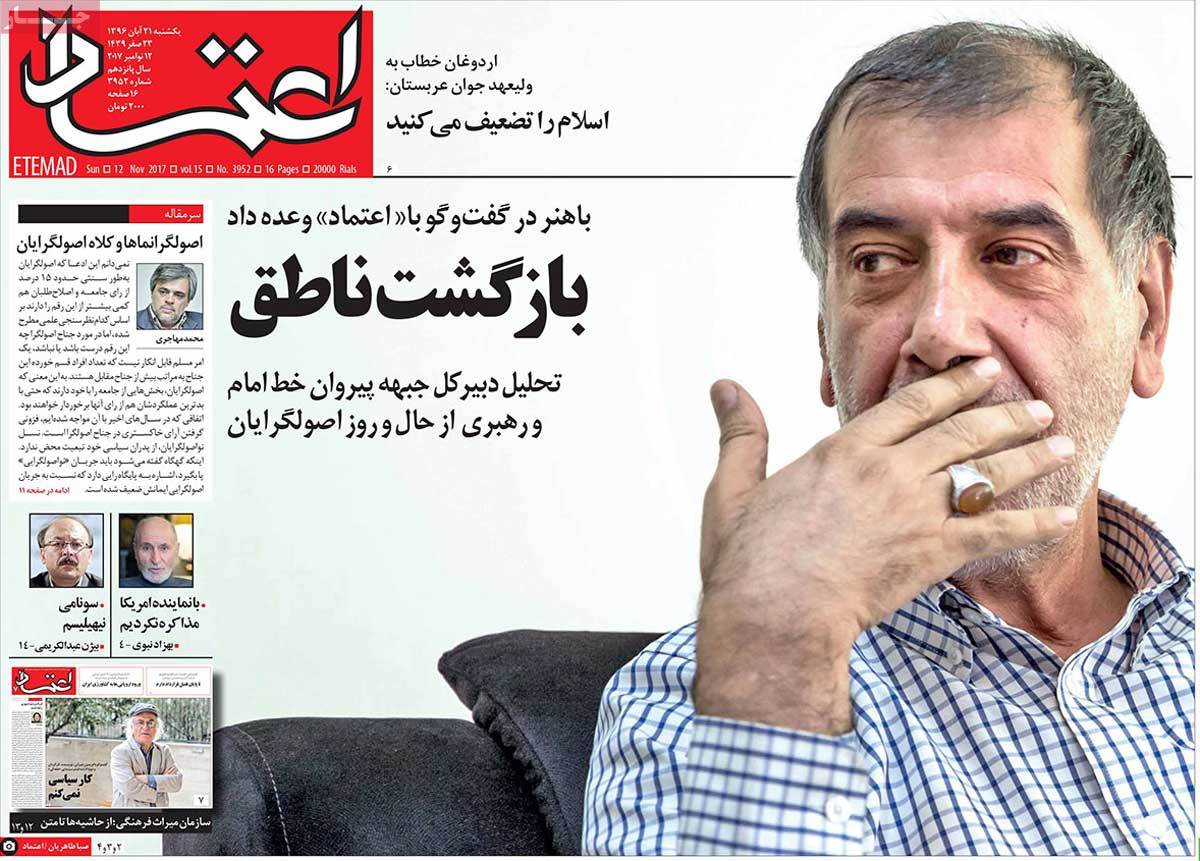 ---
Ettela'at:
1- First VP: Europe Should Count on Its Cooperation with Iran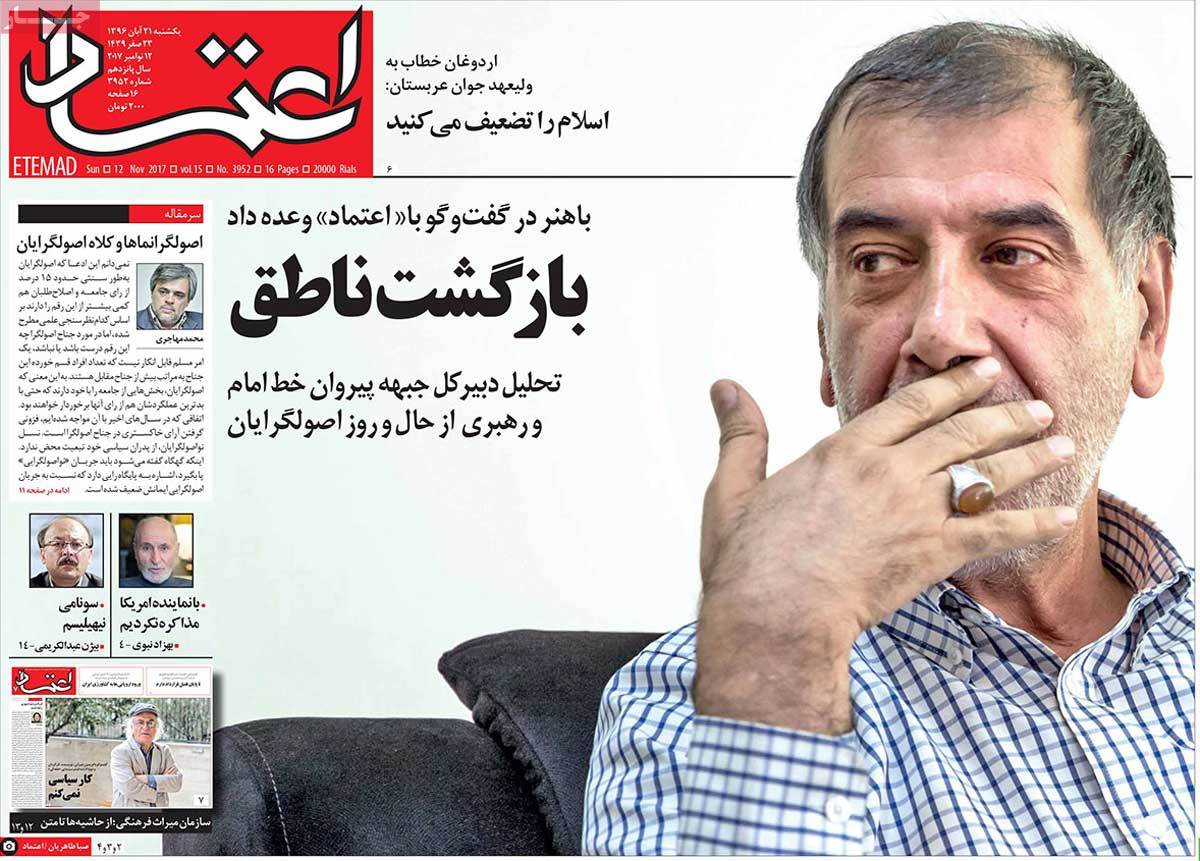 ---
Iran:
1- 40 of Europe's Top Food Companies in Tehran
2- VP for Women Affairs: Policy of Denying Women's Social Ills Has Failed
3- Rouhani: Regional Moves Aimed at Disappointing People, Investors
---
Jame'eh Farda:
1- Washington Split over Its Iran Policy
Tillerson Not in Agreement with Trump over Saudi Plans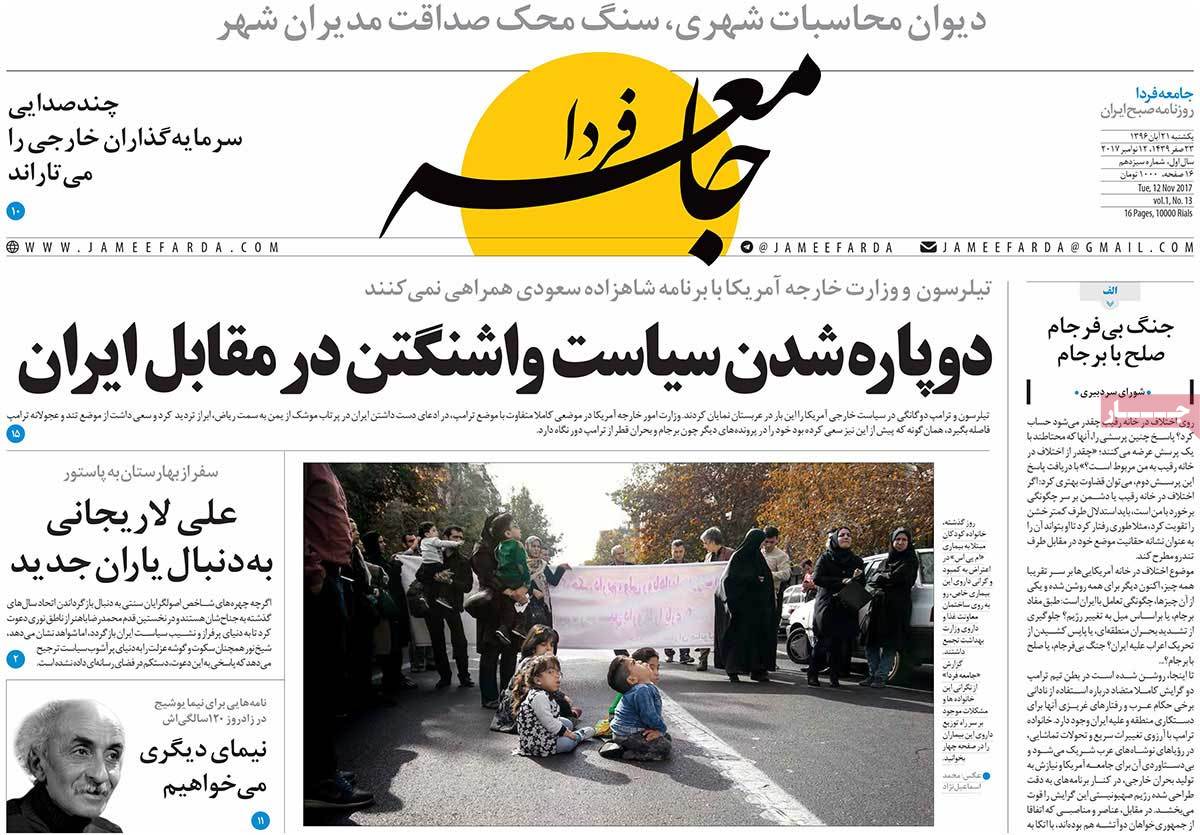 ---
Javan:
1- Turkish President: Moderate Islam Originates in West!
2- Agriculture Minister to EU Delegation: Banking Problems Caused by Europe, Not Iran
3- EU Office Should Never Be Opened in Iran: Iran Judiciary Official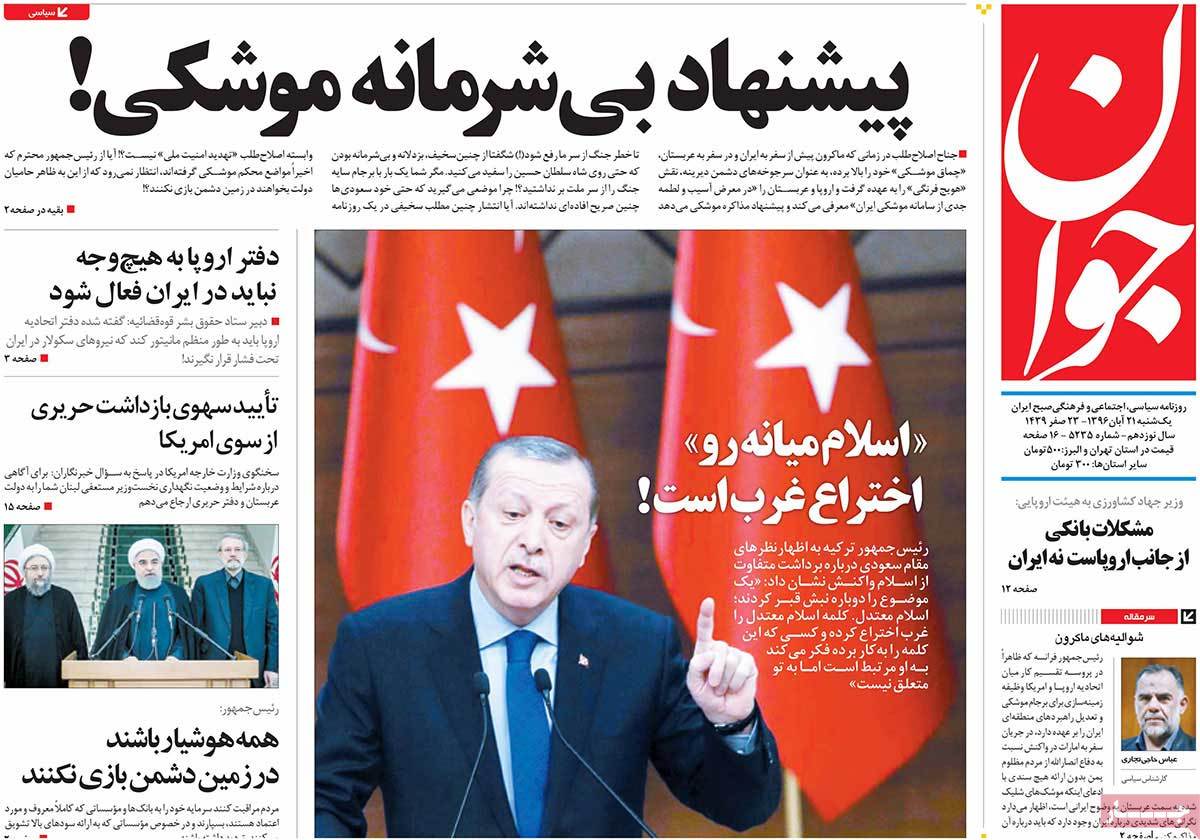 ---
Jomhouri Eslami:
1- Int'l Warnings about Humanitarian Disaster in Yemen Caused by Saudi Siege
2- Karzai: US Accomplice of ISIS in Afghanistan
3- EU Commissioner: Europe to Strongly Continue Business Ties with Iran as per JCPOA
---
Resalat:
1- Rouhani: US Looking for another Plot in Middle East
---
Setareh Sobh:
1- MPs Discuss Latest Regional Developments: Storm Coming in Mideast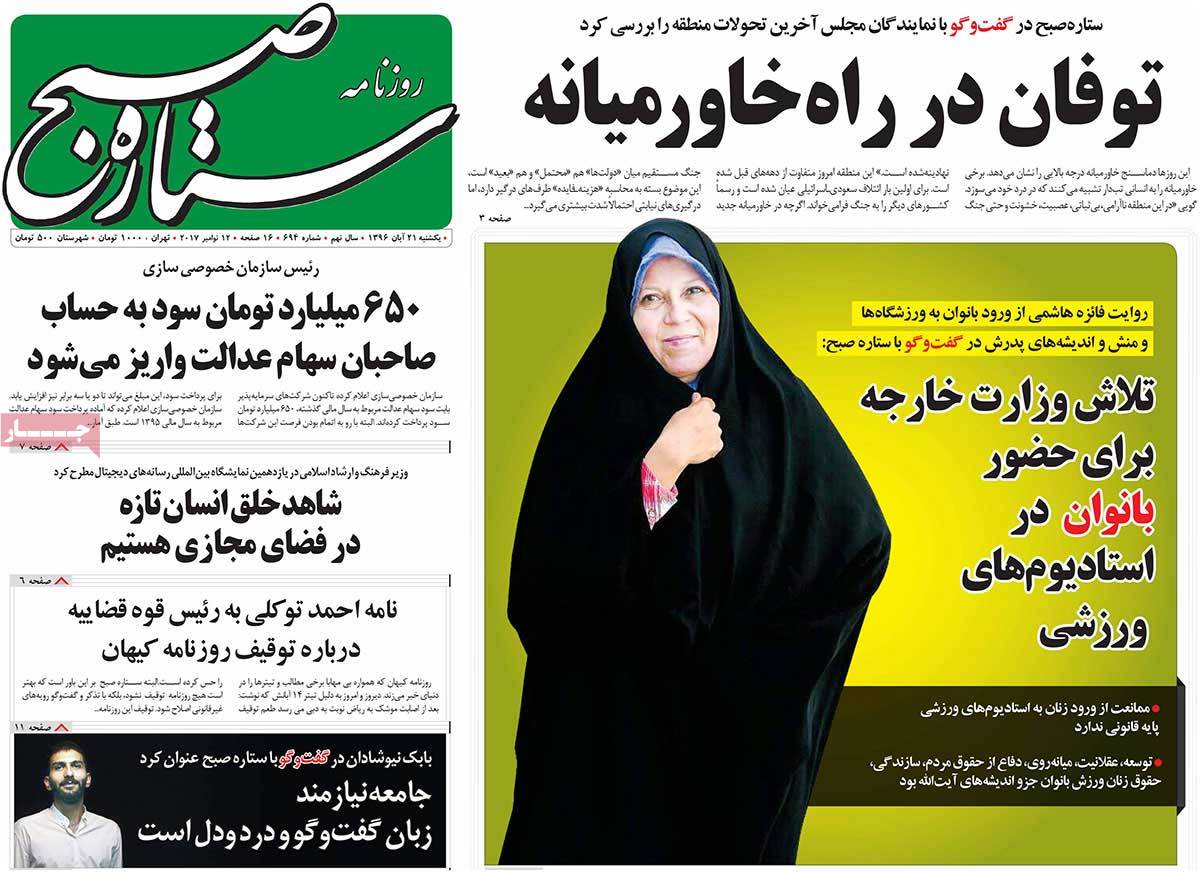 ---
Shargh:
1- Heads of Trio Branches of Iranian Government Make a Deal
Larijani, Amoli, Rouhani Agree on Change in Government Structure
2- US Female Footballer Says Harassed by FIFA President
3- Saudis' Trap for Iran
---
Siasat-e Rooz:
1- Analyst: Europe to Give in to US Pressure