Almost all newspapers covered the participation of millions of Shiite pilgrims from Iran and other countries in the Arba'een pilgrimage, the world's largest religious gathering, in the Iraqi city of Karbala.
The continued reactions to Lebanese Prime Minister Saad Hariri's surprise resignation in Saudi Arabia also remained a top story in today's newspapers. Several papers particularly covered the latest remarks made by Lebanese Resistance Movement Hezbollah Secretary General Sayyed Hassan Nasrallah about Riyadh's house arrest of Hariri.
The comments made by Iranian Foreign Minister Mohammad Javad Zarif in a security conference in Uzbekistan's Samarkand, and his meeting with EU Foreign Policy Chief Federica Mogherini also received great coverage.
The above issues, as well as many more, are highlighted in the following headlines and top stories:
19 Dey:
1- Resurrection of Arba'een: Shiite World Mourn for Imam Hussein
2- Iraqi FM: Everyone to Lose If War Breaks Out in Middle East
3- Iran Deputy FM: Regional Conflicts to Benefit of Israeli Regime
---
Abrar:
1- Lebanon's Future Movement: Hariri's Return Necessity for Lebanon Balance
2- Senior Iranian Cleric: Clergymen's Engagement in Politics Lessens Their Popularity
Clerics Used to Be Respected, Popular among Iranians
3- Zarif: Placing Bad Bets on Wrong Choice to Only Lead to Further Crises
---
Aftab-e Yazd:
1- The Current Sensitive Juncture: A Review of Regional Developments in Past Days
2- Iran Leader: Path of Revolution So Far Shows Promising Signs
---
Arman-e Emrooz:
1- Saad Hariri Taken Hostage by Saudis
Nasrallah: We Support Future Movement, Want Hariri to Return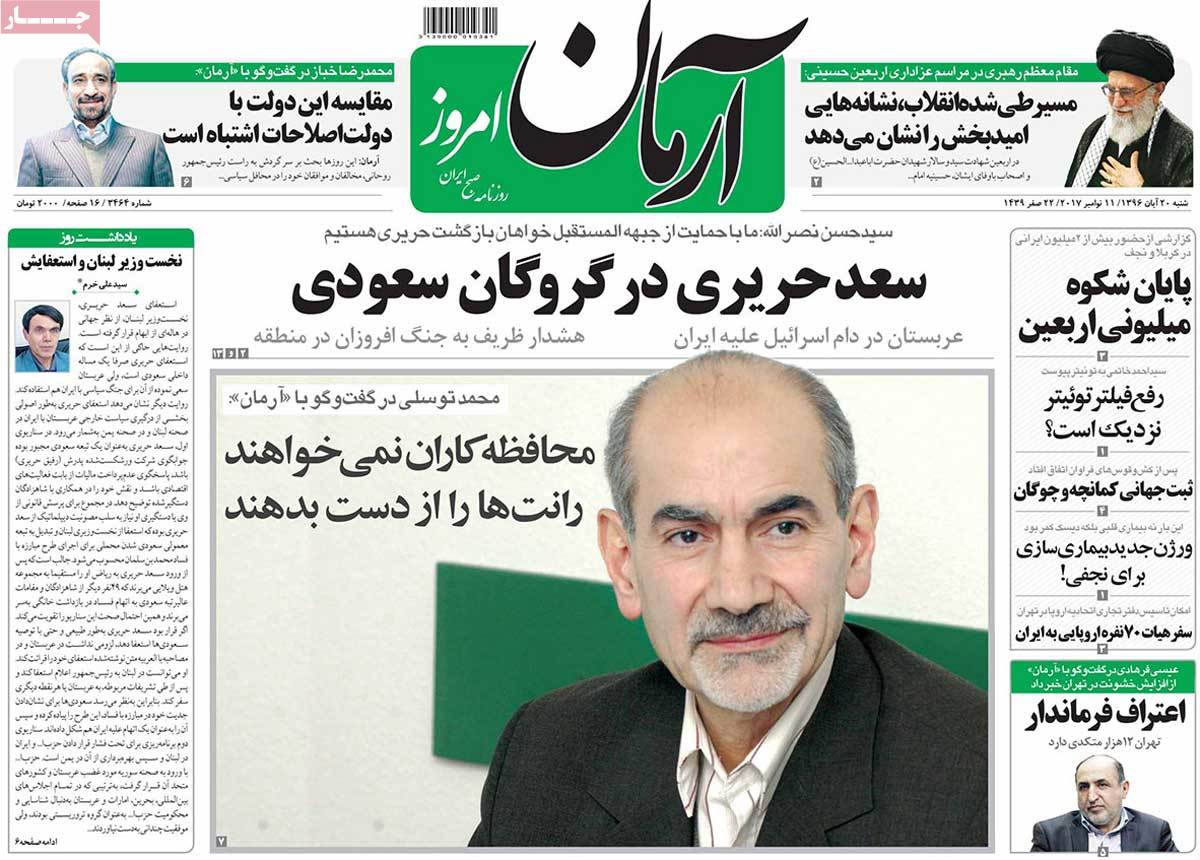 ---
Asrar:
1- Zarif: Iran Opposed to Development, Use of Nuclear Weapons
2- Mogherini: JCPOA Great Achievement of Int'l Diplomacy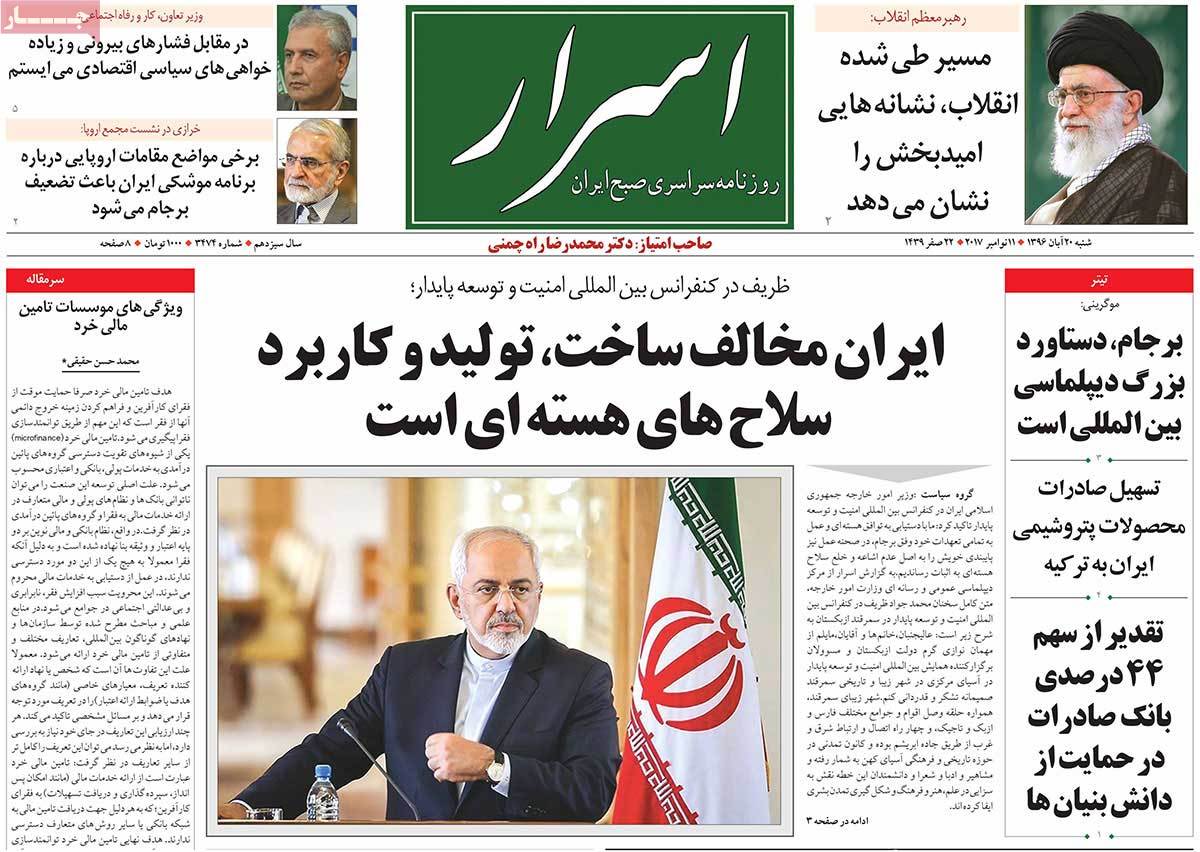 ---
Ebtekar:
1- Rouhani: People's Massive Attendance in Arba'een Serious Message to Regional Plotters
2- World Security Not Limited to Military Aspects: Zarif
---
Ettela'at:
1- Muslims' Biggest Gathering in Iraq's Karbala: Over 2.5 Million Iranians Attend Arba'een
2- Saudi Arabia Convinced Israel to Attack Lebanon: Nasrallah
3- Iran's Missile Power Has Nothing to Do with Nuclear Deal: Mogherini
4- Iran FM: Effective Fight against Extremism Needs Regional Countries' Interaction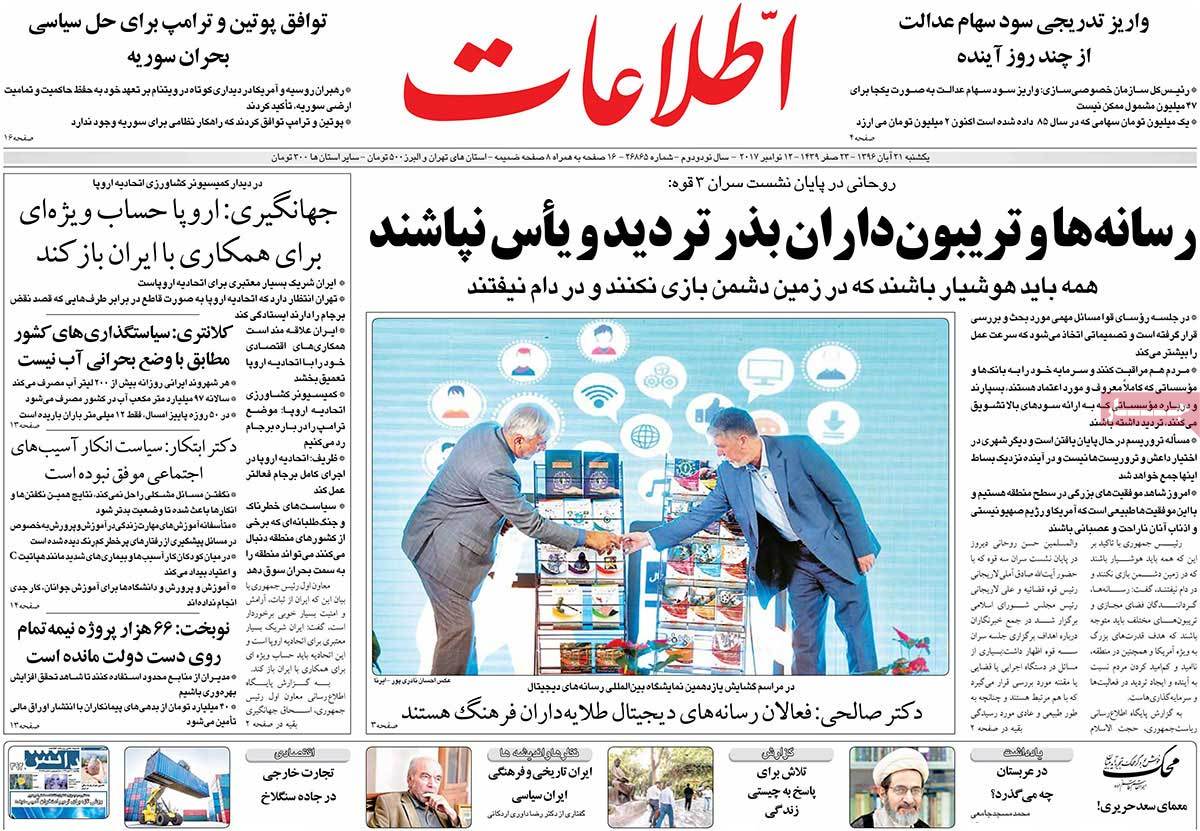 ---
Iran:
1- Nasrallah: Hariri under House Arrest of Saudis
2- Mogherini: Congress Seems Interested in US Staying in Iran Nuclear Deal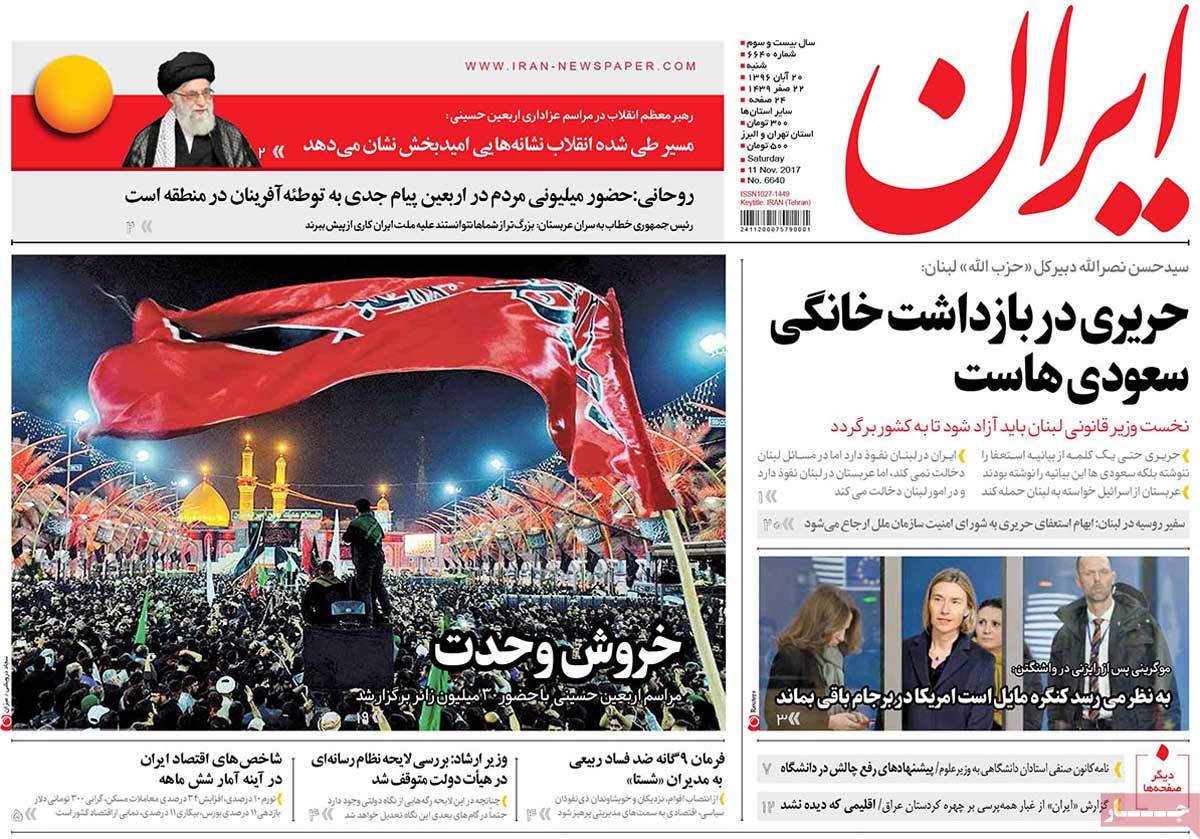 ---
Javan:
1- Rouhani to Al Saud Leaders: We've Defeated Enemies Even Stronger than You!
2- Hezbollah Chief: Saudi Arabia's Declaration of War on Lebanon 'Blind Amateurism'
3- Macron: We Need another JCPOA on Iran's Missile Power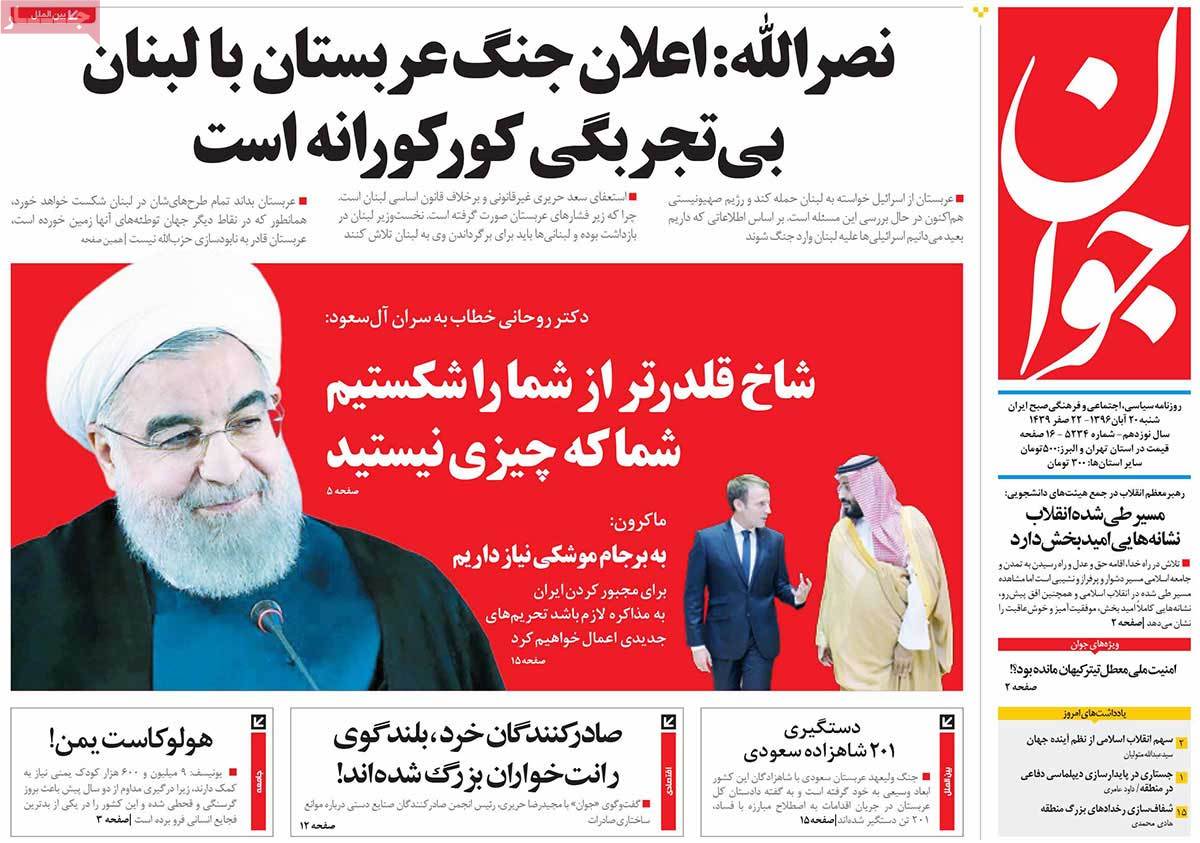 ---
Khorasan:
1- End of ISIS Caliphate in Syria: Bukamal, Last ISIS Stronghold in Syria, Liberated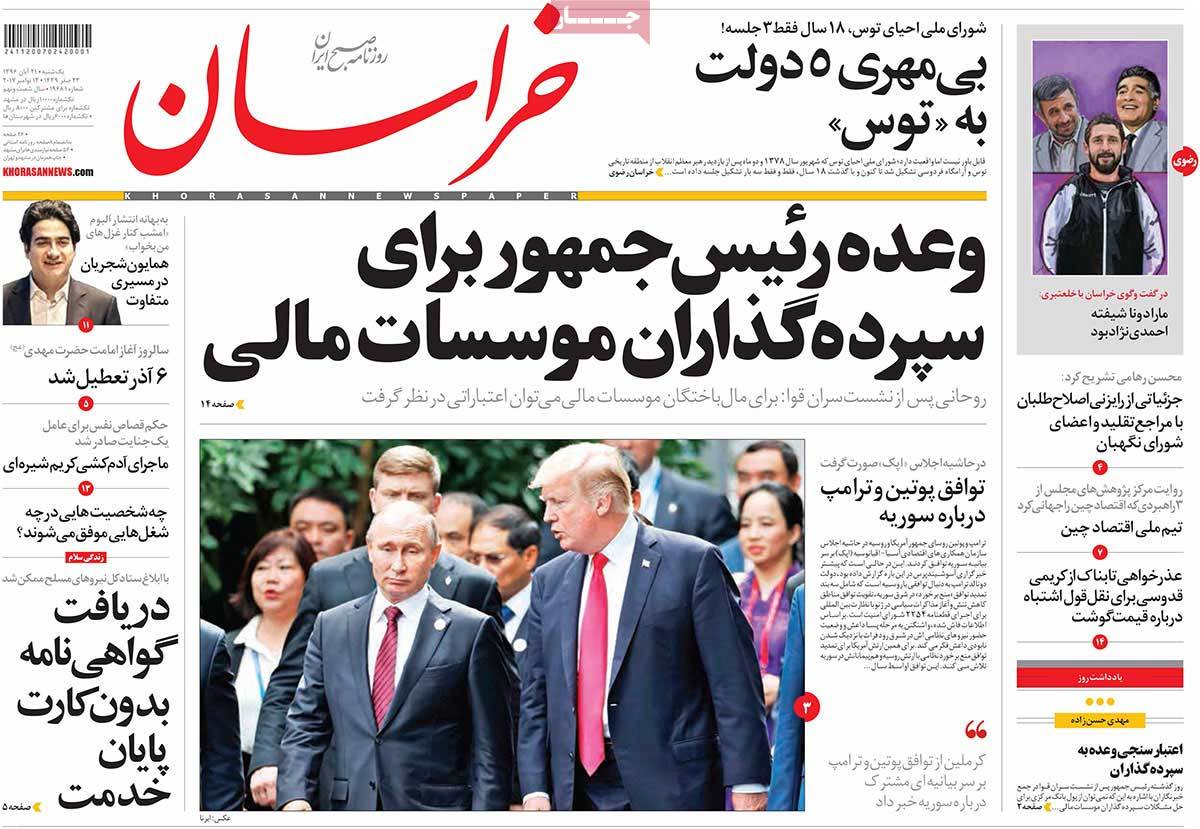 ---
Resalat:
1- 30 Million People from 50 Countries in Arba'een Pilgrimage
2- Ayatollah Khatami: Saudi Arabia to Be Slapped in Face If Carry Out Their Threats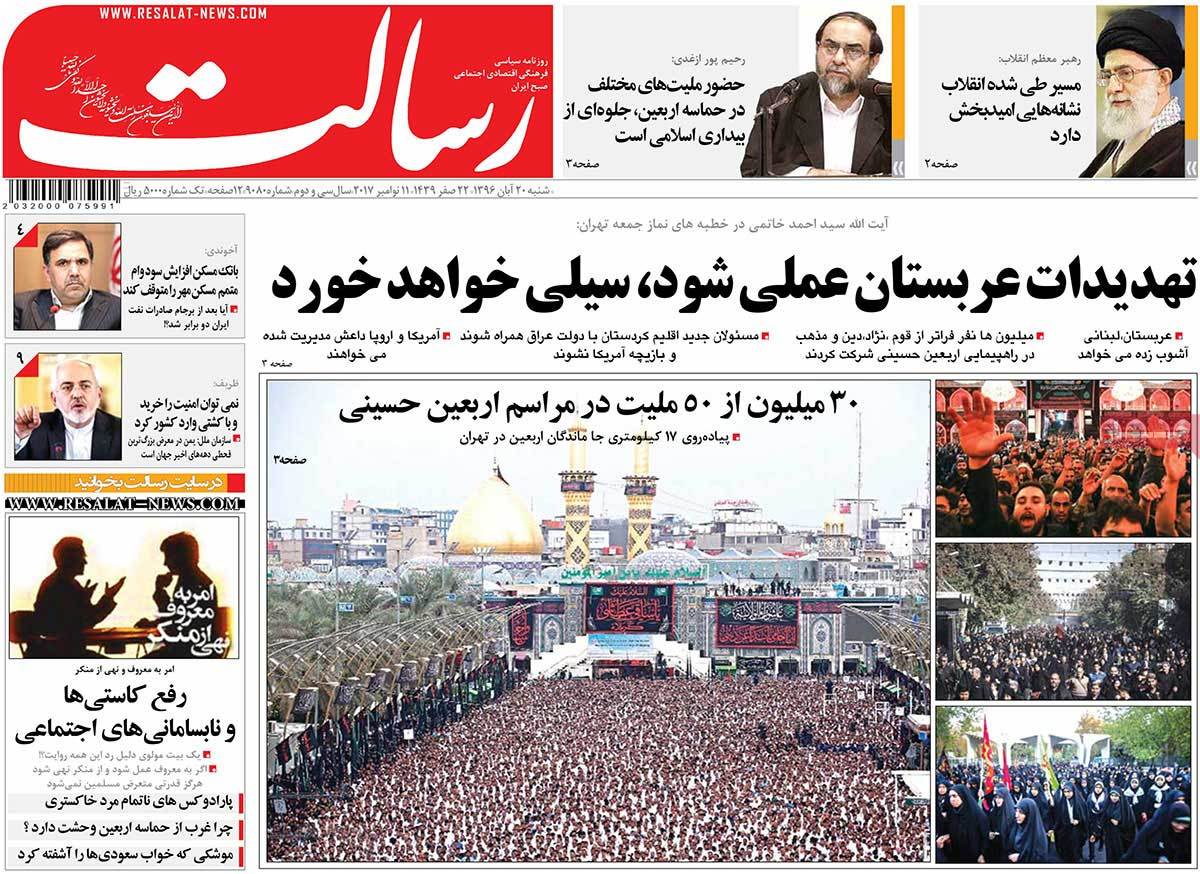 ---
Shahrvand:
1- Riyadh's War against Itself
Saudi Political System Making Hasty Decisions to Decrease Its Crises
2- Political, Social Figures in Arba'een Pilgrimage
Iran's First VP, Several Ministers, Several Members of Tehran City Council in Karbala