Newspapers on Tuesday highlighted the election of General Michel Aoun, an ally of the Lebanese Hezbollah Movement, as the new president of Lebanon, and the end of more than two years of power vacuum in the Arab country.
President Hassan Rouhani's meetings with new foreign ambassadors, particularly the new British Ambassador to Tehran Nicholas Hopton, also received great coverage.
Another top story was the parliamentary session due to be held on Tuesday to give a vote of confidence to three ministers nominated by President Rouhani.
The above issues, as well as many more, are highlighted in the following headlines:
Abrar:
1- US Secretary of Treasury Hold Talks with Zionists about JCPOA and Iran Sanctions
2- Michel Aoun Elected as Lebanese President
3- Amano Gives Assurance on Peaceful Nature of Iran Nuclear Program
4- Iranian Navy Commander: Over 10,000 Cargo Ships Escorted by Iranian Army's Navy
5- Editor-in-Chief and 12 'Cumhuriyet' Journalists Arrested in Turkey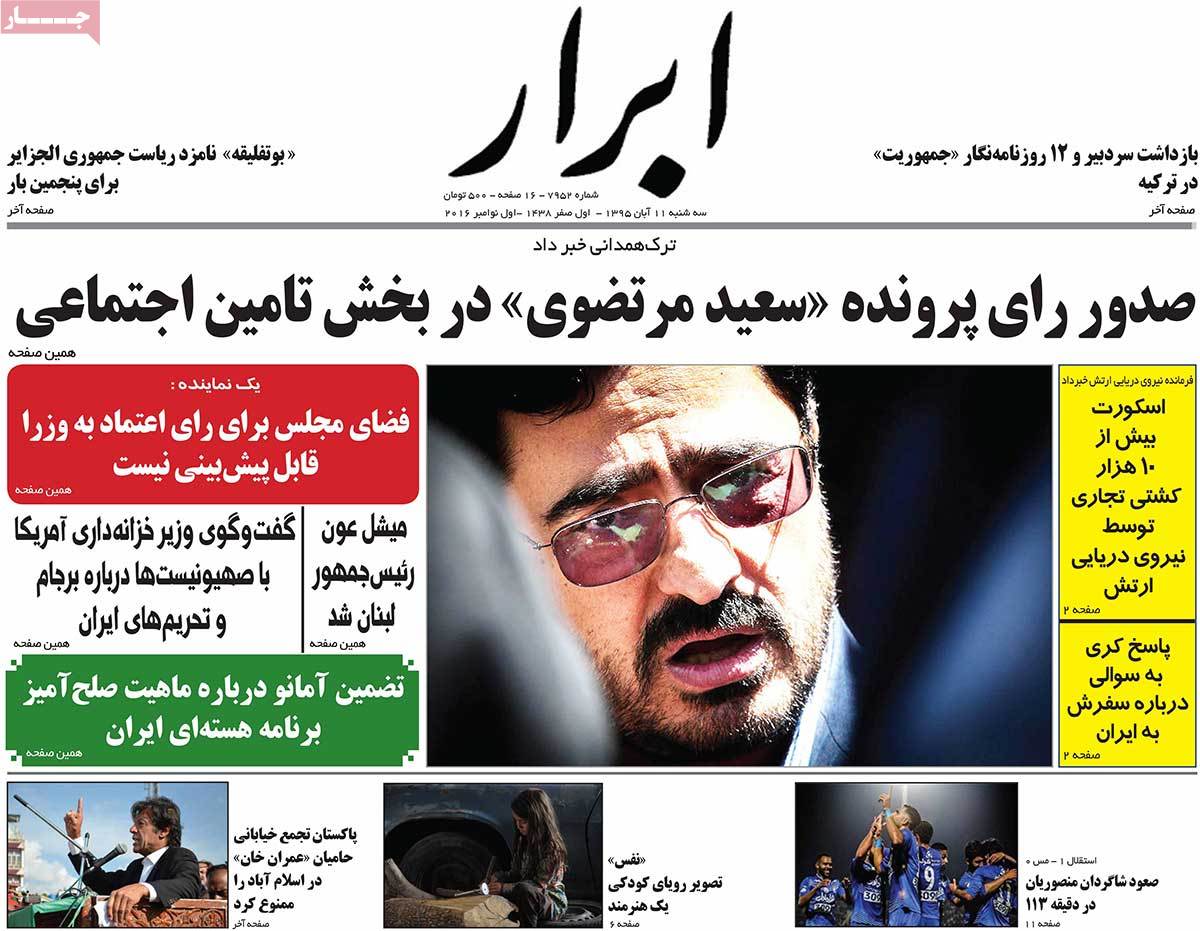 ---
Abrar-e Eqtesadi:
1- Iran in Talks for Taking Back Its Petchem Market in Europe
2- Statistics Organization: Unemployment Rate in Iran Up by 1.4%
---
Afarinesh:
1- Zarif: Iran Ready for Cooperation with Niger
2- Rouhani in Meeting with New British Ambassador: Tehran-London Ties Can Be Accelerated by Tapping into Current Capacities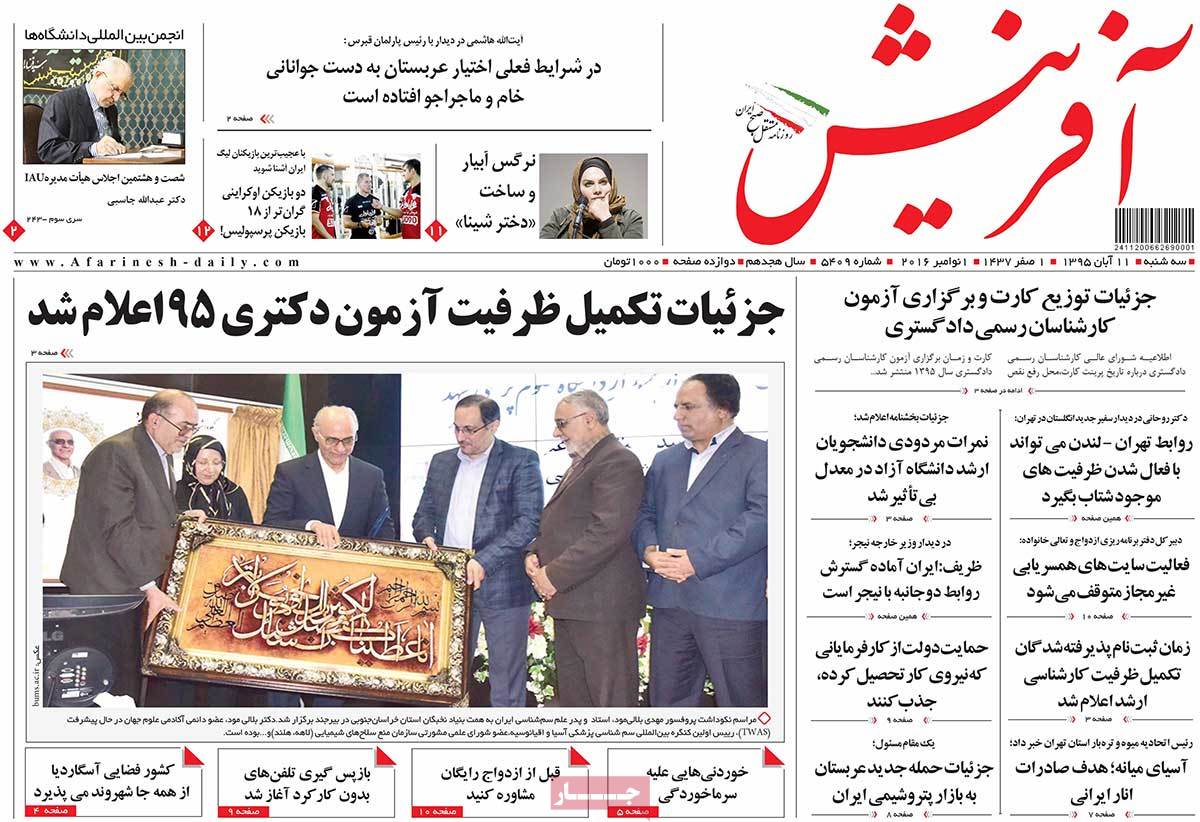 ---
Afkar:
1- Claims over Tehran's Support for Taliban Are Blatant Lie: Spokesman
2- Velayati Highlights Iran's High Speed in Medical Sciences after 1979 Revolution
3- Senior MP: Growth of Terrorism Is a Result of US Wrong Decisions
---
Aftab-e Yazd:
1- Intelligence Minister: Different Scenarios Prepared for Undermining Rouhani's Gov't
2- Repeated Screening of a Film: Videos Screened in Previous Parliament for Rouhani's Nominated Ministers Will Likely Be Displayed Once Again Today
---
Arman-e Emrooz:
1- Attack on Larijani for Spoiling Rouhani's Image: President to Go to Parliament Today
2- Rafsanjani: Saudi Arabia Ruled by a Bunch of Immature and Adventurous Young Men
3- Large Number of Meetings in President's Office: Rouhani Meets Six New Ambassadors
---
Besharat-e Now:
1- 2 Iranians Held Captive by Somalian Pirates Die: 8 Captives Still Alive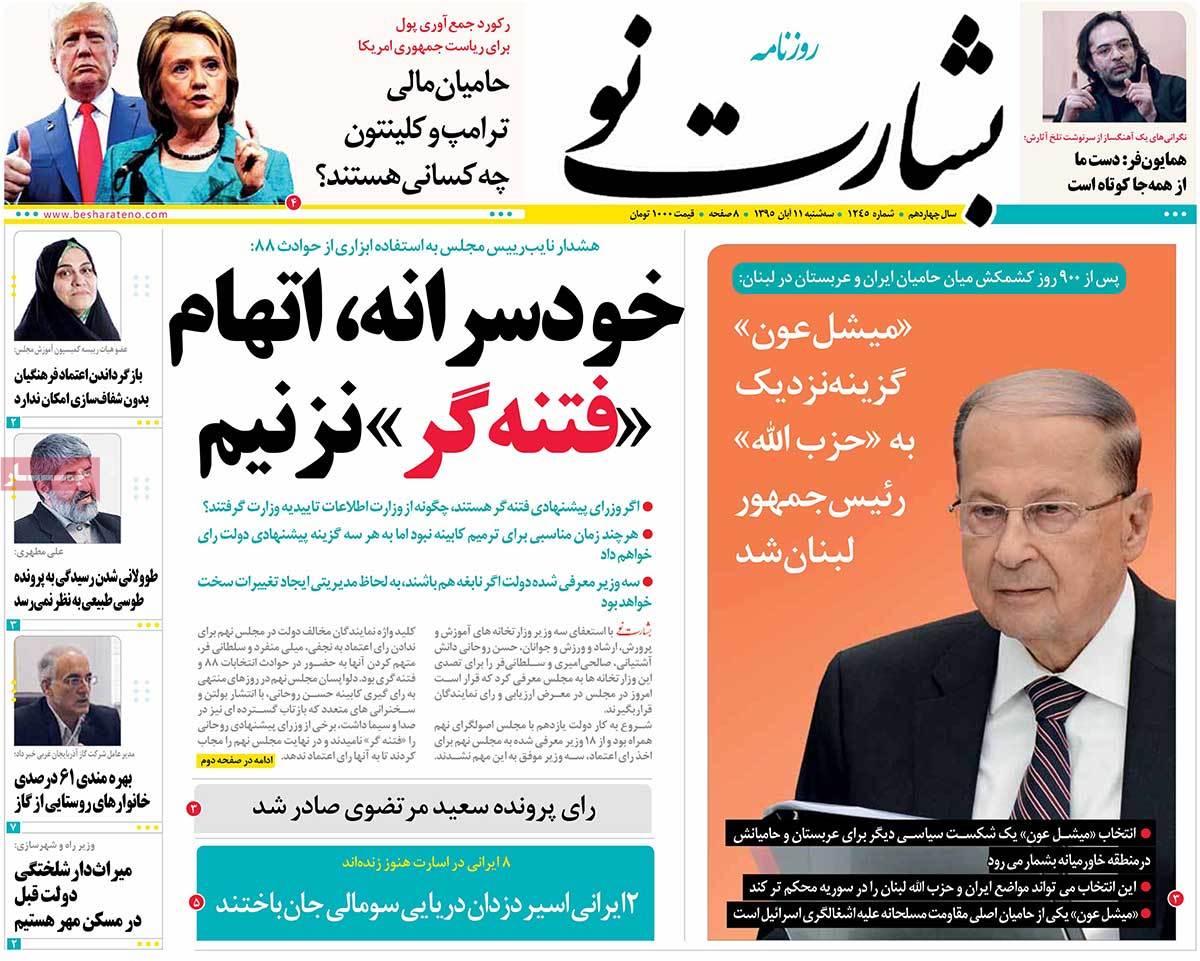 ---
Ebtekar:
1- Efforts by Iraqi Forces Bear Fruit: First Group of Iraqi Army Enters Mosul
2- New Chapter of Iran-Britain Ties Officially Started
3- Test of Convergence between Government and Parliament
---
Etemad:
1- Yesterday's General, Today's Prsident: Michel Aoun Becomes Lebanon's President
2- Improving People's Livelihood and Fight against Corruption: Political Activists' Recommendation for Rouhani's Last Months in Office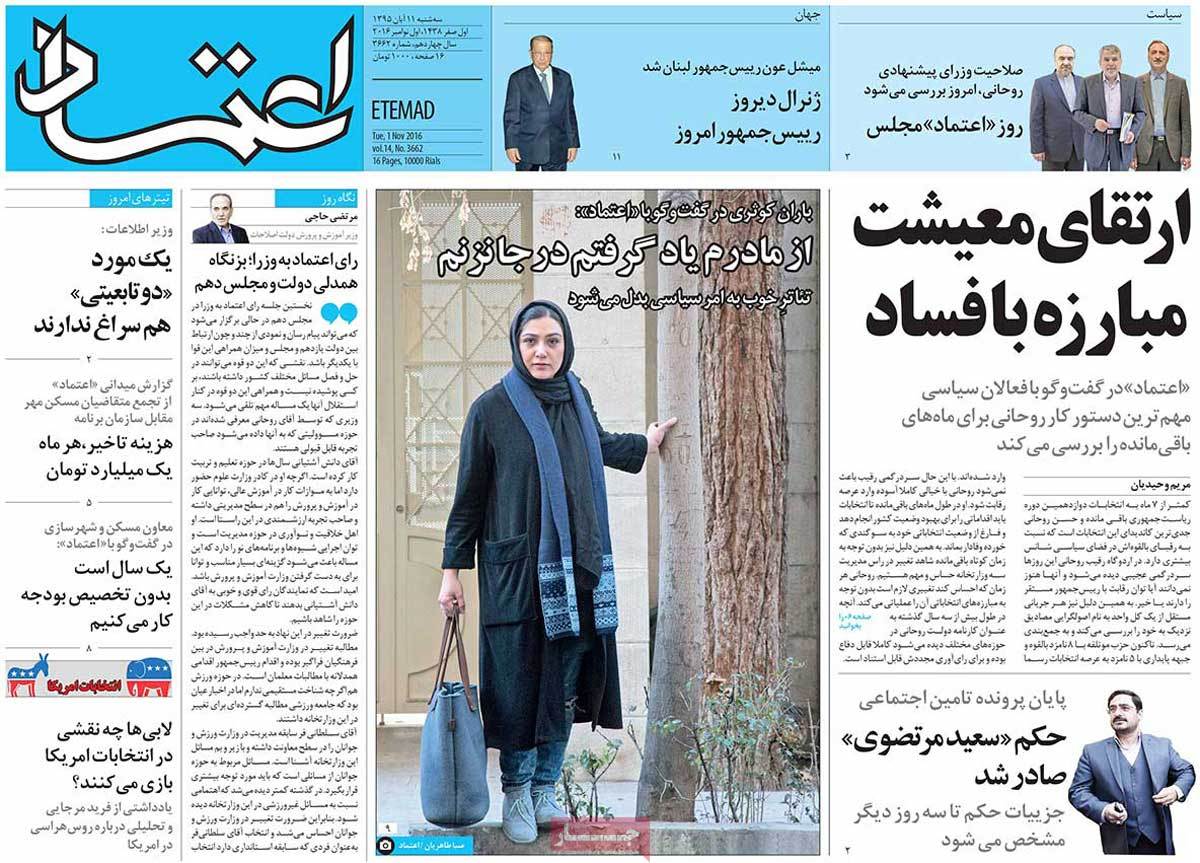 ---
Ettela'at:
1- Hezbollah Ally Becomes President of Lebanon
2- Transport Minister: 17 Shipping Lines Return to Iran Coasts after JCPOA
3- No Official with Dual Nationality Works in Iranian Gov't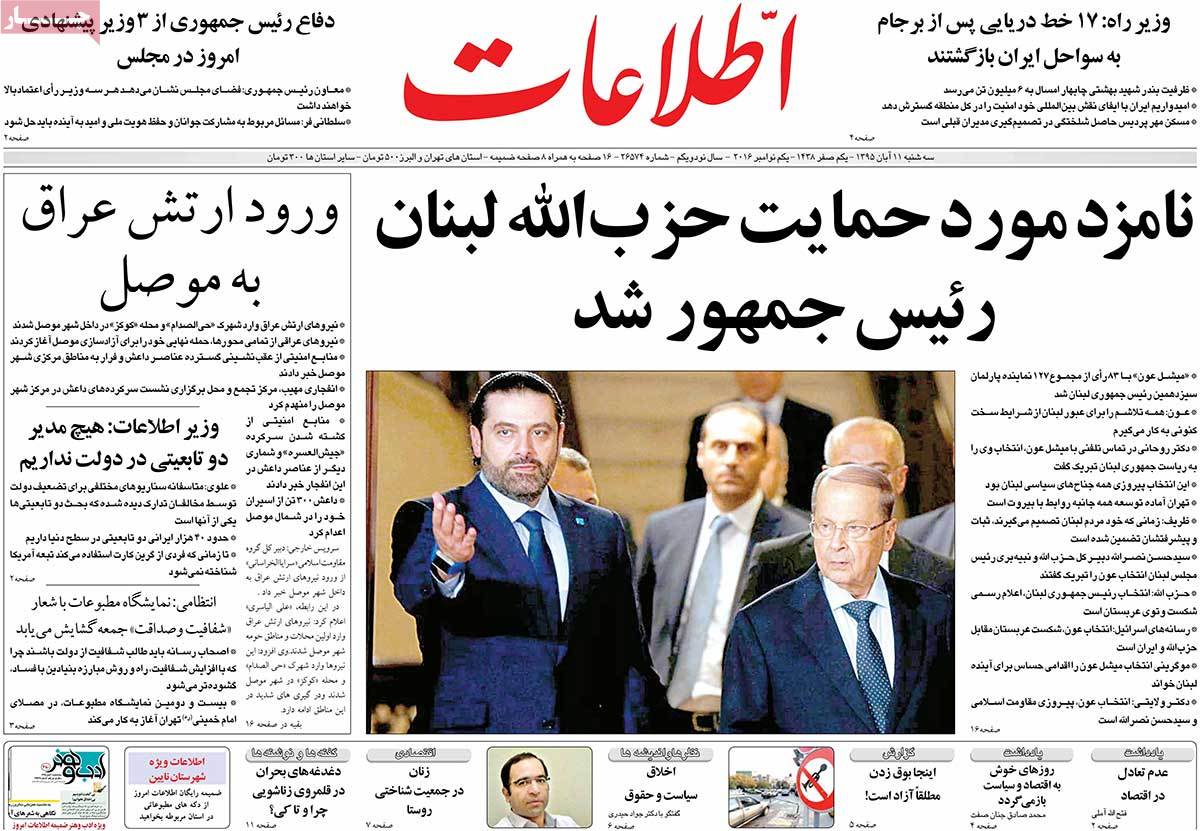 ---
Haft-e Sobh:
1- Confusion in London: Why Guardian Is Usually Pro-Iran, and The Independent and Daily Telegraph Are Always against Iran?
---
Hemayat:
1- Chief of Armed Forces: Enemies Don't Know Anything about Level of Iran's Preparedness in Fighting Mischievous Acts
2- Navy Commander: Iranian Destroyer Gives Serious Warning to US Warship in Open Seas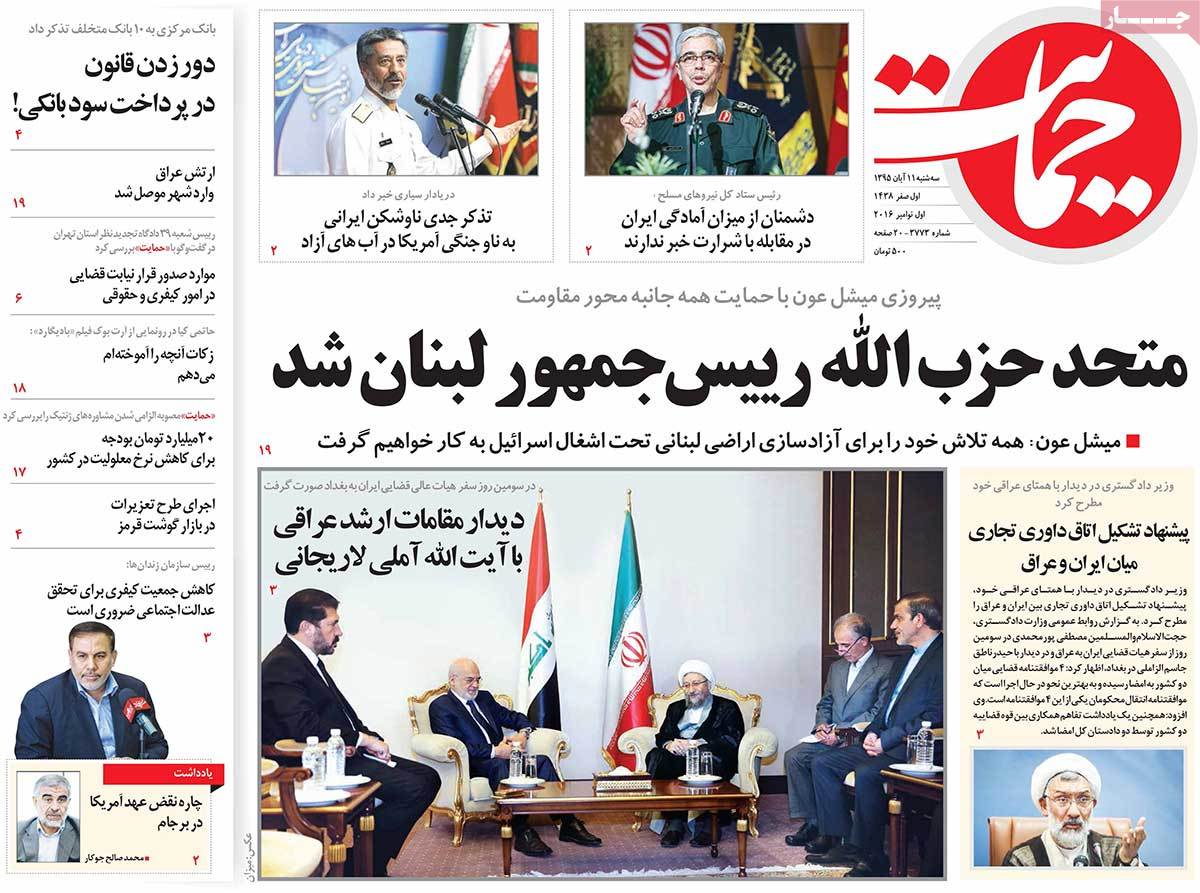 ---
Iran:
1- Iran's Report on Controversial Elections in US: Hillary and Trump in American Citizens' Words
2- Final Blow: Last Phase of Mosul Liberation Kicked Off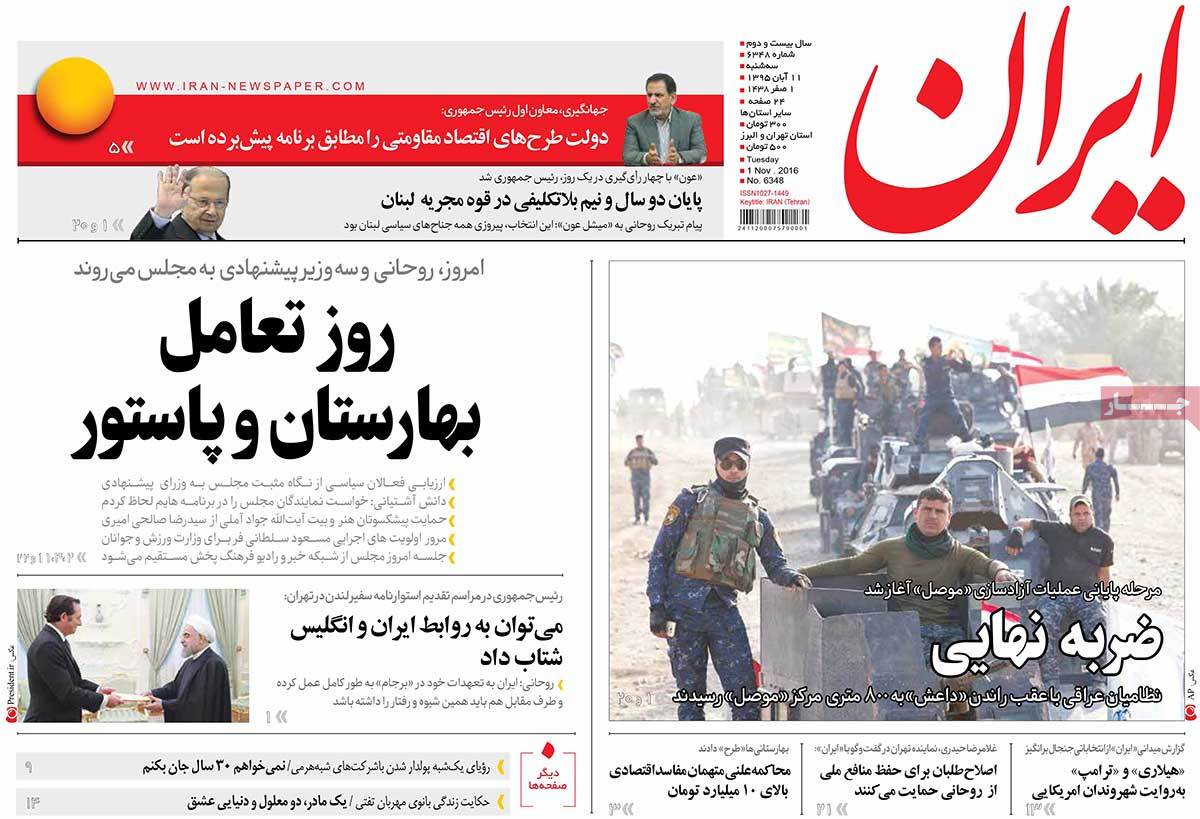 ---
Jame Jam:
1- Resistance Is the Winner of Lebanon's Political Duel
2- President: Sticking to JCPOA Commitments Guarantees Nuclear Deal Sustainability
---
Javan:
1- Anti-Israeli President in Lebanese Presidential Palace: Saudi Arabia Finally Accedes to Hezbollah's Candidate after 29 Months
2- Iraqis Enter the City: Mosul Operation in Pitched Battle Phase
---
Jomhouri Eslami:
1- 17 Foreign Countries Make Investments in 124 Industrial Projects in Rouhani's Gov't
2- Britain Reveals Saudis' Lie: Ansarullah Missile Was Fired on Jeddah, Not Mecca
3- Syrian Army's Heavy Slap on Terrorists' Face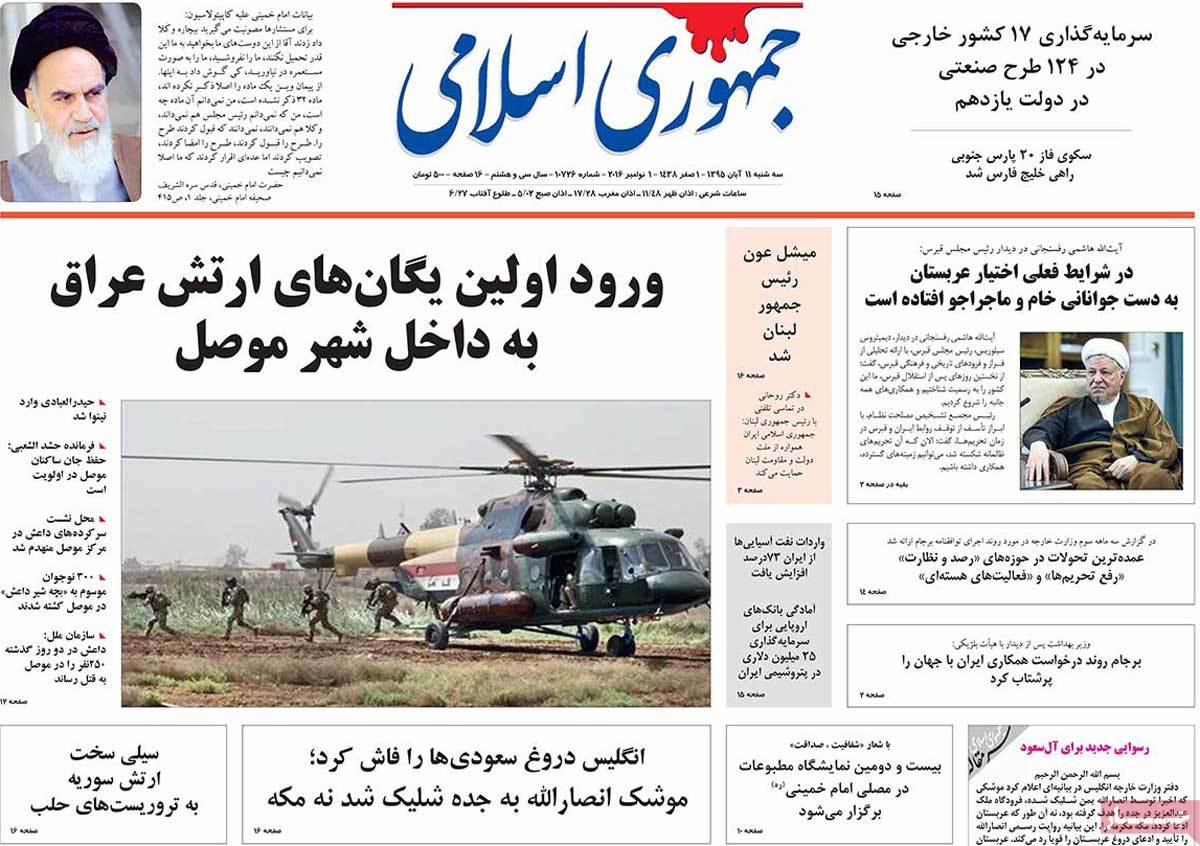 ---
Kayhan:
1- Kerry: We Imposed Sanctions on Iran Even in Post-JCPOA Era
2- Lavrov: US and Britain Are Disabled in Syria and Have Gone Crazy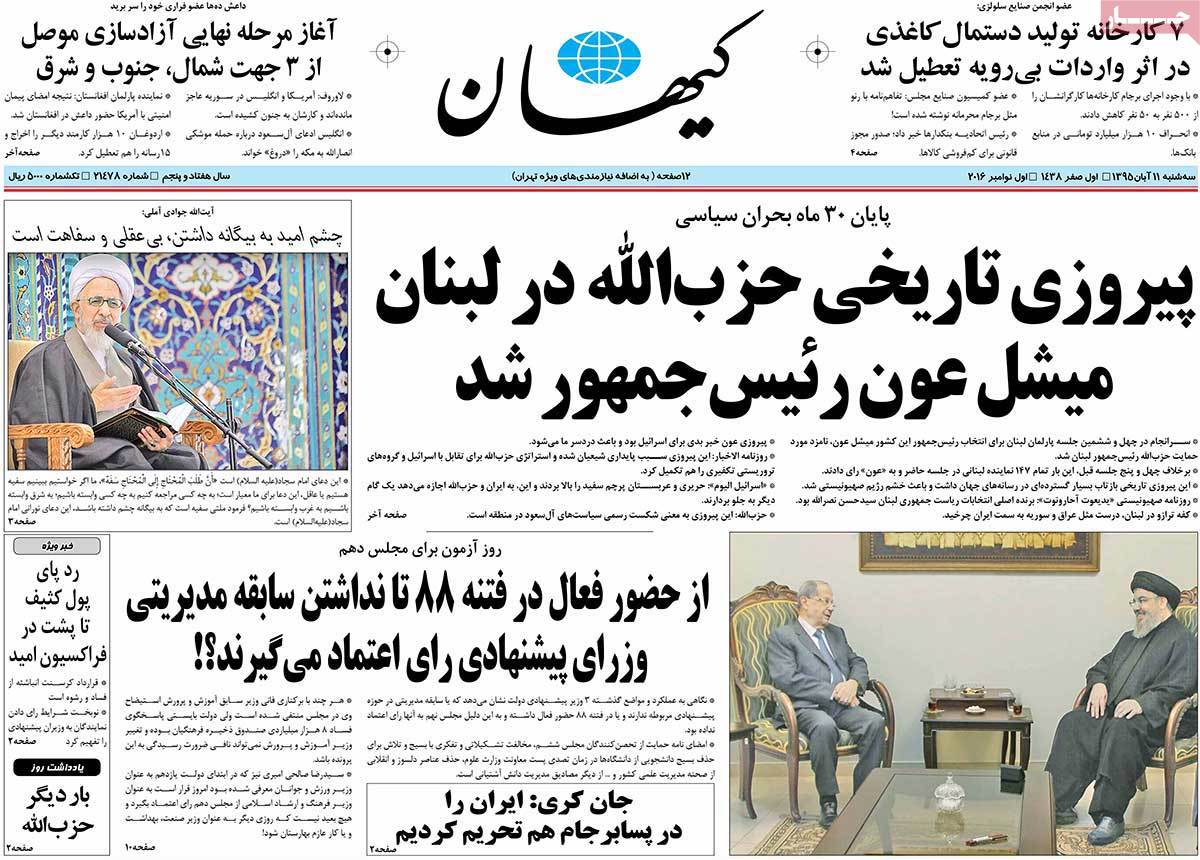 ---
Payam-e Zaman:
1- Opening of LC after JCPOA: $13bn of Iran's Money Received from Foreign Countries
2- Deputy Culture Minister: Rouhani's Gov't Supports Media Transparency
3- Saudis Start Dumping of Petchem Products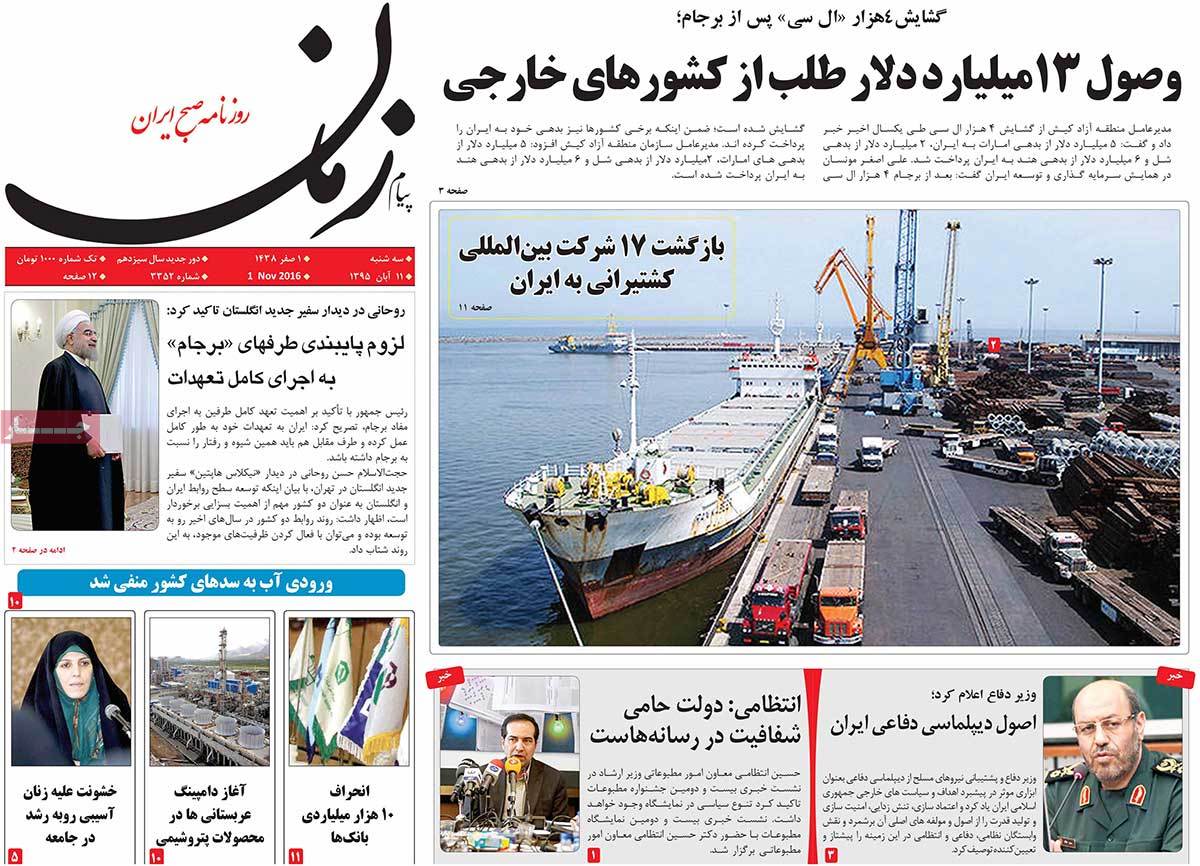 ---
Rah-e Mardom:
1- Growth of Cosmetic Surgeries in Iran on a Daily Basis
---
Resalat:
1- JCPOA Is the Price the Government Should Pay to Understand How Disloyal the US Is
2- Saudi Arabia on Its Knees in Lebanon: End of Political Deadlock in Beirut
---
Setareh Sobh:
1- Confrontation of Democrats and Federal Police over Clinton's Emails
2- Trump: Hillary Is Corrupt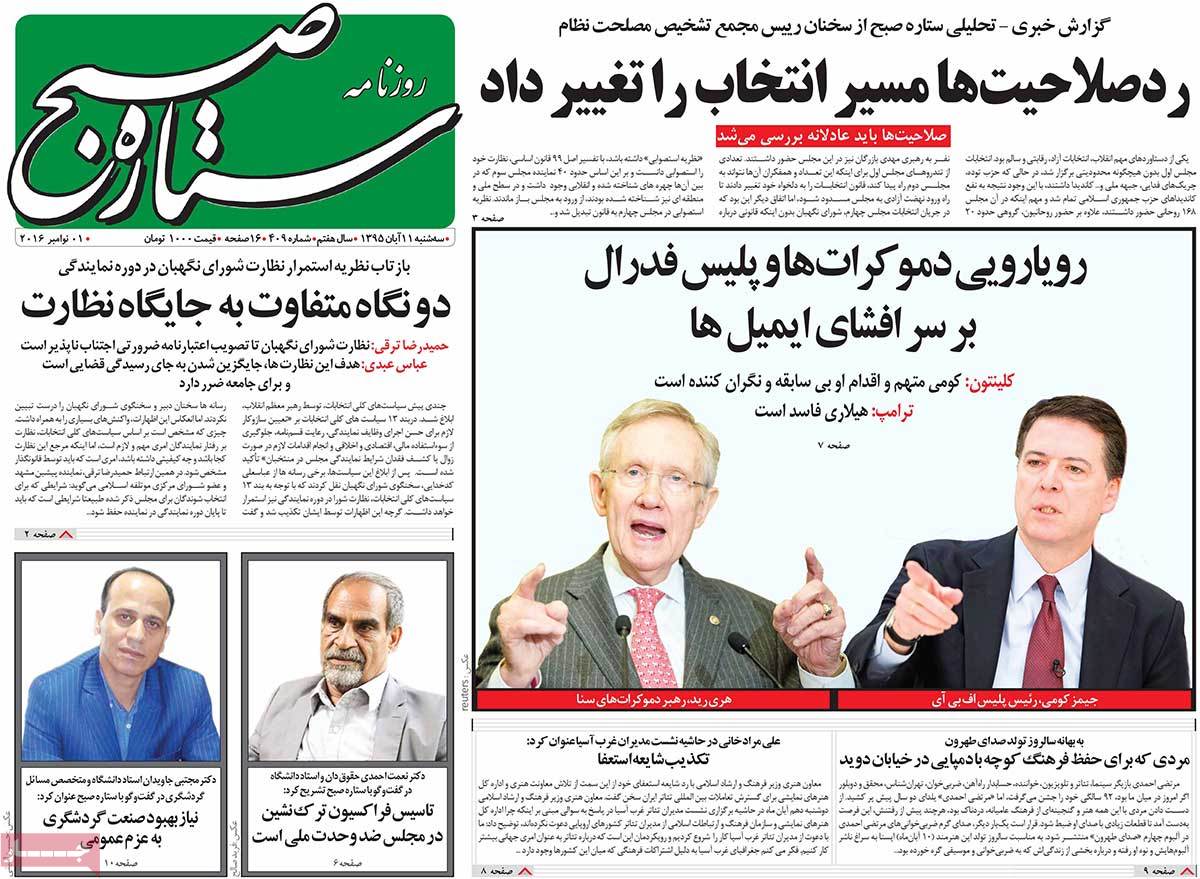 ---
Shahrvand:
1- Deliver It to Mr. Ban: 1.7 Million Signatures to Save Lake Urmia
---
Shargh:
1- Fate of Rouhani's Nominated Ministers to Be Determined Today
2- Former Foreign Ministry Spokesman: Saudi Arabia Should Be Managed so that It Remains a Loser
3- US Secretary of State: Iran Isn't Our Ally, We Have Common Interests; Kerry Receives Chatham House Prize
---
Vaghaye Ettefaghieh:
1- Rouhani: We Should Compensate for Lost Opportunities in Post-JCPOA Era
2- Turkey Looking for Area of Influence: Erdogan's Warnings to Iraq, from Bluff to Reality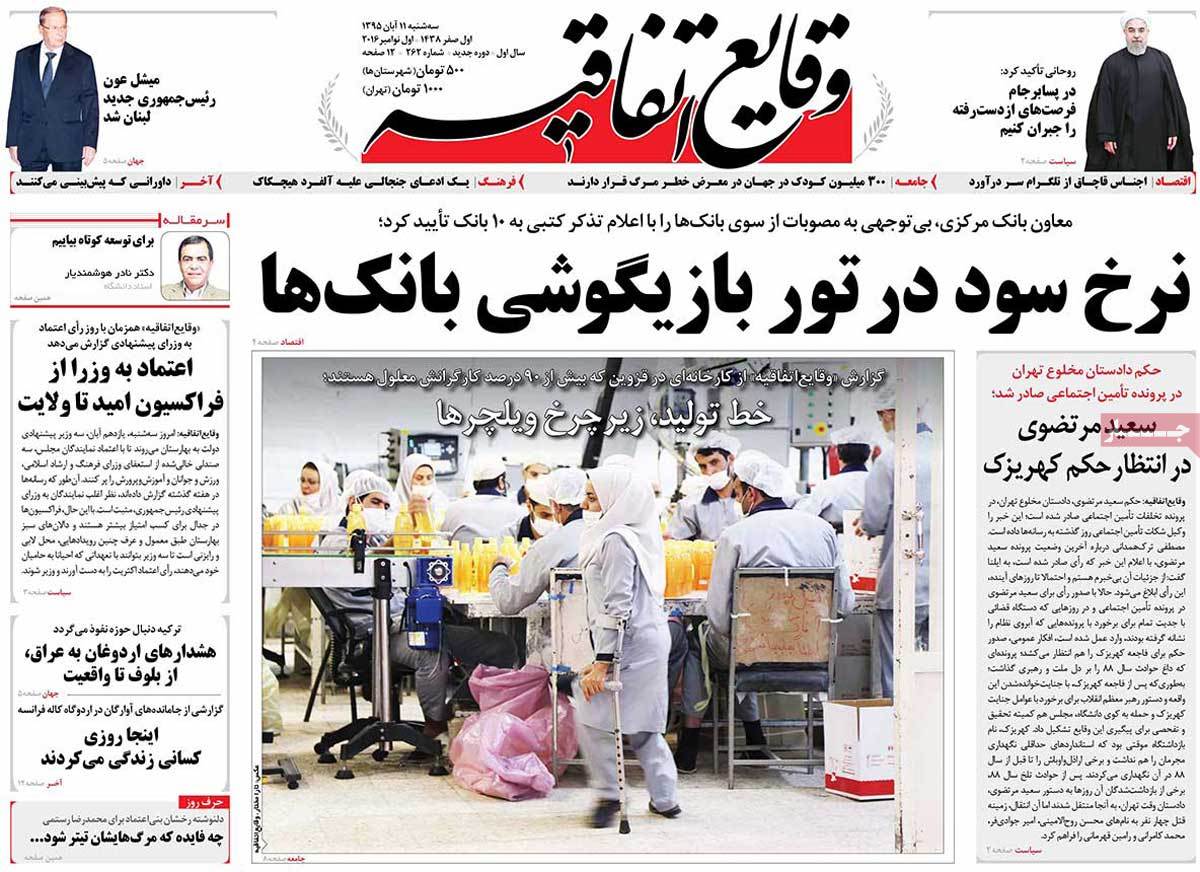 ---
Vatan-e Emrooz:
1- British JCPOA in Region: New British Ambassador Talked about Regional Cooperation in Response to Rouhani's Request for Banking Ties
2- Democrats' Effort to Stop Investigations about Clinton
3- Saudi Defeat: Michel Aoun's Election Ends 2.5 Years of Power Vacuum in Lebanon