A decree by the Supreme Leader naming Mohammad Sarafraz as a replacement for Ezzatollah Zarghami, the outgoing president of Iran's national broadcaster, dominated the front pages of Iranian newspapers on Sunday. The opening ceremony of the 20th Exhibition of Press and News Agencies was given front page coverage by most dailies too. Also in the news were remarks by Iran's deputy foreign minister Seyyed Abbas Araghchi in the lead-up to the talks between representatives from Iran, the US and the EU in Muscat, Oman over Tehran's nuclear program.
Afarinesh: Iran has started to run smart Internet filtering software.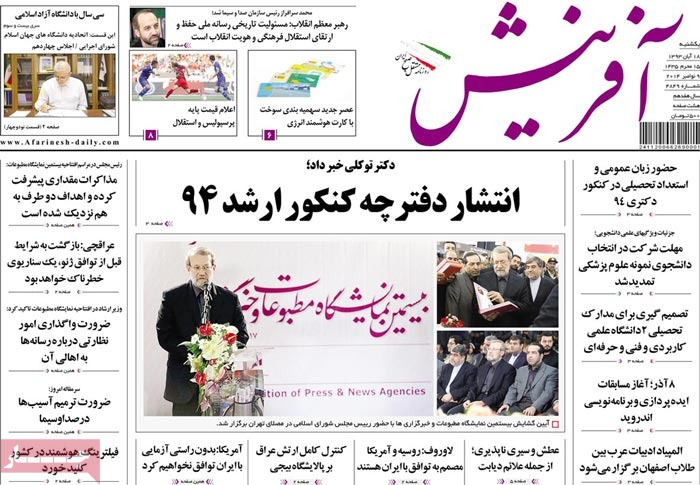 ---
Afkar: "If all sanctions are lifted and Iran's nuclear case is sent back to the IAEA, Tehran will consider implementing the Additional Protocol," said Iran's ambassador to the International Atomic Energy Agency Reza Najafi.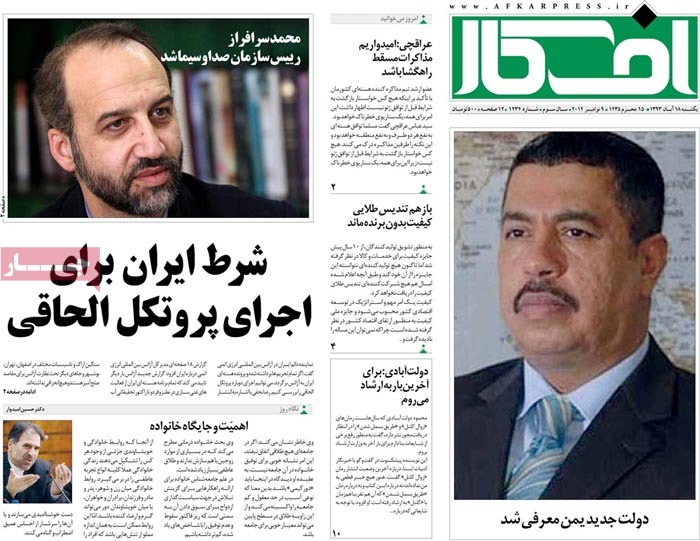 ---
Aftab-e Yazd: "I go to the Ministry of Culture and Islamic Guidance one last time [to see if I can secure the go-ahead of officials to release The Colonel]," said Mahmoud Dowlatabadi, the renowned Iranian writer.
Aftab-e Yazd: "Talks in Muscat will be so decisive," said Seyyed Abbas Araghchi prior to the negotiations between representatives of Iran, the US and the EU in the Omani capital.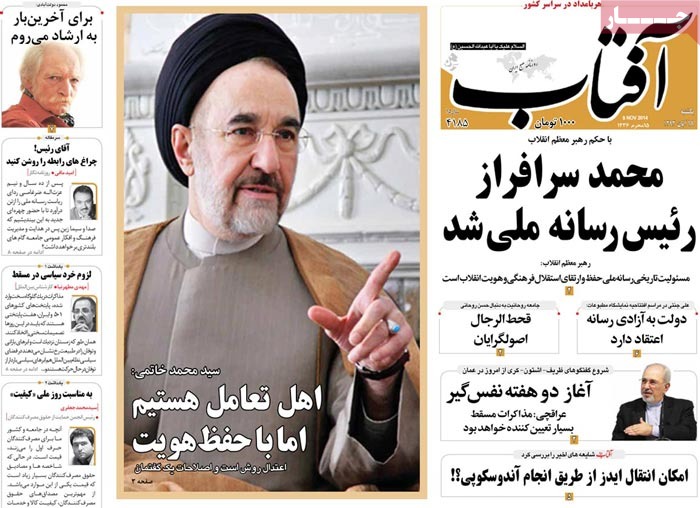 ---
Arman-e Emrooz: Former President Mahmoud Ahmadinejad is said to have talked with his predecessor, Mohammad Khatami on the phone. The conversation seems to be part of Ahmadinejad's efforts to secure the support of Reformists as he plans a political comeback.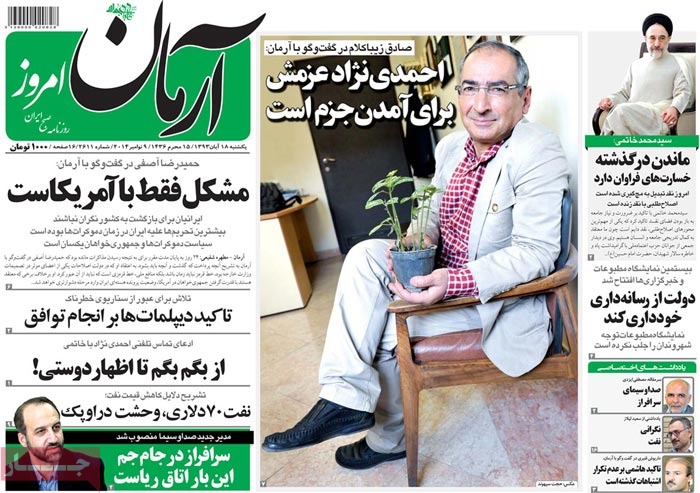 ---
Asia: "We allow the media to supervise themselves," said Ali Jannati, the minister of culture and Islamic guidance.
Asia: Tough nuclear talks open in Muscat, Oman on Sunday. The countdown is on for the November 24 deadline.
---
Asr-e Rasaneh: Iran and Turkmenistan have agreed on a new gas deal under which Iran's imports of natural gas from the Central Asian country will not drop in winter.
Asr-e Rasaneh: The value added tax (VAT) code will be reformed by yearend (March 20, 2015).
---
Asrar: "We hope to see fair interaction by the new IRIB president with the [eleventh] government," said Ali Jannati, the culture minister.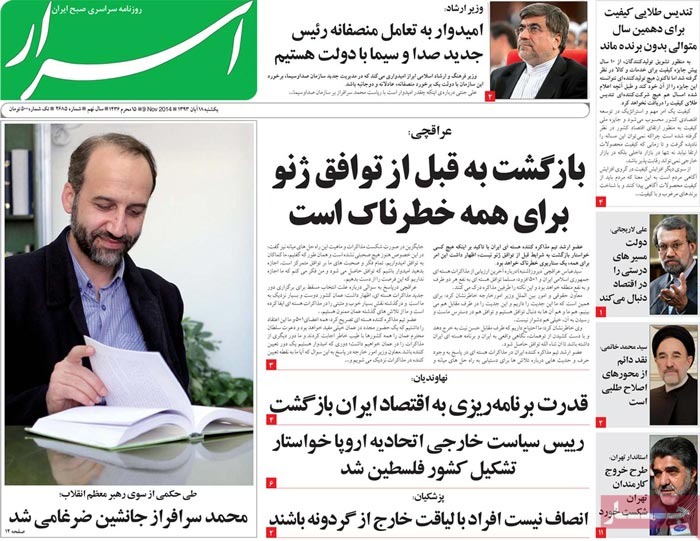 ---
Ebtekar: Iran's Deputy Foreign Minister Seyyed Abbas Araghchi said that Iran and P5+1 see eye to eye on Tehran's nuclear case and that the only option on the table is a [final] deal.
Ebtekar: Islamic Revolution Leader Ayatollah Seyyed Ali Khamenei has appointed Mohammad Sarafraz as the president of Islamic Republic of Iran Broadcasting (IRIB).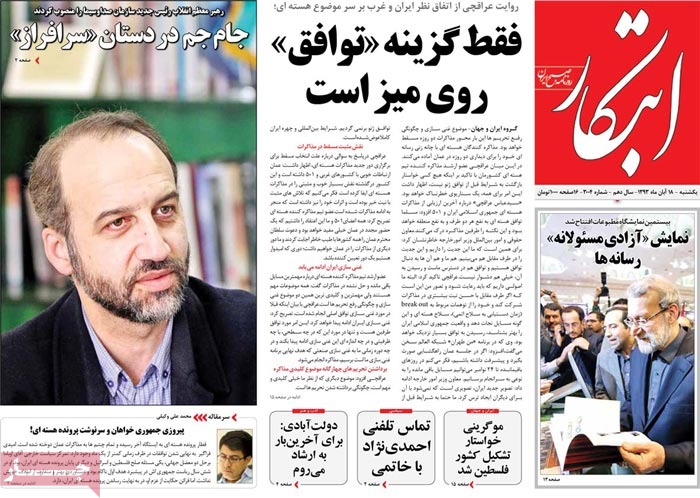 ---
Etemad: The Guardian Council has once again warned those who are preparing to run for parliament that the oversight body would take into account the would-be candidates' possible involvement in the 2009 post-election unrest when it weighs their credentials.
Etemad: "Reforms would continue. We will defend Iran's national interests with our lives," said former President Mohammad Khatami in a meeting with young members of the National Trust Party.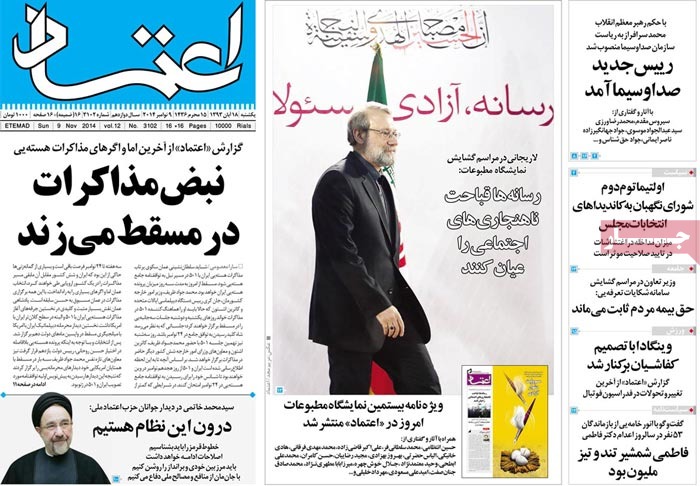 ---
Hemayat: "The European Union has put three Iranian banking and science institutes that were delisted before back on its sanctions list," writes the daily, saying that those who claim to seek dialog are now throwing up obstacles in the way of talks.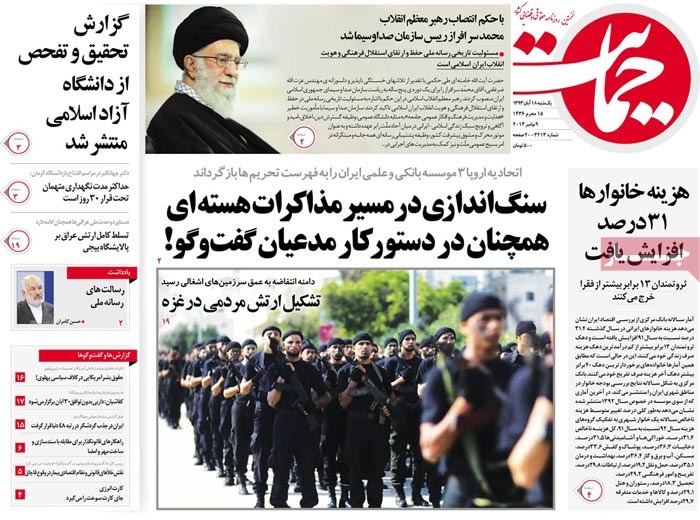 ---
Iran Daily: Forty-five countries import Iranian saffron.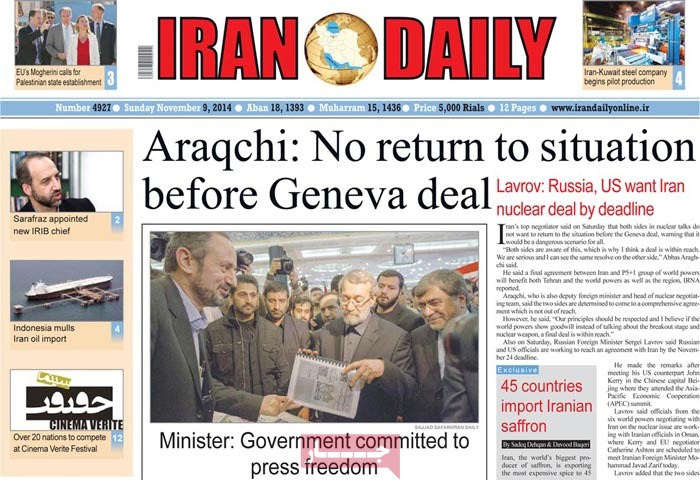 ---
Jahan-e Eghtesad: Urban areas experienced a 31.4 percent rise in average Iranian household expenses in the 12 months to March 21, 2014.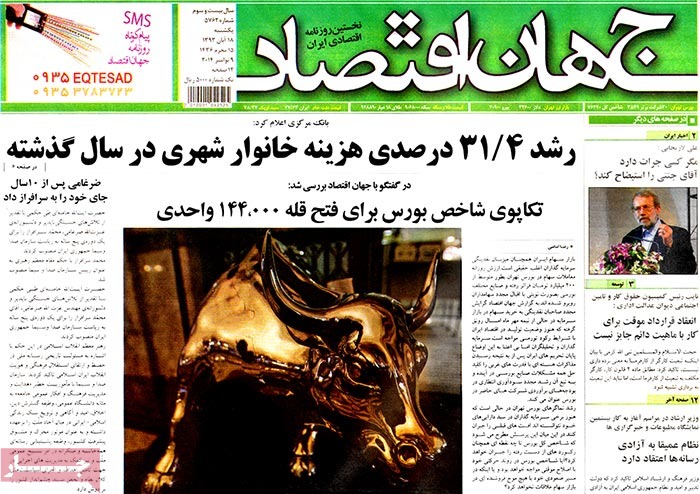 ---
Javan: "Agreement will remain elusive if four sets of sanctions against Iran are not removed," said Iran's Araghchi in reference to sanctions slapped on Tehran by the UN Security Council, the European Union, the US Congress and the US president.
---
Kaenat: Iran's Minister of Labor, Cooperatives and Welfare Ali Rabiei, has in a clean-up decree ordered officials to collect those who sleep rough from the streets.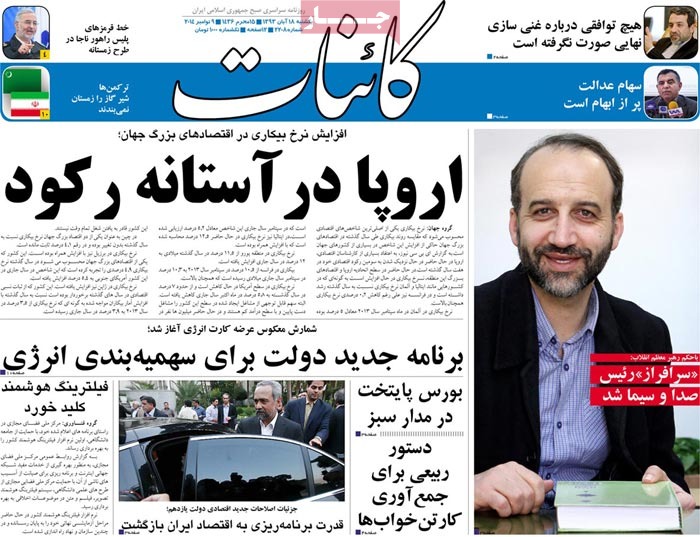 ---
Kayhan: The Saudi government has removed Abdul Aziz Khoja, its minister of culture and information, from his post to ease the wrath of Shiites.
---
Khorasan: A $150,000-plus fine has been issued for two physicians who charged patients fees in excess of tariffs.
---
Resalat: "A package of [government's financial] support for patients suffering from refractory diseases will take effect in the near future," said the Iranian health minister.
---
Roozan: "It is harmful to keep the [loyal] friends of the revolution confined," said former [reformist] President Mohammad Khatami.
Roozan: Big US corporations (Apple, Boeing and General Electric) are seeking a share in Iran's market.
Roozan: "No one dares to impeach the minister of culture and Islamic guidance," said Parliament Speaker Ali Larijani.
---
Sharq: An Iranian female athlete, Hamideh Abbasali, has secured a silver medal in the final match of +68 Kg class of 2104 Bremen World Karate Championship, earning the first world medal for an Iranian woman ever.
---
Taadol: "Any return to the pre-Geneva Joint Plan of Action era is a dangerous scenario," said Iran's senior nuclear negotiator Seyyed Abbas Araghchi in an interview with Tehran-based Arabic-language News Network Alalam.
Taadol: "Predictability has returned to the Iranian economy," said Mohammad Nahavandian, the chief of staff of President Rouhani.
---
Tafahom: Iran ranks 48th in the world in terms of attracting foreign tourists.
Tafahom: "Media outlets are expected to disclose the hideousness of social disorders," said Speaker of the Islamic Consultative Assembly Ali Larijani.
Tafahom: As many as 110 foreign firms have taken part in the 14th International Electricity Exhibition of Iran in Tehran [which opened on November 8 and will run through November 11].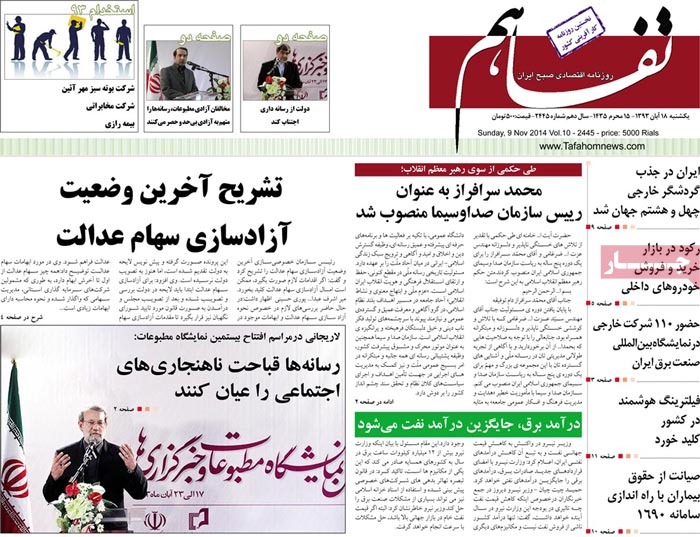 ---
Vatan-e Emrooz: The holy city of Quds seems to be bracing for a third Intifada.
Vatan-e Emrooz: The US Central Intelligence Agency (CIA)has rejected as incorrect the content of Argo, a 2012 American political thriller directed by Ben Affleck. [CIA gives the 'real' account of 'Argo' on Twitter, read some media headlines.]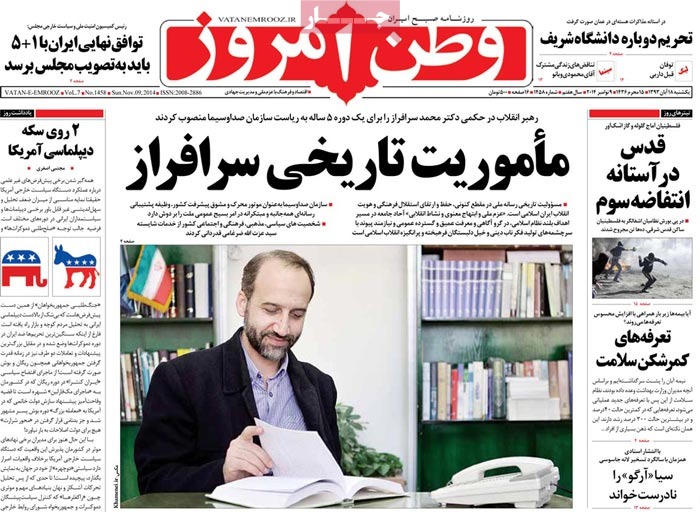 ---