Newspapers today highlighted the ongoing clash between Qatar and Saudi Arabia, which seems to have been exacerbated by the recent phone conversation between Emir of Qatar and Iranian President.
Another top story was the epidemic of Crimean-Congo Fever, and the contradictory reports about the number of people diagnosed with it.
The issue of choosing female ministers in Rouhani's new cabinet was also covered by two major reformist newspapers. Both papers say the president will probably introduce a couple of women to the Parliament as new ministers at his cabinet.
The above issues, as well as many more, are highlighted in the following headlines and top stories:
Abrar:
1- Leader: Iranian Nation's Experiences Show Future Belongs to Young Believers
2- UAE Paper: Persian Gulf States Provoked by Qatar's Congratulations to Rouhani
3- Iraqi Army to Liberate Mosul Soon
4- Obama Created Secret Channel for Talks with Iran: Pro-Trump Media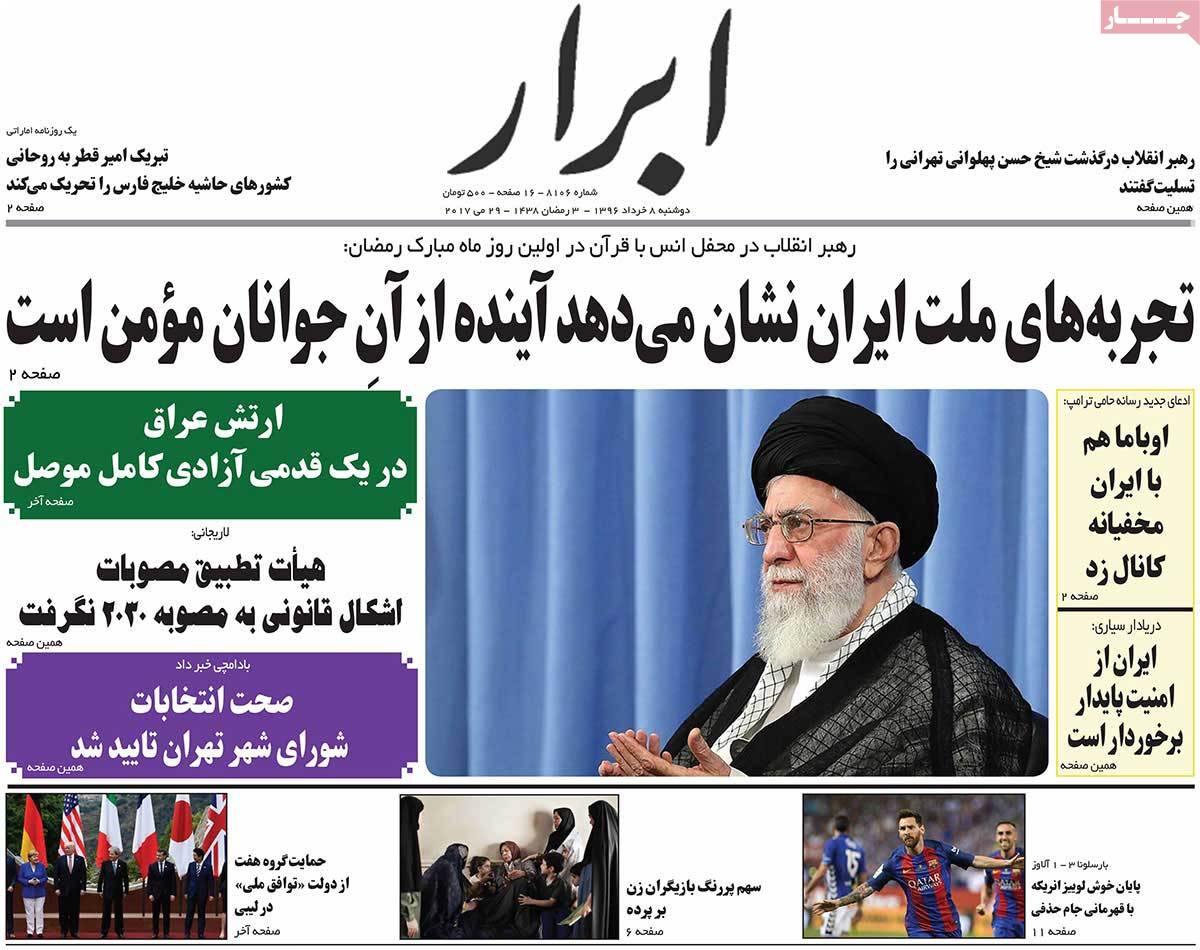 ---
Aftab-e Yazd:
1- Rouhani May Introduce 3 Female Ministers
2- 2030 Document Bill Has No Legal Flaw: Parliament Speaker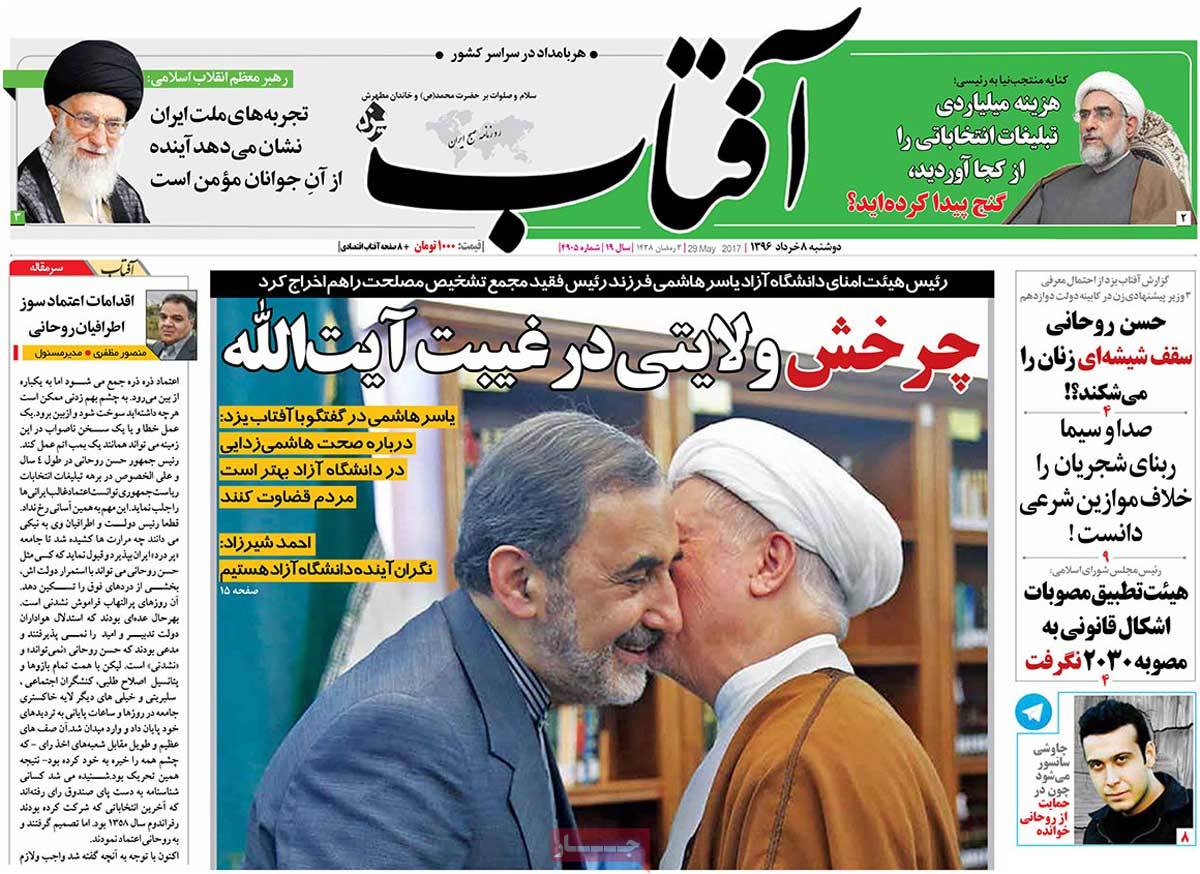 ---
Arman-e Emrooz:
1- Congo Fever Epidemic: From Rumours to Truth; Contradictory Reports of Victims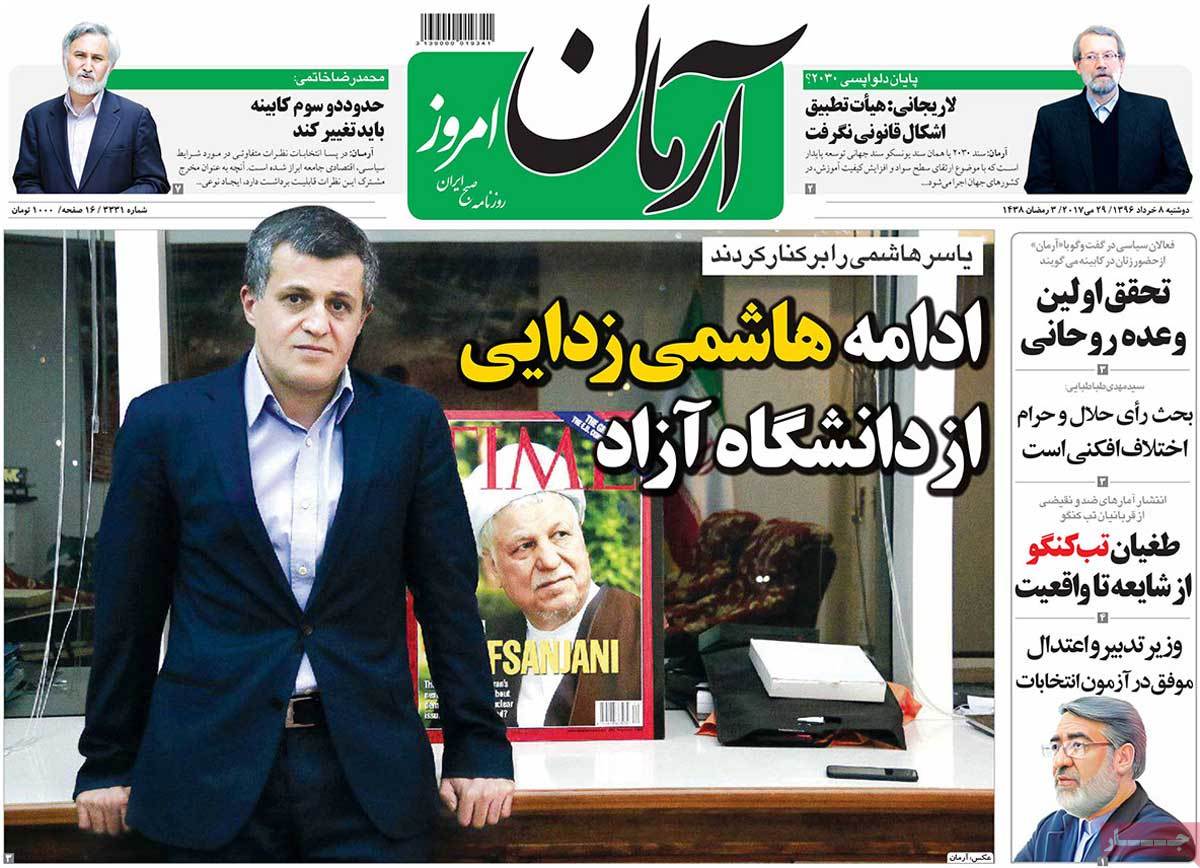 ---
Asrar:
1- Iran to Launch System for Discovering Banking Frauds
2- Rouhani to Qatari Emir: Sectarianism Disrupts Regional Security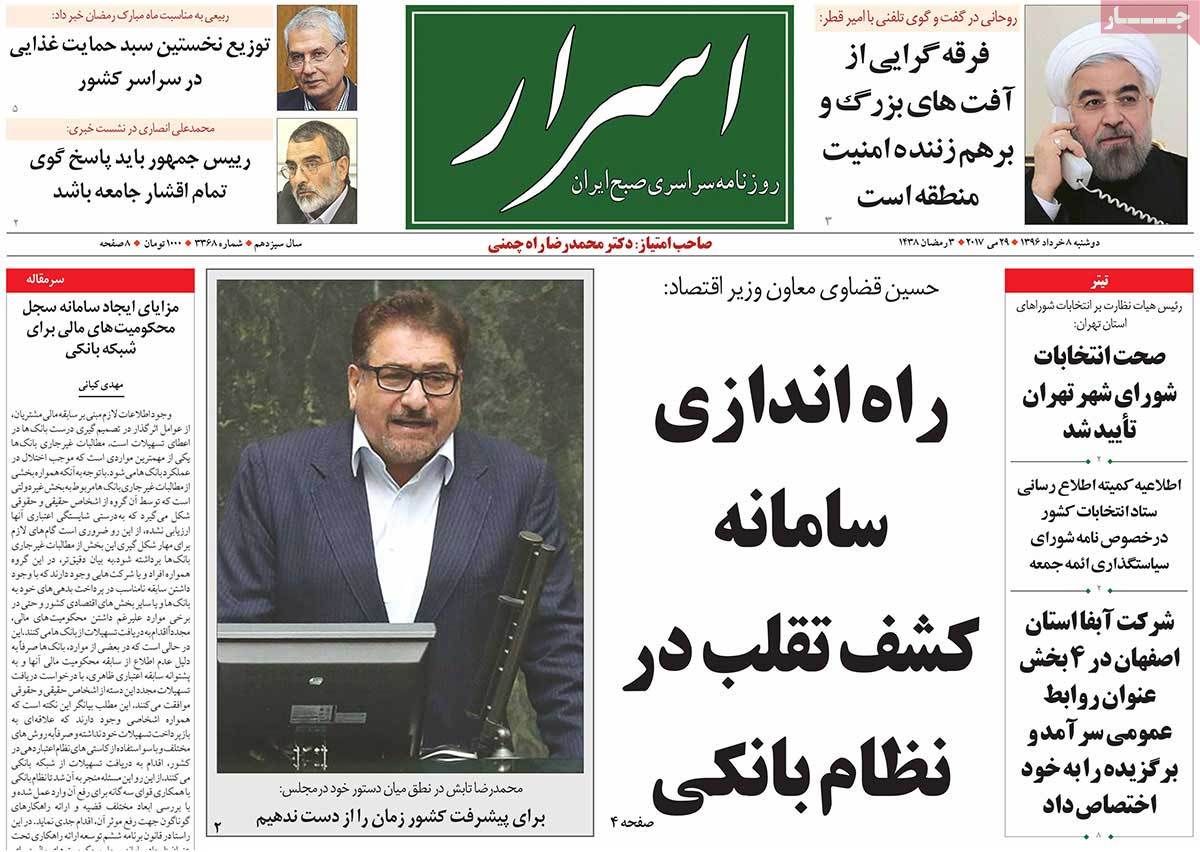 ---
Donya-ye Eqtesad:
1- Signs of Economic Nationalism in Trump's First Visit
---
Ebtekar:
1- A Package against Poverty
Gov't to Distribute Food Security Package among 3m Poor Families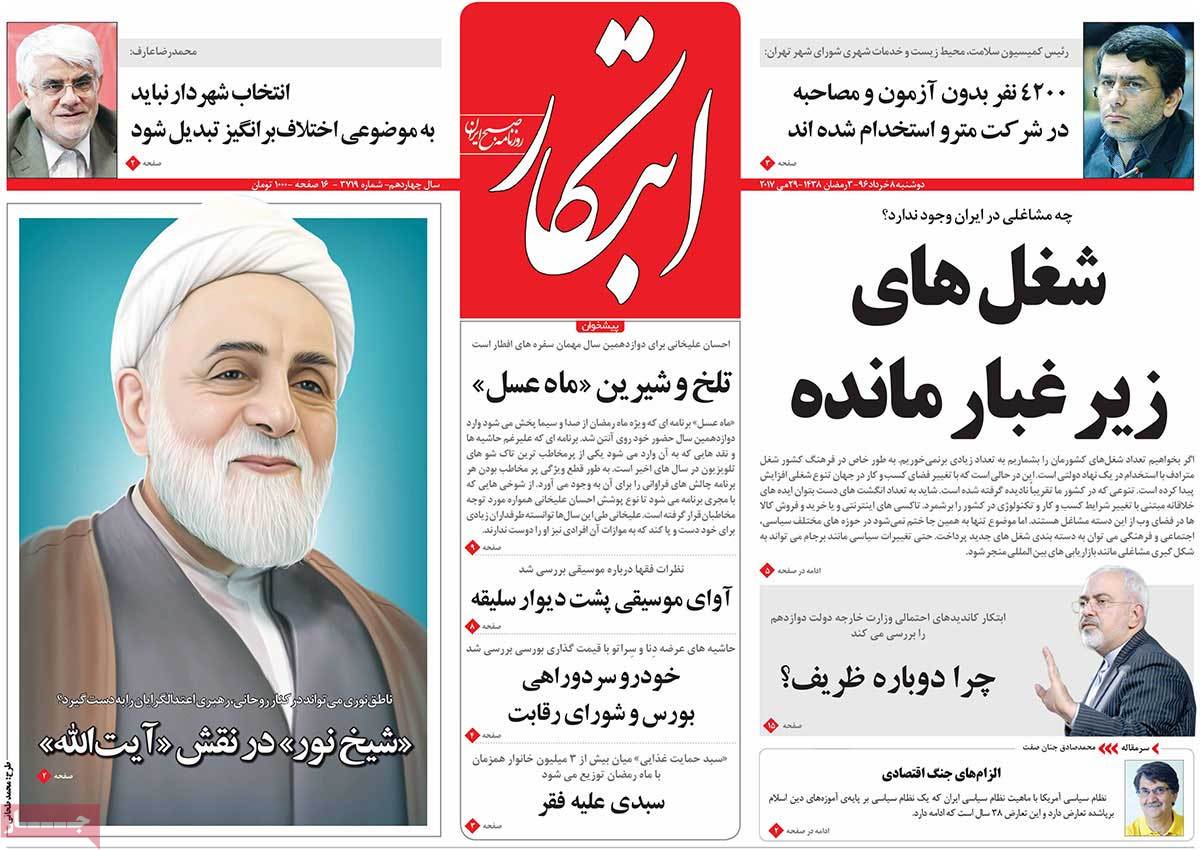 ---
Etemad:
1- Analyst: US Intelligence Community at War with Trump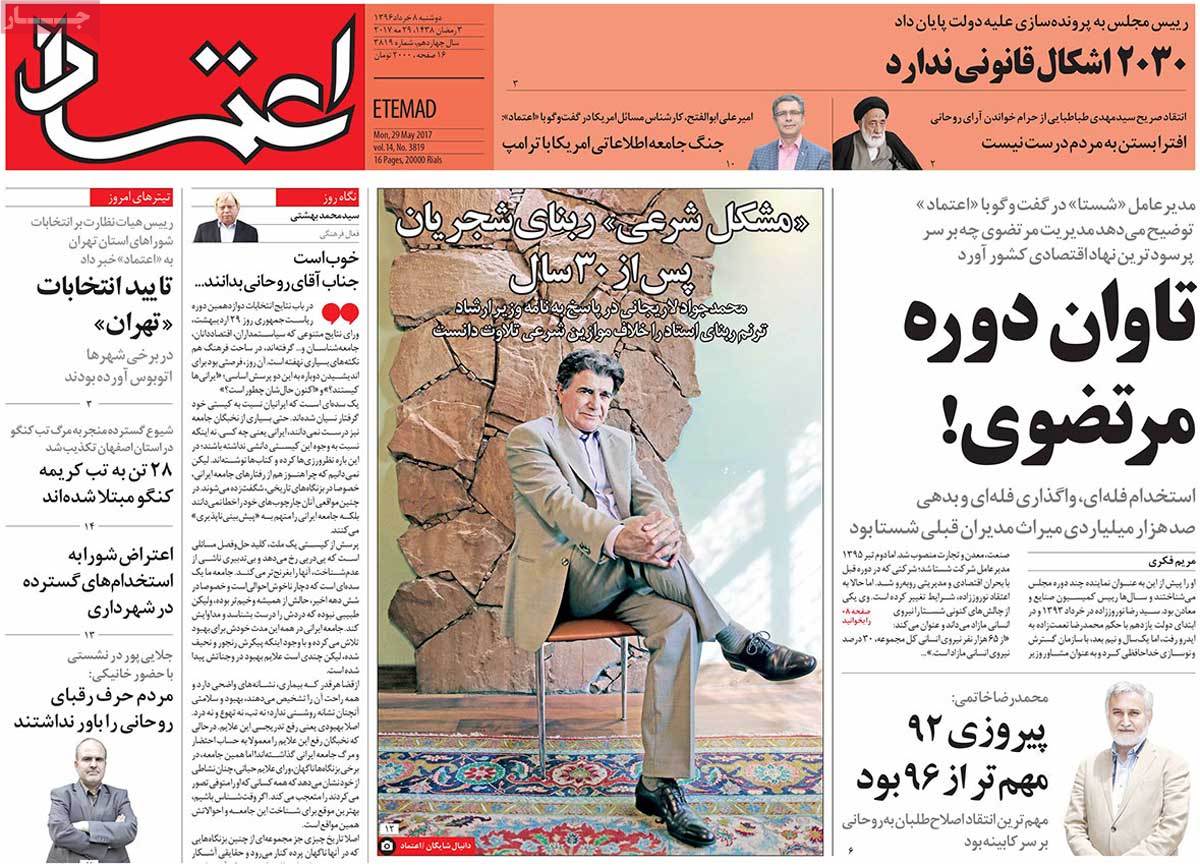 ---
Ettela'at:
1- Iraqi Forces Close to ISIS Last Stronghold
2- Bahraini Protesters: We'll Take Revenge of Our Martyrs
3- Guardian: Iran Celebrated Its Elections in Region Void of Democracy
4- Health of Tehran City Council Elections Approved
---
Ghanoon:
1- Pro-Rouhani Old Man Who Sells Poems in Streets: I Want to See Rouhani before I Die
---
Javan:
1- Basij Commander: IRGC is Thorn in Israel's Side
Have Those Who [Verbally] Attack IRGC Thought about Consequences?
2- Qatari Virus in Riyadh Coalition
Tension with Saudi Arabia to Infect Lebanon, Pakistan, Other Saudi Allies
---
Jomhouri Eslami:
1- Saudi Muftis Join Clash with Qatar
2- Saudis' Bribe Worked: Trump Says Saudi King is Wise!
3- Oil Block Found in Deserts of Iran's Semnan
---
Kayhan:
1- After Milking Saudis: Trump Says Billions of Dollars Taken from Mideast Means More Jobs
2- Mr Larijani! Parliament Should Study Both Form, Content of 2030 Document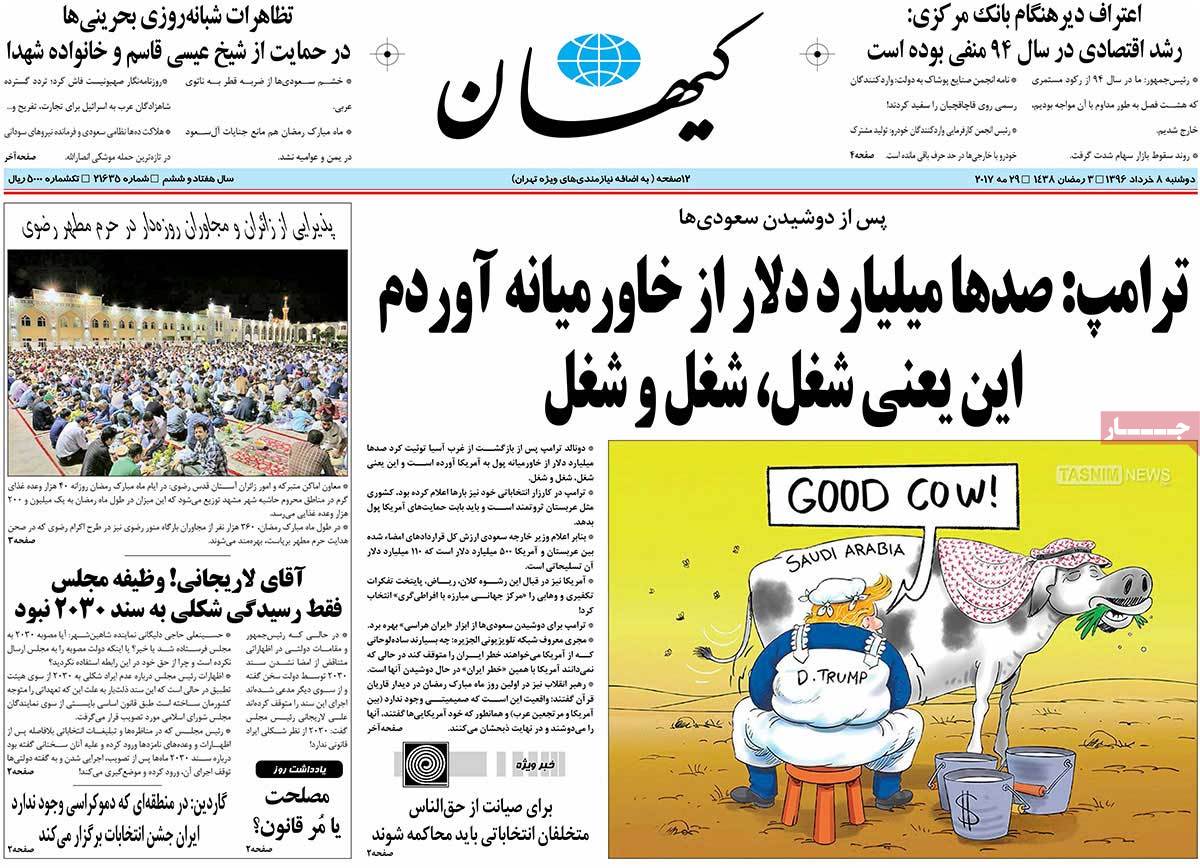 ---
Quds:
1- Reformists Want Parliament's Presidency as Well
Reformist MPs Nominate Pezeshkian for Parliament Speaker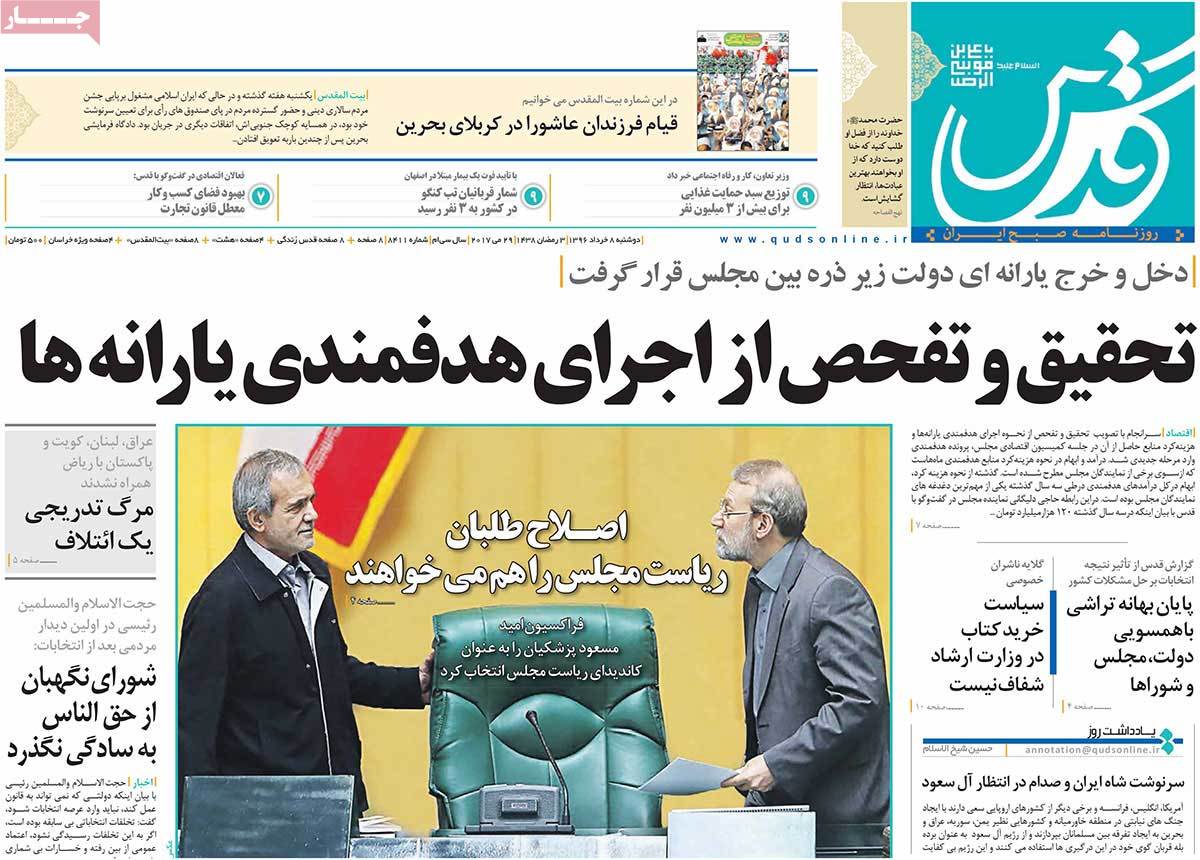 ---
Resalat:
1- MPs: Increase of Sanctions, Big Challenge for JCPOA Implementation
2- Rouhani's Gov't Should Be Accountable for Sanctions: Politician
---
Setareh Sobh:
1- G7 in Deadlock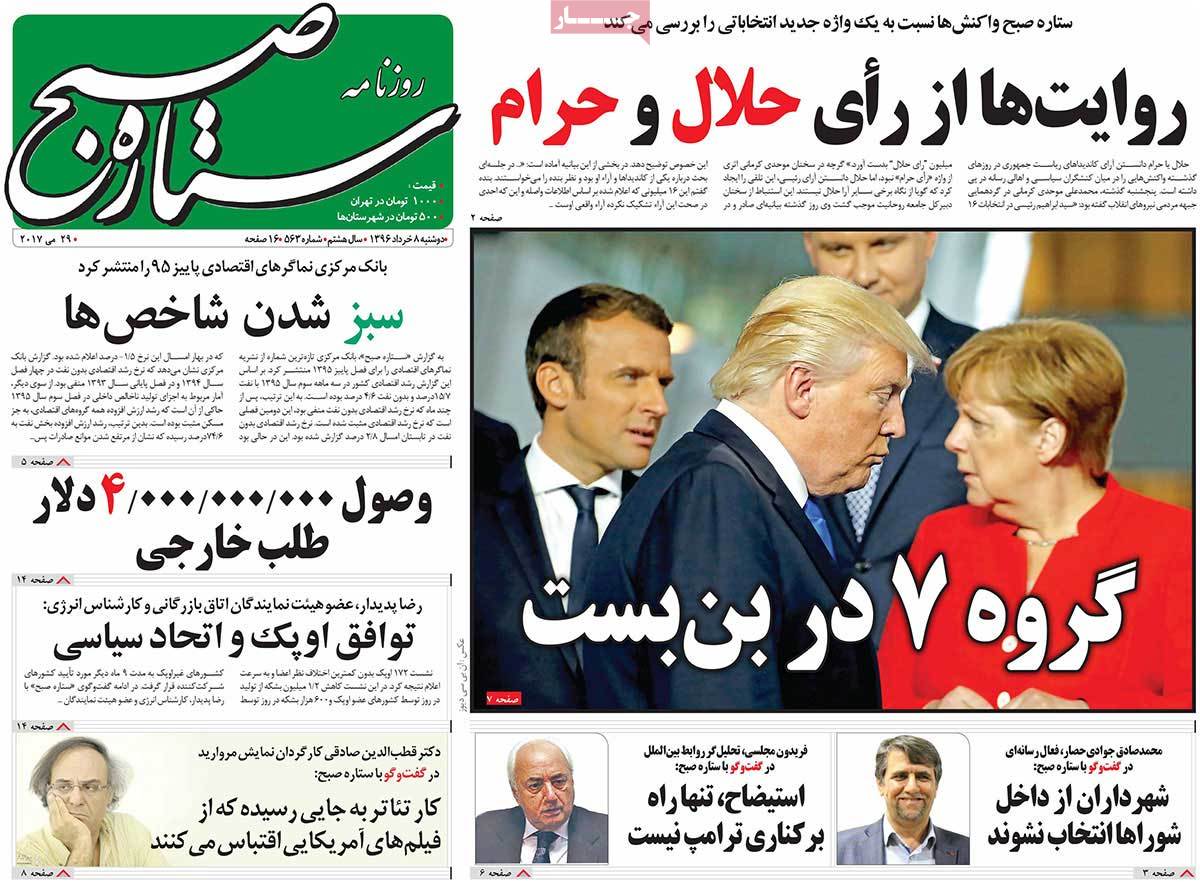 ---
Shahrvand:
1- Agriculture on Verge of Retirement: [Average] Age of Iranian Farmers Reach 53
2- Fever of Death: Pakistan, Afghanistan Sources of Crimean-Congo Fever in Iran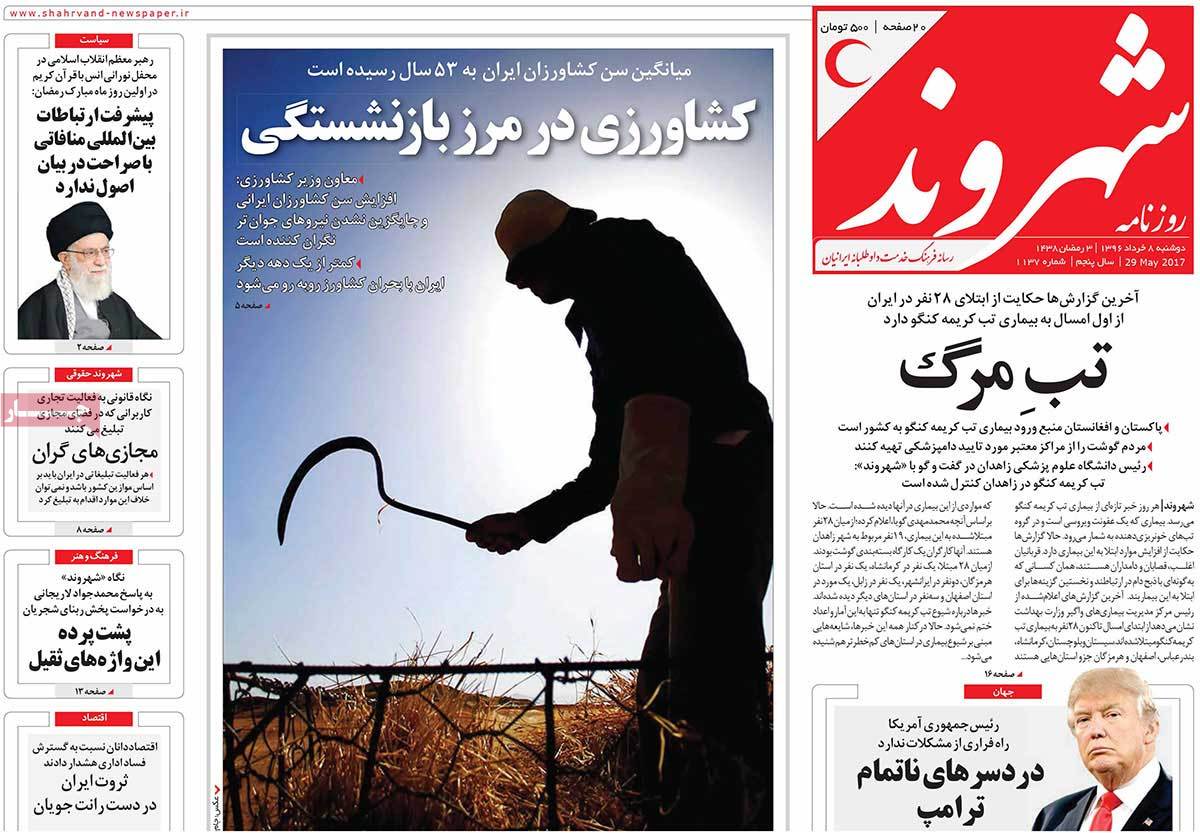 ---
Shargh:
1- Women in Line for Working as Minister
2- Iran, Europe, the US [Editorial by Foreign Ministry Spokesman]
3- Happiness in Cannes with Iranian 'Lerd': Rasoulof Wins Un Certain Regard Award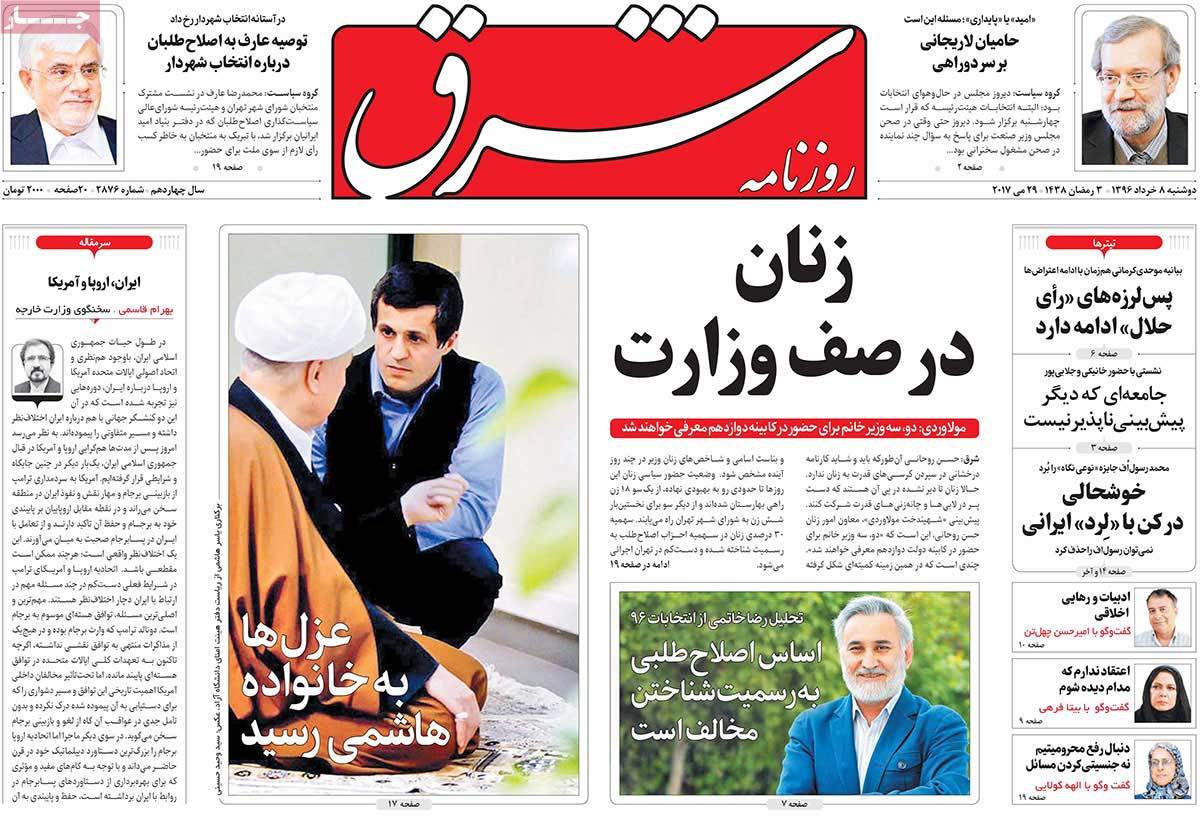 ---
Tejarat:
1- Total Will Once Again Invest in Iran: Deal to Be Signed before Summer
2- Interest Rate in Iran Five Times Higher than World Average: Expert
---
Vaghaye Ettefaghieh:
1- Saudi Arabia to Be Left Alone: Repercussions of Qatar-Saudi Clash over Ties with Iran, US
2- Hamas Representative: Cutting Diplomatic Ties with Tehran Political Suicide
3- Wear Your Blue Hats for World Day of Int'l Peace Keepers