Almost all newspapers today covered the remarks made by the Leader of Iran's Islamic Revolution Ayatollah Seyyed Ali Khamenei, particularly his harsh criticisms of the Saudi ruling system.
The phone conversations between Iranian President Hassan Rouhani and his Russian counterpart and the Emir of Qatar also received great coverage.
The Qatari Emir's talks with Rouhani were particularly significant after the recent clash between Qatar and other major Arab countries like Saudi Arabia, the UAE, Egypt, and Bahrain, which blocked all Qatari media over their Emir's pro-Iran comments.
The death of former US national security advisor Zbigniew Brzezinski, who was a top aide to President Jimmy Carter during the Islamic Revolution in Iran in 1979, was also a top story today.
The above issues, as well as many more, are highlighted in the following headlines and top stories:
Abrar:
1- Guardian Council to Declare Its View on Iran Elections Tuesday: Spokesman
2- Theresa May Urges Iran, Russia to Seriously Pursue Syria Truce
3- Disclosure of a Meeting Leads to Murder of North Korea Leader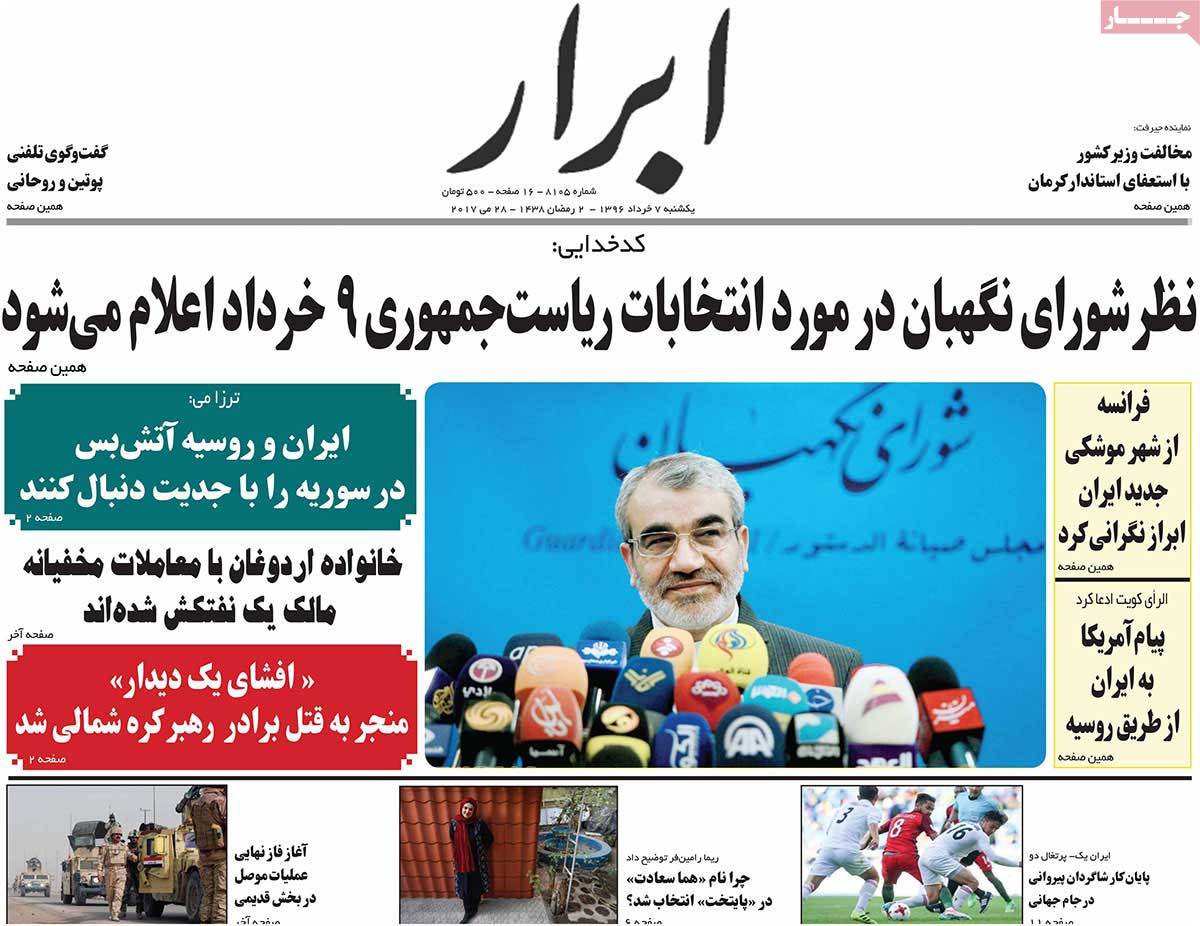 ---
Afkar:
1- Trump: We've Made Iran More Isolated
2- Ayatollah Khatami: Increase Your Tolerance towards Criticism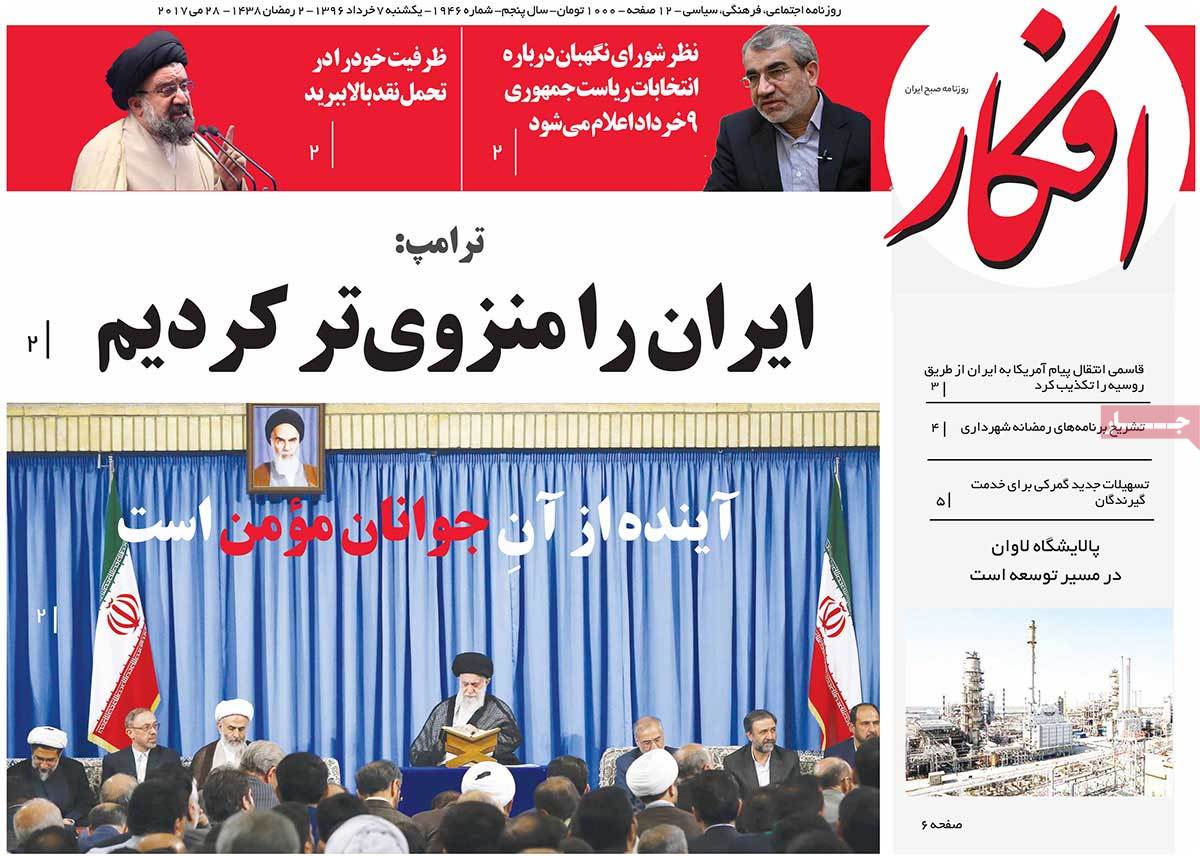 ---
Aftab-e Yazd:
1- No Religious Barrier to Women's Presence in Stadiums: Cleric
2- ISIS Seizes City in Philippines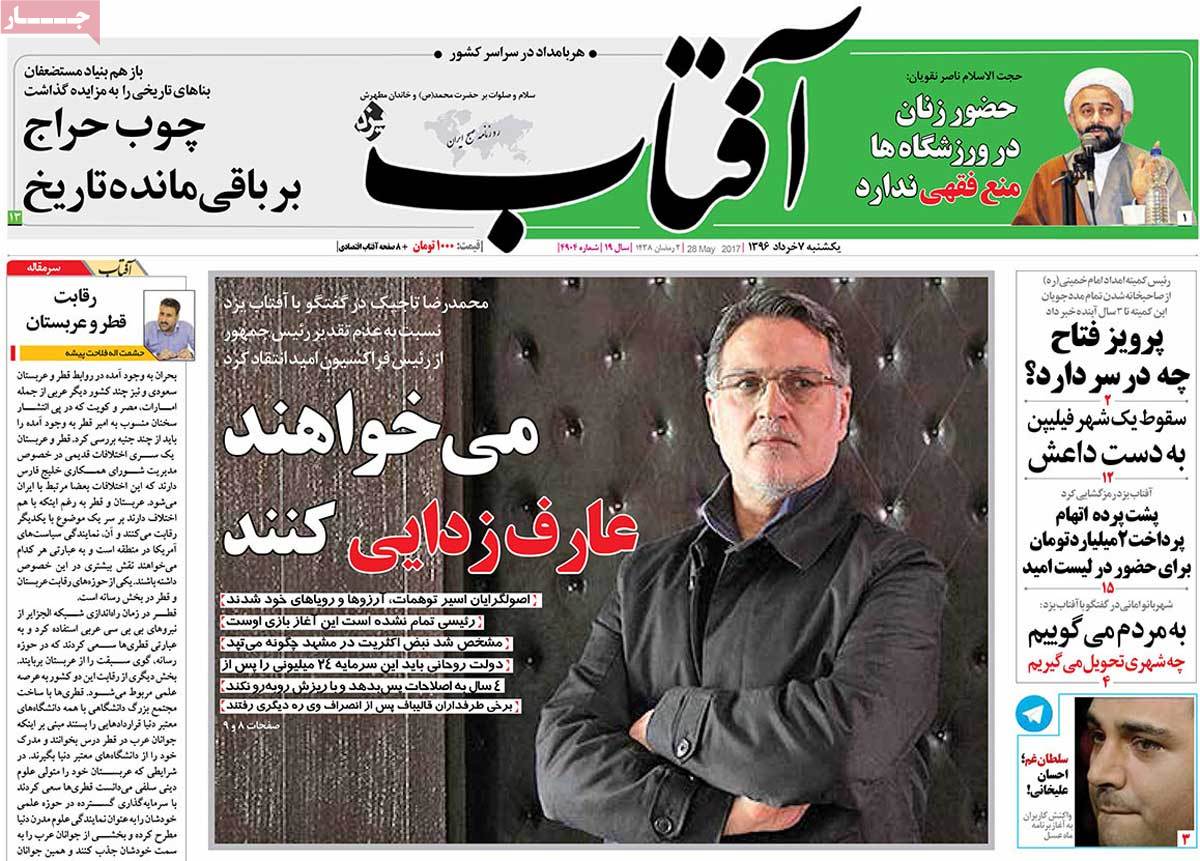 ---
Ebtekar:
1- Consultations for Taking Majority of Seats in Presiding Board of Iran Parliament
2- Rouhani, Putin Underline Continuation of JCPOA Implementation, Regional Cooperation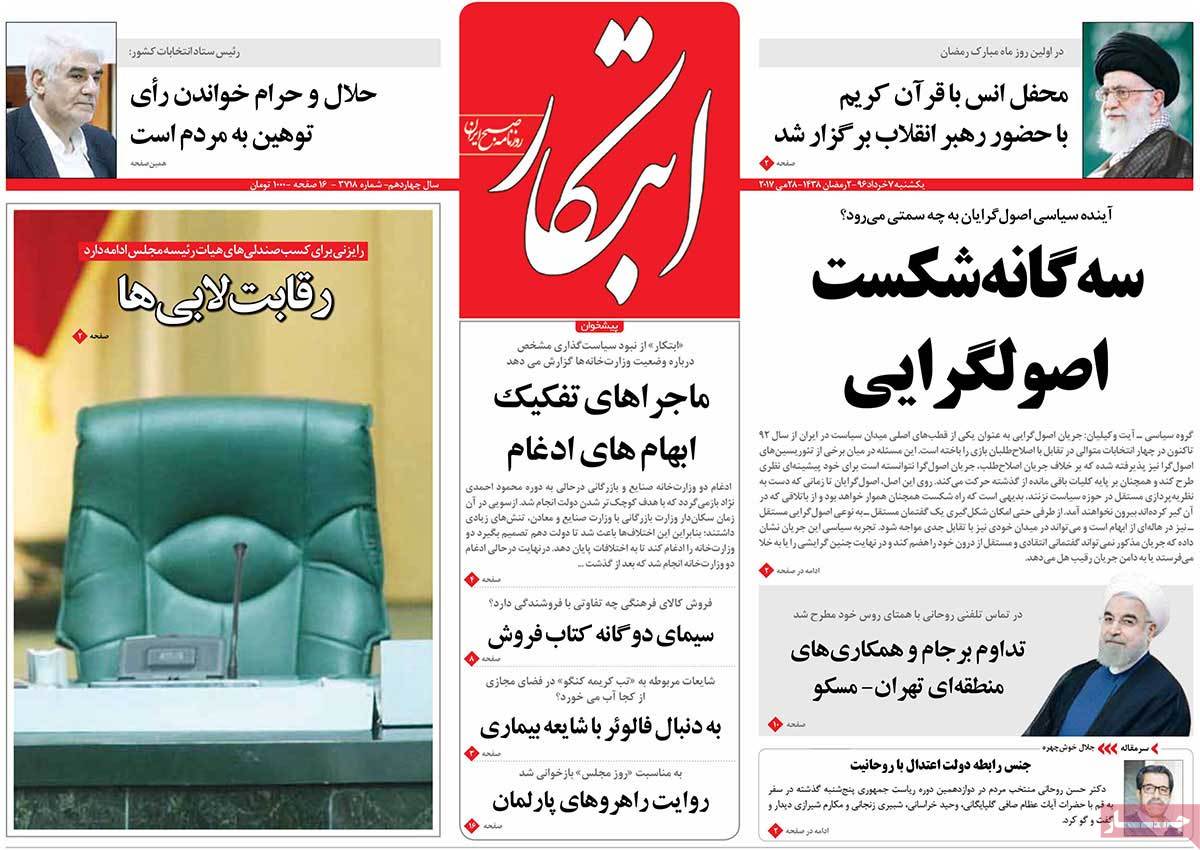 ---
Emtiaz:
1- Samples Taken from 10,000 Criminals in Gene Bank
2- Russian Choppers Assembled in Iran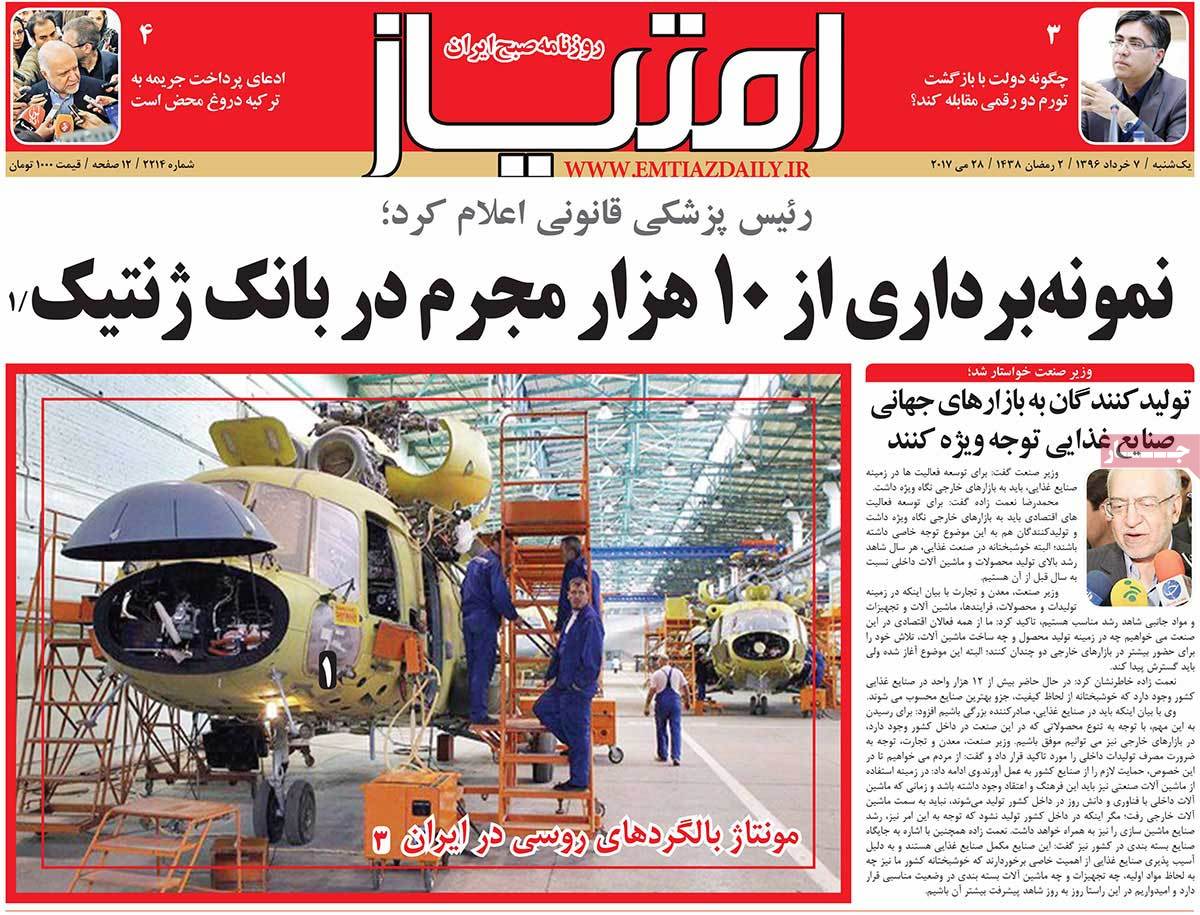 ---
Etemad:
1- Iran Leader: Saudis Doomed to Decline, Collapse
2- Four Sensitive Years Ahead of Us: Academic
60% of Iranian Society Are Reformists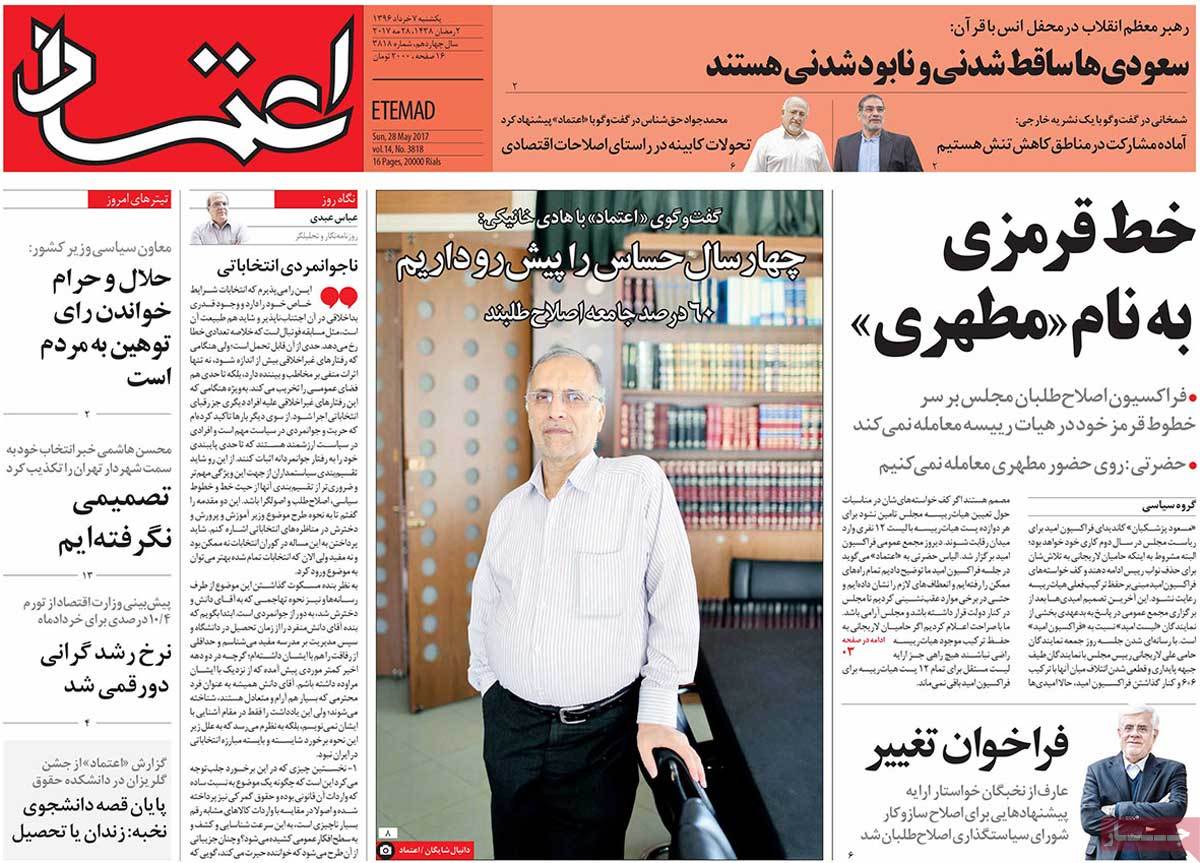 ---
Ettela'at:
1- Future Belongs to Young Believers: Iran Leader
2- Leader: Incompetent People like Saudi Rulers Control Destiny of Certain Muslim Societies
3- Rouhani: Iran's Principled Policy is to Establish Close Ties with Moscow
4- 120 Terrorists Killed in Russian Jet Fighters' Attack on ISIS Convoy in Syria
5- Bahraini Clerics in Reaction to Massacre of Protesters: We're Ready for All Possibilities
---
Ghanoon:
1- We Hope Ties with Iran Would Return to Pre-Sanctions Level
2- Efforts Underway to Let Women Go to Stadiums in Iran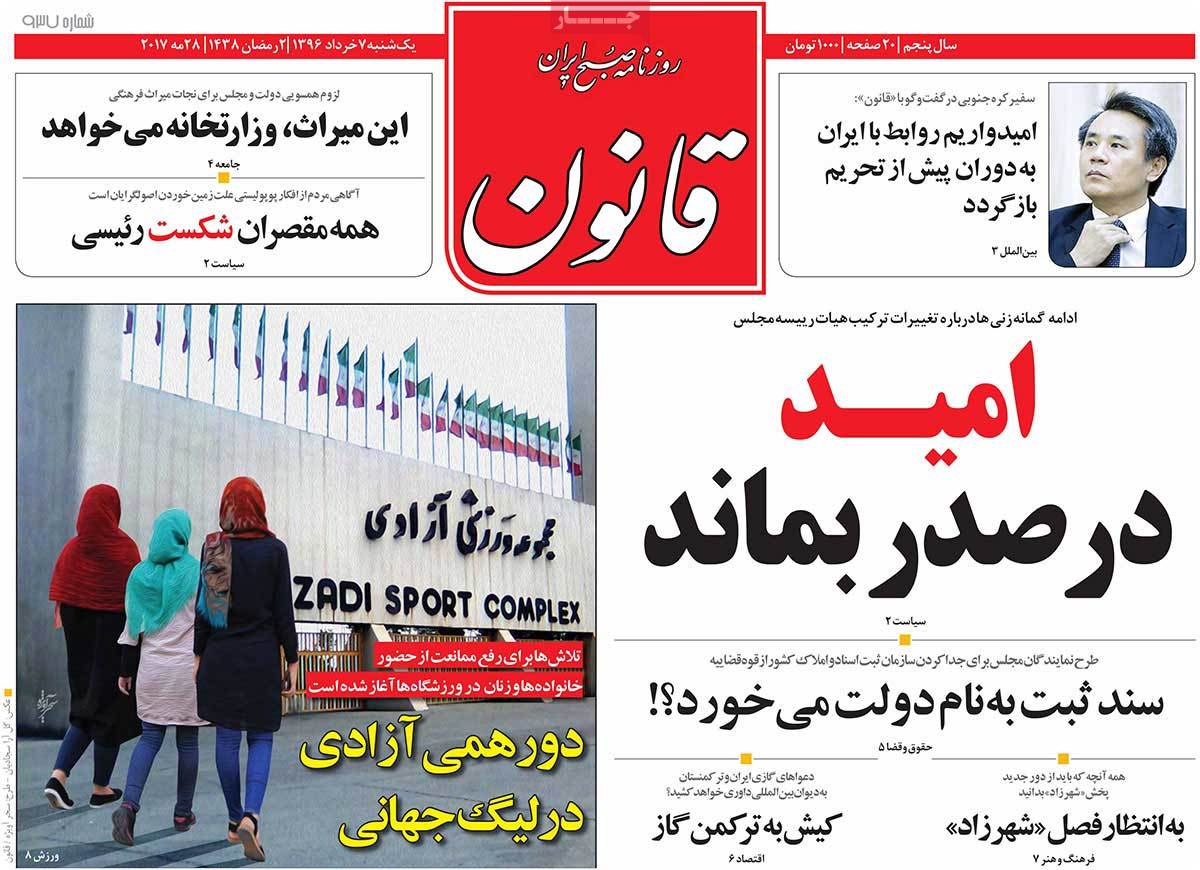 ---
Hemayat:
1- Clinton: Trump Will Be Finally Impeached
Bipolar Atmosphere of US Presidential Elections Goes on
2- Iran's Shamkhani: Saudi Arabia Biggest Producer of Terrorists in Muslim World
3- Saudi Arabia Uses Banned Weapons against People of Al-Awamiyah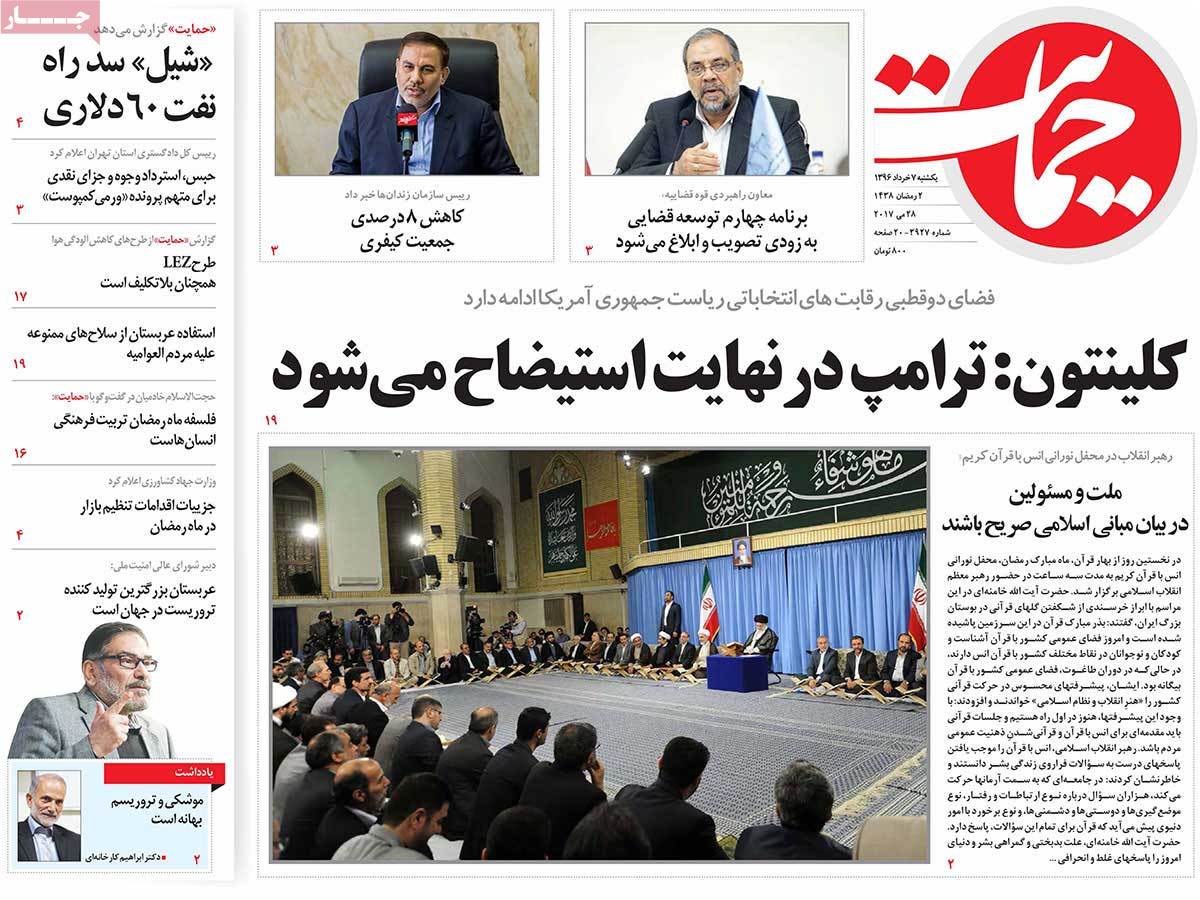 ---
Iran:
1- Reformists' Decisive Victory in Local Elections of 20 Provincial Centres
2- Brzezinski Dies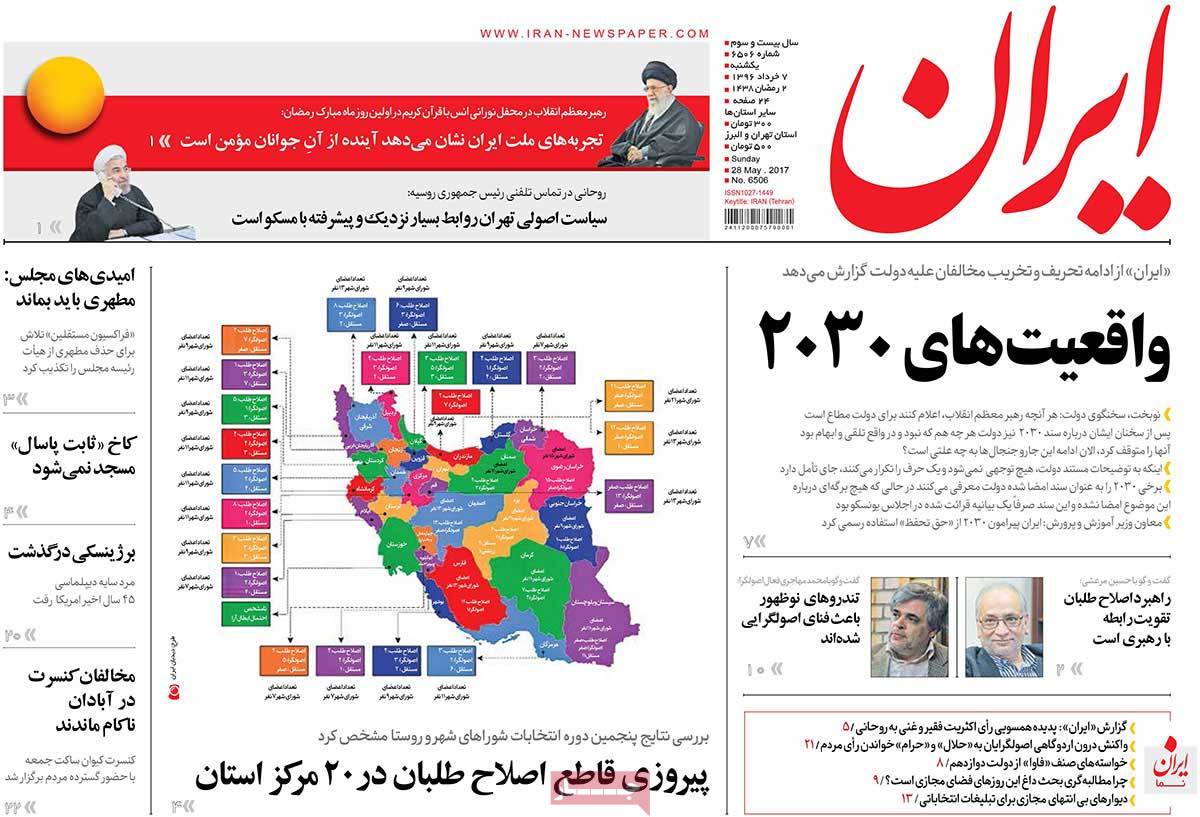 ---
Javan:
1- Saudis Want to Gain Friendship of Islam's Enemies Using Muslims' Wealth: Iran Leader
2- Baghdad Warns about US Adventure against Iran
Iraq Not to Join Trump's Anti-Iran Game
3- Israel Accepts Demands of 2,000 Palestinian Prisoners after 40-Day Strikes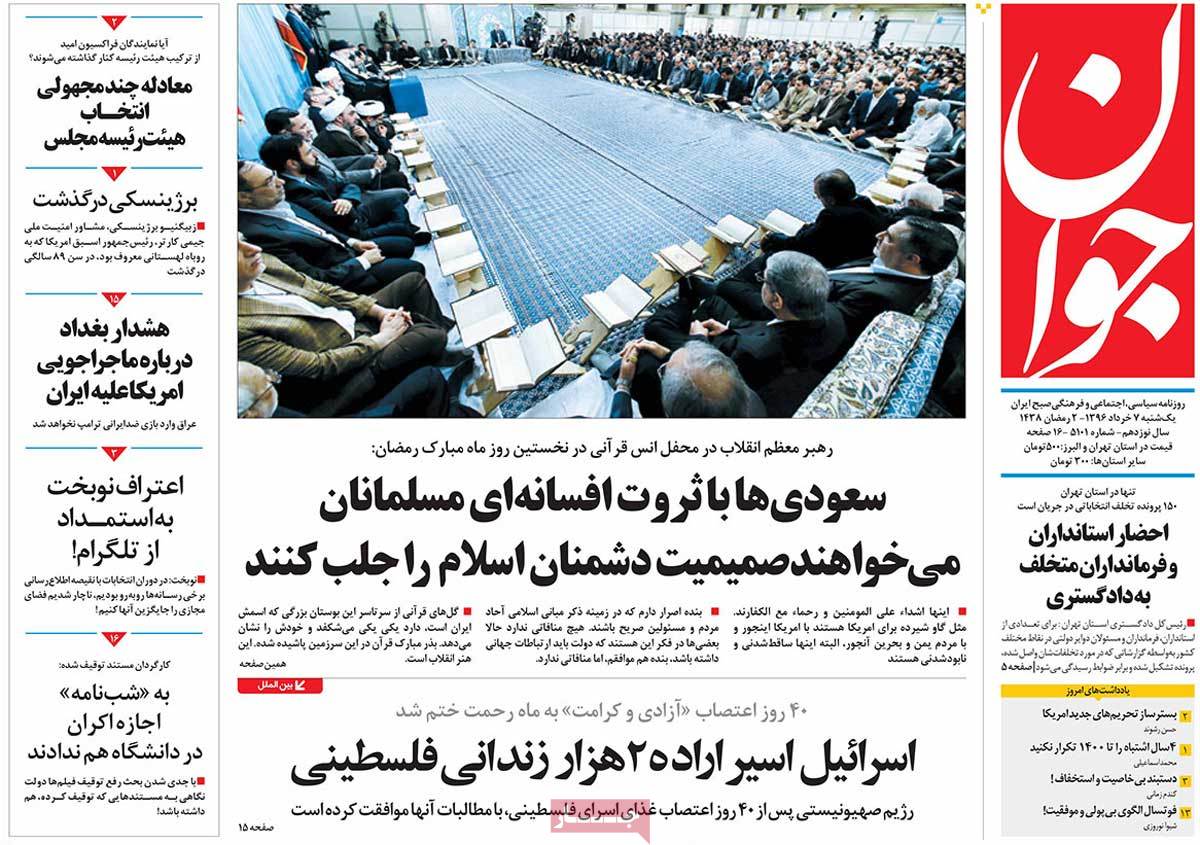 ---
Jomhouri Eslami:
1- Holy Seeds of Quran Planted in Iran Thanks to 1979 Revolution: Leader
2- Day of Taking Revenge from Al Khalifa Will Come: Bahraini Clerics
3- Rouhani Urges Muslim Leaders to Counter Islamophobia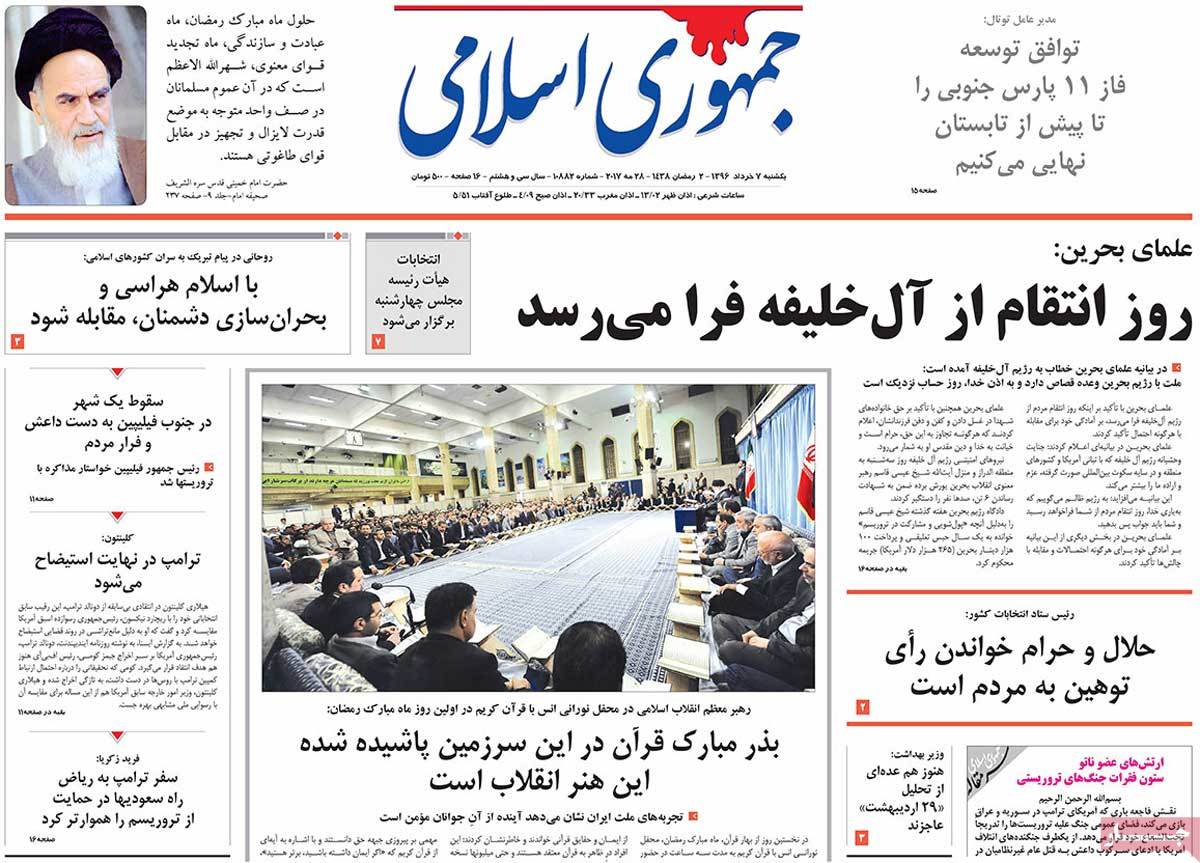 ---
Khorasan:
1- Iran Leader: Americans Will Milk Reactionary States, Kill Them at Last
2- New Allies in Mideast: Qatar May Turn to Iran after Recent Developments
3- Oil Minister Confirms Restrictions in Transfer of Money for Petchem Products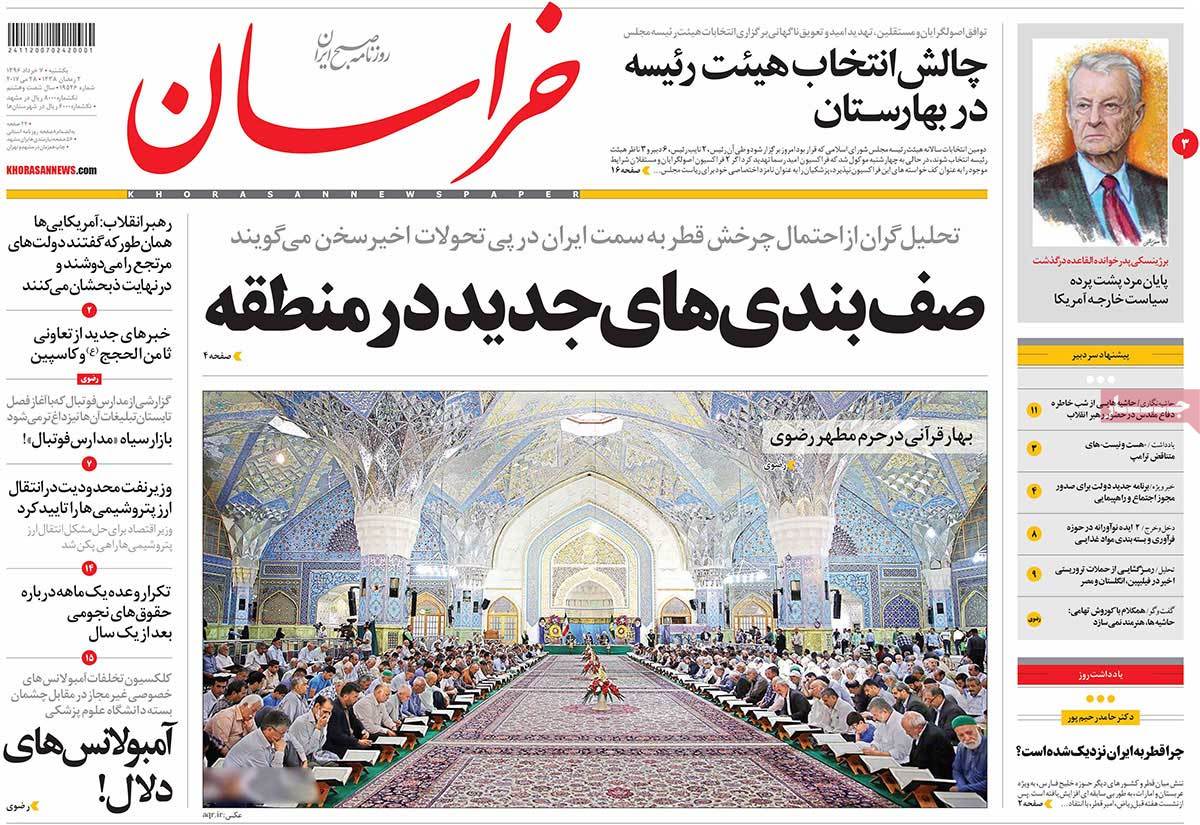 ---
Quds:
1- Kremlin's Footprint in Trump's House
US President's Son-in-Law in Contact with Russians
2- Saudi Gov't Will Definitely Collapse: Iran Leader
---
Resalat:
1- Sponsors of Terrorism Giving Prescriptions for Fight against Terror!
2- Minister: UNESCO's 2030 Document Was Not Implemented; Gov't Stopped it
3- Missile Power is Only Way to Deter Enemies: Senior MP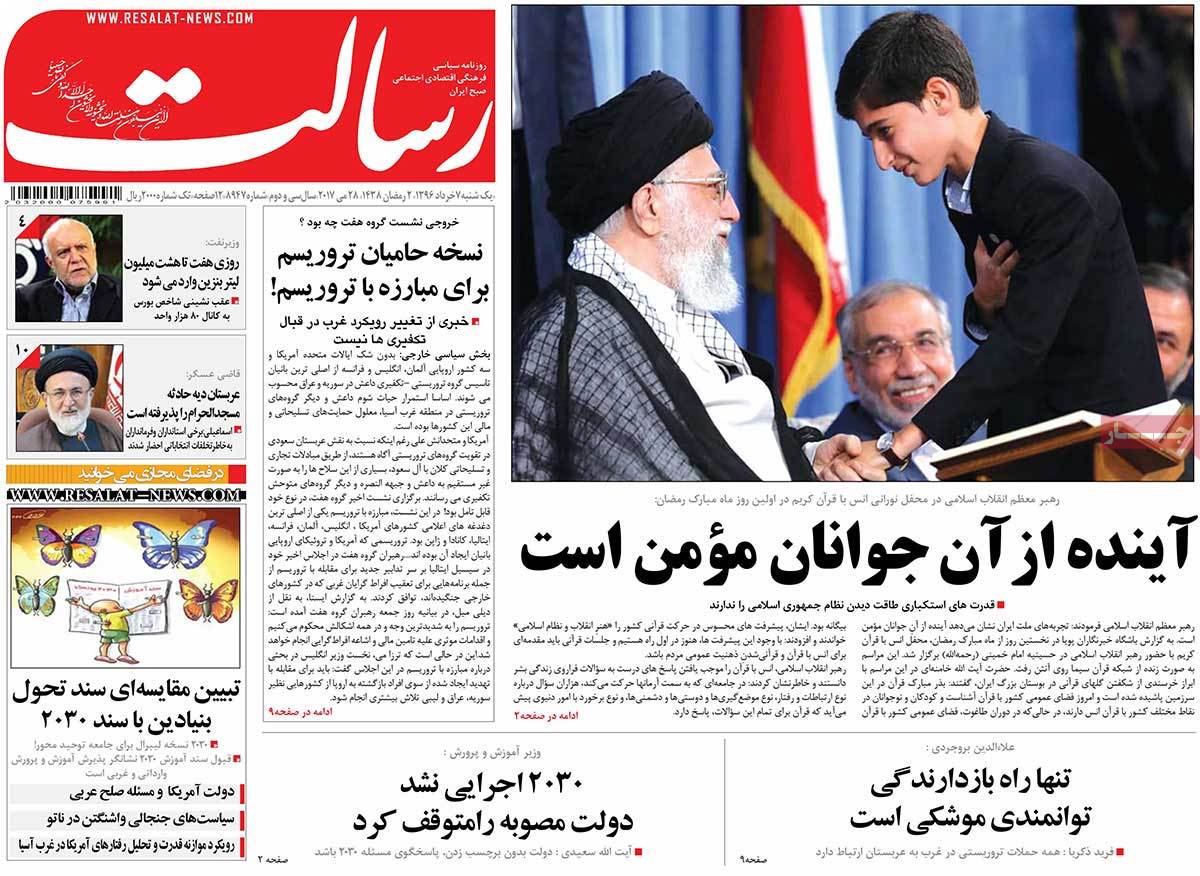 ---
Shahrvand:
1- Qatari Emir Turns towards Iran: Rouhani, Emir Discuss Regional, Bilateral Issues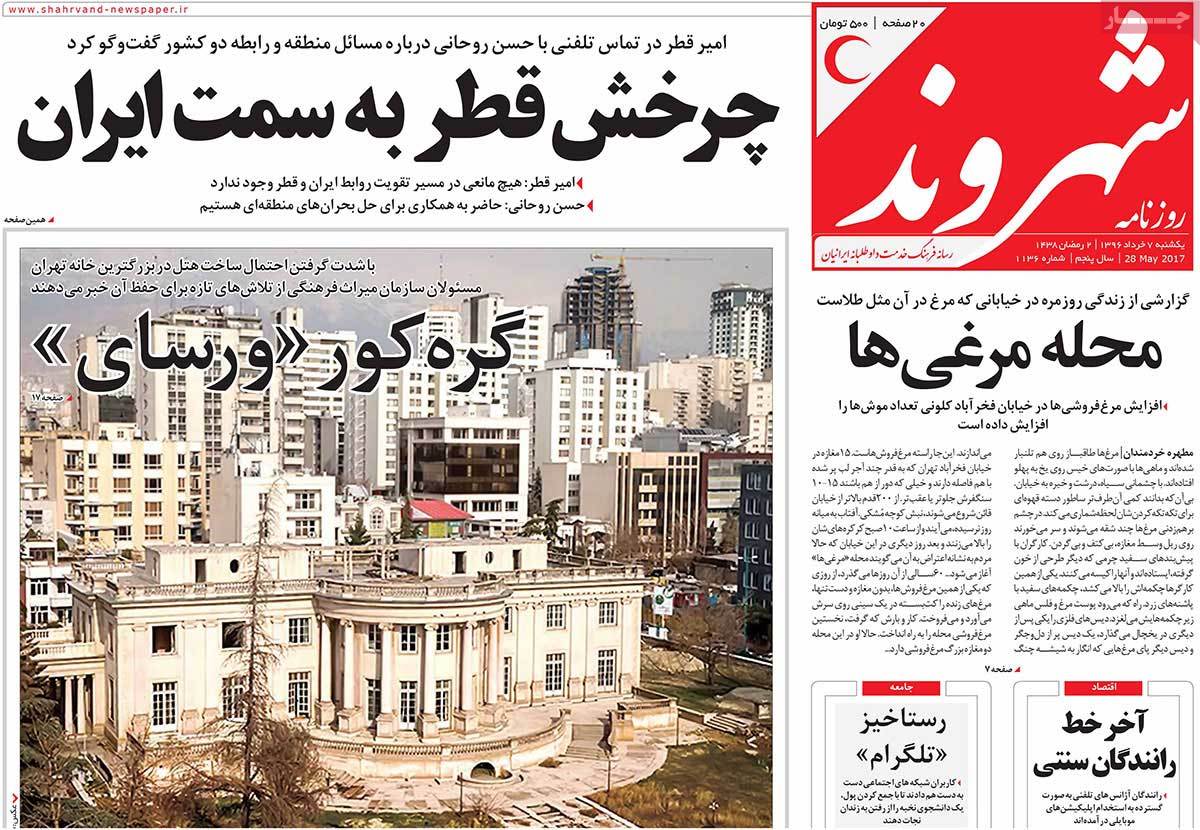 ---
Shargh:
1- Serial Freezing of Iran's Assets: Economy Minister Departs for China
2- Top Security Official: Iran Ready to Deploy Forces in Syria
3- Carter's Aide during Iran's Revolution Dies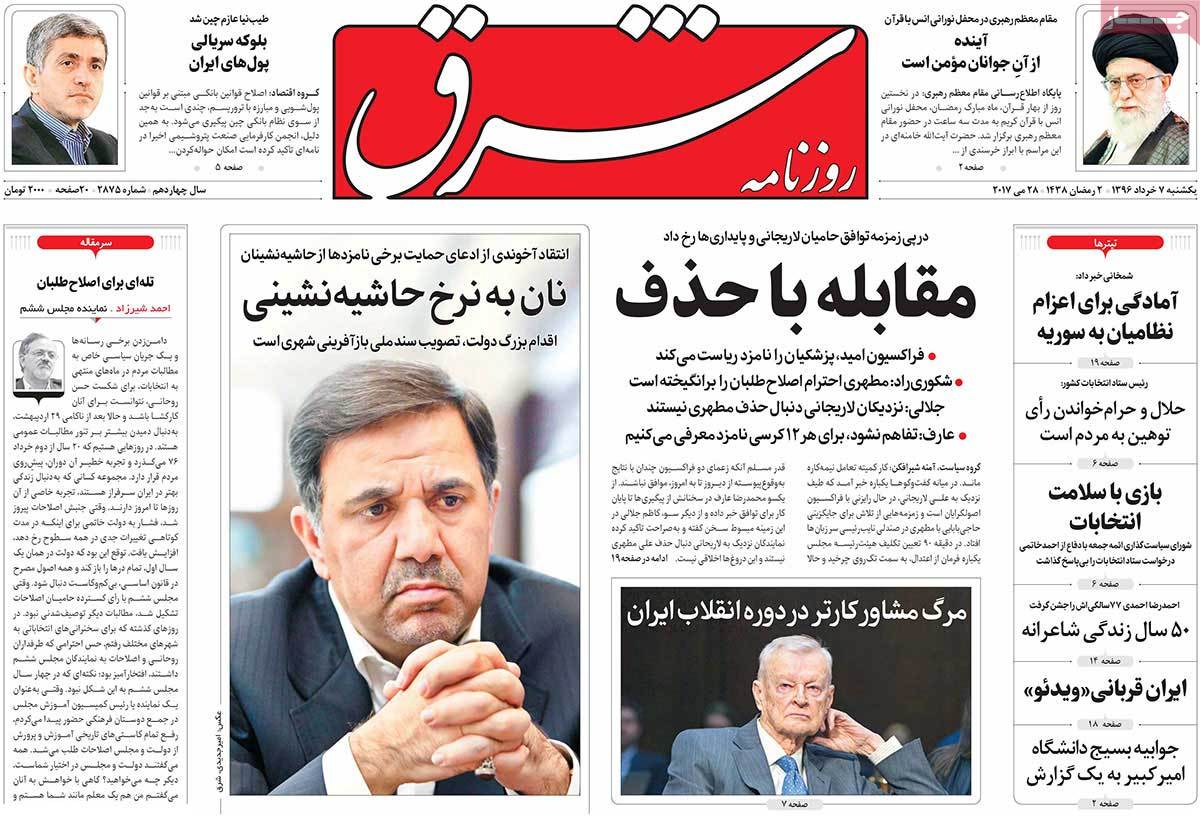 ---
Siasat-e Rooz:
1- Respect Civil Rights of Your Critics
Tolerance towards Criticism Prerequisite for Serving in Key Positions
2- Brzezinski: From Designing Operation Eagle Claw to Forming Al-Qaeda