The top story today was President Hassan Rouhani's first press conference after his re-election and the remarks he made during the presser, which was attended by various Iranian and foreign reporters.
US President Donald Trump's visits to Saudi Arabia and the occupied Palestinian territories also received great coverage.
Many newspapers covered Iranian Foreign Minister Mohammad Javad Zarif's remarks about the US-Saudi ties, particularly the fact that the US is milking the Arab country of $480 billion.
The above issues, as well as many more, are highlighted in the following headlines and top stories:
Abrar:
1- Rouhani: No Group, Faction, Thought, Ideology Can Be Eliminated
2- Zarif: Is This Diplomacy or Milking Saudi Arabia of $480bn?
3- Saudi King: Iran is Main Sponsor of Terrorists!
---
Afkar:
1- Mr. Rouhani! Don't Forget Your Promises!
2- Haddad Adel: Raisi Represents 16 Million Critics of Gov't
3- Guardian Council Spokesman: Electoral Complaints to Be Investigated
---
Aftab-e Yazd:
1- President's Strength
Rouhani in First Presser Reminded His Rivals of High Number of His Votes
2- Tehran Hopeful about 21 Reformists Elected to City Council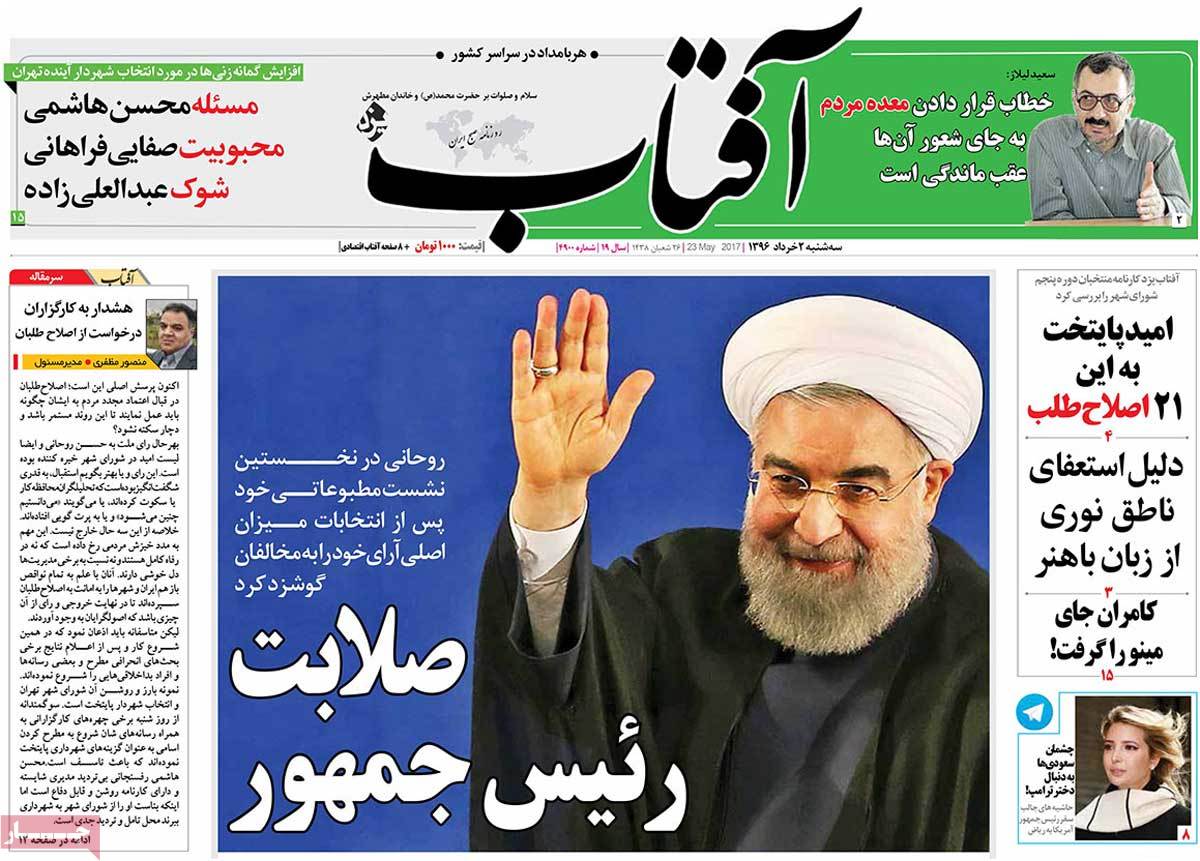 ---
Arman-e Emrooz:
1- Rouhani: We're Standing Firmly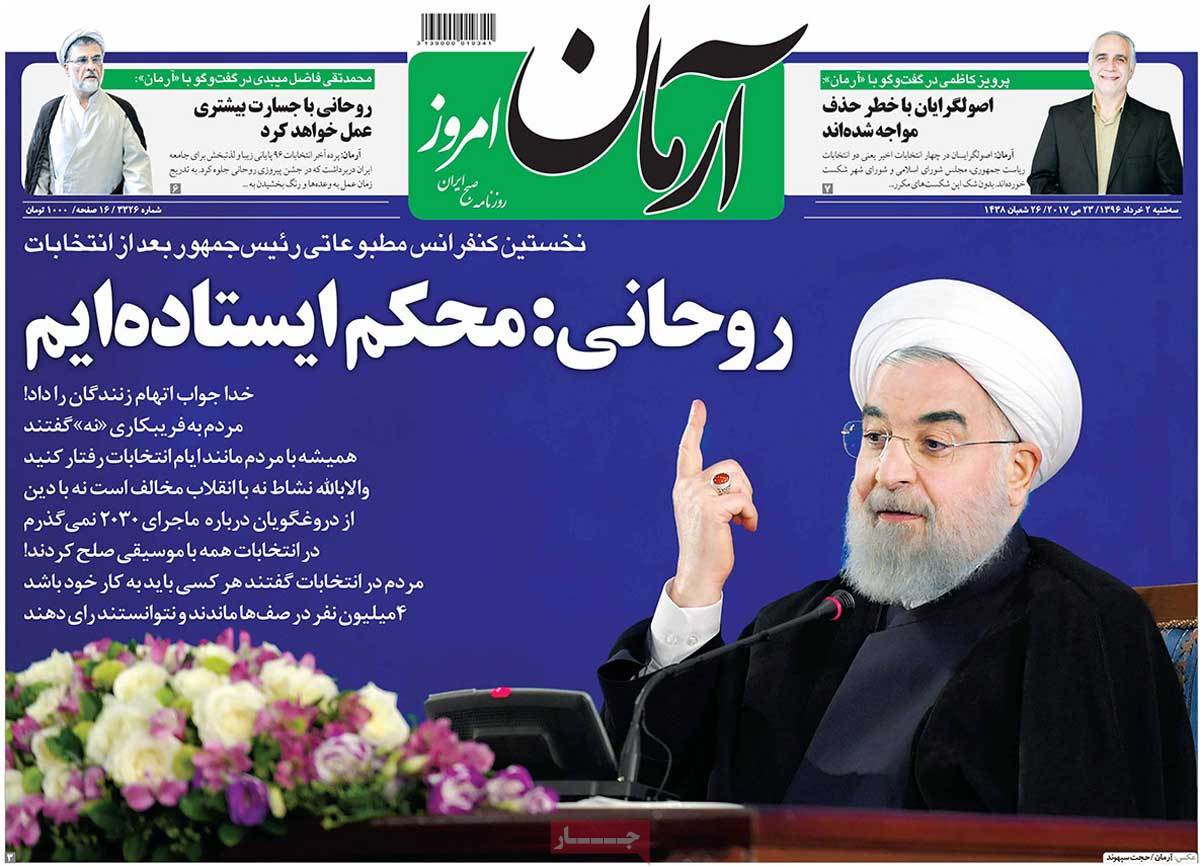 ---
Asr-e Iranian:
1- Trump Receives $110bn for Swearing at Iran
2- Rouhani: We Won't Ask for US Permission to Test-Fire Our Missiles
3- Iran Has Exported $90m worth of Carpet to US in Past Year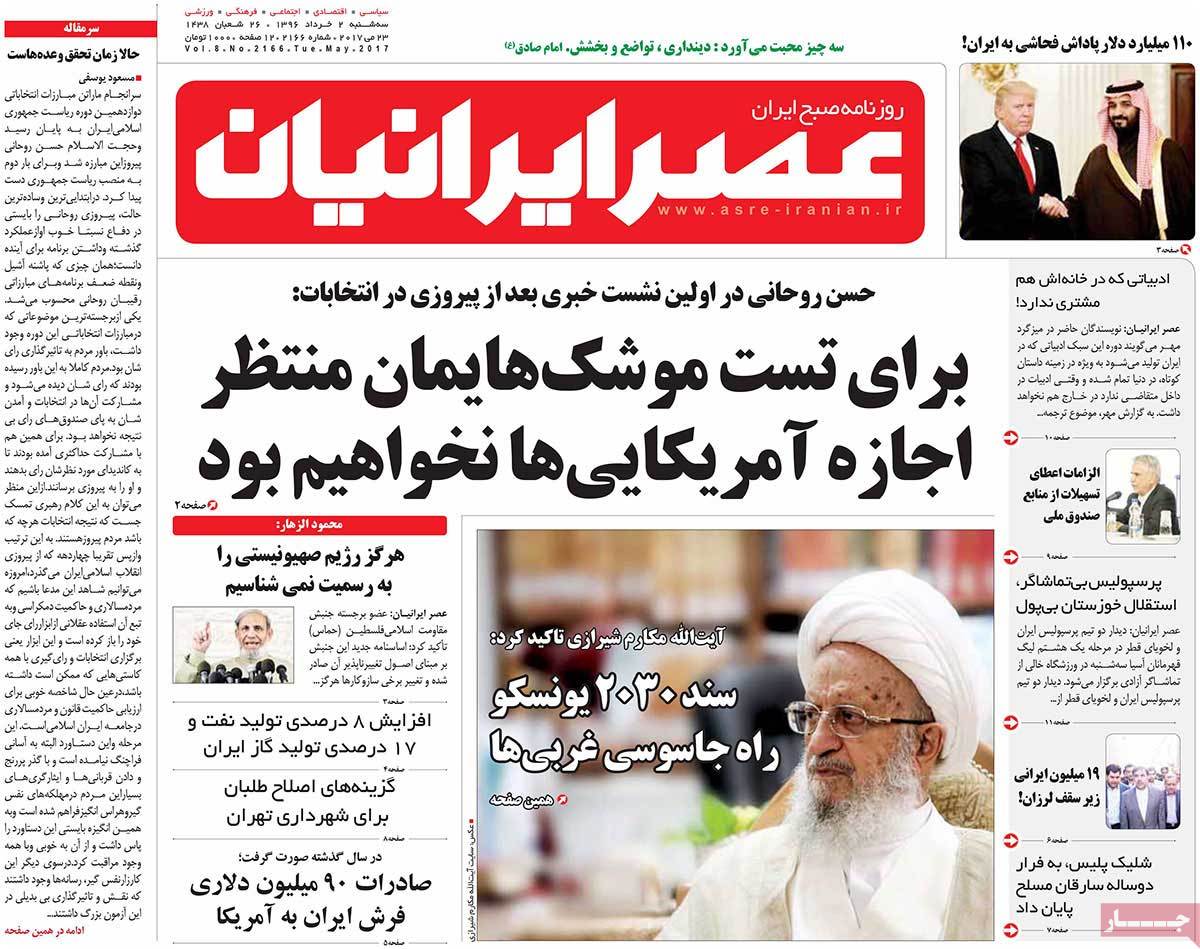 ---
Ebtekar:
1- A Businessman Named Trump: Why Did Trump Make Anti-Iran Remarks?
2- Over 41m Voted in Local Elections
---
Emtiaz:
1- 8-Percent Increase in Iran's Crude Oil Output by Year-End
2- Iran, Europe to Launch First Joint Petchem Complex
3- Iran-Europe Trade Ties Exceed €5bn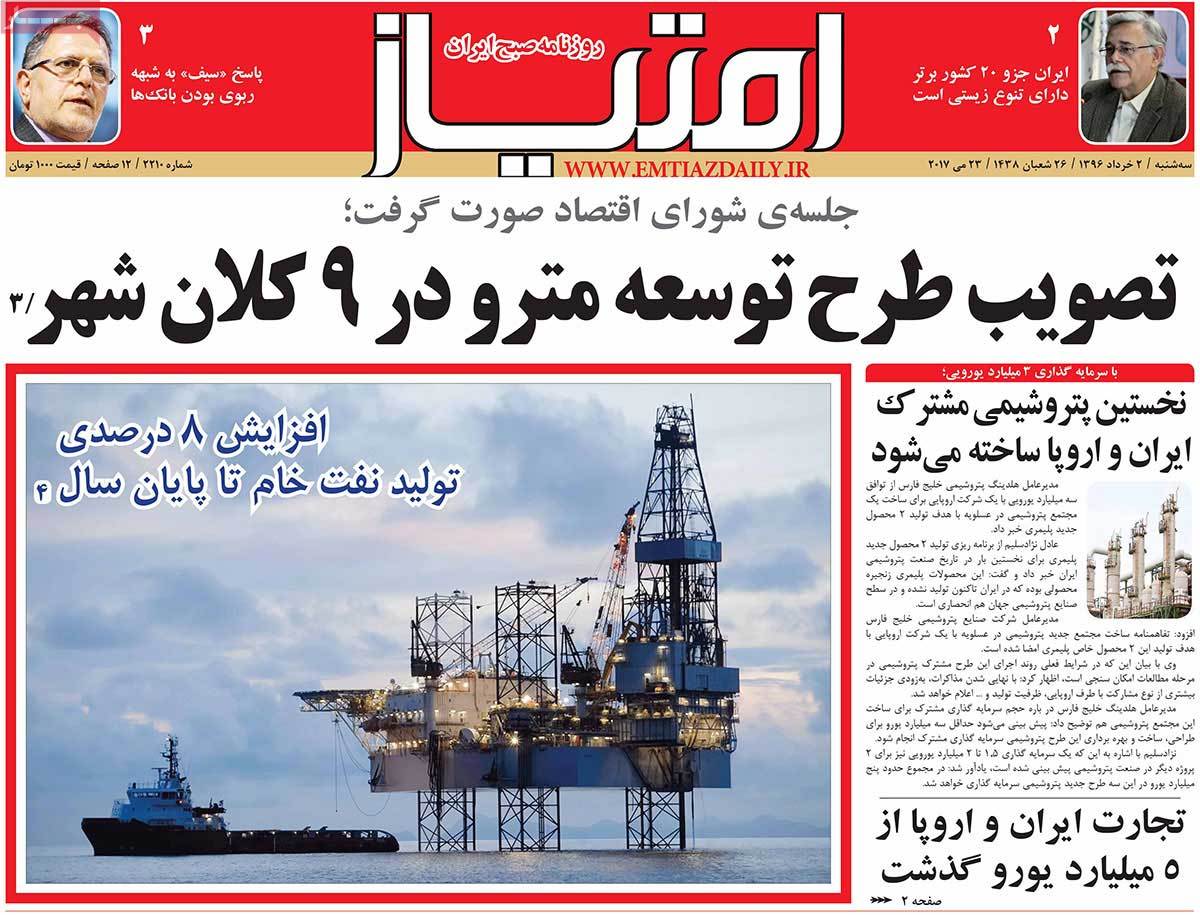 ---
Ettela'at:
1- Rouhani: We Should Get Help from Everyone to Boost Iran's Reputation
2- Syrian Army Liberates Homs after 5 Years
3- Inflation Rate in Past Month Stands at 7.1%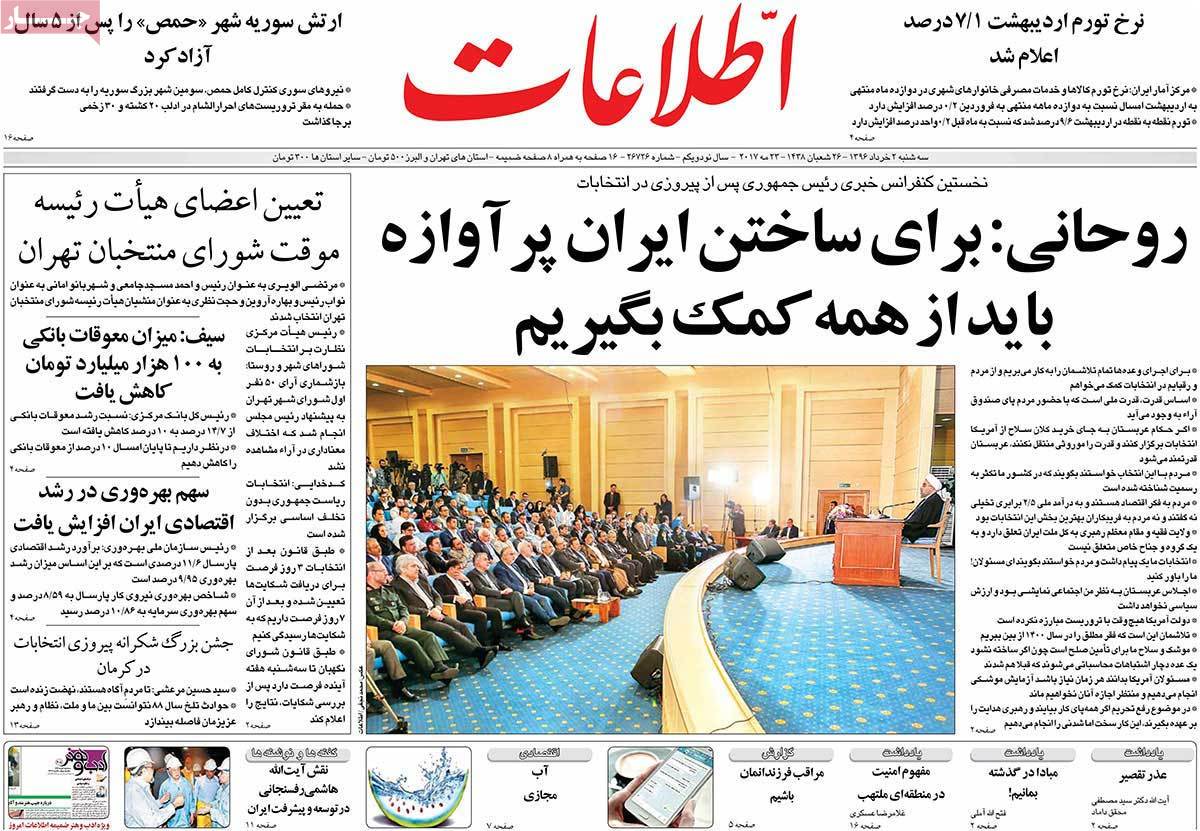 ---
Haft-e Sobh:
1- The 'Extended' Ones in Rouhani's Press Conference
[Rouhani's cabinet members whose terms have been extended by people's vote]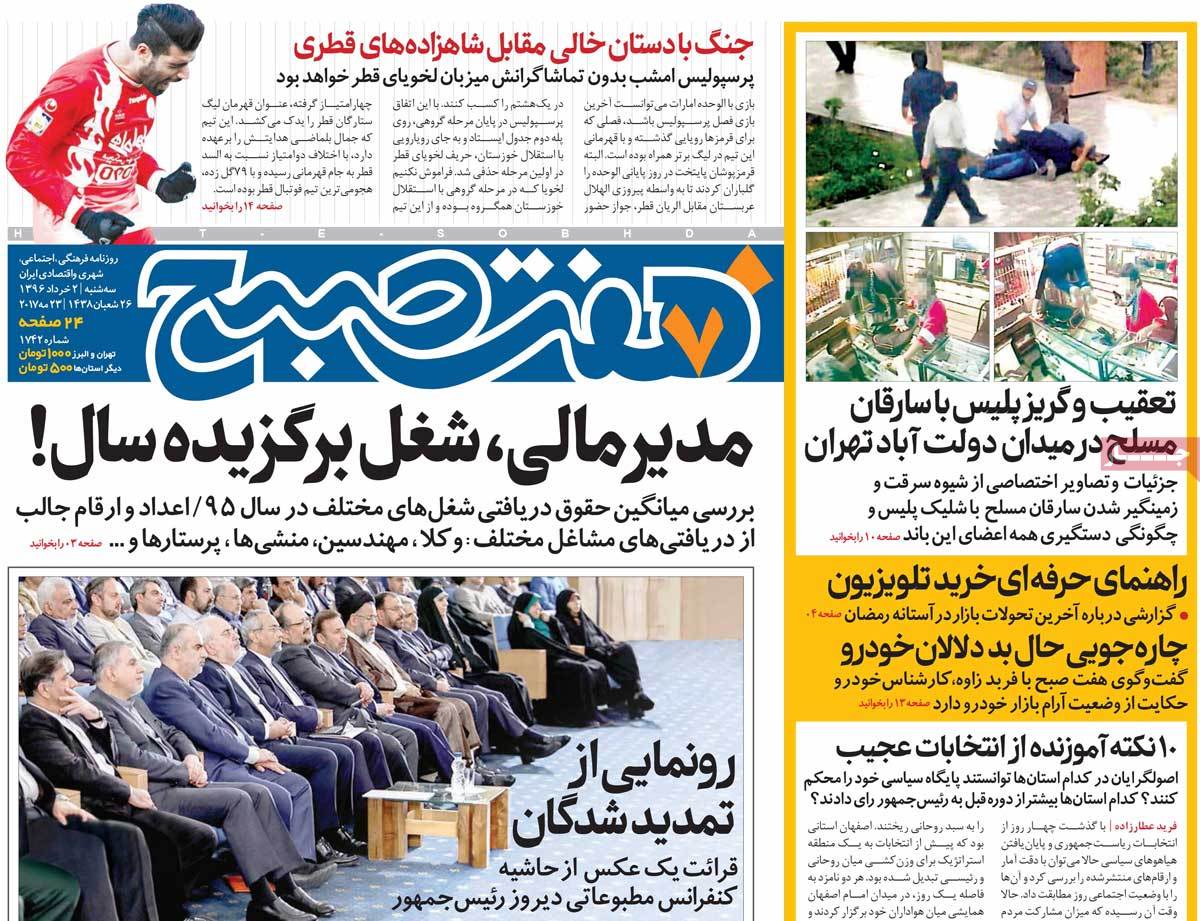 ---
Hemayat:
1- Iran to Use Ankle Monitor for Alternative Punishments: Official
2- Ankle Monitors to Be Used on Prisoners in 6 Months
3- UNESCO 2030 Document Aimed at Imposing West's Secular Culture: Clerics
4- Trump's Second Step: Robbing the Zionists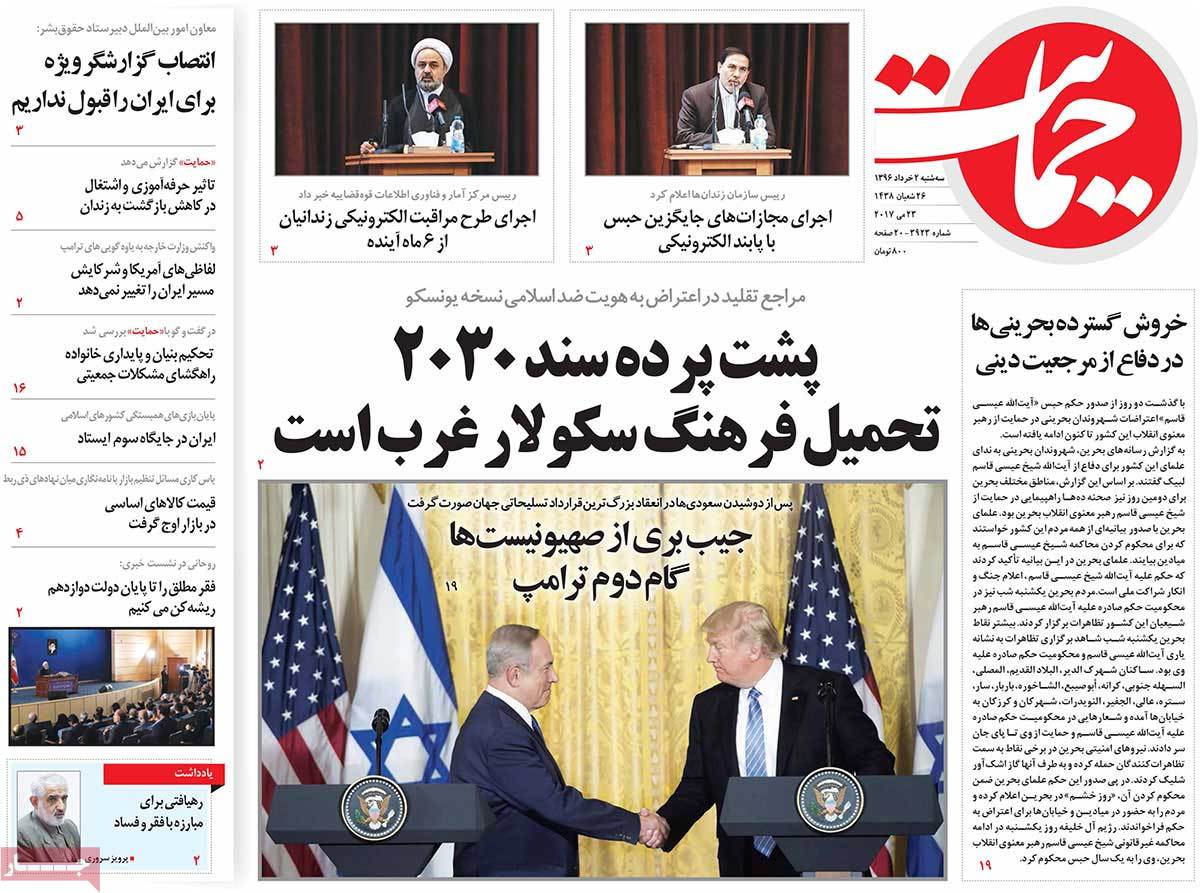 ---
Iran:
1- 415 Women Elected to City, Village Councils in Sistan and Baluchestan
Observers Surprised by Change of Masculine Face of Local Councils in Eastern Iran
2- Rouhani: Everyone Should Help Us in Developing the Country
I Ask All Parties, Factions, Opponents to Help Us Work for Nation, Country
Our Message Was National Solidarity, Int'l Dialogue
---
Jame Jam:
1- Rouhani: Cabinet Will Get a Little Bit Younger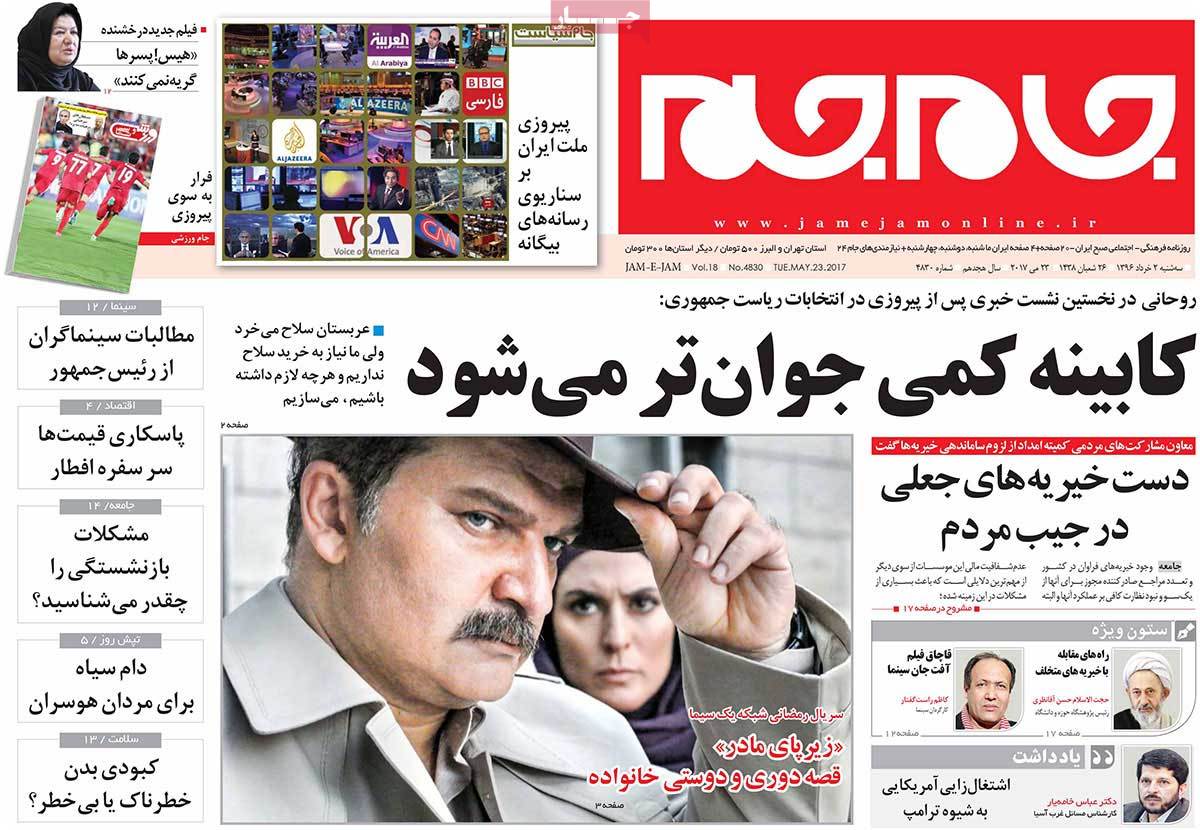 ---
Javan:
1- Rouhani: We Don't Ask for Anyone's Permission for Missile Tests
Saudis Buys US Weapons, Asks for Their Permission to Use Them
Iran Develops Any Weapon It Wants
2- Trump Becomes Bridge between Tel Aviv, Riyadh
3- Netanyahu: I Hope Someday We Can Directly Go to Riyadh from Tel Aviv!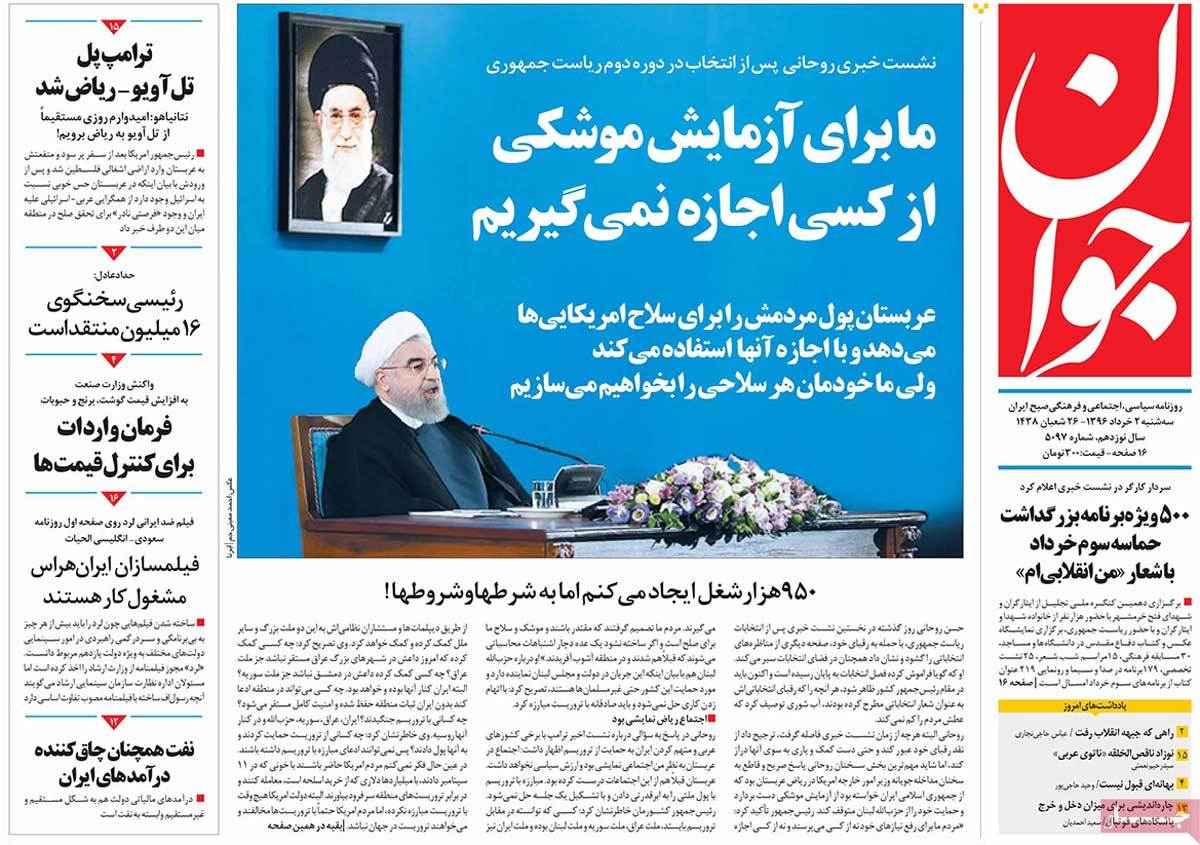 ---
Ka'enat:
1- Hush Money for American People: Saudi Arabia Paying Billions to Trump
2- Rouhani: US People Won't Trade 9/11 Bloodshed with Saudis' Petrodollars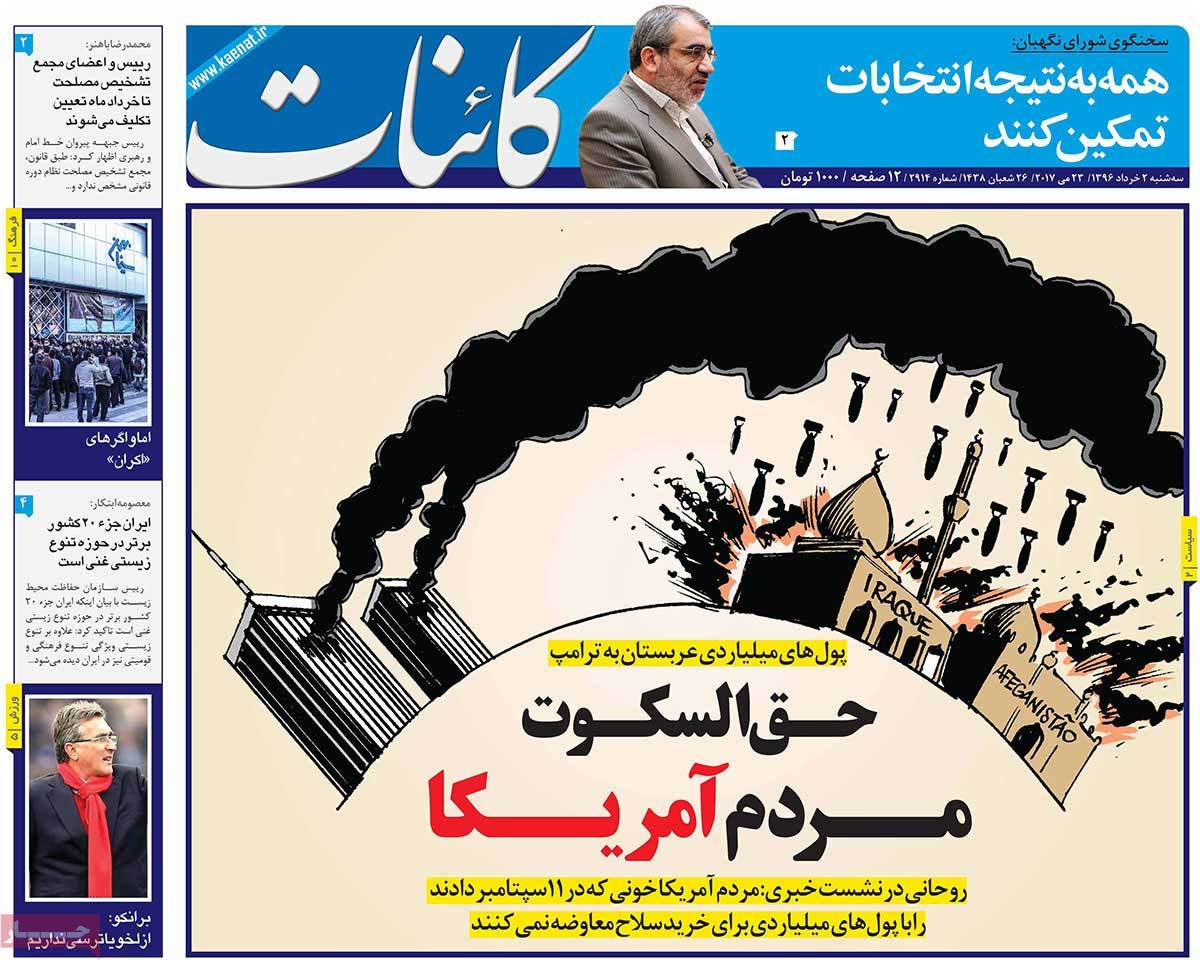 ---
Kar-o Kargar:
1- Rouhani: Absolute Poverty to End by 4 Years
---
Kayhan:
1- US Impudence in Threatening Iran Result of Attack on Islamic Republic's 38-Year Dignity
2- Grandfather of Takfiris Gives Trump $500bn
3- Saudi Arabia Becomes World Centre to Counter Extremism!
4- Rouhani Receives Spectre of War from US as a Gift on Re-Election
5- 90% of Israel within Range of Hezbollah Missiles
---
Quds:
1- Rouhani Now Talks of Ifs and Buts in Fulfilling Promises
2- Trump Touring Mideast to Spread Iranophobia
---
Resalat:
1- 2030 Document is Westerners' Instrument to Spy on Iran: Senior Cleric
2- Saudi Arabia, Bahrain Are Backyards of US: Ayatollah Nouri Hamadani
3- Iran Foreign Ministry: We'll Strongly Continue Missile Program
---
Rooyesh-e Mellat:
1- Trump: We're Faced with Iran Threat
2- Foreign Ministry: Iran is Voice of Peace in Region, World
---
Shahrvand:
1- Rouhani: Cabinet Will Get Younger
2- Southeastern Iranian Cities in Women's Hands
One-Third of Female Candidates Have Been Elected to City Councils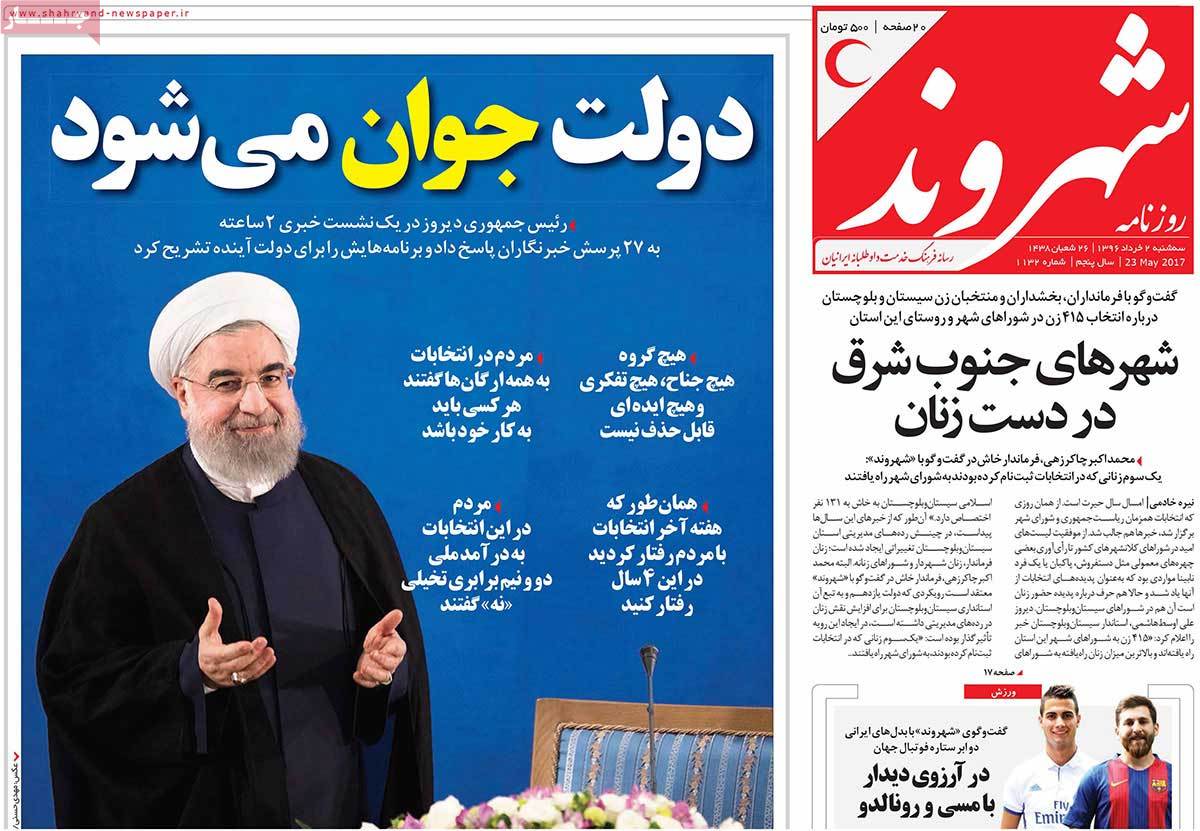 ---
Shargh:
1- We Didn't Have Any Major Electoral Offence: Guardian Council
2- Tehran's Reaction to Trump's Visits to Saudi Arabia, Israel
Diplomacy or Milking of $480bn?
---
Siasat-e Rooz:
1- Trump Delivers Riyadh's Gifts to Tel Aviv
2- JCPOA Sanctions Still in Place: Iran Parliament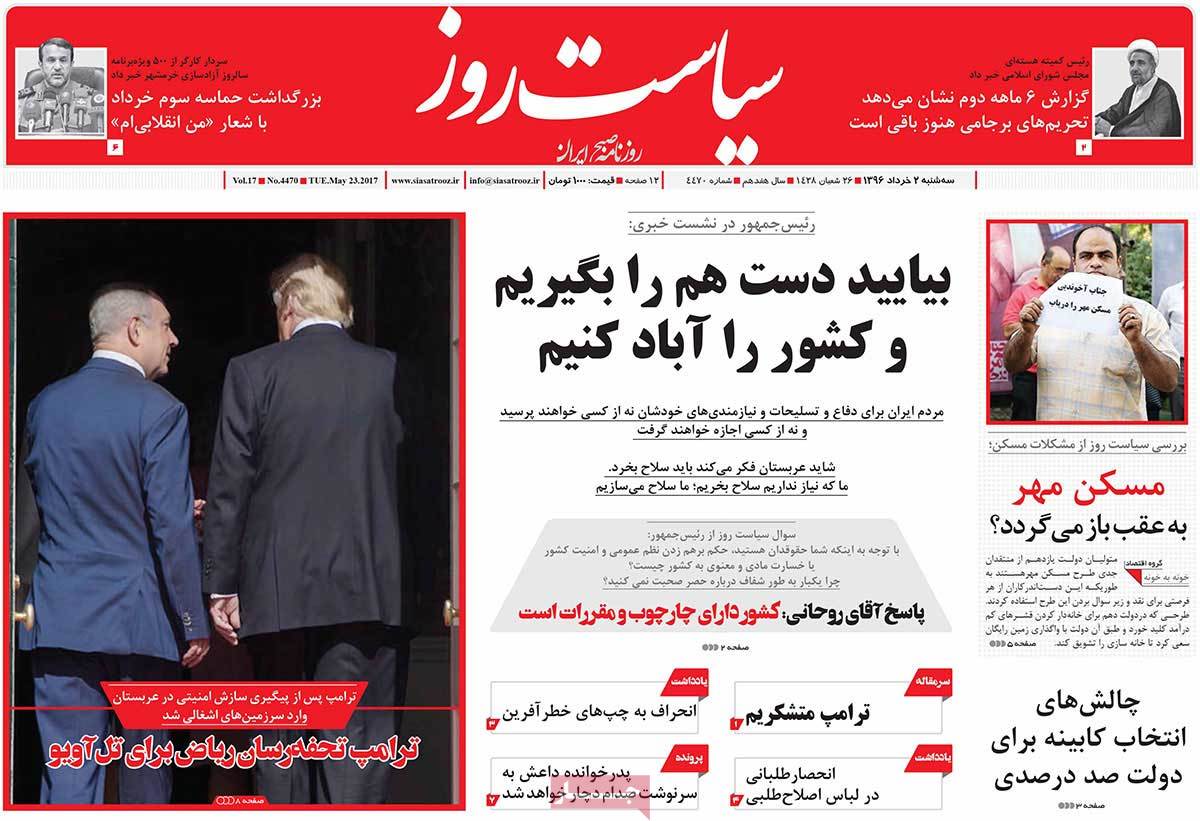 ---
Vaghaye Ettefaghieh:
1- Trump's Remarks Didn't Remain Unanswered
Iran Does Care about US-Arab Convergence
2- Assange: WikiLeaks to Remain a Bad Boy for Ever
---
Vatan-e Emrooz:
1- Trump's Gift to Rouhani
US President welcomed results of Iran elections by establishing Islamic-American NATO on pretext of Iran fear