All newspapers today covered the remarks made by the Leader of Iran's Islamic Revolution Ayatollah Seyyed Ali Khamenei in a Thursday meeting with a Syrian delegation.
Also a top story was the visit of FIFA President Gianni Infantino to Tehran and his meeting with Iranian President Hassan Rouhani. A particular focus of today's reports was the presence of women in football stadium, which was emphasized by the FIFA president and vowed to be pursued by Rouhani.
The ongoing water crisis in Iran and ways to cope with it, as well as a parliamentary motion to oblige Iranian officials to restitute their ill-gotten properties and wealth also received great coverage today.
The above issues, as well as many more, are highlighted in the following headlines and top stories:
19 Dey:
1- Iran Leader: Enemies Cannot Do a Damn Thing
---
Abrar:
1- Iraqi Parliament Sets Deadline for Withdrawal of Foreign Forces
2- US Court Rules Details of Boeing Deal with Iran Must Be Releasedx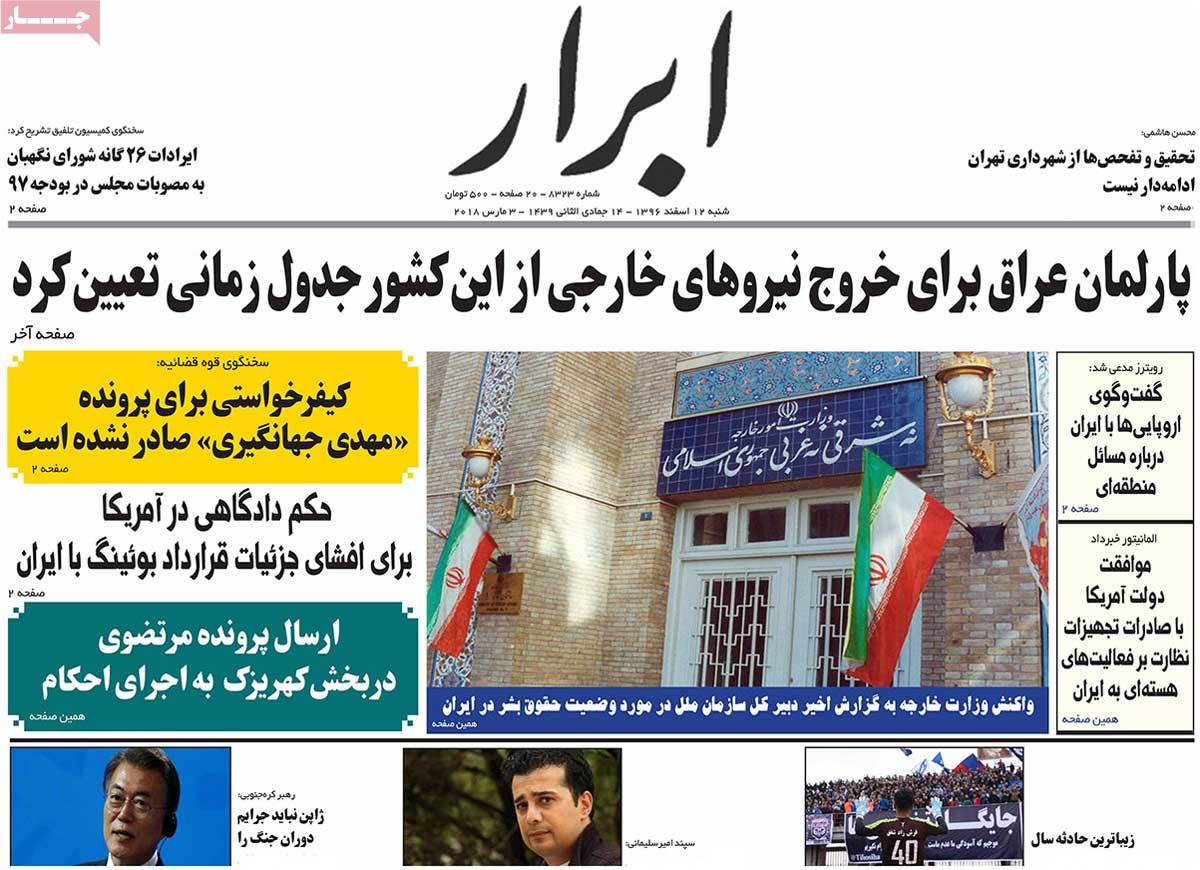 ---
Afkar:
1- IRGC General Rahim-Safavi: Security of Iraq, Syria Indebted to Blood of Iranian Martyrs
---
Aftab-e Yazd:
1- Putin Shows Off Moscow's Power
Russian President Talks of New Missiles that Can't Be Intercepted
2- Yazd's Wind-catchers in Hands of Dubai's Arabs!
Arabs Seek to Create Man-made Attractions to Attract Tourists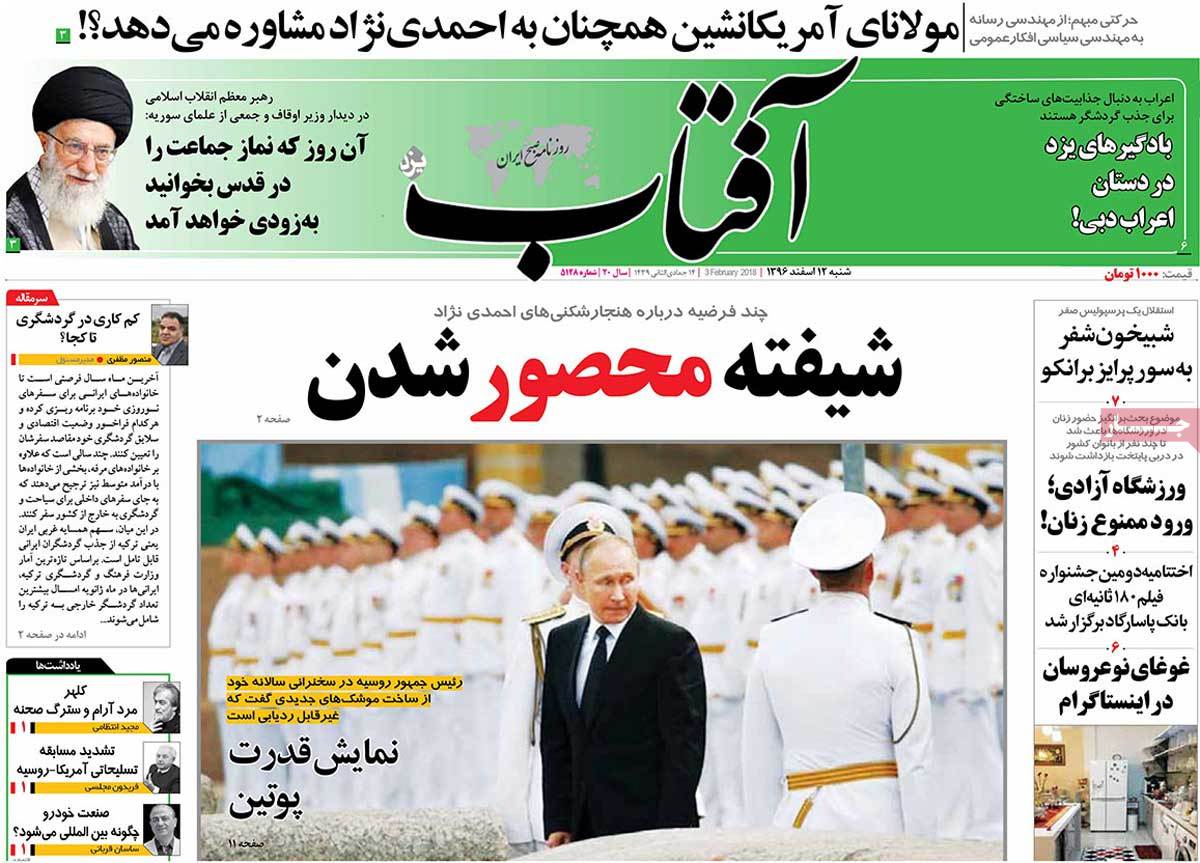 ---
Arman-e Emrooz:
1- Iran Leader to Syrian Delegation: You'll Soon Say Your Prayers in Al-Aqsa Mosque
2- Lobby Groups Criticized for Blocking Impeachment of Two Ministers
3- Warning: 3 Billion Dollars' worth of Water Wasted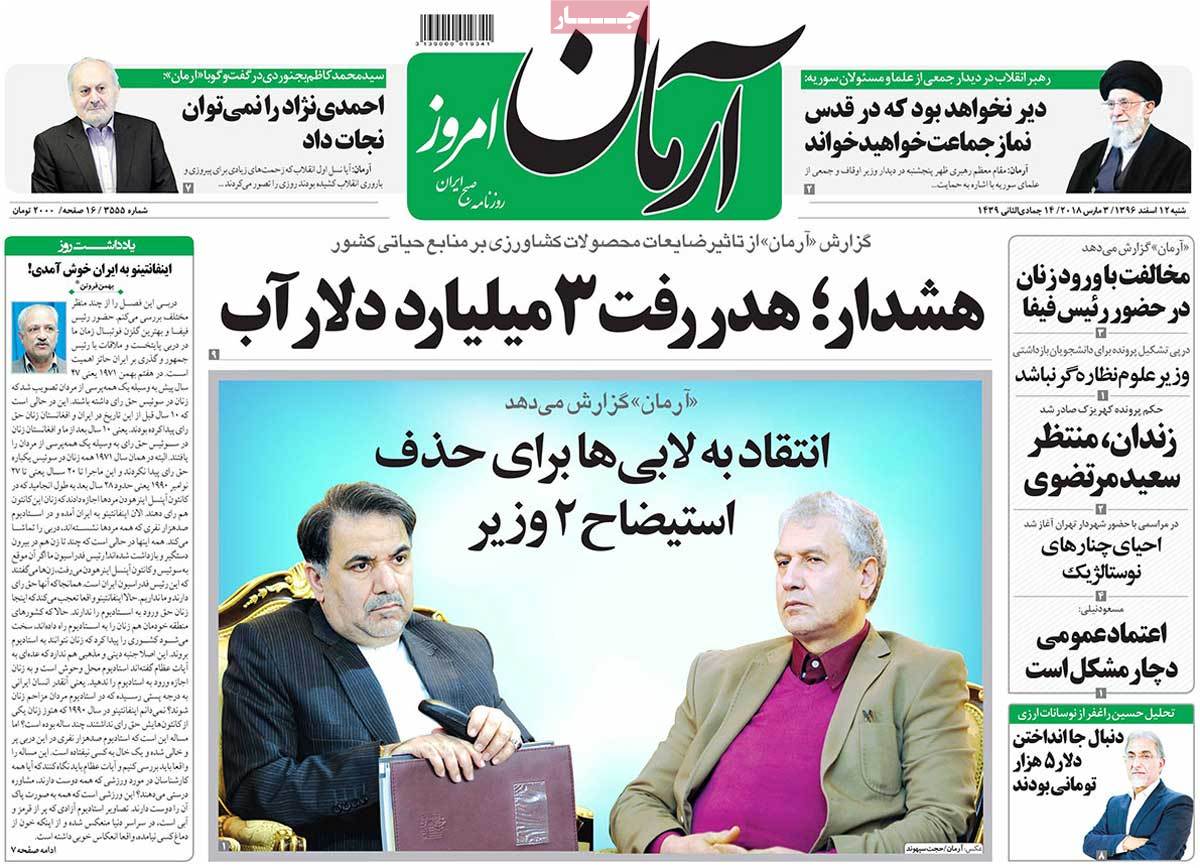 ---
Asrar:
1- Asia's Oil Imports from Iran Increased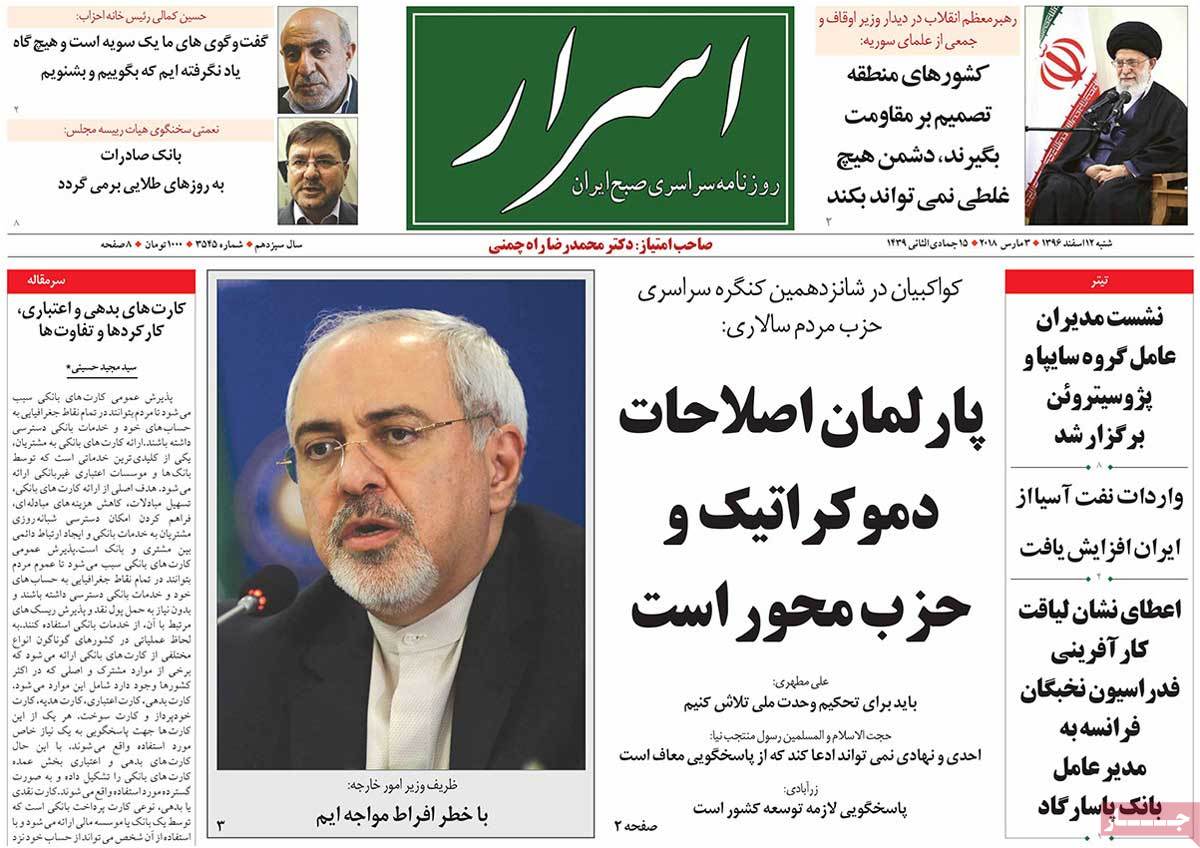 ---
Ebtekar:
1- Iran Leader: We Must Ignore Those Whose Actions Are against Muslim Unity
2- Bin Salman's Policies: From Riyadh to Quds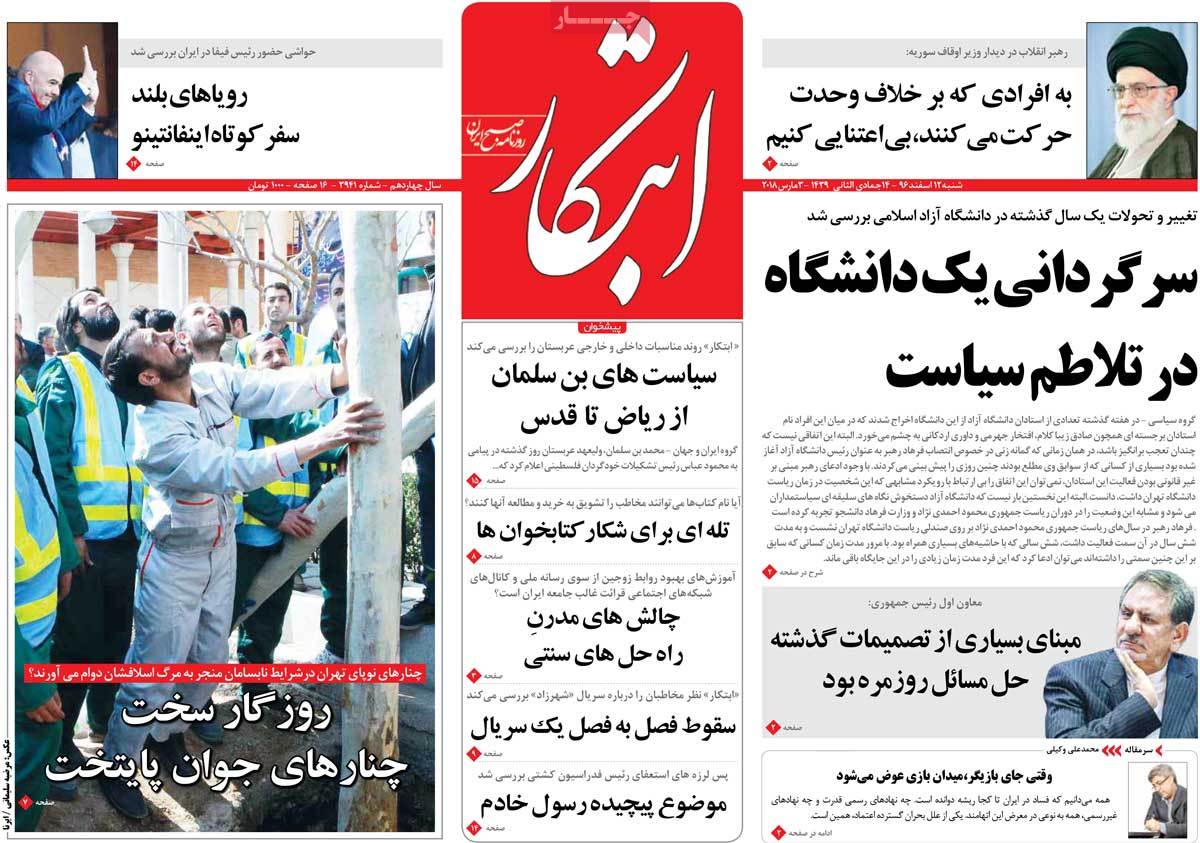 ---
Etemad:
1- An Initiative for Peace or Withdrawal in Trump's Favour?
Iran, Europe Start Regional Negotiations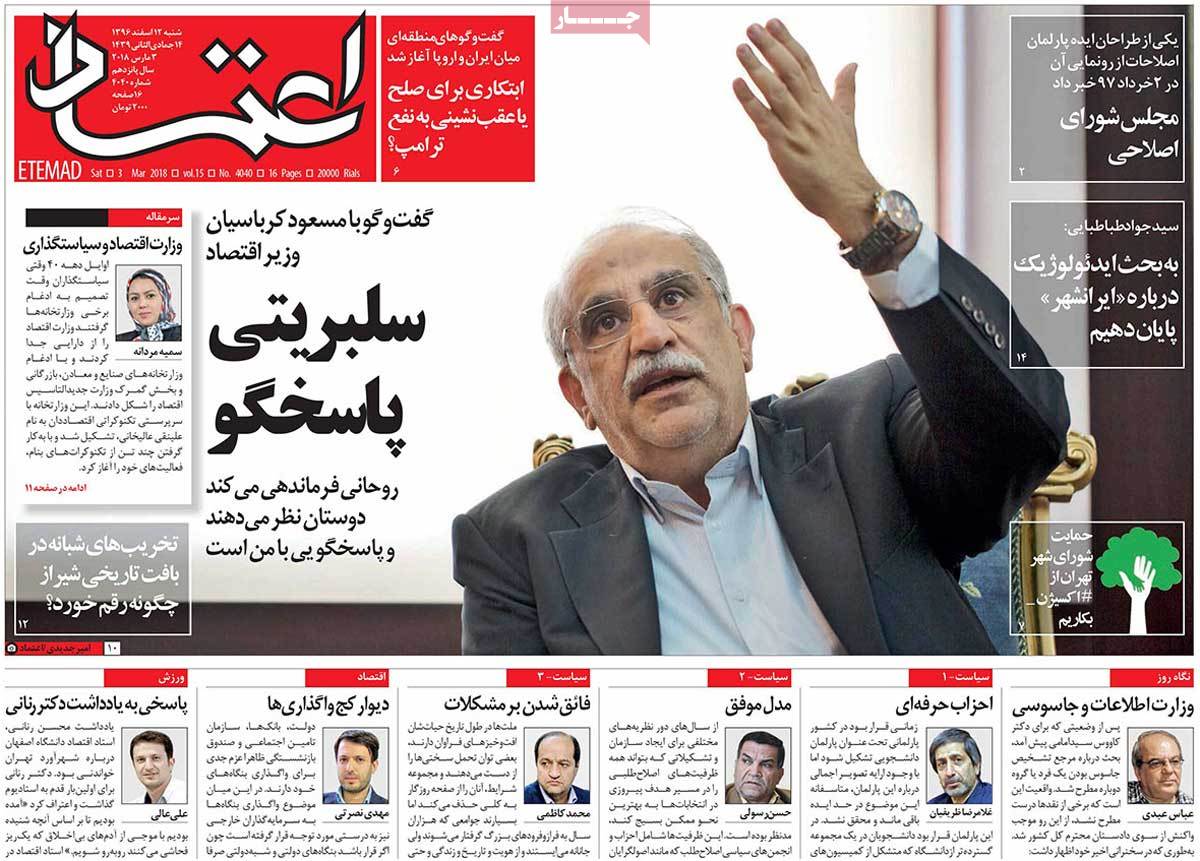 ---
Ettela'at:
1- Putin: We Won't Hesitate in Using Nukes to Defend Ourselves, Our Allies
2- Mayor: Tehran to Turn into Best City in Terms of Green Spaces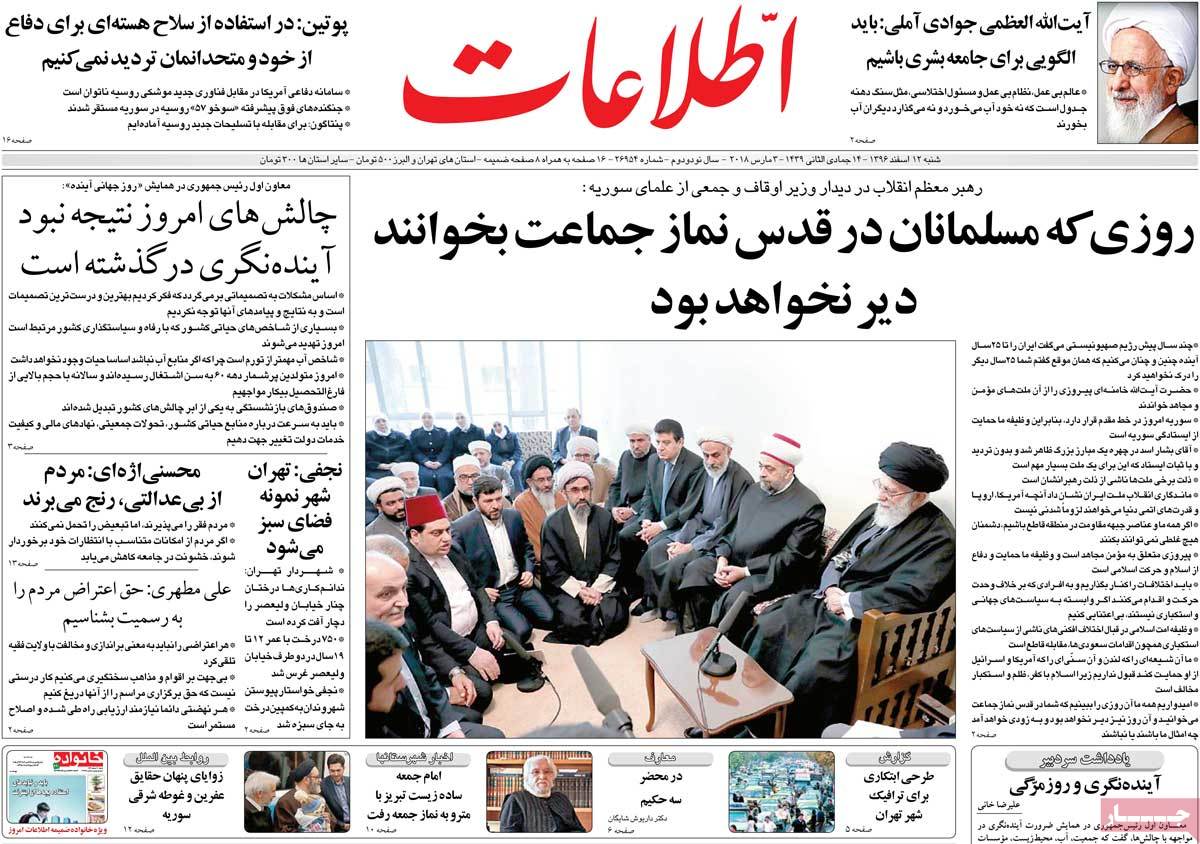 ---
Iran:
1- Economy Minister: Bankruptcy of Iranian Banks Sheer Lie
2- Iran President Rouhani Receives FIFA Shirt as a Gift
3- Instructions Being Issued for Women's Presence in Stadiums: VP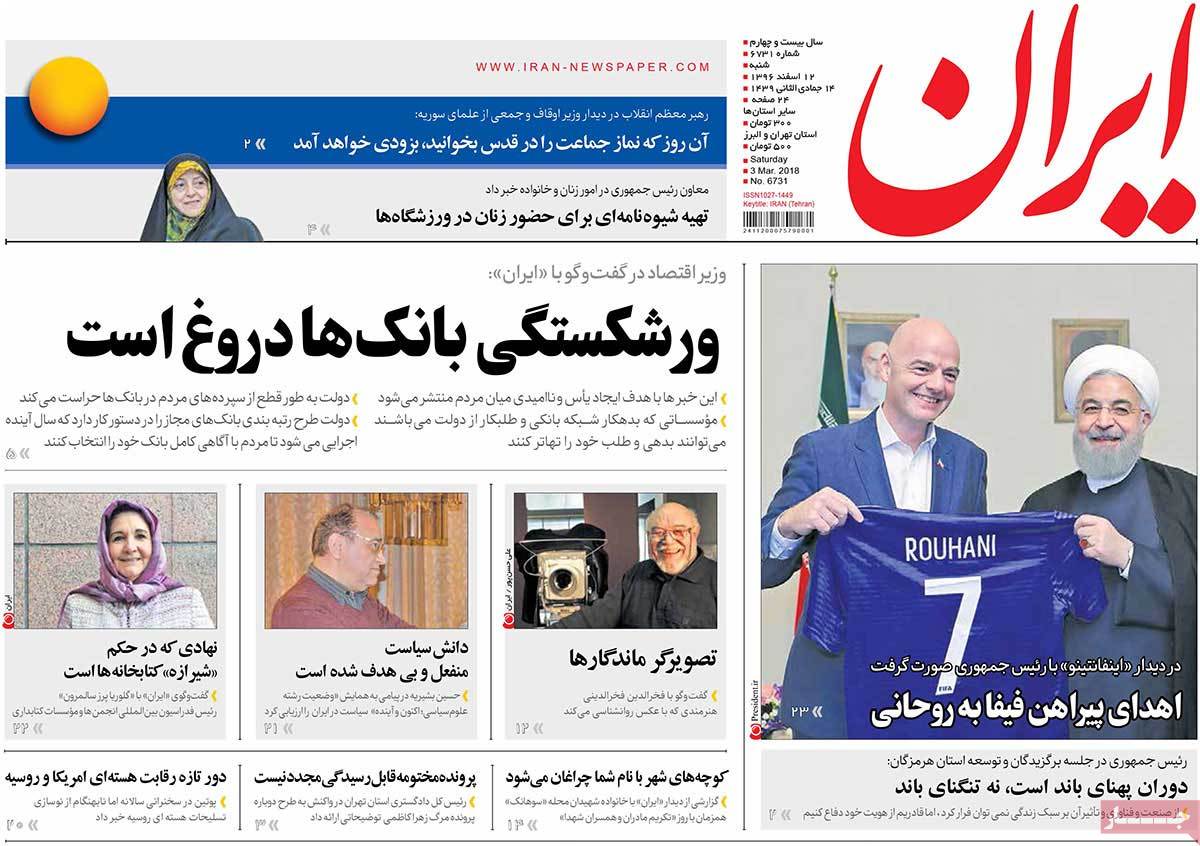 ---
Javan:
1- Rouhani: IRGC Tasked with Fighting Contraband Goods in Persian Gulf
2- Massive Support for Parliament's Plan to Oblige Officials to Give Back Properties Illegally Gained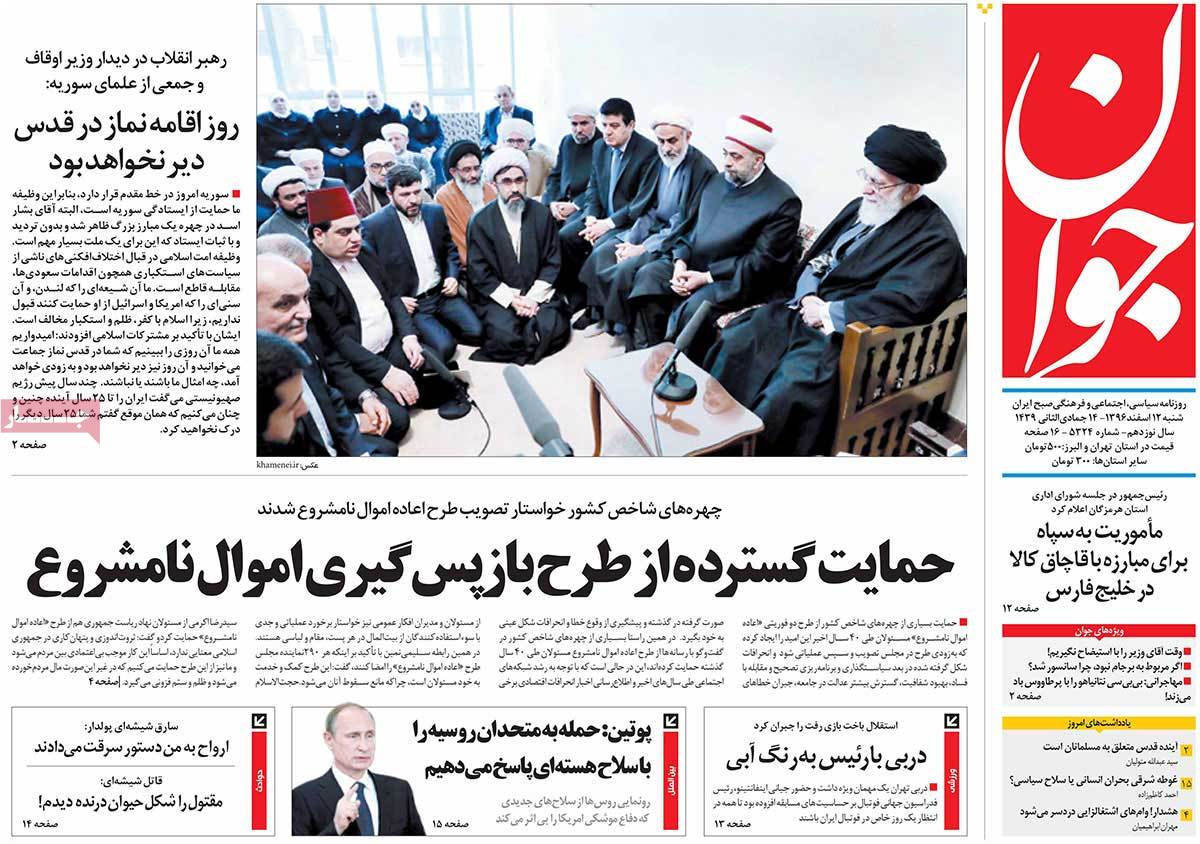 ---
Jomhouri Eslami:
1- Iran Leader: It Is Muslim Society's Duty to Strongly Counter Divisive Plots
2- Russia Warns US against Looking for Pretexts to Attack Syria
3- Americans Believe Trump Is a Racist Man
4- Israeli Rabbi: Bahraini King Led Efforts to Designate Hezbollah as Terrorist Organization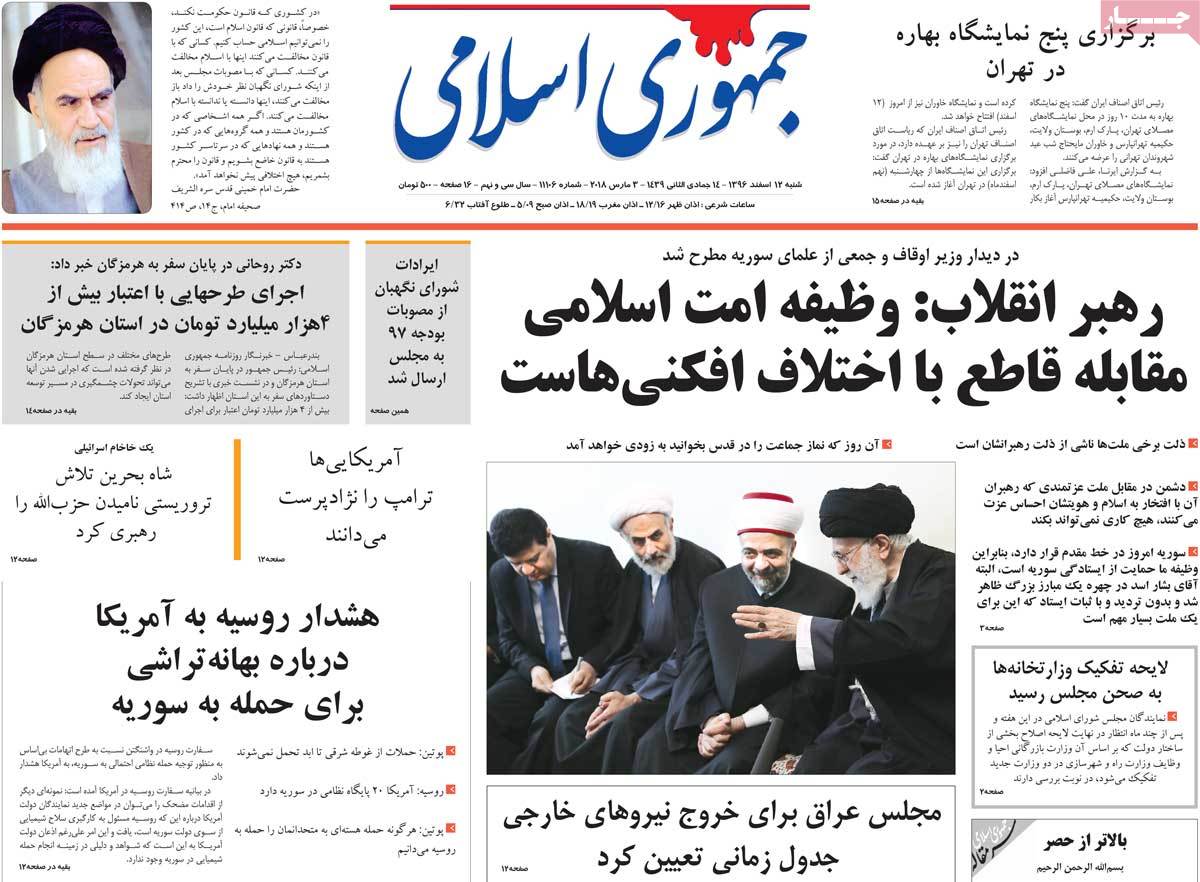 ---
Kayhan:
1- Iran Leader: Friday Prayers in Holy Quds Imminent
2- Prosperity of France's Economy Hinges on Iran's Market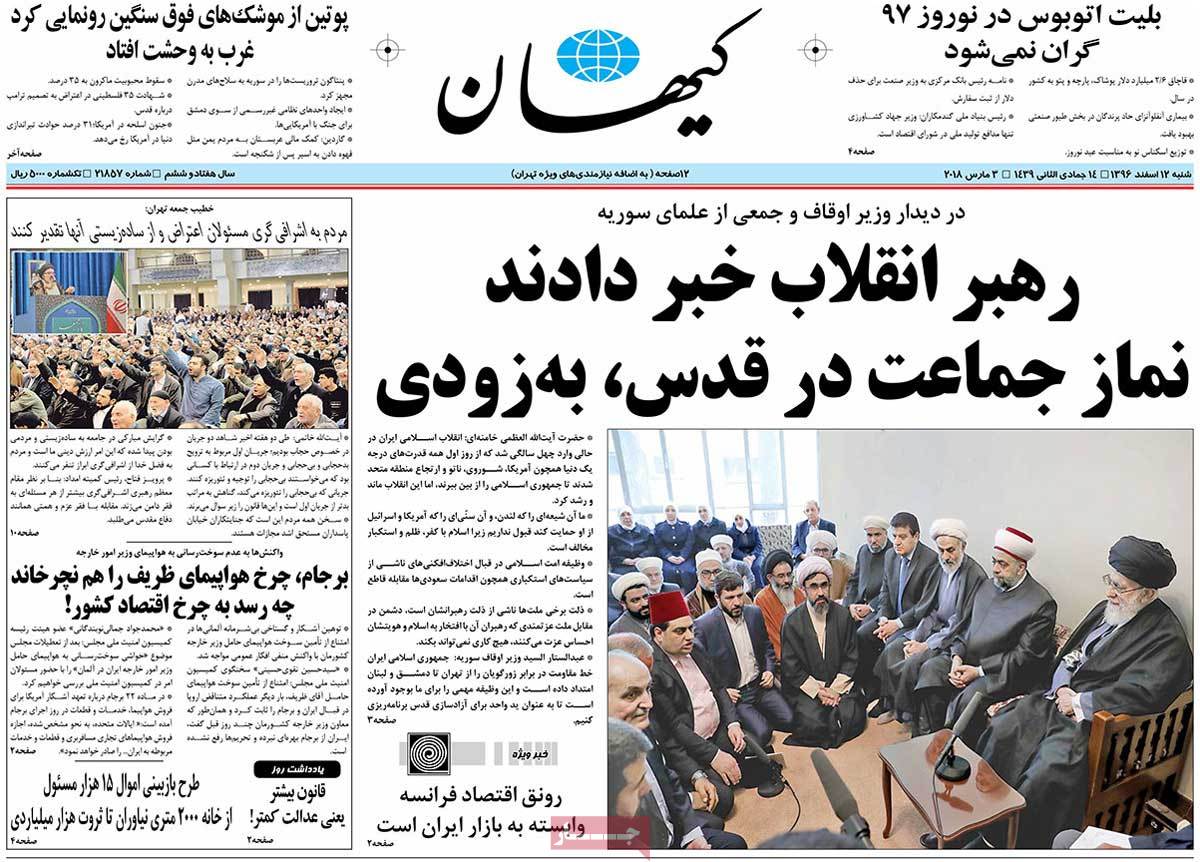 ---
Khorasan:
1- Waiting for Infantino's Decision to Resolve Iran-Saudi Dispute
---
Payam-e Zaman:
1- Future of JCPOA and Three Viewpoints
Iran Won't Pay the Price for Europe's Playing with Politics
2- Alarming Level of Water Resources in Iran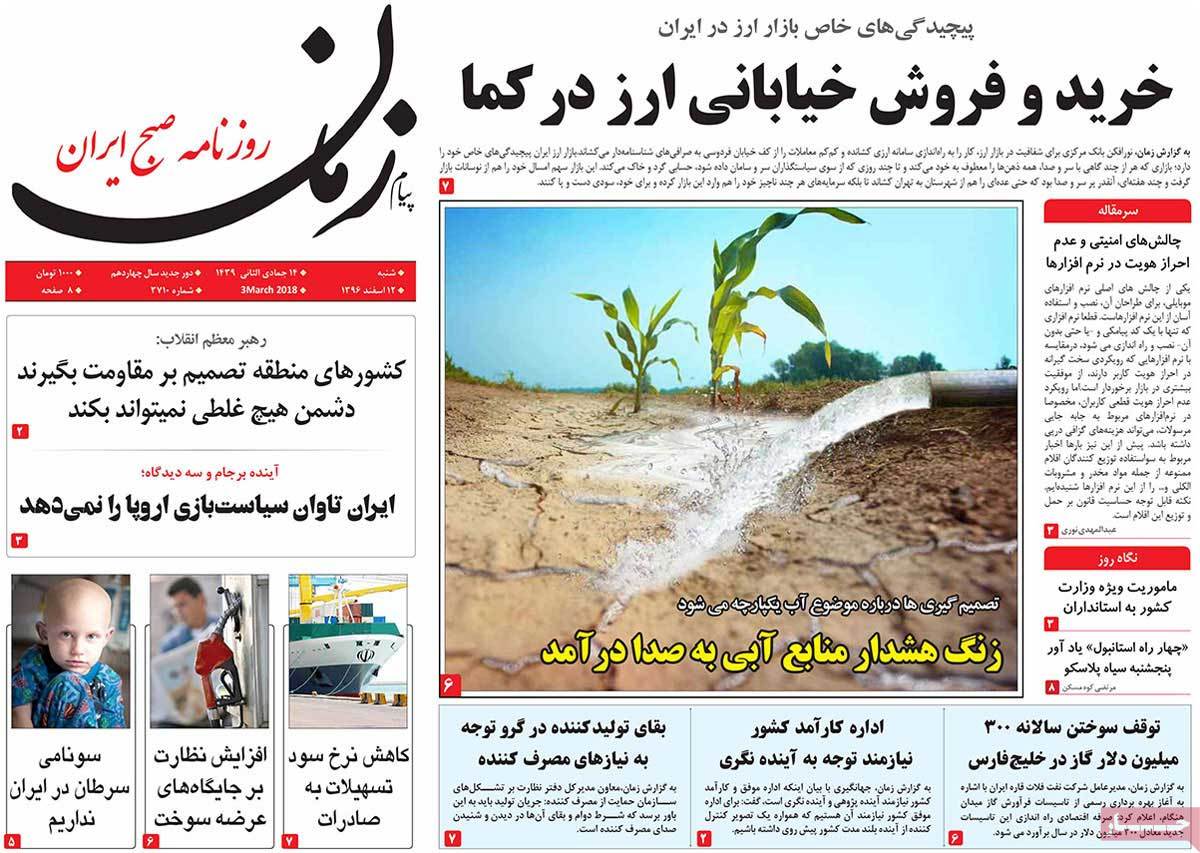 ---
Rah-e Mardom:
1- Coalition of Elites to Resolve Water Issue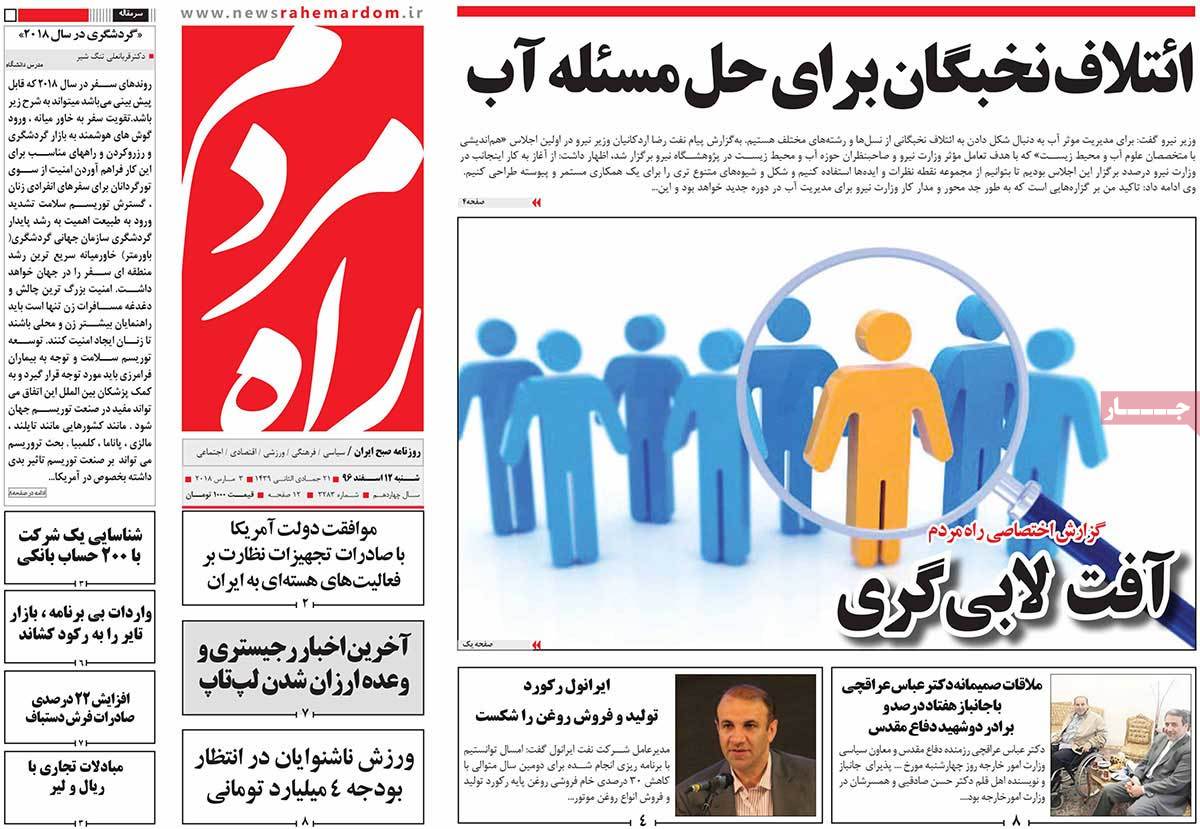 ---
Sayeh:
1- FM: Fight against Terrorism Common Concern of Iran, EU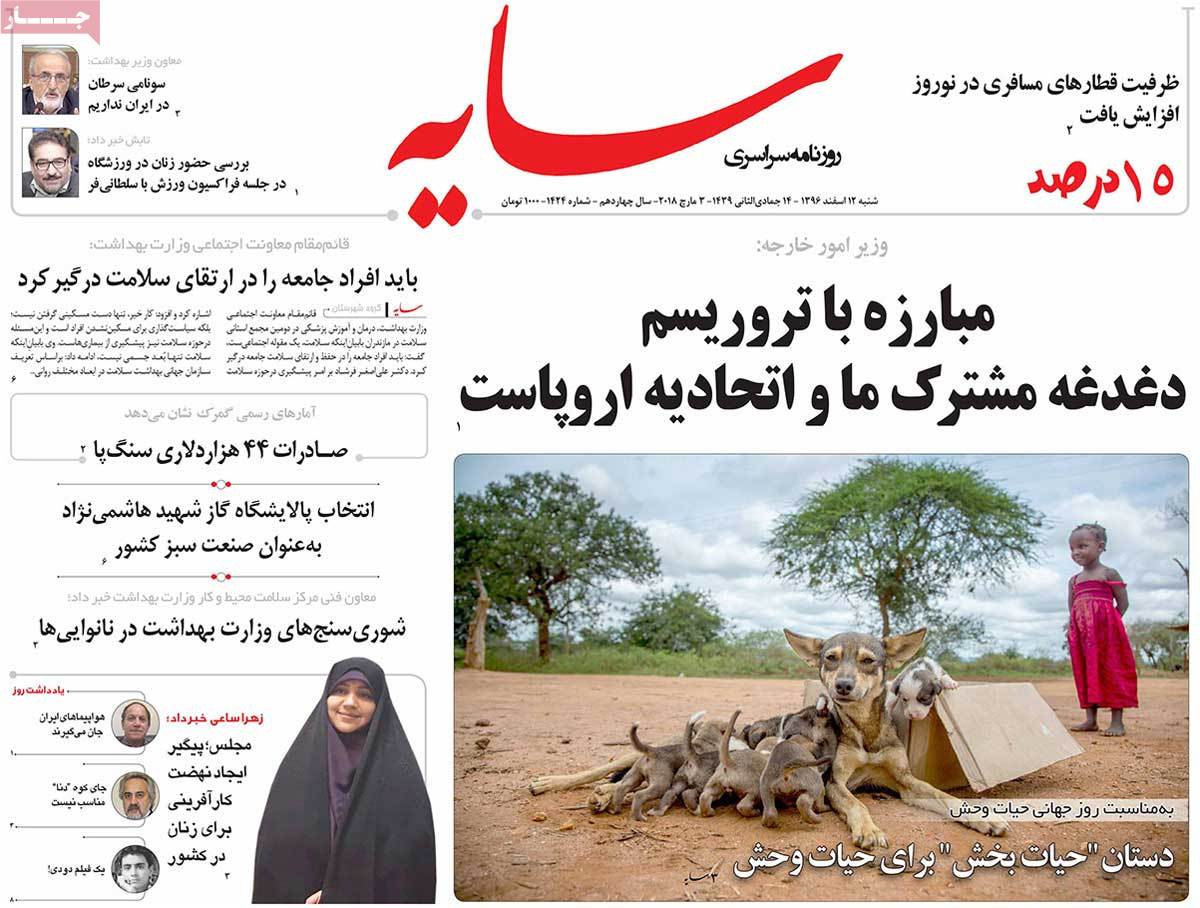 ---
Sazandegi:
1- Friend or Foe?
Russia Once Again Uses Veto Right in Favour of Iran
Russia Can Be Iran's Ally Strategically, Not Ideologically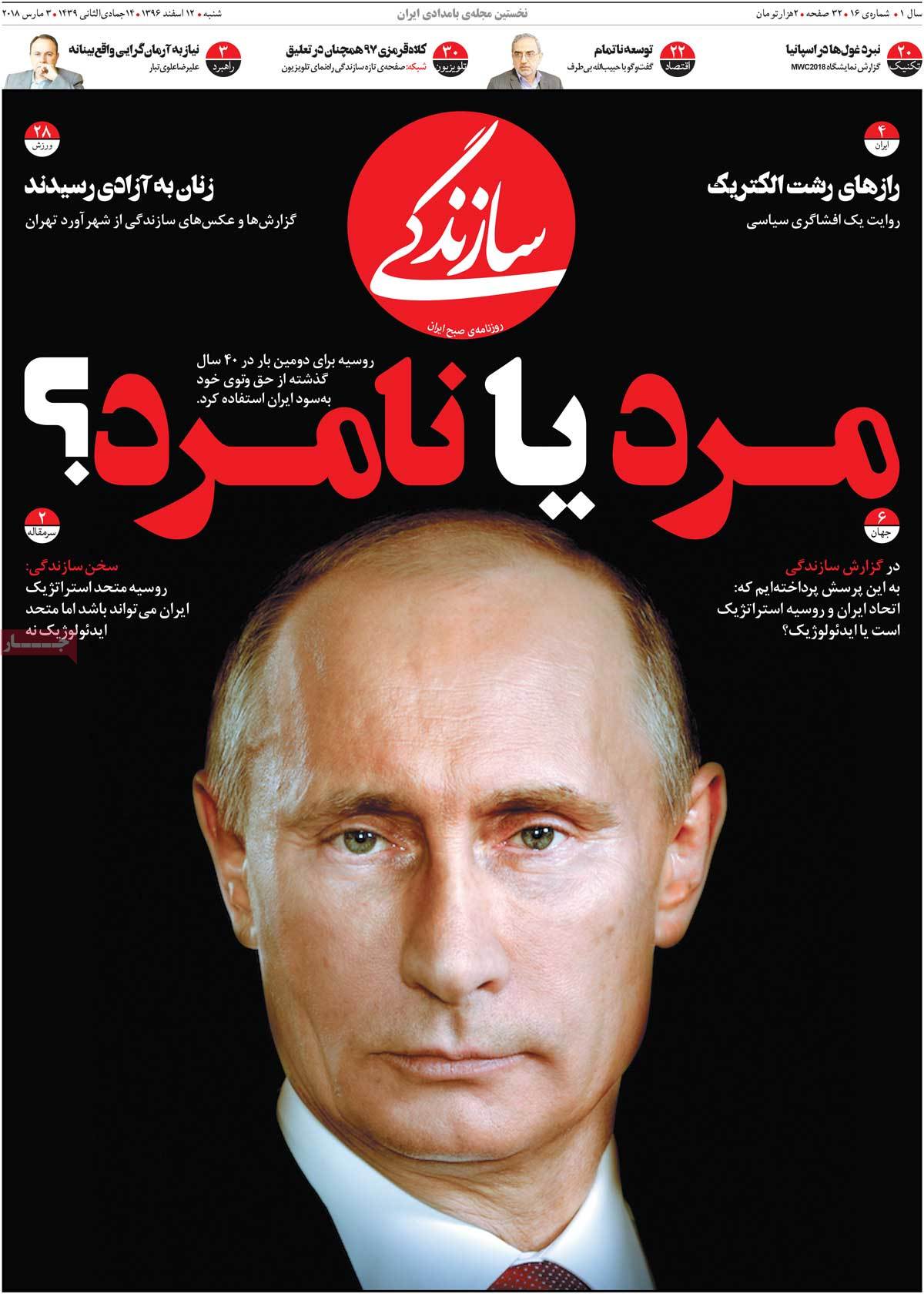 ---
Shahrvand:
1- Infantino Threatens Iran and Go Away!
FIFA Won't Support Iran Anymore If Broadcast Rights Not Paid for
Rouhani Vows to Pursue Issue of Women's Presence in Stadiums
FIFA President Invites Rouhani, Sports Minister to Attend FIFA World Cup Opening Ceremony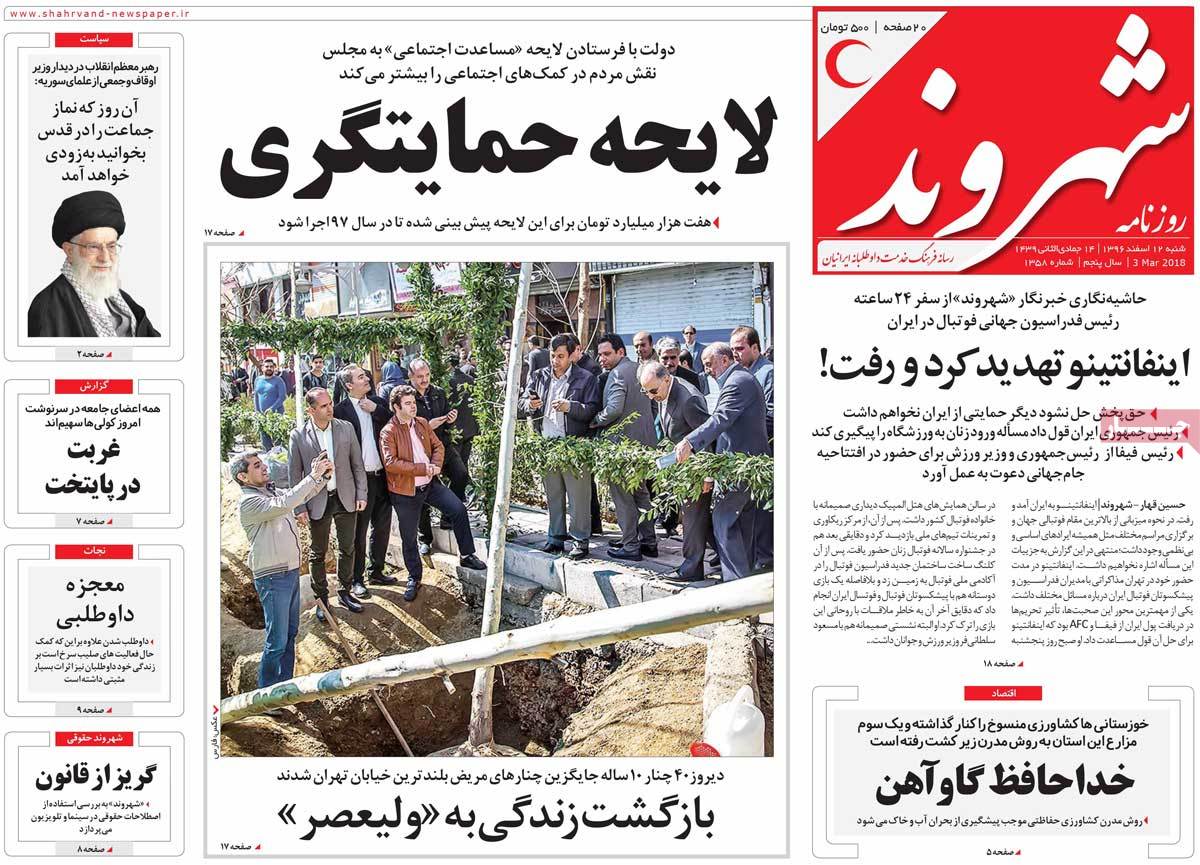 ---
Shargh:
1- Iran Leader: Mr Bashar Assad Appeared as a Great Warrior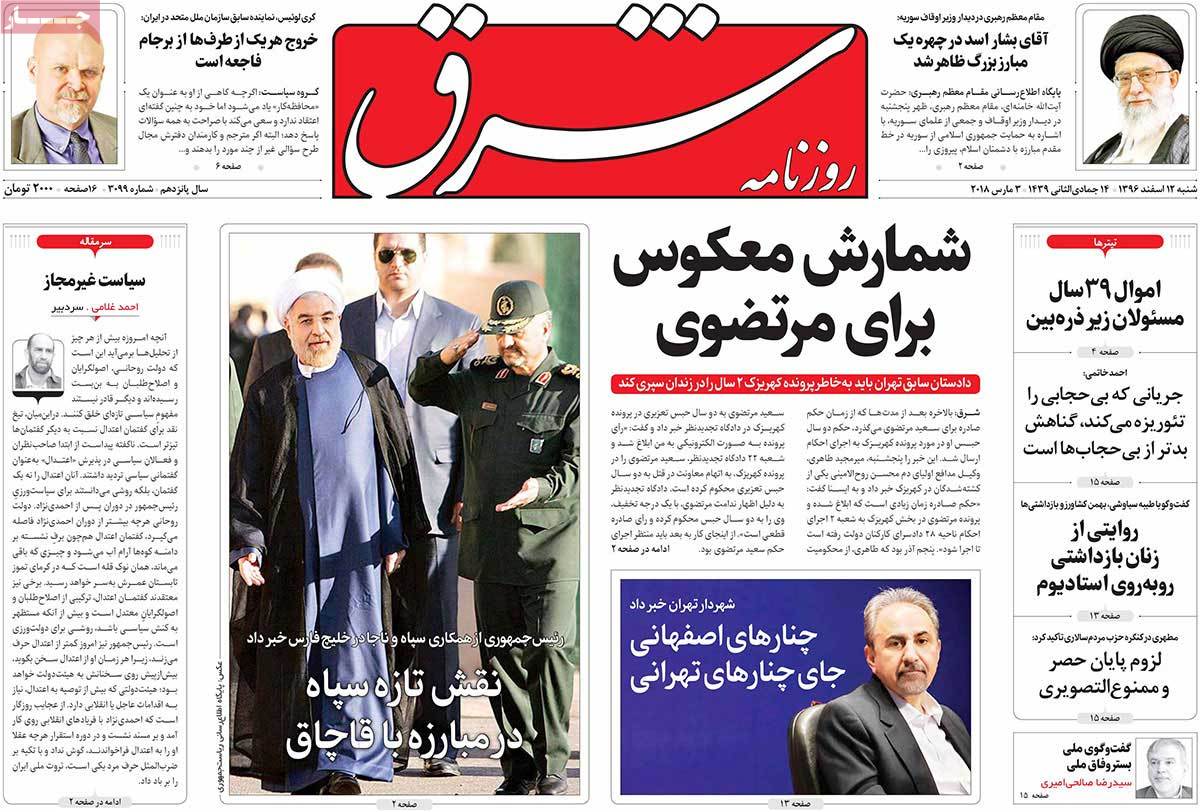 ---
Sobh-e Now:
1- Ghouta Filled with Blood: Israeli-Made Weapons in Hands of Syrian Dissidents