Almost all papers today covered the controversy over the Munich Airport's refusal to provide fuel for Iranian Foreign Minister Mohammad Javad Zarif's plane for the fear of US sanctions. The plane finally was refuelled by the German army, but the issue has turned into a pretext for critics of Rouhani's government, and the nuclear deal in particular.
The 86th derby between Tehran football giants Esteghlal and Persepolis also received great coverage. The great match will see FIFA president Giani Infantino as its special guest.
A decision by the Central Bank and Ministry of Trade and Industry to remove the US dollar from certain commodity exchanges was also a top story today, as it will help the country's economy get rid of the greenback gradually.
The above issues, as well as many more, are highlighted in the following headlines and top stories:
Abrar:
1- Prosecutor General: Intelligence Ministry Responsible for Identifying Spies
2- Zarif Calls for Establishment of Tehran-Sofia Joint Energy Committee
3- Rouhani: Persian Gulf States Must Think of Forming Bigger Alliance
4- US, European Allies Issue Anti-Iran Statement on Yemen
5- US Shows Meddlesome Reaction to Iran Justice Minister's Participation in UNHRC Session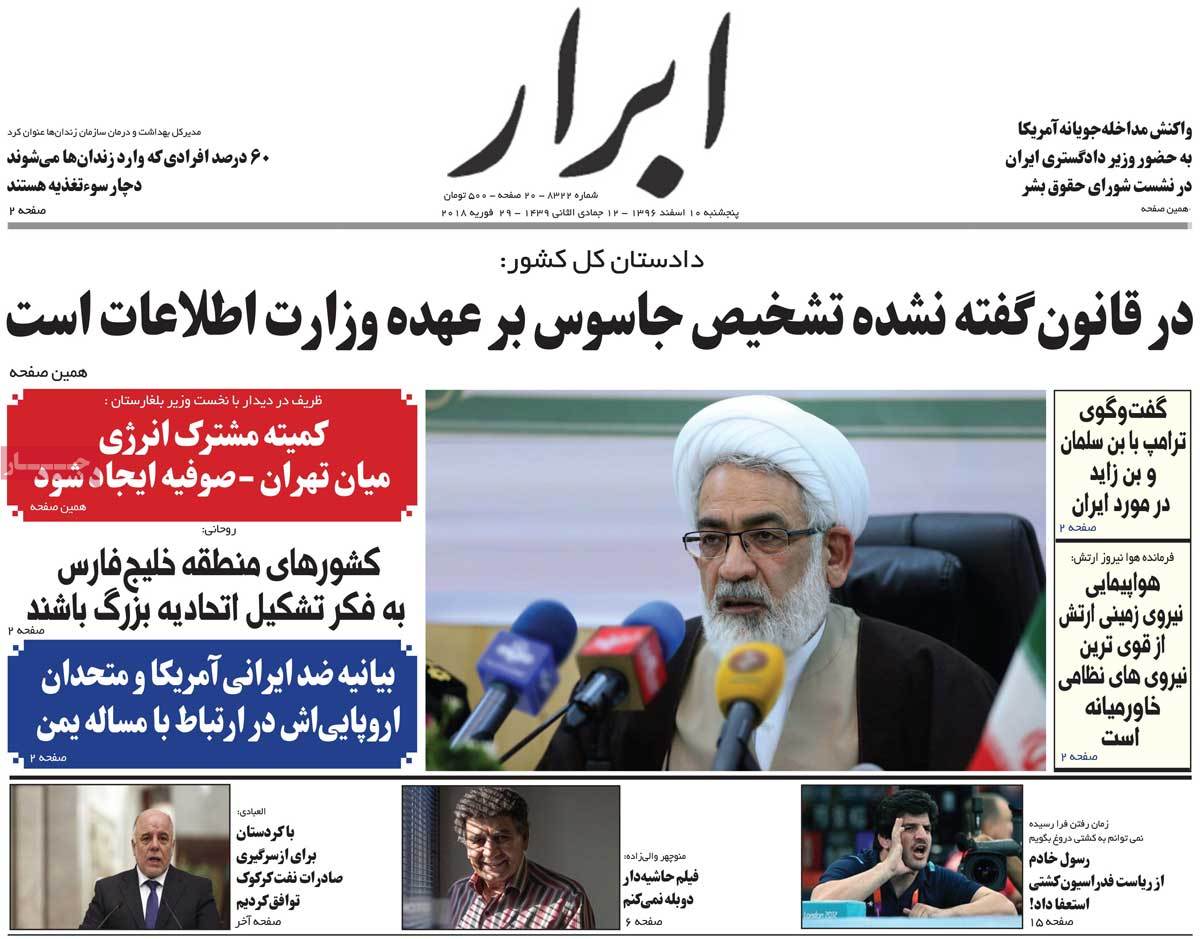 ---
Aftab-e Yazd:
1- German Army Refuels Zarif's Plane to Prevent It from Being Grounded
2- Politician Calls for Live Debate between Veteran Conservative, Reformist Figures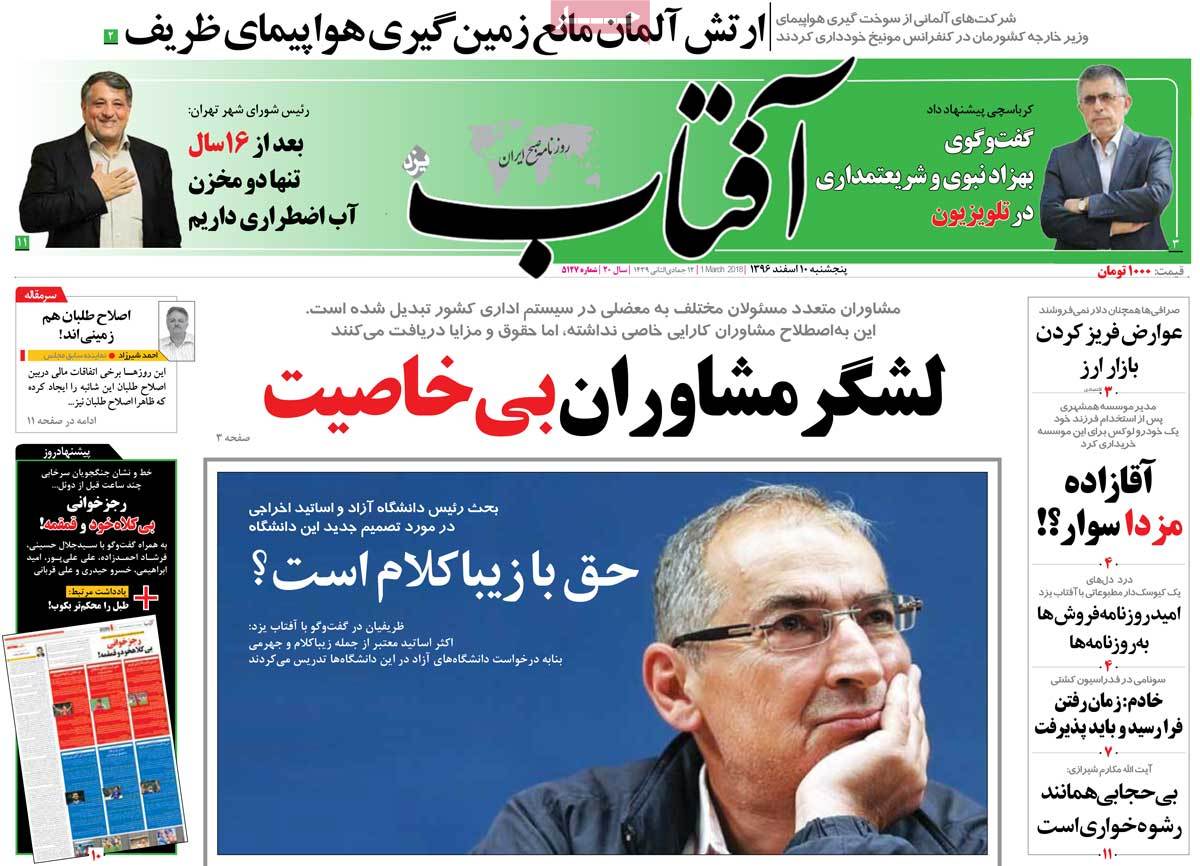 ---
Arman-e Emrooz:
1- Central Bank Governor Discloses Ambiguous Bank Accounts
2- Rouhani: I'll Fight to Let People Know about Details of Budget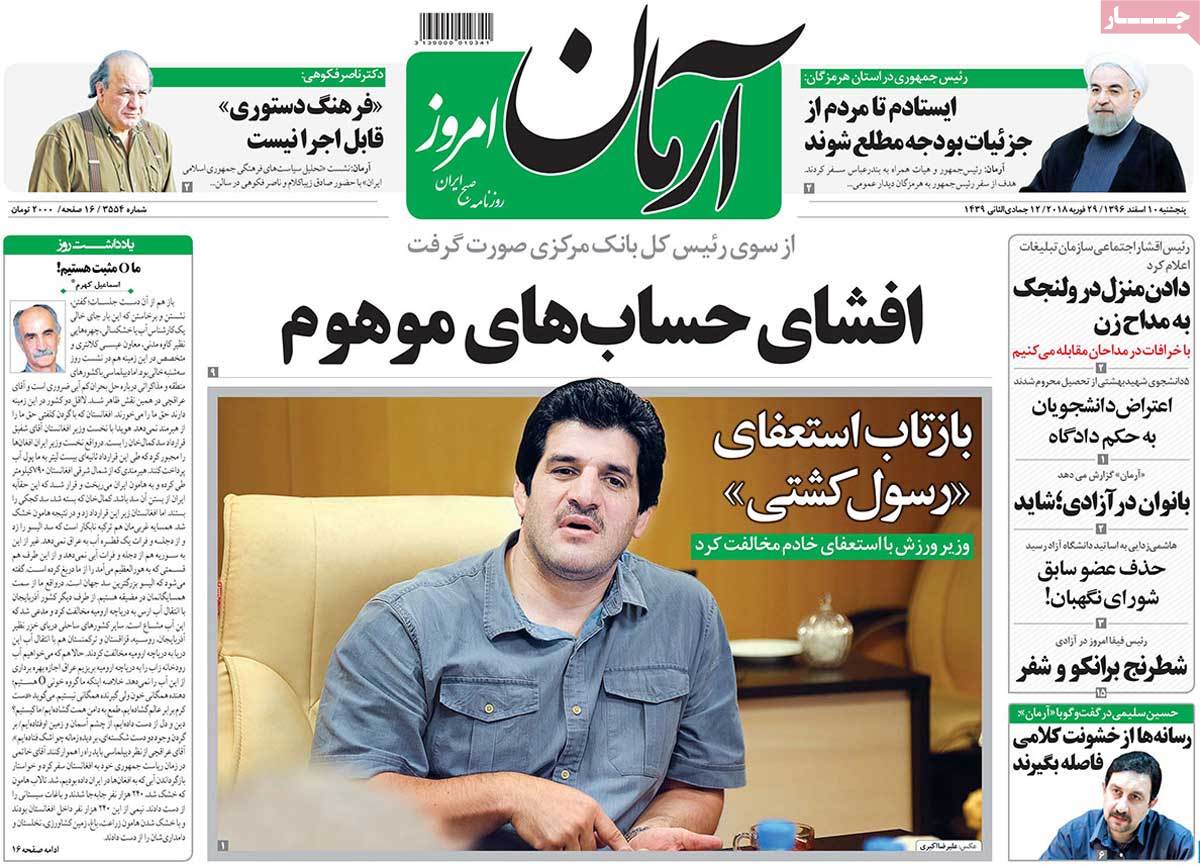 ---
Ebtekar:
1- Syria, Hell on Earth: UN Security Council Once Again Convene on Eastern Ghouta
2- Everything Prepared for Great Derby in Tehran: Revenge of Sweet Championship
3- Parliament Trying to Revise Law on Value Added Tax, Which Swallowed Iran's Economy
4- Rouhani: We Won't Hold Talks with Any Country over Defence Power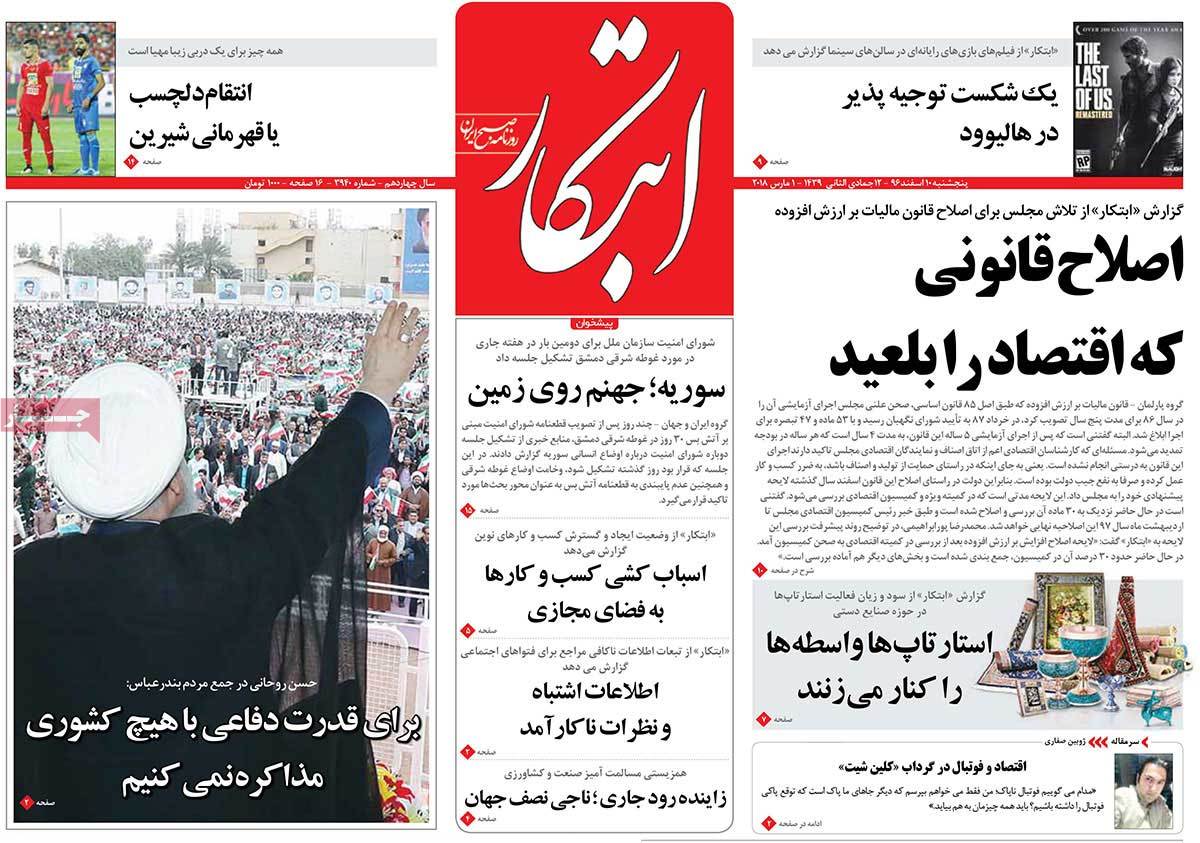 ---
Etemad:
1- Iran's Economy Surprised: Dollar Removed from Forex Basket
2- New Case against US President: Trump's Trade Deals with Russia under Scrutiny
---
Ettela'at:
1- Russia: We'll Support Assad Gov't until Full Eradication of Terrorism
2- NPR: Defeat in Yemen War Reason for Dismissal of Saudi Commanders
3- Iran First VP: No One above Law; People's Legal Freedom Must Be Ensured
4- Population Density Cause of Landslide in Tehran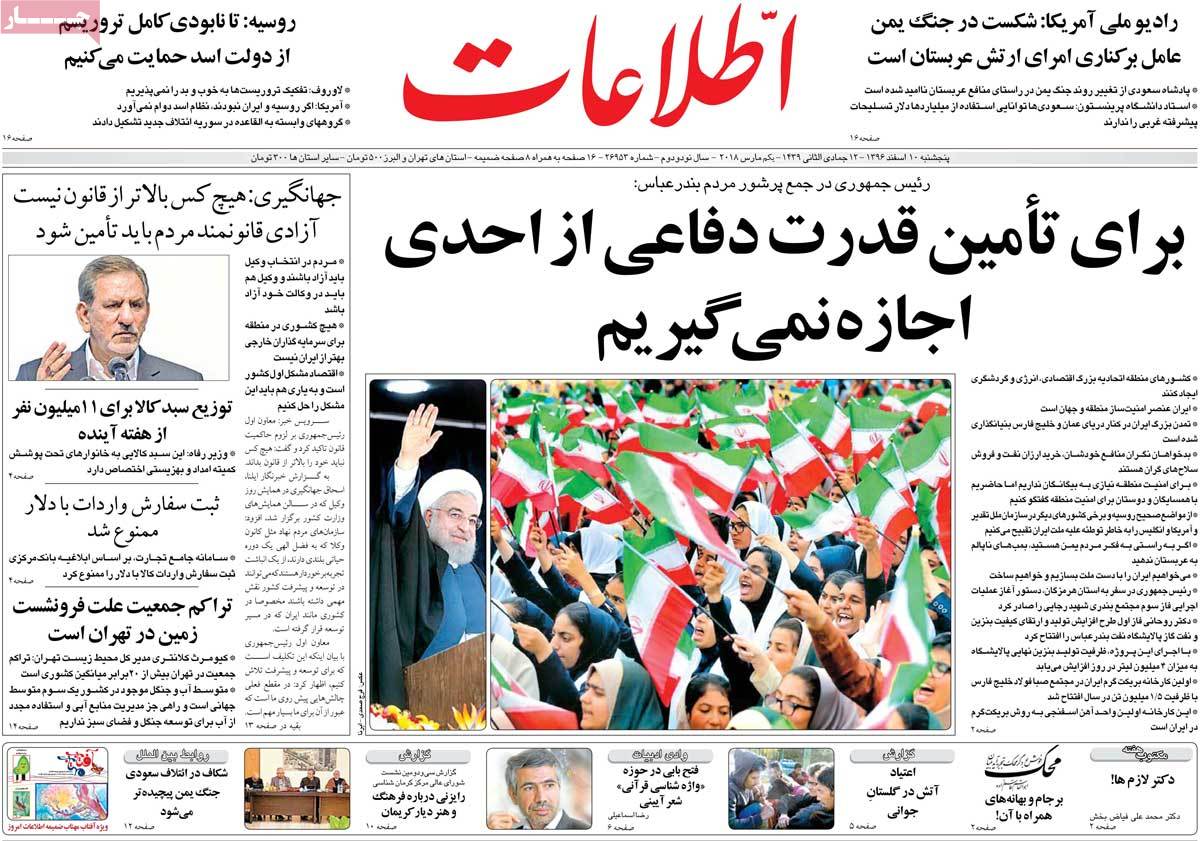 ---
Ghanoon:
1- Who Will Represent Reformists in Meetings with Leader
2- Science Minister's Justifications for Dismissal of University Professors
3- Persepolis-Esteghlal Derby, Clash of Croatian, German Coaches
---
Iran:
1- Rouhani Calls for Formation of Regional Alliance
2- Good Step to Remove US Dollar from Iran's Economy
Orders Will No Longer Be Placed for Iranian Goods Using USD
3- 15 Construction Projects Opened in Hormozgan Province
---
Javan:
1- $200m Tax Evasion of Four Brothers: Three Private Banks Cooperating with Evaders
2- Shining Sun of JCPOA Could Not Even Provide Fuel for Zarif's Plane!
3- IRGC Chief-Commander: Ground Force Equipped with Choppers to Show Faster Reactions
4- University Professor Zibakalam Has Illegally Had Two Jobs in Past 20 Years!
---
Jomhouri Eslami:
1- Rouhani Inaugurates Several Major Economic Projects in Bandar Abbas
2- 374 Emergency Water Reservoirs to Be Built in Tehran
3- If Gov't, Parliament Approve, Tax on Production to Be Decreased by 5%
---
Kayhan:
1- Judiciary Starts Probing into Reformists' Corruption in Rasht Electric Factory Case
2- Germans Didn't Even Give Fuel to Zarif's Plane for Fear of US Sanctions!
3- Rouhani: US, UK Conspiring against Us in UN Security Councul
4- UN: Yemen Engaged in World's Worst Humanitarian Crisis: 22m People Hungry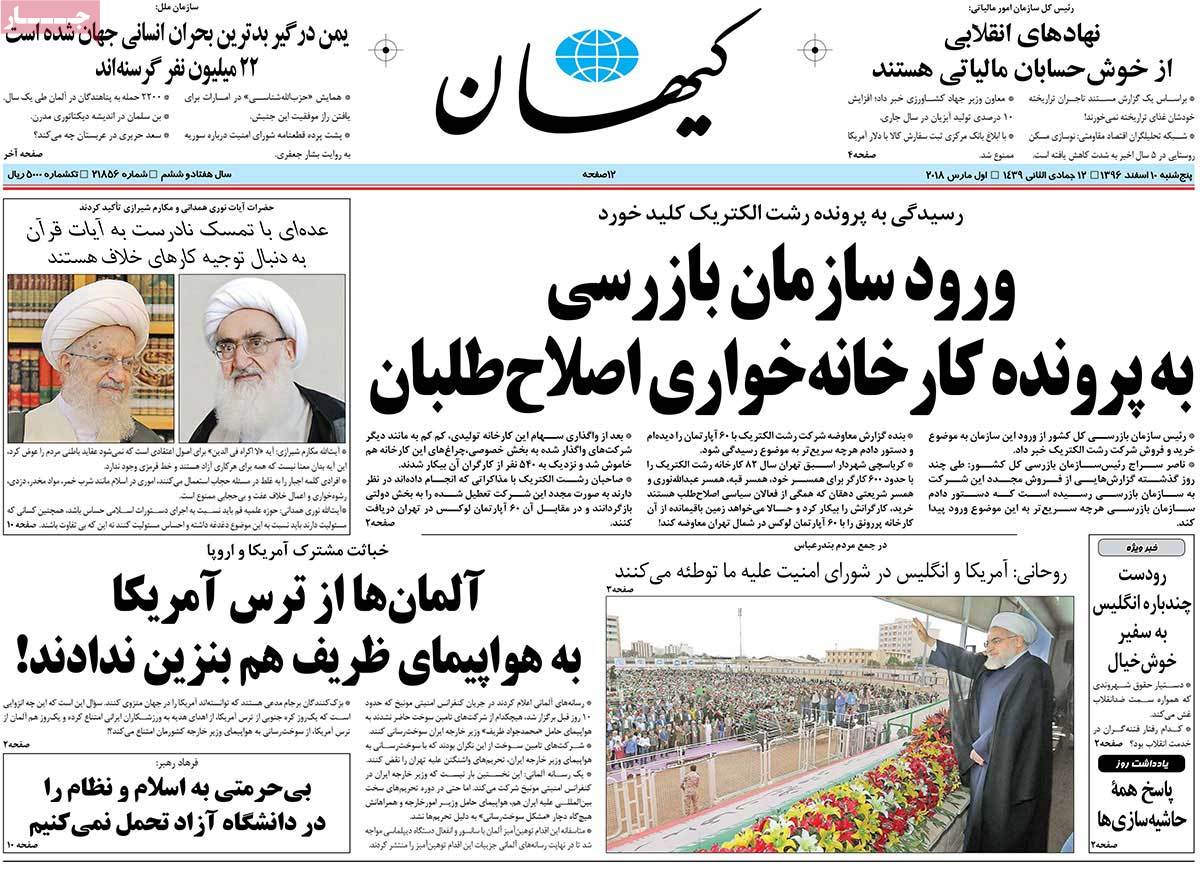 ---
Khorasan:
1- Caution and Suicide! Waiting for 86th Tehran Derby
2- Companies Affiliated to Revolutionary Bodies Pay Their Taxes on Time: Official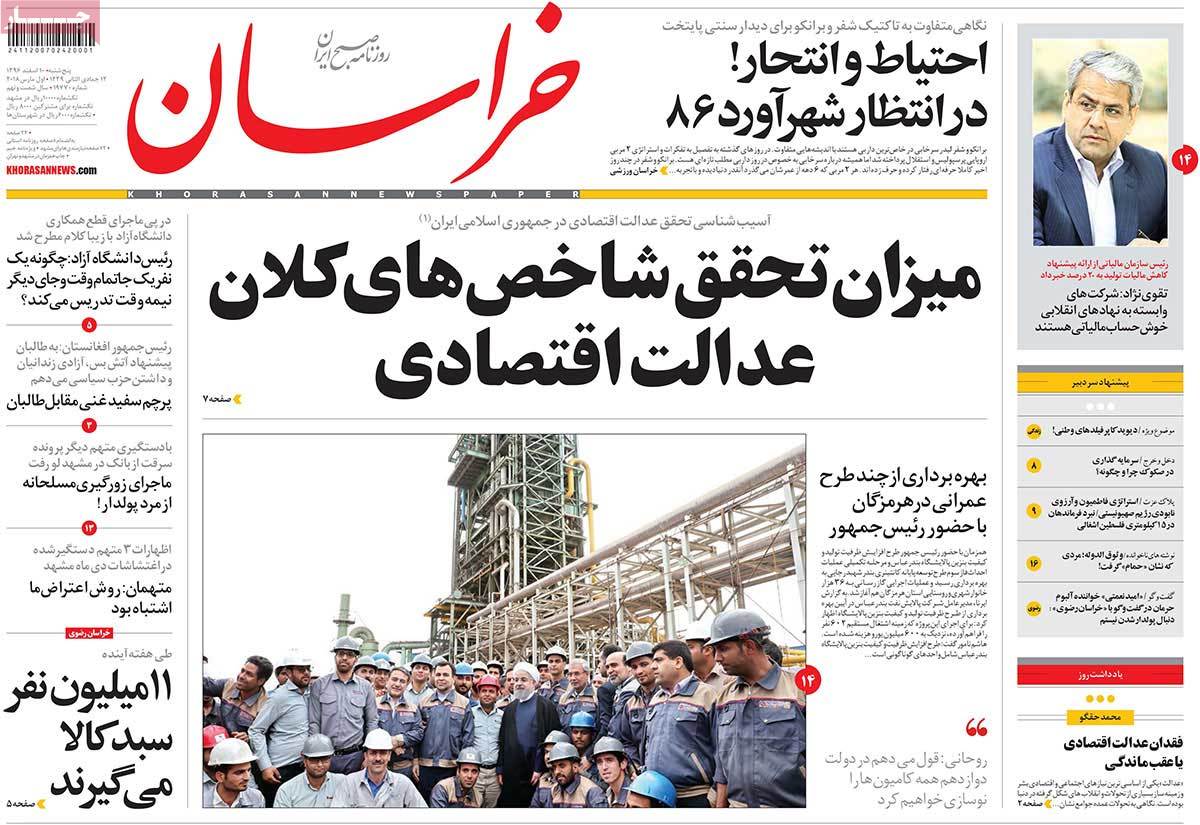 ---
Resalat:
1- Al Saud in Deadlock: Consequence of Saudis' Defeat in Yemen War
2- Cleric Asks Rouhani: Has Neo-Liberalist Model of Economy Resolved People's Problems?
---
Sayeh:
1- Continued Tsunami in Wrestling: Several Members of Iran Wrestling Federation Resign
Resignations came after the federation asked officials to make a clear decision on Iranian athletes' matches against Israeli opponents
2- Rouhani: Iranian People Have Never Wanted to Take Revenge from Anyone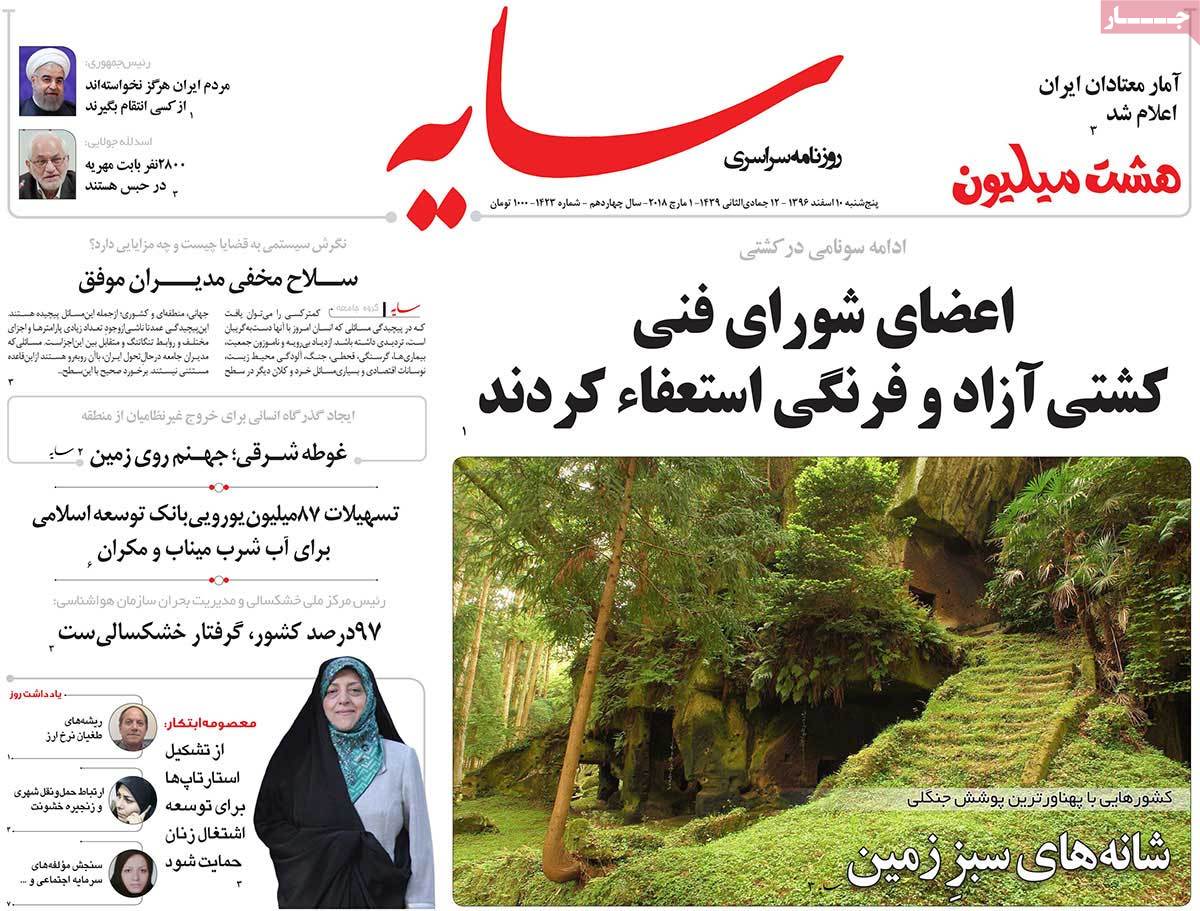 ---
Shahrvand:
1- People Must Be Able to Return Goods They Have Bought According to Law
2- Nurses Taking Care of Patients Diagnosed with Tuberculosis, Flu Sacrificing Their Lives
---
Shargh:
1- One Week after FM Zarif's Return from Europe: Controversy over Plane Fuelling in Munich
2- Ahmadinejad's Culture Minister: I Wish He Could Stop Being So Narcissist