Iranian newspapers on Thursday covered a rare gathering of 2,000 Iranian teenagers in Tehran, who were dispersed by the Police. The teenagers had arranged the gathering in social media (Telegram and Instagram). The move was widely analysed as it indicates the arrival of a new generation.
Papers also continued covering a recent decision by the United Nations to temporarily remove Saudi Arabia's name from the blacklist of child-killers in Yemen, allegedly because of Riyadh's petrodollars. It is reported that Saudis have threatened to stop their financial aid if UN does not withdraw the decision.
Abrar:
1- [German Ex-Chancellor] Schroder Asks Rouhani to Visit Germany
2- Obama and Modi Agree to Build 6 Nuclear Reactors in India
3- ISIS Claims Responsibility for Karbala Blast
4- Iran, Syria, Russia to Hold Trilateral Meeting in Tehran
5- US Urges Iran and Russia to Prevent Collapse of Political Process in Syria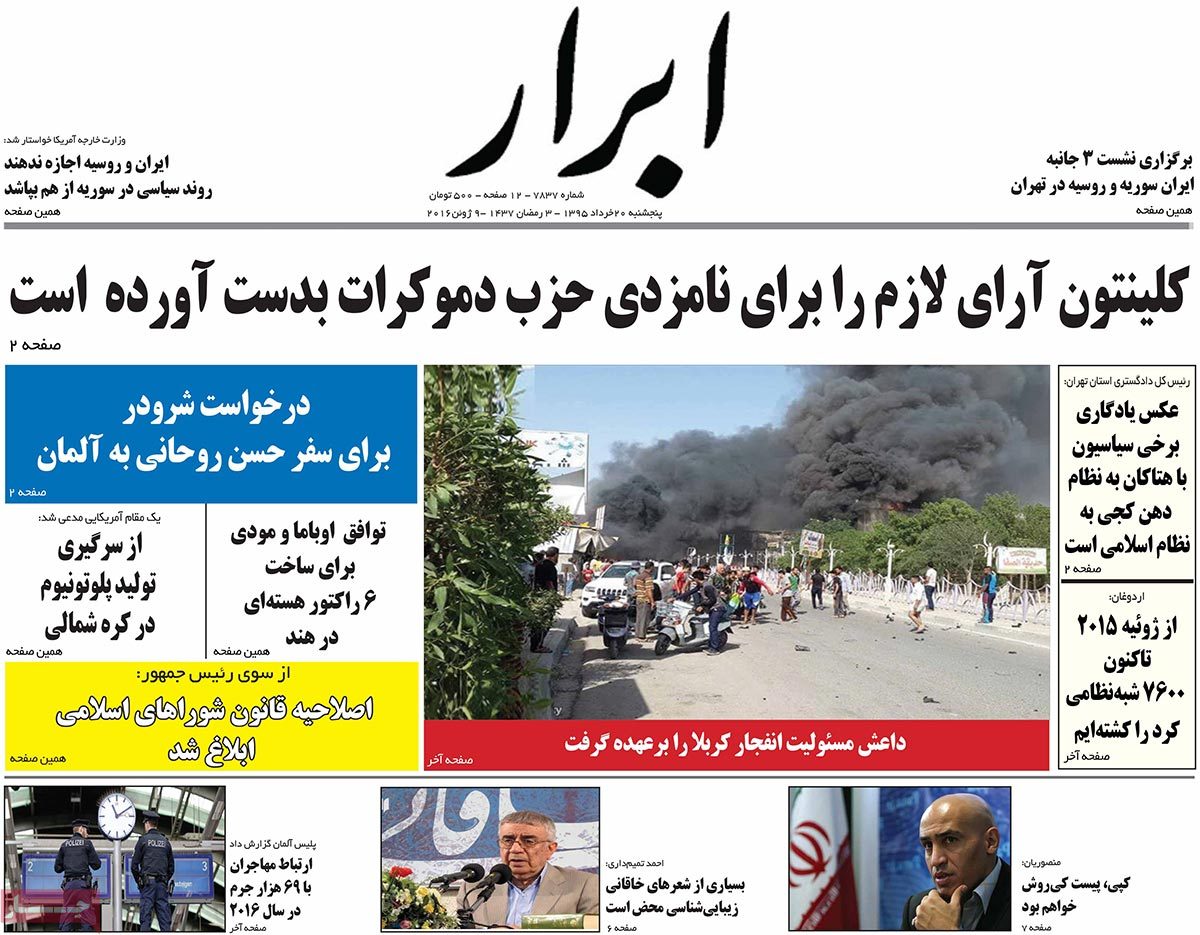 ---
Abrar-e Eqtesadi:
1- Ahmadinejad Hired 800,000 Excessive Employees
2- Weakening of Iran's Economic Growth Perspective
3- €10m of Iran's Frozen Money in Armenia Released
4- Iran Gives 6 Months to the French for Development of South Azadegan Field
5- Banking and Industrial Cooperation of Iran and Germany to Be Commenced in Summer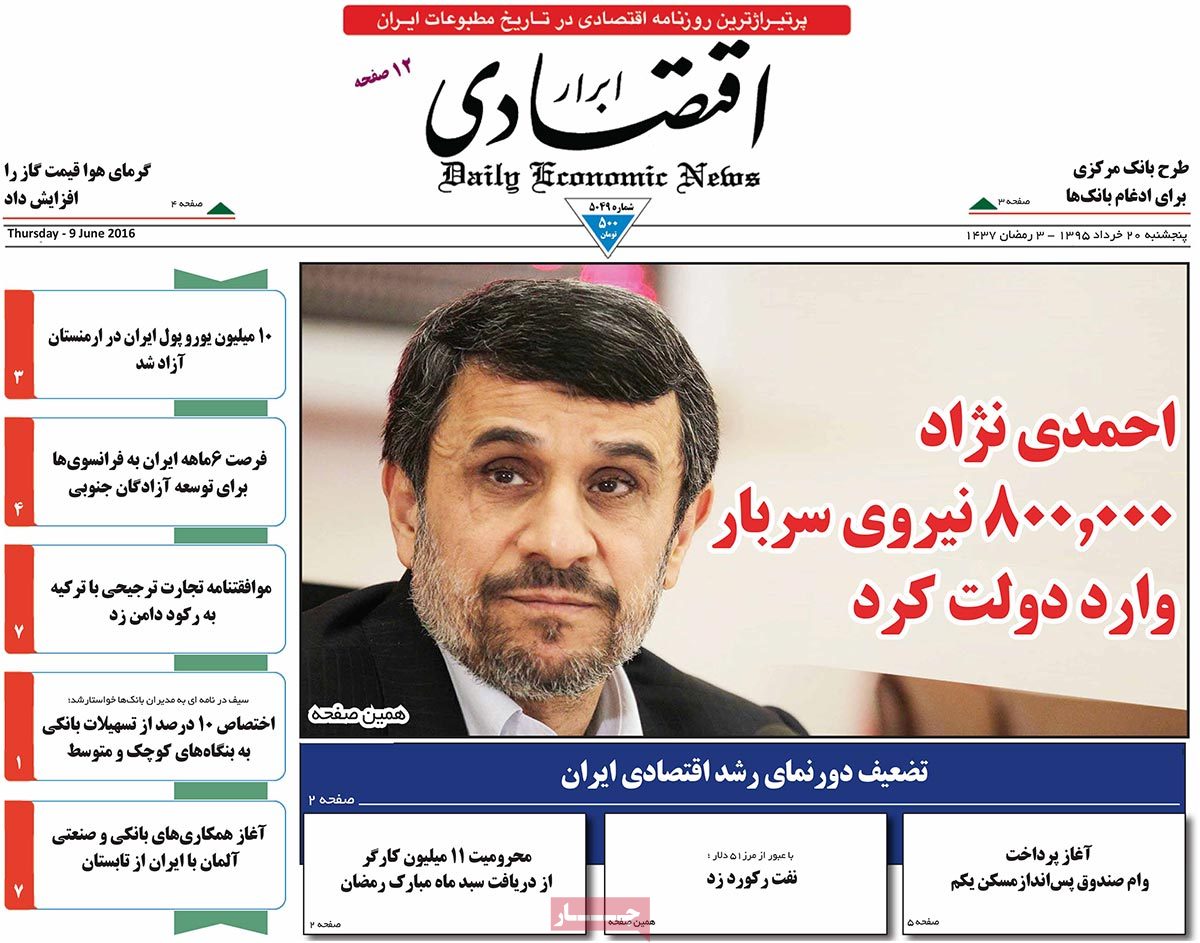 ---
Aftab-e Yazd:
1- Shajarian's Rabbana Once Again Not Aired [by IRIB]: IRIB Still Deprived of King of Iranian Singing
2- BBC's Documents Aimed at Tainting Rouhani: Hajjarian
3- Opponents of Gov't Angry at Decrease in Inflation Rate!
---
Arman-e Emrooz:
1- Reformist Theorist Hajjarian on BBC's Claims about Imam Khomeini: They Want to Say Rouhani Has Also Links with US
2- Goodbye Ahmadinejad! Hello Jalili! [on Saeid Jalili's probable campaign for next year's presidential votes]
3- Cultural Issues Cannot Be Resolved by Means of Officers: Larijani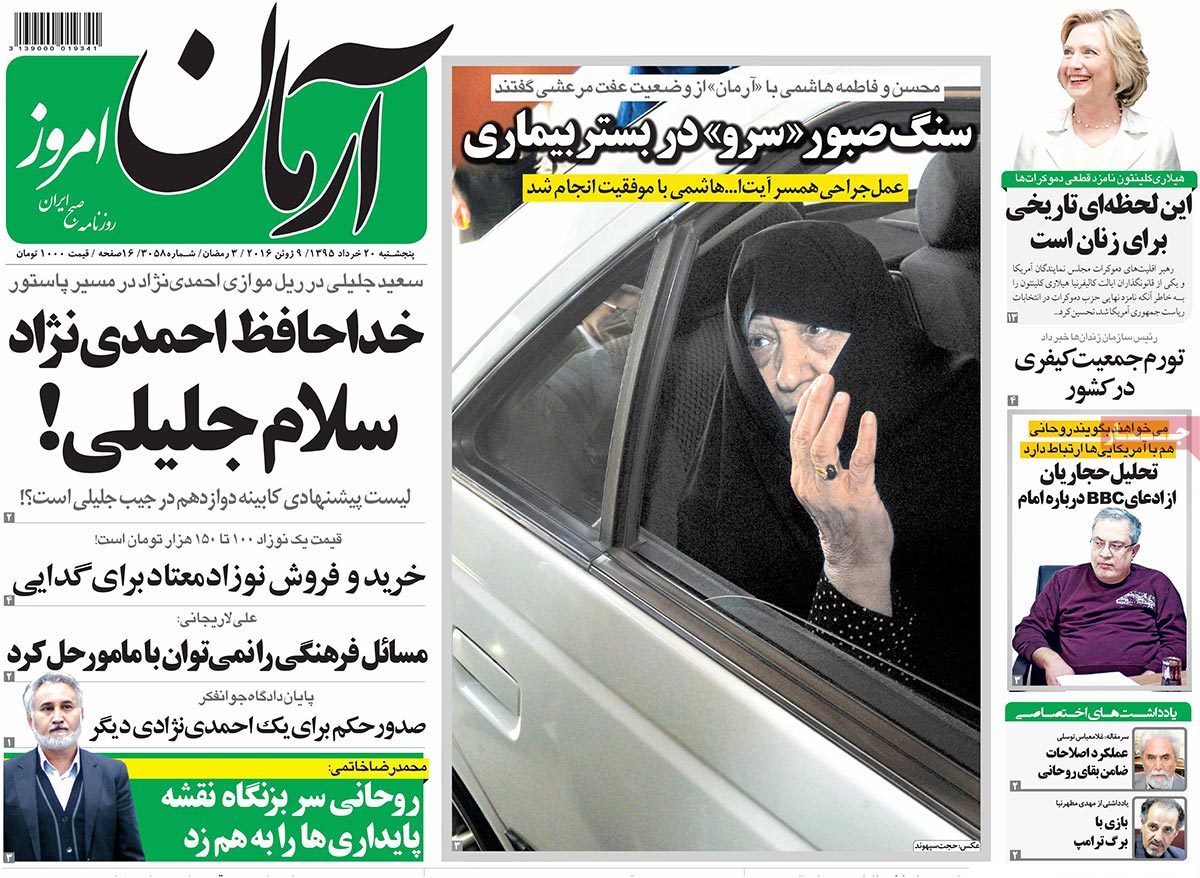 ---
Asia:
1- Volume of Iran-Europe Trade to Be Quadrupled: Bloomberg
2- Secrets behind Iran-US Talks; Fresh Round of Bilateral Talks between Tehran and Washington
3- Internet Subscription Fees Halved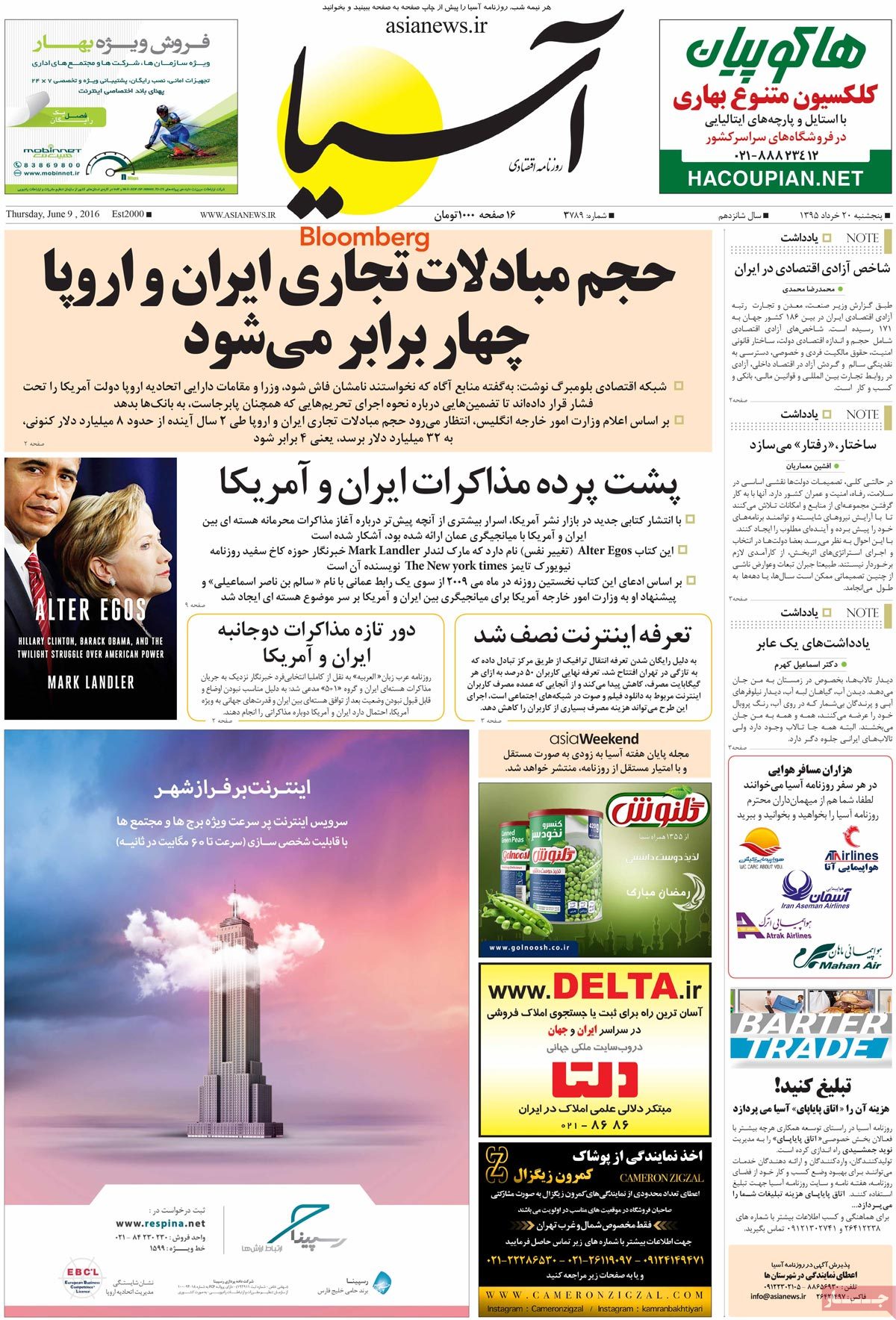 ---
Asrar:
1- Don't Decrease People's Hope for Future: Rouhani Warns Iranian Media
2- I Believe in Achievements of Nuclear Deal with Iran: Mogherini
3- Asghar Farhadi's The Salesman Obtains Licence for Screening in Iran
4- Iran's Gas Extraction from South Pars Gas Field to Equal Qatar's by Year End
5- Hardliners' Dream of Removing Rouhani Will Not Be Realized: Reformist Politician Khatami
---
Ebtekar:
1- Iran Welcomes Expansion of Relations with Qatar: Rouhani
2- From Terminator to Rumi: Expert Discusses Hollywood's Interest in Oriental Stories
3- As Members of US Congress, You're Not Global Authorities: Zarif Told 3 Congressmen Who Had Asked to Visit Iran for Monitoring JCPOA Implementation and Iran's Elections
---
Etemad:
1- A New Generation Is Entering Iran's Political, Social, and Cultural Developments: Is Society Ready for Arrival of Teenagers Born after 2000?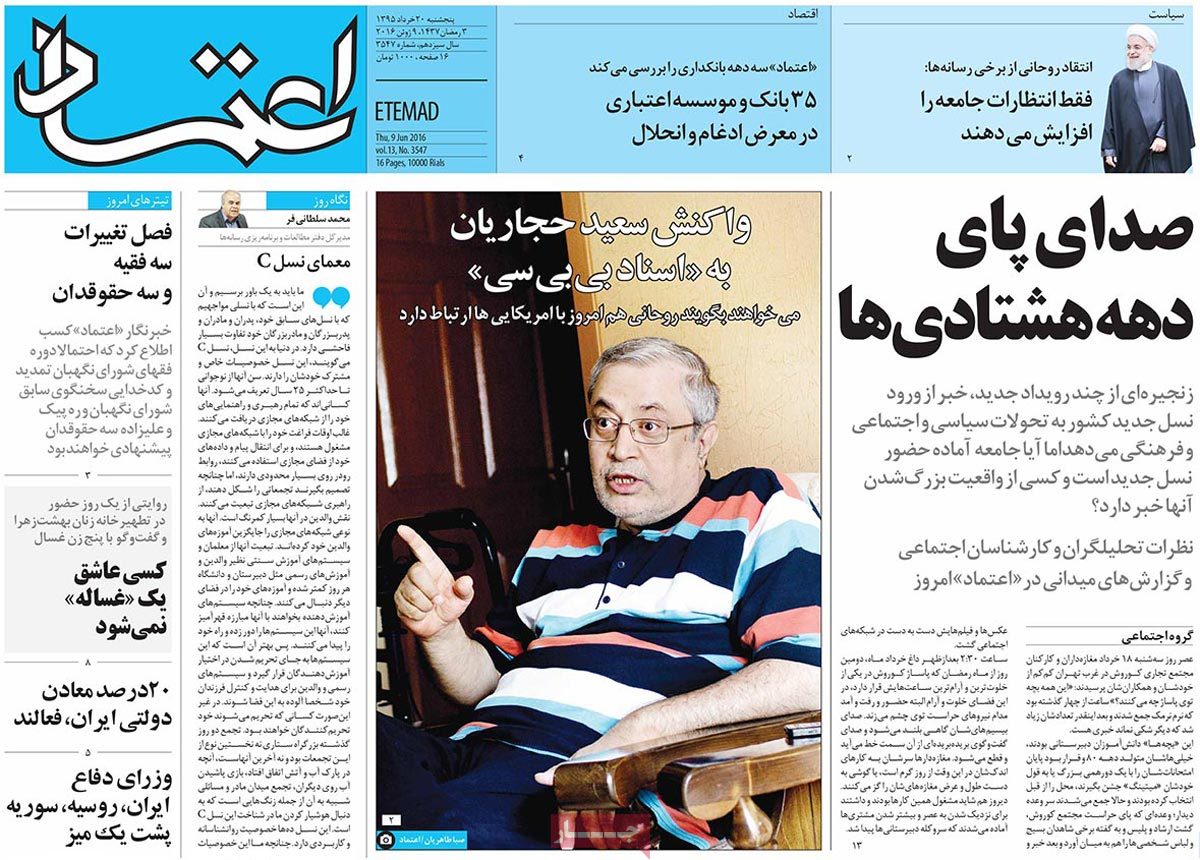 ---
Ettela'at:
1- UN Withdraws from Blacklisting Saudi Arabia Because of Riyadh's Petrodollars: Reuters
2- Civil Rights Clinic to Be Established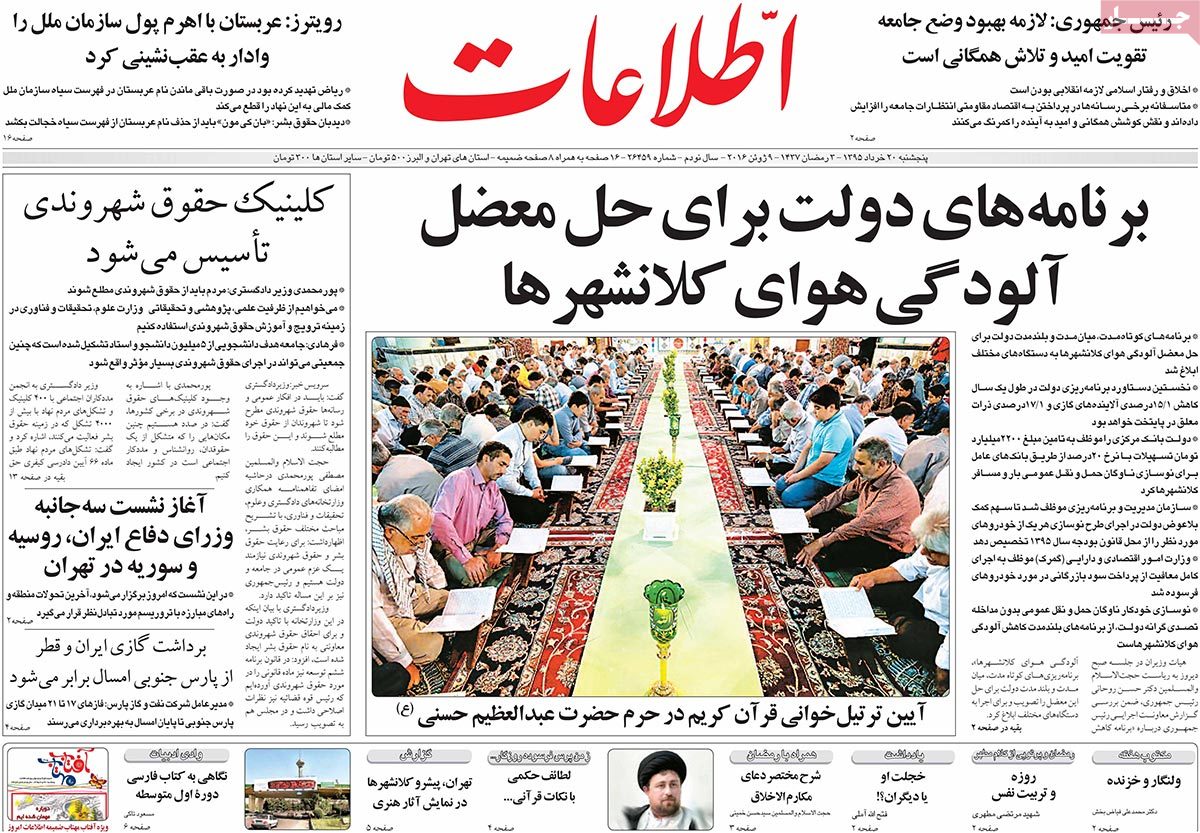 ---
Ghanoon:
1- Defeat before Beginning of Competition: Ahmadinejad Camp Disappointed of Running for Presidency
2- The Generation That Doesn't Want to Be Burnt: A Report on an Interesting Event in Iranian Society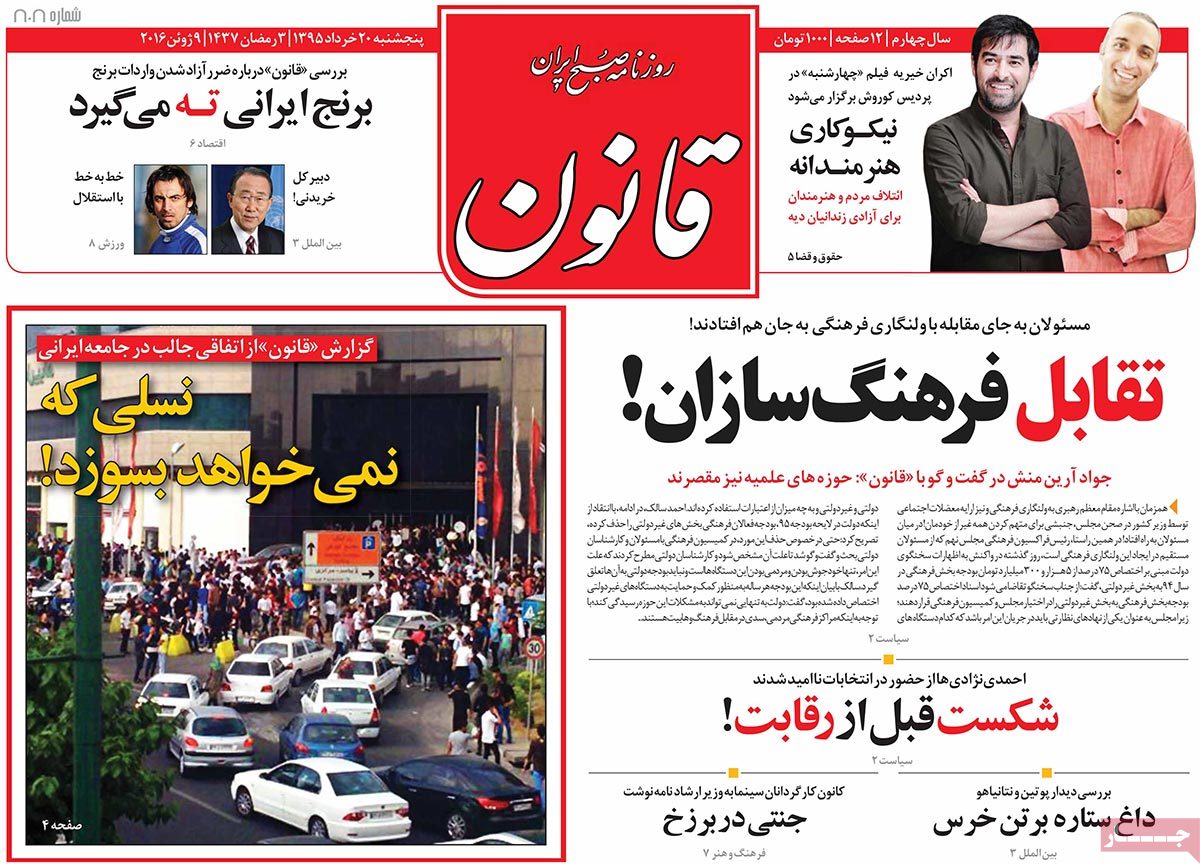 ---
Haft-e Sobh:
1- Kiarostami, Hospitalized in Tehran, Attacks Iranian Doctors for Medical Error
2- Real Story behind Switzerland's No to Cash Subsidy: Are Swiss People Pious or Lazy?
3- 10m Gangs! A Report on Teenagers Who Gathered Together in Tehran on Tuesday: Their Votes Will Have Important Role in 2017 Presidential Elections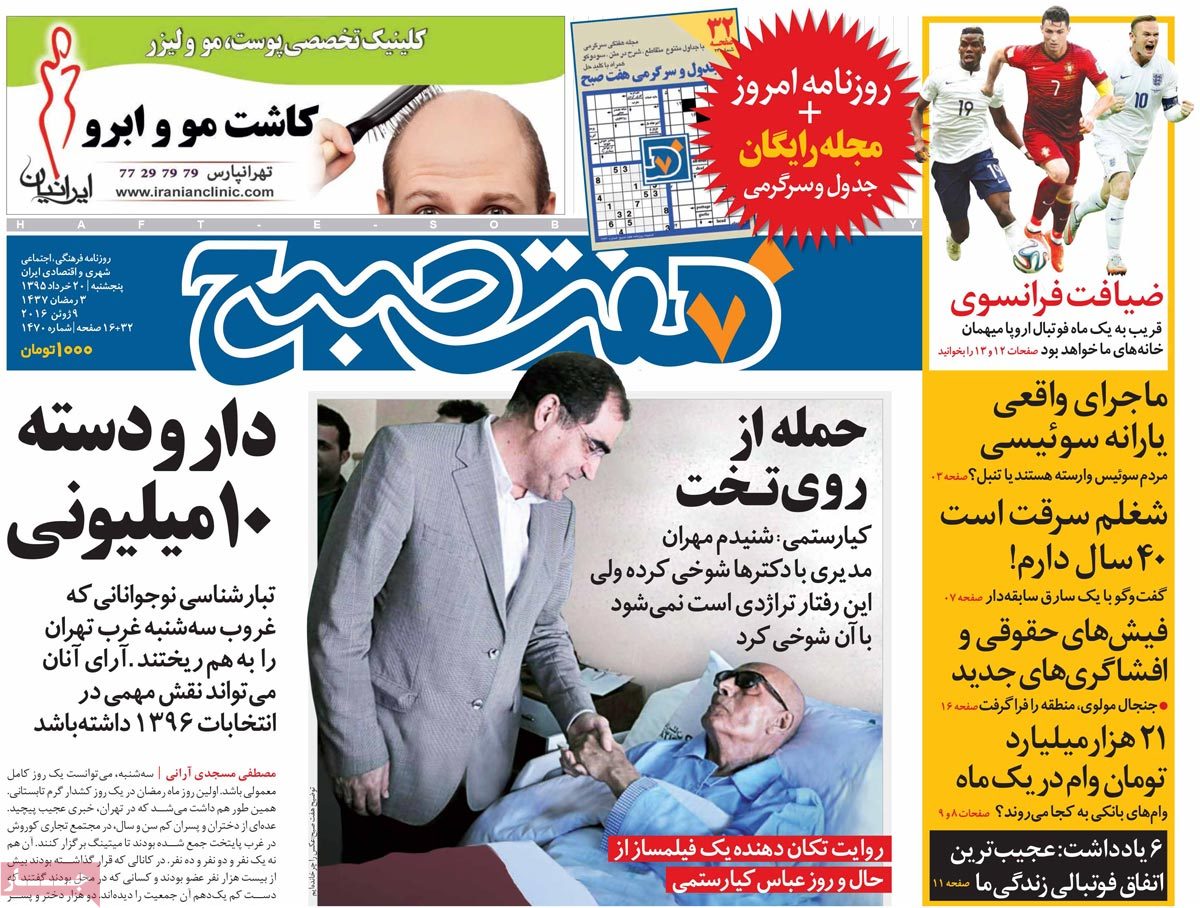 ---
 Jame Jam:
1- USA's $40bn Aid to Child-Killer Regime [Israel]
2- World in Dire Need of Qur'an: Leader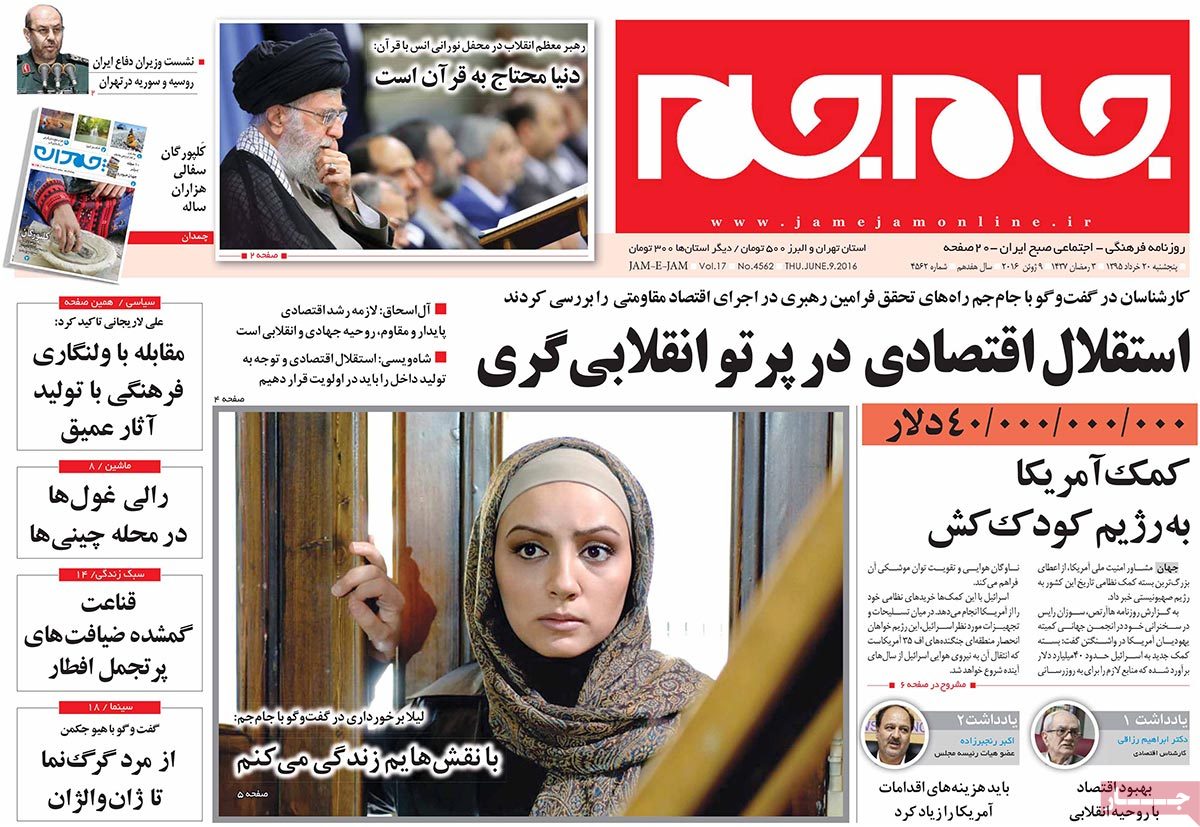 ---
Javan:
1- Saudi Arabia's Oil Stain on UN's Shirt
2- Fuel Smuggling Is No Longer Interesting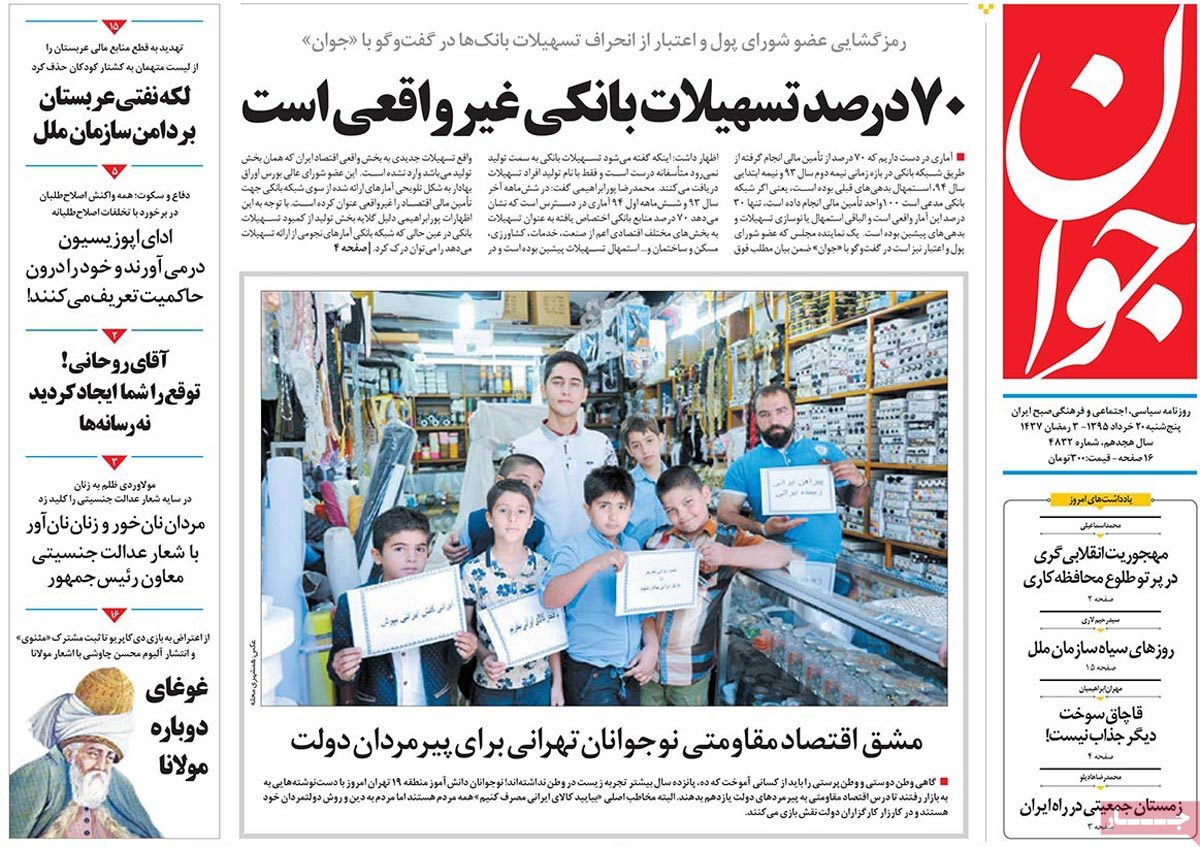 ---
Jomhouri Eslami:
1- European Oil Tankers Queuing Up in Iranian Ports
2- Iranian Advisors in Iraq Are Part of Global Fight against Terrorism: Iraqi Spokesman
3- Human Rights Bodies Strongly Protest at UN's Withdrawal from Its Decision on Saudi Arabia
4- Soft Coup in UAE Confirmed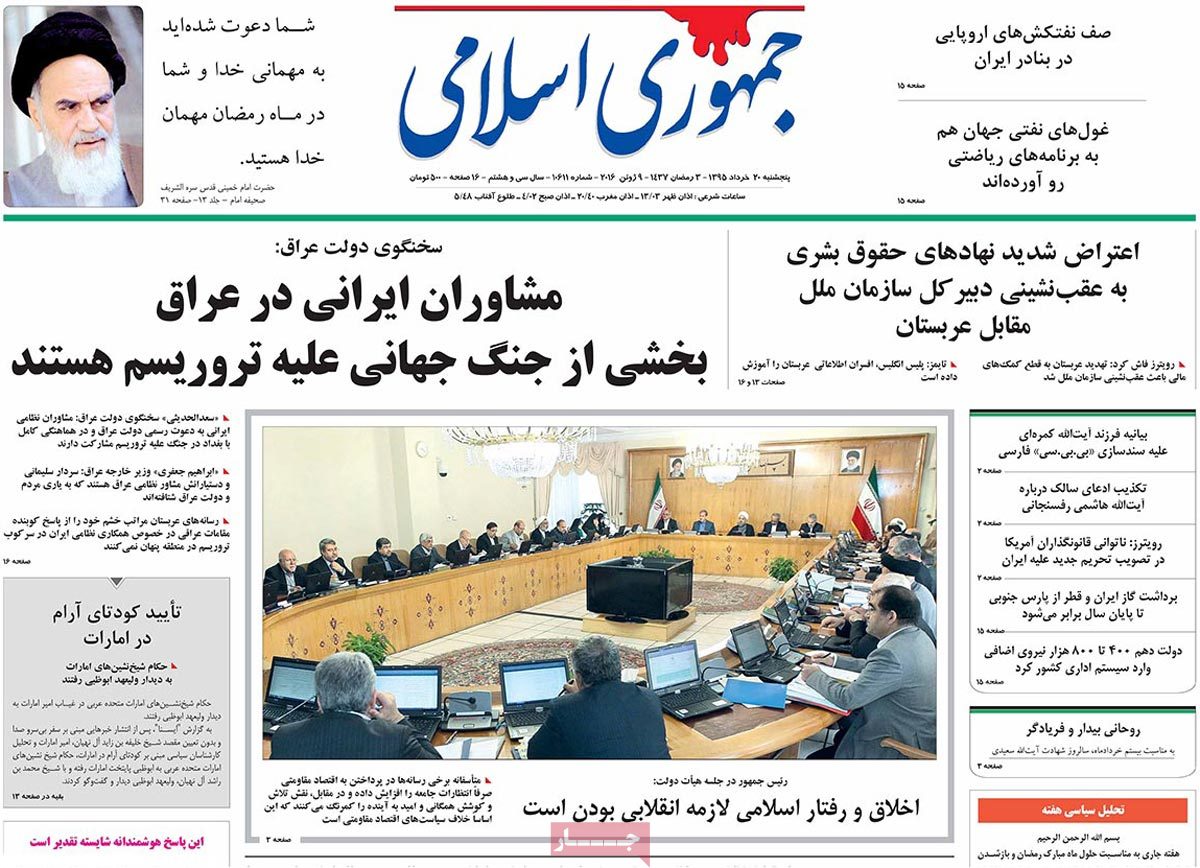 ---
Kayhan:
1- Israel Is Now Turned to an Ally of Arab Countries: Bibi
2- Iraqi PM Writes Letters to Arab Leaders in Support of Popular Forces
3- US, Saudi Arabia, Turkey: United in Strategy, Divided in Tactic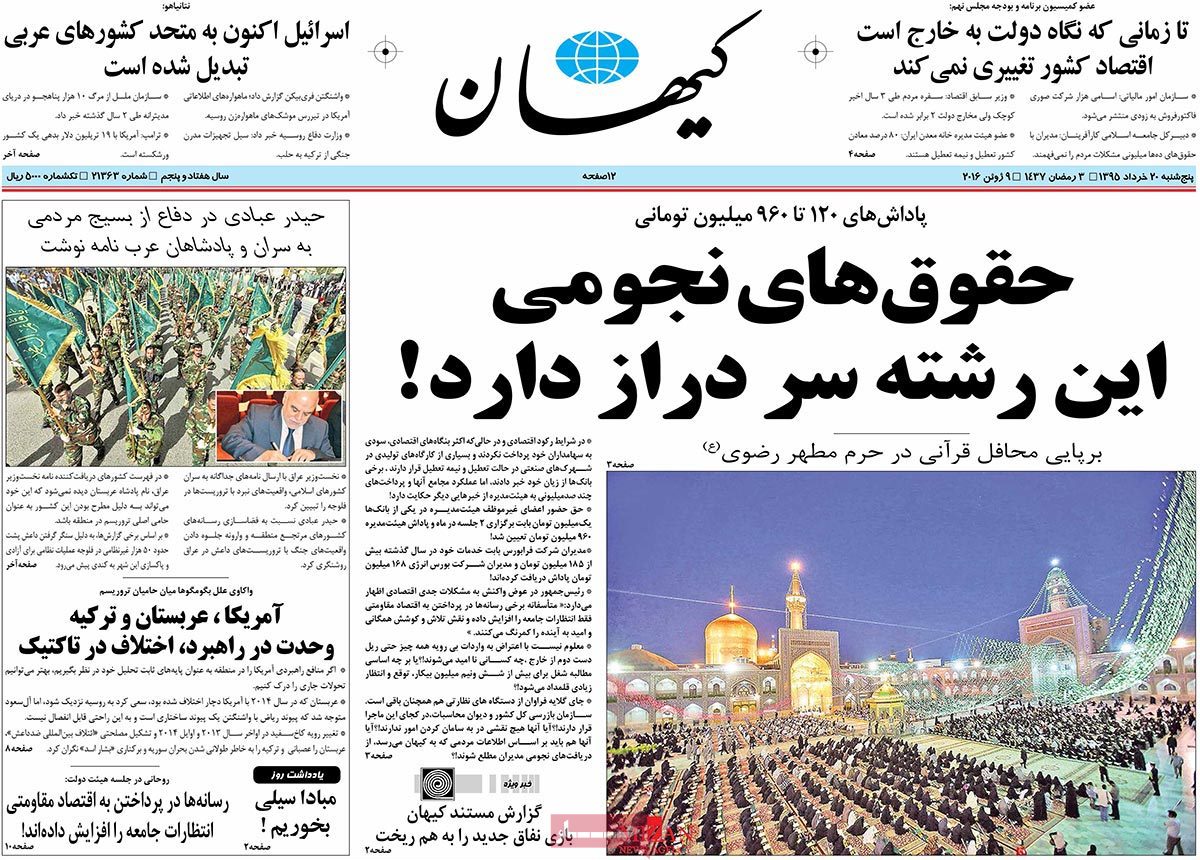 ---
Resalat:
1- US Is No Longer a Global Power: Zarif
2- What's Happening in Foreign Ministry? What's Zarif's Solution for USA's Violation of Its Promises?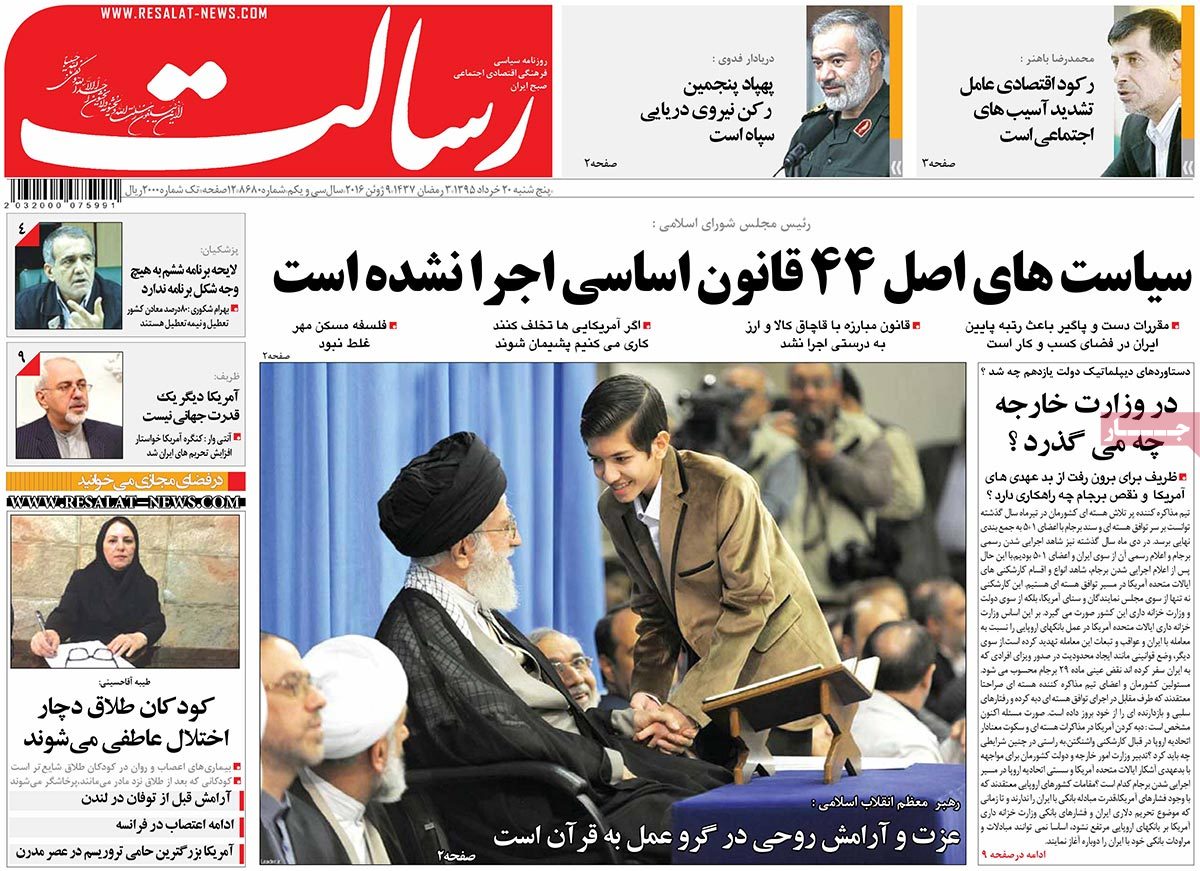 ---
Shahrvand:
1- 8,000 Dogs Killed in 15 Months
2- Persepolis in Danger of Being Removed from World Heritage List
3- A Meeting in Third-Millennium Teenagers' Style: 2,000 Teenager Gathered Together [after their final exam] in Tehran on an Instagram Event
4- Mines Remaining from Iran-Iraq War Still Kills People: 3 Brothers and 3 Farmers in Sardasht Killed by Landmines
---
Shorou:
1- IRIB Creating Distance between Nation and Government: Chair of Music House
2- Ahmadinejad Doesn't Dare to Run for Presidency: Reformist Figure
---
Vaghaye Ettefaghieh:
1- Netanyahu Visits Russia for Fourth Time in a Year: Tel Aviv's Dream for Moscow
2- Iran and US Hold Bilateral Talks to Stabilize JCPOA: Al-Arabiya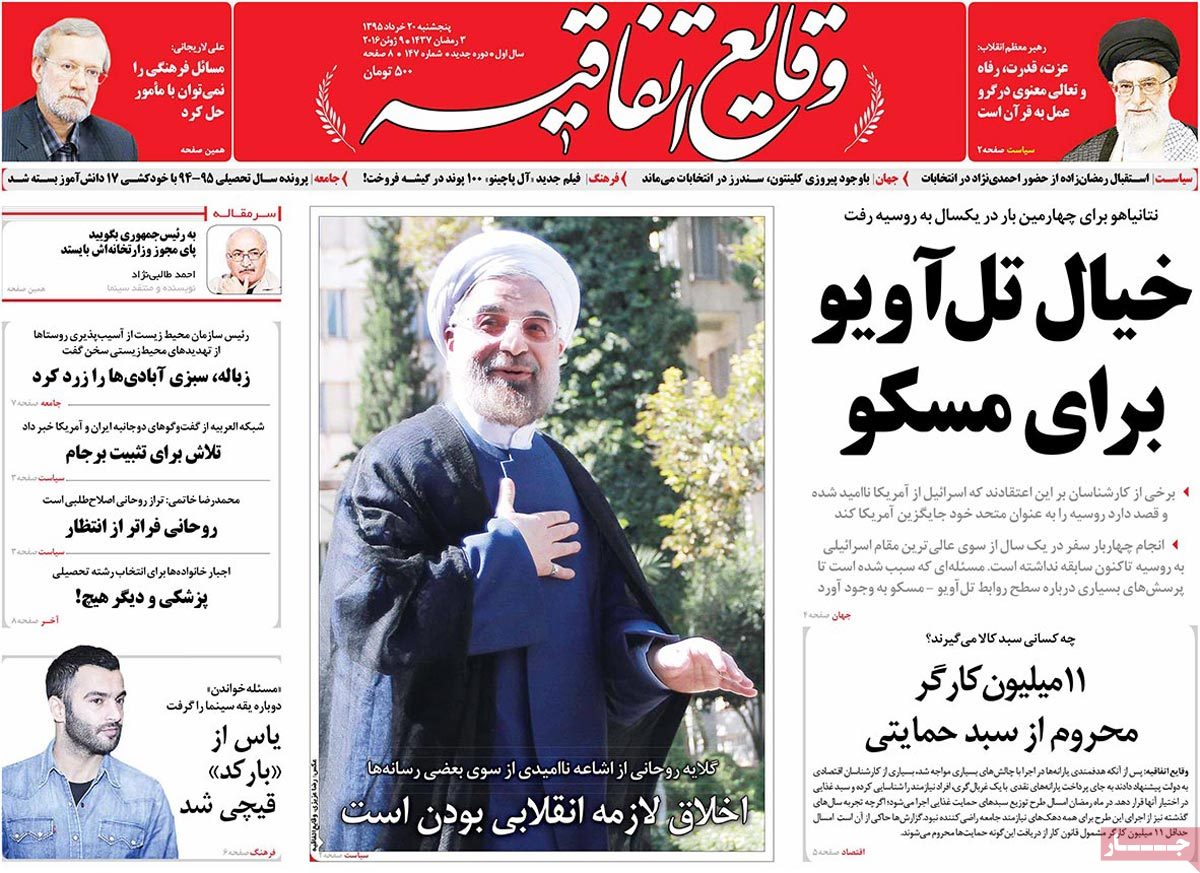 ---
Vatan-e Emrooz:
1- Don't Raise the Expectations in Society: Rouhani: President Criticizes Media
2- Football with Fear and Anxiety: Highest Level of Threat in Euro 2016