IFP has taken a look at the front pages of Iranian newspapers on Wednesday and picked headlines from 19 of them. IFP has simply translated the headlines and does not vouch for their accuracy.
Newspapers on Wednesday covered the remarks made by Iran's First Vice-President Es'haq Jahangiri against the US withdrawal of Paris Agreement on Climate Change.
The ongoing tension between Qatar and Saudi Arabia, and the efforts to mediate between the two Arab states, also remained a top story today.
The above issues, as well as many more, are highlighted in the following headlines and top stories:
19 Dey:
1- Kerry: It's Dangerous to Impose Fresh Sanctions on Iran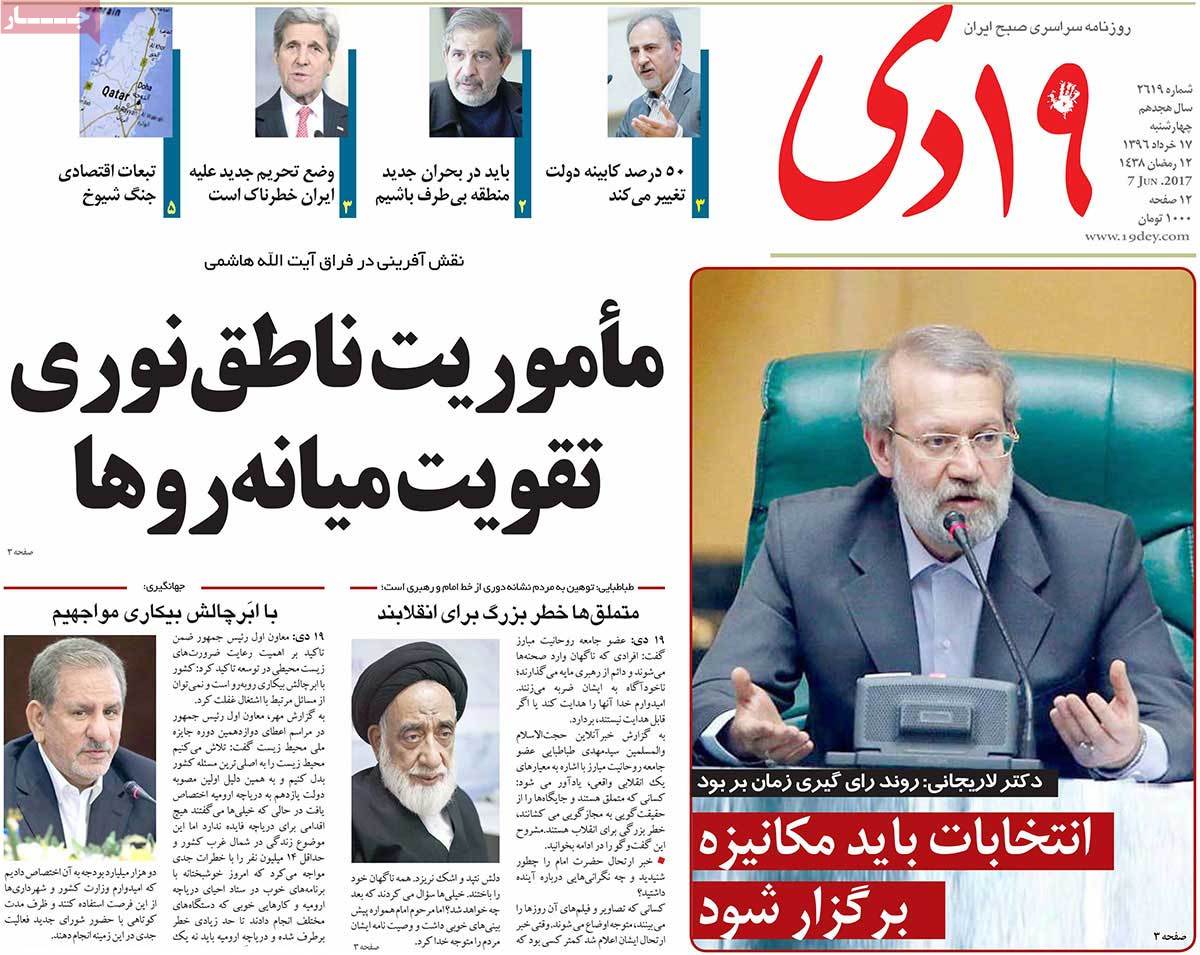 ---
Abrar:
1- Afghan President Pins Blame on Pakistan after Kabul Attacks
2- ISIS Claims Responsibility for Melbourne Hostage Taking
---
Abrar-e Eqtesadi:
1- Global Oil Price Reacts to New Tensions in Middle East
2- 300% Increase in Iran's Oil Exports to Europe
3- World Bank Predicts 1.2% Decrease for Iran's Economic Growth Rate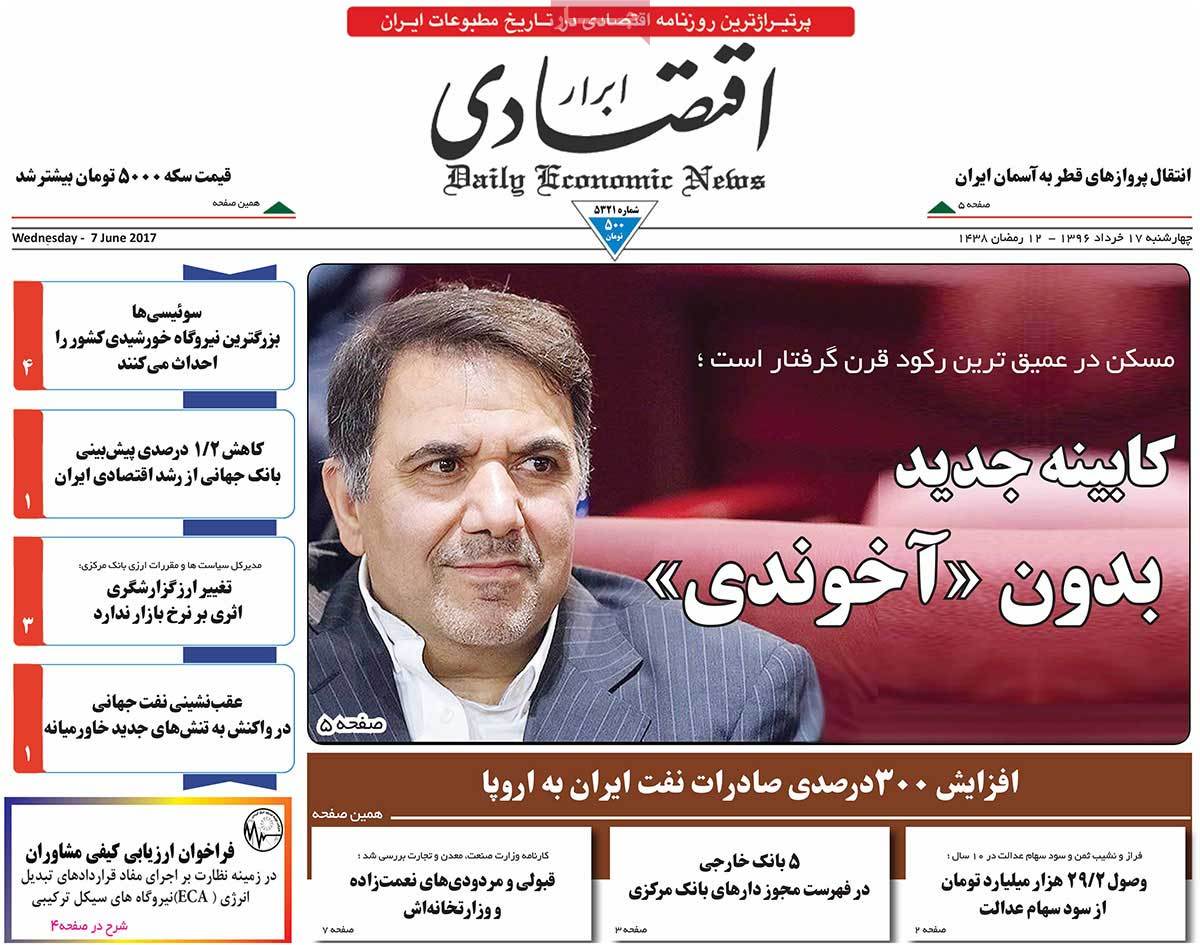 ---
Aftab-e Yazd:
1- Arabs Trying for Peace
Kuwaiti Emir, Omani Minister Mediate between Qatar, Saudis
---
Arman-e Emrooz:
1- Iran to Train Iraqis for Countering Dust Pollution: Environment Chief
2- Qatar's Golden Opportunity for Iran's Economy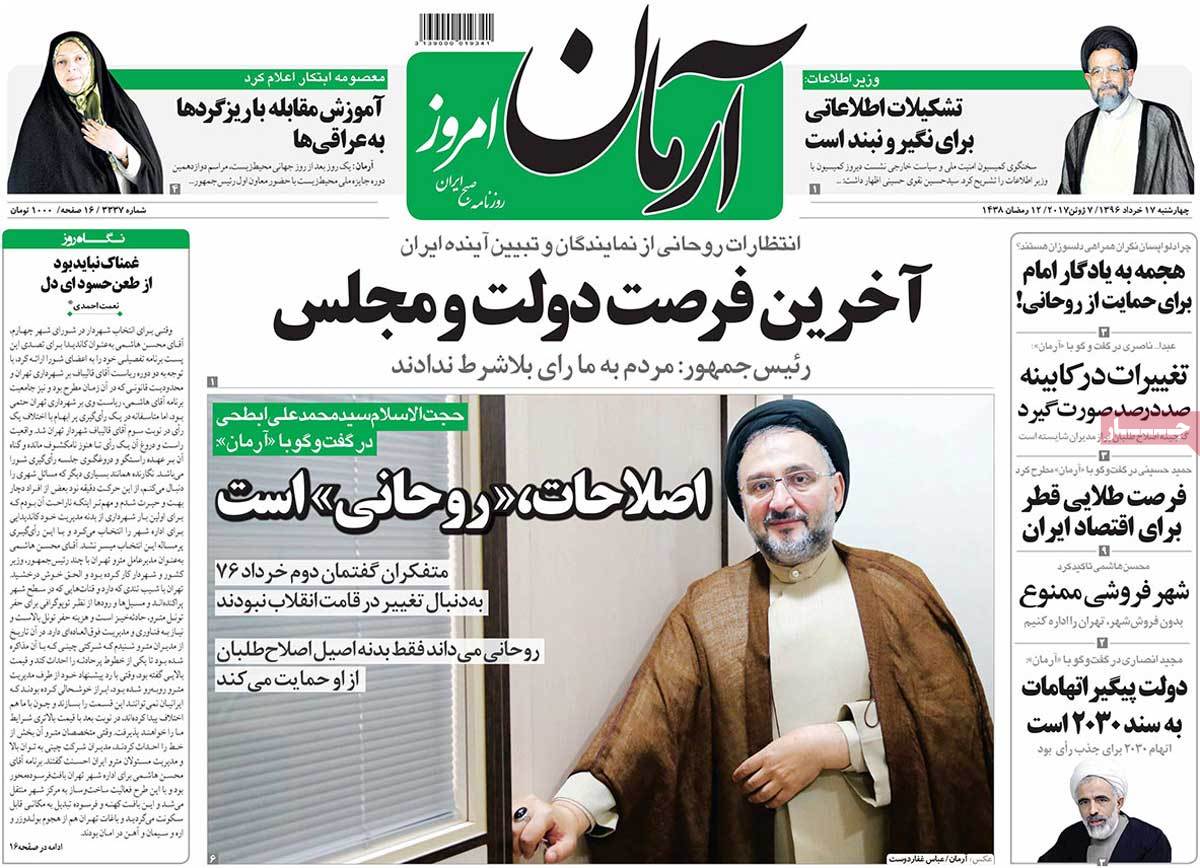 ---
Asrar:
1- People's High Turnout in Iran Elections Changed Global Equations to Iran's Favour
2- Security Official: Iran, Russia to Boost Strategic Cooperation in Syria
---
Donya-ye Eqtesad:
1- Saudi Arabia Not Willing to Lose Its Backyard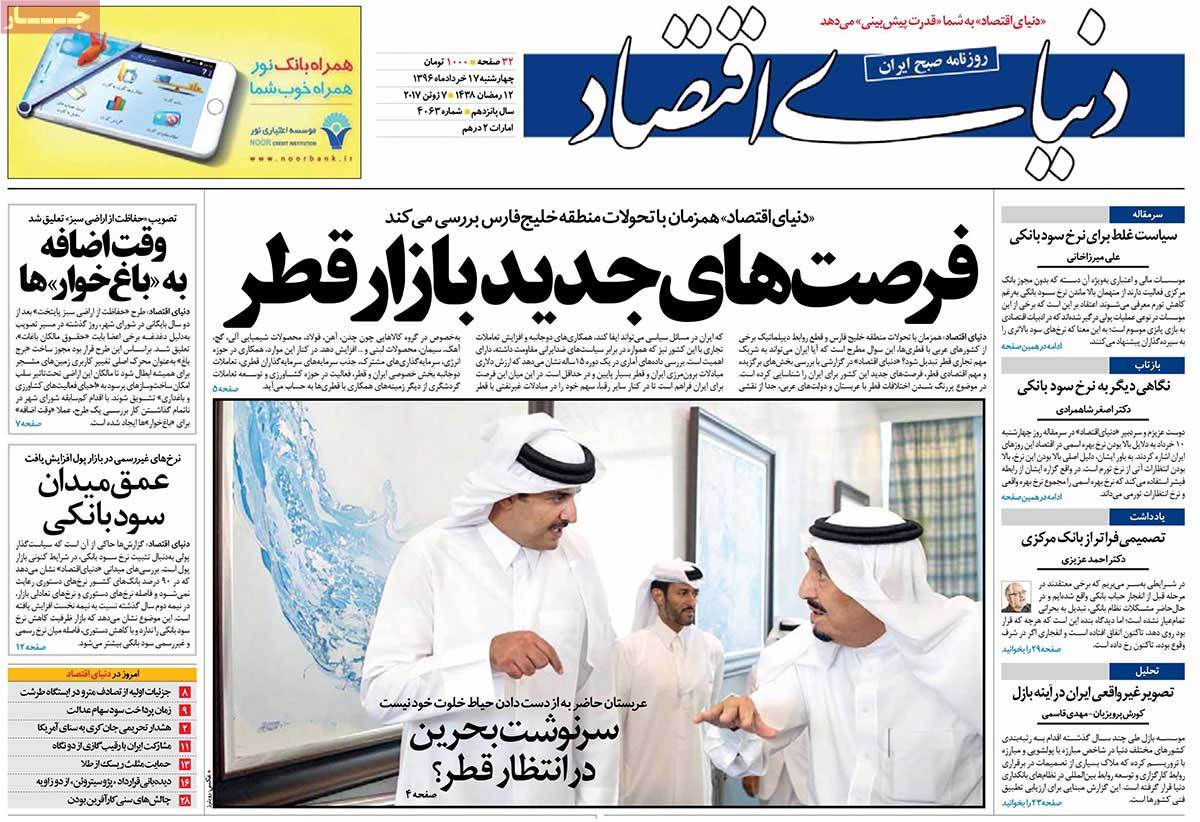 ---
Etemad:
1- Trump's Souvenir: The Crisis Riyadh Deal Created for Mideast
2- 50% of Cabinet Will Change: President's Aide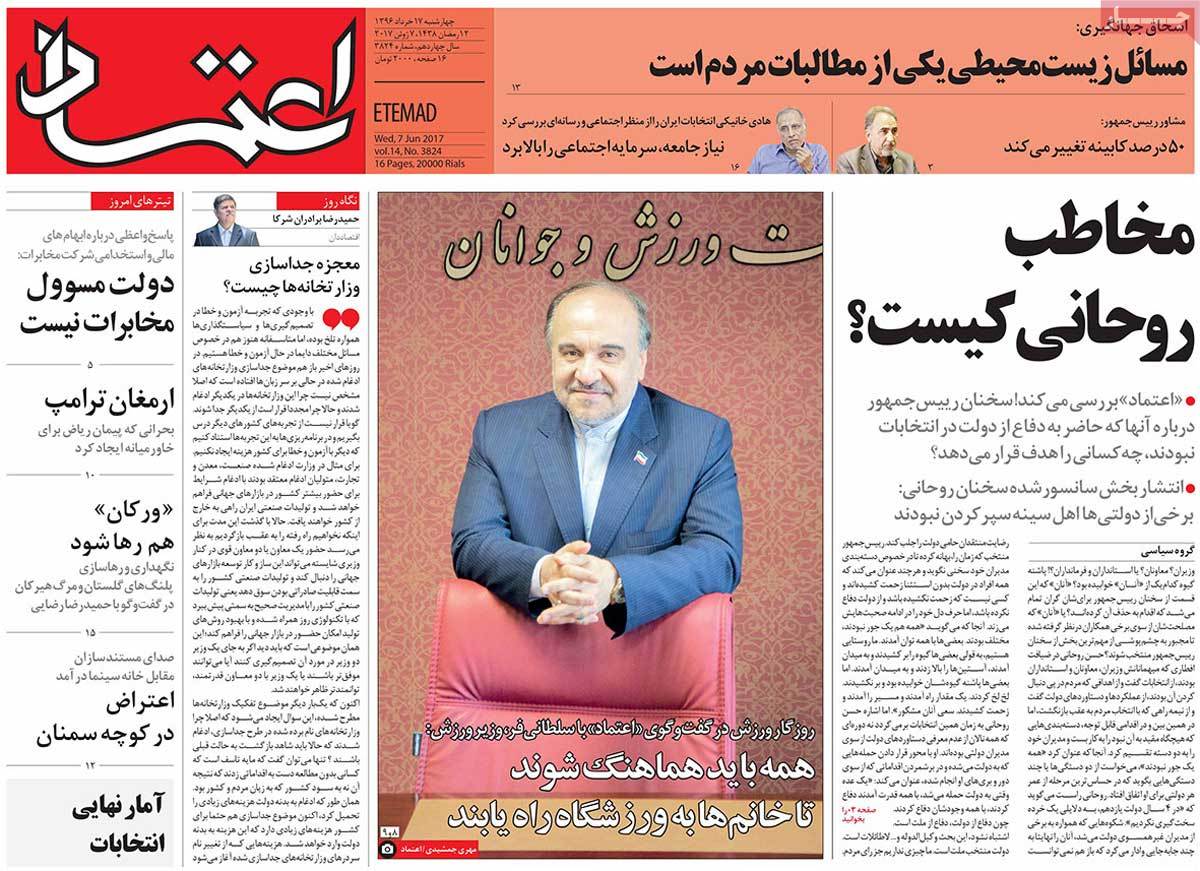 ---
Ettela'at:
1- 300-Time Increase in Foreign Investment in Iran's Agriculture
2- British Parties Ask May to Publish Report on Saudi Arabia's Funding of Terrorism
---
Haft-e Sobh:
1- Two Incidents, One Miracle, 60 Wounded
Train Collision, Building Collapse in Tehran Wounds 60
---
Iran:
1- Zarif Steps Up Diplomatic Efforts to Control Arab Crisis
2- Rouhani Calls for Separation of Politics from Economy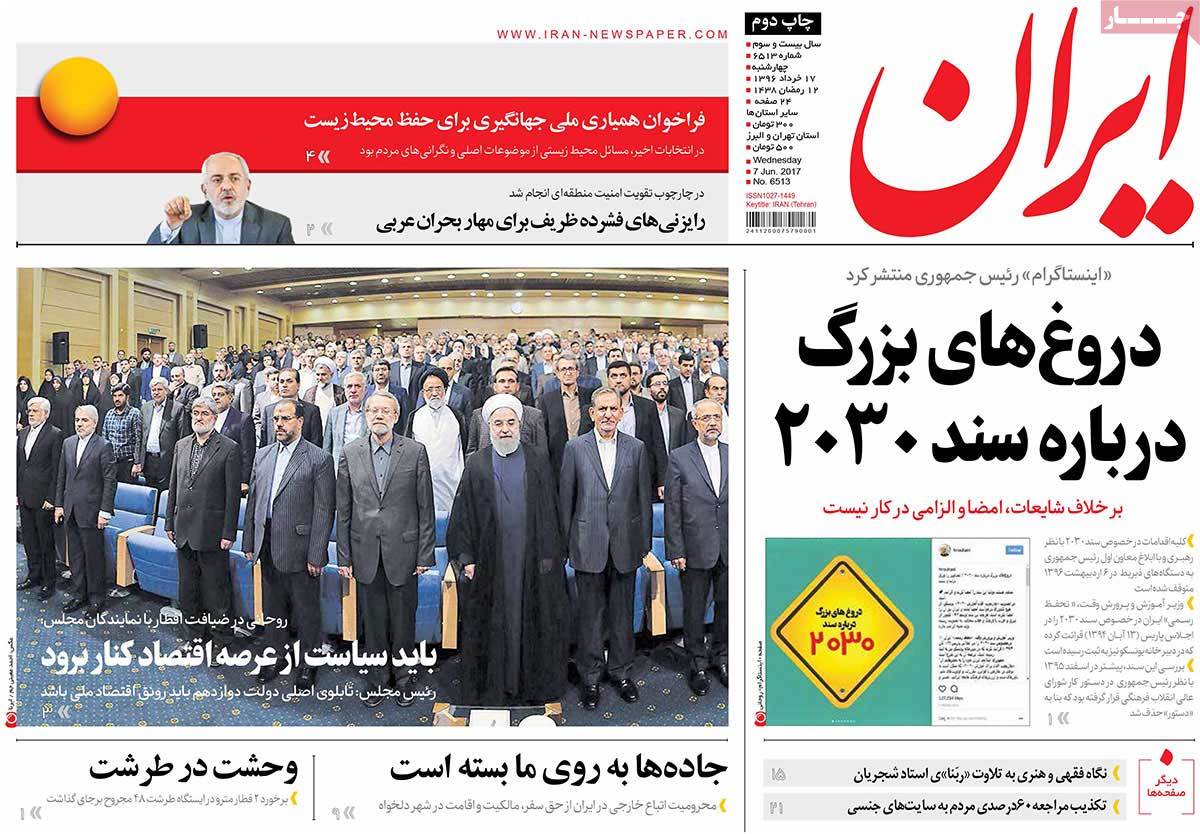 ---
Javan:
1- Trump Reveals US Tension with Qatar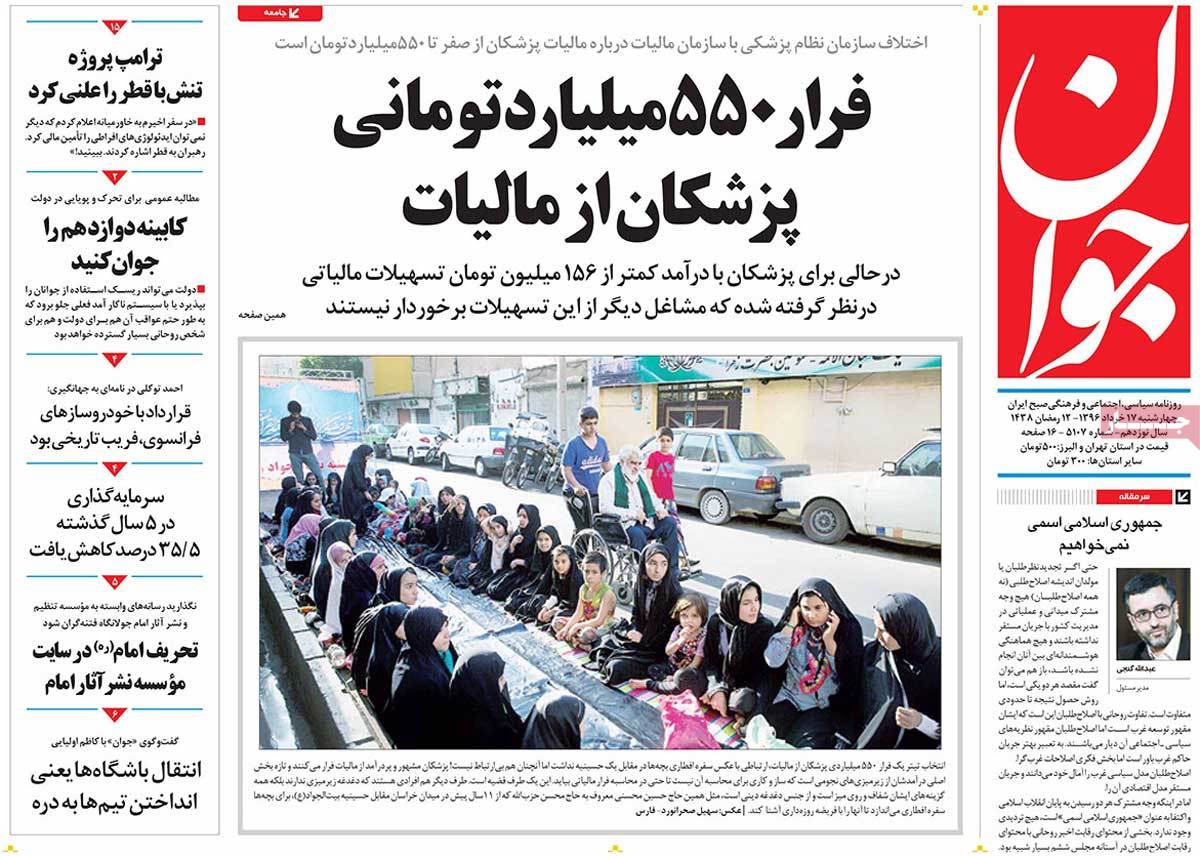 ---
Jomhouri Eslami:
1- One Yemeni Child Dies Every 10 Seconds
2- Syrian Army Enters Raqqa
3- Iran's Biggest Solar Power Plant to Be Built in 4 Months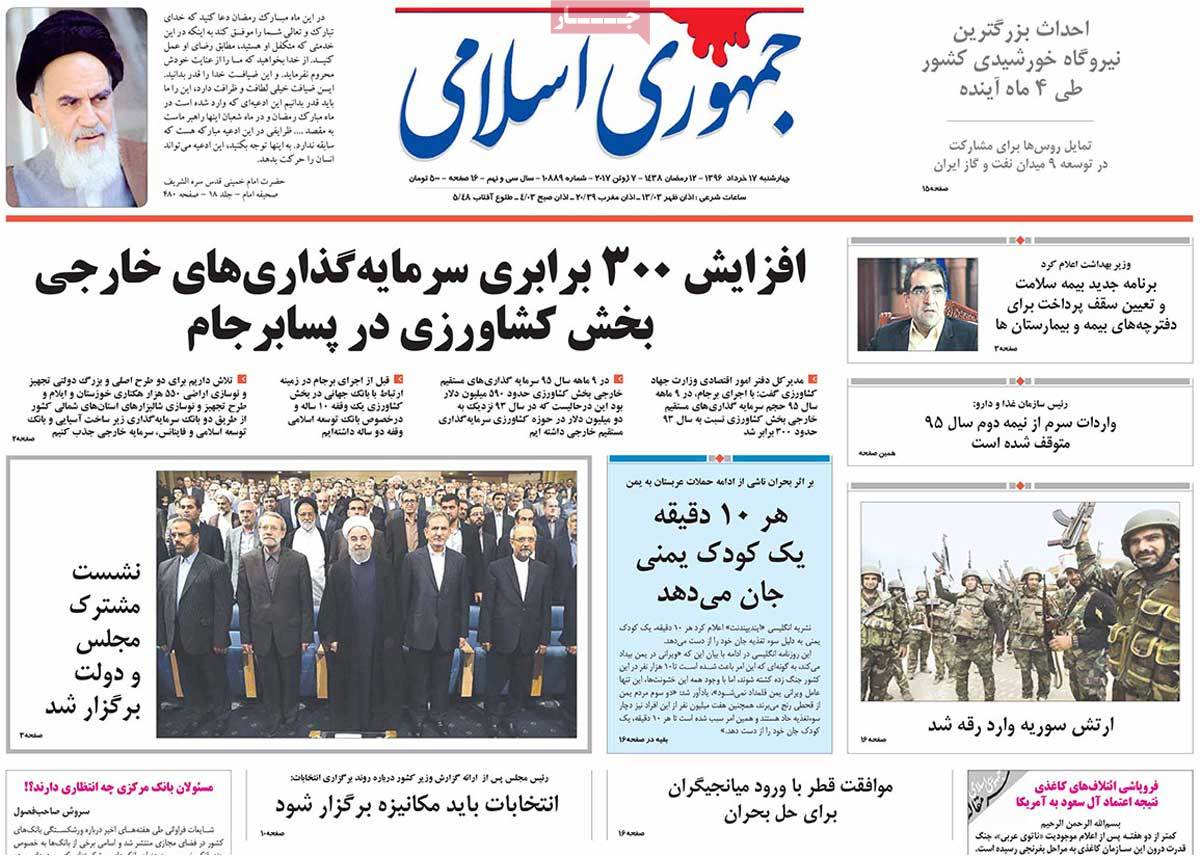 ---
Ka'enat:
1- Iran First VP: US World's Number One Producer of Greenhouse Gases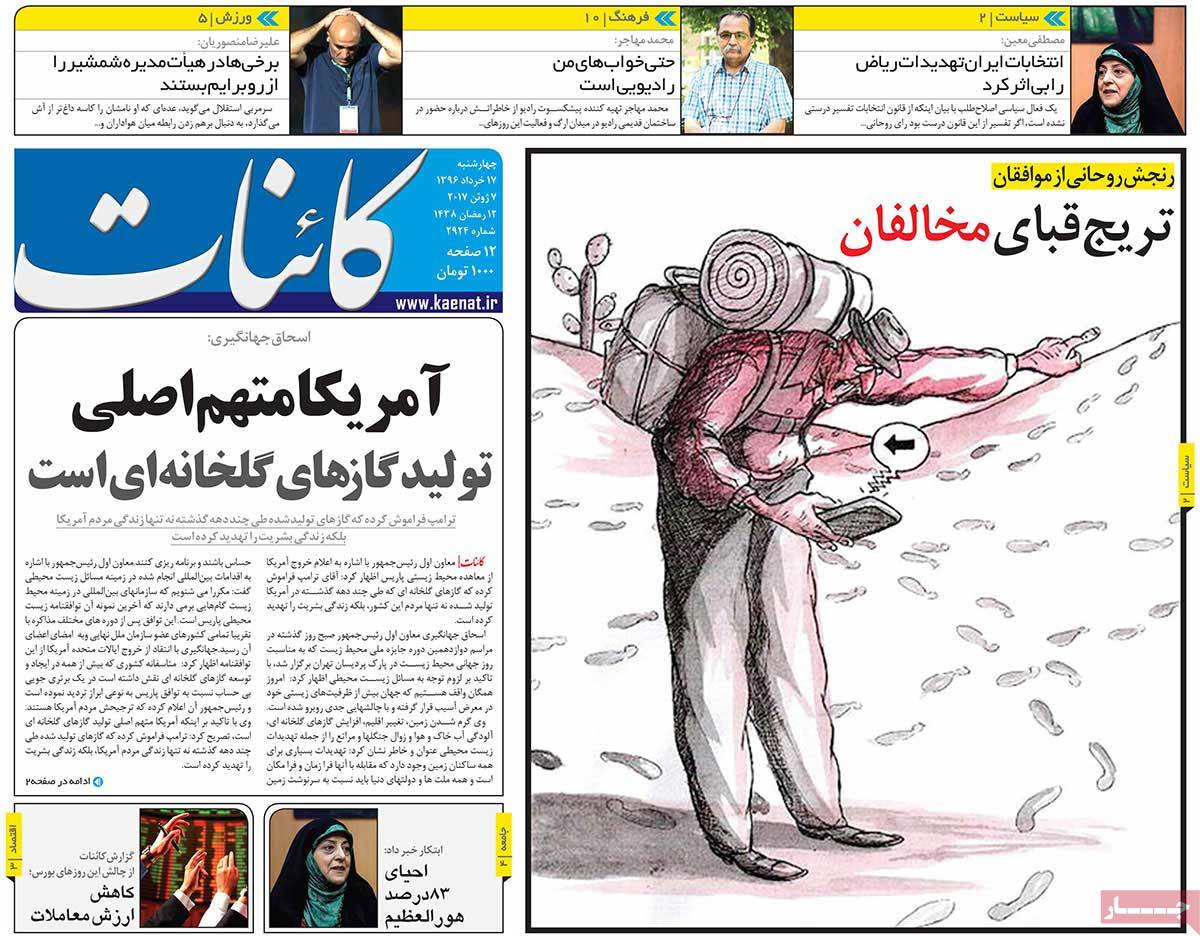 ---
Kayhan:
1- Assad Staying in Power Means Iran's Victory, Israel's Defeat
2- Arab Countries' Clash with Each Other First Achievement of Trump's Riyadh Visit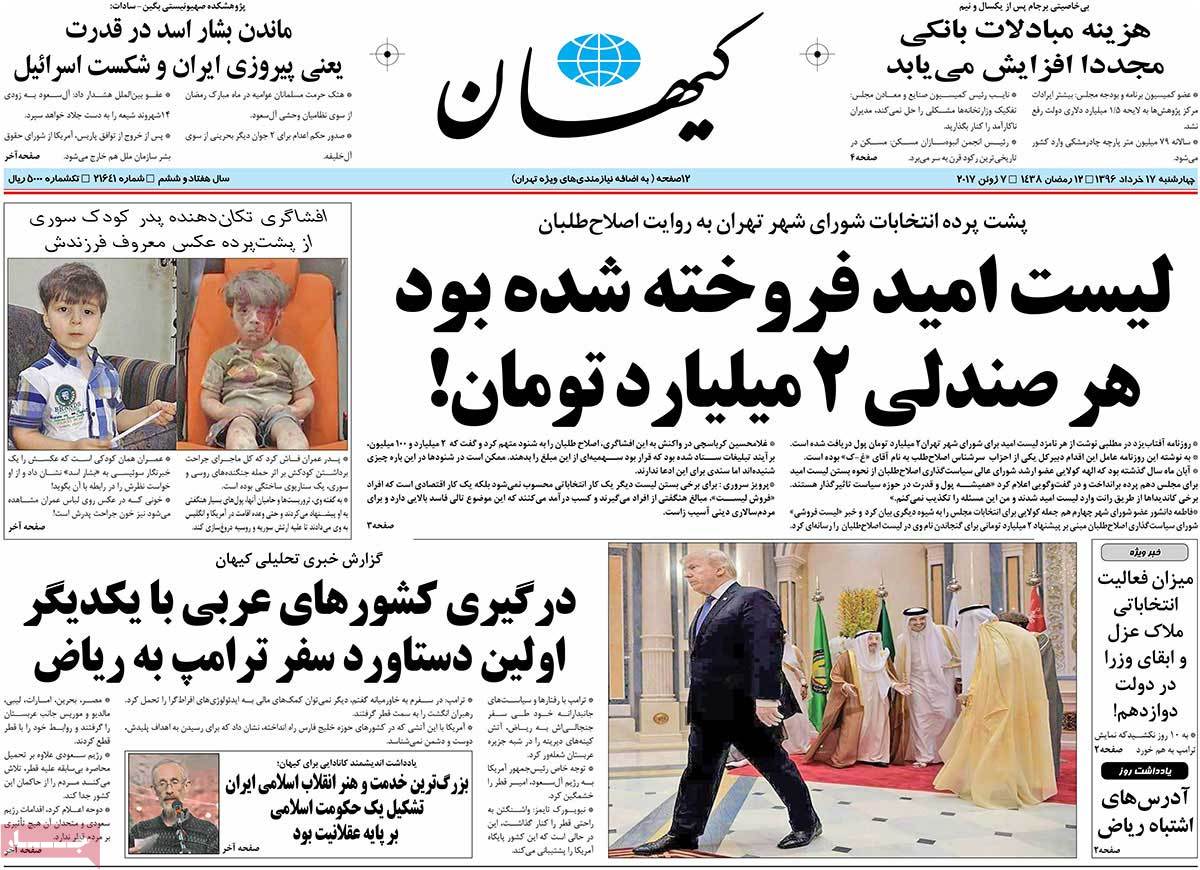 ---
Shahrvand:
1- US behind Qatar's Isolation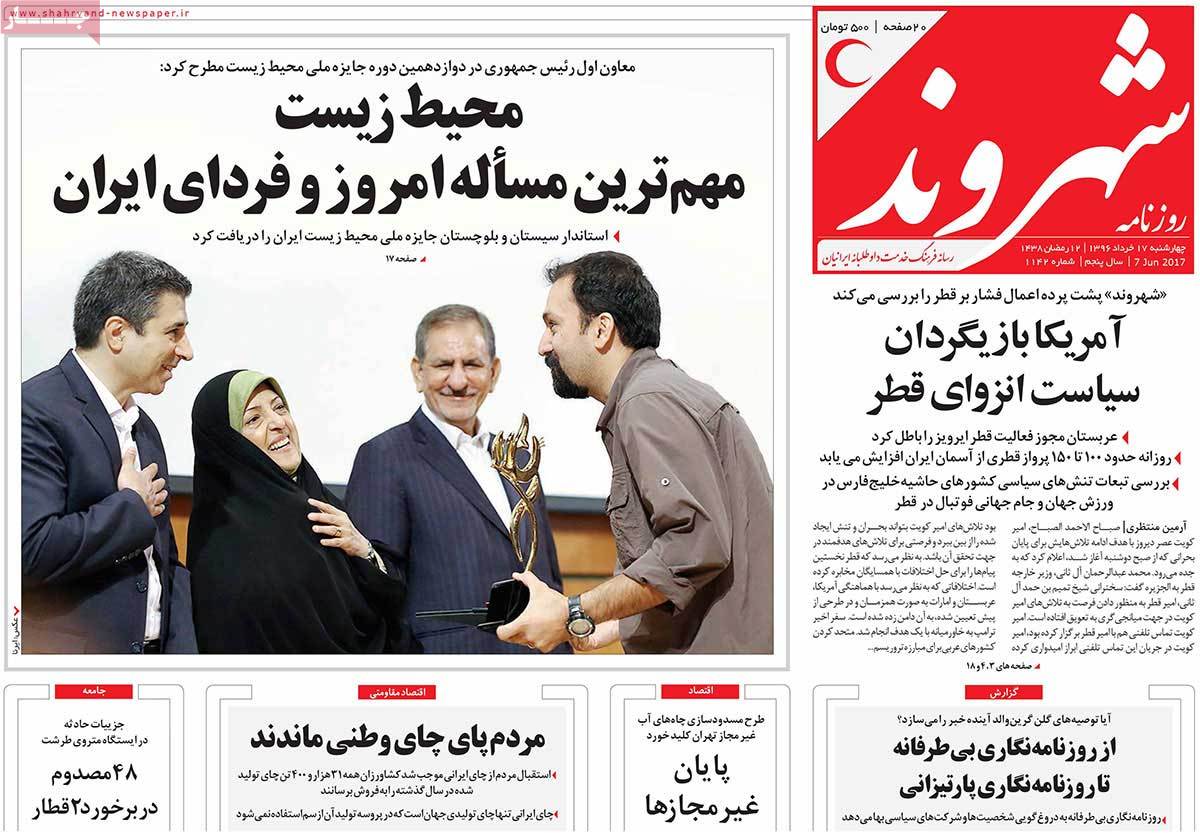 ---
Shargh:
1- Rouhani to Change Ministers of Interior, Education, Science, Industry, Transport, Chief of Staff
2- US Senate against Iran [Editorial]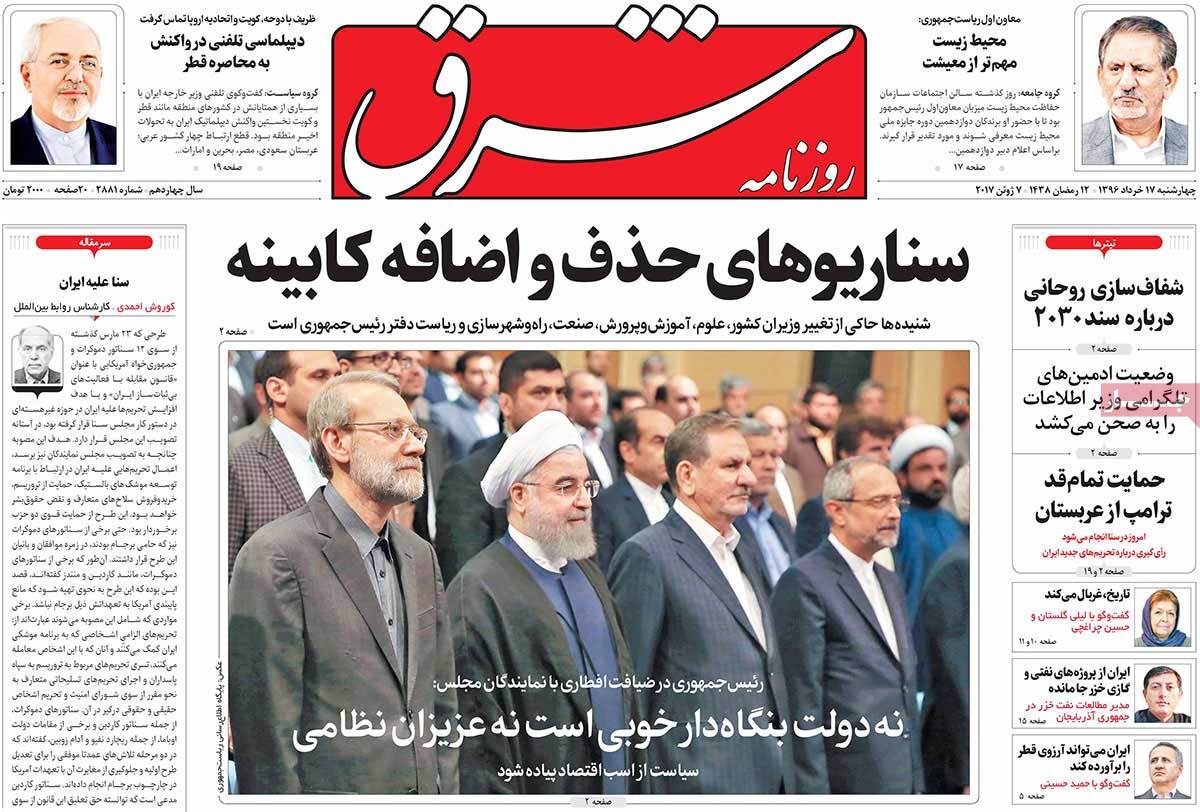 ---
Sobh-e Now:
1- Riyadh Doing Anything to Build the World Trump Wants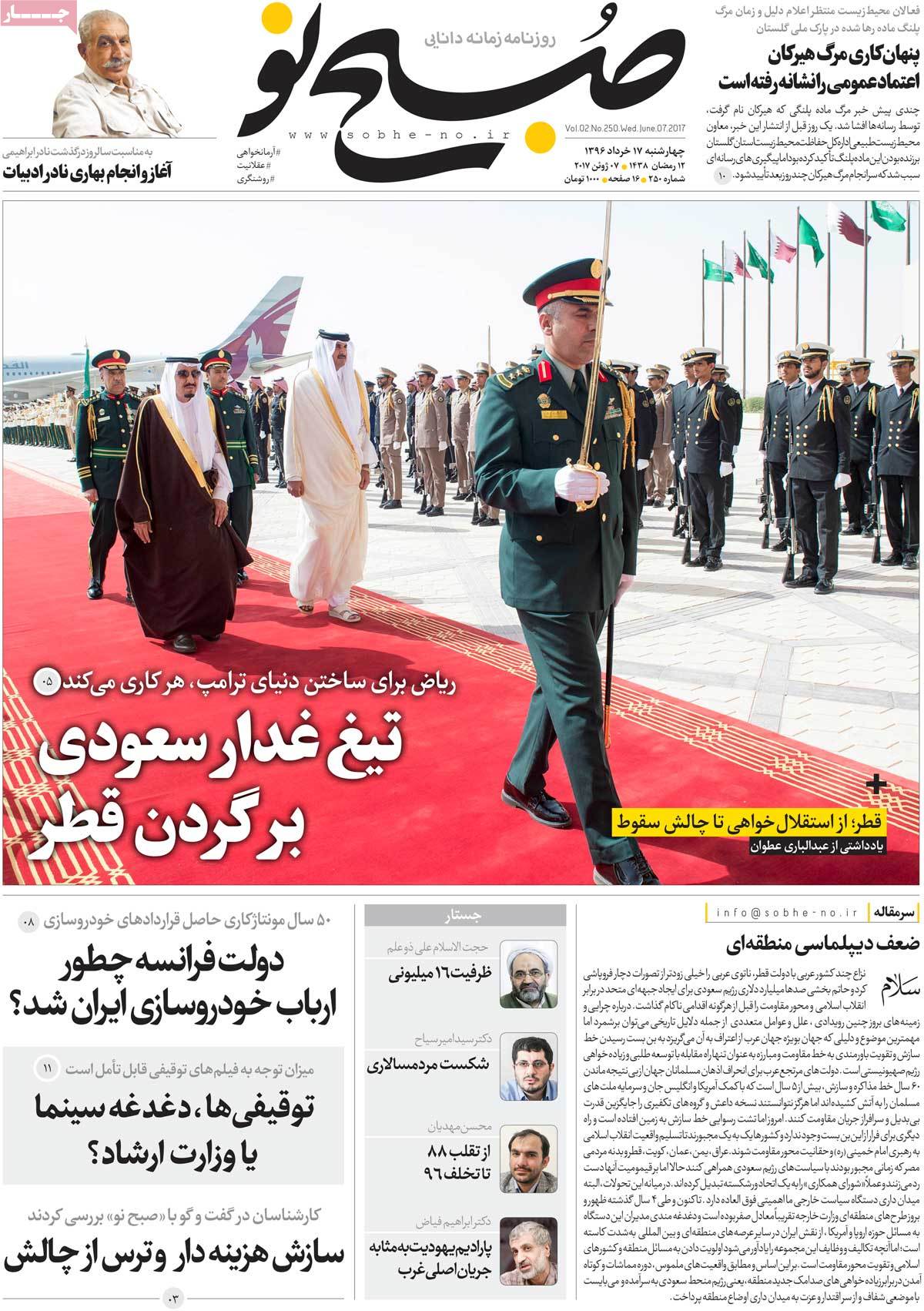 ---
Vaghaye Ettefaghieh:
1- Spiegel: Western Mosul Is Hell on Earth
2- Arabs' Behaviour and Qatar Regime Change [Editorial]