After two days of Eid al-Fitr holidays in Iran, newspapers on Wednesday covered the remarks made by the Leader of Islamic Revolution Ayatollah Seyyed Ali Khamenei about the expression 'fire on will'. The Leader clarified that it does not mean breaking the law or using swear words, but it means pure and spontaneous cultural activities.
The Leader made the comments during his Eid al-Fitr sermon, before which a controversial poem was recited by a eulogist against President Hassan Rouhani's administration, particularly the nuclear deal between Tehran and world powers. This critical poem was also slammed by pro-government and reformist papers today.
Iranian Foreign Minister Mohammad Javad Zarif's trip to Germany and his negotiations with top European officials was also a top story today.
Another top story was the decision by the Supreme Court of the United States to lift certain blocks to Trump's travel ban.
The above issues, as well as many more, are highlighted in the following headlines and top stories:
Aftab-e Yazd:
1- Rouhani's Call for Unity
2- IRGC Commander: I Keep Silent for Now for Sake of Unity
3- US Not to Be Safer with Muslim Ban: Zarif
4- Which Way Qatar Is Heading to?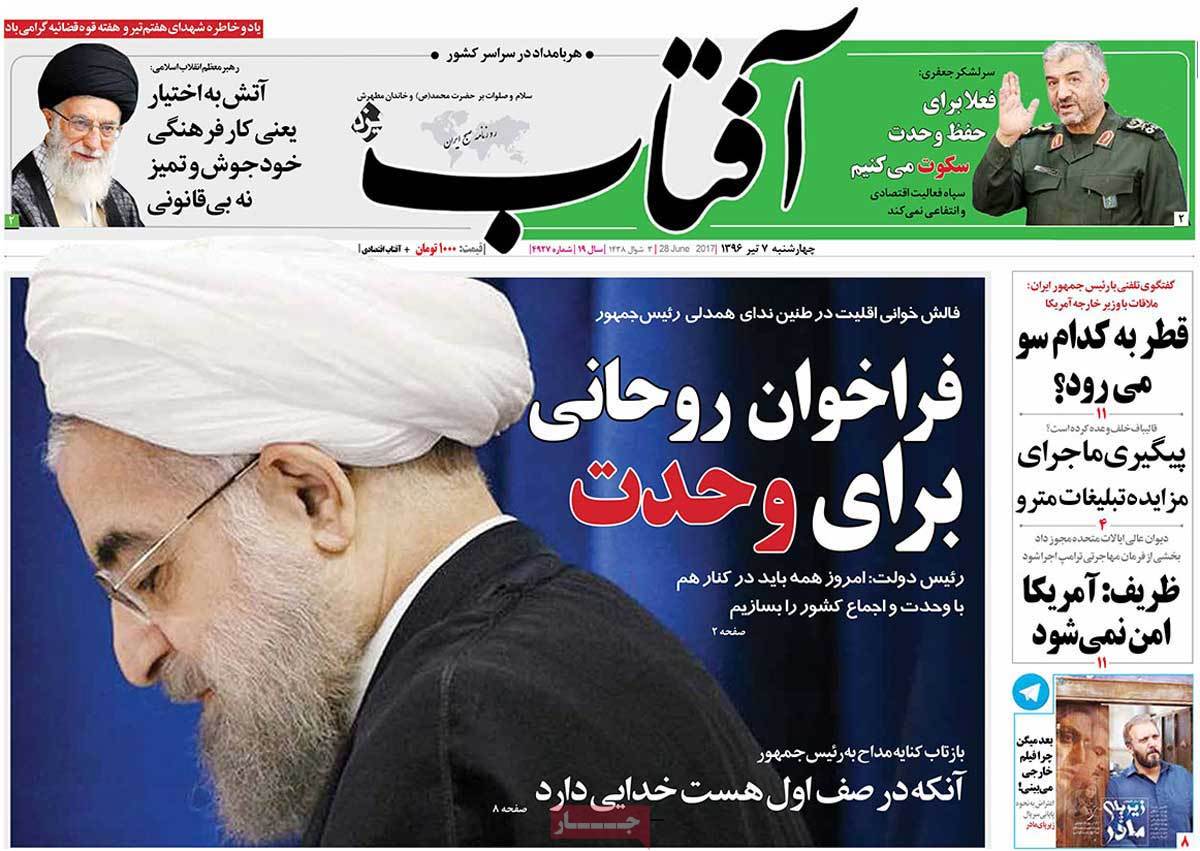 ---
Arman-e Emrooz:
1- Being 'Fire on Will' Doesn't Mean Breaking Law, Swearing: Leader
2- Chain Insults: A Report on Latest Insults to Rouhani
3- Security Cannot Be Purchased: Zarif
---
Ebtekar:
1- Political Controversies of a Poem
2- Martyrdom of IRGC Guard in Airport Drill Confirmed
3- Iran FM Underlines Iran-Europe Convergence for Resolving Mideast Crises
---
Etemad:
1- Iran Leader: 'Fire on Will' Means Spontaneous Cultural Activities, Not Breaking Law
2- I Ask Help from All Iranian People for Developing Country: Rouhani
3- IRGC Doing Economic Activities on Request of Governments: Commander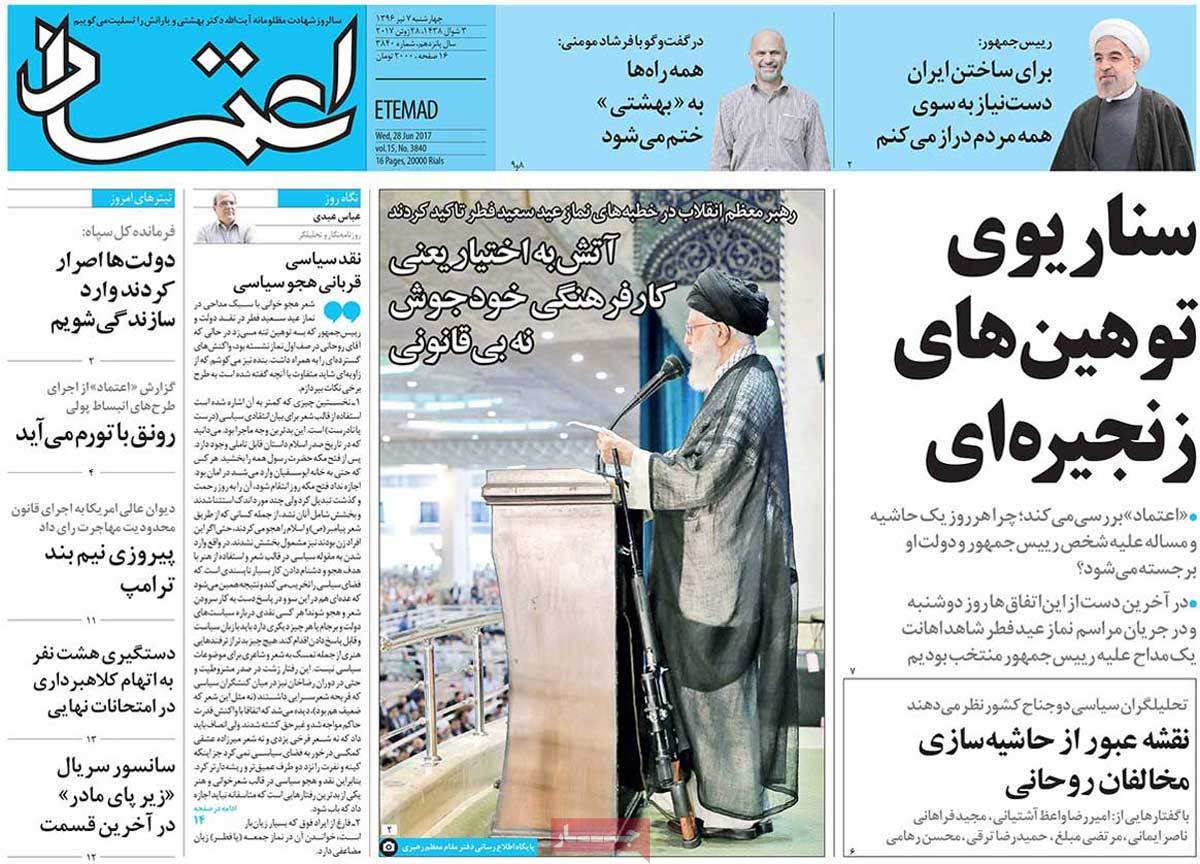 ---
Ettela'at:
1- Palestine Is First Issue of Muslim World: Iran Leader
2- Rouhani: Men Not Superior to Women
3- Zarif: Iranian People Took Six World Powers to Negotiating Table
4- WikiLeaks: Saudi Arabia Forms Organization for Operations against Iran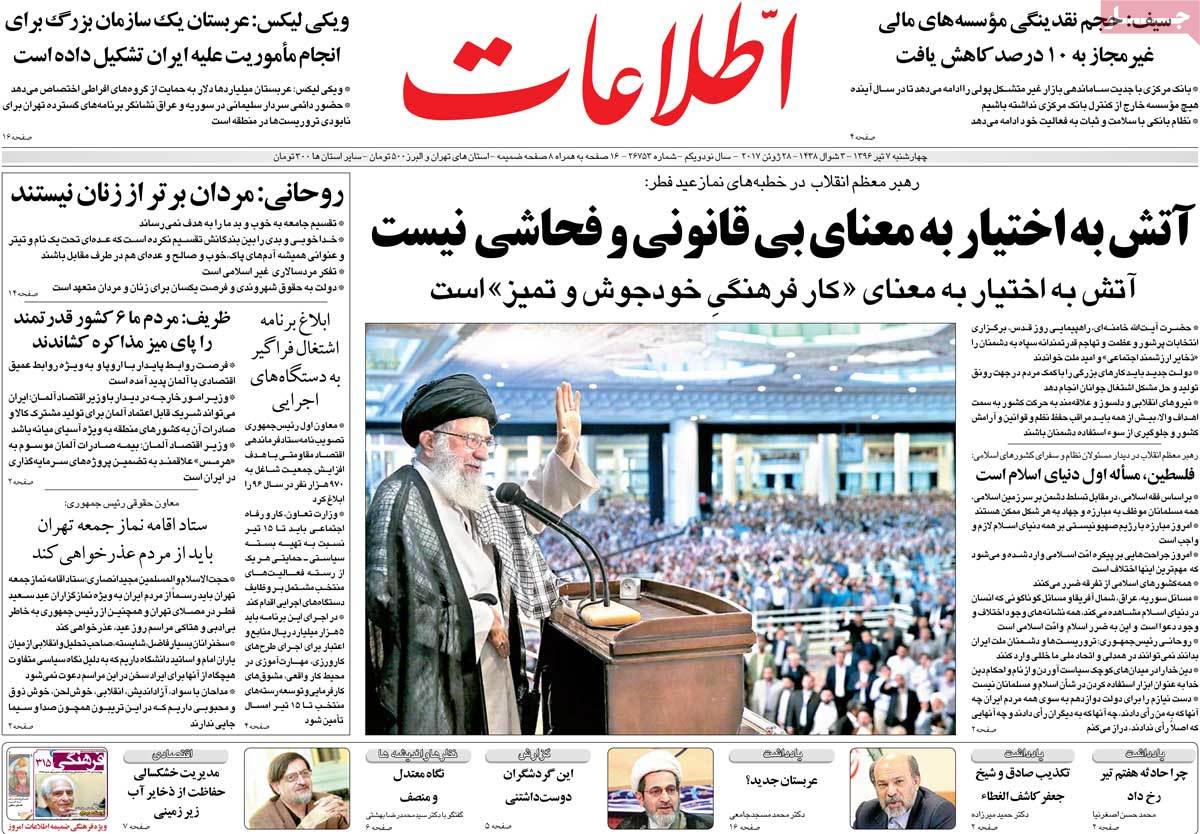 ---
Iran:
1- Those Who Insulted Rouhani Identified: Security Official
2- Rouhani's Call for Making a Developed Iran
3- IRGC Not into Economic Activities: Commander
---
Javan:
1- Gov't without Guns Will Give in to Enemies: IRGC Commander
2- With 17,000 Martyrs, Iran Is Biggest Victim of Terror
3- Iran Importing Mineral Waters from France: $5.5 for Each Bottle!
---
Jomhouri Eslami:
1- Widespread Protests against US Supreme Court's Decision on Muslim Ban
2- German Banks Ready to Finance Economic Projects in Iran
3- Israel Alone Cannot Counter Iran: Mossad Chief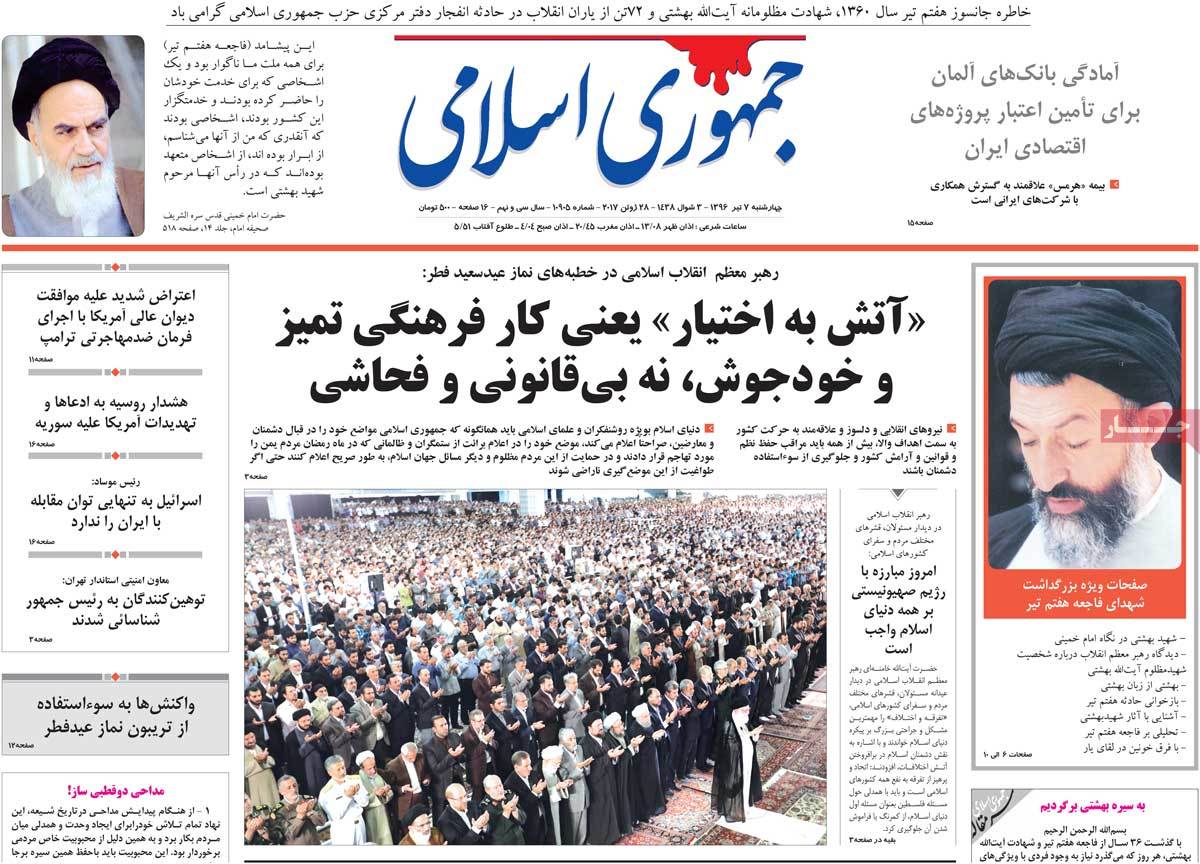 ---
Kayhan:
1- Leader Urges Gov't, Revolutionaries to Stop Enemy's Cultural Infiltration
2- FATF's Reciprocal Measures against Iran Not Suspended
3- US Envoy to UN: We Love Imposing Sanctions on Iran!
4- They Talk against IRGC, but Take Selfies with Its Projects: Commander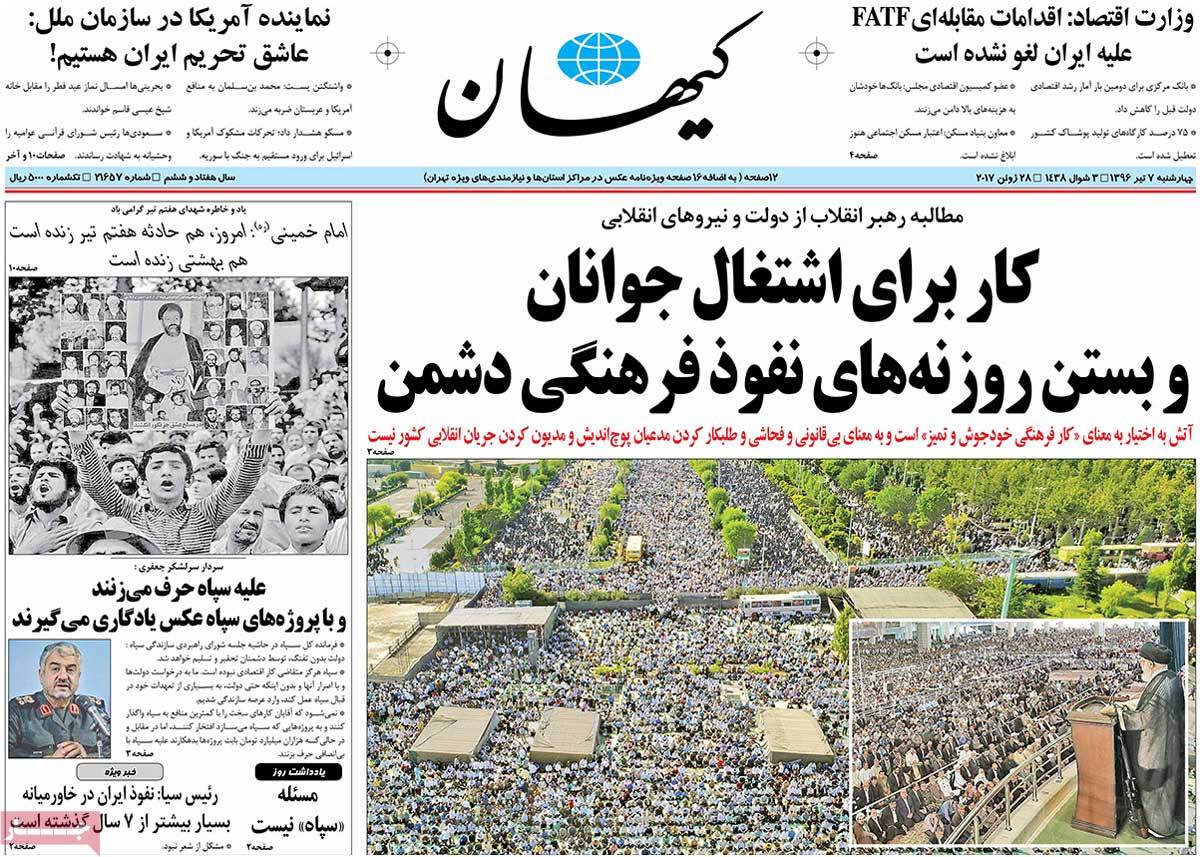 ---
Shahrvand:
1- Division, Rift Detrimental to Islam, Muslim Society: Iran Leader
2- The Thirsty Iran: Several Cities Grappling with Water Tension This Summer