The top story in Iranian newspapers today was the International Quds Day rallies held across Iran and the world to support the cause of Palestine and show opposition to the Israeli regime's policies.
On the sidelines of the rallies, however, a group of hardliners insulted President Hassan Rouhani. The issue was widely covered by newspapers, with many critics of Rouhani's administration even denouncing the attacks.
Another top story was the move by members of the Financial Action Task Force (FATF), including the EU and the US, to extend the suspension of banking and financial restrictions on Iran.
The above issues, as well as many more, are highlighted in the following headlines and top stories:
Abrar:
1- Iranian Nation Gave US Decisive Response: Rouhani
2- Moscow: No Major Difference between Iran, Russia, Turkey
---
Abrar-e Eqtesadi:
1- Germany's Cooperation with Russia in Iran's Oil, Gas Projects
2- Iran Gives Greenlight for Gas Exports to Iraq
---
Aftab-e Yazd:
1- Iran Leader: Fight against Zionist Regime Today Is Fight against Arrogance
2- Support for Axis of Resistance, Intifada Emphasized in Quds Day Rallies
3- Great Loss for Those Who Seek to Divide Iran's Society
A Few People Insult President Rouhani in Quds Day Rallies
---
Arman-e Emrooz:
1- Solidarity against Terrorism
Calls for Quds Liberation Heard in Iran on Friday
2- A Small Number of People Insult President, Other Officials
Twitterstorm in Support of Rouhani
Interior Minister Orders Prosecution of Norm-Breakers
---
Ebtekar:
1- Everyone for Quds: Iranians Hold Rallies across Country
2- Against Republicanism, Against People: A Report on Insults to President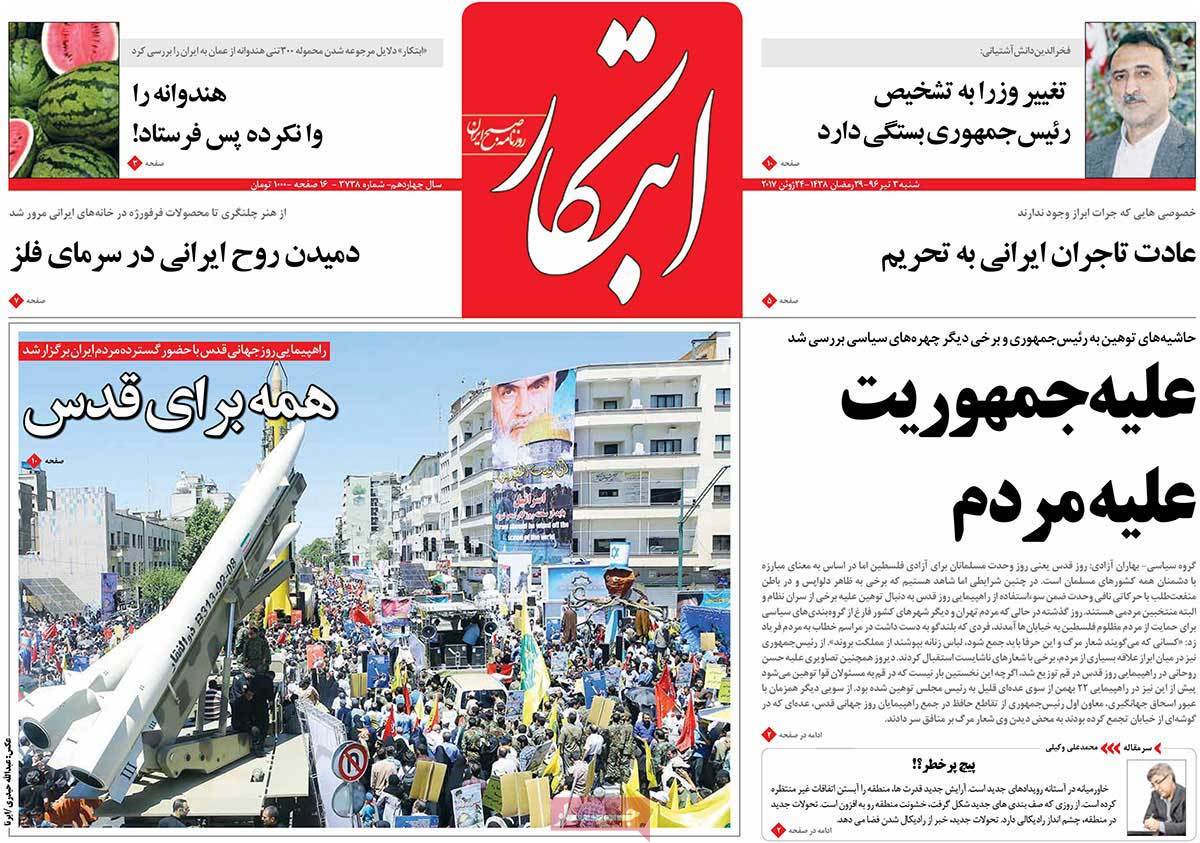 ---
Etemad:
1- Quds Not Left Alone
2- Nasrallah: Saudi Arabia Not to Engage Itself in War on Iran
3- Europe Supports Extension of FATF's Deal with Iran
4- Analysts Warn against Bin Salman's Being Saudi Crown Prince
Tehran-Riyadh Tension to Get More Serious
5- University of St Andrews Praises Iranian Maestro
Beyzai Receives Doctor of Letters
---
Ettela'at:
1- Iran Repeats Its Hatred towards Zionism
2- Larijani: Nothing More Despicable than Zionism in History
3- 30 Killed, 100 Wounded in Series of Terrorist Blasts in Pakistan's Parachinar
4- 3 Iranian Companies to Buy 88 New Airbus, Boeing Planes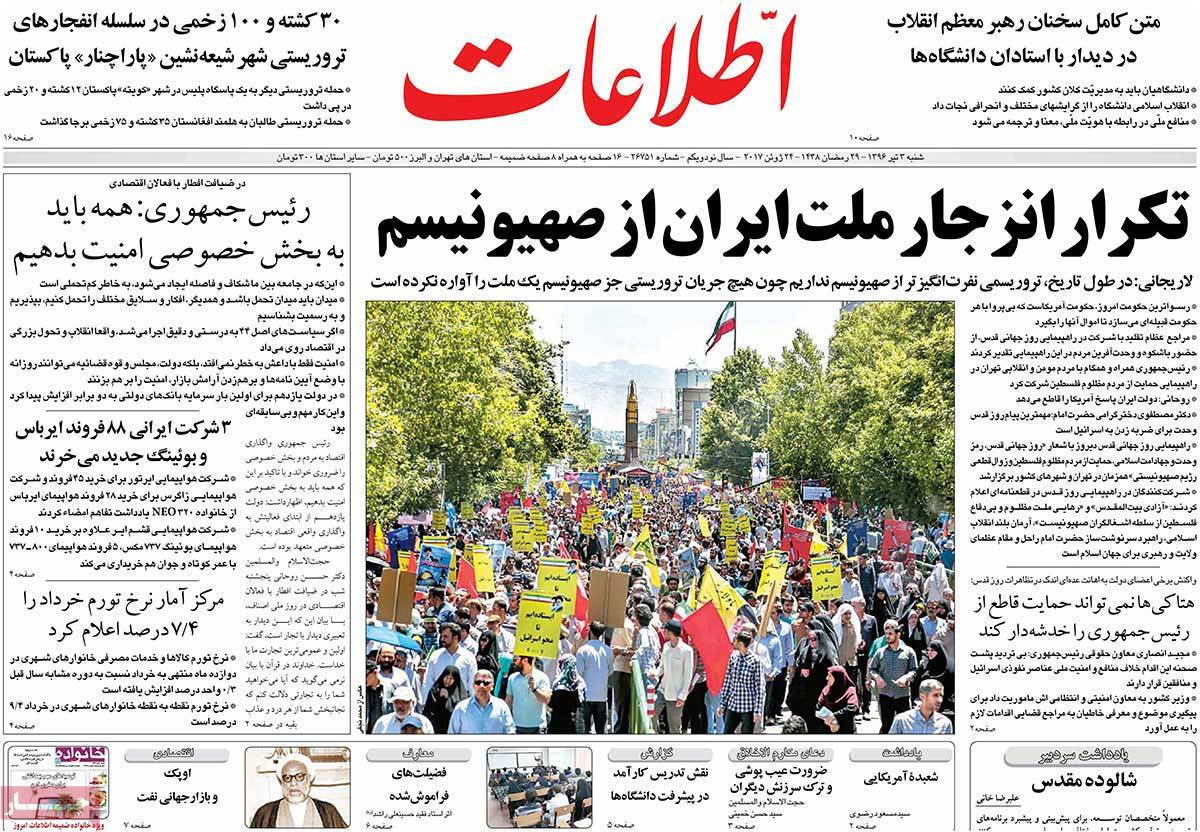 ---
Iran:
1- Iran Leader: Without People's Votes, Islamic Establishment Couldn't Survive
2- Iran Should to Shoulder with Palestine
3- National Hatred towards Organized Slogans against President
Trace of Hardliners from Attack on Saudi Embassy to Friday Insults
4- Iran's Top Officer: Missile Attack Proposed by IRGC, Welcomed by SNSC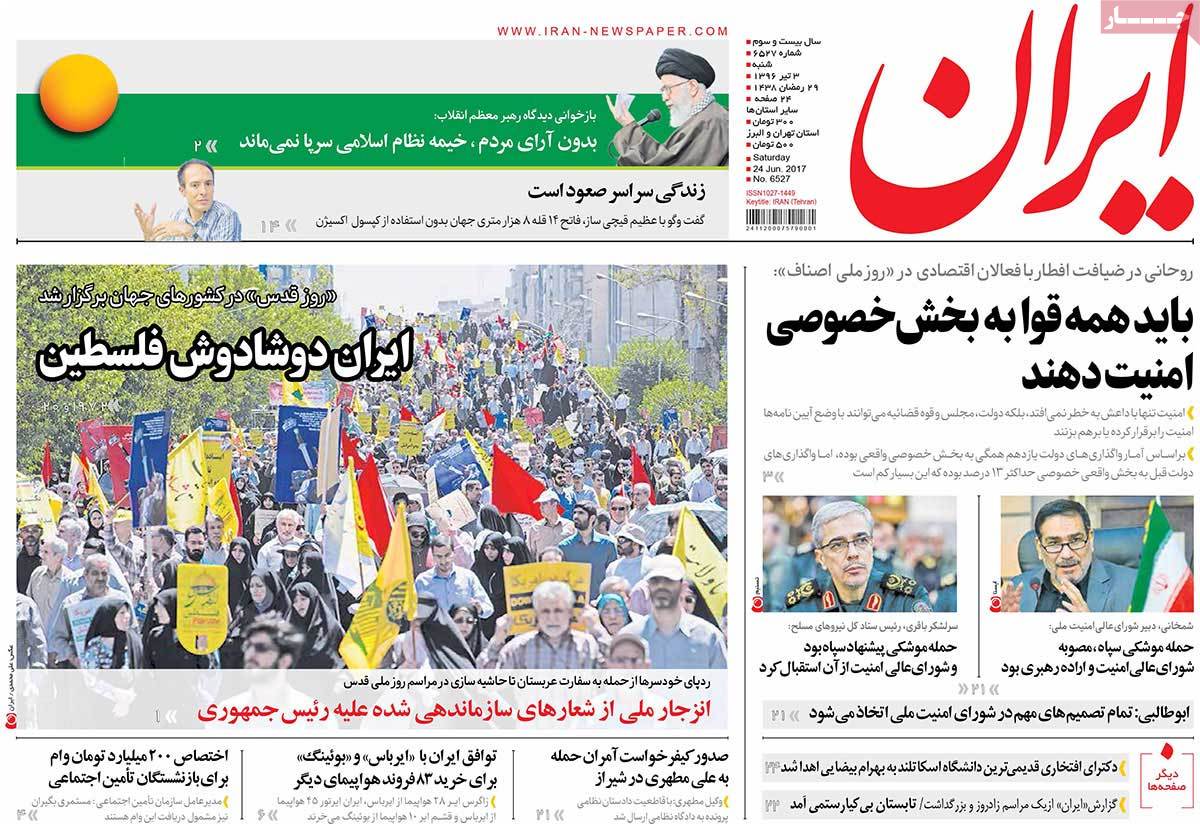 ---
Javan:
1- Death to Israel
2- Countdown Begins for Israel's Destruction
3- France Opposing US
Paris Holds Joint Drill with Qatar, Gets Closer to Russia, Accepts Assad as Syria's Legitimate President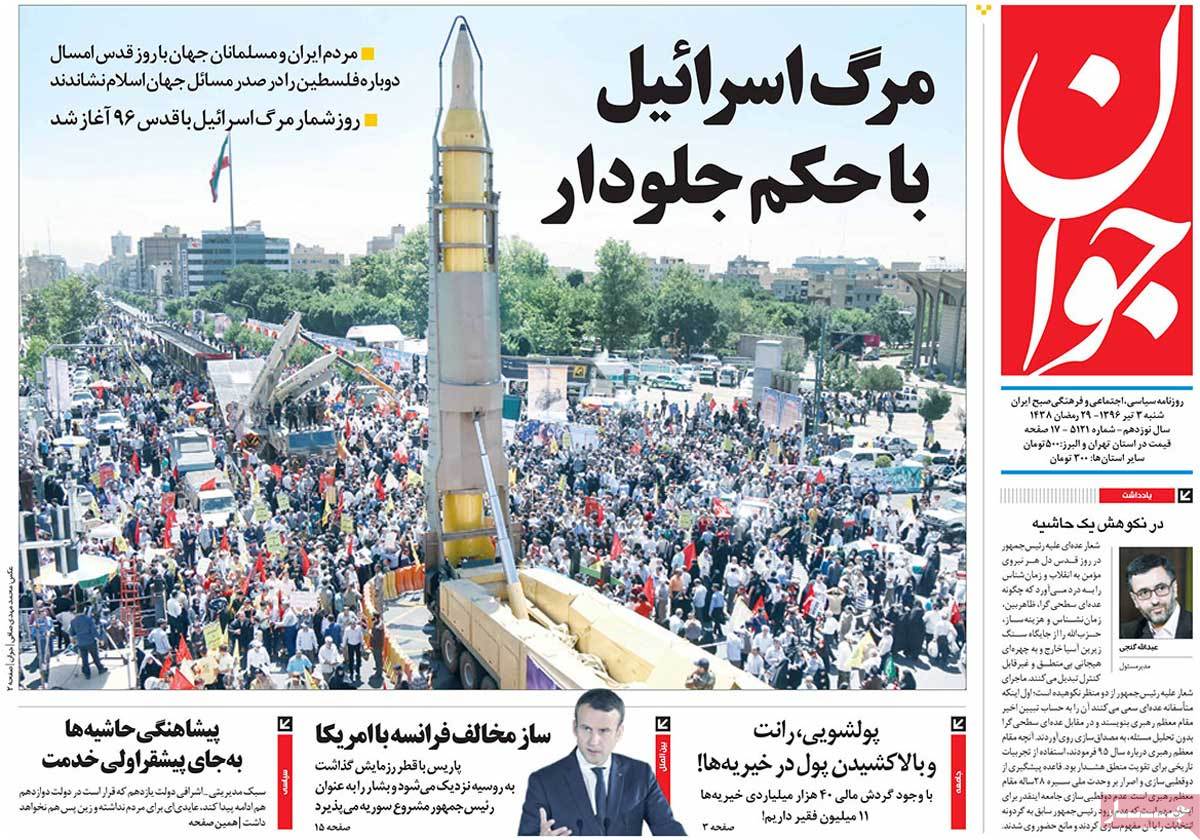 ---
Jomhouri Eslami:
1- Show Muslim Unity for Liberation of al-Quds
2- IRGC's Missile Attack Conducted with Leader's Will, SNSC's Approval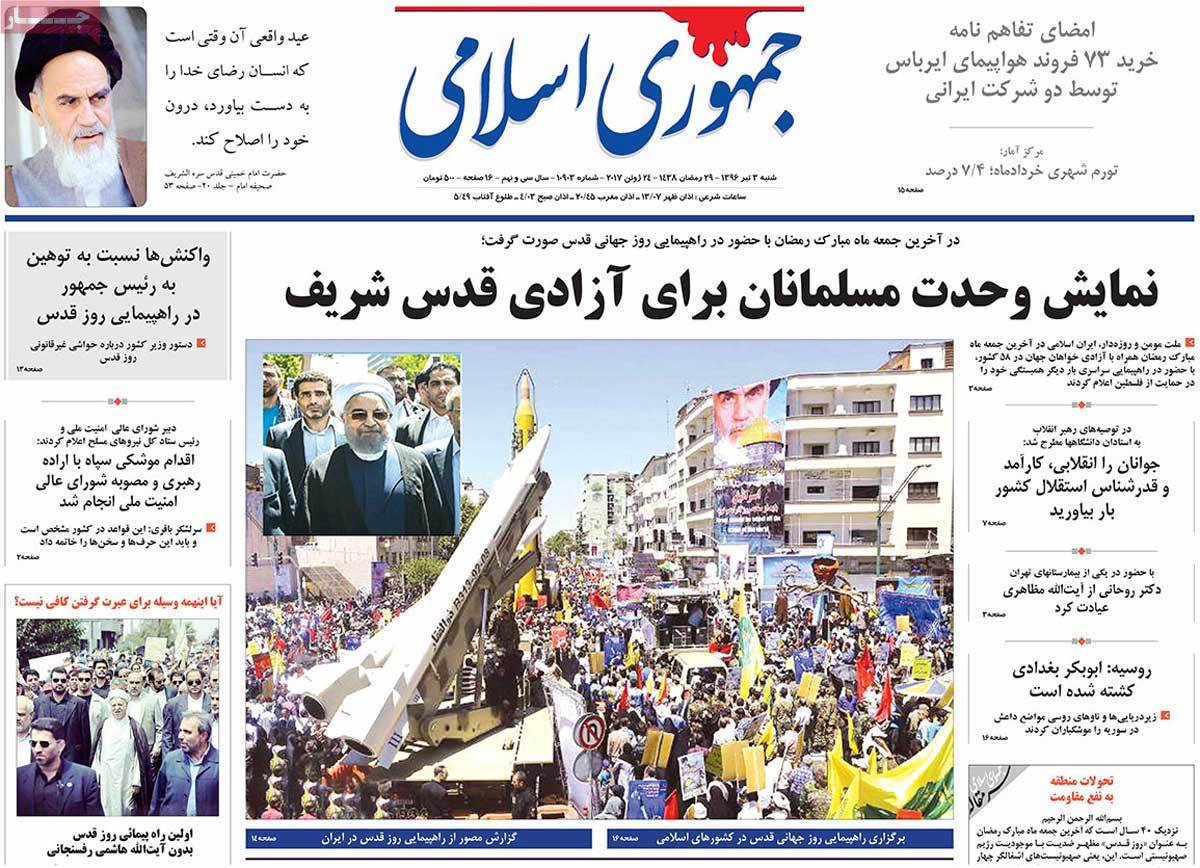 ---
Kayhan:
1- Nation's Integrated Scream: We'll Stand Firmly until Israel's Annihilation
2- Europeans Support Iran's Inclusion in Grey List of FATF
3- Zionists Thrilled by Bin Salman's New Post: Israel Reveals Past Ties with Him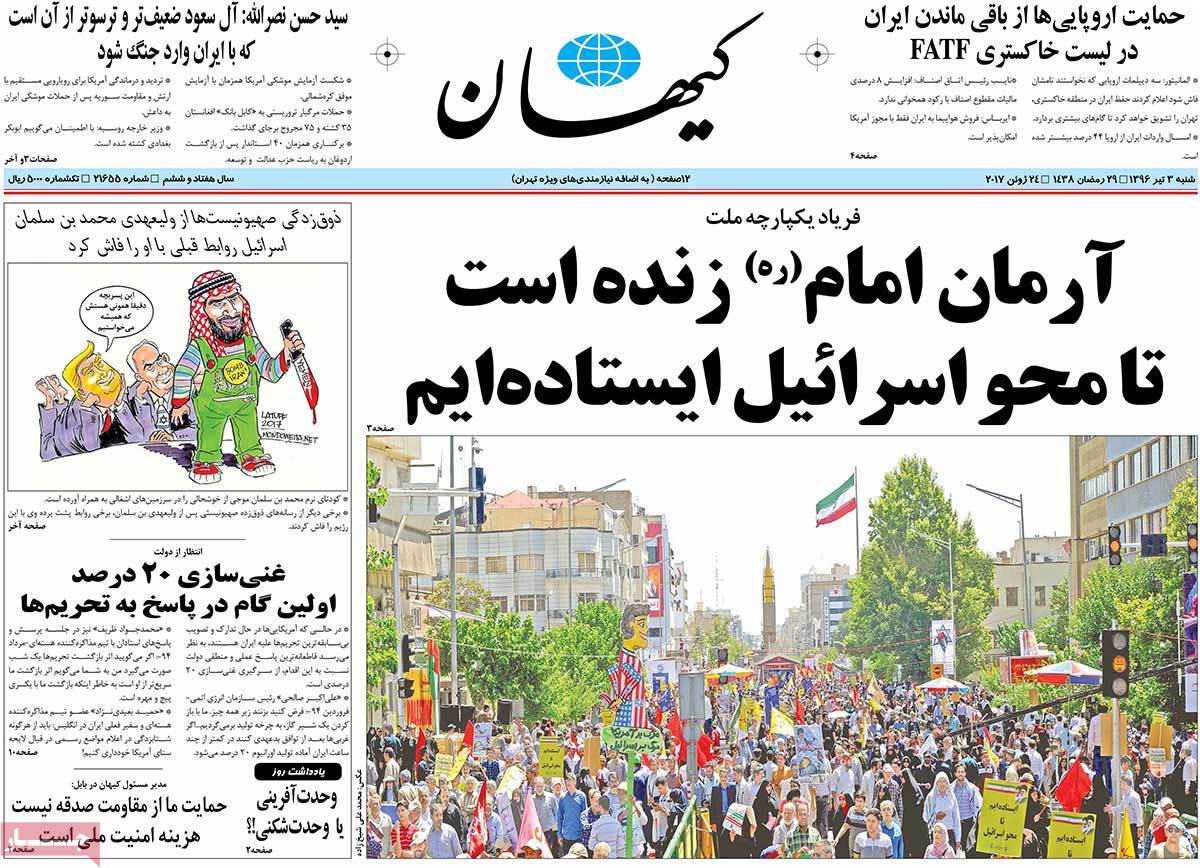 ---
Khorasan:
1- Imminent Death of ISIS in Iraq
2- Insults to President on Sidelines of Quds Day Rallies Widely Condemned
3- Fasting People in 900 Iranian Cities Rise to Support al-Quds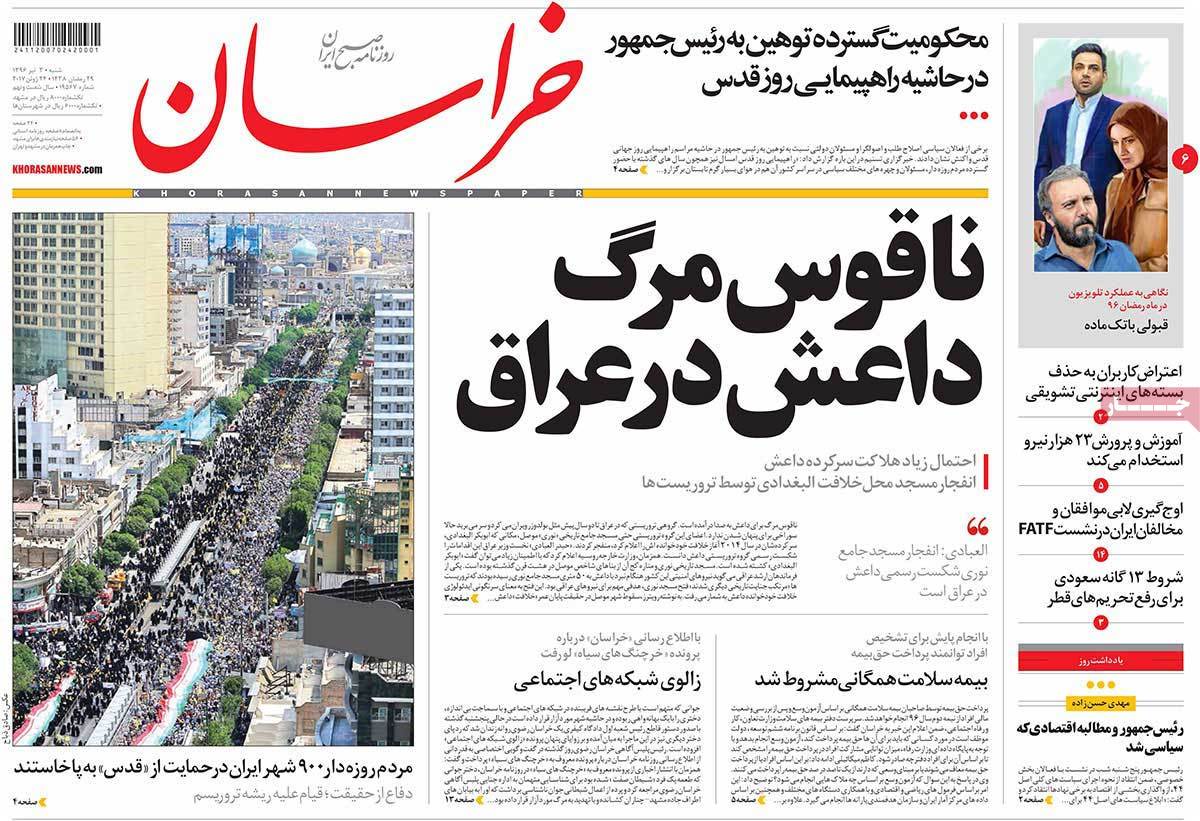 ---
Resalat:
1- Larijani: No Phenomenon More Inauspicious than Zionist Regime in Past Century
2- Al-Quds Liberation First Priority of Muslim World
---
Setareh Sobh:
1- Occupation, Zionism Condemned
2- Former Central Bank of Iran Official: FATF Accession Is in Iran's Interest
---
Shahrvand:
1- United with the Oppressed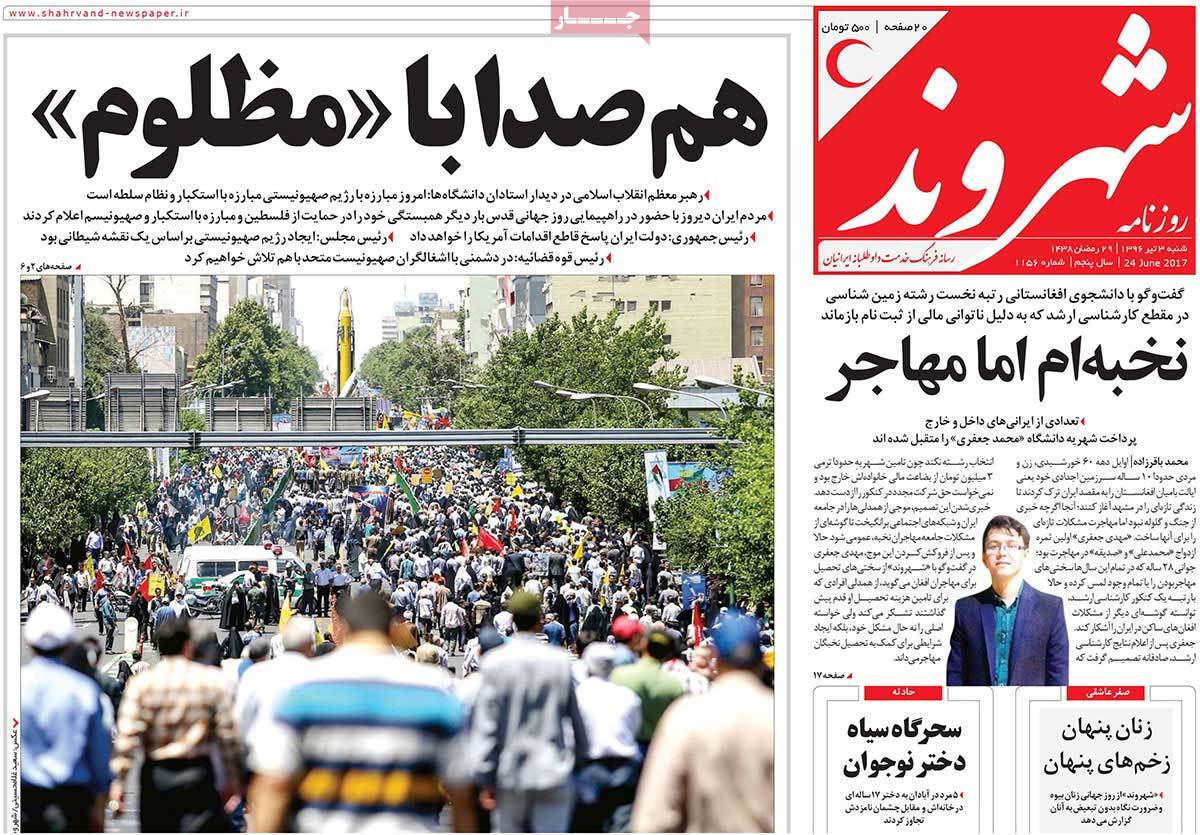 ---
Tejarat:
1- 5-Fold Increase in Europe's Imports from Iran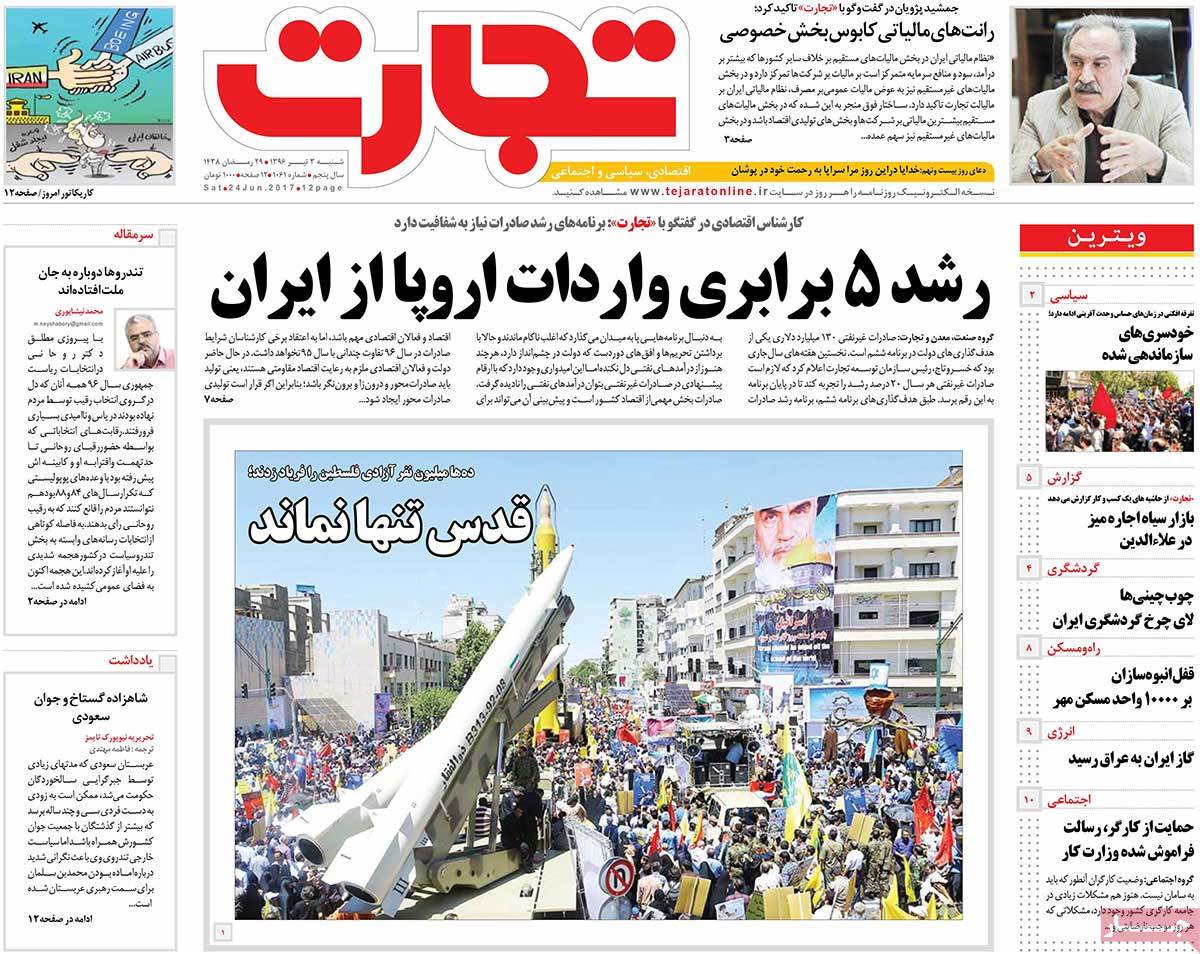 ---
Vaghaye Ettefaghieh:
1- Freedom from Hegemony: Cause of Quds Day