Leader of the Islamic Revolution Ayatollah Seyyed Ali Khamenei met President Hassan Rouhani and members of his cabinet on Wednesday, June 22. During the meeting, the controversial issue of astronomical salaries paid to certain executive was discussed. The Leader urged the government to seriously pursue the issue, but at the same time noted that such cases are rare, and majority of executives are decent people, receiving normal salaries. The remarks were widely covered by Iranian press on Thursday. Many of the headlines were dedicated to the Leader's call for action, and some of them referred to the decency of most executives.
Bus crashes in Fars province, which killed 19 soldiers on board and wounded many more, were also highlighted in many newspapers.
Foreign Minister Mohammad Javad Zarif's ongoing tour of Europe, including visits to France and the Netherlands, is also a top story. His meetings with French President Francois Hollande and his French counterpart were widely covered.
Below, you can find the way Iranian media discussed the abovementioned issues as well as several others topics.
Abrar:
1- Germany Doesn't Accept Iran's Threat against Existence of Israel: Envoy to Occupied Territories
2- 15,000 Tribesmen Preparing for Mosul Operation
3- 80 Killed and Wounded in Eastern Tripoli Blast
4- Iran's Warning against Emergence and Growth of New ISIS Branches
5- Islamic Republic's Diplomacy Not Dependent on One Person: Senior MP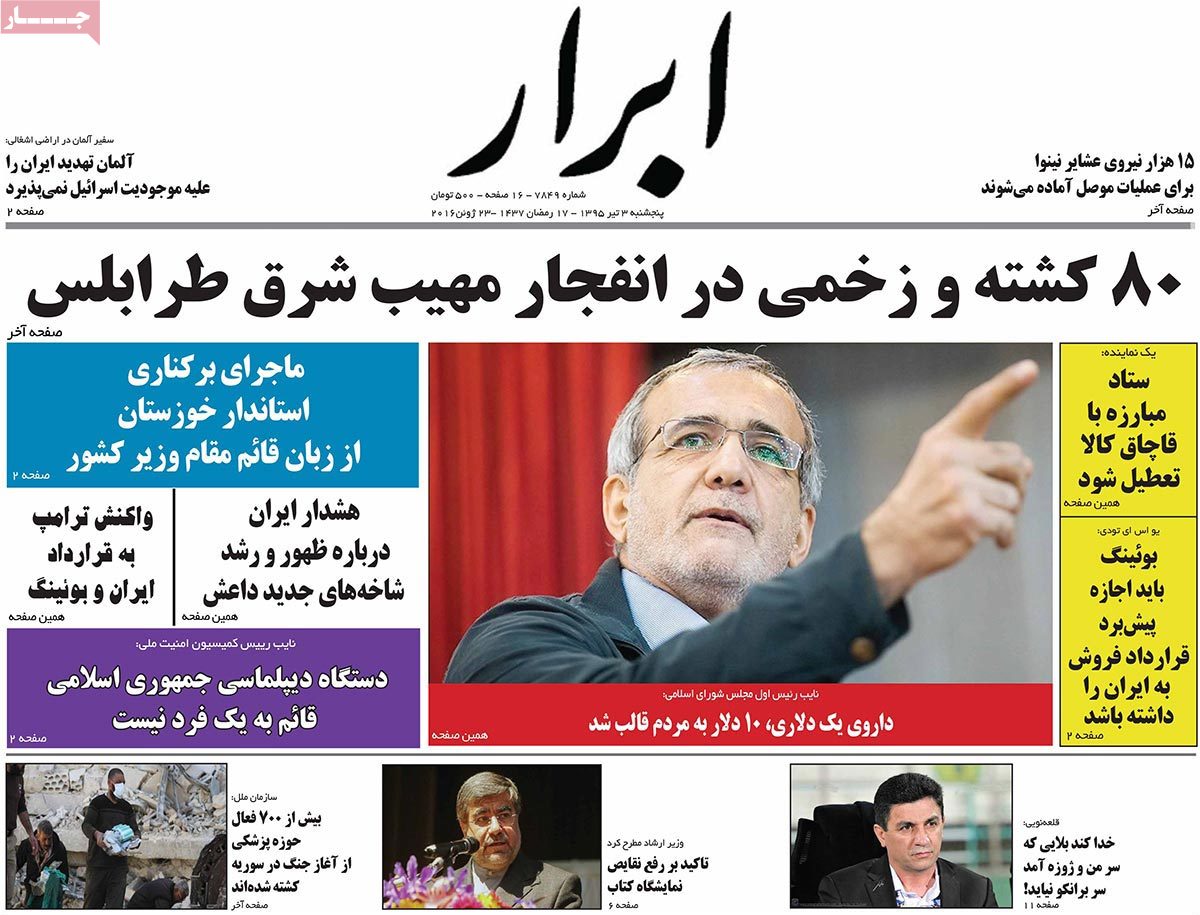 ---
Abrar-e Eqtesadi:
1- Shortage of Capital in Iran's Economy: Bloomberg
2- 10% of Iran's Power to Be Supplied by Turkey
3- 14% Growth in [giant car manufacturer] Saipa's Production
4- We Respect Boeing's Deal with Iran: US Treasury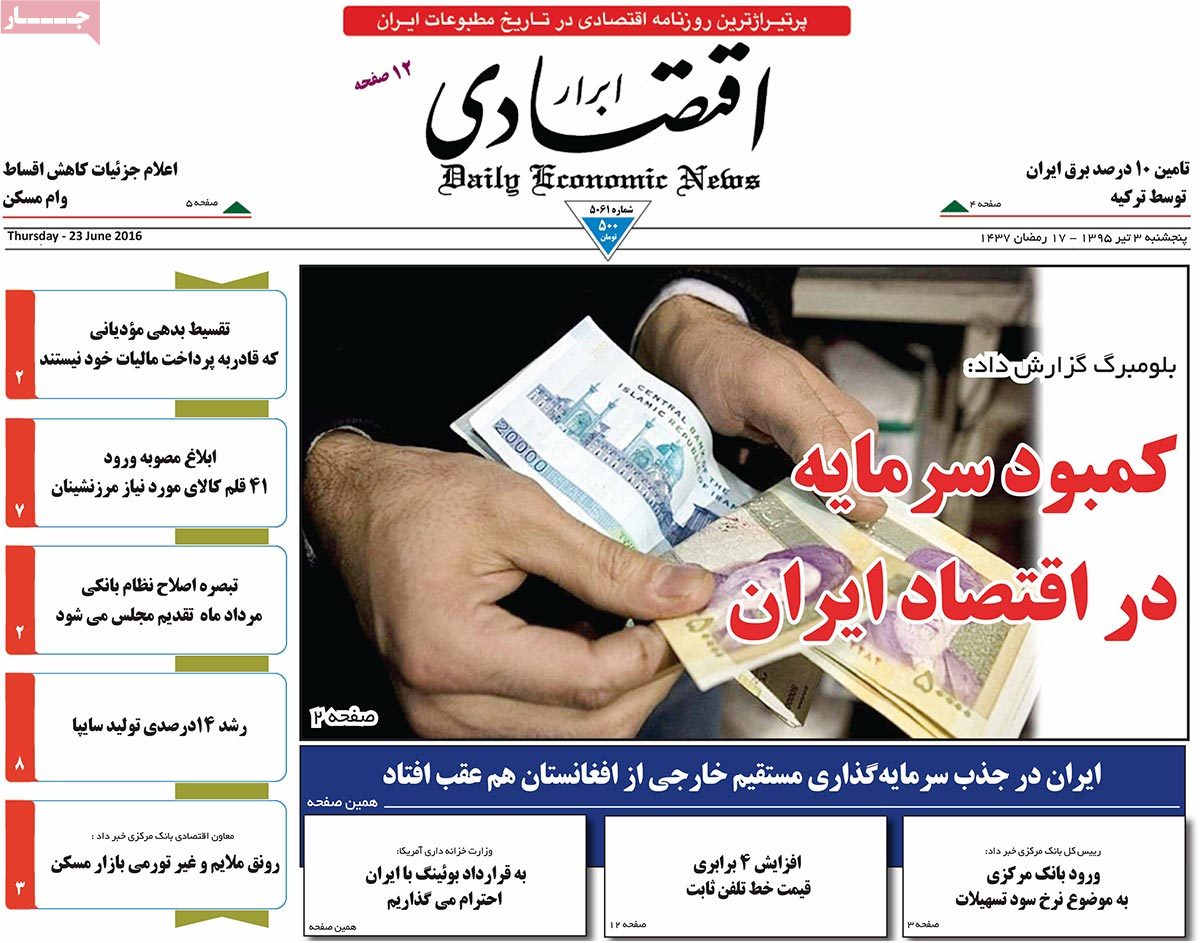 ---
Aftab-e Yazd:
1- [Iranian Fugitive Banker] Khavari Threatens His Partner to Death
2- Astronomical Salaries of Ahmadinejad's Gov't: MP Reveals
3- Iranians to Board New Boeing Planes: Iran Air and Boeing Sign Plane Purchase Deal
---
Arman-e Emrooz:
1- Astronomical Salaries an Attack on Values: Ayatollah Khamenei
2- We Shouldn't Count on People's Money When Chanting Slogans: Rouhani
3- Why Rafsanjani Doesn't Attend Friday Prayers
4- Bus Crash Leaves 19 Dead in Fars Province
5- Why Zarif's European Tours Are Important [Editorial]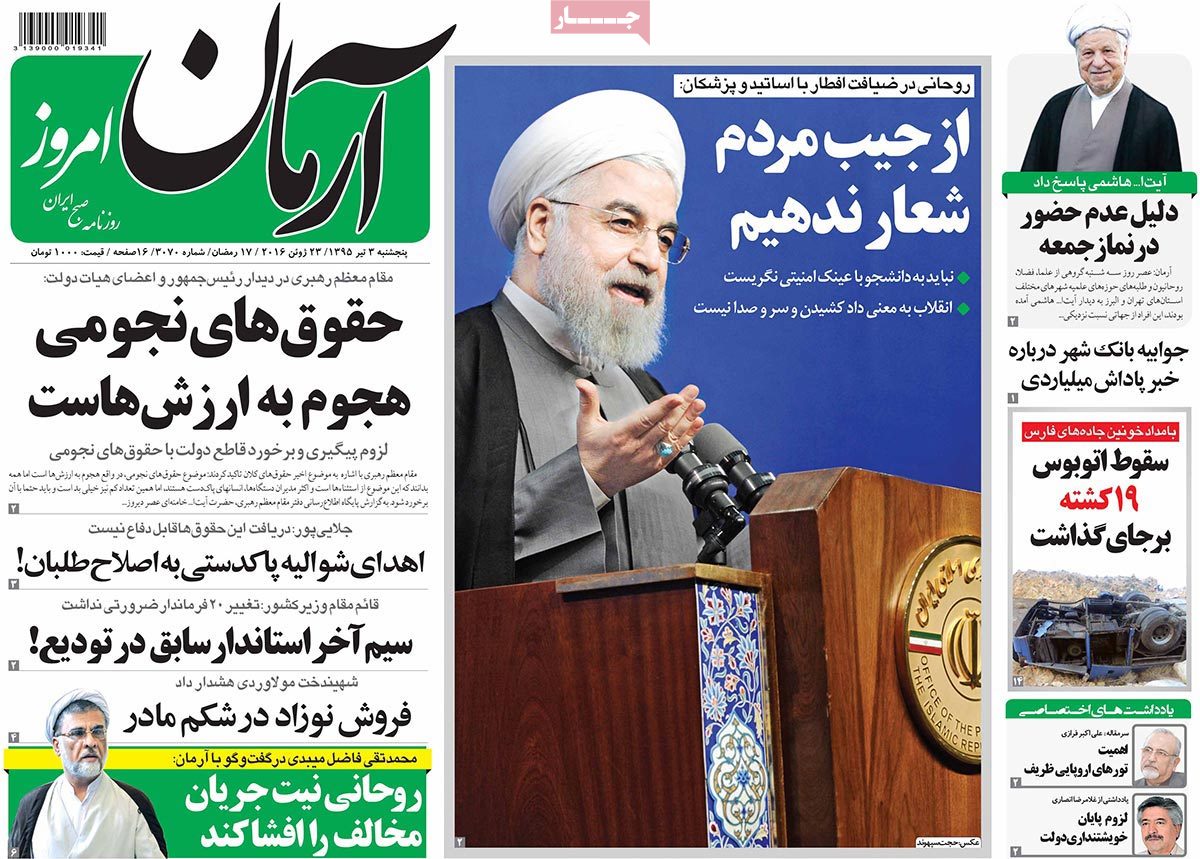 ---
Asia:
1- Visionary Britons to Vote Today: Being [in EU] Is Better Than Not Being
2- Doors of Iran's Economy Opened to World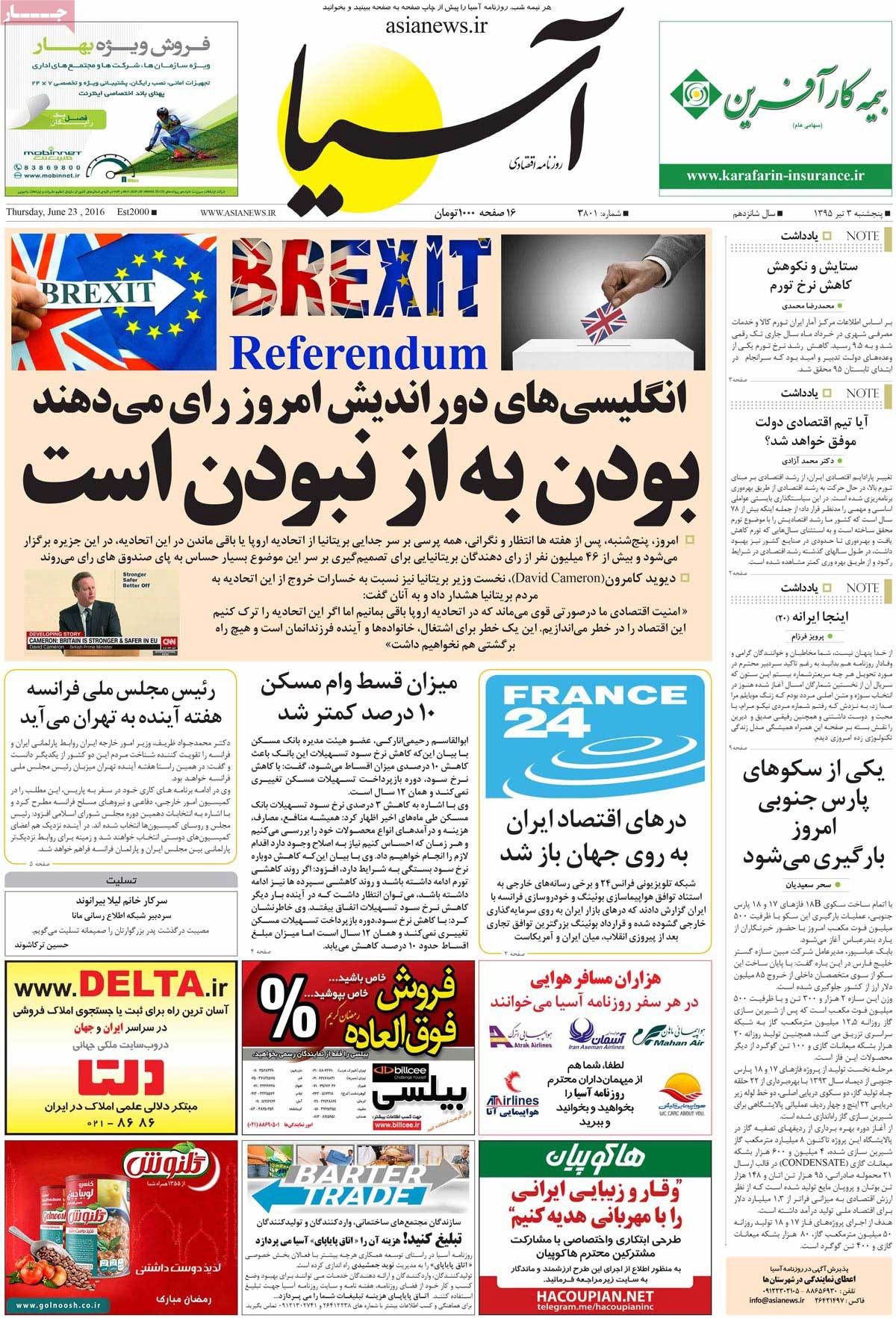 ---
Asr-e Rasaneh:
1- Qatar Once Again Making Inroads into Iran's Gas Market
2- Maserati, Ferrari, and Aston Martin Prevented from Being Imported to Iran
3- Historical Coins Dating Back to Achaemenid Era Discovered in Tehran Subway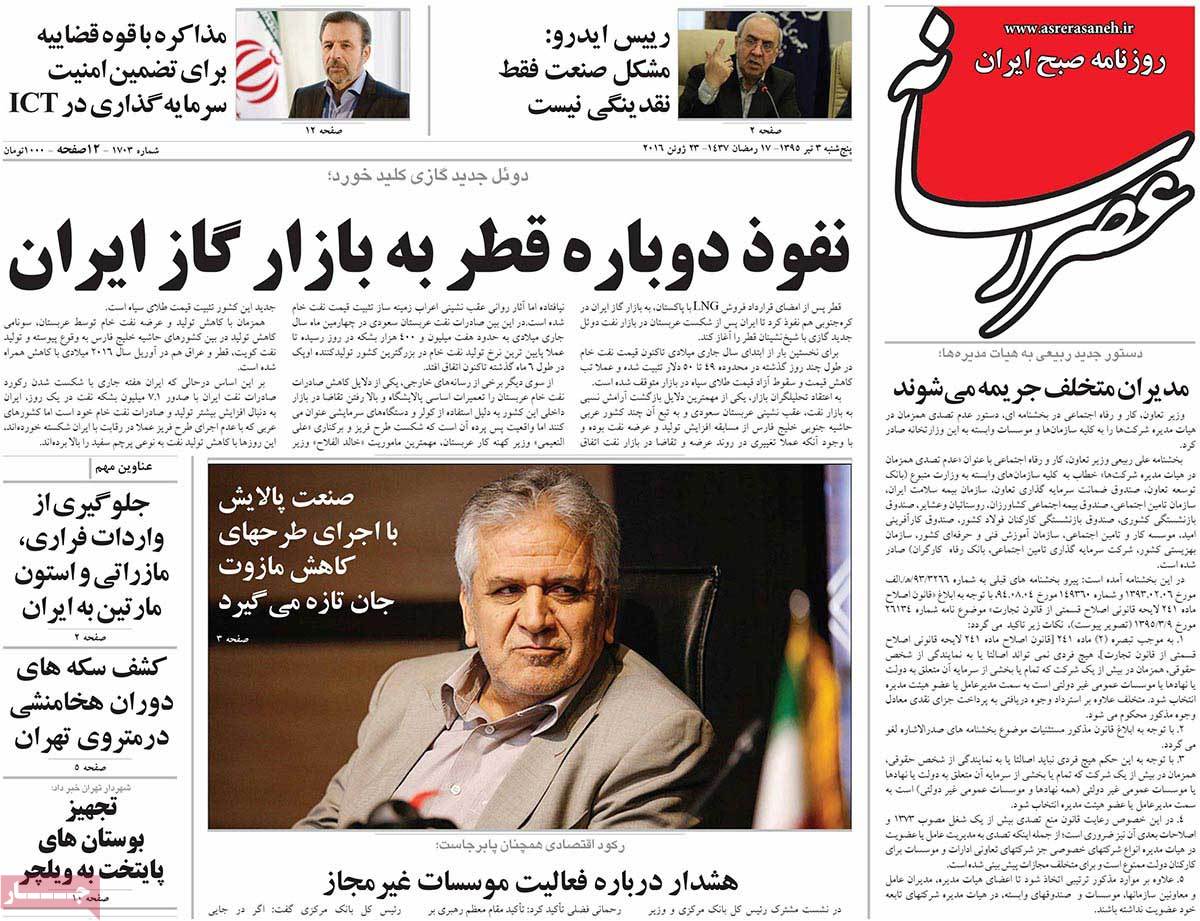 ---
Ebtekar:
1- Zarif and Hollande Meet in Paris: No One Can Tear Up Nuclear Deal, FM Says
2- Some Made a Historical Mistake by Supporting Previous Gov't as a Sacred Body: Rafsanjani
3- The Need for Parliament's Focus on Military Service [Editorial]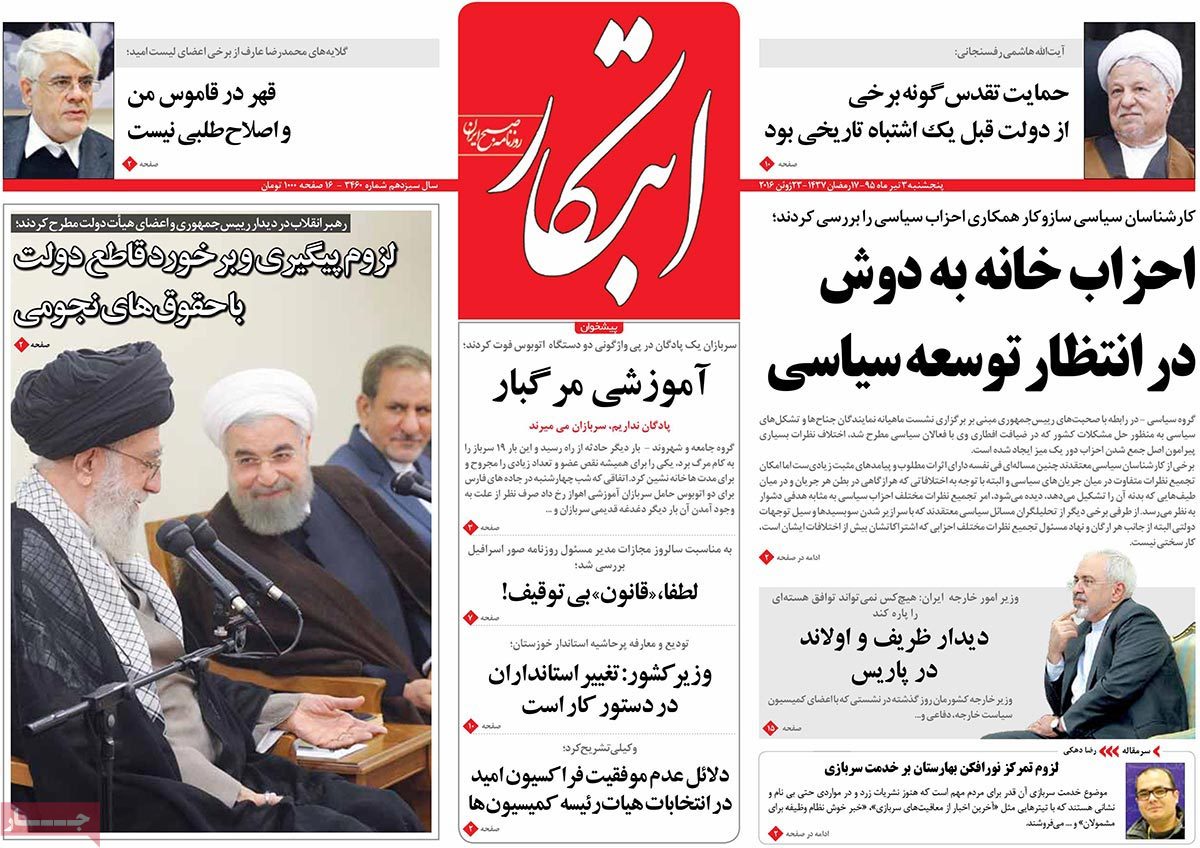 ---
Emtiaz:
1- Low Risk of Smuggling in Iran
2- Decrease in Air Quality and Horizontal View in Tehran Province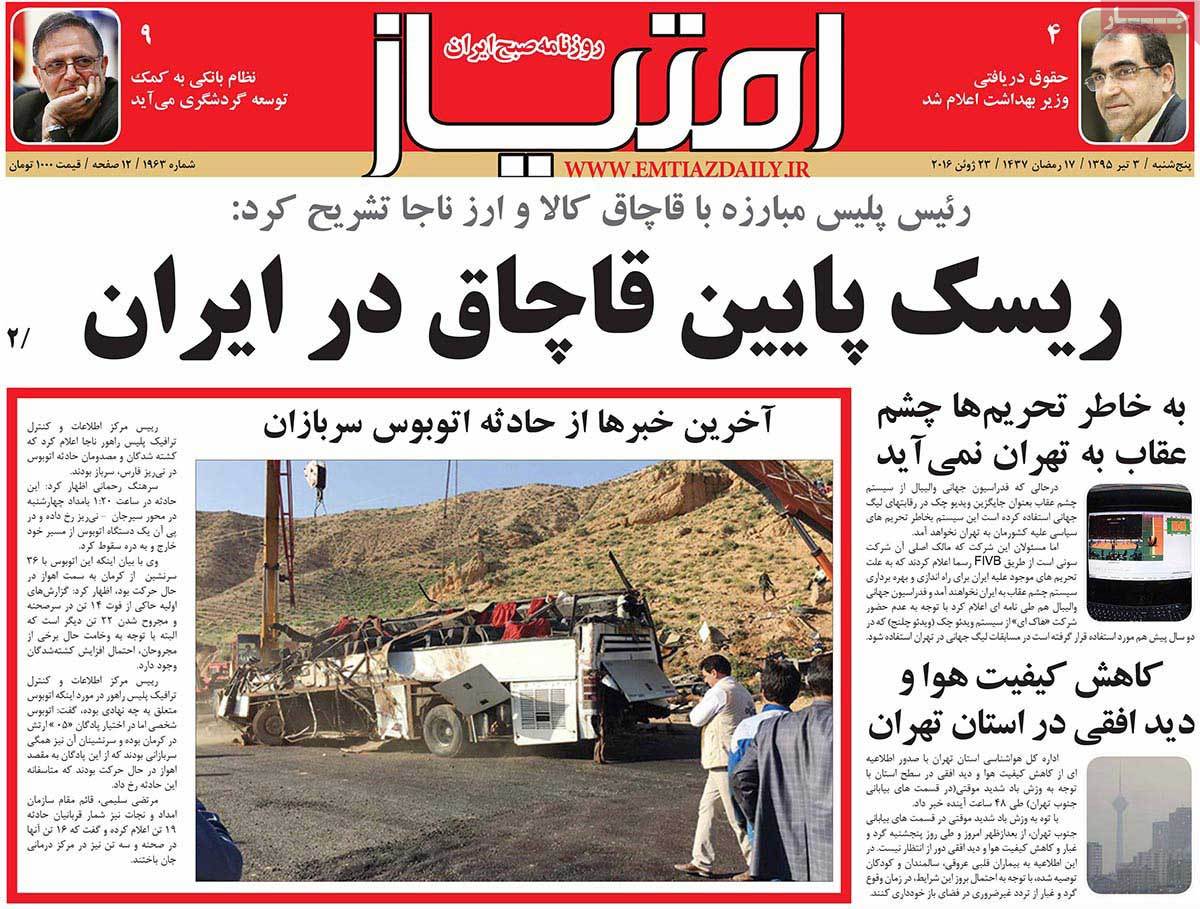 ---
Etemad:
1- Vote of Confidence to Lawlessness or Maintaining the European Dream: Analyst Discusses Brexit Referendum
2- Soldiers Didn't Arrive at Their Homes: In 2 Separate Accidents, 2 Buses Filled with Soldiers Crashed, Killing 19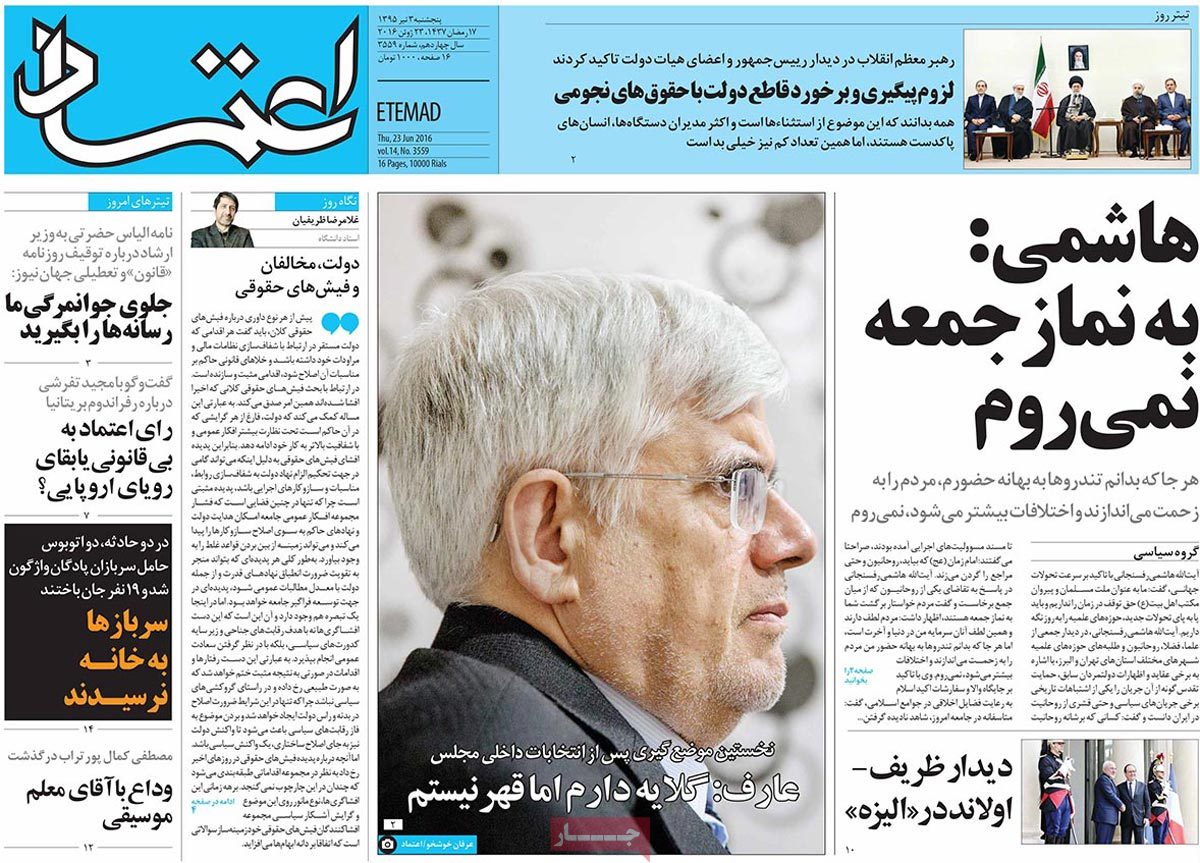 ---
Ettela'at:
1- Majority of Executives Are Clean-Handed and Decent People: Leader
2- Zarif: Tehran to Host French Parliament Speaker Next Week
3- 2,500 ISIS Elements Killed in Fallujah Operation: Commander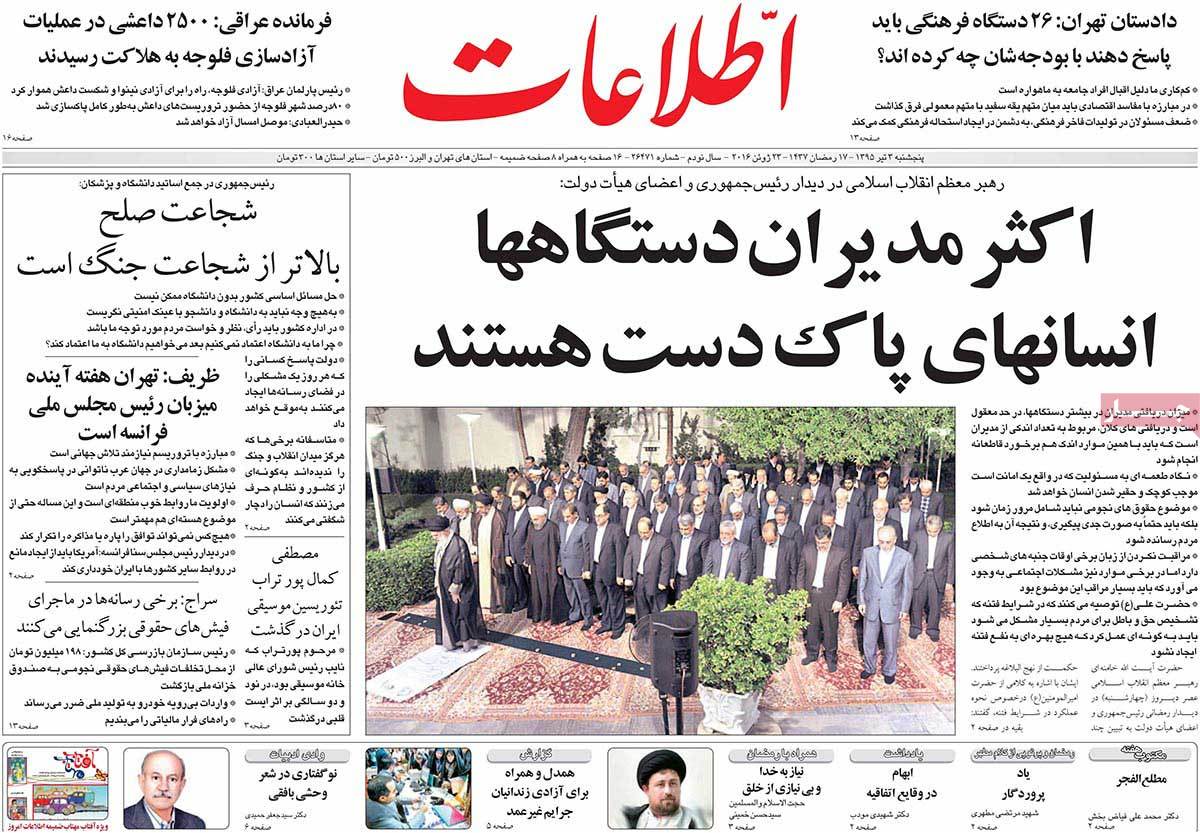 ---
Hamshahri:
1- The Day Britons Decide for Europe
2- People Won't Vote for Brexit: Int'l Analyst
3- Military Service Suddenly Ends: 19 Killed and More than 100 Wounded in Soldiers' Bus Crashes
4- Authorities with Dual Nationality under Scrutiny of MPs
5- West's Silence over Crisis in Bahrain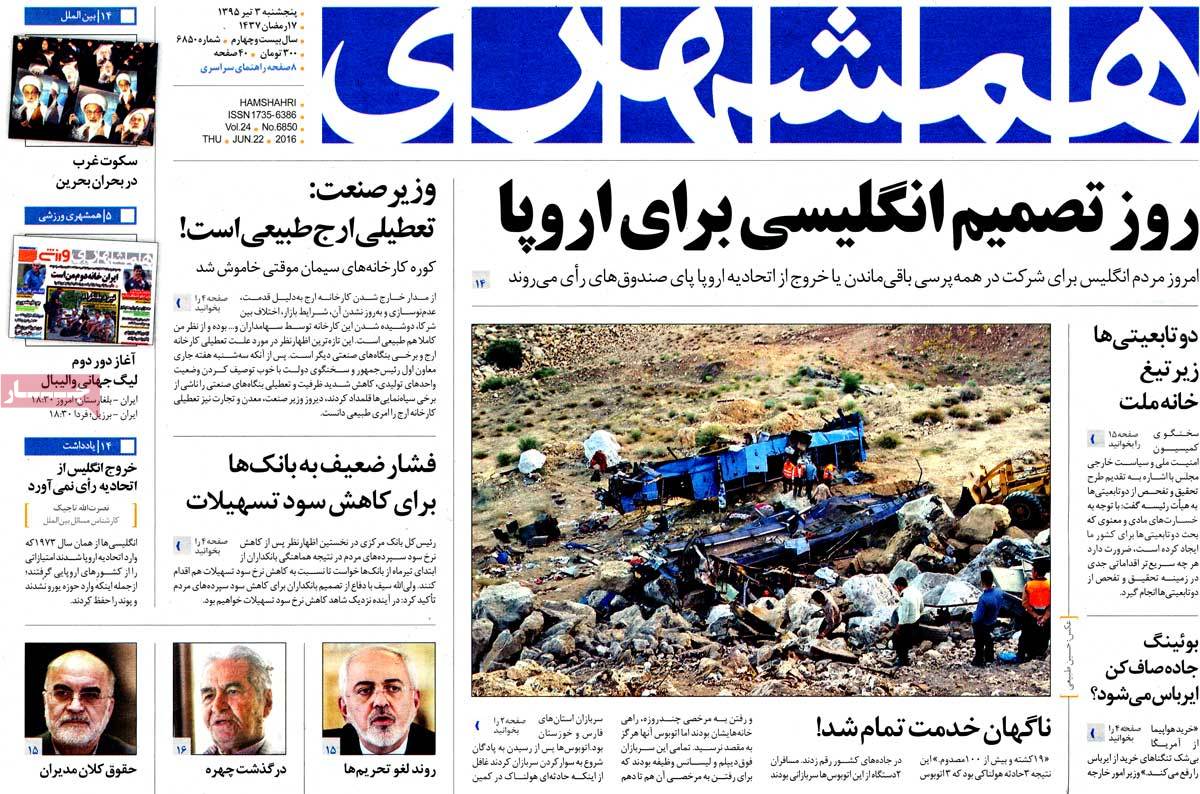 ---
Iran:
1- All Frozen Money Back to Iran's Treasury
2- Fever of Referendum in Britain, Fear of Separation in Europe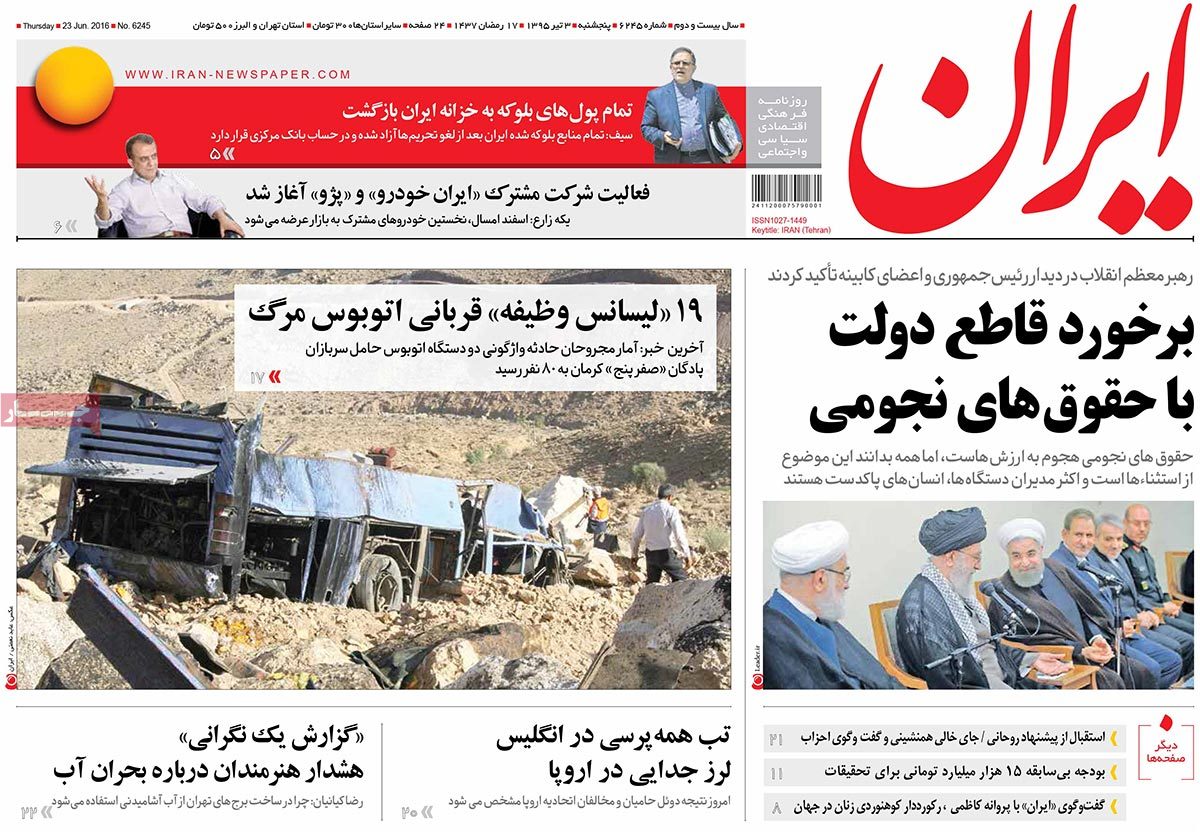 ---
Jame Jam:
1- Leader Underlines Need for Government's Serious Action against Astronomical Salaries
2- Fall of Soldiers' Bus to Death Valley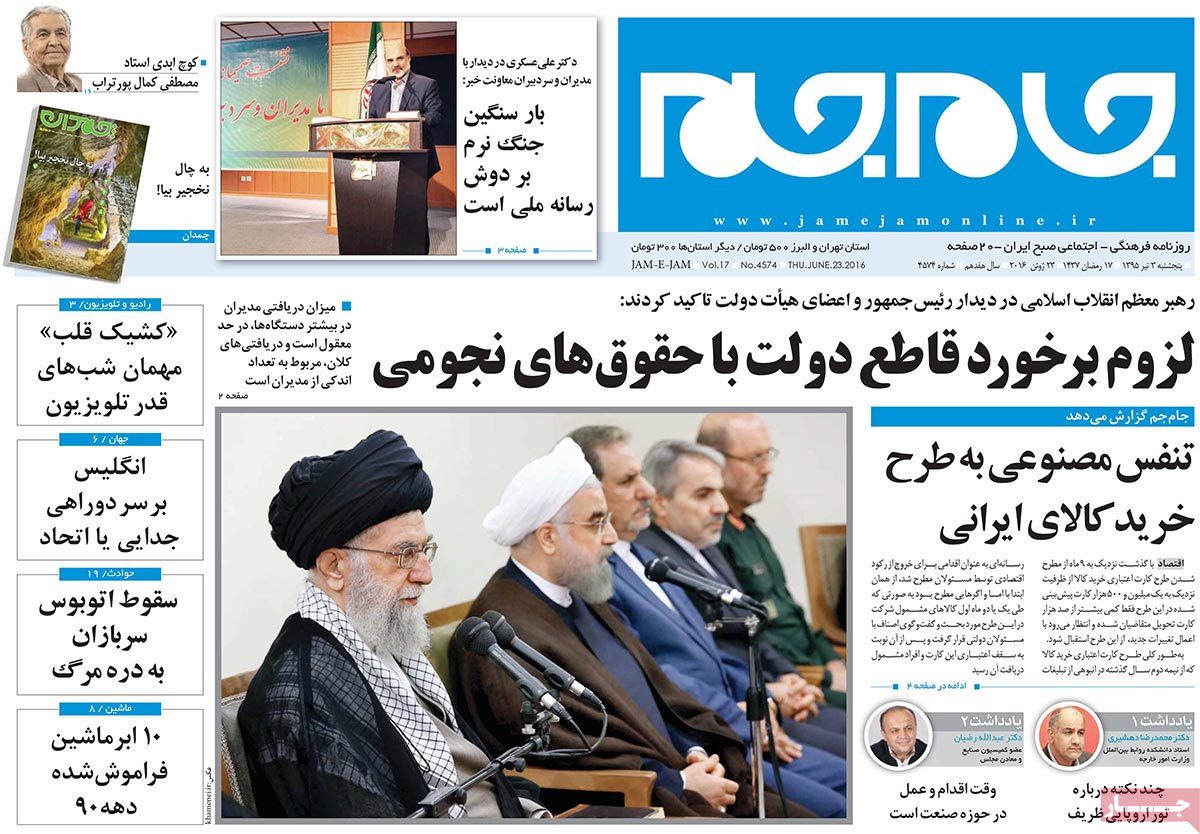 ---
Javan:
1- True Image of US Human Rights to Be Revealed in Iran in American Human Rights Week
2- JCPOA Resorts to Bad Cop: Zarif to Activate Leverage of Trade with Paris against Washington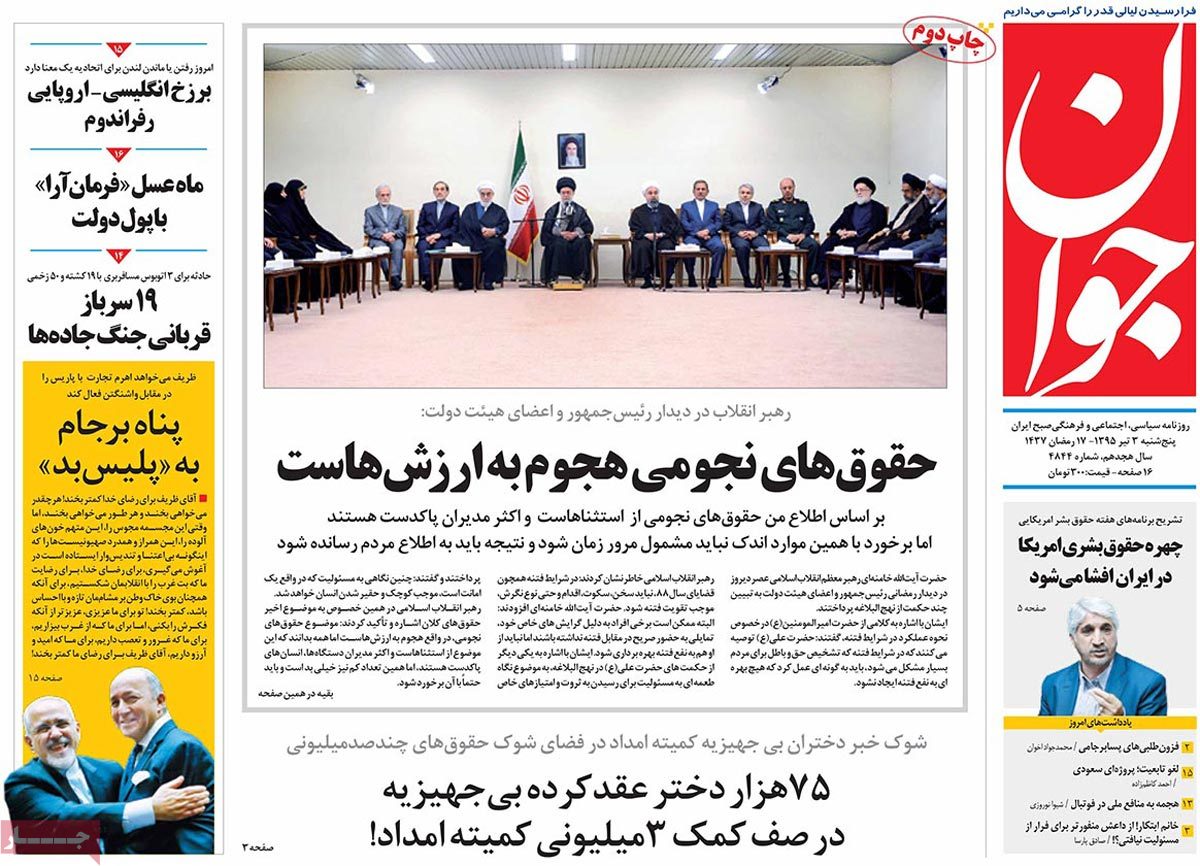 ---
Kayhan:
1- IRGC's Might as Reported by US Foreign Relations Council
2- Test of Resistance, This Time in Bahrain [Editorial]
3- French Police to Protesters: Enough Is Enough! We're Tired!
4- Iraqi PM Vows to Liberate Mosul This Year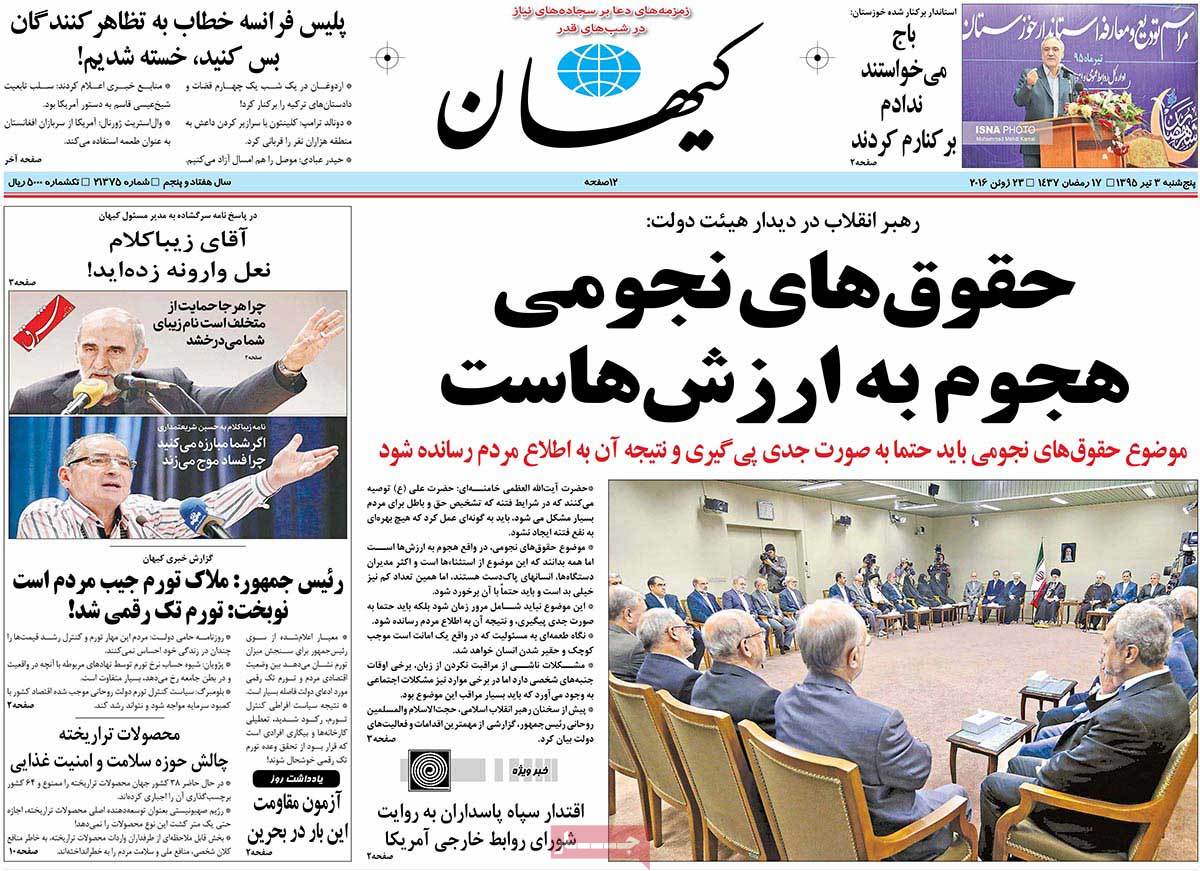 ---
Khorasan:
1- American Analyst Says FBI Was behind Orlando Attack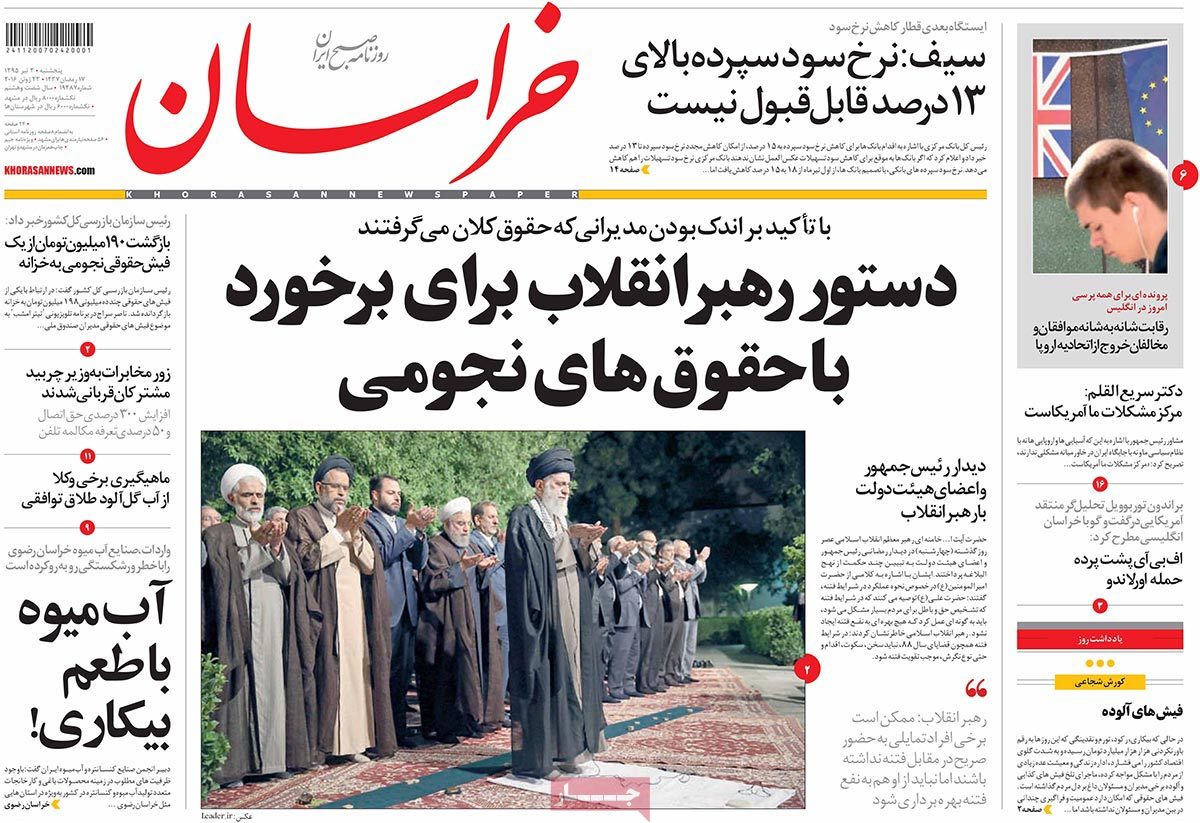 ---
Qods:
1- One-Digit Inflation Rate: An Achievement or a Mandatory Success?
2- London, Hesitant over Staying or Leaving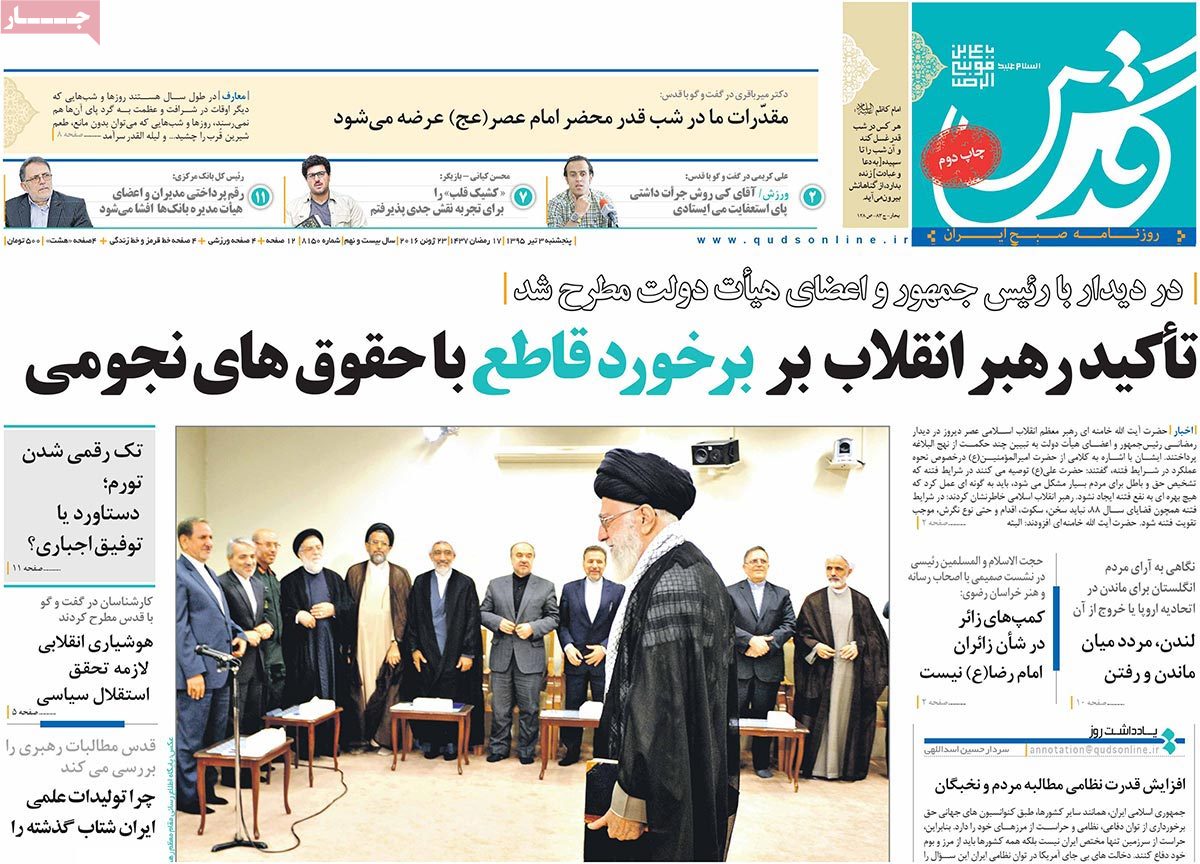 ---
Rahe Mardom:
1- Bahraini People Entering New Stage of a Destructive Struggle: Leader's Adviser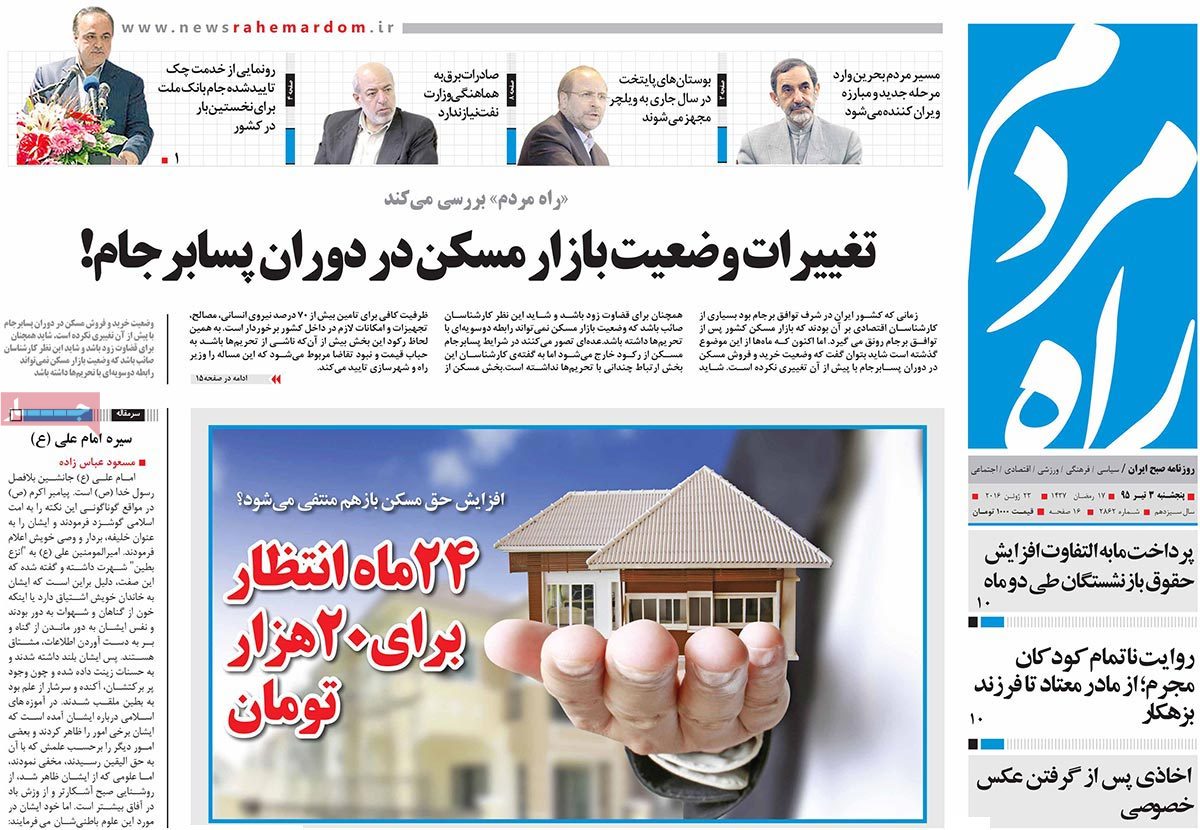 ---
Resalat:
1- Political Suicide of Al Khalifa: What Are Repercussions of Revoking Sheikh Qassim's Nationality?
2- Removal of Sanctions Progressing Slowly: Zarif
3- Iranian Feminists Have Political Demands, Not Women's Rights Demands: Analyst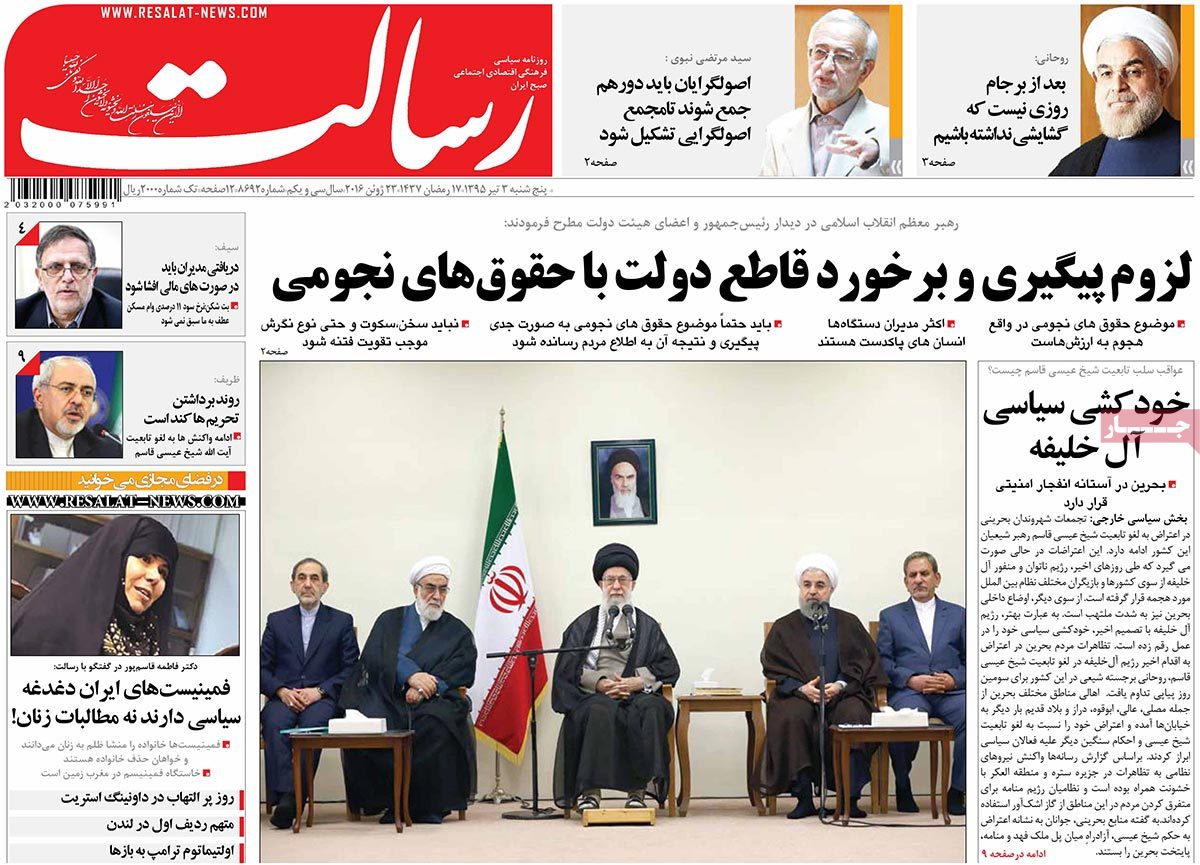 ---
Sepid:
1- $3,500 per Month: Health Minister Reveals His Salary
2- 9% of Drug Addicts Are Women: Families in Danger
3- Free Medical Services to Be Provided for Patients during Qadr Nights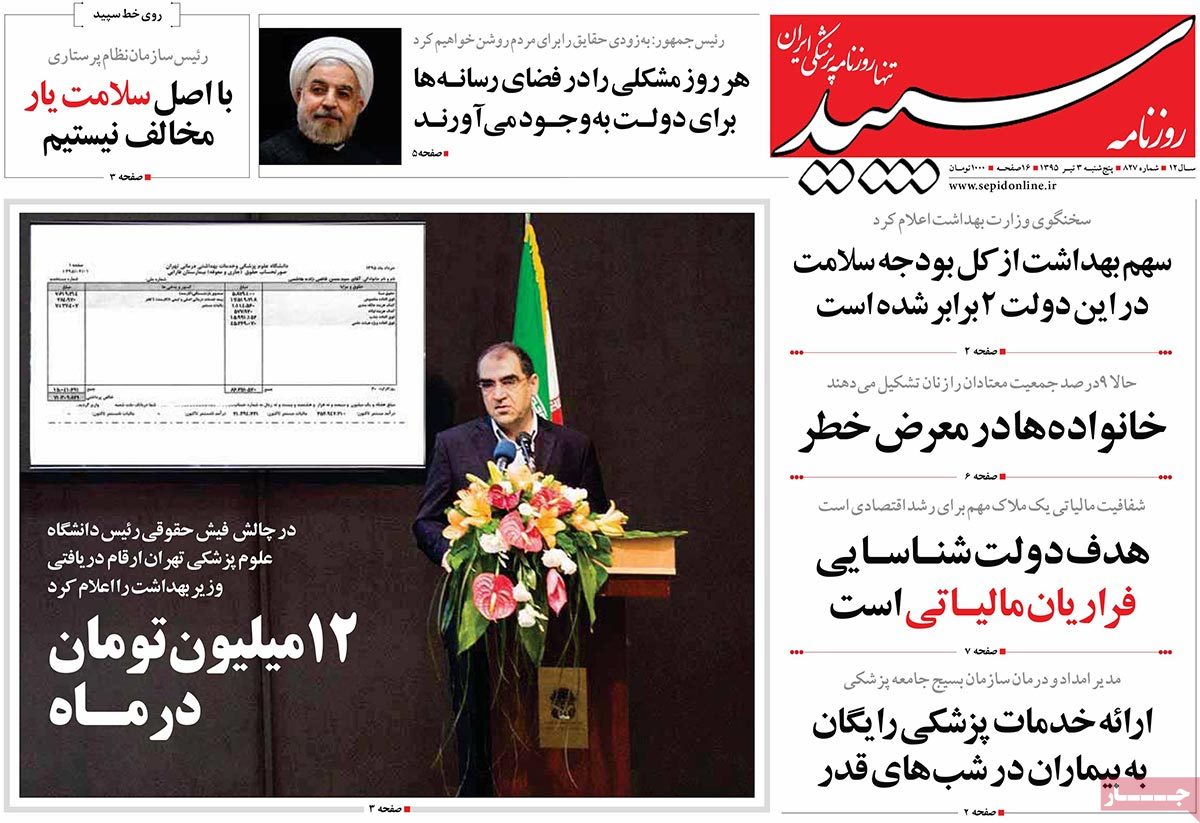 ---
Shahrvand:
1- Issue of Astronomical Salaries Is an Exception: Leader in Meeting with President and Cabinet Members
2- Controversies over a Famous Hacker: Conflicting Opinions over His Imprisonment [Shayan, a young talented hacker who had stolen huge amounts of money by hacking Iranian people's bank accounts, was invited to a popular TV show Mahe Asal [Honeymoon]. There, he said he should serve an 8-year term in prison, due to begin in a few days. Since then, people in social media have shown mixed reactions to the issue: some believe that he is a thief and must serve his term, and some others say he is a genius and should be free, being employed by the Police.]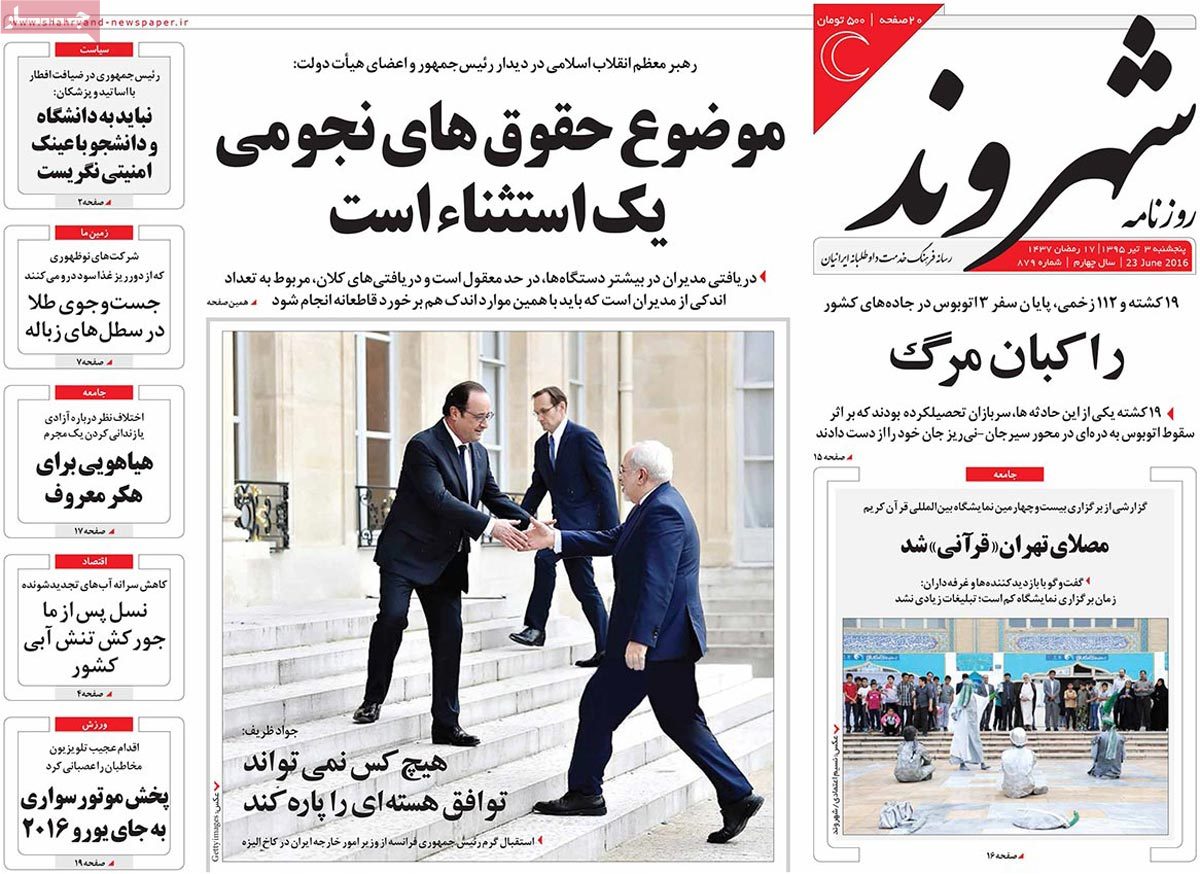 ---
Shargh:
1- Speech in Senate, Consultations at Élysée: Zarif Meets French President
2- Dual Fates of Rafsanjani and Ahmadinejad: A Review of What Happened on June 24, 2005 [Presidential Elections]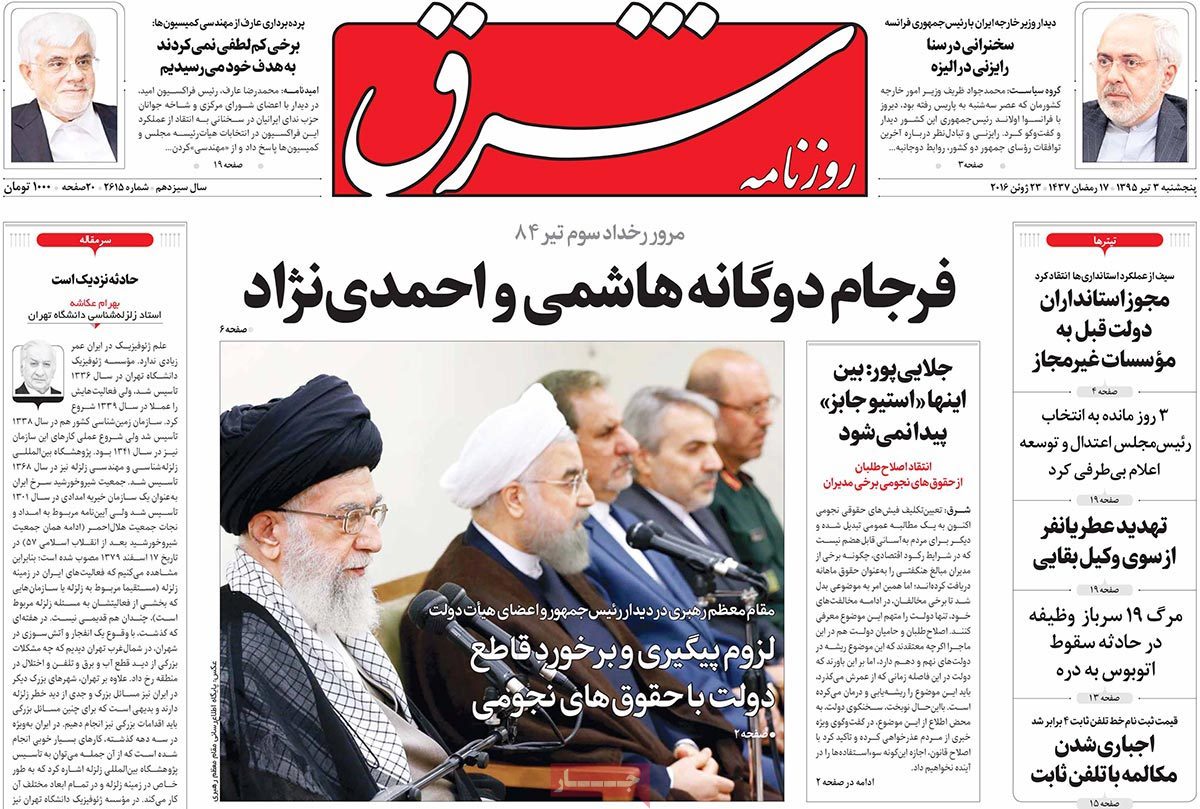 ---
Shorou:
1- Children on Sale: Growth of a Dirty Business under the City's Skin
2- Decrease of Inflation Rate to Less than 10% Is a Result of Decrease in People's Demand and Recession: Economist
3- 19 Soldiers Fall Victim to Scania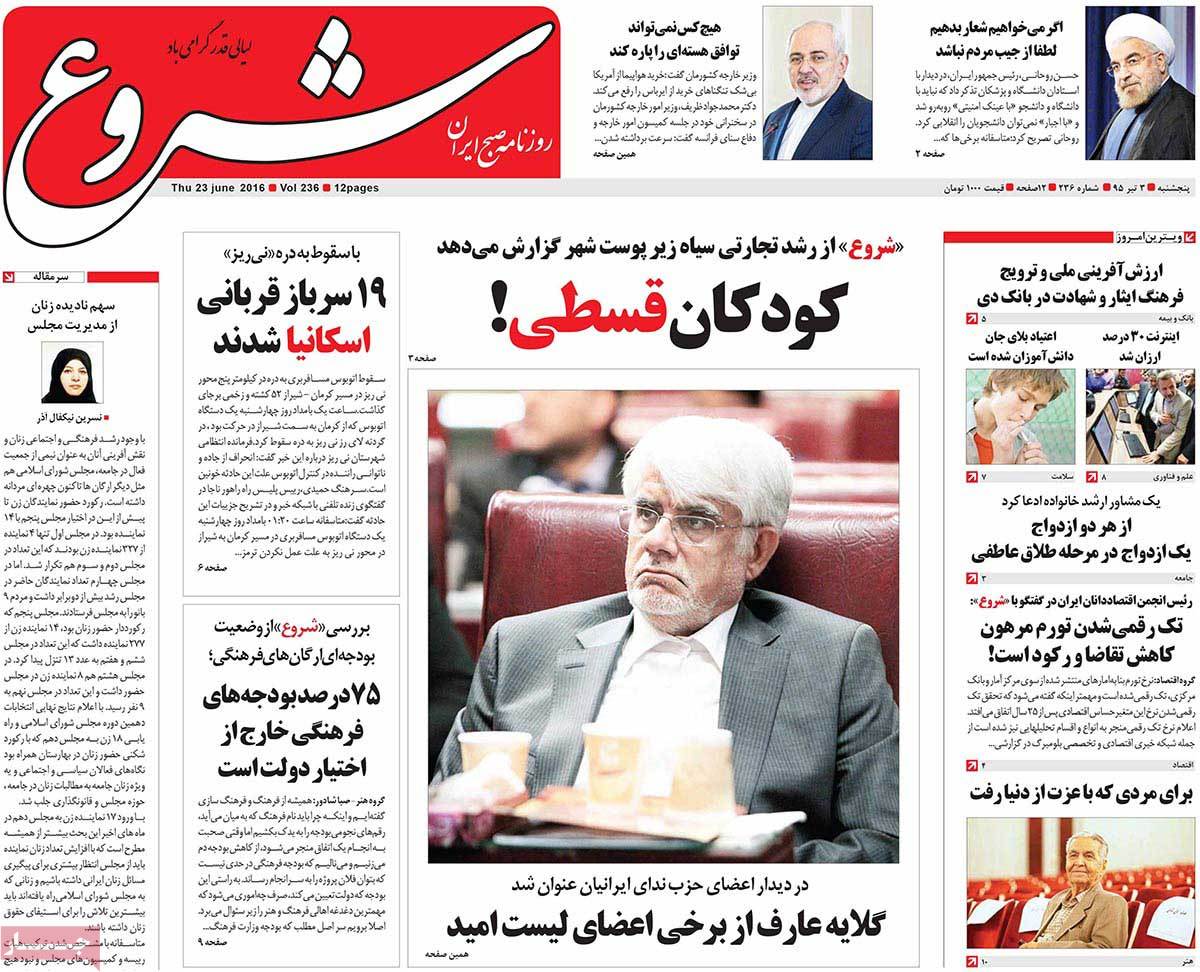 ---
Vaghaye Ettefaghieh:
1- They Behead People, But No Resolution Is Passed against Them: Zarif on Human Rights Scenario in France
2- Need for Change in Cabinet [Editorial]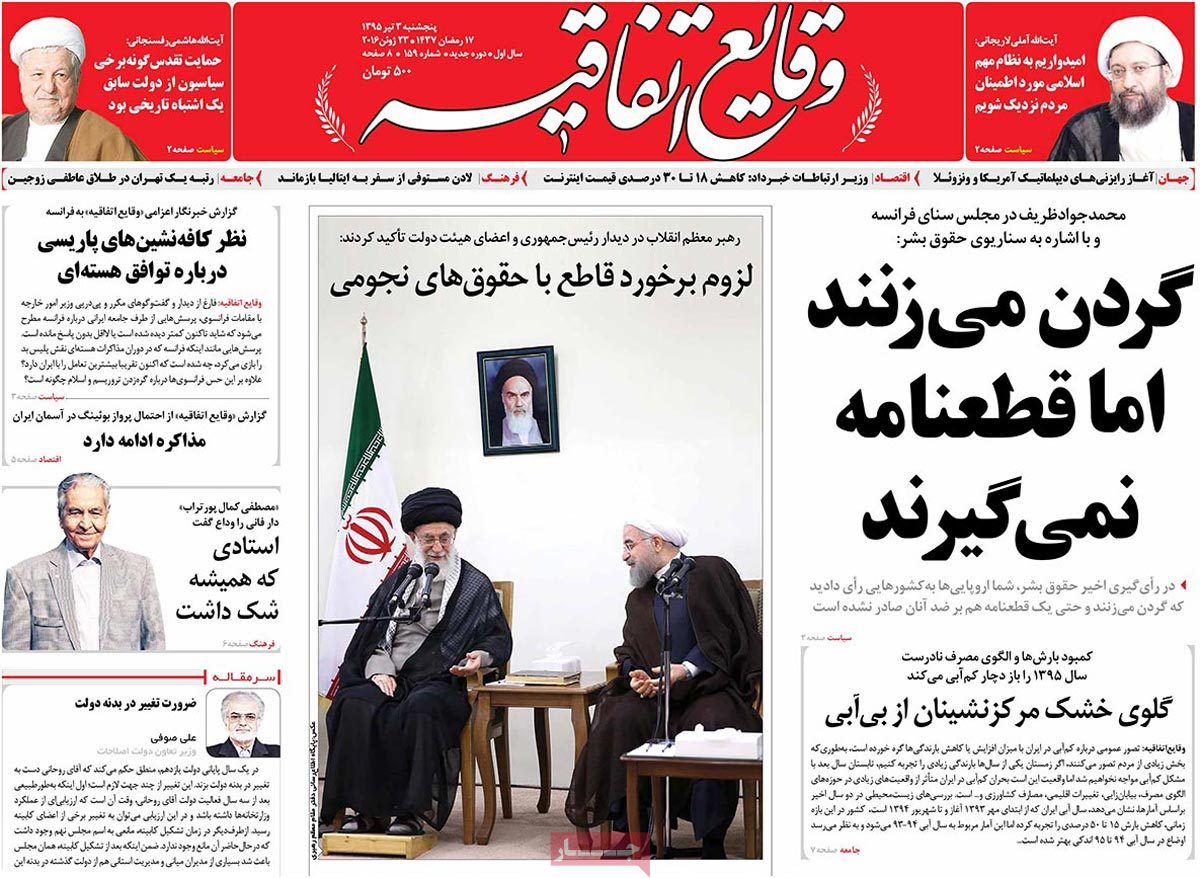 ---
Vatan-e Emrooz:
1- Zarif's Misleading Message by Dismissing Amir Abdollahian
2- King Salman's Letter against Sheikh Isa Qassim Leaked
3- Astronomical Salaries Are Exaggerated: CBI Chief