The top story in all Iranian newspapers was a recent response by Major General Qassem Soleimani, the commander of IRGC's Quds Force, to the rulers of Bahrain, who recently stripped top Bahraini Shiite cleric Sheikh Isa Qassim of his citizenship. Soleimani warned that such moves would leave no choice for Bahrainis but an armed resistance.
As in previous days, the issue of astronomical salaries is still being discussed by many papers.
Newspapers also covered the bombing operations planned by Takfiri (extremist) terrorists for different Iranian cities, including Tehran, which had been foiled by Iranian security forces.
Abrar:
1- Iraqi Army Surprised the World: PM
2- Euro or Dollar: Point of Conflict in Iran-Boeing Deal
3- Zarif Expresses Hope about Increased Banking Ties with Pakistan
4- Kim Jong Un Spends £29m on Cigarettes
5- Ahmadinejad Implemented Some of Leader's Orders Reluctantly: Politician
6- Ghanoon Newspaper Shut Down
7- Obama Administration to Consider Iran's Deal with Boeing
8- Authorities Not Paying Attention to Issue of Dust Pollution: MP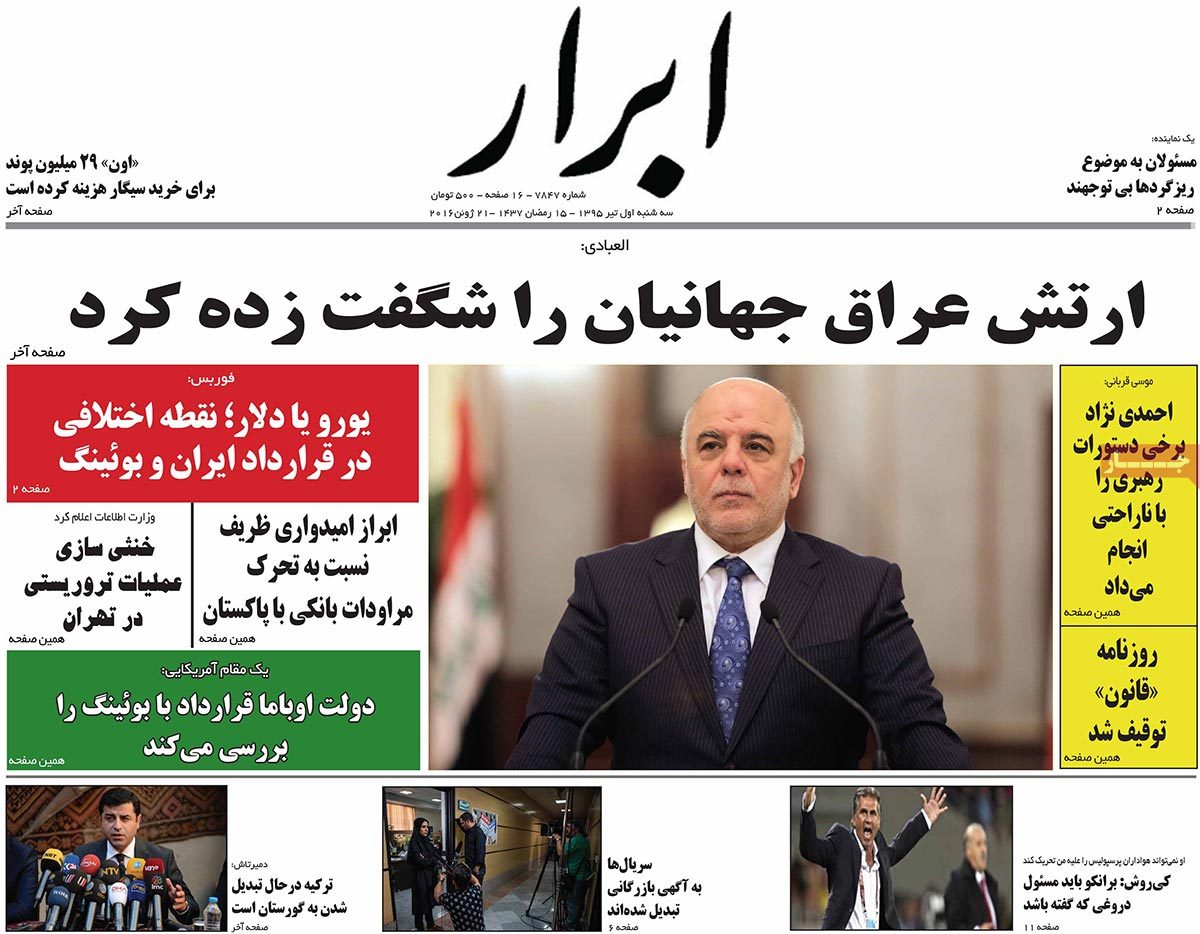 ---
Abrar-e Eqtesadi:
1- Positive Wall Street Reaction to Boeing's Deal with Iran
2- First Direct Flight Launched from Tehran to Paris
3- Four Countries Open LCs for Iran's Mines
4- New Challenge in Selling Iranian Oil to Japan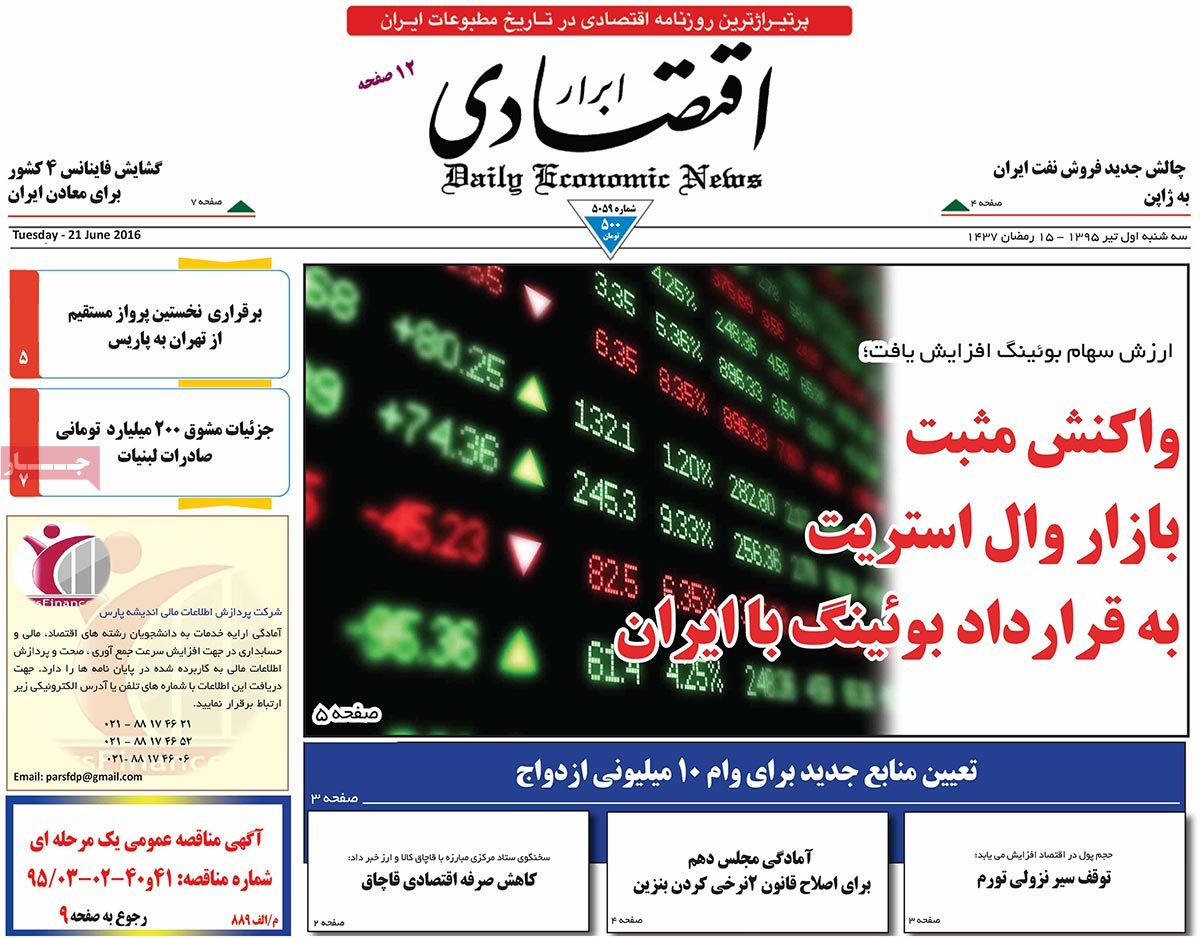 ---
Aftab-e Yazd:
1- Astronomical Salaries Traced Back to Ahmadinejad's First VP [who is now in jail]
2- The Commander without a Brigade: No One Supported Aref in Parliament's Domestic Votes
3- [Hardliners] Angry about a Change in Foreign Ministry [change of deputy FM]: Where Were They When Ahmadinejad's FM Was Dismissed While On an Official Visit to Senegal?
4- End of Arab Role in Importing Cars to Iran?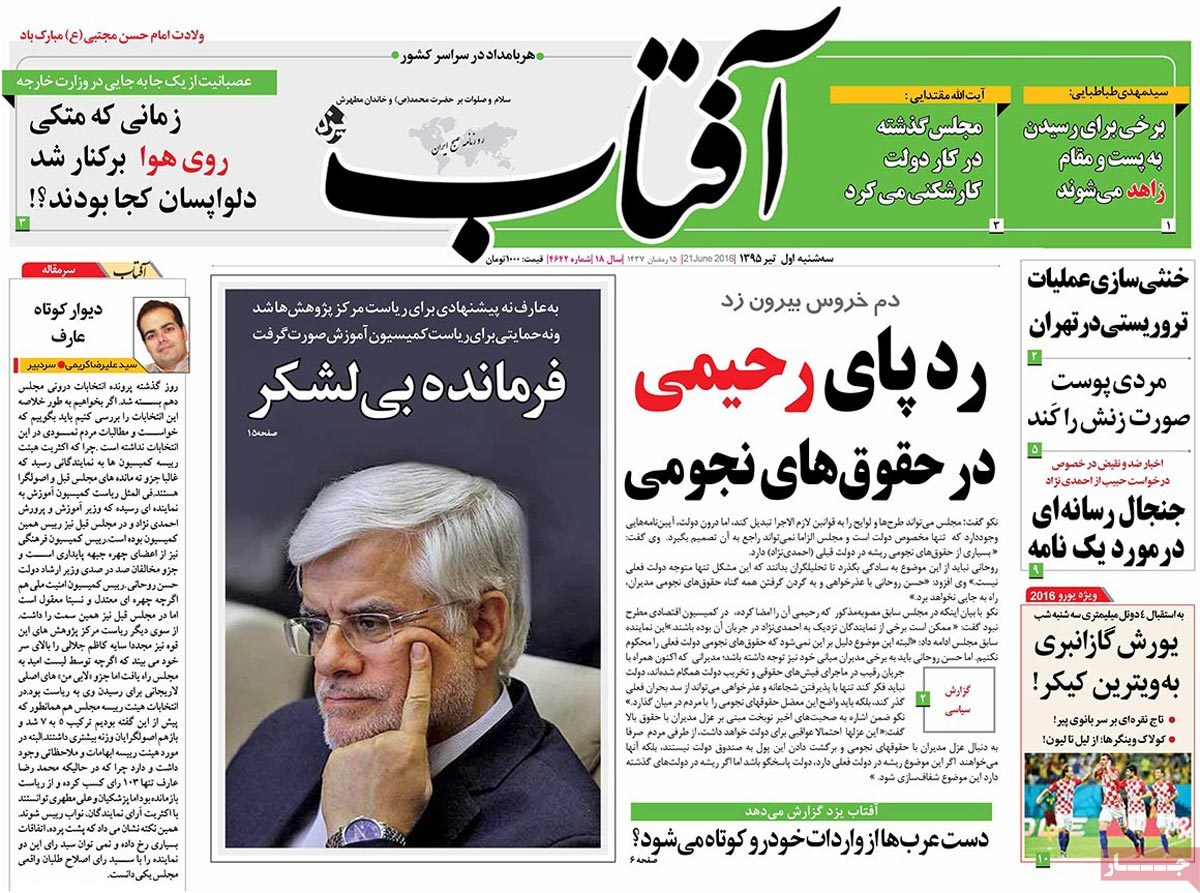 ---
Arman-e Emrooz:
1- Rafsanjani to Those Who Attack Gov't: You Shouldn't Take Revenge on People
2- Secret behind President's Silence over Opponents' Attacks: Mr. Rouhani! Break Your Silence
3- Conservatives Have No Option for Presidential Elections: Politician
4- Chances of Populism in US and Iran
5- General Soleimani Warns Al Khalifa Regime
---
Asia:
1- 200 Chevrolets En Route to Iran with Total Value of $7m
2- Middle East's Biggest Medical Exhibition in Tehran
---
Asrar:
1- Embezzlement Was Not Deemed to Be a Bad Thing in Previous Gov't: Reformist Figure
2- 17% of University Students Smoke Hookah
3- Ignorance of Al Saud Will Only Result in Notoriety: IRGC General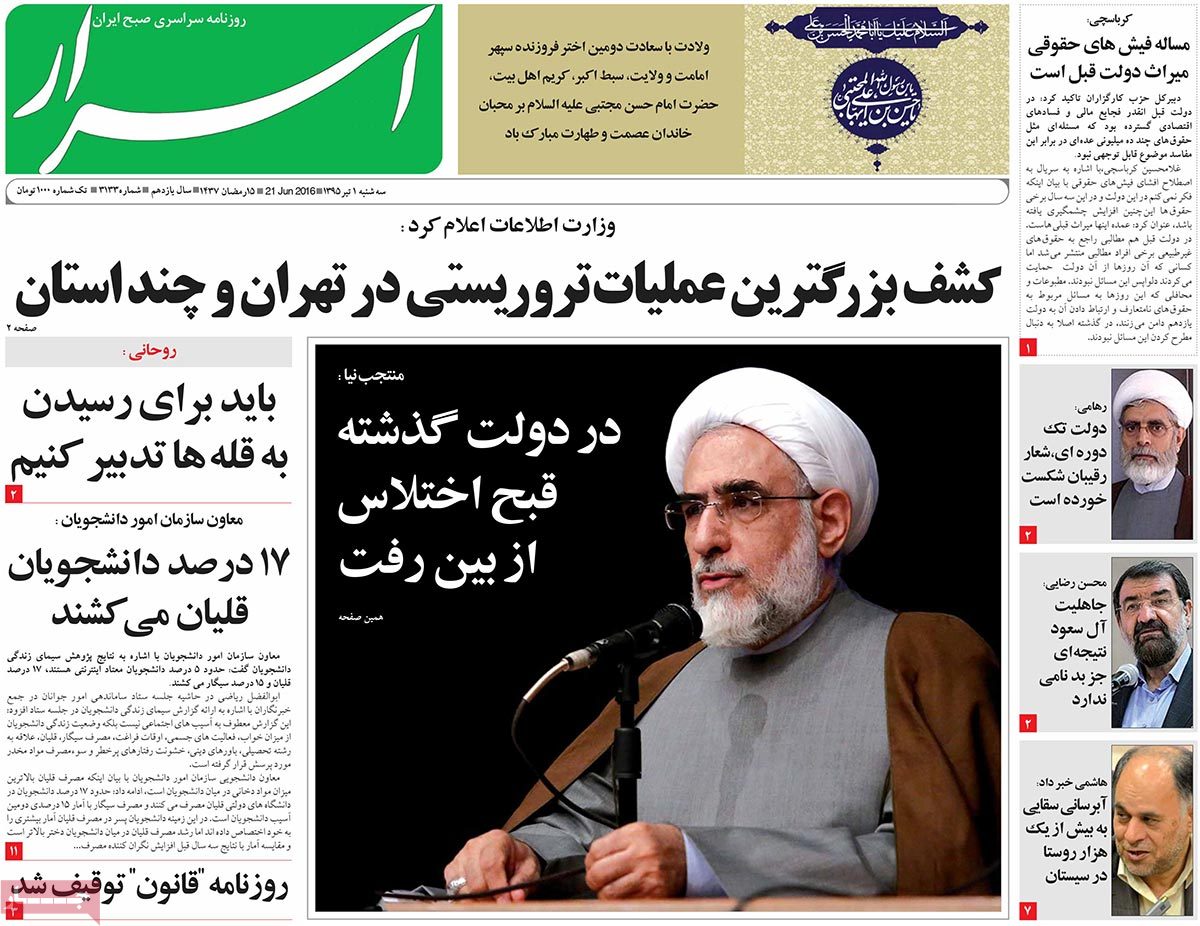 ---
Bani Film:
1- Qatar's BeIN Sport to Sue IRIB for Broadcasting Euro 2016
2- Iranian Film and Music Archive to Be Uploaded on VOD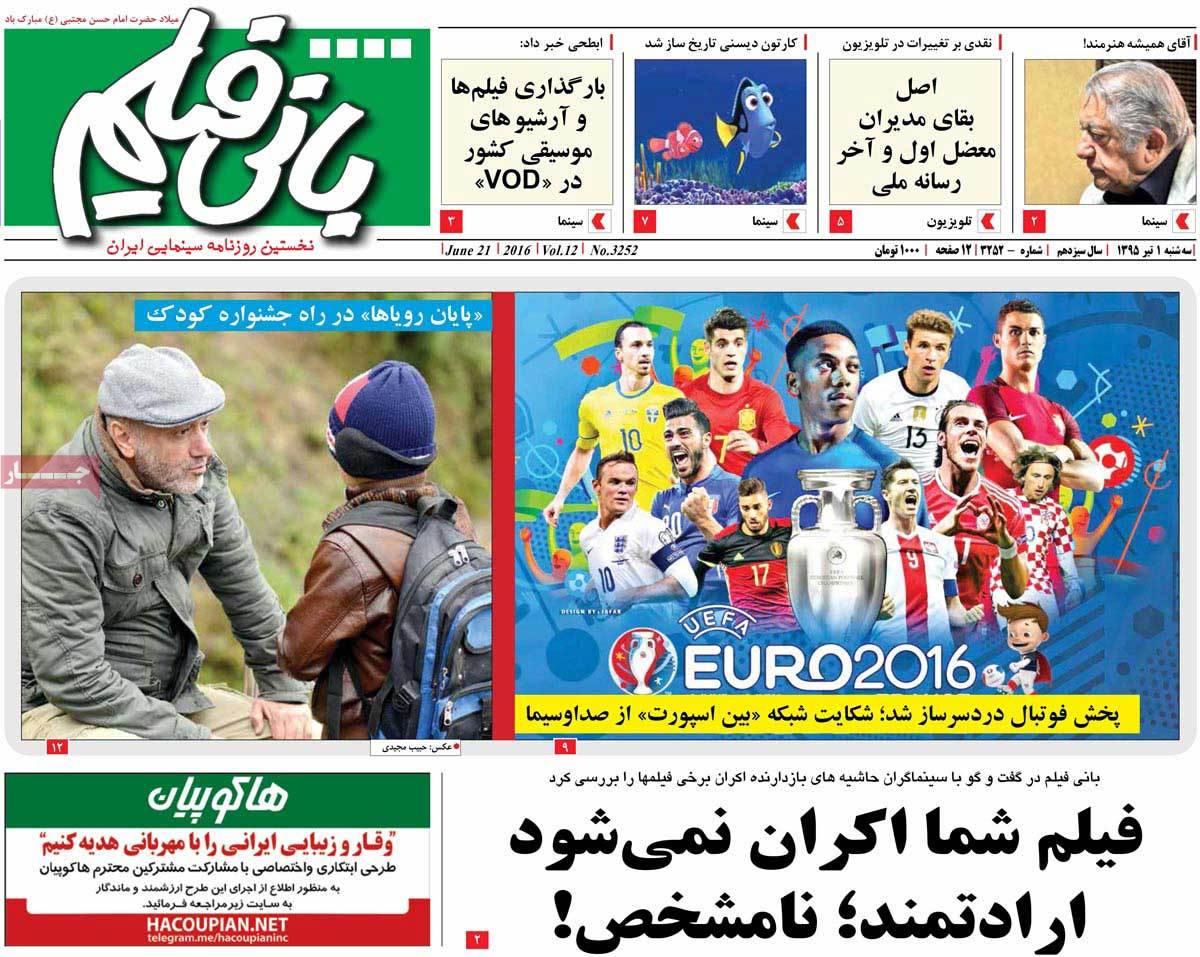 ---
Ebtekar:
1- Sport Championships, Antidote for Iranophobic Propaganda: Rouhani
2- Looking for a Miracle to End the Oldest Construction Project: First Section of Tehran-North Freeway to Be Opened by March 2017
3- Zarif's Third European Tour Begins by Visiting France and Netherlands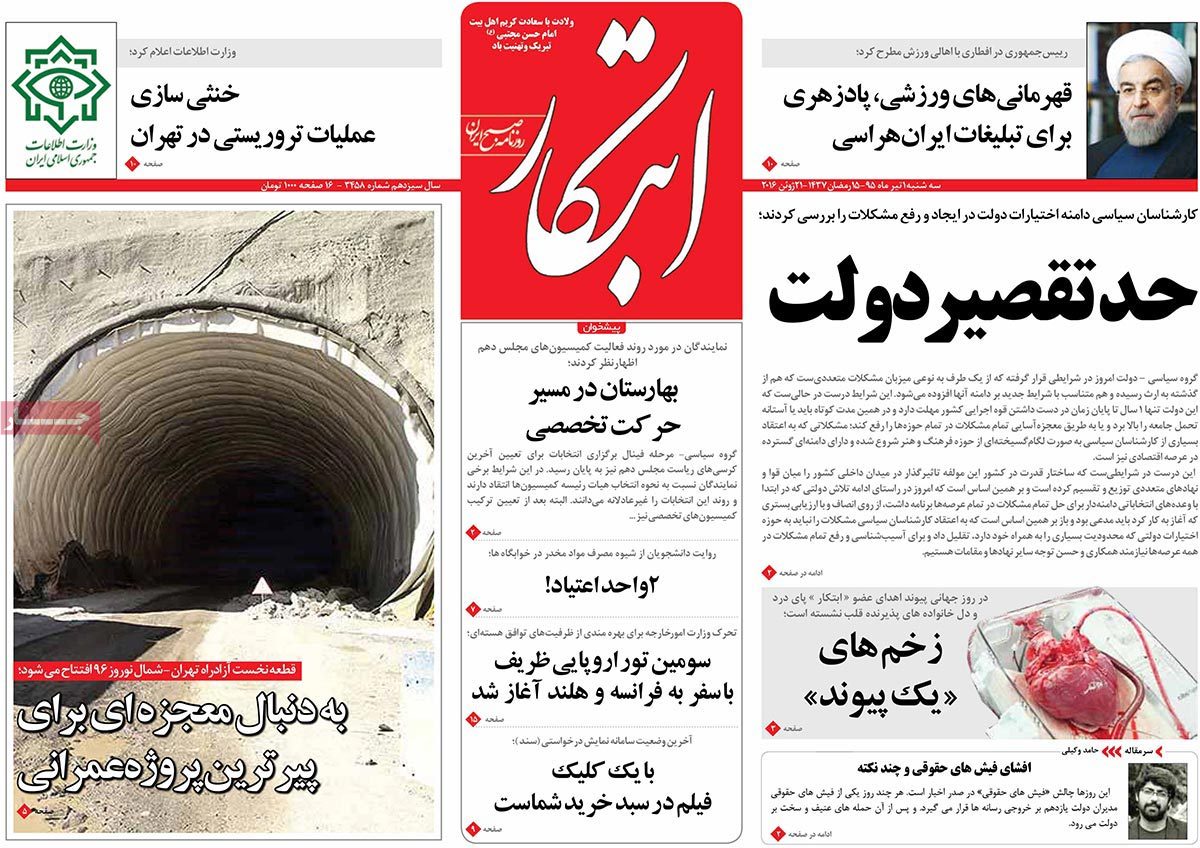 ---
Emtiaz:
1- Summer Water Scarcity in 301 Cities
2- Private Sector Free to Export Natural Gas
---
Etemad:
1- General Soleimani's Unprecedented Warning to Bahrain
2- A Group of Literati, Poets, and Cultural Figures Meet Ayatollah Khamenei
3- France's Performance Not as Good as Expected by Iran: Diplomat
4- Repercussions of Stripping Sheikh Qassim of Citizenship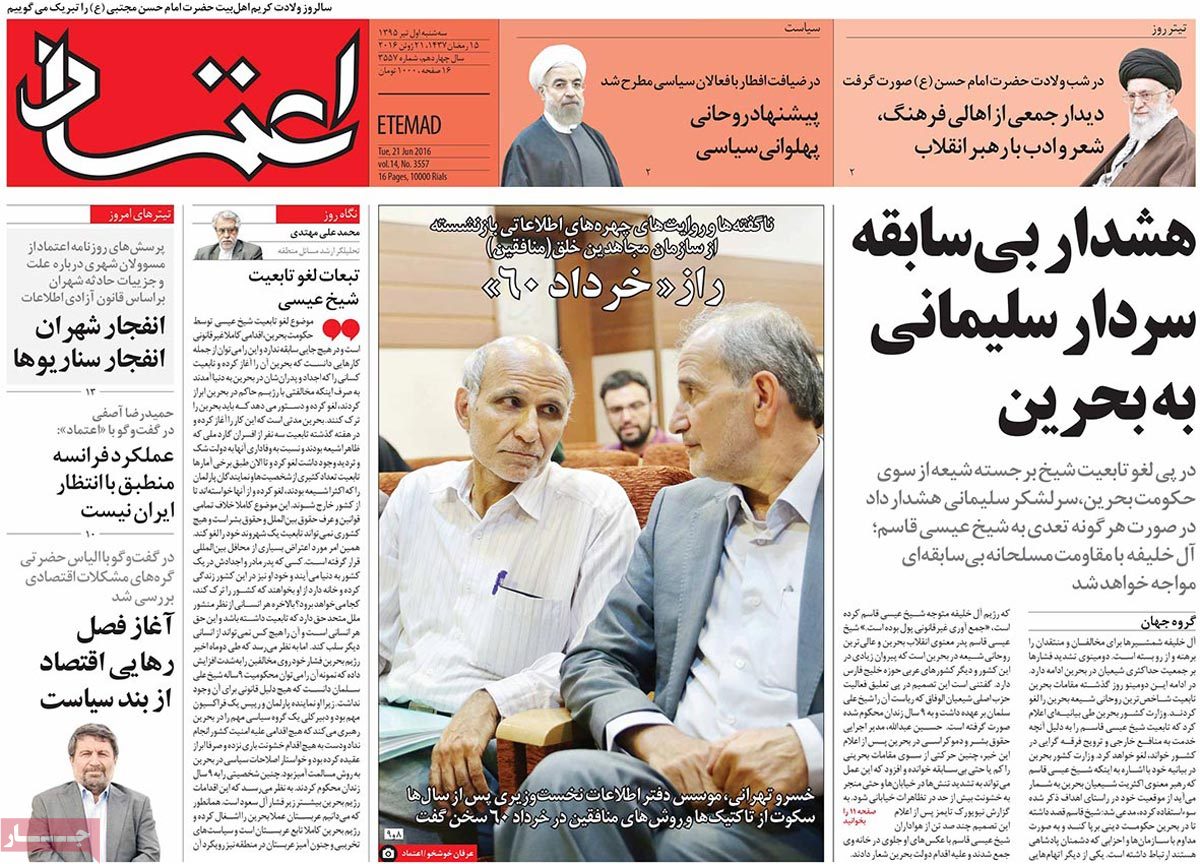 ---
Ettela'at:
1- Large-Scale Terrorist Operation Thwarted in Tehran
2- General Soleimani's Serious Warning to Al Khalifa Regime
3- $14.5bn Goods Smuggled into Iran
4- 350 Izadi Women Rescued from ISIS in Iraqi Army Operation
5- Biggest Anti-Diabetes Medicine Producer to Invest in Iran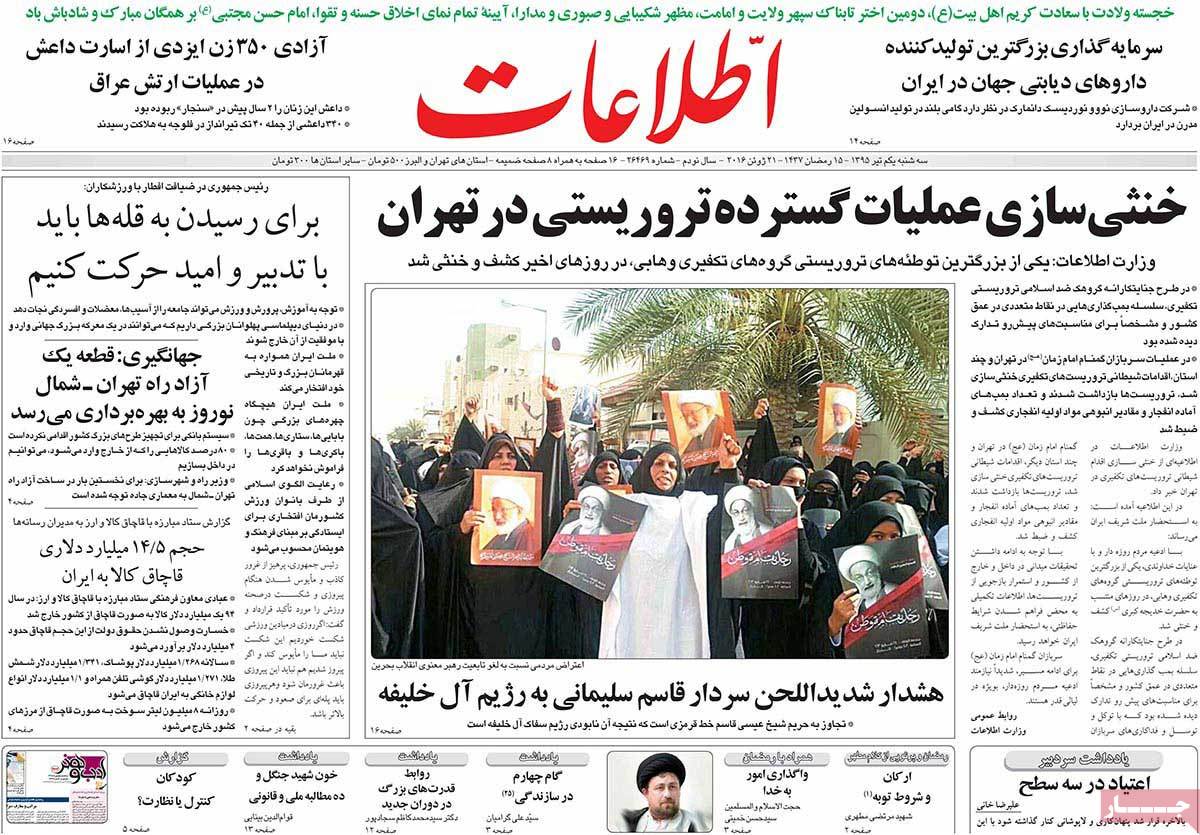 ---
Hamshahri:
1- Strange Excuses for Huge Salaries
2- 35m Iranians Gripped by Water Worries
---
Iran:
1- Multi-Million-Dollar Bonuses in Previous Gov't
2- Britain's Exit from EU in Historic Referendum?
3- Foreign Teachers in Private Schools
---
Jame Jam:
1- Forbidden List: A Report on List of Imported Goods with Homegrown Counterparts
2- Big Hunt: Details of Foiling Takfiri Terrorist Operations in Tehran
3- Online Sale of History and Culture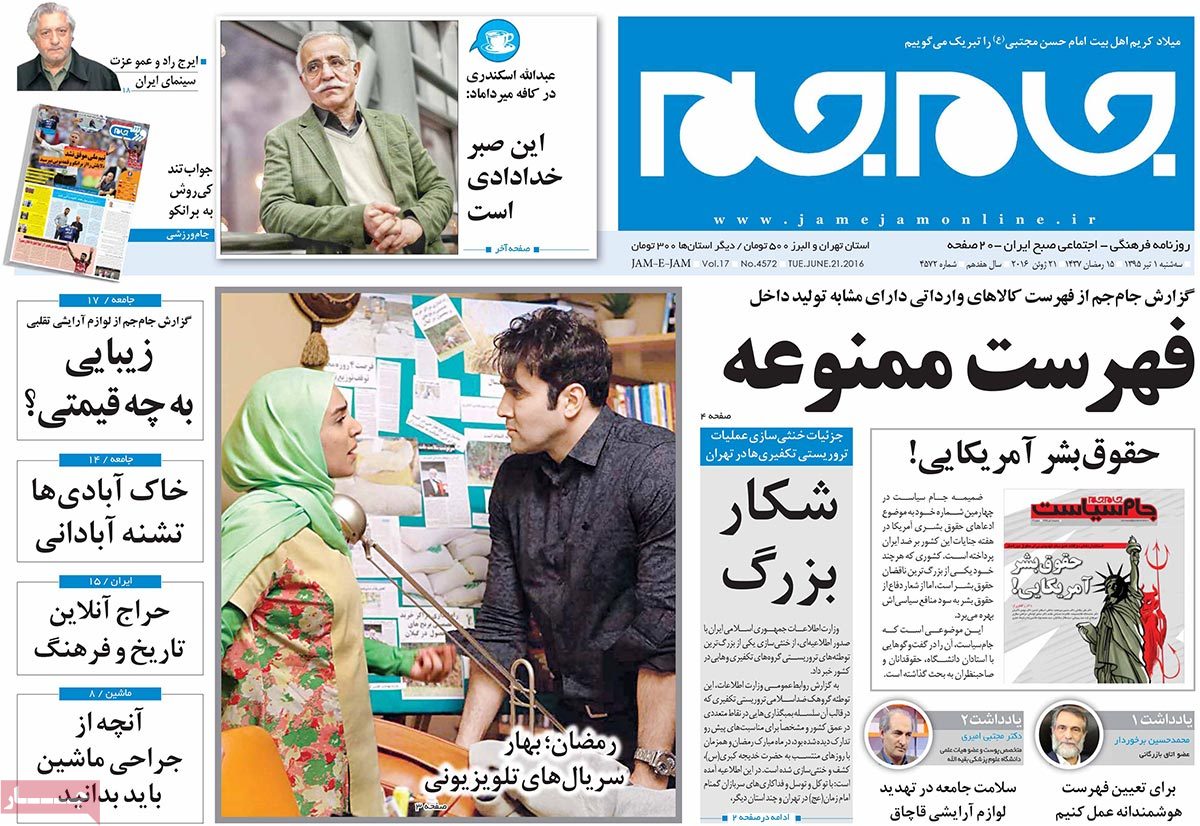 ---
Javan:
1- Al Khalifa Declares War on Shiite Clerics
2- People: Take Back Astronomical Salaries
3- Bombs Attacks in Tehran and Other Provinces Foiled
4- 4,000 Faculty Members Write Letter to Leader: We Hear Your Deep Remarks in Our Hearts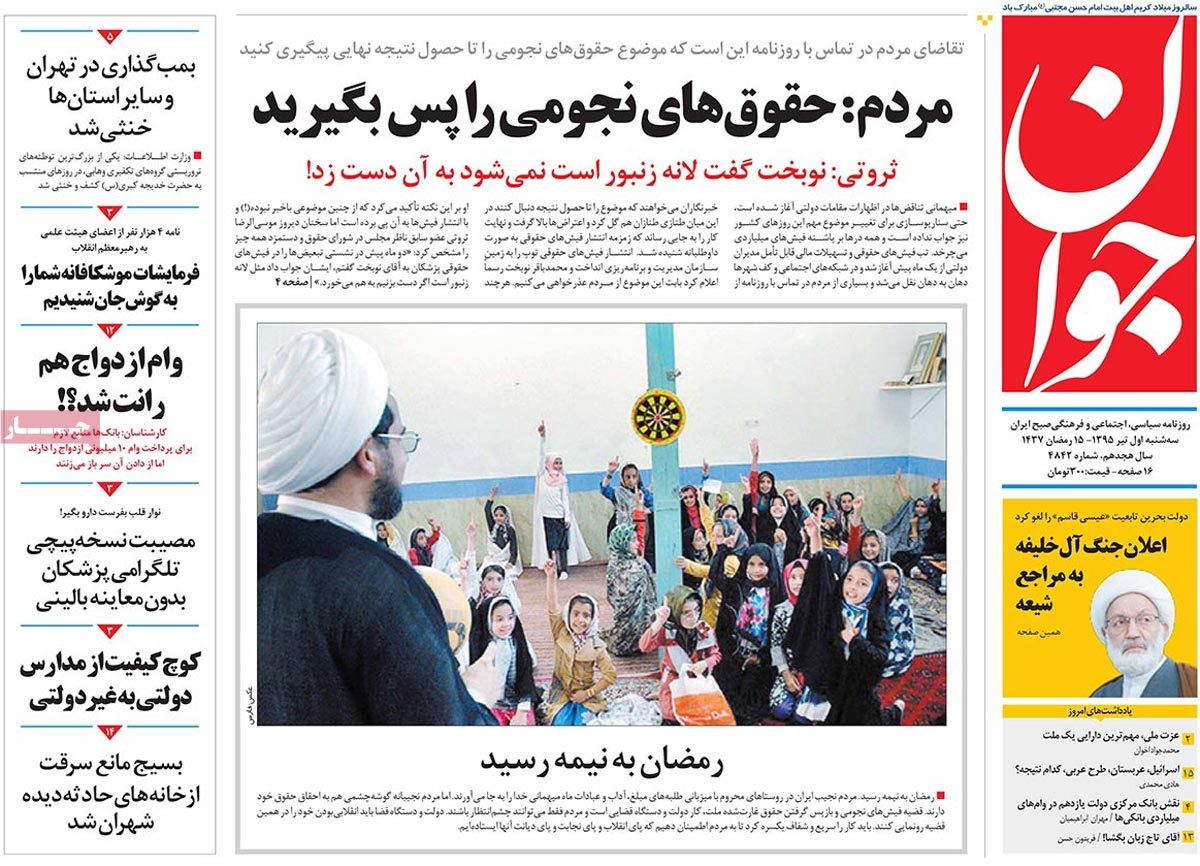 ---
Jomhouri Eslami:
1- $6bn Decrease in Smuggling of Iranian Goods and Fuel to Other Countries
2- Al Khalifa on Path of No Return
3- Bahraini People Hold Massive Protests against Revocation of Sheikh Qassim's Citizenship
4- Takfiri Terrorists Commissioned to Create Margin of Safety for Zionist [Israeli] Occupiers
---
Kayhan:
1- Fighting Astronomical Salaries, First Test of 10th Parliament: People's Expectations from Majlis
2- General Soleimani: Sheikh Qassim Is Redline, Any Violation Will Set Bahrain and Entire Region Ablaze
3- Iraqi Armed Forces' Victory in Fallujah Was Amazing: American General
4- Takfiris' Plot for Bombing Tehran and Other Provinces Thwarted by Security Forces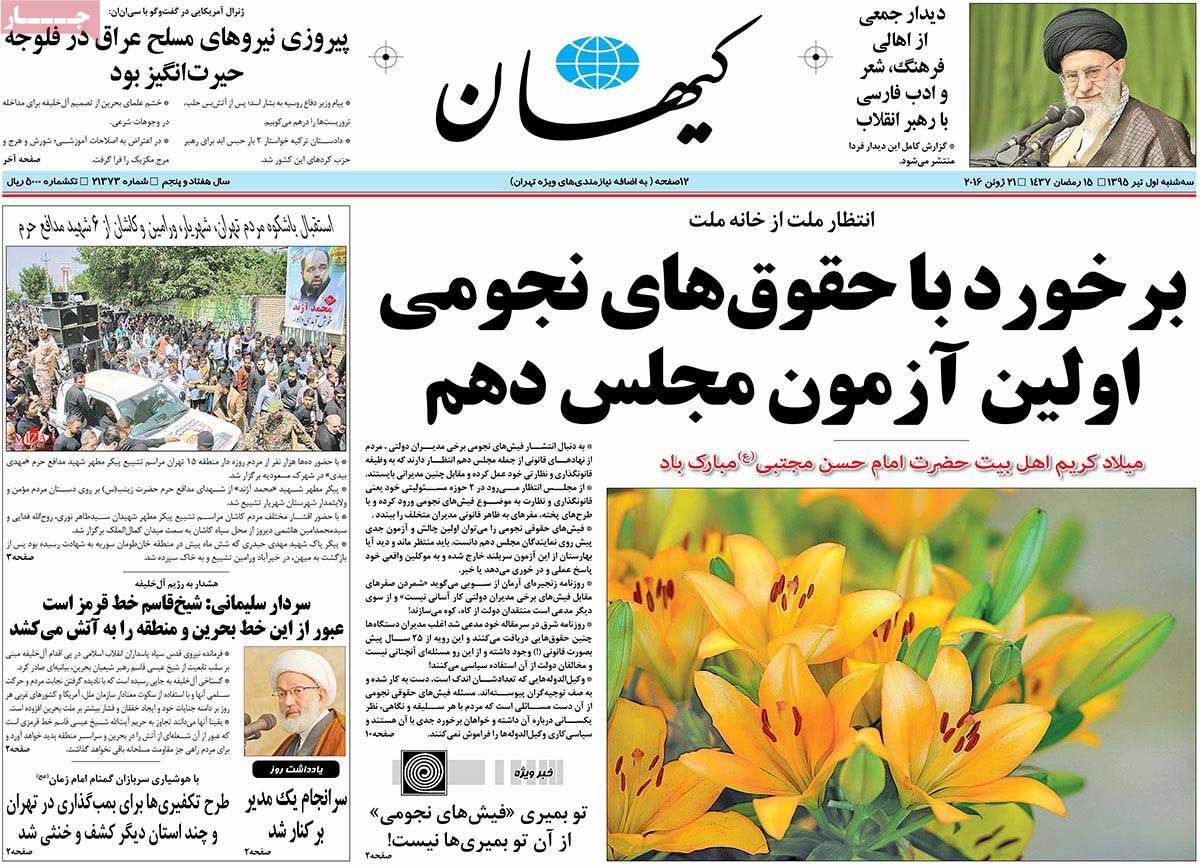 ---
Khorasan:
1- Al Khalifa Shocked by Iranian General's Warning [Editorial]
2- Every $5,000 of Imports Kills 1 Job: VP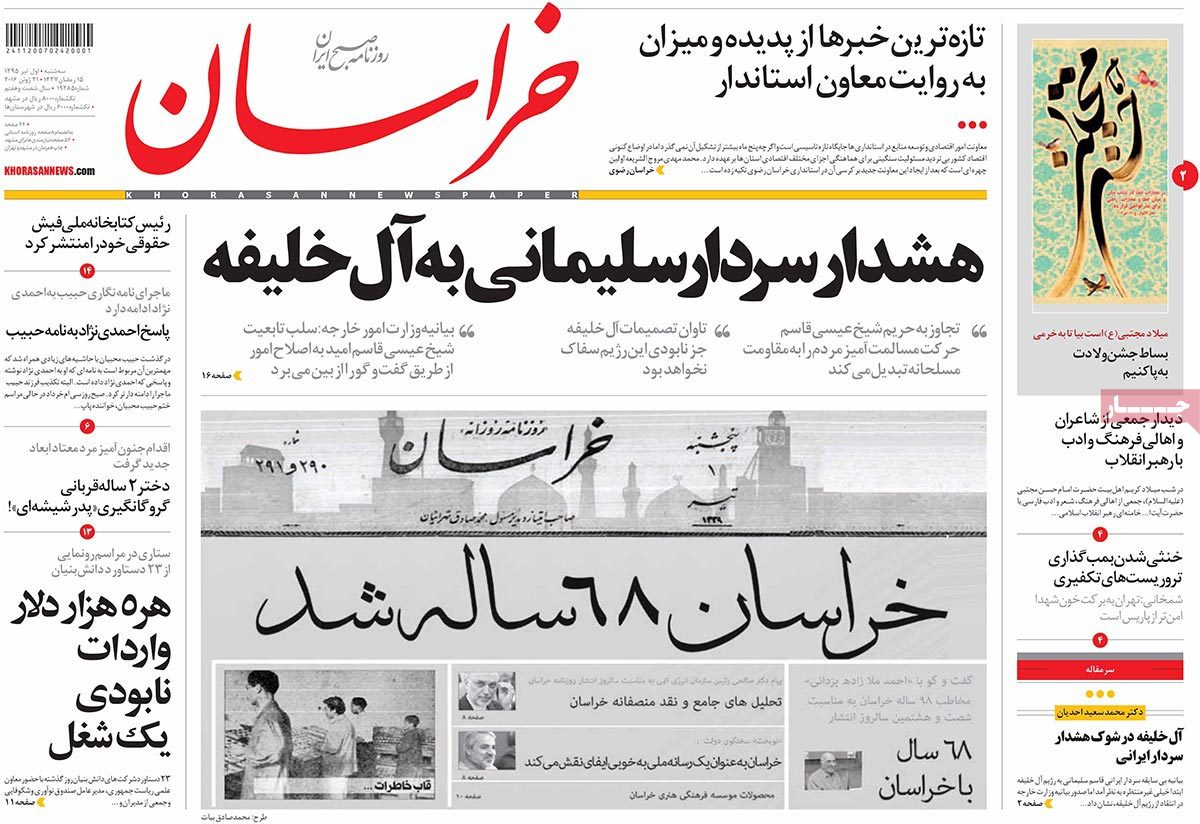 ---
Qods:
1- Who Is in Charge of Iran's Foreign Policy in the Middle East? [Editorial]
2- Offending Executives Will Definitely Be Dismissed: Spokesman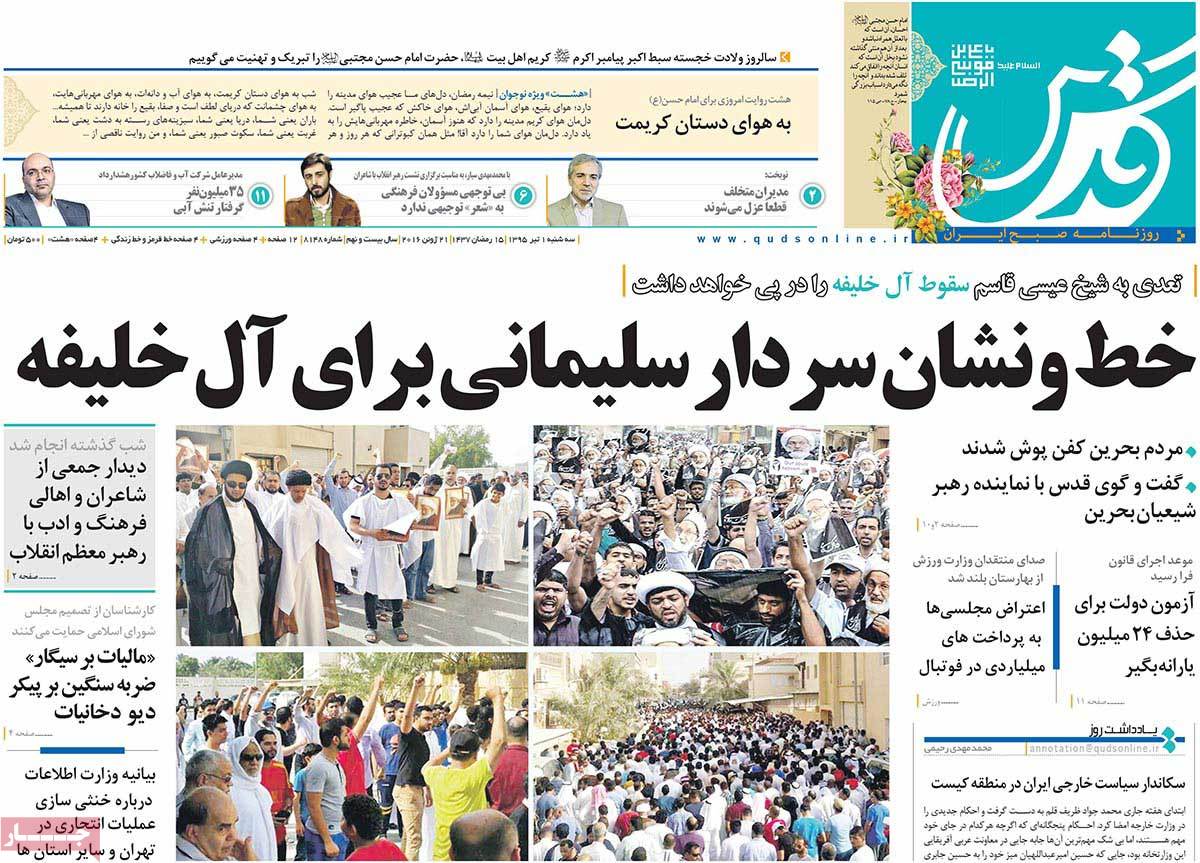 ---
Resalat:
1- Astronomical Salaries Rooted in Reformist Gov't: Court of Audit
2- 6 Killed and 100 Wounded in Police Clash with Mexican Teachers
3- Secrets behind Putin's Bitter Confession: Which Governments Are Going to Be Deceived by US This Time?
4- Tehran Is Safer than Paris: Shamkhani
5- 80% of Imported Goods Can Be Produced inside Iran: First VP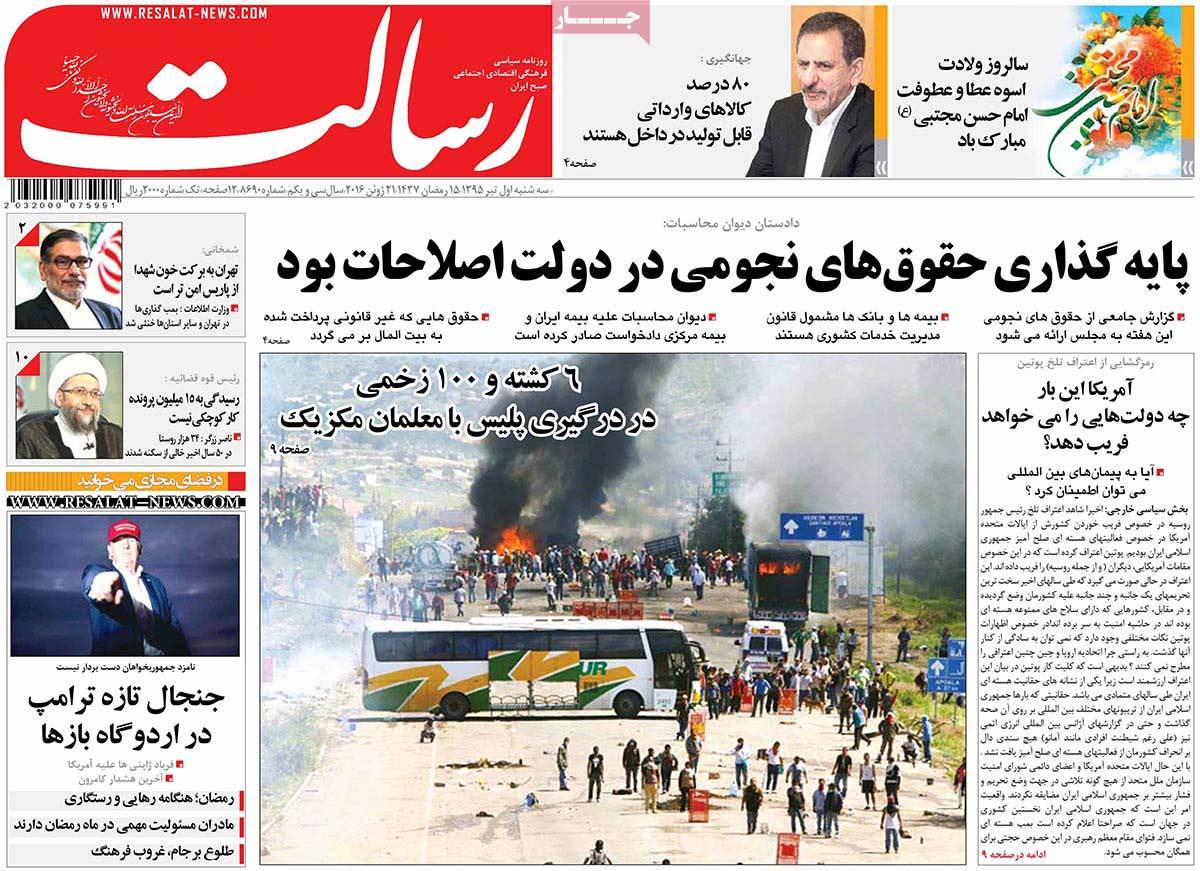 ---
Shahrvand:
1- 24 People Displaced Every Minute in the World: 65m Refugees
2- Telegram Messaging App Is Not an Enemy, It's a Rival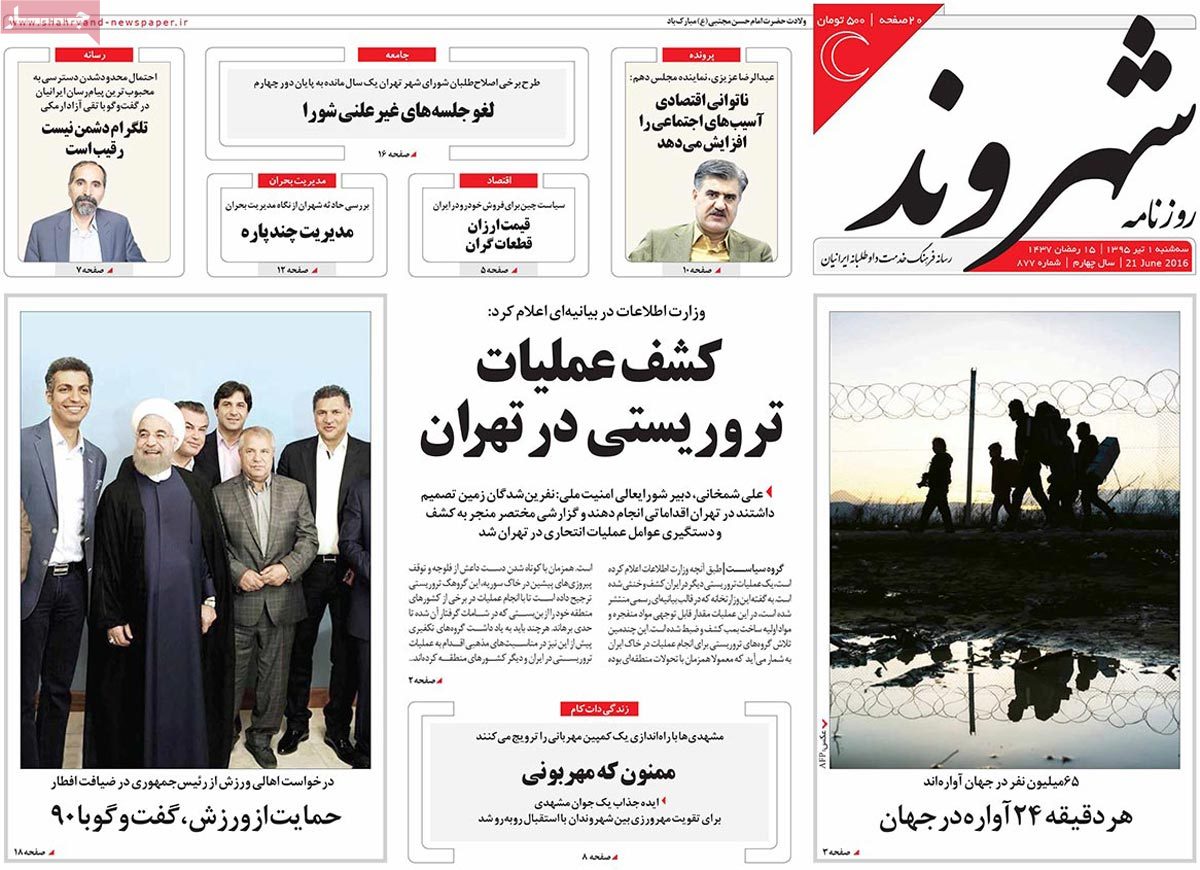 ---
Shargh:
1- "We Want Food": Legacy of Ahmadinejad's Close Friend; Venezuela's Economy on Verge of Complete Collapse
2- A Report on Political and Economic Denigration of Rouhani's Administration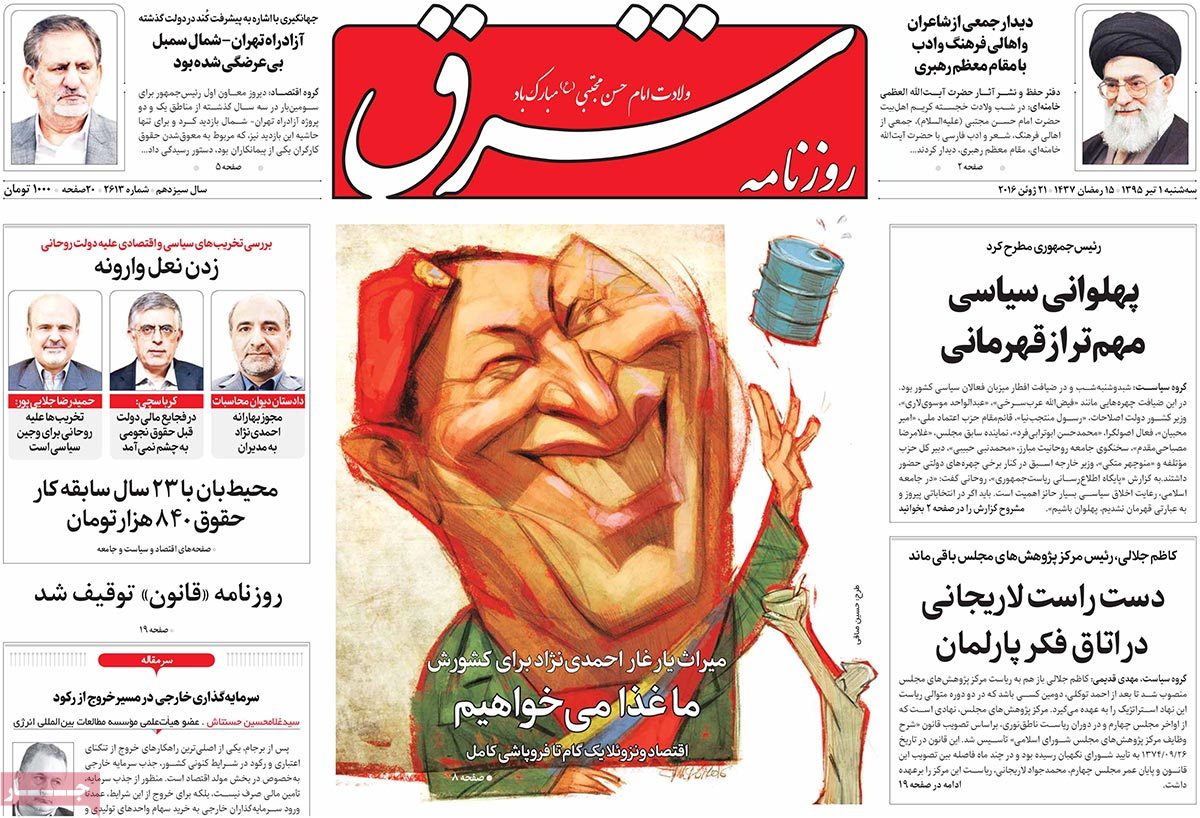 ---
Sobh-e Now:
1- Be Prepared for Bahraini People's Armed Resistance: General Soleimani's Stern Warning against Al Khalifa
2- Turks Claiming Ownership of Rumi in Cooperation with Hollywood
3- Reasons for Astronomical Salaries in an Islamic Establishment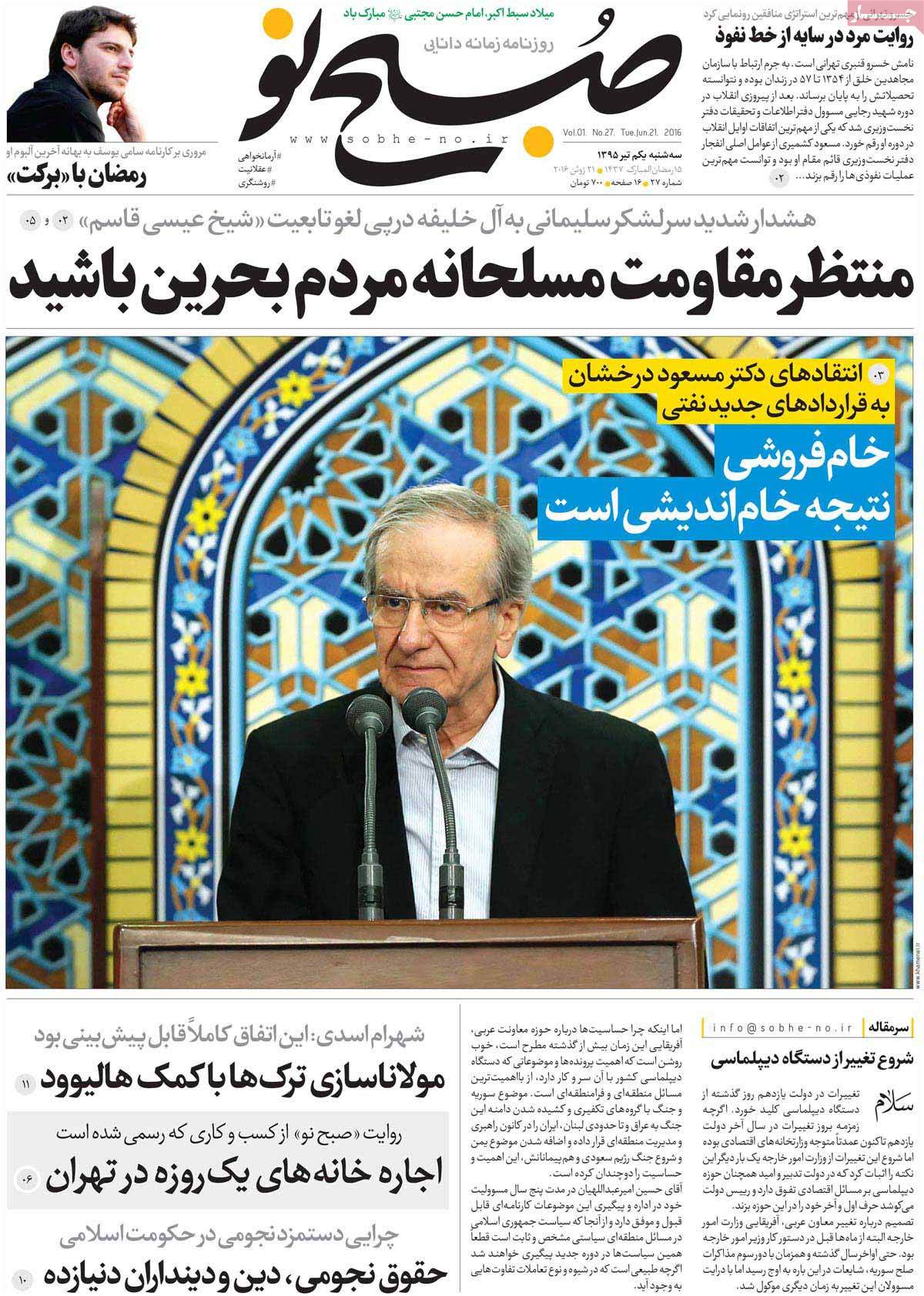 ---
Vaghaye Ettefaghieh:
1- Arrest of Terrorists in Tehran
2- On Kiarostami's Brithday: A New Look at the World
3- Judiciary Chief Urges Authorities to Maintain National Unity and Solidarity
---
Vatan-e Emrooz:
1- Ultimatum to Bahraini Rulers: Continued Pressure on Shiite Cleric Would Leave No Option but Armed Resistance for Bahrain's People, General Soleimani Warns
2- Huge Salaries Paid from Empty Treasury?