Newspapers today widely covered the huge fire that engulfed a residential tower in London and killed at least 17 people.
They also highlighted the Iranian national football team's meeting with President Hassan Rouhani, and the remarks made by the president in praise of the footballers.
A move by 200 US Congressmen to sue President Donald Trump and the speculations about his impeachment also received great coverage.
The above issues, as well as many more, are highlighted in the following headlines and top stories:
IFP News apologizes for the delay in publishing today's newspapers.
Abrar:
1- Zarif: Threat, Sanctions Not to Resolve Problems between Countries
2- 2030 Document Out of Iran's Agenda
3- Saudi Arabia: We Didn't Prevent Any Pilgrim from Going on Hajj
4- China's Naval Group Berths at Iran's Bandar Abbas Port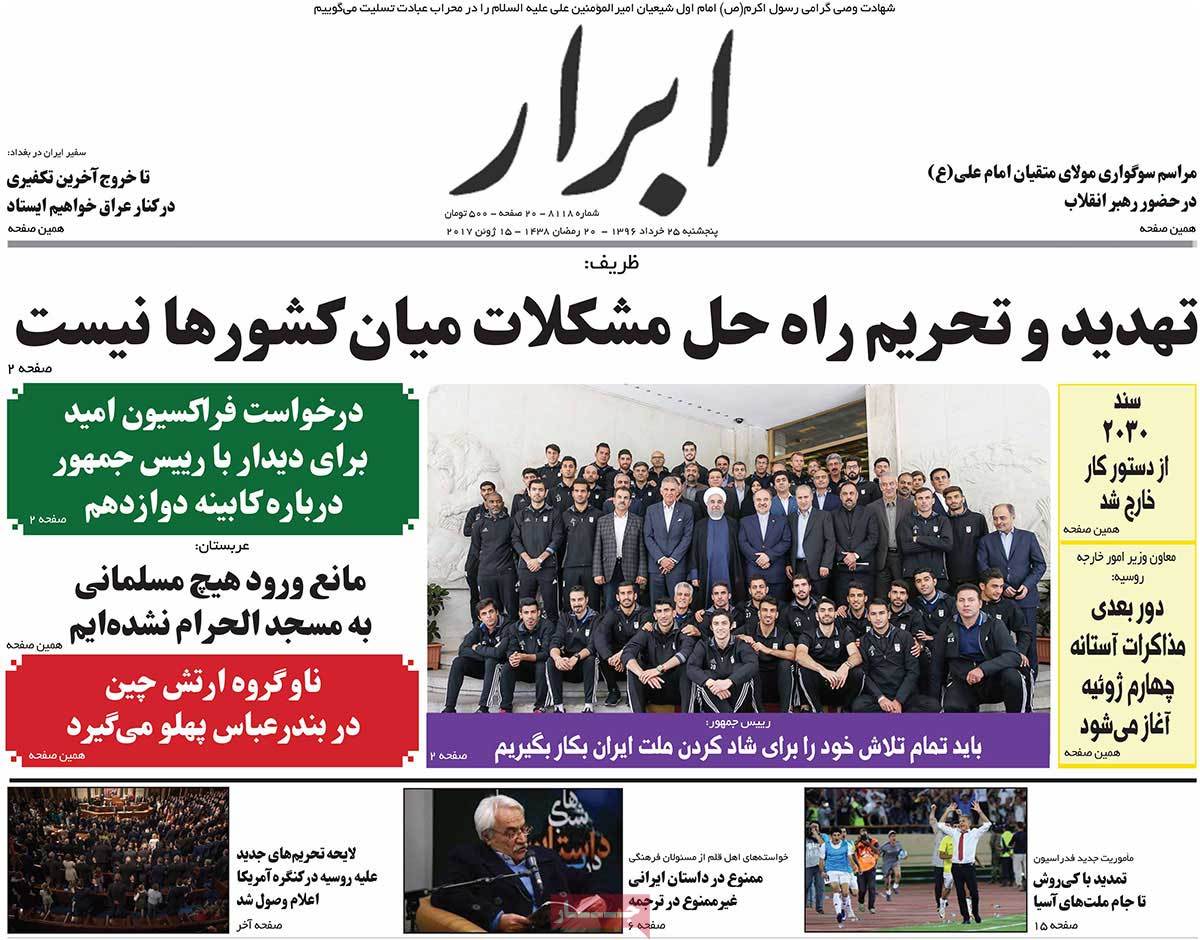 ---
Afkar:
1- Iran Leader's Advisor: If US Does Anything Wrong, We'll Target Its Interests
2- Putin: US Trained Al-Qaeda, Bin Laden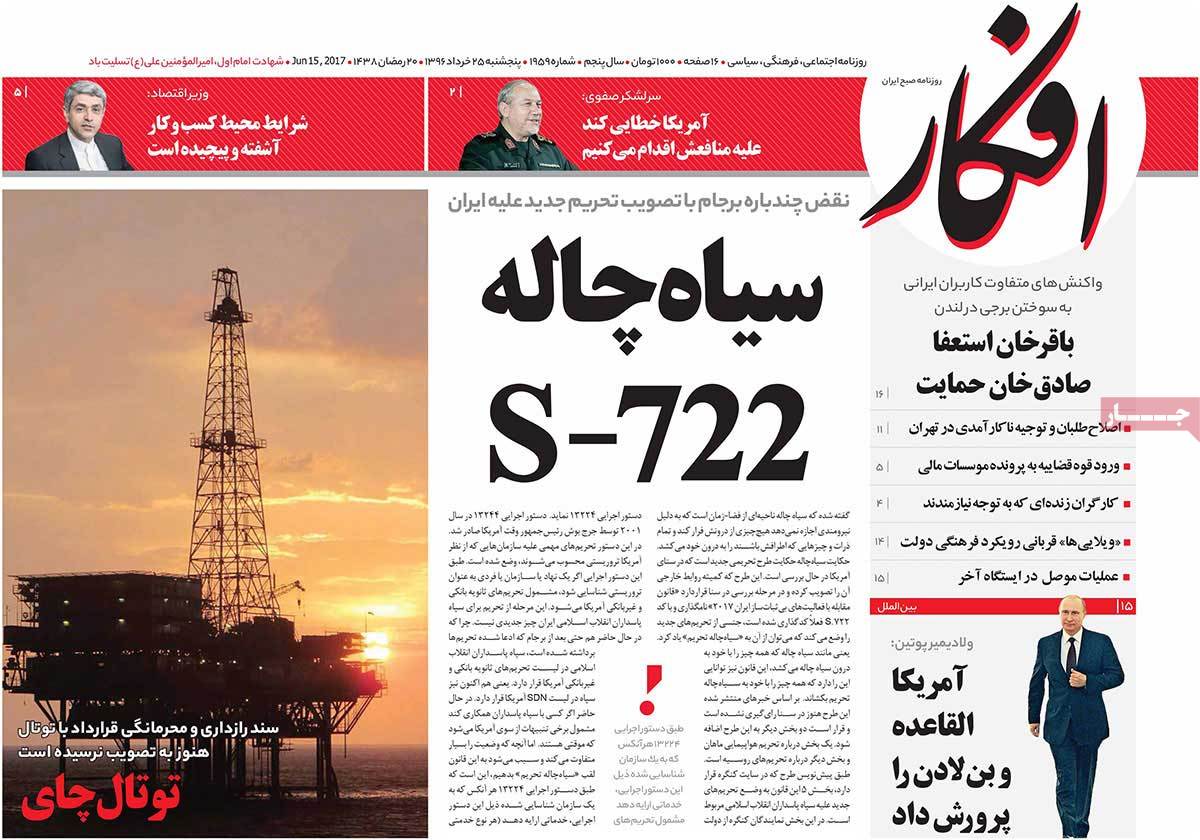 ---
Aftab-e Yazd:
1- Bitter Comparison of London Fire, Plasco Incident
2- Rouhani: Cooperation with Queiroz, Symbol of Interaction with World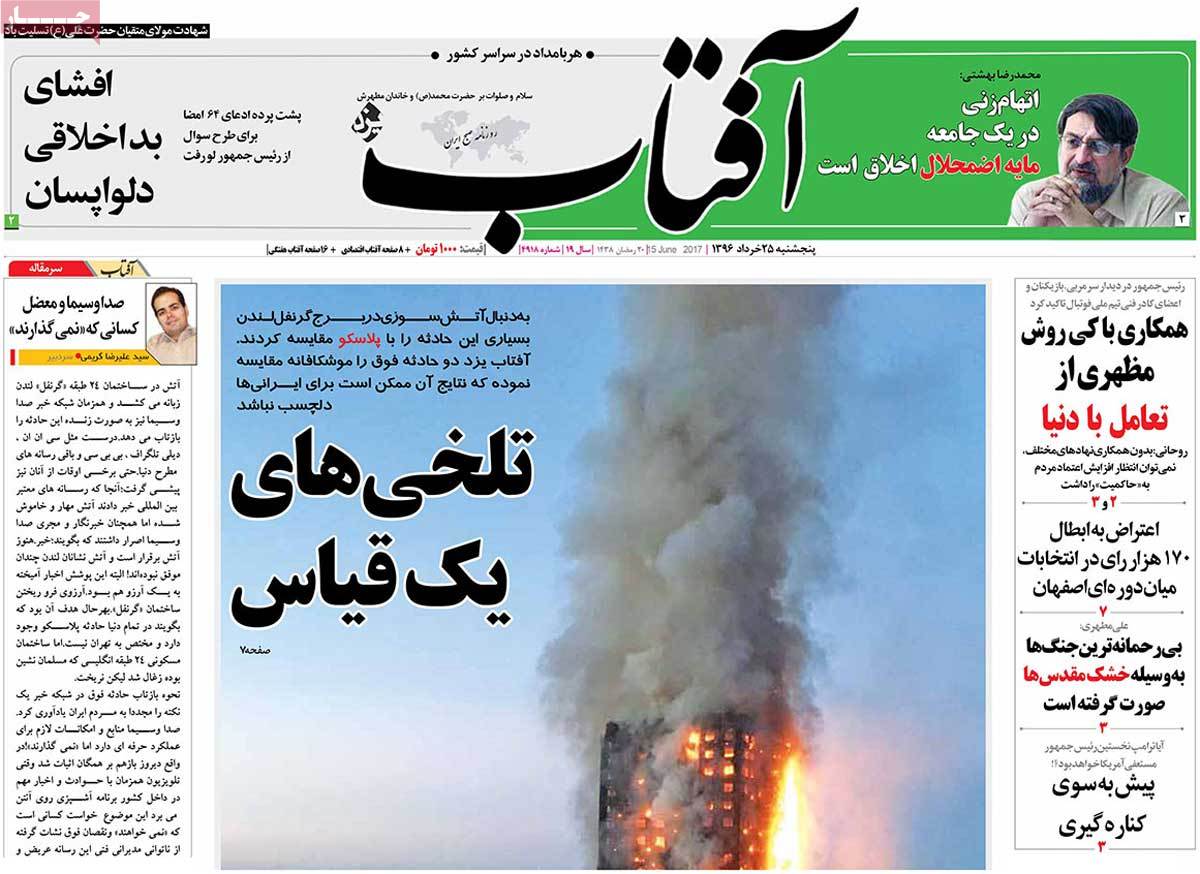 ---
Arman-e Emrooz:
1- Lack of a Rival Led to Iran State TV's Failure: Analyst
2- Rouhani Shows Strong Support for National Football Team
3- Masoud Shojaei to Rouhani: Let Women Go to Stadiums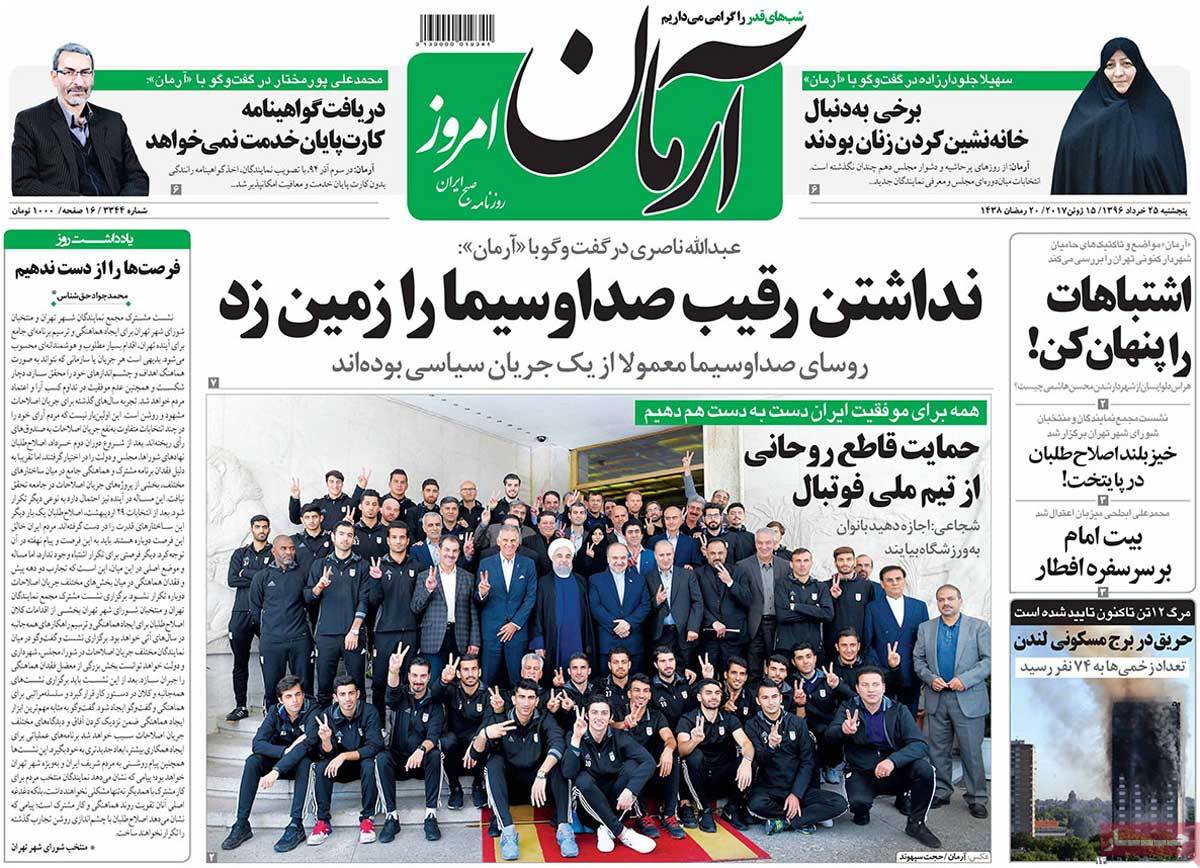 ---
Ebtekar:
1- Iranian People Deserve Happiness: Rouhani to Football Players
2- Trump's Decline: 200 Congressmen File Lawsuit against Trump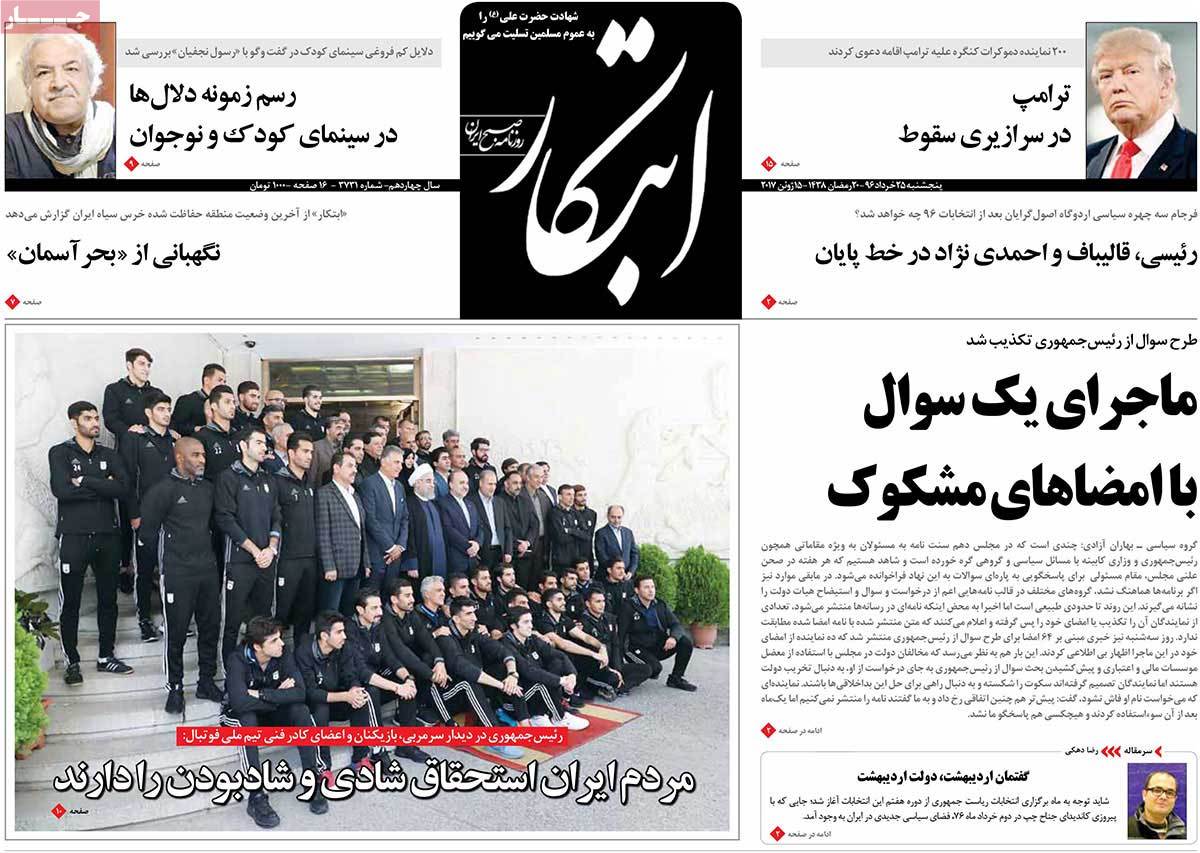 ---
Etemad:
1- Women in President's Office
Activists Introduce Capable Women to First VP for Taking High-Level Posts
2- Rouhani Urges Team Melli to Qualify for World Cup's Second Round
3- Iran Leader to Attend Mourning Ceremonies for Imam Ali's Martyrdom
---
Ettela'at:
1- Rouhani: Iran Needs Maximum Level of Solidarity for Moving Forward
2- FAO: Iran's Wheat Production to Hit 13.5 Million Tonnes This Year
---
Haft-e Sobh:
1- It Burnt for 10 Hours, But It Didn't Collapse!
Different Fates of London's Grenfell Tower, Iran's Plasco Building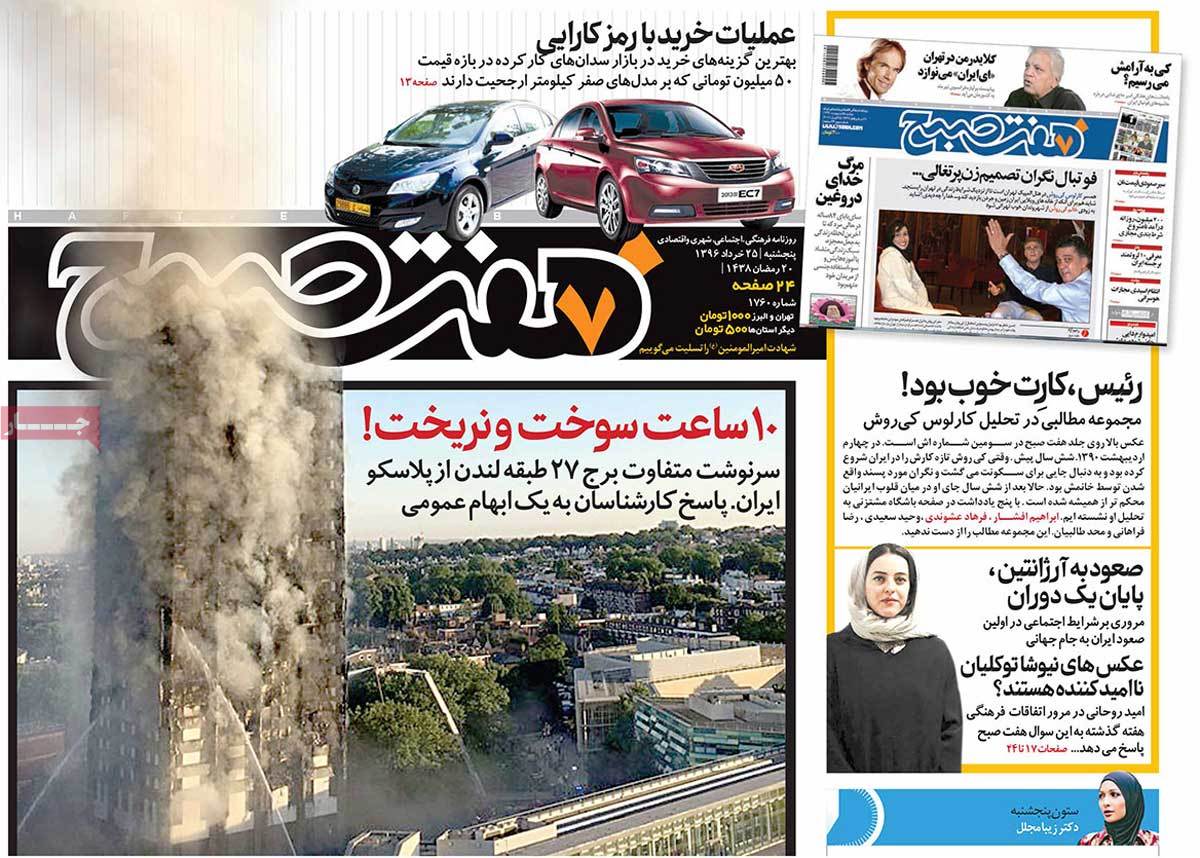 ---
Hemayat:
1- Americans Fabricating New Pretexts against Iran
Washington Says Iran Has Had Unannounced Nuclear Activities
2- US Should Stick to Its JCPOA Commitments: Iran Envoy to IAEA
3- London's 27-Storey Tower Burns in Fire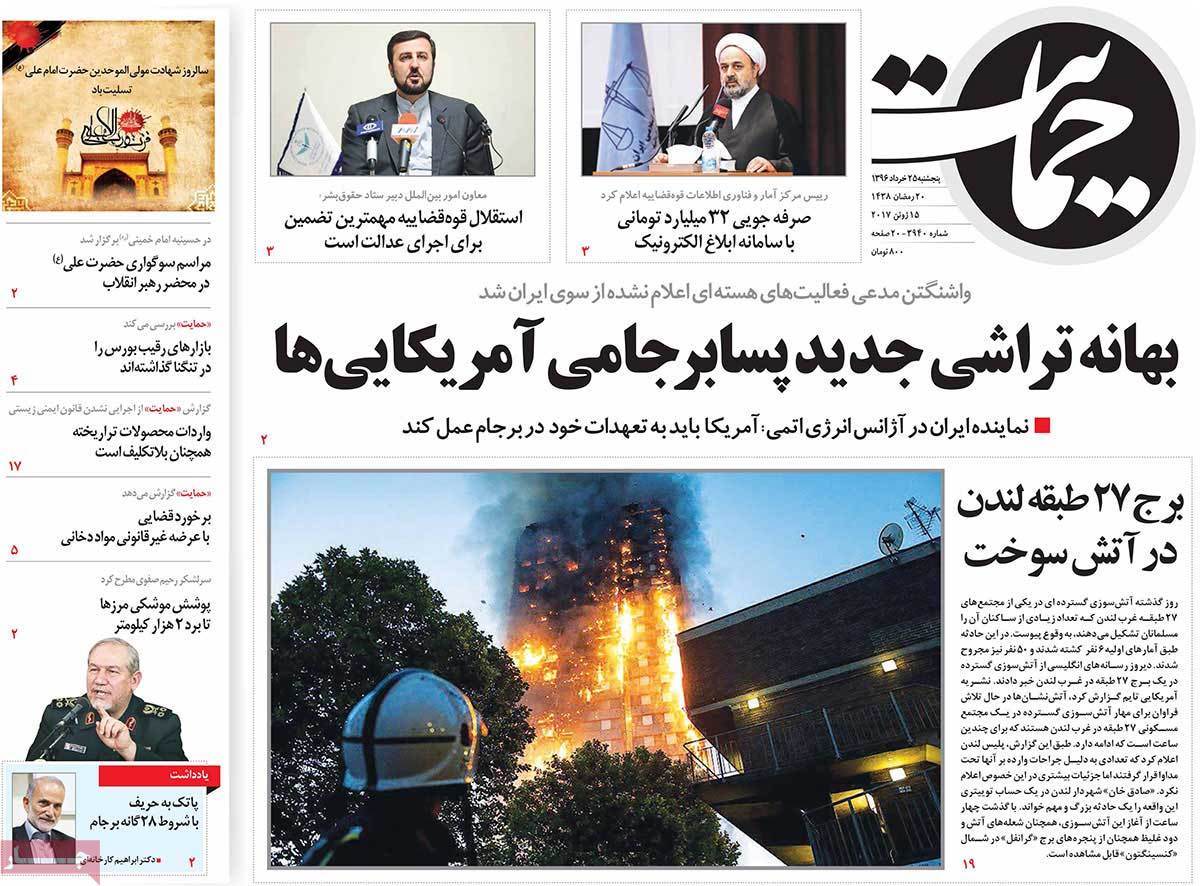 ---
Javan:
1- Grenfell Burns without Anyone Fanning the Fuel!
2- Qatar's Ex-PM: We and US Made Mistake on Syria
3- Fear of Being Tehran's Mayor! Reformists Withdrawing from Municipality
---
Ka'enat:
1- London's Plasco
2- We Should Do Our Best to Make People Happy: Rouhani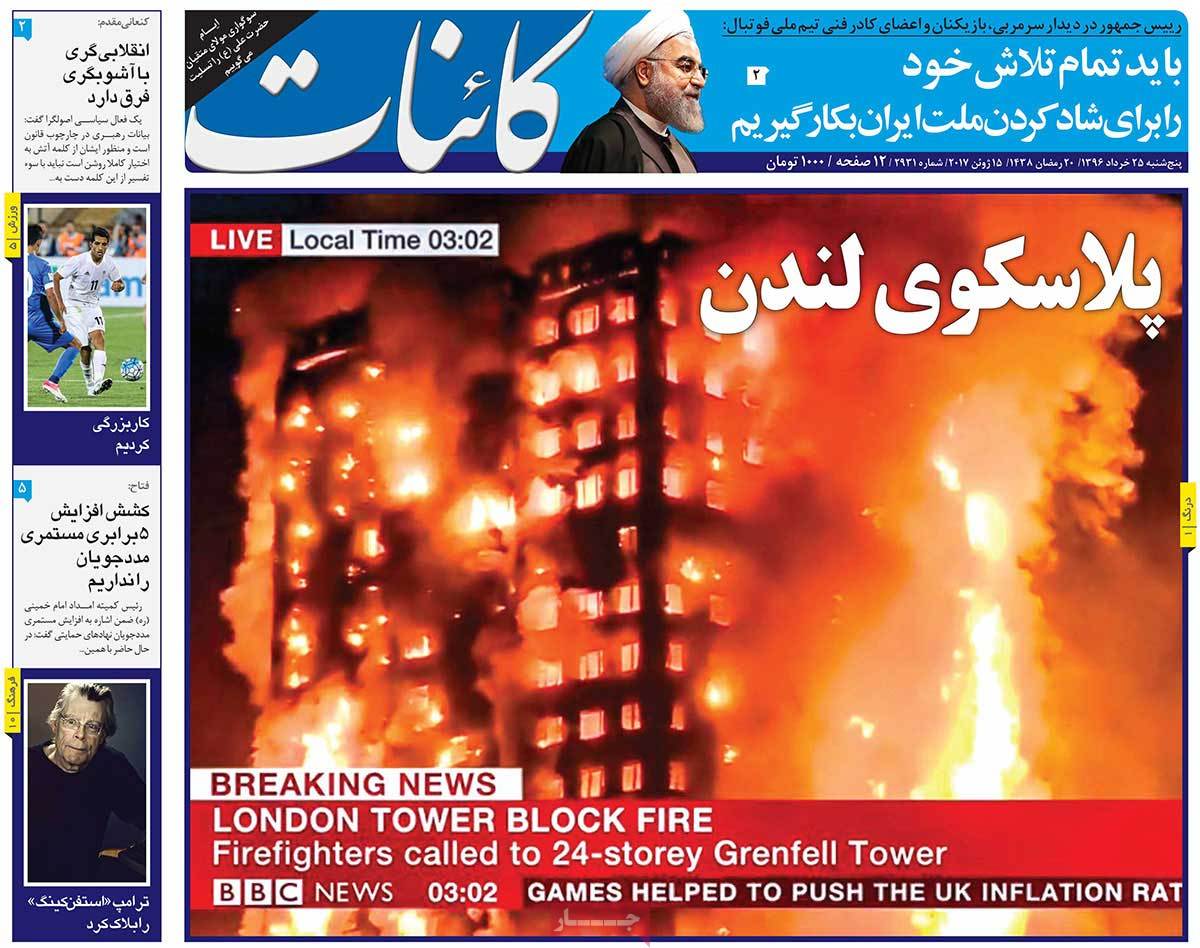 ---
Kayhan:
1- US Takes 120 ISIS Leaders Out of Raqqa
Latest Proof of Washington's Support for Takfiris
2- Yemen's Ansarullah Sinks 10th Saudi Warship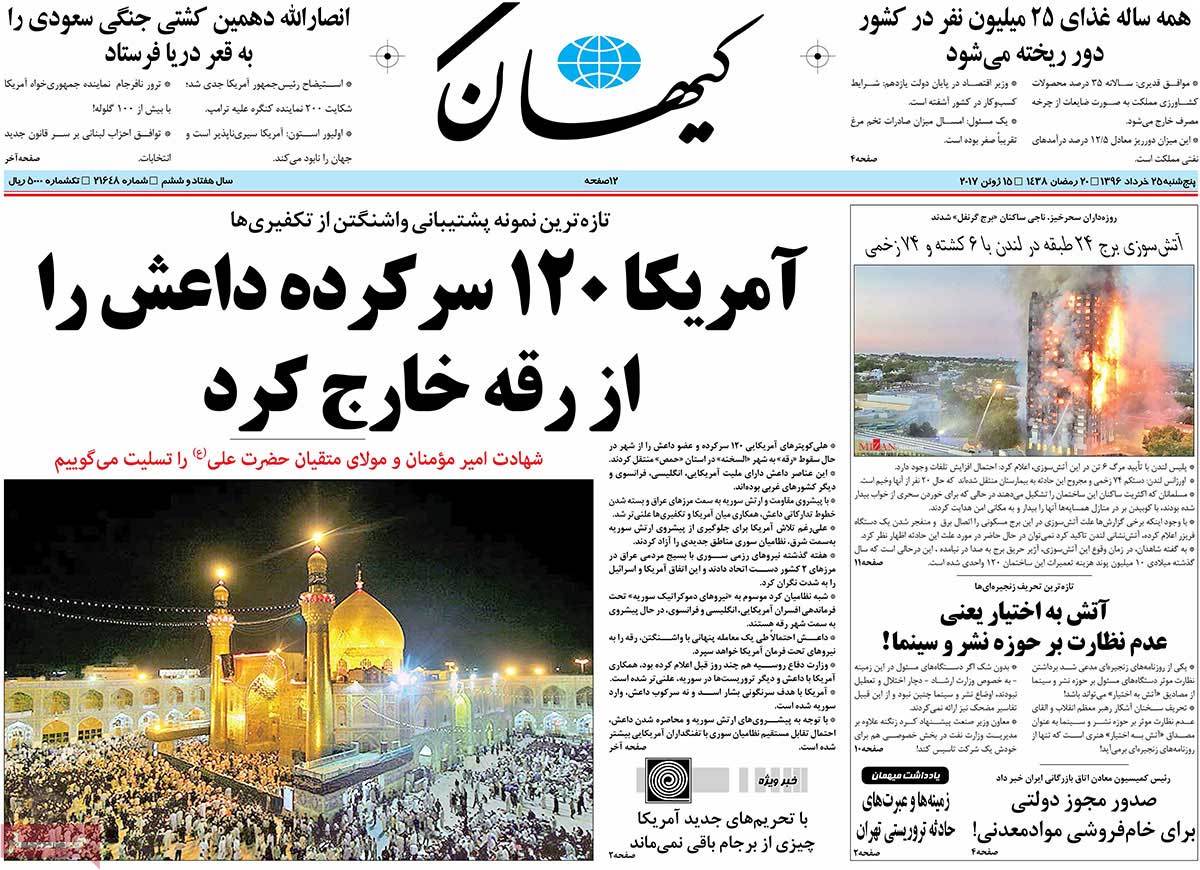 ---
Quds:
1- Trump on Verge of Impeachment
2- Imam Ali Herald of Unity among Muslim Society: Senior Cleric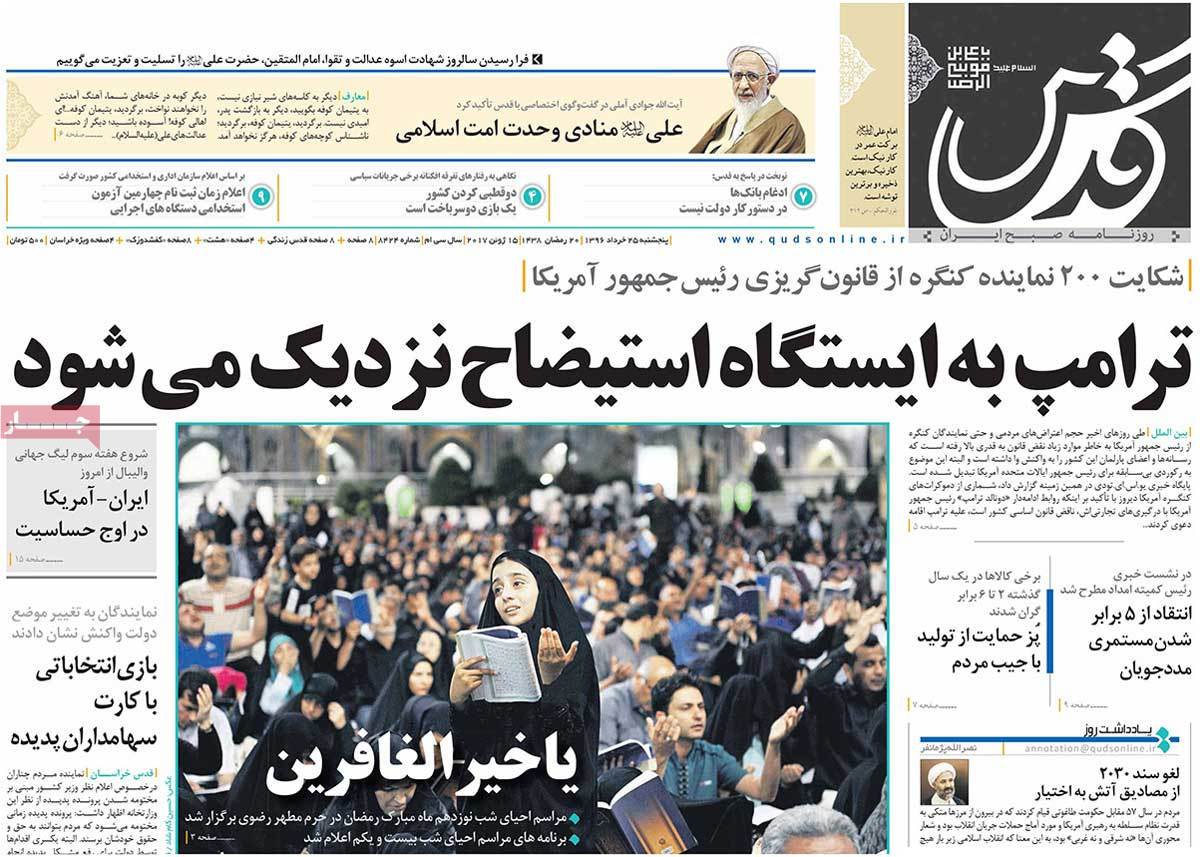 ---
Resalat:
1- Iranian People's Hatred towards US More than Ever: Senior Cleric
2- Imam Ali's Unique Character Great Example for Muslim World
3- Ex-MP Urges Gov't to Stop Illegal Gas Deal with Total
4- Oliver Stone: US Policy to Ultimately Destroy the World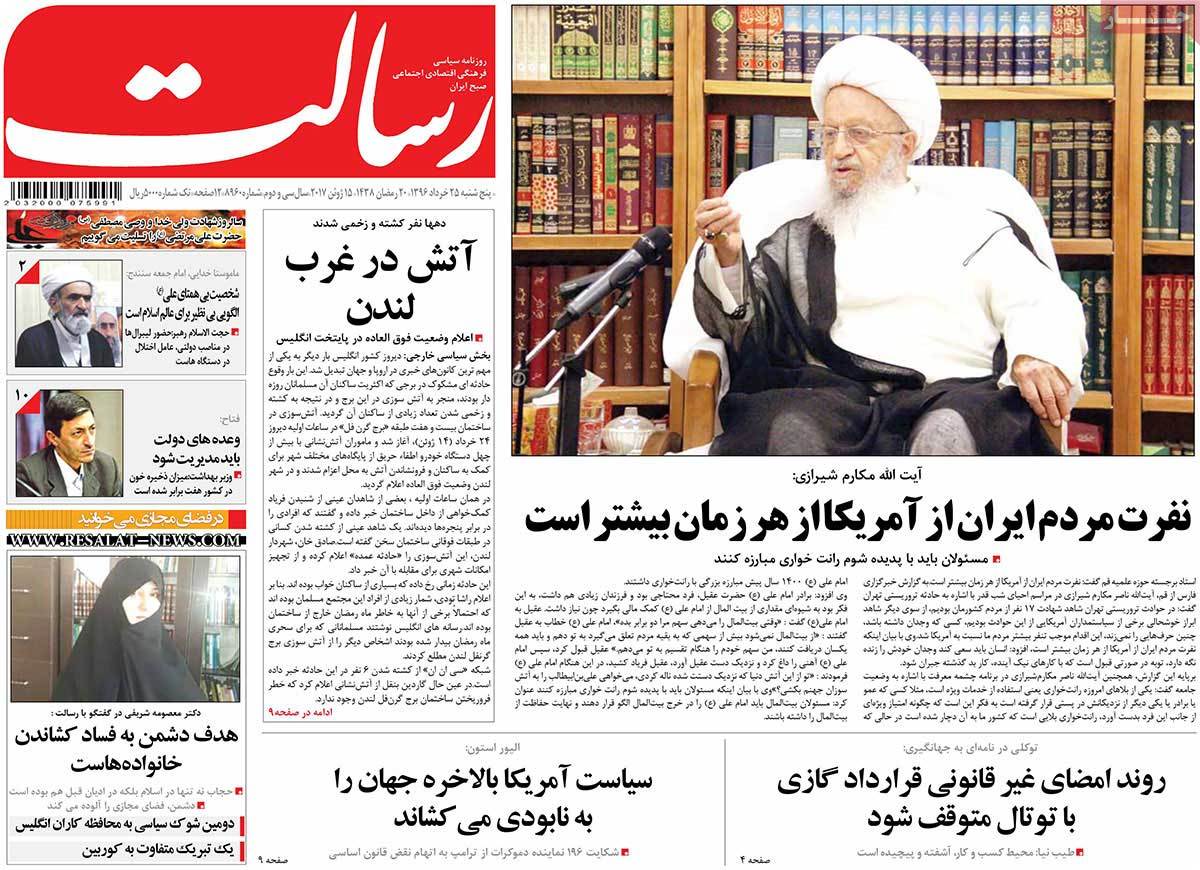 ---
Rooyesh-e Mellat:
1- Saudi Arabia Main Suspect of Tehran Attacks: Senior Advisor
2- Moscow-Washington Ties in Lowest Level Ever: Tillerson
3- Iraqi PM: We're Opposed to Qatar Blockade, Sanction
4- Iran: We Should Stand against World Powers' Breach of Commitments
---
Shahrvand:
1- 25 Million Iranians to Be Educated about Crisis: Red Crescent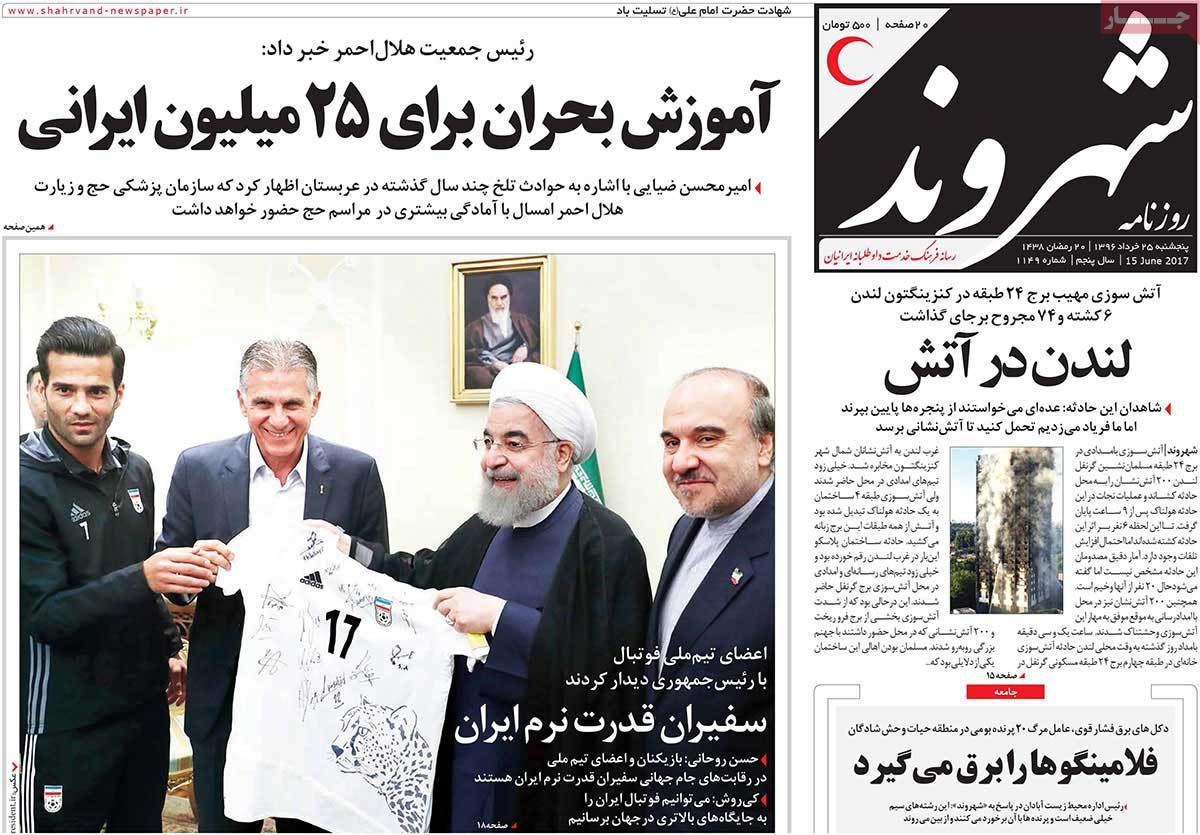 ---
Siasat-e Rooz:
1- US Military Bases within Range of Iranian Missiles, Iranian General Warns
2- From Grenfell to Plasco
3- UAE Puts Saudi Arabia in List of Strategic Threats
Deepening Gaps between Saudis, Allies