Iranian Foreign Minister Mohammad Javad Zarif's Sunday address to the new members of Iran's Parliament was a top story in many newspapers. He briefed the MPs on the latest achievements of the JCPOA and provided them with statistics regarding the deal and its positive outcomes.
Today is the third anniversary of President Hassan Rouhani's victory in the 2013 Presidential Elections. Several media discussed his 3-year performance, and Iran, in particular, published a special 128-page issue on the anniversary with many interviews and comments by popular figures from different social, economic, cultural, and political fields.
A recent terrorist attack in the US city of Orlando was also widely covered. The attack on a gay nightclub killed at least 50 and wounded dozens more.
Iranian media also covered recent statements by US officials denying Saudi Arabia's role in the 9/11 attacks. The remarks received great coverage because they came shortly after the UN decision to remove Riyadh's name from a blacklist of children's rights violators under Saudi pressure.
Abrar:
1- Russia Ready to Sell Arms to Iran
2- Iraqi Forces Make Progress in Battle against ISIS in South Mosul
3- We Didn't Have Money to Make a Film about Rumi: Iranian Director
---
Abrar-e Eqtesadi:
1- Indian Rupee Removed from Iran's Oil Deals
2- Iran Continues Negotiations with Italy for Airport Terminal Design
---
Aftab-e Yazd:
1- FM Addresses Parliament: Zarif Wasn't Threatened to Be Buried in Cement This Time!
2- Oil Price to Hit $70, Aftab-e Yazd Predicts
3- Role of Ahmadinejad Government in Huge Salaries
4- General Soleimani Will Not Choose to Run for Presidency: Politician
5- We'll Sell Airplanes to Iran: Boeing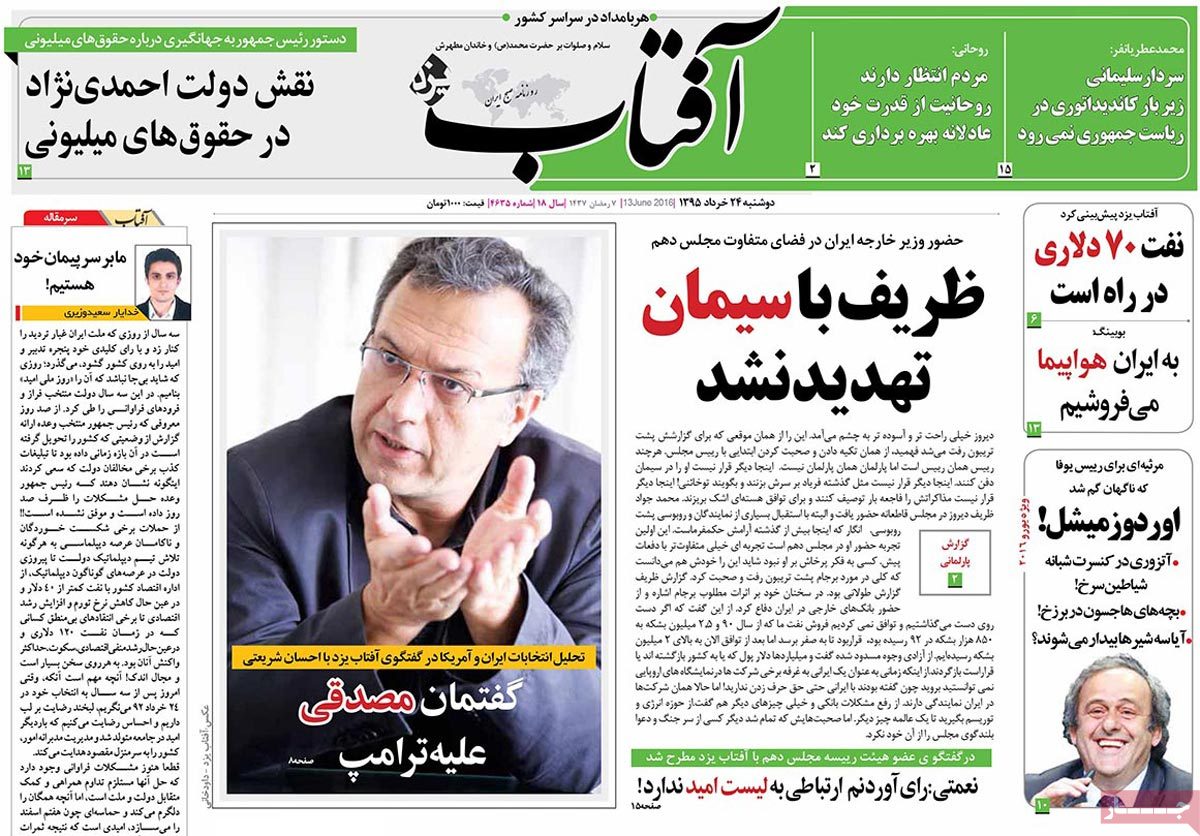 ---
Arman-e Emrooz:
1- Without JCPOA, Iran Could Not Sell Any Crude Oil: Zarif
2- Conservatives May Keep Silent in 2017 Presidential Elections: Politician
3- In Some Private Hospitals, Female Nurses Are Paid for Cosmetics They Use!
4- Rouhani's Order on Astronomical Salaries: Retrieve the Money and Dismiss the Offenders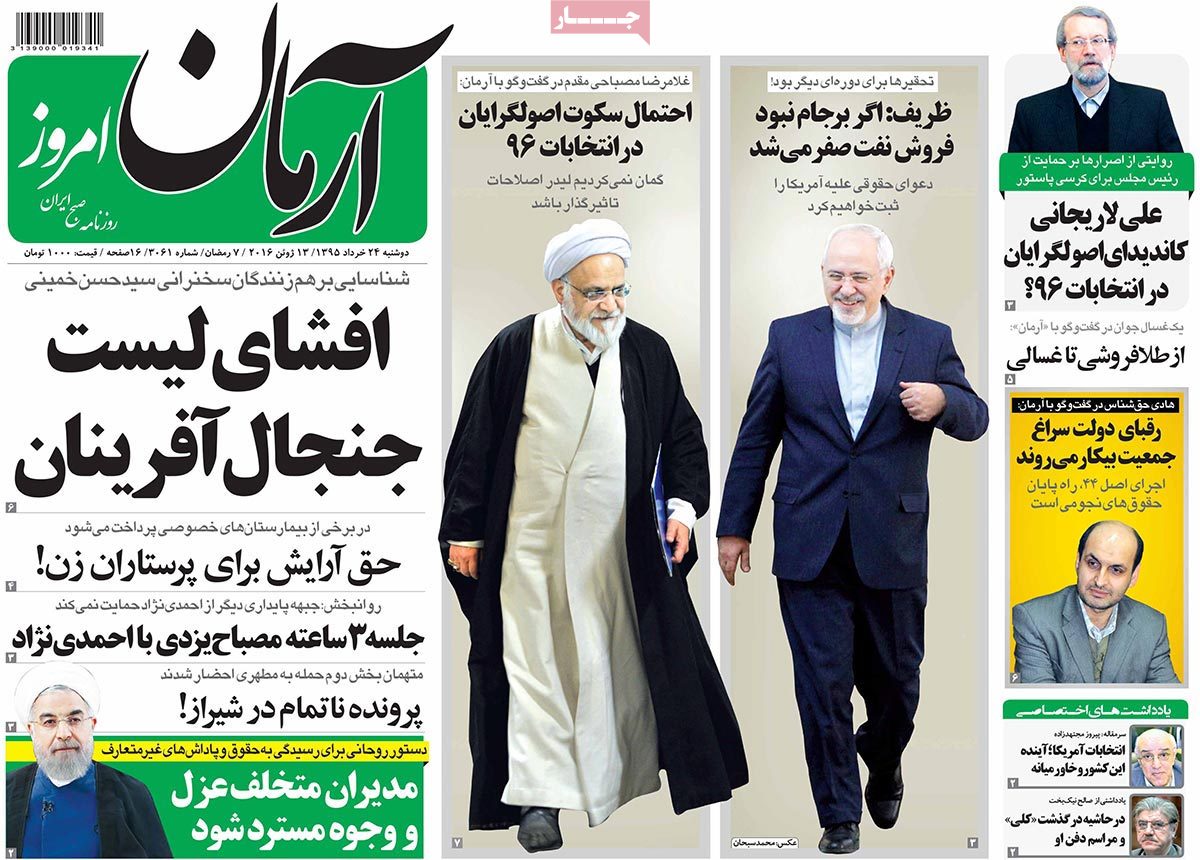 ---
Asia:
1- George Soros Sells All His Shares in Stock Exchange Market, Buys All the Gold He Can
2- JCPOA: A Driving Force for Opening Markets or a Road to Crisis?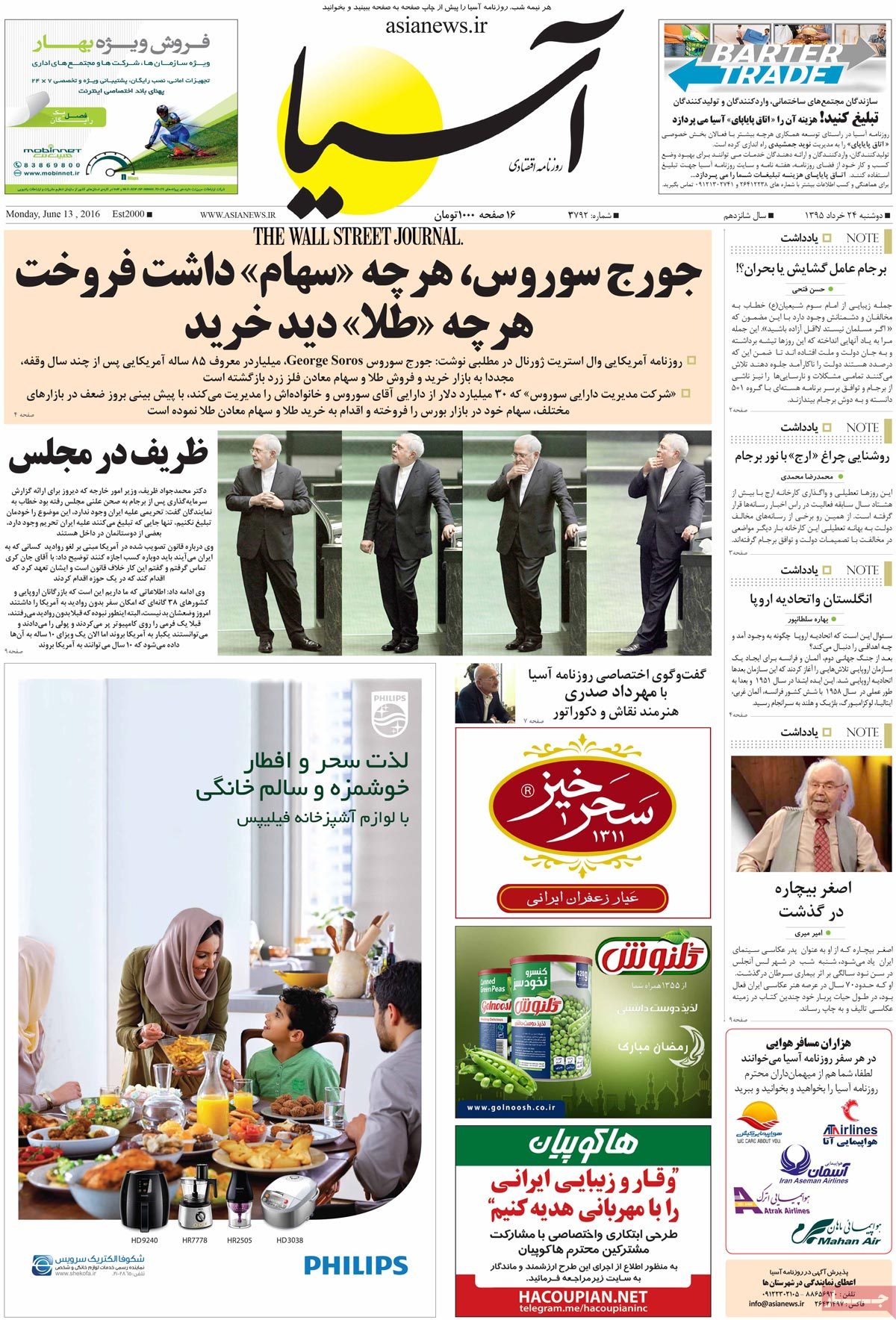 ---
Asrar:
1- Fallujah on Verge of Full Liberation
2- Offending Executives to Be Dismissed on Rouhani's Order
3- US Shocked by Terrorist Attack: Over 100 Killed and Wounded in Orlando
4- Some Countries Want to Create Problems on Nuclear Issue: Larijani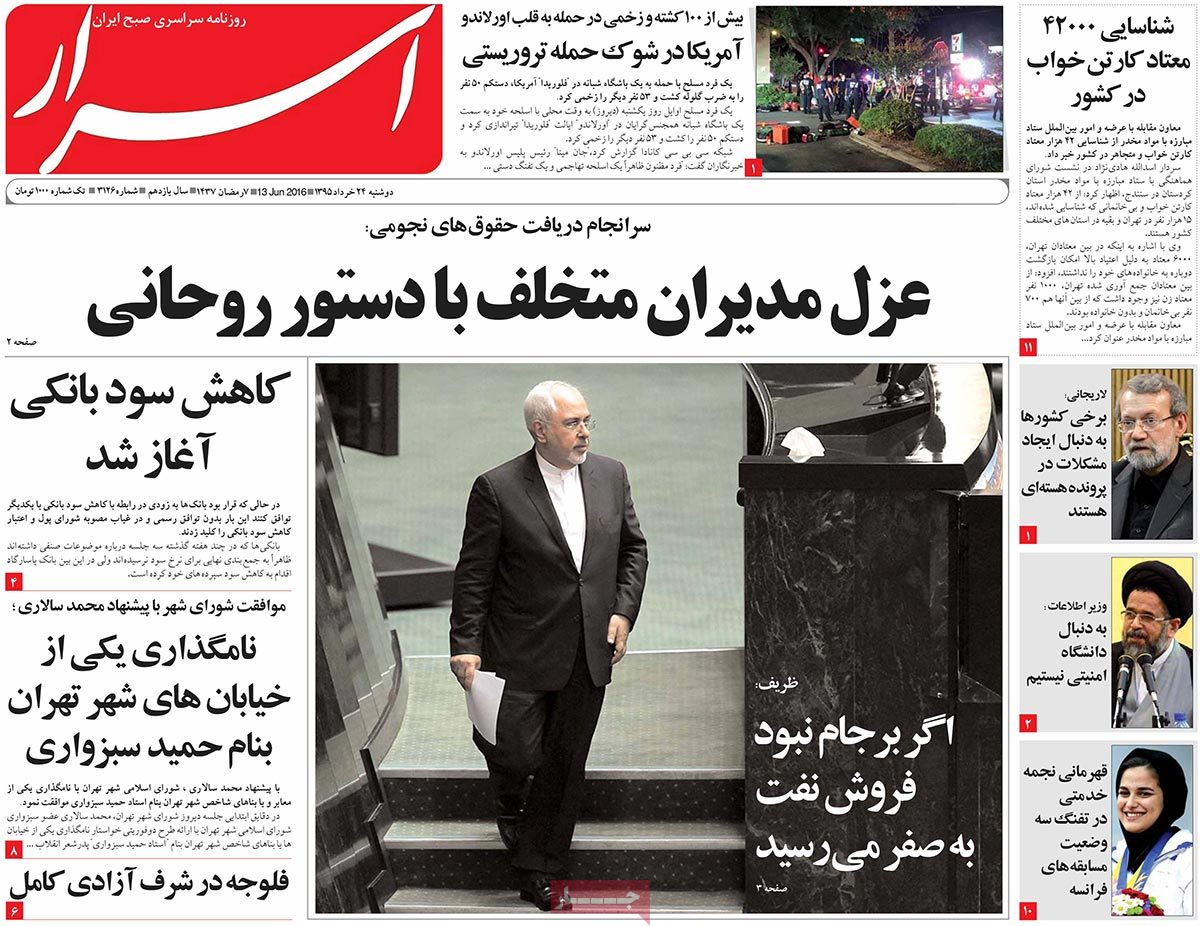 ---
Etemad:
1- $700m Monthly Payment to Gov't Treasury: Zarif Briefs Parliament on Positive Outcomes of JCPOA
2- 1,100 Days Later: How Rouhani Spent His Term
3- Rouhani Popular among Iranians: Politician
4- Rouhani's Brother Neither Arrested Nor Summoned: Judiciary Spokesman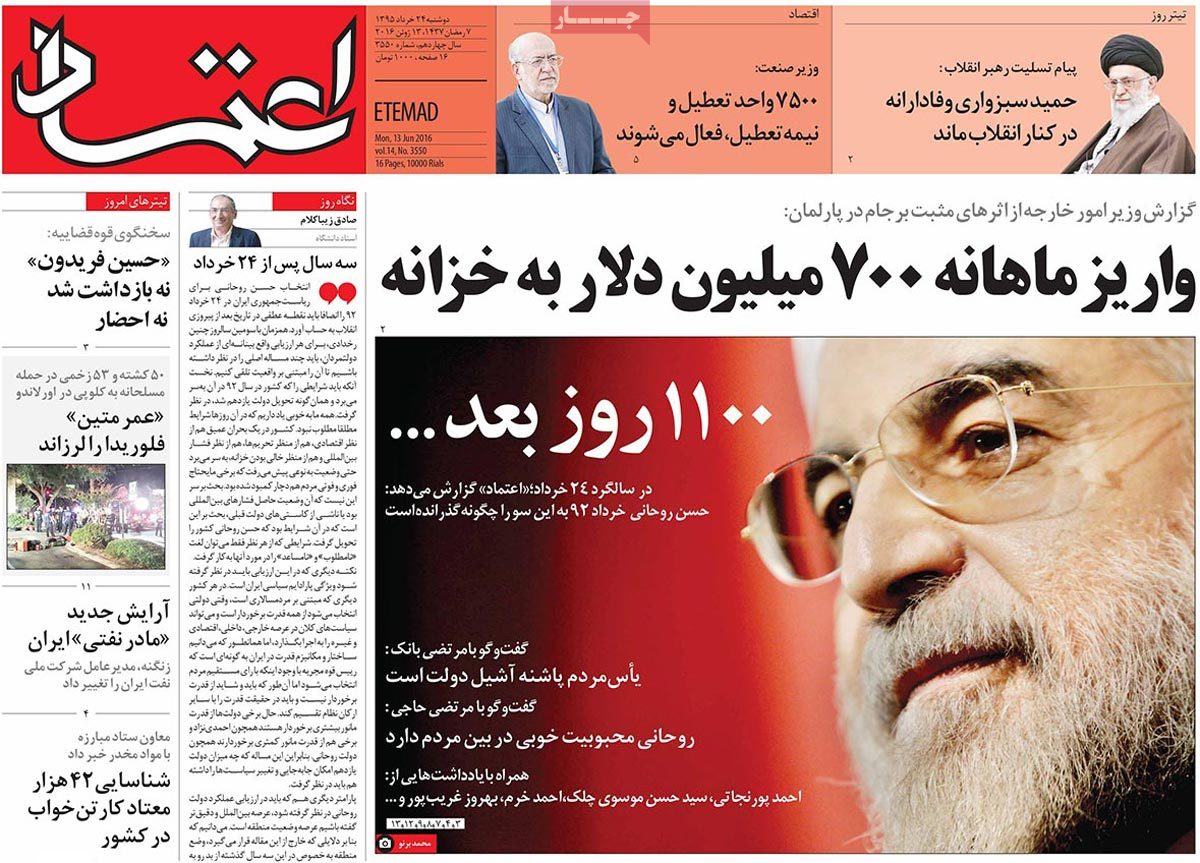 ---
Ettela'at:
1- 42,000 Homeless People Identified across Iran: 15,000 in Tehran
2- ISIS Attacks Florida, Kills 50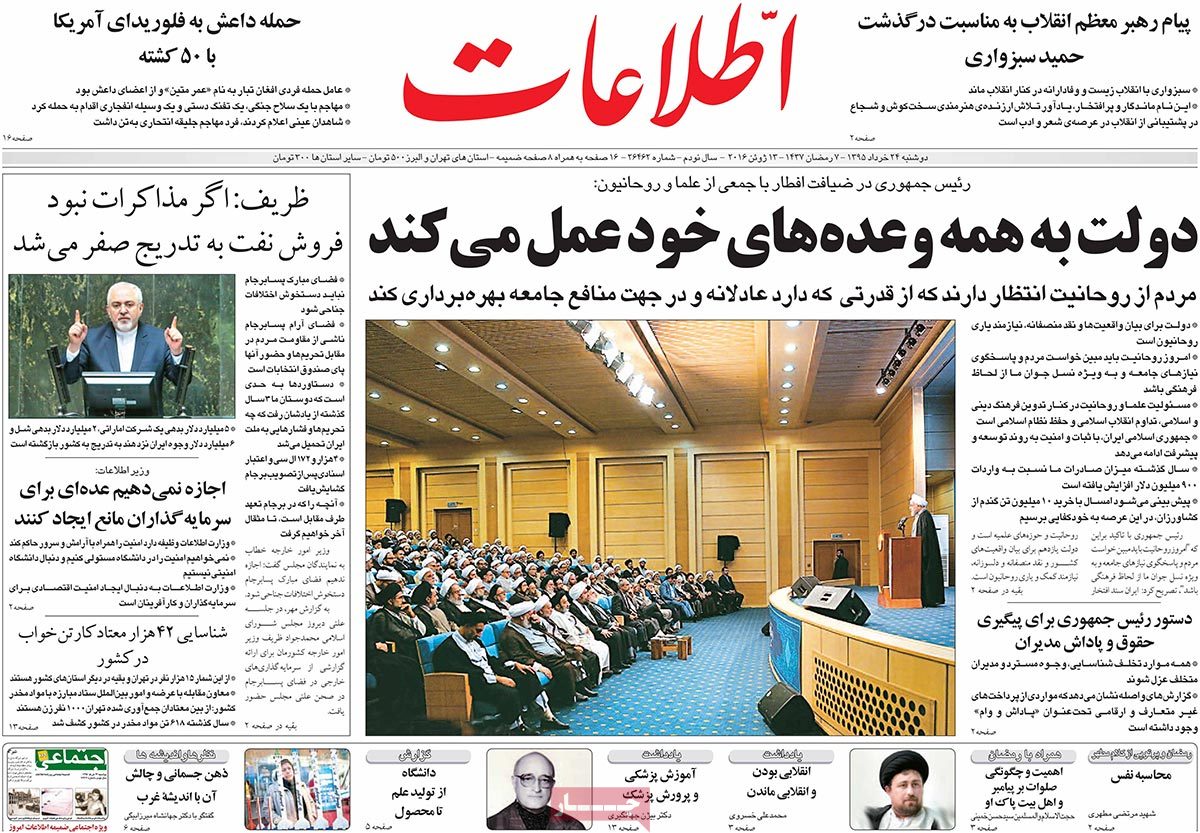 ---
Ghanoon:
1- 1096 Days: Moderation without Economy
2- Opponents and Proponents of Gov't Dissatisfied with Its Economic Policies
3- Empire of Quasi-Governmental Bodies: Economic Prescriptions for Gov't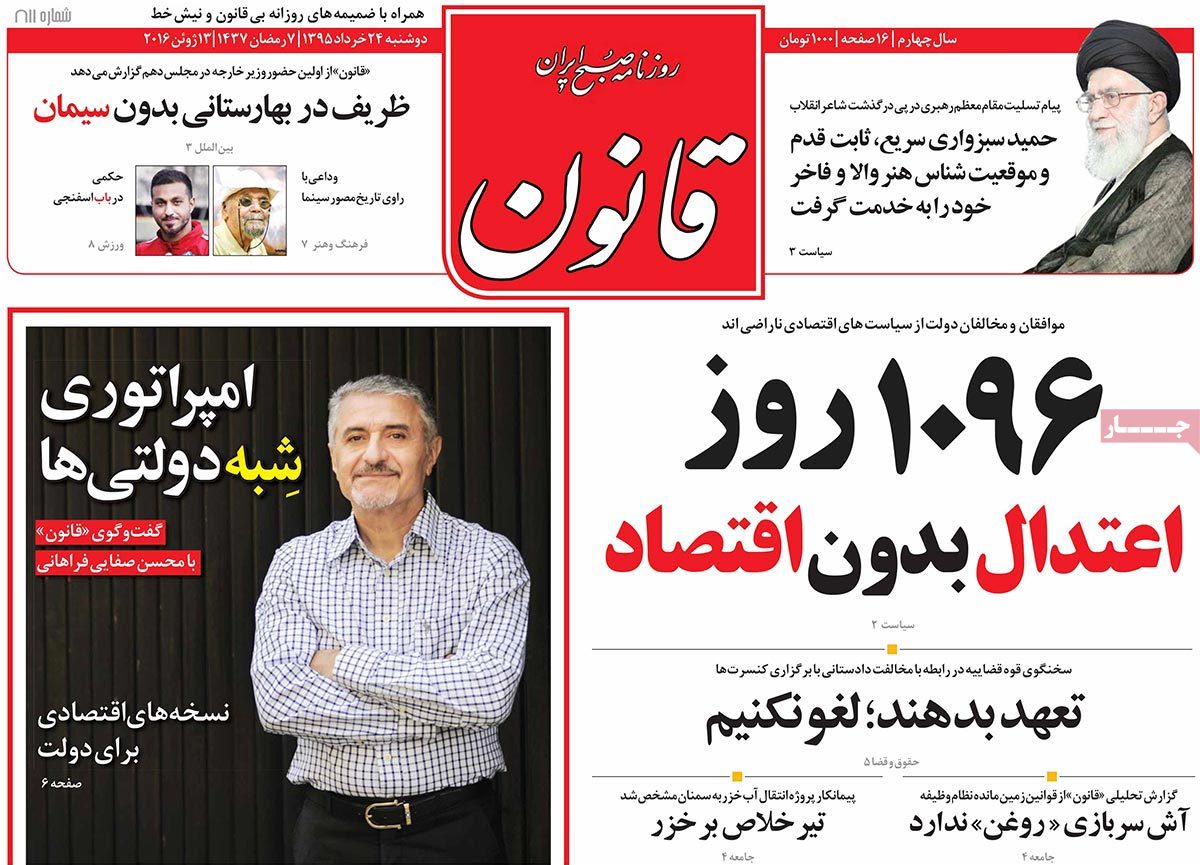 ---
Haft-e Sobh:
1- Story of Secret Biological Terrors: Nader Talebzadeh Says He Was a Victim
2- Astronomical Salaries to Be Investigated by Judiciary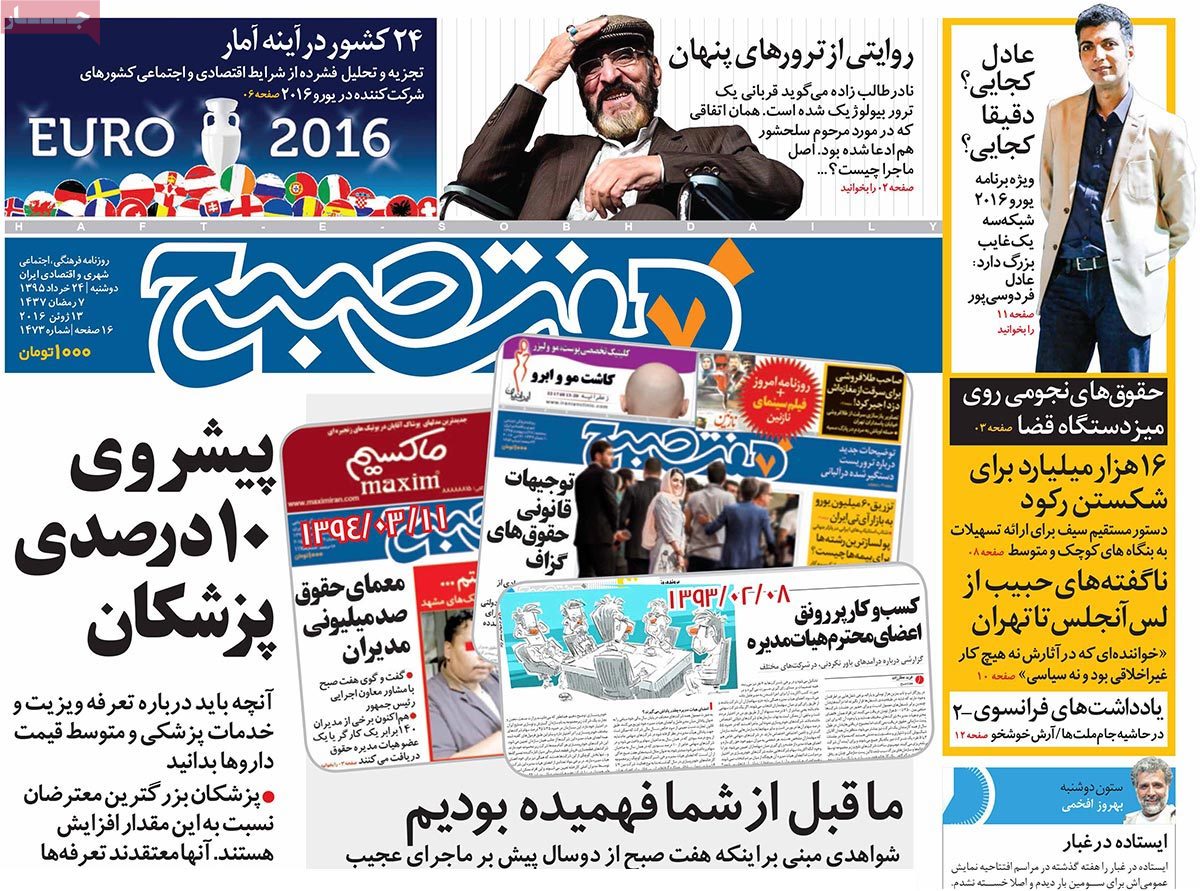 ---
Hamshahri:
1- Zarif Criticized US over Violation of Its Commitments
2- City Council Asks Rouhani to Prevent Trade Exhibitions from Being Held in Tehran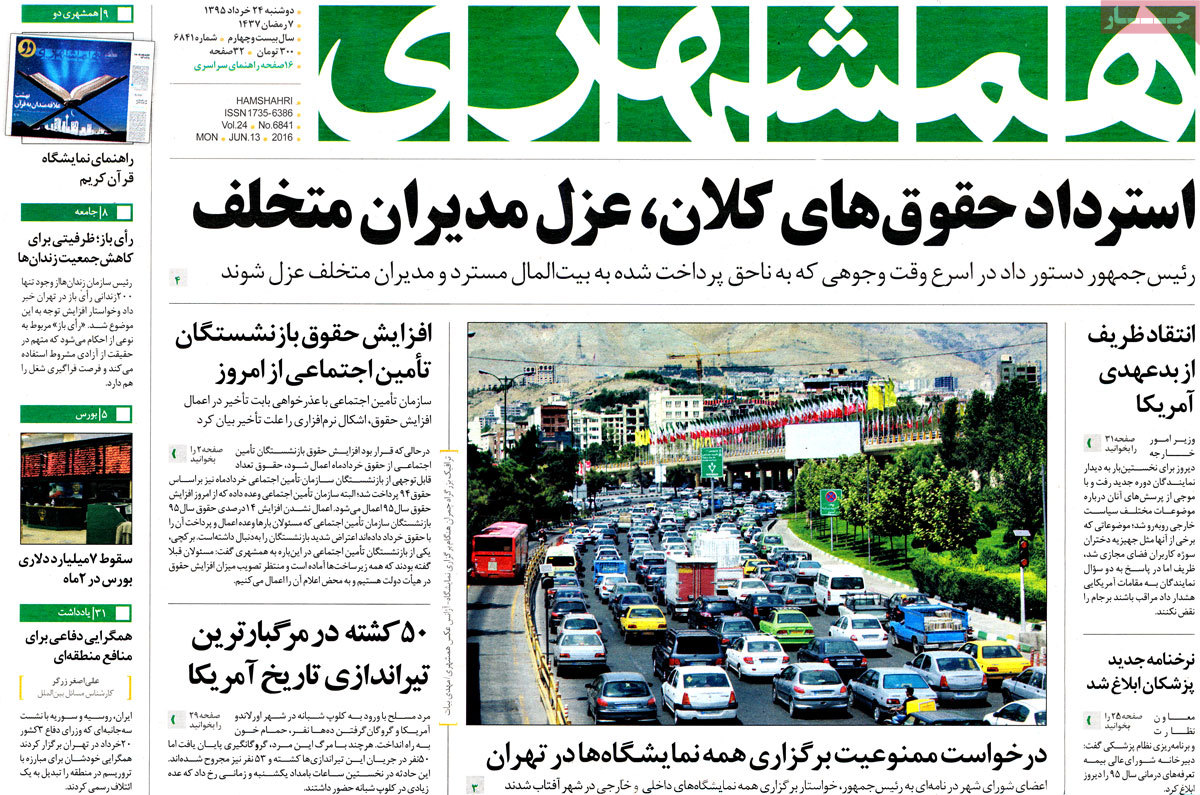 ---
Hemayat:
1- Certain Foreign Embassies' Recruitment at Overnight Parties: Judiciary Spokesman
2- Iran to File Lawsuit against US in ICJ: Zarif
3- Parliament Speaker Urges Gov't to Counter US Excessive Demands
4- After Being Removed from UN Blacklist, Saudi Arabia Buys US Congress as Well
---
Iran:
1- Serious Confrontation with Unconventional Salaries Paid to Certain Executives
2- Deadliest Shooting Incident in US History: ISIS Claims Responsibility for Attack on Gay Nightclub
3- Bank Mellat Holds Meeting with British Lawyers to Pursue $4bn Compensation for Anti-Iran Sanctions
---
Javan:
1- ISIS's Dagger at a Time of Compromise [USA's compromise with Saudi Arabia, which according to Javan, is a state-sponsor of ISIS terrorists]
2- Al Saud House Baptized in Washington: First, Saudi Arabia's Name Removed from UN Blacklist, Now Their 9/11 Role Is Whitewashed
3- Rouhani Joins Campaign against Astronomical Salaries: A Sudden Change after 3 Years!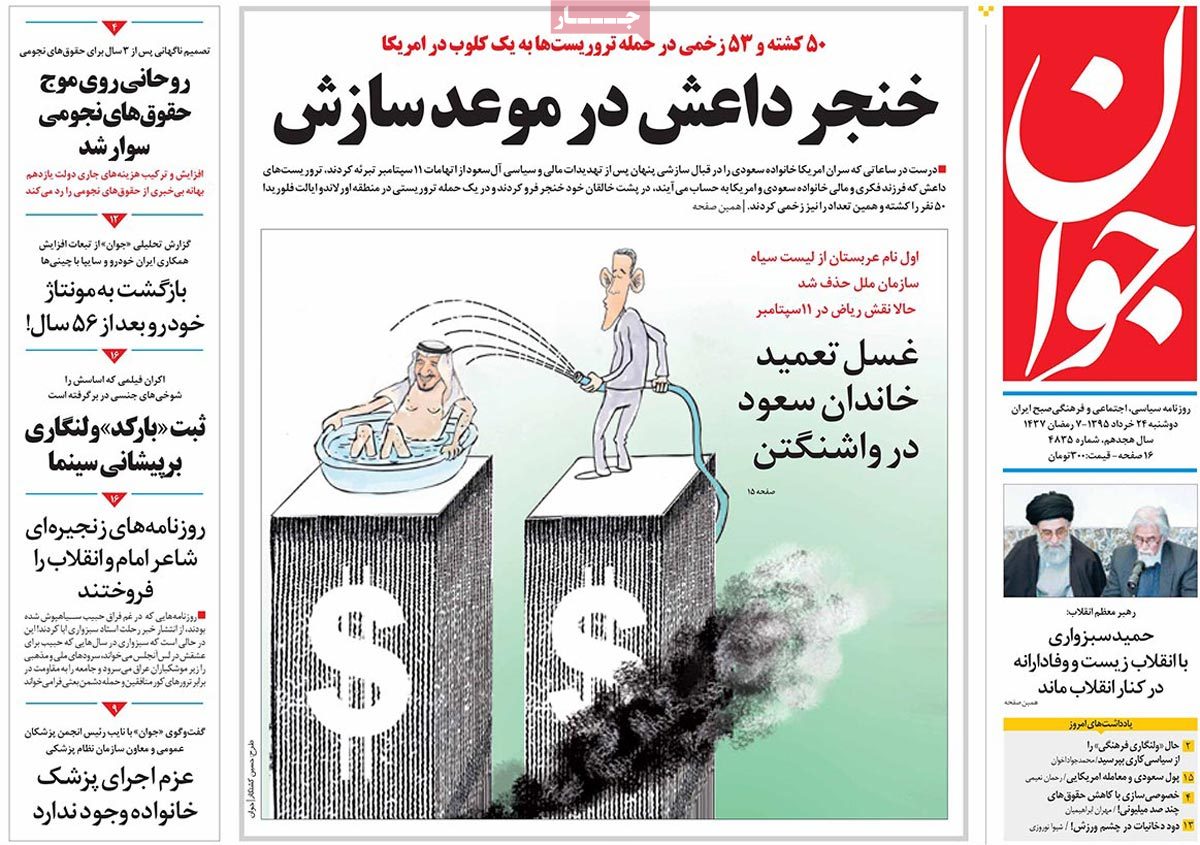 ---
Jomhouri Eslami:
1- Parliament Speaker and FM Zarif Strongly Support JCPOA
2- First Foreign Petchem Contract Signed after JCPOA
3- UN Discredited More than Ever [Editorial]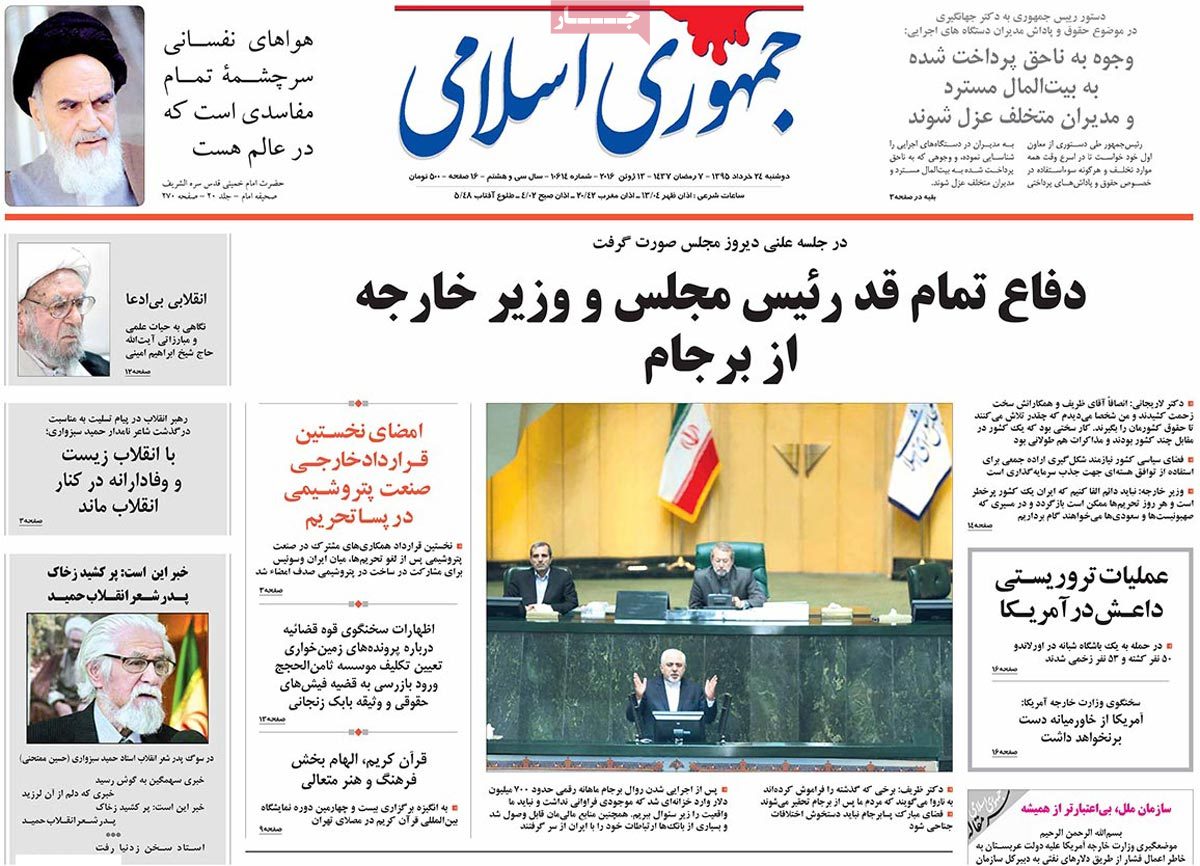 ---
Kayhan:
1- Poor Economic Management Contributes to Enemy's Plots
2- Damascus: Terrorist Attacks in Sayyidah Zaynab and Aleppo Sponsored by Fascist Regime of Erdoğan
3- 10 Economists Say Gov't Failed in Its 3-Year Economic Performance
4- Zarif: Not a Single Item Has Been Added to Anti-Iran Sanctions!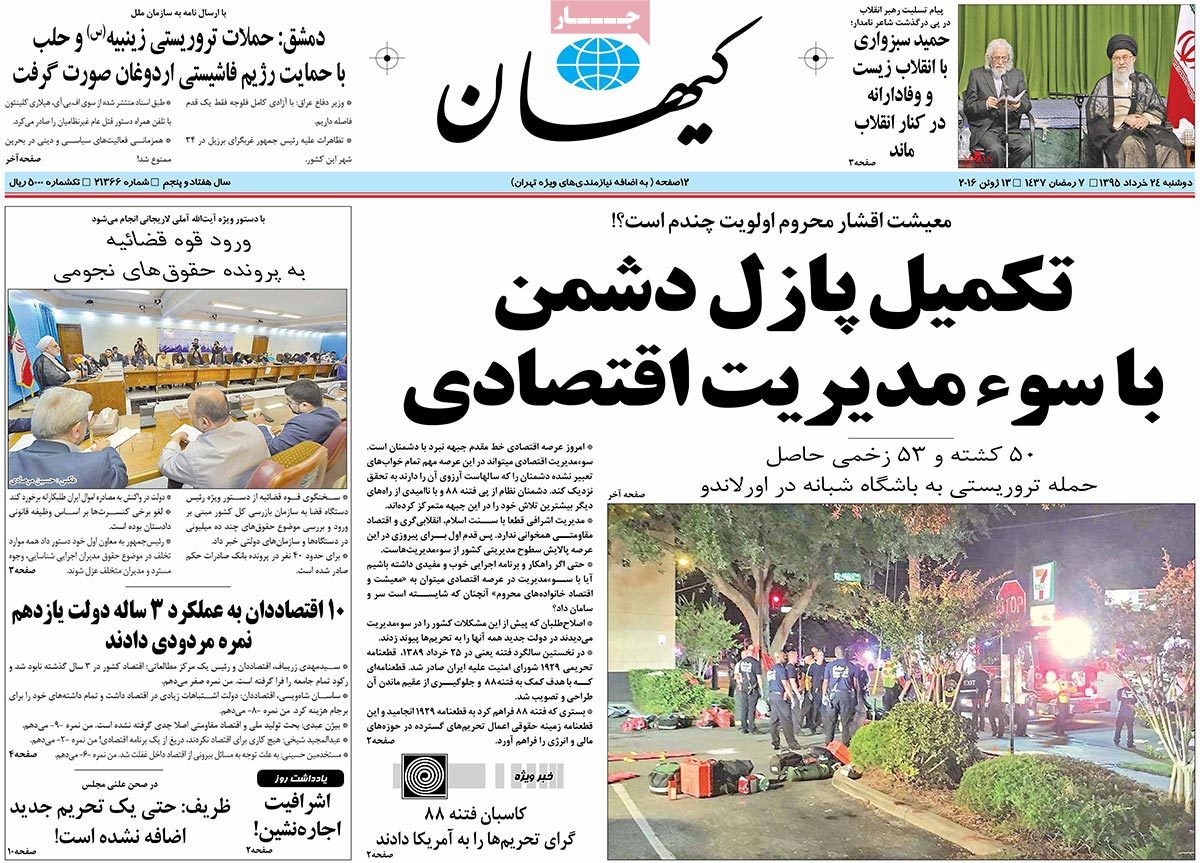 ---
Khorasan:
1- Iran's New Oil Contracts and Amendments: an Acceptable Plan Based on a Shaky Foundation
2- Deadliest Attack in US History after 9/11
---
Resalat:
1- US Denies Saudi Arabia's Role in 9/11: Obama Pleased with Saudi Arabia's Bloody Dollars
2- Main Factor behind Crisis in Iranian Factories Is Import of Similar Products
3- Will Sanders Supporters Vote for Clinton?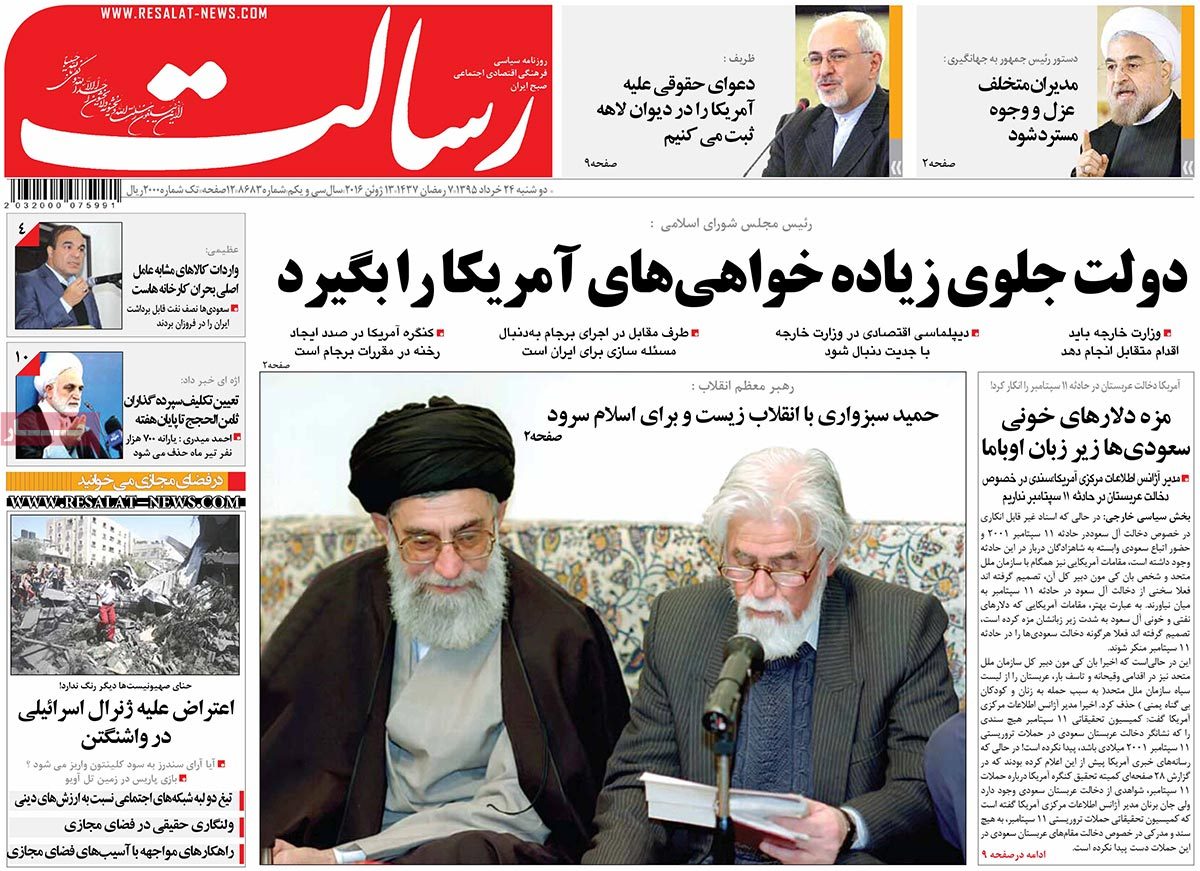 ---
Sayeh:
1- Payment of Unconventional Salaries Is Abuse of Administration's Trust: Rouhani
2- Our Security Threats Are Serious: Senior Lawmaker
---
Shahrvand:
1- Drop in Internet Prices: National Information Network to Be Launched
2- Teenagers Born after 2000: Social Capital or Left behind in Cyberspace?
3- Florida in Fear and Blood
4- Punishment of 7 Prisoners on Death Row Commuted to Life Terms
5- Volleyball Has Become Iranian People's Identity: Federation President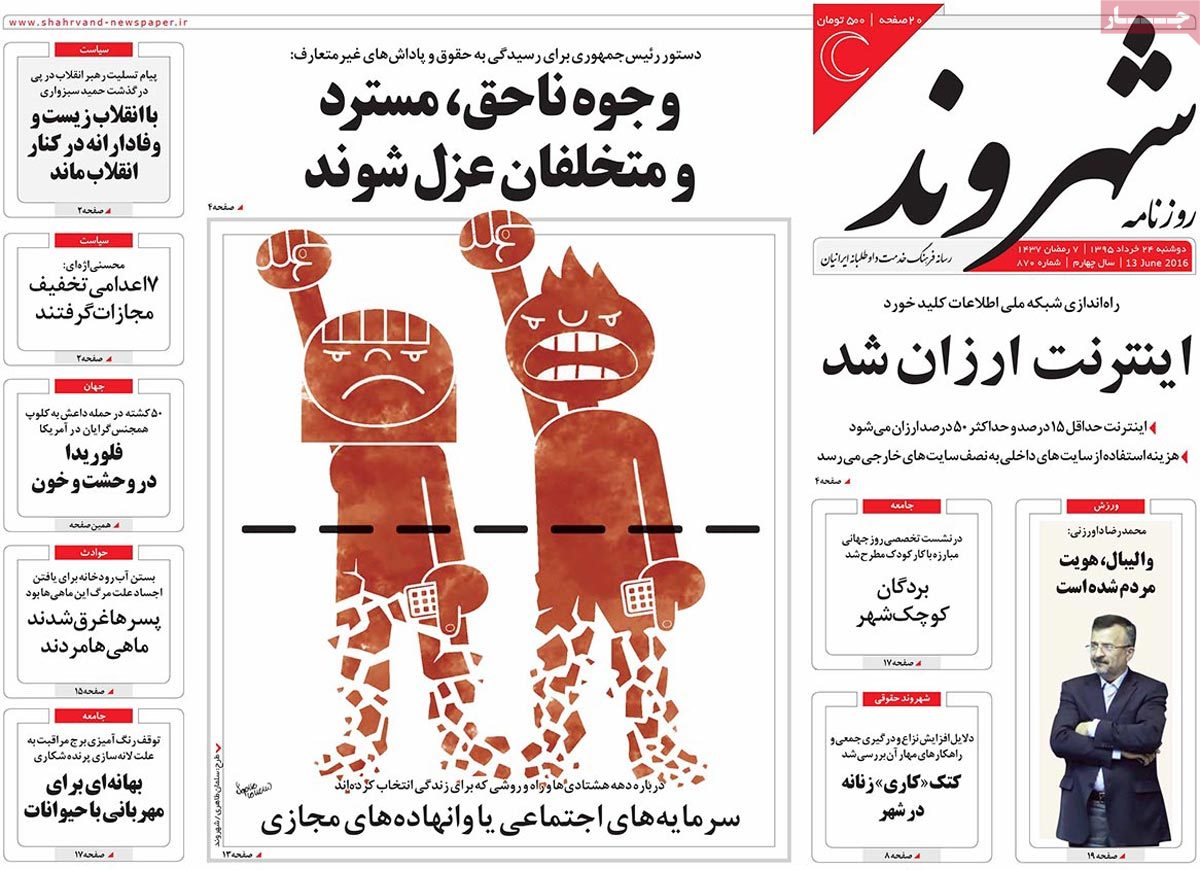 ---
Shargh:
1- Closed Book of Martyrs Foundation Report: Untold Stories about an Investigation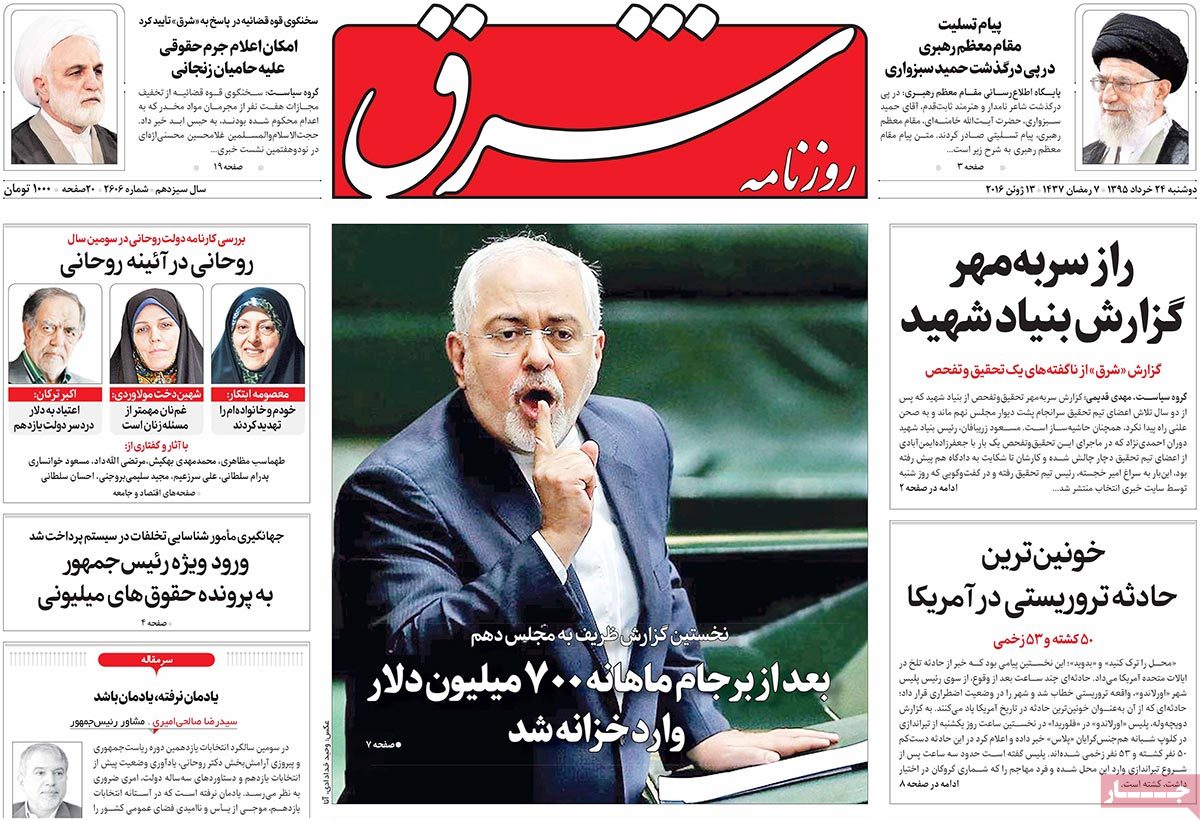 ---
Sobh-e Now:
1- Launch of Iranian Satellite Channel
2- Iran, a Paradise for Offending Drivers: Speeding Fines in Different Countries
---
Vaghaye Ettefaghieh:
1- Iran on Track with Global Banks: $35bn Foreign Lines of Credit to Be Established
2- Jubeir Personally Threatened UN's Ban Ki-moon: Diplomats Reveal
3- Improvement of Iran's Rank in Production of Effective Knowledge
---
Vatan-e Emrooz:
1- "Sedqi and Associates": Manager of Bank Refah with Controversial $66,000 Paycheque Is a Partner with Rouhani's Brother in Famous Currency Exchange Firm
2- Former Nuclear Negotiators, Nasseri and Mousavian, Being Investigated: Judiciary