Newspapers today covered the remarks made by the Leader of Iran's Islamic Revolution Ayatollah Seyyed Ali Khamenei in a meeting with a group of poets and cultural figures.
They also continued covering the reactions and arrests linked to the recent terrorist attacks on Tehran, which claimed the lives of 17 and wounded dozens of people.
The Monday night's match between Iran and Uzbekistan was also a top story. If Iran wins the game, it will book a place in FIFA World Cup 2018 in Russia.
The above issues, as well as many more, are highlighted in the following headlines and top stories:
19 Dey:
1- Iran Leader: Modern Ignorance [Trump] Danced with Tribal Ignorance [King Salman]
2- Intelligence Minister: Mastermind of Tehran Terror Attacks Killed
---
Abrar:
1- Unconfirmed Reports Say ISIS Leader Killed
2- Larijani: Parliament to Give Response to Senate Moves
3- Iraqi PM: Tal Afar, Hawija to Be Liberated Soon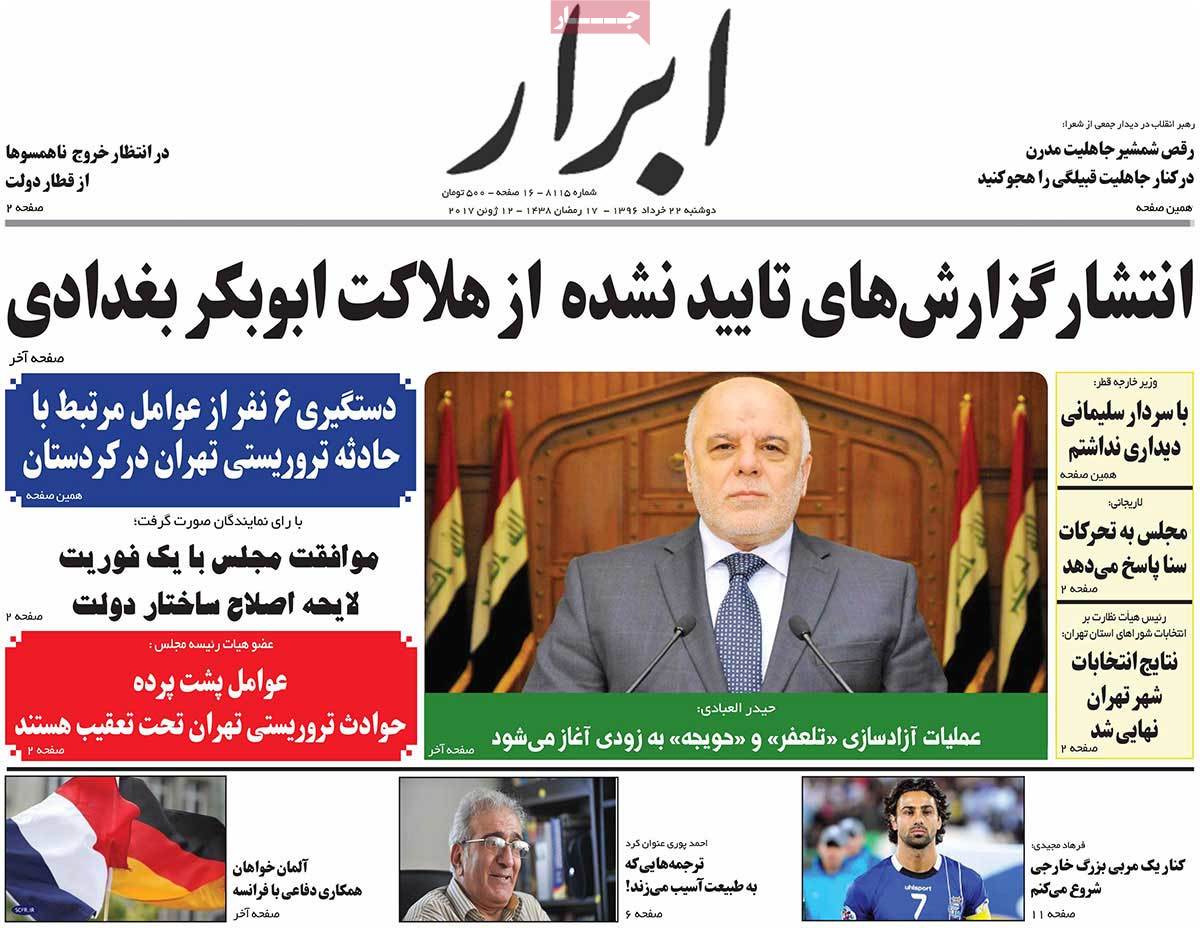 ---
Abrar-e Eqtesadi:
1- Apparel Imports by Individuals Prohibited
2- OFAC Starts Issuing Permission for Sale of Boeing Planes to Iran
3- Trade Minister: Iran to Promote Business with Eurasia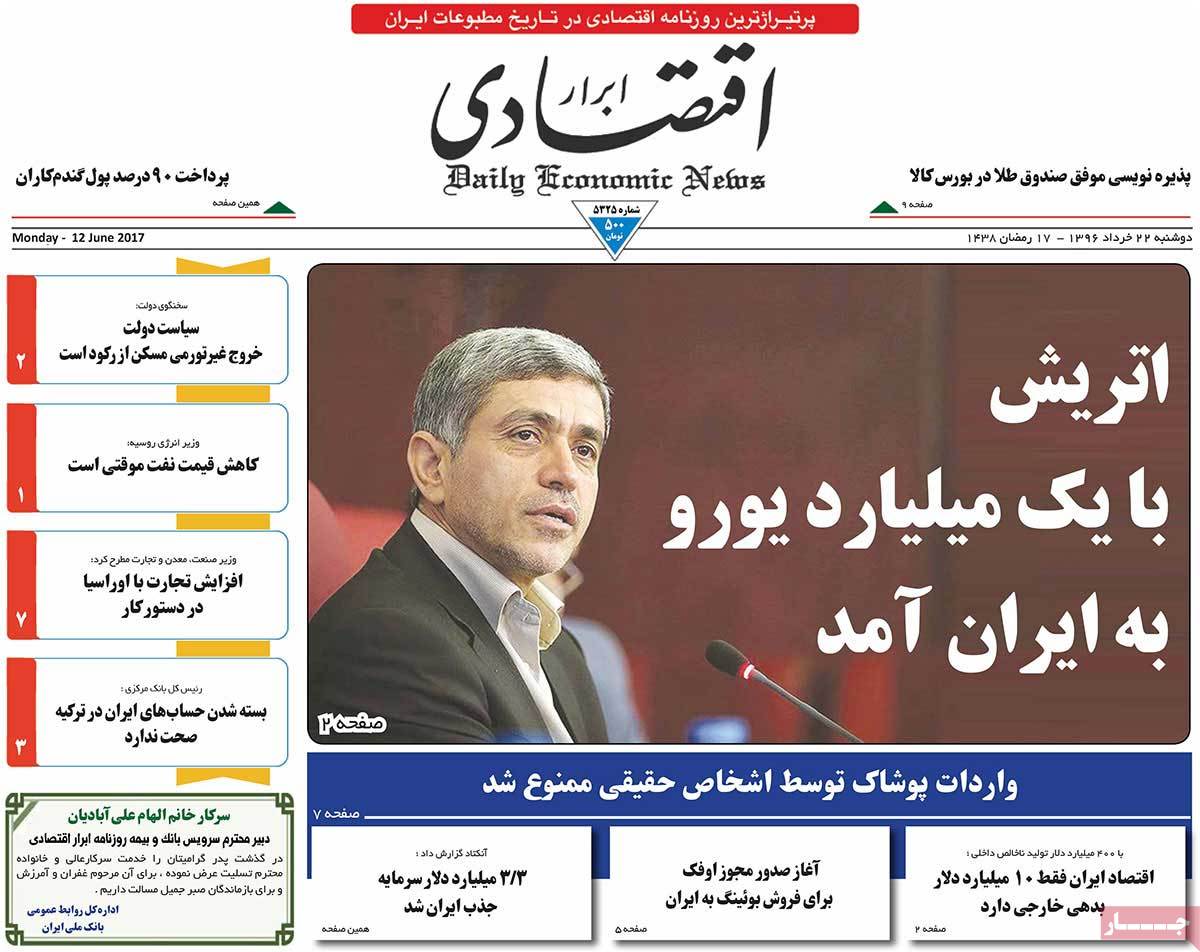 ---
Aftab-e Yazd:
1- MPs Call for Enhancement of Parliament's Security after Tehran Attacks
2- Turkey Outperforms Iran in Exporting Goods to Qatar Market
3- ISIS Richest Terrorist Group in World! [Editorial]
---
Arman-e Emrooz:
1- World Afraid of General Soleimani
Qatar FM: I Haven't Met General Soleimani
2- Six Arrested in Iran's Kordestan with Links to Tehran Attacks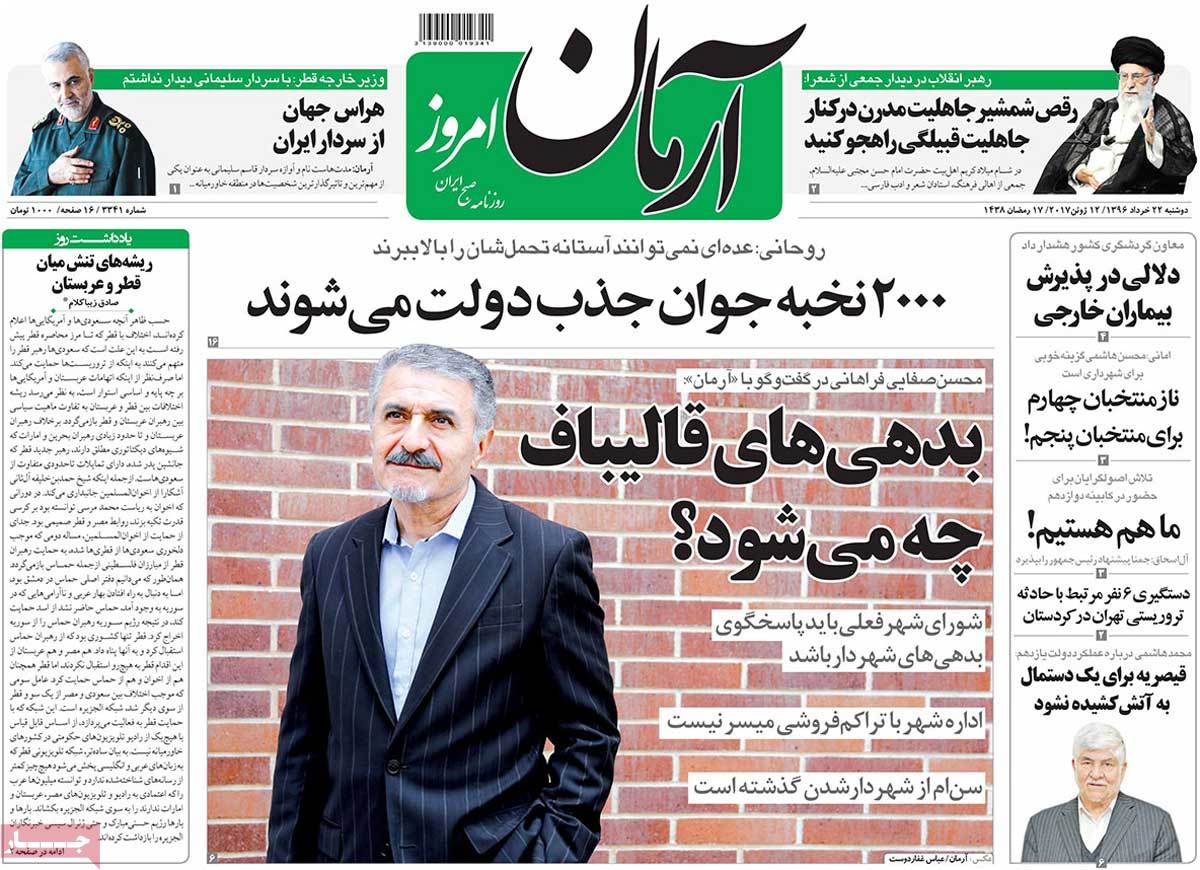 ---
Asrar:
1- Parliament Speaker: Unity Created after Terror Attacks Should Be Safeguarded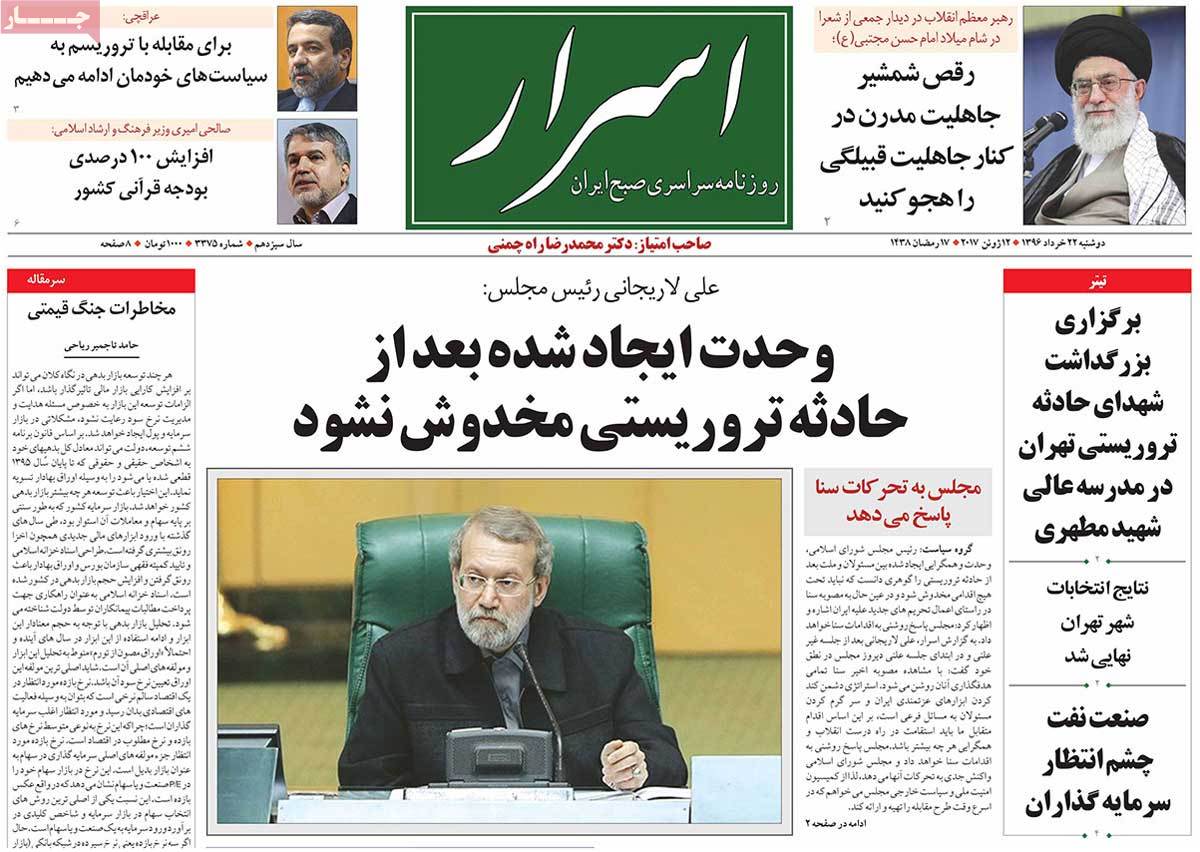 ---
Donya-ye Eqtesad:
1- Russia Backs Doha in Opposition to Saudi Arabia
---
Ebtekar:
1- Intelligence Minister: No Trace of ISIS Terrorist Group Left in Iran
2- Should We Be Worried about Killer Shark Spotted in Persian Gulf?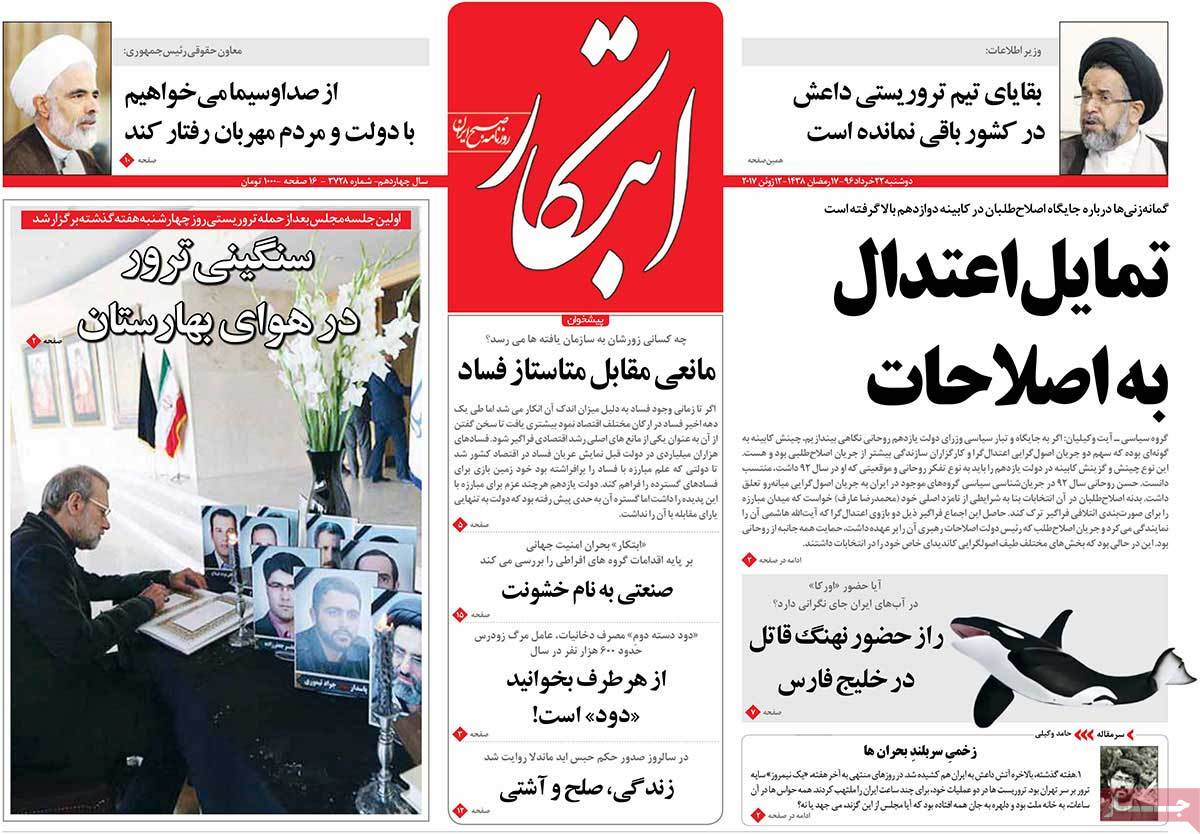 ---
Etemad:
1- May 19 Votes Cast for Politics, Not Economy: Analysts
2- Top Officer: Iran to Give Unforgettable Lesson to Terrorists
3- Deputy FM: New US Sanctions against Goodwill Principle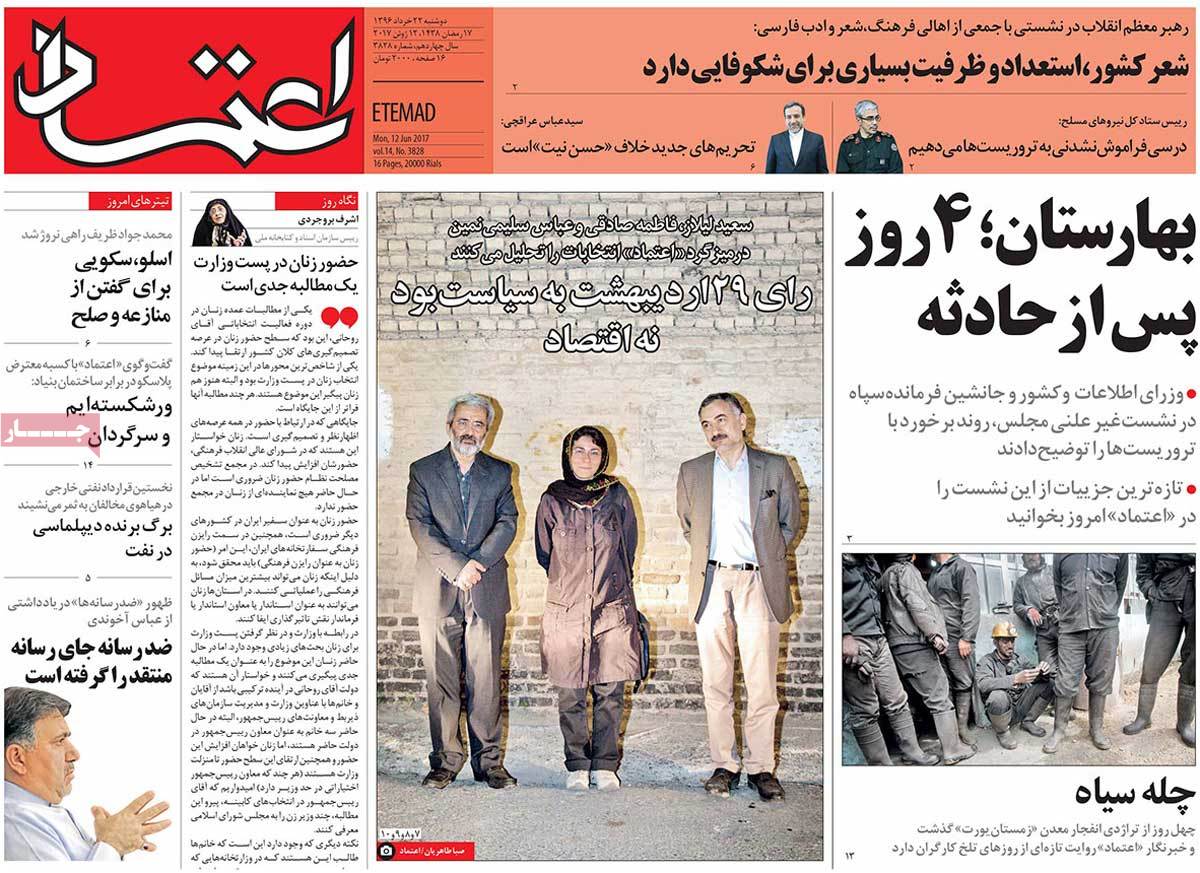 ---
Ettela'at:
1- Iran's Poetry Has Much Higher Potential for Growth: Leader
2- Austria Allocated €1-Billion Credit to Cooperation with Iran
2- American People Hold Rallies in Support of Muslims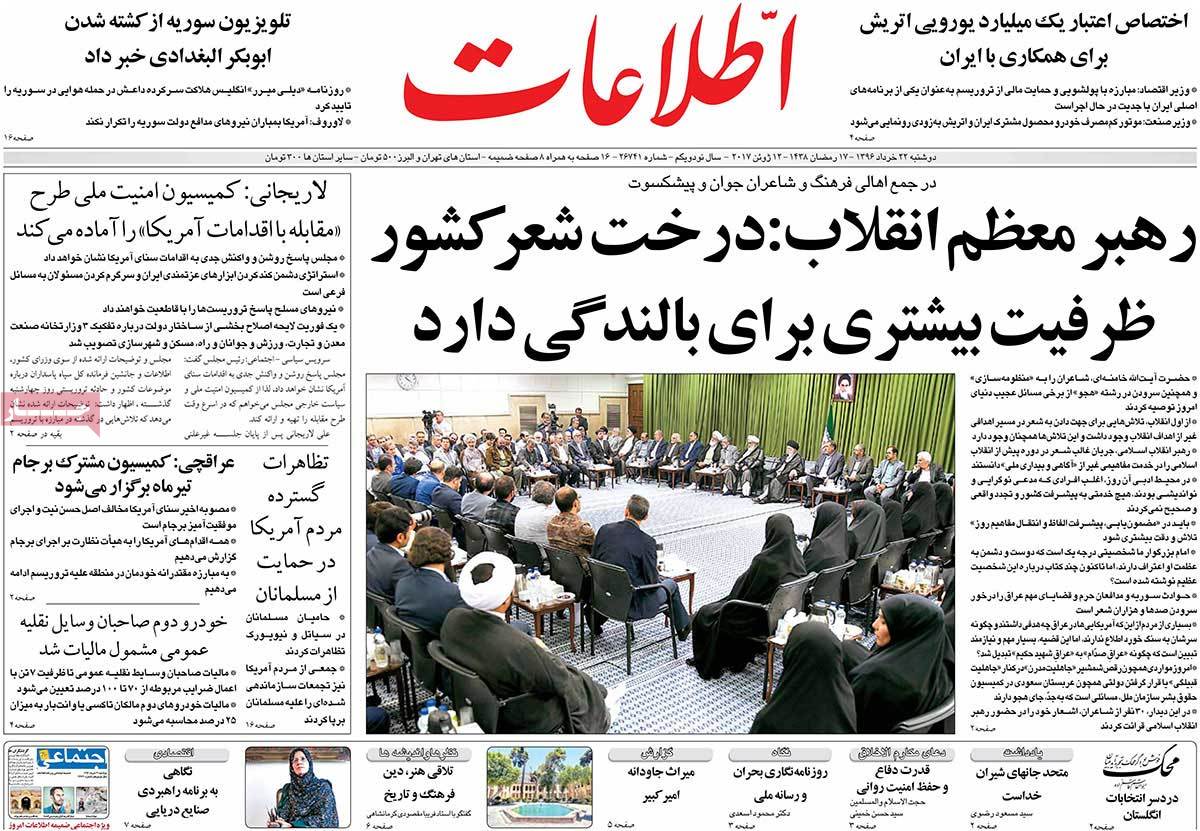 ---
Iran:
1- Austrian Finance Minister's Busy Day in Tehran
2- Rouhani's Aide: Security Forces Did Great Job in Controlling ISIS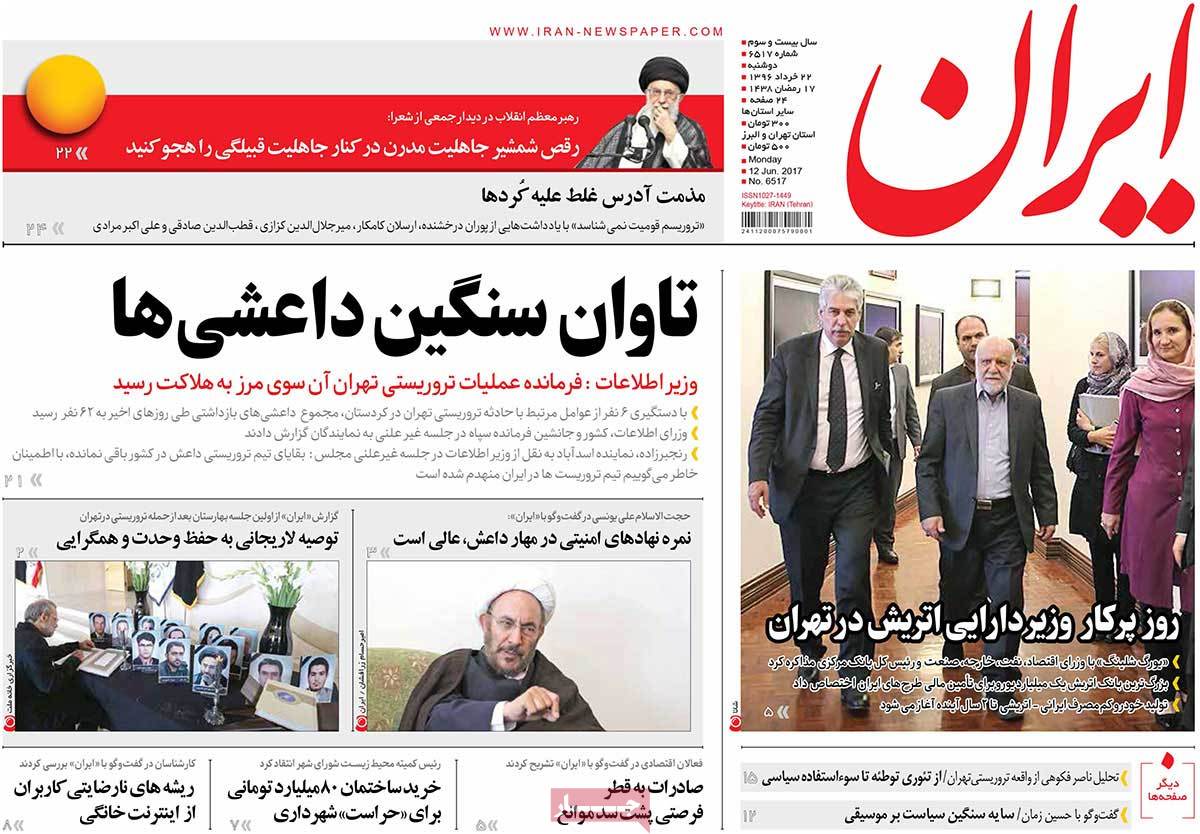 ---
Javan:
1- Ministry of Foreign Cars! A Report on Chaotic Market of Importing Cars
2- Deputy FM: New US Sanctions Embarrassing
3- Barzani Sedition to Begin after Weakening ISIS
Kurdish-US Talks for Safe Exit of 2,500 ISIS Elements
---
Jomhouri Eslami:
1- Iran Leader Calls on Poets to Satirize Trump-Salman Dance of Ignorance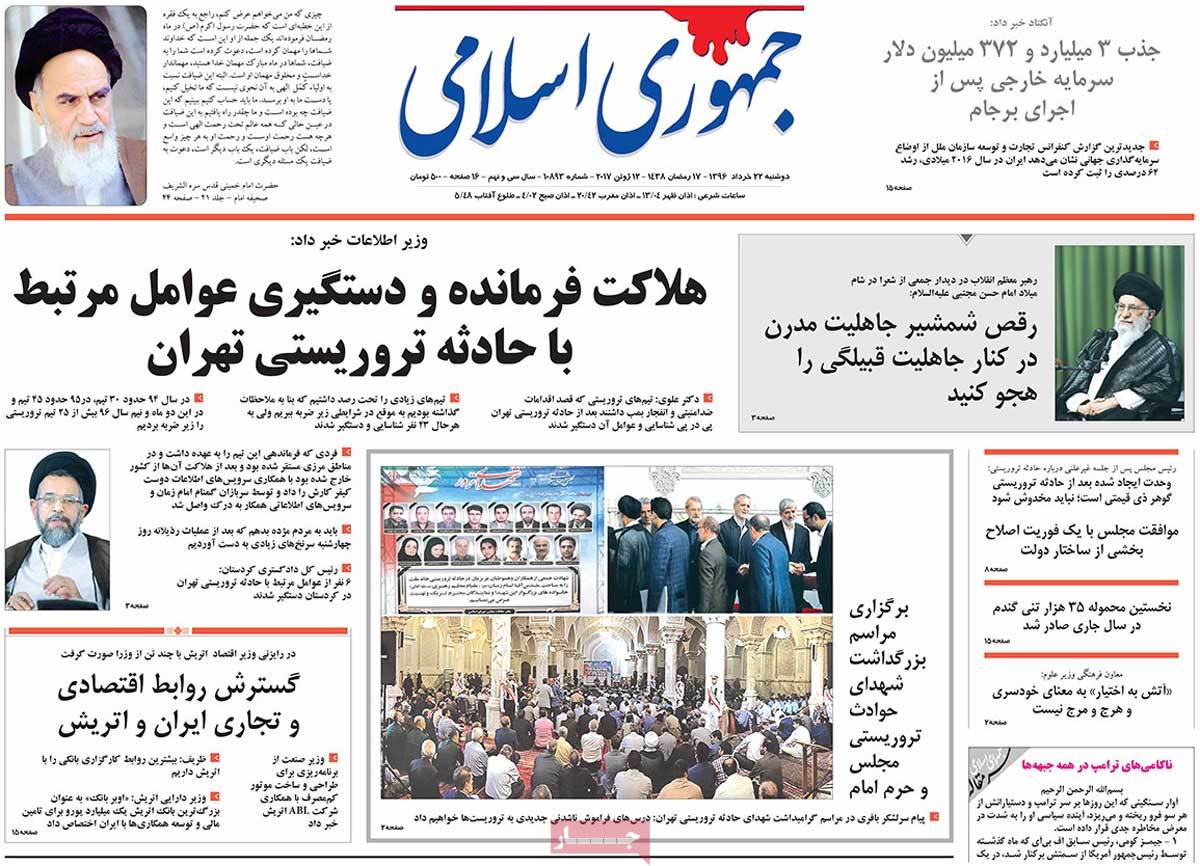 ---
Kayhan:
1- Only One Percent! Iran's Share of World Gas Trade
2- In Strange Move, Foreign Ministry Buys All Luxury Cars Smuggled to Iran!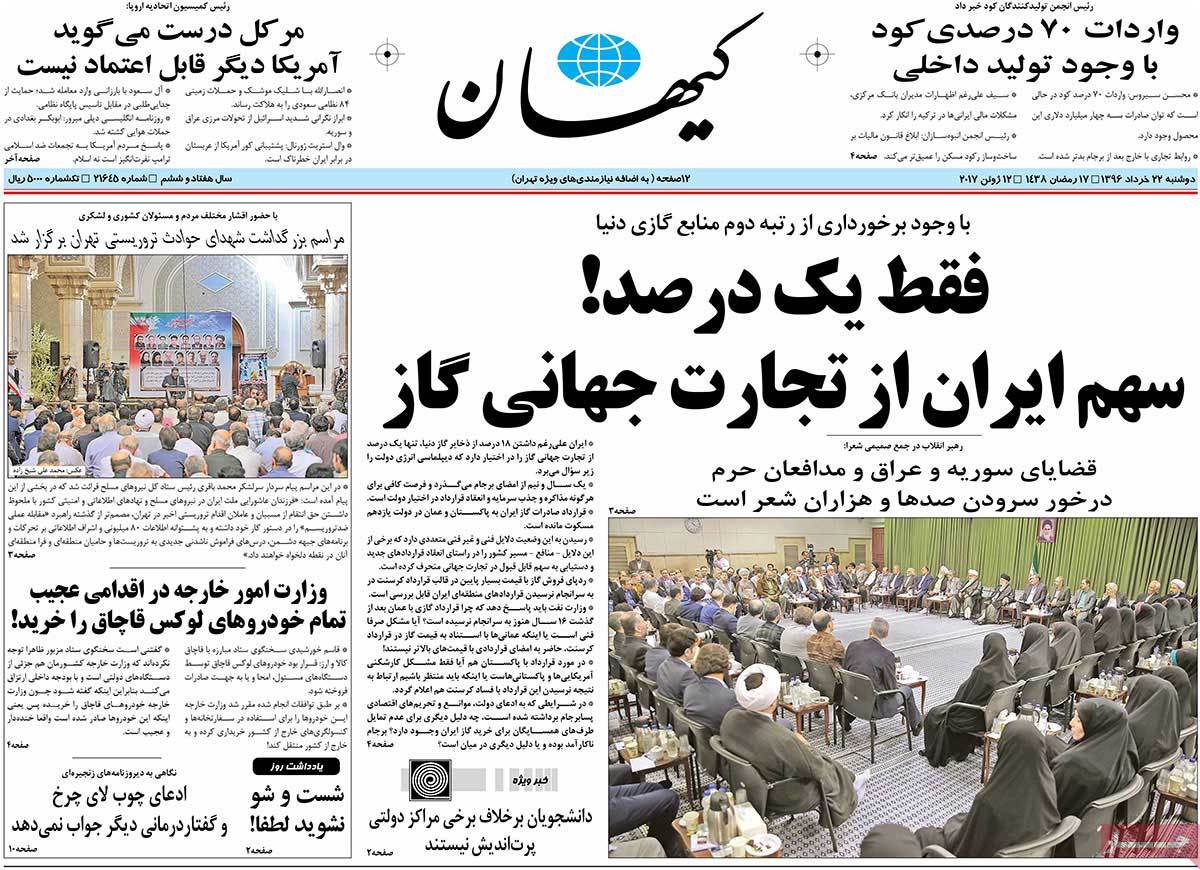 ---
Payam-e Zaman:
1- Queiroz: Qualifier Match against Uzbekistan Is World Cup Final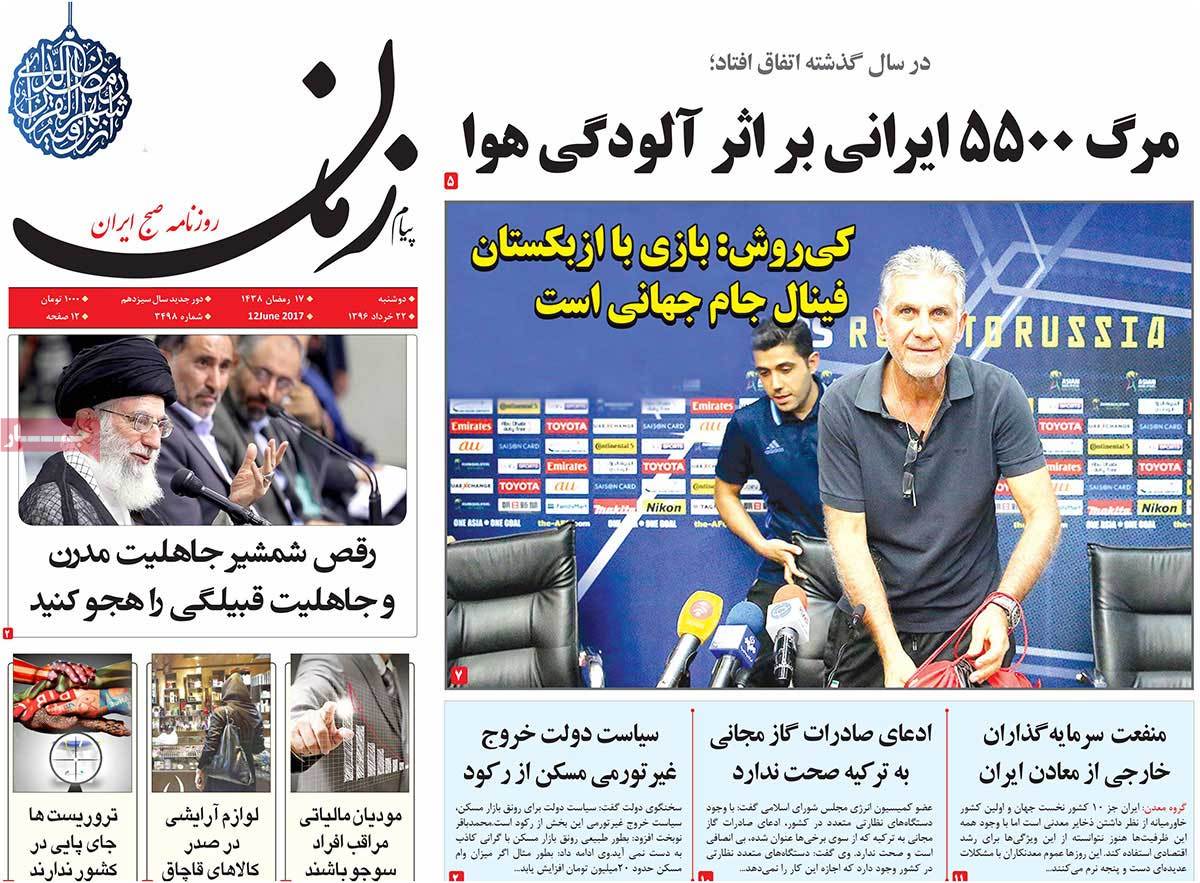 ---
Rooyesh-e Mellat:
1- Senior Advisor Highlights Role of Saudis, US Radical Forces in Iran Parliament Attack
2- German Foreign Ministry: Qatar Crisis Can Lead to War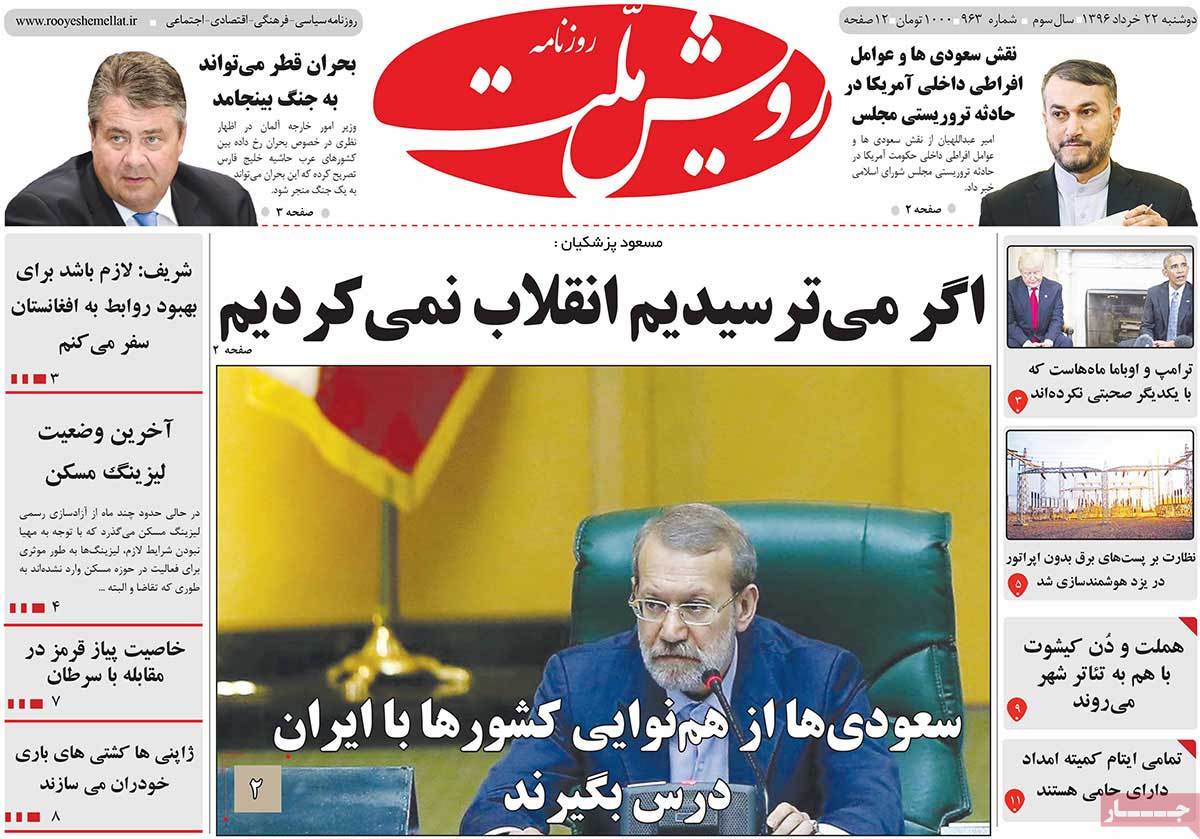 ---
Sayeh:
1- They Don't Know What Calm Means: Poorest Countries in World in 2017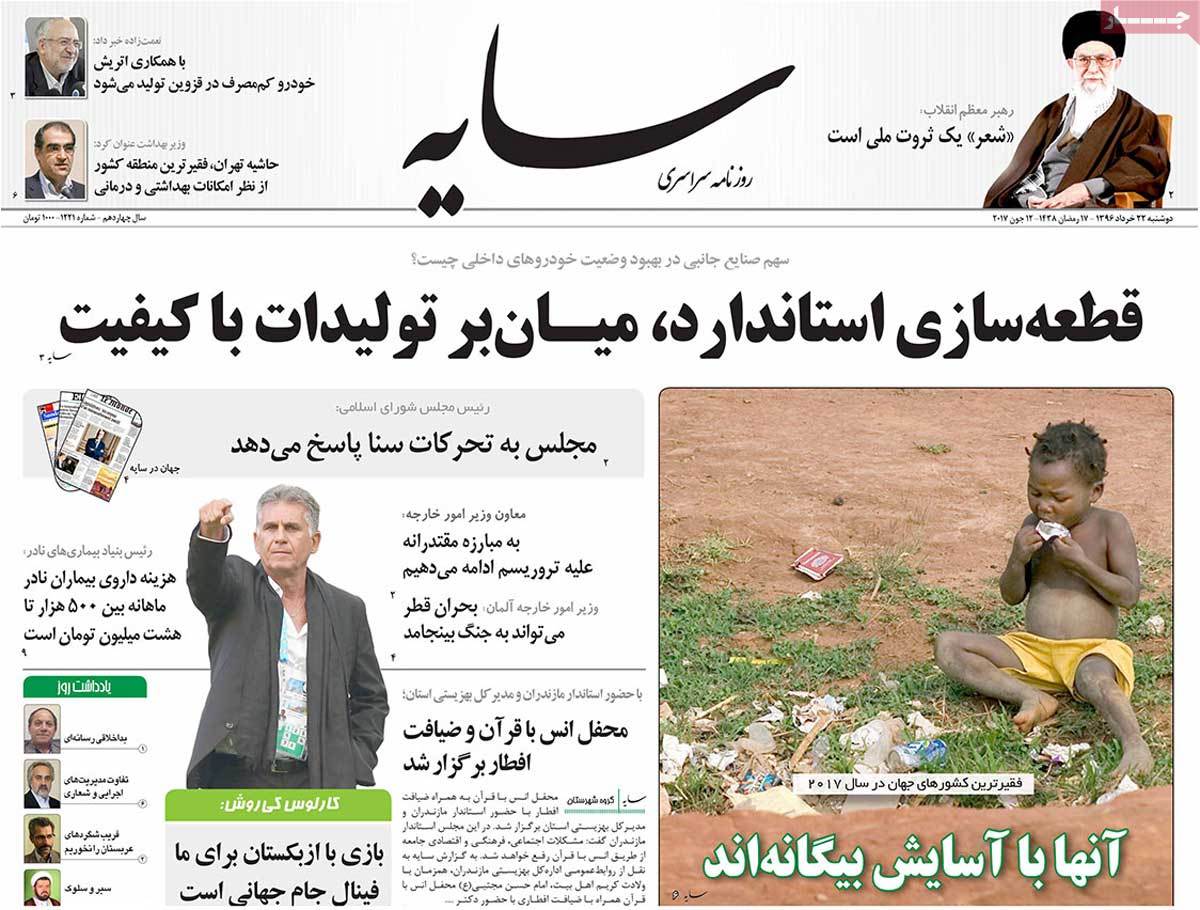 ---
Setareh Sobh:
1- Scientific Findings Show Environment Destruction Trend Is Growing: Academic
---
Shahrvand:
1- Iranians Are Predictable: Chief of ISPA Poll Centre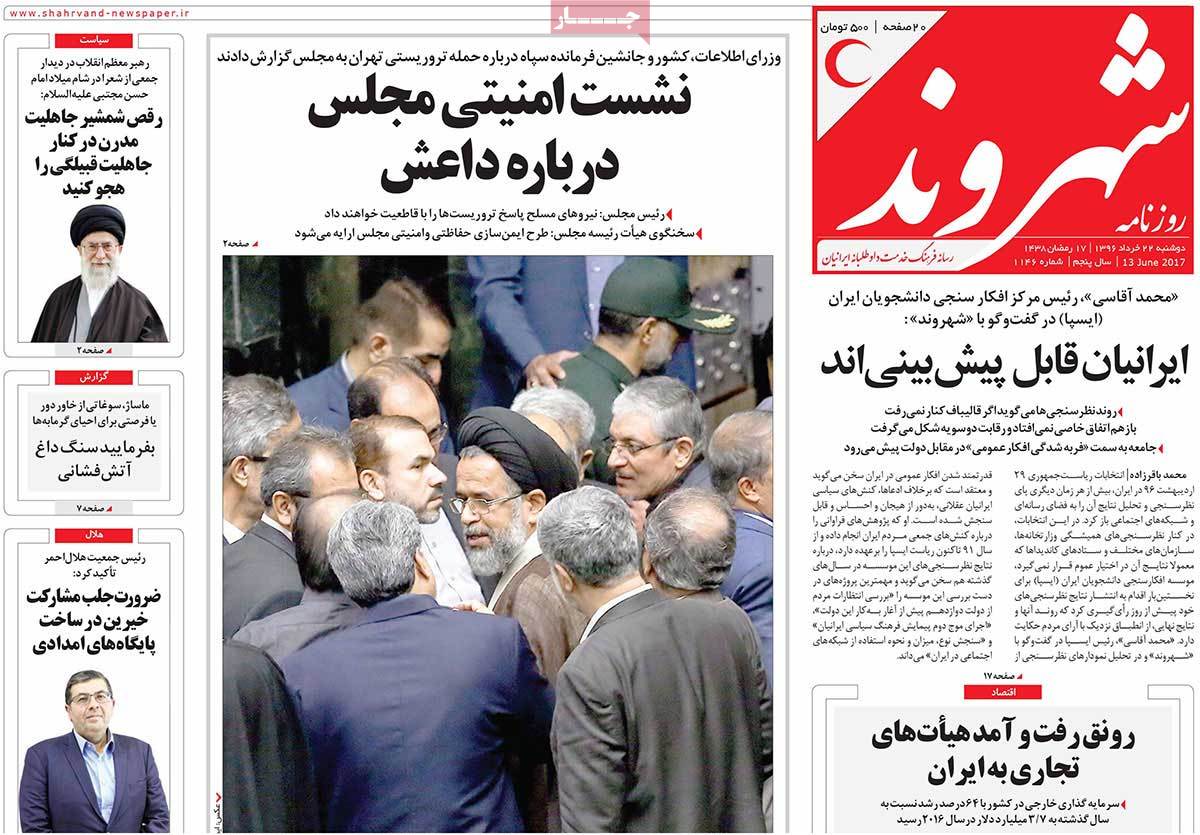 ---
Shargh:
1- Moving Over Terror: First Parliament Session Held after Tehran Attacks
2- President: Officials Are in Final Decades of Their Lives, Future Belongs to Youths
3- From Iran Parliament to US Senate [Editorial]
---
Tamashagaran:
1- Ready for Firecrackers: Iran-Uzbekistan Match, Everything Ready for Celebration