Newspapers today covered the attendance of EU Foreign Policy Chief Federica Mogherini in Iranian President Hassan Rouhani's inauguration ceremony, due to be held on August 5.
The worldwide reactions to Iran's test-launch of Simorgh satellite carrier also received great coverage today.
The line-up of President Rouhani's future cabinet and the speculations about it also remained a top story today.
The above issues, as well as many more, are highlighted in the following headlines and top stories:
19 Dey:
1- Military Attack on Qatar Imminent: Ray al-Youm
2- Iran Ignores US Threats; Iran Satellite Carrier Launch Widely Covered in World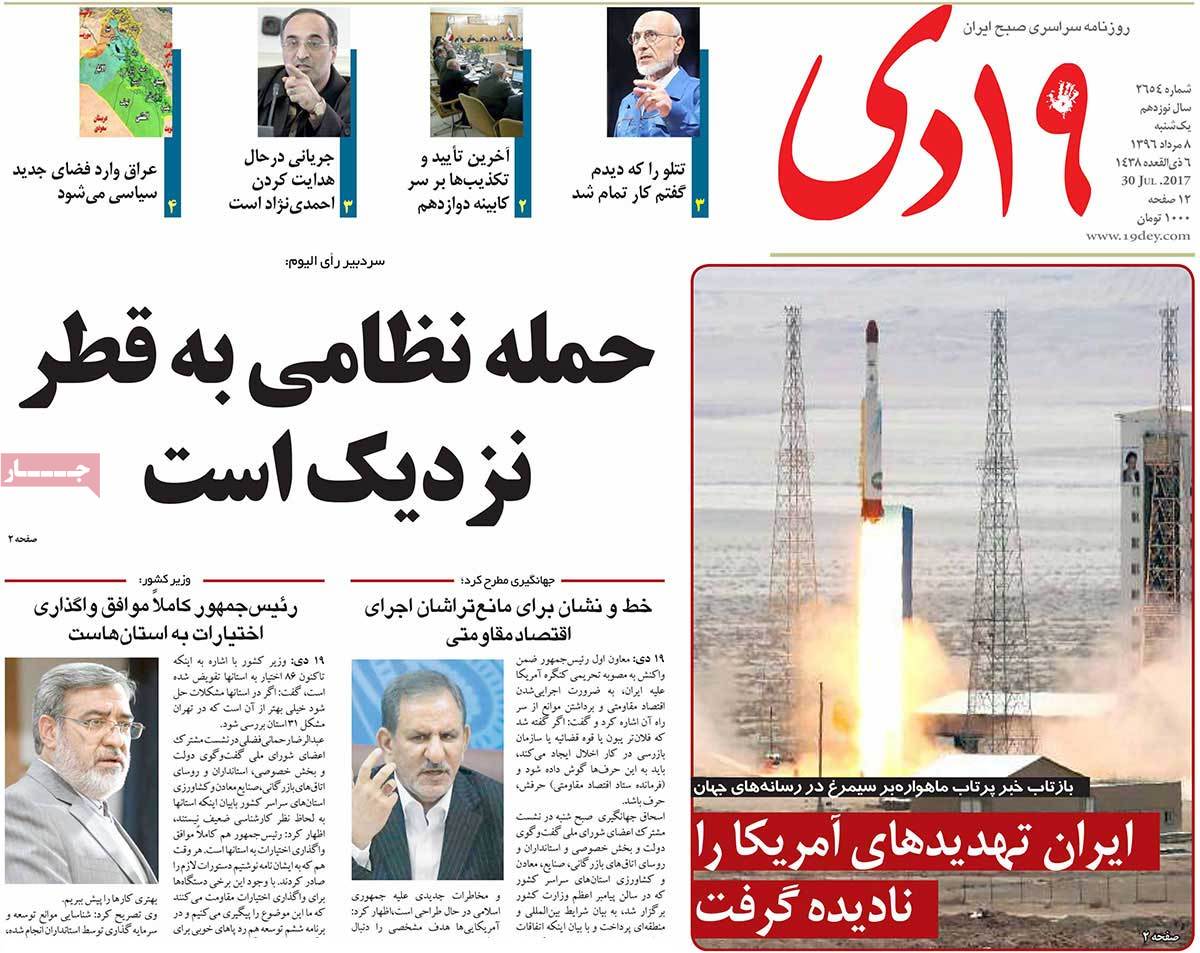 ---
Abrar:
1- Hariri: Trump Didn't Want Us to Take Harder Line on Iran
2- Claims Raised by Britain, Germany, France, US about Iran's Satellite Carrier Launch
3- Araqchi: We're Still Away from Blatant Violation of JCPOA
---
Aftab-e Yazd:
1- Effective Rectangle of Government
Roles of Nahavandian, Vaezi, Ashna, Nobakht in Cabinet Line-up
2- First VP: I Hope Rouhani Would Make Decision Based on People's Demands
3- US Puts 6 Iranian Institutions on Sanctions after Satellite Carrier Launch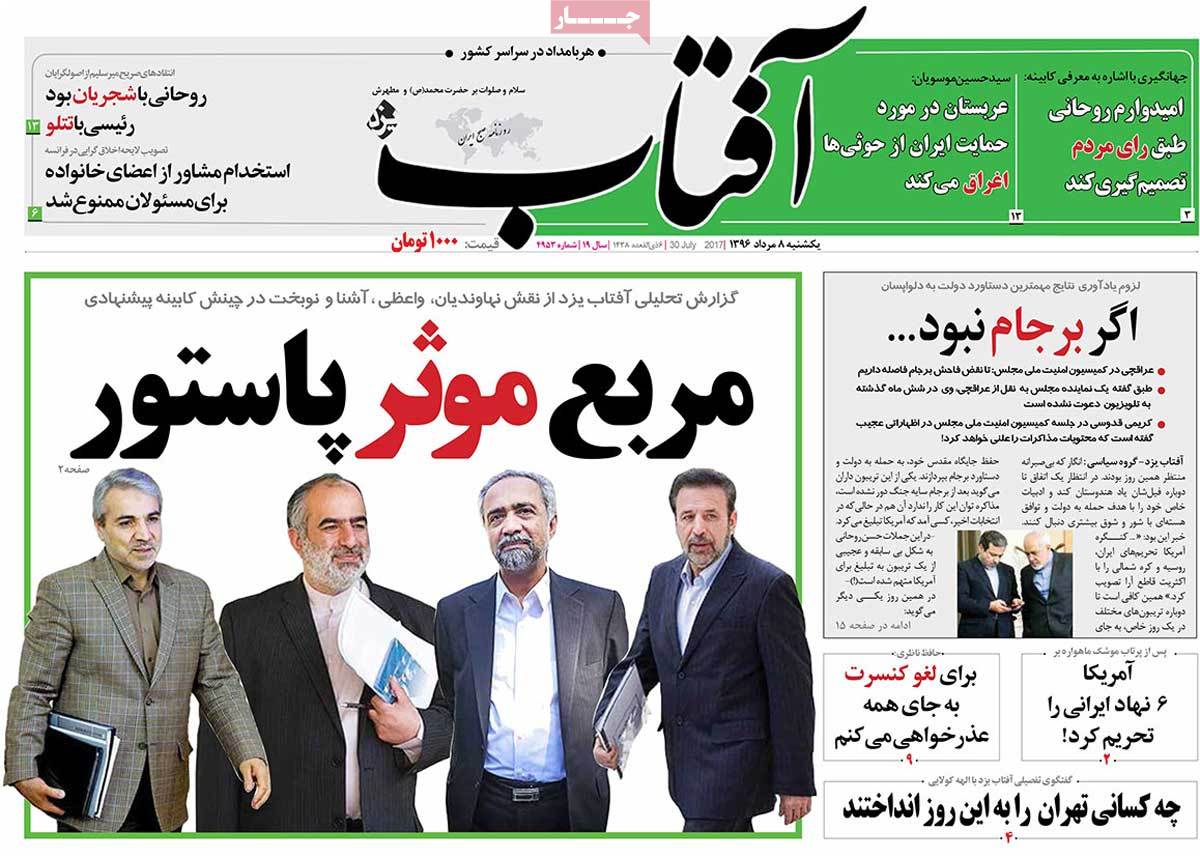 ---
Arman-e Emrooz:
1- Who Are Guests of Rouhani's Inauguration Ceremony?
Mogherini Welcomes Idea of Visiting Iran
2- Ebtekar: Rouhani Trying to Appoint Female Minister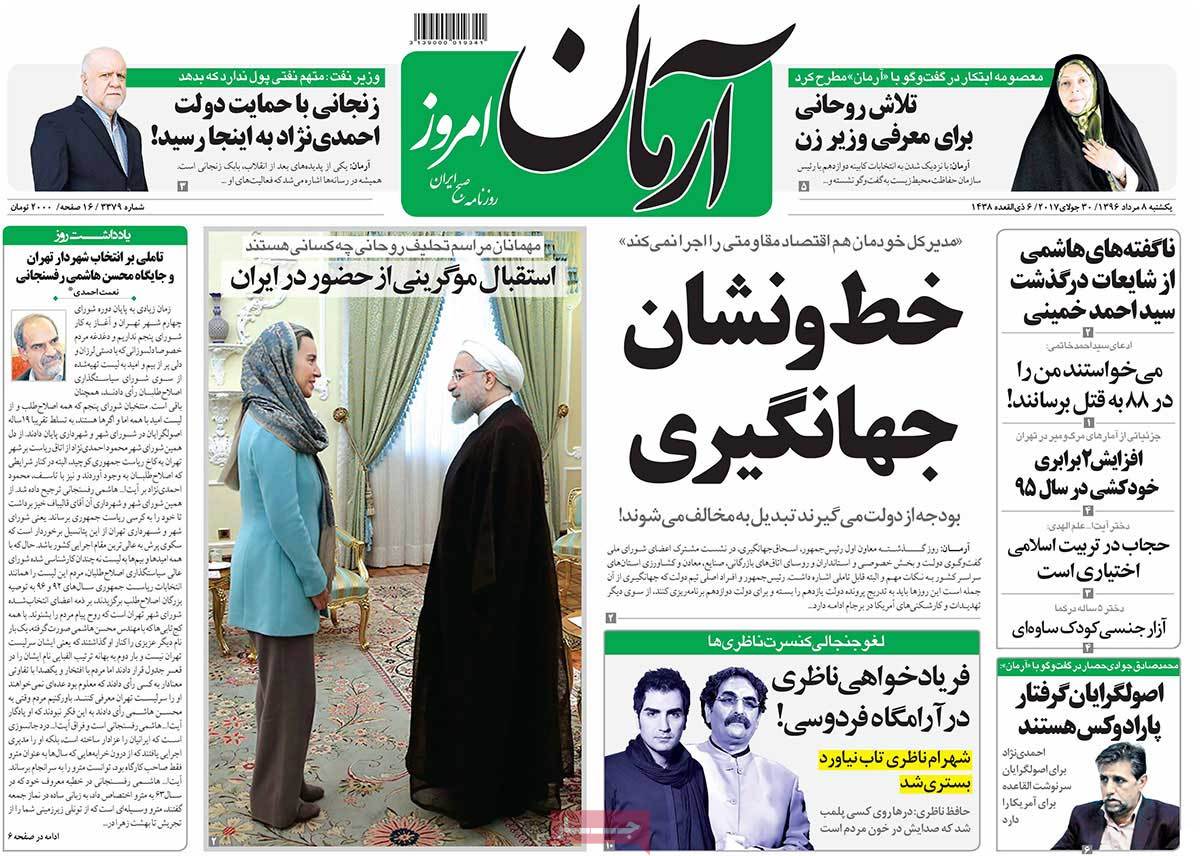 ---
Ebtekar:
1- Iran and Challenges of Instability in Pakistan
2- Parliament Poised to Counter Sanctions
3- First VP: I'll Help Rouhani in Next Gov't If He Wants Me to
---
Etemad:
1- Seven Sentences against Ahmadinejad
Prosecutor Reveals Secrets of Previous Government's Cases
2- Seventh Court Held for Oil Corrupts: 3 Ministers, Bank Managers Sign Zanjani's Contract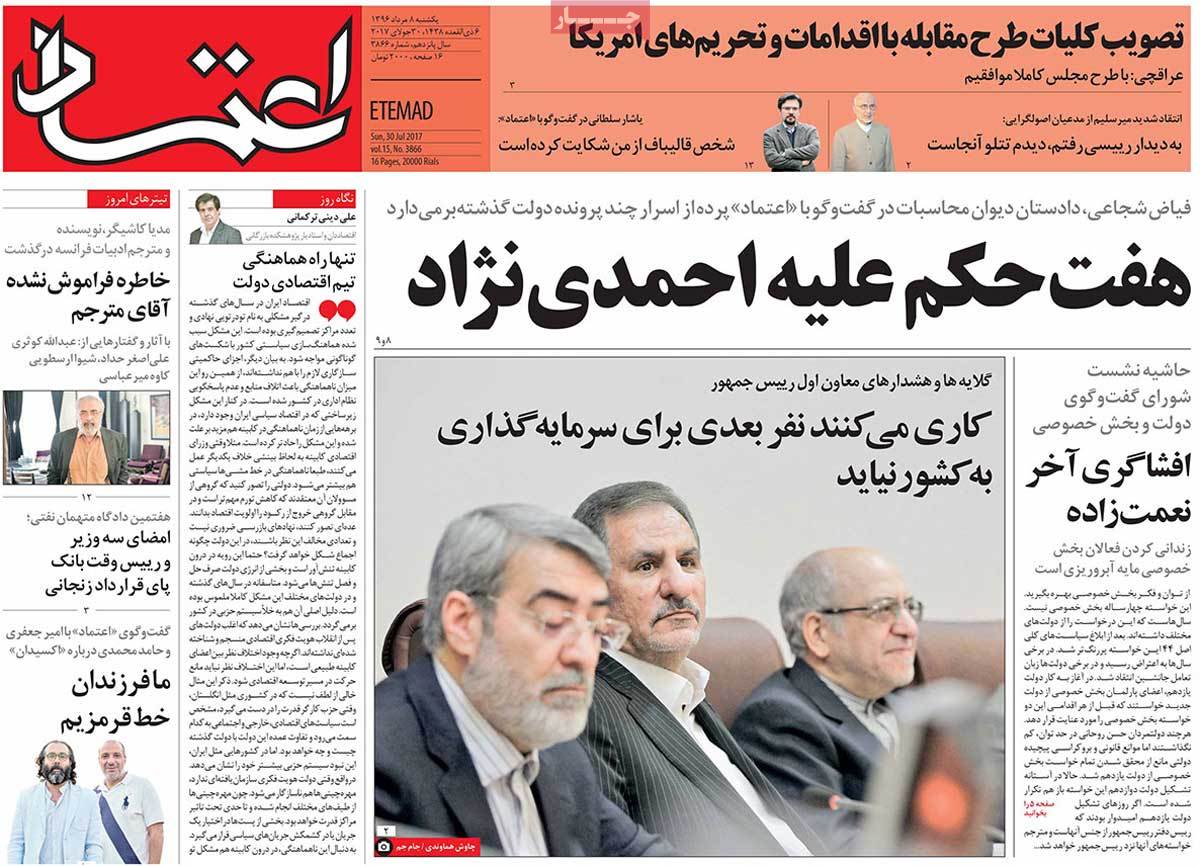 ---
Ettela'at:
1- Iran Approves General Provisions of Plan to Counter US Measures
2- General Soleimani, Dr Zarif Most Popular Iranian Figures: Poll
3- First VP: No One Should Play in Ground US Has Designed
4- Ayatollah Sistani Calls for National Reconciliation, Countering Religious Sedition
5- Quds Inseparable Part of Palestine: EU
6- Birth Rate in Tehran Four Times Higher than Death Rate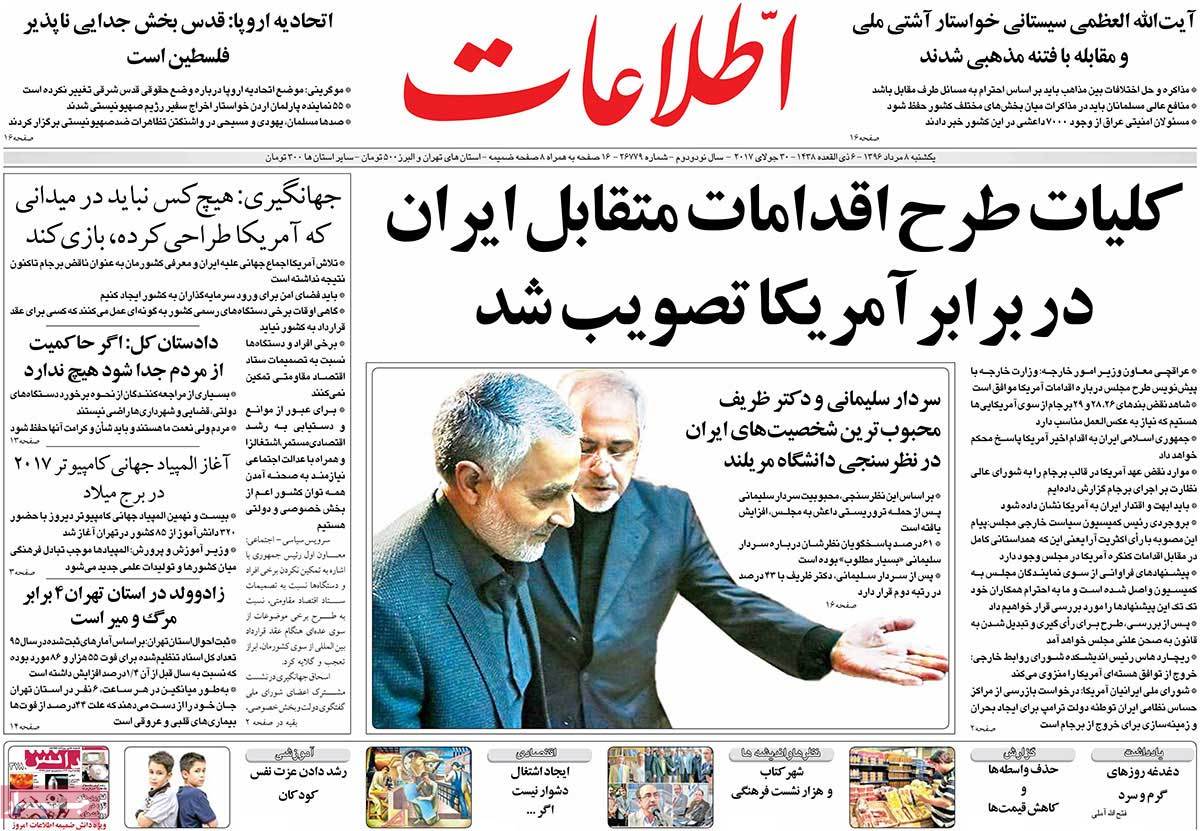 ---
Haft-e Sobh:
1- Madness of Selfie Still Taking Lives: 3 Die in 48 Hours in Iran for Taking Selfie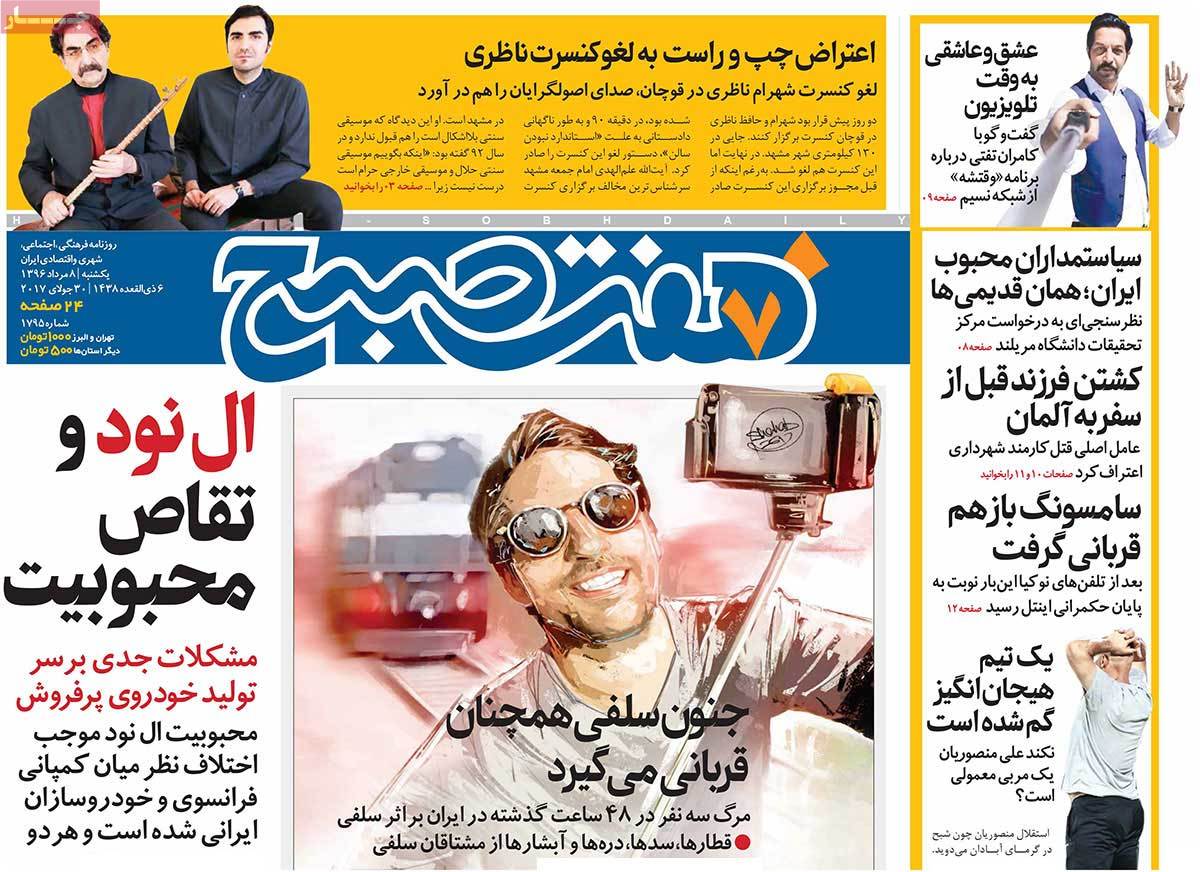 ---
Iran:
1- Zarif: We Won't Offer Our Withdrawal from JCPOA as a Gift to Trump
2- First VP: President Makes Final Decision on Ministers
---
Javan:
1- JCPOA Violation Not 'Blatant' to Araqchi!
2- US Navy's Second Provocation in Persian Gulf in Two Weeks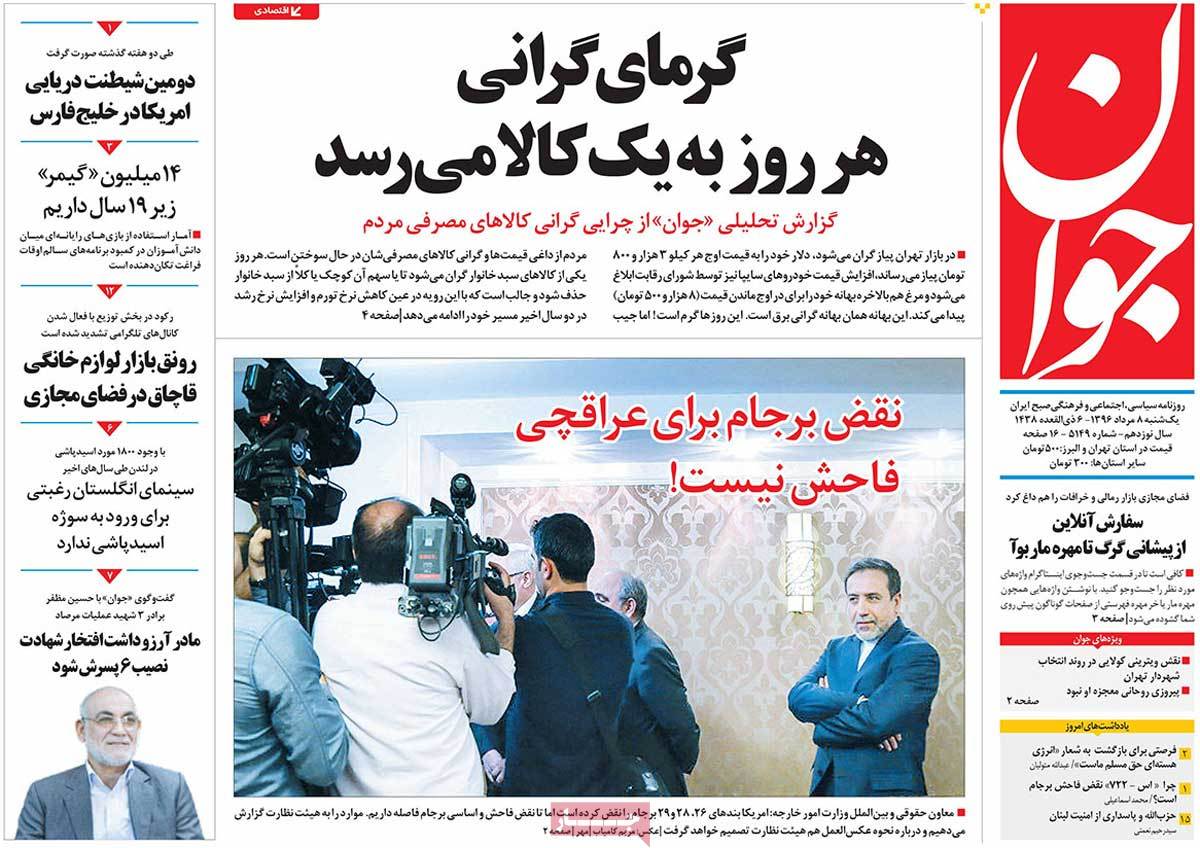 ---
Jomhouri Eslami:
1- Iran to Reciprocate US Hostile Moves after Agreement between Parliament, Foreign Ministry
2- Yemeni Army Captures Saudi Military Base in Jizan
3- Palestinians Celebrate Their Victory: Zionist Regime Opens All Doors to Al-Aqsa Mosque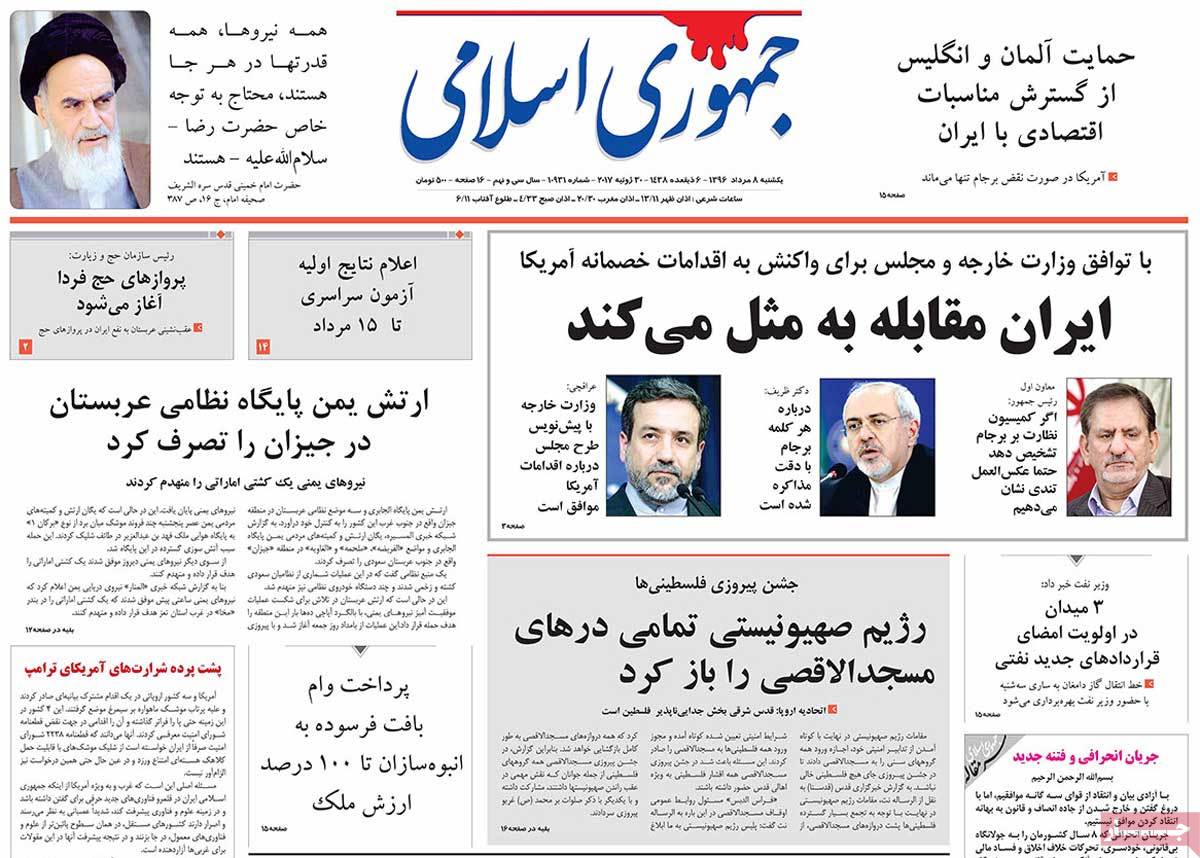 ---
Kayhan:
1- Those Used to Embellishing US Are Now Giving Them Orientation for Sanctions!
2- Total: We Received Green Light from Saudi Arabia before Signing Deal with Iran
3- Pyongyang: Entire US Now within Range of Our Missiles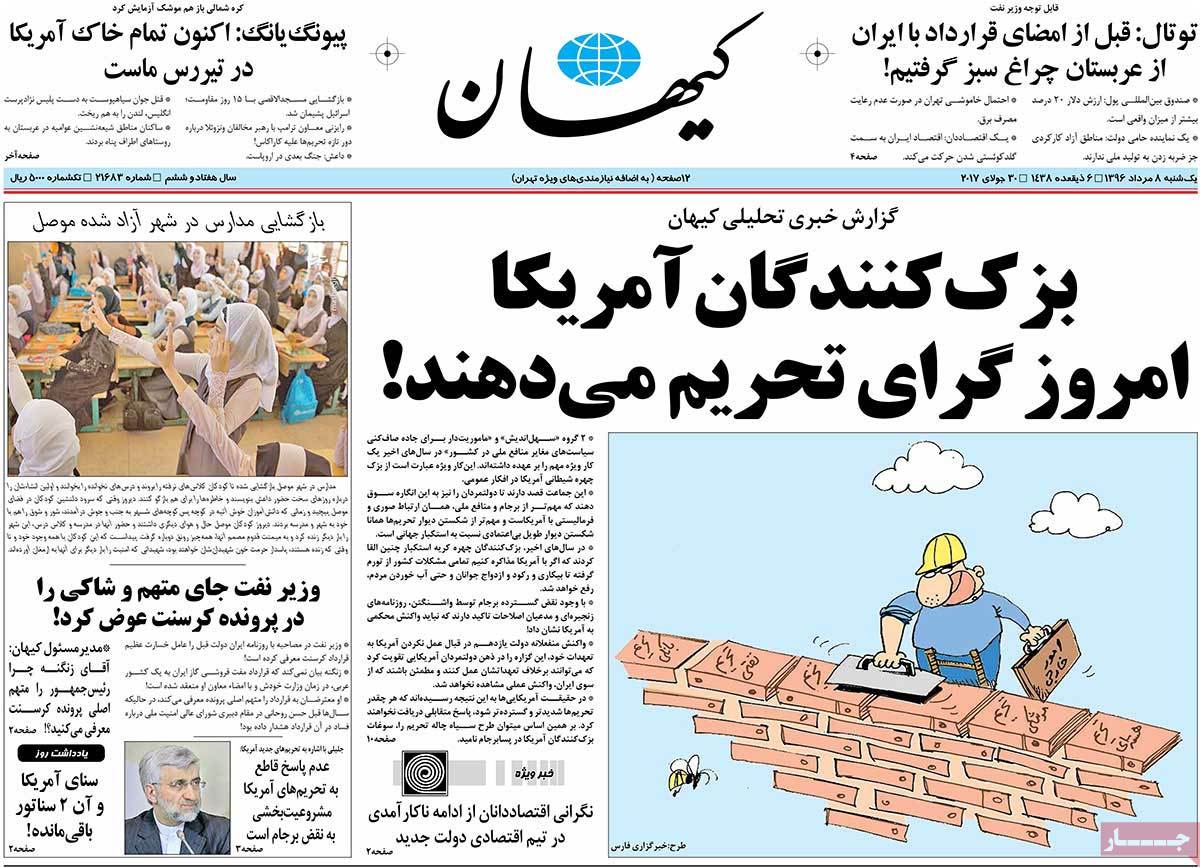 ---
Khorasan:
1- Decisive Week for Rouhani's Cabinet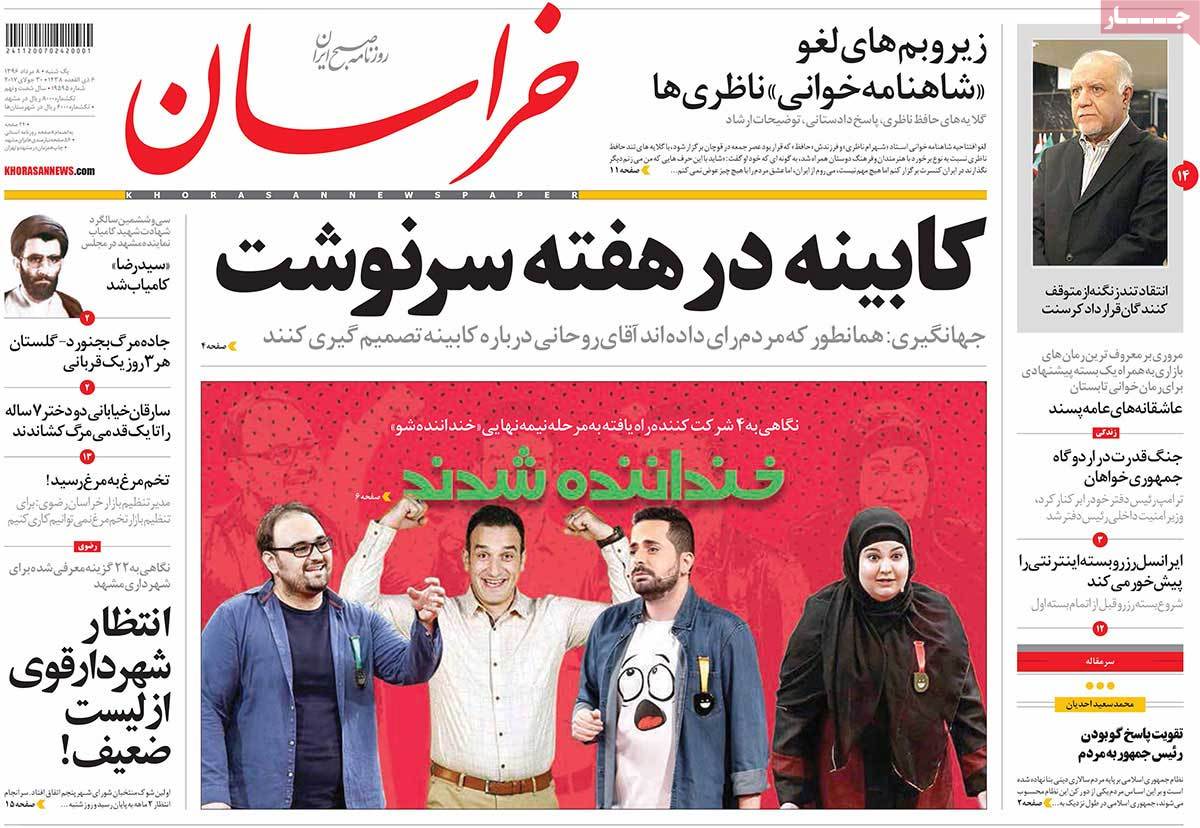 ---
Shahrvand:
1- Jungle of Trash: A Report on Garbage Accumulation in Mazandaran Province
2- Will Users Stop Using Telegram after Transfer of Servers to Iran?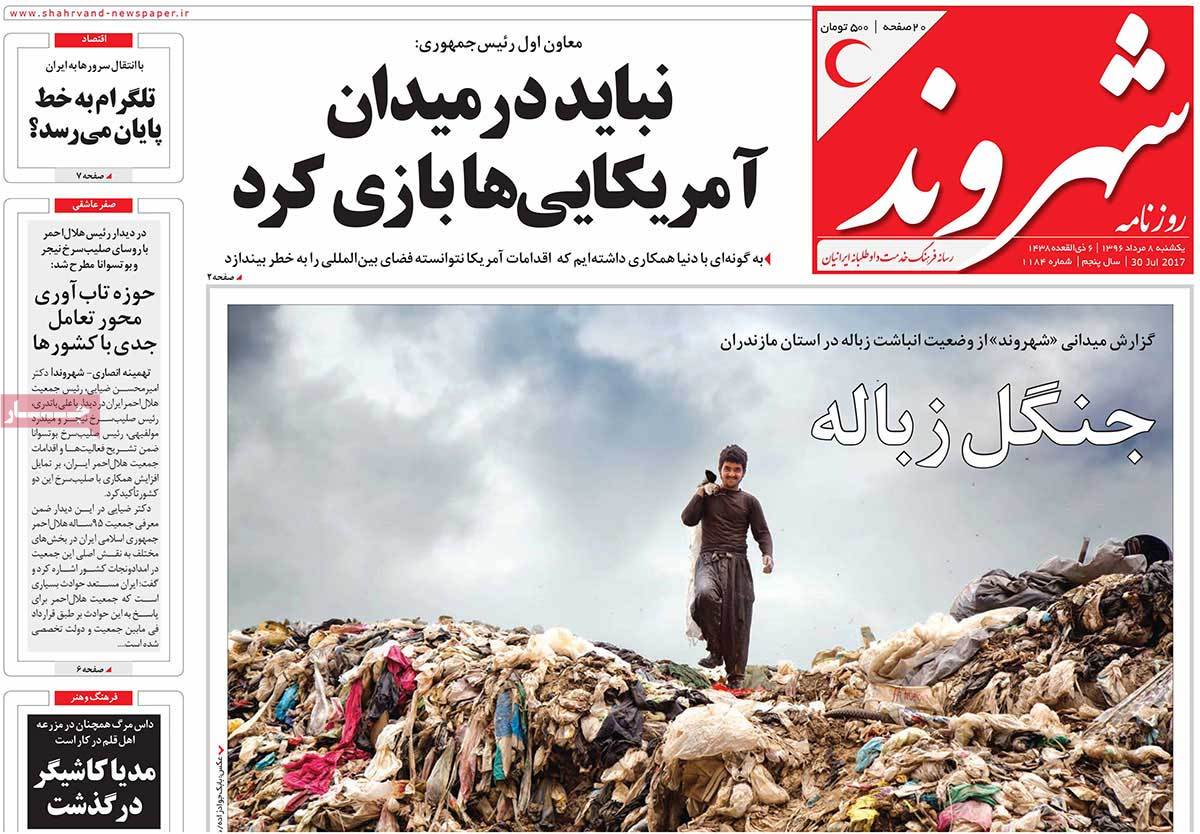 ---
Shargh:
1- Cabinet without Zanganeh: Who Will Be Removed from, Added to Cabinet
2- Mogherini, Special Guest of Rouhani's Swearing-in Ceremony
3- Benefits, Losses of US New Sanctions [Editorial]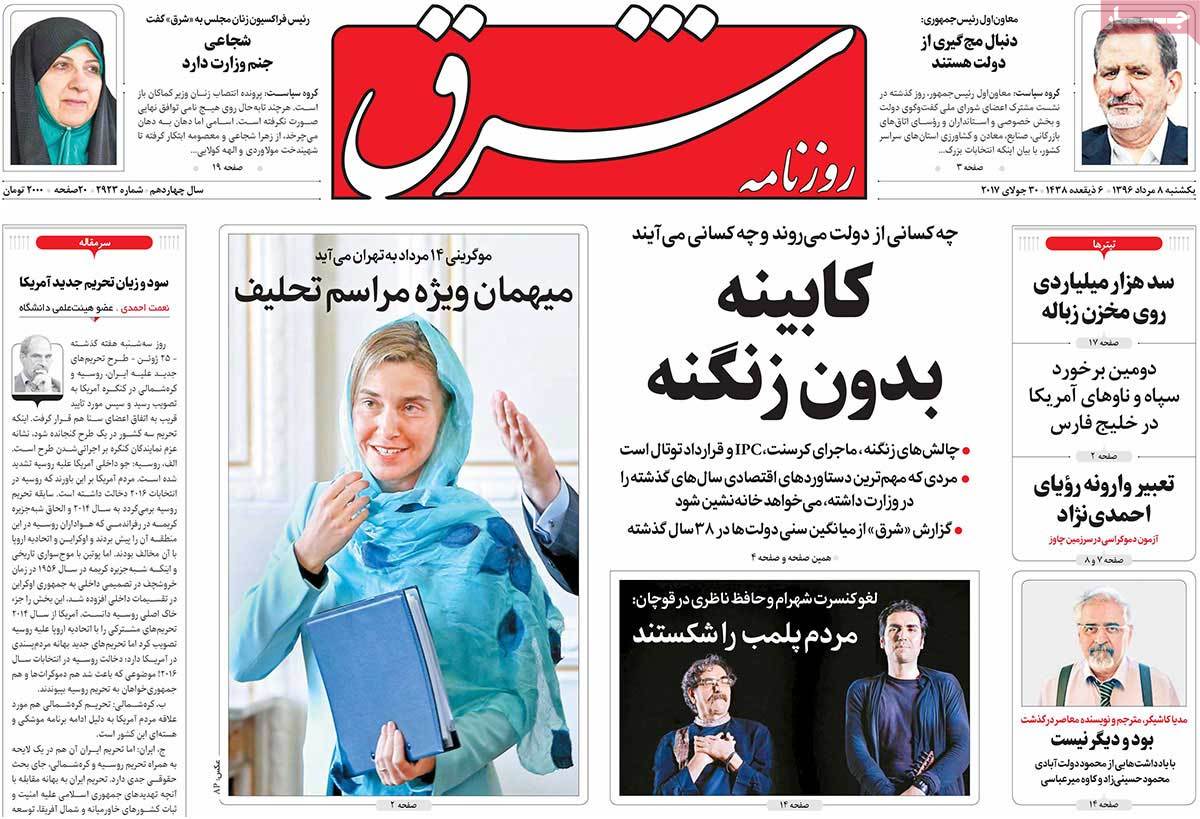 ---
Sobh-e Now:
1- Face to Face with Satan: In Less than 5 Days, Iranian, US Navies Encounter Once Again
---
Vaghaye Etteghaieh:
1- Comedy, Scorsese, Ageing, Trump in Interview with De Niro: The Stupid President We Got
2- Crazy Government: Trump Reshuffles White House
3- Zarif: Every Single Word of JCPOA Carefully Negotiated