Newspapers on Wednesday covered the remarks made by Iranian Defence Minister Brigadier General Hossein Dehqan as well as the former Iranian Foreign Minister Kamal Kharrazi in criticism of the nuclear deal between Tehran and world powers, known as JCPOA, and the other parties' violation of their commitments. Dehqan, however, noted that the deal has been signed with the approval of the Establishment, not the government alone.
The change of the uniforms of Iran's Rio Olympics Team also received wide coverage. The initial design was criticized by many Iranian social users. Then another Iranian designer offered new designs, which were welcomed by the public. In a rare move, the National Olympics Committee also gave in to the online pressures and accepted the new designs, commissioning the designer to prepare the uniforms in the short period of time remaining until the beginning of the games.
The above issues as well as many more are highlighted in the following headlines:
Abrar:
1- Kerry: Important Syria Plan to Be Unveiled in Early August
2- Iran and Japan Dismiss Reports of Japanese PM's Visit to Tehran
3- End of Boring Arab League Summit with Repetition of Previous Anti-Iran Claims
4- Iran's Ex-FM: It Was Wrong from First Place to Create Excessive Optimism towards JCPOA
---
Aftab-e Yazd:
1- European Banks Want US to Provide Them with Written Guarantee for Cooperation with Iran
2- Officials Give in to Online Pressures: Design of Clothes Changed for Iran's Rio Olympics Team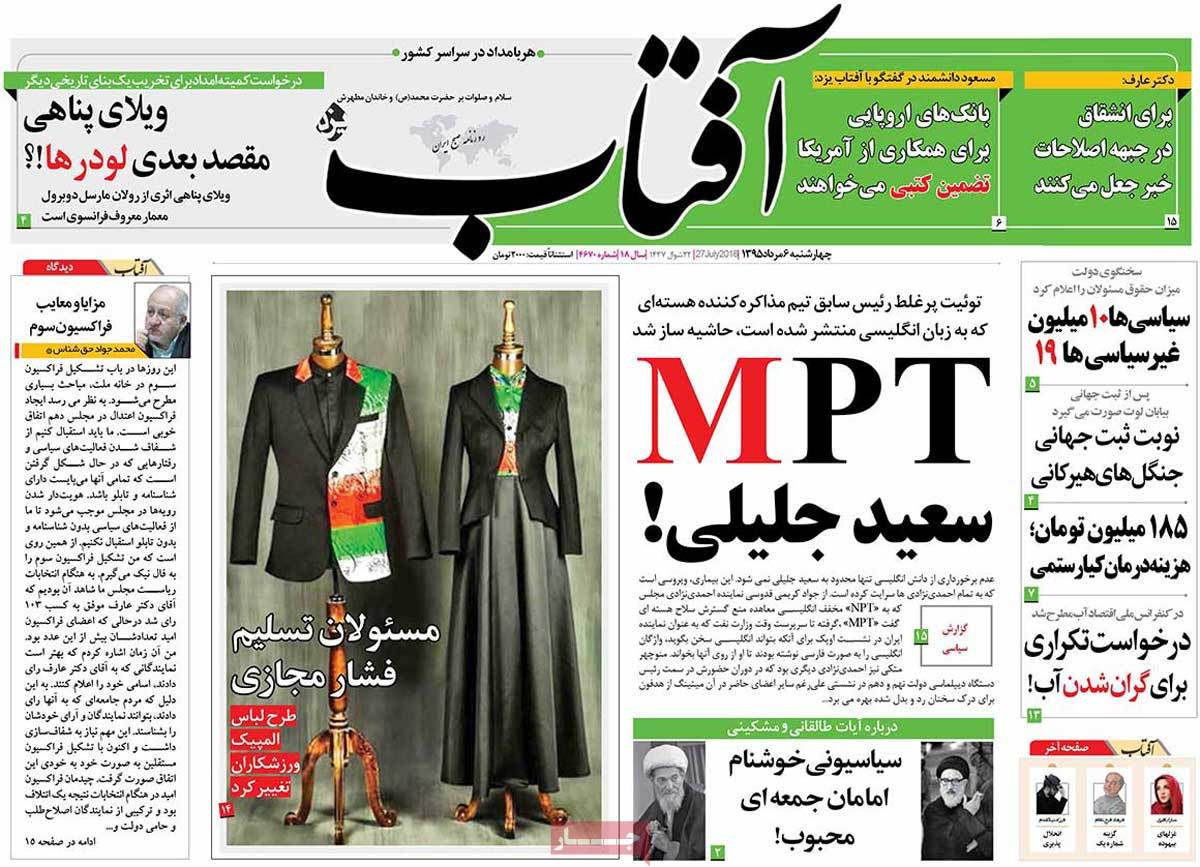 ---
Afkar:
1- Zarif: Cooperation of Zionist Regime [Israel] and Saudi Arabia Is Now Revealed
2- Iran to Follow Up on Any Possible Violation of JCPOA: Gov't Spokesman
---
Arman-e Emrooz:
1- Will Mayor of Tehran Qalibaf Run for 2017 Presidential Elections?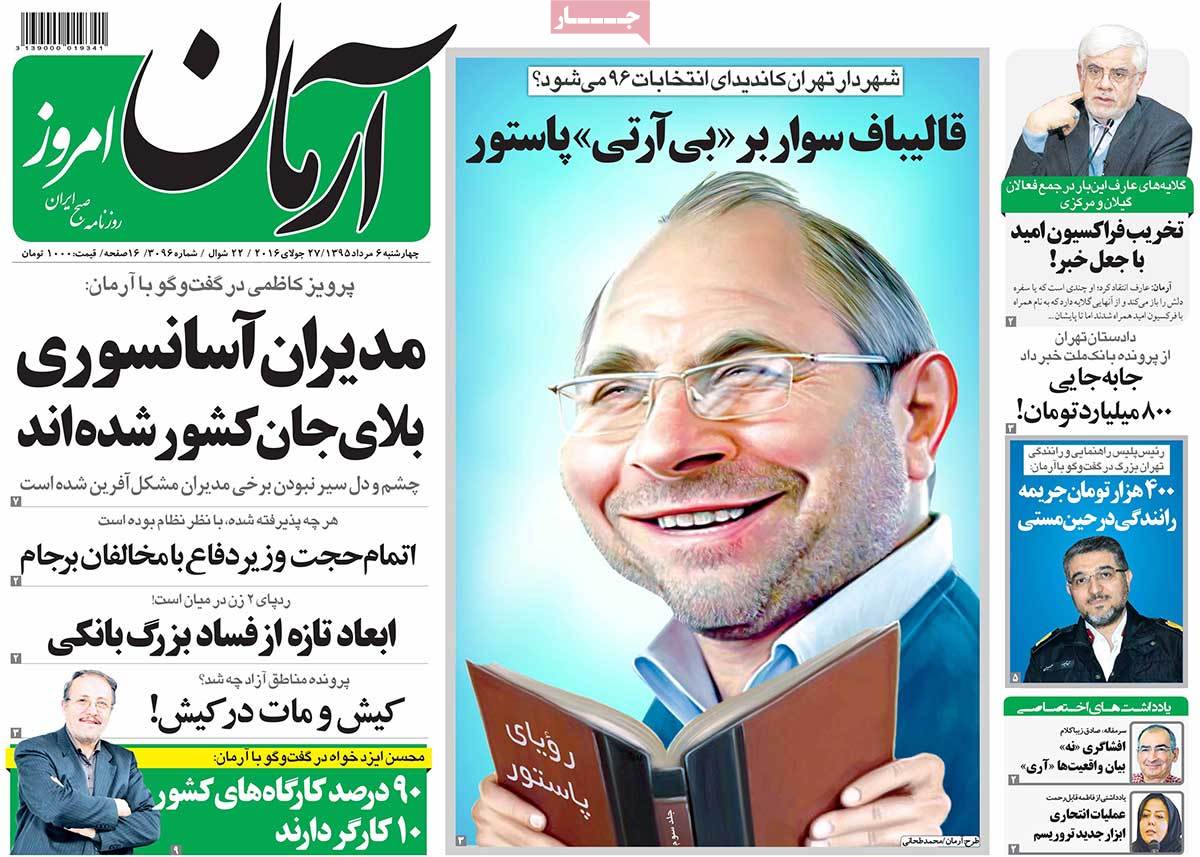 ---
Asr-e Iranian:
1- JCPOA Doubled Iran's Economic Problems: DM
2- Al Khalifa Playing with Fire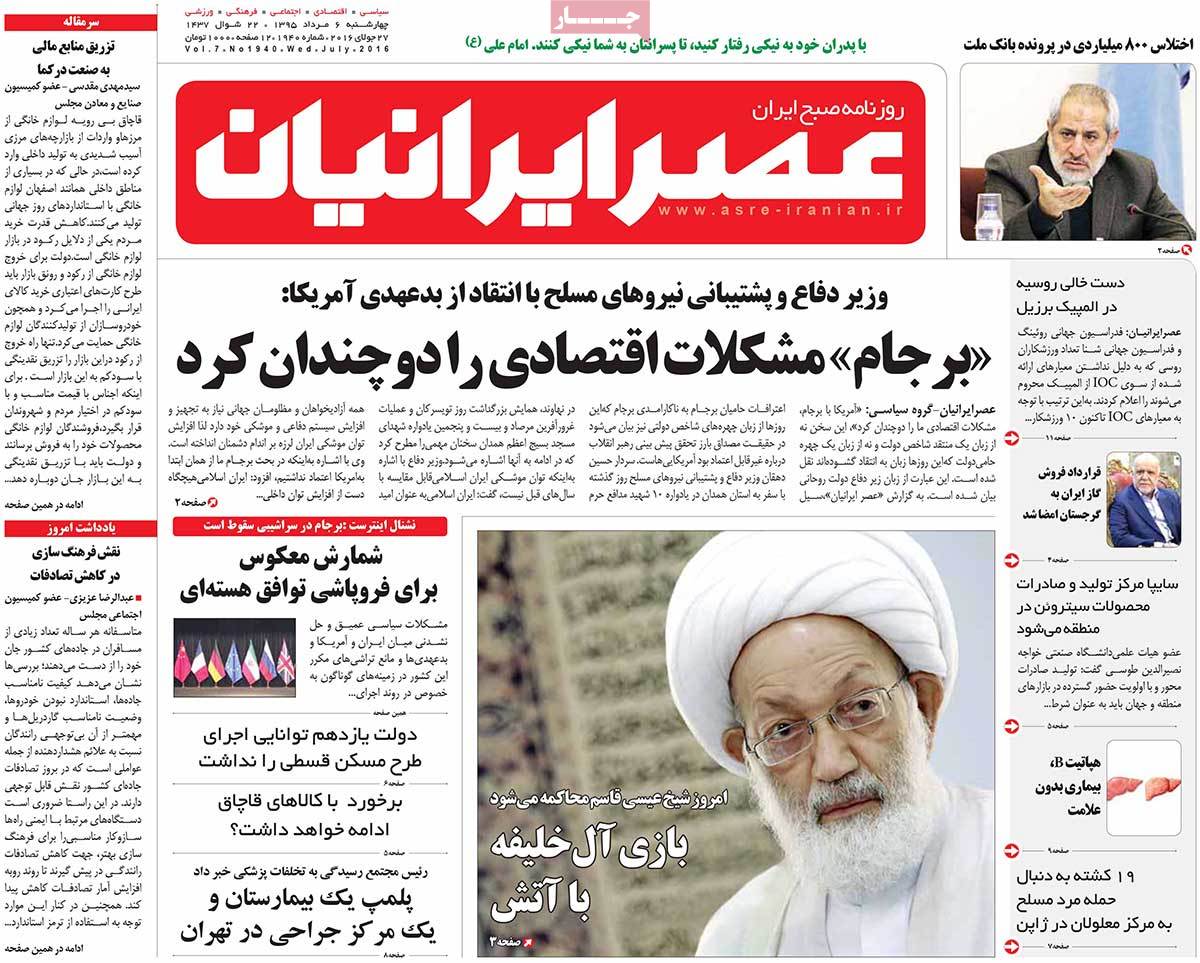 ---
Emtiaz:
1- Anti-Smuggling Forces Confiscate Smuggled Mobile Phones in Tehran's Market
2- Alarming Danger: Underground Aquifers Are Being Destroyed
3- Private Hospital in Northern Tehran Shut Down [for providing non-standard services]
4- Problems with Iran-Russia Visa Resolved
---
Etemad:
1- We Are All under Attacks of Some Critics: Gov't Spokesman
2- Iran's Accession to Treaty of Amity and Cooperation Is a Symbol of Iran's Global Acceptance: Deputy FM
---
Ettela'at:
1- Iran's Water Resources Not Proportional to the Country's Population Growth
2- Iran's Population Will Rise to 105m in 2025, and If Current Water Crisis Is Not Controlled, Water Tension Will Be Inevitable
3- 19 Killed in Most Bloody Attack in Post-WWII Japan
4- Zarif: Grounds Prepared for Iran-Ghana Trade and Banking Cooperation
5- Salaries of Political and Non-Political Officials Capped by Government
6- Iran Is a Powerful and Developed Country: Kerry
---
Haft-e Sobh:
1- Rouhani Standing in the Dust: What Strategy Will Rouhani Adopt in Rest of His Term to Convince His Supporters to Re-Elect Him in Next Year's Presidential Votes?
2- Instagram Campaigns Lead to Change of Clothes Designed for Iran's Rio Olympics Team
---
Hemayat:
1- People Can Receive Free Legal Advice by Calling 129
2- Erdogan Poised to Change Turkish Constitution
3- JCPOA Has Not Been Implemented Well Because of US Violation of Its Promises: Ex-FM
4- Putting Sheikh Qassim on Trial Will Speed Up Al Khalifa Regime's Collapse
5- Iran's Human Rights Headquarters to Give Third Islamic Human Rights Award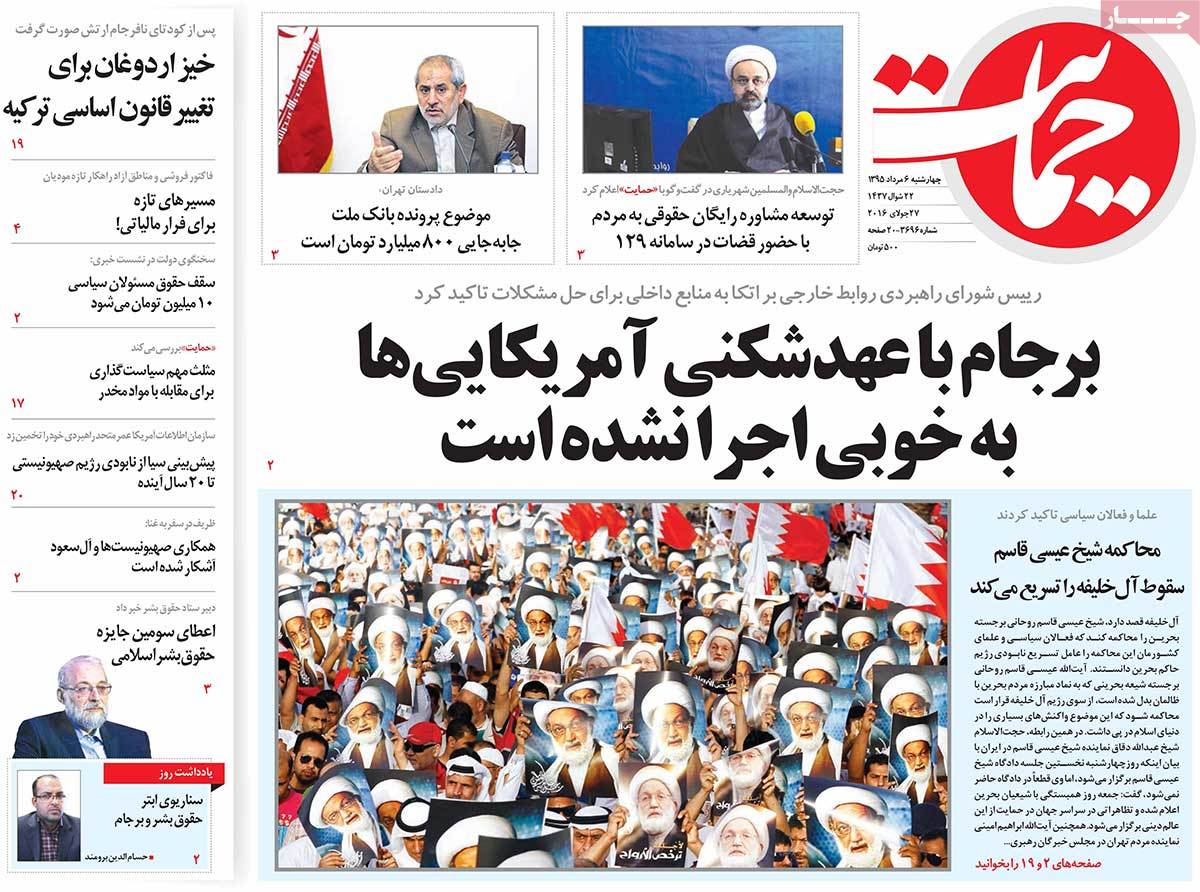 ---
Iran:
1- Wasteful Water Consumption Threatens Survival of Iran's Civilization: Energy Minister Warns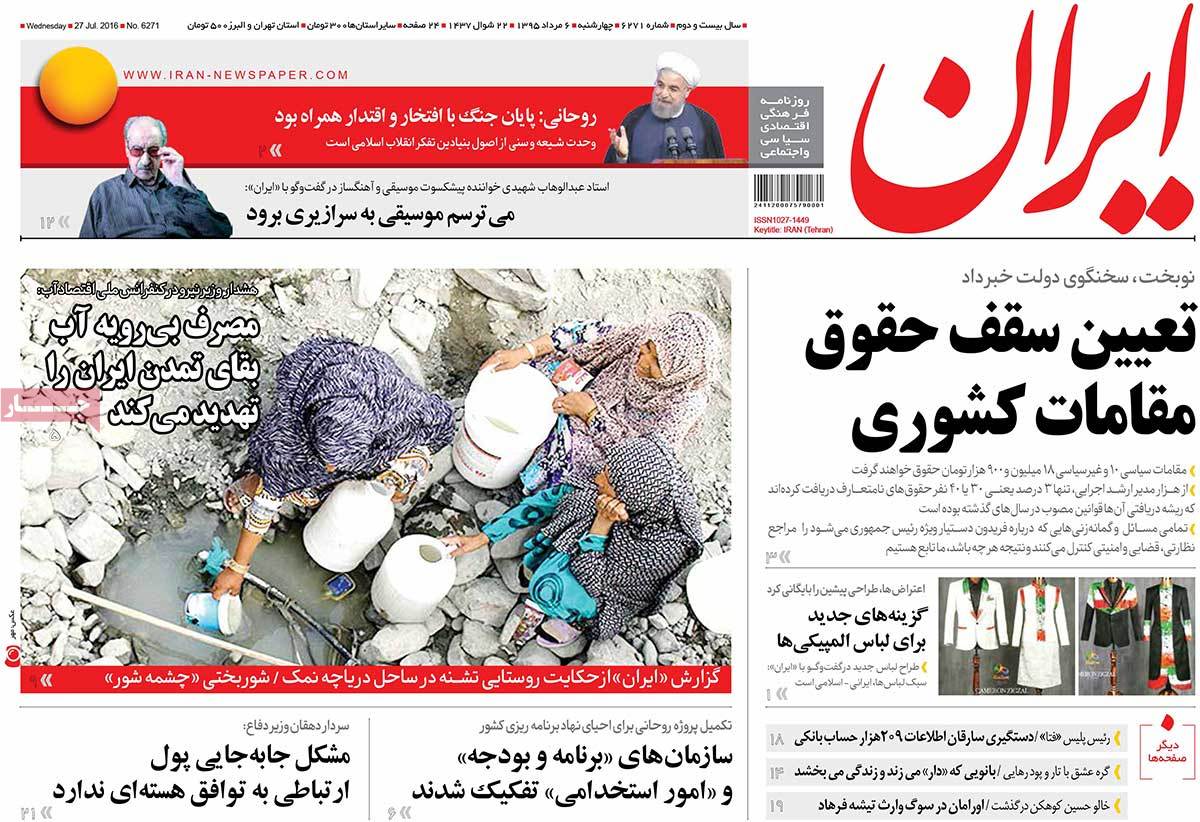 ---
Javan:
1- Zarif's Turnaround in Policy of Easing Tensions with Saudis: FM's Recent Remarks about Sauid-Israeli Ties Can Be a Point of Departure for Iran's Foreign Policy towards Saudi Arabia
2- Mobile Phone Smugglers Arrested; $115m Smuggled Cosmetics Seized in Tehran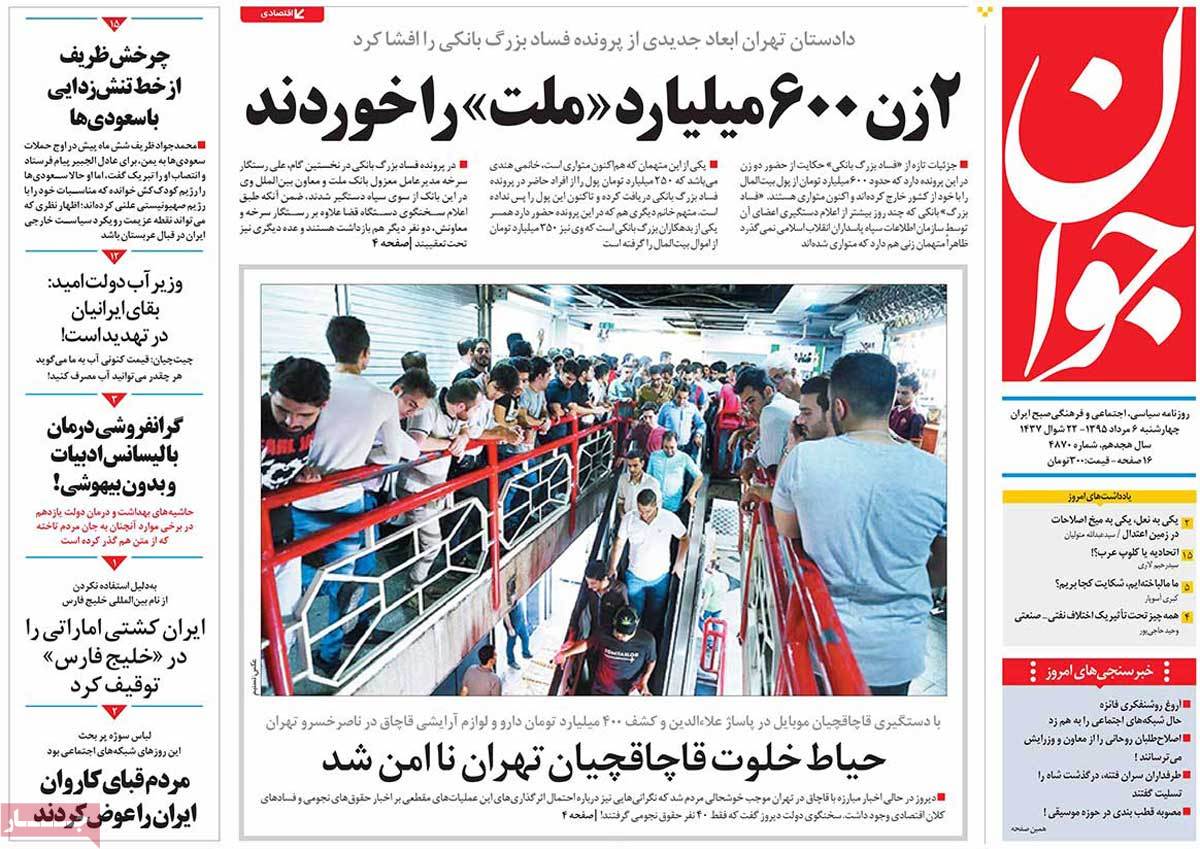 ---
Jomhouri Eslami:
1- 14 Italian Banks Call for Cooperation with Iran
2- Whatever Accepted in JCPOA Was the Establishment's Opinion: DM
3- CIA's Prediction about Annihilation of Israel within 20 Years
4- Outcomes of Zionist-Saudi Cooperation Being Revealed after Collapse of Iranophobia Wall: Zarif
5- Iran Exports 5m Tons of Crude Oil to India
6- Hezbollah: Next Lebanese President Won't Be Servant of Saudi Arabian Court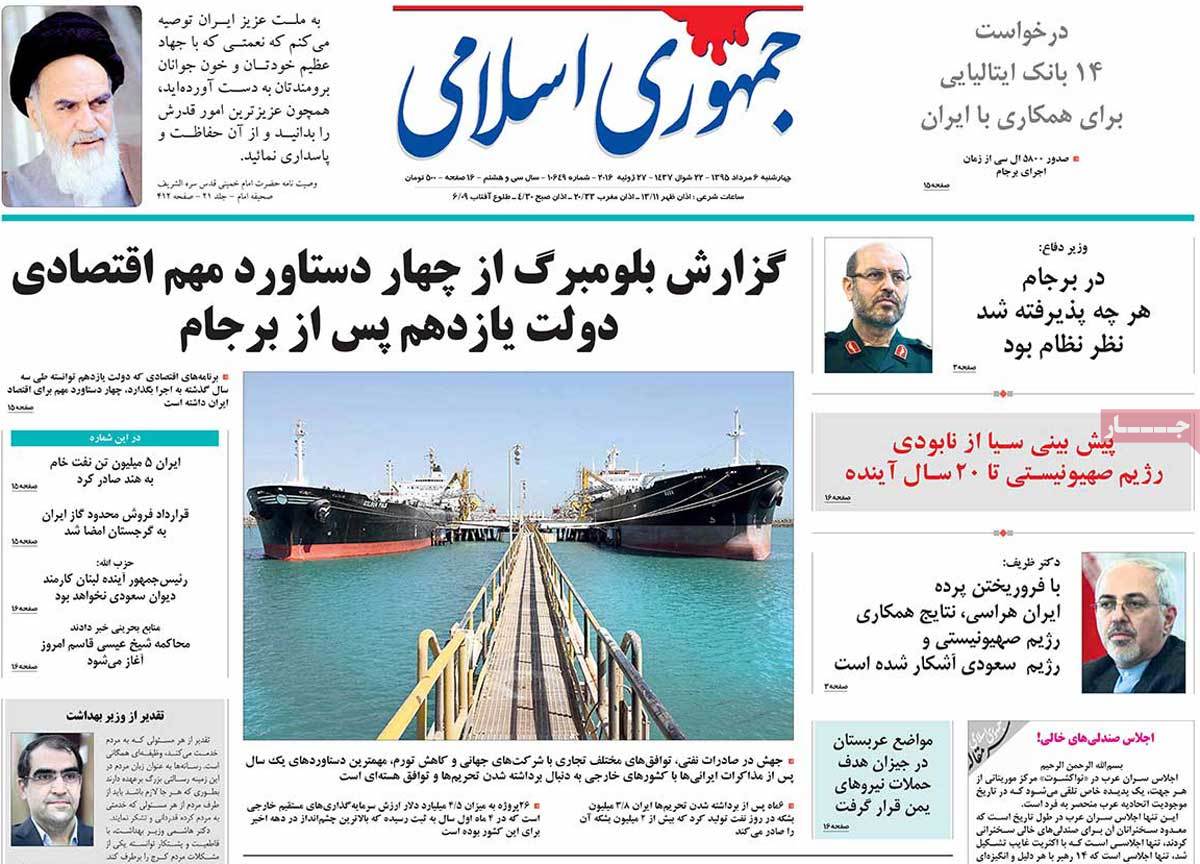 ---
Kayhan:
1- Outcome of Inaction in Diplomacy Is the Fuss Made by Microscopic Governments
2- Glorious Ceremony Held to Commemorate 11 Army Martyrs Recently Excavated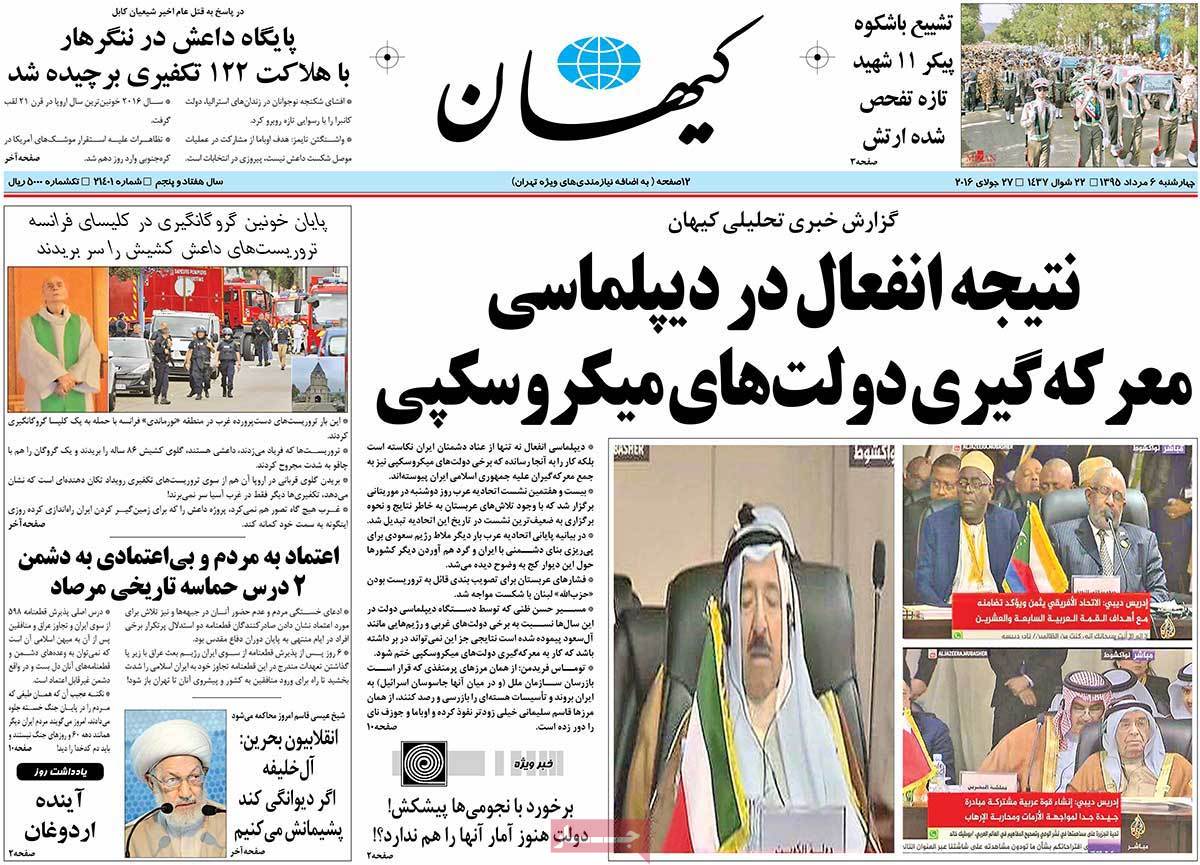 ---
Khorasan:
1- Europe Afraid by Lone Wolves: French Priest Beheaded by ISIS and Shootings in Berlin and Sweden
2- UAE Ship Seized Because of Using Fake Name for Persian Gulf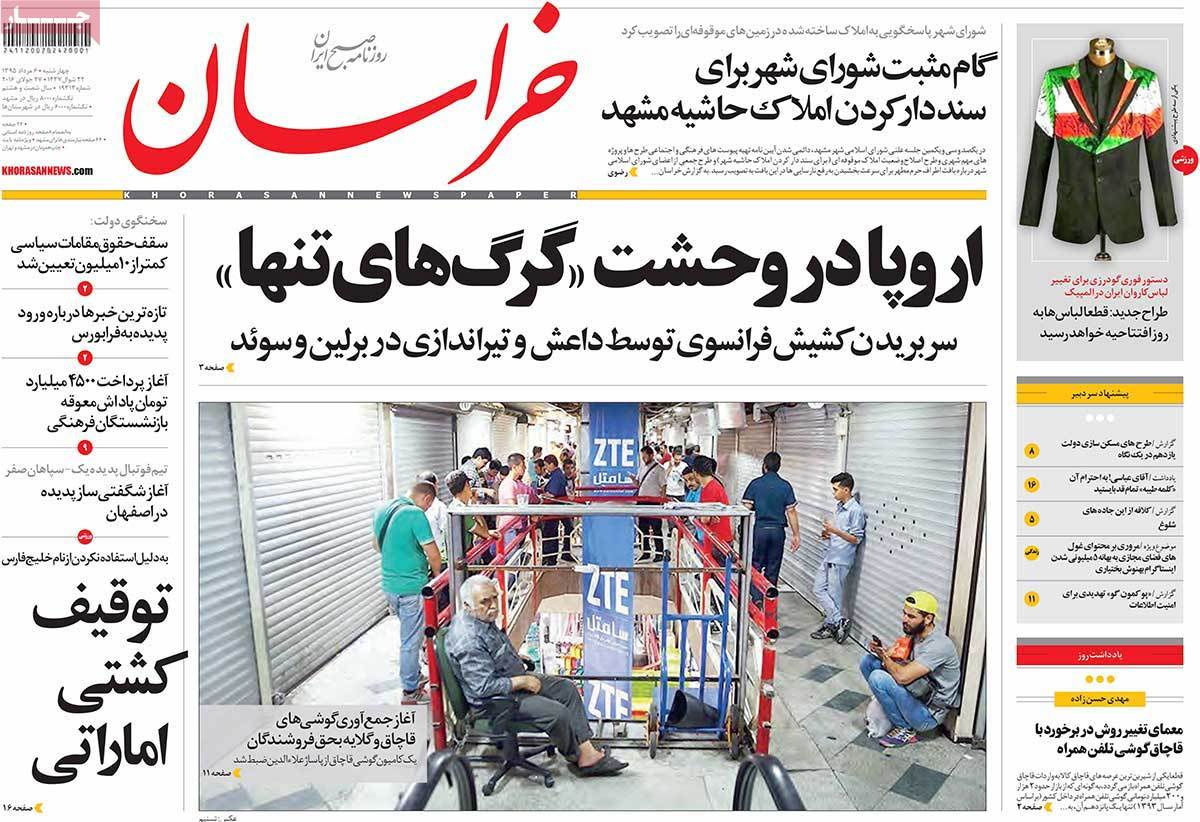 ---
Resalat:
1- Conservatives Should Prepare Themselves of City Council Elections
2- Iran's Hands in Counteracting US Violation of Its JCPOA Promises Is Not Tied: Leader's Advisor
3- Lavrov: US Had Direct Role in Formation of ISIS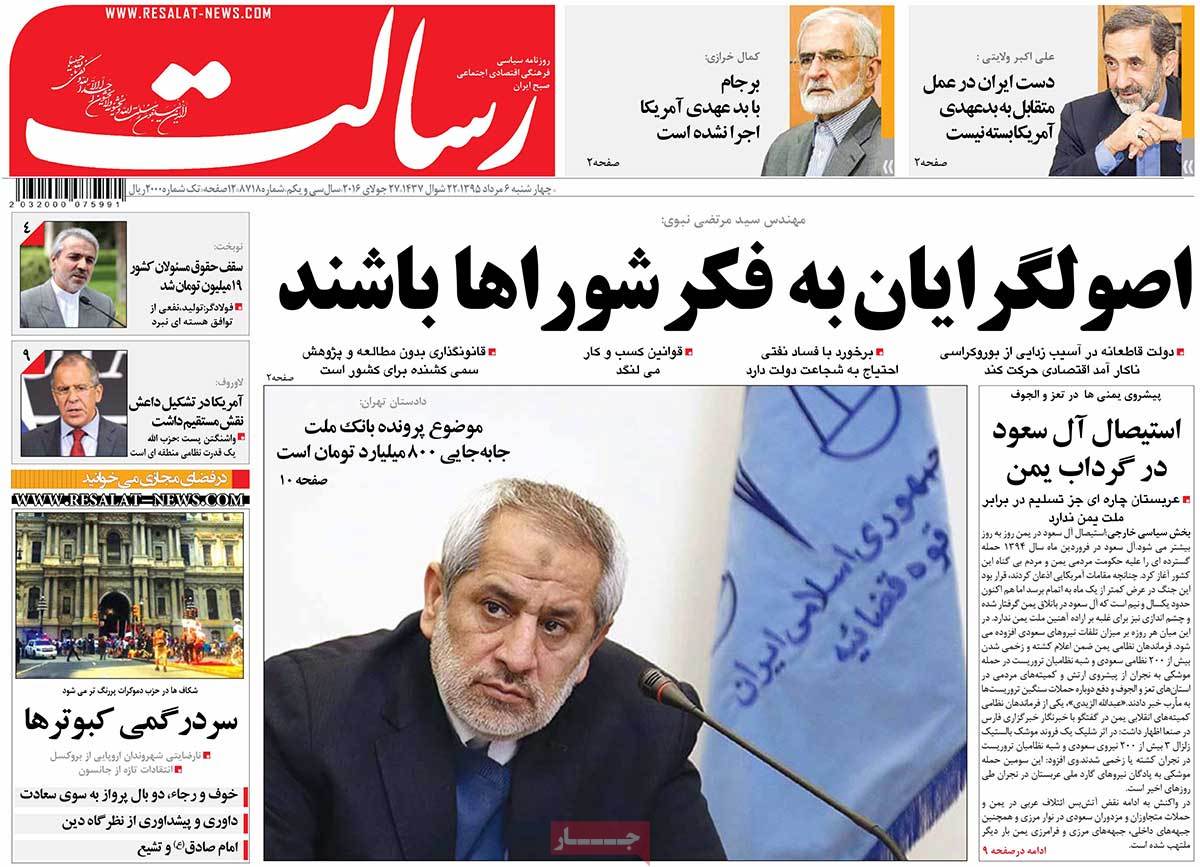 ---
Shahrvand:
1- Monthly Salaries of President and Cabinet Members to Be Less than $2,900: Spokesman
---
Shargh:
1- Mayor of Tehran Once Again Attacks Rouhani's Gov't
2- Government Spokesman Calls for Punishment of Those Who Attacked Saudi Embassy in Tehran: They Should Pay the Price of What They Did
3- Zarif in Ghana: Wahhabism Is the Main Threat
---
Siasat-e Rooz:
1- Ankara Gets Closer to Iran's Regional Stances
2- Strong Reaction to Al Khalifa [Domestic and Foreign Reactions to Beginning of Sheikh Qassim's Trial)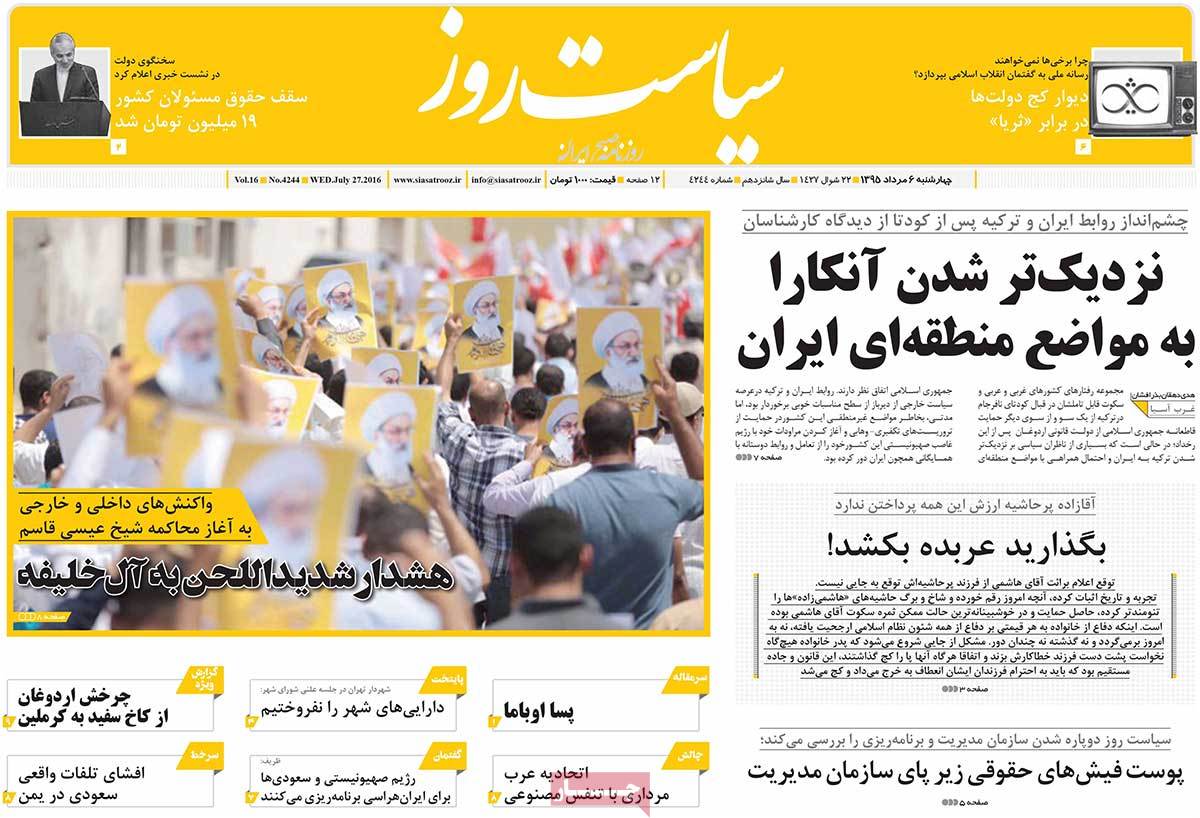 ---
Vaghaye Ettefaghieh:
1- Erdogan Should Value Those Who Pour into Streets for Him