Newspapers today covered the imminent approval of a draft law in the US House of Representatives on imposition of fresh sanctions against Iran, and described it as another violation of Iran nuclear deal.
The speculations about the line-up of President Hassan Rouhani's next cabinet also remained a top story today. The latest development was Parliament Speaker Ali Larijani's remarks about the possibility of give-and-take between the government and the Parliament.
The above issues, as well as many more, are highlighted in the following headlines and top stories:
Abrar:
1- Hardliner Criticizes Qalibaf's Remarks: Neo-Conservatism Is a Play on Words
2- Qatari DM Hails Iran's Support during Blockade
3- No Deal Yet on Sanctions against Russia, Iran, N. Korea: Corker
---
Aftab-e Yazd:
1- Larijani: No Minister Has Lobbied for Keeping His Post in Next Cabinet
2- First VP: I Was Shocked after Hearing Unemployment Rate in Kermanshah
3- No Matter Iran's Currency Is Rial or Toman When Your Pockets Empty
4- Tillerson Upset by Trump's Criticism of Nuclear Deal
---
Arman-e Emrooz:
1- Please Come Back … Velayati Urges Nateq Noori to Remain in Islamic Azad University
2- Senior Conservative: Attacks on Rouhani Not to Bring Good Results
3- 5 Governor-Generals Indicted for Electoral Offences
---
Asrar:
1- Gov't Spokesman Vows to Make Decisive Action against Any New Sanctions
2- Iran No Longer in Need of Importing Turkmenistan's Gas: Official
---
Besharat-e Now:
1- Left, Right-Wingers Treated by Health Minister
Iranian Political Factions in Iran Lack Balanced View
2- 120 Terrorist Attacks Defused in Iran
3- 'Changing Current from Rial to Toman Not to Resolve Iranians' Woes'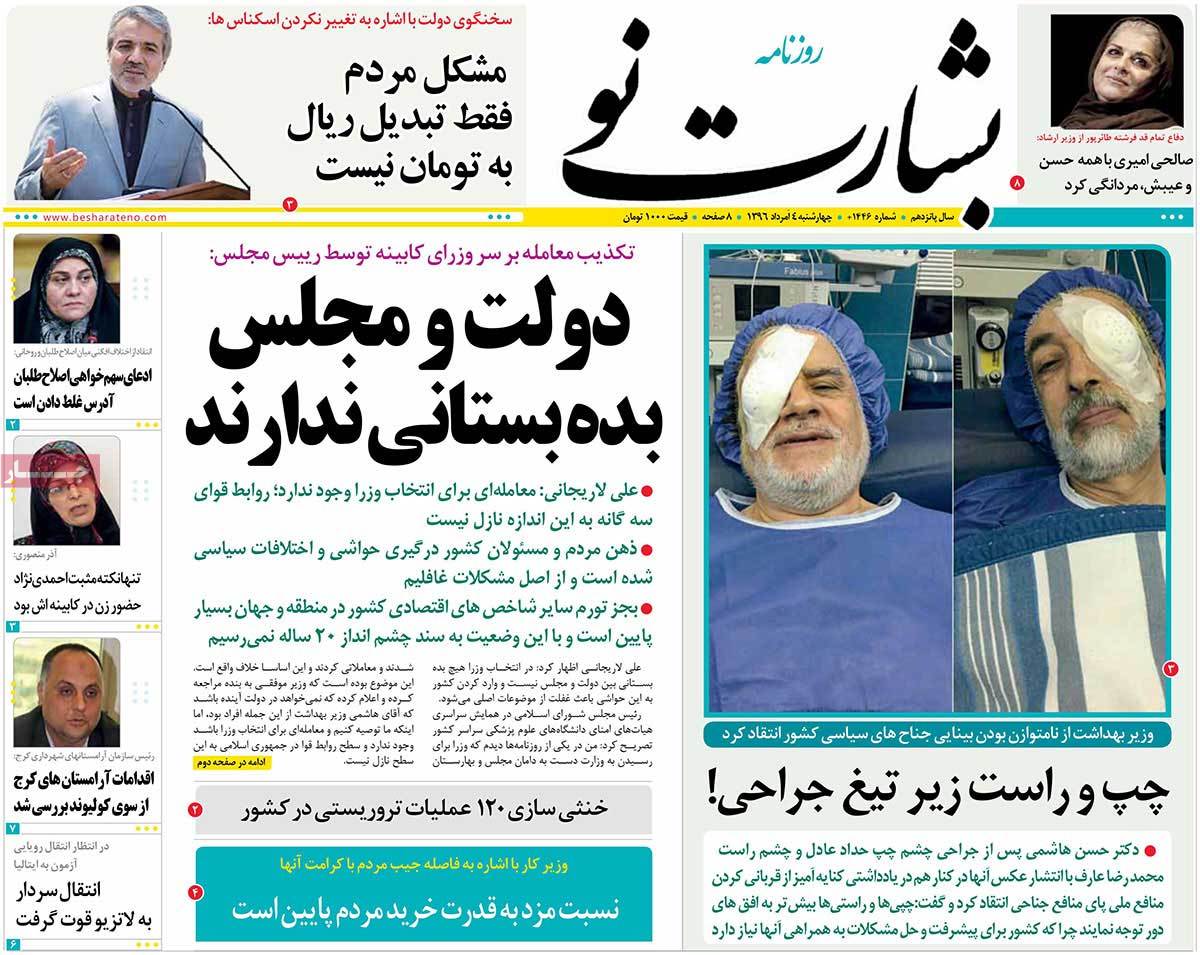 ---
Etemad:
1- Welfare Should Be Separated from Labour Ministry: Minister
2- Top Clerics' Opinions about Animals' Rights, Animal Abuse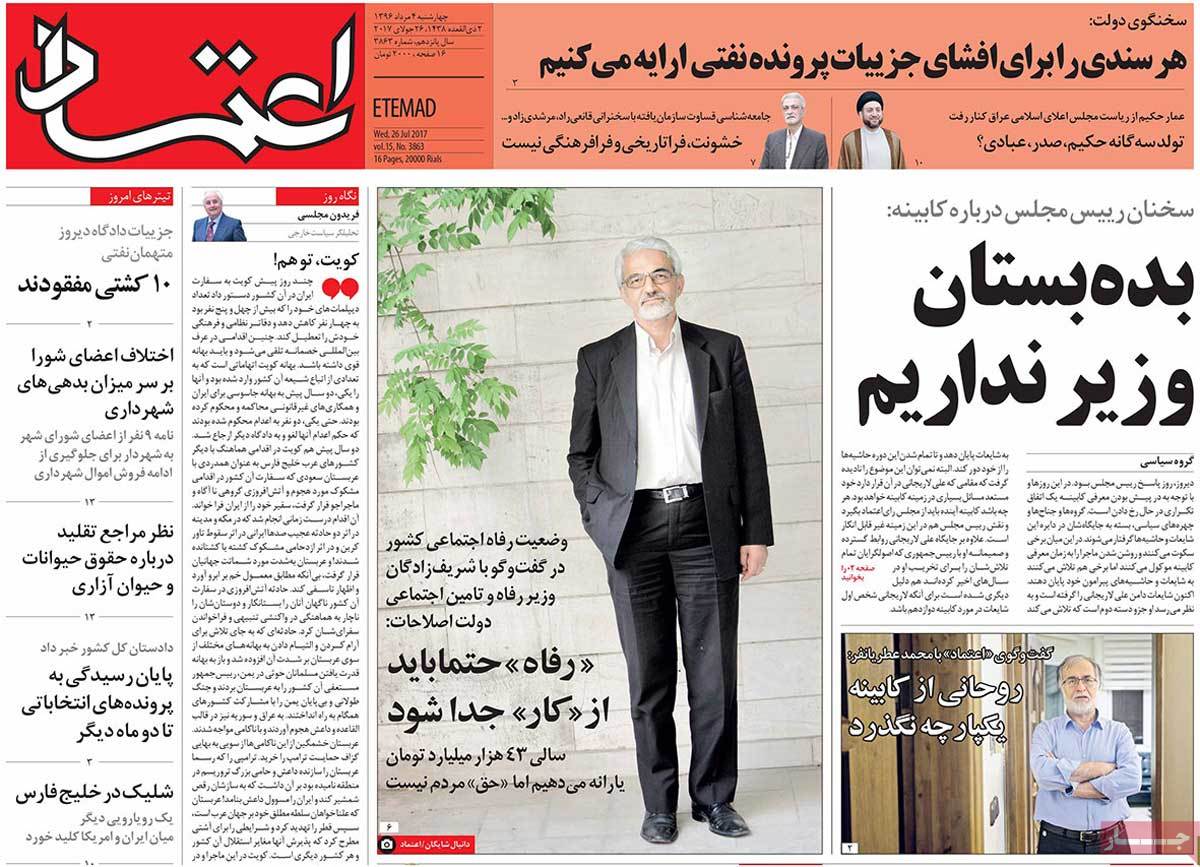 ---
Ettela'at:
1- We May Endanger Iran's Future If We Don't Make Right Decisions about Water: First VP
2- Parliament Speaker: Universities Should Become Independent
3- Iranian Students Win 5 Gold, Silver Medals in World Physics Olympiad
4- Ansarullah: We'll Target UAE's Trade Ports
---
Haft-e Sobh:
1- East, West Meet in Iranian Train: Over $2bn worth of Rail Deals Signed in 48 Hours
2- Iranian Girl's Great Work in Damavand Peak
Maedeh Janfaza, First Woman to Conquer the Peak with Bicycle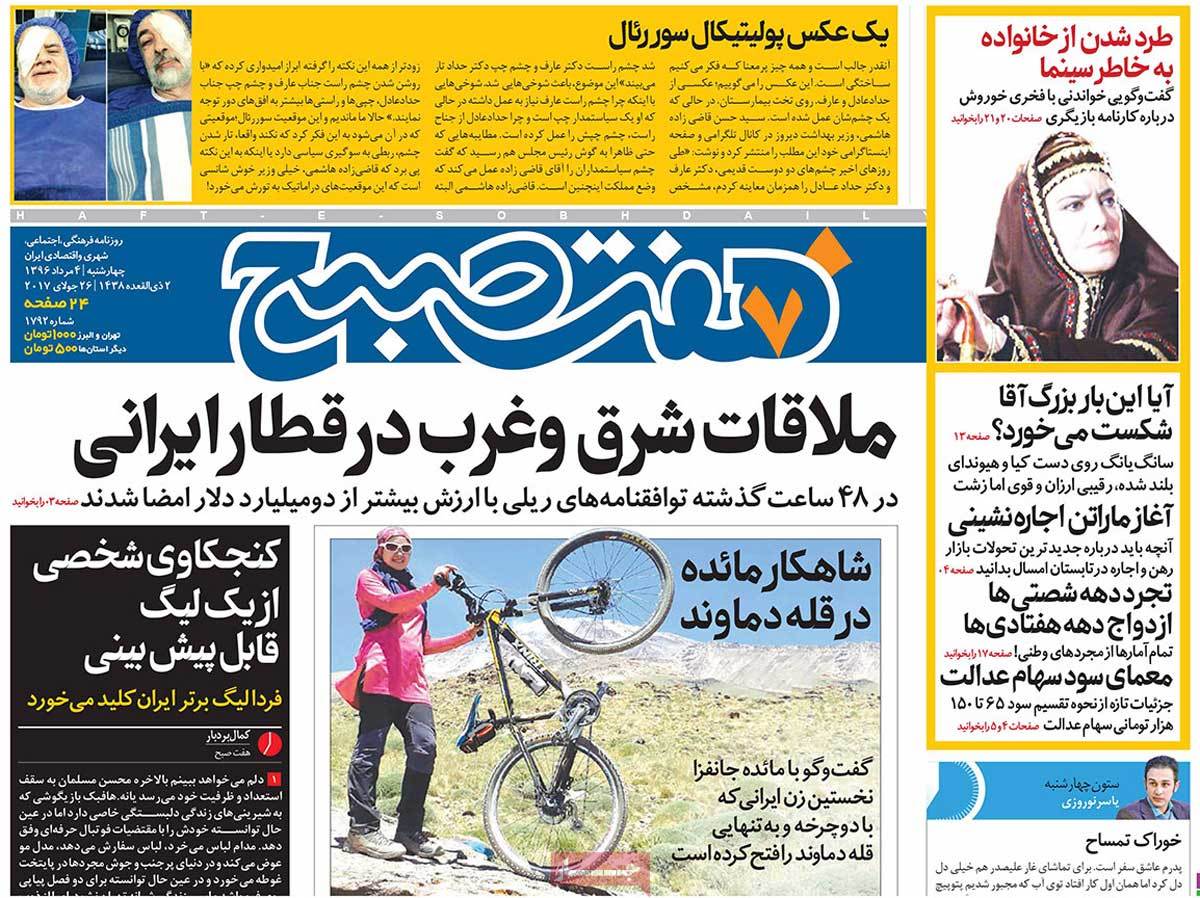 ---
Iran:
1- 800 Projects to Supply Villages with Water Simultaneously Inaugurated
2- No Barrier to Presence of Minorities, Women in Next Cabinet: Spokesman
3- Fans of Persian Language, from Kazakhs to Americans, Take Tour of Tehran
---
Javan:
1- Social Media's Pressure for Having Efficient, Healthy, Non-Aristocratic Cabinet
2- 6 Companies Importing 50% of Pharmaceuticals in Iran Market: Official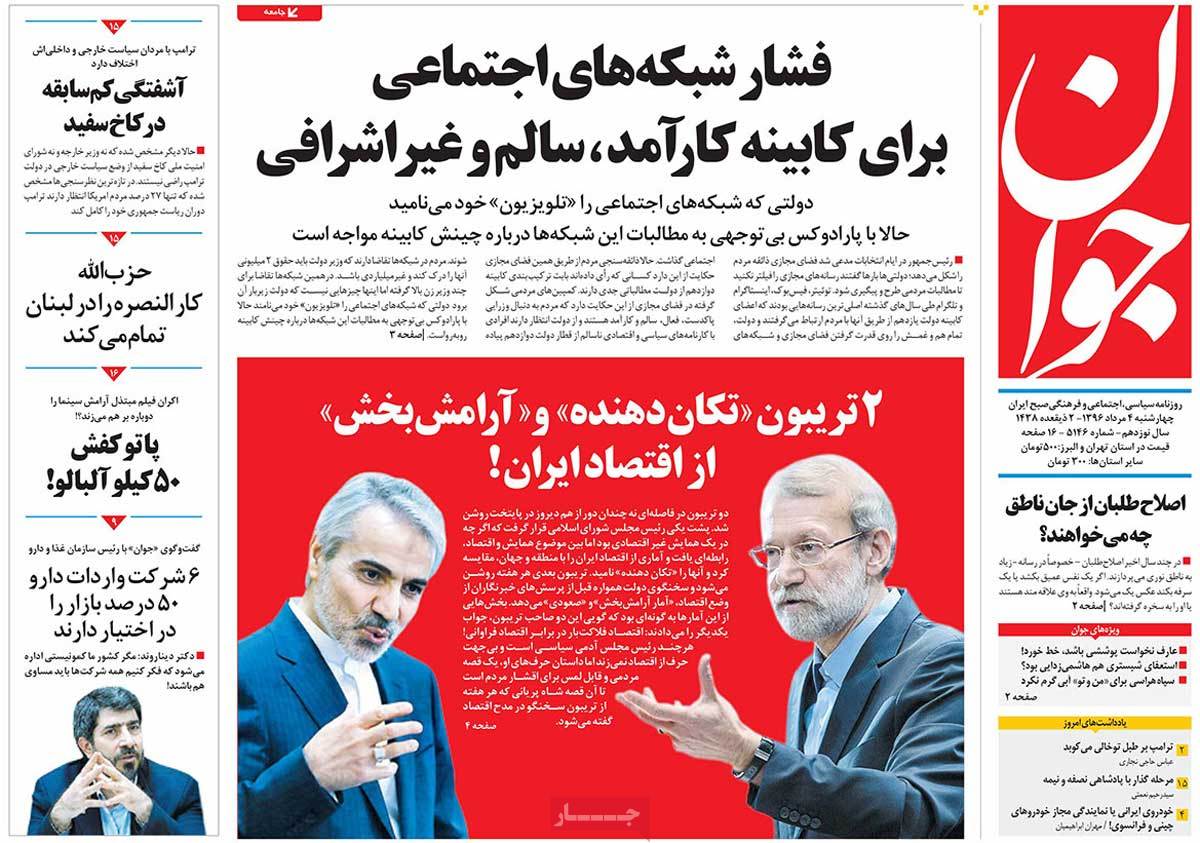 ---
Jomhouri Eslami:
1- China to Finance Electrification of Tehran-Mashhad Railway
2- Red Cross: Humanitarian Conditions in Yemen Disastrous
3- Saudi Arabia's Council of Ministers Approve Plan to Build Nuclear Plant
---
Kayhan:
1- What Are Gov't, Parliament Doing in Wake of US New Sanctions?
2- Iran Leader Donates 40,000 Properties to Deprived People
3- Pyongyang: We'll Target US Heart Using Our Nuclear Weapons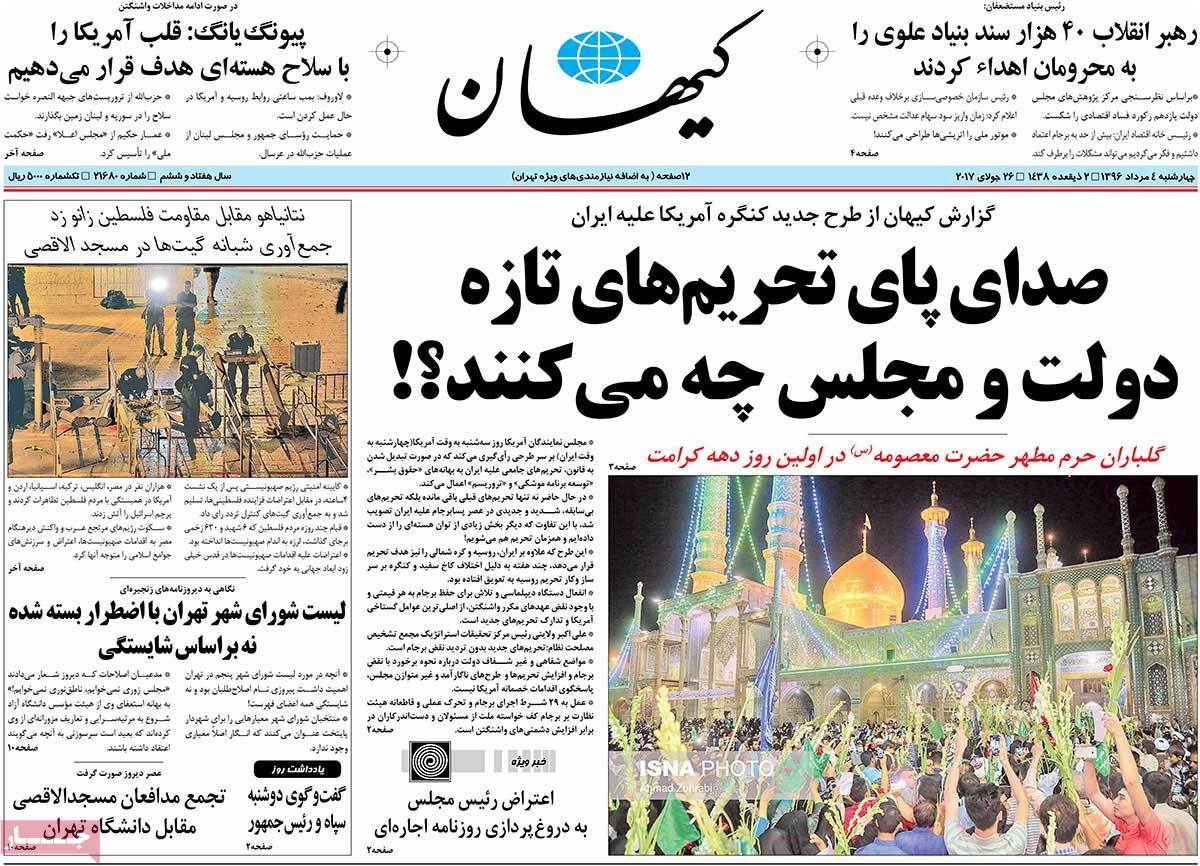 ---
Resalat:
1- Parliament Speaker: Unemployment Trend Worsened in Past 4 Years
2- Velayati: Iran Not Worried about US Hostile Moves
3- Zarif: US Should Know JCPOA Not a Bilateral Deal
4- Ayatollah Makarem Shirazi: Aqsa Mosque in Danger, Muslims Shouldn't Leave Palestine Alone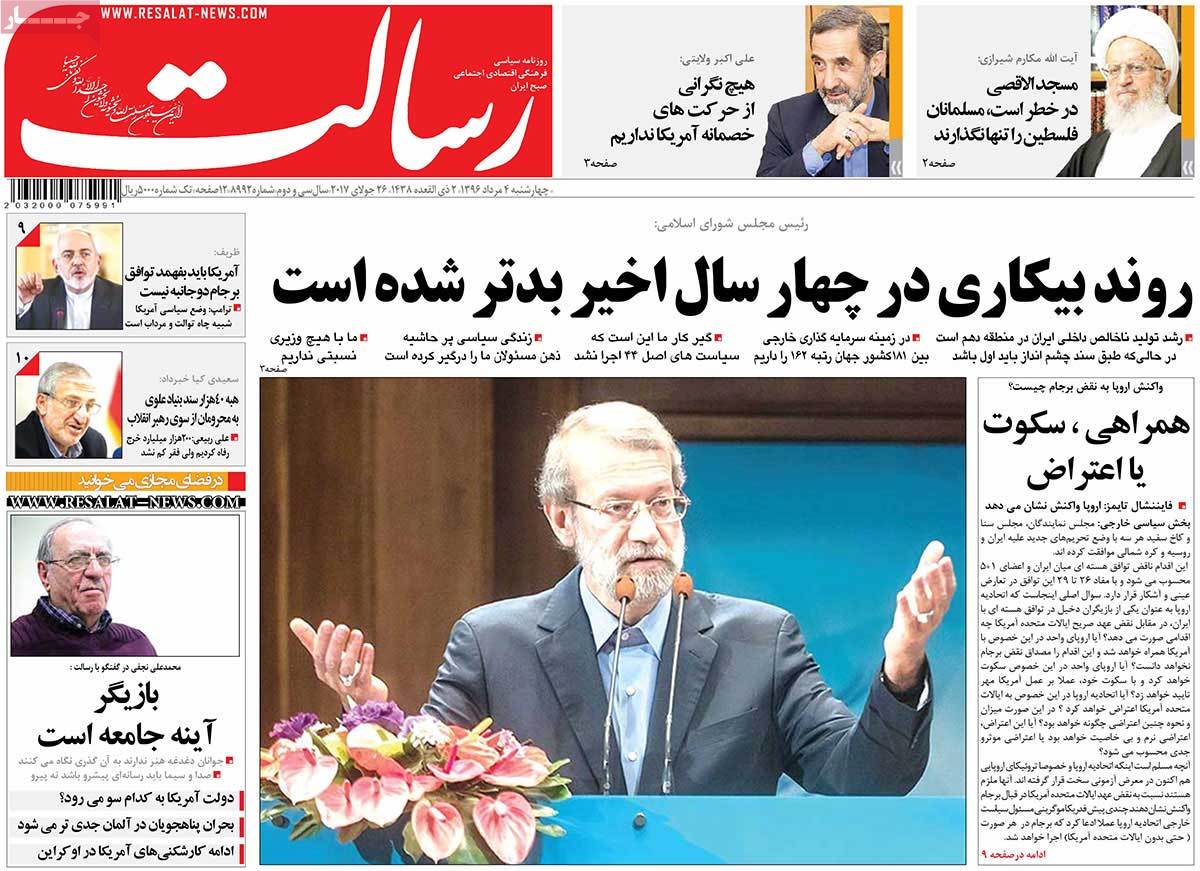 ---
Rooyesh-e Mellat:
1- Harming Oneself: Russian Official Warns US against Putting Moscow under Sanctions
2- IRGC Says It Neutralizes US Vessel' Provocative Move in Persian Gulf
3- Arab Countries Impose New Sanctions against Qatar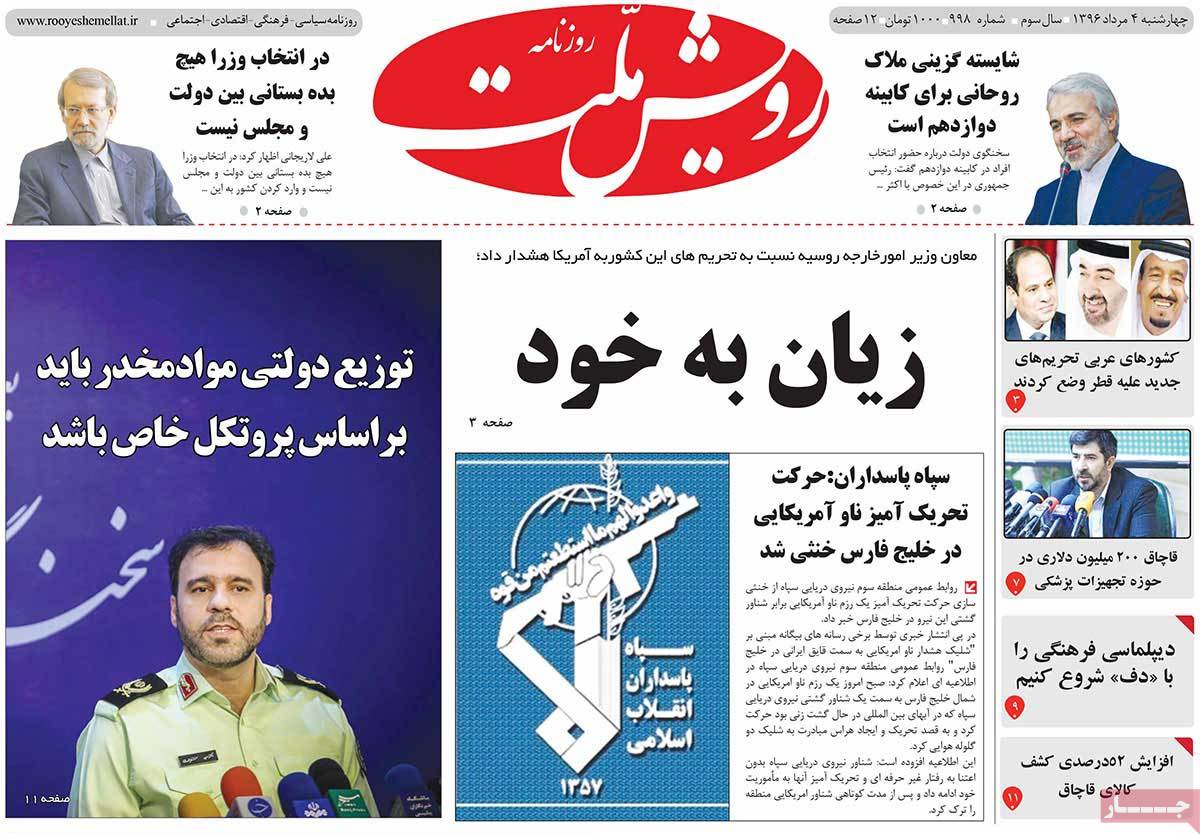 ---
Shargh:
1- First VP: 9 Trillion Rials [over $238m] Allocated to Improving Conditions of Contraband Porters
2- Assets of Tehran Municipality Being Sold at Last Days of Qalibaf's Tenure
3- Larijani: No Give-and-Take between Parliament, Gov't on Next Cabinet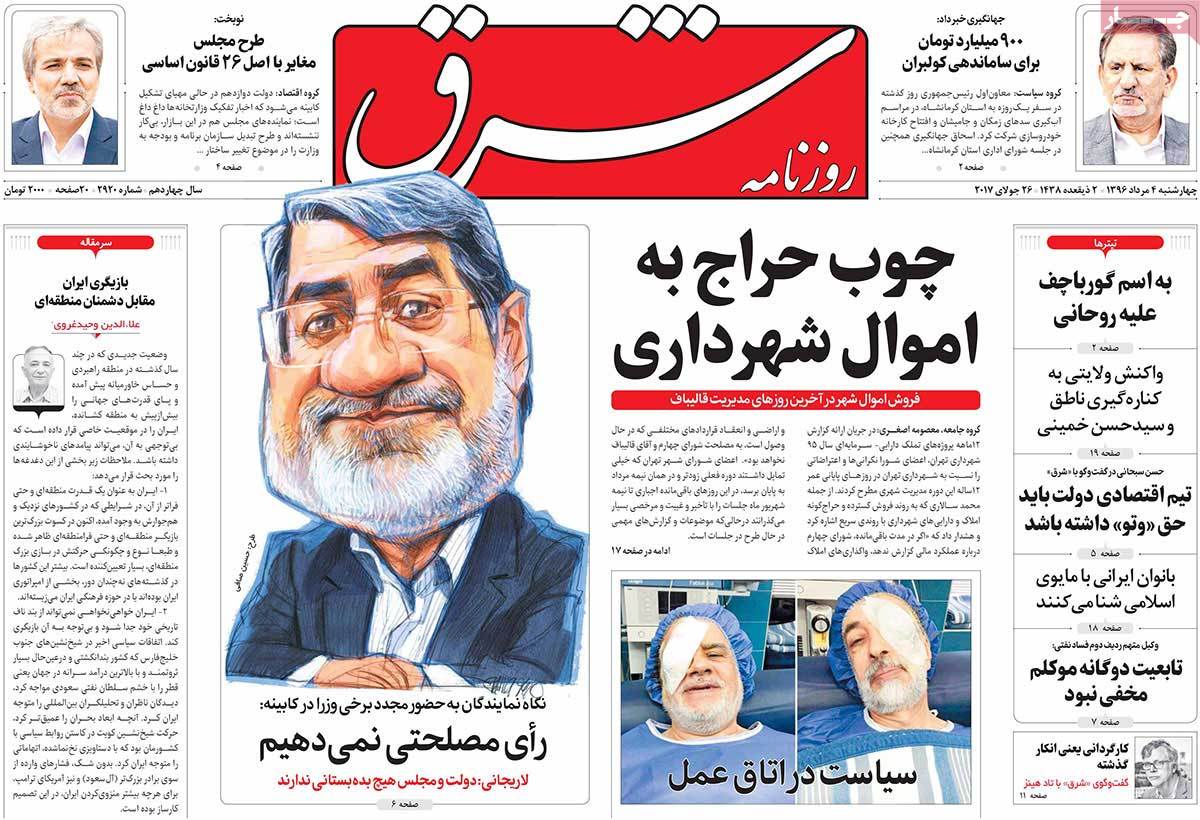 ---
Vaghaye Ettefaghieh:
1- Drought in Northern Iran
Unlike Common Belief, Even Rainy Regions Are in Danger of Drought
2- Minister of Grey Days: A Review of Science Minister Farhadi's Performance