Many newspapers on Saturday covered the recent capture of terrorist elements in southeastern Iran, who had dug a tunnel to explode Iranian military sites.
Only three newspapers, Arman-e Emrooz, Etemad, and Shargh, managed to cover the late night shooting incident in Munich, Germany, in their second prints.
The Turkish President Recep Tayyip Erdogan's crackdown on his opponents also remained a top story.
Newspapers also covered the ongoing conflict between the Iranian government and the Armed Forces over the role of Police in controlling concerts. In an official order, the government said the Police should only control the traffic jam and have no right to interfere in the performances; however, the Armed Forces told the Police to continue its duties.
The above issues as well as many more are covered in the following headlines:
Abrar:
1- Ukrainian President Signs Order for Removal of Anti-Iran Sanctions
2- Saudi FM: We're Worried about Money that Iran Receives
3- Trump Criticizes Arrest of US Sailors and JCPOA
4- US State Dept. Mulling Imprisonment of US Citizen in Iran
---
Abrar-e Eqtesadi:
1- Iran-France Car Cooperation
2- Increase in Level of Iran-Italy Banking Cooperation
3- Government's Serious Resolve in Supporting Domestic and Foreign Investments
4- Lack of Coordination in Iran-Iraq Economic Ties
5- Iran Targets $2bn Exports to Vietnam
6- 16% Increase in Iran's Oil Exports to China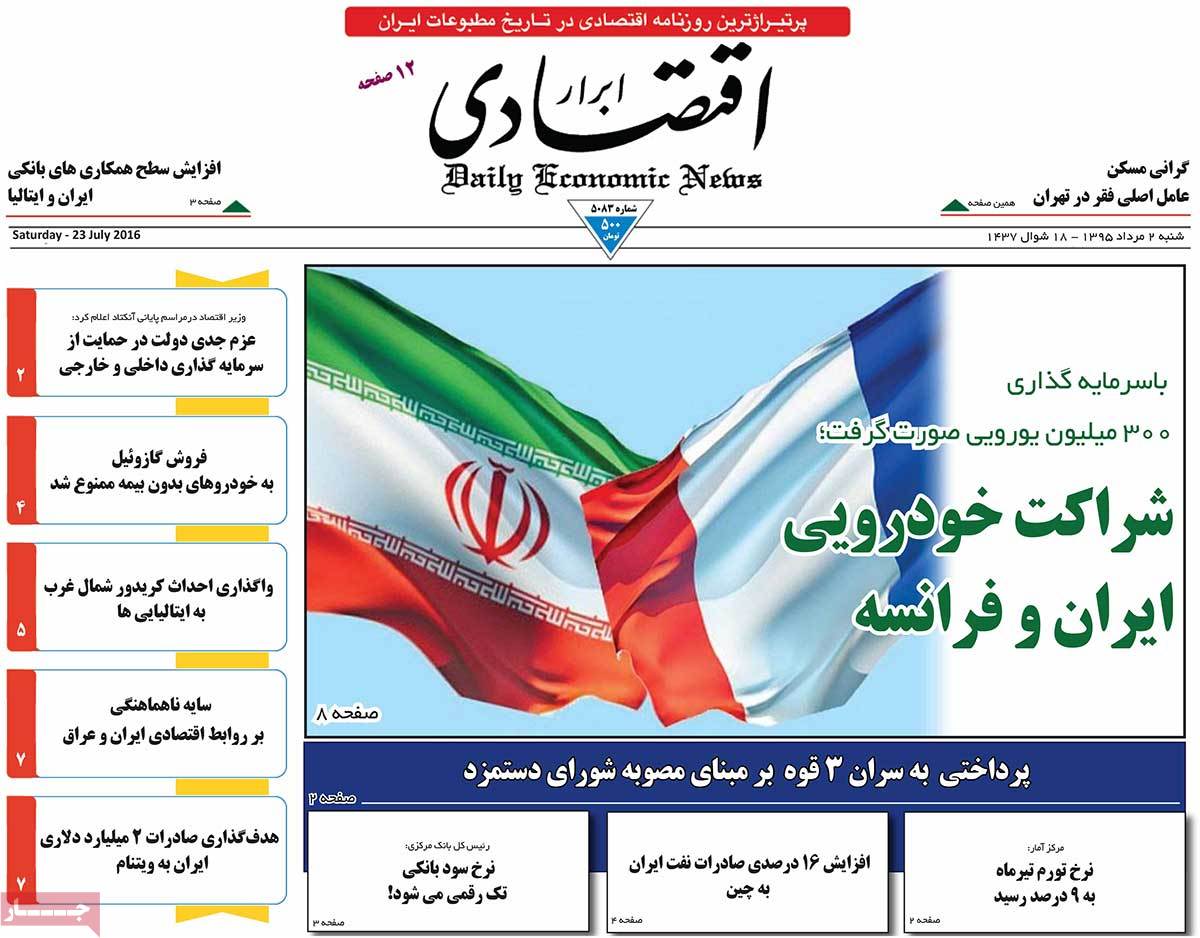 ---
Aftab-e Yazd:
1- Gulen's Dreamy Utopia: Erdogan's Shaky Anatolia
2- 800% Increase in Riyadh's Aid to MKO Terrorist Group: Mousavian
---
Arman-e Emrooz:
1- 40 Arrested in Operation to Seize Terrorist Tunnel
2- Peugeot Signs Deal with Saipa as Well: First Co-Product Slated for 2017
3- Ahmadinejad and His Companions Start Campaigns for 2017 Presidential Elections
4- Shooting in a Shopping Centre in Munich: From 6 to 15 People Dead
5- Senior MP Motahari: We Don't Have Parties [in Our Political System], So a Person Becomes President after Only 2 Years of Being a Mayor [Ahmadinejad]
---
Emtiaz:
1- IRGC Official Elaborates on Explosion of Truck Carrying Ammunition
2- Train Collides with Truck in Mazandaran
3- Armed Forces Spokesman Underlines Need for Confronting Unethical Behaviours in Concerts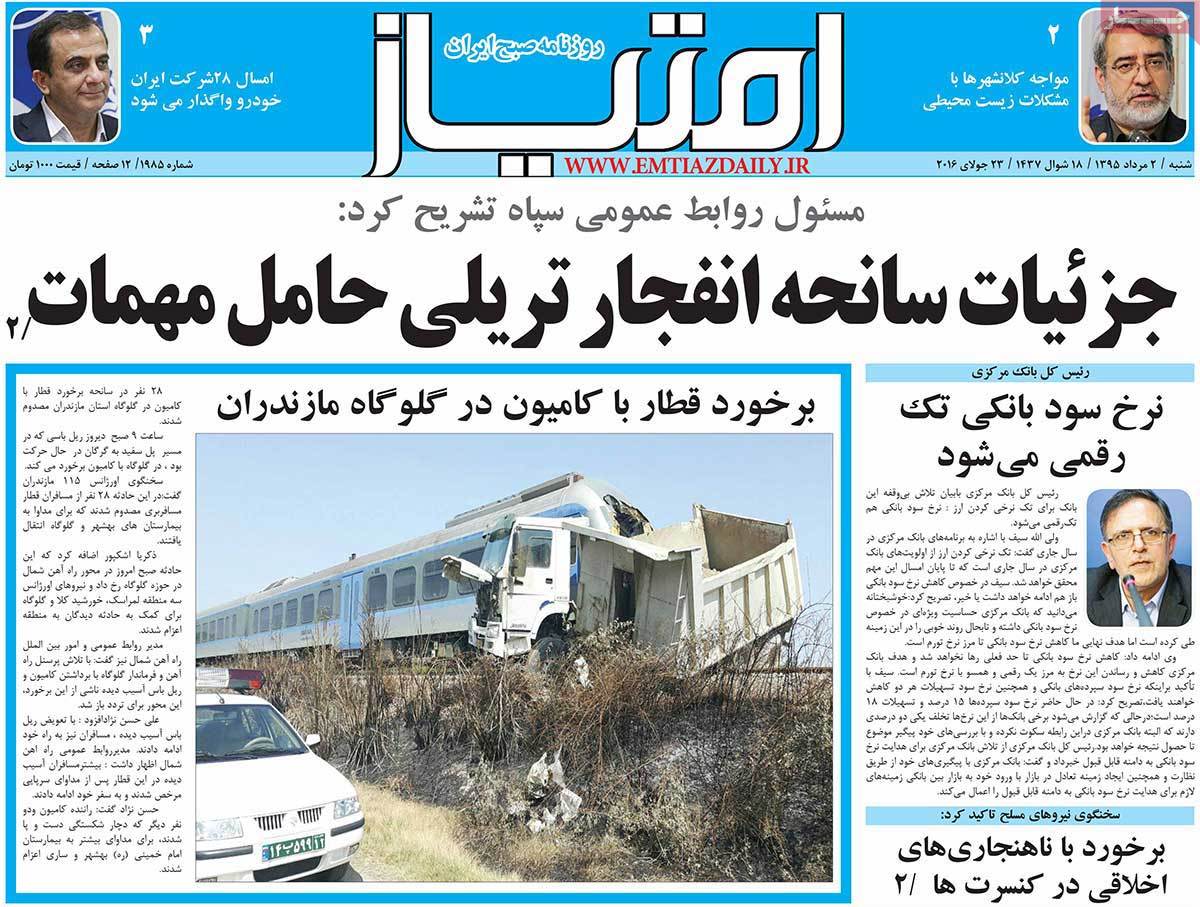 ---
Etemad:
1- Even Communists Can Establish Parties and Be Active in Iran: Vice-Speaker
2- New Station of Terror: Munich
3- Organization of Ahmadinejad Supporters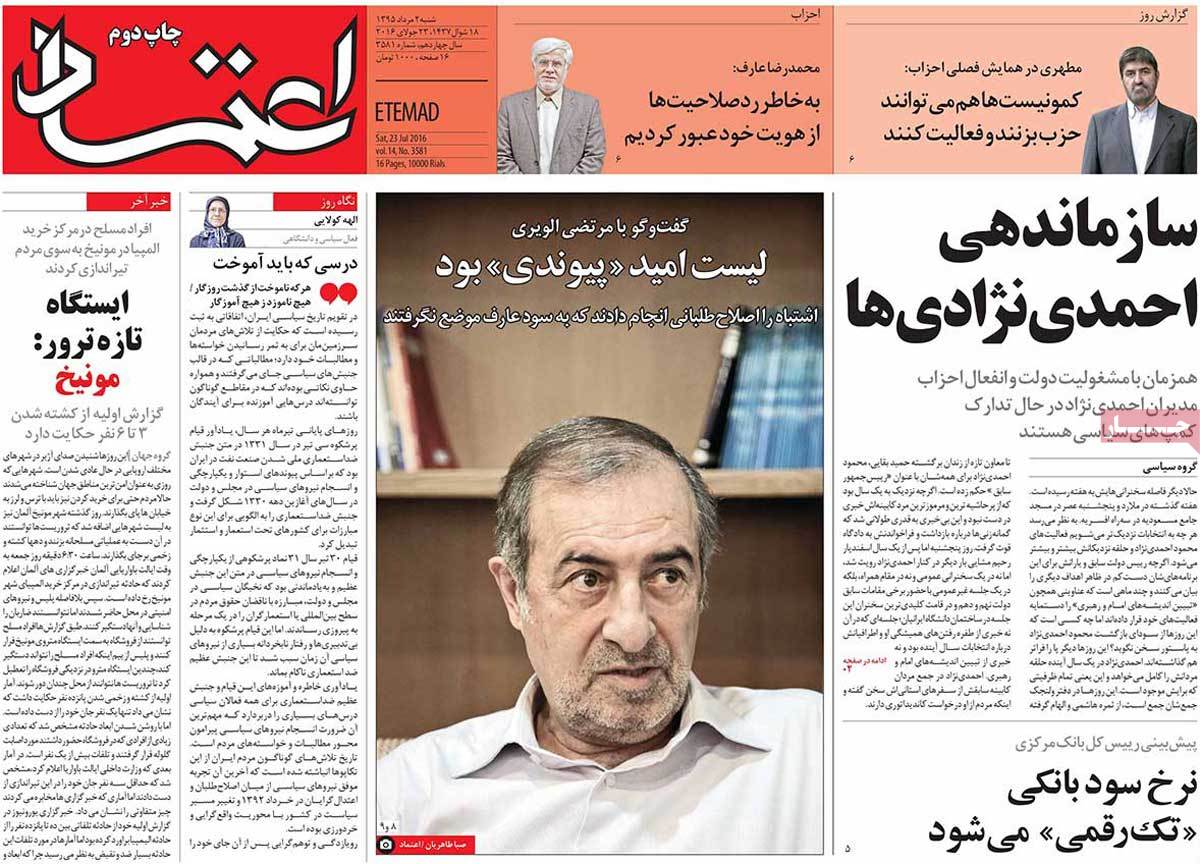 ---
Ettela'at:
1- We Won't Let Terrorists and Bandits Make Any Move inside Iran's Borders: Interior Minister
2- 13 Senior Government Executives Dismissed: Spokesman
3- Inflation Rate in Iran Decreased to 9%
4- Iran's Stability Is Decisive for Regional Security: Velayati
5- Visit of High-Ranking Saudi Delegation to Israel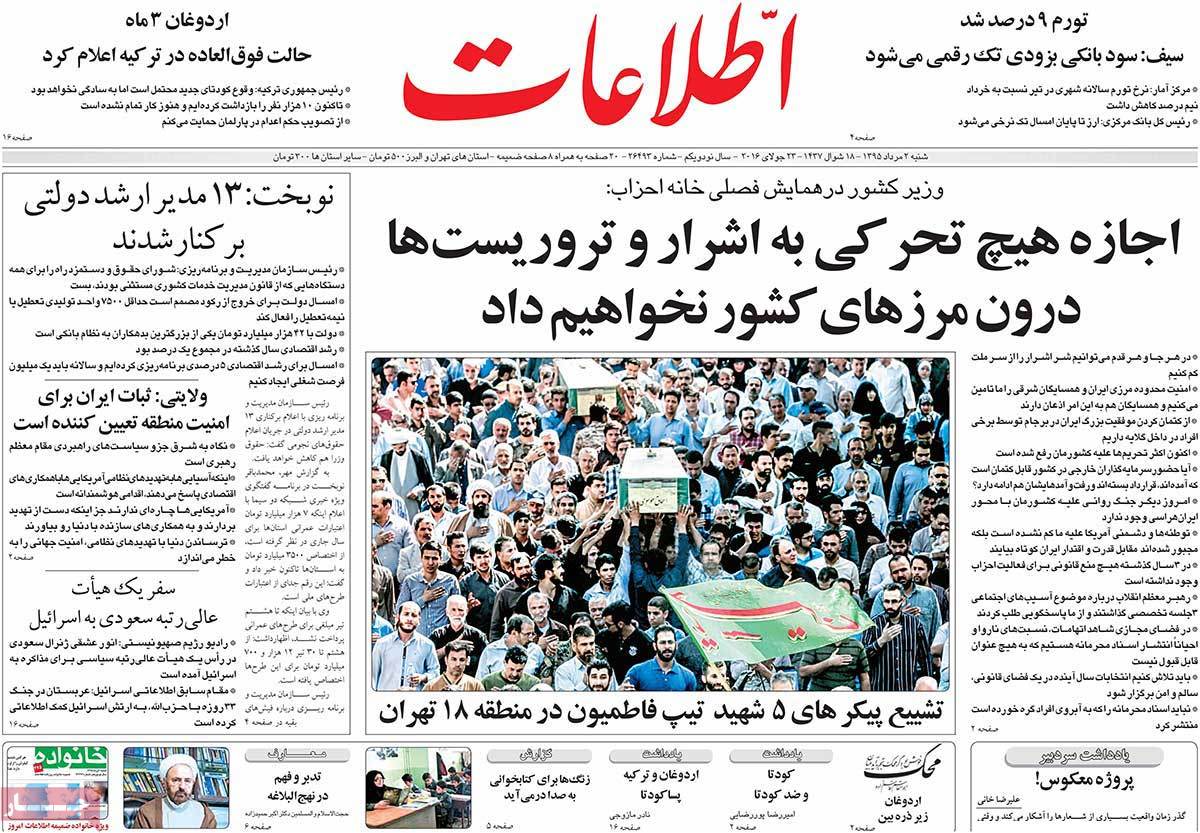 ---
Haft-e Sobh:
1- Scarcity of iPhone in Iran's Market
2- Iranian Weight-Lifter Bahador Moulaei Wounded in Car Accident
3- Police Discovers 40m Tunnel Dug by Terrorists in Southeastern Iran
4- Young Iranian Dies in Turkey-Bulgaria Border
5- Democrats Will Win US Elections through "Game of Thrones"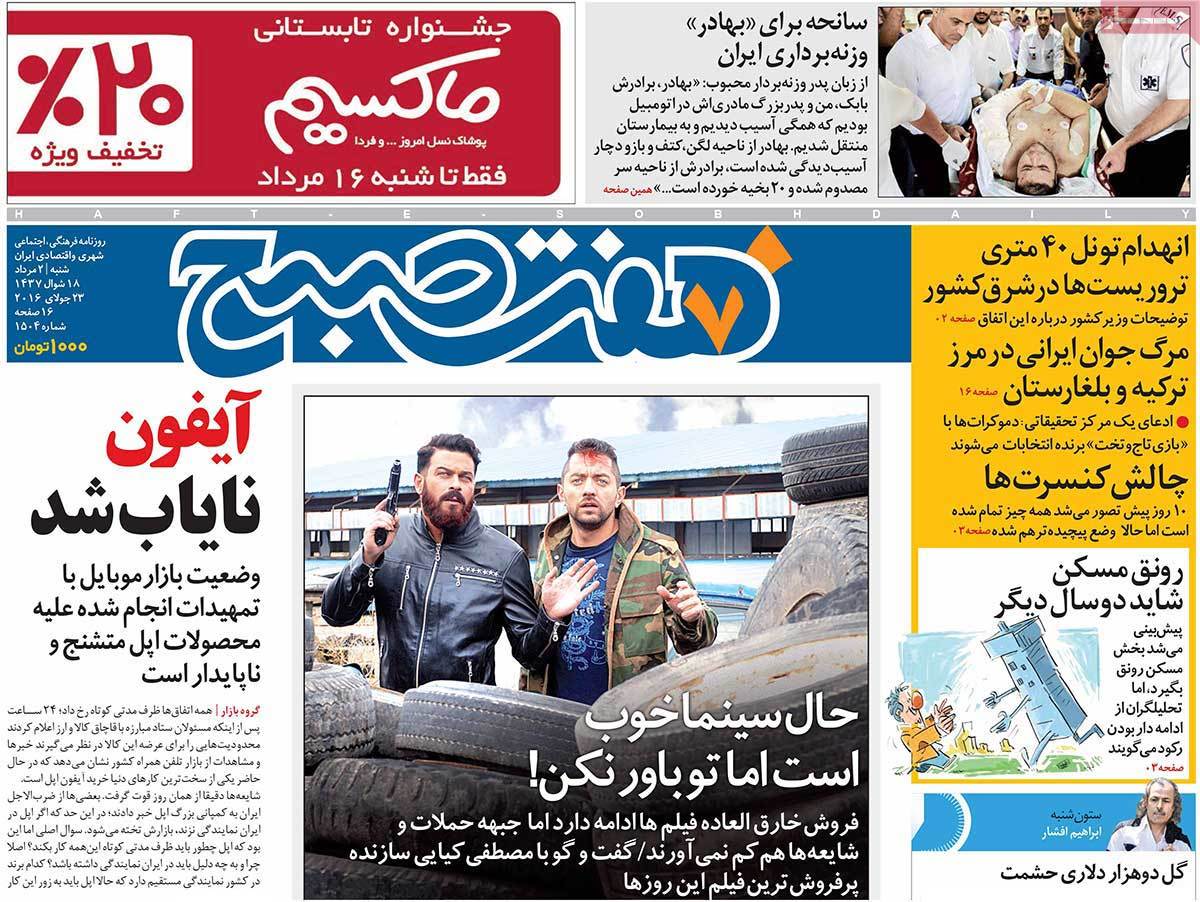 ---
Hamshahri:
1- West's Silence [over moderate rebels' beheading of 12-year-old Syrian boy] Is Deafening: FM Zarif
2- Entire Iranian Car Market Offered to Peugeot
3- Political Suicide of American Elephants [GOP]
4- $60bn Court Verdicts against Iran
5- Visiting Prisoners on the Internet: Next Year, a Plan Will Be Implemented Based on Which Families of Prisoners Can Visit Them Online, Of Course Not for Free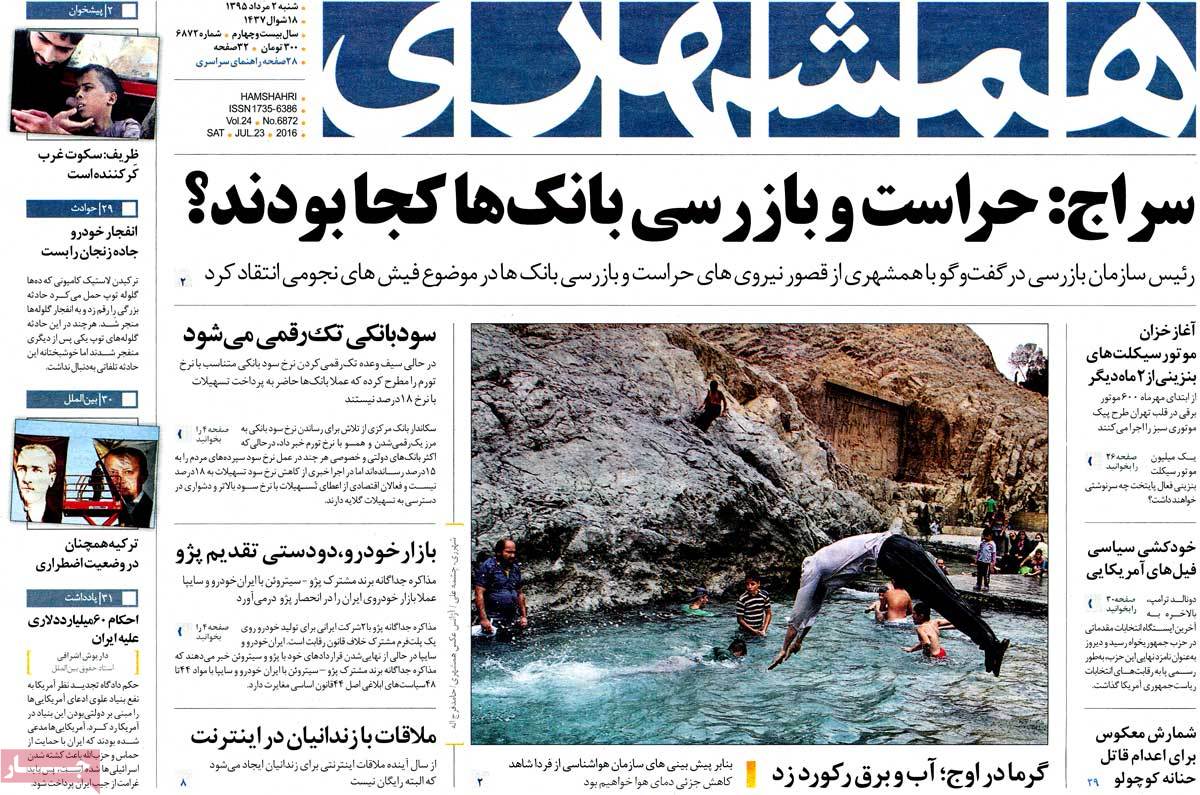 ---
Iran:
1- Saipa and Citroen Sign €300m Deal to Manufacture Co-Produced Car
2- President Rouhani Will Soon Brief People on Astronomical Salaries: Spokesman
3- Record-Breaking Power Consumption in Iran: 52,692MW in 1 Day
4- Concert Supervision Bill Legally Approved by Government Faces Troubles in Implementation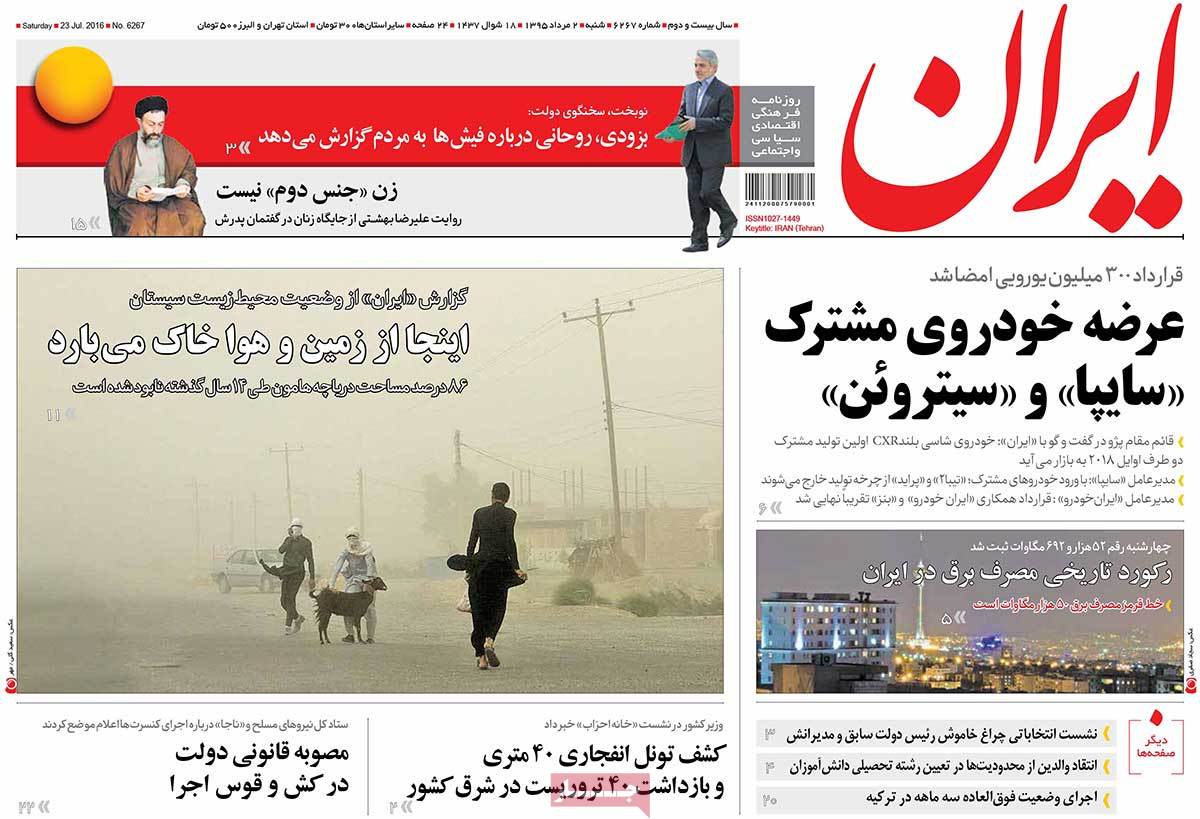 ---
Javan:
1- Only 2% of Iran's Economy Is Knowledge-Based
2- Basij Commander Slams Oil Contracts and Boeing Deal as "Disasters"
3- Former MP Urges Rouhani to Put Offending Executives on Trial
4- Trump Vows to Bring Back to US the Greatness Challenged by Iran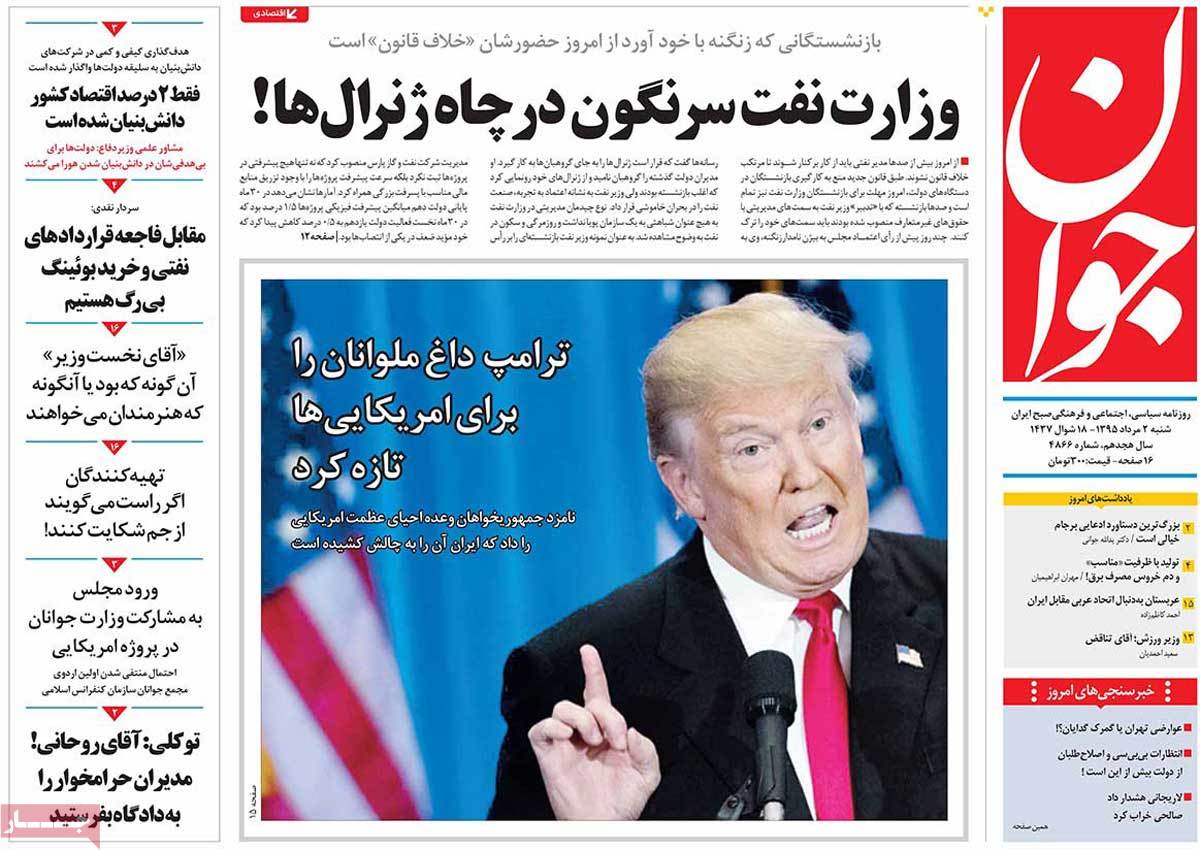 ---
Jomhouri Eslami:
1- US Court Reverses Order to Sell Iranian Assets to Compensate 9/11 Victims
2- Power Ministry Warns against Huge Increase in Water and Power Consumption in Iran
3- Global Criticism of Erdogan's Crackdown on Opponents and Violation of Human Rights in Turkey
4- Saudi Jet Fighters Bomb Friday Prayers in Ta'iz, Yemen
5- Blood Bath in Kashmir: New Round of Popular Strikes to Begin Today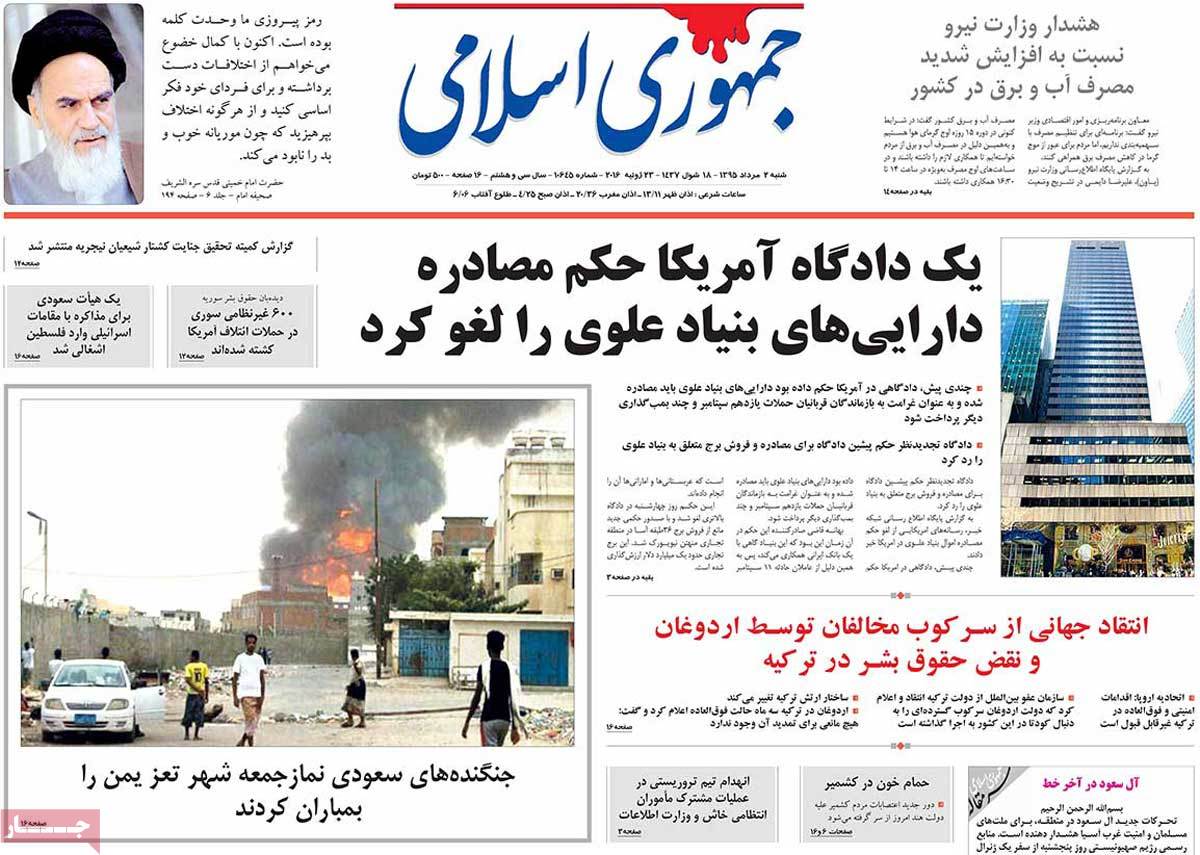 ---
Kayhan:
1- People Long for Fight against Corruption: Judiciary Should Start the Fight
2- $1bn of Iran's Income Annually Lost in Free Trade Zones
3- Boots of Occupiers and Innocent Lives in Kashmir
4- 82 to 97 per cent of Terror Victims Are Muslims: US Dept.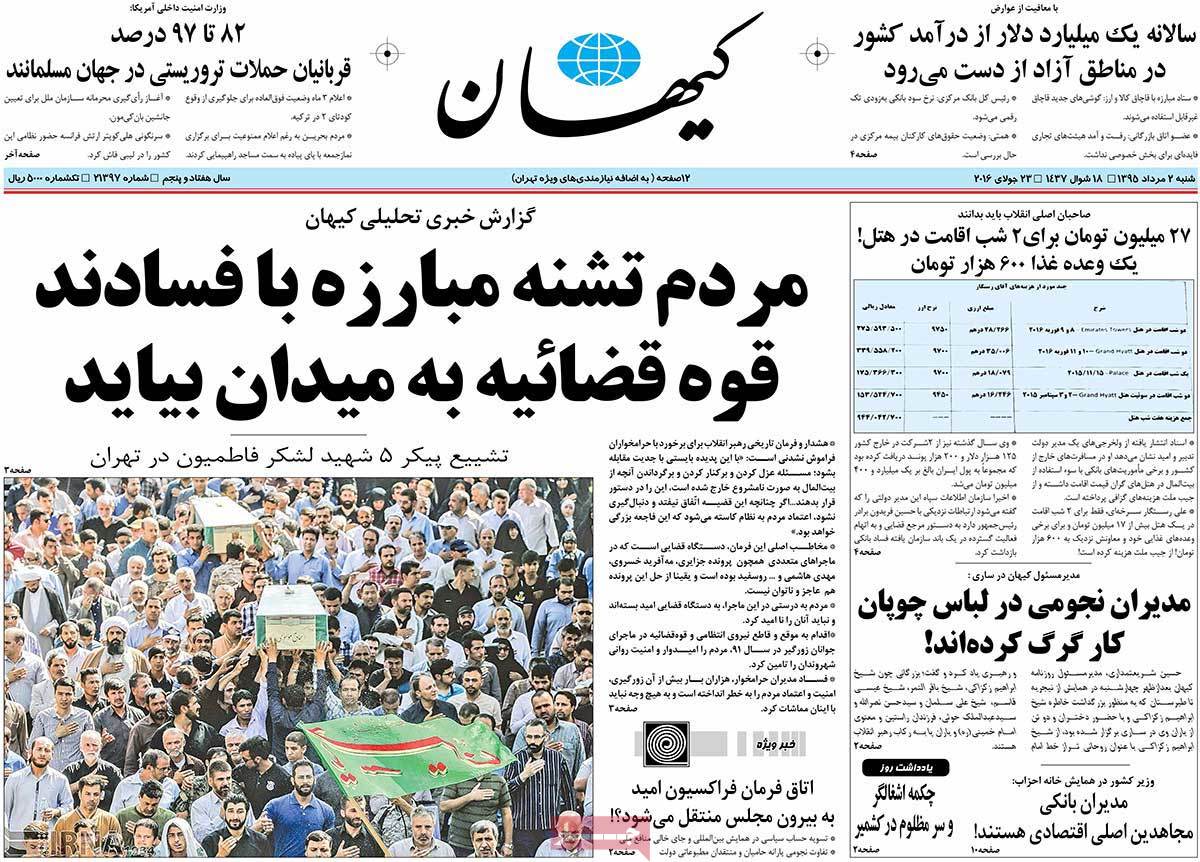 ---
Khorasan:
1- Barbarism of Moderates! US-Backed Syrian Free Army Behead 12-Year-Old Kid
2- Sultan until Further Notice: What Turkey Looks Like in State of Emergency?
3- Indirect Apple Stores Shut Down in Iran
4- The Hero Lost in History Is Found: Interview with Family of a Man Who Saved 30 Children in 1950 Mashhad Flood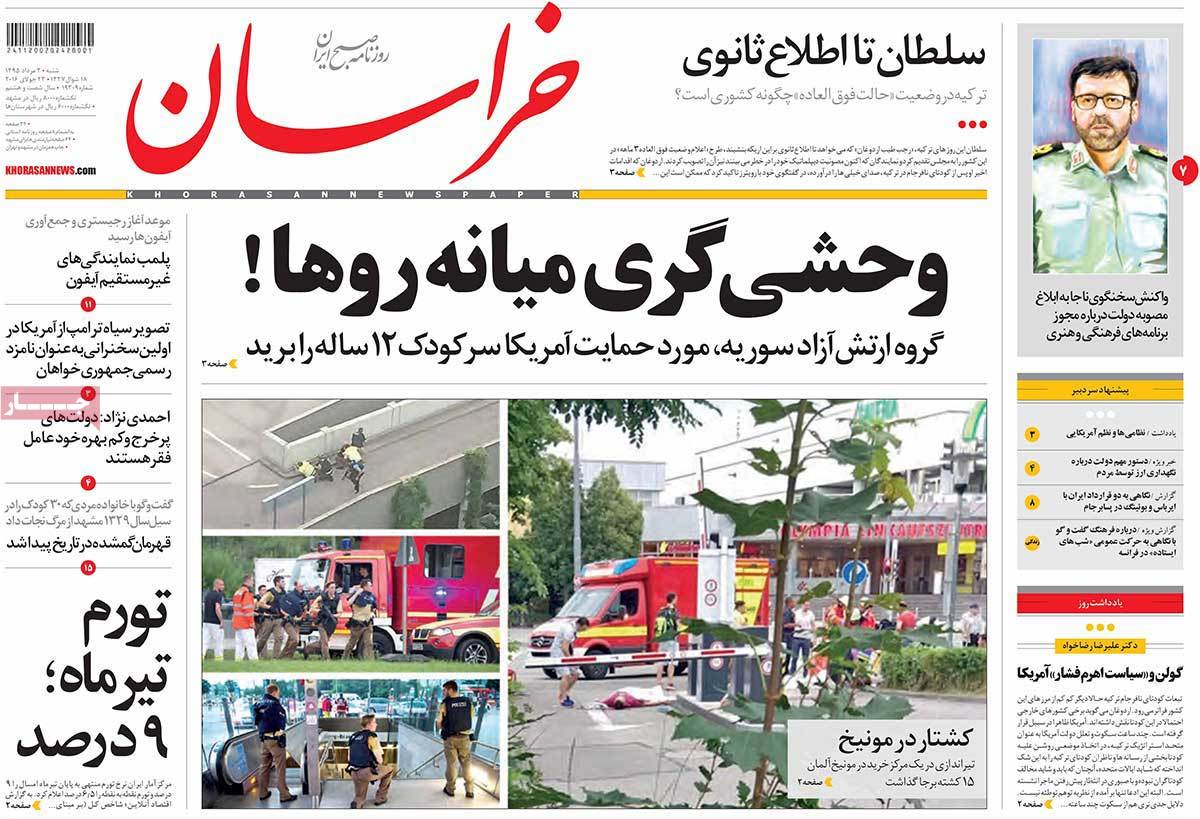 ---
Resalat:
1- We Shouldn't Forget about Modern Needs of Muslim World
2- Where JCPOA Is Heading to: Why President Doesn't Respond to USA's Excessive Demands?
3- Government Not Complying with Hijab [Islamic dress code] Law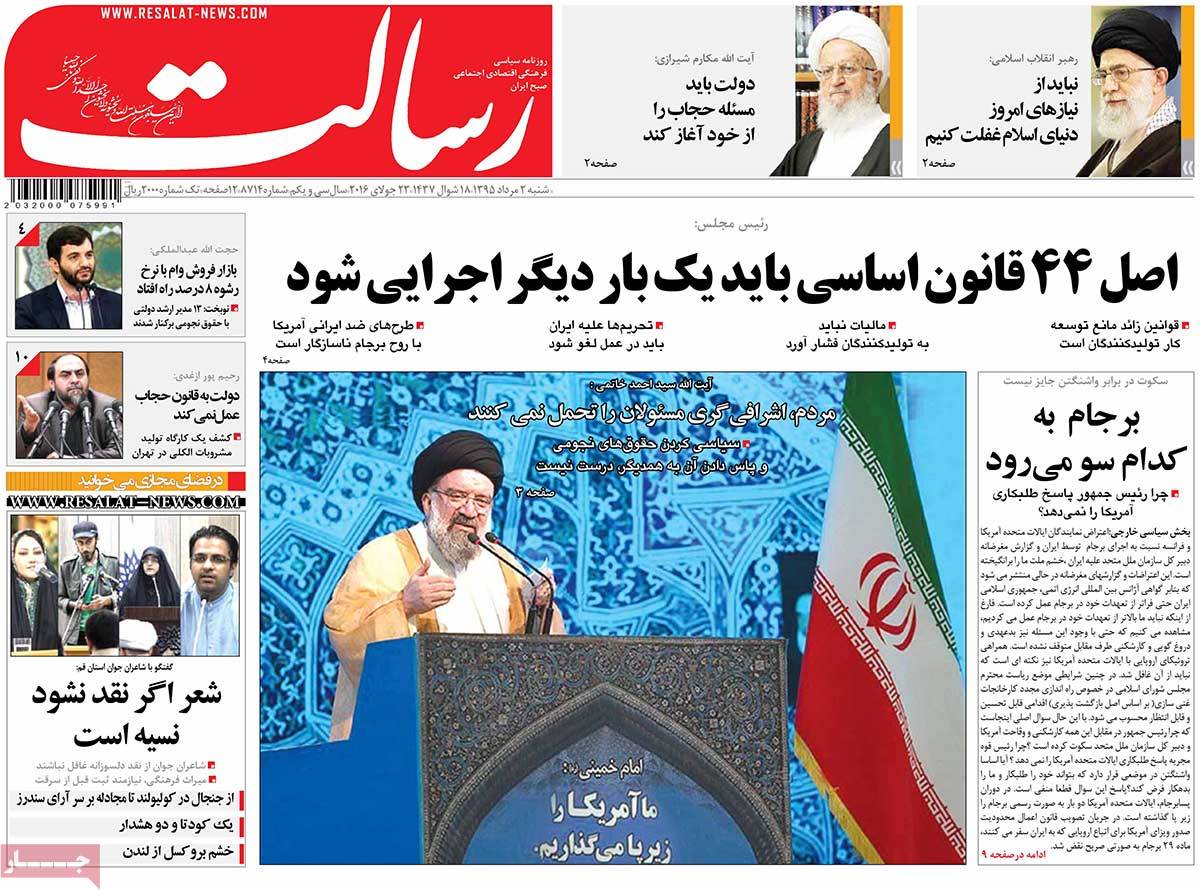 ---
Roozan:
1- I'll Disclose Documents on Ahmadinejad's Huge Violations of Law to the Court: MP
2- Iran's Law Enforcement to Continue Its Duties on Concerts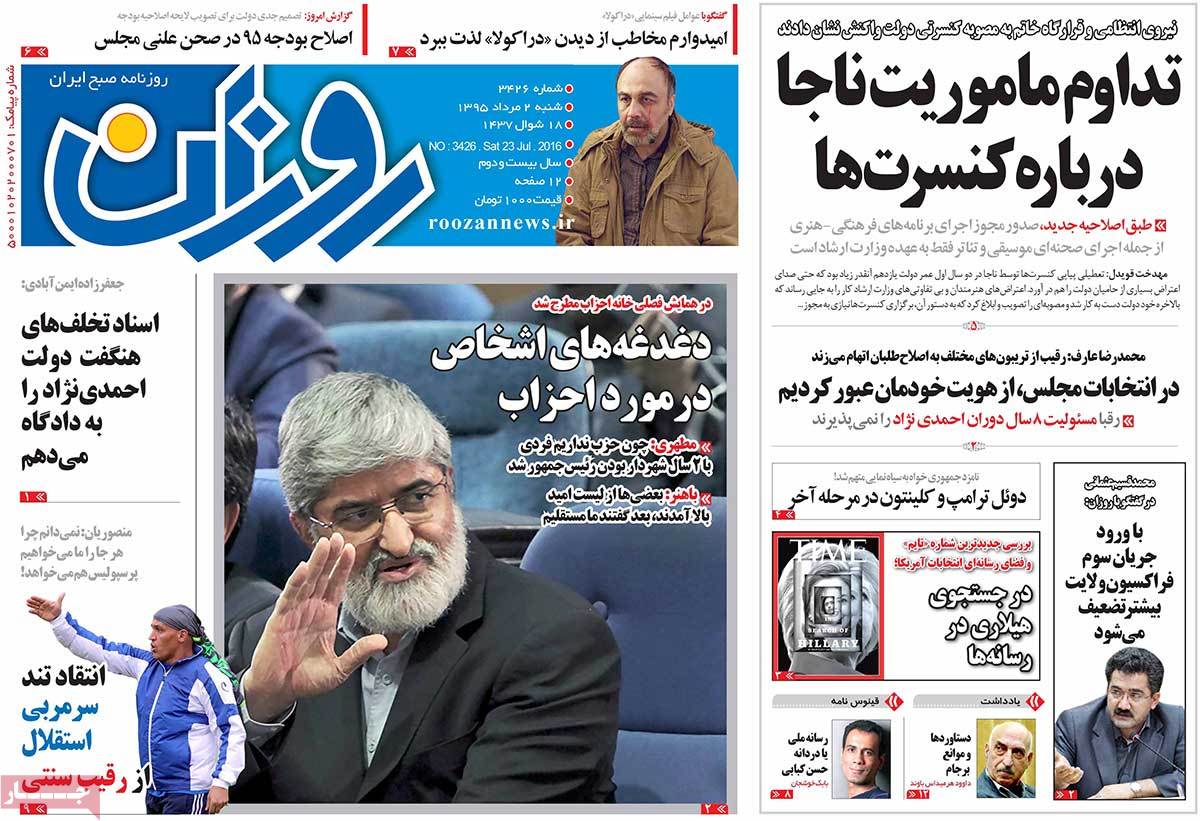 ---
Sepid:
1- Hepatitis C to Be Eradicated by 2031
2- How to Deal with Patients Suffering a Stroke: The Golden 270 Minutes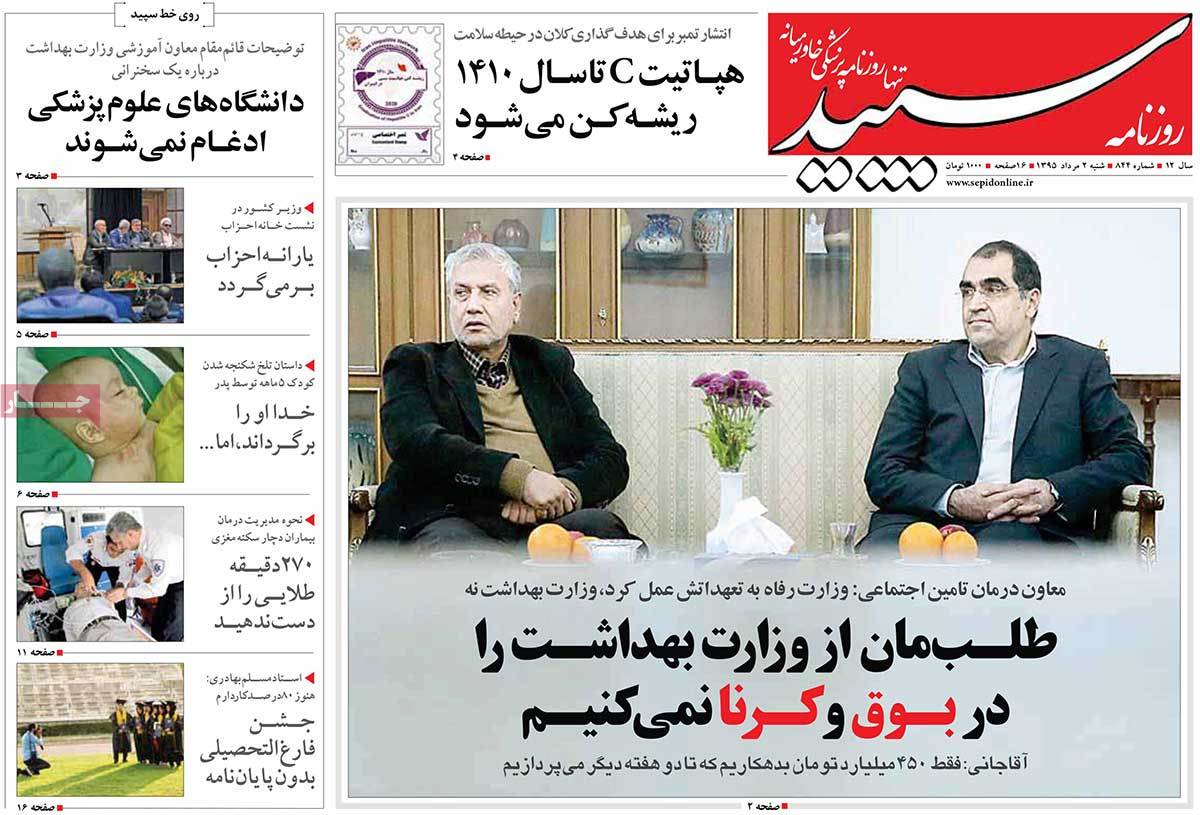 ---
Shahrvand:
1- 250,000 Iranians Suffering from Hepatitis C: Only 60,000 Identified, Others Don't Know They Have the Disease
2- Tehran's Historical Tiles Sold by Antiquity Dealers
3- Donations to the Environment: People Warmly Welcome a Ranger's Plan for Helping the Wild
4- Prisoners of Love: Reasons for Increase in Number of Men Imprisoned for Mahr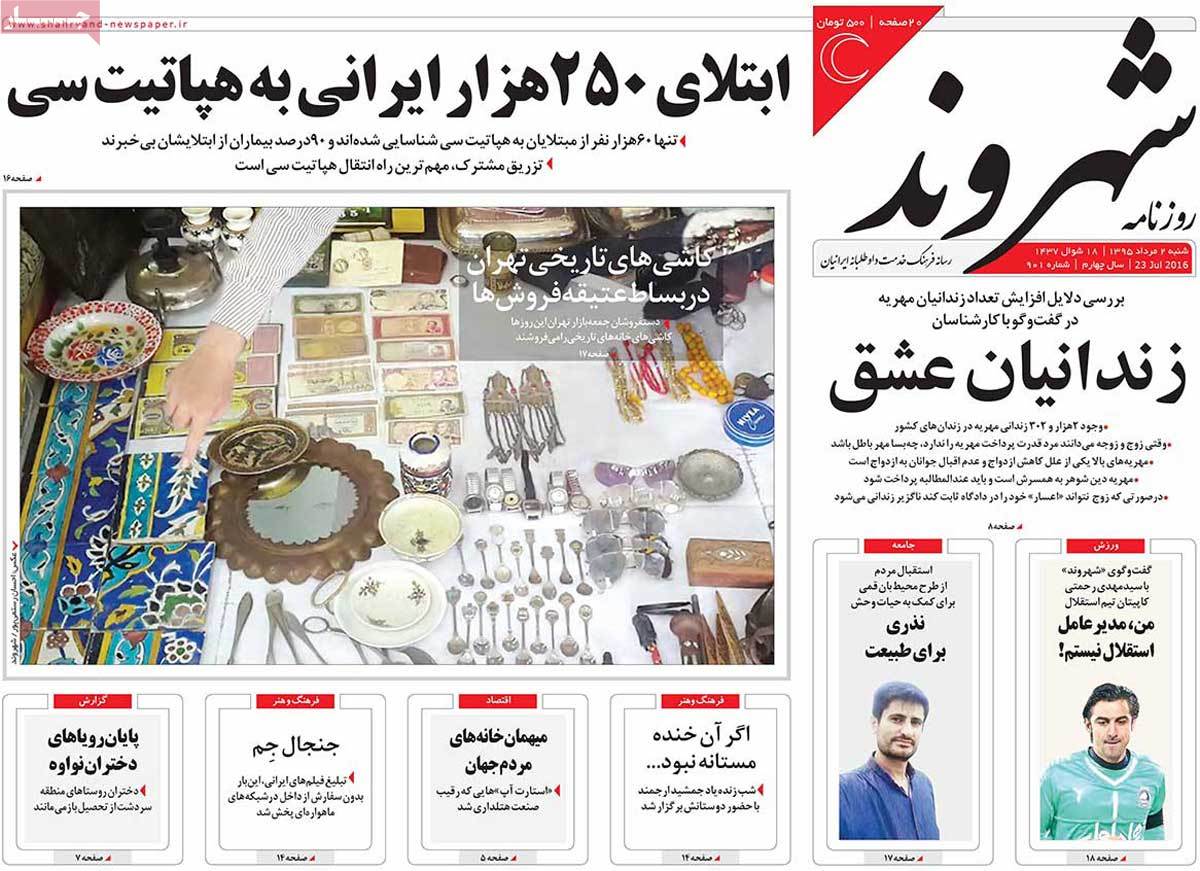 ---
Shargh:
1- Fear in Heart of Germany: Terrorist Operation, This Time in Munich
2- 2 Analysts Discuss Whether Iranian People Are Racist
3- Powerful Erdogan a Barrier to Iran's Gas Diplomacy
4- Congestion of Conservatives against Rouhani
---
Sobh-e Now:
1- First Iranian President Serving Only One Term: Predictions Say Rouhani Won't Be Re-Elected
2- Ping-Pong Game between Government and Police [on issue of concerts]
---
Vaghaye Ettefaghieh:
1- What Inflation Rate Says: Decrease to 9% and Its Contradiction with Iran's Economic Conditions
2- Concerns over Future of Democracy in Iran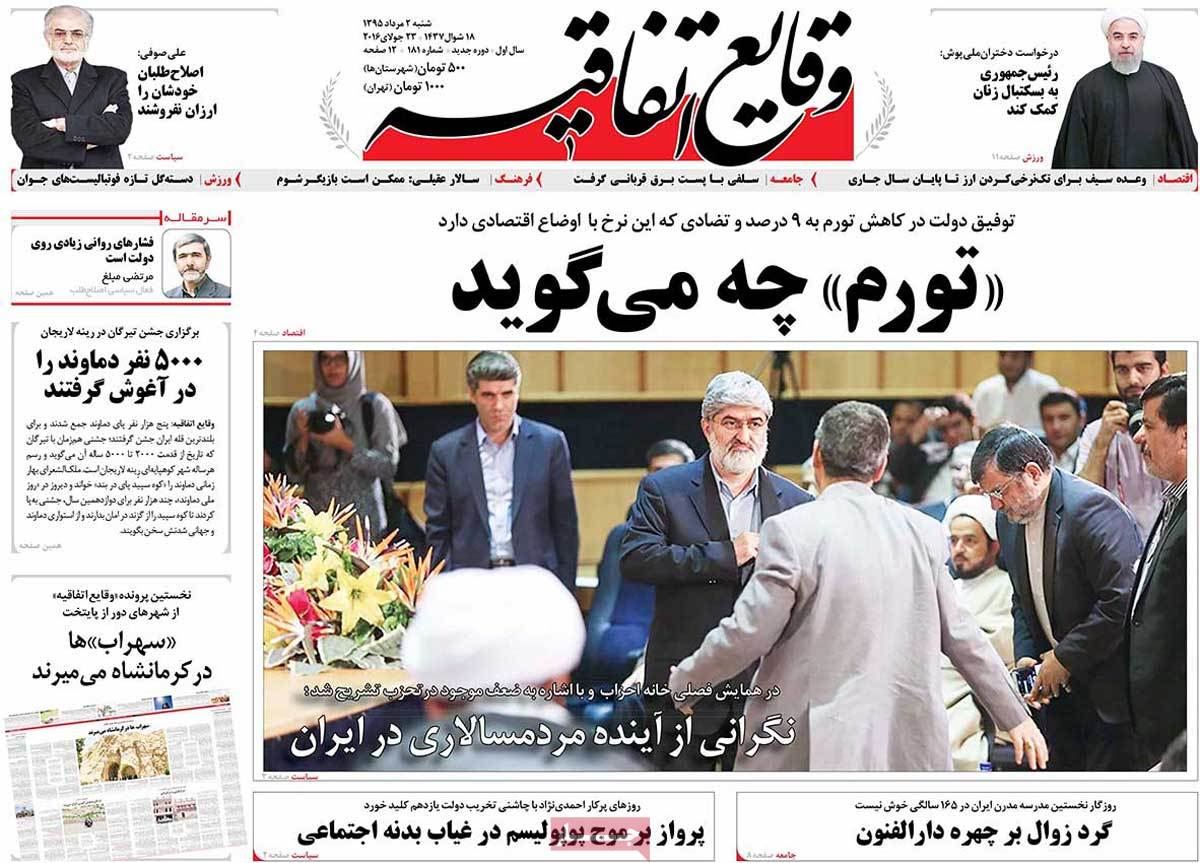 ---
Vatan-e Emrooz:
1- Latest Anti-Iran Remarks by Saudi FM Jubeir: We Can't Tolerate Iran!
2- Western Terrorists: Attacks Will Go on!
3- Trump Attacks Clinton's Foreign Policy: Expansionist Policies Are Enough!
4- Turkey to Bid Farewell to EU: Erdogan's Civilian Coup