Newspapers today widely covered a letter penned by the conservative mayor of Tehran Mohammad Baqer Qalibaf in criticism of his fellow right-wingers for their mistakes. In his letter addressed to young 'revolutionaries', Qalibaf raised the issue of starting 'neo-conservatism' in Iran.
Another top story was the remarks made by Iranian Deputy Foreign Minister Seyyed Abbas Araqchi in response to the White House's statement on US prisoners. Araqchi urged Washington to immediately release Iranian prisoners held in the US.
Iranian papers also highlighted the country's launch of a line for mass production of a long-range air defence missile named Sayyad 3.
The above issues, as well as many more, are highlighted in the following headlines and top stories:
Abrar:
1- Iraqi Kurds Set 9 Preconditions for Cancelling Their Referendum
2- 'Islamic Turkey' to Get More Dangerous than 'Islamic Iran'!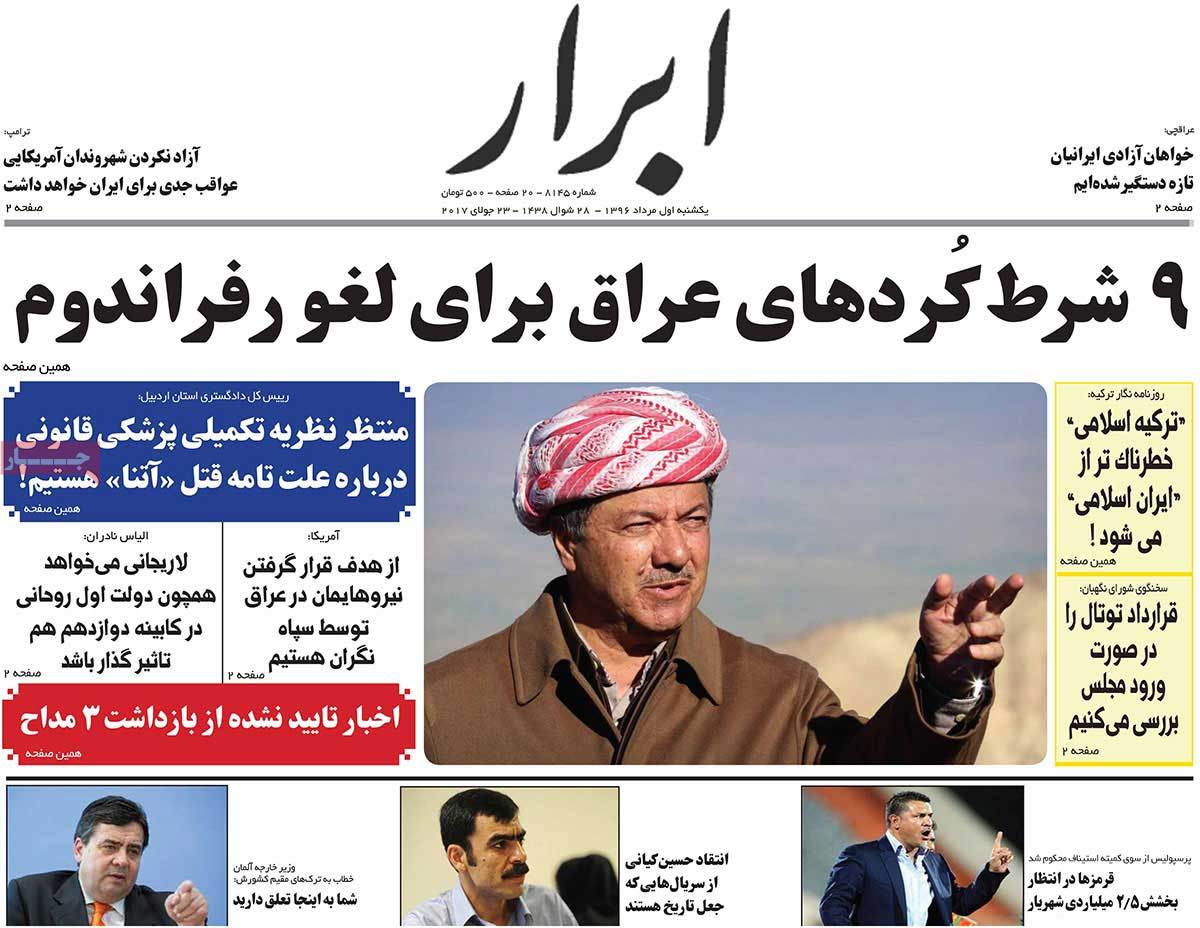 ---
Afkar:
1- Qalibaf: Conservatives Should Start Neo-Conservatism in Iran
---
Aftab-e Yazd:
1- Plots Underway to Imply Rouhani Has Conflict with Reformists
2- Conservative: Right-Wingers Can Bring Rouhani to Their Own Camp If They're Smart
---
Arman-e Emrooz:
1- Renowned Filmmaker: We Shouldn't Hide Child Abuse Crisis
2- Iran Responds to US Threat: Iranian Prisoners Should Be Released Immediately
---
Asrar:
1- Russia: Removal of Unilateral Anti-Iran Sanctions Part of JCPOA Commitments
2- Deputy Oil Minister: Barriers to Export of Petchem Products to China Removed
3- Velayati Advises Kuwait against Putting Its Interests under Saudi Influence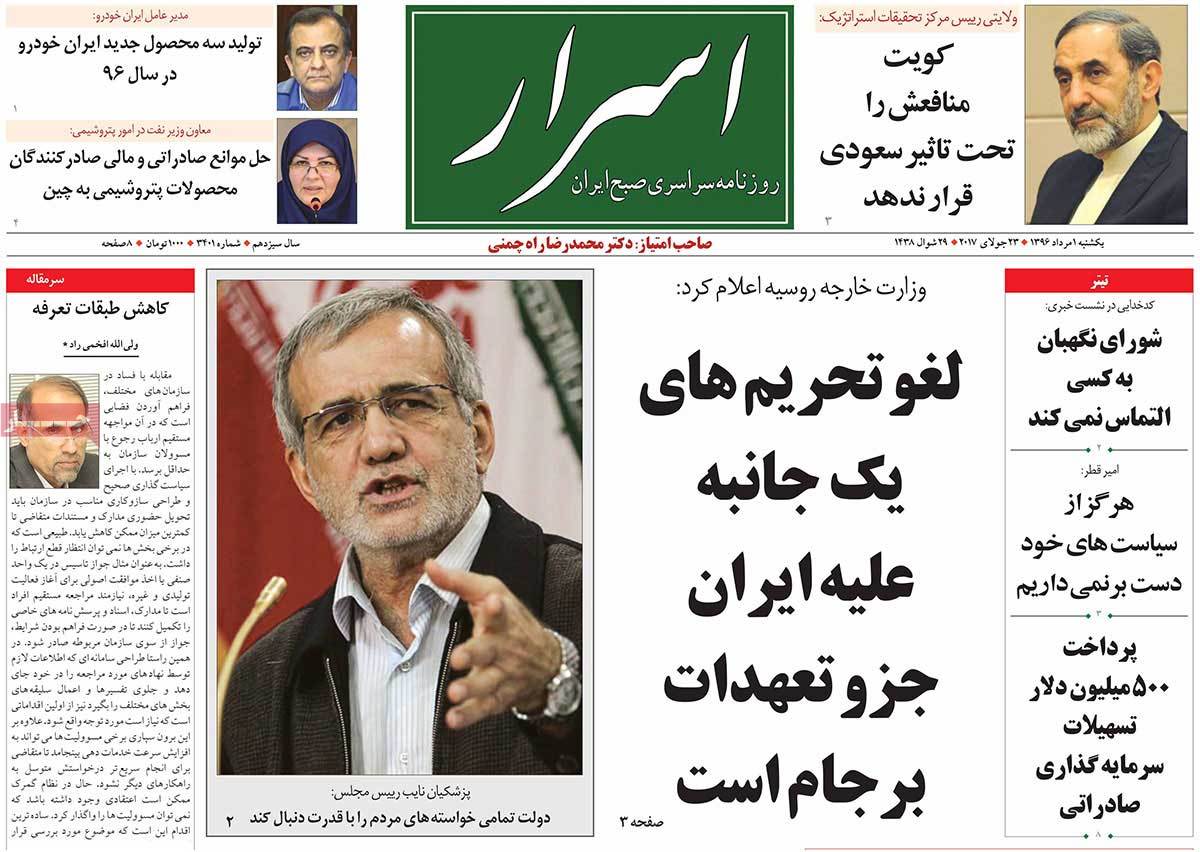 ---
Emtiaz:
1- Oil Minister: 33 MoUs Signed after JCPOA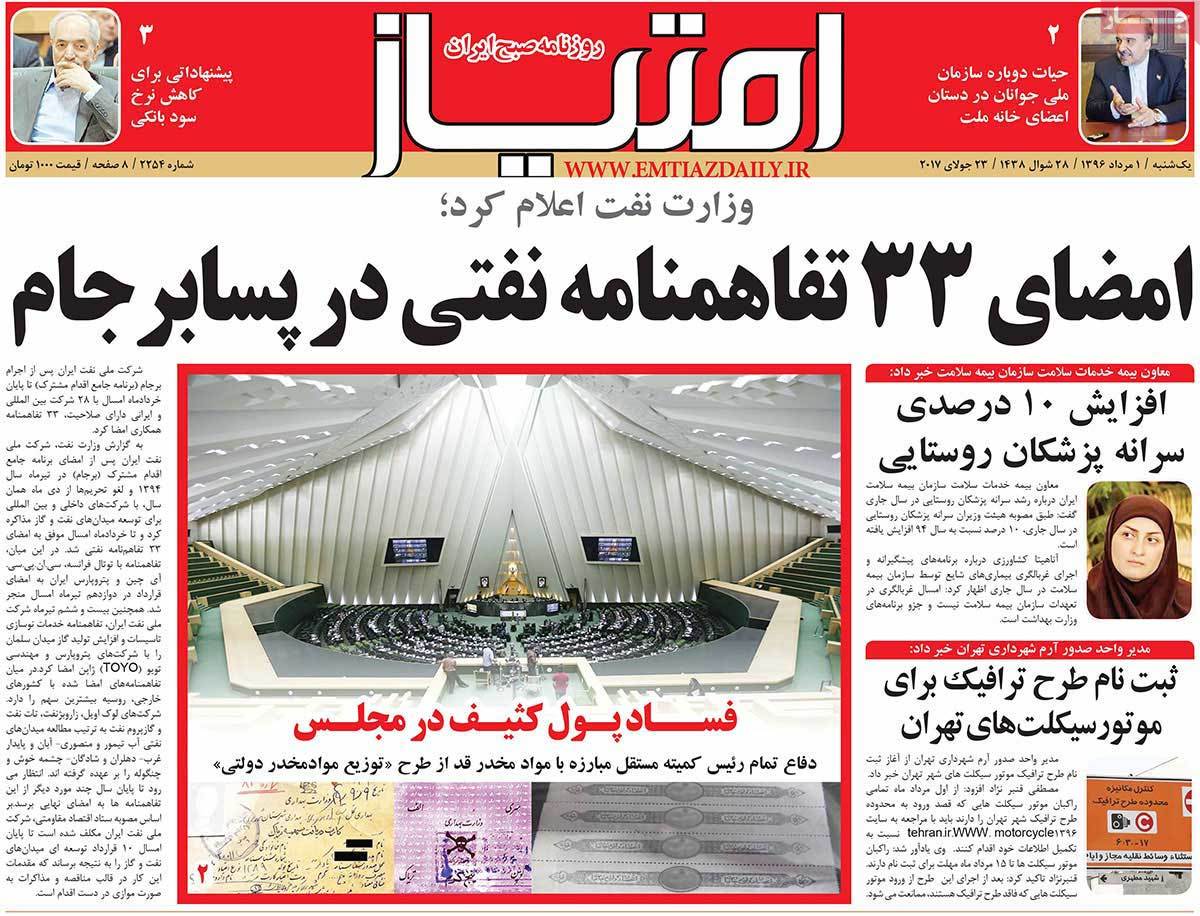 ---
Etemad:
1- Tillerson, First Victim of Trump's Anti-Iran Policies
US President Assign New Team to Review Iran Nuclear Deal
2- Qalibaf Says He Wants to Reconstruct Conservatism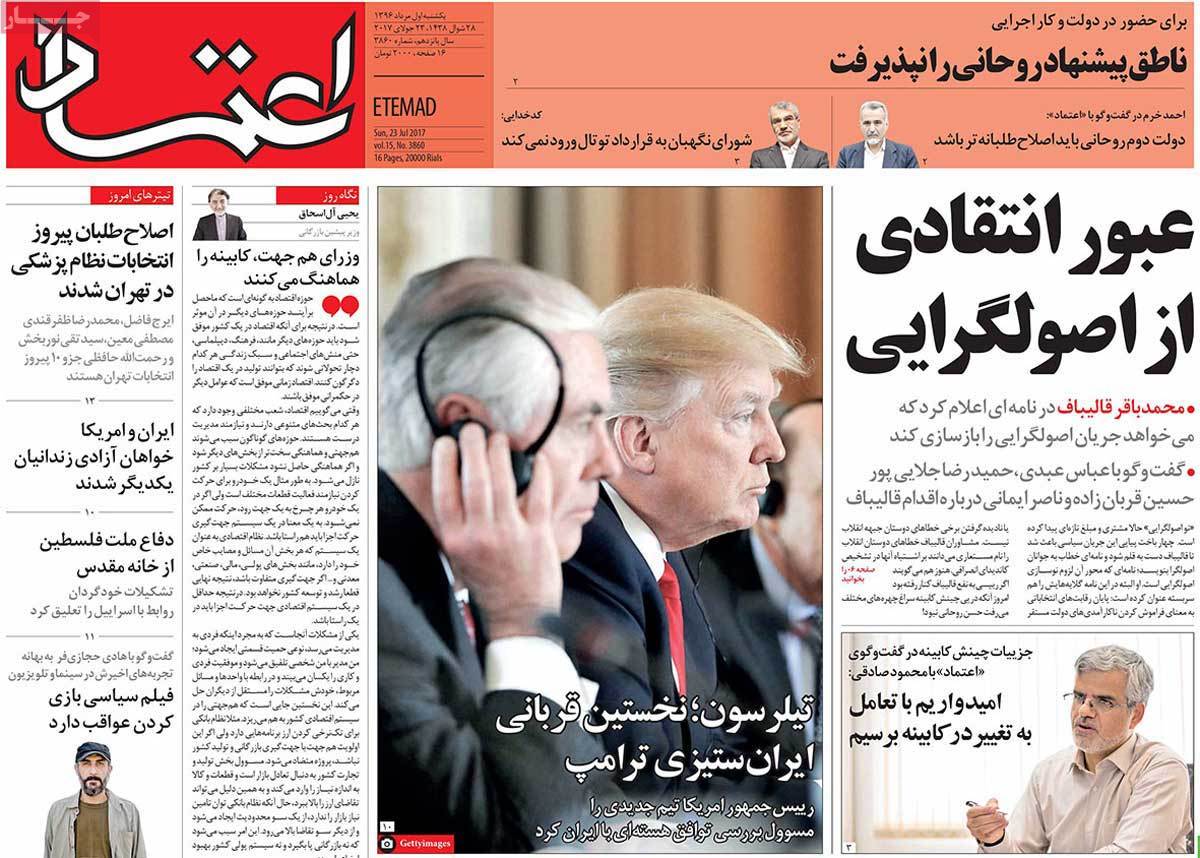 ---
Ettela'at:
1- Foreign Ministry Urges US to Immediately Release Iran Prisoners
2- Iranian Army's Air Defence Equipped with Long-Range Missile Sayyad 3
3- Iran Ex-FM: US Withdrawal from JCPOA Iran's Redline
4- Qatari Emir: We'll Never Give in to Saudi Pressures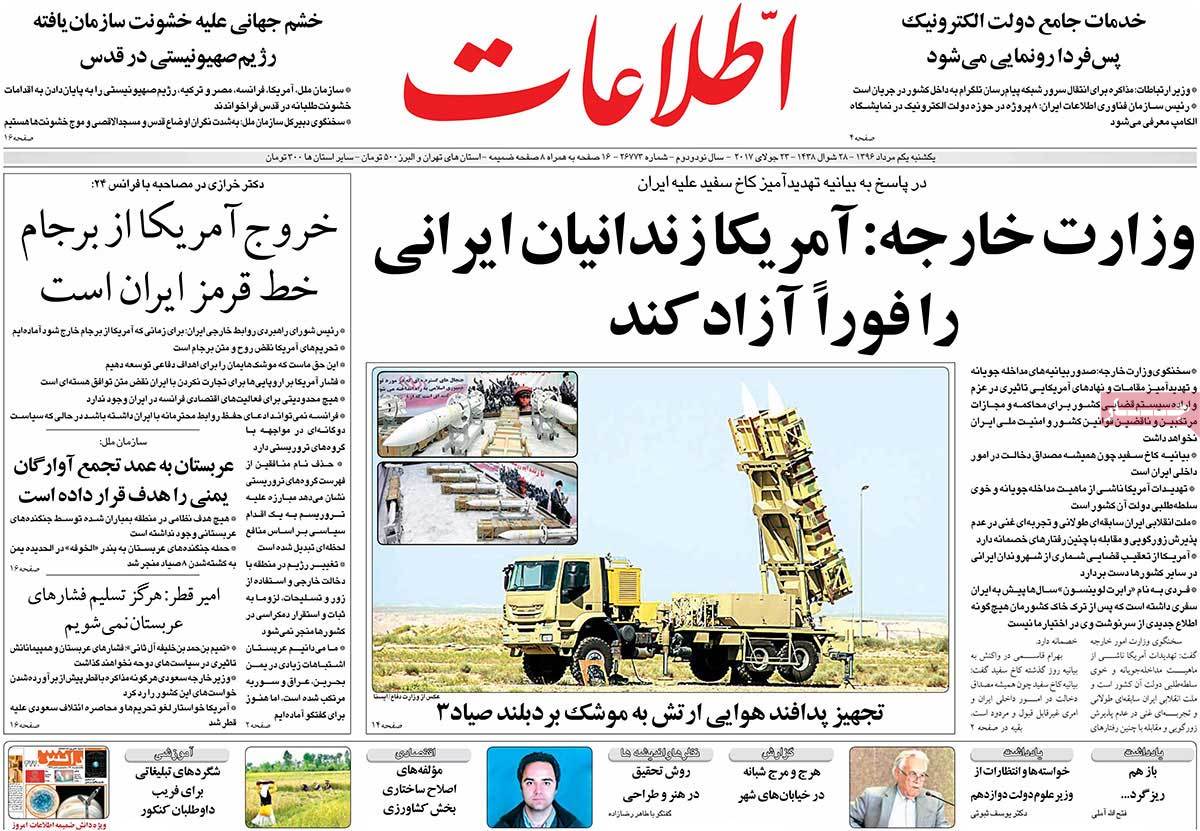 ---
Iran:
1- EU: Iran Nuclear Deal Should Be Implemented in Full, with Goodwill
2- Mirsalim's Untold Accounts of Recent Elections
50 Members of Assembly of Experts Convinced Raisi to Run for President
I'd Disclose Qalibaf's Financial Corruption in Run-Off
3- Total Starts Financing South Pars Development by Making $15m Investment: Minister
---
Javan:
1- US President Orders Aides to Forge Documents on Iran's Violation of JCPOA
2- Ex-FM: Iran Ready for US Withdrawal from Nuclear Deal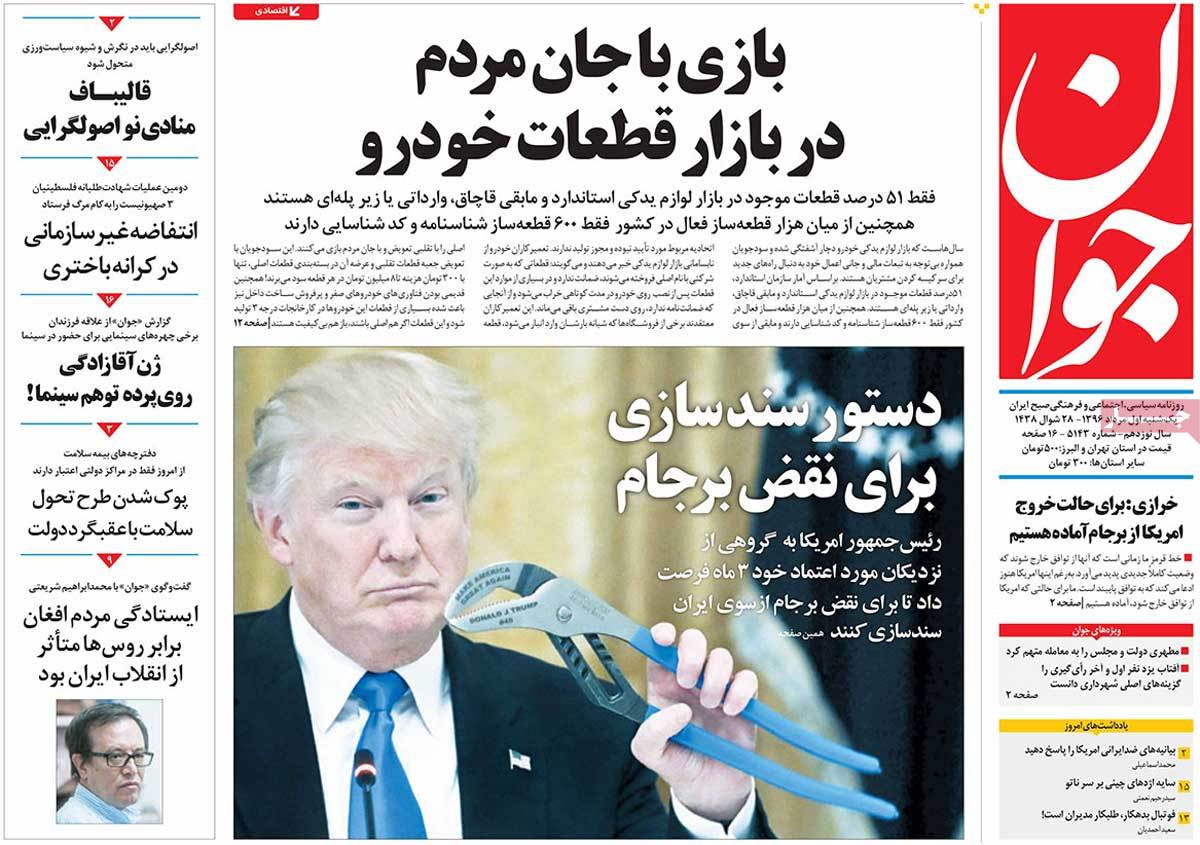 ---
Jomhouri Eslami:
1- Iran Starts Mass Production of Sayyad 3 Air Defence Missile
2- JCPOA Joint Commission Confirms Iran's Commitment to Its Implementation
3- Trump's Unilateral Move against JCPOA to Isolate US
4- Zionist Analyst: Saudi Arabia, Israel Should Publicize Their Secret Marriage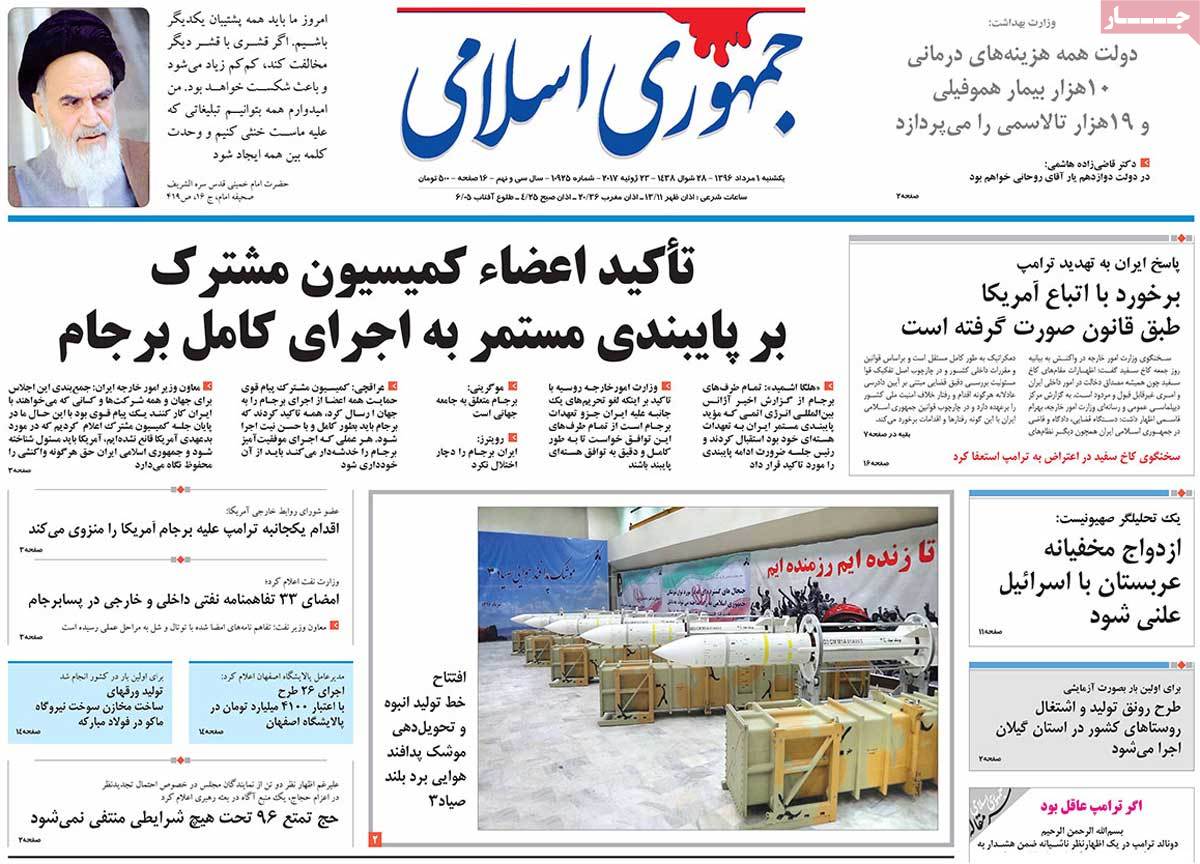 ---
Kayhan:
1- Words Not Good Response to Practical Violation of JCPOA
2- Telegram: We Won't Transfer Any of Our Servers to Iran!
3- Horrible Confession; US Soldier: I Killed 2,746 Iraqis in 5 Years
4- Iran's Banking System Main Source of Economic Problems: Think Tank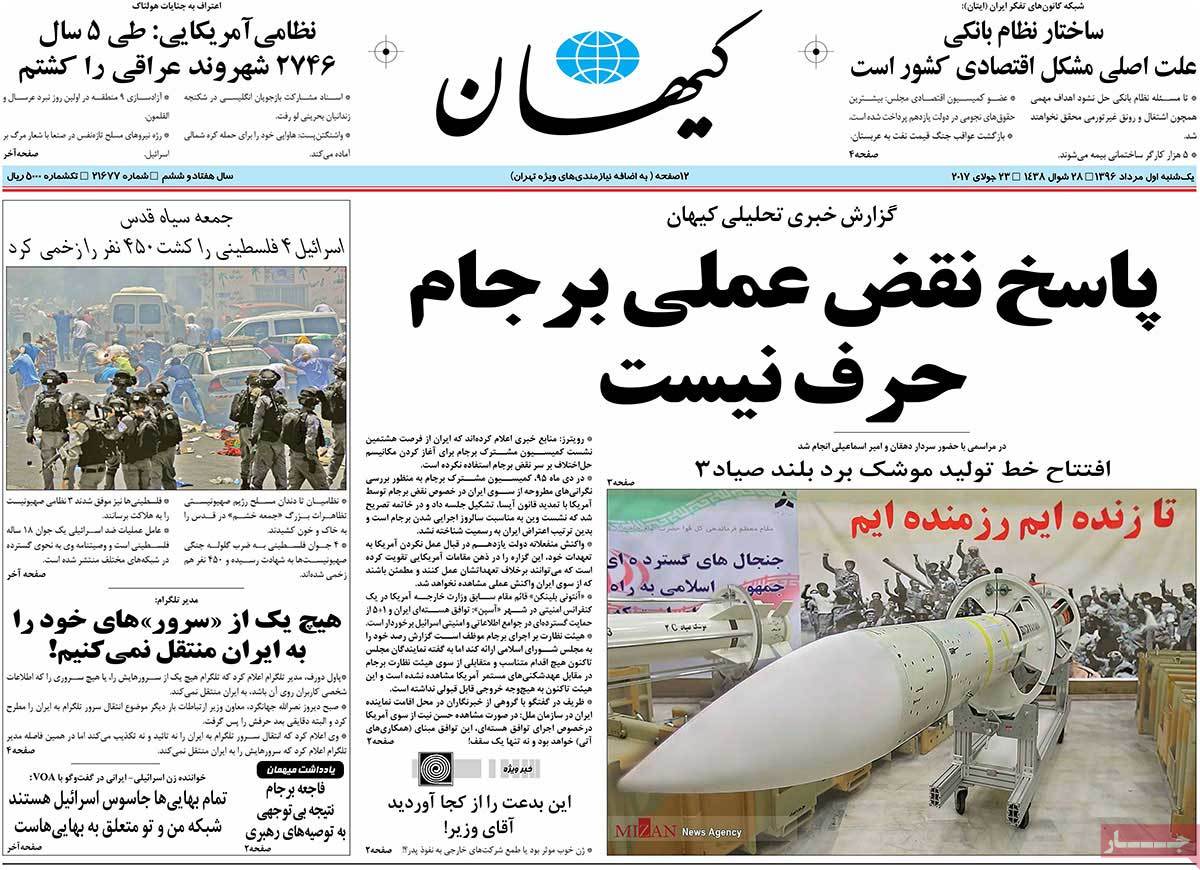 ---
Resalat:
1- Qalibaf Highlights Need for Changes in Conservatism in Iran
2- Judiciary Spokesman: Law Is Our Redline
3- Palestinians' Revolutionary Outrage in Quds
4- Hamas Chief: We'll Defy Zionist Regime's Decisions about Aqsa Mosque
5- Al-Azhar University: Zionists Should End Judaizing Aqsa Mosque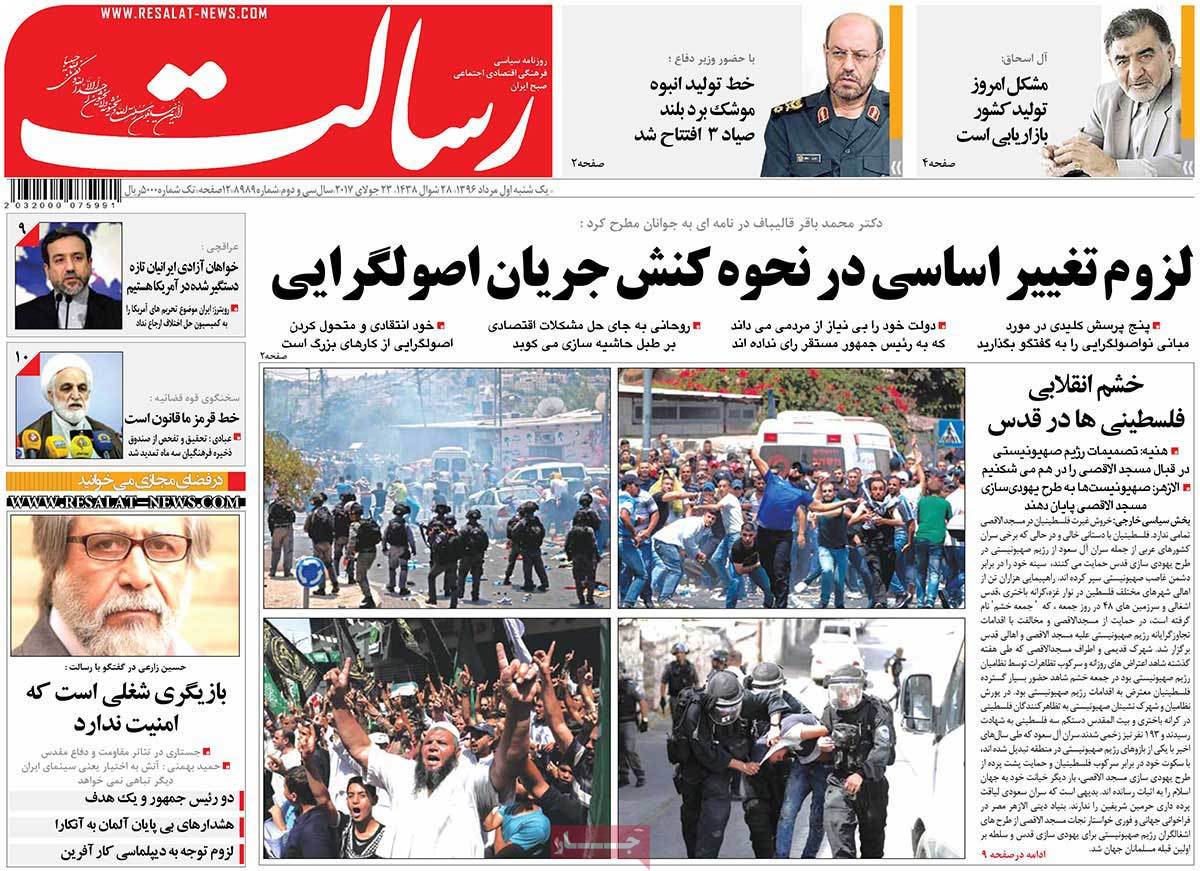 ---
Shahrvand:
1- UN's Little Help for Treatment of Immigrants: Deputy Health Minister
2- Iranian Female Swimmer Breaks Guinness Record with Handcuffed Hands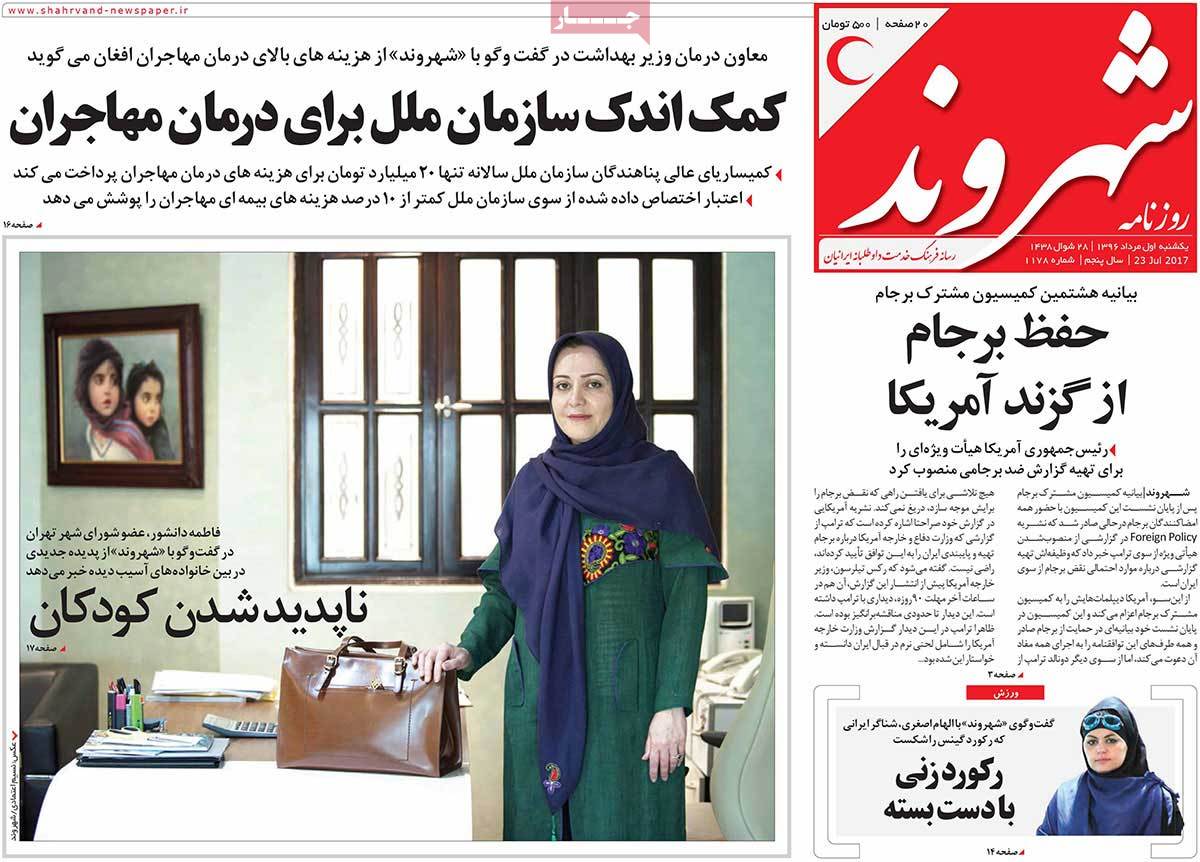 ---
Shargh:
1- Deputy FM Araqchi: US Should Release Iranian Prisoners
2- Education Minister Will Be Most Probably a Woman: MP
3- General's Prescription Qalibaf Pens Letter to Young Conservatives
4- Analyst: No Young Iranian Will Listen to Qalibaf's Words