Newspapers today widely covered the remarks made by Iranian Foreign Minister Mohammad Javad Zarif about the nuclear deal between Tehran and world powers, and the US anti-Iran measures. He made the comments in several interviews and meetings in New York.
The US administration's certification of Iran's compliance with the nuclear deal, and the same time its move to impose fresh sanctions on Iran, was also a top story today.
First Vice-President Es'haq Jahangiri's criticism of those who try to make a fuss to prevent the government from signing deals with foreign firms also received great coverage.
The above issues, as well as many more, are highlighted in the following headlines and top stories:
Abrar:
1- Zarif: Withdrawing from JCPOA, an Option on Iran's Table
2- Iran Has Complied with Its Commitments: US Secretary of State
3- Ahmadinejad Had Permitted Oil Sale for Paying Wages
4- 8,000 Rohingya Muslim Kids Suffering from Hunger
---
Aftab-e Yazd:
1- Reformists Haven't Demanded Any Share from Rouhani's Cabinet: VP
2- Rouhani Is Smart, He Won't Deviate from Path of Stability: Spokesman
3- Zarif Is Concerned: Iranian FM's Different Tone in US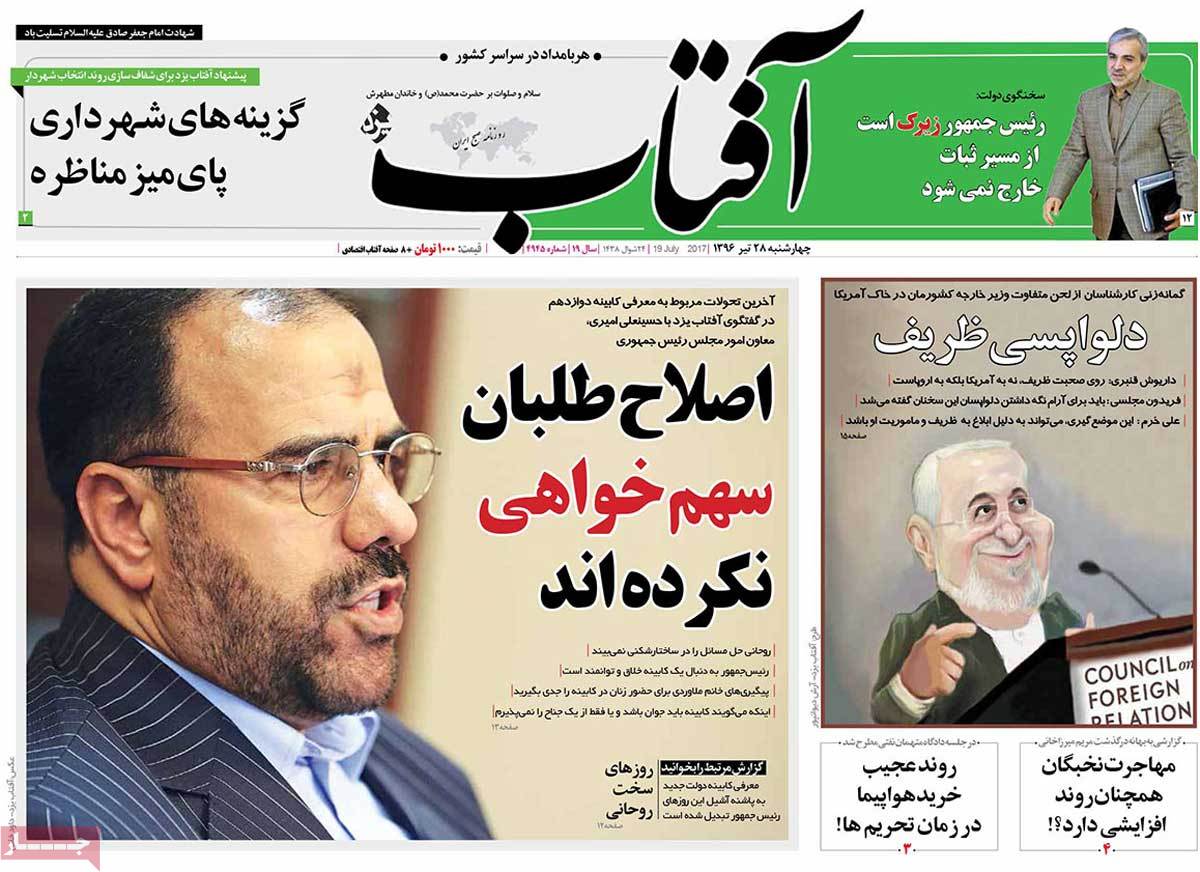 ---
Arman-e Emrooz:
1- Zarif: We Have Option of Withdrawing from JCPOA
2- Populism May Come Back If Economic Priorities Ignored: Analyst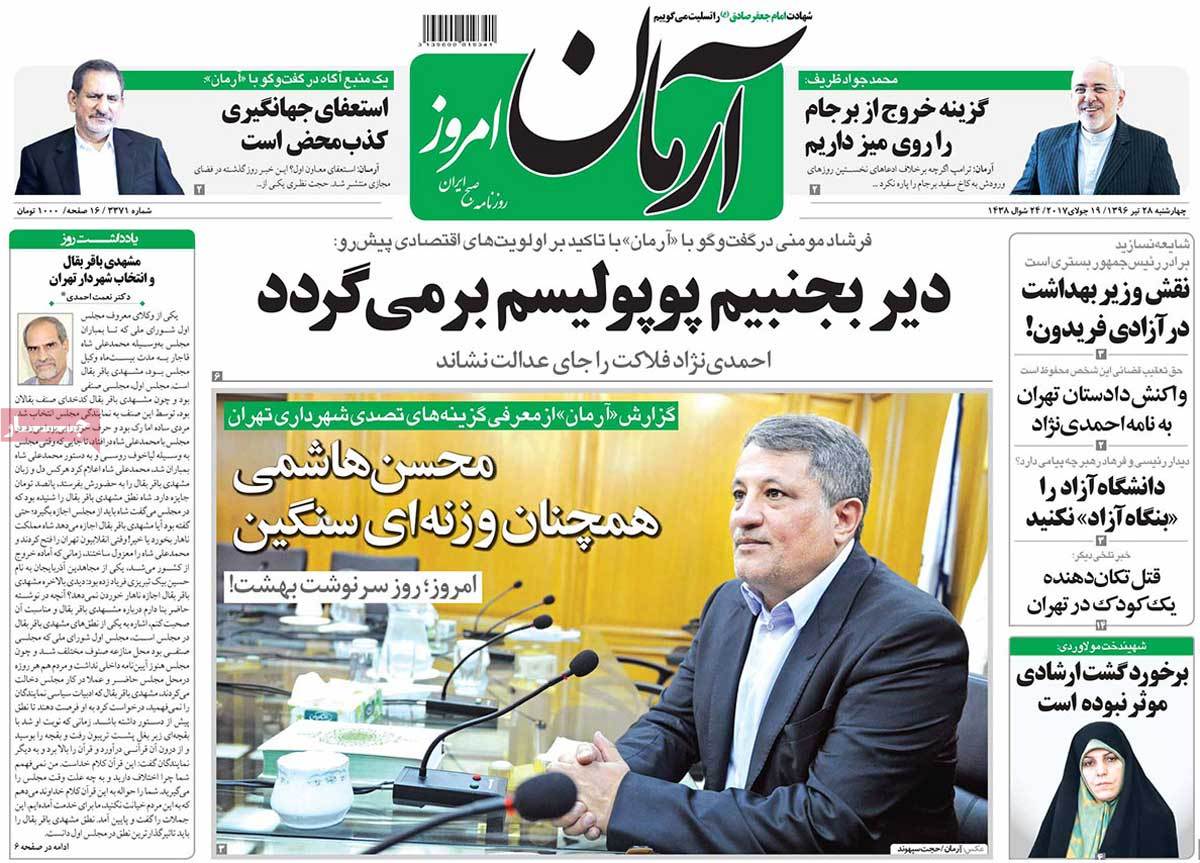 ---
Asrar:
1- Some Trying to Fabricate Superficial Crises: First VP
2- Oil Minister: We're Being Attacked Today Because Our Economy Is Politicized
---
Emtiaz:
1- Mental Disorders in Women 6% More than Men: Over 12m Suffering
2- VP for Women Affairs: Morality Police Not Effective on Hijab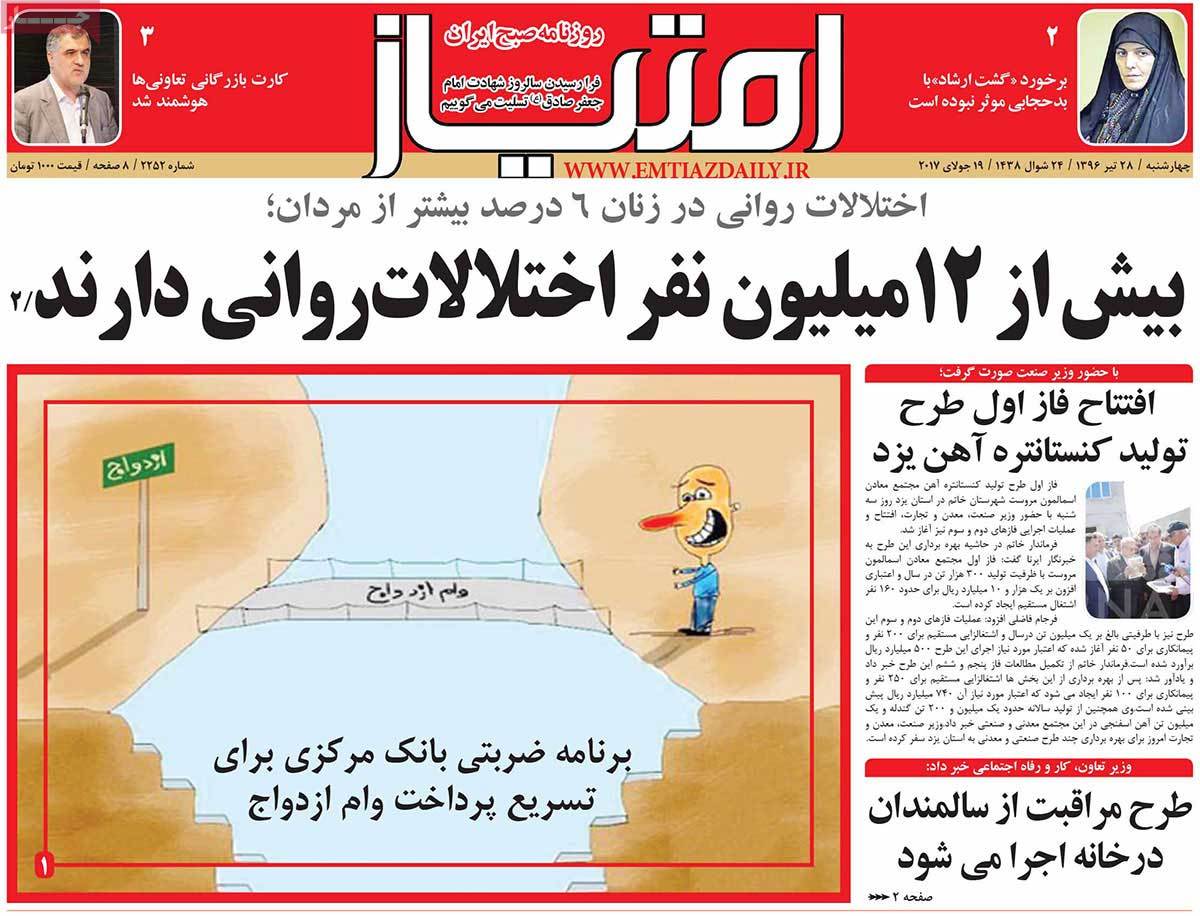 ---
Etemad:
1- Zarif to CFR: Don't Deceive Yourself, Regime Change Won't Work in Iran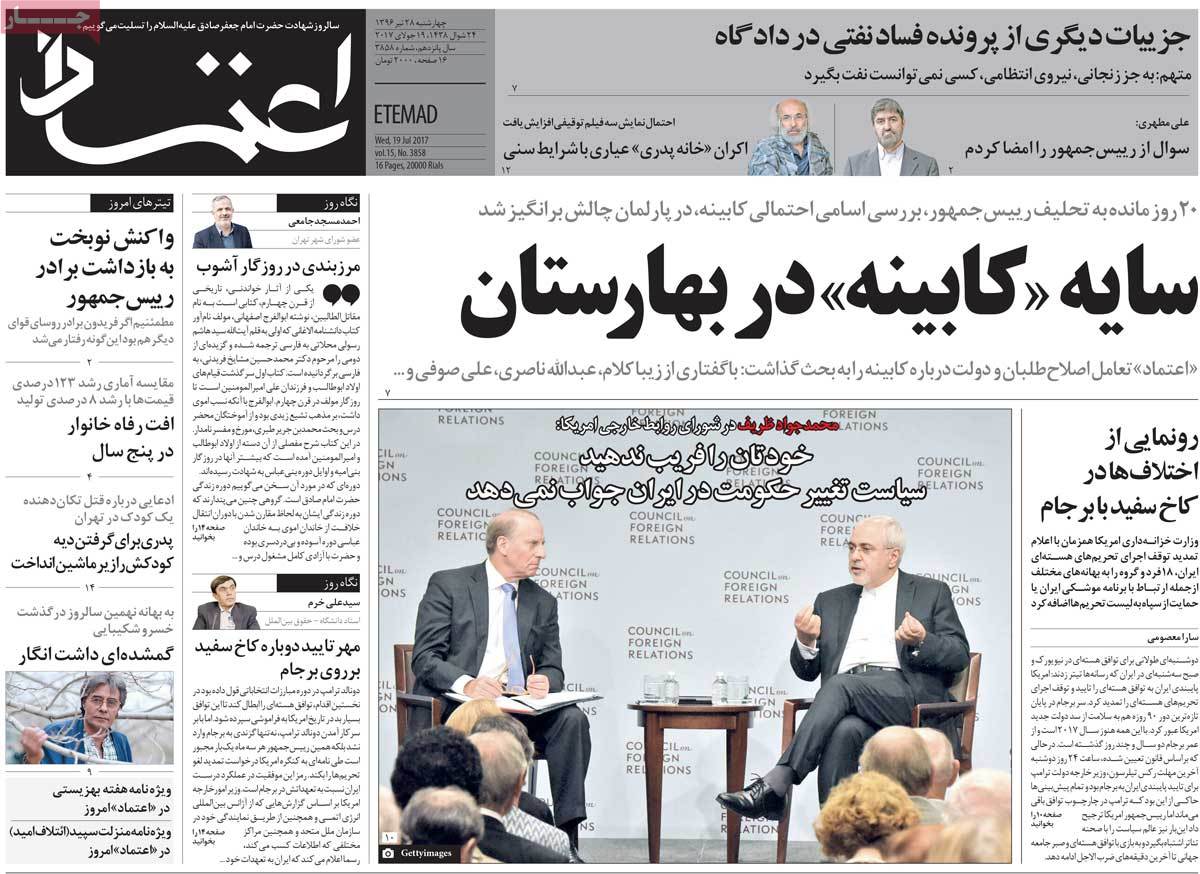 ---
Ettela'at:
1- First VP: We Won't Let Them Prevent Foreign Investment through Their Brouhaha
2- Zarif to National Interest: Tehran Reserves Right to Withdraw from Nuclear Deal
3- Iran to Unveil Its Biggest Solar Power Plant Next Week in Kerman
4- General Soleimani: Leader, Nation's Ideology Key to Our Success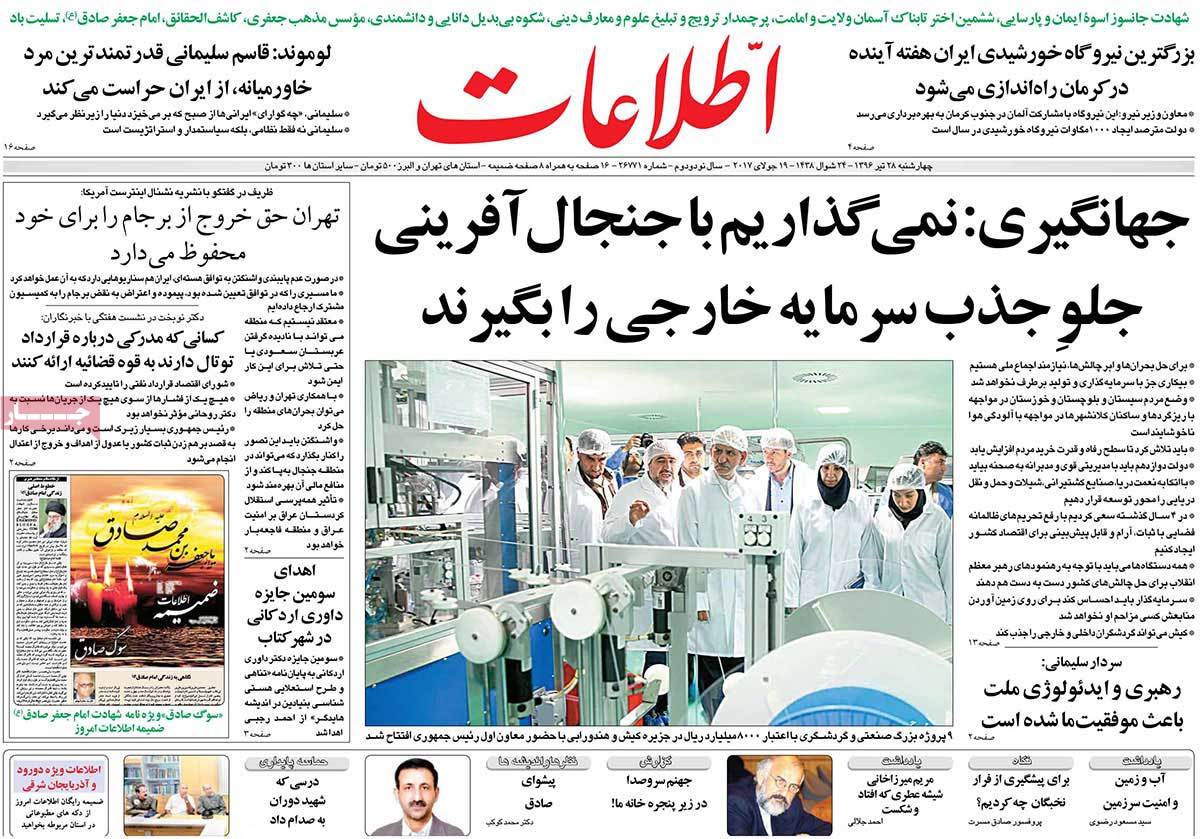 ---
Iran:
1- First VP: Some Fabricating Crises to Hinder Iran's Development
2- Gov't to Consider People's Demands in Choosing Cabinet Members: Spokesman
---
Javan:
1- Zarif Puts 'Withdrawal from JCPOA' on Table
2- US Imposes New Sanctions on Iran While Certifying Iran's Compliance with JCPOA
3- Income from Ten Ships of Oil Spent on Purchasing Airplane, Hotel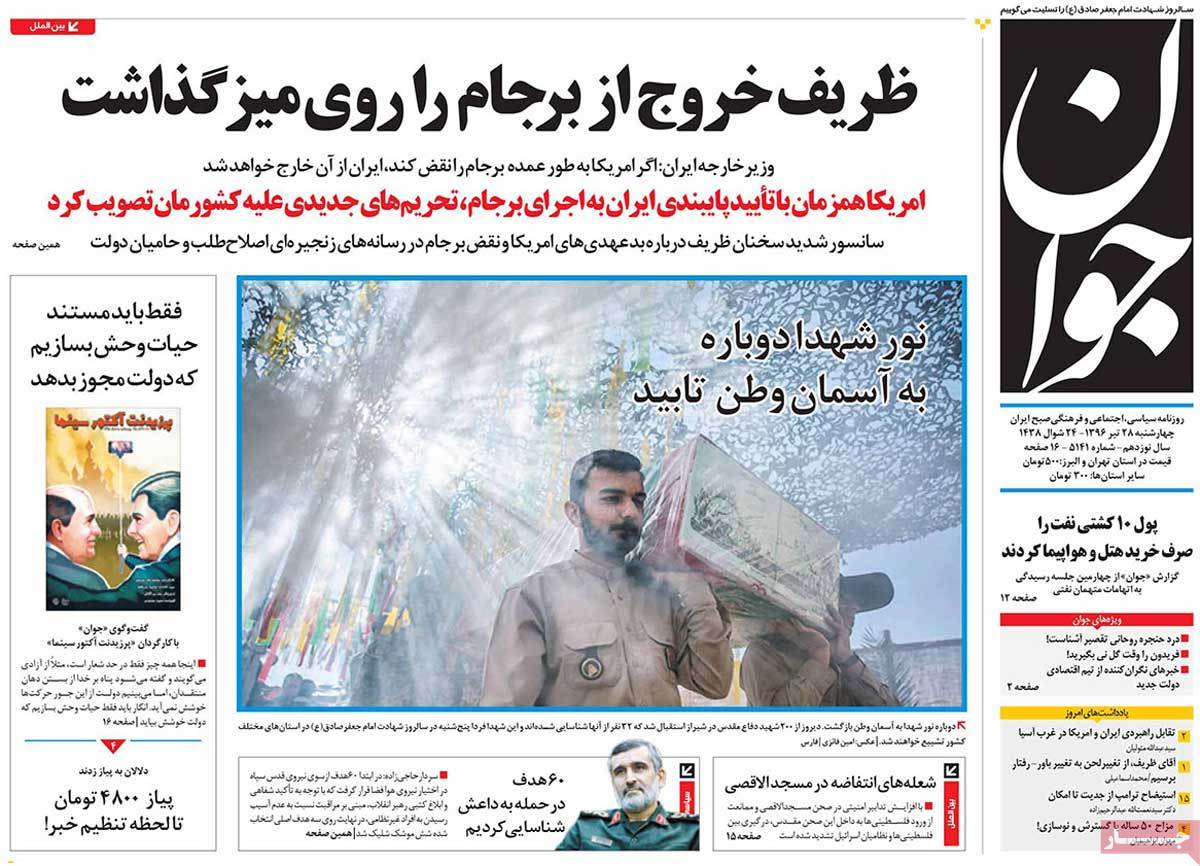 ---
Jomhouri Eslami:
1- Zarif: US Should Be Realistic, Regime Change Not to Work in Iran
2- Total Deal Unprecedented Contract Achieved Thanks to JCPOA
3- US Administration to Remain Committed to JCPOA for 3 More Months
4- Several Industrial, Construction, Tourism Projects Unveiled in Kish Island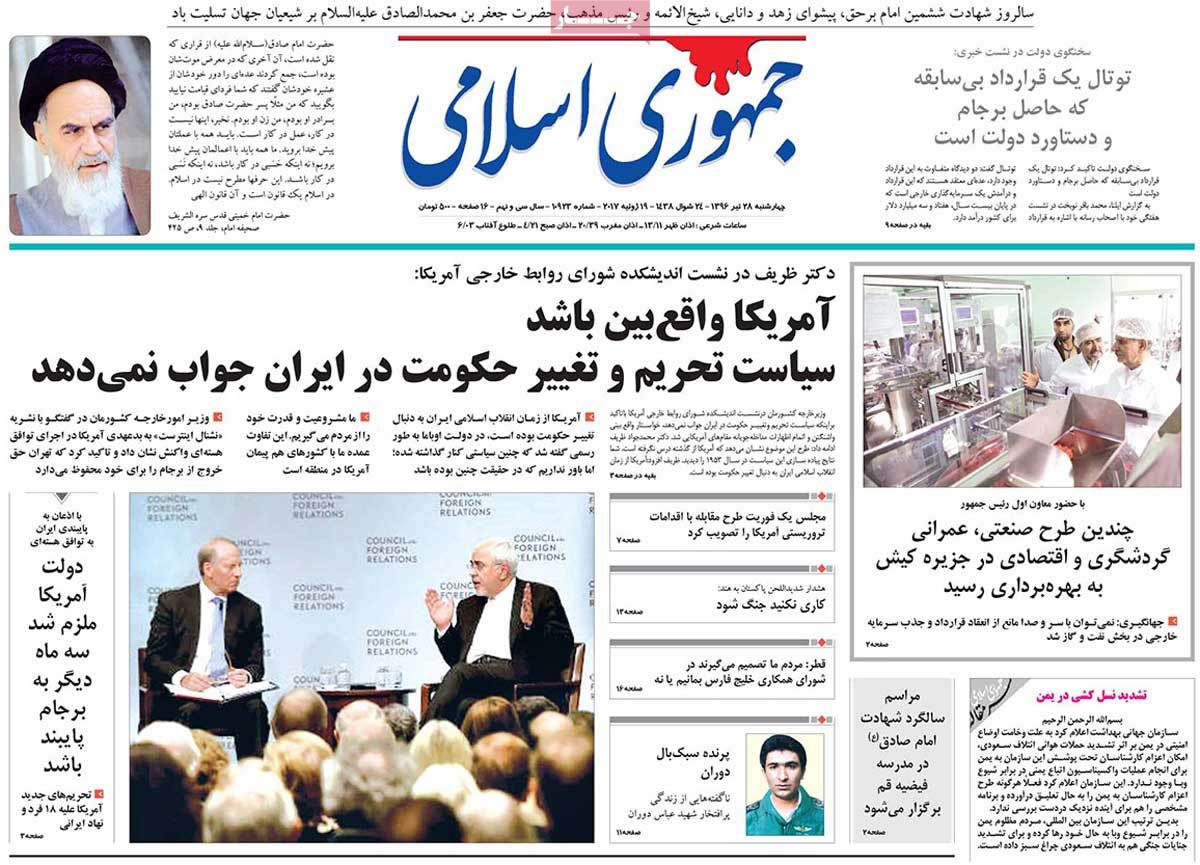 ---
Kayhan:
1- Trump Certifies Iran's Commitment to JCPOA, Increases Sanctions!
2- Aerospace Commander Provides Details of IRGC's Missile Attack on ISIS
3- US Removes Syria's Al-Qaeda from List of Terrorists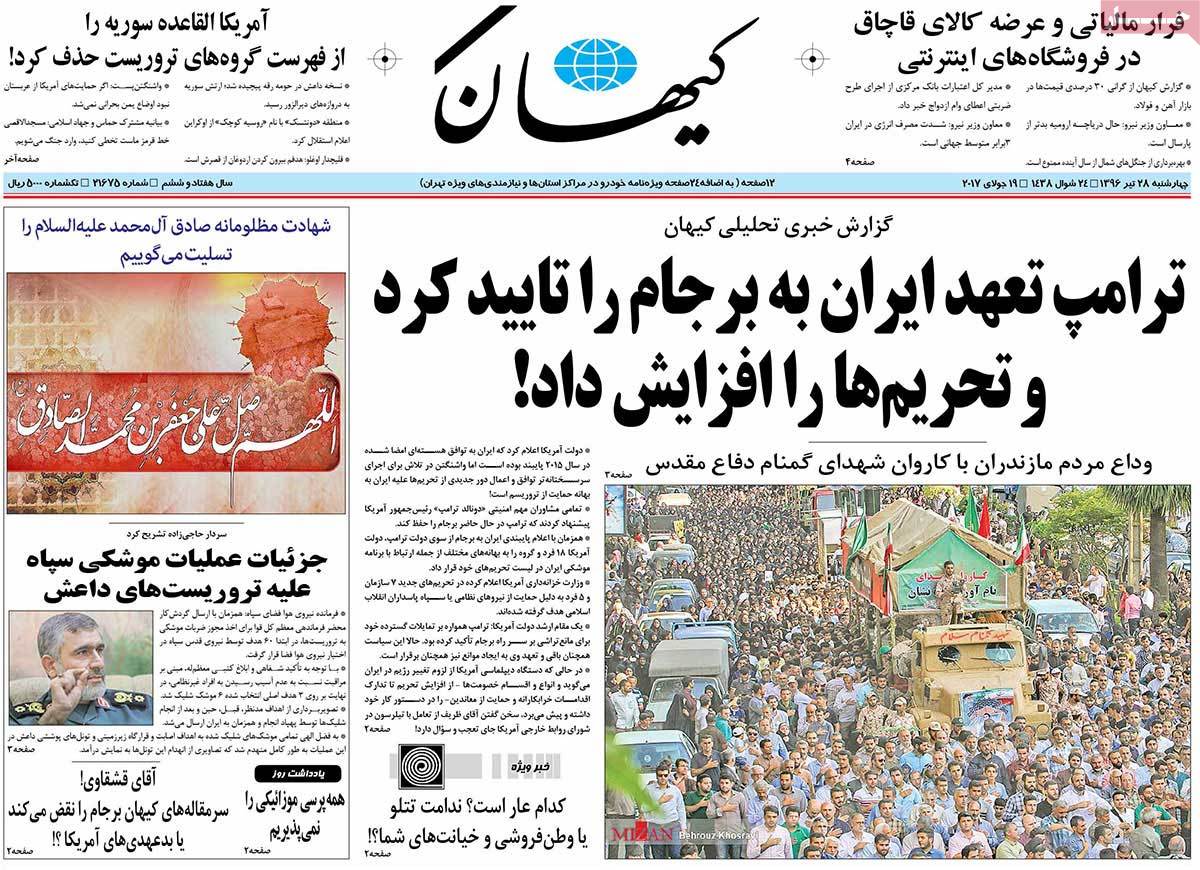 ---
Khorasan:
1- Zarif on US 'Regime Change' Rhetoric: Don't Kid Yourself!
2- All Nationals Equal before Law: Spokesman Quotes Rouhani as Saying on Brother's Arrest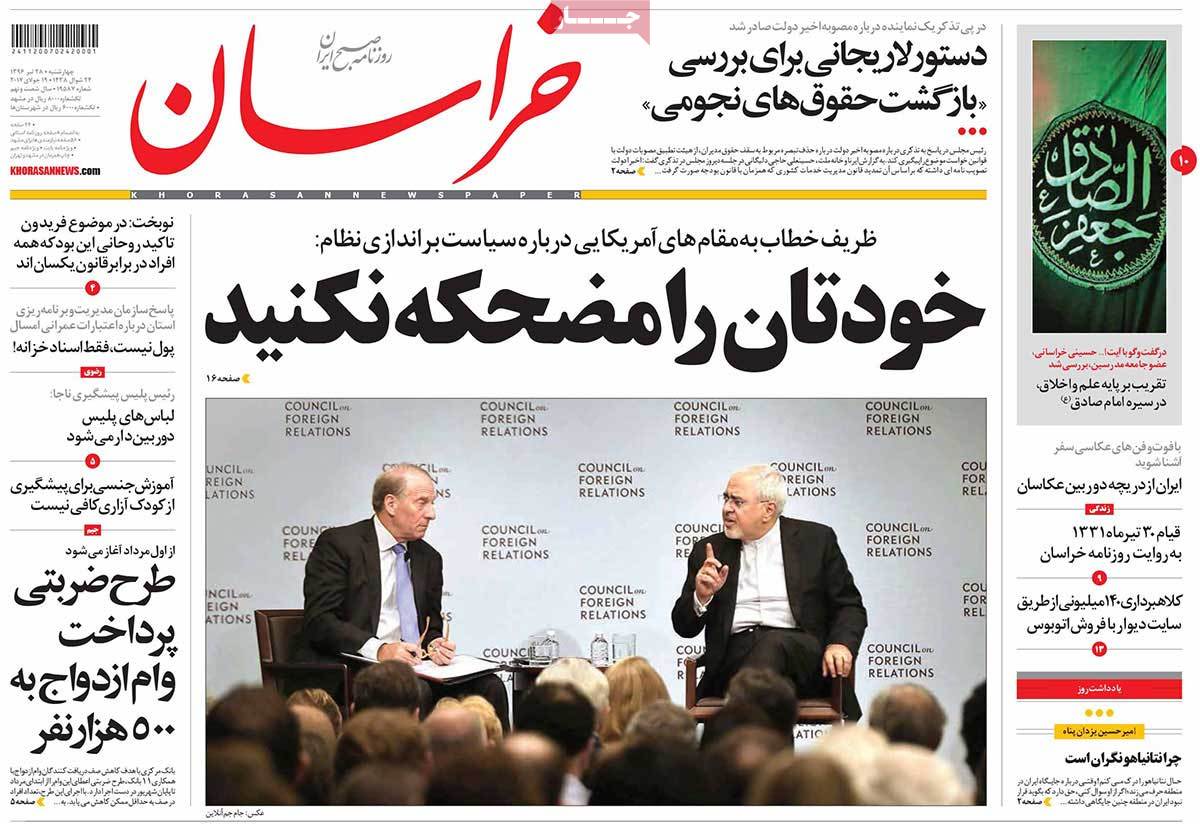 ---
Resalat:
1- Speaker: Iran Parliament to Stand against US Moves
2- General Soleimani: ISIS Executed over 2,000 Young Iraqis with Hands Ties
---
Shahrvand:
1- Based on Leader's Order, Iran Should Attract $200bn worth of Investment: First VP
2- Iran Parliament Approves Bill to Counter Plagiarism
---
Shargh:
1- Zarif in New York: Iran Not after War with Saudi Arabia
2- No One Can Make a Fuss to Prevent Signing Deals: First VP